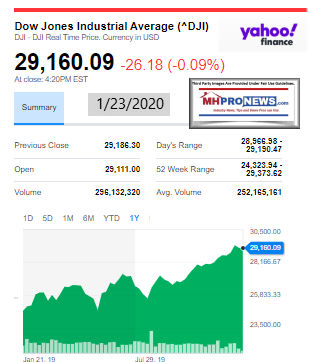 The scandal at Wells Fargo was widely reported. Justice can grind slowly. There are those in manufactured housing that may not ponder the point that Wells Fargo has long been active in both single family manufactured home lending as well as manufactured home land-lease community lending. Warren Buffett led Berkshire Hathaway has a significant stake in that bank.
This report will unpack today's news, but will also provide a time-line on scandals that began 3½ years ago. So, as industry professionals wonder at what point federal, state or other officials may announce matters with respect to issues within the manufactured housing sphere, tonight's report will shed some light.
Periodic readers of this business-nightly feature should note there are new tweaks to some of the standard portions of our evening market/investing report. Read carefully as some changes of the 'standard text' that follows before our left-right headlines and also in other features near the end of tonight's reports.
Every evening our headlines that follow provide snapshots from two major media outlets on each side of the left-right news spectrum that reflect topics that influence or move investor sentiment. In moments on this business evening report, you can get 'insights-at-a-glance.'
This report also sets the broader context for manufactured housing markets, in keeping with our mantra, "News through the lens of manufactured homes and factory-built housing" ©.
We begin with headlines left-of-center CNN followed by right-of-center Fox Business. We share closing tickers and other related data courtesy of Yahoo Finance, and more. 5 to 10 minutes reading this MHProNews market report every business night could save you 30 minutes to an hour of similar reading or fact-gathering elsewhere.
Perhaps more important, you will get insights about the industry from experts that care, but also dare to challenge the routine narrative that arguably keeps manufactured housing underperforming during an affordable housing crisis.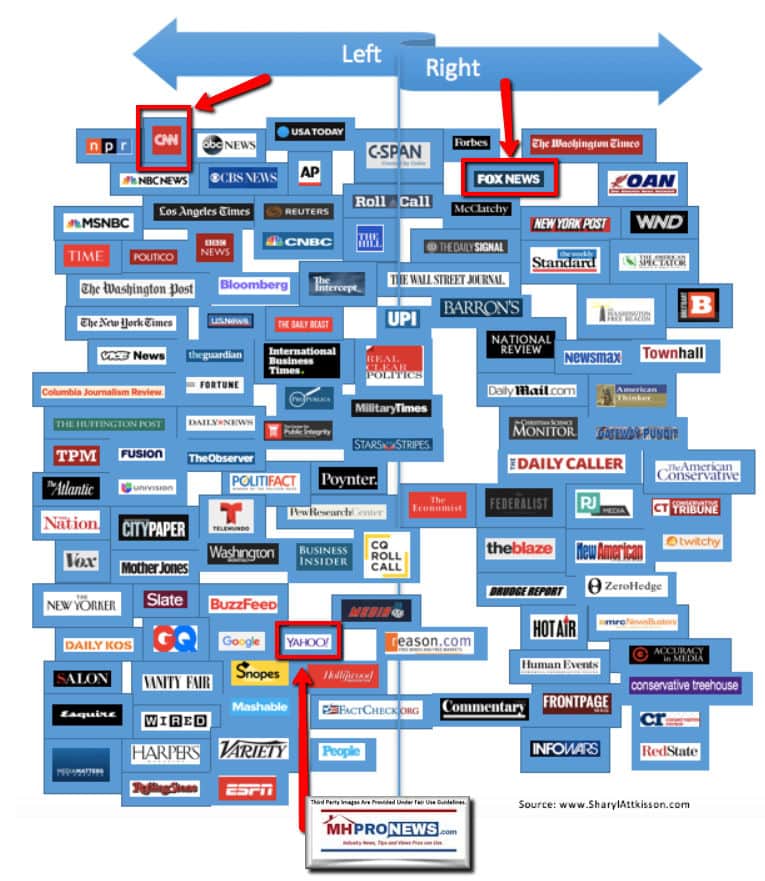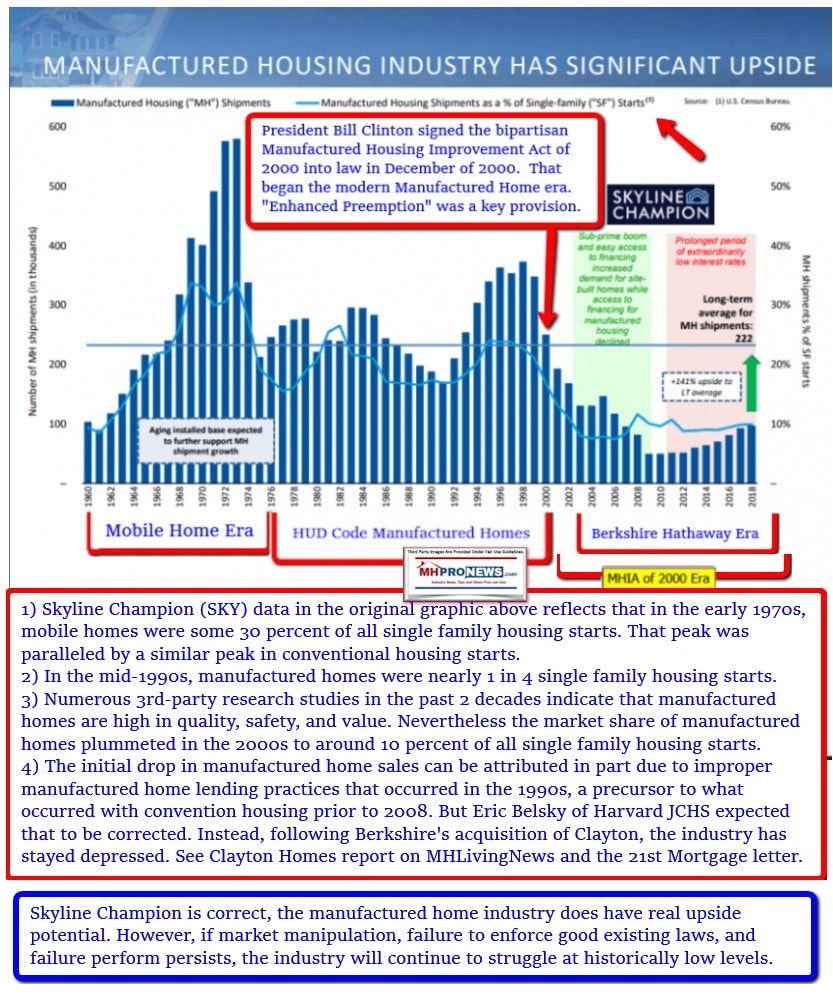 Mainstream vs. Trade News, Politicos, President Trump, Senator Sanders, Billionaire Bloomberg, Law Enforcement and Manufactured Housing's Unique Plight
Newsy, Peeling Back Media Bias, Manufactured Housing Sales, Investing, Politics, and You
Headlines from left-of-center CNN Business
Banned for life – Ex-Wells Fargo CEO barred from the banking industry and fined $17.5 million
A deadly virus is the last thing China's economy needs right now
The rich have had enough of negative interest rates. Some are pulling cash out of Swiss banks
Trump: Elon Musk 'does good at rockets'
Trump zeroes in on his next trade target: Europe
Europe's negative rates under scrutiny as bankers call for change
'Cats' box office disaster tanks Universal's profit
Xerox launches a hostile takeover bid for HP
Fairway files for bankruptcy with a plan to keep some stores open
Is E-Trade the odd man out in the online broker world?
Opinion: Fires and floods prove world leaders must act now on climate change
Instead of airing the impeachment trial, Fox News fed viewers pro-Trump opinion in prime time
Longtime PBS NewsHour anchor Jim Lehrer is dead at 85
Jeff Bezos's phone hacking explained: What you need to know for your own security
Uber prepares to test its self-driving cars in Washington, DC
The new Motorola Razr is $1,500, but OMG I must have it
When the new Motorola Razr will hit stores
The big differences between 4G and 5G
This battery could charge your phone for 5 days
iPhones are flying off shelves in China again
FedEx Ground Sunday delivery to begin this weekend
Amazon lifts ban on some sellers using FedEx Ground
Our profit drop was 'horrific,' FedEx CFO says
FedEx problems go beyond its split with Amazon
Amazon is expanding its free return policy
Headlines from right-of-center Fox Business
2020 CAMPAIGN – EXCLUSIVE: The Democratic 2020 hopeful Obama may publicly trash talk
Former President Barack Obama has remained mostly silent during the Democratic race to unseat Trump, but that may soon change.
The candidates who have scored the most celebrity endorsements
Inside Bernie Sanders' plan to savage wealthy estates
Raging killer virus 'emergency in China,' but not yet globally: World Health Organization
Stocks REBOUND after WHO says deadly coronavirus not yet 'global emergency'
CDC bumps up warning level as deadly virus goes global, issues travel advisory
SERIOUS SYMPTOM: How coronavirus outbreak could infect US economy
Pharma company founder sentenced for scheme that helped fuel opioid crisis
Epstein associate's email HACKED, sparking fears damaging info could be exposed
Financial expert reveals the best way to make your retirement rewarding
Meghan Markle, baby Archie living in Canada, but still on hook for US taxes
Why Jennifer Lopez, other Super Bowl halftime performers don't get paid
Ousted Grammy CEO drops bombshell on her way out the door
Brands and products millennials can't live without
'Sopranos' actress testifies: Weinstein held me down and raped me
New FICO changes could sink your credit score
How US Air Force's 'boneyard' saves taxpayers hundreds of millions
How Trump's economy compares to past presidents' economies
'I'm on mushrooms': Gwyneth Paltrow makes big business gaffe, plays it off questionably
Former Wells Fargo CEO faces harsh penalty as execs charged in phony account scandal
Jim Lehrer, news vet who founded 'PBS NewsHour,' dead at 85
Netflix and Blockbuster: The overlooked economics lesson these two giants can teach us
UN expert issues stern warning to world leaders after Jeff Bezos iPhone hack
Alex Rodriguez joins Anheuser-Busch as co-owner, chairman for Presidente beer
What we know so far about Jeff Bezos' iPhone hack
'SENSE OF PANIC': US commerce secretary says Europe anxious to secure US trade deal
Vans, Timberland parent company VF Corp. cuts forecast
'Guana' try? Falling Florida iguanas sold on Facebook as street meat
Hillary Clinton stands by alleged Weinstein friendship: 'How could we have known?'
How to protect your phone from dangerous cyber attacks
Varney: Prince Charles will lose if he shoves agenda down our throats
Helicopter-sharing app Blade getting into organ transport business
EXCLUSIVE: Ivanka Trump pushes job growth without expensive student loan debt
Bloomberg campaign offering lavish incentives to hire 2020 staff
General Motors to open racing tech center near NASCAR hub
Tesla faces new lawsuit over sudden acceleration
Tech companies volunteer to help political campaigns avoid cyberattacks
Eli Manning to retire as NFL's highest-paid player ever: Here's how much he earned
Biden mocks reporter after Sanders Social Security feud
America's healthiest and unhealthiest states
Luxury Sundance cabins with stunning mountain views being auctioned during film festival
5 of the most successful US malls
First cookies baked in space take 2 hours in experimental oven
Antonio Brown arrest warrant issued as Florida police told to use caution
Aerosmith drummer loses bid to rejoin band for Grammy honors
Varney: Trump's achievements would be 'wrecked' by electing a Democrat
Epstein-linked Brown University fundraiser resigns
Pizza Hut, Domino's expect Super Bowl fans to order millions of pies
10 Market Indicator Closing Summaries – Yahoo Finance Closing Tickers on MHProNews…

Featured Focus – Where Business, Politics and Investing Meet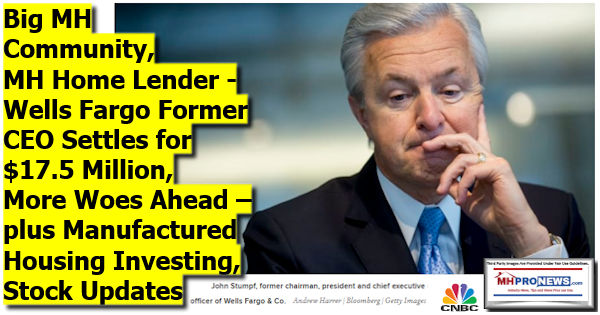 First from CNBC and then from Yahoo, we gather the following insights, which will be followed by some MHProNews analysis and commentary.
The U.S. government announced that former Wells Fargo CEO John Stumpf is barred from ever working at a bank and will pay $17.5 million in connection to scandals at Wells.
The OCC also said the former head of Wells Fargo's Community Bank unit, Carrie Tolstedt, is still fighting the allegations against her.
Wells Fargo says it "will not make any remaining compensation payments that may be owed to these individuals" named in the OCC's notice.
The notice from the Office of the Comptroller of the Currency (OCC) said the regulator plans to target other individuals, including former executives, for their role in the scandals.
"The actions announced by the OCC today reinforce the agency's expectations that management and employees of national banks and federal savings associations provide fair access to financial services, treat customers fairly, and comply with applicable laws and regulations," Comptroller of the Currency Joseph Otting said.
In addition to the $17.5 million fine, Stumpf's settlement declares he shall not participate "in any manner" at any bank regulated by the OCC or participate or attempt to participate in a bank's corporate board votes.
The OCC also said the former head of Wells Fargo's Community Bank unit, Carrie Tolstedt, is still fighting the allegations against her. The regulator also seeks a prohibition order and $25 million from Tolstedt.
In light of the announcement, current Wells Fargo CEO Charlie Scharf told the bank's employees that "the OCC's actions are consistent with my belief that we should hold ourselves and individuals accountable."
"They also are consistent with our belief that significant parts of the operating model of our Community Bank were flawed," he added. "At the time of the sales practices issues, the Company did not have in place the appropriate people, structure, processes, controls, or culture to prevent the inappropriate conduct."
Scharf added that "Wells Fargo will not make any remaining compensation payments that may be owed to these individuals while we review the filings."
Per Yahoo:

Here's a chronological overview of the biggest ones, starting with the fake account scandal in which millions of accounts were created without customers' permission.
September 2016: The fake account scandal
Wells Fargo's public woes kicked off with $185 million in fines from the Consumer Financial Protection Bureau, the Office of the Comptroller of the Currency, and the City and County of Los Angeles for the creation of 1.5 million fake deposit accounts and more than 500,000 fake credit cards, all in customers' names and without their permission. The bank had fired 5,300 low-level employees for creating these accounts under extreme sales pressure. This kind of sales pressure was known to cause similar issues at large banks, academic research had shown.
In the aftermath of this scandal, then-CEO John Stumpf was fired and had $41 million in compensation clawed back. Later that month Wells Fargo said it would stop unreasonable sales goals.
In a class action suit, Wells Fargo agreed to pay $142 million to the affected parties, which included millions of customers.
September 2016: Improperly repossessing service members' cars
The Department of Justice slapped Wells Fargo's wrist for improperly repossessing the cars of members of the military.
The bank did not limit interest rates to 6% (as is required by law), failed to tell courts the borrowers were active-duty when it asked for evictions, and failed to obtain court papers prior to repossessing cars.
The bank ended up paying $20 million in fines to the OCC and made restitution of over $10 million to wronged service members.
December 2016: Wells Fargo fails its 'living will' test
U.S. regulators restricted Wells Fargo's size after it failed a "living will" test, a requirement that big banks must show how they would unwind in the event of a bankruptcy.
March 2017: More fake accounts
A new estimate of 3.5 million fake accounts emerges, a figure 1.4 million higher than the initial estimates when the scandal first emerged. Wells Fargo said this number was unverified and hypothetical, but eventually said there may be up to 3.5 million accounts.
March 2017: Flunked community lending test
Wells Fargo did very poorly on an OCC test for community lending, getting a "needs to improve." The regulator cited "violations across multiple lines of business within the bank" and "significant harm to customers." The regulation is to promote lending in lower-income communities.
April 2017: Whistleblower wins $5.4 million and his job back
OSHA ordered Wells Fargo to pay $5.4 million to a former Wells Fargo wealth manager, fired in 2010, after reporting potential fraud to a hotline. The bank has fought the fine and in August 2018 more of the story emerged.
August 2017: Lawsuit over overcharging small business retailers
Wells Fargo was sued for allegedly overcharging small business retailers for credit card services, hitting them with massive early termination fees and a "deceptive" 63-page fine print agreement that hid terms from small-business retailers. A former employee told CNNMoney that "God would have had a hard time" escaping the contract, and that the employee was told to target "mom-and-pop shops without legal support."
The bank denies and is fighting the claims.
February 2018: Federal Reserve restricts size
In February, the Federal Reserve announced it would restrict the bank's growth, "responding to widespread consumer abuses and compliance breakdowns."
February 2018: Sacramento sues over discrimination against black and Latino borrowers
The city sued the bank, citing illegal practices that suppressed property values in "minority and low-income communities," costing the city in the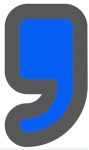 process. According to the city, black borrowers with FICO scores over 660 were three times as likely to get a high-cost or high-risk loan as a white borrower."
##
MHProNews Analysis and Commentary
"Warren Buffett blames the fraud scandal at Wells Fargo on a case of misplaced incentives, compounded by the "huge, huge error" of ignoring whistleblowers," said Quartz on May 6, 2017.
There have been other, often like comments by the Oracle of Omaha before and since.
But does it ring hollow, given the Clayton Homes and their associated lending experienced their own scandals? How has Omaha, Knoxville or Arlington responded to the whistleblowers in manufactured housing, often from within their own ranks? Consider the allegations of bias in lending from their former team member interviewed by local Knoxville media, as shown below.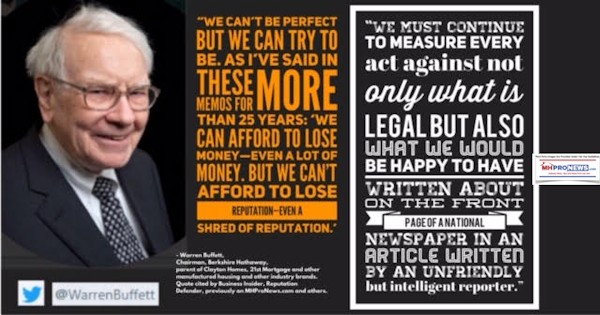 There are a variety of ways that a discerning reader must consider Buffett and others in the Berkshire influenced or dominated orbit. Some of what they say is arguably – true, while others are head fakes, polite paltering, or outright deception.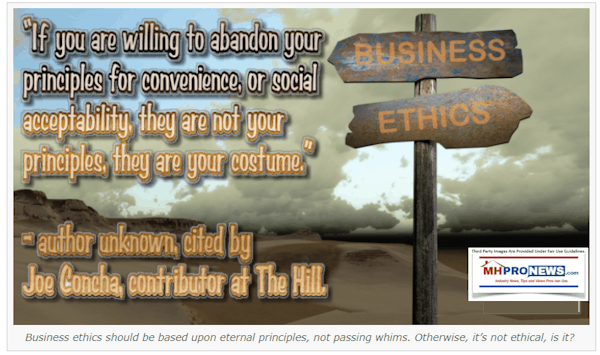 Is there a culture of corruption in several firms, but not all, that are connected with manufactured housing?
To learn more about the light these events shed on MHVille, see the related reports.
Related Reports:
Whistleblower's Documents on Lesli Gooch – Manufactured Housing Institute CEO – New Discoveries
Congresswoman Rips Frank Rolfe, Dave Reynolds, Havenpark for "Troubling," "Predatory," "Deceptive" Practices, Calls for Federal Investigations
What's Up? Cavco Industries (CVCO) Looming Announcement, plus Manufactured Home Investing Updates
Then there is the runaway #1 trade media report in all of MHVille in January, 2020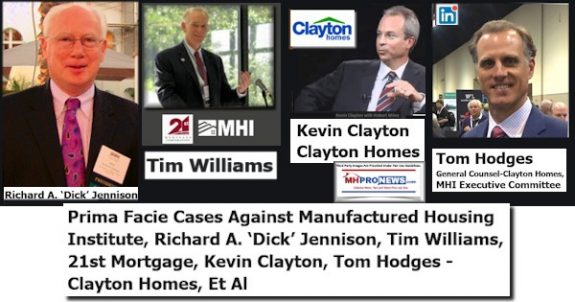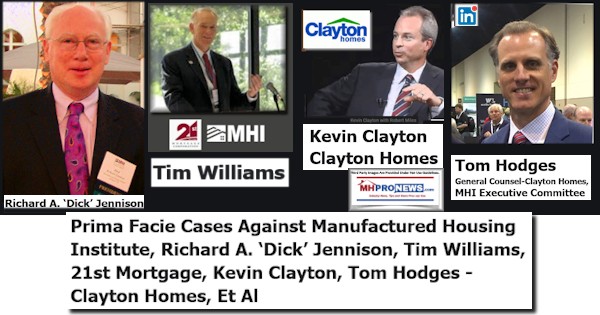 Federal Official, Manufactured Housing Institute, Manufactured Housing Association for Regulatory Reform and Certain MHI Member Firms
Can Negative Publicity Help Some Companies? Lessons from VW, Buffett for MHVille, plus Manufactured Housing Investing, Stock Updates
What Warren Buffett, Kevin Clayton, Tim Williams, Berkshire Brands and Manufactured Housing Institute Leaders Fear
Manufactured Housing Industry Investments Connected Closing Equities Tickers
Some of these firms invest in manufactured housing, or are otherwise connected, but may do other forms of investing or business activities too.
NOTE: The chart below includes the Canadian stock, ECN, which purchased Triad Financial Services, a manufactured home industry lender
NOTE: Drew changed its name and trading symbol at the end of 2016 to Lippert (LCII).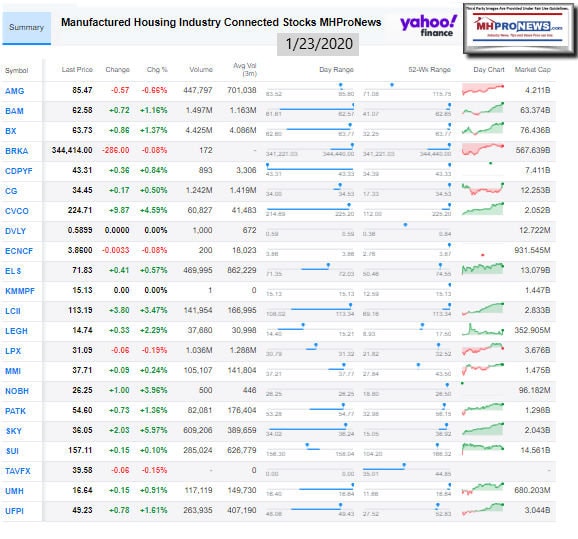 Winter 2020…
Berkshire Hathaway is the parent company to Clayton Homes, 21st Mortgage, Vanderbilt Mortgage and other factory built housing industry suppliers.
· LCI Industries, Patrick, UFPI, and LP each are suppliers to the manufactured housing industry, among others.
· AMG, CG, and TAVFX have investments in manufactured housing related businesses. For insights from third-parties and clients about our publisher, click here.
Enjoy these 'blast from the past' comments.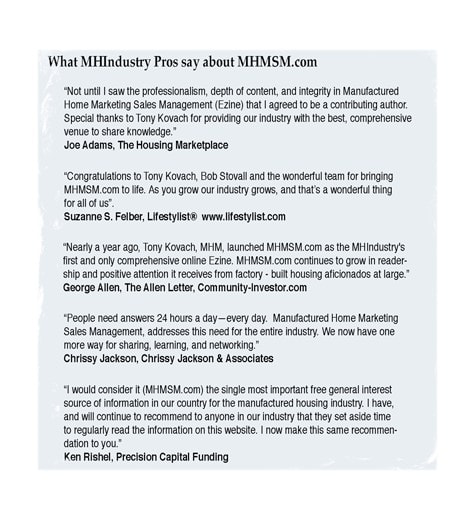 MHProNews. MHProNews – previously a.k.a. MHMSM.com – has now celebrated our tenth anniversary.
Learn more about our evolutionary journey as the industry's leading trade media, at the report linked below.
Celebrating 10 Years of Goal- and Solution-Oriented Manufactured Home Industry Innovation Information, and Inspiration for Industry Professionals
· For expert manufactured housing business development or other professional services, click here.
· To sign up in seconds for our industry leading emailed headline news updates, click here.
Disclosure. MHProNews holds no positions in the stocks in this report.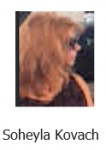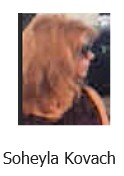 "We Provide, You Decide." © ## (News, analysis and commentary.)
(Image credits and information are as shown above, and when provided by third parties, are shared under fair use guidelines.)
Submitted by Soheyla Kovach, co-managing member of LifeStyle Factory Homes, LLC and co-founder for MHProNews.com, and MHLivingNews.com.

Connect with us on LinkedIn here and here.