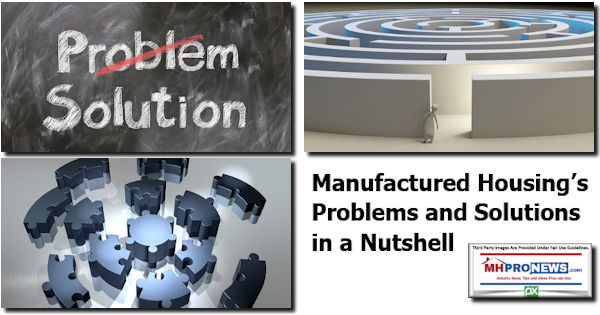 Information. Education. Understanding. Inspiration. Aspiration. Advocacy. Engagement. Enforcement. Jujitsu. Profits. Ethics. Repetition.
These 12 words sum up what's needed for manufactured housing to achieve its potential in your market(s) or nationally in the United States. To make it a baker's dozen, there is 'satisfaction.' More on that lucky number thirteen below.
The laws needed for manufactured housing to break free of the strangleholds that are keeping thousands of individual businesses – and thus the industry at large – underperforming already exist. 'Enforce the law' should be part of every white hat professional's or investor's mantra.
Each of us is either part of the problem or part of the solution. At times, to be accurate, a person or firm might be both.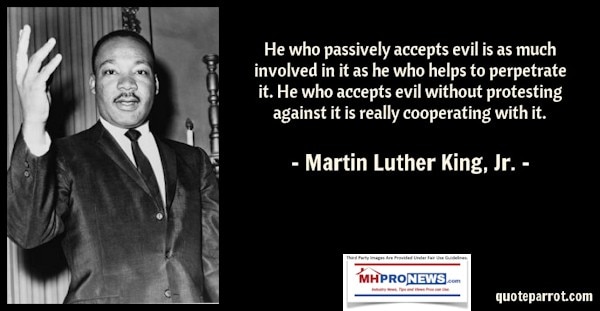 The powers that be in manufactured housing have for over a decade failed to get good laws enforced. That's a largely unchallenged reality. Everything else are details that make that point or are a smokescreen or distraction from that point.
If a coach that has a team that has the necessary talent to win fails for a few seasons in a row, that coach is replaced. That's called accountability. But that is not what we've seen in manufactured housing nationally association leadership, is it? Why not? Doesn't that fact alone point to corruption of the normal sources for advocacy in the manufactured housing industry?
There will be a series of special reports on Manufactured Home Living News (MHLivingNews) and here on Manufactured Home Professional News (MHProNews) that will be forthcoming in the days ahead. Watch for them.
Until then, carefully consider the latest post on the Manufactured Housing Association for Regulatory Reform (MHARR) website, linked here. It is a candid and in depth walk through several major issues from the vantagepoint of that trade group. Keep in mind that MHARR has a history of punching above their weight. The fact that they have accomplished that means that others could organize and do similarly.
Also, look carefully at the articles linked herein and below the byline, offers and notices. Because parts of the solution can be as simple as evidence – whistleblowing, news tips – to MHProNews. Several of those articles are the results of news tips from readers like yourself.
The other side is trying to systematically weaponize numbers of nonprofits to the disadvantage of manufactured housing so that they can consolidate the industry. That consolidation occurs at discounted valuations that result from avoidable underperformance. The opposition has utilized bloggers and competing trade publishers to various degrees in order to give them cover. That cover is propaganda. It is self-evident that the industry is underperforming; a look at the graphics below tells the tale.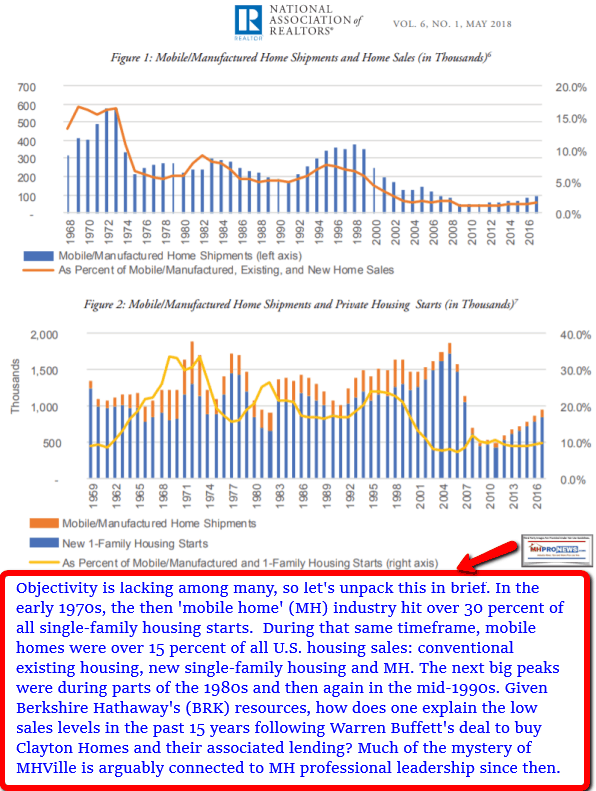 These facts are not in dispute. None of the Omaha-Knoxville-Arlington axis, or their outside attorneys, disputed what is below.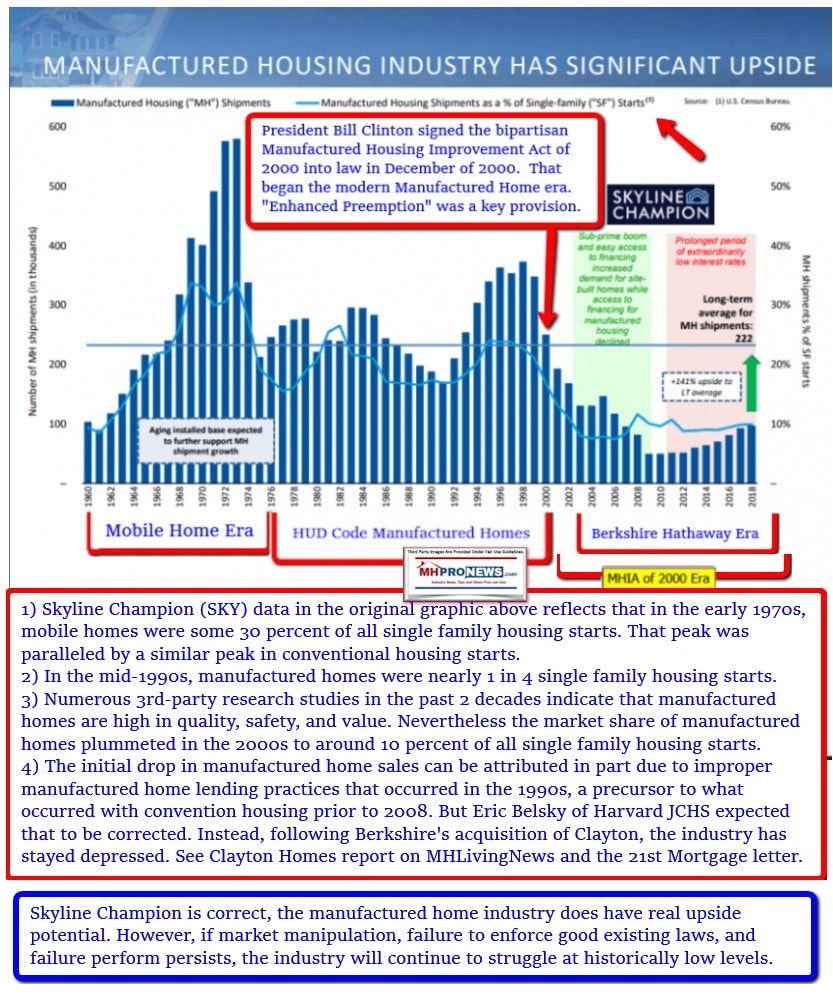 There is plenty of third-party material that makes the case for manufactured housing.  The two articles linked below are third-party professionals who studied manufactured housing and could make the case for our industry if they were routinely touted. So why are they absent from MHI's website?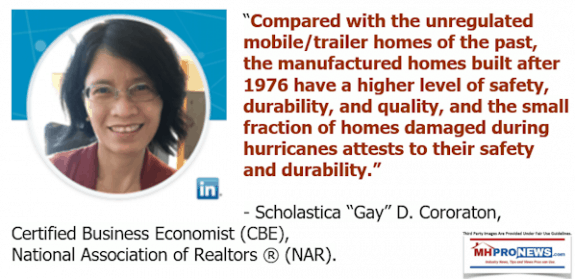 Affordable Manufactured Housing's Puzzling Contemporary Condition Revealed by Quotable Quotes from Residents, Professionals, Expert Researchers, Advocates, Public Officials, Graphics, and Reports
Why isn't the Manufactured Housing Institute (MHI) routinely and robustly pushing for a proper understanding of those third-party facts? Why isn't MHI pushing robustly, publicly and consistently for an unequivocal enforcement of good existing laws? As you ponder those questions, consider the whistleblowers news tip unpacked in the report below.
Whistleblower's Documents on Lesli Gooch – Manufactured Housing Institute CEO – New Discoveries
When MHI insiders are giving this publication documents and tips that all point to the purported corruption of that organization, it is time for those on the fence to wake up. The reports above and below were both results of news tips by whistleblowers and informed sources.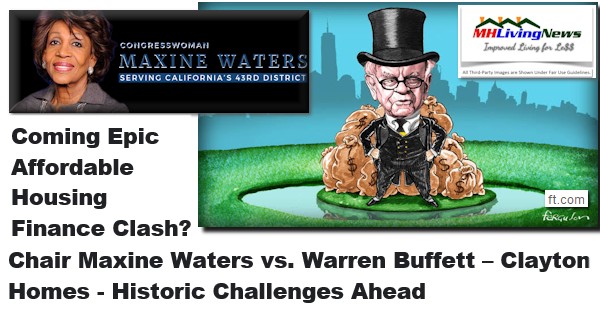 The good news is that every problem is an opportunity in disguise. The opportunities to fulfill the needs of affordable housing in the United States in an honest and ethical fashion are much bigger than many realize. If your are already profitable – and are for instance, in retail – you could easily grow your results many times over. If you core costs are covered, those added sales results in more money from each sale going to your bottom line.
Problems are opportunities in disguise.
Millions of Americans want to be owners of affordable homes. Our industry has what millions are seeking. We just have to help them see manufactured homes in their proper and true light.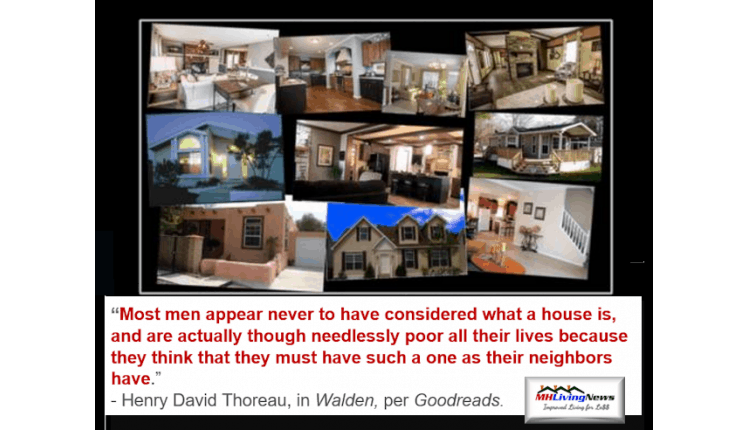 It is obvious that MHI isn't getting that job done either. Sure, they produce some nice videos, but when you look at the scant number of views they have vs. the millions who've viewed John Oliver's viral video errantly named "Mobile Homes," that says it all, doesn't it?
Stop Feeding the Hands that Bites You
There is no doubt that there is a conundrum in manufactured housing.
To a significant degree, Warren Buffett led Berkshire Hathaway has arguably been successful in slowly but steadily monopolizing the industry while giving advantages to others that are into consolidation too. Odds are good you are doing business with firms that are part of the MHI connected network that is purportedly and systematically strangling manufactured housing independents.
You may also be working for a firm that is part of that MHI network of so-called 'black hat' operations.
Our sources include those who are inside 'black hat' firms and have come to realize that it is a mistaken path on numerous levels. Clayton Homes, for example, is planning years into the future. They say so themselves. Look at their press for more automation. Sales people as well as factory workers alike could increasingly be automated out of jobs.
While we disagree with some of the proposals and conclusions of billionaire Nick Hanauer, the buddy of ultra-billionaires Jeff Bezos and Bill Gates, he is correct in saying that there are more profits in the long run and more benefit to more people when wealth isn't as concentrated. The quote below is another example of wheat from his chaff.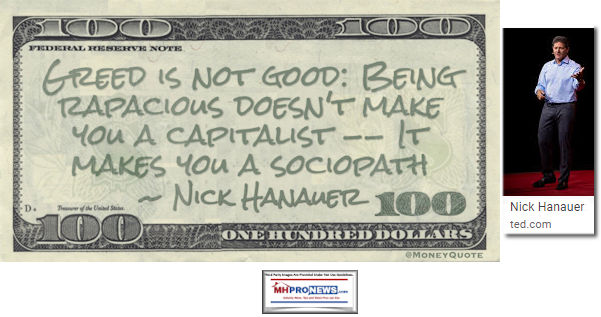 Pitchforks Coming – Billionaire Nick Hanauer Unpacked – Bridging Economic, Political and Moral Gaps – Affordable Housing and Manufactured Homes
The solution isn't 'higher taxes,' even if that thought is well meaning, that's a shell game. How so? Big companies simply pass those higher taxes onto their consumers in the price of their products and services. More regulation, similarly, isn't a solution either.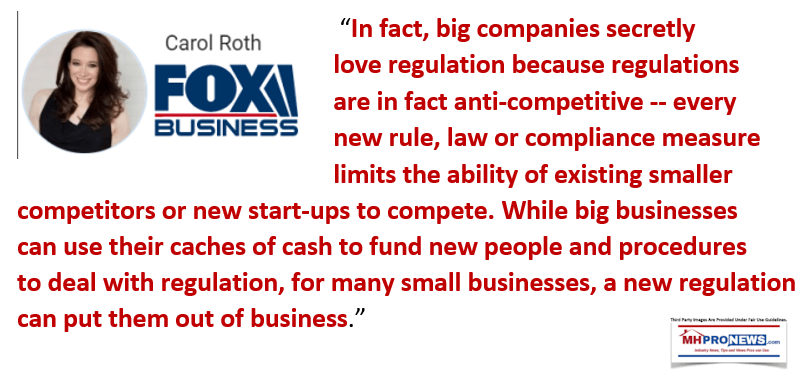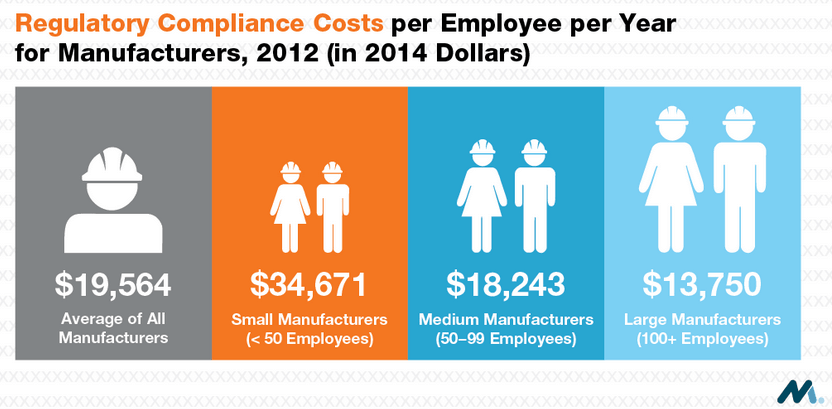 By contrast, among the baker's dozen of solutions is law enforcement. One of these laws that need to be enforced are antitrust laws that are designed to stop or break up the monopolization of an industry.
Applying Democratic, Republican & Barak Orbach's Monopolization Logic to Affordable Housing Crisis Impacting Manufactured Home Industry
Thanks to the support of forward thinkers, MHProNews and MHLivingNews have increasingly invested the research and effort for the last several years that exposes what's gone wrong in manufactured housing. We also point to the documented connection between viral videos like John Oliver's and some of MHI's key members. Note that when asked, no one in the Omaha-Knoxville-Arlington axis or their outside attorneys have tried to debunk the evidence linked below. Rephrased, it stands undisputed.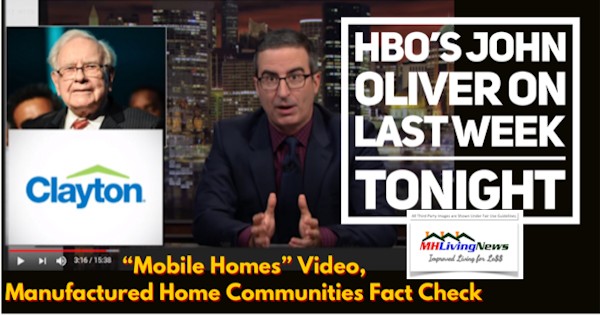 For independents and white hats inside of black hat operations to break free, several things are necessary. It isn't necessarily hard, but it isn't instant either. It took Clayton Homes about 15 years to grow to their present size after Buffett-led Berkshire acquired them and bankrupted Oakwood Homes.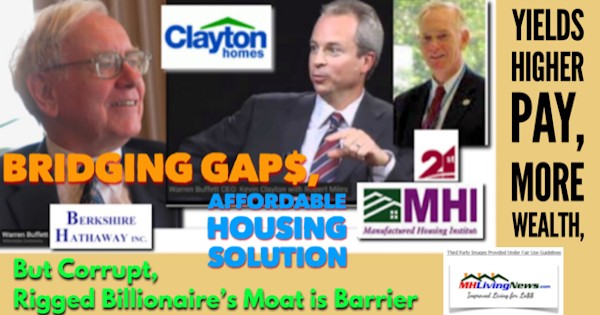 They accomplished that arguably by violating antitrust and other laws.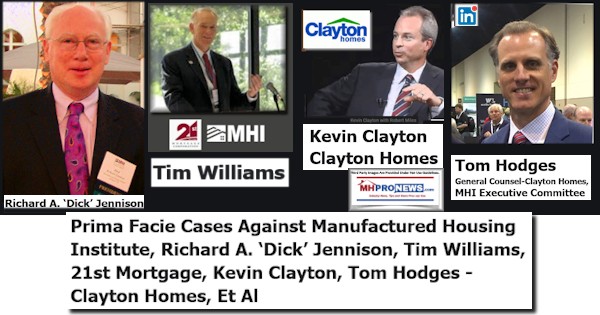 What manufactured housing needs is more forward-looking ethical people to look beyond today, next week, or next month. White hats must look years into the future, just as Buffett and his followers do.
White hats must see that the trend lines will steadily squeeze the independents out of business. Even if your firm may be a larger independent that arguably won't help you. Why not? Because there are numerous examples of how organizations like far larger than yours have been – and thus could be – knee capped and put under. Who says? Look at the evidence. Consider the old 'original' Champion and Fleetwood. They were giants 20 years ago. They were the big boys then.
Now, their names remain but their former corporations are gone.
Only the truth will set you free. Lies, deception, and buried heads in the sand will never liberate you. It will take effort to beat the cunning of the consolidators. But the good news is that the laws are on the side of the white hats and consumers.
That will be the one of the final points for this column. Consumers must be properly cared for and their interests must be properly tended to as MHI's former president Chris Stinebert said in his parting message.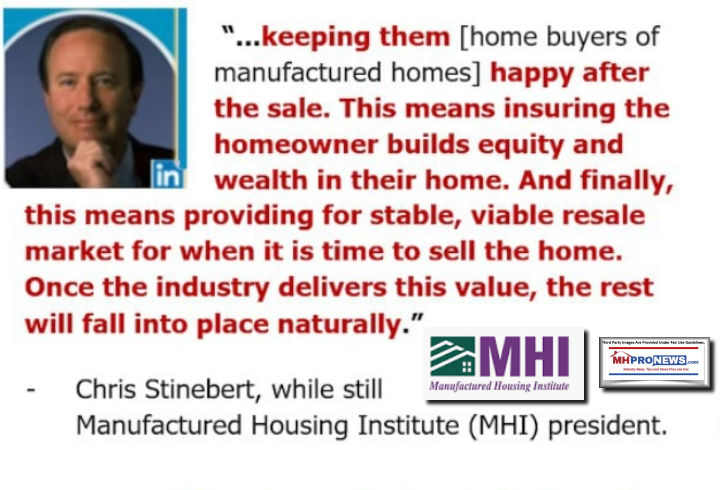 Information. Education. Understanding. Inspiration. Aspiration. Advocacy. Engagement. Enforcement. Jujitsu. Profits. Ethics. Repetition.
Give us your tips and documents that clearly point to the corruption that has occurred in manufactured housing. We recommend that if you are in a nonprofit or larger company that is potentially engaged in black hat efforts, that you use personal email or personal phones instead of company or organization phones to provide any news tips.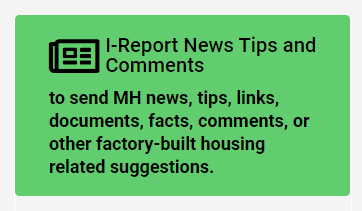 We don't believe in unlucky numbers. Satisfaction must obviously mean customers and residents. It is that baker's dozen, the lucky number 13.
Consumers who are already manufactured homeowners are also part of this planned effort. They are a key to the success of this effort to free the industry from the power of consolidators because the interests of consumers and white hat businesses and investors are interwoven. There have already been examples of current manufactured homeowners providing us useful information and evidence. More on that in the days ahead.
Information. Education. Understanding. Inspiration. Aspiration. Advocacy. Engagement. Enforcement. Jujitsu. Profits. Ethics. Repetition. Satisfaction.
That's it for now but sign up for our industry leading x2 weekly emailed headline news if you aren't already on our industry's most important e-news list. The powers that be follow it carefully. That means you should too. Information and inspiration are necessary to counter the ongoing propaganda of the consolidators.
There's work to be done. Working together with others of good will, we can get it done and do it profitably with honor. Most people can win so long as people of good will do what they can, while avoiding feeding the monster as much as they can. If a mad dog bites your hand, you don't keep feeding it that same way, do you? Don't feed the hands that are biting your professional interests.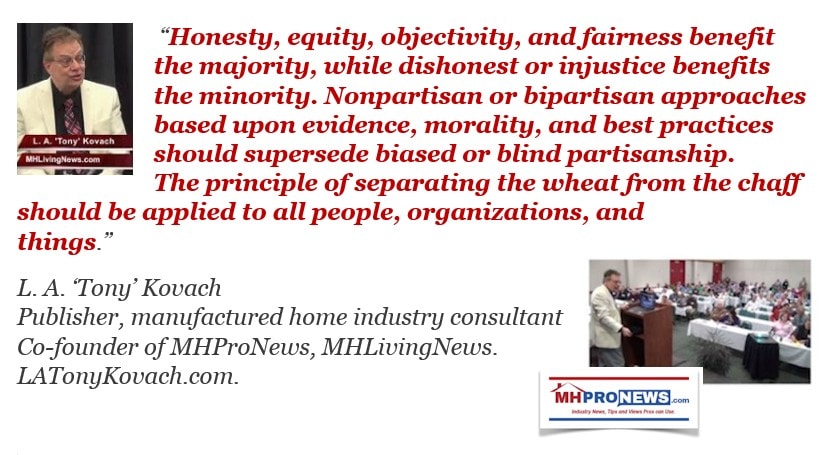 History reminds us that there are numerous opportunities to turn lemons into lemonade by doing what's right. That's jujitsu in a nutshell. That's what the Rev. Martin Luther King Jr. did. That's what George Washington did. White hats in MHVille can do so in our era by making a bright-line distinction between themselves and the black hats that currently hold sway over much in manufactured housing.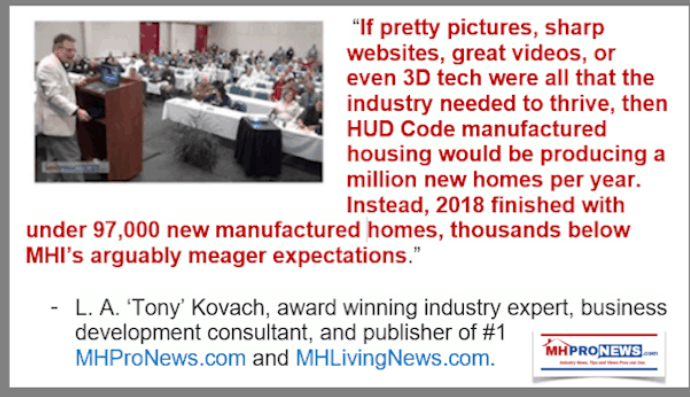 There is always more to come, but that's it for now in this chapter of manufactured housing "Industry News, Tips and Views Pros Can Use," © where "We Provide, You Decide." © (Affordable housing, manufactured homes, reports, fact-checks, analysis, and commentary. Third-party images or content are provided under fair use guidelines for media.)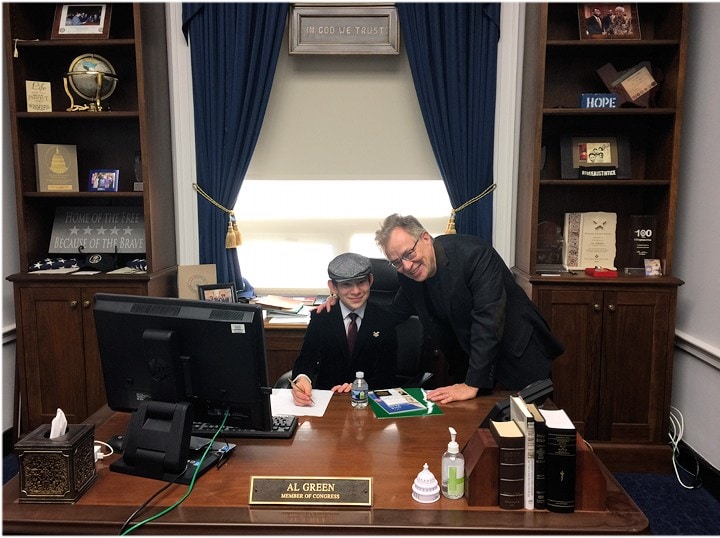 (See Related Reports, further below. Text/image boxes often are hot-linked to other reports that can be access by clicking on them.)
By L.A. "Tony" Kovach – for MHLivingNews.com.
Tony earned a journalism scholarship and earned numerous awards in history and in manufactured housing. For example, he earned the prestigious Lottinville Award in history from the University of Oklahoma, where he studied history and business management. He's a managing member and co-founder of LifeStyle Factory Homes, LLC, the parent company to MHProNews, and MHLivingNews.com. This article reflects the LLC's and/or the writer's position, and may or may not reflect the views of sponsors or supporters.
Connect on LinkedIn: http://www.linkedin.com/in/latonykovach
Related References:
The text/image boxes below are linked to other reports, which can be accessed by clicking on them.
Profit, Data – What's Hot, What's Not – ManufacturedHomes.com, Others Fact-Checked, Plus Manufactured Housing Investing, Stock Updates
Builder Confidence High, Manufactured Housing Pros Take Note, plus Manufactured Home Investing, Stock Updates
Congresswoman Rips Frank Rolfe, Dave Reynolds, Havenpark for "Troubling," "Predatory," "Deceptive" Practices, Calls for Federal Investigations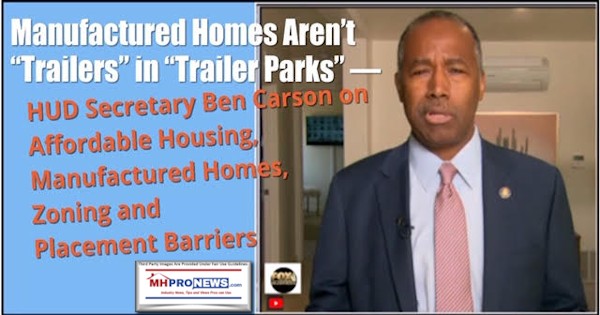 Does Misinformation Matter? Revealing But Misleading 'News' by MHInsider and the Manufactured Housing Institute?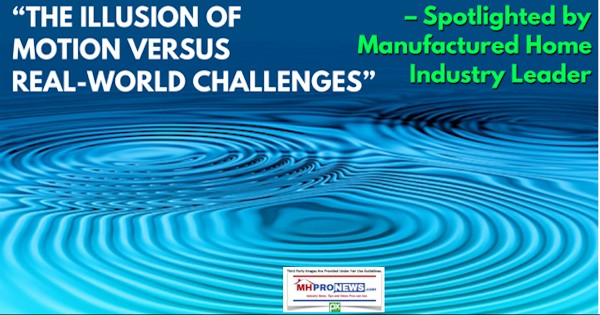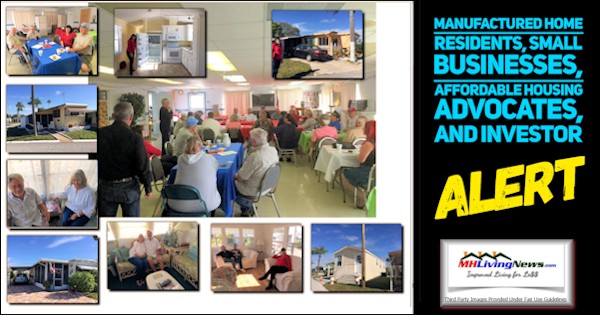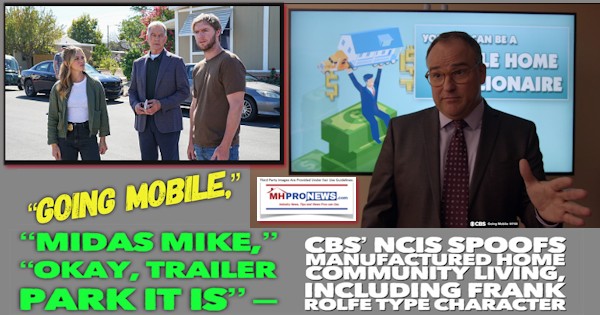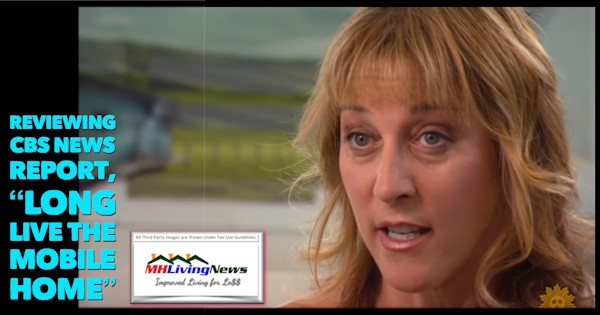 Saturday Satire and Executive Summaries for Manufactured Housing Professionals, Investors, Advocates, Researchers, Public Officials, and Investigators