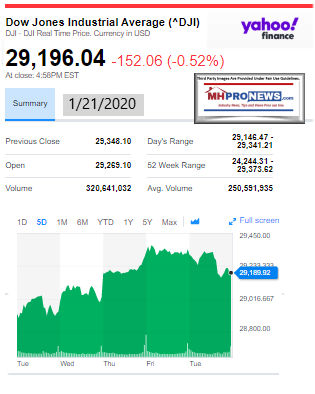 "If you don't know your numbers, you don't know your business."
Marcus Lemonis has helped several businesses transform through savvy, objective application of business principles. On honesty: "People respect you more if they get the truth as opposed to a bunch of fluff." – both quotes by Lemonis per CNBC on September 16, 2016.
Those two pull quotes above would be widely agreed upon by ethical business leaders and investors.
The reason this report matters is because there are numbers and claims being bandied about by certain companies and organizations which are questionable at best, or deceptive at worst. That concern thus merits this fact-check and analysis. There are businesses and leaders who are making decisions based upon what Lemonis might call "a bunch of fluff" that isn't "the truth."
The numbers of a business and the facts of an industry all matter.
On January 21, 2020 at 06:15 AM ET, a report was published that provided a data-driven overview of the manufactured housing industry. "Manufactured Housing Comparisons…" is linked here, and should be utilized in conjunction with this report, but makes a useful stand-alone reference too. Note that the lion share of that data is from third-parties that are routinely cited and haven't been seriously questioned or debunked. Meaning, its factual information. It's the much desired "truth" that businesses need.
Against that fact-driven backdrop is this evening's report, which is a fact-check of claims that are interesting and bold. But those claims are provided without any reference to a third-party or data-source that substantiates that claims made.
Furthermore, there is evidence that the claims being made are mistaken at best or are deliberately deceptive at worst.
One problem with spin, paltering, clever lies or other forms of manipulating information and the truth is that as some watch others 'get away with it,' the temptation to follow suit grows. During the 1990s, the spread of bad lending practices started with a few, seemed to have no negative outcomes, so others followed suit. Does MHVille need a repeat of that type of fiasco?
Indeed, that's the premise of some in law enforcement who want plea deals and convictions in part to deter other crime. That's second sentence in this paragraph is another topic for another time, but it illuminates the point of the first statement in this same paragraph.
Before hitting the concerns, let's note that the folks at ManufacturedHomes.com include some truly talented individuals. Not unlike MHVillage or others in the industry who sound off in print or online, they have real skills that don't need to be hyped. But as a heated public discussion between their principal and our publisher last year at Tunica revealed, he is sensitive to even what might appear to be a critique. Our publisher, as he is wont to do, politely but pointedly corrected the record and thus put him in his place.
In this industry, if you don't have thick skin, you might be in the wrong business. Because no one is beyond a fact-check, as MHProNews and our ManufacturedHomeLivingNews.com (MHLivingNews) sister-site has exemplified numerous times in recent years. If we dare check the veracity or reliability of Warren Buffett, Kevin Clayton, Tim Williams, their respective firms and others in their orbit, we certainly don't mind fact checking ManufacturedHomes.com and their recent claim.
The good, bad and ugly truth will follow further below along with added insights on MHVillage, MHInsider, their arguably paltering buddies at the Manufactured Housing Institute (MHI), as well as their contributing editor and blogger George Allen.
Why it matters to investors, professionals and others will be unpacked and analyzed too.
With that preface, this new feature this evening will be found beyond our standard left-right bullet headlines, today's market graphics and standard introductory data.
…
Periodic readers of this business-nightly feature should note there are a few tweaks to some of the standard portions of our evening market/investing report. Read carefully as some changes of the 'standard text' that follows before our left-right headlines and also in other features near the end of tonight's reports.
Every evening our headlines that follow provide snapshots from two major media outlets on each side of the left-right news spectrum that reflect topics that influence or move investor sentiment. In moments on this business evening report, you can get 'insights-at-a-glance.'
This report also sets the broader context for manufactured housing markets, in keeping with our mantra, "News through the lens of manufactured homes and factory-built housing" ©.
We begin with headlines left-of-center CNN followed by right-of-center Fox Business. We share closing tickers and other related data courtesy of Yahoo Finance, and more. 5 to 10 minutes reading this MHProNews market report every business night could save you 30 minutes to an hour of similar reading or fact-gathering elsewhere.
Perhaps more important, you will get insights about the industry from experts that care, but also dare to challenge the routine narrative that arguably keeps manufactured housing underperforming during an affordable housing crisis.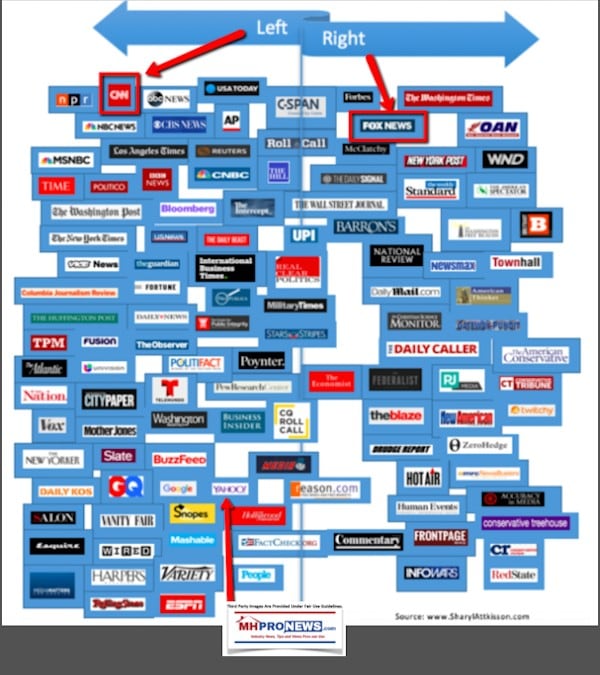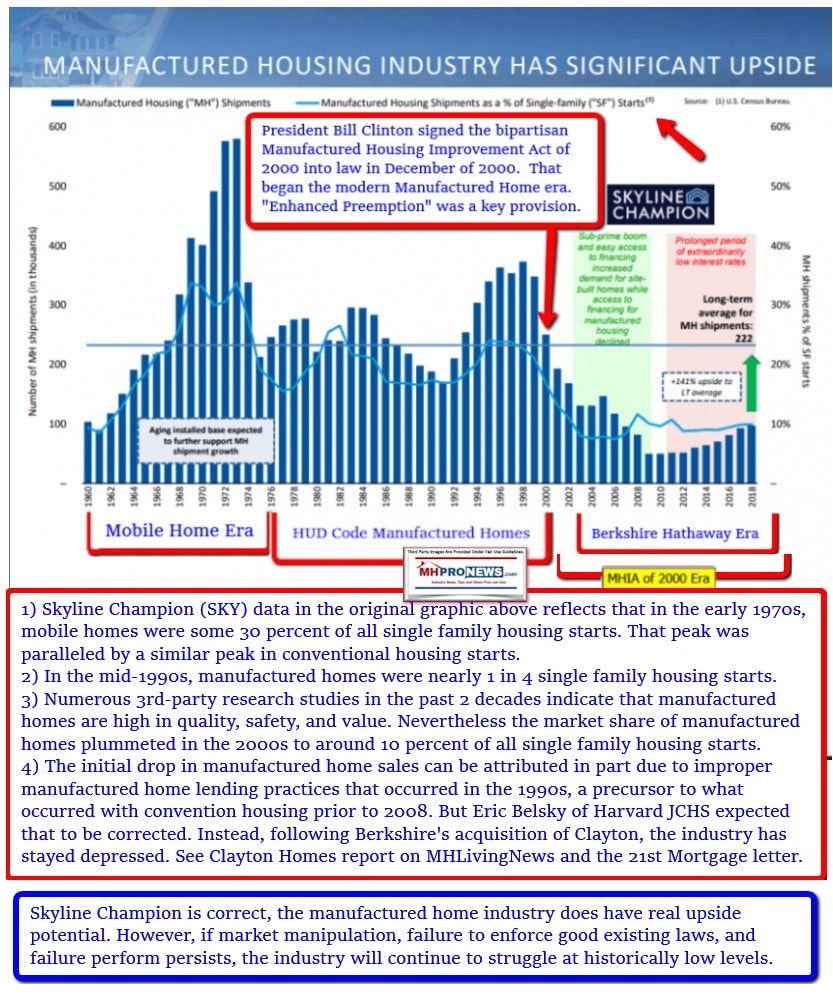 Newsy, Peeling Back Media Bias, Manufactured Housing Sales, Investing, Politics, and You
Headlines from left-of-center CNN Business
Stocks tumble
NEW YORK, NEW YORK – JANUARY 21: Traders work on the floor of the New York Stock Exchange (NYSE) on January 21, 2020 in New York City. Markets were down slightly in morning trading as investors weigh concerns over a virus outbreak in China and continued trade concerns between the U.S. and China.
The Dow closed down 152 points on the first case of coronavirus in the United States
Netflix adds subscribers as competition ramps up
US airline stocks fall on coronavirus fears
IPOs are so 2019. Companies are finding new ways to go public
Boeing says the 737 Max won't fly again until mid-2020
It's official: Boeing has stopped making 737 Max airplanes
Opinion: Disasters like the Australia fires happen when businesses ignore the climate
The recession in global car sales shows no sign of ending
NFL's Championship round takes a hit, but still brings in huge ratings
How 'Doom' keeps winning fans after 26 years: 'Blood, guts, gore and fun'
Delta gave its employees 2 months of extra pay. Here's why that's good business
Trump snubs Davos vision in another America-first speech
Home renovations that are worth the cost (and the ones that aren't)
Krystal fast food restaurant in Brookhaven, Mississippi, September 25, 2019.
Fast food chain Krystal files for bankruptcy
Huawei CEO Ren Zhengfei attends a session at the Congress center during the World Economic Forum (WEF) annual meeting in Davos, on January 21, 2020.
We can survive a tough fight with the US, says Huawei CEO
Meng Wanzhou's court battle starts a key year for Huawei
Huawei CEO says his daughter should be proud she became a 'bargaining chip' in the trade war
New FCC restrictions spark Huawei lawsuit
There is a backlash against Huawei in China
Greta Thunberg, climate activist, pauses during a panel session on the opening day of the World Economic Forum (WEF) in Davos, Switzerland, on Tuesday, Jan. 21, 2020. World leaders, influential executives, bankers and policy makers attend the 50th annual meeting of the World Economic Forum in Davos from Jan. 21 – 24.
Greta Thunberg blasts world leaders at Davos over the climate catastrophe
The American Dream is much easier to achieve in Canada
The irony of Davos VIPs and private jets
Oxfam says global inequality is 'out of control'
The biggest risk to the world in 2020
Headlines from right-of-center Fox Business
First coronavirus case lands in America; officials expect more
The new type of coronavirus, which can be spread from human to human, was reported in Washington state.
Coronavirus, flu and other illnesses: Tips for staying healthy while flying
Coronavirus screenings coming to two more airports as first case hits US
Big-money managers growing antsy about 2020 election
Stocks slide as China's virus outbreak spreads
Hunter Biden misses due date for financial papers in custody case: Court papers
Boeing pushes back 737 Max return until summer
Tips to teach young kids about money: financial educator
Stocks sink as Boeing 737 Max delayed, coronavirus reaches US
Meghan Markle gives brands a boost in paparazzi photos
Antonio Brown investigated for battery after incident at Florida home
Delta giving away $1.6B in bonuses on Valentine's Day
Weinstein attorney says 'loving emails' are key to defense
Meghan Markle won't be in Netflix's 'The Crown' if Prince Harry gets his way
Anti-5G group plans global protest
Will Smith goes undercover for Lyft in Miami
Lawrence Taylor picks Chiefs for Super Bowl win over 49ers
Sustainable startups get major funding boost from investors
Florida pilot busted for racist vandalism, Trump comments at airport
Meghan Markle 'replaced' by 'Cosby' mom's daughter in HBO Max satire
DoorDash, Grubhub skewered by small restaurants for posting menus
Oprah was 'pressured' by Russell Simmons to drop #MeToo doc
Varney: Hell hath no fury like a Democrat scorned
California could list common painkiller as carcinogen
Netflix's first CEO Marc Randolph says 'amazing' success came as a surprise
Microsoft president says this is the next 'tidal wave' among companies in 2020s
Canada to unveil legislation to ratify USMCA deal on Jan. 29: Trudeau
Conor McGregor was with Tony Robbins in lead-up to UFC 246 victory
AOC: 'No one ever makes a billion dollars. You take a billion dollars'
Jeff Bezos' India 'charm offensive' could be threatened by Washington Post ownership
Michael Schumacher 'very different' person since horrific skiing accident, doctor warns
Disney, Universal shut down Florida water parks because it's too cold
Buffalo Wild Wings bets on NFL championship game: Free wings if game goes into OT
Michael Avenatti being housed in El Chapo's former jail cell
Top 5 kitchen and bathroom renovations to maximize resale value
Pentagon No. 2 praises SpaceX for learning from 'spectacular failures'
The most and least educated states in America: Study
Halliburton takes $2.2B charge as shale boom slows
Jennifer Lopez, Shakira Super Bowl performance could lead to music sales boost
Starbucks to add plant-based items as part of eco-friendly strategy
Sharapova's Australian Open loss leaves her career uncertain
Eagles, Doobie Brothers will let you 'Listen to the Music' in luxury for $20,000
Former Universal execs win big in legal battle after #MeToo firing
Meghan Markle, Prince Harry's 'Megxit' first year could be bankrolled by Prince Charles
Boeing plans delayed 777X jet's first flight this week: sources
Warren slams Bloomberg over 45-day financial disclosure extension
Instagram drops IGTV button because 'very few are clicking'
10 Market Indicator Closing Summaries – Yahoo Finance Closing Tickers on MHProNews…

Featured Focus – Where Business, Politics and Investing Meet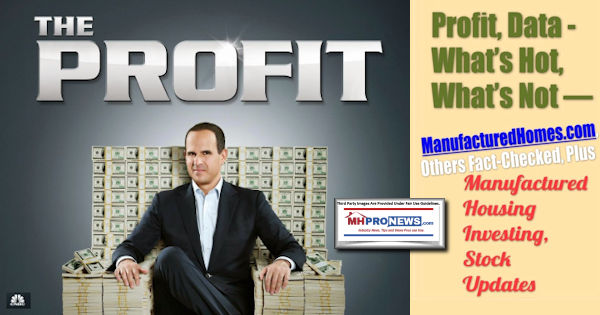 Prior to diving into our promised featured focus, this note from CNBC this evening that is relevant to the discussion that will follow.
Investors with $1 million or more in a brokerage account are significantly more bullish than they were a quarter ago.
In Q4 2019 many of these wealthy Americans were fearful of a market drop and recession.
Now 76% of millionaires grade U.S. economic conditions at an A or B, and there has been a 16% increase in those who expect the market to rise by as much as 5% in the first quarter.
There are any number of sources that indicate confidence in the economy, in housing and that the demand for affordable housing is high. All such economic or housing related signals ought to be good news for manufactured home producers, sellers, communities, etc.
But as this morning's report reflected, the industry is demonstrably lagging when compared to an array of data from within and outside of the industry.
Manufactured Housing Comparisons – Data Sets Vs. Existing and New Single-Family Housing Sales, RVs, Auto Facts – Potent Insights for MH Professionals, Investors
That begs questions about what is it that will actually move the industry ahead? Which leads us into this evening's featured focus. Because there are those that claim that they are already part of the solution. Let's see.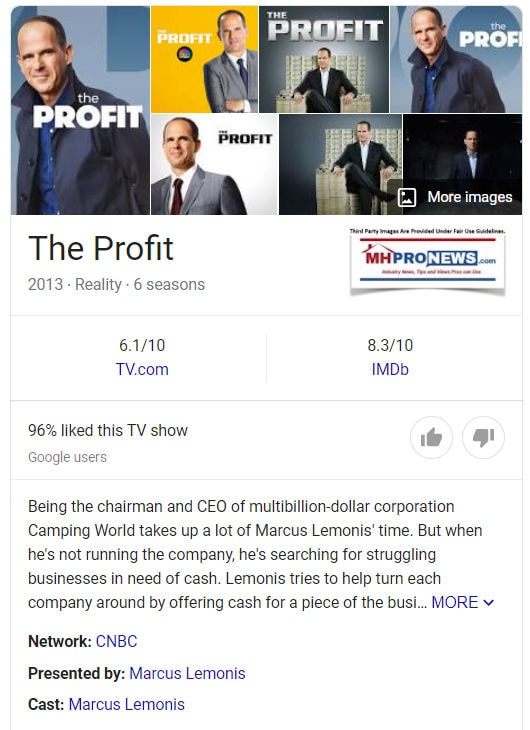 Compare and Contrast
"If You Don't Know Your Numbers You Don't Know Your Business." Marcus Lemonis was called "brilliant" by a writer for that quote. Lemonis is on CNBC's The Profit.
Much of what Lemonis does is lay new eyes on a business. He provides an objective look. That's useful and necessary in MHVille too.
When someone points a finger, it is reasonable to understand that finger-pointer. So before launching into the claims made by ManufacturedHomes – and how that compares with MHVillage, MHInsider, George Allen or Clayton Homes or their allies – let's update some data provided by third-party Webalizer on our own MHProNews site. Given that we hold others to account, we too should be as transparent and accountable as reasonable too.
As has been previously disclosed, we have well over a dozen cPanels that generate site data for MHProNews, MHMarketingSalesManagement.com, ManufacturedHomeProNews, et al. What follows is only from the largest 4, so the actual totals are notably higher.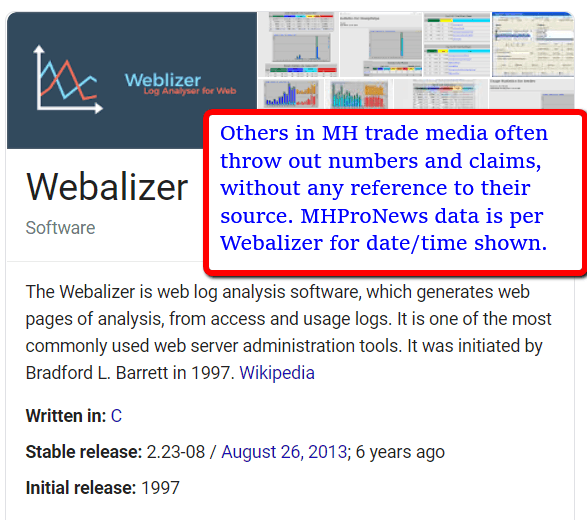 Keep in mind that:
per Cavco Industries there are an estimated 75,000 full-time employees (FTEs or Full Time Equivalents) in manufactured housing. Numbers of those might be factory workers, service personnel or in other jobs that may or may not be as interested in the kinds of reports found here as say managers, owners, executives, investors, sales, marketing or other like professionals would find.
Additionally, Statista said on January 16, 2019 that "

only 19 percent of people report reading local newspapers often, and a whopping 27 percent

state that they don't read them at all

."
Given those data points, the readership on MHProNews is nothing short of surprisingly strong. With only 4 of over a dozen cPanels data, per the information as shown further below, revealed:
15,753 daily visits (avg.) month-to-date
79,183 daily pages

(avg.) month-to-date

128,800 daily hits

(avg.) month-to-date

330,865 month-to-date visits
1,662,880 month-to-date pageviews
2,704,821 month-to-date hits
There are 15,335 articles posted on MHProNews in the Daily Business News module, with some 20,000+ articles published site-wide (Masthead, Cutting Edge, Interviews, etc.). By way of disclosure, part of what makes MHProNews beyond the quality of content is the sheer volume of articles. No one in manufactured housing professional publishing today comes close.  Numbers of articles are accessed month or years after it was first published. Examples will be shown further below.
Per third-party Webalizer, "Summary by Month Generated 21-Jan-2020 06:06 CST"

Let's further note that any comparison between MHProNews or these other sites are hardly apples to apples. Indeed, it is apples to oranges, and here's why.
ManufacturedHomes is mostly a marketing site, as they essentially admit. Meaning, it is focused on the public-at-large, not just the much smaller subset of Americans involved in the manufactured housing profession. The same disclaimer should be noted with MHVillage or perhaps to a lesser extent with MHI. They each have aspects devoted to both the public and to professionals. By contrast, Manufactured Home Pro News or MHProNews – starting with the name of the website – is clearly billed as professionally focused. That doesn't mean that there aren't members of the public that surf in, of course that occurs. But the content itself is such that MHLivingNews would appeal more to the general public.
Further, advertisers and trade shows documented that our readers are engaged. If the bulk of our readers were non-professionals, the results delivered – per those that have experienced and praised it – would logically be lower.
That said,
let's start first with ManufacturedHomes.com, which recently made a fascinating claim that we will fact check.
Then we will look again at MHVillage's MHInsider website.
Fact-checks, Analysis and Commentary by MHProNews.
With that step by step plan, let's begin.
Point 1)
Per ManufacturedHomes on December 12, 2019: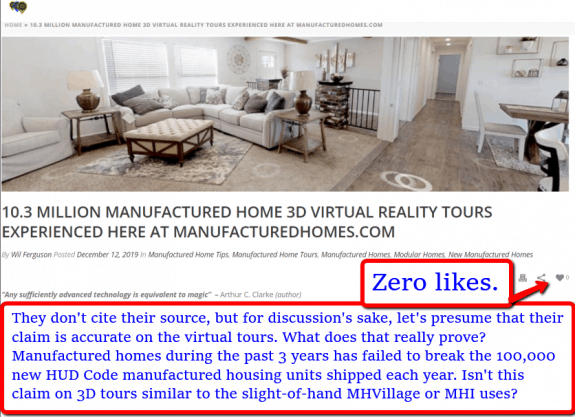 Their blog post opens with these statement and claims.

10.3 MILLION MANUFACTURED HOME 3D VIRTUAL REALITY TOURS EXPERIENCED HERE AT MANUFACTUREDHOMES.COM
It is likely, but difficult to quantify, that a majority of the approximately 300,000 new manufactured home buyers over the last three years have utilized the resources of ManufacturedHomes.com to locate the home they eventually purchased.
That reasonable assumption is based on confirmed statistics that manufactured home shoppers have taken 10.3 Million 3D Virtual Reality Tours of actual available manufactured home models from across the nation, here at ManufacturedHomes.com
Since 2011  ManufacturedHomes.com and companion sites, ModularHomes.com, and ManufacturedHome.loan, have become the preeminent and most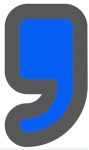 visited sources where thousands of home shoppers have begun their quest towards manufactured homeownership from the comfort and privacy of home."
MHProNews will analyze their claim further below. But let's see what MHVillage claims on this date, because the two are clearly claiming something quite similar.
They can't both be right.
Point 2)
According to MHVillage on this date:

The Nation's Largest and Most Active Website for Manufactured Housing
Whether you are looking to sell your home or buy or rent one, you have come to the right place. With our extensive database of home listings, we are here to help connect manufactured home sellers and buyers.
MHVillage is the nation's largest and most active website for buying, selling or renting manufactured or mobile homes. Since its inception in 2004, MHVillage has grown to become the number one consumer website for the manufactured housing industry.
We are the only listing website recognized and endorsed by the Manufactured Housing Institute (MHI), the national manufactured housing trade association.
But being the largest isn't our only goal. We want to be the best manufactured home listing site in the nation. We want to provide you with the information you need. If you are a homeowner, we are proud to offer the MHVillager, a blog designed for you. The MHVillager follows the advantages, customs, trends and lifestyle insights associated with living in a manufactured home, on private land or in a community. If you are a professional in the manufactured housing industry, we offer the MHInsider, a blog and print publication specifically designed for the trade.
Information is key at MHVillage. And we are proud to offer the best data and information from around the country."
##
Based solely on face value claims, MHVillage would seem to be bigger and would logically have more traffic. But let's look deeper.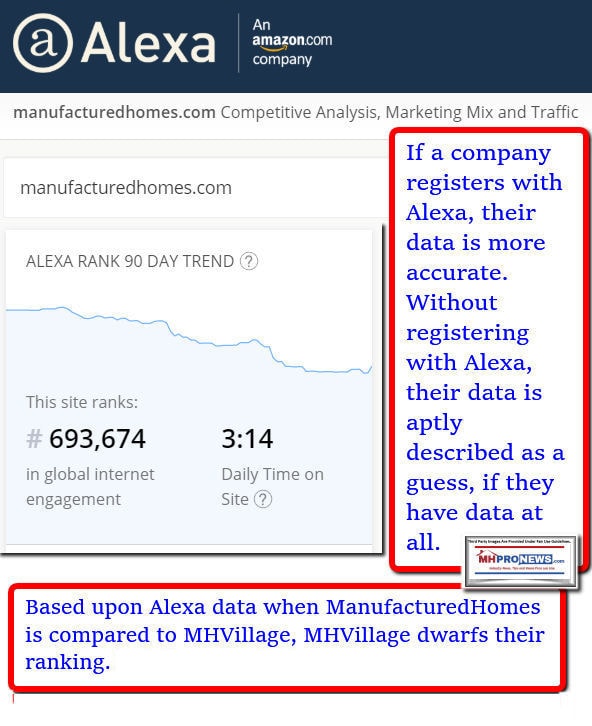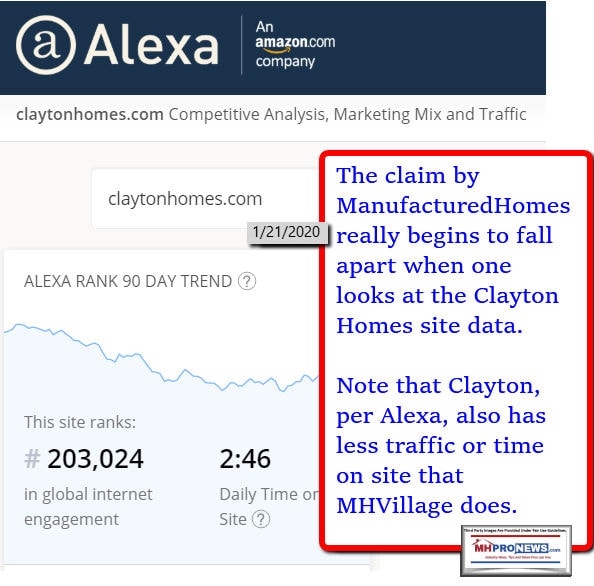 Point 3)
Give MHVillage their due. In terms of site rank and time on site, they best both Clayton Homes, and dwarf ManufacturedHomes.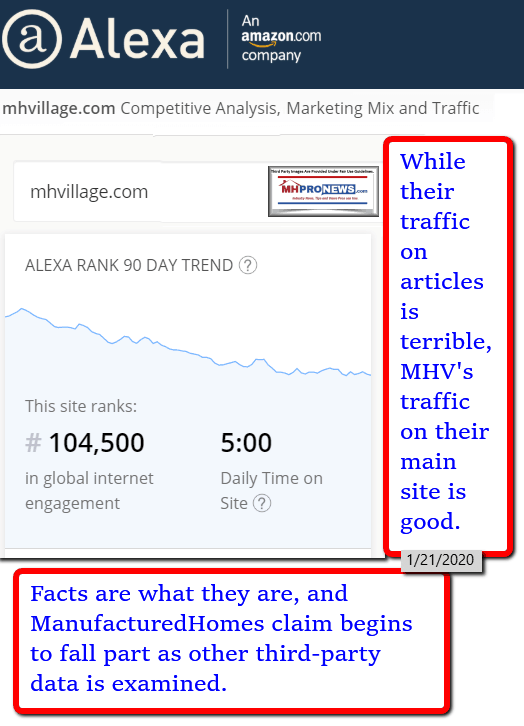 Additionally, MHInsider has said the following.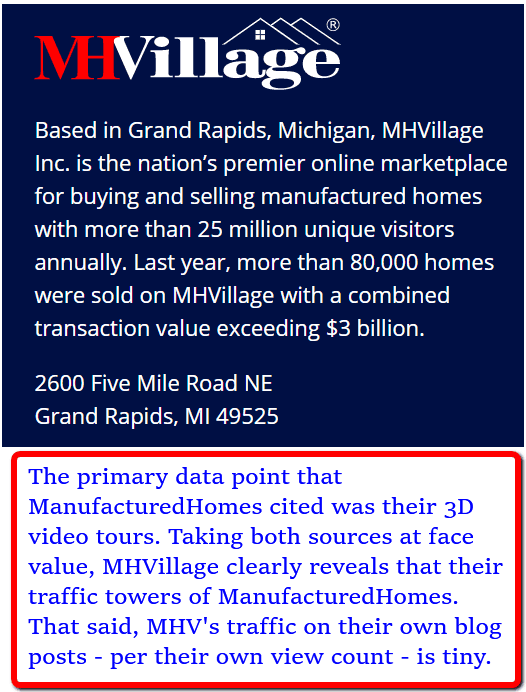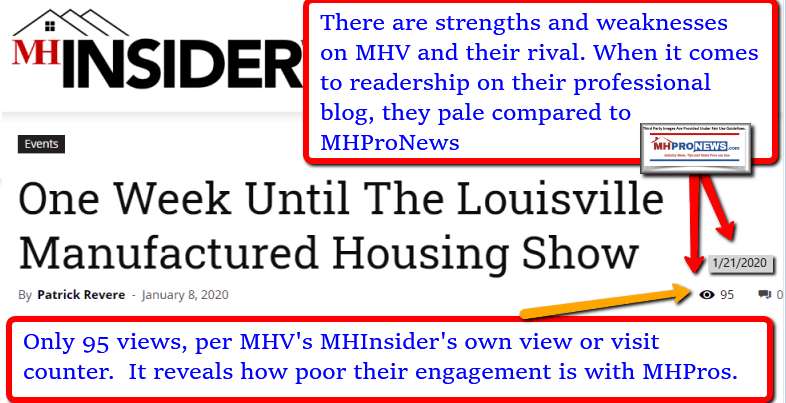 By contrast, on MHProNews, per Webalizer, here are two of the top articles as of the date shown.

The point above wasn't that MHVillage is perfect, the principle of the wheat and chaff applies. But rather than the facts reveal that ManufacturedHomes has way overstated their claim and MHInsider and MHVillage have other factual claim issues too. MHProNews has previously fact-checked MHVillage and MHInsider. See the deeper dive report linked here below.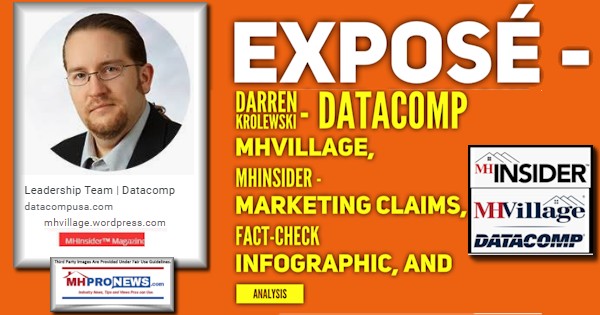 As a closing point, even without the data as shown, the claims of ManufacturedHomes were obviously inaccurate. They work with a handful of companies. They don't represent any of Clayton or Skyline Champion production centers at this time, and only one of Fleetwood's. To try to imply in any sense that they are response for a large percentage of the industry's business borders on the absurd. That said, they do make nice videos and tours. But if that was what the industry needed, the sales wouldn't be under 100,000.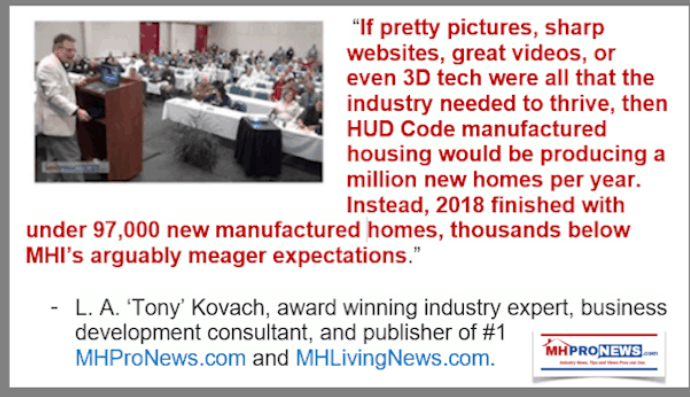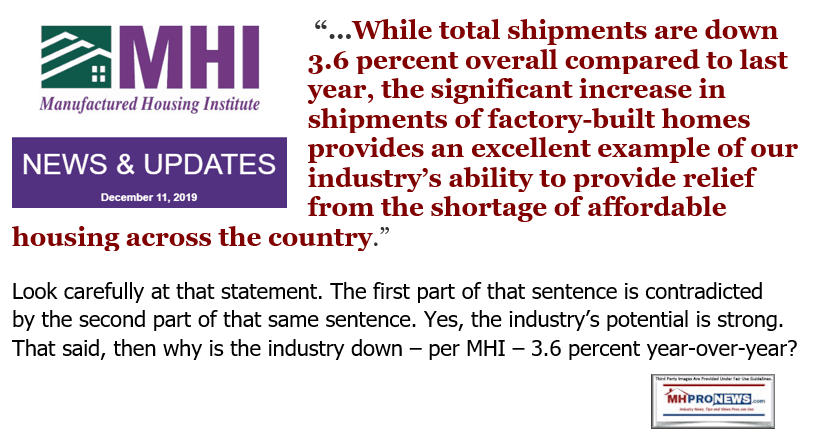 In that respect, it is clear that neither MHVillage or ManufacturedHomes is seriously moving the needle. If they were, the industry would be over 500,000 new home shipments. Who says? MHVillage buddy Richard Jennison, former MHI president.
MHI CEO Dick Jennison's Pledge – 500,000 New Manufactured Home Shipments
Do you think they hate it when they get held to account for their own statements, promises and pledges? Fact checks and objective analysis helps professionals and investors to see what's wrong and what's right.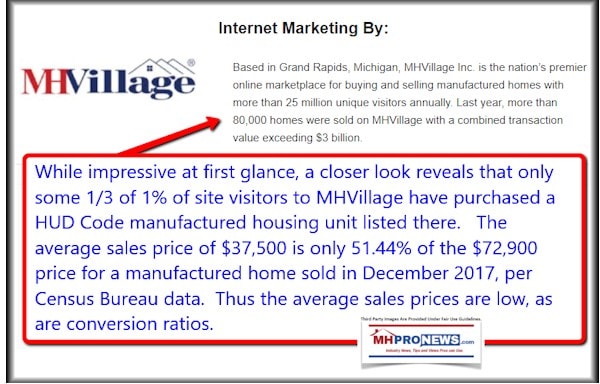 Clayton Homes, 21st Mortgage, MHVillage, Manufactured Housing Institute Leaders Challenged
The industry is struggling because of an image issue, financing, zoning/placement and other problems that neither MHV nor ManufacturedHomes are seriously tackling. The need for change is supported by the facts revealed above and linked from this report. The evidence is in the numbers.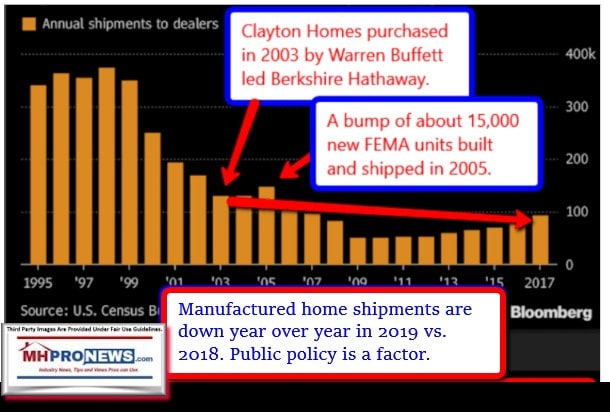 Prosperity Now – How the Game's Played in Manufactured Housing, plus Manufactured Home Investing, Stock Updates
False, deceptive or misleading advertising are routinely not permitted under state or federal laws. Furthermore, it just isn't good business. Who says? The Profit.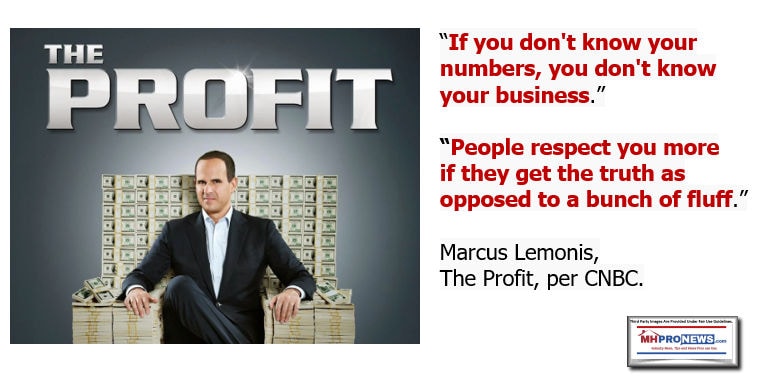 The paltering, deception and spin that occurs among several, but by no means all, firms that are often connected to the Manufactured Housing Institute begs investigation. See the related reports for more.
Related Reports: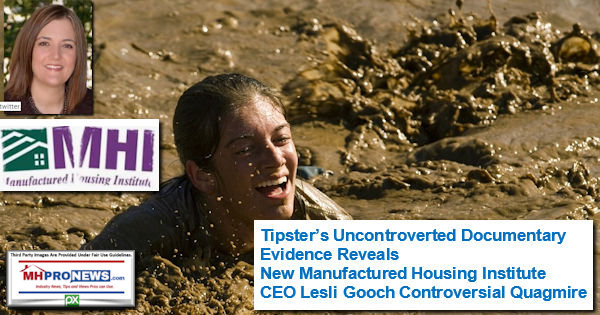 Congresswoman Rips Frank Rolfe, Dave Reynolds, Havenpark for "Troubling," "Predatory," "Deceptive" Practices, Calls for Federal Investigations
What's Up? Cavco Industries (CVCO) Looming Announcement, plus Manufactured Home Investing Updates
Explosive – Veteran MH Insider Interview Delivers Vital Insights, plus Unpacking "Manufactured Housing Institute 2.0" Announcements
Then there is the runaway #1 trade media report in all of MHVille in January, 2020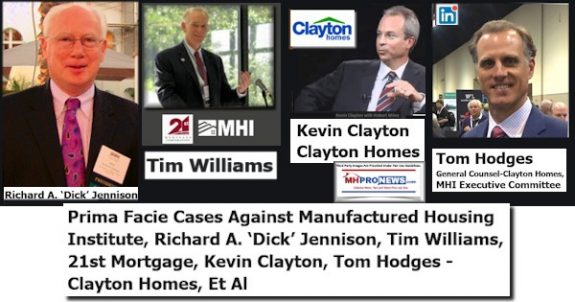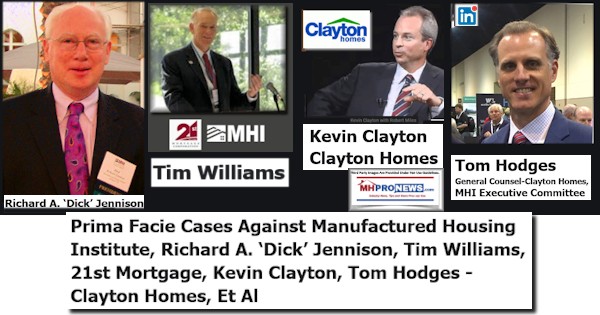 Blood. Brains. Why 2020 Could be Different than 2009-2019 in MHVille, plus Sunday Weekly Headline News Recap 1.5 to 1.12.2020
Federal Official, Manufactured Housing Institute, Manufactured Housing Association for Regulatory Reform and Certain MHI Member Firms
Can Negative Publicity Help Some Companies? Lessons from VW, Buffett for MHVille, plus Manufactured Housing Investing, Stock Updates
Manufactured Housing Industry Investments Connected Closing Equities Tickers
Some of these firms invest in manufactured housing, or are otherwise connected, but may do other forms of investing or business activities too.
NOTE: The chart below includes the Canadian stock, ECN, which purchased Triad Financial Services, a manufactured home industry lender
NOTE: Drew changed its name and trading symbol at the end of 2016 to Lippert (LCII).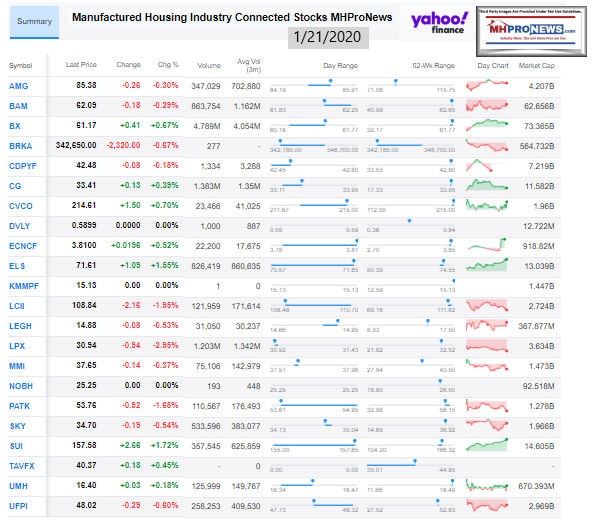 Winter 2020…
Berkshire Hathaway is the parent company to Clayton Homes, 21st Mortgage, Vanderbilt Mortgage and other factory built housing industry suppliers.
· LCI Industries, Patrick, UFPI, and LP each are suppliers to the manufactured housing industry, among others.
· AMG, CG, and TAVFX have investments in manufactured housing related businesses. For insights from third-parties and clients about our publisher, click here.
Enjoy these 'blast from the past' comments.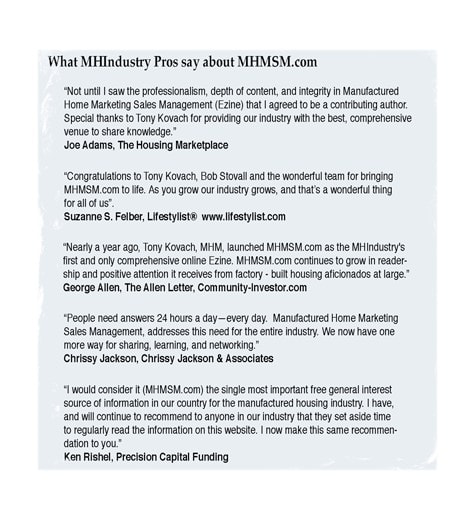 MHProNews. MHProNews – previously a.k.a. MHMSM.com – has now celebrated our tenth anniversary.
Learn more about our evolutionary journey as the industry's leading trade media, at the report linked below.
Celebrating 10 Years of Goal- and Solution-Oriented Manufactured Home Industry Innovation Information, and Inspiration for Industry Professionals
· For expert manufactured housing business development or other professional services, click here.
· To sign up in seconds for our industry leading emailed headline news updates, click here.
Disclosure. MHProNews holds no positions in the stocks in this report.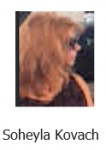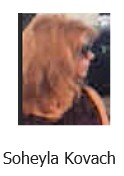 "We Provide, You Decide." © ## (News, analysis and commentary.)
(Image credits and information are as shown above, and when provided by third parties, are shared under fair use guidelines.)
Submitted by Soheyla Kovach, co-managing member of LifeStyle Factory Homes, LLC and co-founder for MHProNews.com, and MHLivingNews.com.

Connect with us on LinkedIn here and here.