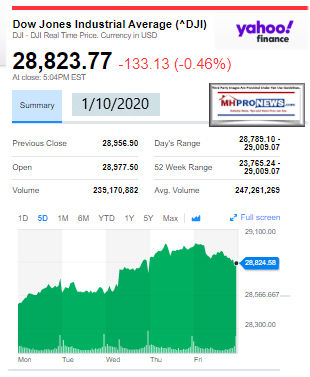 Give Skyline-Champion (SKY) their due. They have long had an eye for design. The look of their rendering of a new modular accessory dwelling unit (ADU) dubbed the Urbaneer has curb appeal.
But as elements of their press release and our exclusive analysis will reflect, there is more to this than mere visuals reveal. That will be our featured focus this evening.
Periodic readers of this business-nightly feature should note there are a few tweaks to some of the standard portions of our evening market/investing report. Read carefully as some changes of the 'standard text' that follows before our left-right headlines and also in other features near the end of tonight's reports.
Every evening our headlines that follow provide snapshots from two major media outlets on each side of the left-right news spectrum that reflect topics that influence or move investor sentiment. In moments on this business evening report, you can get 'insights-at-a-glance.'
This report also sets the broader context for manufactured housing markets, in keeping with our mantra, "News through the lens of manufactured homes and factory-built housing" ©.
We begin with headlines left-of-center CNN followed by right-of-center Fox Business. We share closing tickers and other related data courtesy of Yahoo Finance, and more. 5 to 10 minutes reading this MHProNews market report every business night could save you 30 minutes to an hour of similar reading or fact-gathering elsewhere.
Perhaps more important, you will get insights about the industry from experts that care, but also dare to challenge the routine narrative that arguably keeps manufactured housing underperforming during an affordable housing crisis.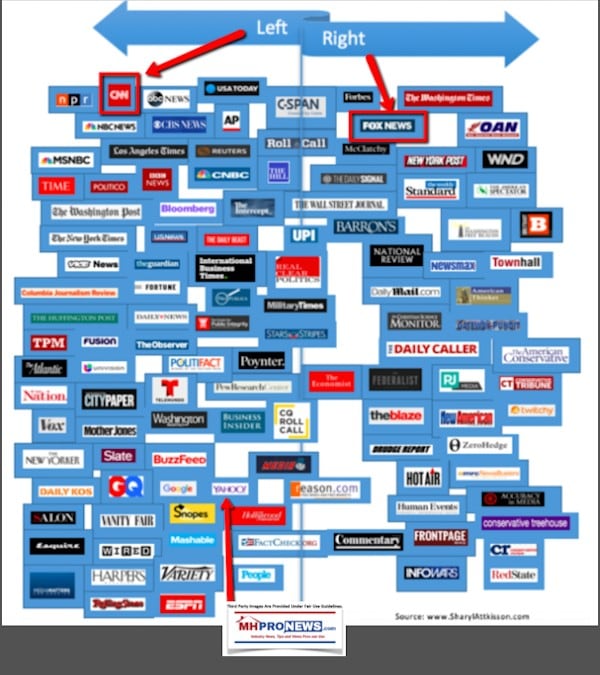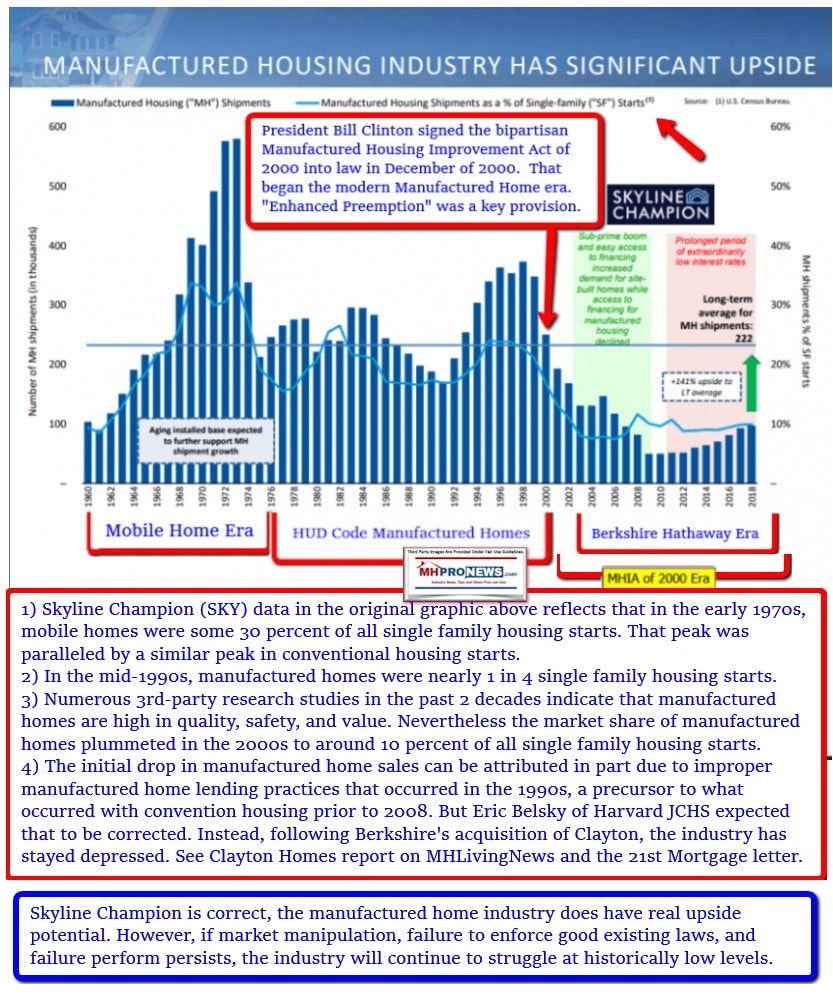 Newsy, Peeling Back Media Bias, Manufactured Housing Sales, Investing, Politics, and You
Headlines from left-of-center CNN Business.
Jobs are hot. Wages aren't
Although the U.S. constitution prohibits an official state religion, references to God appear on American money, the U.S. Congress starts its daily session with a prayer, and the same U.S. Supreme Court that has consistently struck down organized prayer in public schools as unconstitutional opens its public sessions by asking for the blessings of God. The Supreme Court will soon use cases from Kentucky and Texas to consider the constitutionality of Ten Commandments displays on government property, addressing a church-state issue that has ignited controversy around the country.
Paychecks simply aren't growing much even though unemployment is at its lowest since 1969
Boeing says it will not pay severance to ousted CEO Muilenburg
Largest Boeing supplier lays off 2,800 workers because of 737 Max production suspension
Opinion: America is too focused on the unemployment rate. Here's what we need to watch
It's been a rough few months for American dairy. But the milk industry isn't dying. It's evolving
Dow hits record 29,000, but closes lower
Bond yields are really low. What's an investor craving yield to do?
Top Google exec David Drummond to retire months after scrutiny
These 'artificial humans' were the hottest topic at CES
She went head-to-head with an oil company five times the size of her own. And won
Opinion: Australia promised $2 billion for the fires. But recovery will cost $100 billion
FILE- This Sept. 30, 2016, file photo shows the logo of the Tesla model S at the Paris Auto Show in Paris, France. Shares of Tesla are down 50 percent since September 2019, with concerns about Model 3 demand in the U.S. at the forefront. Daniel Ives of WedBush said in a client note Monday, May 20 that so far there seems to be mixed signals on Model 3 demand, which could make it harder for Tesla to achieve a profit in its third and fourth quarters and the future. (AP Photo/Christophe Ena, File)
Tesla is now the most valuable US automaker ever
$3.7 million: Ford Mustang driven in the movie Bullitt sells for record price
Casper has filed to go public. It won't turn a profit anytime soon
THE BUSINESS OF CANNABIS
Andrew Cuomo promises to legalize cannabis in New York
A defining year for the cannabis industry
Testing drivers for cannabis is hard. Here's why
CES hit by questions over treatment of cannabis company
Legal marijuana sales in Illinois brings in nearly $11M
A STEP BACK
Speeches, books and Instagram posts: How Harry and Meghan could make their own money
Harry and Meghan take revenge on the British tabloid press
Britain's top tabloids focus their fire on Meghan
They want to trademark their brand 'Sussex Royal'
Shocking announcement dominates UK media
Headlines from right-of-center Fox Business.
Former Boeing CEO embroiled in 737 Max crisis denied roughly $44M in pay
FAA moves to fine Boeing over $5 million for defective parts on doomed planes
'Designed by clowns': How Boeing employees slid 737 Max problems past FAA
Boeing's CEO, Dave Calhoun, to take the reins: Here's what he will be paid
Google's legal chief stepping down amid swirling sexual misconduct claims
Wealth taxes proposed by Warren, Sanders could cost workers $1 trillion
IRS Free File program open for taxpayers to get a jump start on tax season
Epstein repeatedly visited ritzy college after donations ⁠— despite sex offender status
Another freak incident destroys evidence in Epstein's death
California homeownership dream may soon become a nightmare
Olympic athletes banned from political statements at 2020 Tokyo Games
Elizabeth Warren beauty regimen includes drug store-brand moisturizer
'Dirty Jobs' host reveals the real reason why parents push kids toward college
Feds could take control of massive auto union amid spiraling corruption probe
Proposed bill is every teenager's worst nightmare
The popular diet behind Adele's stunning 50-pound transformation
Angry customers erupt in riot after supermarket sale debacle
Shares of Victoria Secret's parent looking up despite bra sales bust
FDA recalling 'numerous' heartburn, blood pressure medications
Is the future female? Jobs numbers reveal surprising workforce gender split
Where are the jobs? These sectors hired the most workers in December
FDA's cancer drug approval fuels Blueprint Medicines' stock spike
'Jeopardy!: Greatest of All Time' Night 3 was all about role play
US government reportedly gives free phones with Chinese malware to people in need
Verizon 'disrupts the cable industry,' offers customers more cable and internet choices
Varney on how Democrats will hit back at Trump's raging bull market
Top trading firm finds solution to keep hiring Californians despite new law, CEO says
Layoffs reportedly hit Softbank-funded startups Rappi and Oyo Hotels
Trump slams Iran with new sanctions
Stocks slip after Dow crosses 29,000 level for first time ever
How to treat painful side effects from recalled face mask
Why sinking college football game attendance isn't financial fumble
SEE PICS: Larry King sells sprawling $15.5M mansion amid ugly divorce
'The Incredible Hulk' actor to become deputy in New Mexico
Judge in Weinstein trial responds to defense's request he step down
US job growth slows in December, ending 2019 on disappointing note
Boeing seeks US approval to help investigated deadly 737 crash in Iran
'Designed by clowns': Boeing messages show employees slid 737 Max problems past FAA
The fastest way to increase your credit score
Scientology may ask judge to enforce 'religious arbitration' in celeb-linked suit
Warren campaign touts 'best' start to fundraising month in 2020 cycle
Virginia bans guns at state Capitol as 2nd amendment tensions grip state
Tesla's shot at dominating the world's largest market, and then the world
Mylan recalls drug for heartburn, ulcers over cancer concerns
US to probe Fitbit, Garmin, other wearable devices after Philips complains
Crossfit CEO's Hawaii home listed for $9M. Check out the gym
US consumers would pay a 5G premium for these reasons
'Send Nudes': Drivers shocked by road sign's racy request
After Super Bowl, sports books preparing for XFL bets
San Francisco's 'living landmark' Beefeater doorman retires after 43 years
NFL playoffs: Do state taxes affect your team's chances of winning?
Royal courtiers chart path for Prince Harry's independence
Boeing supplier Spirit to lay off more than 20% of workforce in Kansas
Amazon Alexa saves Florida man from crime
California truckers not subject to gig economy law, judge says
Carlos Ghosn's lawyer slams Japan justice minister's gaffe
10 Market Indicator Closing Summaries – Yahoo Finance Closing Tickers on MHProNews…


Featured Focus – Where Business, Politics and Investing Meet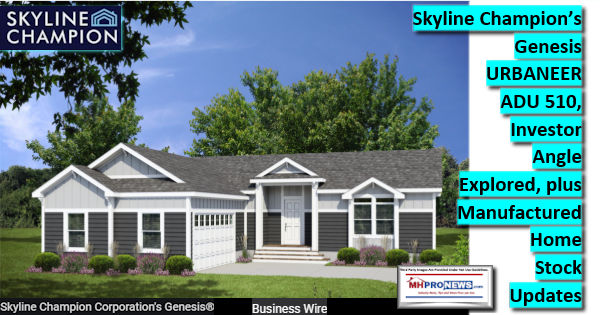 Earlier this week, Skyline Champion (SKY) announced their launch of what's ballyhooed as "…housing innovator URBANEER, Inc. joins the fight against the national housing crisis with its launch of their first 510 sq. ft. accessory dwelling unit (ADU) to be manufactured by Champion Home Builders, a subsidiary of Skyline Champion Corporation, as part of its Genesis brand of products and distributed in the Northern Virginia market by Backyard Cottages, located in, Arlington, VA."
MHProNews will first look at some key pull quotes, and then pivot to a related analysis and linked information that goes beyond their press release.
"URBANEER and Champion Home Builders have defined Living 2.0 – smarter, compact, affordable living solutions that will relieve the pressure on housing in and near city centers," said URBANEER lead investor Raul Fernandez, Vice Chairman and Owner of Monumental Sports and Entertainment. "URBANEER's technology and design transform 500 square feet into 800 square feet of smart living for consumers. URBANEER, Skyline Champion, and Backyard Cottages are changing the way we live, work, and play," he continued.
Pierce Tracy, CEO of Backyard Cottages says "We are excited to bring this new URBANEER 510 ADU product to the Washington DC market next spring. There is an immediate need for new, affordable housing stock in the DC area, and we see this detached ADU sector as a large, new opportunity to help serve that need in this region for years to come. The URBANEER 510 model will be unlike other ADU options on the market. Our ability to showcase one of the first units built in the country next spring will provide an opportunity for our local residents to see the innovation and quality of these units first-hand. For homeowners, these 'Backyard Cottages' help with affordability by providing rental income, or can be used for a family member to live in. The flexibility of uses provides value to the homeowner, as family's needs will change over time." Backyard Cottages is a subsidiary of Classic Cottages LLC, one of Northern Virginia's premier single-family custom home builders.
"We look forward to bringing our offsite construction method to this space and we are extremely excited to be working with these two exceptional partners," commented Wade Lyall, EVP of Business Development for Skyline Champion.
URBANEER is based in Grand Rapids, Michigan and convenes the best of the Michigan industrial ecosystem to create a cross functional approach to re-inventing the traditional paths of housing design, construction, and delivery. "Champion Home Builders is the perfect partner to help URBANEER realize its vision to offer all types of consumers a line of compact, configurable and connected homes. We have been working on our fully integrated compact designs for over six years with engineers, architects, industrial designers, manufacturers, and environmental psychologists and are thrilled to see them beginning to be offered in Virginia," said Bruce Thompson, URBANEER Co-Founder and CEO.
The first URBANEER 510 ADU will be on exhibit at the International Builder's Show this January 2020 at the Champion Home Builders' "Genesis" exhibit in the Outdoor Exhibits area, spaces P10 and P12.
About Skyline Champion Corporation
Skyline Champion Corporation Skyline Corp (NYSEMKT:SKY) was formed in June of 2018 as the result of the combination of Skyline Corporation and the operating assets of Champion Enterprises Holdings, LLC. The combined company employs more than 7,000 people and is the largest independent factory-built housing company in North America. With more than 65 years of homebuilding experience and 36 manufacturing facilities throughout the United States and western Canada, Skyline Champion is well positioned with a leading portfolio of manufactured and modular homes, park models, and modular buildings for the multi-family, hospitality, senior and workforce housing sectors.
In addition to its core homebuilding business, Skyline Champion operates a factory-direct retail business, Titan Factory Direct, with 21 retail locations spanning the southern United States; and Star Fleet Trucking, providing transportation services for manufactured housing and other industries nationwide.
Skyline Champion builds homes under some of the most well-known brand names in the factory-built housing industry including Skyline Homes, Champion Home Builders, Athens Park Model RVs, Dutch Housing, Excel Homes, Homes of Merit, New Era, Redman Homes, Shore Park, Silvercrest, and Titan Homes in the U.S.; and Moduline and SRI Homes in western Canada."
Investors should pay particularly close attention.
At some point, MHProNews will strive to do a report on the factors why shareholder suits are rising. But let's simply note for now that it's making news and influencing insurance costs, as the graphic below in the rise of such litigation suggests.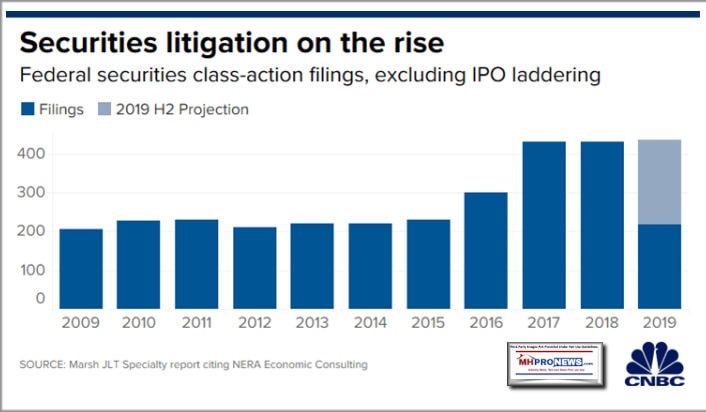 The SEC/Cavco Industries issue from 2018 that is still apparently ongoing is an example that this has impacted manufactured housing.
SEC, Cavco Industries, Duty to Serve Lending, Investing and Claimed Manufactured Housing Institute Corrupt Practices – Facts & Analysis
To see the potential reasons for concern, the report linked below should be scrutinized.
The growth in conventional housing vs. the year-over-year retreat in manufactured homes is another cautionary factoid.
Twilight Zone – Housing Shortage Gets Worse, What Manufactured Housing 'Leaders" Are Missing, plus Manufactured Home Investing, Stock Updates
While the Manufactured Housing Institute (MHI) has declined comments on, and not yet mentioned themselves, there is new legislation pending that could impact the industry. Just the discussion of such legislation will likely have an impact on businesses.  Given the track record of recent years, how does that give confidence to MHVille and its investors?
$500 Million Axne-Khanna Plan, Manufactured Housing Legislation Introduced, But Manufactured Housing Institute Fails to Tell Members?
To be crystal clear, MHProNews concurs that there is strong opportunities for manufactured homes and for modular too. That said, where is the evidence that SKY, CVCO or Clayton have demonstrated their ability to tap that potential?
Exposé – Manufactured Housing Institute Ducker "Research" Cost$, Salaries, Other Spending & Program$ Revealed
To understand the opportunities and arguable concerns, see the related reports above and below.
Related Reports:
Skyline Champion (SKY) – CJS Securities Investor Conference January 8th, Plus Manufactured Home Investing, Stock Updates
Paltering, Manufactured Homes, CrossModTM Homes, Manufactured Housing Institute, Clayton Homes, Berkshire Hathaway Manufactured Home Lenders, DTS, and You
Manufactured Housing Production for November 2019 Up, But Total Results Still Mixed
Sam Zell, Equity Lifestyle Properties (ELS) Statement Raises Concerns for Manufactured Housing Industry, Investors, Officials, Others
Are Big VW, Fiat Chrysler, BMW Automotive Lawsuits with SEC Signaling Woes for Publicly Traded Manufactured Housing Institute (MHI) Members?
National Association of Realtors Pending Sales Compared to Manufactured Housing, plus Manufactured Home Investing, Stock Updates
Applying Democratic, Republican & Barak Orbach's Monopolization Logic to Affordable Housing Crisis Impacting Manufactured Home Industry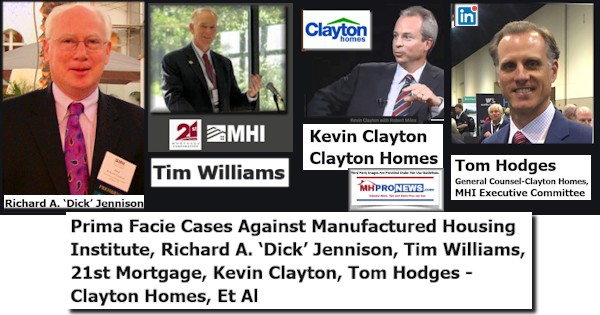 Manufactured Housing Industry Investments Connected Closing Equities Tickers
Some of these firms invest in manufactured housing, or are otherwise connected, but may do other forms of investing or business activities too.
NOTE: The chart below includes the Canadian stock, ECN, which purchased Triad Financial Services, a manufactured home industry lender
NOTE: Drew changed its name and trading symbol at the end of 2016 to Lippert (LCII).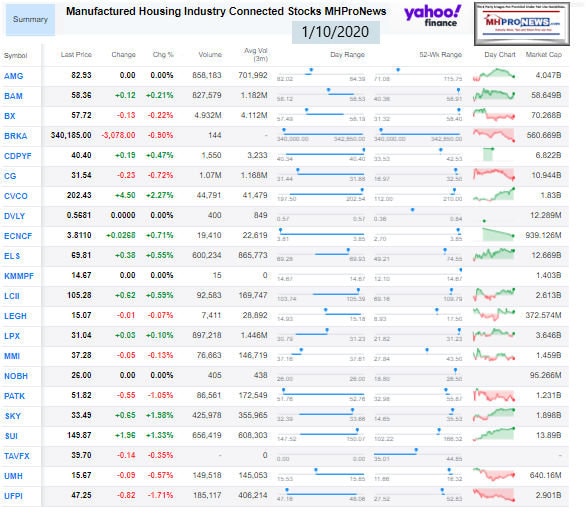 Winter 2020…
Berkshire Hathaway is the parent company to Clayton Homes, 21st Mortgage, Vanderbilt Mortgage and other factory built housing industry suppliers.
· LCI Industries, Patrick, UFPI, and LP each are suppliers to the manufactured housing industry, among others.
· AMG, CG, and TAVFX have investments in manufactured housing related businesses. For insights from third-parties and clients about our publisher, click here.
Enjoy these 'blast from the past' comments.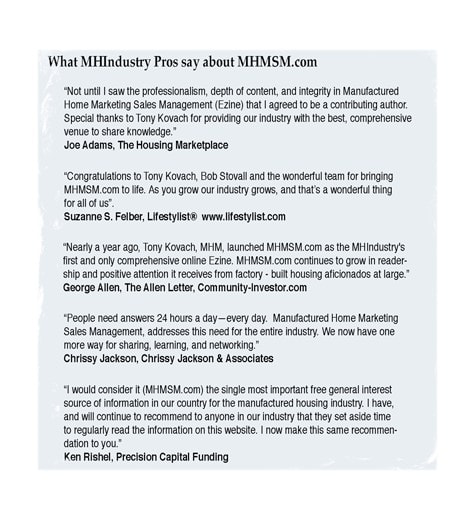 MHProNews. MHProNews – previously a.k.a. MHMSM.com – has now celebrated our tenth anniversary.
Learn more about our evolutionary journey as the industry's leading trade media, at the report linked below.
Celebrating 10 Years of Goal- and Solution-Oriented Manufactured Home Industry Innovation Information, and Inspiration for Industry Professionals
· For expert manufactured housing business development or other professional services, click here.
· To sign up in seconds for our industry leading emailed headline news updates, click here.
Disclosure. MHProNews holds no positions in the stocks in this report.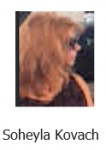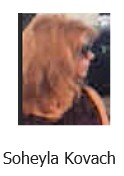 "We Provide, You Decide." © ## (News, analysis and commentary.)
(Image credits and information are as shown above, and when provided by third parties, are shared under fair use guidelines.)
Submitted by Soheyla Kovach, co-managing member of LifeStyle Factory Homes, LLC and co-founder for MHProNews.com, and MHLivingNews.com.

Connect with us on LinkedIn here and here.