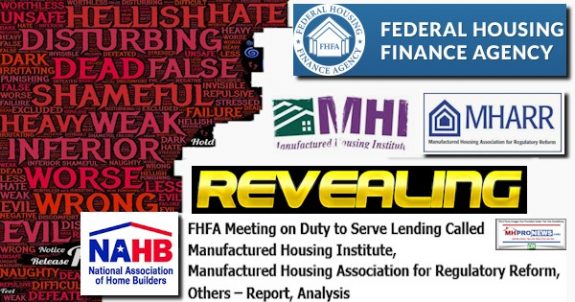 This report will include several elements. In no particular order of importance, those elements will be in the following sequence.
MHI's 2.5.2020 bullet headlines that reveal the topics they covered in their latest 'news and updates' to members and others.
MHARR's report also sent on 2.5.2020 on issues that included the Duty to Serve Manufactured Housing mandated by Congress for Fannie Mae and Freddie Mac, the so-called Government Sponsored Enterprises (GSEs) or Enterprises. Under the provisions of the Housing and Economic Recovery Act (HERA) 2008, the Enterprises are under the conservatorship of the Federal Housing Finance Agency (FHFA).
A partial list of attendees invited to attend a 2.4.2020 meeting called by FHFA leadership. That list included MHARR, MHI and other organizations.
An analysis by MHProNews.
With that preface, let's begin.
Part 1. MHI's 2.5.2020 bullet headlines that reveal the topics they covered in their latest 'news and updates' to members and others.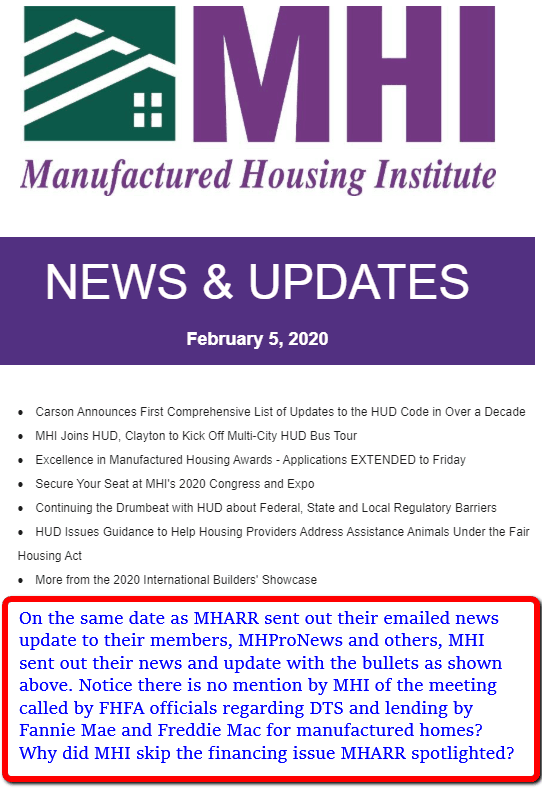 Part 2. MHARR's statement to MHProNews and other industry members.
Note: highlighting added by MHProNews, otherwise it is as in the original.
MHARR CONTINUES TO PRESS FANNIE AND FREDDIE ON DTS
MHARR, at a February 4, 2020 meeting with Federal Housing Finance Agency (FHFA) Director Mark Calabria and other senior officials, called for an end to more than a decade of delays, diversions, outright defiance and other false starts that have left the vast bulk of the mainstream HUD Code manufactured housing consumer finance market completely unserved by both Fannie Mae and Freddie Mac, notwithstanding the congressional mandate of the Duty to Serve Underserved Markets (DTS) provision of the Housing and Economic Recovery Act of 2008 (HERA).
The meeting, which included representatives of organizations that had offered testimony regarding DTS and the manufactured housing consumer finance market at a series of FHFA-DTS "listening sessions" in late 2019, specifically addressed DTS in relation to the large segment of the HUD Code manufactured housing market – nearly 80% according to U.S. Census Bureau statistics – that relies on and utilizes home-only "chattel" or personal property financing.
Despite the fact that personal property loans represent the vast majority of mainstream HUD Code manufactured housing consumer loans and offer moderate and lower-income American families access to the industry's most affordable homes, neither Fannie Mae nor Freddie Mac has provided any securitization or secondary market support for such loans since DTS was enacted over a decade ago.
Instead, the GSEs – with the implicit approval of FHFA — have engaged in an ongoing charade of "information gathering" and "research," while concrete action to implement DTS for mainstream HUD Code chattel loans has been non-existent. This inaction, while claiming a lack of specific data, effectively forces mainstream HUD Code consumers to seek loans (predominantly) through industry-dominant portfolio lenders that charge higher-cost interest rates than would be the case in a fully-competitive market. This, in turn, undermines any incentive whatsoever for those lenders to share that loan performance and other information with Fannie Mae or Freddie Mac, as a fully-supported and competitive manufactured housing consumer financing market would result in lower interest rates. Meanwhile, the GSEs, with the assistance of the Manufactured Housing Institute (MHI) and the industry's largest corporate conglomerates, have sought to divert the focus of DTS from mainstream, inherently affordable manufactured housing to a so-called "new class" or "new generation" of manufactured housing (titled as real estate) which is significantly less affordable than mainstream HUD Code manufactured housing.
In response to questions posed by FHFA, MHARR stressed that DTS-based support for mainstream HUD Code manufactured housing chattel loans is absolutely crucial to: (1) the success of DTS as envisioned by Congress; (2) to ensuring that the affordable housing needs of millions of moderate and lower-income Americans are fully-met; and (3) to the future growth, expansion and evolution of the manufactured housing industry. Conversely, MHARR pointed out that without market-significant DTS support for mainstream HUD Code home personal property loans (as has been consistently sought and urged by MHARR), consumers have been forced to pay higher-cost interest rates due to lack of competition, while the market for new HUD Code manufactured homes, as shown by HUD data contracted by 2% in 2019, even as the broader housing market, surged to its highest level of new home starts since 2006.
Meanwhile, MHARR aggressively refuted a baseless allegation by a representative of the National Association of Home Builders (NAHB) that the federal manufactured housing construction and safety standards are somehow deficient as compared with site-building construction codes. This begs the question, however, of why NAHB, a collective organization of manufactured housing industry competitors, that has benefitted lavishly from the support provided through multiple Fannie and Freddie programs and activities, was even invited to – or allowed to attend – a meeting that was expressly focused on HUD Code manufactured home lending under DTS and, more particularly, HUD Code manufactured home personal property consumer lending under DTS. It is particularly egregious that FHFA, while Fannie and Freddie are engaged in an effort to hijack and divert DTS away from affordable, mainstream manufactured housing, would entertain the involvement of industry competitors seeking to maliciously attack the federal standards and the truly affordable, high-quality homes produced thereunder.
Ultimately, MHARR urged FHFA to fulfill its regulatory obligation to ensure that Fannie Mae and Freddie Mac fully comply with all aspects of the DTS law, and if it feels unable to do so, to join with MHARR and others in the growing demand for congressional oversight to put DTS back on track.
##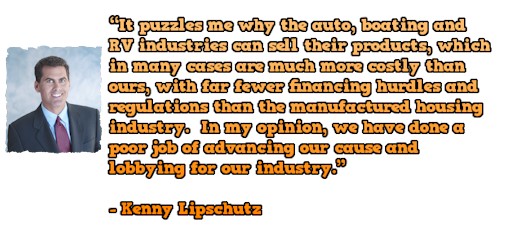 Part 3. According to a source at FHFA which provided documentary evidence, partially verified by MHARR, the following were invited to attend this meeting called by the FHFA.
In no particular order of importance, and with a pair of LinkedIn profiles added for two of those named below.
Jessica R. Lynch – Vice President of Housing Finance at the National Association of Home Builders (NAHB).
Lesli Gooch, Ph.D., CEO at the Manufactured Housing Institute (MHI).
Leah Kehoe was in MHI's Government Affairs department Manufactured Housing Institute (MHI), but per her LinkedIn profile is Director of Advocacy and Communications at MHI.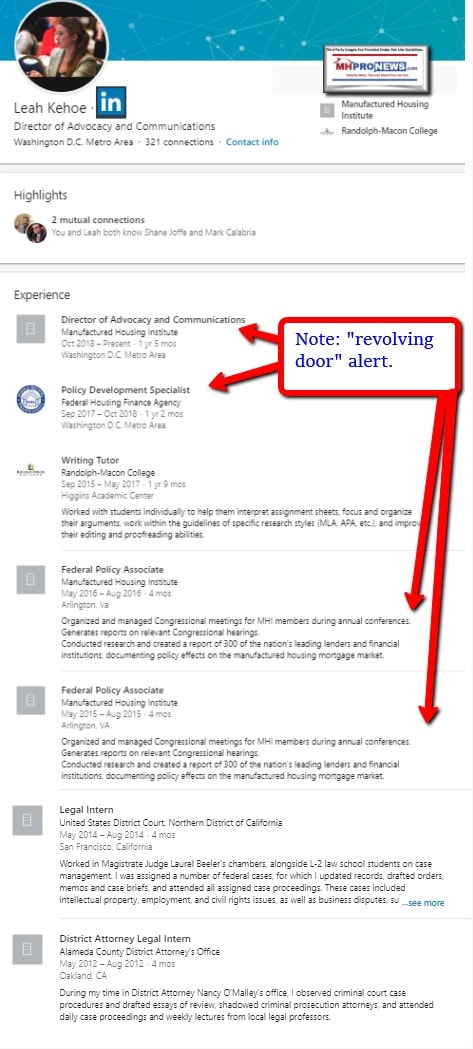 Mark Weiss, J.D., President and CEO of the Manufactured Housing Association for Regulatory Reform (MHARR).
Laurie Goodman is a vice president at the Urban Institute and codirector of its Housing Finance Policy Center. Goodman was one of the four co-authors of their 2018 report on manufactured housing. Note that Warren Buffett is a lifetime trustee of the Urban Institute.
Ann Kossachev is the Director of Regulatory Affairs for the National Association of Federally-Insured Credit Unions (NAFCU).
Ron Haynie is senior vice president of mortgage finance policy Independent Community Bankers of America (ICBA).
Doug Ryan is a Senior Fellow at Prosperity Now with a focus on affordable housing and manufactured homes.
Todd Kopstein, shown on LinkedIn as CEO of Cascade Financial, a member of the Manufactured Housing Institute (MHI).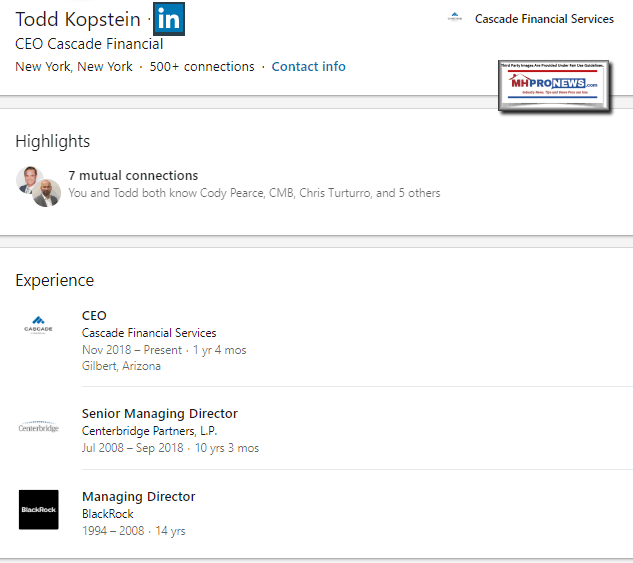 Per sources, Scott Olson with Olson Advocacy was also in attendance. Olson is listed as having done lobbying work for MHI, per OpenSecrets.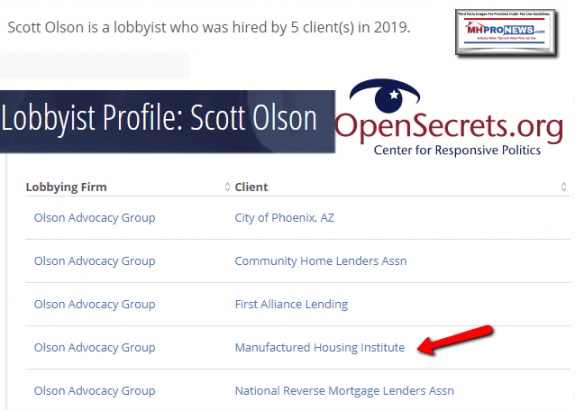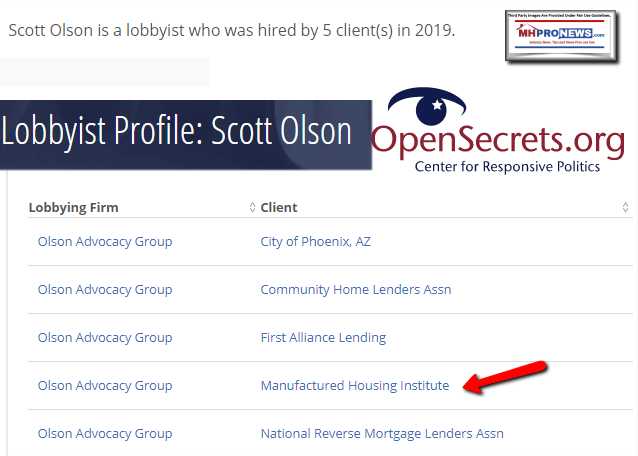 Part 4) MHProNews Analysis and Commentary
Per our sources, MHI's CEO Lesli Gooch did not attend the Monday 2.4.2020 meeting with the FHFA. Why not? If getting more competitive chattel lending is truly a MHI priority, why didn't she go to this FHFA discussion on manufactured home lending? For possible insights, see the prior report linked below.
David Dworkin, National Housing Conference, Compared and Contrasted with Lesli Gooch, Manufactured Housing Institute on Fannie Mae, Freddie Mac Proposed Modifications to FHFA on Duty to Serve Finance Plans
For that matter, was David Dworkin invited to attend? Recall that Dworkin, who worked for a GSE, made it clear in his FHFA listening session comments that he was confident that the Enterprises could fully comply with the requirements in a timely fashion.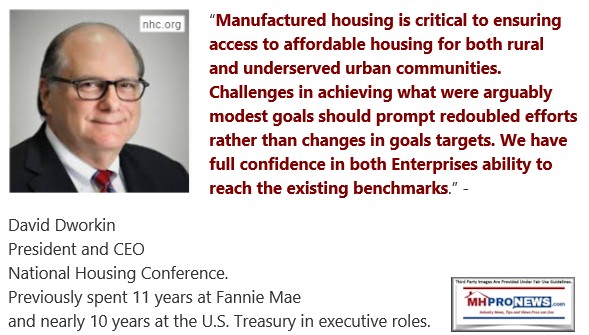 Then, ponder the potent insights from the new report linked below. Don't miss the financing focused elements of the report that can be accessed via the hot-linked image that follows or via the link below it.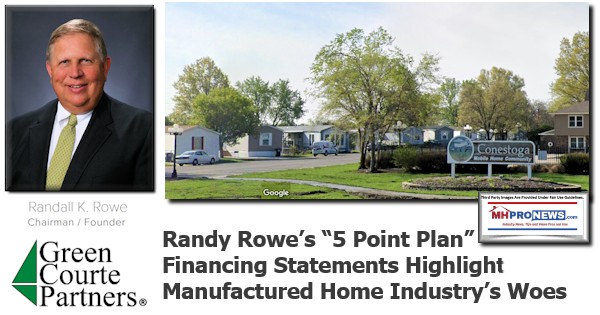 From what MHProNews has been told, while MHARR pushed back on the NAHB's comments, supposedly no one on behalf of MHI did the same. If not, why not? We'll plan to probe that claim and related issues on this topic.
Recall that the St. Louis FHFA listening session revealed in late 2019 that only 10 or so loans were made on the so-called new class of homes which MHI continues to push, despite the clear failure of the plan to take off in the marketplace. So, the Clayton Homes- and MHI-backed and much vaunted "CrossModTM homes" sales have begun so slowly that Fannie Mae wants to be able to reduce their lending commitment on manufactured housing as a result. Why does MHI, Clayton, Cavco and Skyline Champion continue to promote a program that is failing in the marketplace?
Paltering, Manufactured Homes, CrossModTM Homes, Manufactured Housing Institute, Clayton Homes, Berkshire Hathaway Manufactured Home Lenders, DTS, and You
Should the stockholders of Skyline Champion (SKY) and Cavco Industries (CVCO) sit up and take close notice as to what is occurring on these vexing issues? Note that Cavco has not responded to the inquiry published in the featured focus report shown below.
Cavco Releases Quarterly, New, Revived Controversies Loom – plus Manufactured Home Stock, Investing Updates
The bottom lines are as follows. Despite over 11 years of delays, the GSEs are doing only minimal lending on manufactured homes.
Investor Alert – Manufactured Housing Institute Paltering Concerns, Fannie Mae's Duty to Serve, plus Manufactured Housing Investing, Stocks Updates
Someone with insider knowledge blew the whistle on Lesli Gooch. Yet after that revelation, MHI's senior leadership has apparently not taken any action with regards to her dual roles of advocating for others while holding a 'full time' job with MHI.
Whistleblower's Documents on Lesli Gooch – Manufactured Housing Institute CEO – New Discoveries
Indeed, MHI sent Gooch to Alabama for photo opportunities and video with Kevin Clayton and HUD Secretary Ben Carson.
Warren Buffett Lieutenant Kevin Clayton Shows Off HUD Secretary Carson, Touts "CrossMod" Manufactured Housing
While photos and videos are being captured, and MHI proclaims their momentum, what in fact occurred in 2019 was a downturn in new HUD Code manufactured housing sales.
CEO Lesli Gooch-Let Me Tell You Reasons Pay MHI Dues to Win MHI Excellence in Manufactured Housing Awards
After publicly promising that the manufactured home industry could achieve 500,000 new HUD Code sales, MHI has yet to break the 100,000 new home unit sales count.
2019 Year-End Totals Reveals Decline in New HUD Code Manufactured Home Production, Shipments vs. 2018
After spending well over 6 figures on research by Ducker and who knows how many others, MHI's new class of manufactured homes is at best a dud. A failure.
Exposé – Manufactured Housing Institute Ducker "Research" Cost$, Salaries, Other Spending & Program$ Revealed
At worst, the "CrossModTM homes" 'new class of manufactured homes' scheme was arguably a duplicitous ploy to undermine the balance of the HUD Code.
Skyline Champion (SKY) Drops – Posts Sales Declines – Silver Lining with Dark Clouds, Report and Analysis
It's a scheme that ought to draw regulatory and investor scrutiny.
Note: MHProNews is involved in discussions with a university-level economist. The discussions are ongoing, and a formal report is planned once concluded. But for now, we can reveal that there are reasons to believe that the manufactured home industry is being economically destabilized. This has impact on retailers, communities, producers and those who serve those varied groups.
The industry owes a debt of gratitude to MHARR for making MHProNews aware of this specific issue, which allowed us dig deeper. Indeed, MHARR has performed yeoman's work for decades for manufactured housing independents. The case could be made that there would be far fewer independents if not for the work of MHARR.
There are any number of items that MHProNews – thanks to a variety of sources, which includes those connected to MHI – has reported that MHI has failed to advise their members about.
$500 Million Axne-Khanna Plan, Manufactured Housing Legislation Introduced, But Manufactured Housing Institute Fails to Tell Members?
Or in some cases, MHI's statements have been misleading or deceptive, which is part of what began the odyssey of discovery or MHI's paltering, spin, deception and related behaviors which have arguably contributed – by intent or incompetence – to the industry's underperformance. Ponder this report from approaching 4 years ago.
To learn more, see the related and linked reports above and below.
The bottom lines? There is arguably a considerable and growing body of evidence of corruption and conflicts of interest that involves MHI, their key members, and potentially several individuals in important or sensitive roles in the federal government.
Stay tuned as we continue to probe the problems which are keeping manufactured housing from achieving its significant potential during an affordable housing crisis.
When MHI:
fails to advise their members of a series of problematic issues that are heading toward 'white hat independents' (see examples, linked herein and further below)
repeatedly fails to enforce their own so-called Code of Ethical conduct, which means that prominent MHI members are sparking negative media, and fueling the call for new laws that may harm manufactured home industry independents,
then the reasons why NAMHCO and others breaking ranks publicly with MHI becomes more evident.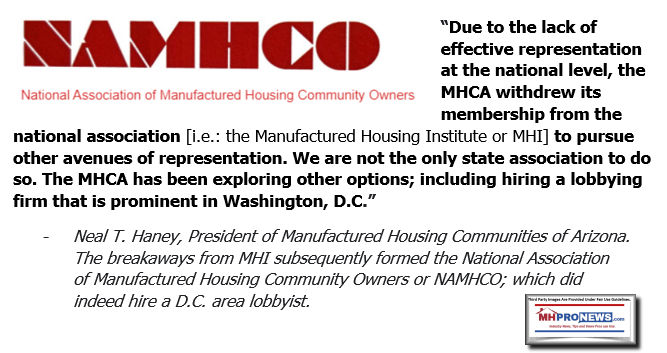 There are reasons why MHI and the members of the Omaha-Knoxville-Arlington axis won't address these allegations, troubling facts, and in-your-face evidence.
Clayton Homes, 21st Mortgage, MHVillage, Manufactured Housing Institute Leaders Challenged
Nothing will change until it is challenged and the status quo is fundamentally addressed and properly corrected.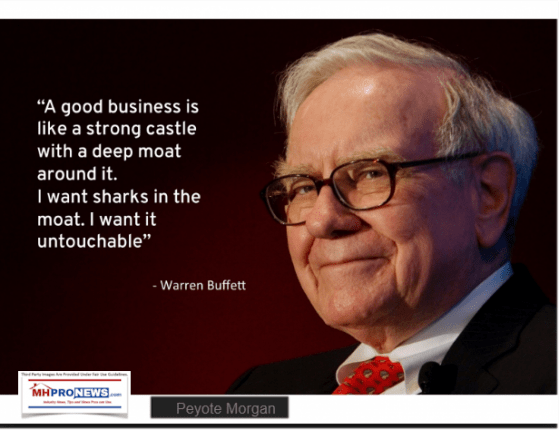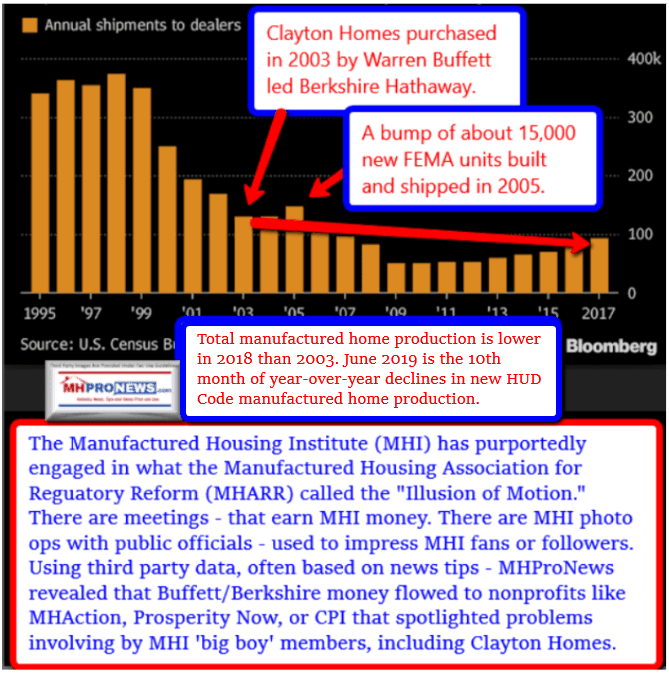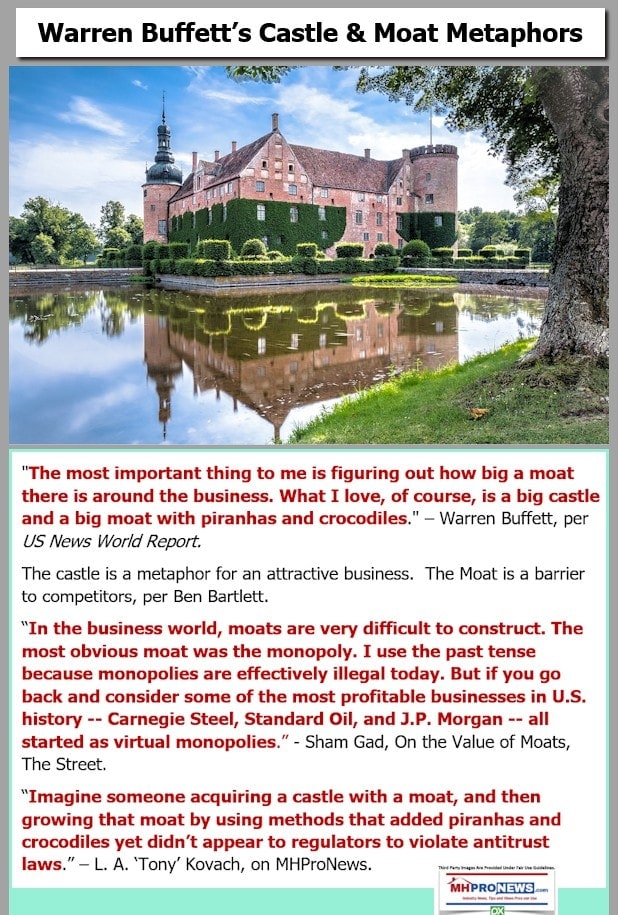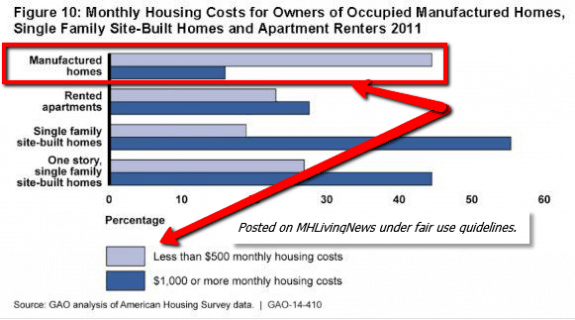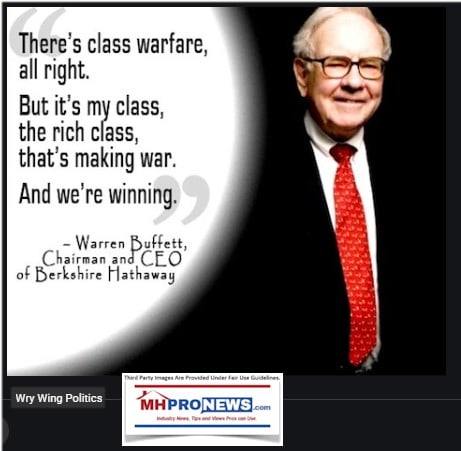 There are reasons why a growing number of regulators and public officials are digging into concerns and allegations involving manufactured housing. Those operations routinely have ties to MHI. Facts are what they are.
Complaints to State and Federal Officials, Agencies About Corrupt Practices in Manufactured Housing Industry Growing
The fact that MHI postures behavior appears on the surface to be useful does not diminish the concerns that their outcomes are routinely poor. Are they incompetent? Or deviously deceptive in a manner that allows a few to consolidate the industry at discounted valuations? Let the record show MHProNews doesn't think that MHI's staff or leaders are dumb. Whatever the case may be, the industry has shrunk while other parts of housing have continued to move upward.
Manufactured Housing Comparisons – Data Sets Vs. Existing and New Single-Family Housing Sales, RVs, Auto Facts – Potent Insights for MH Professionals, Investors
If the toadies that give cover for MHI want to do so, that's their choice.  But the troubling facts remain, even if MHI has bloggers or other publications that support them – because they get supported?! – while they arguably undermine the industry.
Profit, Data – What's Hot, What's Not – ManufacturedHomes.com, Others Fact-Checked, Plus Manufactured Housing Investing, Stock Updates
Dig deeper in the related reports further below. That's it on this installment of manufactured home "Industry News, Tips and Views Pros Can Use" © – MHVille's runaway #1 news source, where "We Provide, You Decide." © (News, fact-checks, analysis, and commentary.) Notice: all third party images or content are provided under fair use guidelines for media.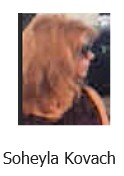 Submitted by Soheyla Kovach for MHProNews.com.Soheyla is a co-founder and managing member of LifeStyle Factory Homes, LLC, the parent company to MHProNews, and MHLivingNews.com. Connect with us on LinkedIn here and here.
Attorney General Tom Miller Slams "Predatory" Manufactured Home Community Operators, plus Manufactured Housing Investing, Stock Updates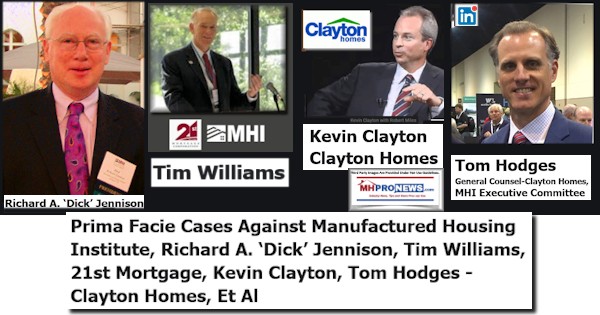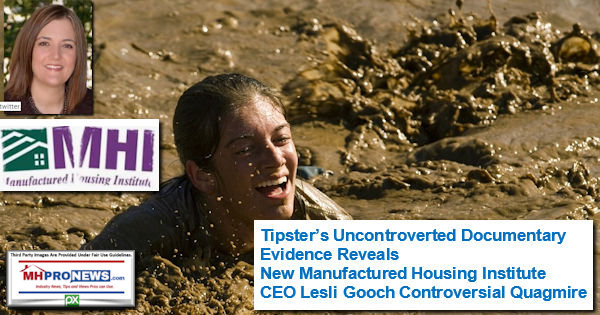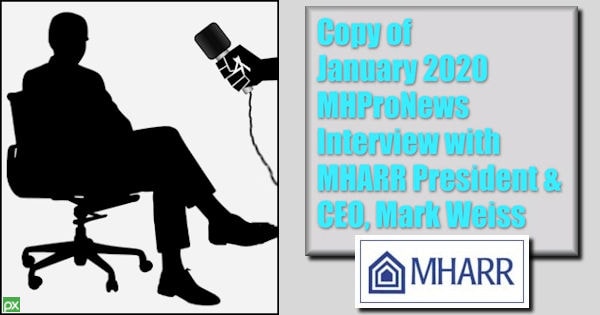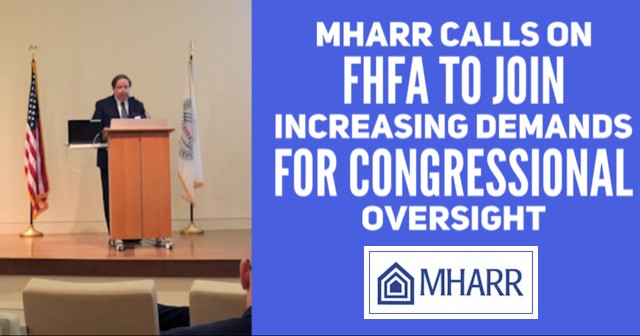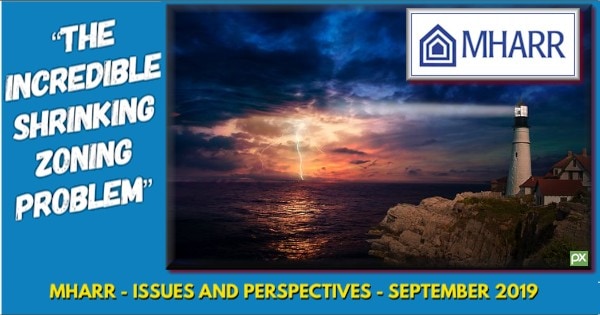 Todd Cooper – President Berkshire's Hometown News Guild – "What an Unmitigated Mess…Mr. Buffett knows it" – plus Manufactured Housing Investing, Stock Updates