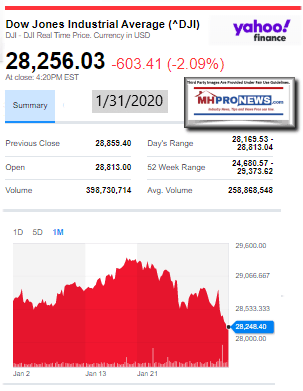 On January 29, 2020 Lee Enterprises, Incorporated (NYSE: LEE) and Berkshire Hathaway announced a deal to sell the Berkshire owned BH Media Group's (BHMG). That same day, Todd Cooper, President of the Berkshire owned Omaha World-Herald Guild ripped the decision and revealed their grievances. While this may seem to have little to do with manufactured housing, a closer look reveals a sobering lesson for employees and others with respect to Clayton Homes, 21st Mortgage Corp, Vanderbilt Mortgage and Finance (VMF) or other Buffett-led Berkshire owned brands. See what Cooper had to say in the featured focus, which includes elements of the formal statement by Lee and Berkshire.
Advertise with MHProNews to be seen
Periodic readers of this business-nightly feature should note there are new tweaks to some of the standard portions of our evening market/investing report. Read carefully as some changes of the 'standard text' that follows before our left-right headlines and also in other features near the end of tonight's reports.
Every evening our headlines that follow provide snapshots from two major media outlets on each side of the left-right news spectrum that reflect topics that influence or move investor sentiment. In moments on this business evening report, you can get 'insights-at-a-glance.'
This report also sets the broader context for manufactured housing markets, in keeping with our mantra, "News through the lens of manufactured homes and factory-built housing" ©.
We begin with headlines left-of-center CNN followed by right-of-center Fox Business. We share closing tickers and other related data courtesy of Yahoo Finance, and more. 5 to 10 minutes reading this MHProNews market report every business night could save you 30 minutes to an hour of similar reading or fact-gathering elsewhere.
Perhaps more important, you will get insights about the industry from experts that care, but also dare to challenge the routine narrative that arguably keeps manufactured housing underperforming during an affordable housing crisis.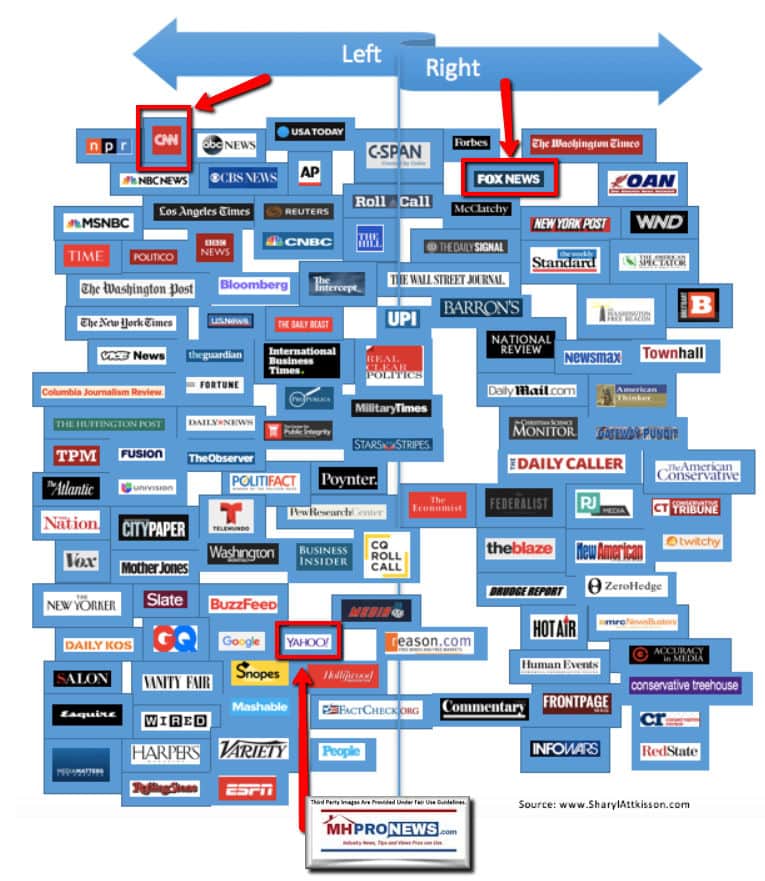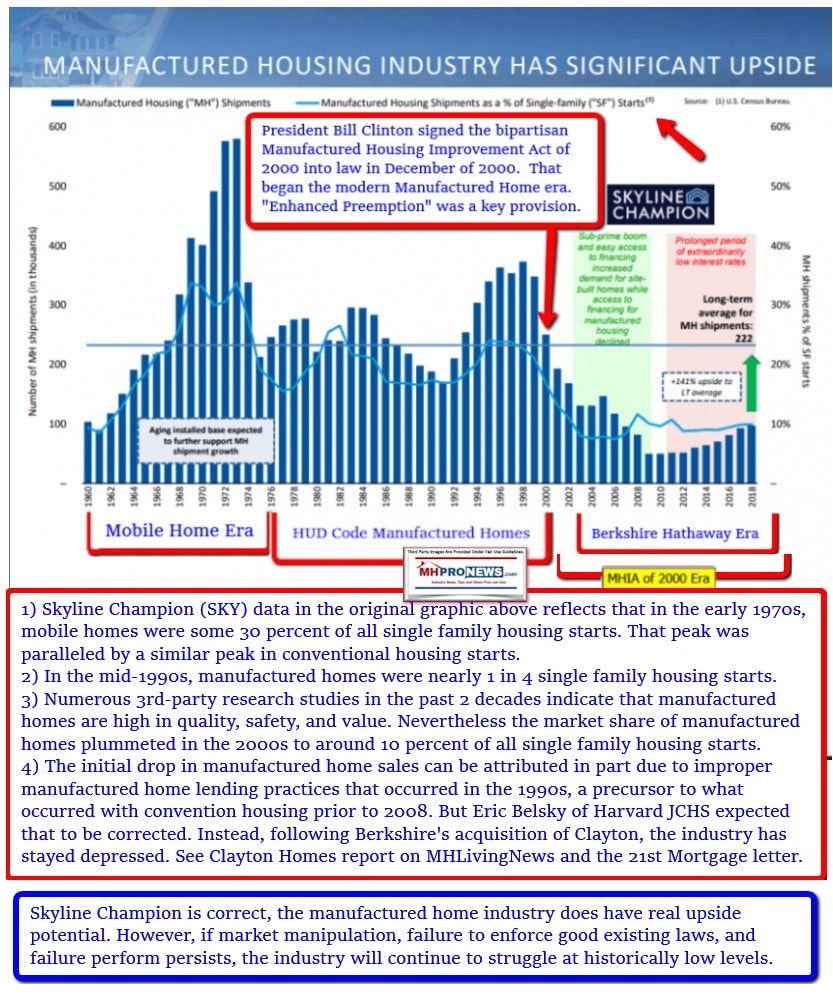 Mainstream vs. Trade News, Politicos, President Trump, Senator Sanders, Billionaire Bloomberg, Law Enforcement and Manufactured Housing's Unique Plight
Newsy, Peeling Back Media Bias, Manufactured Housing Sales, Investing, Politics, and You
Headlines from left-of-center CNN Business
Worries about coronavirus and its economic impact weigh on markets
American, Delta and United airlines suspend most US- China flights amid coronavirus outbreak
Goldman Sachs warns that the coronavirus could slow the US economy
Coronavirus could cost China's economy $62 billion
CEO of cannabis retailer MedMen steps down
Lyft had an edge on the hot e-bike market. Then things went wrong
Amazon blows Wall Street's expectations out of the water
Britain seeks closer economic ties with Africa following Brexit
Britain needs a big trade deal with Europe and wants one with America. It may end 2020 with neither
Jaguar Land Rover is looking for a new CEO
Delta will ditch the uniforms many employees call 'toxic'
Peter Navarro: Counterfeits harm Americans and threaten national security. Trump has a plan to combat them
WWE stock gets body slammed by executive shakeup
Tesla just proved all its haters wrong. Here's how
Formula 1 billionaire bails out Aston Martin
BEVERAGE WARS
A new kind of Coke quietly hits US store shelves
New Pepsi has nearly twice as much caffeine
Coca-Cola doubles down on sparkling water
Powerade gets a makeover
Diet soda doesn't have to lead to weight loss, court rules
GADGETS AND MORE
Apple redesigned its Maps app. Here's what's new
iPhone sales make a comeback
The big differences between 4G and 5G
Bluetooth gets most important update in 20 years
iPhones are flying off shelves in China again
Headlines from right-of-center Fox Business
US sounds alarm over deadly virus outbreak, reveals quarantine plans
US declares emergency, new entry restrictions due to virus
Dow TUMBLES over 600 points as outbreak contagion fears rock stocks
Goldman Sachs' bleak prediction about outbreak's hit on US economy
Coronavirus is ground zero for crude
These celebs have South Florida homes — here's how close they are to Super Bowl LIV
BONK-ERS FOR GRONK: You'll need to pay up to party up with ex-Patriots star
Super Bowl commercials, once top secret, now take different tact
Harvey Weinstein accuser makes shocking claim about his genitalia during trial
Bloomberg hands Pelosi and company a massive paycheck
Bloomberg could qualify for debates under new party rules
Brexit is great, but Britain doesn't deserve a trade deal with the US
How to binge-watch Oscar movies in theaters for cheap
Luxury real estate booms in major US city as residents flee high-tax states
Lori Loughlin, Mossimo Giannulli put $29M manse on market ahead of trial
WATCH: Customer slammed by deer in McDonald's parking lot
Senator responds after Taylor Swift slams her in new documentary
New poll shows dramatic shift in Demcoratic party may be the real deal
Helicopter company in Kobe Bryant crash not certified for critical risk
CHOPPER BOMBSHELL
Helicopter company in Kobe Bryant crash not certified for critical risk
Chevron announces massive losses after huge writedown on shale
Billionaire newspaper heiress dead at 100
Attorney General Barr targets encryption at human trafficking summit
Robert De Niro reportedly not interested in settling discrimination suit
'Wheel of Fortune' contestant's NSFW wrong answer draws giggles, support
How much Bloomberg spent on campaign in less than 2 months
Varney: Drive to throw Trump out of office is just about finished
Millennials revive long-dead fashion trend considered taboo by some
Saying no to the dress: Why young Americans keep putting off marriage
Amazon's workforce rockets past 500K mark in another sign of growth
Streaming giant signs Adam Sandler for 4 more films
Why your 2020 portfolio needs real estate cash flow
Google hosts summit with Washington, DC policy experts
Super Bowl LIV banks on Verizon 5G for security, former New York City police commissioner says
Netflix hit series 'The Crown' taps its new and last queen
UPS To airlift more than 2M masks and protective gear to China
Ring announces updates after hacking lawsuit
How to legally bet on Super Bowl LIV
Facebook to remove coronavirus misinformation
Ivanka Trump confirms $42M budget increase to support human trafficking victims
Caterpillar warns global economic tremors will curb sales
Gwyneth Paltrow's lifestyle brand slammed by UK's health chief
Harvey Weinstein rape trial faces pivotal moment with latest testimony
Airbus to pay billions to settle up on bribery scandal
Nike Vaporfly sneakers cleared for Summer Olympics 2020
Tom Brady posts cryptic Instagram photo as NFL free agency looms
Antifa protests New York City police, transportation
Waymo: Self-driving vehicle in manual mode at time of crash
Mourning Kobe Bryant, Lakers prep for emotional return to Staples Center
Trump: Europe trade deal 'is next'
Super Bowl glitz heads to Miami's blue-collar neighborhood
10 Market Indicator Closing Summaries – Yahoo Finance Closing Tickers on MHProNews…

Featured Focus – Where Business, Politics and Investing Meet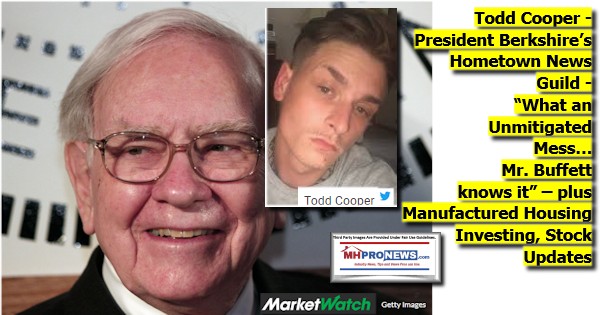 In teeing up what follows, ponder carefully what Cooper is claiming. It arguably describes a betrayal. Per the "blindsided" Cooper, one thing was promised by Buffett and Berkshire to the Omaha World-Herald Guild journalists, but an entirely different outcome occurred. More on that following the meat from the various sources.
More on that below but keep the above report in mind. According to Webalizer, that report – which was published on September 4, 2019, is still near the top of all reports being read on MHProNews. That one article would dwarf the purported monthly readership of MHInsider, MHReview and George Allen's blog.
"What an unmitigated mess. It just doesn't have to be this way. And Mr. Buffett knows it." – Todd Cooper – President of the Omaha World-Herald Guild. More will follow.
The following bullets are from Markets Insider.
Warren Buffett struck a $140 million deal to sell the Omaha World-Herald and 30 other daily newspapers to publisher Lee Enterprises this week.
OWH journalists have accused Buffett of backing them to find a local buyer for his hometown paper, then selling it to a national chain himself.
"We are blindsided, dismayed, and disappointed," the OWH Guild said.
The union accused Lee of paying "bloated bonuses to executives," making "massive cuts to product," and working with "cutthroat investors."
The guts of the press release are as follows.
Lee Enterprises to Buy Berkshire Hathaway Newspaper Operations; Berkshire Hathaway to Finance All Debt
Lee to finance acquisition and refinance long-term debt with Berkshire Hathaway at 9% annual rate
Deal adds 31 local daily news publications, nearly doubles Lee audience size
Immediately accretive to earnings before synergies, reduces balance sheet leverage
Annual run-rate revenue and cost synergies estimated at $20-25 million
DAVENPORT, Iowa, Jan. 29, 2020 (GLOBE NEWSWIRE) — Lee Enterprises, Incorporated (NYSE: LEE), a trusted local news provider and leading platform for advertising in 50 markets, has entered into a definitive agreement with Berkshire Hathaway to acquire BH Media Group's ("BHMG") publications and The Buffalo News for $140 million in cash. Berkshire Hathaway is providing approximately $576 million in long-term financing to Lee at a 9% annual rate. The proceeds from the Berkshire financing will be used to pay for the acquisition, refinance Lee's approximately $400 million of existing debt, and provide enough cash on Lee's balance sheet to allow for the termination of Lee's revolving credit facility. Subsequent to the deal closing, Berkshire Hathaway will be Lee's sole lender.
Serving communities in 10 states, BHMG owns the print and digital operations of 30 daily newspapers, as well as more than 49 paid weekly publications with digital sites and 32 other print products. BHMG had 2019 revenues of $373.4 million and adjusted EBITDA1 of $47.4 million. Lee has managed BHMG's publications since July 2018 under a management agreement. The transaction also includes The Buffalo News, Western New York's premier news source, which is separately owned by Berkshire Hathaway. BHMG's real estate (including permanently attached equipment) and cash are excluded from the acquisition.
The addition of Berkshire Hathaway's robust portfolio of high-quality local publications will add significant size and scale to Lee's operations, bringing its portfolio of daily newspapers to 81 from 50 and nearly doubling its audience size. The transaction is expected to drive an 87% increase in revenue, a 40% increase in adjusted EBITDA and immediately reduce leverage to 3.4x before synergies. Based on Lee's work managing BHMG publications over the last 18 months, Lee expects $20-25 million of anticipated annual revenue and cost synergies. As a result, Lee will benefit from a stronger financial profile and be positioned to de-lever more rapidly.
Mary Junck, Lee's Chairman, said, "This is a compelling and transformative transaction for Lee. It both refinances our long-term debt on attractive terms and provides new revenue opportunities as well as operational synergies across an expanded portfolio. We have enjoyed a strong, long-term relationship with Berkshire Hathaway, which has been a significant investor across our capital structure for years. As manager of BH Media for the past 18 months, we have developed a deep knowledge of these properties and tremendous respect for their operators. We know first-hand the power this acquisition brings for further accelerating our industry-leading digital revenue growth while maintaining our focus on delivering high-quality local news. We look forward to capturing the tremendous value of this transaction for readers, advertisers and shareholders."
Warren E. Buffett, Berkshire Hathaway's Chairman and CEO, said, "My partner Charlie Munger and I have known and admired the Lee organization for over 40 years. They have delivered exceptional performance managing BH Media's newspapers and continue to outpace the industry in digital market share and revenue. We had zero interest in selling the group to anyone else for one simple reason: We believe that Lee is best positioned to manage through the industry's challenges. No organization is more committed to serving the vital role of high-quality local news, however delivered, as Lee. I am confident that our newspapers will be in the right hands going forward and I also am pleased to be deepening our long-term relationship with Lee through the financing agreement."
Kevin Mowbray, Lee President and CEO, said, "Over the past 18 months, we have developed a strong bond and shared culture with the outstanding operators at BH Media. This highly collaborative relationship has driven digital and subscription revenue growth, margin expansion and continued innovation. We are confident we can achieve even greater success as one, integrated company. This unique transaction is immediately accretive to earnings, decreases leverage and provides compelling refinancing terms, while avoiding tens of millions in fees associated with traditional refinancing agreements and no intermediaries were involved. Most gratifying, it expands our partnership with a single long-term lender who shares our passion for the indispensable services we provide to our communities."
Financing Details
The approximately $576 million in long-term financing from Berkshire Hathaway will have an interest rate of 9% annually with a 25-year maturity and no performance covenants. The financing requires no fees, will result in approximately $5 million of interest rate savings on Lee's refinanced debt annually, and will eliminate Lee's existing $23 million revolving credit facility. With a stronger growth profile and a more flexible balance sheet, Lee will be able to de-lever more quickly over the long term. Lee will continue to prioritize deleveraging, including strategically monetizing noncore assets.
Acquisition Details
The acquisition is expected to be immediately accretive to earnings and will reduce Lee's leverage from 3.5x to 3.4x, before any cost and revenue synergies. Lee has identified approximately $20-25 million of highly achievable annual synergies, including revenue synergies from the management of digital advertising and subscriber programs, and cost synergies, primarily from the reduction of administrative expenses. Lee expects to achieve the full synergy run-rate within 24 months of closing, which is expected in mid-March 2020, subject to customary regulatory approvals.
As part of the agreement, Lee will enter into a 10-year lease for BHMG's real estate. The initial lease payment is $8 million annually, payable in monthly installments, with Lee assuming responsibility for the maintenance and expense associated with the BHMG property. Lease payments can be reduced to the extent BHMG real estate is monetized.
The acquisition includes the following daily newspapers and their digital operations:
ALABAMA: Dothan Eagle, Opelika-Auburn News
IOWA: The Daily Nonpareil in Council Bluffs
NEBRASKA: Omaha World-Herald, The Grand Island Independent, Scottsbluff Star-Herald, The North Platte Telegraph, Kearney Hub, York News-Times
NEW JERSEY: The Press of Atlantic City
NEW YORK: The Buffalo News
NORTH CAROLINA: Winston-Salem Journal, Greensboro News & Record, The News Herald in Morganton, The McDowell News, Statesville Record and Landmark, Hickory Daily Record
OKLAHOMA: Tulsa World
SOUTH CAROLINA: The Florence Morning News
TEXAS: The Eagle in Bryan-College Station, Waco Tribune-Herald
VIRGINIA: Richmond Times-Dispatch, The Daily Progress in Charlottesville, The Roanoke Times, Bristol Herald Courier, News & Advance in Lynchburg, Martinsville Bulletin, Danville Register & Bee, The Free Lance-Star in Fredericksburg, Culpeper Star-Exponent, The News Virginian in Waynesboro
Additional details regarding today's announcements will be filed with the Securities and Exchange Commission…
About Lee Enterprises
Lee Enterprises is a leading provider of local news and information, and a major platform for advertising, with daily newspapers, rapidly growing digital products and more than 200 weekly and specialty publications serving 50 markets in 20 states. Year to date, Lee's newspapers have average circulation of 0.7 million daily and 1.0 million Sunday, and are estimated to reach almost three million readers in print alone. Lee's markets include St. Louis, MO; Lincoln, NE; Madison, WI; Davenport, IA; Billings, MT; Bloomington, IL; and Tucson, AZ. Lee Common Stock is traded on the New York Stock Exchange under the symbol LEE…"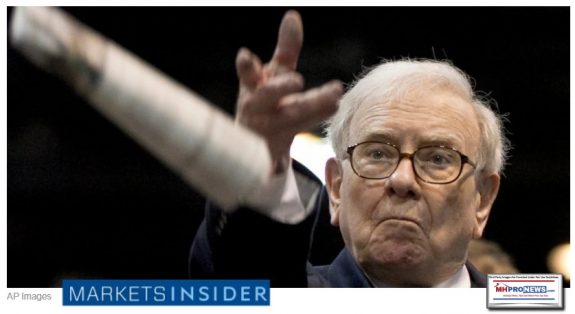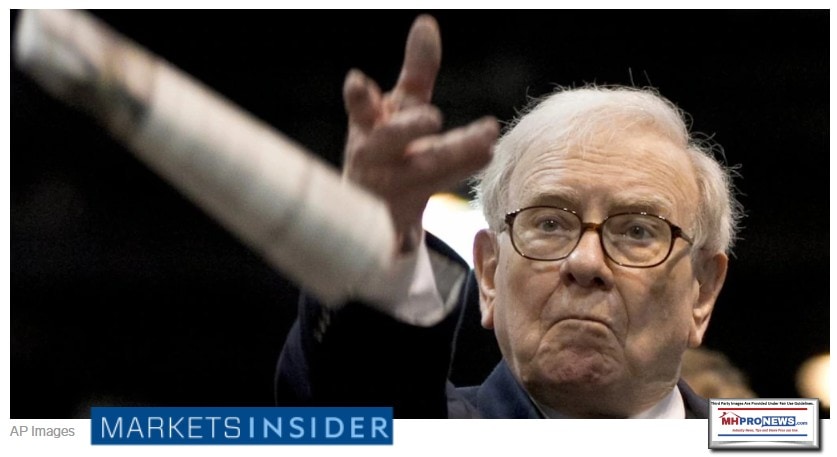 Todd Cooper ripped the deal and Buffett via Twitter.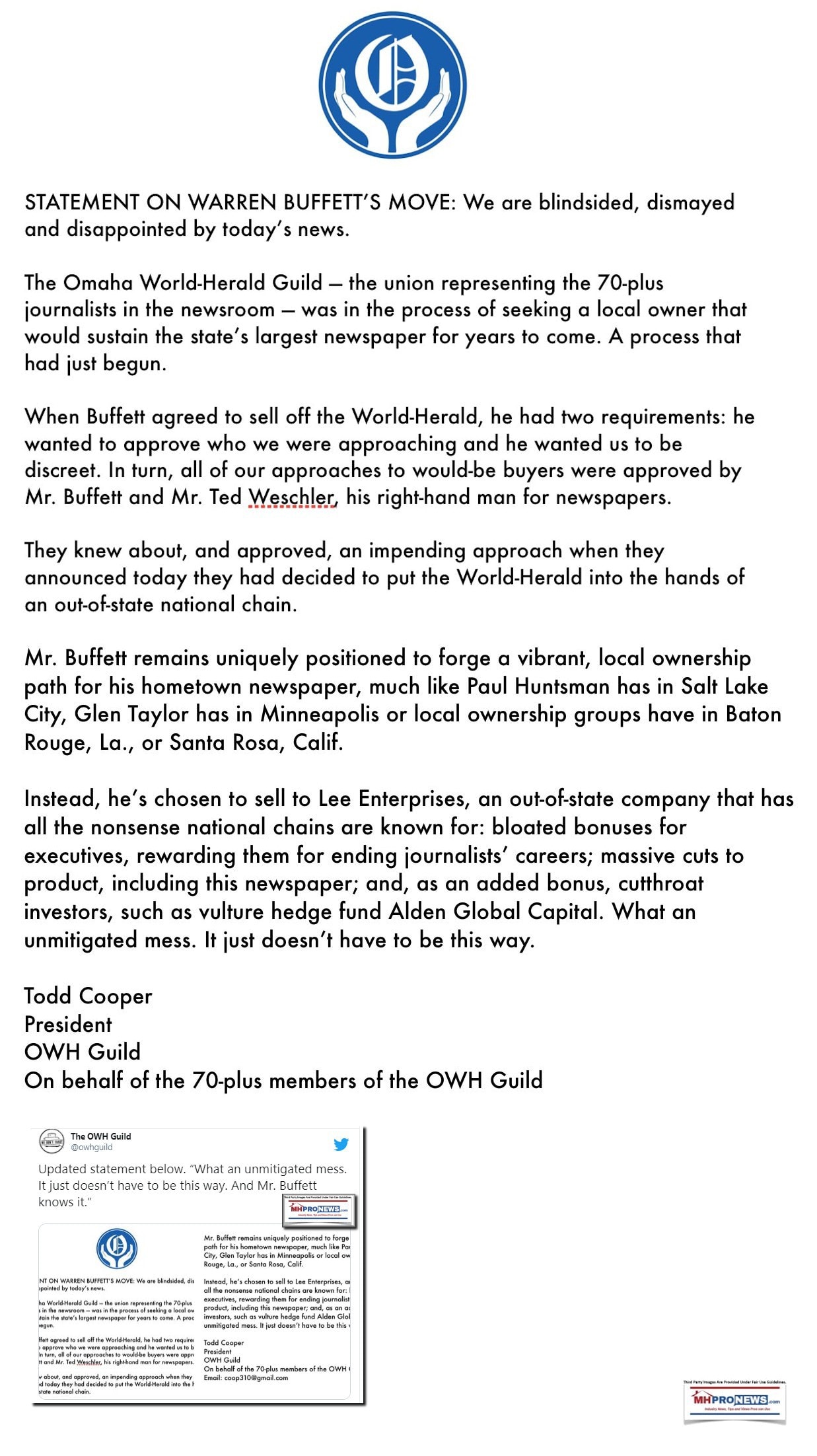 Despite protests to the contrary by management, there have been voices inside Clayton Homes and their associated Berkshire-owned lenders that have for several years reminded people about the original efforts to change retail general managers pay, as well as other steps that are all arguably aimed at marginalizing workers.
Clayton Homes' "Robots" – Automation's Role in Warren Buffett's Berkshire Hathaway's "Durable Competitive Advantage" in Manufactured Housing
But is there any reason to think beyond what Buffett himself has said about deals and money?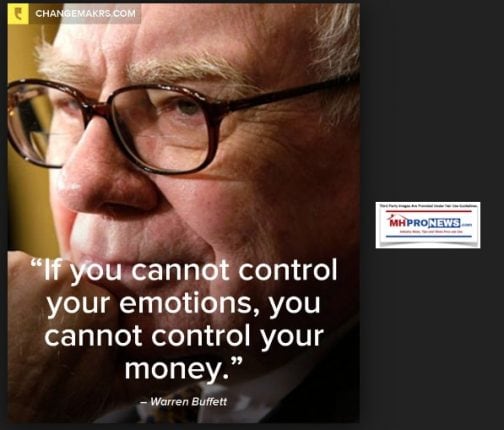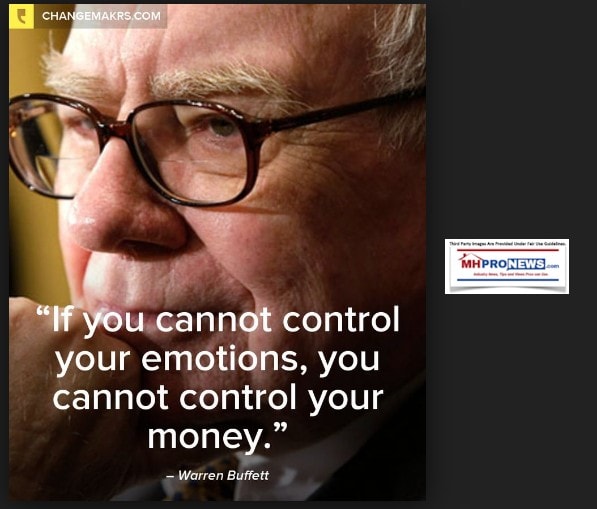 Clayton Homes and 21st Mortgage's Manufactured Housing "Spies"
In the light of the deep outrage and sense of betrayal expressed by Cooper, is there any reason for industry professionals to pay more heed to promises or assurances from Berkshire or their surrogates?
Advertise with MHProNews to be seen
Related Reports:
Jennifer Reingold Questioned Berkshire-Clayton Deal; MHI GSEs Rocked by Tip-Document Drop, plus Manufactured Home Investing, Stock Updates
Politics Downstream from Culture, Mad as Hell, Affordable Housing and Manufactured Homes
Skyline Champion (SKY) Drops – Posts Sales Declines – Silver Lining with Dark Clouds, Report and Analysis
White House Council on Eliminating Regulatory Barriers to Affordable Housing Requests Info, plus Manufactured Home Investing, Stock Updates
Time Sensitive Reading = Consumers, Nonprofit Advocacy, Manufactured Home Professional Comments on HUD-White House RFI Reducing Regulatory Barriers, plus Manufactured Housing Headline Reports 1.19 to 1.26.2020
Complaints to State and Federal Officials, Agencies About Corrupt Practices in Manufactured Housing Industry Growing
Manufactured Housing Industry Investments Connected Closing Equities Tickers
Some of these firms invest in manufactured housing, or are otherwise connected, but may do other forms of investing or business activities too.
NOTE: The chart below includes the Canadian stock, ECN, which purchased Triad Financial Services, a manufactured home industry lender
NOTE: Drew changed its name and trading symbol at the end of 2016 to Lippert (LCII).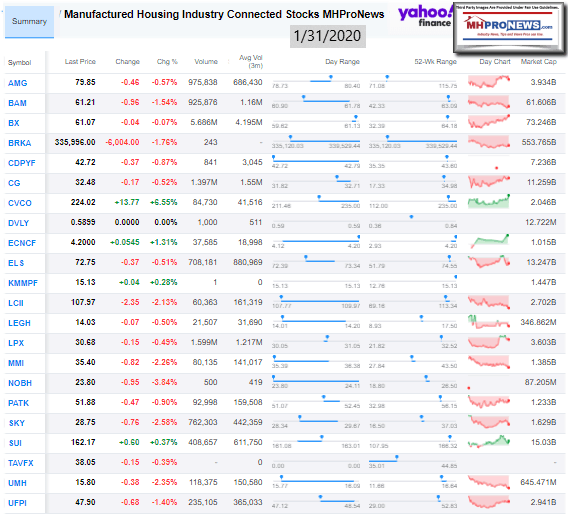 Winter 2020…
Berkshire Hathaway is the parent company to Clayton Homes, 21st Mortgage, Vanderbilt Mortgage and other factory built housing industry suppliers.
· LCI Industries, Patrick, UFPI, and LP each are suppliers to the manufactured housing industry, among others.
· AMG, CG, and TAVFX have investments in manufactured housing related businesses. For insights from third-parties and clients about our publisher, click here.
Enjoy these 'blast from the past' comments.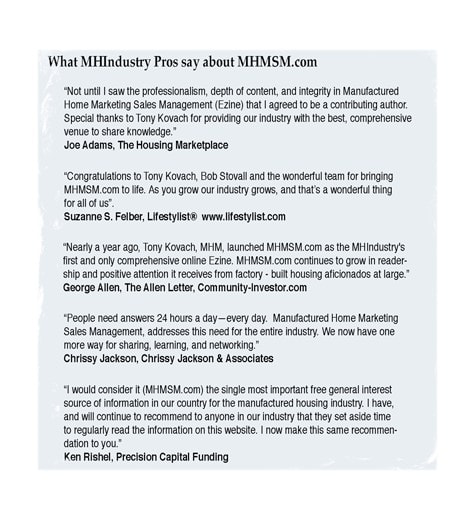 MHProNews. MHProNews – previously a.k.a. MHMSM.com – has now celebrated our tenth anniversary.
Learn more about our evolutionary journey as the industry's leading trade media, at the report linked below.
Celebrating 10 Years of Goal- and Solution-Oriented Manufactured Home Industry Innovation Information, and Inspiration for Industry Professionals
· For expert manufactured housing business development or other professional services, click here.
· To sign up in seconds for our industry leading emailed headline news updates, click here.
Disclosure. MHProNews holds no positions in the stocks in this report.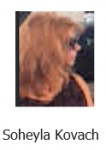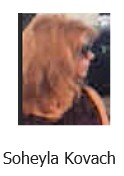 "We Provide, You Decide." © ## (News, analysis and commentary.)
(Image credits and information are as shown above, and when provided by third parties, are shared under fair use guidelines.)
Submitted by Soheyla Kovach, co-managing member of LifeStyle Factory Homes, LLC and co-founder for MHProNews.com, and MHLivingNews.com.

Connect with us on LinkedIn here and here.