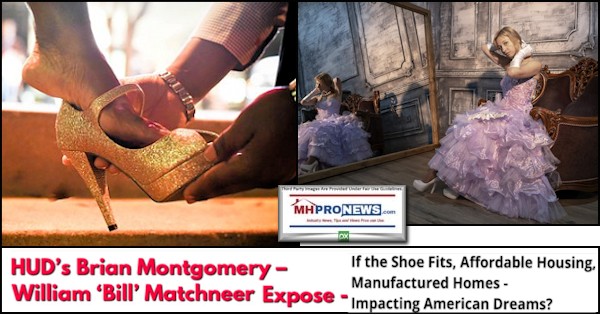 In the classic story of Cinderella, if the shoe fits, a happy ending for that lady followed.
In our contemporary era of questionable or problematic behavior, the 'if the shoe fits' metaphor can be used differently.
If a person or organization fits certain allegedly illicit behavior patterns robbing others of their shot at the American Dream, those individuals and organizations merit scrutiny and investigation.
Affordable housing is in crisis. Manufactured homes are the most proven form of affordable housing, according to more than 2 decades of third-party, often university-level or other expert research. So why are the dreams and aspirations of millions seemingly so far out of reach?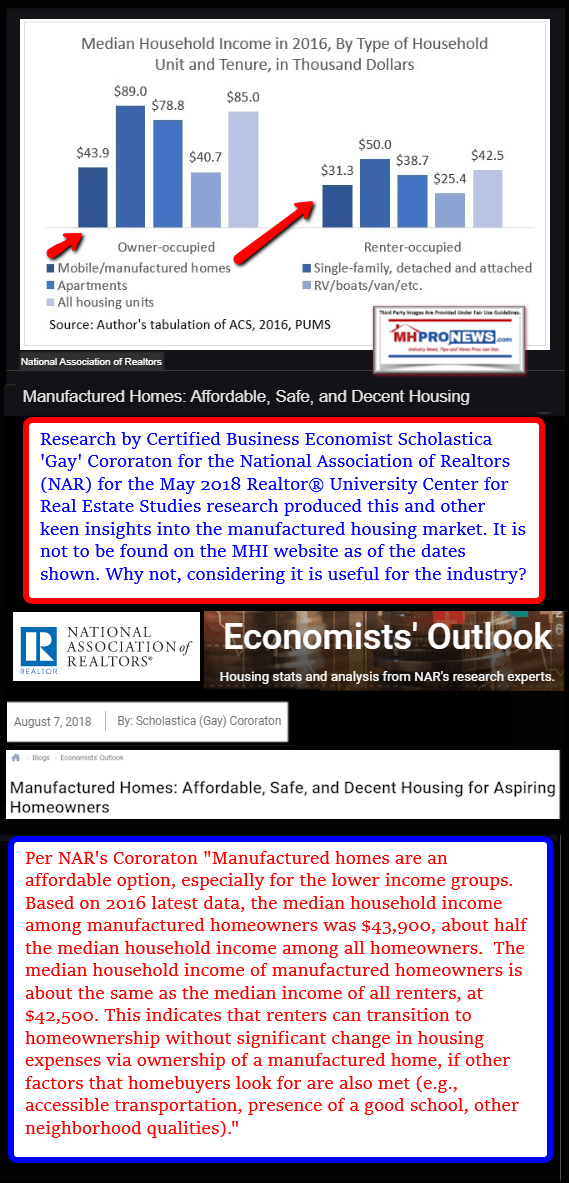 Our manufactured home industry is on paper the beneficiaries of several good laws. Manufactured Home Pro News (MHProNews) periodically focuses on two laws passed by Congress with widely bipartisan margins.
One of was signed into law by President William Jefferson 'Bill' Clinton (D), that was the Manufactured Housing Improvement Act of 2000 (MHIA).
The other public as the Duty to Serve (DTS) manufactured housing provision of the Housing and Economic Recovery Act (HERA) of 2008 mandating lending by the Government Sponsored Enterprises (GSES) under Federal Housing Finance Agency (FHFA) regulatory control signed into law by George W. Bush (R).
In the case of DTS, the FHFA website says: "The Duty to Serve (DTS) requires Fannie Mae and Freddie Mac (Enterprises) to facilitate a secondary market for mortgages on housing for very low-, low-, and moderate-income families in: Manufactured housing…"
Yet a decade later, that DTS provision of the HERA law is not fully enforced. The SAFE Act part of HERA – arguably harmful to the HUD Code manufactured home industry – was enforced. So, why isn't DTS also enforced – when it could help potentially millions who may get no other shot at the American Dream?
In the case of the Manufactured Housing Improvement Act (MHIA) of 2000, both:
the Arlington based Manufactured Housing Institute (MHI) and
their more modest-sized rival, the Manufactured Housing Association for Regulatory Reform (MHARR), agree on paper that the MHIA, including but not limited to, the "enhanced preemption" provision are not being fully enforced.
Yet approaching 2 decades has passed. Why is there still no robust enforcement of enhanced preemption? How is that possible?
Both laws, MHIA and DTS – if properly enforced – have the power to bring more affordable housing with more competitive lending to United States citizens of all backgrounds, beliefs and ethnicities.
The affordable housing crisis is a top campaign issue for many. Which begs the question – why aren't these good laws being properly enforced?
Those questions are where the metaphoric use of 'if the shoe fits' could prove useful. Let's look deeper to see which foot or feet the shoe may fit.
This report will examine in a step by step fashion two key issues, but will weave in several others to make the point. That point is this.
The nonprofit voice that claims to be defending the industry is arguably harming the industry, by accident or design.
That could only occur with the tacit or active assistance of certain key federal officials.
By contrast, enforcing the laws in question properly would benefit millions, save tax dollars, and would benefit smaller businesses too.
Keep those concerns and notions in mind, as we get underway. Grab your eye-opening favorite drink, then let's take a deep dive to see if the shoe fits.
Democrats and Republicans Agreed…
How does one explain the lack of enforcement of good laws when the support for the laws were bipartisan and by a wide margin? That bipartisan support for HUD Code manufactured homes continues.  The example below of Democratic and Republican elected officials that studied the industry determined that manufactured housing and manufactured home community developing was more cost effective than it is for multifamily housing.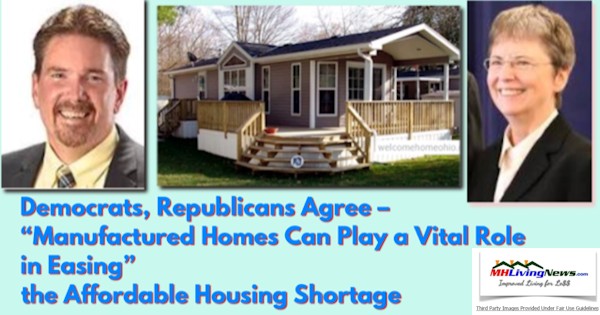 The facts and logic of the laws suggest this. Enforcing the MHIA, "enhanced preemption," and DTS laws would have –
scant cost to taxpayers to administer. The Office of Manufactured Housing Programs (OMHP) reportedly costs about $12 million a year. By contrast, per HUD on 3.11.2019 "the Trump Administration announced its proposed Fiscal Year 2020 Budget for the U.S. Department of Housing and Urban Development (HUD), a $44.1 billion…"
If these laws were fully enforced in a robust fashion, over time, millions could be transitioned off public programs, and could become homeowners. That in turn would allow those individuals to build wealth, instead of pile up rent receipts and/or vouchers.
The combined impact of robust DTS enforcement alongside MHIA and "enhanced preemption" enforcement could save taxpayers billions annually at a time of high deficits, because publicly subsidized housing would be reduced.
Enforcing those laws could attract billions in private investments, so long as public officials enforced those laws.
Economics 101 means such new manufactured home placements and developments could create hundreds of thousands of new more affordable housing units that add to a given locality and/or state tax base. Instead of costing taxpayers in subsidized housing, it would relieve tax burdens.
Among those that have made such arguments are association leader JD Harper and manufactured housing advocate, the Rev. Donald Tye, Jr.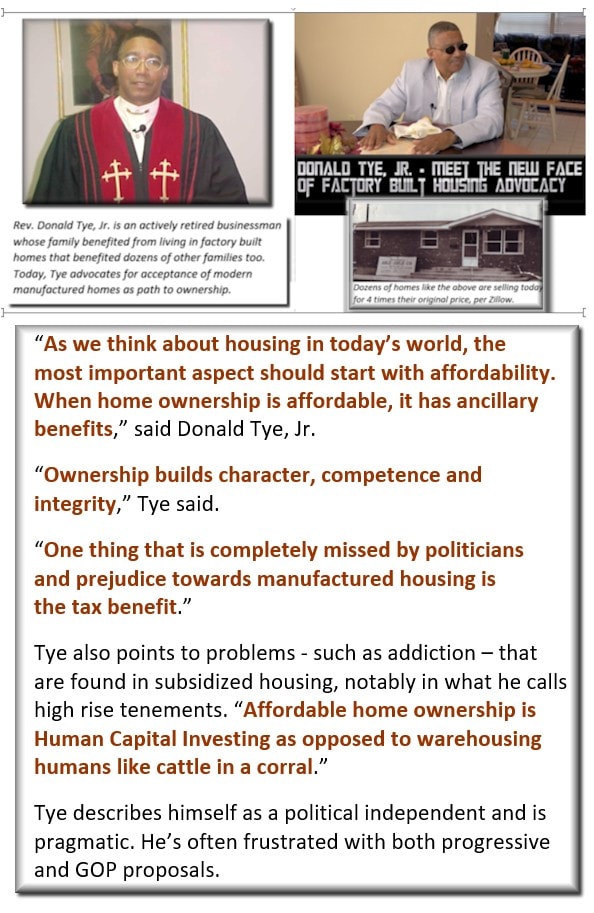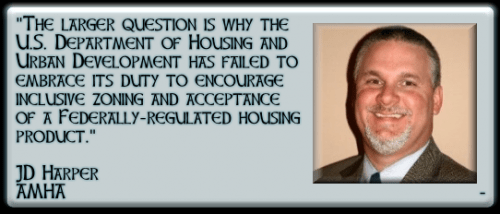 Others engaged in the industry's issues believe similarly.
Indeed, attorney Matchneer – in a message to MHProNews today – effectively doubled down on his comments last August 2019 on a Manufactured Housing Conesus Committee (MHCC) conference call.
"The term "enhancement" is consistent with my view that Congress probably considered the lack of a serious enforcement history of the preemption provision and therefore added language to the [MHIA of] 2000 Act directing HUD to take enforcement of [enhanced] preemption more seriously.  This has always been my legal opinion." William "Bill" Matchneer, J.D., former administrator of the HUD Office of Manufactured Housing Programs (OMHP).
It should also be noted that Matchneer didn't today or since that August MHCC conference call retract of modify his position that HUD's General Counsel did not take action to see enhanced preemption enforced (see the report linked further below). Keep that in mind, because it raises concerns, which will also be noted below.
Summing up this portion of the report: on paper, MHI and MHARR 'agree.' But in practice there are obvious disconnects in MHI's posture, as what follows should reveal. By contrast, MHARR is consistent.
The difference between the two trade groups – which cooperated for a time during the passage of the MHIA – seems to be that MHARR is consistent and vocal publicly. Oddly, MHI's messages on these issues are more muted, often self-contradictory, and invisible even on their own website. There websites are public. Go see for yourself by doing the "enhanced preemption" search query on each.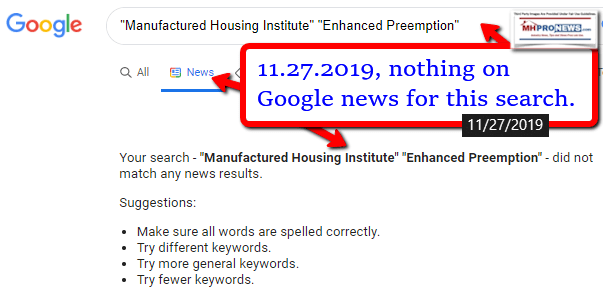 An example of that wavering posture by MHI is in the comments by their CEO-elect Lesli Gooch, Ph.D., citing her statements in context in the article below.  Why didn't Gooch tout any mention of "enhanced preemption" to HUD Secretary Carson during her recent White House visit? What better place and time than face-to-face with dozens present?
Ooops, a serious MHI disconnect – hiding in plain sight?
Lesli Gooch's Award-Winning White House Manufactured Housing Meeting, plus Sunday Morning Manufactured Home Pro Headlines in Review-10.27 to 11.3.2019
That MHI 'ooops' by Gooch has a parallel in the Duty to Serve (DTS) issue too, as the report below reflects. Thus, the concerns of paltering and duplicity by MHI.
David Dworkin, National Housing Conference, Compared and Contrasted with Lesli Gooch, Manufactured Housing Institute on Fannie Mae, Freddie Mac Proposed Modifications to FHFA on Duty to Serve Finance Plans
After years of research and reports on manufactured housing, examining public information, and comparing claims to reality, it could be boiled down to these concerns:
By accident and/or design, failure to enforce these laws keeps millions of Americans of low, lower, or more modest means locked in rentals.
By accident and/or design, failure to enforce the good provisions of those laws keeps owners of manufactured housing along with those that might desire an affordable home from being able to place and maintain that home on an affordable housing site.
As MHARR's 'zoning initiative' launched in late March 2019 made clear, this has practical impact for residents of manufactured home communities too.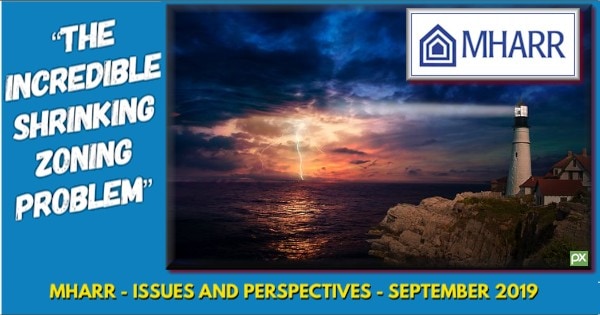 MHARR's President and CEO Mark Weiss, J.D. knows something about both of those laws because Weiss was reportedly involved in drafting the language for DTS, the MHIA and enhanced preemption.
So, others looking in may better grasp why the MHIA and its enhanced preemption clause are important, here is how attorney and MHARR CEO Weiss explained it to MHProNews.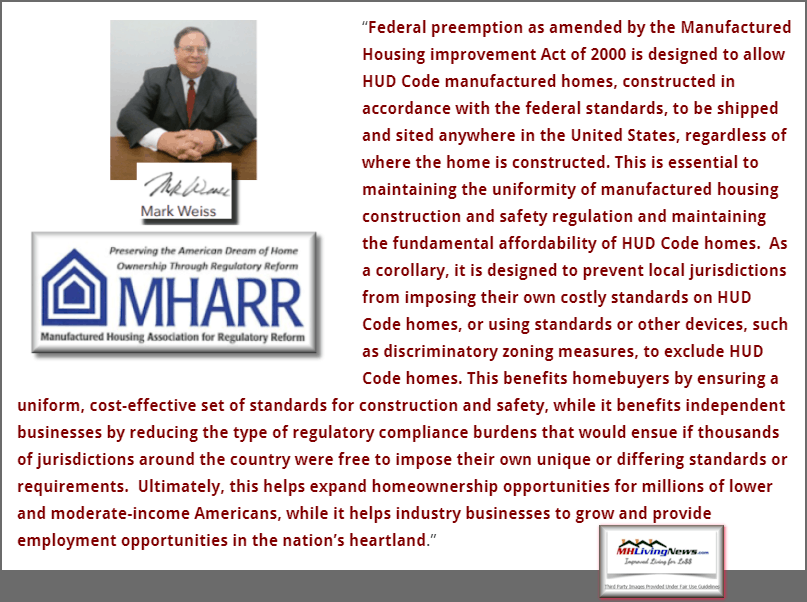 From outside of the industry, based upon a request by Lawrence Yun, Ph.D. and chief economist for the National Association of Realtors (NAR), Certified Business Economist Scholastica 'Gay' Cororaton did in depth research previously reported and analyzed by MHProNews in articles like the one at the link here and noted in the graphic above. Another look at how MHI used that – or not – is reflected in the research below.
Surprising Demo – National Association of Realtors Reveals Manufactured Homes Living Less Costly Than Renting
But it isn't only the 2018 NAR research, but the GAO too that produced data like the below but much more as well.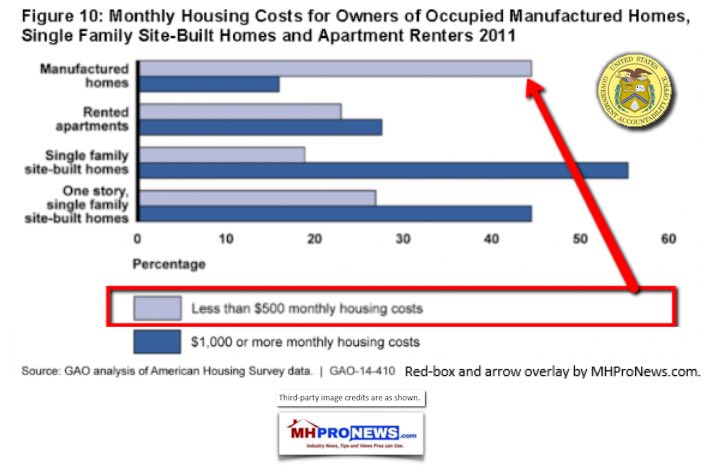 There are decades of such research. This is well documented. It should be no secret. MHI used to cite such research, but that was in the pre-Berkshire Hathaway era. Which begs the question, why has the Manufactured Housing Institute (MHI) since Berkshire bought Clayton Homes, lending and other business units in manufactured housing so often failed to promote such good third-party information, given the affordable housing crisis?
Why have top MHI staff been paid so-called failure bonuses?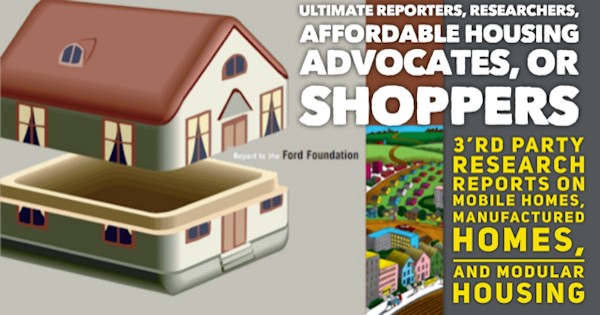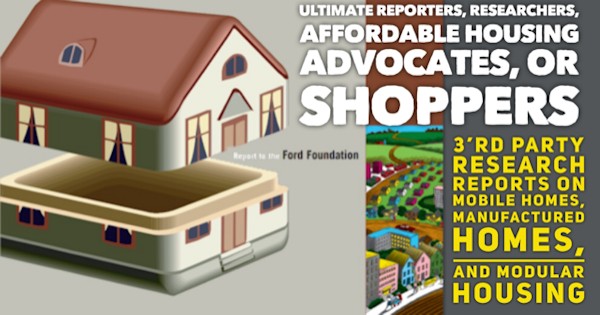 Hold those thoughts as we pivot to a periodic contracted legal service provider to MHI.  Because that too sheds light on this topic.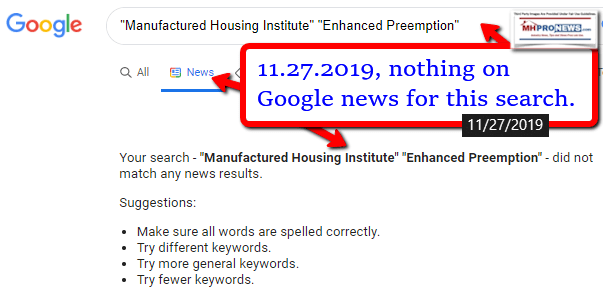 Bill Matchneer – A Hinge in Manufactured Housing Industry Controversies?
Bill Matchneer is an attorney. He served the Consumer Financial Protection Bureau (CFPB), so he's aware of the laws as they relate to several aspects of manufactured home lending regulations. Matchneer is also a former administrator at HUD for the Office of Manufactured Housing Programs (OMHP). The video interview of Matchneer below reflect many important perspectives and his expertise about HUD Code manufactured homes. The video also sheds light to newcomers on how different manufactured homes are than the mobile homes of yesteryear.
Matchneer said in a conference call last summer – with dozens on the line – that the "enhanced preemption" provision of the law was one of the most important parts of the MHIA.
Matchneer also said during that same call that he was unable to get the general counsel at HUD to properly enforce the law with respect to enhanced preemption. So, said Matchneer, on several occasions his office issued letters to local jurisdictions without the general counsels help. Those letters went to town that failed to abide by the MHIA's enhanced preemption provision. Several of those efforts were reportedly successful.
That implies that it could have been even more successful if HUD's general counsel had taken the proper and consistent action.
Bombshells! Former HUD Manufactured Housing Program Administrator Bill Matchneer, Cavco's Manuel Santana Statements
To Matchneer's credit, his personal efforts – without the HUD general counsel's back up – meant people involved in that handful of cases referenced in the report linked above could benefit from manufactured homes, because a good law was enforced.
One would think that would be celebrated by MHI, based upon their stated mission.
But since Bill Matchneer, J.D. spoke that vexing truth on that MHCC conference call first reported by MHProNews, he and his law firm have per sources "amicably" parted ways for unstated reasons.
MHI, per sources, periodically used that law firm and Matchneer. That separation, per sources, occurred in early October.
Let's set that above in a timeline.
About 2 months after Matchneer stressed on that MHCC conference call the importance of enhanced preemption, he and Bradley parted ways.
Given MHI claims support for enhanced preemption was that odd timing? Or is there a deeper meaning involved?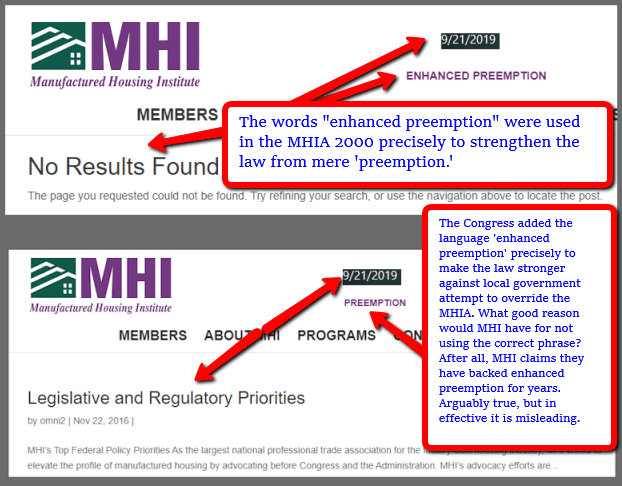 There is more, but first this.
About Bradley

To better understand the matter, this is from the Bradley law firm website.
"Bradley has extensive experience across the country in representing manufactured housing lenders, manufacturers, retailers, and insurers on regulatory compliance, government enforcement, and litigation matters.
Manufactured housing represents 6 percent of the American housing market. These homes are built and installed to standards published and enforced by the Department of Housing and Urban Development (HUD), with an emphasis on quality control. Today's manufactured housing industry offers a wide variety of home designs and provides consumers with excellent low- to mid-priced housing opportunities.
Approximately 75 percent of manufactured homes are purchased and sited as chattel, while the remainder are sited as real estate. Specialty retailers sell the homes, and institutional lenders or larger community owners generally finance them.
On the compliance front, Bradley helps manufactured housing entities ensure that their operations comply with federal and state law, including regulations enforced by HUD and the Consumer Financial Protection Bureau (CFPB). With regard to litigation in this arena, Bradley has significant experience with defending manufactured housing entities in litigation matters involving various state and federal consumer claims, from trial through appeal."
Several attorneys and professionals at Bradley have been contacted for comments on various aspects of this report. Their response is pending at this time. So far, hours later there is silence, other than a basic confirmation that messages from MHProNews were received.
But let's note that with Bradley's self-proclaimed – "extensive experience across the country in representing manufactured housing lenders, manufacturers, retailers, and insurers on regulatory compliance, government enforcement, and litigation matters…" there is no result on Google for a search using the focused search below. For those who may be less web savvy, putting keywords into quotes forces a more specific search by Google or other search engines.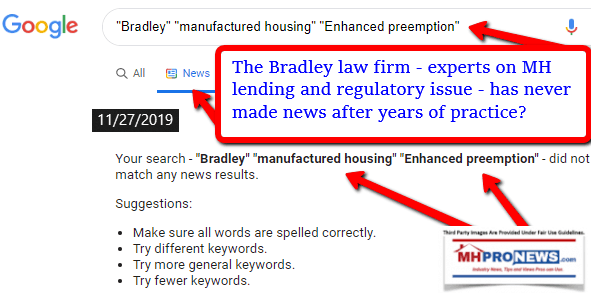 Given that Bill Matchneer worked with Bradley for years, and Bradley did years of work in manufactured housing, how is it possible that they've never made news on one of the most important part of the MHIA law, per Matchneer's own previously published and now formally confirmed statements?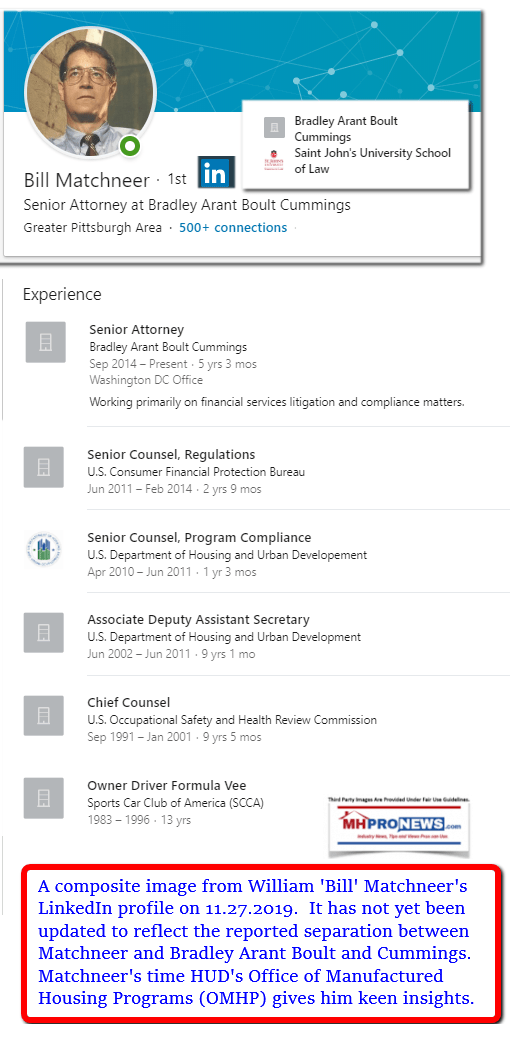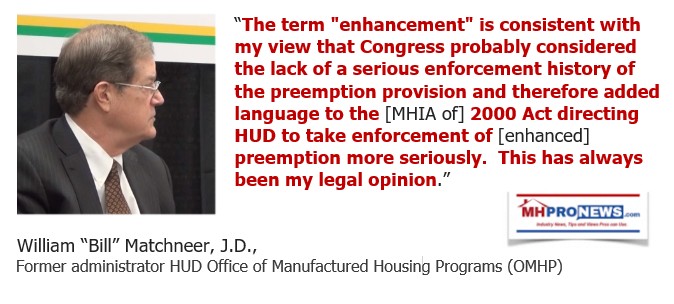 A similar search online of Bradley reveals another blank – no results – for Duty to Serve and manufactured housing.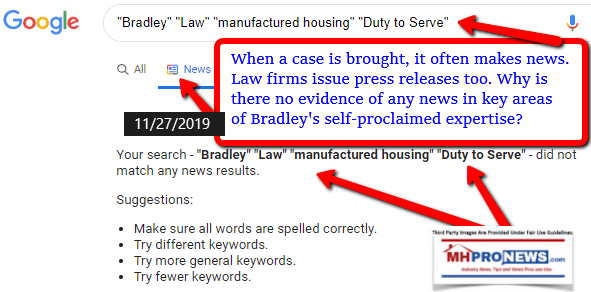 Those points beg numerous questions for inquisitive minds that sincerely desire solutions for those struggling for more affordable housing.
What little DTS lending is occurring, why does it favor larger MHI members?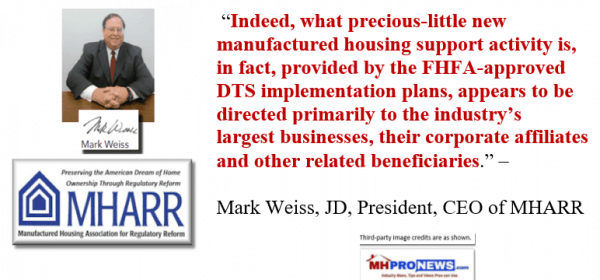 How is it possible that a roughly a decade or two could go by with good laws little enforced or largely ignored during a growing affordable housing crisis?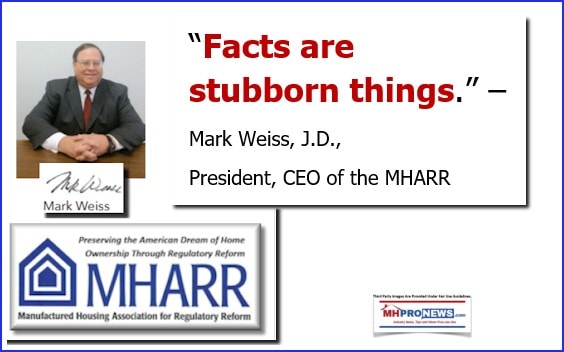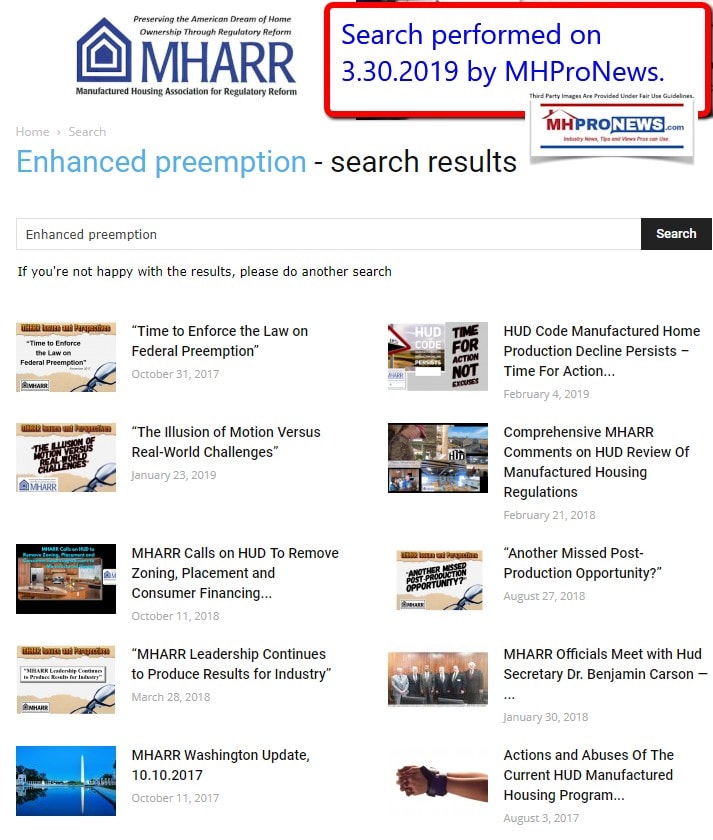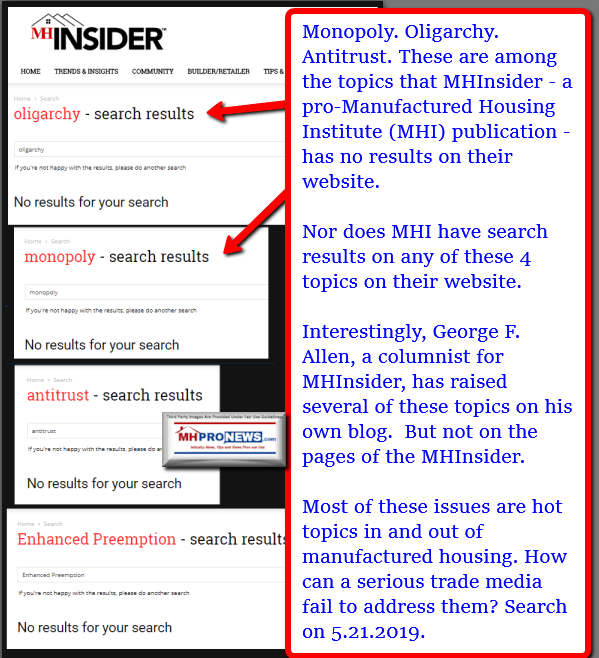 More specifically, those who are supposed to be pushing to promote the industry, MHI – which claims to represent 'all segments of manufactured housing' – are they instead diverting or undermining the good laws the industry has? If so, who benefits from that behavior?
If MHI and their allies are purposefully failing, doesn't that raise several legal and regulatory issues about MHI? After all,
MHI annually makes statements under oath to IRS as to their function as nonprofit. Failing to carry out that function could be construed as violating several federal laws.
When MHI testifies to Congress or public officials, they are doing so under the presumption that those statements are accurate and true, not paltering, spin, or head fakes.
MHI uses 'the wires' and U.S. Mails to disseminate their positions – claiming to promote the industry, when there is clear evidence for years of instances where they seem to be doing self-contradictory or arguably harmful things with respect to their own smaller members and the industry at large. That raises concerns about deceptive trade practices, RICO, or other legal issues.
When asked to comment about these concerns, neither MHI's elected leaders, their outside attorney, nor their senior staff have addressed them after repeated queries.

The Investigator's Question – Cui Bono?
Investigators looking into odd or possibly illegal behavior often ask a question. Who benefited by a certain behavior? They identify who might gain financially or otherwise, and they follow the trail of evidence and money to see what might fit the concerns.
Rephrased, like the mythical prince seeking a princess who lost a shoe, investigators seek a foot that fits a dropped shoe.
All that tees up the following.
FHA Commissioner Brian Montgomery, Per the Manufactured Housing Institute
On Nov. 15, 2017, MHI sent out an email to their members that said the following.

"FHA Commissioner Nominee Commits to Rigorous Review of Manufactured Housing's Role at HUD
On October 26, 2017, the Senate Banking Committee held a hearing on the nomination of the Honorable Brian Montgomery to be Assistant Secretary for Housing – Federal Housing Commissioner at the Department of Housing and Urban Development (HUD). Mr. Montgomery previously served in these positions from 2005 to mid-2009 under the George W. Bush administration. MHI worked closely with then-FHA Commissioner Montgomery on manufactured housing issues and has maintained a working relationship with him during his current tenure as vice-chairman of the Collingwood Group, a housing finance consulting firm he co-founded. MHI signed a housing group coalition letter to the Senate Banking Committee in support of Montgomery's nomination. 
In preparation for Mr. Montgomery's confirmation hearing, MHI worked with members of the Senate Banking Committee to highlight the importance of manufactured housing and ask that he ensure HUD embraces manufactured homes as a critical source of affordable housing.  As a result of this outreach, Senator Tim Scott (R-SC), Chairman of the Housing Subcommittee, submitted questions to Mr. Montgomery about HUD's regulatory overreach of the manufactured housing industry. He asked Mr. Montgomery to state in writing his views on HUD's regulations governing manufactured housing and whether the current framework ensures affordability and access. Referencing President Trump's Executive Order requiring all federal agencies to re-examine their rules and reduce the regulatory burden on the American public, Mr. Montgomery stated, "We need to make sure FHA's manufactured housing rules undergo a rigorous cost-benefit analysis to ensure we are balancing important product safety considerations with affordability and access. If confirmed, you have my commitment this will be a priority."
Before pressing forward with the balance of that 11/2017 MHI email, it should be noted that 2 years later, there is no notable change on issues that Montgomery, per MHI, was fully embracing and briefed on. Why not?
Per MHI and other sources, that would include:
FHA Title I reform, notably the 10/10 rule which for years kept only Berkshire Hathaway owned lender involved in the manufactured home 'chattel' or personal property, home-only loan process.
FHA Title II reform or HECM reforms, that could make more lending available using mortgages in a land-lease. There are parallels in condominium lending in multifamily housing, so given Montgomery's and MHI's stated commitments, why not in manufactured home land-lease communities, which have reportedly been done successfully?
Enforcement of the enhanced preemption provisions of the Manufactured Housing Improvement Act (MHIA) of 2000.
Those disconnects noted, let's return to the MHI emailed 2017 narrative.
"This response by Mr. Montgomery, which is similar to responses given by HUD Secretary Ben Carson and Deputy Secretary Pamela Patenaude during their confirmation proceedings, reinforces MHI's ongoing and aggressive efforts with Congress and the Administration to improve the regulatory climate for manufactured housing at HUD. Due to MHI's actions, in September the U.S. House of Representatives unanimously approved an amendment which stopped HUD's expansion of the regulation of manufactured housing on the following actions: the regulation of garages and carports; frost free foundation requirements; and onerous new requirements for the on-site completion of construction. MHI will continue working to ensure Congress and the Administration are focused on stopping the regulatory overreach of manufactured housing by HUD."
The download of that entire message by 11.2017 MHI to their members is linked here.
Hold those statements about Montgomery and MHI in mind, as we focus next on words from the White House.
White House Council on Eliminating Regulatory Barriers
On June 25, 2019, there was a conference call involving HUD, one or more officials from the White House, MHI, MHARR and MHProNews among others. Per the operator's message on that call, the number on that conference call were only a few dozen just moments before the White House discussion reported in the report linked below began.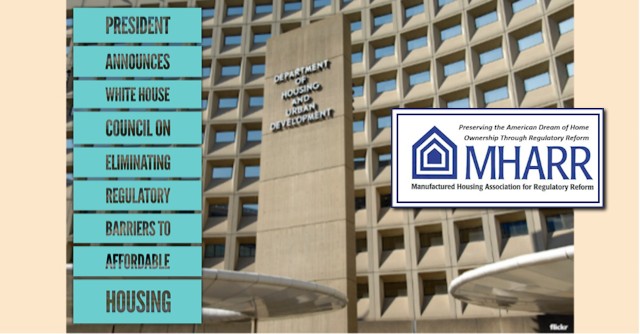 Per MHARR's report linked above is this pull quote:
"And, indeed, in response to an inquiry from MHProNews Publisher L.A. Tony Kovach, it appears that the specific issue of federal preemption will be "on the table" in this process."
That's a significant statement. More on that another time. But for now, there are arguably a couple of possibilities.
That White House official meant precisely what he said, or,
it is also possible he somehow misunderstood the topic of enhanced preemption and thus the reply may not be accurate. That second possibility noted, per some of those on the call, the tone of voice made that White House staffer indeed seemed to be aware of the topic and its meaning.
That matters for several reasons.
It was in the wake of that call that MHI for the first time known in some years used in a letter addressed to HUD Secretary Ben Carson the phrase, "enhanced preemption."
In that MHI message to HUD – which may or may not have been read by Dr. Carson – MHI clearly said that they wanted the law fully enforced.
But if so, then why for some years has "enhanced preemption" not been mentioned on their own website? Why isn't it part of any MHI statement to the mainstream news media?
Furthermore, if MHI wanted that fully enforced, why has there been not a peep of news out of Bradley law on the topic of manufactured housing's federally enhanced preemption?
Or if MHI wanted the Duty to Serve (DTS) robustly observed, why not mention other FHA lending programs that if properly tweaked and made available for affordable housing seekers could benefit so many? Why is there no news from Bradley found on that topic online?
Revisiting the time line from last summer 2019 to present:
there was the White House conference call where an official on the call said that they were aware of enhanced preemption and were looking into it.
Not long after, MHI issues after that a letter from Lesli Gooch addressing HUD Secretary Ben Carson, which cites enhanced preemption which says they want it fully enforced.
Next, there is an MHCC conference call that Bill Matchneer stresses how important enhanced preemption is to the MHIA 2000.
Within weeks of that MHCC conference call where Matchneer explains the importance of that part of the MHIA law, Bradley and Matchneer part ways.
Before and since that timeframe, MHI had numerous in-person opportunities with Gooch and others to discuss enhanced preemption with HUD's Brian Montgomery as well as HUD Secretary Ben Carson. There is no evidence that they have done so, and implied evidence that they did not do so.
In fairness to Dr. Carson, he has demonstrably done more to promote manufactured homes than any HUD Secretary in the 21st century. That said, that begs the question.  Does Secretary Carson know about enhanced preemption at all? If he knows, why aren't he and Montgomery applying the law?
More specifically, how can MHI claim to be pushing for enhanced preemption, DTS, or more lending when there are example after example of missed opportunities to push the topic that has and can be documented? Are the coy, devious, or incompetent? Why does Gooch and MHI place a premium on photo ops without a commensurate and measurable outcomes?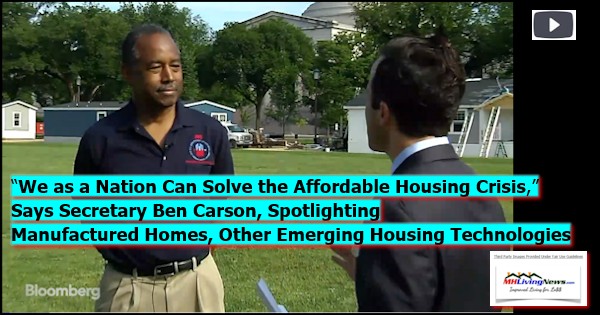 The Shoe That Fits?
MHProNews and our MHLivingNews sister-site have advanced a simple hypothesis. That the Omaha-Knoxville-Arlington axis and their allies have thwarted the application of the good laws that exist in manufactured housing.  The effect of that pattern harms the majority but benefits a small minority of well connected firms and organizations.
Certainly, as the outline herein and linked reports reflect, MHI has numerous examples of saying one thing, but doing another that has occurred for years. Such behavior has caused members to split with the trade group.  MHI award winner Marty Lavin has said the following.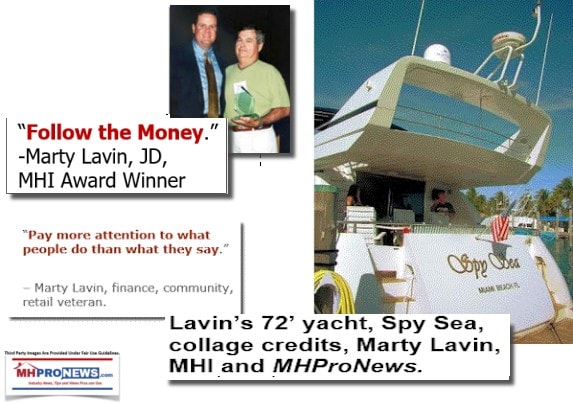 Lavin isn't alone. Neal Haney led a breakaway from MHI in the words that follow. MHI's own members have rapped the trade group's knuckles over how poorly lending, image, and other issues have been handled.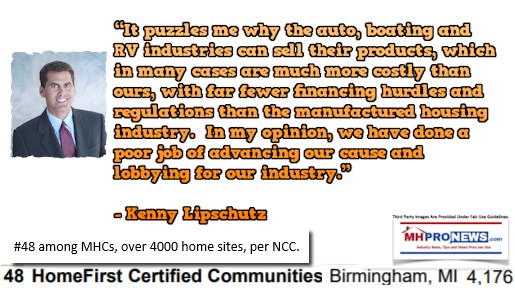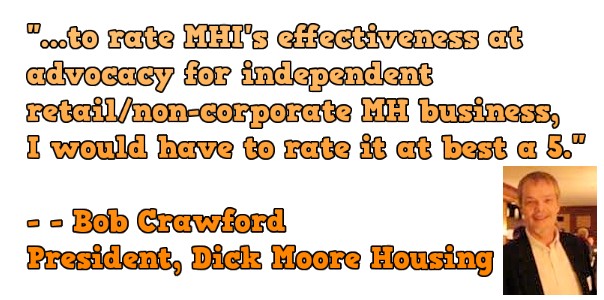 The video above was produced in the spring of 2016 during the waning months of the Obama Administration. Several things have become more clear since.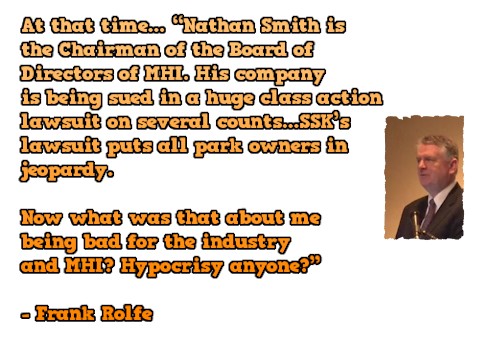 While the subject was different, the point made by Crawford and Rolfe are relevant to what is occurring in manufactured housing for DTS and enhanced preemption.  MHI pushed a bill for years – the Preserving Access to Manufactured Housing Act – that never passed. They reportedly spent millions of dollars in the process. They did so when their own government relations expert said it wouldn't pass. Was it the illusion of motion? Was it all a rope-a-dope ploy?

Can any professional organization spend millions pursuing a bill that would never pass be that incompetent? Especially when Warren Buffett said he was for the Dodd-Frank bill and supported the CFPB, while Tim Williams claimed to be against the same bill and wanted it changed? What was obscure at the time is clearer in hindsight.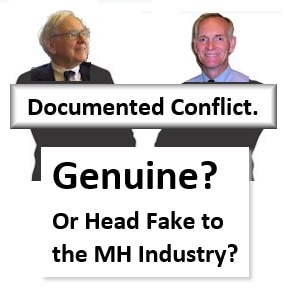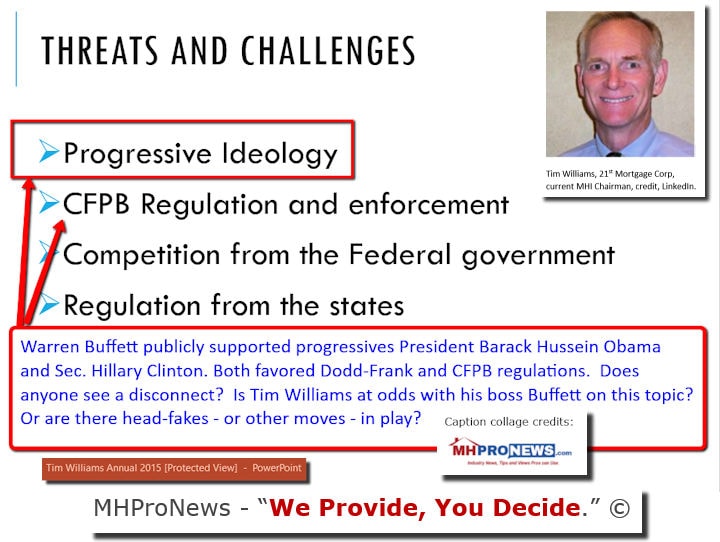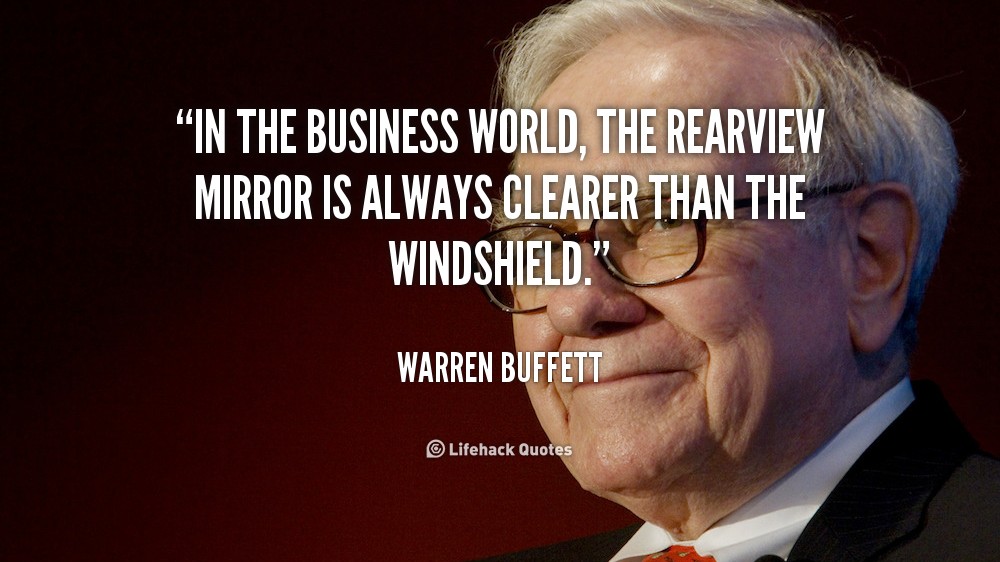 There have been years of arguable head-fakes, paltering, and problematic behavior, this is just scratching the surface.
Wrapping Up
The evidence and logical bottom lines could be summed up like this.
There are good laws on the books favorable to manufactured housing, which if enforced would benefit potentially millions of Americans, could save taxpayers money and could generate more wealth for lower income Americans who move from renting to ownership.
Given the affordable housing crisis and the commitment stated by HUD Secretary Ben Carson and the Trump Administration to manufactured housing, there are questions about why enhanced preemption hasn't been implemented.
In fairness, prior administrations since 2000 – the Bush (43) Administration and Obama Administration – have also not fully enforced enhanced preemption although there are examples of spot enforcement that Bill Matchneer and MHARR have both pointed to.
MHI, their 'big boy' members, and some outside attorneys they have used are debatably either inept at having those good laws enforced or are ignoring and/or thwarting the enforcement of those good laws.
Brian Montgomery, Pam Danner, and Teresa Payne are among those who per their own statements and/or third-party reports are aware of the MHIA and 'enhanced preemption.' During Danner's tenure, on one known case, HUD was involved in a letter being issued to a local town. That's fine, save that it underscores this point. Why so little, when there are so many cases of local jurisdictions zoning out manufactured homes? Why did MHI cite the example of Bryan, TX when they refused to address the issue of Bryan when asked to do so? The one or few examples of HUD acting arguably makes it worse for Danner, Teresa Payne and/or Montgomery.
Per Matchneer, HUD's general counsel would not enforce the MHIA "enhanced preemption" provision of the law. He should know, he was there. There is going to be a paper trail and a track record that can be examined.
Rephrased, this won't be a matter of mere conjecture. There will be evidence to debunk the concerns; or prove them accurate.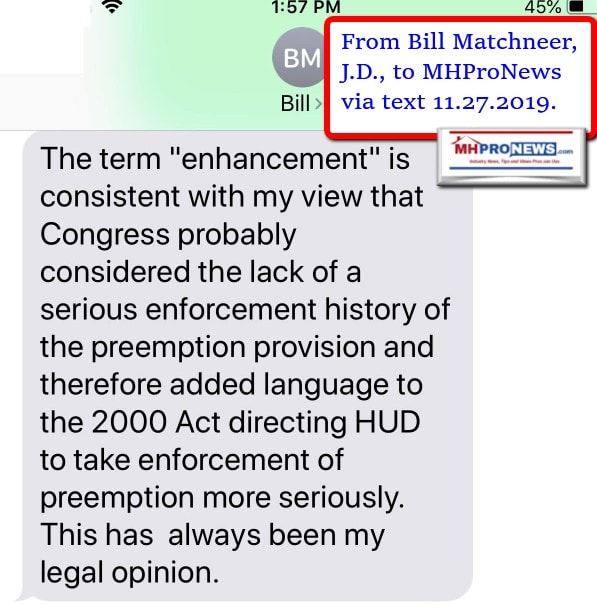 There is some debate if HUD Secretary Ben Carson is aware or not. There are Washington sources that have told MHProNews that they don't think he is. That said, if he has seen letters from MHI and/or MHARR, then he should know. There is a possibility he is aware, but no known evidence to that effect currently available to us.
Even if neither MHI nor MHARR ever asked HUD to have the enhanced preemption provision of federal law enforced, that doesn't excuse public officials' obligation to do so.
There are reasons why certain parties in the industry may want the industry to underperform, as has been explored previously.
Affordable Manufactured Housing's Puzzling Contemporary Condition Revealed by Quotable Quotes from Residents, Professionals, Expert Researchers, Advocates, Public Officials, Graphics, and Reports
The shoe that arguably fits the known facts and years of patterns of behavior? It's that there is some level of collusion between nonprofits, corporate and specific federal officials. Those likely violate a variety of laws. At a minimum, the beg prompt investigation.
Ironically, as this report was being prepared, MHI sent out this today.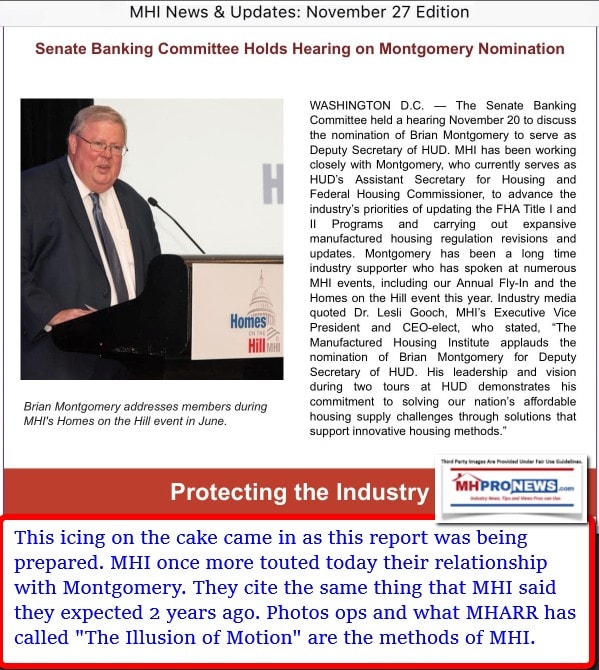 Given the seriousness of the affordable housing crisis, and the billions of dollars that this issue represents, this begs for redoubled Congressional oversight, plus other federal, state, and other legal investigations.  It stretches' credulity to think that educated, seasoned professionals could be so incapable of advancing the cause of millions of consumers and thousands of independent professionals.
Occam's Razor thus suggests that the opposite must be true. That these routine fumbles by MHI and others aligned with them of good laws are not accidents, but planned. A relatively small number of people could make this happen.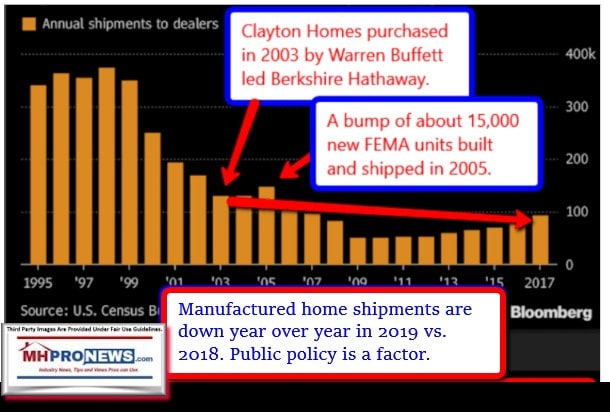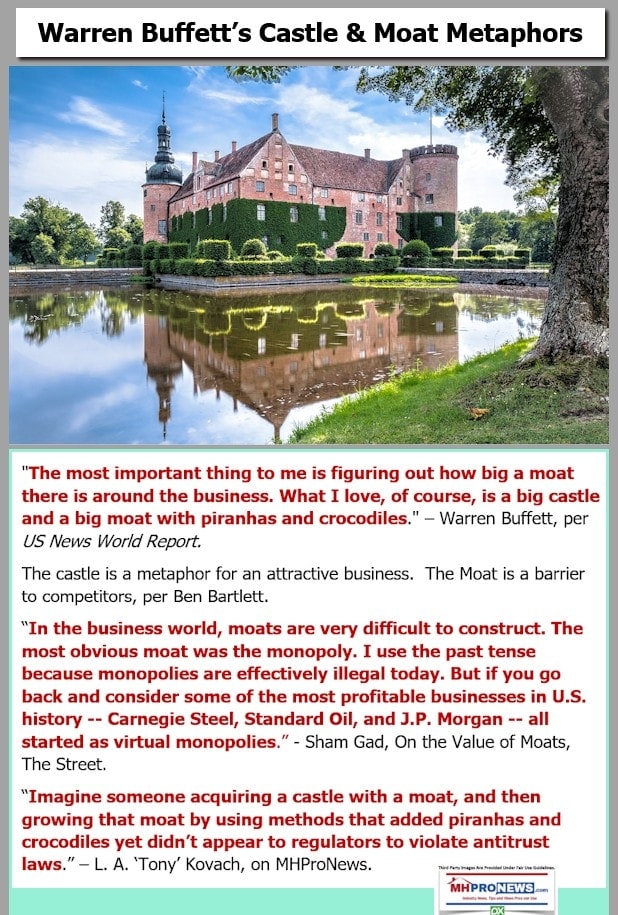 If the glove doesn't fit, you must acquit was the argument of a famous legal dream team. But the reverse is true too.
When the shoe fits, those that it fits merit investigation and whatever the law says could be the possible legal penalties and consequences. MHARR has called this pattern of behavior the illusion of motion. In hindsight, that makes sense.
This is a detailed report. To those not familiar with the issues, it may need to be re-read.  But based upon history, it will likely get 20x more readers in a matter of days than the pro-MHI MHInsider gets in a month on a good article. Thousands of the industry's professionals can smell the difference between BS and reality.
That's the kind of facts, research and analysis that makes us the runaway number #1 manufactured home "Industry News, Tips, and Views Pros Can Use," © source, where "We Provide, You Decide." © (News, fact-checks, analysis, and commentary.)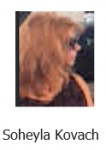 Submitted by Soheyla Kovach for MHProNews.com.
Soheyla is a co-founder and managing member of LifeStyle Factory Homes, LLC, the parent company to MHProNews, and MHLivingNews.com. Connect with us on LinkedIn here and here.
Related Reports:
Click the image/text box below to access relevant, related information.
White House Council Requesting Input From Manufactured Home Industry on Affordable Housing Barriers
Surprising 21st Mortgage President/CEO Tim Williams Statements – "Lending Trends in Manufactured Housing," Fact-Check, Analysis
Publicly Traded Manufactured Housing Firms – Which Source Do You Trust More? Why? MHI, MHARR, Others
Unique Opportunities for More Competitive Lending for All HUD Code Manufactured Homes
Mike Huckabee – 'When Law Enforcers Become Lawbreakers' – plus Sunday Manufactured Home Headline News in Review 11.17 to 11.24.2019
"White Hat" Manufactured Home Community Operator, MH Retailer Sound-Off on FHFA, Fannie Mae, Freddie Mac, and Duty to Serve Manufactured Home Lending
Investor Alert – Manufactured Housing Institute Paltering Concerns, Fannie Mae's Duty to Serve, plus Manufactured Housing Investing, Stocks Updates
Bringing Financial Balance and Increased Equity to Manufactured Housing Independents, Homeowners, Other Stakeholders, Including Taxpayers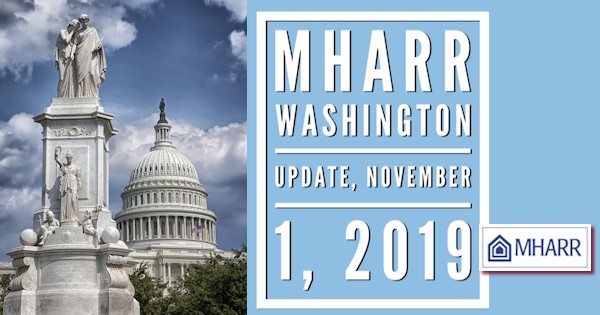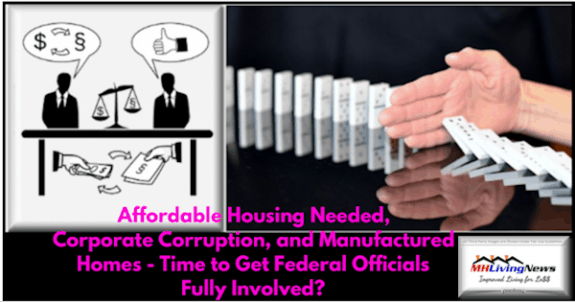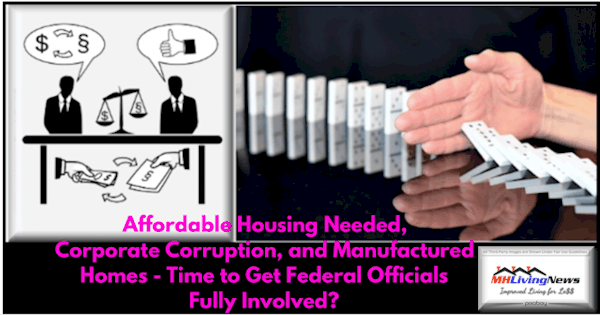 Cavco, Sun, ELS Public Statements Point to Problems for MHI, Fannie, Freddie – Public Officials, Investor, Advocates, Professionals Alerts
Clayton Homes Exposé – Wall Street Journal, MHVillage, MHInsider, and Statistical Surveys Contradict Clayton Claims – Evidence, Fact Check, Analysis