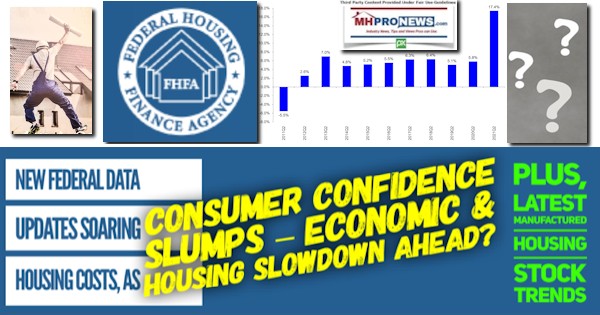 "U.S. consumer confidence fell to a six-month low in August as worries about soaring COVID-19 infections and higher inflation dimmed the outlook for the economy," said Reuters on August 31, 2021. "The survey from the Conference Board on Tuesday showed consumers less inclined to buy a home and big-ticket items like motor vehicles and major household appliances over the next six months, supporting the view that consumer spending will cool in the third quarter after two straight quarters of robust growth." On the same date, the Federal Housing Finance Agency (FHFA) reported a sharp rise in housing costs in a media release found below to MHProNews.
The FHFA press release and related download will be followed by a brief analysis and commentary that will provided additional linked information. In the wake of that segment of this report will be our business daily macro markets and manufactured housing stock updates, along with the bullet news headlines that span the left-right media divide.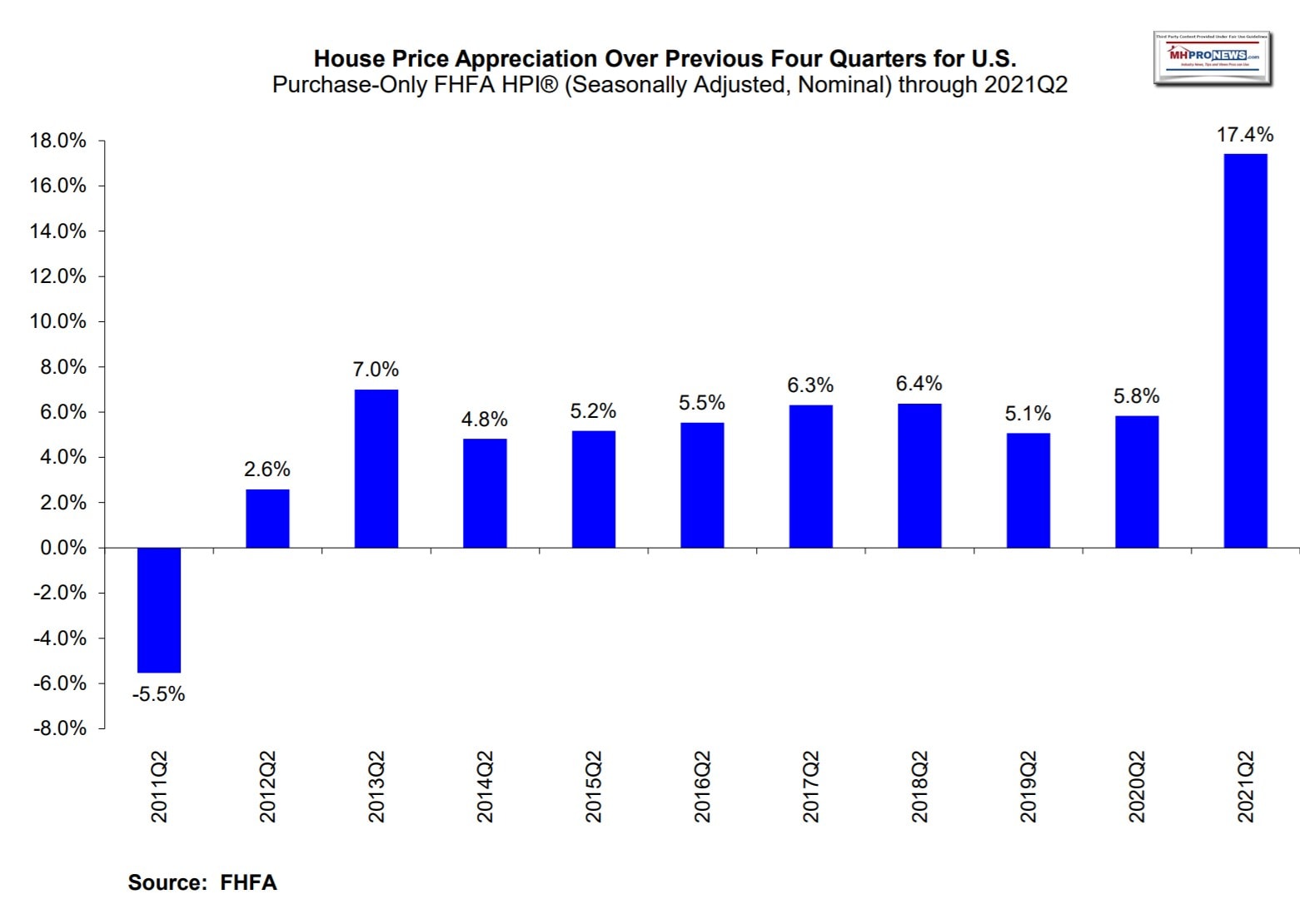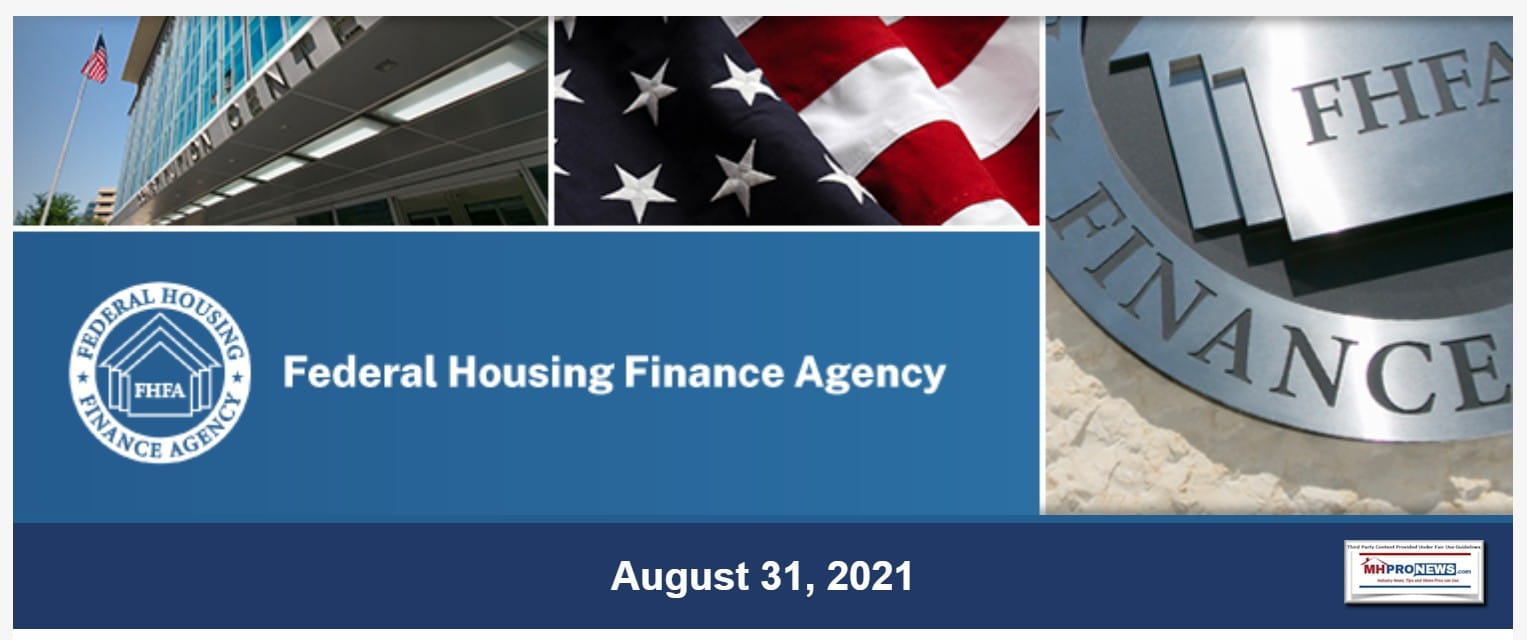 U.S. House Prices Rise 17.4 Percent over the Last Year;
Up 4.9 Percent from the First Quarter
U.S. house prices rose 17.4 percent from the second quarter of 2020 to the second quarter of 2021 according to the Federal Housing Finance Agency House Price Index (FHFA HPI®). House prices were up 4.9 percent compared to the first quarter of 2021. FHFA's seasonally adjusted monthly index for June was up 1.6 percent from May.
"During the second quarter, house prices peaked in June with an 18.8 percent growth rate compared to a year ago," said Dr. Lynn Fisher, Deputy Director of FHFA's Division of Research and Statistics. "For the quarter, annual gains surpassed 20 percent in the Mountain, New England, and Pacific census divisions and in all of the top 20 metro areas."
View highlights video featuring Dr. Lynn Fisher, FHFA Deputy Director, at https://go.usa.gov/xHuY5.
Significant Findings
House prices have risen for 40 consecutive quarters, or since September 2011.
House prices rose in all 50 states and the District of Columbia between the second quarters of 2020 and 2021. The five states with the highest annual appreciation were: 1) Idaho1 percent; 2) Utah3 percent; 3) Arizona23.9 percent; 4) Montana 23.7 percent; and 5) Rhode Island 23.7 percent. The states showing the lowest annual appreciation were: 1) Alaska 8.2 percent; 2) North Dakota 8.7 percent; 3) Louisiana 9.6 percent; 4) Mississippi 11.4 percent; and 5) Iowa 11.5 percent.
House prices rose in all of the top 100 largest metropolitan areas over the last four quarters. Annual price increases were greatest in Boise City, ID, where prices increased by 41.1 percent.  Prices were weakest in San Francisco-San Mateo-Redwood City, CA,where they increased by 4.5 percent.
Of the nine census divisions, the Mountaindivision experienced the strongest four-quarter appreciation, posting a 22.9 percent gain between the second quarters of 2020 and 2021 and a 6.8 percent increase in the second quarter of 2021. The Mountain division has led in annual growth for 15 quarters. Annual house price appreciation was weakest in the West North Central division, where prices rose by 14.9 percent between the second quarters of 2020 and 2021.
Trends in the Top 100 Metropolitan Statistical Areas are available in our interactive dashboard: https://www.fhfa.gov/DataTools/Tools/Pages/FHFA-HPI-Top-100-Metro-Area-Rankings.aspx. The first tab displays rankings while the second tab offers charts.
The FHFA HPI is the nation's only collection of public, freely-available house price indexes that measure changes in single-family home values based on data from all 50 states and over 400 American cities that extend back to the mid-1970s. The FHFA HPI incorporates tens of millions of home sales and offers insights about house price fluctuations at the national, census division, state, metro area, county, ZIP code, and census tract levels. FHFA uses a fully transparent methodology based upon a weighted, repeat-sales statistical technique to analyze house price transaction data.
FHFA releases HPI data and reports on a quarterly and monthly basis. The flagship FHFA HPI uses seasonally adjusted, purchase-only data from Fannie Mae and Freddie Mac. Additional indexes use other data including refinances, FHA mortgages, and real property records. All the indexes, including their historic values, and information about future HPI release dates are available on FHFA's website: https://www.fhfa.gov/HPI.
Tables and graphs showing home price statistics for metropolitan areas, states, census divisions, and the U.S. are included on the following pages.
Note
The next monthly HPI report (including data through July 2021) will be released September 28, 2021, and the next quarterly HPI report (including data for the third quarter of 2021 and monthly data for September) will be released November 30, 2021.
Release dates for the remainder of 2021 and all of 2022 are posted at https://www.fhfa.gov/DataTools/Downloads/Pages/House-Price-Index.aspx#ReleaseDates.
Follow @FHFA on Twitter, LinkedIn, Facebook, and YouTube for more HPI news.
The full HPI Release Packet for 2021Q2 and June 2021 is available here. ##
The Federal Housing Finance Agency regulates Fannie Mae, Freddie Mac and the 11 Federal Home Loan Banks. These government-sponsored enterprises provide nearly $7.2 trillion in funding for the U.S. mortgage markets and financial institutions.
###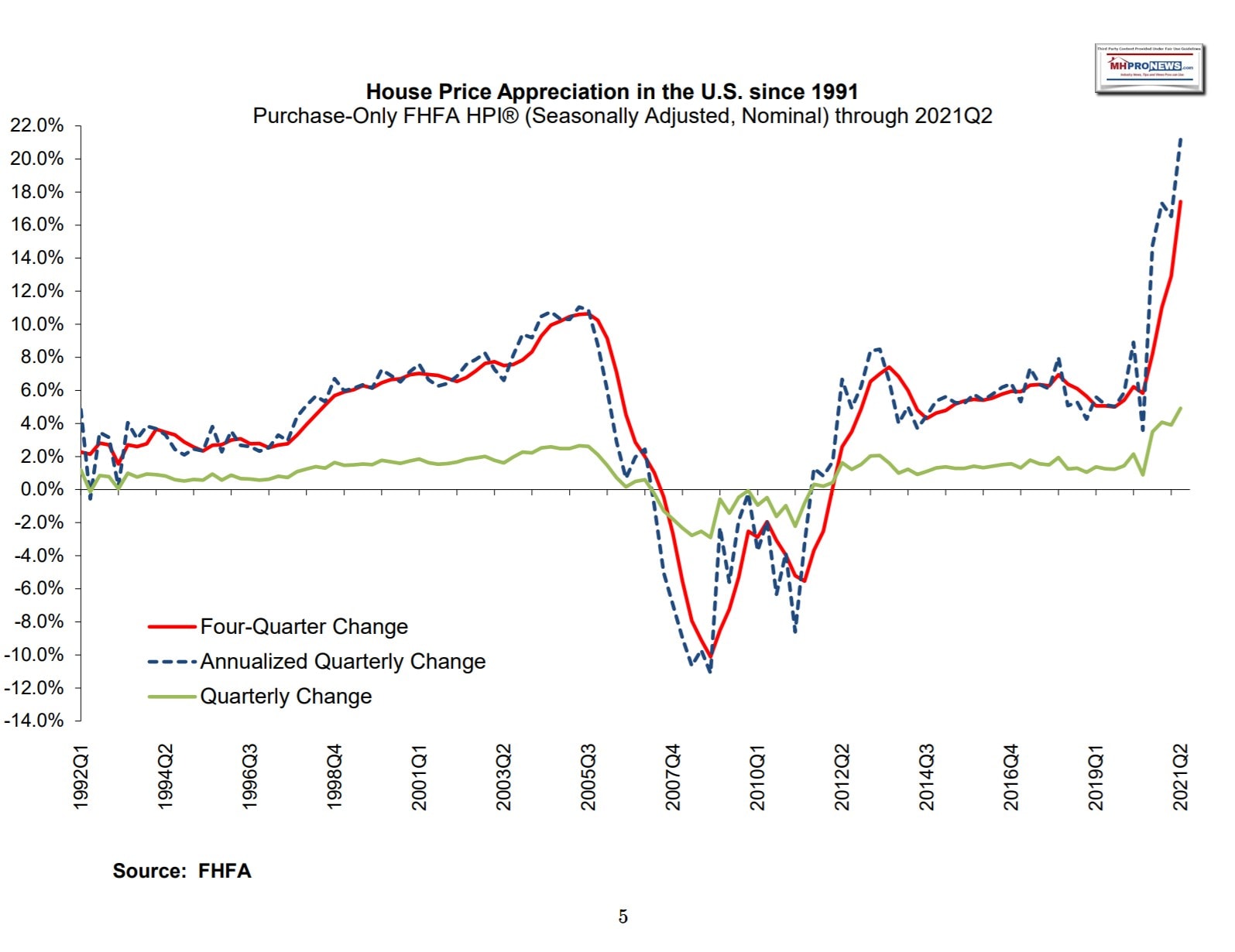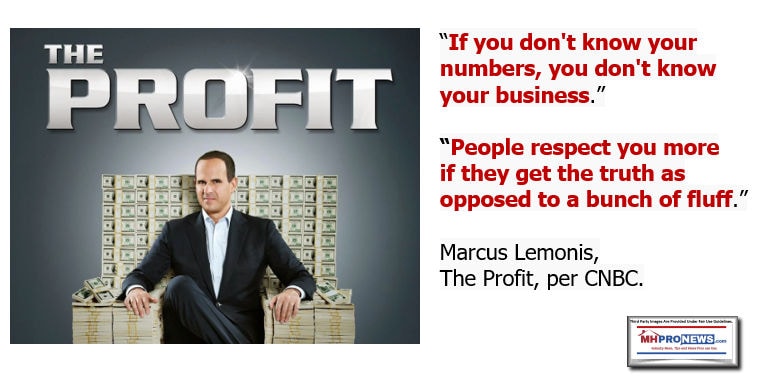 Additional Information, MHProNews Analysis and Commentary
Without questioning the FHFA data, what the above reveals once more is that segments of the manufactured housing industry are apparently being gaslighted by the Manufactured Housing Institute (MHI) and some of their surrogates. After all, MHI gave themselves high fives on Monday, see that report and analysis linked below. Something similar occurs with several of MHI's surrogates. By contrast, MHProNews focuses on facts, evidence, and advances the voices that may make claims at odds with what MHI's powers that be seem to favor.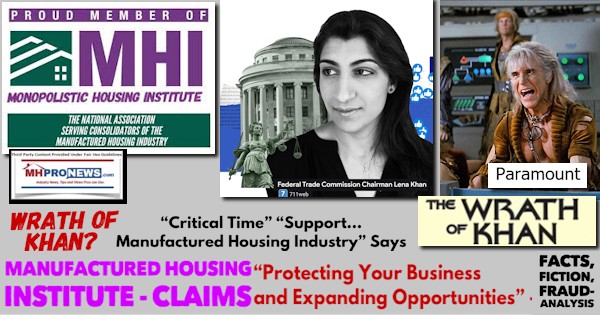 MHProNews alone reported among our industry's trade media rivals from an MHI member that cautioned that a downturn could lie ahead. These reports linked immediately above and via the featured images linked below are among the very top on our site during August 2021, which means that they are the most-read in manufactured housing, for reasons exemplified here and here.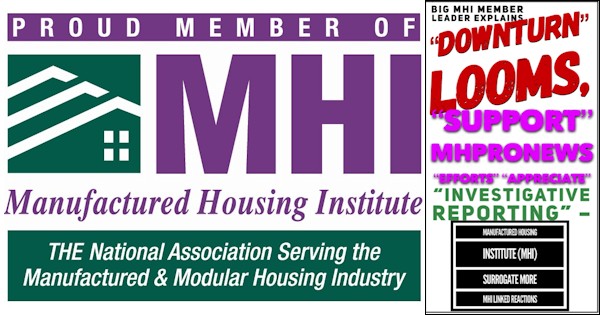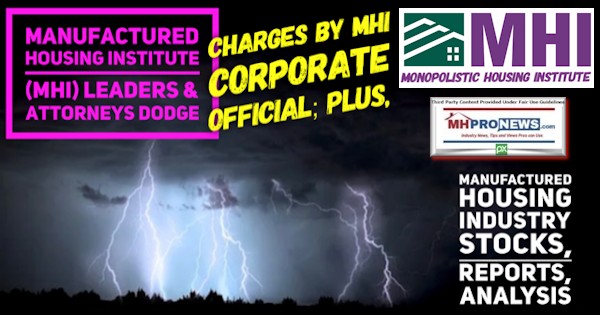 Furthermore, MHProNews alone goes through the time and effort needed to sift the public statements of MHI member firms and then report on how those fit – or contradict – MHI's official proclamation.  The statements from Cavco and Skyline, linked below, each reflect revelations that debunk some of their own rhetoric but also that of MHI.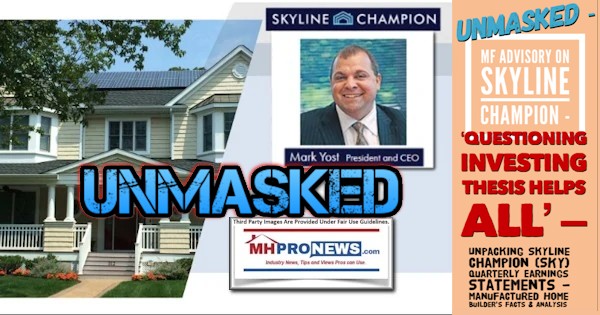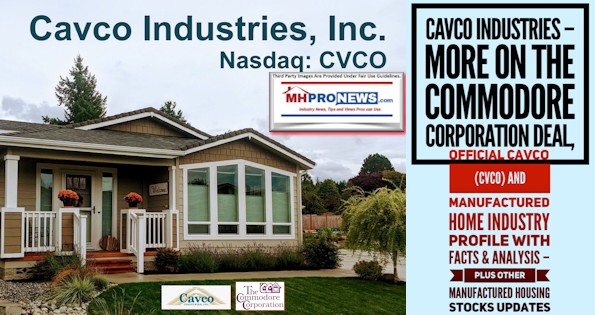 There are real world consequences when a trade association that claims to represent "all" segments and businesses in the industry is instead apparently working for the interests of a favored few.  Larger firms can withstand a downturn better than smaller ones.  So, while it may seem counterintuitive to some to believe that a downturn could be embraced by industry leaders, one must keep in mind that MHI pressed a failed plan for years, with clear evidence that said plan was not working. That plan was originally launched under the label of a "new class of manufactured homes" but was later rebranded as the clearly failed CrossMods scheme.
Keep in mind that MHProNews projected over 3.5 years ago that the Clayton-backed MHI move toward a so-called "new class of manufactured homes" that MHI eventually renamed and trademarked as CrossModTM was said by MHProNews to be a "Trojan Horse" for the industry. We do not have a crystal ball. But a crystal ball was not required. Only common sense and  business or marketing 101 was needed. This wasn't – or isn't – rocket science, to borrow Jim Ayotte's recent euphemism, to realize all of the flaws with this now demonstrably failed scheme.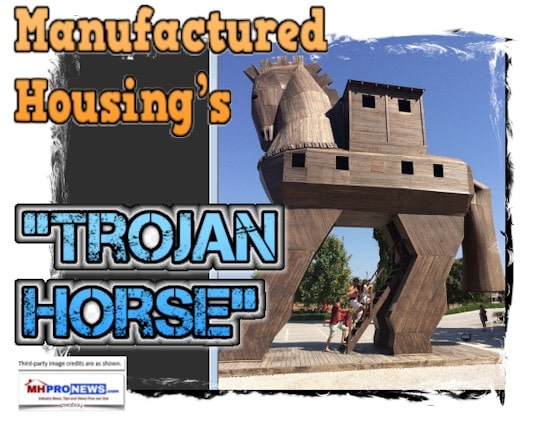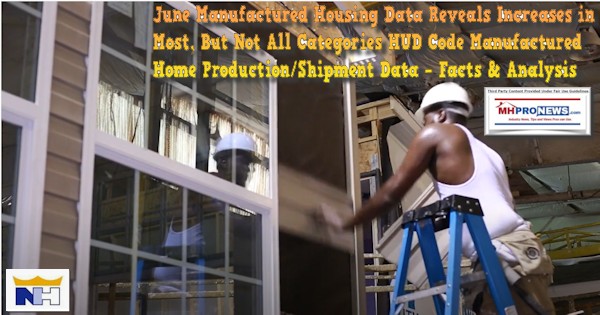 But that and other propaganda is still the featured image on the MHI homepage this week. That's ridiculous yet revealing.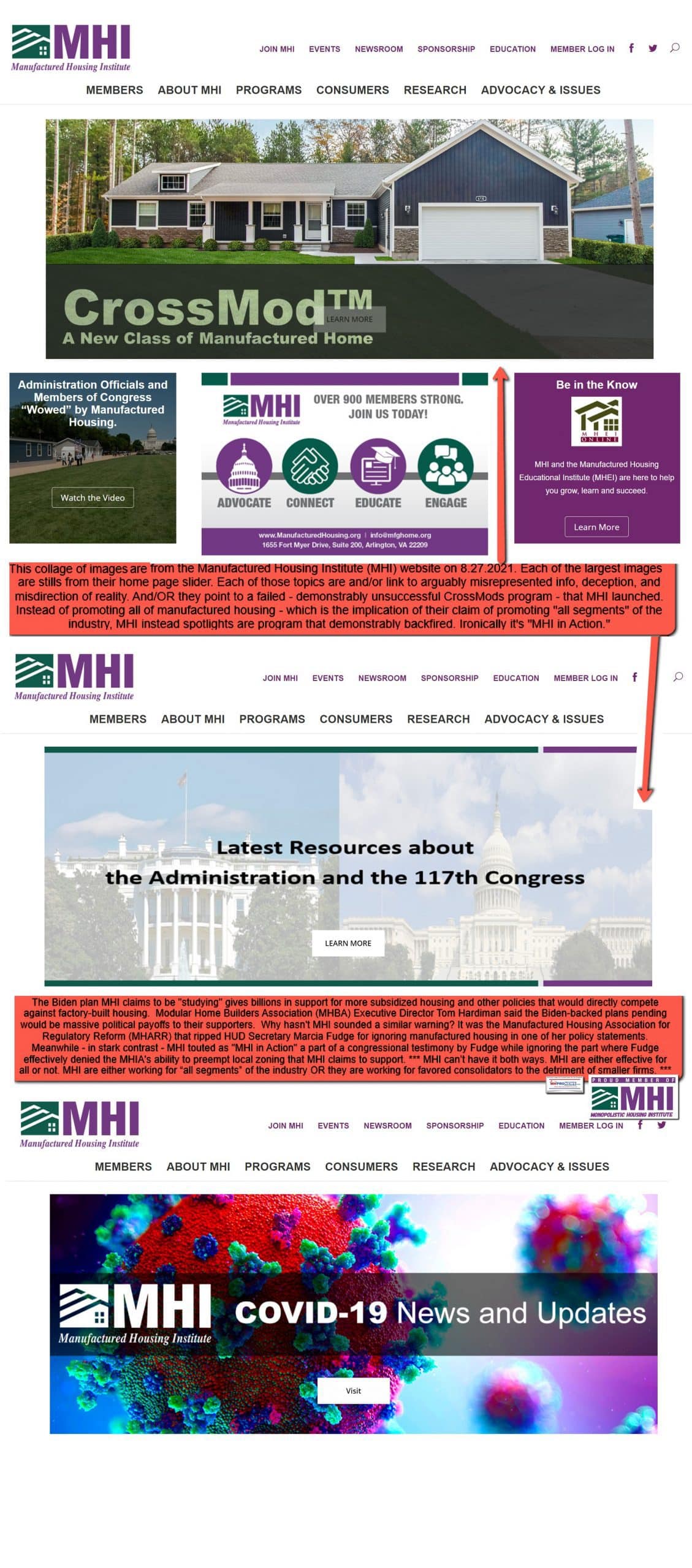 But while others in the MHI Amen Corner we're going with the flow on the association's propaganda, MHProNews dared challenge that official narrative.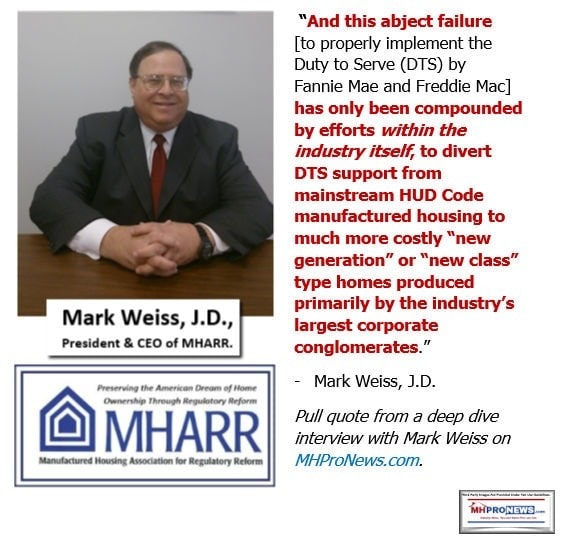 So too did the Manufactured Housing Association for Regulatory Reform (MHARR) on several occasions.  The Modular Home Builders Association (MHBA) also ripped MHI for their CrossMod scheme. Per informed sources in the MHBA, the only reason they have not further pursued the matter of their initial broadsides against MHI is because MHBA sees that the plan is going nowhere too. If MHI wants to lead the industry's independents into an unstated self-limiting (or for some, a suicide pact), MHBA is not paid to stop them.  Thankfully, MHARR keeps pressing the issue, for the sake of independent producers of HUD Code homes.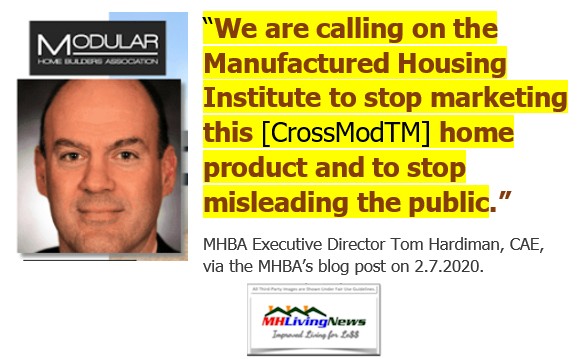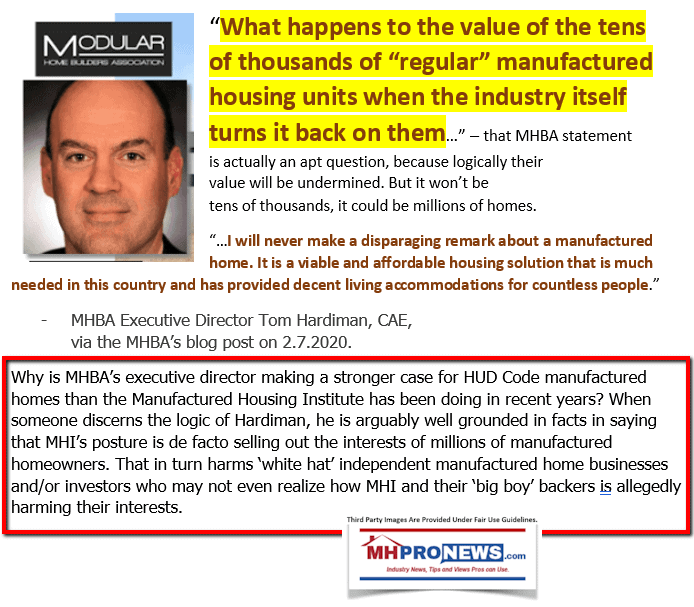 Facts and evidence that are objectively considered, along with historical insights, trends, etc. make it clear that MHI has been repeatedly wrong.
That makes the Arlington, VA based nonprofit that was described by Knudson Law's Samuel Strommen as the mouthpiece of the Big 3 MHI HUD Code builders as apparently deceptive and misleading claims potentially actionable.
To play devil's advocate, the only other logical possibility is that seasoned, educated, and intelligent people are doing things contrary to reason, the evidence, and common sense.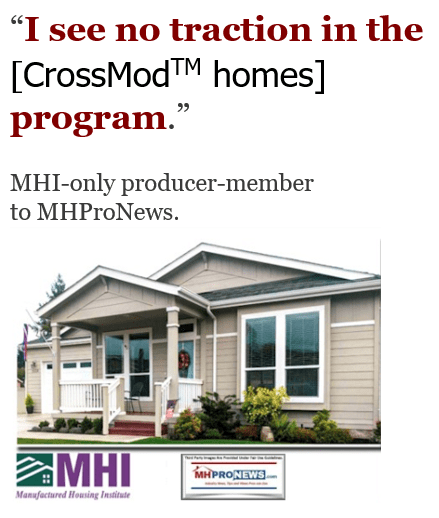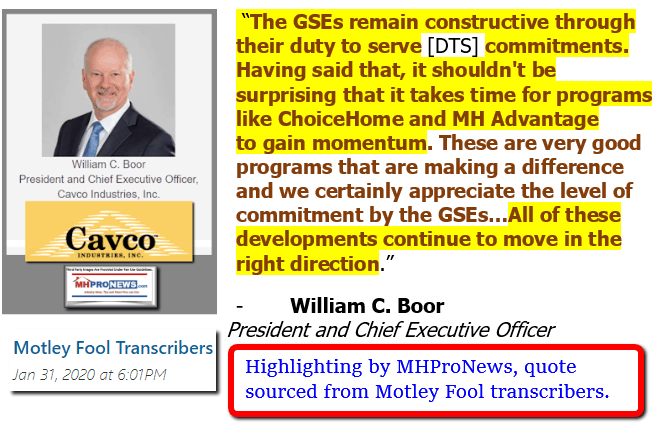 Facts matter. Data matters. What coach keeps running a plan that the defense stops? Similarly in marketing, what business that authentically wants growth keeps running the same marketing plan that fails to deliver?  Thank you, MHI leaders for being increasingly transparently phony. The Marcus Lemonis quote above about "knowing your numbers" sheds the needed light. When the numbers tell you that something is not working, and the leaders keep pressing something that is not working, that should be a clarion call for serious change at MHI. Keep in mind that the claims by MHI and their supposedly third-party research study have proven NOT to have become reality. The facts are revealed in the reports linked below, which are also among the most read on MHProNews in recent weeks.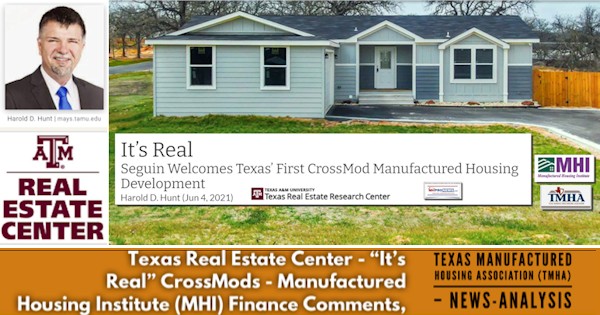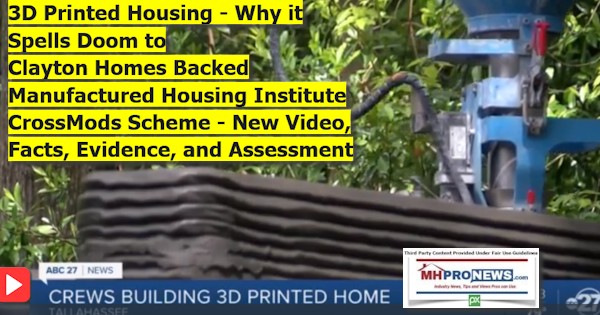 It takes time, expertise, attention to detail, and a fidelity in the search for truth over spin, paltering, deception and misdirection to report what is as opposed to being the stenographer or mouthpiece of MHI and their dominating brands. That is what authentic journalism is supposed to be, according to the American Press Institute (API). By those standards, there are NO other journalists in manufactured housing at this time other than MHProNews/MHLivingNews.
There may be an exclusive report before week's end involving previously documented manufactured housing controversies. Read the related reports, be the next to sign up for our industry-leading emailed news updates, and stay tuned in order to stay informed on "Industry News, Tips, and Views Pros Can Use" © where "We Provide, You Decide." ©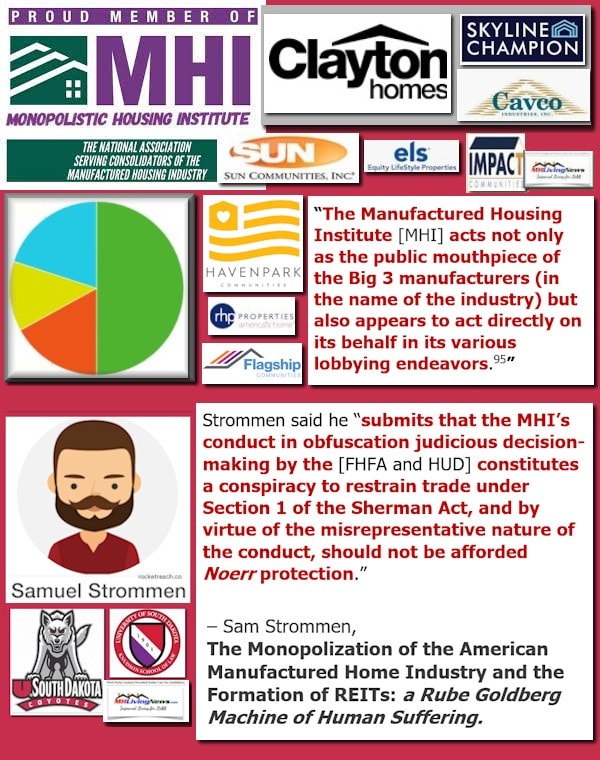 For a deeper dive into the evidence of obvious failures by MHI, see the reports linked above and below. Facts can be spun. Facts can be obscured. But when facts are revealed, properly understood, examined objectively, the facts do not lie.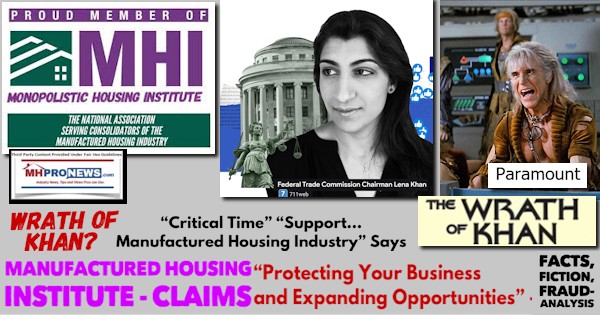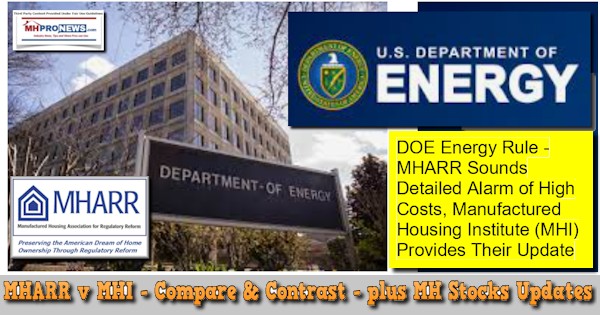 Tremendous potential opportunities exist in affordable manufactured housing. But they are unlikely to be properly tapped unless and until the industry's independents rouse themselves to abandon the lunacy that comes from the Big 3 and the community consolidators via MHI.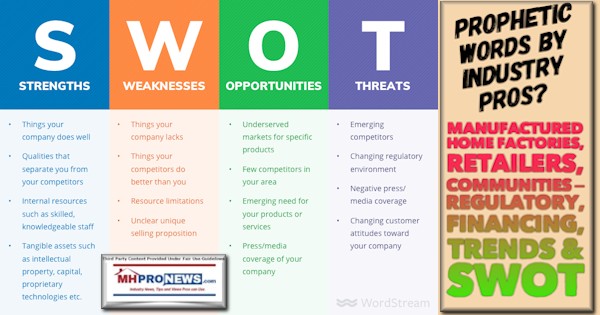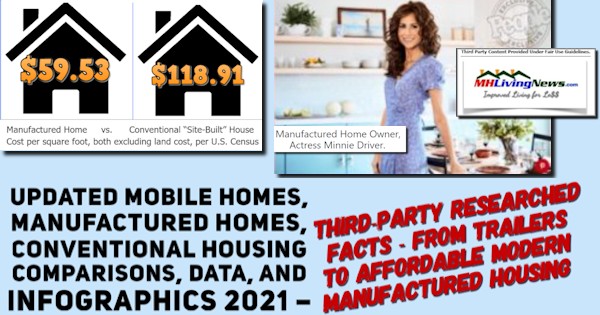 ###
Next up is our business daily recap of yesterday evening's market report, related left-right headlines, and manufactured housing connected equities.
The Business Daily Manufactured Home Industry Connected Stock Market Updates.  Plus, Market Moving Left (CNN) – Right (Newsmax) Headlines Snapshot. While the layout of this daily business report has been evolving over time, several elements of the basic concepts used previously are still the same. For instance. The headlines that follow below can be reviewed at a glance to save time while providing insights across the left-right media divide. Additionally, those headlines often provide clues as to possible 'market-moving' news items.
Market Indicator Closing Summaries – Yahoo Finance Closing Tickers on MHProNews…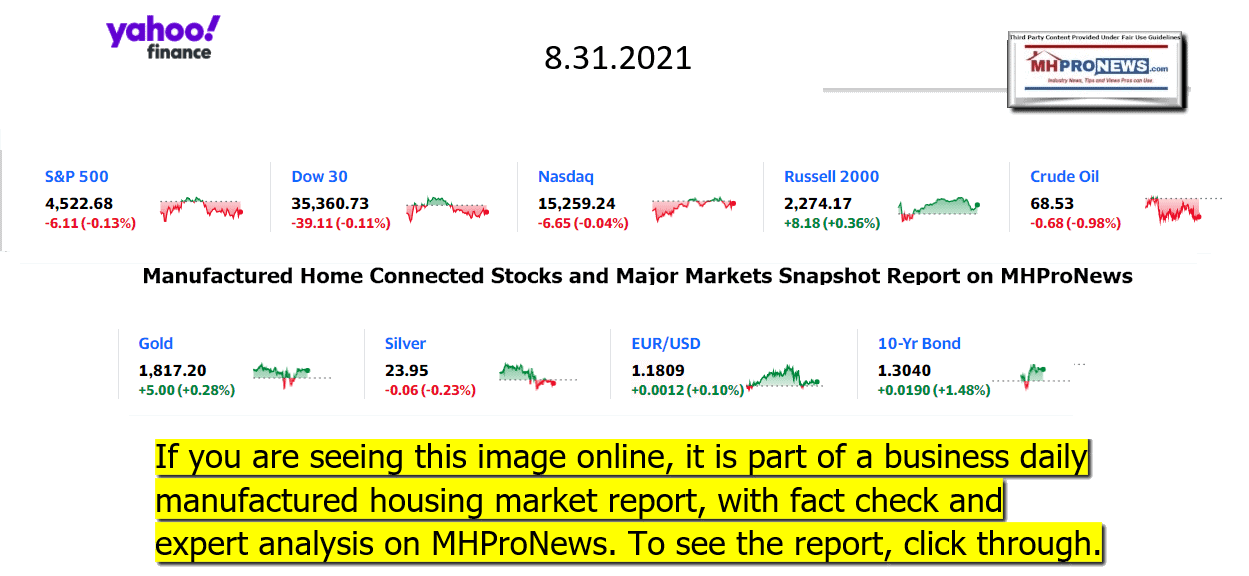 Headlines from left-of-center CNN Business – evening of 8.31.2021 
Fed fight
The Marriner S. Eccles Federal Reserve building in Washington, D.C., U.S., on Wednesday, Aug. 25, 2021. President Biden yesterday tossed aside party divisions that nearly sunk his economic agenda and credited Speaker Pelosi's "masterful" leadership in getting the fractious House Democratic caucus to adopt a $3.5 trillion budget resolution.
Progressives led by AOC call for Biden to replace the current chairman, Jerome Powell
Investors are starting to play defense as the bull run matures
The mood on Wall Street just got better really quickly
Zoom's stock plunges as sales growth slows
This Chicago couple posted an invoice for no shows at their wedding
Cars have been guzzling leaded gasoline for 99 years. Not any more
The Fed is about to stop the party on Wall Street. What that means for you
China's economy is being rattled by the Delta variant and supply chain woes
Windows 11 gets a launch date. It's surprisingly soon
Pearl Milling Company's new ads remind customers it used to be Aunt Jemima — without mentioning the racist brand
Elizabeth Holmes' trial is set to begin: Here's what you need to know
You know your salary. But how much are you really making? Calculate your total compensation
Asian Americans rally in support of Disney and Marvel's 'Shang Chi'
An Afghan YouTuber was killed at Kabul airport. Many more fear the worst
People play online games one day before the China Digital Entertainment Expo & Conference (ChinaJoy) at Shanghai New International Expo Center on August 1, 2019 in Shanghai, China.
China bans kids from playing online video games during the week
Executive Producer Mike Richards with Host Wayne Brady of the television show "Let's Make a Deal" listen during the CBS Network portion of the 2009 Summer Television Critics Association Press Tour at The Langham Huntington Hotel & Spa on August 3, 2009 in Pasadena, California.
Mike Richards is now out as executive producer of 'Jeopardy!' too
2022 Grand Wagoneer Series III.
Here's what it's like to drive a new $100,000 Jeep
STARTUPS
With over 2 billion tonnes of waste produced annually, companies are looking to revolutionize the way we handle our waste. Singapore-based Insectta uses black soldier fly larvae to convert organic food waste into fertilizer and animal feed. The company is also pioneering a method to extract biomaterials of high industrial value, such as chitosan and melanin, from these insects, bringing new value to waste.
This Singapore startup is using insects to turn trash into treasure
They' re revolutionizing how we manage waste
Branson's satellite-launching firm Virgin Orbit to go public
The mysterious Chinese app that's as popular as Amazon
This $15 billion startup promises 30-minute deliveries. Now it's facing a worker backlash
WORKPLACE
Lots of people are quitting their jobs. Here's how to do it right
These are the warning signs an employee may quit
How to make the days that you're in the office count
How managers really feel about remote work
Employee mental health is a huge concern after such a brutal stretch
Headlines from right-of-center Newsmax – evening of 8.31.2021
Biden Battles to Win Narrative in Speech on Afghanistan Pullout
President Joe Biden delivers remarks on the end of the war in Afghanistan in the State Dining Room at the White House on Tuesday.
The president's agenda has been overshadowed by vocal criticisms of the U.S. military's withdrawal from Afghanistan. He and his surrogates, taking a different tack, have sought to cast the drawdown as a success, and Biden as the first president in 20 years with the courage to take on the difficult challenge. [Full Story]
Fall of Afghanistan
US Military Leaves Contract Dogs Behind in Afghanistan
Retired Generals Call on Austin, Milley to Resign Following 'Disastrous' Afghan Withdrawal
NBC's Richard Engel: Withdrawal 'Dark Period' for US
Taliban Seen Escorting Former Bin Laden Security Chief
Dad of Marine Killed in Kabul: Biden Bristled When Told to 'Learn' Victims' Stories
Biden Faces Congressional Probes Over Evacuation Debacle
Cotton: Biden Kept Promises to Taliban, Not to Americans
More Fall of Afghanistan
Newsmax TV
Mast: WH Has 'Doubled Down on Stupid' With Taliban
Ronny Jackson: Americans Fending for Selves in Afghanistan |
Babin: 'Terrorists Are Celebrating' as U.S. Leaves Afghanistan |
Mike Johnson: Search and Recuse Top Priority After Ida |
Mace: Pentagon Likely Had More Than 'Heads Up' on Attack |
Jackie Walorski: Biden Should Resign |
Democratic Texas Judge: Biden Should Resign Over Border Crisis |
More Newsmax TV
Newsfront
Small Louisiana Communities Bear Brunt of Hurricane Ida
Debbie Greco and her family cowered on a stairway landing as Hurricane Ida sent 4 feet (1.2 meters) of muddy water rushing into her home in LaPlace along the west side of Lake Pontchartrain. She and her son had safely rescued her elderly parents from their home down the…… [Full Story]
Related Stories
Mississippi Highway Collapses, 2 Killed, at Least 10 Injured
Ida's Aftermath: No Power, No Flights, Scant Drinking Water
Death Row Inmate Suing to Have Pastor Lay Hands on Him as He Dies
Texas death row inmate John Henry Ramirez, convicted for a 2004 [Full Story]
High Viral Load in Lungs Drives Fatal COVID-19: Study
A high amount of coronavirus in the lungs is a major contributor to [Full Story]
US Commits to $60M in Aid to Ukraine before WH Visit
The United States is promising up to $60 million in military aid to [Full Story]
California Teacher Suggested Kids Pledge Allegiance to Pride Flag
A Southern California, school teacher is "no longer in the classroom" [Full Story]
Biden More Concerned With 'Image' Over Solutions in Afghanistan
President Joe Biden had said the Afghanistan pullout would be done [Full Story] |
China Shuts American Chamber of Commerce in Chengdu, Organization Says
Chinese authorities have instructed an American Chamber of Commerce [Full Story]
Mike Richards Out as Producer of 'Jeopardy!' and 'Wheel'
Mike Richards is out as executive producer of "Jeopardy!", days after [Full Story]
State Dept Staffers Call Out 'Antisemitic' Blogger, Demand Ouster
More than 70 State Department officials wrote Secretary of State [Full Story]
Problems at Chinese Ports Could Impact Holidays
Ongoing problems at some of China's busiest ports, including [Full Story]
Court Doc: Lawyer For 17 Capitol Attack Defendants Hospitalized With COVID
A conservative lawyer representing 17 defendants in the Jan. 6 U.S. [Full Story]
NFL, Army Vet Who's GOP Senate Hopeful Slams 'Woke' Sports on Eve of NFL Start
Former NFL defensive end Jake Bequette longs for the day when [Full Story] |
McConnell Tapes 2nd PSA to Encourage COVID Vaccinations
Senate Minority Leader Mitch McConnell, R-Ky., stars in a new public [Full Story]
ESPN Roasted for Being Faked Out by 'High School' Football Team
ESPN is being derided on social media after it televised a high [Full Story]
Warren Accused of Violating New Mexico Mask Mandate
Elizabeth Warren, D-Mass., reportedly attended a wedding in New [Full Story]
No Cost Solar In Florida? See If You Qualify For Solar Tax Credits & Rebates.
Gov Energy Program
US Military Leaves Contract Dogs Behind in Afghanistan
An animal rights group has criticized the Biden administration after [Full Story]
Mike Johnson to Newsmax: Search and Recuse Top Priority After Ida
Search and rescue efforts are the first concern in Louisiana, [Full Story] |
Facebook Expected to De-Emphasize Political News
Facebook is expected to downplay political posts and current events [Full Story]
Putin Approves Special Payments to Soldiers and Police Ahead of Key Election
President Vladimir Putin on Tuesday approved one-off payments to law [Full Story]
Ida's Aftermath: No Power, No Flights, Scant Drinking Water
Louisiana communities beginning the huge task of clearing debris and [Full Story]
Taliban Seen Escorting Former Bin Laden Security Chief
A video allegedly showing Osama bin Laden's former personal security [Full Story]
Human Rights Groups Fear Taliban Using US Biometric Data to Target Women, Enemies
Human rights advocates are worried that a biometric system containing [Full Story]
US Home Prices Soar at Record Pace in June
S. home prices jumped by a record amount in June as homebuyers [Full Story]
Pentagon Spokesman Kirby: 'Leverage' Will Be Used to Bring Americans Home
There are still Americans in the "low hundreds" in Afghanistan, [Full Story] |
China Limits Children to 3 Hours of Online Gaming a Week
China Limits Children to 3 Hours of Online Gaming a Week
Hugely popular online games and celebrity culture in China are the [Full Story]
Pew Poll: Republicans Don't Trust National News Organizations
Republicans' trust in national news organizations has plummeted since [Full Story]
Axios/Ipsos Poll: Vaccine Hesitancy Appears to Be Waning
Sixty-eight percent of parents said they have had their children [Full Story]
Ukraine's Leader to Talk With Biden on Security, Russian Gas
Ukraine's leader is traveling to the United States this week in hopes [Full Story]
Hurricane Squeeze for East Coast Gas Supplies
Tight supplies of gasoline on the U.S. East Coast are being pressured [Full Story]
California Fire Approaches Lake Tahoe After Mass Evacuation
A ferocious wildfire swept toward Lake Tahoe on Tuesday just hours [Full Story]
California Vaccine Verification Bill Dies for Now
A proposed vaccine verification bill in California has died, but [Full Story]
Incredible Miniature Telescope Lets You See for Miles
Starscope
More Newsfront
Finance
Hurricane Squeeze for East Coast Gas Supplies
Tight supplies of gasoline on the U.S. East Coast are being pressured by refinery outages from Hurricane Ida and the shutdown of a major pipeline that supplies fuel to the Southeast. [Full Story]
Social Security, Medicare Funds Remain under Pressure
UPDATE 7-Oil Falls as U.S. Refineries Shut; Washington Pushes OPEC to Pump More
UPDATE 2-China Shuts American Chamber of Commerce in Chengdu, Organization Says
Surging COVID-19 Cases Dampen U.S. Consumer Confidence
More Finance
Health
Is COVID-19 Vaccine Protection Really Waning?
Manufactured Housing Industry Investments Connected Equities Closing Tickers
Some of these firms invest in manufactured housing, or are otherwise connected, but may do other forms of investing or business activities too.
NOTE: The chart below includes the Canadian stock, ECN, which purchased Triad Financial Services, a manufactured home industry lender
NOTE: Drew changed its name and trading symbol at the end of 2016 to Lippert (LCII).
NOTE: Deer Valley was largely taken private, say company insiders in a message to MHProNews on 12.15.2020, but there are still some outstanding shares of  the stock from the days when it was a publicly traded firm.  Thus, there is still periodic activity on DVLY.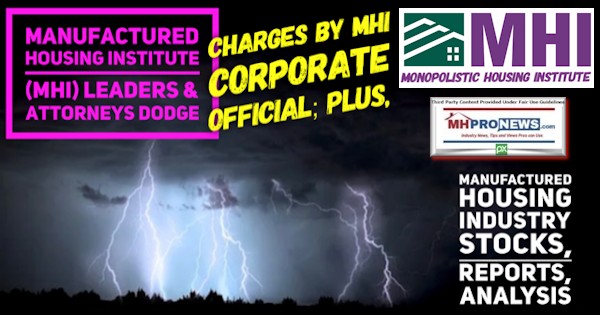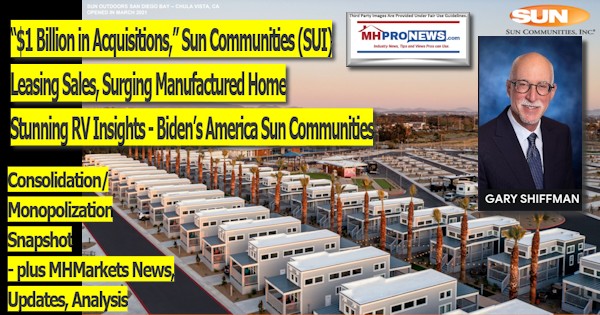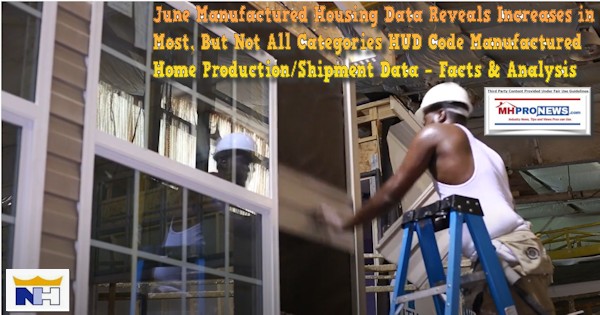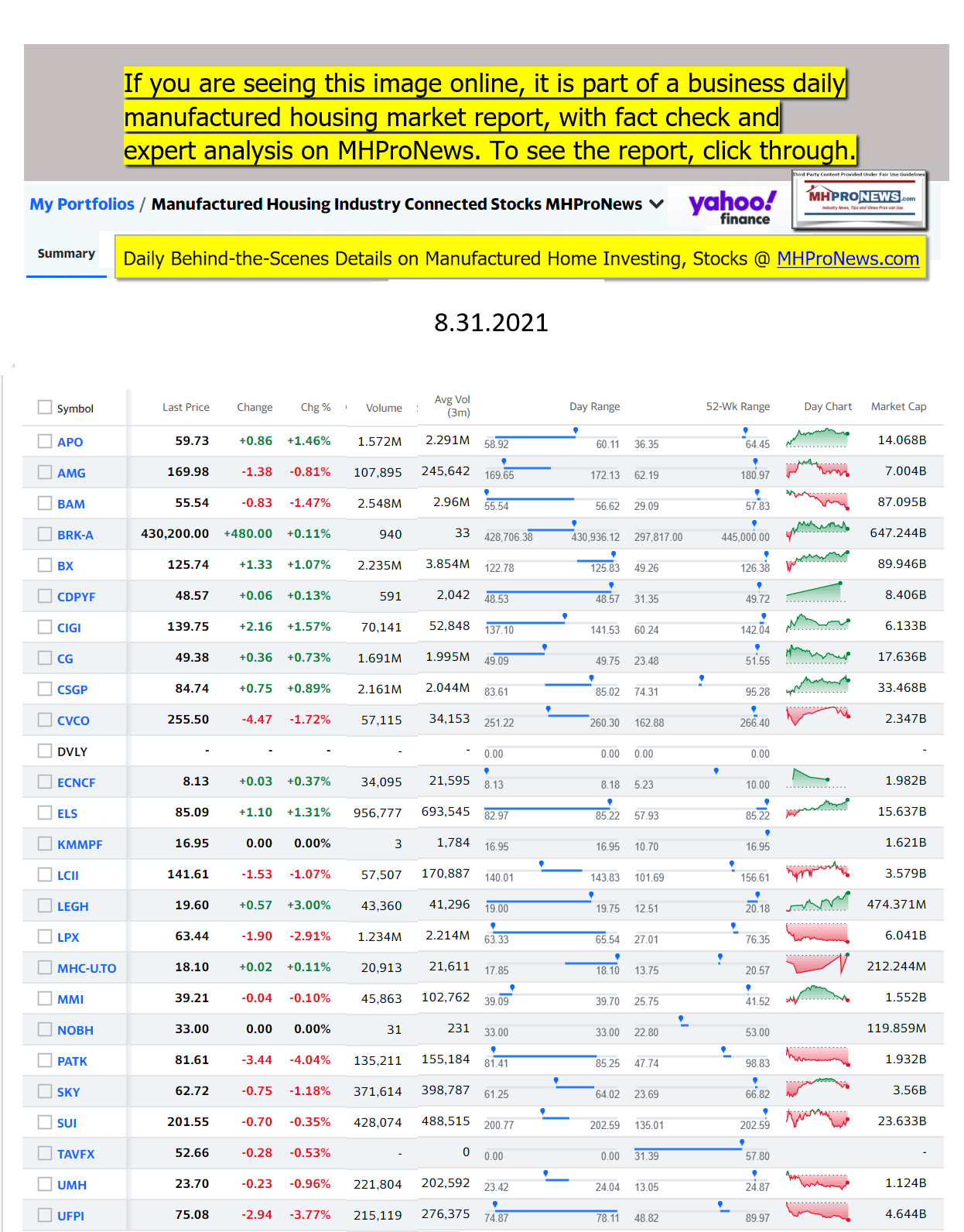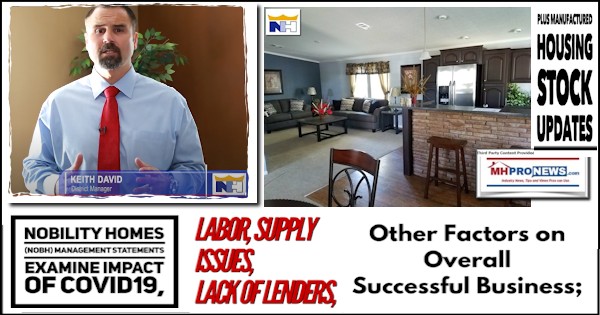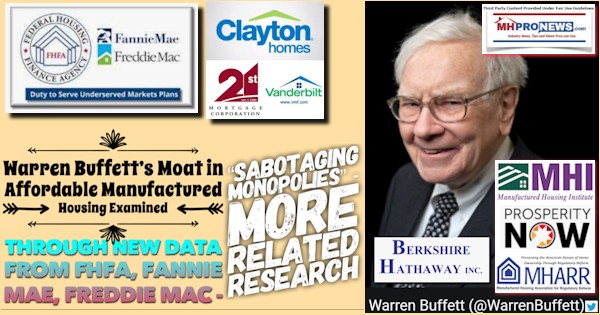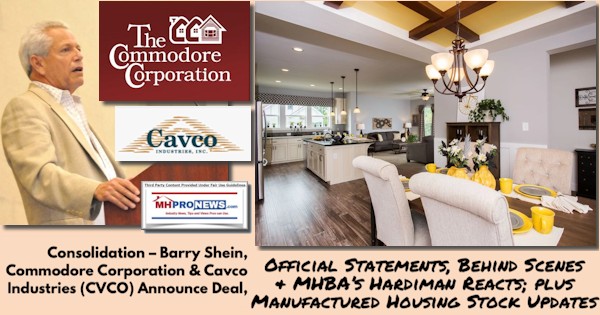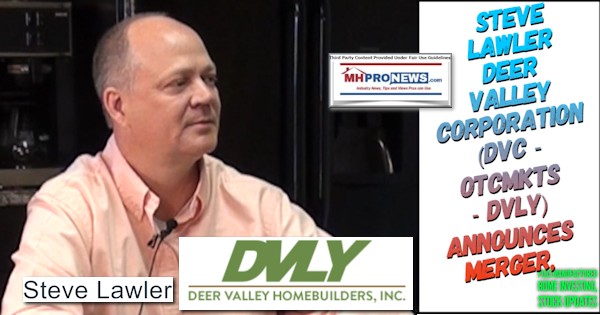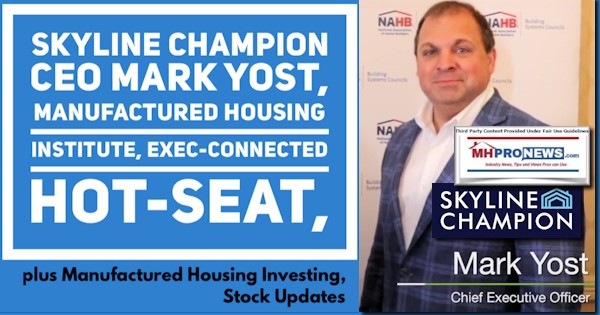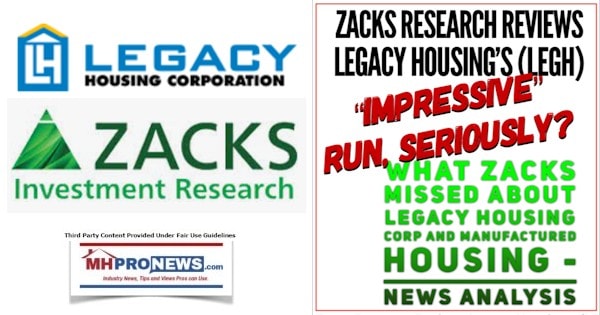 Summer 2021…
Berkshire Hathaway is the parent company to Clayton Homes, 21st Mortgage, Vanderbilt Mortgage and other factory built housing industry suppliers.
· LCI Industries, Patrick, UFPI, and LP each are suppliers to the manufactured housing industry, among others.
· AMG, CG, and TAVFX have investments in manufactured housing related businesses. For insights from third-parties and clients about our publisher, click here.
Enjoy these 'blast from the past' comments.
MHProNews. MHProNews – previously a.k.a. MHMSM.com – has celebrated our 11th year of publishing, and is starting our 12th year of serving the industry as the runaway most-read trade media.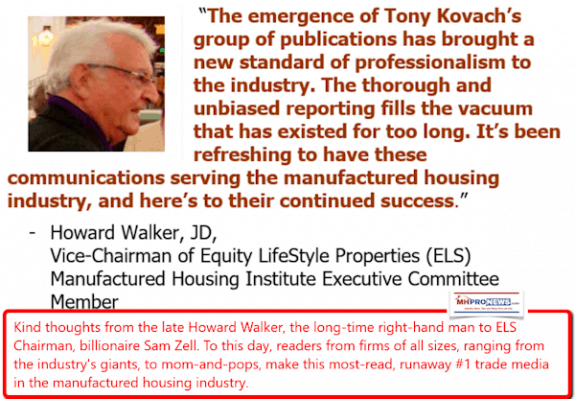 Sample Kudos over the years…
It is now 11+ years and counting…
Learn more about our evolutionary journey as the industry's leading trade media, at the report linked below.
· For expert manufactured housing business development or other professional services, click here.
· To sign up in seconds for our industry leading emailed headline news updates, click here.

Disclosure. MHProNews holds no positions in the stocks in this report.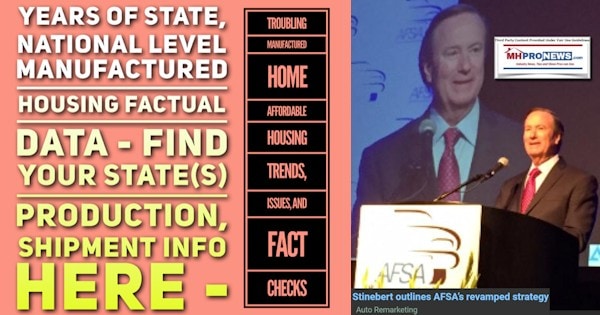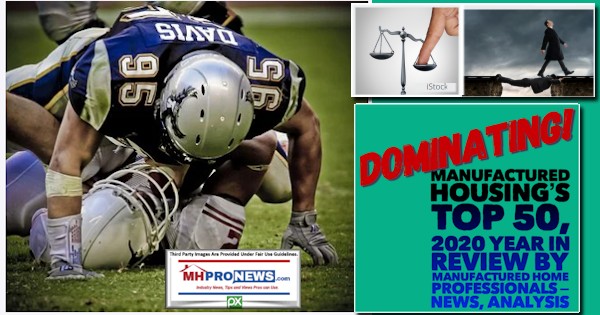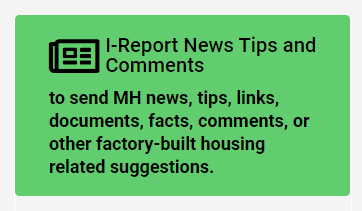 That's a wrap on this installment of "News Through the Lens of Manufactured Homes and Factory-Built Housing" © where "We Provide, You Decide." © (Affordable housing, manufactured homes, stock, investing, data, metrics, reports, fact-checks, analysis, and commentary. Third-party images or content are provided under fair use guidelines for media.) (See Related Reports, further below. Text/image boxes often are hot-linked to other reports that can be access by clicking on them.)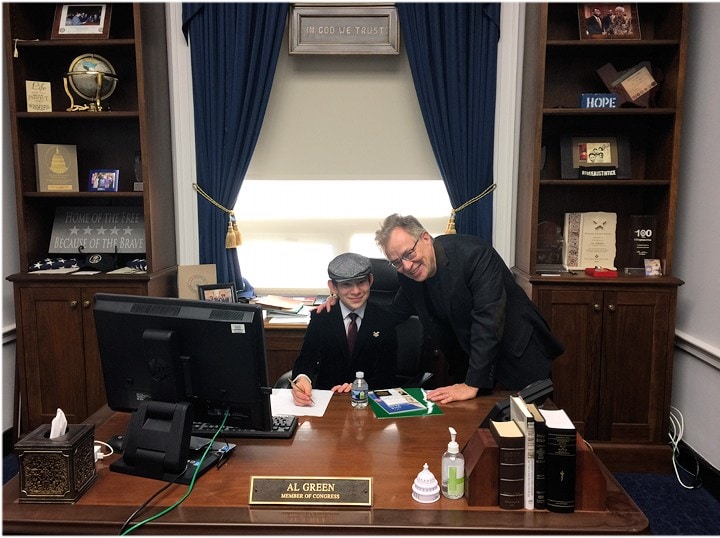 By L.A. "Tony" Kovach – for MHProNews.
Tony earned a journalism scholarship along with numerous awards in history. There have been several awards and honors and also recognition in manufactured housing. For example, he earned the prestigious Lottinville Award in history from the University of Oklahoma, where he studied history and business management. He's a managing member and co-founder of LifeStyle Factory Homes, LLC, the parent company to MHProNews, and MHLivingNews.com. This article reflects the LLC's and/or the writer's position, and may or may not reflect the views of sponsors or supporters.