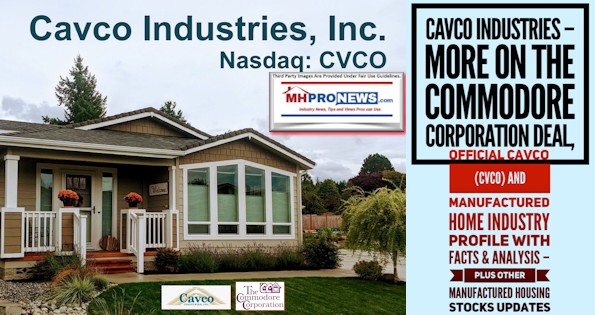 The initial report on the acquisition deal by Cavco Industries (CVCO) of The Commodore Corporation (TCC or Commodore) deal on MHProNews is near the pinnacle of the most read reports in the manufactured housing industry for August 2021. This report will provide a mix of corporate updates on that Cavco-Commodore deal, a manufactured housing industry overview as provided by Cavco, their presentation on the rationale for the TCC acquisition, and more facts, analysis, and commentary from MHProNews. Following the official CVCO earnings call transcript will be our business-daily headlines recap and market snapshot that includes other firms with manufactured housing investments.
Consolidation – Barry Shein, The Commodore Corporation & Cavco Industries (CVCO) Announce Deal, Official Statements, Behind the Scenes & MHBA's Hardiman Reacts; plus Manufactured Housing Stock Updates
Note that this transcript from the Motley Fool omits the "10 stocks we like better than Cavco Industries, Inc." and corrects a typo in the headline below. To see the original, click the headline link.
Also note that the highlighting is not in the original. They are added for items that in MHProNews' view merit additional notice. For instance, the first such highlighting is an update on Cavco's new production center in Arizona.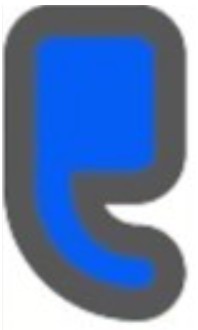 CVCO earnings call for the period ending July 3, 2021.
(MFTranscribers)
Aug 6, 2021 at 7:31PM
Cavco Industries, inc (NASDAQ:CVCO)
Q1 2022 Earnings Call
Aug 6, 2021, 1:00 p.m. ET
Contents:
Prepared Remarks
Questions and Answers
Call Participants
Prepared Remarks:
Operator
Good day and thank you for standing by. Welcome to the First Quarter Fiscal Year 2022, Cavco Industries, Inc. Earnings Call. [Operator Instructions]. Please be advised that today's conference is being recorded. [Operator Instructions].
I would now like to hand the conference over to your speaker today, Mark Fusler, Director of Financial Reporting and Investor Relations. Thank you. Please go ahead.
Mark Fusler — Director of Financial Reporting and Investor Relations
Good day and thank you for joining us for Cavco Industries' first quarter fiscal year 2022 earnings conference call. During this call, you'll be hearing from Bill Boor, President and Chief Executive Officer; Paul Bigbee, Chief Accounting Officer and myself. Before we begin, we'd like to remind you that the comments made during this conference call by management may contain forward-looking statements under the provisions of the Private Securities Litigation Reform Act of 1995, including statements of expectations or assumptions about Cavco's financial and operational performance, revenues, earnings per share, cash flow or use, cost savings, operational efficiencies, current or future volatility in the credit markets or future market conditions. All forward-looking statements involve risks and uncertainties, which could affect Cavco's actual results and could cause its actual results to differ materially from those expressed in any forward-looking statements made by or on behalf of Cavco.
I encourage you to review Cavco's filings with the Securities and Exchange Commission including without limitation, the company's most recent Forms 10-K and 10-Q which identify specific factors that may cause actual results or events to differ materially from those described in the forward-looking statements.
This conference call also contains time-sensitive information that is only accurate as of the date of this live broadcast, Friday, August 6, 2021. Cavco undertakes no obligation to revise or update any forward-looking statements whether written or oral to reflect events or circumstances after the date of this conference call, except as required by law.
I'd like to turn the call over to Bill Boor, President and Chief Executive Officer. Bill?
William C. Boor — President and Chief Executive Officer
Welcome and thank you for joining us today to review our results for the first fiscal quarter of 2022. We're very happy to report another record quarter for earnings in revenues. Revenues increased approximately 30% year-over-year and our diluted EPS was up about 60%. This was also a quarter in which we executed across the spectrum of our investment priorities. Progress continues on the Glendale, Arizona park model facility, which will begin production around the end of the calendar year. We announced expansion of our Fort Worth plant, this investment and improved process flow and work environment will increase the plant's capacity by about 20% and is just one example of similar investments in our existing plants.
And last week, we were able to announce the upcoming acquisition of Commodore Homes, which we will fund by putting a $140 million of our cash to work. Commodore is an ideal fit, expanding our footprint into the Northeast and increasing our unit shipments by approximately 25%.
Continuing on the topic of capital allocation, we made progress on our share buyback authorization during the quarter by investing $12.8 million at an average price of [Phonetic]7:14_____209. When the authorization was announced last October, we said that the buybacks would not limit our focus or ability to make strategic investments in this quarter demonstrates that point. So in a very busy and productive quarter, going back to the base business results, our plants continue to do an outstanding job of maintaining margins despite a highly volatile costs. Margins grew this quarter as we saw average selling price increased 19% year-over-year and 12% compared to last quarter. This resulted in a record percent margin homebuilding of 21.2%.
Lumber and OSB came off the recent highs during the period; however, with the lag in hitting cost of goods sold, this decreases were not reflected in margins to any significant degree. Operationally, we continue to deal with persistent labor and supply challenges. We feel very good about the work to date to improve retention and build skills and we're confident that this focus along with the ongoing product rationalization and planned investment will enable us to improve efficiencies and throughput in our plants. Demand for our products remained strong. During the quarter, our backlogs continue to grow and they now stand at $792 million or approximately 40 weeks of production. 80% of the unit backlog grew since the beginning of the pandemic is due to extremely high demand about 20% is due to the reduced production we've experienced over the past five quarters.
On a year-over-year basis, our manufacturing orders in the first quarter continued at about 50% above the previous year's level. I feel very good about our operational and strategic execution this quarter, and demand and backlogs provide an ongoing positive outlook. The pandemic did not cause us to hesitate with regard to our commitment to our customers as we continue to safely operating all of our plants and we remain committed to our capital allocation priorities of investment and growth. All of our strategic priorities remain fully in place.
With that, I'll turn it over to Paul to discuss the quarterly results in more detail.
Paul Bigbee — Chief Accounting Officer
Thanks, Bill. So I'm going to go through the results of operations and I'll turn it over to Mark Fusler to do the balance sheet.
Net revenue for the first quarter of 2022 hit another record at $330.4 million, up almost 30% compared to $254.8 million during the prior year's first quarter and up 10.8% over the fourth quarter of 2021. Previously, the highest quarterly net revenue in the company's history, which included an extra week of production into the reporting calendar. Within the factory-built housing segment, net revenue increased 31.2% to $312.3 million from June and $38.1 million in the prior year quarter. Increase was primarily from an 18.7% increase in average revenue per home sold are really from product pricing increases to pass along changes in material costs as well as the products mix shift to slightly more multi section homes, homes increased 10.5%. On a sequential basis if you adjust with the 14-week period in the fourth quarter of fiscal year 2021, factory-built housing net revenue increased 16.8% and homes sold increased 3.9%. Financial services segment net revenue increased 8.4%, $18.1 million from $16.7 million, mainly the result of higher loan, sales volume and servicing income and more insurance policies in force compared to the prior year. These increases were partially offset by lower realized and unrealized gains in the current period and a reduction in interest income as a result of loans that continue to amortize.
Consolidated gross profit in the first quarter as a percentage of net revenue was 22.4% up from 21.7% in the same period last year. The increase is primarily the result of the factory-built housing segment increasing from 21.2% compared to 19.7% in the prior year quarter, primarily due to the same pricing increases we discussed earlier. In addition, some incremental margin was provided by expensing raw materials purchased at relatively lower market prices during the time of rapid increases given our first-in first-out inventory accounting policy.
Lastly, factory overhead and service cost benefited from better utilization of costs on higher revenues. Gross margin as a percentage of revenue and financial services decreased to 42.7% from 49.9% in the prior year quarter as a result of lower unrealized gains on marketable equity securities and higher weather related events in the current period.
Selling, general and administrative expenses in the fiscal 2022 first quarter were $40.8 million or 12.4% of net revenue, compared to $35.3 million or 13.9% of net revenue during the same quarter last year. The increase was due to higher incentive and commission wages on higher earnings purchase — partially offset by the additional D&O insurance expense of $2.1 million in the first quarter of 2021. Other income this quarter was $2.5 million compared to $1.9 million in the same quarter last year driven by more interest income earned on larger cash and commercial loan receivables. The effective income tax rate was 23.8% compared to 23.1% in the same quarter last year. And finally, net income was up 61.7%, $27 million compared to $16.7 million in the same quarter last year with net income per diluted share coming in at $2.92 versus $1.80 in the first quarter of 2021.
Now, I'll turn it to Mark to discuss the balance sheet.
Mark Fusler — Director of Financial Reporting and Investor Relations
Thanks, Paul. So, comparing the July 3, 2021 balance sheet to April 3, 2021, the cash balance was $329.8 million, up from $322.3 million three months earlier. The increase is primarily due to four items; net income offset by noncash unrealized gains on equity investments and other non-cash items; changes in working capital, including greater accrued expenses and other current liability balances, which include higher customer deposits received as a result of growing backlogs; principal collection on consumer loans; and sales of consumer loans greater than loan originations. These were offset by higher inventory purchases, repurchases of our common stock and purchases of property, plant and equipment. Inventories increased as raw material costs have increased, as well as higher inventory purchases in preparation for increased production.
Prepaid and other assets was lower from the assets recorded in regards to the loan repurchase option for delinquent loans that have been sold to Ginnie Mae,
While we are not obligated to repurchase these loans accounting guidance requires us to record an asset and liability for the potential of a repurchase. The balance decreased from a reduction of loans in forbearance. Long-term consumer loans receivables decreased from principal collections on loans held for investment that were previously securitized. Accrued expenses and other current liabilities increased from deferred payroll tax payments under the CARES Act and higher customer deposits, which have grown with factory backlogs, partially offset by a change in the delinquent loan repurchase option discussed previously. Lastly stockholders' equity was approximately $699.1 million as of July 3, 2021, up $15.5 million from $683.6 million as of April 3, 2021.
Now, I'll turn it back over to Bill.
William C. Boor — President and Chief Executive Officer
Thanks, Mark. Before turning it over to questions, I wanted to let everyone know about another important milestone. Earlier this week, we completed Cavco's first Corporate Responsibility Report. This report puts us on a path of accountability and improvement as we evaluate our impact on our various stakeholders. Report discusses our priorities to reduce any negative impact, but equally as important to maximize the positive impact we're having at Cavco. You can find the report on our website and we look forward to the conversations to come.
Teresa, let's turn it over for questions.
Questions and Answers:
Operator
[Operator Instructions]. Your first question comes from Dan Moore with CJS Securities.
Brendan Popson — CJS Securities — Analyst
Good afternoon, this is Brendan Popson on for Dan. Just wanted to ask or quick on, just on raw material availability and where the biggest pain points are, and when do you expect that to improve, which can enable you to expand production faster?
William C. Boor — President and Chief Executive Officer
Yeah. The challenges continue and it continues to be a situation where it's a bit of a moving target. As you know lumber and OSB have come down in price, which indicates that we're not really have any problems in that regard, but it still continues that really whether it's an input that's manufactured in the U.S. when those manufacturers are having much of the same problems we are with labor and their supply chains or imports or logistics disruptions continue. But we've had everything from doors and windows to electrical boxes to various sealants that we use in the construction process. So it's really hard to generalize where the challenges come from, but it continues to really be more of an efficiency impact as our folks in the plants need to finish houses out in yard after they are off the production line before they can ship. So it's a real impact. It hasn't really let up and it's very hard to tell when the light at the end of the tunnel is at this point. We kind of expect — we've kind of gotten ourselves in a mindset of expecting to continue for a few quarters. So wish I had a clear view of the future on that.
Brendan Popson — CJS Securities — Analyst
Yeah, it makes sense. And also kind of piggyback on this. Could you provide an update on automation efforts then — and any incremental capacity you can generate from that and how in the — how long that will take to get there?
William C. Boor — President and Chief Executive Officer
Yeah, we said over time that we're looking at any way to improve our process, I've made some comments, I guess, we've got some increased optimism because I've made comments in the investor call we did just a little over a week ago regarding our Commodore acquisition that I think they've made headway in some manufacturing technology implementations that we're really anxious to look at and consider how we might be able to leverage across the Cavco System, that transaction is not going to close for a little while. So there is some way to really be able to work closely with that team on those kinds of opportunities.
But I have mentioned in the call and it's really just an example, the Fort Worth investment is a great example of really investing in the process, we added six stations to that operation plus really allow — the project really allows them to may go up more tape and texture product, which is consistent with what the market is looking for. So those are the kind of fundamental investments that I think we're really making headway on in. As I said, they're not immaterial when can add approximately 20% to a plant with an investment like that. So that's been going on for some time. We've kind of highlighted forward this quarter, but we've done similar projects and other plants, and that's the blocking and tackling, I think it's going to continue to give us more capacity.
Brendan Popson — CJS Securities — Analyst
Hey, great, thank you. That's it from me.
William C. Boor — President and Chief Executive Officer
Thanks, Brendan.
Operator
And your next question comes from the line of Greg Palm with Craig-Hallum Capital.
Greg Palm — Craig-Hallum Capital — Analyst
All right, thanks, congrats on the really good results here. I guess just kind of start off thinking about production. When we think about some of the plants you have or are opening and obviously the pending acquisition of Commodore, how much additional capacity are you gaining, do you have that estimate?
William C. Boor — President and Chief Executive Officer
With the Commodore deal?
Greg Palm — Craig-Hallum Capital — Analyst
Yes. Yeah, I'm not sure if you've commented on where they're sort of capacity utilization is, but just kind of curious what kind of capacity you might be gaining when you think about everything going on?
William C. Boor — President and Chief Executive Officer
Yeah, I know it's not capacity [Indecipherable] first kind of reiterate what we're getting from a production perspective. I mean, just looking at their unit production, it's pretty significant to our system at 25% increase and we've kind of loosely estimated at this point in time that — they're running plants in the sense very similar to us as far as the bricks and mortar. So, — and while we haven't pegged a number, I think it's a similar opportunity to continue to look to increase production there.
Greg Palm — Craig-Hallum Capital — Analyst
Okay, fair enough. As you look at sort of the go-forward periods. What's your comfort level in being able to increase production even with all of these kind of supply chain headwinds still going on?
William C. Boor — President and Chief Executive Officer
Yeah, with the supply, we got to control the things that we control directly not that we haven't done a lot to deal with the supply issues. Our plants has done a great job moving to alternative materials in some cases. So, we're managing the supply issues and haven't had any huge amount of downtime, just a little bit of loss efficiency there. But as far as production, we need to get more homes that we recognize that, we haven't yet gotten our capacity utilization back up to where we were before, but I think we're in a time that's kind of confusing for folks to interpret.
If you compare our shipments to last year's quarter, again that's a little bit confusing because last year's quarter was in a time of incredible disruption, we continue to operate in our plants during that quarter, but our productivity went down pretty significantly as we were managing safety changes [Indecipherable]. But anyway, I think that point being our last year I think we were down 11% year-over-year when we reported last year's quarter. So really the better point of comparison to get a deal for how we're doing as far as production is to look at the same quarter two years ago and that was a period when we had relative stability and we were again in a pretty healthy demand environment producing everything we could. So if you compare where we're at today and I'm looking at this in terms of modules as opposed to units. We produced this quarter about 2.3% less modules than we did two years ago.
But our production employees worked about 11.6 fewer hours this quarter than that quarter two years ago. So we're close on previous production levels, but we haven't gotten our hours back to where they need to be and that's the labor challenges that we've talked about. So, I guess, bottom line, I hope I'm not making it too confusing, but I think that's a better base period to look at and the bottom line is we're pretty optimistic as we keep kind of battle in this labor challenge that we should really be able to surpass our previous levels based on that ratio of kind of the hours we put in each module. I'm not sure if I confused that or if I help with your question. Greg, so feel free to let me know what I…
Greg Palm — Craig-Hallum Capital — Analyst
Yeah, I mean, but I guess the question that everybody is trying to figure out is maybe let's just use this recent quarter as a baseline. I mean, the 3,700 units. Do you think that you can, looking out to other future quarters, do you think you can expand upon that? Are there just too many headwinds out there, whether it's labor, whether it's supply chain where you think that at least in the next couple of quarters, it might be a challenge?
William C. Boor — President and Chief Executive Officer
No, I mean I'm optimistic, I don't think there's any reason we shouldn't be able to expand. We've got an opportunity just as I said, to get back to where we were pre-pandemic and I'm relatively optimistic that over the next couple of quarters we should see some easing in the supply issues and we've been working real hard, and I think we're getting traction on the labor challenges with some of the investments and the things we're doing there. So, no lack of optimism and we need to get it up to, and then pass where we were before and we should be able to do that.
Greg Palm — Craig-Hallum Capital — Analyst
Yeah. Okay, good. And then, ASPs were really, really strong in the quarter. And I think mix was a little bit of tailwind, but just kind of curious, can you quantify the impact of that or was the ASP increase mostly just pricing to cover the higher input costs?
William C. Boor — President and Chief Executive Officer
Yeah, it was primarily the ASP increase, the mix impact was really slight compared to the ASPs. So I would say, yeah, it was primarily that.
Greg Palm — Craig-Hallum Capital — Analyst
Okay. And then, I guess going forward, I mean do you see further price increases, I mean, I guess if you can even just maintain this level. I'm assuming, you'll start to see a nice bump in gross margins at some point, certain materials like lumber and OSB have come down recently. Right? Is that kind of the way to think about it?
William C. Boor — President and Chief Executive Officer
Yeah, I think that's right. I mean, we're all speculating on where material costs go from here and we got actually a considerable amount of relief in the last month or so on lumber and OSB. So yes, if we kind of stay in the same pricing mode in the near term and that downturn in lumber and OSB flows through cost of goods sales as it will, then that's good for margins. Those are very significant input cost for us. As you know, I mean, that's a big part of the materials costs for our product, just about everything else is still escalating. So, it's a little bit muted, it's not that a few things. The other inputs, including labor continue to escalate, but lumber and OSB coming down is a big help.
Greg Palm — Craig-Hallum Capital — Analyst
Got it. Okay, all right, I'll leave it there. Thanks a lot.
William C. Boor — President and Chief Executive Officer
Thanks, Greg.
Operator
And your next question comes from Jay McCanless with Wedbush Securities.
Jay McCanless — Wedbush Securities. — Analyst
Hey, good morning everyone. The first question I had is around the FIFO benefit, you talked about the gross margin, could you, I mean, is there any way you can break that out numerically for us? Is that benefit going to continue over the next couple of quarters or is it going to turn the other way as the higher cost flow through and maybe depress gross margins relative to what you saw in the first quarter?
William C. Boor — President and Chief Executive Officer
Yeah, I think the thing that we tried to explain over the last couple of quarters is. So people understand the timing of input costs, is it — there is typically about a 30 to 60-day lag between what you see in spot prices. So if you're watching lumber, for example, when you see the spot price today, that change will be reflected in our cost of goods sales a month to two months later. So this quarter for example, the prices started dropping late in the fiscal quarter, those drops will start to hit our cost of goods in the quarter we're in now. So, then after that, it's up to all of us to speculate on whether the prices continue to go down or whether the volatility continues. Does that help, Jay, or it was a more [Indecipherable] question?
Jay McCanless — Wedbush Securities. — Analyst
No, that's all I had on that one.
William C. Boor — President and Chief Executive Officer
Okay.
Jay McCanless — Wedbush Securities. — Analyst
The other question I had, just if you don't mind, remind us on the timing for closing the Commodore deal and/or you are going to give us an update at that point on where the backlog stand, etc., to — so we can backfill the model for bringing them on board.
William C. Boor — President and Chief Executive Officer
Yeah, well, what we've said is that we expect to close in the third fiscal quarter last calendar quarter. And I think that's where we're at at this point. And the biggest driver for that, and I don't know if you said this in the past is we've had to do the Hart-Scott-Rodino filing and that just takes time. We don't think that there should be any issue with that. So it's not trying to warn anyone of any concern, but it just takes time. So depending on the timing of that, that will help us kind of dial in a better estimate when the close will occur.
Jay McCanless — Wedbush Securities. — Analyst
Okay, that's all I had. Thank you.
William C. Boor — President and Chief Executive Officer
Thanks, Jay.
Operator
[Operator Instructions] Your next question comes from DeForest Hinman with Walthausen and Company.
DeForest Hinman — Walthausen and Company — Analyst
Hey, thanks for taking the questions. A little bit more detail on the backlog as it relates to the movement in lumber prices. We're in incredibly dynamic demand environment, at the same time, we had a historic high in lumber with a rapid deterioration in the price.
William C. Boor — President and Chief Executive Officer
Yeah.
DeForest Hinman — Walthausen and Company — Analyst
But when we look at the backlog mathematically, it looks to be in excess of two quarters of revenue. So I mean, is there any color you can give us in terms of what is the weighted average assumption for lumber prices inside of that backlog, I mean is it $1000, is it $900, I mean can you give us any color there?
Brendan Popson — CJS Securities — Analyst
Yeah, I think what you're getting that is the pricing of the backlog — kind of stratifying the pricing of the backlog, if I interpret the question [Indecipherable] maybe we can simplify the thought process a little bit because in this — during the last I guess five quarters or so, we've had these rapid increases in our price and our surcharges to deal with some of these cost escalations. We have not protected the customers' price in the backlog. So even if they ordered before, we had to go back and change the pricing on those orders. So really we're not in a situation, — if I interpret your question right, we're not in a situation where we're trying to work off low price products in the backlog. Is that, am I getting at what you're trying to think…
DeForest Hinman — Walthausen and Company — Analyst
No, I'm trying to understand if there is a potential for really abnormally high margins for the next two quarters as it relates to the function of the pricing because we're looking at, I'm just talking out loud at this point, we're looking at the futures curve, it's really high, then we price the business with the customers they signed on the dotted line and then as it relates to what's happening in the spot market, if it comes in way lower, it doesn't sound like we are giving that back to dealer or the customer and it is potentially and you just said it, COGS are meaningfully influenced by the price of Lumber and we've had a historic drop in pricing.
William C. Boor — President and Chief Executive Officer
Yeah, I know you're on it, I mean when a period of time like this, where we have not protected the pricing in the backlog, so we've adjusted them up through our current prices and surcharges when the input cost drop, we will get margin expansion and we've seen that drop I think basically since late May, it started to really come off, it's very high levels on the wood products side and so those lower spot prices will start to flow through kind of around where we are now I guess from a timing perspective. So, you're right on it, I mean the price is there and inputs appear to be dropping pretty rapidly if they stay on that path and we should have some margin expansion.
DeForest Hinman — Walthausen and Company — Analyst
Okay, thank you. That's helpful. And then as it relates to the labor availability, you're not the first CEO I've heard talk about this, obviously not the first company to be momenting how hard it is to find people, but can you just give us any color in terms of real-time. What you're seeing anecdotally, the unemployment levels are falling, we're getting some states rolling back and unemployment benefits, we have the federal unemployment benefits potentially tailing off as well. Any color in terms of, you know we're having job fairs and there is more people showing up, we're getting more people filling out resumes in the locations, we're getting more payings on line. Anything you can give us to help us understand your thoughts about the labor availability improving and what gives you that confidence to say that.
William C. Boor — President and Chief Executive Officer
Yeah. I want to appreciate your recognition that we're not alone in this problem and I wish that we didn't have to keep have in the same message for people that has been such a challenge, but at a high level just as you've asked anecdotally, we do have some optimism. I mean, we're doing at a time, we are doing a lot of things as far as job fairs and probably more importantly we've been pretty aggressively looking at things like wages, incentives and benefits, we've made some significant benefits. So I think we've set up the conditions and I think if I had to generalize even though, I'm very cautious about calling something a trend too early, I think we're starting to get a little bit of a sense that hiring might improve here. Hard to give you much more than that because even though we're watching it very quickly, and we — I'm trying not to complicate the answer by saying it's spotty, there's a one plant and might be still struggling every bit as much as they were before, but in other locations, we are seeing a little bit of optimism. So, I back to, I think it was Greg's question about production going forward, we expect to be able to increase production and the way to do that in this market is to not only get people into the plants to work, but then stabilize it and start building skills. I think we're on the right track with all of that.
DeForest Hinman — Walthausen and Company — Analyst
Okay. Maybe just more specifically is, you have some insight into where the backlog is, is a number like 4,000 homes sold in pre-dating the Commodore transaction. Is that a realistic goal or a benchmark that we could be looking at?
William C. Boor — President and Chief Executive Officer
So, you're asking how many units are in the backlog?
DeForest Hinman — Walthausen and Company — Analyst
No, how many units per quarter, is like a number like 4,000, is that realistic?
William C. Boor — President and Chief Executive Officer
And Mark is looking something up here real quick.
Mark Fusler — Director of Financial Reporting and Investor Relations
Yeah, I mean that come again kind of referencing that period that Bill mentioned two years ago, kind of pre-pandemic. We were about the 3,800 range, some quarters up to 3,900. So with some of that production efficiencies that we're hoping for, we could expand beyond that.
DeForest Hinman — Walthausen and Company — Analyst
Okay.
William C. Boor — President and Chief Executive Officer
Your comment about the length of the backlog earlier and we had said it's across our system, it's 40 weeks. So I think, you had said half a year or more work or a couple of quarters or even beyond that, I mean this is a huge backlog right now for us.
DeForest Hinman — Walthausen and Company — Analyst
Okay. And then on the capital deployment front, share repurchase is interesting. How is the Board looking at that going forward. And can you just give us an update on the remaining authorization that's out there?
William C. Boor — President and Chief Executive Officer
Yeah. We have $1 million — or $100 million authorization from last October and soft top my head we used about $14 million of it. So, quite a bit of run room there and where — as you would understand we're always kind of trying to be very conservative about when we can be in the market with various things like the acquisition, which kept us on the sideline for a period of time and other things that we've got to be careful about. So I think it's going to be differential how much we're able to go into the market in a given quarter, but this quarter demonstrates that we really do want to execute against that authorization. So, we're just — we're only about 15% into it at this point.
DeForest Hinman — Walthausen and Company — Analyst
Okay, very helpful. And then last question, and the mix, just so I understand how you guys were talking about that, you said mix benefit in the quarter. Do you guys define mix as like the unit as it relates to, single versus double unit or floor plans or is it amenities and the units. Can you just help us understand what's going on there? Are we seeing people upscaling the units that are actually making the purchases?
William C. Boor — President and Chief Executive Officer
Yeah. At a high level for the most part, it's really the first thing you said there it's the multi-section units as opposed to a single section or single module units that's generally what we're talking about with mix, and I think people who have been close will notice this quarter. We're starting to provide both our units and our modules and we are hoping that, that will give you a little bit better picture into that mix change over time. Mark might have something to add to the question.
Mark Fusler — Director of Financial Reporting and Investor Relations
Yeah. No, I think that's a good point like Bill said. And then, maybe one thing I can add too is that generally multi-section homes do have higher amenities as well.
DeForest Hinman — Walthausen and Company — Analyst
Okay, thank you for taking all the questions.
William C. Boor — President and Chief Executive Officer
Yeah. I appreciate it.
Operator
We have no further questions at this time, I will turn the call back to Bill.
William C. Boor — President and Chief Executive Officer
Okay, thank you. Again, we're very happy to report what we felt were very strong results this quarter as well as being able to make the announcements about our investments and we definitely look forward to updating you and we thank you all again for your interest in Cavco.
Operator
[Operator Closing Remarks]
Duration: 35 minutes
Call participants:
Mark Fusler — Director of Financial Reporting and Investor Relations
William C. Boor — President and Chief Executive Officer
Paul Bigbee — Chief Accounting Officer
Brendan Popson — CJS Securities — Analyst
Greg Palm — Craig-Hallum Capital — Analyst
Jay McCanless — Wedbush Securities. — Analyst
DeForest Hinman — Walthausen and Company — Analyst
##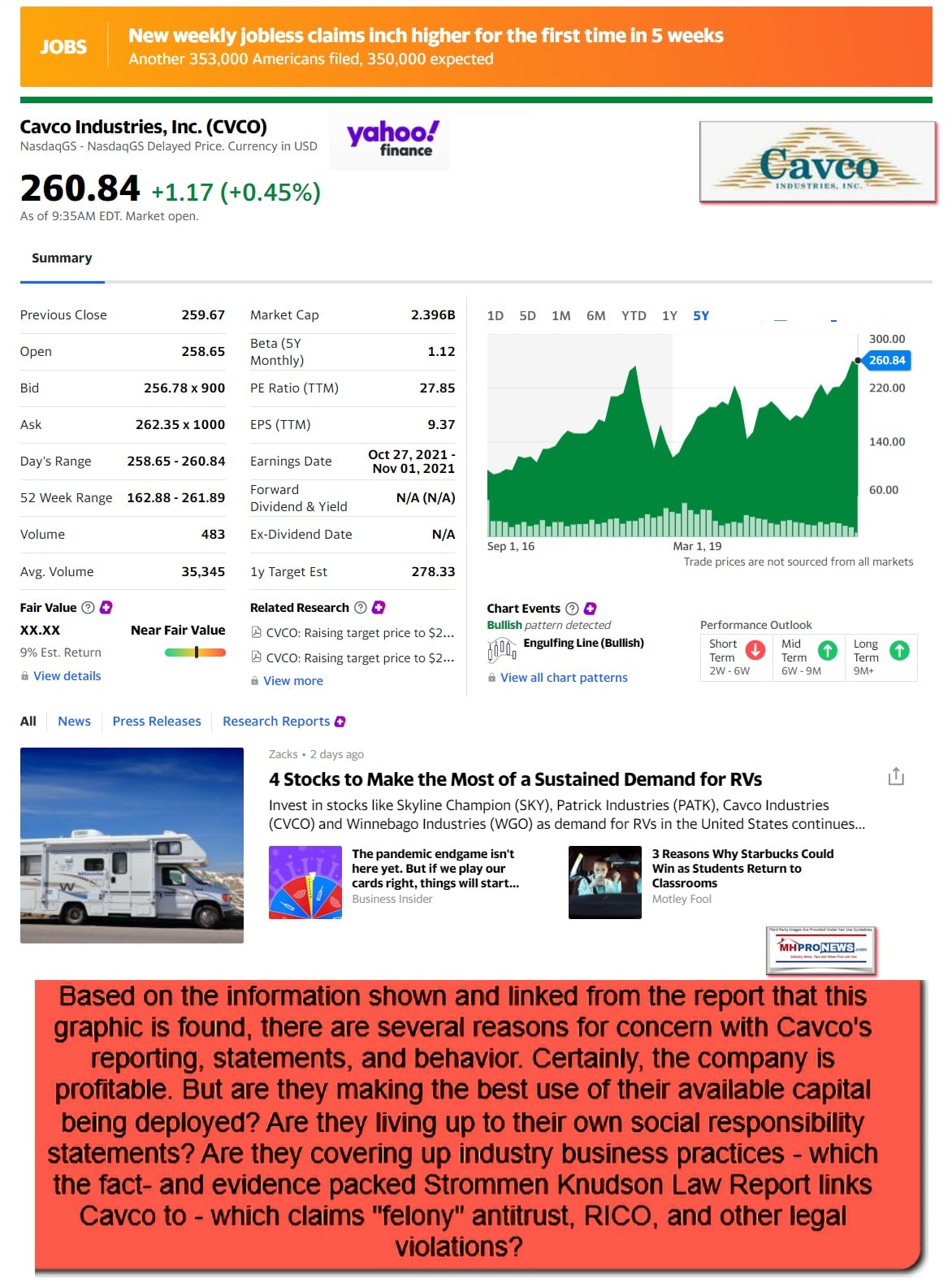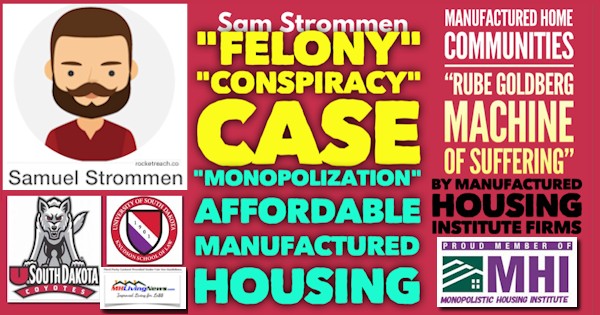 Additional Information, more MHProNews Analysis and Commentary in Brief
Investopedia notes that "At the end of the [earnings] call, analysts and investors are generally welcome to ask questions, which can help in their fundamental analysis of the company."
That same source says that: "The MD&A section (management discussion and analysis) usually provides the most comprehensive discussion of financial results and other performance metrics. It will generally dig into the reasons behind certain aspects of growth or decline on the company's income statement, balance sheet, and statement of cash flows.
The MD&A will discuss particular drivers of growth, risks that investors face when purchasing shares or extending loans, and even pending lawsuits."
The case can be made that the analysts on this Cavco earnings call, as well as the corporate officials that spoke, have each failed in certain ways to ask and/or address pertinent questions about
the best possible use of capital allocation,
risk factors noted in the Strommen Knudson Law report,
and other issues relative to the social aspects that Cavco is preparing to tout, all of which that could be causing Cavco to underperform.
Ironically, part of the case for those concerns come from Cavco's own most recent investor pitch decks. The first slide below illustrates where the Commodore facilities are as compared to other Cavco builder centers. Certainly, from the perspective of a company that desires a national footprint, the Cavco-Commodore union could make sense.  However, there are other concerns that must be considered.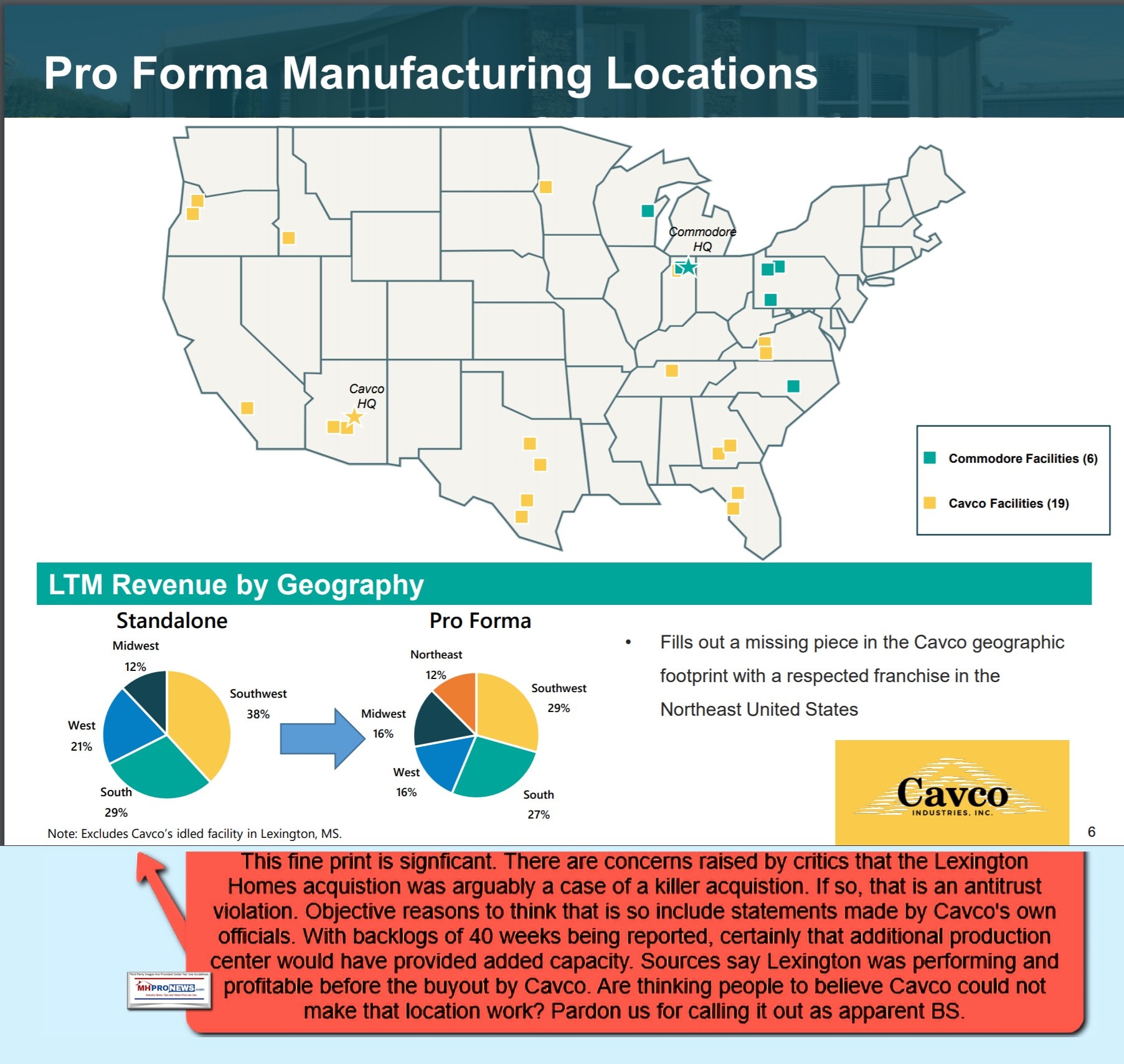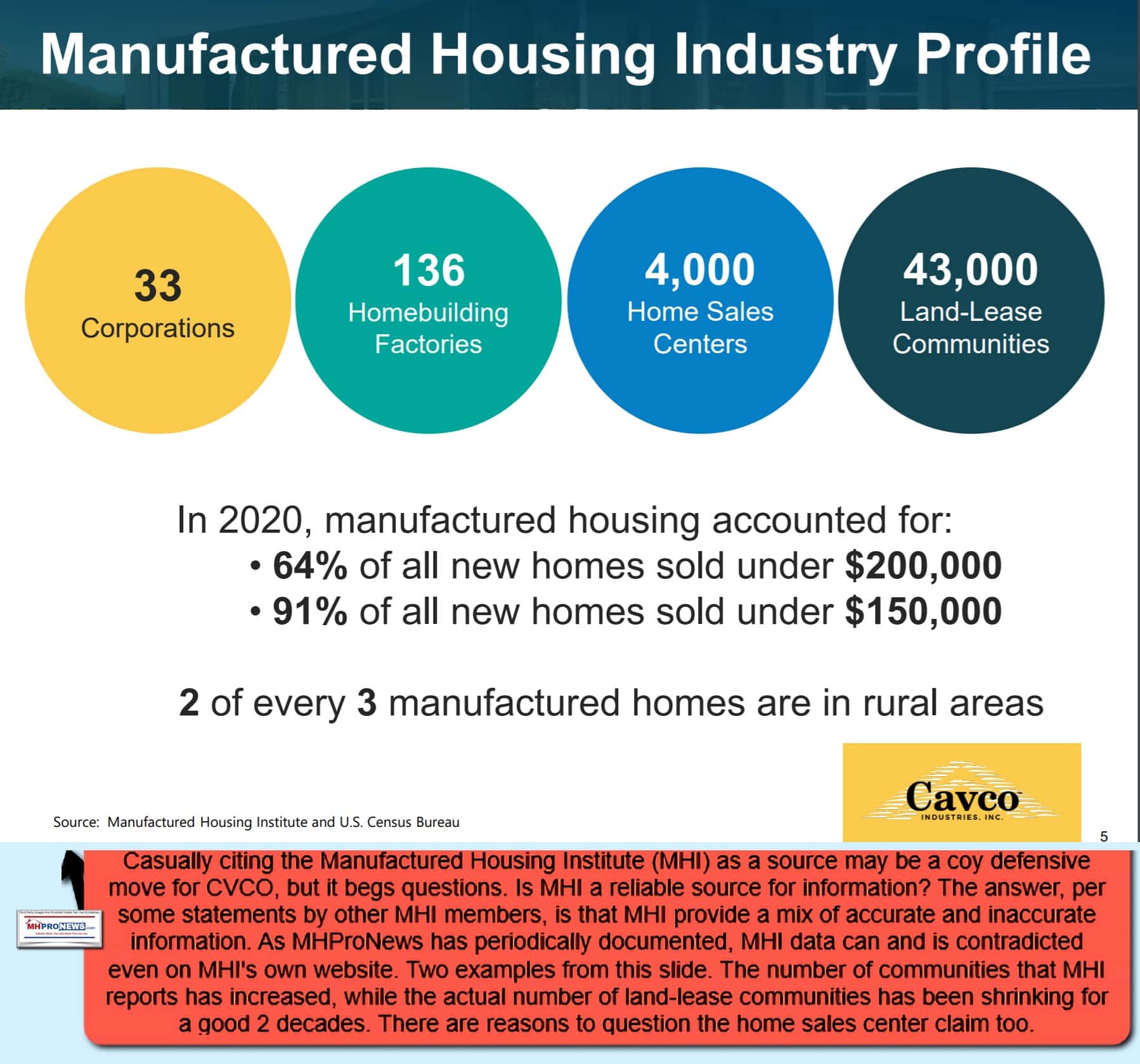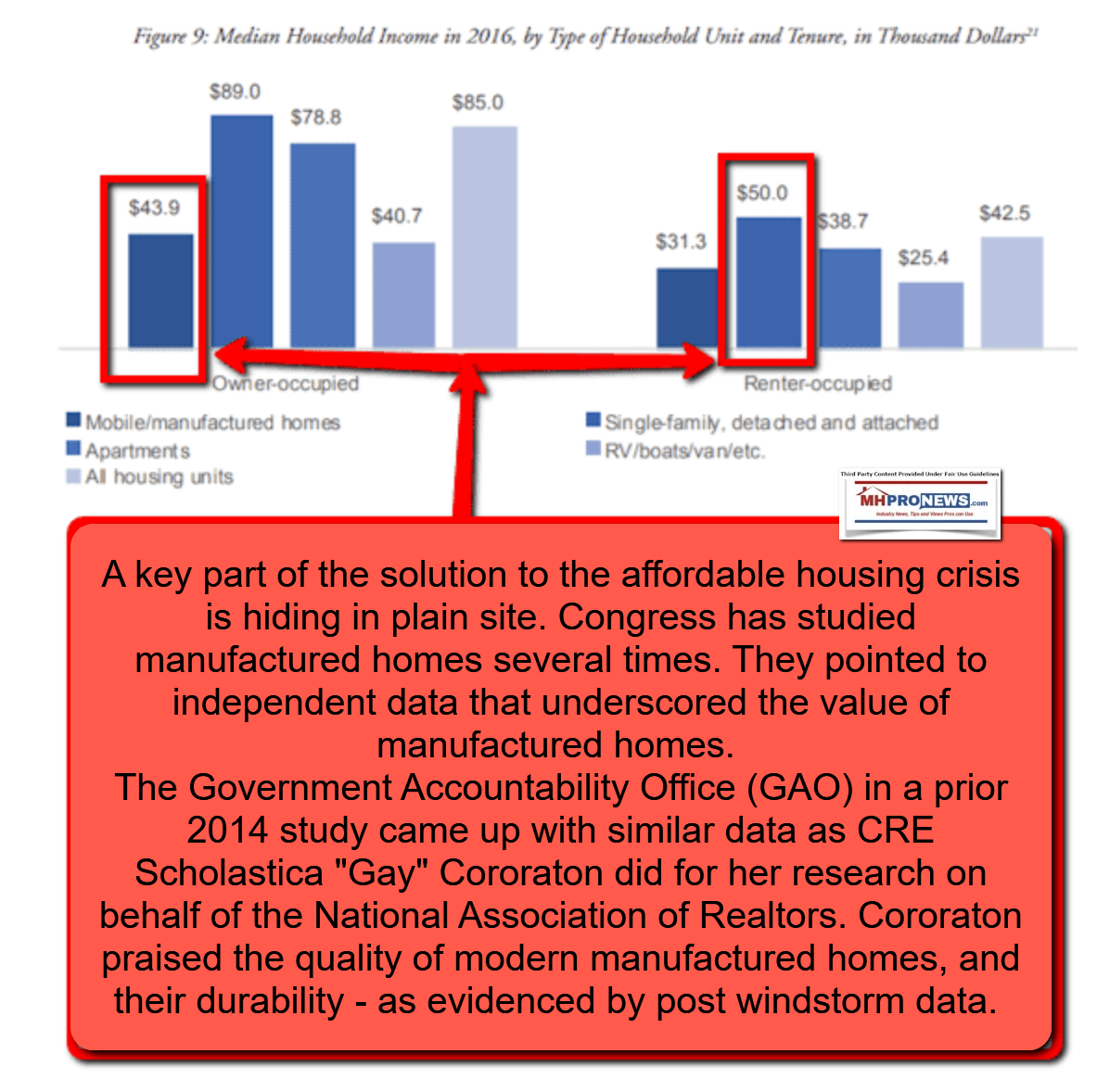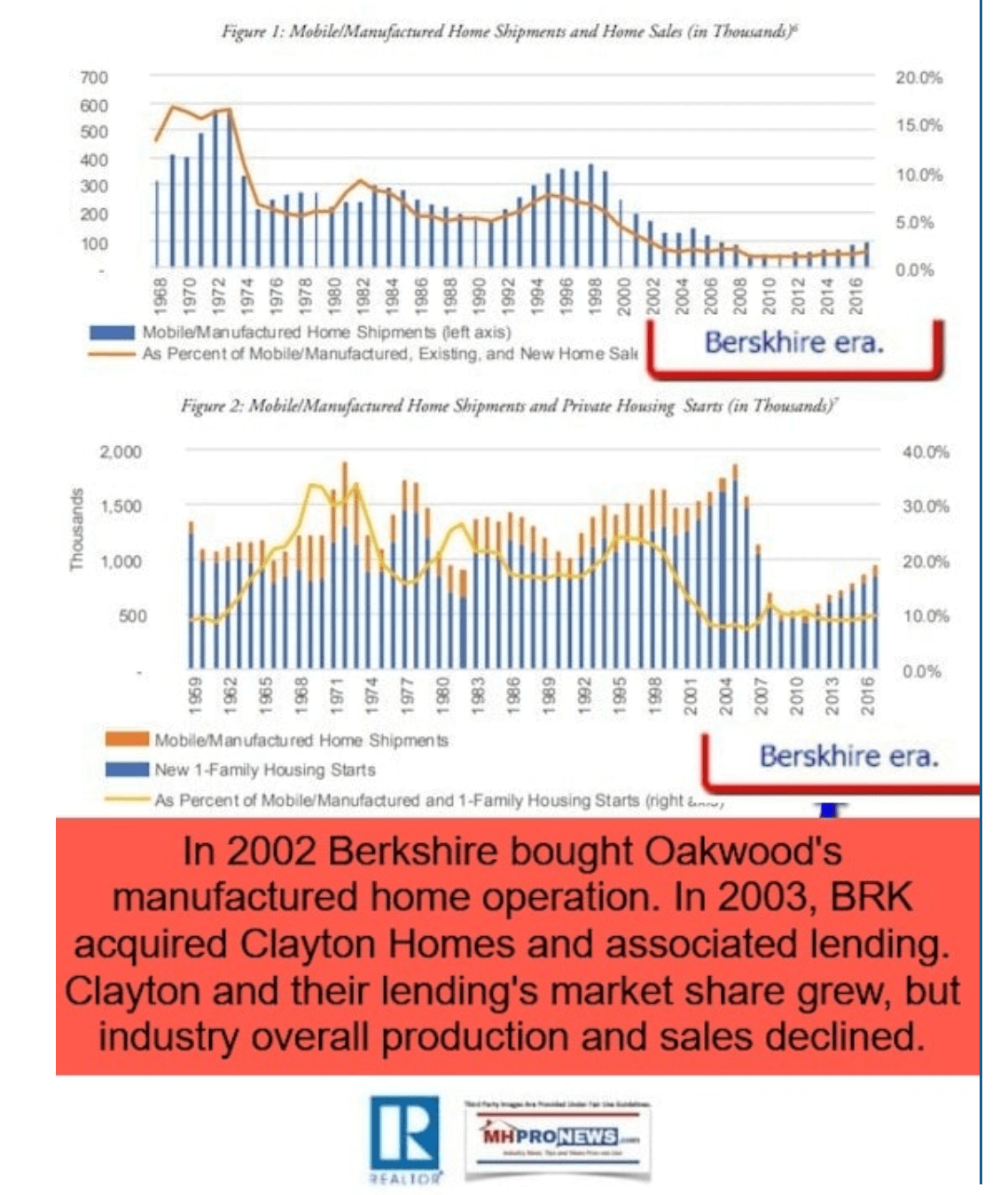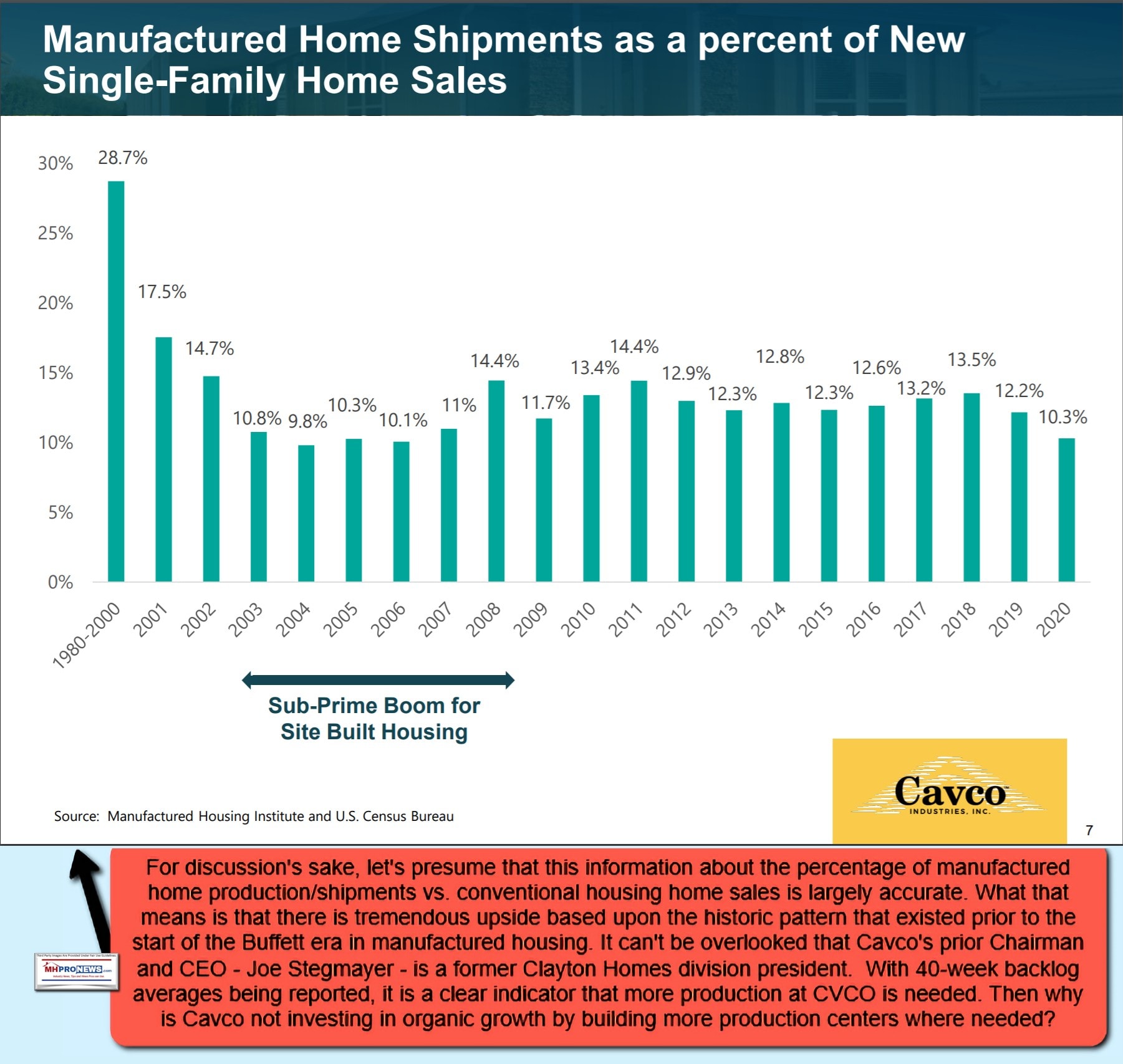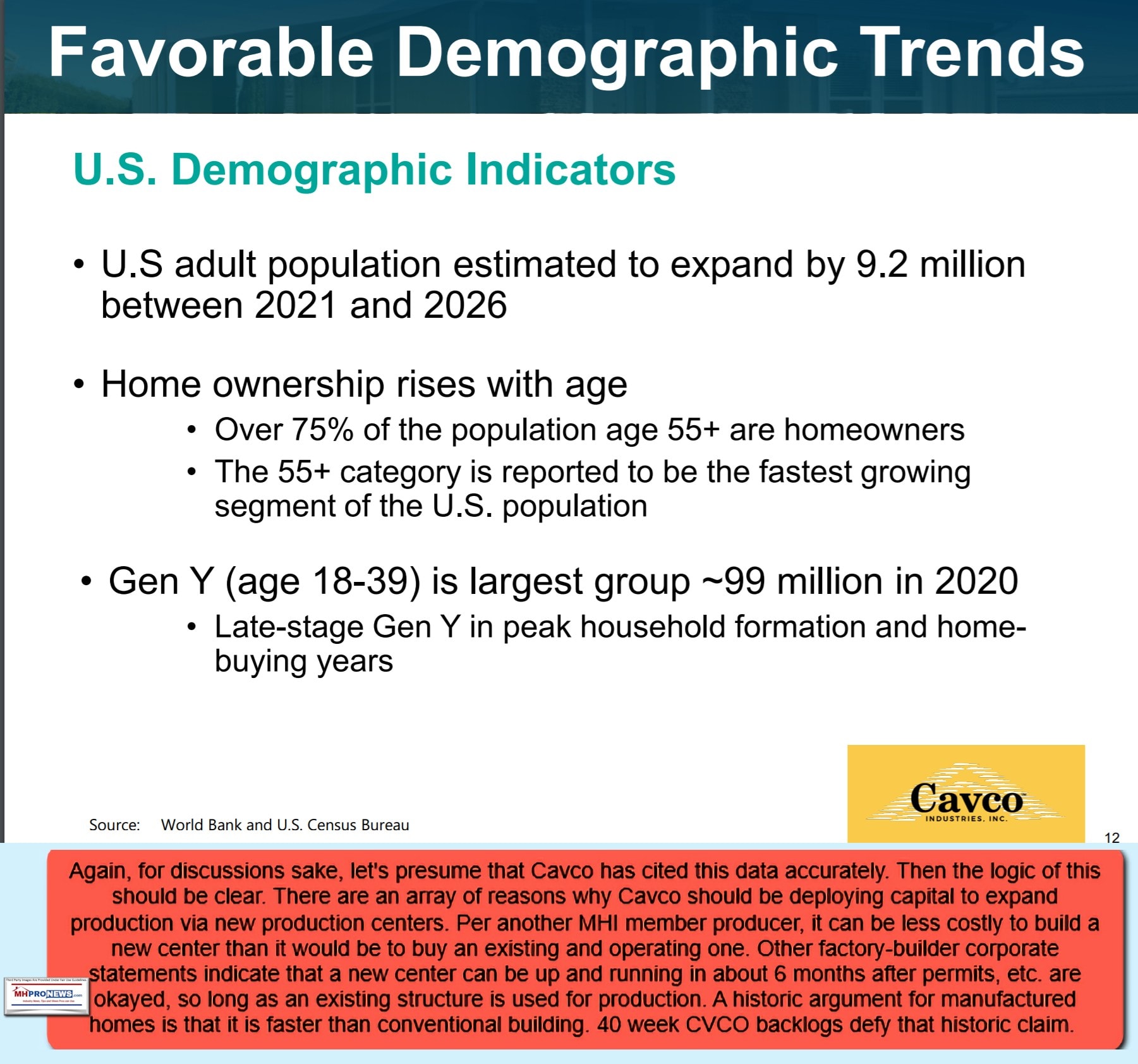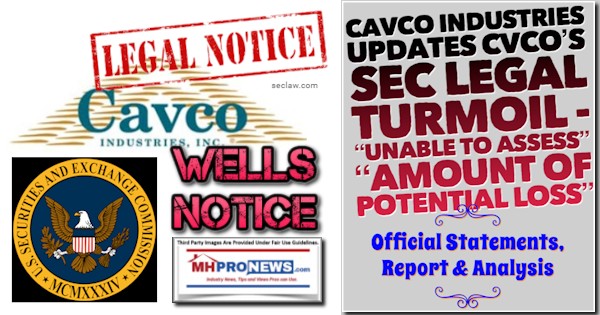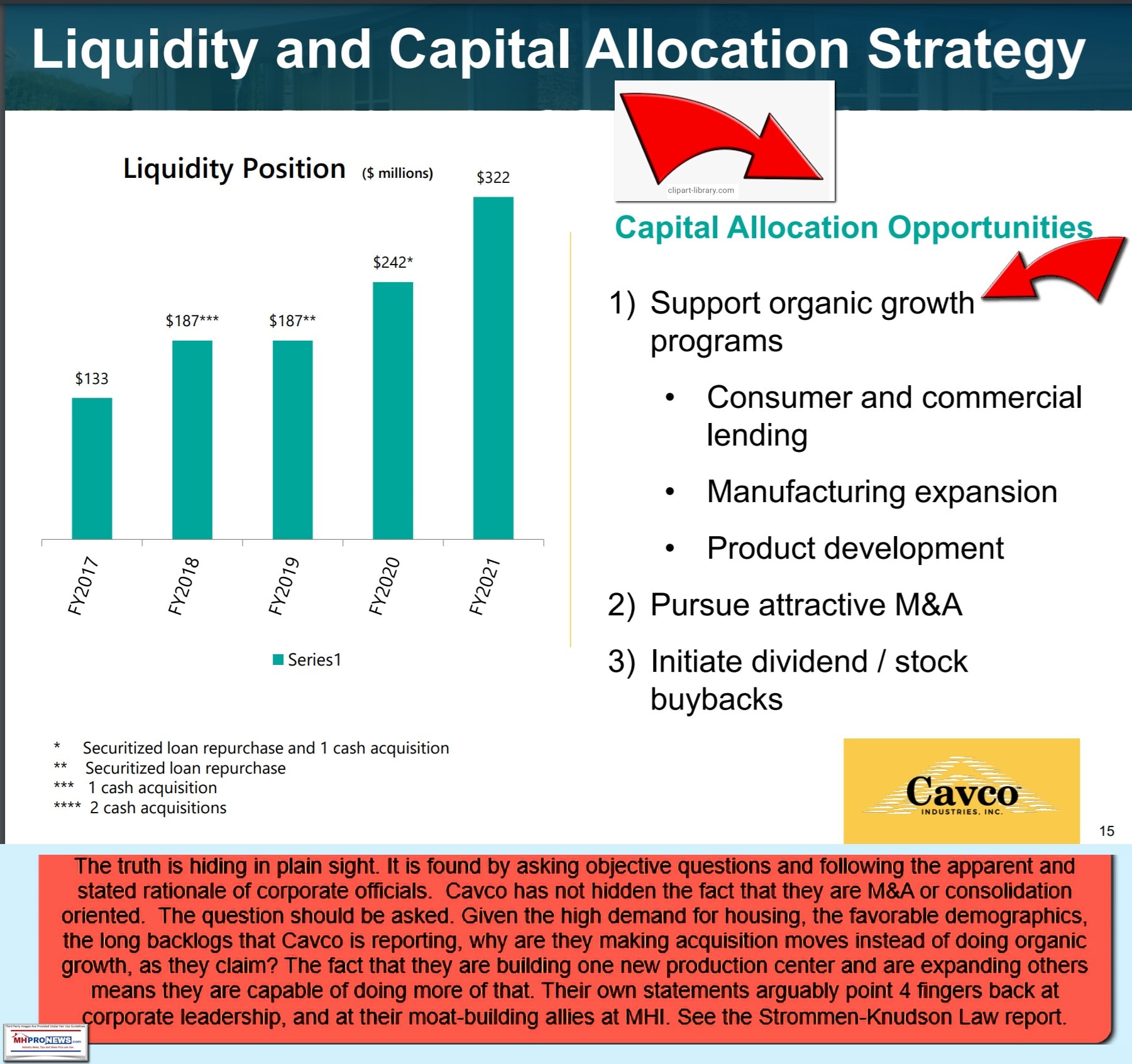 A deeper dive into these recent documents and statements is planned on MHProNews for the near term. Stay tuned.   Among the defenders of MHI, from a state that has Cavco-owned production, is the Florida Manufactured Housing Association's Jim Ayotte.  Unpacking Ayotte's statements, which Ayotte and MHI have not yet attempted to refute, is found in the fact-check and analysis linked below. What Ayotte is correct about is in quotes.   This is "Not Rocket Science."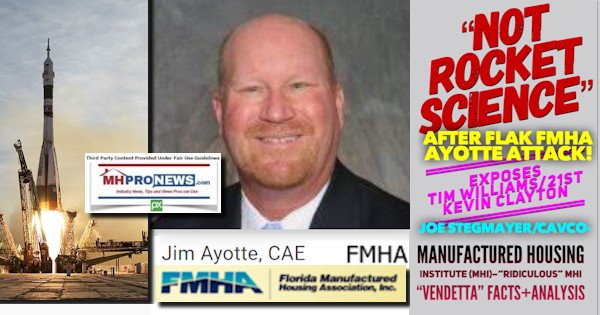 Beyond Cavco shareholders, the following groups should be concerned.
Manufactured home independents, investors in other MHI member publicly traded firms, public officials, affordable housing advocates, manufactured home resident/advocates, and taxpayers are all among those groups that should find cause for concern in the latest information from Cavco. To avoid duplication, readers should set aside the estimated 47 minutes of time that Number of Words and other sources say is the average adult reader would need to read the deep-dive report linked above and here.
For reasons noted therein, and for reasons that a planned MHProNews follow up to the latest from Cavco, our expert commentary would be to call some key elements of their statements as BS. The analysts on the call are arguably failing at their jobs, and so too are the corporate officials who were on this earnings call. Why?
Briefly, consider this.
Based on the information shown and linked from the report that this graphic is found, there are several reasons for concern with Cavco's reporting, statements, and behavior.
Certainly, the company is profitable.
But are they making the best use of their available capital being deployed?
Are they living up to their own social responsibility statements?
Are they covering up industry business practices – which the fact- and evidence packed Strommen Knudson Law Report links Cavco to – which claims "felony" antitrust, RICO, and other legal violations?
To be clear, Cavco is hardly alone in this, other Manufactured Housing Institute (MHI) member brands are too, per Strommen and other sources. The system in manufactured housing is apparently corrupt and rigged against the interests of independents, consumers, taxpayers, and at least a segment of the investors.
While the current and recent patterns may benefit a few, there is apparent harm being caused to many.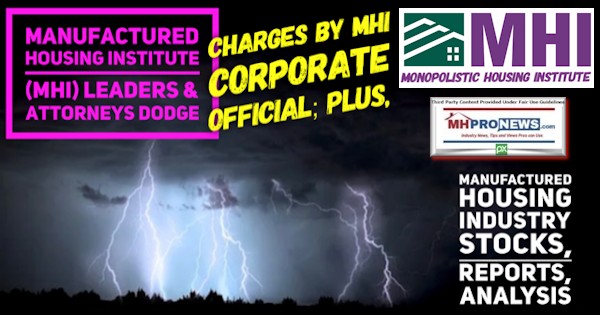 If a modular builder can claim to have a plan to open dozens of brand new modular production centers in the next few years, why hasn't Cavco, Skyline-Champion, or Clayton Homes made a similar plan?  The actual reasoning may come down to aspects of the Warren Buffett-and his allies moats. Because a lie repeated does not make the lie true.
"First Electrically Self-Sustaining" "There's No Utility Bill" S2A "Stunning" "MegaFactory" Plans Dozens of Factory-Built Housing Building Centers – Facts, Video, Report, Analysis
To learn more, see the linked and related reports, which lay out the facts and evidence from both critics and defenders.  Again, watch for our upcoming Cavco specific deep dive planned in the days ahead.
###
Next up is our business daily recap of yesterday evening's market report, related left-right headlines, and manufactured housing connected equities.
The Business Daily Manufactured Home Industry Connected Stock Market Updates.  Plus, Market Moving Left (CNN) – Right (Newsmax) Headlines Snapshot. While the layout of this daily business report has been evolving over time, several elements of the basic concepts used previously are still the same. For instance. The headlines that follow below can be reviewed at a glance to save time while providing insights across the left-right media divide. Additionally, those headlines often provide clues as to possible 'market-moving' news items.
Market Indicator Closing Summaries – Yahoo Finance Closing Tickers on MHProNews…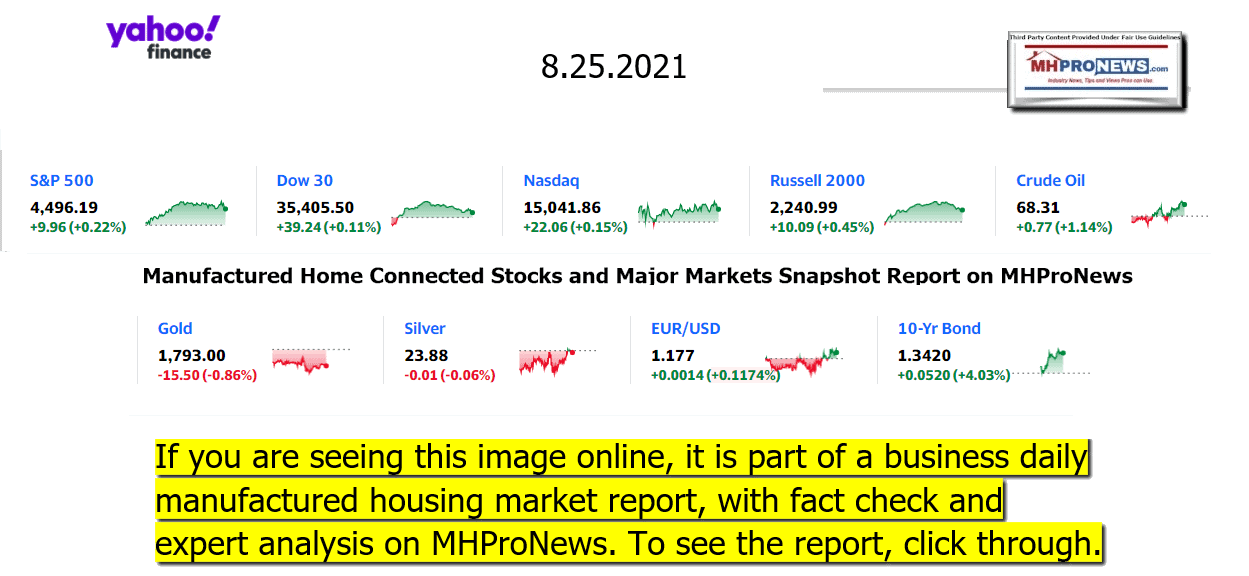 Headlines from left-of-center CNN Business – evening of 8.25.2021 
CNN 8.25.2021
All eyes on the Fed
Jerome Powell, chairman of the U.S. Federal Reserve, speaks during the Jackson Hole economic symposium seen on a laptop computer in Tiskilwa, Illinois, U.S., on Thursday, Aug. 27, 2020. The event was conducted virtually due to the coronavirus pandemic and streamed live to the public for the first time.
You should watch Jerome Powell's speech at this nerdfest if you care about your money
Disney World reaches deal to mandate vaccine with unionized workers
LIVE UPDATES Wall Street is waiting for the Fed to blink first
See what Virgin Hyperloop could look like in the future
GOP attacks Democrats over back-to-school inflation
World's third busiest container port is back but the shipping crisis isn't over
Welcome to the big SPAC slowdown
OnlyFans suspends proposed ban on sexually explicit content
Tenants can't pay — and landlords are furious
Lots of people are quitting their jobs. Here's how to do it right
Climate change be damned. More Americans are moving to high-risk areas
Finally, a Fitbit that tells you it's OK to not workout
Expecting a baby? Here's how to get your finances ready
Data leak exposes tens of millions of private records
The daily edition of 'The Rachel Maddow Show' is coming to an end. So who will replace her?
A line worker assembles Ford Motor Company's 2021 Ford Bronco on the line at their Michigan Assembly Plant in Wayne, Michigan on June 14, 2021.
The Ford CEO says that up to 20% of factory employees are out on some days
In this Thursday, Feb. 18, 2021, file photo, a Delta Airlines pilot wears a face mask to help prevent the spread of the new coronavirus as he walks through a terminal at Hartsfield-Jackson International Airport in Atlanta.
Delta will charge unvaccinated employees more for health insurance
French fries and a fried chicken sandwich are arranged for a photograph during an event ahead of the grand opening for a Chick-fil-A restaurant in New York, U.S., on Friday, Oct. 2, 2015. Chick-fil-A, the Southern chicken-sandwich chain that has drawn both controversy and copycats over the years, has finally arrived in New York. The company will open a 5,000-square-foot (465-square-meter), three-level restaurant in Manhattan's Garment District that will be the chain's largest location in the nation. Photographer: Michael Nagle/Bloomberg via Getty Images
These four Chick-fil-A locations closed their dining rooms because they didn't have enough workers
GOING GREEN
Maersk just ordered 8 carbon neutral ships. Now it needs green fuel
Investing green is harder than you'd think
The Taliban are sitting on $1 trillion worth of minerals
Backlash grows over Big Oil drilling in the North Sea
OPINION Tying CEO pay to carbon emissions works. More companies should try it
IN FLIGHT
FAA probes whether Boeing employees are pressured on safety issues
United mandates Covid-19 vaccines for US employees
Southwest warns Delta variant is hurting its business
Heart Aerospace plans to fly electric planes by 2026
Africa must remove barriers to flying to secure post-pandemic boom, says IATA regional exec
Headlines from right-of-center Newsmax – evening of 8.25.2021
Dem-Controlled Jan. 6 Committee Targets Trump White House
The House committee investigating the January insurrection at the U.S. Capitol is demanding a trove of records from federal intelligence and law enforcement agencies, showing the sweep of the lawmakers' review of the deadly attack on the Capitol. [Full Story]
Fall of Afghanistan
US Estimates 1,500 Americans May Remain in Afghanistan
Afghanistan's Banks Brace for Bedlam After Taliban Takeover
Pentagon: US to Prioritize Evacuations Until Final Hours
Women's Rights Activist Recounts Pain of Leaving Afghanistan
2 Congressmen Urge Biden to Extend Afghan Deadline
Are Pope, Erdogan Providing Biden With Channel to Taliban?
Biden Slammed for Not Extending Withdrawal Deadline
Pence Hits 'Disastrous' Afghanistan Withdrawal
CIA Director Secretly Met With Taliban Leader in Kabul
More Fall of Afghanistan
Newsmax TV
Hice: Dems' Voting Bill 'Horrendous' Attempt at Takeover
Cammack: US Will 'Absolutely Not' Meet Afghan Deadline |
Gonzales: 'Unfeasible' to Finish Afghan Pullout By Aug. 31 |
Dan Crenshaw: Biden Foreign Policy on Side of 'Appeasement' |
Lindsey Graham: Impeach Biden |
Barney Frank: Pelosi, Biden Have 'A Great Skill Set Together' |
Jha: FDA Approval of Pfizer Vaccine a 'Good Sign' |
Arizona GOP Chair Ward: Audit Report 'Not Really Delayed'
More Newsmax TV
Newsfront
Officer Who Killed Ashli Babbitt to Reveal Identity
The Capitol Police officer who shot and killed Ashli Babbitt at the U.S. House Chamber during the events taking place at the Capitol on Jan. 6 will reveal his identity publicly in an interview Thursday…… [Full Story]
Newsmax's Audience More Than Doubles for Trump Rally as 5 Million Watch
Newsmax scored a gigantic ratings win with its wall-to-wall coverage [Full Story]
US Data Show Rising 'Breakthrough' Infections Among Fully Vaccinated
[Full Story]
2 US Lawmakers' Kabul Trip Prompts Questions, Condemnation
Two members of Congress are facing condemnation and questions [Full Story]
Russia Critic Navalny Gives First Interview From Jail
Jailed Kremlin critic Alexei Navalny has given his first interview [Full Story]
Trump's Injunction Request Has 'Strong Basis for Prevailing'
Former President Donald Trump's lawyers have crafted an "impressive" [Full Story] |
CNN Forced to Change Report About Newsom Recall After Legal Action
YouTube real estate guru Kevin Paffrath, a Democrat running to unseat [Full Story]
FDA Approval Makes it Tougher for Employees to Refuse Vaccine Mandate
Now that Pfizer's coronavirus vaccine has a full endorsement from the [Full Story] |
When to Get a COVID-19 Test, And Which One to Choose
With kids going to back to school and many Americans heading back to [Full Story]
US Mortgage Applications Rise as Mortgage Rates Edge Down
Mortgage applications increased last week, as purchasing applications [Full Story]
Charleston Church Shooter's Death Sentence Upheld
A federal appeals court Wednesday upheld Dylann Roof's conviction and [Full Story]
Blackwater Founder to Charge $6,500 for Seat on Chartered Flight out of Kabul
Erik Prince, the founder of the private military contractor [Full Story]
'Nevermind' Baby Sues Kurt Cobain Estate for Child Pornography
The man who appeared as a baby on the album cover of Nirvana's iconic [Full Story]
Democrat-Controlled House Panel Probing Capitol Attack Targets Trump White House
The House committee investigating the January insurrection at the [Full Story]
Kidney Scan Uncovers Real Cause of Diabetes
Are Pope, Erdogan Providing Biden With Channel to Taliban?
A possible "channel" the Biden White House is using to contact the [Full Story]
Pentagon: US to Prioritize Evacuations From Kabul Until Final Hours
The U.S. military airlift of Americans and others from Kabul will [Full Story]
Pfizer Seeking FDA OK for COVID Vaccine Booster Dose
Pfizer is seeking U.S. approval of a booster dose of its two-shot [Full Story]
Delta CEO Bastian: Surcharge for Unvaccinated Workers Isn't a Mandate
Delta Air Lines CEO Ed Bastian insisted Wednesday that ordering [Full Story]
New York District Attorneys Urge State AG to Delay Release of Cuomo Materials
A group of New York district attorneys' offices are pushing state [Full Story]
DOJ: Chinese Newspaper in US Must Register as a Foreign Agent
The Justice Department has forced a U.S. subsidiary of a major [Full Story]
Feds Report Most Rental Assistance Has Still Not Gone out
Only 11% of the tens of billions of dollars in federal rental [Full Story]
Delta Hits Unvaccinated Staff With $200-a-Month Health Insurance Surcharge
Delta Air Lines said Wednesday employees will have to pay $200 more [Full Story]
UK Drops Mask Mandates for Schools
Primary and secondary schools in the United Kingdom no longer must [Full Story]
Secret Service Warned Capitol Police Just Before 1/6 Attack
On the day before the violent protest on Jan. 6, the Secret Service [Full Story]
Oregon to Require Masks Outdoors
Masks will have to be worn outside in Oregon, the state's governor [Full Story]
Pentagon: Pfizer COVID-19 Vaccine Mandatory for All Active-Duty Troops
The Pentagon on Wednesday ordered all active-duty troops to be [Full Story]
Rachel Maddow Weeknight Show to End
Rachel Maddow's weeknight show is coming to an end next year, [Full Story]
Herschel Walker Launches Georgia GOP Senate Bid
Herschel Walker said Wednesday that he's coming "off the sidelines" [Full Story]
OnlyFans Reverses Ban on 'Sexually Explicit' Content
OnlyFans, an online subscription platform best known for is adult [Full Story]
New Illinois Congressional Map Could Eliminate Kinzinger's District
A new congressional map being rolled out in Illinois is expected to [Full Story]
Biden's Poll Numbers Plunge, Increase Democrats' Midterms Worries
President Joe Biden's plummeting poll numbers amid the disastrous [Full Story]
More Newsfront
Finance
Facebook's Stealth M&A Puts Focus on Deals Under Antitrust Radar
Last year, Facebook Inc. did something U.S. technology giants have done countless times before: It bought a smaller company and closed the deal without notifying competition regulators… [Full Story]
S. Plans COVID-19 Booster Shots at Six Months Instead of Eight – WSJ
Western Digital Is in Talks to Combine With Japan's Kioxia
FAA Opens Boeing Safety Review amid Reports of Pressure
Wall Street Drifts toward Record Closing Highs in Risk-on Session
More Finance
Health
When to Get a COVID-19 Test, And Which One to Choose
With kids going to back to school and many Americans heading back to the office, every cough or sneeze can cause panic during the ongoing COVID-19 crisis. Even vaccinated individuals need to be vigilant with the increasing number of breakthrough COVID-19 cases being… [Full Story]
Just Starting Exercise in Your 60s? It Still Helps Your Heart
The Story Behind Pfizer COVID Vaccine's New Name
Can You Exercise Your A-Fib Away?
Why Water Is Key to Your Heart's Health
Manufactured Housing Industry Investments Connected Equities Closing Tickers
Some of these firms invest in manufactured housing, or are otherwise connected, but may do other forms of investing or business activities too.
NOTE: The chart below includes the Canadian stock, ECN, which purchased Triad Financial Services, a manufactured home industry lender
NOTE: Drew changed its name and trading symbol at the end of 2016 to Lippert (LCII).
NOTE: Deer Valley was largely taken private, say company insiders in a message to MHProNews on 12.15.2020, but there are still some outstanding shares of  the stock from the days when it was a publicly traded firm.  Thus, there is still periodic activity on DVLY.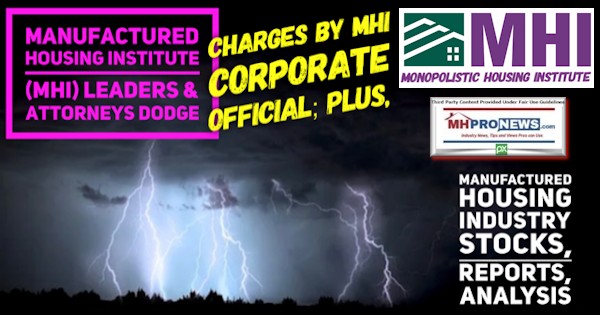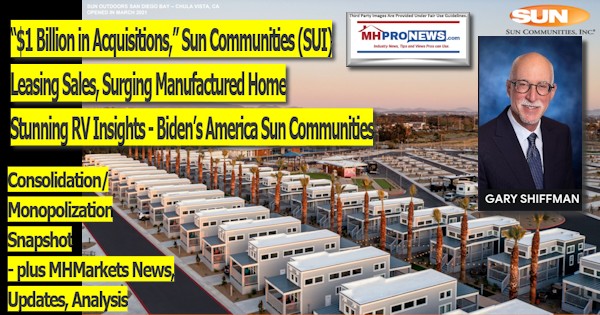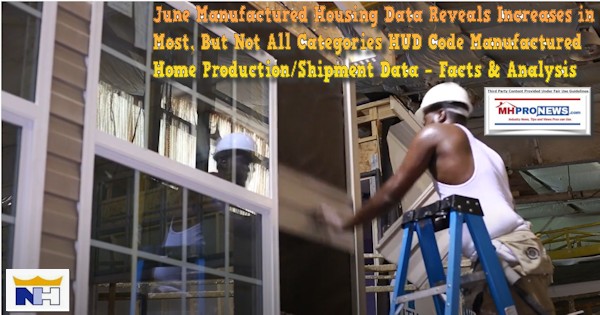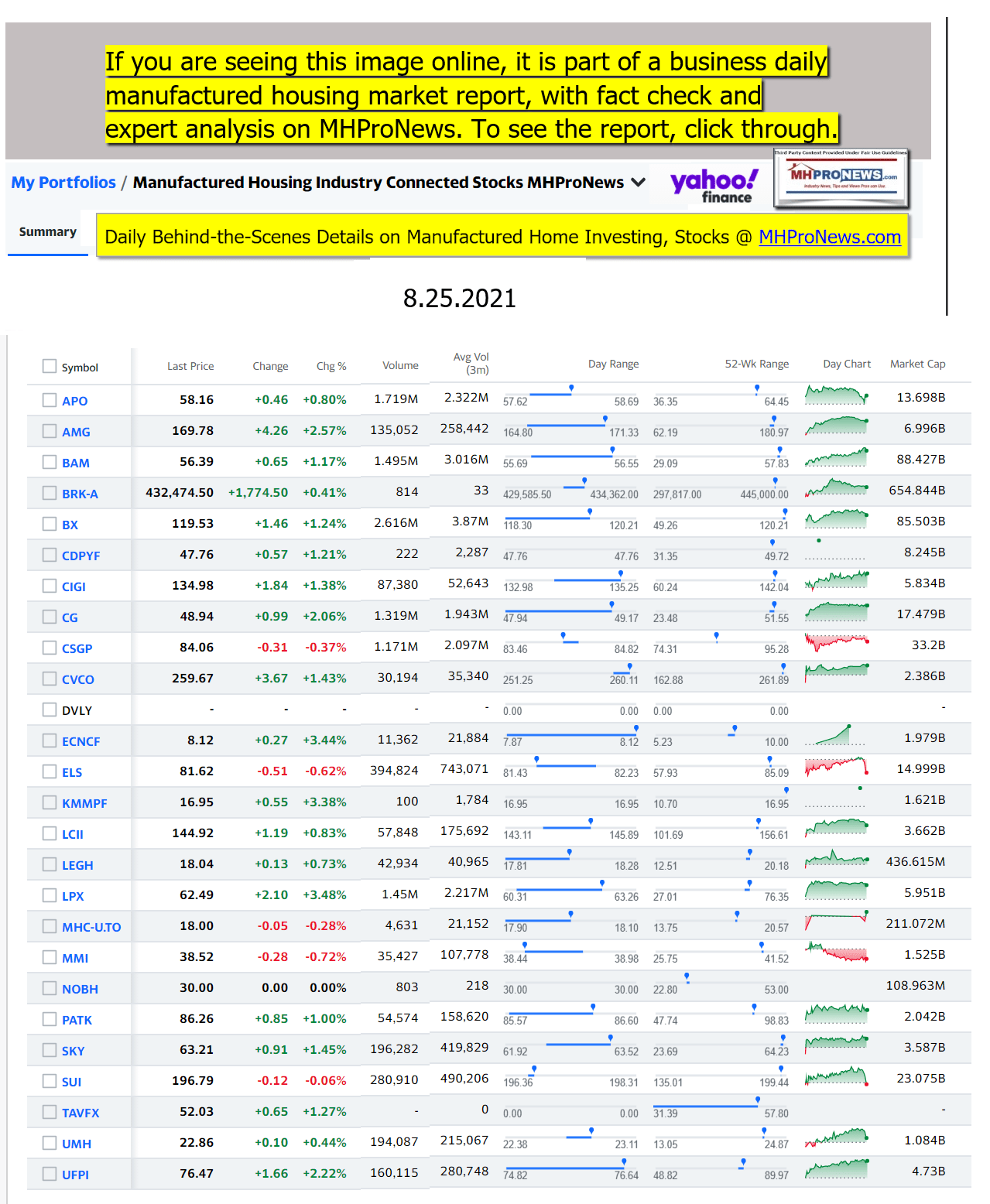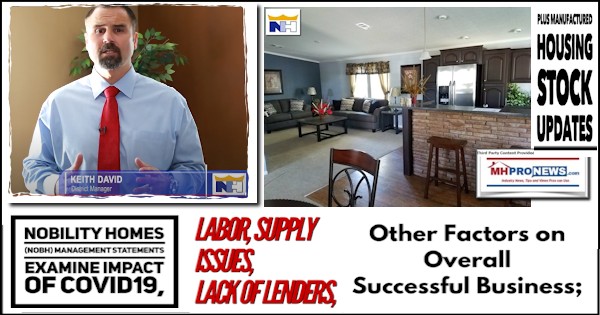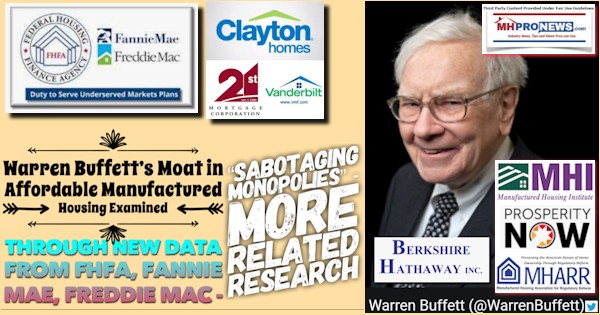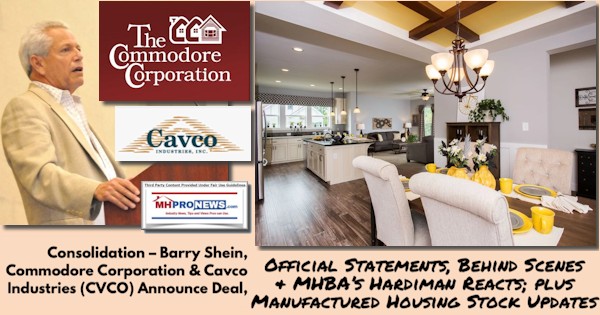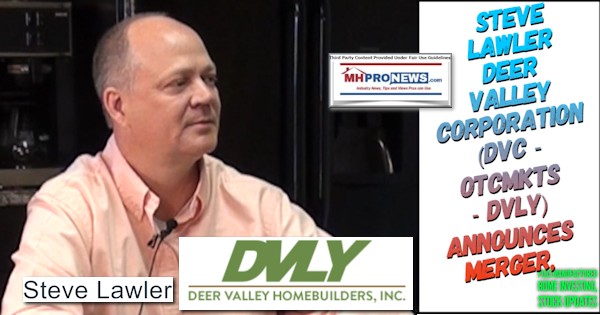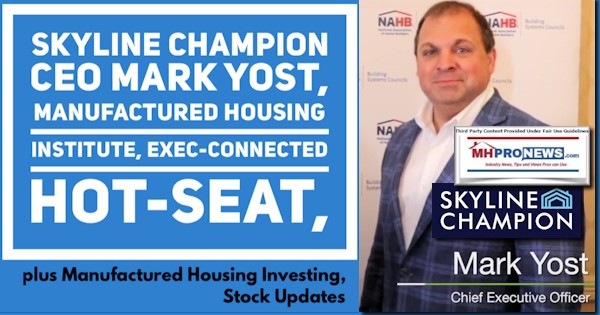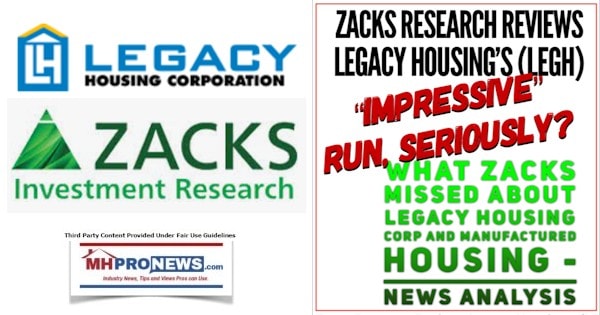 Summer 2021…
Berkshire Hathaway is the parent company to Clayton Homes, 21st Mortgage, Vanderbilt Mortgage and other factory built housing industry suppliers.
· LCI Industries, Patrick, UFPI, and LP each are suppliers to the manufactured housing industry, among others.
· AMG, CG, and TAVFX have investments in manufactured housing related businesses. For insights from third-parties and clients about our publisher, click here.
Enjoy these 'blast from the past' comments.
MHProNews. MHProNews – previously a.k.a. MHMSM.com – has celebrated our 11th year of publishing, and is starting our 12th year of serving the industry as the runaway most-read trade media.
Sample Kudos over the years…
It is now 11+ years and counting…
Learn more about our evolutionary journey as the industry's leading trade media, at the report linked below.
· For expert manufactured housing business development or other professional services, click here.
· To sign up in seconds for our industry leading emailed headline news updates, click here.

Disclosure. MHProNews holds no positions in the stocks in this report.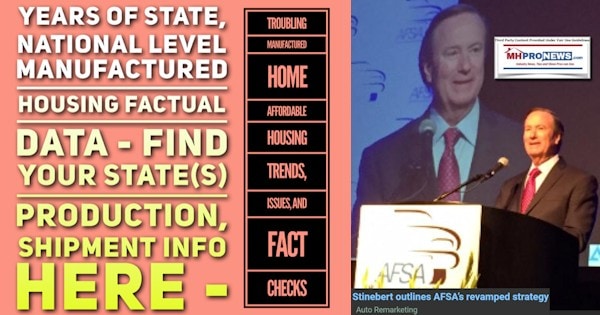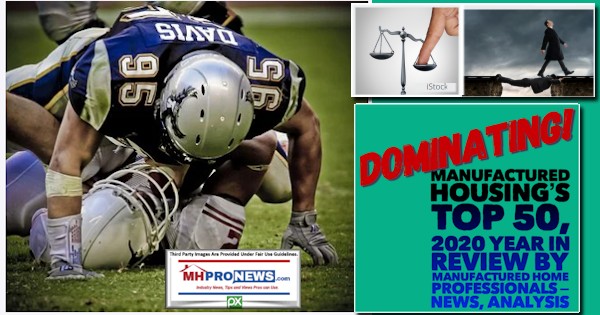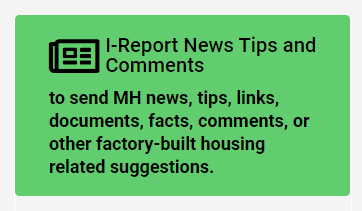 That's a wrap on this installment of "News Through the Lens of Manufactured Homes and Factory-Built Housing" © where "We Provide, You Decide." © (Affordable housing, manufactured homes, stock, investing, data, metrics, reports, fact-checks, analysis, and commentary. Third-party images or content are provided under fair use guidelines for media.) (See Related Reports, further below. Text/image boxes often are hot-linked to other reports that can be access by clicking on them.)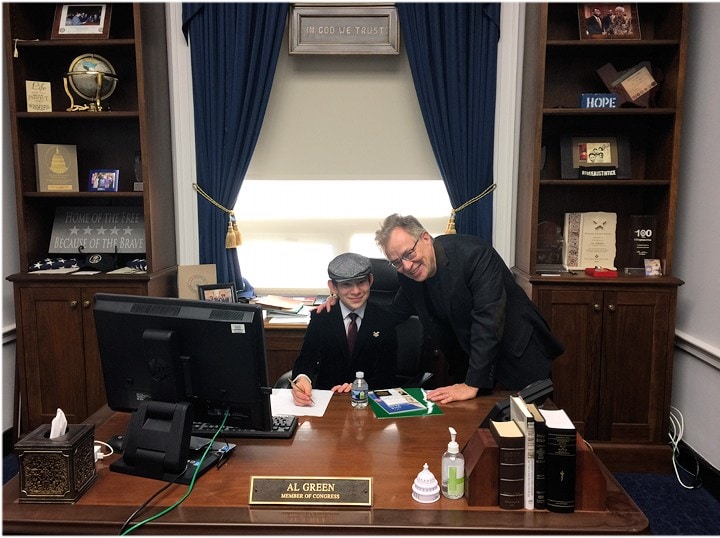 By L.A. "Tony" Kovach – for MHProNews.
Tony earned a journalism scholarship along with numerous awards in history. There have been several awards and honors and also recognition in manufactured housing. For example, he earned the prestigious Lottinville Award in history from the University of Oklahoma, where he studied history and business management. He's a managing member and co-founder of LifeStyle Factory Homes, LLC, the parent company to MHProNews, and MHLivingNews.com. This article reflects the LLC's and/or the writer's position, and may or may not reflect the views of sponsors or supporters.