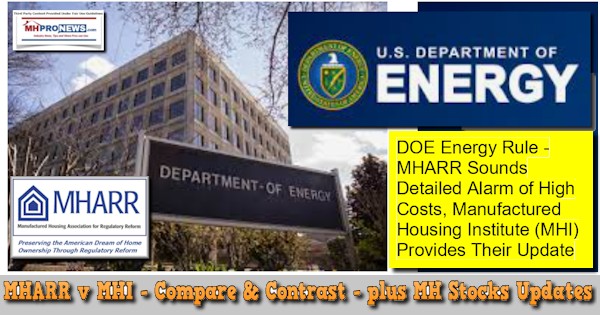 It is a study in stark contrasts. A few weeks ago MHProNews did a Sunday report that compared Work Horses like the Manufactured Housing Association for Regulatory Reform (MHARR) to the proverbial Show Horses at the Manufactured Housing (MHI). That contrast was aptly illustrated on Monday August 30, 2021 via the respective trade group's emails to their readers. MHI issued a bold new pitch for new members that touted all they do without giving any substantial examples that actually demonstrated their case. That MHI pitch is the subject of a special report that on the Masthead (editorial) blog of MHProNews. Meanwhile, the MHARR alert on this Department of Energy (DOE) rule topic is as shown below. It will be followed by an MHProNews commentary in brief which includes linked related materials. Our business daily manufactured housing stock market and headline left-right headline news recap follow as well.

AUGUST 30, 2021
TO:                 MHARR MANUFACTURERS
                        MHARR STATE AFFILIATES
                        MHARR TECHNICAL REVIEW GROUP (TRG)
FROM:           MHARR
RE:                 DOE TAKES NEXT STEP TOWARD DRASTIC AND
COSTLY MANUFACTURED HOUSING ENERGY STANDARDS
The U.S. Department of Energy (DOE), on August 26, 2021, formally published its "Supplemental Notice of Proposed Rulemaking" for manufactured housing energy standards in the Federal Register (see, copy attached).
As has repeatedly been emphasized by MHARR, the proposed DOE standards would impose extreme and costly new energy mandates on manufactured homes, based – at least initially – on the 2021 version of the International Energy Conservation Code (IECC), a code developed, in its present form, without input from the HUD Code manufactured housing industry and without regard to the cost balancing and cost justification required by federal manufactured housing law. The sheer magnitude of these price increases – which will continue indefinitely into the future with each new iteration of the IECC if not stopped now – will totally change the price structure and marketability of mainstream, HUD Code manufactured homes, while excluding millions of lower and moderate-income American families from the manufactured housing market and from homeownership altogether.
Specifically, as MHARR has calculated based on a study of the 2021 IECC conducted by Home Innovation Labs, Inc. on behalf of the National Association of Homebuilders (NAHB):
The 2021 IECC standards would result in a minimum $7,958.00 retail level structural price increase for a single section manufactured home;
The 2021 IECC standards would result in a minimum $12,908.00 retail level structural price increase for a double-section manufactured home;
Cost increases of this magnitude would exclude 6,816,883 households from the manufactured housing market based on NAHB metrics developed in connection with DOE's 2016 proposed energy standards rule for manufactured housing;
These figures do not include additional costs for testing, enforcement and regulatory compliance; and
These figures do not capture the additional costs that would be incurred with each new iteration of the IECC, which the DOE standards would be required to track.
While MHARR has opposed such needless and destructive standards from day-one – often alone — and has been successful in stopping the baseless sabotage of the fundamental affordability of manufactured housing by "energy" special interests, this matter has reached a stage where forceful opposition by the entire industry will be necessary in order to prevent serious damage to the availability and affordability of manufactured housing in direct violation of federal law.
Comments in response to the "supplemental" proposed rule are due on or before October 25, 2021.  In addition, a public webinar, including an opportunity for public comment, will be held on September 28, 2021. MHARR urges all industry members to submit comments in opposition to these standards and to present opposing statements at the scheduled webinar. MHARR, as usual, will submit its comments in advance of the relevant deadlines, and make them available to the entire industry for use or reference.
cc:  Other Interested HUD Code Industry Manufacturers, Retailers and Communities
Manufactured Housing Association for Regulatory Reform (MHARR)
1331 Pennsylvania Ave N.W., Suite 512
Washington D.C. 20004
Phone: 202/783-4087
Fax: 202/783-4075
Email: MHARR@MHARRPUBLICATIONS.COM
Website: manufacturedhousingassociation.org
Additional Information, more MHProNews Analysis and Commentary in Brief
On this DOE energy rule, MHI has a history of flip flops.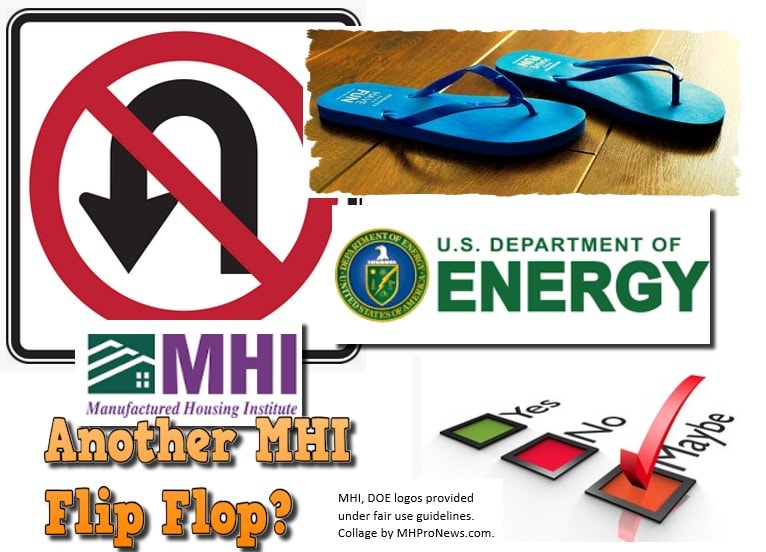 On this DOE energy rule, the leftist billionaires Warren Buffett and Michael Bloomberg supported Sierra Club suit is the reason that the current energy rule conundrum exists.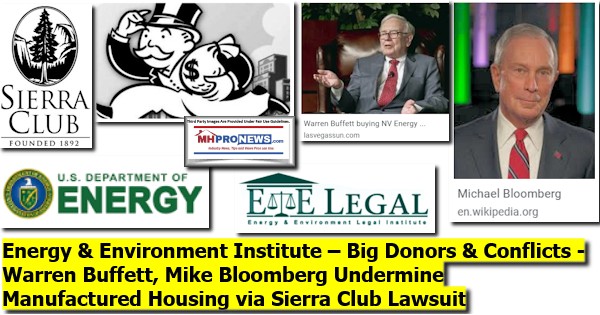 MHARR is and advertiser on our website. They value our providing the industry's readers with their perspective. But they do not make editorial demands. On only rare occasions do they have a clue as to what, when, or how we will handle one of their reports. The Manufactured Housing Institute (MHI) was an advertiser too. So too were MHI members such as Clayton Homes, 21st Mortgage Corporation, MHVillage, several state associations, Legacy Housing, ManufacturedHomes, and the list goes on. They each discovered that our advertisers do not dictate our content. We faithfully deliver marketing or advertising to our readers. Those readers are demonstrably the effectively unchallenged largest audience in all of manufactured housing professional trade publishing.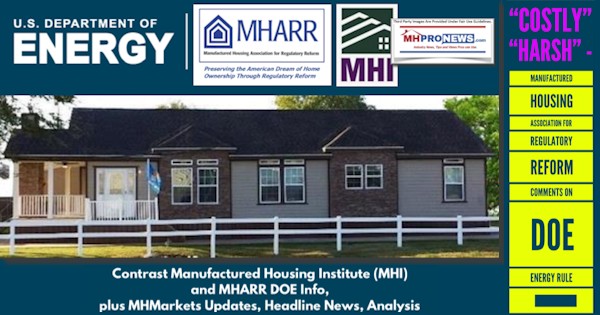 That is a disclaimer that we periodically provide so as to illustrate our independence in reporting news, doing our fact checks and providing an independent analysis that is based on this premise that we have consistently held since we launched in mid-October October 2009. Manufactured housing is underperforming during a sustained need for millions of more affordable homes in America.
This writer and our publication on occasion edits in a fix to an old typo or may edit in a link or comment to some years-old report that our site metrics tells us surges in popularity for whatever reason. But the vast majority of the time, we leave our content from months of year ago as it was when first published. By doing so a historic record has been established.
That record would reflect the following. When we began our odyssey in publishing what rapidly became the dominant trade media in our profession, we had no desire per se to get involved in manufactured housing industry politics. We provided both MHARR news and MHI news. We still do, but not the same way. Which begs the question, why?
It took time, numerous tips from well placed sources, our own re-reading of past comments and behaviors by MHI and MHARR members to begin to realize that MHI was about the show. They postured what seemed at the time to be the right words. But the evidence reveals that MHI's words do not age well. Meaning, MHI is posturing by not performing. Even more precisely, MHI is working not as they claim – on behalf of all industry members- but rather for the interests of a few dominating brands that are working to consolidate the industry. This is not even seriously challenged. After all, MHI's own members betray the MHI claim of working for all segments of the industry themselves, even if they do not frame it as such.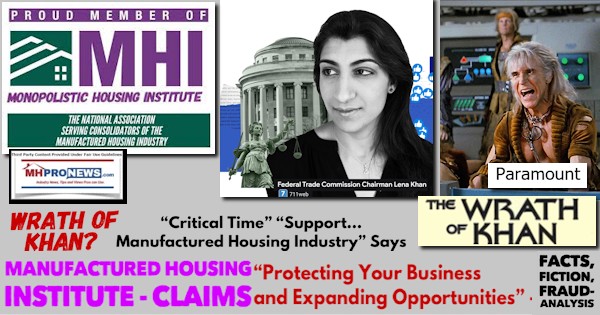 MHARR is not perfect, nor are any other merely human entities, including this one. But MHARR has been remarkably consistent. They are fighters. Some of their membership do not tout their membership in MHARR. That, let sources, is by design. Those independents do not have to think twice about if MHARR or working in their authentic interests or not.
MHI is vastly different. As MHEC members and MHI insiders have revealed directly or by accident, they are either in the running for the most well groomed, well educated, yet ineffective trade group in America. Or they are, as MHI award winner Marty Lavin put it, working for the interest of their "big boy" members and no others save by accident. Lavin is not alone in that view, as third party researchers such as Samuel Strommen from Knudsen Law has carefully documented.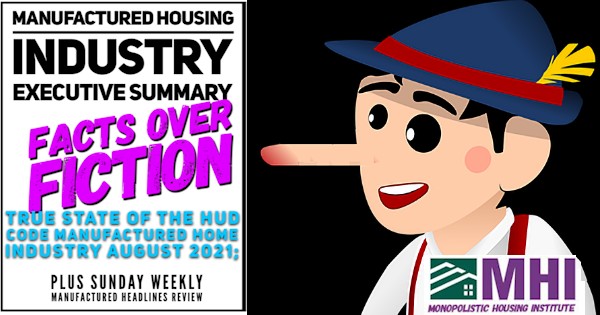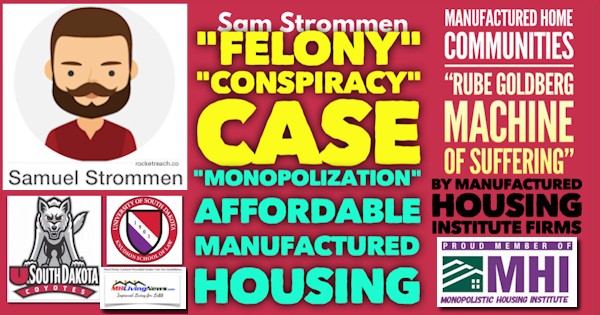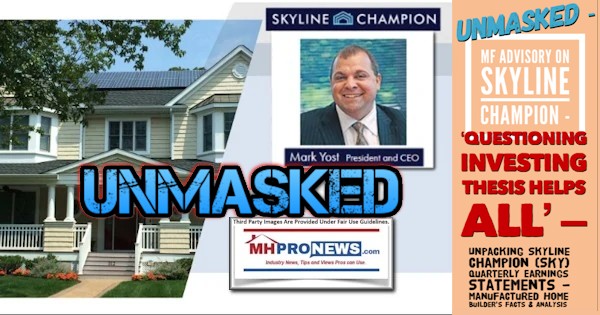 ###
Next up is our business daily recap of yesterday evening's market report, related left-right headlines, and manufactured housing connected equities.
The Business Daily Manufactured Home Industry Connected Stock Market Updates.  Plus, Market Moving Left (CNN) – Right (Newsmax) Headlines Snapshot. While the layout of this daily business report has been evolving over time, several elements of the basic concepts used previously are still the same. For instance. The headlines that follow below can be reviewed at a glance to save time while providing insights across the left-right media divide. Additionally, those headlines often provide clues as to possible 'market-moving' news items.
Market Indicator Closing Summaries – Yahoo Finance Closing Tickers on MHProNews…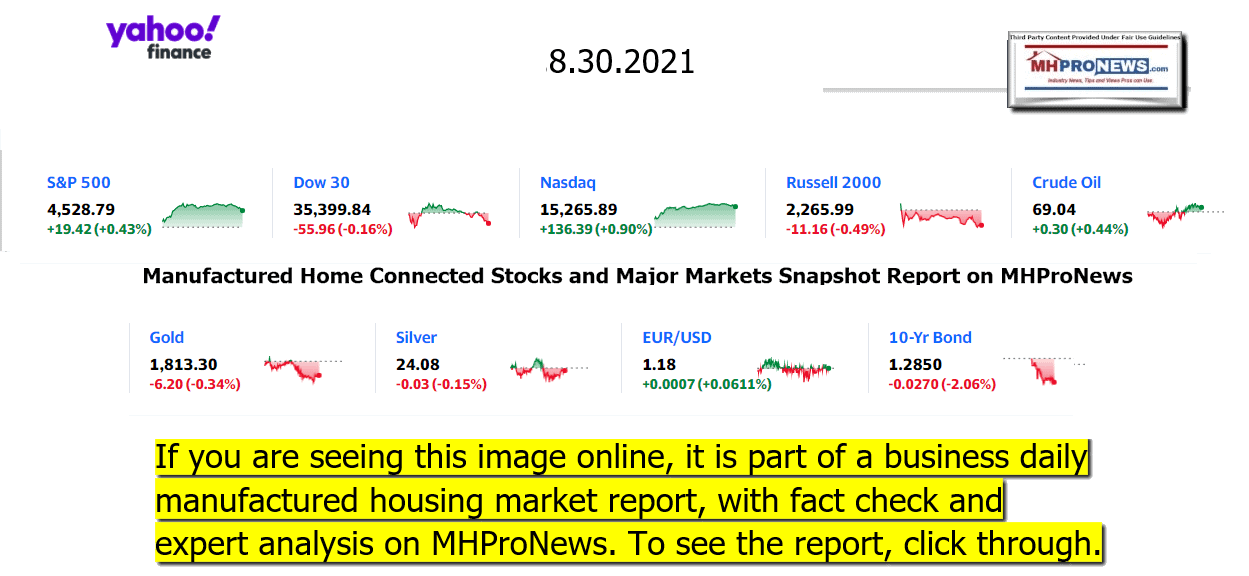 Headlines from left-of-center CNN Business – evening of 8.30.2021 
End of a dangerous era
Cars drive on a road in the Algerian capital Algiers on February 1, 2017.
Cars have been guzzling leaded gasoline for 99 years. Not any more
Hurricane Ida may push gas prices even higher
Former Theranos CEO likely to accuse ex-boyfriend and former company executive of abuse
Affirm shares pop after striking buy-now-pay-later deal with Amazon
Goldman Sachs says 750,000 households could be evicted this year unless Congress acts
Why your morning coffee will soon cost more
The Fed is about to stop the party on Wall Street. Here's what that means for you
Here's what struggling renters can expect after the end of the federal eviction ban
Big Tech failed with contact tracing. Can it do better with vaccine passports?
Exhausted and without hope, East Asian youth are 'lying flat'
Qantas CEO: A380 'perfect' to meet massive pent-up demand for flying
Jon Stewart's new show gets a premiere date
Peloton is under investigation by the SEC and Department of Justice
Elizabeth Holmes, founder and former chief executive officer of Theranos Inc., right, exits U.S. federal court in San Jose, California, U.S., on Thursday, May 6, 2021. Holmes and her lawyers appeared in-person that day in the federal court where the Theranos founder and former chief executive officer is scheduled to go to trial next week on charges that the blood-test startup once valued at $9 billion was a fraud.
Elizabeth Holmes' trial is set to begin: Here's what you need to know
A Florida Highway Patrol car damaged after being hit by a Tesla Model 3 that reportedly was being driven with its Autopilot feature engaged. The accident occurred along Interstate 4 early on Saturday, August 28.
Another Tesla reportedly using Autopilot hits a parked police car
Female journalist flees Afghanistan following groundbreaking TV interview with Taliban spokesman
RETURN TO 'NORMAL'
A sign at a counter in Cowbell, a New Orleans restaurant, on Friday, Aug. 6, 2021, informs customers that they can eat indoors if they have proof of vaccination against COVID-19. The eatery is among the first in New Orleans to require proof of vaccination against COVID-19 for indoor diners. Owner Brack May says some have been angered by the requirement but others welcome it.
F-bombs and hate mail: Restaurants take heat over proof of vaccination
British Airways could launch a new low-cost airline
Key inflation measure rises at fastest pace in 30 years
OpenTable is helping restaurants verify vaccinations
The world's third busiest container port is back but the shipping crisis isn't over yet
MEDIA
ESPN reporter Rachel Nichols speaks during the LA Clippers game against the Phoenix Suns during Game 5 of the Western Conference Finals of the 2021 NBA Playoffs on June 28, 2021 at Phoenix Suns Arena in Phoenix, Arizona.
ESPN removes Rachel Nichols from NBA coverage and cancels 'The Jump'
Politico will be sold to Axel Springer for over $1 billion
Who gets to join a writers union? The fight is on
New 'Spider-Man' trailer has a few surprises in store
The daily edition of 'The Rachel Maddow Show' is coming to an end. So who will replace her?
Headlines from right-of-center Newsmax – evening of 8.30.2021
US Warns Terror Threat to Kabul Airport 'Real' in Evacuation's Final Hours
In this handout provided by the U.S. Air Force, an air crew prepares to load evacuees aboard a C-17 Globemaster III aircraft in support of the Afghanistan evacuation at Hamid Karzai International Airport earlier this month.
Hurricane Ida
Hurricane Squeeze for East Coast Gas Supplies
Louisiana Gov. Edwards: Ida Death Toll Expected to Soar
Ida Damages Louisiana Grain Terminal, Disrupts Exports
Hurricane Squeeze for East Coast Gas Supplies
FEMA: COVID-Slammed Hospitals 'Biggest Concern' After Ida |
Guard Members in 4 States Activated to Help Rescue, Relief in Louisiana, Mississippi
Ida Loses Power After Devastating Louisiana
More Hurricane Ida
Fall of Afghanistan
US Drone Strike Wiped Out Kabul Family, Brother Says
Rockets Target US Soldiers as Withdrawal Enters Final Stage
US Drone Strike on Alleged ISIS-K Car Kills 10 Afghan Civilians: Report
Biden's Mindless Comments Endanger America
WH: US Has Capacity to Evacuate Remaining Americans
Macron: France, Britain to Propose Kabul Safe Zone to UN
American University of Afghanistan Students Struggle to Flee
US Airstrike Hits Car Carrying ISIS Suicide Bombers
Chinese Foreign Minister Tells Blinken World Must 'Positively Guide' Taliban
More Fall of Afghanistan
Newsmax TV
Ernst: Not Sure US Will Get All Americans Out of Afghanistan
Mace: Pentagon Likely Had More Than 'Heads Up' on Attack |
Tenney: Afghanistan Combines Worst US Military Disasters |
Jha: Independent Assessment Needed for COVID Report |
Greg Murphy: US 'Cowering' to Taliban With Pullout Deadline |
Mark Morgan: Quickly Bringing Afghan Refugees into US a Concern
McCaul: Afghan Partners 'Have Death Warrant' on Their Backs |
More Newsmax TV
Newsfront
State Mask Bans Face Federal Civil Rights Inquiries
The Education Department announced Monday that it's investigating five Republican-led states with universal mask bans, saying the policies could amount to discrimination against students with…… [Full Story]
Related Stories
EU Takes US Off Safe Travel List; Backs Travel Restrictions
Rand Paul: Hatred of Trump Preventing Potential COVID Drug Research
Ohio Judge Orders Ivermectin Treatment for COVID Patient Despite Warnings
FDA: Stop Using Certain Chinese N95 Masks
Arnold Schwarzenegger Blasts 'Whiny Babies' Who Refuse To Wear Masks
Israel Says It Will Loan Palestinians Money After Highest-Level Talks in Years
(Recasts for Israeli loan)By Jeffrey HellerJERUSALEM, Aug 30 [Full Story]
Cardinal Burke to Begin Rehabilitation After COVID-19 Hospitalization
A top-ranking Roman Catholic cardinal who eschewed the COVID-19 [Full Story]
JFK's Alleged 20-Year-Old Mistress Speaks Out on Affair
A former Radcliffe College student claiming to have been John F. [Full Story]
Marine Who Ripped Biden Afghanistan Withdrawal in Viral Video Resigns Commission
The U.S. Marine who criticized the military withdrawal from [Full Story]
Sweden Avoided Lockdowns, Mask Mandates: Now They Are Better Off Than Their European Neighbors
Sweden's unorthodox decision to keep restaurants and bars open, send [Full Story] |
Man Gets Life Sentence in 2018 Killing of Mollie Tibbetts
A man was sentenced to life in prison Monday in the stabbing death of [Full Story]
Despite Promises, It's the Same Evil Taliban
Soon after taking control of Kabul, and therefore Afghanistan, [Full Story] |
Abortion Providers Ask SCOTUS to Block Texas 'Fetal Heartbeat' Law
A group of abortion providers asked the Supreme Court on Monday to [Full Story]
Jha to Newsmax: Independent Assessment Needed for COVID Report
The true origins of the coronavirus pandemic will be difficult [Full Story] |
Arlington Bishop Burbridge: Transgender Ideology 'Contrary to Truth'
Arlington, Va., Bishop Michael Burbidge has written a controversial [Full Story]
Trump Legal Team: Social Media Giants 'State Actors' Censoring Americans
A lawyer for former President Donald Trump in his lawsuits against [Full Story]
Guard Members in 4 States Activated to Help Rescue, Relief in Louisiana, Mississippi
Some 5,300 National Guard members from four states were activated [Full Story]
Biden Blasted for Looking at Watch During Ceremony for Fallen Soldiers
Critics are blasting President Joe Biden for apparently looking at [Full Story]
Iron Butterfly Drummer Dies at 79
Iron Butterfly's longtime drummer Ron Bushy has died at 79. [Full Story]
Kissimmee: Say Bye to Your Auto Insurance Bill if You Live in These Zip Codes
Auto Savings
RFK's Oldest Son Condemns Possible Parole of Sirhan Sirhan
Former congressman Joseph P. Kennedy II, the oldest son of Robert F. [Full Story]
Russian Cosmonauts Find New Cracks in ISS Module
Russian cosmonauts have discovered new cracks in a segment of the [Full Story]
Businesses Lobbying to Undermine $3.5T Spending Bill
Business lobbying groups hope to divide moderate and progressive [Full Story]
Ohio Judge Orders Ivermectin Treatment for COVID Patient Despite Warnings
An Ohio judge has ordered a local hospital to treat a COVID-19 [Full Story]
Texas, Florida Stress Antibody Treatment to Combat COVID Surge
Combating the surge of the delta variant while declining to get [Full Story]
EU Drops US From List of COVID-Safe Countries for Travel
European Union governments agreed on Monday to remove the United [Full Story]
Rand Paul: Hatred of Trump Preventing Potential COVID Drug Research
Rand Paul told constituents Friday that hatred of former [Full Story]
FEMA Director Criswell: COVID-Slammed Hospitals 'Biggest Concern' After Ida
Hurricane Ida is one of the "most catastrophic hurricanes" to [Full Story] |
'Leave It to Beaver' Star Tony Dow Hospitalized With Pneumonia
"Leave It To Beaver" star Tony Dow, 76, has been hospitalized with [Full Story]
ISIS Claims Rocket Attack on Kabul Airport, as US Troops Pull Out
The Islamic State group claimed a rocket attack on Kabul airport on [Full Story]
WHO Opens Air Bridge to Afghanistan With Medical Supplies
A plane carrying World Health Organization medicines and health [Full Story]
McDonald's, Others Consider Closing Indoor Seating Amid Delta Surge in US
Some U.S. fast-food restaurants are closing indoor seating areas or [Full Story]
Netanyahu Accused of Not Returning State Gifts
Former Israel Prime Minister Benjamin Netanyahu has been accused of [Full Story]
Renewed Activity at NKorea Nuclear Reactor 'Deeply Troubling', IAEA Says
North Korea appears to have restarted a nuclear reactor that is [Full Story]
Rockets Target US Soldiers as Afghanistan Withdrawal Enters Final Stage
S. anti-missile defenses intercepted as many as five rockets that [Full Story]
EU Will Recommend Stopping Nonessential Travel From US
Diplomats from the European Union said Sunday that the union will [Full Story]
More Newsfront
Finance
Barbara Roper Joins SEC as Senior Advisor to Chairman
Longtime investor protection advocate Barbara Roper has joined the Securities and Exchange Commission (SEC) as a senior advisor on broker/dealer issues, investor protection oversight, examinations and policy issues. She is said to be a righthand person working closely with SEC Chairman Gary Gensler. [Full Story]
US Advisers to CDC Vote in Favor of Pfizer/BioNTech Vaccine
S. Power Utilities Struggle to Restore Power after Ida Lashes Louisiana
Excited Fans Return to U.S. Open but Confront long Lines
Hurricane Ida Damages Louisiana Grain Terminal, Disrupts Exports
More Finance
Health
Demand for Monoclonal Antibody Treatment Surges Across the Country
The demand for monoclonal antibody therapies to treat COVID-19 cases has risen dramatically in America in recent weeks as cases soar. Former President Donald Trump received an antibody cocktail manufactured by Regeneron Pharmaceuticals when he was infected with the virus,… [Full Story]
Is COVID-19 Vaccine Protection Really Waning?
FDA: Stop Using Certain Chinese N95 Masks
Biogen Provides Free Aduhelm as U.S. Clinics Await Medicare Payment
Diet That Helps Prevent Heart Disease and ED in Men
Manufactured Housing Industry Investments Connected Equities Closing Tickers
Some of these firms invest in manufactured housing, or are otherwise connected, but may do other forms of investing or business activities too.
NOTE: The chart below includes the Canadian stock, ECN, which purchased Triad Financial Services, a manufactured home industry lender
NOTE: Drew changed its name and trading symbol at the end of 2016 to Lippert (LCII).
NOTE: Deer Valley was largely taken private, say company insiders in a message to MHProNews on 12.15.2020, but there are still some outstanding shares of  the stock from the days when it was a publicly traded firm.  Thus, there is still periodic activity on DVLY.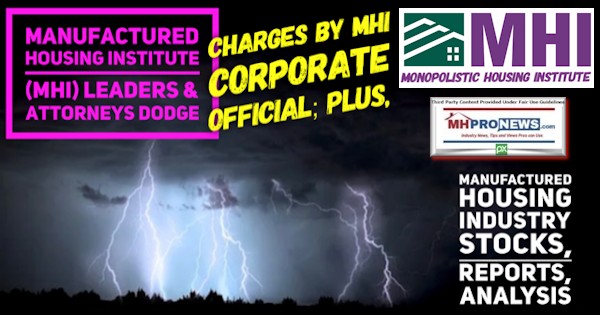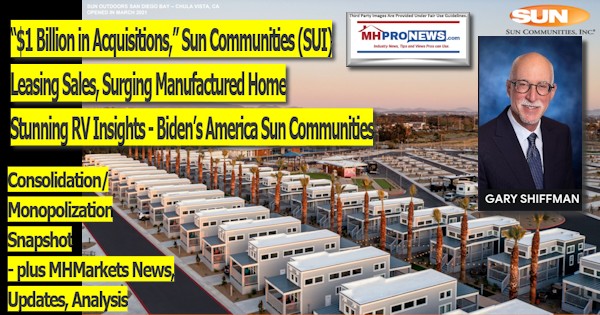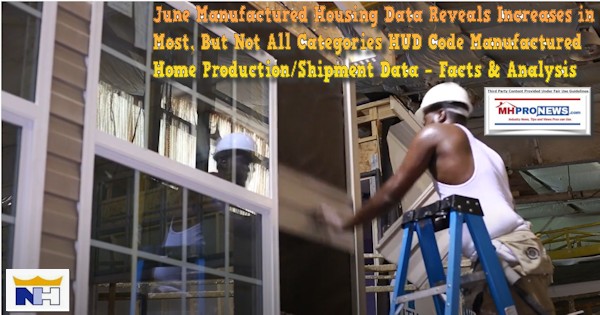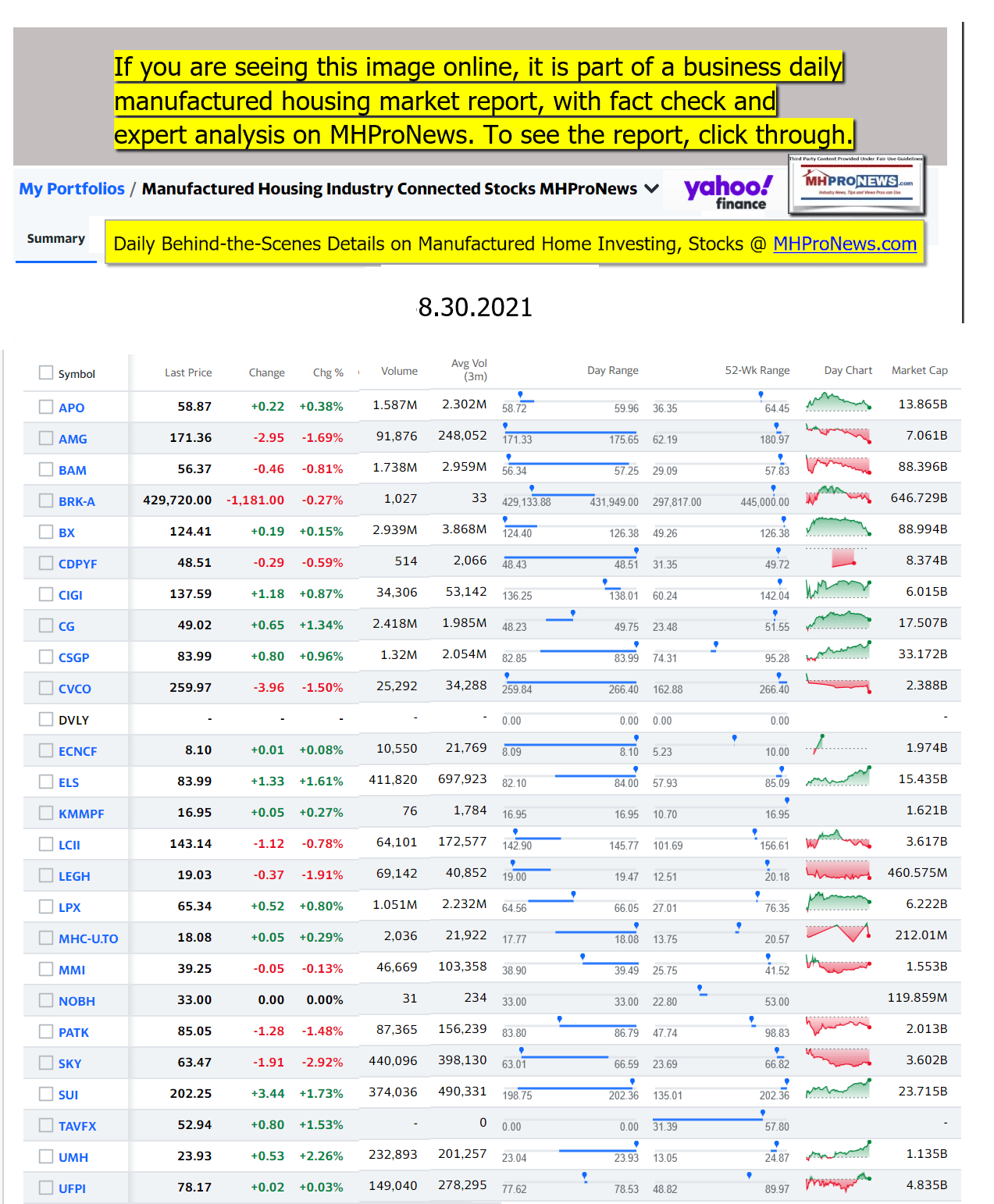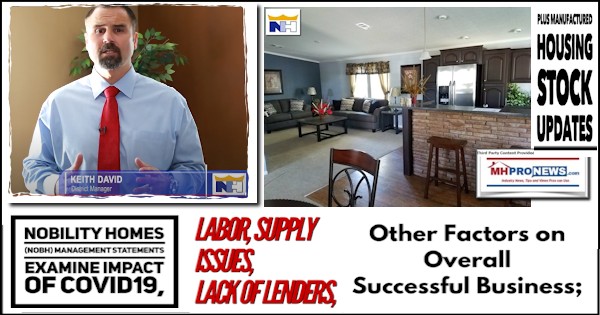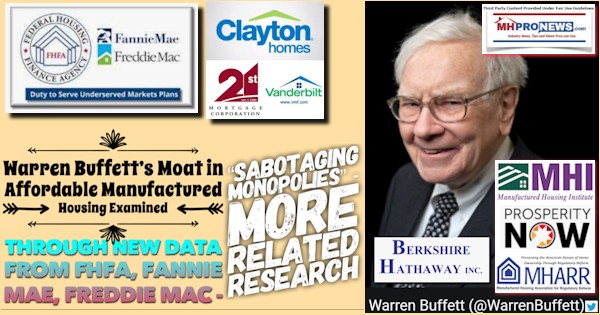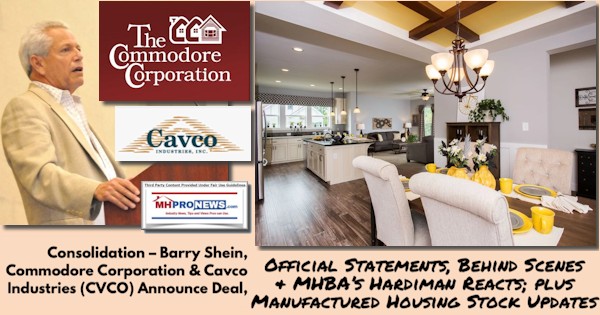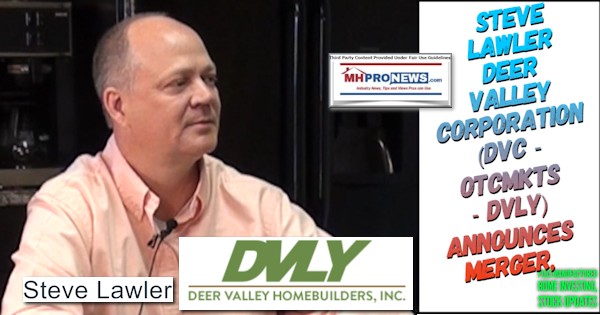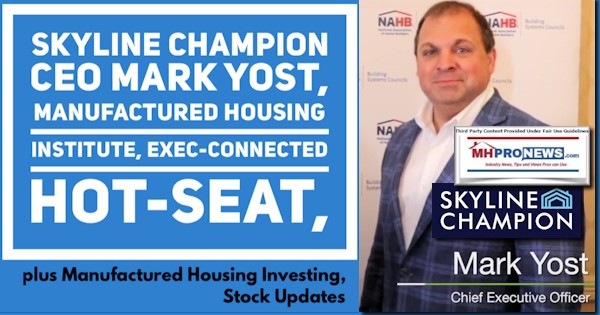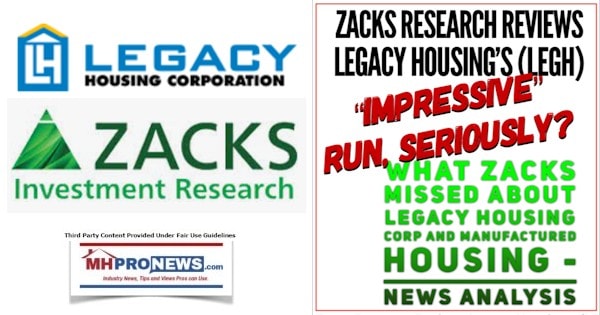 Summer 2021…
Berkshire Hathaway is the parent company to Clayton Homes, 21st Mortgage, Vanderbilt Mortgage and other factory built housing industry suppliers.
· LCI Industries, Patrick, UFPI, and LP each are suppliers to the manufactured housing industry, among others.
· AMG, CG, and TAVFX have investments in manufactured housing related businesses. For insights from third-parties and clients about our publisher, click here.
Enjoy these 'blast from the past' comments.
MHProNews. MHProNews – previously a.k.a. MHMSM.com – has celebrated our 11th year of publishing, and is starting our 12th year of serving the industry as the runaway most-read trade media.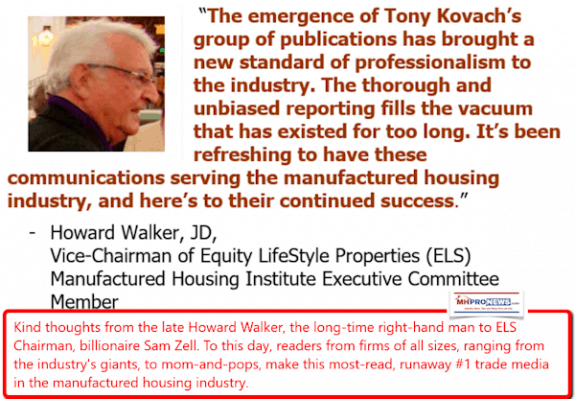 Sample Kudos over the years…
It is now 11+ years and counting…
Learn more about our evolutionary journey as the industry's leading trade media, at the report linked below.
· For expert manufactured housing business development or other professional services, click here.
· To sign up in seconds for our industry leading emailed headline news updates, click here.

Disclosure. MHProNews holds no positions in the stocks in this report.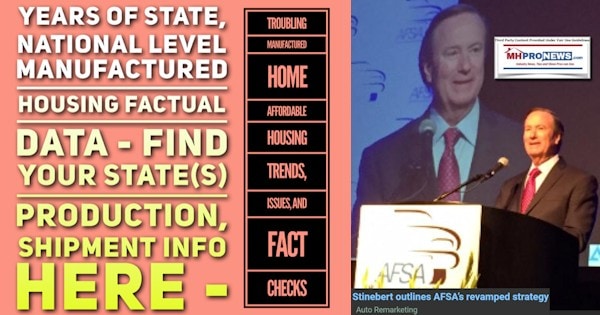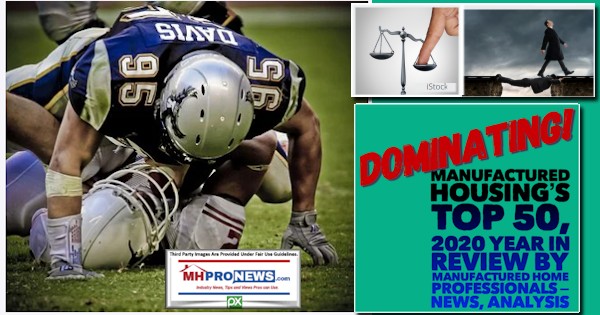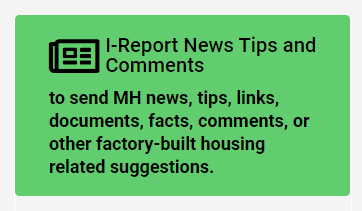 That's a wrap on this installment of "News Through the Lens of Manufactured Homes and Factory-Built Housing" © where "We Provide, You Decide." © (Affordable housing, manufactured homes, stock, investing, data, metrics, reports, fact-checks, analysis, and commentary. Third-party images or content are provided under fair use guidelines for media.) (See Related Reports, further below. Text/image boxes often are hot-linked to other reports that can be access by clicking on them.)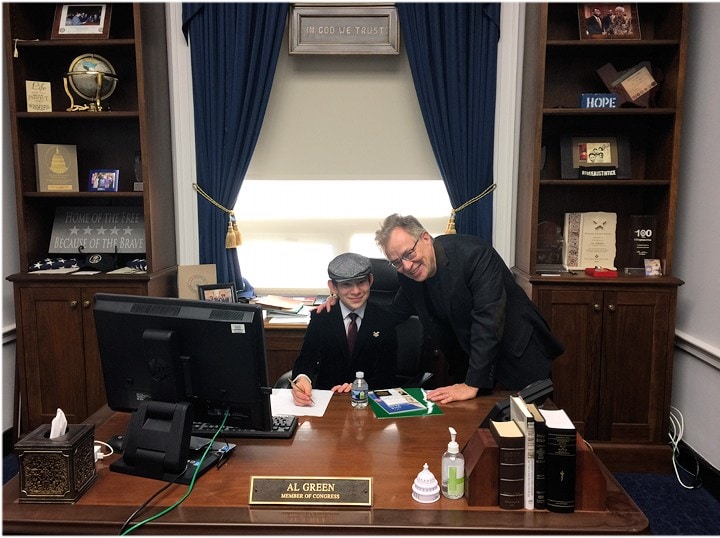 By L.A. "Tony" Kovach – for MHProNews.
Tony earned a journalism scholarship along with numerous awards in history. There have been several awards and honors and also recognition in manufactured housing. For example, he earned the prestigious Lottinville Award in history from the University of Oklahoma, where he studied history and business management. He's a managing member and co-founder of LifeStyle Factory Homes, LLC, the parent company to MHProNews, and MHLivingNews.com. This article reflects the LLC's and/or the writer's position, and may or may not reflect the views of sponsors or supporters.