This DOE energy rule is a big issue for our industry, as will be unpacked in this report and analysis. But before diving into the significantly distinctive views and reports between the two national trade associations in manufactured housing on the pending and "costly" Department of Energy (DOE) rule for manufactured housing, a pragmatic preface is useful. Stating the obvious, retailers have to sell manufactured homes. Land-lease manufactured home communities, even if the sign out front reads "mobile home park," have to lease sites, collect site fees, do maintenance, and perhaps sell and/or lease HUD Code manufactured homes.  Lenders have to make and service loans. Factories, transporters, installers, vendors, suppliers, attorneys, etc. – each have day-to-day activities that are necessary for their existence as a profitable enterprise. Big corporations have access to information and advocacy that smaller rivals often do not have. It is for those reasons of scale and time that smaller independents join a trade group and/or read trade publications or industry bloggers.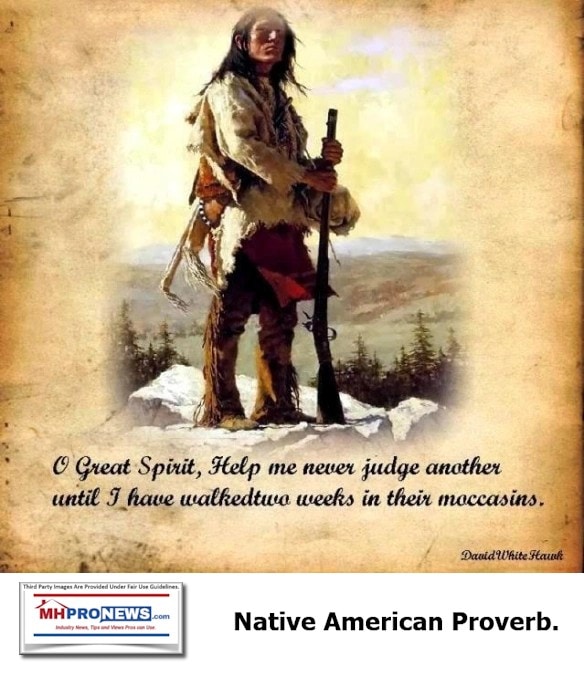 Each of those pragmatic reality checks are apparent and need to be understood. Because we at MHProNews do more than just publish.  We 'grew up' in manufactured home retail, communities, and have worked with producers, lenders, and other service/product providers, we get that here at MHProNews. We have years of a practical, hands-on sense of what thousands of our readers do. By contrast, there are those who publish and write in our profession who may never have sold a single manufactured home, or have never been involved in the hard work at the community, finance, or production-related operation levels.
That said, precisely because independents need something or someone in their corner that larger firms already have – trustworthy advocacy or reliable news and analysis – time-pressed professionals have to clearly see what is accurate, true, and therefore actionable. Busy pros need to be able to sift beyond nice sounding words that could merely be a smokescreen that serves some private interest and agenda(s).
Perhaps  the majority of our nation and Canada realizes that news from the left is often quite different than news from the right. That is a signal that 'news' is often a packaged product that aims to advance an agenda.
When big tech is censoring the speech of those on the left who dare question the narrative of the Biden Administration and its backers, as well as social media platforms censoring or shadow banning the speech of those on the right who more obviously oppose "the Biden regime" and its backers, that should be the signal for those on the left and the right to realize that this is no longer a black and white, easy-to-spot the truth world.
MHI Flashback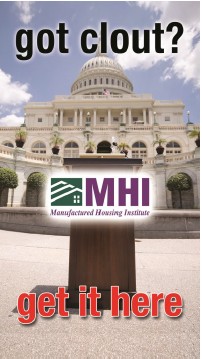 "MHI's access to Washington policymakers is as strong as ever. This is due to our constant and comprehensive efforts with Congress and the Administration and the direct engagement from MHI members to their elected representatives. The impact that MHI's members have by serving as an industry voice in front of their elected officials is critical," said the association on November 28, 2018. Take that at face value and ask, how has MHI used that access?
If MHI have clout, and access, as they have repeatedly said for years – then what is the net result of that MHI self-proclaimed clout?
MHProNews has evolved several times since we first launched approaching a dozen years ago in mid-October 2009. What has never changed here is that we have always been pro-manufactured housing specifically, and more broadly support factory home building (modular, prefab, panelized, etc.). MHProNews have always been pro-sustainable and ethical growth for manufactured housing. It is partially with that in mind that MHLivingNews was launched a few short years after MHProNews. MHLivingNews and MHProNews are both pro-consumer and believe that customer and resident interests must be protected as one of the surest ways for the industry's professionals to achieve robust growth.
Indeed, the Manufactured Housing Institute's (MHI) past president and CEO Chris Stinebert said aptly as much.
What Stinebert said is common sense and true. But
it begs the question, why isn't this still MHI's policy, in word
as well as deed?  Why did Stinebert leave MHI?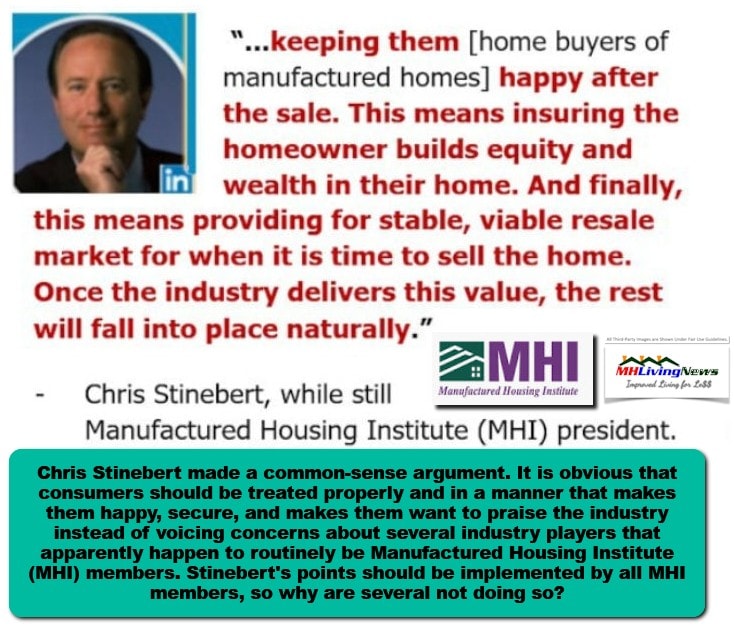 Why did Stinebert leave MHI when he did? He has gone onto a successful career in the association world.
While he was quite different than Stinebert, why did Thayer Long leave MHI? Long is now a president of a different trade group, which at-a-glance also seems to be doing well. Why is MHI such a revolving door in senior staff positions?
Why by contrast has the Manufactured Housing Association for Regulatory Reform (MHARR) managed to have such remarkable stability in their leadership, when larger and better funded MHI has not? MHARR's founding president and VP have some 75 plus years of industry experienced combined. Does everyone at MHI – a dozen or so people – have that much collective experience? Unlikely, because many are from outside of manufactured housing.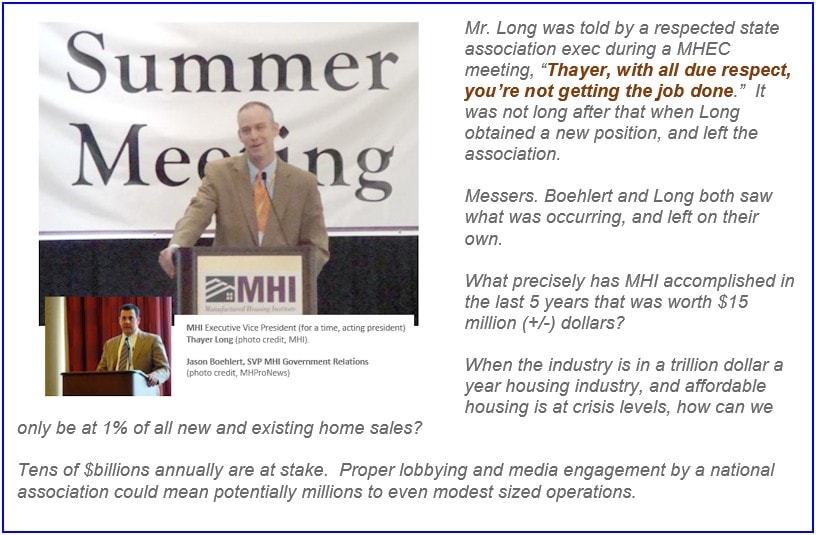 Hold those thoughts and questions. Because each of those points mentioned above matter to those professionals who have to sell a house, make or collect on a loan, or have some other function to attend to in order to earn their pay or make a profit.
It is common sense that if the vast majority of manufactured home owners were satisfied, that they would be referring their friends and family.  RVs surpassed manufactured housing about 20 years ago. Yes, part of that is better marketing by the RV industry. But part of it is word-of-mouth and satisfaction. To illustrate, in 1998, MH outsold RVs some 3 to 2, but this year, RVs will outsell MH by some 4 to 1. Comparisons and authentic vs. ersatz fact checks are how comparisons shed light for those who need to know for their day to day business decisions and planning.
This MHProNews report will begin with our trademark "We Provide, You Decide" © comparison of what MHI said verbatim on the same DOE Energy rule as MHARR provided their comments on.
MHI's content will be shown first.
Then thereafter, there will be the MHARR insights and attachment.
Following those insights, additional facts, and analysis that neither MHI nor MHARR provided.
This is what has made us a living example of our logo's tagline "Industry News, Tips, and Views Pros Can Use." © Kevin Clayton said that thousands of manufactured home business have been lost in the last dozen years. Sad, but true.
Busy professionals in the know are more likely to navigate treacherous waters than those who do not see the rocks that lie just below the surface.
As normal, following this featured part of today's report, we will then provide the balance of our headline news and market report for 8.5.2021.
With that backdrop and action plan, let's dive into MHI's "news and updates" on the DOE energy topic.
MHI Weighs in with DOE about Manufactured Housing Energy Efficiency Standards
During a public scoping session about the Department of Energy's (DOE) environmental impact statement in response to the Department's upcoming proposed rulemaking on manufactured housing energy efficiency standards, MHI called on the DOE to strongly consider the cost impact of any potential standards on the affordability of today's manufactured homes. ##
###
MHI's release covered more under their "MHI in Action" mantra in that email.
But that is all that MHI had to say about the pending DOE energy rule, a rule that MHARR has called "costly," "draconian," and harmful in other ways, because it will dramatically reduce the numbers of potential buyers of HUD Code manufactured homes.
As promised, here is the MHARR release, which included their attached comments at this link here. It will be followed by additional information, more MHProNews analysis and commentary.
FOR IMMEDIATE RELEASE                                                                   Contact: MHARR
(202) 783-4087
MHARR COMMENTS ON DOE ENERGY RULE 
FOCUS ON EXCESSIVE COSTS AND MARKET EXCLUSION
Washington, D.C., August 4, 2021 – The Manufactured Housing Association for Regulatory Reform (MHARR), in written comments submitted to the U.S. Department of Energy (DOE) (see, copy attached), has stated that any DOE energy standards for manufactured housing must not result in excessive purchase price increases that would exclude millions of lower and moderate-income families from the manufactured homes they rely on for affordable housing and homeownership.
MHARR's comments were filed in connection with the development of a DOE "Environmental Impact Study" (EIS) under the National Environmental Policy Act of 1969 (NEPA) — which marks the first phase of the current round of rulemaking for manufactured housing energy standards pursuant to the Energy Independence and Security Act of 2007 (EISA). The MHARR comments call on DOE to properly consider the full cost of any DOE rule on the HUD Code manufactured housing market and manufactured housing consumers, something that did not occur when DOE published its first proposed EISA-based manufactured housing standards in 2016 following a highly-flawed, sham "negotiated rulemaking" process.
That full cost, as explained by MHARR, includes not just the purchase-price impacts of draconian energy measures mandated by the 2021 version of the International Energy Conservation Code (IECC) – which in themselves could exclude millions of households from the HUD Code market based on recent analyses – but also: (1) testing, enforcement and regulatory compliance costs; (2) the ongoing, never-ending upward spiral of regulation-driven costs that would be necessitated by cyclical IECC upgrades, as required by EISA; and (3) the disparate and disproportionate purchase price impacts of any proposed DOE rule on racial equity and economic justice, contrary to a series of Executive Orders issued by President Biden since he took office in January 2021.
When all of these drastic and highly damaging impacts are considered, MHARR maintains and asserts that the IECC (including, but not limited to its 2021 version) is not an appropriate code for manufactured housing and should not be the basis for any proposed manufactured housing energy standards. Instead, manufactured housing energy standards should be based on existing federal manufactured housing law and the full procedures mandated by such law, including but not limited to the consensus processes of the HUD Manufactured Housing Consensus Committee (MHCC).
In Washington, D.C., MHARR President and CEO, Mark Weiss, stated: "The latest federal data shows that square foot-by-square foot, today's manufactured homes are already energy cost-efficient. The fundamental affordability of modern manufactured homes, which millions of lower and moderate-income homebuyers rely on, should not be sacrificed in order to advance extreme ideological agendas or the desire of energy special interests to 'legislate' greater demand for their products through baseless, high-cost regulation. Increased purchase costs, again as shown by government data, would have the harshest exclusionary impacts on racial and ethnic minorities, directly contrary to the policies of the Biden Administration. Instead of singling-out manufactured homebuyers for such harsh treatment, the Biden Administration should reject IECC-based energy standards for HUD Code homes and instead allow the MHCC consensus process to work as designed, intended and mandated by Congress."
             The Manufactured Housing Association for Regulatory Reform is a Washington, D.C.-based national trade association representing the views and interests of independent producers of federally-regulated manufactured housing.
— 30 –
Additionally, MHARR provided their comments in a download. That is linked here below on their website.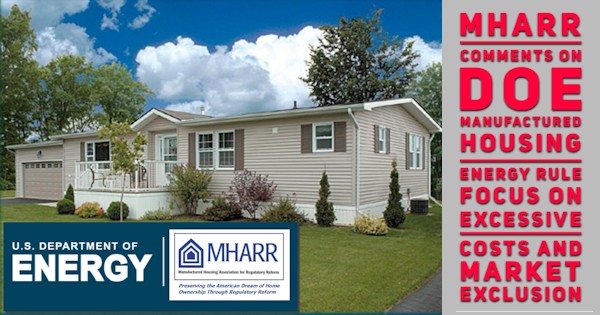 Not to be overlooked, MHARR also posted their release above AND their comments letter on their website. That is found, as noted, at the link above.
Now, let's compare and contrast those two actions.
Additional Information, More MHProNews Analysis and Commentary
Note the stark contrast between those two releases. Let's bullet point some of the differences. We will break this into two broad categories. General insights from the above, and then further below, DOE specific insights on this topic.
A) General Insights from the above comparison between MHARR and MHI.
1). Months ago, MHI stopped sending out their full periodic emailed update to non-MHI members. By contrast, anyone can sign up for MHARR's news.
2). For years, MHI has only occasionally posted an emailed item on their own website. By contrast, MHARR posts virtually everything on their website, save an occasional, highly-sensitive members only items.
3). Note that for someone who lives ONLY in the moment, those first two insights are in part 'historic.' If someone never looks into the rear view mirror and considers the track record of this or that trade group, those first two bullets would not be understood. Fortunately, most do look back, but not all. While we are Warren Buffett critics for evidence-based reasons, we tip the hat on certain specific things that Buffett is quite right on. Among them are the value of reading, he says he reads 5 to 6 hours daily and has for decades. Another is his point that the rearview mirror is clearer than the windshield. Looking back is easier than looking ahead. Or for similar reasons someone wants to know about a potential employee's resume and work history, one must be willing and able to look back at a person's or organizations' track record to have clarity.
4). Point #3 is a long way of saying that MHARR has been transparent for years. MHI by contrast went from being fairly transparent to being increasingly opaque about their own statements.  For example.  Why doesn't MHI publish their own news on their own website? It is not an accident that MHI – which initially asked MHProNews to publish all of their news and updates, later asked us not publish them – see the link here. Then, MHI puts a 'copyright' on their news and insights that only those 'authorized' (think, friendlies and surrogates to MHI) share it. By contrast, while MHARR copyright their news too, they specifically allow bloggers or other trade media to publish their news as is. Occasionally, besides MHProNews, one quarterly trade publisher does publish an MHARR article or two. But on the whole, only MHProNews and/or MHLivingNews share a MHARR news item. That says something about those rivals, something about MHARR, and something about MHI too.
5). Perhaps the most revealing point about MHI and their apparent lack of transparency was their recent, stunning move to charge their own members to hear about MHI's own advocacy. As a MHEC member said, "That's chutzpah." It is a reminder of what a longtime MHI member and board member told MHProNews – that increasingly MHI was behaving "like a secret society." That was from a pro-MHI leader who is nevertheless concerned about the direction the association has gone in recent years.  You don't have to be a Mason to know that there are degrees of membership, and only the top levels know everything. MHI clearly has higher and lower degrees of 'membership,' they merely do not announce it as such.
Sun Communities, Lutz, Bobo & Telfair Law – "That's Chutzpah" – Manufactured Housing Institute Charges Members to Learn About MHI Advocacy in Sponsored Webinar; plus Manufactured Housing Stock Updates
6). As our report on Sun Communities – linked below – once more illustrated, while there may be several reasons that MHI's 'big boys' – those focused on consolidation – want the smaller companies to attend is because they want to be able to meet people and make deals without a commercial real estate broker.  This is a comment that several of the larger firms have made, such as Flagship communities. While it may be a coincidence, it is worth mentioning that such statements by MHI member REITs and consolidators increased after our ground breaking report in April 2020, linked here.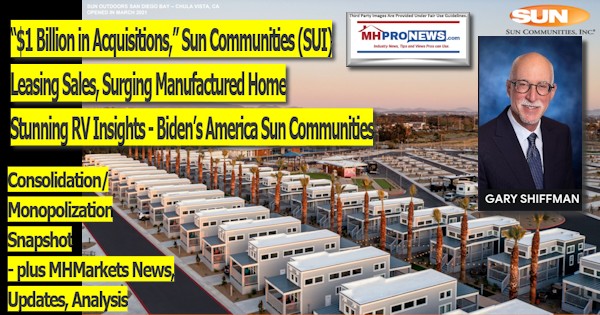 While it may be advantageous for some to sell out a business for health, family, or other reasons – it is still useful to know what it is that the big boys are doing and why. Reports like the one above make it clear that some of the larger brands are selling off selected 'culled' properties to smaller consolidators.  If Sun can profit by selling to a smaller firm, why not independents selling to smaller consolidators? If you are going to sell, why sell to a bigger firm for a lower price when you might sell to a smaller firm for a larger price? That's an actionable insight that will only be found here in manufactured home industry trade publishing. Why? Because nowhere else in MHVille are publishers or bloggers providing that length and depth of actionable reporting.
7). Industry pros must keep in mind that MHARR is a producers trade group. They are very open about that, but they are also open about the need for industry pros to form a post-production trade group. See a new deeper dive on that linked here.
https://www.manufacturedhomepronews.com/cuttingedgemarketingsales/in-looming-and-disruptive-3d-printed-housing-era-whats-next-and-ahead-in-hud-code-manufactured-housing/
8). Industry pros must keep in mind that troubled history of MHI, notably since Chris Stinebert's exit. What Clayton Homes backed, MHI proclaimed, hyped, and touted for years about "CrossMods" is still proving to be an illusion. Now, with 3D printed housing increasingly becoming a reality, they are likely to prove to be a passing fad. In the meanwhile the industry lost years of activity that could and should have gone into fighting for all manufactured homes, not just an tiny experimental test.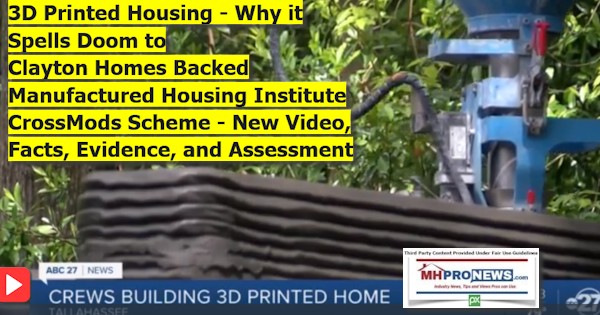 The case can be made that all MHI comments must be seen in the light of these troubling but demonstrable realities. It may not be politically correct for MHI backers to say these things, but facts are what they are. The day may come when MHI members rue the day that they signed up, if the association is hit by a class action or other litigation.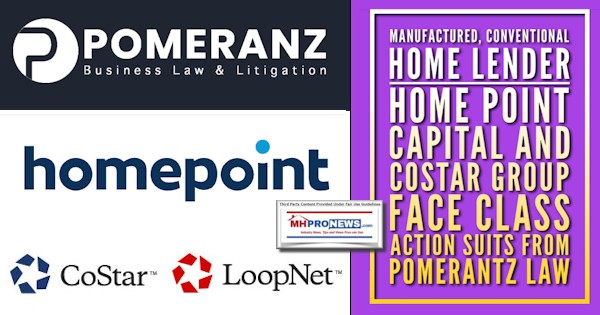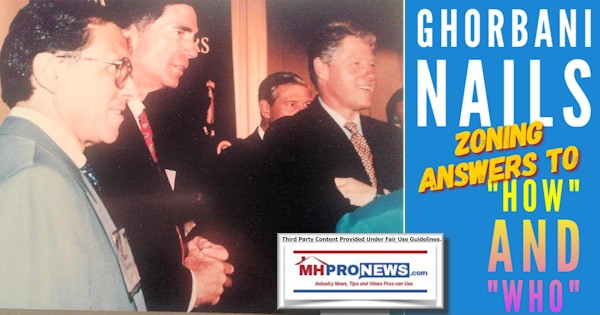 MHProNews, entirely apart from MHARR, has demonstrated time and again that MHI's behavior is apparently not to be trusted. They can dance, prance, and romance all they want to about "MHI in Action," when the case can be made that their actions are demonstrably harmful to the interests of most independents.
HUD Response to Federal "Enhanced Preemption" for Manufactured Homes, FHA Loan Exclusive, as Mainstream Housing Prices Surge Despite Pandemic, Unemployment Crisis
HUD Secretary Marcia Fudge, Manufactured Housing Institute, MHARR, and Manufactured Housing – "Not a Fighting Industry" – True or False? Plus, Manufactured Housing Stocks Updates
Note that the HUD Secretary Marcia Fudge and HUD/FHA leader Brian Montgomery that demonstrates once more that MHI is NOT engaged properly, while MHARR is willing to call out improper action by appointees of either major political party.
That's a good place to pivot to the next part of this analysis, a pending DOE rule specific look.
B. DOE specific insights from this comparison between MHARR and MHI.
This portion of the report is relatively simple. The case can be made that MHARR has fought this energy standard while MHI has not.
1). Indeed, it was only after years of MHARR – and MHProNews – factual, evidence-based pushback, that MHI finally pivoted.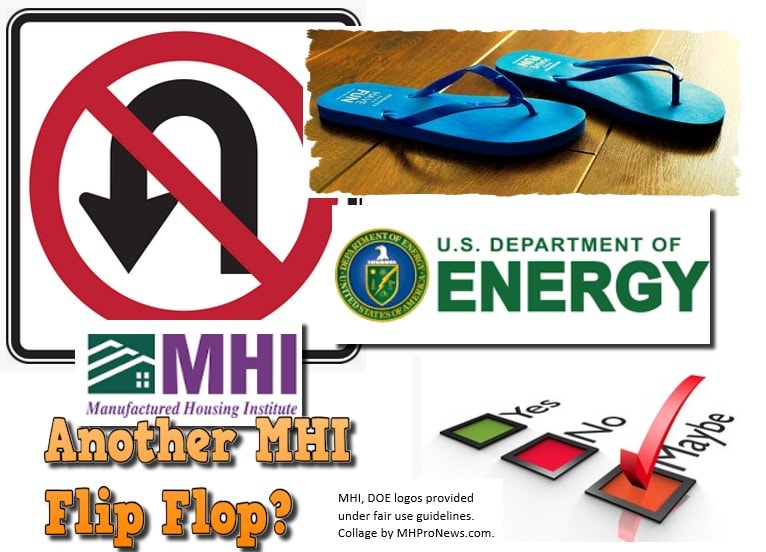 2). Furthermore, perhaps no one else in manufactured housing brought it to the industry's attention that Buffett and Michael Bloomberg backed nonprofits were funding the Sierra Club that sued the Trump DOE, which inexplicably folded instead of fought this once dead threat.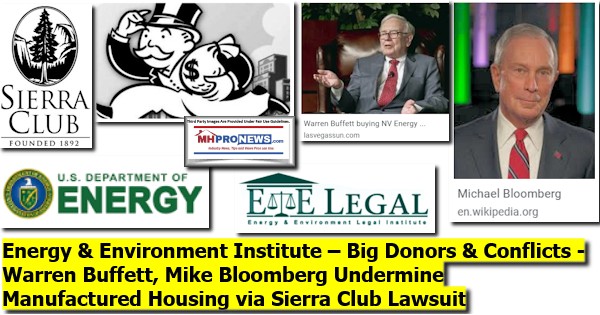 3). It would be difficult to make up the stealthy ways that Berkshire and its corporate/nonprofit allies have worked to subvert manufactured housing. One more obvious example will be shown that original came from a tip coming from a manufactured home resident group in California, but the later insights and developments coming from MHLivingNews/MHProNews. MHAction is arguably one more way that Buffett-bucks are deployed in their "moat" strategy.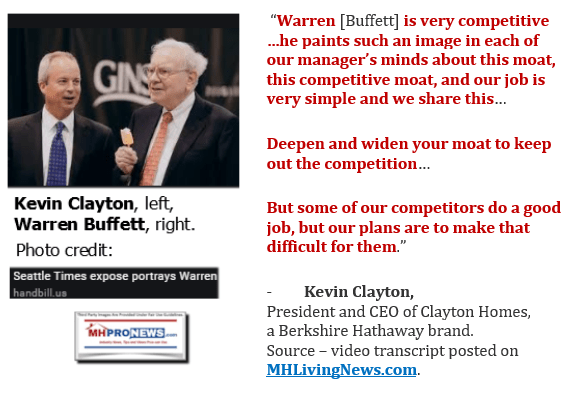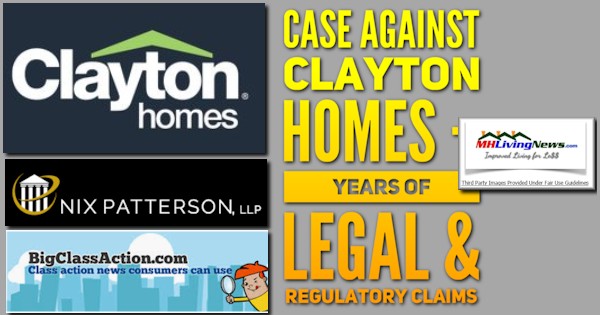 4). Years of posts could be linked at this point, but it boils down to this. MHI, apparently dominated by Berkshire Hathaway/Clayton Homes/21st Mortgage and a relatively few allied brands has steadily been working to subvert the industry from within. Two reports – not 200 – will be used to illustrate this. They are linked below. Buffett has openly said he thinks long term. Buffett has openly said that he uses this "moat" strategy and that they preach it to their company managers. Buffett openly bragged that his class is involved in "class warfare" and that his class "has won." Take these warnings seriously. With those 3 references to Buffett-maxims, the article below will speak troubling but evidence-based volumes.
https://www.manufacturedhomepronews.com/masthead/bat-guano-the-government-wants-high-quality-low-cost-housing-and-manufactured-housing-provides-that-product-warren-buffett-per-manufactured-housing-institute-examini/
In our profession, only MHProNews takes the time and effort to publish information that independents, affordable manufactured housing advocates, thoughtful investors, public officials, or others can routinely rely upon to sift the wheat from the chaff in this industry. Others may mention something of interest, and when it is useful, we aim and do cover them. But only MHProNews has made the effort to reveal how MHI has shifted.  The so-called competition doesn't even try to dispute the evidence.
Other than occasional references by two of several competitors, for the most part others do not routinely cover the seemingly similar, but actually quite distinctive efforts and approaches between MHARR and MHI.
As an upcoming report will document, Berkshire Hathaway, MHI, their corporate masters, and their outside attorneys do not dispute our reports and analysis.
Years ago, MHI may have once been a better trade group. The case can be made that is no longer true. They are quite apparently in the pockets of a few dominating brands. Time after time, MHProNews has given them an opportunity to defend their track record, and explain – if they can – the evidence against them. Each time, they have declined.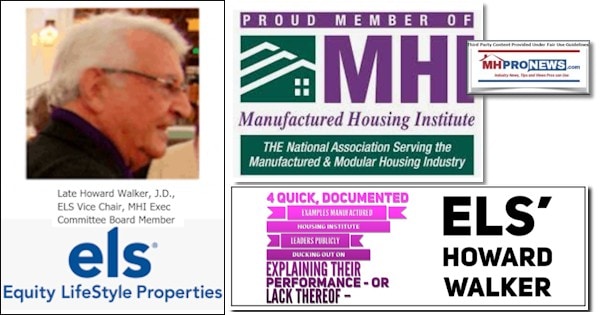 There needs to be a new post-production trade group to compliment MHARR. Without MHARR and without what even a rival recently called our "investigative" journalism, there may be far fewer, if any, independents left in our industry.
Let's be clear.  Yes, there are tips we get that are investigated. There are insights that we've developed through our own initiative. That noted, much of what we do is reporting on items that any savvy person could investigate – if someone were motivated enough to do so. It takes time to find, sift, and discern the open or hidden meaning of a statement or pattern.
The DOE issue is serious. So are zoning, placement, financing, and other topics.
The savvy will follow MHARR's efforts. Those independents who are not members should consider becoming so. This battle over the DOE rule will be costly. That is one of several things that MHI and its consolidating brands are apparently counting on.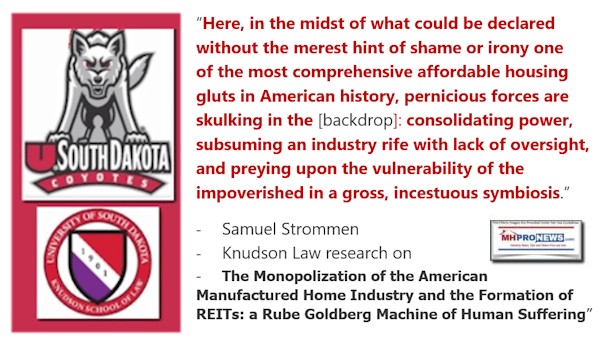 The fact that MHI failed to warn their readers of this threat, and instead posture about filing a mere comments letter speaks volumes.
Keep Buffett's mantra in mind — that you can't make a good deal with a bad person or a bad organization.

Next up is our business daily recap of yesterday evening's market report and related left-right headlines.
The Business Daily Manufactured Home Industry Connected Stock Market Updates.  Plus, Market Moving Left (CNN) – Right (Newsmax) Headlines Snapshot. While the layout of this daily business report has recently been modified, several elements of the basic concepts used previously are still the same. The headlines that follow below can be reviewed at a glance to save time while providing insights across the left-right media divide. Additionally, those headlines often provide clues as to possible 'market-moving' items.
Market Indicator Closing Summaries – Yahoo Finance Closing Tickers on MHProNews…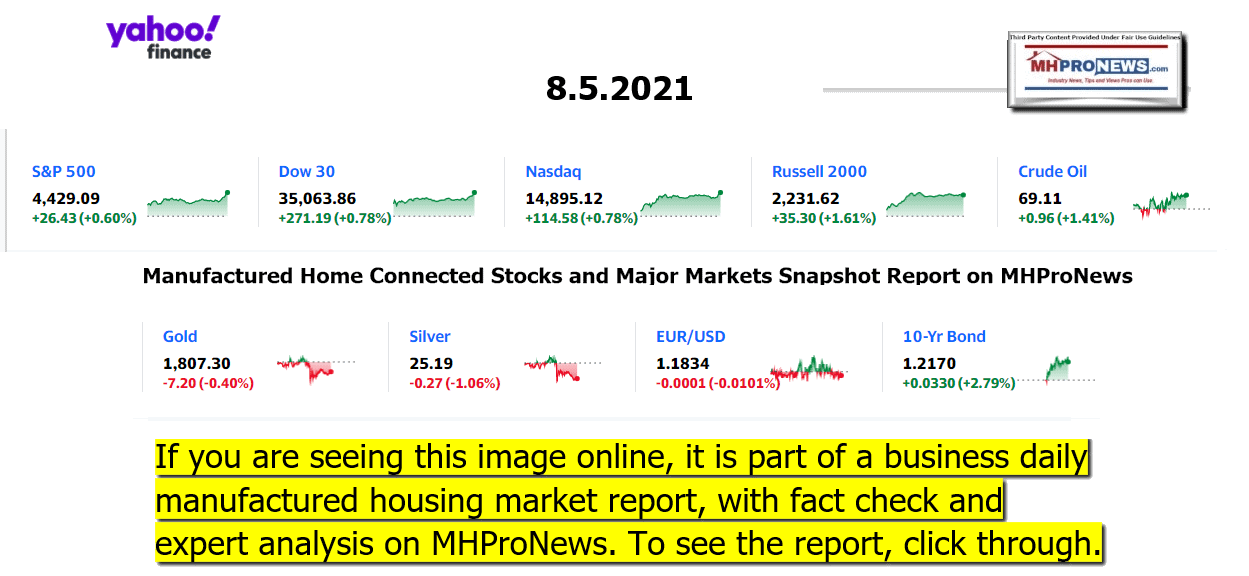 Headlines from left-of-center CNN Business = evening of 8.5.2021 
Here we go again
Big banks are starting to push back their return to offices in response to Delta variant
Amazon is delaying its return to office until 2022
Delta variant is slowing office reopenings. It could slow the recovery, too
More companies are requiring vaccines for workers, but some unions could slow the effort down
Job growth is picking up again, but the Delta spike could change that
Robinhood brings the meme stock phenomenon full circle …
… But shares slide after massive two-day rise
Business is 'insane': Fisherman struggles to meet demand
Tesla just got snubbed by Biden's electric vehicle summit
GM's Chevy Bolt recall comes with a huge price tag
Julián Castro: It's time to make a long-term investment in housing vouchers
Why you could see subtle changes to your smartphone's design
Bill Gates regrets time spent with Jeffrey Epstein: 'It was a huge mistake'
Analysis: Tucker Carlson's pilgrimage to Hungary shows the right's 'evolution into authoritarianism'
Disney's Star Wars hotel comes with an out-of-this-world price tag
'South Park' creators score reported $900 million deal with ViacomCBS
How Jeopardy's producer ended up as the front-runner to replace Alex Trebek
Here we go again
Big banks are starting to push back their return to offices in response to Delta variant
Amazon is delaying its return to office until 2022
Delta variant is slowing office reopenings. It could slow the recovery, too
More companies are requiring vaccines for workers, but some unions could slow the effort down
Job growth is picking up again, but the Delta spike could change that
Robinhood brings the meme stock phenomenon full circle …
… But shares slide after massive two-day rise
Business is 'insane': Fisherman struggles to meet demand
Tesla just got snubbed by Biden's electric vehicle summit
GM's Chevy Bolt recall comes with a huge price tag
Julián Castro: It's time to make a long-term investment in housing vouchers
Why you could see subtle changes to your smartphone's design
Bill Gates regrets time spent with Jeffrey Epstein: 'It was a huge mistake'
Analysis: Tucker Carlson's pilgrimage to Hungary shows the right's 'evolution into authoritarianism'
Disney's Star Wars hotel comes with an out-of-this-world price tag
'South Park' creators score reported $900 million deal with ViacomCBS
How Jeopardy's producer ended up as the front-runner to replace Alex Trebek
Headlines from right-of-center Newsmax – evening of 8.5.2021
Pam Bondi to Newsmax: Trump's Big Tech Censorship Suit Will Go to Supreme Court
Former President Donald Trump's lawsuit against Facebook, Twitter, and Google will likely "go all the way to the Supreme Court," which is where it should go, considering Big Tech's powers, Pam Bondi told Newsmax Thursday. [Full Story]
Newsmax TV
Tenney, Pete King: Cuomo Facing Bleak Future
Malliotakis: Cuomo's Time 'Limited' After AG's Report |
Tom Fitton: Emails Raise More Questions on Ashli Babbitt's Death |
Rand Paul: Govt Spending a Bait and Switch Leading to Inflation
Dershowitz: Cuomo Case Short on Law, 'Going Nowhere' |
Lankford: CARES Act Funds No Solution for Infrastructure Debt |
Jha: NIH Director Right to Walk Back Mask Comments |
More Newsmax TV
Newsfront
Mike Pence Encourages Young Americans to Get COVID-19 Vaccine
Former Vice President Mike Pence, the Trump administration's top official in the battle against COVID-19, urged an audience of young conservatives to get vaccinated as COVID-19 cases from the Delta variant…… [Full Story]
Apple to Check ICloud Photo Uploads for Child Abuse Images
Apple Inc on Thursday said it will implement a system that checks [Full Story]
Amazon Pushes Back Return to Office to January Due to COVID
Amazon has pushed back its return-to-office date for tech and [Full Story]
Megan Rapinoe's Equal Pay Push Threatened After Subpar Olympic Performance
S. Women's Soccer Team star Megan Rapinoe is a decorated Olympian [Full Story] |
Related
Rapinoe and Lloyd Fire US Women's Soccer to Olympic Bronze
ActBlue Drops Gov. Cuomo's Fundraising Page
One of the more prominent Democrat fundraising groups, ActBlue, has [Full Story]
Backlash and Bewilderment 1 Year After Beirut Blast
The international community is joining the people of Lebanon in [Full Story] |
Trump Rips U.S. Women's National Soccer Team, Says 'Woke Means You Lose'
Former President Donald Trump on Thursday hit out at the U.S. Women's [Full Story]
Dems Push for Vote on Stalled Election Reform Before August Recess
Senate Democrats are considering presenting their election reform [Full Story]
Texas Gov. Abbott Orders New Session to Pass GOP Voting Laws
Texas Gov. Greg Greg Abbott on Thursday ordered another special [Full Story]
McConnell Warns GOP Will Block Debt Limit Hike if Dems Push Spending Plans
Senate Republicans won't vote for legislation to raise the debt limit [Full Story]
Poll: Senate's Bipartisan Infrastructure Plan Has Wide Support
The Senate's bipartisan infrastructure plan and many of its [Full Story]
Cruz: Companies Making Mistake With Vaccine Mandates
Companies that are mandating COVID-19 vaccines for their employees [Full Story]
This is What's Going to Happen in 2021 – Nostradamus Predicted It Centuries Ago
Definition
DOJ to Probe Phoenix Police over Abuse, Force Allegations
The Justice Department is launching a widespread probe into the [Full Story]
Rand Paul: Fauci Advice Is 'Dangerous'
Rand Paul, R-Ky., in a televised interview, ripped Dr. Anthony [Full Story]
Rubio: China Has 'Weaponized' US 'Corporate Lust for Profits'
Marco Rubio, R-Fla., this week said in testimony before a Senate [Full Story]
Baltimore Symphony Fires Principal Flutist Over Conspiracy Social Media Posts
The Baltimore Symphony Orchestra has axed its principal flutist – a [Full Story]
More NY Prosecutors Seek Evidence Against Cuomo
Prosecutors from at least five New York counties are now seeking [Full Story]
Related
Tenney, Pete King to Newsmax: Cuomo Facing Bleak Future |
NY Gov. Cuomo Faces Deadline in Impeachment Probe
Malliotakis to Newsmax: Cuomo's Time 'Limited' After AG's Report |
Israel's Gantz: Iran 10 Weeks From Gaining Materials Needed for Nuclear Weapon
Israel's Defense Minister Benny Gantz has warned diplomats [Full Story]
Pam Bondi to Newsmax: Trump's Big Tech Lawsuit Will Go to Supreme Court
Former President Donald Trump's lawsuit against Facebook, [Full Story] |
Fauci: US Faces More COVID Variants if Community Spread Isn't Controlled
Anthony Fauci, in a televised interview, warned that the U.S. [Full Story]
Related
Landlord Groups Sue Biden's CDC Over Eviction Ban
Moderna Shot's Protection Against COVID Stays Steady
Ignoring WHO Call, Germany, France to Give COVID-19 Vaccine Boosters
Olympic Legend Carl Lewis Dismisses US Men's Relay Team as 'Embarrassment'
Nine-time Olympic gold medal winner Carl Lewis was full of criticism [Full Story]
Florida Sees Major Spike in Pediatric COVID Patients
Florida led the U.S. in children hospitalized with COVID-19 on [Full Story]
Bill Gates: 'Huge Mistake to Spend Time' With Jeffrey Epstein
Microsoft founder Bill Gates told CNN on Wednesday he regretted [Full Story]
Rolling Stones Drummer Charlie Watts Likely to Miss Band's US Tour
It appears that the Rolling Stones' original drummer, Charlie Watts, [Full Story]
US Jobless Claims Drop by 14,000 to 385,000
The number of Americans applying for unemployment benefits fell last [Full Story]
US Approves Potential Sale of Howitzers to Taiwan: Pentagon
The U.S. State Department approved the potential sale of 40 155mm [Full Story]
Senators Gird for CBO Analysis of $1 Trillion Infrastructure Bill
A $1 trillion bipartisan infrastructure bill on Thursday faces its [Full Story]
Senators Propose Using State COVID Aid Funds on Infrastructure
Republican Sen. John Cornyn said he and Alex Padilla, a Democrat, are [Full Story]
Many CVS Stores Will Stop Offering J&J Shots
CVS will no longer offer the Johnson & Johnson coronavirus vaccine in [Full Story]
Florida GOP Gov. DeSantis Fires Back at Biden: 'Do Your Job'
After President Joe Biden tried to deflect blame for rising [Full Story] |
Incredible Miniature Telescope Lets You See for Miles
Incredible Miniature Telescope Lets You See for Miles
Starscope
More Newsfront
Finance
US Jobless Claims Drop by 14,000 to 385,000
The number of Americans applying for unemployment benefits fell last week by 14,000 to 385,000 more evidence that the economy and the job market are rebounding briskly from the coronavirus recession.The Labor Department reported Thursday that unemployment claims – a proxy… [Full Story]
Europe Faces an Energy Shock After Gas, Power Prices Rocket
Airlines See Grounds for Optimism Over Long-Haul Rebound
JPMorgan Pitching Bitcoin Fund to Wealthy Clients, CoinDesk Says
Howard Lutnick Takes Aim at CME's Dominant US Rates Exchange
More Finance
Health
WHO Seeks Halt to Boosters Until at Least Late September
The World Health Organization called for a moratorium on Covid-19 booster shots to enable poorer countries to catch up in vaccination rates. The halt on third doses should be in place until at least the end of September, Director-General Tedros Adhanom Ghebreyesus said at a… [Full Story]
Is the Keto Diet Healthful, or Harmful, for Kids?
Pandemic Drinking Triggers Surge in Liver Transplants
You Probably Won't Get COVID From Handling Cash: Study
Can I Get 'Long COVID' If I'm Infected After Vaccination?
Manufactured Housing Industry Investments Connected Equities Closing Tickers
Some of these firms invest in manufactured housing, or are otherwise connected, but may do other forms of investing or business activities too.
NOTE: The chart below includes the Canadian stock, ECN, which purchased Triad Financial Services, a manufactured home industry lender
NOTE: Drew changed its name and trading symbol at the end of 2016 to Lippert (LCII).
NOTE: Deer Valley was largely taken private, say company insiders in a message to MHProNews on 12.15.2020, but there are still some outstanding shares of  the stock from the days when it was a publicly traded firm.  Thus, there is still periodic activity on DVLY.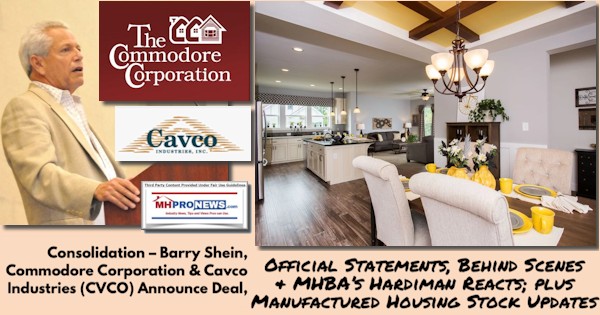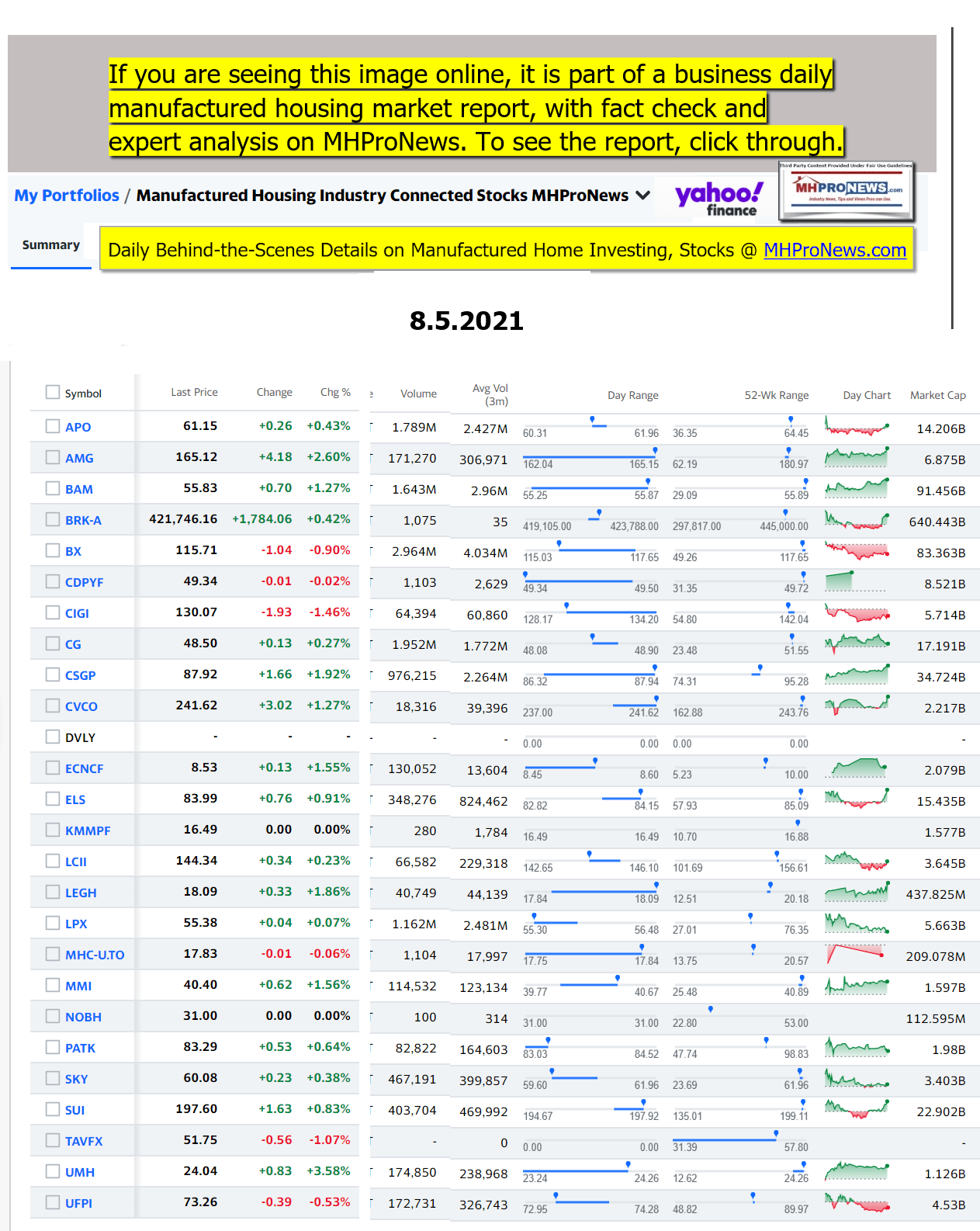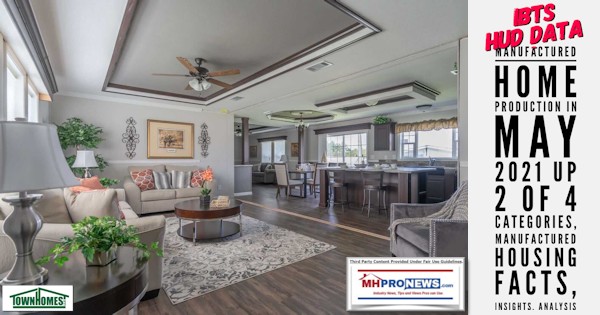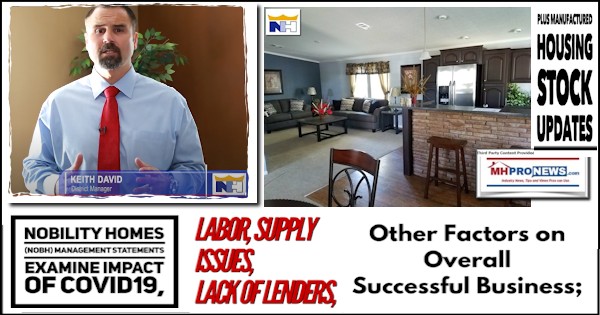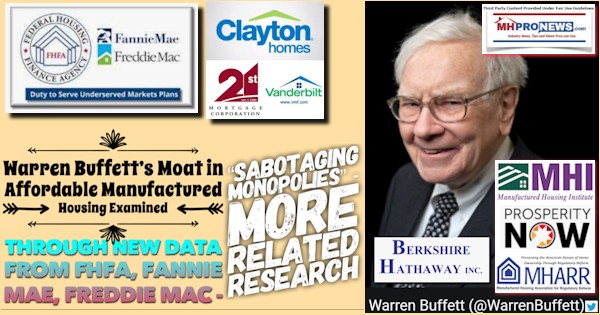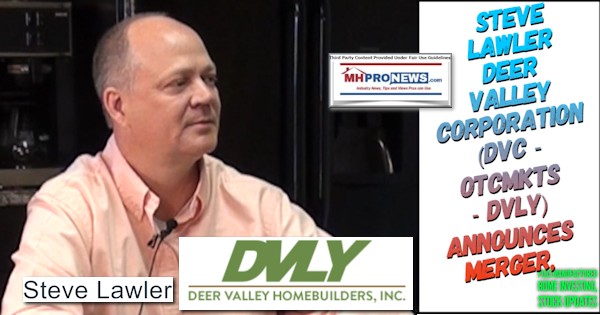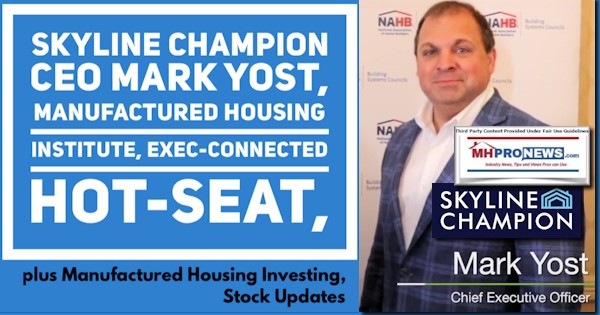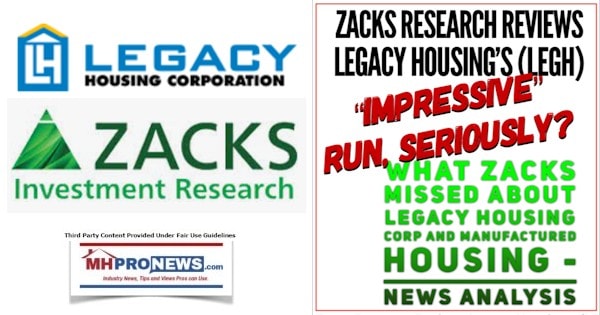 Summer 2021…
Berkshire Hathaway is the parent company to Clayton Homes, 21st Mortgage, Vanderbilt Mortgage and other factory built housing industry suppliers.
· LCI Industries, Patrick, UFPI, and LP each are suppliers to the manufactured housing industry, among others.
· AMG, CG, and TAVFX have investments in manufactured housing related businesses. For insights from third-parties and clients about our publisher, click here.
Enjoy these 'blast from the past' comments.
MHProNews. MHProNews – previously a.k.a. MHMSM.com – has celebrated our 11th year of publishing, and is starting our 12th year of serving the industry as the runaway most-read trade media.
Sample Kudos over the years…
It is now 11+ years and counting…
Learn more about our evolutionary journey as the industry's leading trade media, at the report linked below.
· For expert manufactured housing business development or other professional services, click here.
· To sign up in seconds for our industry leading emailed headline news updates, click here.

Disclosure. MHProNews holds no positions in the stocks in this report.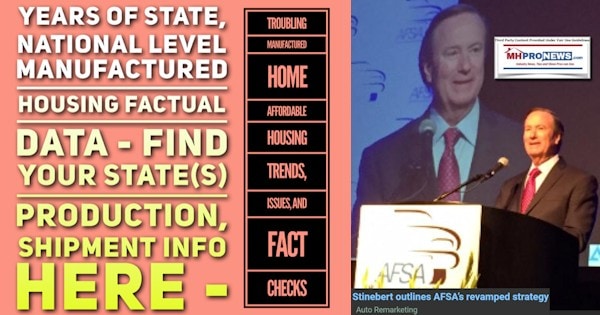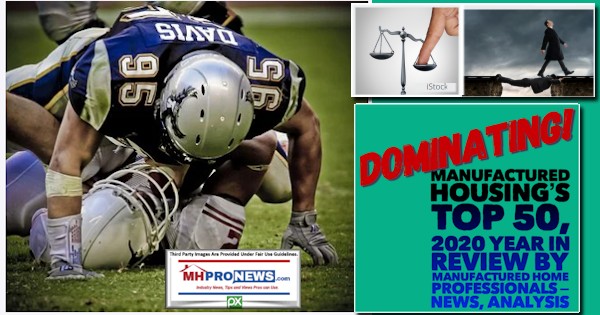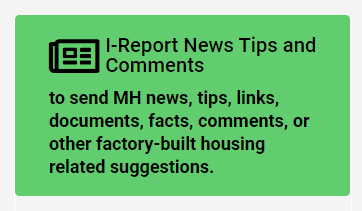 That's a wrap on this installment of "News Through the Lens of Manufactured Homes and Factory-Built Housing" © where "We Provide, You Decide." © (Affordable housing, manufactured homes, stock, investing, data, metrics, reports, fact-checks, analysis, and commentary. Third-party images or content are provided under fair use guidelines for media.) (See Related Reports, further below. Text/image boxes often are hot-linked to other reports that can be access by clicking on them.)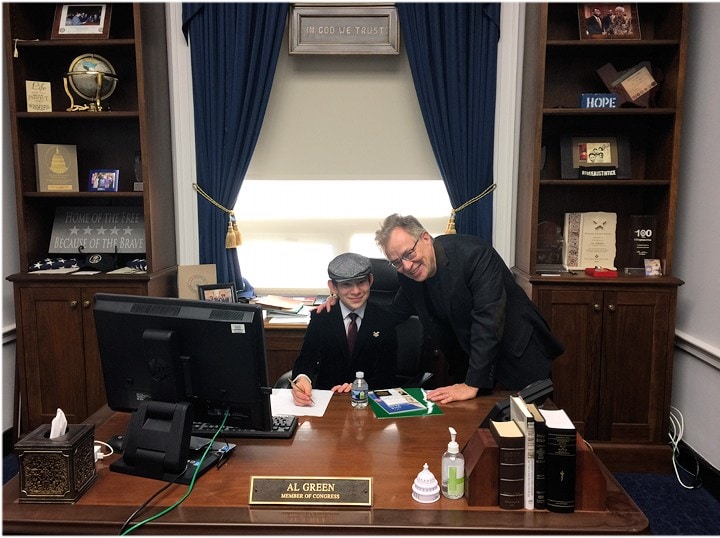 By L.A. "Tony" Kovach – for MHProNews.
Tony earned a journalism scholarship along with numerous awards in history. There have been several awards and honors and also recognition in manufactured housing. For example, he earned the prestigious Lottinville Award in history from the University of Oklahoma, where he studied history and business management. He's a managing member and co-founder of LifeStyle Factory Homes, LLC, the parent company to MHProNews, and MHLivingNews.com. This article reflects the LLC's and/or the writer's position, and may or may not reflect the views of sponsors or supporters.