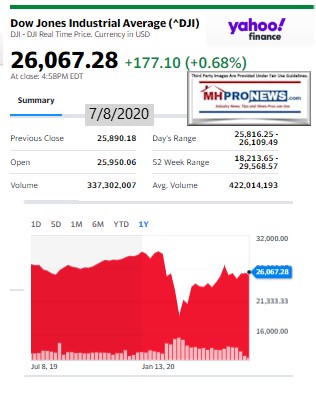 There are any number of reasons why manufactured housing should be surging instead of struggling as it has been for some 15 (+/-) years.
The headline report is potentially one of them, but first let's consider some other points.
An aspect of the HUD Code manufactured home industry's woes the years of self-evidently ineffective and arguably problematic behavior by the Manufactured Housing Institute (MHI).
There will be more on that topic in special report in the near term.
Affordable housing is more in demand than ever.  A third-party data-laced and quotable quote rich report that makes that timely point is found in the article linked below.
So much for MHI's 'leadership?'
While RVs and mainstream housing are surging back, where is a similar move toward more manufactured homes?
Improving Jobs News, Contrasted Against Exacerbated Housing Crisis, plus China, Oil, and Manufactured Housing Investing, Stock Updates
Mainstream conventional housing, according to information from third-party sources as noted in reports like the next link reveals.  It seems that mainstream conventional housing, despite the higher costs, is apparently recovering more rapidly than 'affordable' manufactured homes.
"Home Prices May Experience Unsustainable Growth" – AEI Housing Center Director Edward Pinto and Research Director Tobias Peter
But beyond internal issues, there are certainly public policy as part of that mix.
There are those who are 'on record' in Congress from both sides of the two-major party political divide who have taken favorable stances toward affordable manufactured housing. Some of them are on the list that will follow further below. Rephrased, this list shouldn't be construed as a 'tag' toward their stance toward manufactured housing.
Rather, the list is what it says it is. The Intercessors for America posted the list further below.
Stating the obvious, the author, speaker, and documentary filmmaker has supporters and detractors. As the NZ Herald said, "Trevor Loudon was Act Party vice-president from 2006 to 2008…Loudon's view of the world will have its supporters and critics." On Amazon, his book is rated 4.2 stars.
Loudon's list will be our featured focus, which is found beyond the left-right headline recap today. It is also beyond 2 of the 3 market summary graphics and the quotable quotes tonight. The final manufactured home specific stock values at the closing bell is found below the featured focus and related reports.
Quotes That Shed Light – American Social, Industry, National Issues…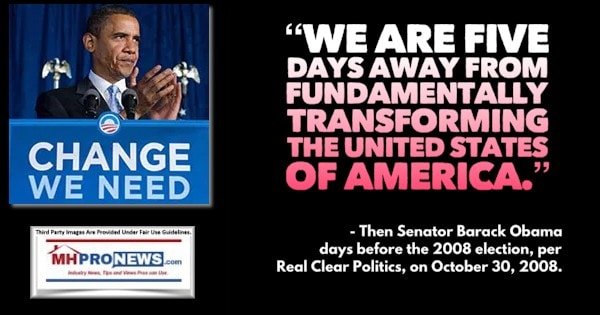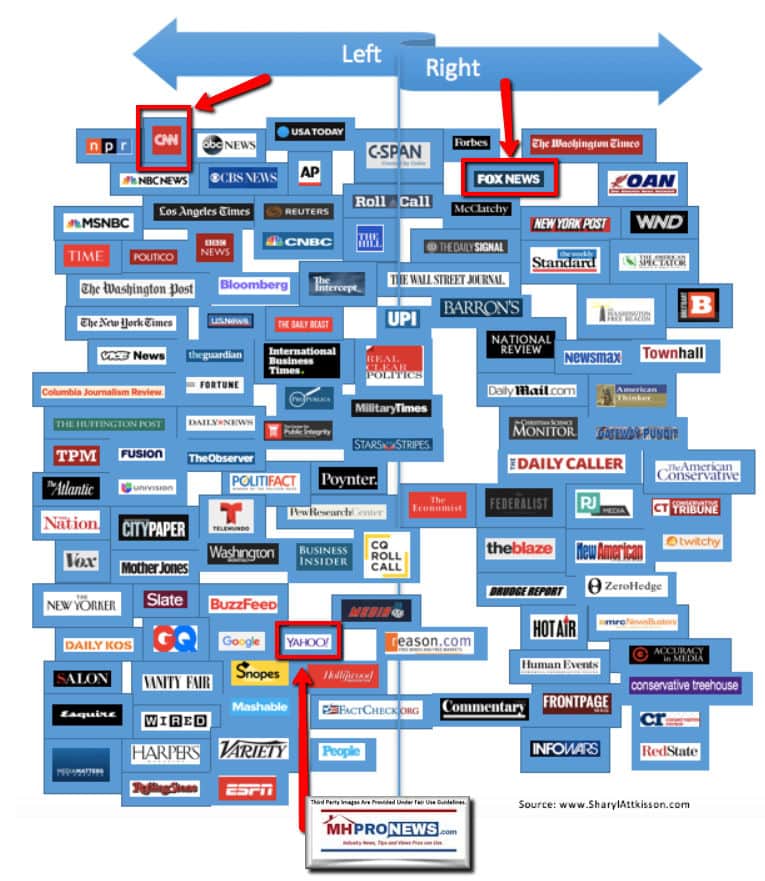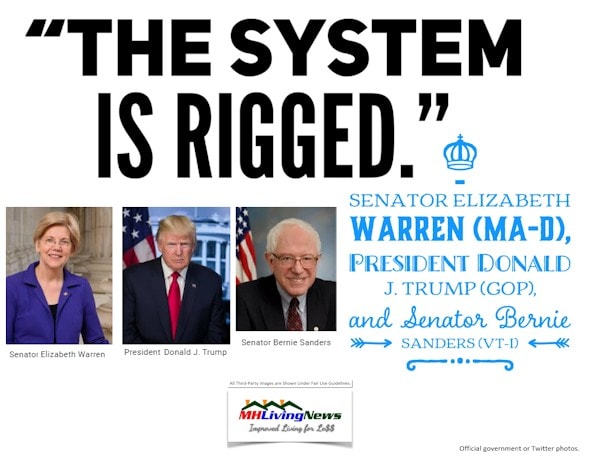 Headlines from left-of-center CNN Business
Election cliffhanger
Detail view of voting booths during Tuesdays Kentucky primary election on June 23, 2020 in Louisville, Kentucky. The Kentucky Exposition Center is the only polling location for Tuesday's Kentucky primary in Jefferson County, home to Louisville and 767,000 residents.
Stocks could get spooked by any delay declaring the winner of the 2020 presidential race
LIVE UPDATES Nasdaq closes at record high
How the pandemic may change airlines' much-hated $200 rebooking fees
United warns 36,000 employees they may be furloughed this fall
Don't expect to fly on a Boeing 737 Max anytime soon
Brooks Brothers files for bankruptcy
It's harder to find sale items at the grocery store
Welcome to Walgreens. The doctor will be with you soon
Opinion: Allowing the $600 unemployment benefit to expire could devastate the US economy
INTERACTIVE America's spending on ice cream jumps 151%
Twitter could launch a subscription option
Facebook removes Roger Stone from Instagram after linking him to fake accounts
Ex-Fox News anchor Shep Smith heads to CNBC to host evening newscast
397155 06: Mickey Mouse rides in a parade through Main Street, USA with Cinderella's castle in the background at Disney World's Magic Kingdom November 11, 2001 in Orlando, Florida.
Disney World union head warns Disney has to get Florida reopening right
People wait in line outside an Apple store on June 22, 2020 in the Brooklyn Borough of New York City. – New York City begins Phase Two reopening on June 22, 2020 as people can eat outdoors at restaurants and barbershops and salons can also open at 50 percent capacity.
This is the 'Waffle House Index' for coronavirus
Democratic presidential candidate, former Vice President Joe Biden departs after speaking at Alexis Dupont High School in Wilmington, Del., Tuesday, June 30, 2020.
Trump warns markets will tank if he loses. But stocks are climbing as Biden gains
MARKETS
SUSTAINABILITY
Tom Szaky, founder and CEO of TerraCycle, poses for a portrait at the company's headquarters in Trenton, NJ on January 10, 2019.
The pandemic could have ruined this business. Instead, it's expanding
OPINION Businesses can help save our oceans
Energy drink? A startup is turning coffee into fuel
America is trailing in the clean energy race
Warning: The world won't hit climate goals unless energy innovation is rapidly accelerated
REAL ESTATE
Challie and Lina Stillman bought this house in Brookfield, Connecticut.
For these buyers, second homes are much more than vacation spots
Mortgage rates hit (another) all-time low
The housing market is showing signs of a comeback
These people bought homes without ever stepping inside
NYC home sales came to a halt this spring. But things are about to change
Headlines from right-of-center Fox Business
ECONOMY
Blowout jobs data could reduce chances of another stimulus payment — here's why
Experts are warning an uptick in confirmed coronavirus cases could erase economic gains.
Stocks jump, Nasdaq resumes record run
MARKETS
Key stock investors are skeptical Dems can sweep election, strategists report
MARKETS
High-end home listings rebound after spring coronavirus slump
Renters face financial cliff ahead, limited help available
MARKETS
Walgreens opening hundreds of doctor offices alongside pharmacies
Walmart launching health insurance agency
OPINION
4 essential strategies from the military that would help any leader work more effectively
ECONOMY'S BOUNCE BACK
MARKETS
Kudlow says 'V-shaped recovery' still on, warns against making 'big mistake'
PRIVATE COURSE
LIFESTYLE
Homeowners installing putting greens to sharpen game: How much they cost
'NON-EGREGIOUS'
AMAZON
Amazon hit with fine over US sanction violations
PIZZA WHAT
FOOD & DRINKS
Popeyes confuses social media followers with 'pizza' tweet
RETAILER BACKS MOVEMENT
RETAIL
Walmart makes big donation to replace home state's Confederate-era statuary
SEASON FORFEITED
SPORTS
Stanford cuts 11 sports as coronavirus slams college athletic budgets
COVID HITS HOMES
ECONOMY
Americans unable to pay full housing payment hit all-time high in July
THE RIGHT TIMING
PERSONAL FINANCE
Decided to take Social Security? Do these 3 things first
BUY AMERICAN EDUCATION
ECONOMY
How 1.1 million foreign students contribute to the U.S. economy
MID-FLIGHT FRIGHT
TRAVEL
Airliner plunges 10,000 feet in 3 minutes after part of plane cracks
LESSON LEARNED
JOBS
This demographic of workers got slammed by school closures: Labor sec
LONG TERM PLAY
SPORTS
What the Chiefs are getting out of Mahomes' record $503M contract
FOOD & DRINKS
Shake Shack sells at-home camp boxes with a charitable benefit
SPORTS
Patrick Mahomes is prohibited from doing these activities after signing new contract
MONEY
White House closely watching 'Phase 4' price amid concerns over rising deficit
STARBUCKS
Starbucks responds to multibillion-dollar coronavirus hit with new summer drinks
SOCIAL MEDIA
Senator calls this social media app is 'threat' to privacy, US security
CRIME
Giuliani IDs problem as once-safe NYC spirals into crime-ravaged 'killing field'
HEALTH
Coronavirus cases in US top 3 million as states' daily infection rates hit new highs
MARKETS
Twitter shares spike after new job posting surfaces
MONEY
Supreme Court sides with Trump in birth control opt-out case
POLITICS
NYC schools to open with 'blended, split-schedule' model: What that will mean
CARS
GM saying goodbye to Chevy model
MONEY
Here are some of the big businesses that got PPP loans
POLITICS
Trump threatens to cut federal aid if schools don't reopen
MEDIA
NBCUniversal sets diversity goal among staffers at NBC News, MSNBC and CNBC
MONEY
Why these big banks are poised to earn billions from small business loans
SOCIAL MEDIA
Pompeo snubs TikTok, praises others for refusing to share data with Hong Kong
SOCIAL MEDIA
Facebook civil rights audit blasts platform for not removing Trump voting posts
MARKETS
Brooks Brothers, hurt by casual Fridays and coronavirus, files for bankruptcy
LIFESTYLE
Tiny home, backyard cottage demand surges amid coronavirus pandemic
LEGAL
Elite colleges sue US government over new ICE rule for international students
10 Market Indicator Closing Summaries – Yahoo Finance Closing Tickers on MHProNews…
Featured Focus –
Where Business, Politics and Investing Can Meet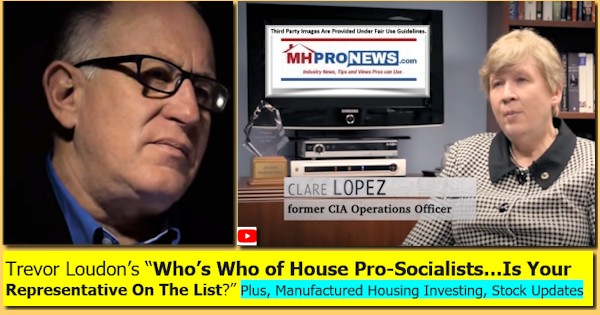 The trailer for what IFA described as Trevor Loudon's "acclaimed" is below, which says that it is also available on "Vimeo on Demand, Amazon, EnemiesWithinMovie.com," and the full-length version posted further below.
The full length version of the video asks the question. "The Enemies Within: Could your congressman pass an FBI Security Check?"
Dozens of those in Congress that have been identified by Loudon's research are in the report and video below, each provided under fair use guidelines for media.
On April 5, 2019

"Here's my list of 50 of the most obvious socialists in the House, with links to my website Keywiki for the backup evidence. Apologies to the many I've omitted. Please email me at trevor.newzeal @gmail.com if you'd like to be included in future lists." So said author Loudon.
Raul Grijalva (D-AZ) Has worked closely with the Communist Party USA since at least 1993. A self-described "Alinskyite." Traveled to Cuba in 2015.
Ami Bera  (D-CA) Has used Communist Party USA campaign volunteers in 2010, 2014 and 2016. Also close to Democratic Socialists of America.
Nancy Pelosi (D-CA) Very close to several key Communist Party USA allies in San Francisco in the 1970s and '80s. Also some involvement with Democratic Socialists of America.
Barbara Lee (D-CA) Lee has been close to the Communist Party USA for decades. In the 1990s she was a leading member of the Communist Party spin-off Committees of Correspondence. Has been to Cuba more than 20 times.
Ro Khanna (D-CA) Very close to Democratic Socialists of America.
Salud Carbajal (D-CA) Long history with Democratic Socialists of America members.
Judy Chu (D-CA) Was heavily involved with the now-defunct pro-Beijing Communist Workers Party in the 1970s and '80s. Still works closely with former members today. China's best friend in the US Congress.
Raul Ruiz (D-CA) Worked closely with Workers World Party members in Massachusetts in the late 1990s.
Karen Bass (D-CA) Was actively involved with the Marxist-Leninist group Line of March in the 1980s. Still works closely with former members. Mentored by a leading Communist Party USA member. Also close to Democratic Socialists of America and some Freedom Road Socialist Organization members. Has been to Cuba at least 4 times.
Maxine Waters (D-CA) Long history with the Communist Party USA. Also ties to some Communist Workers Party and Workers World Party fronts. Has employed staff members from Democratic Socialists of America and League of Revolutionary Struggle.
Joe Courtney (D-CT) Has worked closely with several Communist Party USA leaders.
Rosa DeLauro (D-CT) Has worked extremely closely with the Communist Party USA for many years. Traveled to Cuba in 2014.
Jim Himes (D-CT) His 1988 thesis "The Sandinista Defense Committees and the Transformation of Political Culture in Nicaragua" was a sympathetic portrayal of Marxist government's civilian spy network. Has worked closely with one Communist Party USA front group.
Kathy Castor (D-FL) Has worked closely with Cuba and pro-Castro organizations to open US trade with the communist island.
John Lewis (D-GA) Worked closely with the Communist Party USA and Socialist Party USA in the 1960s. In recent years has worked with Democratic Socialists of America members.
Tulsi Gabbard (D-HI) Has worked with Democratic Socialists of America members through her political career. Ties to some Filipino-American "former communists." Worked with Communist Party USA affiliated former Congressman Dennis Kucinich to defend Soviet-Russian puppet Syrian leader Bashar-al-Assad.
Bobby Rush (D-IL) Former leader of the Maoist-leaning Black Panther Party. Has worked closely with Communist Party USA and Democratic Socialists of America. Has traveled to Cuba twice.
Jesus "Chuy" Garcia (D-IL) Has worked closely with the Communist Party USA for nearly 40 years.
Danny Davis (D-IL) Was a member of Democratic Socialists of America in the mid 2000s. Has worked closely with the Communist Party USA since the 1980s. Also close to Committees of Correspondence in the 1990s.
Jan Schakowsky (D-IL) Was a member of Democratic Socialists of America in the 1980s and has continued to work closely with the organization. Has also worked closely with some Communist Party USA members.
Dave Loebsack (D-IA) has worked closely with Socialist Party USA and
Democratic Socialists of America members for many years.
John Yarmuth (D-KY) has worked with Committees of Correspondence for Democracy and Socialism members. Traveled to Cuba in 2011.
Jamie Raskin (D-MD) has worked closely with Democratic Socialists of America for many years.
Jim McGovern (D-MA) has supported Latin American socialist and revolutionary groups for 20 years. Has traveled to Cuba at least three times.
Ayanna Pressley (D-MA) Has been endorsed by Democratic Socialists of America. Worked with Freedom Road Socialist Organization front groups and with the pro-Beijing Chinese Progressive Association in Boston.
Andy Levin (D-MI) Close to Democratic Socialists of America for at least a decade.
Rashida Tlaib (D-MI) Democratic Socialists of America member.
Betty McCollum (D-MN) Close ties to communist Laos. Has worked with Democratic Socialists of America members. Traveled to Cuba in 2014.
Ilhan Omar (D-MN) Supported by Democratic Socialists of America- controlled groups Our Revolution and National Nurses United. Reportedly a self-described "Democratic Socialist."
Bennie Thompson (D-MS) Was close to the Communist Party USA for many years. Also supported one Communist Workers Party organization. Traveled to Cuba in 2000 and worked with Fidel Castro to train leftist American medical students in Cuba.
William Lacy Clay (D-MO) Has worked with Communist Party USA fronts for many years.
Greg Meeks (D-NY) Has traveled to Cuba at least 3 times. Was a strong supporter of Venezuelan dictator Hugo Chavez.
Grace Meng (D-NY) Very close to the pro-Beijing Asian Americans for Equality. Was also active in a radical Korean-American organization.
Nydia Velasquez (D-NY) Close ties to Democratic Socialists of America. Welcomed Fidel Castro to Harlem in 1995.
Yvette Clarke (D-NY) Addressed a Workers World Party rally in 2005. A close ally of a prominent Democratic Socialists of America member. Traveled to Cuba in 2007.
Jerry Nadler (D-NY) Was a member of the Democratic Socialist Organizing Committee in the 1970s and was involved with Democratic Socialists of America in the '80s and '90s.
Alexandria Ocasio-Cortez (D-NY) A member of Democratic Socialists of America.
Jose Serrano (D-NY) Close ties to the Communist Party USA and Democratic Socialists of America. Was a strong supporter of Venezuelan dictator Hugo Chavez.
G.K. Butterfield (D-NC) Some connection to Workers World Party and Freedom Road Socialist Organization. Also close to the "former" communist-led Moral Mondays movement.
Marcy Kaptur (D-OH) Ties to Democratic Socialists of America. Traveled to Cuba in 2002.
Earl Blumenauer (D-OR) Ties to Democratic Socialists of America.
Steve Cohen (D-TN) Close ties to Memphis Socialist Party USA members. Traveled to Cuba in 2011.
Sylvia Garcia (D-TX) Elected to the Texas State House with Communist Party USA support. Works closely with a major communist-influenced organization.
Eddie Bernice Johnson (D-TX) Long relationship with the Communist Party USA. Traveled to Cuba at least twice.
Marc Veasey (D-TX) Very close relationship with the Communist Party USA.
Lloyd Doggett (D-TX) Has been involved with Democratic Socialists of America since the 1980s.
Pramila Jayapal (D-WA) Has been involved with Freedom Road Socialist Organization-connected groups for many years.
Mark Pocan (D-WI) Close to some Democratic Socialists of America activists. Long-time active supporter of Colombian revolutionary movements.
Gwen Moore (D-WI) Has been mentored by leading Democratic Socialists of America and Communist Party USA members.
Eleanor Holmes Norton (D-DC) Former Young Peoples Socialist League member. Long connection to Democratic Socialists of America.
If the "system is rigged" – as Senator Elizabeth Warren, Bernie Sanders and President Donald J. Trump have all said, then that begs serious questions. Who rigged it? How rigged is the system, when it comes to markets and business?
See the in-depth reports that include similar insights below.
Related and Recent Reports
'Fighting to Tear Down Oppression…in Housing, Education…Employment' – Rep Ilhan Omar Declares Marxist-Socialist War on American Economic System, Video
"We are trained Marxists." – Black Lives Matter (BLM) co-founder Patrisse Cullors, "Deception and Misdirection" – Capital Research Center
Arrest, Indictment of Ghislaine Maxwell, Jeffrey Epstein "Madam," Returns Bill Gates–Warren Buffett, Gates Foundation, Donald Trump, Bill Clinton, Others – to Sexual Predator's Spotlight
"Enough is Enough" – Democratic Mayor in Ranking MH State Pleas for End to Black-on-Black Violence, Murder – Crime Wave Spreads
When Will POTUS Trump Finger Pointing Stop, Consequences Start With China? Trump Administration's Peter Navarro Speaks. Plus, Manufactured Home Investing, Stock Updates
'Stop Trump!' Group Supported by Billionaires Soros, Buffett, Gates Vows to Defeat President Trump in 2020
Warren Buffett Declared "Class Warfare," Buffett Says Fellow Billionaires – "We're Winning"
History, Financial Ties-Black Lives Matter, Antifa, Billionaires Warren Buffett, Bill Gates & George Soros–Economic, Political Upheaval Spotlighted by Mary Walter, Tony Kovach on Brian Kilmeade Show
Trump Admin Signals October Surprise? AG Bill Barr's Hot Biz-Economic Trial Balloon, plus Manufactured Housing Investing, Stock Updates
Black Lives Matter-Slavery, Racial History, Economic Inequality, Affordable Home Ownership–White Billionaires Getting Richer
Manufactured Housing Industry Investments Connected Closing Equities Tickers
Some of these firms invest in manufactured housing, or are otherwise connected, but may do other forms of investing or business activities too.
NOTE: The chart below includes the Canadian stock, ECN, which purchased Triad Financial Services, a manufactured home industry lender
NOTE: Drew changed its name and trading symbol at the end of 2016 to Lippert (LCII).
Summer 2020…
Berkshire Hathaway is the parent company to Clayton Homes, 21st Mortgage, Vanderbilt Mortgage and other factory built housing industry suppliers.
· LCI Industries, Patrick, UFPI, and LP each are suppliers to the manufactured housing industry, among others.
· AMG, CG, and TAVFX have investments in manufactured housing related businesses. For insights from third-parties and clients about our publisher, click here.
Enjoy these 'blast from the past' comments.
MHProNews. MHProNews – previously a.k.a. MHMSM.com – has celebrated our tenth anniversary and is in year 11 of publishing.
Learn more about our evolutionary journey as the industry's leading trade media, at the report linked below.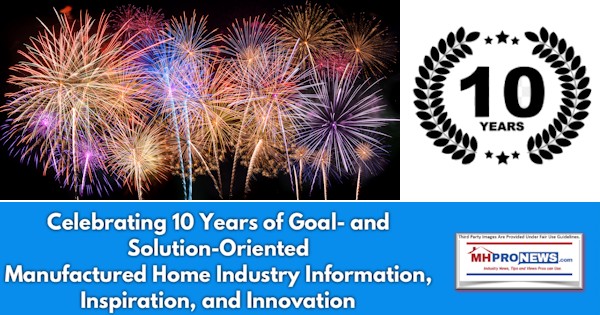 · For expert manufactured housing business development or other professional services, click here.
· To sign up in seconds for our industry leading emailed headline news updates, click here.

Disclosure. MHProNews holds no positions in the stocks in this report.
2019 Year-End Totals Reveals Decline in New HUD Code Manufactured Home Production, Shipments vs. 2018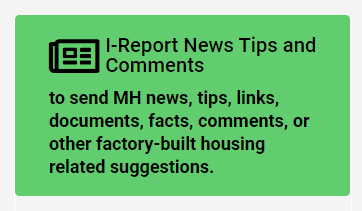 That's a wrap on this installment of "News Through the Lens of Manufactured Homes and Factory-Built Housing" © where "We Provide, You Decide." © (Affordable housing, manufactured homes, stock, investing, data, metrics, reports, fact-checks, analysis, and commentary. Third-party images or content are provided under fair use guidelines for media.) (See Related Reports, further below. Text/image boxes often are hot-linked to other reports that can be access by clicking on them.)
By L.A. "Tony" Kovach – for MHLivingNews.com.
Tony earned a journalism scholarship and earned numerous awards in history and in manufactured housing. For example, he earned the prestigious Lottinville Award in history from the University of Oklahoma, where he studied history and business management. He's a managing member and co-founder of LifeStyle Factory Homes, LLC, the parent company to MHProNews, and MHLivingNews.com. This article reflects the LLC's and/or the writer's position, and may or may not reflect the views of sponsors or supporters.