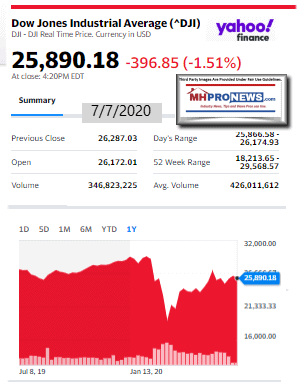 Left-of-center Yahoo News is among the news outlets that have spotlighted a video from right-of-center Fox News interview with White House Trade Adviser Peter Navarro.
India is one of the nations that is pushing for Chinese accountability in their purported mishandling of the Wuhan Coronavirus pandemic, also known as COVID19, and the CCP Virus among other names. So, it is no surprise that the Times of India is among the news outlets that are carefully watching President Donald Trump and his statements about the contagion.
"China's secrecy, deception, and cover-up allowed it to spread all over the world, 189 countries and China must be held fully accountable," said President Trump in quoting the line spotlighted by Fox News and reported by the Times of India, Yahoo, right-of-center Breitbart and others.
China has denied U.S. and other nation's who claim they are covering up. "China was the first country to report the Covid-19 to the World Health Organisation (WHO), (and) that doesn't mean and we'll never allow any concealment," Chinese foreign spokesman Zhao Lijian said in April, as the Times of India reminded their readers.
With the death toll and trillions in economic impact at home and abroad rising, it is unlikely that the concerns about the origins of the coronavirus will dissipate any time soon. Among the top read reports for weeks on MHProNews and our MHLivingNews sister-site are those directly tied to the pandemic. That also includes reports that link it to Bill Gates, long-time business associate of Warren Buffett who Berkshire Hathaway business units and nonprofit activities have a well-documented commanding impact on affordable manufactured housing.
There are other signals coming from Washington, D.C. that may indicate that the Trump Administration may do more than just focus on China. But this evening's market report is on the latest that has drawn the attention of mainstream media from across the left-right divide, based upon statements made by Peter Navarro to Fox News.
That featured focus is found beyond the left-right media bullet headline snapshot for tonight, this evening's quotable quotes, and 2 of the 3 market summary graphics at the closing bell. The manufactured housing connected stocks graphic at the close today are found beyond the featured focus and related report links.
Quotes That Shed Light – American Social, Industry, National Issues…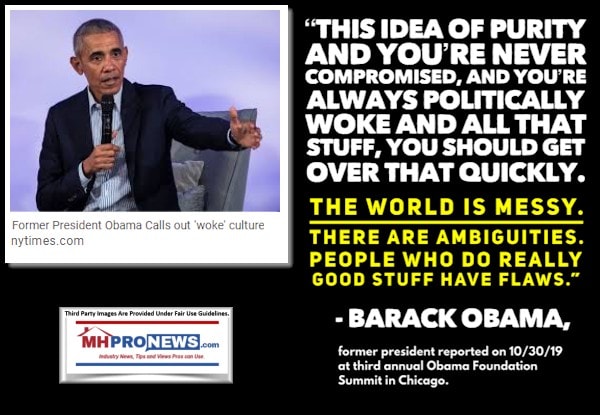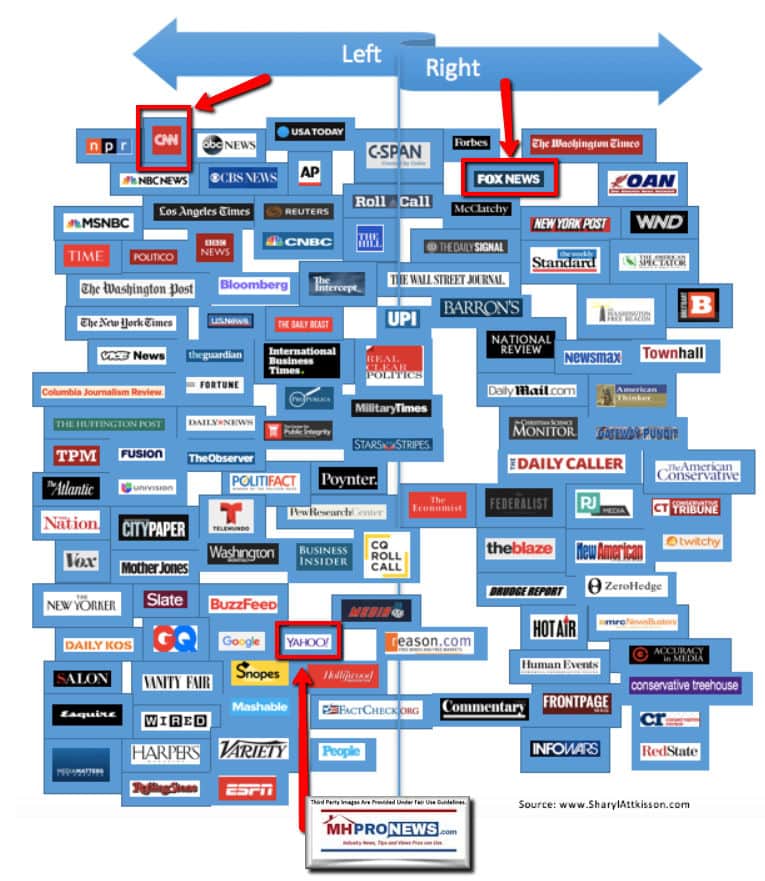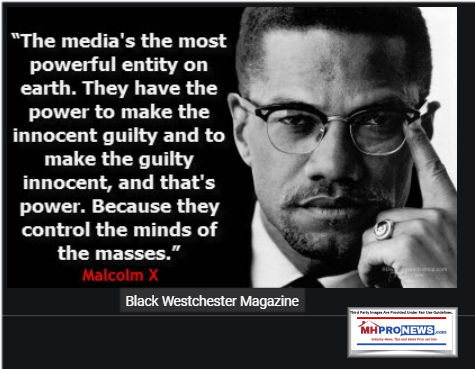 Headlines from left-of-center CNN Business
Farewell to Black Friday
Consumers begin their Black Friday specials shopping as Macy's opens their doors at 5pm on Thanksgiving Day on November 28, 2019 in New York.
It's hard to imagine massive crowds jostling for doorbuster deals in a pandemic
Gold tops $1,800, hits 9-year high
Cash is dying. These are the companies replacing it
Deutsche Bank slammed with $150 million fine for failing to flag Jeffrey Epstein's shady transactions
Big banks stand to earn hundreds of millions from PPP loan fees
Airline bookings tumble again as coronavirus cases spike
The United States is 'looking at' banning TikTok, Pompeo says
#BlackoutDay2020 is today. Here's what you need to know
INTERACTIVE How many people in your state have filed jobless claims
The ugly truth about millions of American jobs: They are not coming back
Opinion: College in America could be changed forever
Mary Trump reveals how she became a top source for The New York Times
Tammy Duckworth, who lost her legs serving in Iraq, hits back after Tucker Carlson suggests she hates America
Adriant Bereal on the campus of his alma mater, the University of Texas at Austin. Bereal graduated in May with his BFA in design. Bereal is the creator of "The Black Yearbook", a project highlighting the stories of Black Texan college students on campus, who make up only 5% of the student body.
This group will bear the deepest scars from the recession
Omar Yeefoon, owner of Shoals Sound & Service vegan restaurant, prepares to go boxes Tuesday, June 30, 2020, in Dallas. Yeefoon reopened his Dallas restaurant June 10 to "pretty good reception," after having been shuttered for three months. The comeback was fleeting. After four days, Yeefoon had to shut down again in the face of a COVID-19 resurgence in Texas and lay off two of the four workers he brought back.
Opinion: To rescue the US economy, we must do this to save jobs
Challie and Lina Stillman bought this house in Brookfield, Connecticut.
For these buyers, second homes are much more than vacation spots
MARKETS
DRIVE
Dodge Durango SRT Hellcat: Powered by the proven supercharged 6.2-liter HEMI Hellcat V-8 engine, the Durango SRT Hellcat delivers a best-in-class 710 horsepower and 645 lb.-ft. of torque, mated to a standard TorqueFlite 8HP95 eight-speed automatic transmission
The Dodge Durango Hellcat is a family SUV that can go 180 mph
Want a heated steering wheel in your BMW? Download one
The new electric Mini Cooper is a blast. It's also impractical
Ford's next electric Mustang will have hands-free driving
Your car knows secrets about you. Protect yourself
THE NEW AUTOMATION
In tests, the CSAIL team's robot could disinfect a 4,000-square-foot space in the food bank's warehouse in just half an hour.
MIT-designed robot can disinfect a warehouse floor in 30 minutes
Boston Dynamics' 'dog' is now on sale
Why bots still aren't delivering your groceries
New iPhone feature aims to replace the car key
People are cleaning more and that's great news for Roomba maker iRobot
Headlines from right-of-center Fox Business
MARKETS
Stocks a sea of red after five-day winning streak on Big Tech snaps
Investors sold names including Apple and Amazon which were hovering near all-time peaks.
Amazon hits $1.5T milestone faster than Apple and Microsoft did
MONEY
These billionaire-backed businesses received millions in taxpayer-funded aid
Luxury restaurant chain backed by Robert De Niro received over a dozen PPP loans
LEGAL
Judge rejects Dakota Access request for emergency order
MONEY
IRS, taxpayers face host of challenges ahead of July 15 deadline
OPINION
5 tips to ensure a successful Zoom meeting or other virtual event
GREAT POWER COMPETITION
WALMART
Walmart fires a major shot at Amazon with launch of a new service
CASH FLOW CUTOFF
ECONOMY
Why unemployment boost cutoff could be a ticking time bomb for the economy
JOURNALISM IN CRISIS
MEDIA
News Corp. CEO Robert Thomson says 'digital denouement is looming'
NEW 'COMPROMISE'
HEALTH
Miami-Dade County mayor reverses course on gym, dining restrictions
NOT WORKING OUT
LIFESTYLE
Gym loses bid to stay open after governor's coronavirus closure order
WHO IS LISTENING
HEALTH
Trump submits notice of withdrawal from World Health Organization
GRINDS TO HALT
FOOD & DRINKS
Where Dunkin' plans to permanently close 450 stores by the end of 2020
BAD HAND GETS WORSE
MARKETS
Reeling from $4B loss, Vegas casinos dealt new threat amid COVID-19 return
TROUBLE AT SEA
LIFESTYLE
Carnival Cruise Line's Mardi Gras ship debut pushed to February 2021
PROTECT YOURSELF
HEALTHCARE
Nurses: A problem from the worst days of the pandemic has returned
ROOM FOR IMPROVEMENT
SOCIAL MEDIA
Facebook will 'get better' on hate speech: COO
'IT IS PRETTY CLEAR'
SOCIAL MEDIA
Parler CEO reveals how social media companies are censoring users
'BLUE WAVE' BLUES
MARKETS
What could happen to market if Biden wins, Dems sweep Congress: analysts
APPLE SLICE
TECH
These 2 standard items won't come with your next iPhone
TEST YOURSELF
RETIREMENT
Don't claim Social Security benefits if you can't answer these 3 questions
RETAIL
EPA says common cleaning product is effective against coronavirus
LIFESTYLE
Coronavirus closures push these movie theaters to sue NJ
UBER
Uber launches grocery delivery
REAL ESTATE
Apartments become Silicon Valley's hot new thing
MONEY
Shake Shack lost millions due to George Floyd protests, curfews
LIFESTYLE
Visa ban leaves thousands expecting help of au pair looking for child care
TECH
Amazon losing out on Arlington HQ2 cash incentives due to coronavirus
MARKETS
New York fines Deutsche Bank $150M for Jeffrey Epstein dealings
MONEY
Restaurant owner warns if NYC doesn't allow indoor dining they 'may never reopen'
CARS
US safety agency probes some Chevy cars as hundreds of complaints emerge
POLITICS
US may ban this popular social media app, secretary of state says
NEWS
Jimmy John's employees fired after video shows them mocking hateful act in store
RETAIL
As violence breaks out, retailers make plea to governors: Issue this order now
TRAVEL
Major airline warns employees: Tens of thousands are about to be furloughed
HEALTH
Northeastern state pauses Phase 3 coronavirus reopening, keeps bars closed
HEALTH CARE
The massive amount of money COVID-19 treatment can cost patients' families
HEALTH CARE TECH
US pays drugmaker Novavax $1.6B to develop coronavirus vaccine
HEALTH
How risky is dining out during the COVID-19 pandemic?
PERSONAL FINANCE
3 last-minute tax tips for your 2019 return
MONEY
Zero percent interest credit cards: Everything to know
10 Market Indicator Closing Summaries – Yahoo Finance Closing Tickers on MHProNews…

Featured Focus –
Where Business, Politics and Investing Can Meet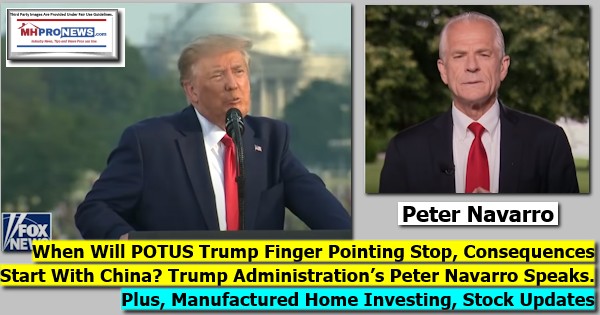 White House Trade Adviser Peter Navarro stated to Fox News reporter Trace Gallagher that President Trump will take "a series of actions taken over the next several weeks that will hold China accountable for the damage that it's doing to the American people."
Gallagher asked Navarro, when will the finger pointing stop and the consequences start?
Navarro said in reply that some historical context was necessary to understand "what can and should be done." He continued by saying that for 20 years China has cheated in trade. As a result, "millions and millions of jobs" in America were lost. Navarro said that "President Trump was the first president to stand up to that."
He continued by saying that one of the ways he has defended against that is through tough tariff policies.
"So, we've got China cheats and Americans lose their jobs." Navarro continued by saying that "In this case we have the Chinese Communist Party lying." The trade advisor then notes the timeline from November, when they first spawned the virus, to hiding in December and then sending it around the world through travelers from China. Specifically, an insight reported in the article linked below indicates that the virus may well have been spreading weeks before the previously reported November 2019 date.
That largely, but doesn't specifically relate to all of the latest known information about the timeline.
https://www.manufacturedhomepronews.com/mhc-resident-rage-four-score-and-seven-while-evils-are-sufferable-potus-trump-american-freedom-history-and-independence-challenged/
That report linked above should be considered in discerning Navarro's narrative.
"We've got a lot of anger, anxiety and fear because of the China Virus" Navarro tells Gallagher. He says that anger is being directed against each other, meaning, by one American against another. "This is not a domestic battle" he said.
Once more, by way of objective critique that statement is questionable as the report linked above and below indicate.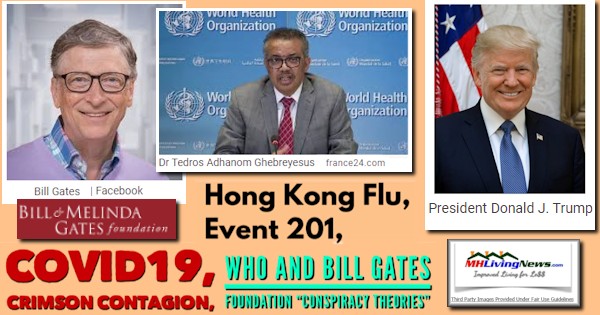 It is China, "the Chinese Communist Party [CCP] that is doing this to us."
Navarro then raises the troubling subject of Hong Kong, which he said that China has used for years to "exploit our financial markets and steal our jobs." The Trump trade adviser reminded Gallagher and viewers that the president has already said that all preferential treatment of Hong Kong will be stripped away.
That process, it should be noted, is beginning, according to Secretary of State Mike Pompeo in remarks that are not a part of this Fox News video. Navarro said that was part of their effort to stand up for the people of Hong Kong, who have recently been stripped of rights by mainland Chinese communists.
"The trade deal remains intact," but Navarro said, "we're watching very, very carefully to see whether they fulfill the items there. And, to be honest, right now, the purchases are lagging, but we believe that they will catch up by the end of the year if they keep their word. But this is — Trace, this is about a lot more. You know, that trade deal wasn't really a trade deal. It was about getting China to stop stealing our intellectual property, forcing technology transfer, things like that. And we know now, that, even as we speak, they're trying to steal the intellectual property for vaccine development for the China virus. So, again, I don't want to get ahead of the president or the chief of staff, but there will be a series of actions taken over the next several weeks that will hold China accountable for the damage that it's doing to the American people."
Navarro also stated that China is waging information warfare against this country. Gallagher pressed him on a prior statement that the trade deal was "over," and Navarro said that trust in China is over, and that it is now a case of trust but verify.

 MHProNews Analysis and Commentary
The video, against the backdrop of prior MHProNews reporting, is instructive on several levels.
First, by accident or design, Navarro was largely but not completely correct in his statements to Fox News. That might be explained by time constraints or other benign reasons, but it may also be because he is stressing the Trump Administration's narrative.
Second, it should be recalled that long before becoming president, Mr. Trump's "Art of the Deal" provides insights into how he approaches issues that could well include this massive and vexing 'perfect storm' of issues that are harming the U.S.
Third, the president and his team weave from diplomatic niceties and polite language with respect to Chinese Communists all the way over to tough talk, such as what Navarro said on 7.6.2020, or the president himself said at the opening clip of the video posted in this report.
It is not only campaign season, but it is get the economy going against time. While millions are fearful due to rising case counts and hospitalizations, there are medical and other experts who are saying that the death toll from COVID19 per capita is falling. Objectively that is born out by the data at this time, but it is also subject to question. Will the spike in cases reveal in 2 or 3 weeks that the percentage of death toll rose as well?
Time will tell.
There are those who have stressed that the virus has been politicized and that hyping the virus' harm includes medical experts.
Numbers of Democrats are pushing to slow or reverse the process of re-opening the economy. But there are those who say that it is simply not sustainable economically nor fair to smaller businesses to reclose. That despite the fact that some mayors have themselves tied some of the harm caused by the Wuhan Virus with the unrest that is occurring in the streets.
"Enough is Enough" – Democratic Mayor in Ranking MH State Pleas for End to Black-on-Black Violence, Murder – Crime Wave Spreads
Meanwhile, several in the billionaire class is laughing all the way to the bank. They also are routinely anti-Trump billionaires. Is that a coincidence?
Dark Money-Billionaires Buffett, Gates, Soros Funding Black Lives Matter, Antifa – Named by AG Barr in Riots, Looting – Hijacking Peaceful George Floyd Death Racial Justice Protests
The late William Proxmire's statement ought to be kept in mind.
So too is the old adage, that the first casualty of war is the truth. Given that both sides of the mainstream political aisle are trying to spin to fit their narrative, professionals and other researchers are wise to double check claims and look to deeper dive reports for more precise insights, such as those found in the linked reports below.
Programming notice: the second report linked below has surged to the top spot, ICYMI, check it out.
Related and Recent Reports
"We are trained Marxists." – Black Lives Matter (BLM) co-founder Patrisse Cullors, "Deception and Misdirection" – Capital Research Center
Arrest, Indictment of Ghislaine Maxwell, Jeffrey Epstein "Madam," Returns Bill Gates–Warren Buffett, Gates Foundation, Donald Trump, Bill Clinton, Others – to Sexual Predator's Spotlight
'Stop Trump!' Group Supported by Billionaires Soros, Buffett, Gates Vows to Defeat President Trump in 2020
Warren Buffett Declared "Class Warfare," Buffett Says Fellow Billionaires – "We're Winning"
History, Financial Ties-Black Lives Matter, Antifa, Billionaires Warren Buffett, Bill Gates & George Soros–Economic, Political Upheaval Spotlighted by Mary Walter, Tony Kovach on Brian Kilmeade Show
Trump Admin Signals October Surprise? AG Bill Barr's Hot Biz-Economic Trial Balloon, plus Manufactured Housing Investing, Stock Updates
Black Lives Matter-Slavery, Racial History, Economic Inequality, Affordable Home Ownership–White Billionaires Getting Richer
Manufactured Housing Industry Investments Connected Closing Equities Tickers
Some of these firms invest in manufactured housing, or are otherwise connected, but may do other forms of investing or business activities too.
NOTE: The chart below includes the Canadian stock, ECN, which purchased Triad Financial Services, a manufactured home industry lender
NOTE: Drew changed its name and trading symbol at the end of 2016 to Lippert (LCII).
Summer 2020…
Berkshire Hathaway is the parent company to Clayton Homes, 21st Mortgage, Vanderbilt Mortgage and other factory built housing industry suppliers.
· LCI Industries, Patrick, UFPI, and LP each are suppliers to the manufactured housing industry, among others.
· AMG, CG, and TAVFX have investments in manufactured housing related businesses. For insights from third-parties and clients about our publisher, click here.
Enjoy these 'blast from the past' comments.
MHProNews. MHProNews – previously a.k.a. MHMSM.com – has celebrated our tenth anniversary and is in year 11 of publishing.
Learn more about our evolutionary journey as the industry's leading trade media, at the report linked below.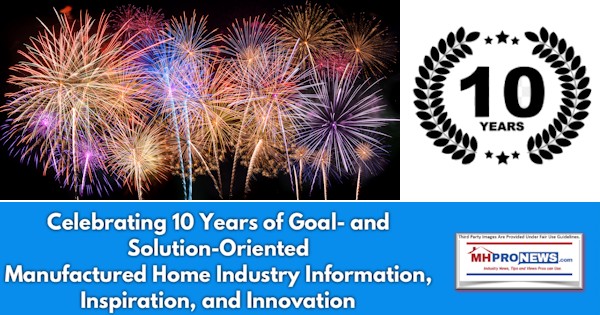 · For expert manufactured housing business development or other professional services, click here.
· To sign up in seconds for our industry leading emailed headline news updates, click here.

Disclosure. MHProNews holds no positions in the stocks in this report.
2019 Year-End Totals Reveals Decline in New HUD Code Manufactured Home Production, Shipments vs. 2018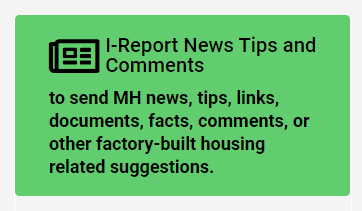 That's a wrap on this installment of "News Through the Lens of Manufactured Homes and Factory-Built Housing" © where "We Provide, You Decide." © (Affordable housing, manufactured homes, stock, investing, data, metrics, reports, fact-checks, analysis, and commentary. Third-party images or content are provided under fair use guidelines for media.) (See Related Reports, further below. Text/image boxes often are hot-linked to other reports that can be access by clicking on them.)
By L.A. "Tony" Kovach – for MHLivingNews.com.
Tony earned a journalism scholarship and earned numerous awards in history and in manufactured housing. For example, he earned the prestigious Lottinville Award in history from the University of Oklahoma, where he studied history and business management. He's a managing member and co-founder of LifeStyle Factory Homes, LLC, the parent company to MHProNews, and MHLivingNews.com. This article reflects the LLC's and/or the writer's position, and may or may not reflect the views of sponsors or supporters.