FactCheck says that flight logs reveal that Bill Gates only flew once on Jeffrey Epstein's infamous "Lolitta Express." That flight log reportedly isn't to the deceased Epstein's "Pedophile Island" in the Caribbean. However, the left-of-center New York Times revealed that there were numerous meetings between Bill Gates. Gates his own private aircraft. Gates admits that in hindsight those meetings were bad judgement. Thus, the arrest of Epstein's "madam" Ghislaine Maxwell by the FBI may raise the specter of renewed scrutiny of the relationship of Gates – a close associate of Warren Buffett, others in Silicon Valley, the Gates Foundation – and Epstein. How this relates to President Trump, prior to his election, will be noted further below.
This report will explore the facts and allegations about those ties to the powerful figures who influence our profession and much more in the American economic, media, and political landscape.
Gates has been in the center of several storms that are often labeled "conspiracy theories" by various sources from both sides of the mainstream media's left-right divide. Gates' ties with Epstein, along side concerns about his knowledge of events related to the COVID19 outbreak as they emerged from the Wuhan Institute of Virology in Wuhan, China are among them.
Due to Gates long ties to Warren Buffett, Berkshire Hathaway, and their influence over the affordable housing and manufactured home industry, they are relevant to readers here.
Recent revelations of Gates, Buffett, Soros, and other uber-billionaires ties to the purported hijacked Black Lives Matter protests are an additional controversy that have a clear money trail documented in the red-hot report linked below.
Dark Money-Billionaires Buffett, Gates, Soros Funding Black Lives Matter, Antifa – Named by AG Barr in Riots, Looting – Hijacking Peaceful George Floyd Death Racial Justice Protests
That report above drew a record 1.12 plus million hits in June 2020. Visitor/reader traffic has been surging on other reports that are related to Gates, Buffett, the "Crimson Contagion" and other related reports that document facts and evidence vs. mere wild-eyed speculation.
Investigations
In a very real sense, many investigations begin by stumbling across a piece of evidence, which then leads to a 'theory' that may or may not indicate some sort of 'conspiracy.' The labeling of something as a 'conspiracy theory' when genuine evidence exists is what radio personality Jimmy from Brooklyn referred to 'as censorship by ridicule' Trevor Loudon's "The Enemies Within" detailed in a 2015-2016 documentary video that can be streamed on Amazon's Prime service.
It isn't just Gates who is caught up in this ongoing scandal.
"President Clinton knows nothing about the terrible crimes Jeffrey Epstein plead guilty to in Florida some years ago, or those with which he has previously been charged in New York," was part of a statement reported by the U.S. Sun issued on behalf of former President Clinton.
"In 2002 and 2003, President Clinton took a total of four trips on Jeffrey Epstein's airplane: one to Europe, one to Asia, and two to Africa, which included stops in connection with the Clinton Foundation."
It bears mention that Buffett and Clayton Homes had clear ties to the Clinton Foundation and former President Clinton. The video below is one of several found the link that follows, which clearly connects former President Clinton, the Clinton Foundation, Kevin Clayton, and Clayton Homes.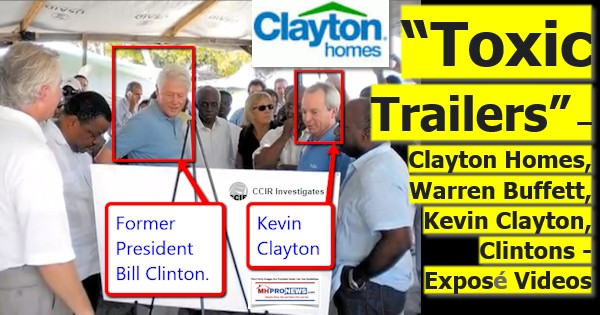 It is one of several scandals involving the company outlined in the report.
"Mobile Home Militia," Retail/Production Sources, Sound Alarm Against Clayton Homes, CMH, New "Anti-Competitive Practices" Allegation
What this report and others linked herein reflect are the various ways that top politicos, including former Presidents Clinton and Barack Obama, are tied to Buffett, Berkshire, nonprofits that include the Gates Foundation, the NoVo Foundation run by his sun Peter Buffett, among others.
New Data Surfaces on Buffett Family, Foundation Funding Sources Which Attacked Manufactured Housing, plus Manufactured Home Stock, Investing Updates
It is an ironic reminder of a Buffett saying that you can't make a good deal with a bad person. That apt expression ought to apply to problematic organizations too.
More on Epstein
Convicted sex-trafficker Epstein died in a federal prison on August 10, 2019 in what was officially ruled a suicide.  But that claim has been disputed by a medical expert. "Conspiracy theories about Epstein's death were reignited after Dr. Michael Baden, who was in the room for Epstein's autopsy," said NBC New York on October 31, 2019.
U.S. Attorney General William "Bill" Barr has said that Maxwell and that prison death are among the issues he is intent on getting to the bottom of the story. The Telegraph said on July 2, 2020 "Maria Farmer, who made the first criminal complaint against Jeffrey Epstein, said: "Strauss is doing what Berman wouldn't, his job!"
"Audrey Strauss, the prosecutor who decided to arrest Ghislaine Maxwell, acted with lightning speed just days after her predecessor was unceremoniously fired by Donald Trump," said the U.K. Telegraph, which added, "Her decision to move quickly in the Jeffrey Epstein case drew plaudits from women who have accused the late financier, and questions over why the arrest of Ghislaine Maxwell had not happened sooner."
The politicization of American justice has been on full display in recent years. Attorney General William, "Bill" Barr cited "serious irregularities" in the federal lockup where Epstein mysteriously died, according to left-of-center CNBC and other sources, such as right-of-center Fox News.
The arrest and indictment of Maxwell could lead to a series of new revelations about the ring of high- profile personalities connected to Epstein.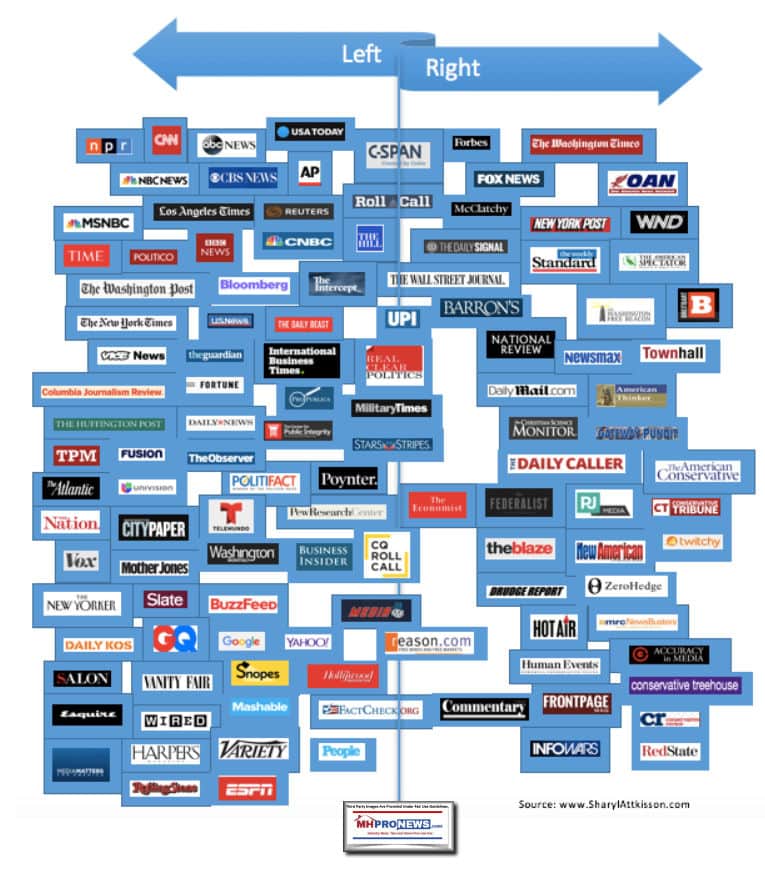 "Pedophile Island"
The left-of-center Los Angeles Times said that Epstein's private island in the Caribbean was dubbed "Pedophile Island" and "Orgy Island" by locals. The proper name of Epstein's getaway is "Little Saint James is a private island of the United States Virgin Islands," says Wikipedia.
On August 12, 2019, "FBI agents raided Jeffrey Epstein's private island in the Caribbean in a vivid display that the probe into his alleged sex trafficking ring," according to left-of-center NBC News.
Business Insider reported on March 19, 2020 that "Ghislaine Maxwell sues Jeffrey Epstein's estate in Caribbean."
Former President Clinton, Britain's Prince Andrew, a number of A-list celebrities, and wealthy elites are among those who have denied any wrongdoing. Yet, there is a swirl of allegations by then underaged girls and other women that hint or boldly state otherwise.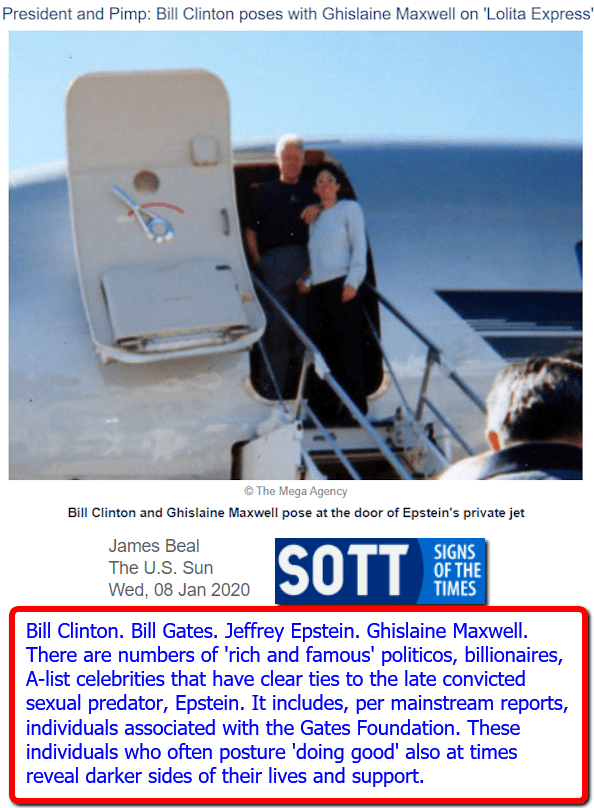 "Establishment" "Elites" "Masters of the Universe"
Some call these super-rich and "A-list" celebrities are referred to as "the Elites." Others like right-of-center Breitbart News describe them sarcastically as "Masters of the Universe."
While dozens of billionaires are donors to Democratic candidates – former Obama Administration VP Joe Biden reportedly had some 60 billionaire supporters earlier this year – there are also wealthy donors to the Republican or "GOP" (Grand Old Party) party too. That has drawn the moniker "establishment" Democrats and Republicans.
Many, but not all of these personalities are internationalists or globalists. Who says?
The LA Times reported on Feb 12, 2019 that "Bill and Melinda Gates think there's a 'nationalist case for globalism.' Buffett, Apple's Tim Cook, and Amazon's world's richest man Jeff Bezos were all CEOs cited by another leftist billionaire's media outlet, Michael Bloomberg's left-of-center Bloomberg News "Globalism Is the Best Social Cause for Corporate Activists." That was February 28, 2019.
Communist China is one of the places that billionaires such as Buffett, Gates, Cook, Bloomberg and other billionaires and their corporations have bet huge sums of money.
So perhaps it wasn't so ironic that China's English version of state-sanctioned Xinhuanetto news said that there is an obligation for governments in rich countries to "take care of displaced workers who are impacted by globalization."
As left-of-center CNBC reported on March 28, 2019, "Warren Buffett says the country has to take care of poor people who have become 'roadkill' … I think that's the obligation of a rich country," Warren Buffett said. Buffett stated that  the benefit of free trade is rather "invisible," and in fact the policy has done some damage to those dislocated workers.
One could rephrase that Buffettism like this. Buffett wants U.S. taxpayers to support those millions of workers displaced by the moves that he and other billionaires have fostered. Neat trick, isn't it? Create a problem, then pass along the consequences of that problem to the rest of the society that made it possible for him and his fellow billionaires to become so successful.

By word and deed, several wealthy men and their corporations favor an international order that transcends nation states. Doing business with Communist China is just one example.
Based upon their investments in that communist land, it doesn't seem to matter to them that there have been decades of human rights violations in China. Put differently, these billionaires often mouth pretty words but are behaving with their money in ways that may not match up to their statements.
Left-of-center Vox reported on January 10, 2020 that "For months, tech billionaires have been on the ropes over the ties they maintained with money manager Jeffrey Epstein well after he was indicted and registered as a sex offender in 2008." Bill Gates figured prominently in that report by Vox. It was based in part on "months-in-the-making external report from lawyers hired by MIT." The Massachusetts Institute for Technology (MIT) has the MIT Media Lab, an institution popular in Silicon Valley and that had a "concealed fundraising relationship with Epstein."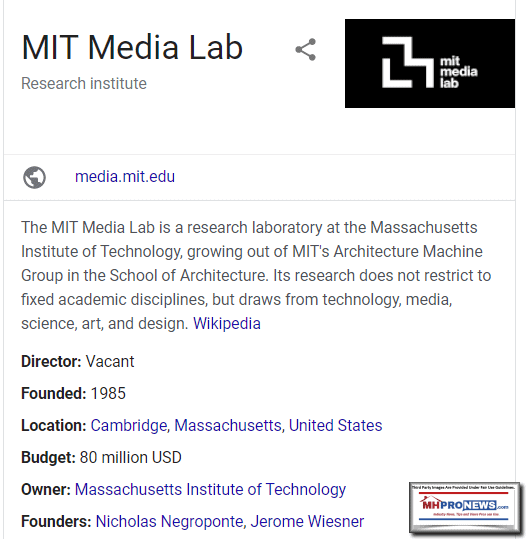 The MIT Media Lab website said "The Media Lab is supported by more than 80 members, including some of the world's leading organizations." The "Bezos Family Foundation," Harvard University, NASA, U.S. Army, and U.S. Navy are among those listed.
The Observer pulled together various reports by saying, "Ronan Farrow turned up the heat on Gates, reporting in The New Yorker that it was Epstein who "directed" or "recommended" that Gates donate $2 million to the MIT Media Lab, whose director has since resigned."
Per that same source:
In The New Yorker, Gates' people seemed to characterize the former Microsoft chairman's relationship with Epstein as a sort of acquaintanceship that did not involve any sort of financial advice…
"I met him. I didn't have any business relationship or friendship with him. I didn't go to New Mexico or Florida or Palm Beach or any of that," Gates told WSJ." There were people around him who were saying, 'hey, if you want to raise money for global health and get more philanthropy, he knows a lot of rich people.'"
The New Yorker indicated that Gates' $2 million gift to the Media Lab in October 2014 was "directed" by Epstein…
It makes sense why Epstein needed Bill Gates. It makes far less sense why Bill Gates needed Jeffrey Epstein—a convicted sex offender with other known serious character flaws (a very nice way of describing someone accused, credibly, of serial pedophilia). Gates has yet to adequately account for this relationship, and if more details trickle out that also conflict with his version of events, his dissimulating will be increasingly suspicious."
The Observer's about us page says "Observer is dedicated to truth, fairness and transparency. We are impartial and aim to present readers with the complete truth." It says that all of their writers are held to that standard.
Gates Thought Warren Buffett was "Parasitic"
Business Insider reported in November 7, 2019 that "Gates thought Warren Buffett played a "parasitic" game before they became friends."
Specifically, "I didn't even want to meet Warren," Gates told Andrew Ross Sorkin during an interview at the DealBook Conference on November 7, "because I thought, 'Hey, this guy buys and sells [companies],' and so he found imperfections in terms of markets — that's not value-added to society, that's a zero-sum game that is almost parasitic. That was my view before I met him."
That is not so different that the observation previously quoted by MHProNews in the left-of-center Financial Times, below.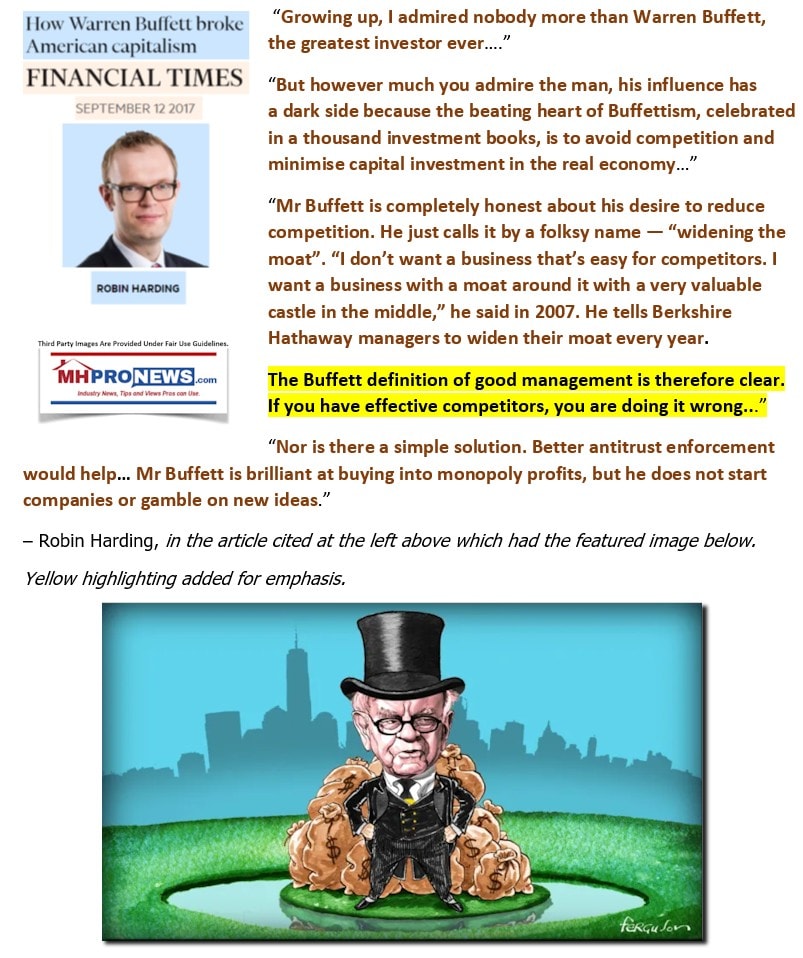 Business Insider's take on the Sorkin interview with Gates states that "Gates believed "billions of dollars" would come from his meetings with Jeffrey Epstein."
"I made a mistake in judgment in thinking those discussions would go to global health," Gates said. "That money never appeared."
That "I made a mistake" quote was cited by MHProNews last November. That report outranks Fox News on this date, according to the Google search results shown below.
Stating the Obvious
Stating the obvious can be revealing and powerful. MHProNews can't make people visit and read a specific article. That's obvious, right?
So, when numerous articles on our site dominate specific topics it should be a strong clue that readers not only found it interesting, but some of them likely shared it with others. Articles about Buffett, Gates, Soros and other uber-wealthy American billionaires are among those keenly read reports.
The article linked below, per the top, but far from only, cPanel data gathered by third-party Webalizer has over 1.12 million hits in June 2020.
Dark Money-Billionaires Buffett, Gates, Soros Funding Black Lives Matter, Antifa – Named by AG Barr in Riots, Looting – Hijacking Peaceful George Floyd Death Racial Justice Protests
On this date, it is also the top result on the Google search shown below.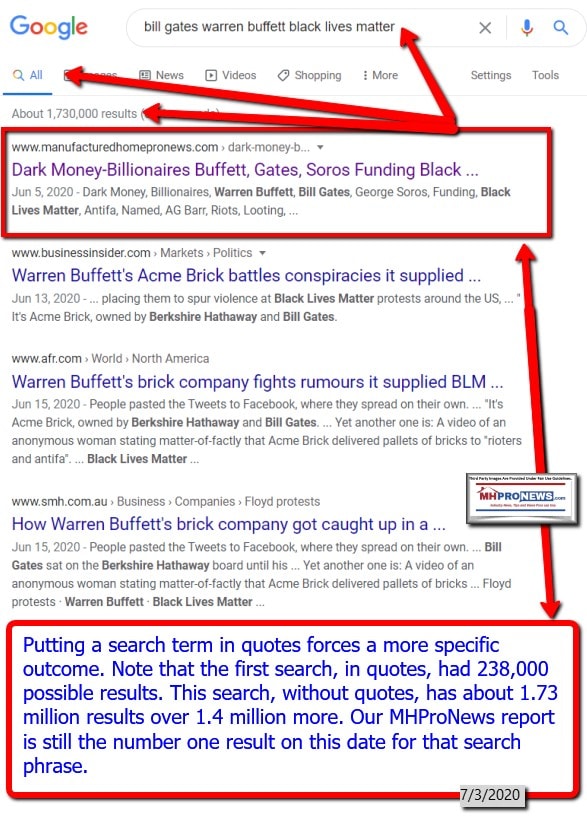 The same search above with or without quotes in this case produces the same top ranking. Note that search engine results can change over time, or even from one place to another.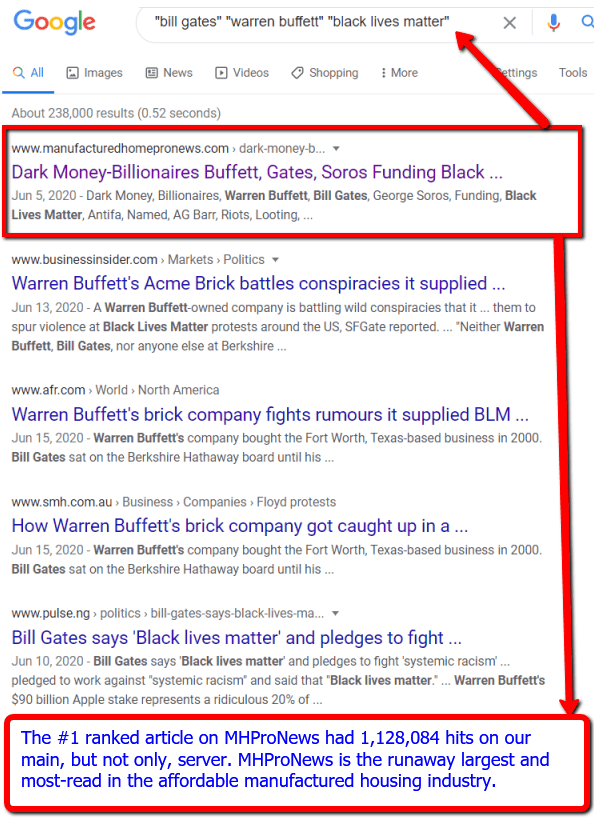 There has been weeks of unrest in the streets of major and even smaller American cities and towns. Fanning the flames of confusion, fear, and panic regarding the Wuhan Virus. Those events have arguably made a handful of billionaires far wealthier, according to data from Forbes as published by the Institute for Policy Studies (IPS). They are reportedly 20 percent wealthier since the bottom was hit, post-pandemic. Meanwhile, millions of Americans are poorer and more on the edge than before.
History, Financial Ties-Black Lives Matter, Antifa, Billionaires Warren Buffett, Bill Gates & George Soros–Economic, Political Upheaval Spotlighted by Mary Walter, Tony Kovach on Brian Kilmeade Show
Couple such vexing reports with literally hundreds of thousands of lurid reports about Epstein and his ties to rich and famous Americans. At a minimum, it begs the question. Why does Gates, Buffett, Soros, or others in that circle have a positive reputation with so much of the media or politicos? Is it only because they are wealthy?
Gates said it himself. "'Hey, this guy [Warren Buffett] buys and sells [companies],' and so he found imperfections in terms of markets — that's not value-added to society, that's a zero-sum game that is almost parasitic."
These are not heroes of the free market, is the clear implication of Gates' words. These are vulture capitalists who build their "moats" using arguably veiled monopolistic methods that aim to escape most public and regulatory scrutiny.
As the November 3 2020 general election is now just 4 months away, it is important for voters to understand more clearly just how "The system is rigged."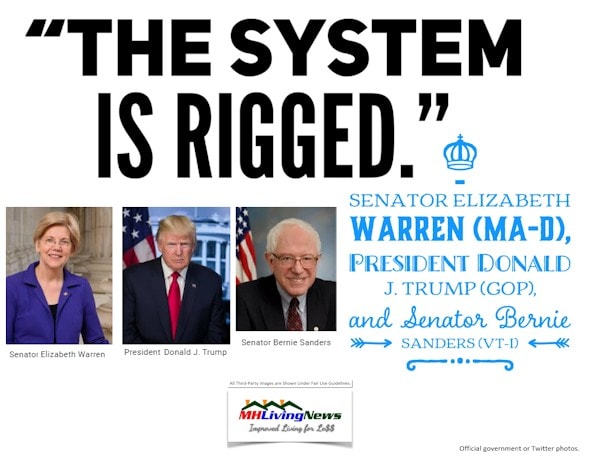 MIT Investigation and More
MIT's legal investigation into the scandal involving Epstein and Silicon Valley ties was less than satisfactory, per Vox and others.
That investigation said in part that "Between 2002 And 2017, Epstein Made 10 Donations To MIT Totaling $850,000. He Also Claimed To Have Coordinated Millions Of Dollars In Donations By Others. In 2006, Jeffrey Epstein was first charged with a sex offense—solicitation of prostitution. Epstein ultimately pled guilty to two felonies in 2008: procuring a person under the age of 18 for prostitution and solicitation of prostitution."
That same report said that "While Epstein made charitable donations before his 2008 conviction, after that conviction he may have had a second motive for his donations: to launder his reputation by associating himself with reputable individuals and institutions."
Gates is mentioned 10 times in the MIT report.
Left-and-right wing media outlets have each given a degree of cover to Gates over his and his Gates Foundation role in Event 201, WHO, and the funding of the Wuhan Institute of Virology where the coronavirus originated. By contrast, MHProNews and MHLivingNews have not hesitated to let the money trail and evidence cause us to pull back the veil on evidence that mainstream media could easily have produced too.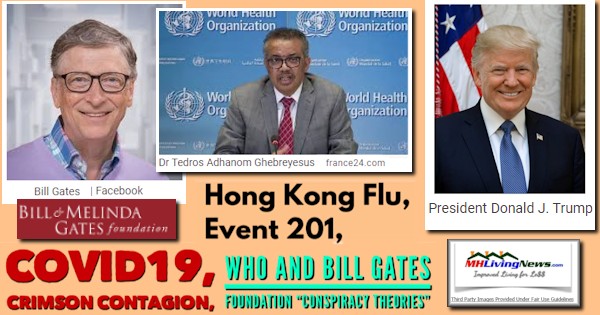 The "Crimson Contagion" pandemic response exercise in August 2019 and the related timeline begs serious questions of how the CDC, other federal, state, and local officials could have so mishandled the opportunity to stop traveler from China in late November 2019 vs. late January 2020.
An evidence-based argument can be made that people inside the U.S. government, international organizations like the WHO, Communist China, and some key billionaires and the companies they founded or lead knew what was occurring well before President Trump was briefed.  With over 125,000 Americans dead, there is blood on the hands of all those who for whatever motivation decided to blindside not only President Trump, but millions of their fellow Americans.
Had the virus been contained in China, millions globally would not have been infected, with hundreds of thousands of lives saved. Trillions in lost economic activity is another consequence. That's not opinion, that is scientific fact.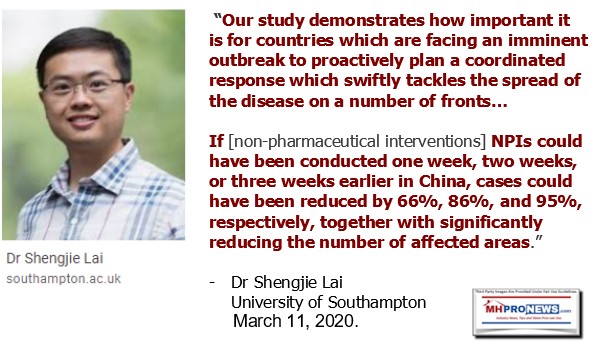 It is no surprise that such vexing issues have been politicized. It should be political. After all, doesn't it only underscore concerns about "deep state" actors and their globalist allies? That's not fact-free speculation or mere 'conspiracy theory.' Rather, it's the common sense conclusion of reams of evidence from governmental, and media sources across the left-right media divide.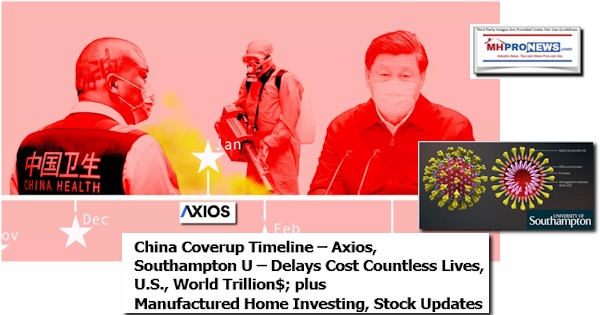 But what numbers in politics, business, nonprofits and their media allies have done is attempt to spin the burden of responsibility away from themselves and onto President Trump and his allies.
That applies to the Epstein-related stories and citizen Trump too.
The Donald Trump, Jeffrey Epstein Photo
Then private citizen Donald Trump is often shown in this photo below with Epstein. Left-of-center Snopes did a fact-check on this article on 7.2.2020, just shortly after the announced arrest of Maxwell. They rate it as true that the photo is genuine.
Snopes aptly said, "Before we delve into the other media showing Trump together with Maxwell, it should be noted that simply being photographed with a person is not a crime."
That same source said, "Maxwell is often referred to as a "socialite," and has been photographed with numerous politicians and celebrities, including Elon Musk, Calvin Klein, Roger Waters, and former New York City Mayor Michael Bloomberg. Epstein, too, had a number of a high profile acquaintances, including both Trump and former President Bill Clinton."
Standing next to then citizen Trump is "Melania Trump — then Melania Knauss," correctly said Snopes. Hardly pro-Trump, Snopes said that all of the photos of Trump with Epstein and Maxwell "While all of these photographs were taken before authorities first opened up an investigation into Epstein for sexual abuse crimes against minors, prosecutors allege that Maxwell was aiding him in his criminal activities back in the 1990s. The indictment against Maxwell reads:
"In particular, from at least in or about 1994, up to an including at least in or about 1997, Maxwell assisted, facilitated, and contributed to Jeffrey Epstein's abuse of minor girls by, among other things, helping Epstein to recruit, groom, and ultimately abuse victims known to Maxwell and Epstein to be under the age of 18."
Put differently, even Snopes lightly makes the point that it is guilty by association and that there is no there there about Trump, Epstein and Maxwell.
Furthermore, that well known photo was taken at one of Epstein's places. Rather, it was at Trump's Mar-a-Lago resort and private club. Just as MIT's investigation made it clear that Epstein used connections to recruit and give himself a more positive image, those photos with Epstein, Trump, and Maxwell arguably fit in that same category.
New York Magazine, another largely anti-Trump media outlet, reported that while Trump is listed as having flown on Epstein's plan, "Virginia Giuffre said that to her knowledge, Trump "didn't partake in any sex" with her or other girls Epstein allegedly abused." The Insider said that the flight log shows he flew with "Glenn and Eva Dubin," a billionaire couple.
By contrast, former President Bill "Clinton flew on the Lolita Express, Epstein's jet, 26 or 27 times. There were underage  girls and beds on all of those flights." A Netflix documentary by Steve Scully gives a witnesses claim that Clinton was on Epstein's "Pedophile Island."
Due Process and Fairness
While citizen-Trump never claimed to be a boy scout or a celibate priest, there is no similar record found with respect to him and Epstein.  A 2018 book, "The Propaganda Feedback Loop" by Yochai Benkler, Robert Faris, and Hal Roberts reviewed by Oxford Scholarship says, "politically divergent false rumors—an allegation that Donald Trump raped a 13-year old."
Snopes, already noted as left-of-center and generally anti-Trump website, sums up a long analysis by saying about that allegation of Trump raping an under-age girl that "As of now, all of the information about this lawsuit comes solely from the complaint filed by "Katie Johnson," and no one has as yet located, identified, or interviewed her. She was scheduled to appear at a press conference on 2 November 2016 but didn't show up, asserting that threats to her life kept her away. She reportedly dropped the lawsuit again on 4 November 2016 for the same reason."
At the time this is being written, that report was last revised by Snopes on "UPDATED 31 MAY 2020." If there was that kind of legitimate dirt on now President Trump, Snopes and others in the anti-Trump media would likely be all over it.
So, the tame Snopes admission that the suit was dropped and there was no corroborating evidence puts the matter in the category of a dirty campaign smear trick.
Snopes also reported that "For his part, Trump asserted that the charges were "not only categorically false, but disgusting at the highest level and clearly framed to solicit media attention or, perhaps, are simply politically motivated," adding that "There is absolutely no merit to these allegations. Period."
It is clear that anyone can allege anything about anyone. Repeating a smear doesn't make a smear true.
As Oxford Scholarship said, "…false narratives that reinforce partisan identity not only flourish, but crowd-out true narratives even when these are presented by leading insiders. In the other, false narratives are tested, confronted, and contained by diverse outlets and actors operating in a truth-oriented norms dynamic." The book, per Oxford Scholarship, tends to paint the left-wing media more favorably than center-right news sources.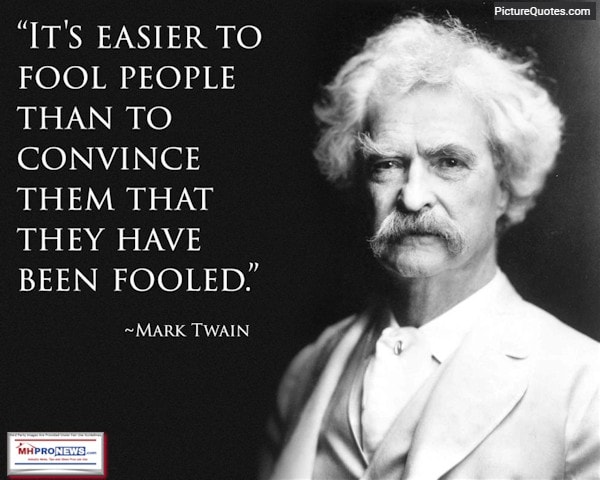 MHProNews Summary and Analysis
There is no doubt that spin and agenda-driven news exists on either side of the left-right media divide. It is why a measure of skepticism is necessary in reading 'news' reports. Indeed, various surveys awareness of 'fake news' has become a more universally accepted phenomenon across the left-right divide.
It is equally true, per various psychological and sociological studies, that repeating a false narrative time and again can cause even people who know the truth to doubt the truth. That is sometimes referred to as "gaslighting," a form of propaganda or brainwashing.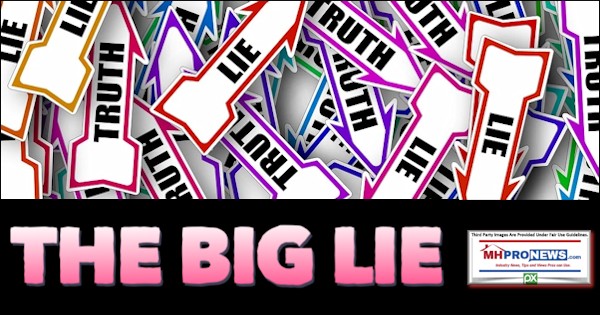 Several documentaries examine that phenomenon. For instance, the award-winning "Shadows of Liberty" makes the point that both left- and right-wing media alike were largely sold a bill of goods by the Bush Administration in the run-up to the invasion of Iraq in the Second Gulf War. While a Republican himself, candidate-turned-President Trump has often ripped that decision and has blasted the trillions spent and the hundreds of thousands of lives lost or wounded in Middle Eastern wars.
While anti-Trump media and voices often say that the 45th president has an incoherent agenda, it has been aptly summarized in the slogan "America First." Creating energy independence through various regulatory, tax, and other reforms has made U.S. dependence on Middle Eastern or other foreign sources of energy less important. That is a rationale, not an irrational, principle.
Buying goods made in America by American workers of all backgrounds is another prudent and simple to grasp principle. Several sources say that some 3.7 million U.S. jobs were lost to China. The left-of-center Washington Post reported yesterday that "more than 14.7 million people who are still out of work" after the 4.8 million new and returning jobs regained in June reported by the U.S. Department of Labor data.
It remains to be seen how aggressively the president and the Trump Administration will push to bring more manufacturing back to America. But in fairness his tax, tariff, and regulatory reform agenda have all already begun that process.
Time and again the policies of the "establishment" create a net threat to American workers and smaller businesses. Those "Elites" or "Establishment" types are the people that President Trump appealed for his supporter to reject by following him in his 2016 campaign.
Trump Administration policies in the last 3 years, pre-pandemic, resulted in strong job creation and income growth.  That is according to data on both sides of the left-right divide.
Safety and security are top items for tens of millions of people. Especially in the wake of the recent riots, it could well play a larger role in the 2020 election.
While President Trump exaggerated the facts, he was largely correct in saying that most of the top cities in the U.S. are under Democratic party rule.  That's per the left-of-center Washington Post, which is owned by Jeff Bezos, another anti-Trump billionaire. The president claimed they were all Democratic run. That was not correct. But the vast majority are run by Democrats, per WaPo, which cited FBI data.
Gates, Buffett, Soros, Mark Zuckerberg, Jeff Bezos, and numerous other top billionaires are routine supporters of Democratic policies and politicians. While saying one thing, they often do the opposite. That is a form of paltering that has worked on millions. Let's note that making that statement should not be construed to paint all Democrats as bad. Rather, it is simply a reality. Democrats and Republicans alike have been supportive of manufactured housing. Facts are what they are.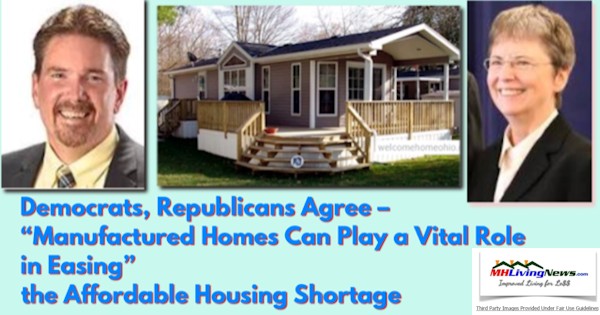 Not Only Voting Wisely, But Sharing Wisely
The evidence for those willing to look with an open mind is this. The president has to a significant degree done as his 2016 campaign claimed it would aim to do. Are there still unfulfilled campaign promises? Yes, and that is fairly common in such a highly partisan divide when tens of millions wrongfully thought that the president's campaign colluded with Russia. That was just one more example of guilty by association that is evidence free. Tens of millions spent, numerous investigations, and there is no proof whatsoever that anyone in the 2016 Trump campaign colluded with Russia or its strongman leader, Vladimir Putin.
President Trump's policies have proven useful to the vast majority of people from all racial, gender, and ethnic background. He has any number of people who know him that deny that he's racist, a xenophobe, etc.
Even with the facts in this report or those linked from it, there are no guarantees that President Trump will win reelection.
While polling at this time favors former VP Biden, presidential opinion surveys also favored Secretary Hillary Clinton right up to election day too. The notion of the 'fake news' may help the president's campaign to some degree. But the fact that millions still believe the narrative of the uber-wealthy that back Biden and the left shows there is much work to be done.
The election is a jump ball. Sound information is going to be an important part of discernment process.
MHProNews plans to continue to provide insights on topics that do and could influence the industry that has largely underperformed since Warren Buffett led-Berkshire Hathaway bought Clayton Homes and its associated lenders.
Until then, it would be prudent for all those who favor small, independent businesses vs. globalists to share this report and others like it. As the Good Book says, only the truth can set people free.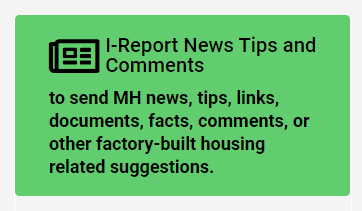 See the related reports following the byline and notices for more.
The Big Lie, paltering, and various forms of subtle- to bold-manipulation have been at work for years. They permeate key parts of our profession but also American society at large. It won't end without a battle. Freedom is never free.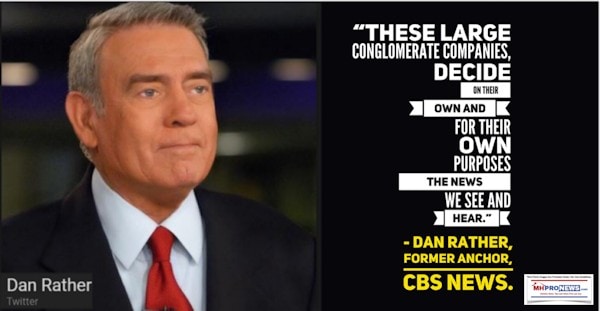 Leaked Secret Democratic Memo On Black Lives Matter Emerges; "Haven't Seen Sh-t Like This Before"
That's a wrap on this installment of manufactured housing "Industry News, Tips, and Views Pros Can Use" © where "We Provide, You Decide." © ## (Affordable housing, manufactured homes, reports, fact-checks, analysis, and commentary. Third-party images or content are provided under fair use guidelines for media.) (See Related Reports, further below. Text/image boxes often are hot-linked to other reports that can be access by clicking on them.)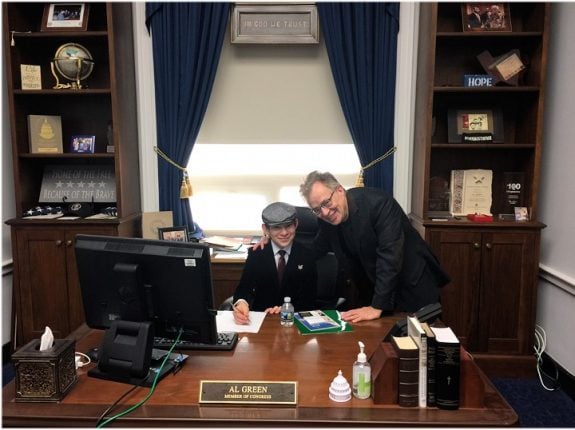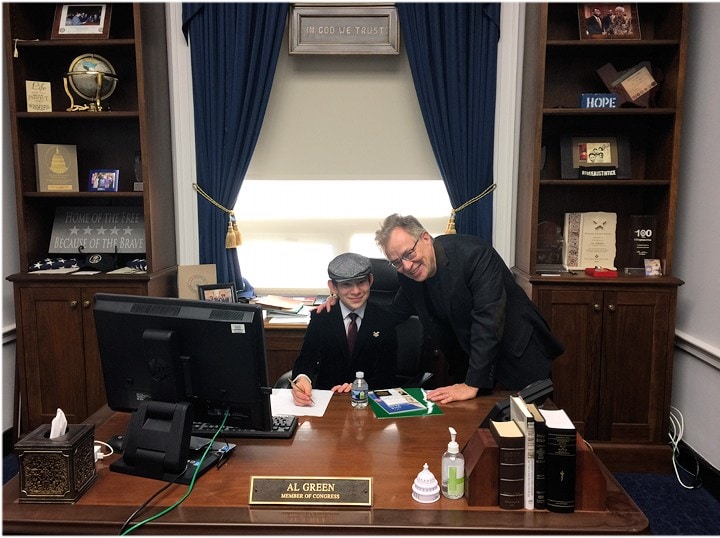 By L.A. "Tony" Kovach – for MHLivingNews.com.
Tony earned a journalism scholarship and earned numerous awards in history and in manufactured housing. For example, he earned the prestigious Lottinville Award in history from the University of Oklahoma, where he studied history and business management. He's a managing member and co-founder of LifeStyle Factory Homes, LLC, the parent company to MHProNews, and MHLivingNews.com. This article reflects the LLC's and/or the writer's position, and may or may not reflect the views of sponsors or supporters.
Connect on LinkedIn: http://www.linkedin.com/in/latonykovach
Recent and Related Reports:
The text/image boxes below are linked to other reports, which can be accessed by clicking on them.
"We are trained Marxists." – Black Lives Matter (BLM) co-founder Patrisse Cullors, "Deception and Misdirection" – Capital Research Center
Black Lives Matter-Slavery, Racial History, Economic Inequality, Affordable Home Ownership–White Billionaires Getting Richer
"Change the Battleground," Eagle vs. Snake Lessons from San Fran's Christoph Sandoval; plus Sunday Headlines in Review 6.14 to 6.21.2020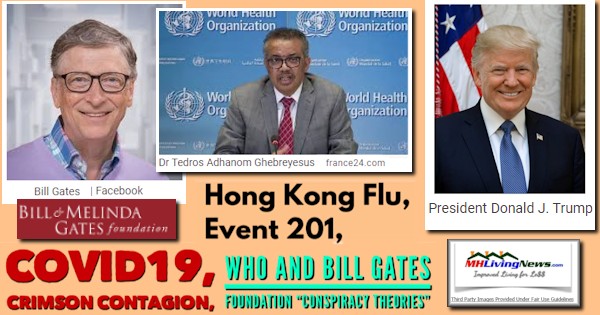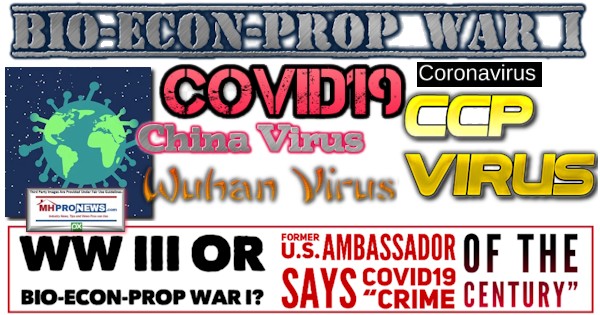 Complaints to State and Federal Officials, Agencies About Corrupt Practices in Manufactured Housing Industry Growing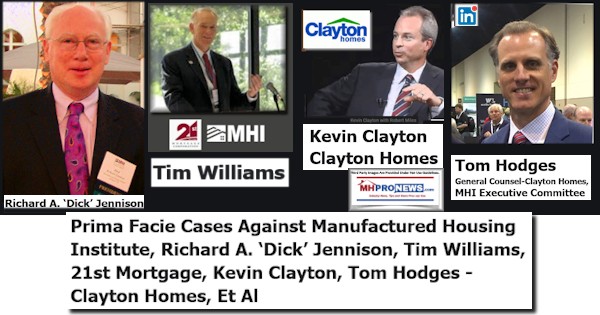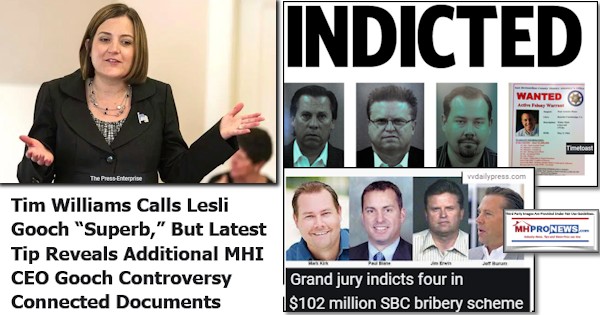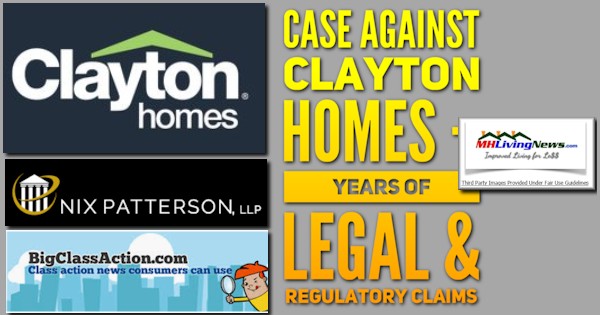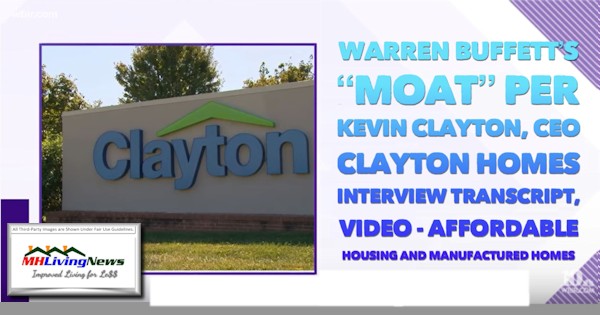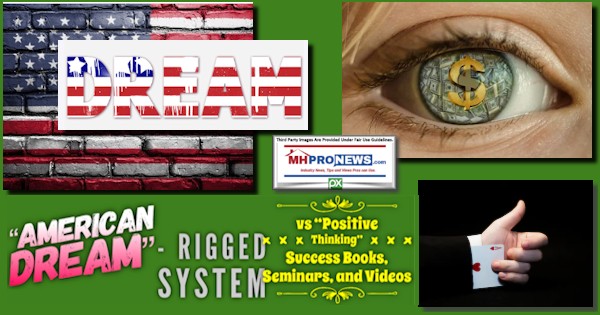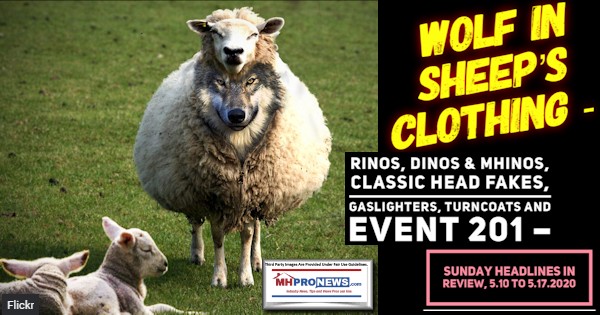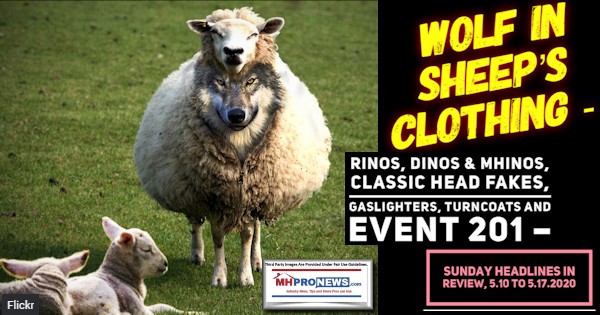 Fraud, RICO and Antitrust-Issues of Genius, Honesty, Legality, Competency-Berkshire Hathaway and Manufactured Housing Institute Leadership, Sunday Morning Headlines Review 2.23 to 3.1.2020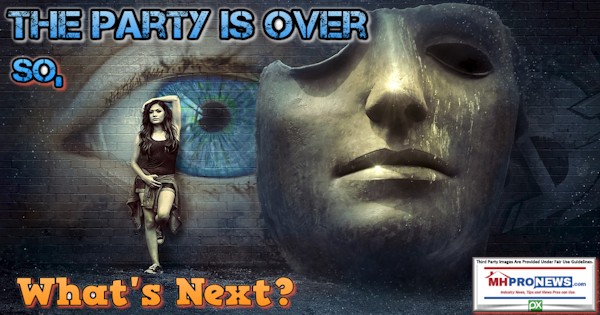 Dark Money-Billionaires Buffett, Gates, Soros Funding Black Lives Matter, Antifa – Named by AG Barr in Riots, Looting – Hijacking Peaceful George Floyd Death Racial Justice Protests