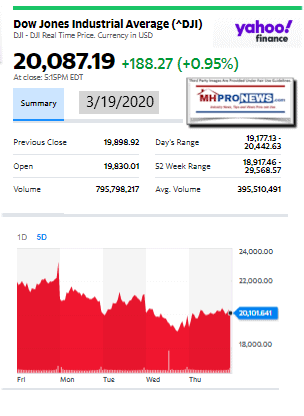 "The research also found that if interventions in the country could have been conducted one week, two weeks, or three weeks earlier, cases could have been reduced by 66 percent, 86 percent and 95 percent respectively – significantly limiting the geographical spread of the disease. However, if NPIs [non-pharmaceutical interventions] were conducted one week, two weeks, or three weeks later than they were, the number of cases may have shown a 3-fold, 7-fold, or 18-fold increase, respectively." So said the University of Southampton on 3.11.2020.
It's your life and your money. Based on the study that sparked that quote above, left-of-center Axios provided a significant timeline of events, which combined with Southampton and other information will be our featured focus this evening.
Every evening our headlines that follow provide snapshots from two major media outlets on each side of the left-right news spectrum that reflect topics that influence or move investor sentiment. In moments on this business evening report, you can get 'insights-at-a-glance.'
This report also sets the broader context for manufactured housing markets, in keeping with our mantra, "News through the lens of manufactured homes and factory-built housing" ©.
We begin with headlines left-of-center CNN followed by right-of-center Fox Business. We share closing tickers and other related data courtesy of Yahoo Finance, and more. 5 to 10 minutes reading this MHProNews market report every business night could save you 30 minutes to an hour of similar reading or fact-gathering elsewhere.
Perhaps more important, you will get insights about the industry from experts that care, but also dare to challenge the routine narrative that arguably keeps manufactured housing underperforming during an affordable housing crisis.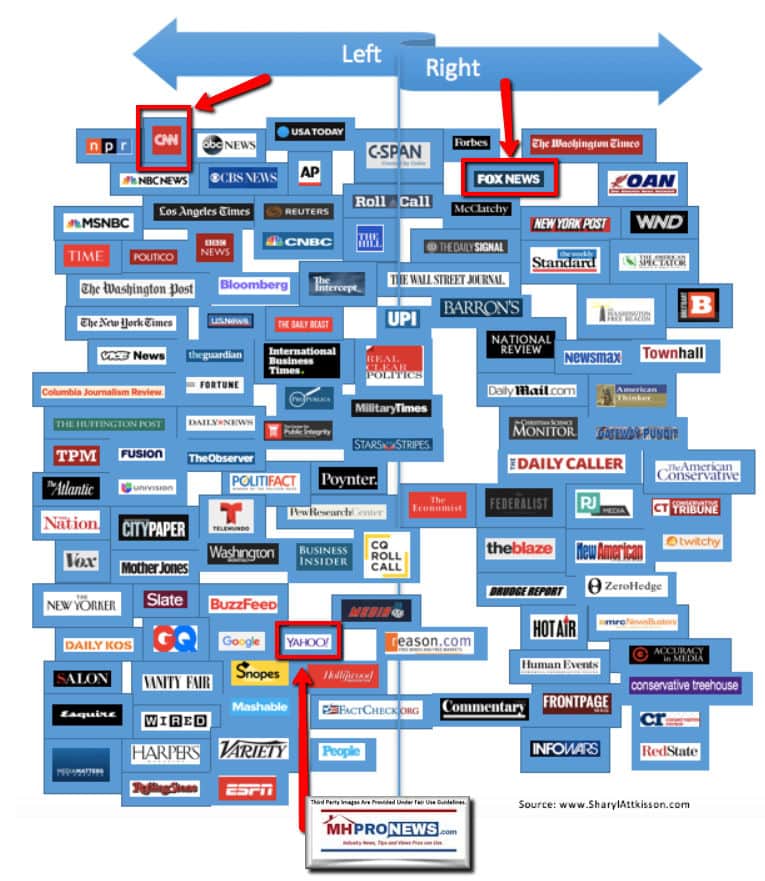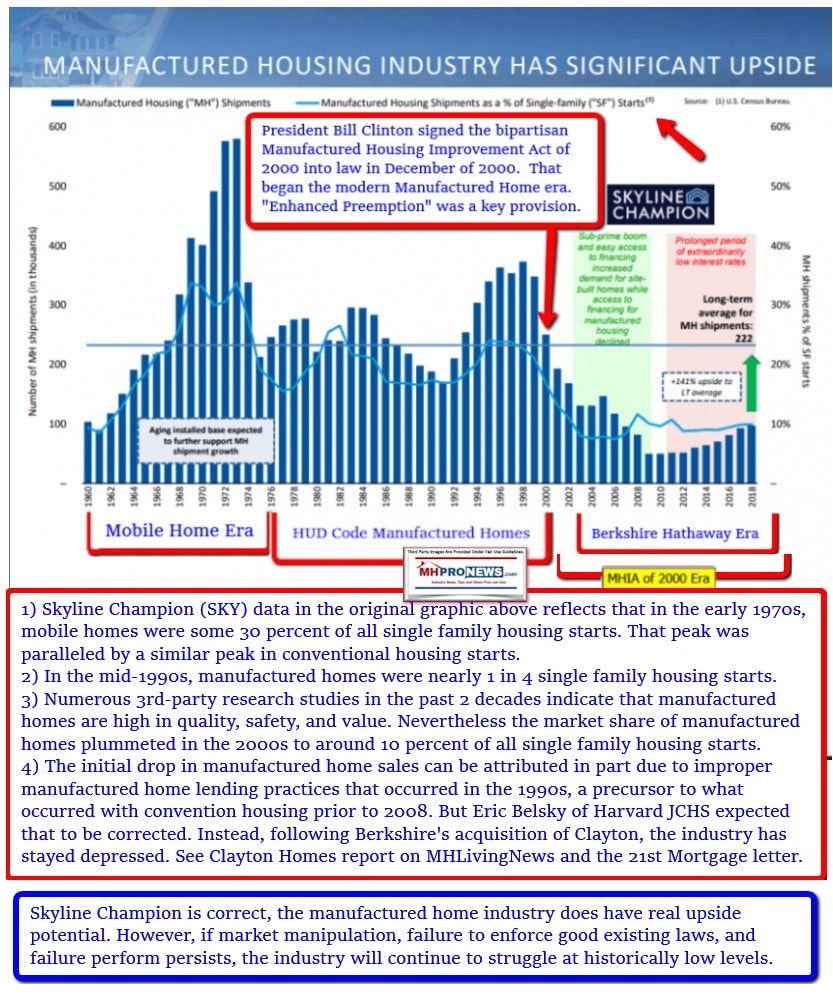 Newsy, Peeling Back Media Bias, Manufactured Housing Sales, Investing, Politics, and You
Headlines from left-of-center CNN Business
·        America on hold
·        California Street, usually filled with iconic cable cars, is seen mostly empty in San Francisco, California on March 17, 2020. – Millions of San Francisco area residents last Monday were ordered to stay home to slow the spread of the deadly coronavirus as part of a lockdown effort covering a section of California including Silicon Valley.
·        Coronavirus could spark another Great Depression, former Trump adviser warns
·        Governments are pumping trillions into their economies. But some people could still be left out
·        Oil spikes by a record 24%, bouncing off 2002 lows
·        Coronavirus could have a lasting effect on the supermarket industry
·        US gun sales spike
·        New York restaurant group lays off around 2,000 people
·        It's too late for this pandemic. But everyone wants insurance against the next one
·        Cash handouts are coming as countries do 'whatever it takes' to survive the pandemic shock
·        Opinion: Giving all US adults cash could help stop a depression
·        OTHER TOP STORIES
·        Traders work on the floor at the opening bell of the Dow Industrial Average at the New York Stock Exchange on March 18, 2020 in New York. – Wall Street stocks resumed their downward slide early Wednesday as the economic toll mounts from the rapid near-shutdown of key industrial and services sectors. About 15 minutes into trading, the Dow Jones Industrial Average stood at 20,040.66, down around 1,200 points or 5.6 percent.
·        Stocks finish in the green
·        Ford, GM and Tesla may make ventilators to combat coronavirus
·        Shortage of ventilators puts manufacturers on wartime footing
·        Netflix is slowing down in Europe to keep the internet from breaking
·        Analysis: Trump acts like he wants the US press to be more like China's
·        These grocery store chains have special hours for older Americans
·        Bed Bath & Beyond remains open, despite workers' opposition
·        Buying, selling, closing. How to handle a real estate deal in a pandemic
·        Gas prices fall below $2 a gallon in 12 states
·        MARKETS
·        HOUSEHOLD ESSENTIALS
·        Toilet paper makers: 'What we are dealing with here is uncharted'
·        What it's like working at Walmart during a pandemic
·        Walmart shortens its hours even further
·        The pandemic's newest shortage? Coconut water
·        Stores forced to ration food and other supplies
·        GADGETS
·        PlayStation 5 will have 3D audio and support older games
·        Apple unveils new products
·        What we know about the new Xbox
·        8 tech gadgets that work offline
·        Samsung has a new weapon in the flip phone wars
Headlines from right-of-center Fox Business
·        Nikki Haley resigns from Boeing board
·        Nikki Haley, former United Nations ambassador, resigned from Boeing's board effective immediately over objections of a possible government aid package for the planemaker, one of many initiatives being discussed by the federal government amid the coronavirus crisis.
·        Mnuchin: White House will send checks to most Americans within 3 weeks
·        Trump suggests coronavirus aid package won't be free money for execs, big business
·        FDIC can insure people up to this amount
·        Did the NYSE wait way too long to close down the trading floor?
·        Coronavirus cases could have been reduced by 95% had China done this, study finds
·        Construction workers join war on virus
·        EXCLUSIVE: Senate working to send $1,200 to most Americans
·        'Quarantine shaming' floods social media
·        Coronavirus kills printed Playboy
·        Celebs ignite social media fury amid coronavirus outbreak
·        Amazon halts grocery orders to restock amid surging demand
·        Dow reclaims 20K protecting Trump-era gains
·        How to safely cook and clean for your family amid coronavirus threat
·        Coronavirus financial concerns: What to do if you can't pay your bills
·        CVS Health to the rescue with coronavirus testing
·        Coronavirus and retirement savings: What to do with your investments
·        American college makes coronavirus testing breakthrough
·        US Surgeon General says Kylie Jenner may be key to helping kill outbreak
·        NFL teams putting coronavirus clauses in free agent contracts: Report
·        Major bank temporarily closing slew of branches across US
·        Here's the luxury vacation spot rich families are fleeing to
·        Chinese factories face new threat
·        Ford offers payment perk to customers
·        Amid coronavirus, Boeing dividend cut considered: Report
·        BUSINESS LEADERS
·        Amid coronavirus, Boeing dividend cut considered: Report
·        Coronavirus prompts US to warn Americans not to travel overseas
·        15-minute coronavirus test kits to be sold in Japan: Reports
·        Strip club's unique solution to staying open and safe during virus outbreak
·        These workers at extreme risk of coronavirus exposure at work, and they're getting no time off
·        Coronavirus is altering senior meal delivery services in New York
·        Ford, GM could use shuttered factories to fight back against coronavirus
·        Ford and GM's spaces could continue to be used.
·        JPMorgan: Coronavirus pandemic will hit US economy harder than '08 crisis
·        Coronavirus layoffs skyrocket, catching nearly half of state unemployment programs unprepared
·        Mnuchin: Cash for companies not a bailout
·        Hospitals facing shortages of key protective equipment amid coronavirus
·        Tulsi Gabbard suspends long-shot presidential campaign
·        Coronavirus situation 'unprecedented,' scientists say
·        Hollywood landmark selling famed wallpaper to benefit hotel staff
·        WATCH: Massive Utah earthquake slams homes, knocks out virus hotline
·        WATCH: China's role in coronavirus spread
·        Preferential coronavirus testing of NBA athletes, celebs '100% wrong': NY Gov. Cuomo
·        US economy can restart as quickly as it shut down, ex-NYSE chief says
·        Why Amazon is the 'safest buy' right now: analyst
·        How to tell whether you may have coronavirus — without getting tested
·        The excuse Michael Avenatti is using in bid to escape jail
·        Jeff Gundlach covers short stock positions amid 'palpable panic'
·        US jobless claims surge as coronavirus weighs on economy
·        UN chief: Coronavirus global recession 'a near certainty', could be historically bad
·        Hotel industry group issues startling warning about impact of coronavirus
·        Varney: Economic storm clouds are gathering
·        How coronavirus cases have shifted in China as outbreak targets Europe, US
·        Amazon confirms first coronavirus case at US warehouse
·        Former Ford CEO: US 'probably' in a recession
·        Two members of Congress confirm coronavirus diagnoses, others quarantined
·        The Americans at highest risk of contracting coronavirus
10 Market Indicator Closing Summaries – Yahoo Finance Closing Tickers on MHProNews…
Featured Focus – Where Business, Politics and Investing Can Meet
The domestic blame game surrounding the COVID19/coronavirus outbreak may be tamping down somewhat in Washington, as bipartisan efforts to pass legislation advances. But there are increasing numbers of examples of international finger-pointing.
The significance of the following timelines, with all but the last item compiled by Axios, will be clear today but could be even more important as the days roll on.
Axios thoughtfully linked the original sources they cited.
Timeline: The early days of China's coronavirus outbreak and cover-up
Dec. 10: Wei Guixian, one of the earliest known coronavirus patients, starts feeling ill.
Dec. 16: Patient admitted to Wuhan Central Hospital with infection in both lungs but resistant to anti-flu drugs. Staff later learned he worked at a wildlife market connected to the outbreak.
Dec. 27: Wuhan health officials are told that a new coronavirus is causing the illness.
Dec. 30:
Ai Fen, a top director at Wuhan Central Hospital, posts information on WeChat about the new virus. She was reprimanded for doing so and told not to spread information about it.
Wuhan doctor Li Wenliang also shares information on WeChat about the new SARS-like virus. He is called in for questioning shortly afterward.
Wuhan health commission notifies hospitals of a "pneumonia of unclear cause" and orders them to report any related information.
Dec. 31:
Wuhan health officials confirm 27 cases of illness and close a market they think is related to the virus' spread.
China tells the World Health Organization's China office about the cases of an unknown illness.
Jan. 1: Wuhan Public Security Bureau brings in for questioning eight doctors who had posted information about the illness on WeChat.
An official at the Hubei Provincial Health Commission orders labs, which had already determined that the novel virus was similar to SARS, to stop testing samples and to destroy existing samples.
Jan. 2: Chinese researchers map the new coronavirus' complete genetic information. This information is not made public until Jan. 9.
Jan. 7: Xi Jinping becomes involved in the response.
Jan. 9: China announces it has mapped the coronavirus genome.
Jan. 11–17: Important prescheduled CCP meeting held in Wuhan. During that time, the Wuhan Health Commission insists there are no new cases.
Jan. 13: First coronavirus case reported in Thailand, the first known case outside China.
Jan. 14: WHO announces Chinese authorities have seen "no clear evidence of human-to-human transmission of the novel coronavirus."
Jan. 15: The patient who becomes the first confirmed U.S. case leaves Wuhan and arrives in the U.S., carrying the coronavirus.
Jan. 18:
The Wuhan Health Commission announces four new cases.
Annual Wuhan Lunar New Year banquet. Tens of thousands of people gathered for a potluck.
Jan. 19: Beijing sends epidemiologists to Wuhan.
Jan. 20:
The first case announced in South Korea.
Zhong Nanshan, a top Chinese doctor who is helping to coordinate the coronavirus response, announces the virus can be passed between people.
Jan. 21:
The U.S. Centers for Disease Control and Prevention confirms the first coronavirus case in the United States.
CCP flagship newspaper People's Daily mentions the coronavirus epidemic and Xi's actions to fight it for the first time.
China's top political commission in charge of law and order warns that "anyone who deliberately delays and hides the reporting of [virus] cases out of his or her own self-interest will be nailed on the pillar of shame for eternity."
Jan. 23: Wuhan and three other cities are put on lockdown. Right around this time, approximately 5 million people leave the city without being screened for the illness.
Jan. 24–30: China celebrates the Lunar New Year holiday. Hundreds of millions of people are in transit around the country as they visit relatives.
Jan. 24: China extends the lockdown to cover 36 million people and starts to rapidly build a new hospital in Wuhan. From this point, very strict measures continue to be implemented around the country for the rest of the epidemic.
Jan. 31: Trump Administration restricts travel from China. (This edit was added by MHProNews).
The bottom line per Axios: China is now trying to create a narrative that it's an example of how to handle this crisis when in fact its early actions led to the virus spreading around the globe.
Related is the following is in British English, so, what looks like a typo isn't in their nation.
Study author Dr Shengjie Lai, of the University of Southampton, comments: "Our study demonstrates how important it is for countries which are facing an imminent outbreak to proactively plan a coordinated response which swiftly tackles the spread of the disease on a number of fronts. We also show that China's comprehensive response, in a relatively short period, greatly reduced the potential health impact of the outbreak."
…
"We are now focussed on adapting this work to new settings beyond China to support response efforts. Different countries may need different approaches, but we aim to help them make informed decisions on how best to put interventions in place."
That same source said:
Population mapping work by WorldPop, funded primarily by the Bill and Melinda Gates Foundation, is helping to inform the World Health Organisation and the US Centers for Disease Control and Prevention (CDC) about the potential spread of COVID-19 and provides valuable information about how best to effectively target interventions in countries globally.
According to the study cited:
"If [non-pharmaceutical interventions] NPIs could have been conducted one week, two weeks, or three weeks earlier in China, cases could have been reduced by 66%, 86%, and 95%, respectively, together with significantly reducing the number of affected areas."
MHProNews has mentioned at various times the Bill Gates connection to these items. As a point of interest is the following.
Trailer for Netflix Docuseries "Pandemic" – 261,037 views – Jan 22, 2020.

Per Netflix, the series was posted on "Jan 8, 2020 – Pandemic: How to Prevent an Outbreak."
MHProNews Takeaways?
There are reasons MHProNews has advocated at various times, including well before this coronavirus outbreak, that the U.S. should decouple from Communist China. Those reasons are growing, not dwindling.
But it is also important to see who fueled and sustained some of these projects in China, including the BL4 lab known as the Wuhan Institute of Virology, where some believe this virus originated.
See related reports below.
MHProNews will continue to monitor these issues, mindful that some of the facts won't emerge until after the dust settles. Once that occurs, there are good reasons for federal officials to investigate with subpoena powers the concerns that have been raised in reports linked below.
Related Reports:
Facts from ER Doc on COVID19; plus, Nobility Homes Sales Data; Other Manufactured Housing Industry Producers – Obstacles and Opportunities
Zacks on Builders, Clayton Homes Announces COVID19 Reaction Plan, Emerging State Bridge Loans for Small Businesses, White House Updates, plus Manufactured Home Investing, Stock Updates
Employers, Employees Face Daunting Risks from COVID 19 – OSHA, Legal, CDC Guidance
Illusions, Collusions – "Heads I Win, Tails You Lose" – "Never Let a Serious Crisis Go To Waste" – Gates, Buffett Massive Money Grabs?
Trillion Dollar Worker-Small Business Coronavirus Relief Plan, Chapman University's Kotkin Calls for "Decoupling" from China, plus Manufactured Home Investing, Stock Updates
2020 Tunica Manufactured Home Show Cancelled, Manufactured Housing Institute Event Apprise, plus Manufactured Home Investing, Stock Updates
"Be Greedy When Others are Fearful" – Bill Gates, Warren Buffett and Follow the Money, plus Manufactured Home Investing, Stock Updates
Markets Plunge Again, Industry Equities Tank, $1Trillion Move by Fed, Can't Have it Both Ways; plus Manufactured Home Investing Stock, Updates
Market Analyst Craig Kucera on UMH Properties, "Never Let a Good Crisis Go To Waste" – Industry, Investment, National Insights
Sam Zell is Buying, plus Manufactured Home Investing, Stock Updates
Manufactured Housing Industry Investments Connected Closing Equities Tickers
Some of these firms invest in manufactured housing, or are otherwise connected, but may do other forms of investing or business activities too.
NOTE: The chart below includes the Canadian stock, ECN, which purchased Triad Financial Services, a manufactured home industry lender
NOTE: Drew changed its name and trading symbol at the end of 2016 to Lippert (LCII).
Spring 2020…
Berkshire Hathaway is the parent company to Clayton Homes, 21st Mortgage, Vanderbilt Mortgage and other factory built housing industry suppliers.
· LCI Industries, Patrick, UFPI, and LP each are suppliers to the manufactured housing industry, among others.
· AMG, CG, and TAVFX have investments in manufactured housing related businesses. For insights from third-parties and clients about our publisher, click here.
Enjoy these 'blast from the past' comments.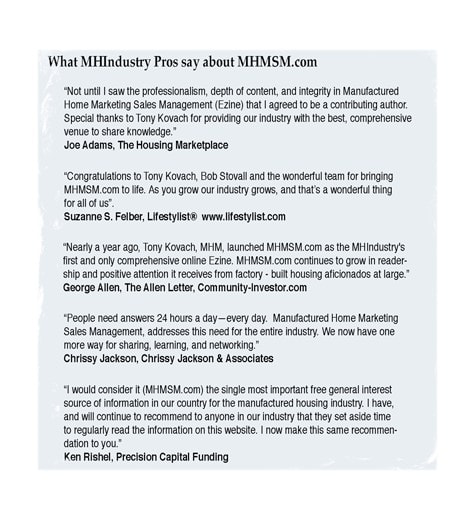 MHProNews. MHProNews – previously a.k.a. MHMSM.com – has now celebrated our tenth anniversary.
Learn more about our evolutionary journey as the industry's leading trade media, at the report linked below.
Celebrating 10 Years of Goal- and Solution-Oriented Manufactured Home Industry Innovation Information, and Inspiration for Industry Professionals
· For expert manufactured housing business development or other professional services, click here.
· To sign up in seconds for our industry leading emailed headline news updates, click here.
Disclosure. MHProNews holds no positions in the stocks in this report.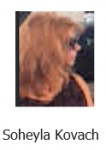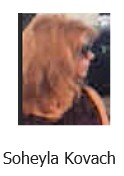 "We Provide, You Decide." © ## (News, analysis and commentary.)
(Image credits and information are as shown above, and when provided by third parties, are shared under fair use guidelines.)
Submitted by Soheyla Kovach, co-managing member of LifeStyle Factory Homes, LLC and co-founder for MHProNews.com, and MHLivingNews.com.

Connect with us on LinkedIn here and here.
2019 Year-End Totals Reveals Decline in New HUD Code Manufactured Home Production, Shipments vs. 2018