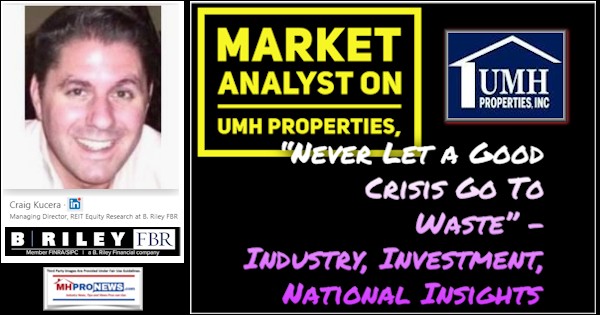 "Never let a good
crisis go to waste."
Rahm Emanuel,
former Mayor of Chicago and
former Chief of Staff to President Barack Obama.
Analyst Craig Kucera gave a buy recommendation on UMH Properties on 3.11.2020. Kucera works for B Riley FBR, which does analysis work on publicly traded firms. More specifically, per Smarter Analyst is the following.
"Craig Kucera from B.Riley FBR reiterated a Buy rating on UMH Properties (UMH), with a price target of $16.50. The company's shares closed last Monday at $12.95.
 According to TipRanks.com, Kucera is a 4-star analyst with an average return of 3.8% and a 57.8% success rate. Kucera covers the Financial sector, focusing on stocks such as Alpine Income Property Trust Inc, Monmouth Real Estate Investment, and Consolidated-Tomoka Land Co.
 The word on The Street in general, suggests a Moderate Buy analyst consensus rating for UMH Properties with a $17.25 average price target, representing a 40.2% upside." Note that Monmouth has ties to UMH.
As thousands of manufactured home professionals know, UMH Properties is one of the larger operators of land-lease communities in the country; per some sources number 6 in the U.S. In a planned upcoming report about UMH on MHProNews, we will reveal some additional relevant information about the industry's struggles based in part on insights from corporate leadership with that Freehold, NJ based firm.
The coronavirus and the plunge in oil prices are thought to have been among the influences that have sparked the sharp drop in the stock price of UMH. See the related report in the featured forces section of last night's investment and stock report linked below.
UMH Statement on "Economic Developments," Recent Stock Drop, Attkisson Warns of "Money Grab," plus, Manufactured Home Investing, Equities Updates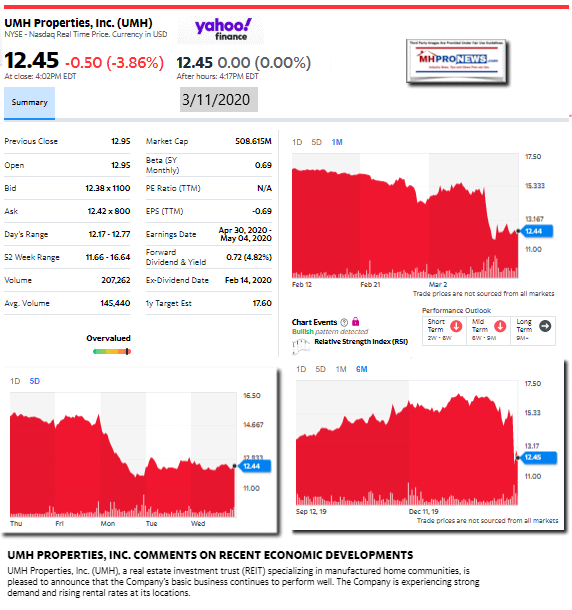 That part of headline related for this report is thus complete. What follows is frankly a mix of background, facts, speculation plus MHProNews analysis that merits a disclosure and some contextual information.
Unpacking the Coronavirus, Political and Energy Market Plunge
For some years, mainstream news – most noticeably on cable TV news channels – has employed panel discussions or one-on-one interviews with a guest who is deemed an expert in whatever the subject happens to be. That format works like this; those panel members or an individual expert are asked to comment about a topic. That practice is straightforward on one level, but arguably blurs in line between what is "news" and what is speculation that may or may not prove to be relevant or accurate.
Our opening quote from Rahm Emanuel was previously used in an article published on MHProNews in 2017. As with most news sites, MHProNews keeps an article posted once it is published. That article has surged to the number two most read article on the website, perhaps due in large part to people doing internet searches on that famous phrase by Emanuel.
Which sets the stage for what follows.
Yesterday WHO – the World Health Organization – branded the coronavirus a pandemic. That's not a matter which we will specifically analyze, it is merely noting the fact of the announcement.
Curious minds may want to know what or whom is behind WHO? Let's pull back the veil and look.
Bill Gates and Warren Buffett sit on each other's boards of directors; Gates on the Berkshire Hathaway board, and Buffett on the Bill and Melinda Gates Foundation board.
On February 28, 2020 MHProNews noted the public statement by Bill Gates that was a somber warning of what might be to come. See that report in the featured focus section of that evening's market report, found in the linked image below.
"Be Greedy When Others are Fearful" – Bill Gates, Warren Buffett and Follow the Money, plus Manufactured Home Investing, Stock Updates
All of these items are facts. Then, note that there are those voices in medicine and in other disciplines who in recent days have expressed that this coronavirus – COVID 19 – is serious, while others have said that while it is not to be ignored, they have thought it is being overblown when compared to other illnesses. Time alone will fell who proves to be correct on that score. It is a reasonable question if this is COVID 19 matter is being overhyped or not.
Since our weekend report linked below, MHI has doubled-down on their upcoming spring meeting. Their latest message indicates they are pressing ahead, not even mentioning COVID 19.
Events Canceled Due to Coronavirus Fears, Manufactured Housing Institute Spring Meeting Update, Plus Sunday Week in Review 3.1 to 3.8.2020
Tom Hodges, General Counsel for Clayton Homes and MHI's current Chairman presumably has access to the type of information that Gates and Buffett do. If so, given WHO's and Gate's respective warnings, how is an intelligent person supposed to make sense of the apparent disconnect between MHI's moving ahead with their meeting and public statements made by leaders? On the one hand, MHI is acting like there is no coronavirus outbreak at all. On the other hand, there are warnings coming from Gates and WHO, which the Gates Foundation is the number two donor of, per the information above. Facts beg questions. MHI isn't yet answering.
MHProNews Analysis and Commentary
Let's watch to see if MHI cleans up this disconnect on holding their event when so many others are canceling similar events or not.
Let's watch to see if Berkshire and others will buy the dramatic recent dip in the stock markets. Sam Zell has already said that he has done some buying.
Sam Zell is Buying, plus Manufactured Home Investing, Stock Updates
MHProNews has asked an organization and researcher that has previously written extensively on what one called among 'the greatest transfers of wealth in history,' namely, the 2008 financial crisis. Be this coronavirus overblown or more muted than headlines make one think, it certainly reminds keen observers of the following Buffett mantras.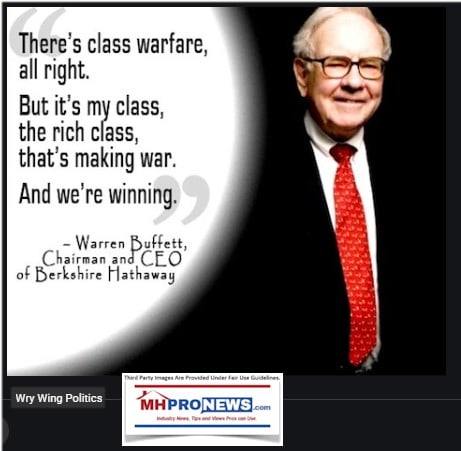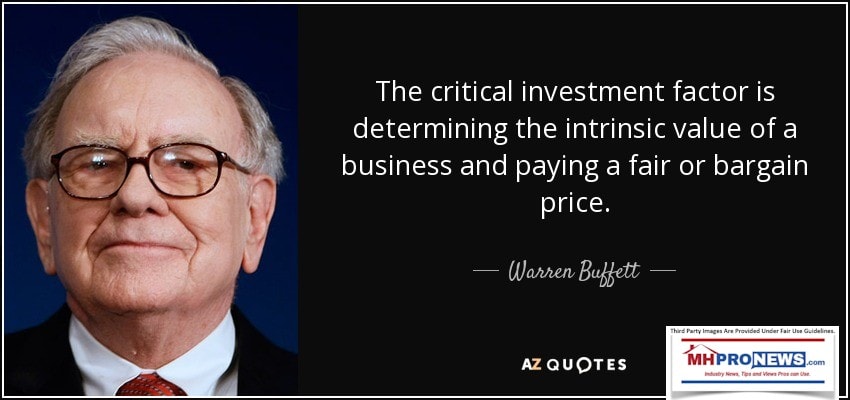 There are any number of possible takeaways from the above. We will limit them for now to this simple observation. Bad news, real or hyped, can be the friend of those with deep pockets. President Donald Trump himself has said that no one saw this current crisis coming. How could they? It arose from inside communist-run China, where news is carefully managed.
In just the last few weeks, an economy that was being widely hailed as rock-solid is now possibly being plunged into a recession by events that to a significant extent originated from outside of the United States; China, Russia and Saudi Arabia. Roughly half of the gains in the stock market since POTUS Trump's election have been wiped out, per CNN.
There are many possibilities, each of which bear scrutiny.
Whatever the underlying causes, however real or hyped, will a relatively few – such as Buffett and Gates – benefit at great cost to the many? Will this derail an economy that some felt had President Trump on a glide path to re-election?
MHProNews plans to monitor this issue, to see once this headline-fueled crisis has passed who has bought what and for how much. Because these unforeseen events have caused every stock tracked in our nightly manufactured home industry connected market report to tank. By accident or design, it is entirely possible that trillions in wealth is being transferred at a time of fear, and that fits the mantra of one Warren Buffett.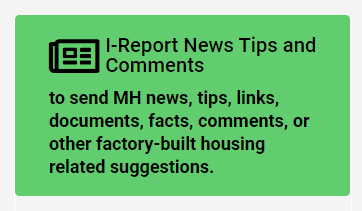 That's a wrap for this installment of manufactured housing "Industry News Tips and Views Pros Can Use" © – MHVille's runaway #1 news source, where "We Provide, You Decide." © (News, fact-checks, analysis, and commentary.) Notice: all third party images or content are provided under fair use guidelines for media.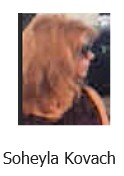 Submitted by Soheyla Kovach for MHProNews.com. Soheyla is a co-founder and managing member of LifeStyle Factory Homes, LLC, the parent company to MHProNews, and MHLivingNews.com. Connect with us on LinkedIn here and here.
Buffett's Board – Berkshire Hathaway, Interlocking Directorates, Ronald Olson – Manufactured Housing and Truth Hiding in Plain Sight
"Illegal mergers are half the picture, and illegal monopolization is the other half." – 3.10.2020 Senate Anti-Trust Testimony, plus Manufactured Home Investing, Stock Updates
Former Manufactured Housing Institute Vice President Sounds Off on Manufactured Home Financing
Flashback Friday – Enron, WorldCom and Bernie Madoff – Lessons, Implications for Manufactured Housing Regulators and Investors? Plus, Manufactured Home Investing, Stock Updates
Trump Administration Asked to Withdraw Brian D Montgomery Nomination Over Conflicts of Interest