A systematic approach to the headline above will shed light on several manufactured housing industry related issues. This should prove enlightening to new as well as longtime readers.
With that preface, on the next to last page of the recently published Berkshire Hathaway annual report to shareholders for 2019 is the following list of directors and officers. Some of these names are well known, others hold positions of influence and one is about to become better known to our industry's professional readers.
BERKSHIRE HATHAWAY INC.
DIRECTORS
WARREN E. BUFFETT,
Chairman and CEO of Berkshire
CHARLES T. MUNGER,
Vice Chairman of Berkshire
GREGORY E. ABEL,
Vice Chairman of Berkshire – Non Insurance Operations
AJIT JAIN,
Vice Chairman of Berkshire – Insurance Operations
HOWARD G. BUFFETT,
Undersheriff of Macon County, Illinois
STEPHEN B. BURKE,
Chairman of NBCUniversal, a media and entertainment
company
SUSAN L. DECKER,
Former President of Yahoo! Inc., an internet company.
WILLIAM H. GATES III,
Co-Chair of the Bill and Melinda Gates Foundation
DAVID S. GOTTESMAN,
Senior Managing Director of First Manhattan Company,
an investment advisory firm.
CHARLOTTE GUYMAN,
Former Chairman of the Board of Directors of
UW Medicine, an academic medical center.
THOMAS S. MURPHY,
Former Chairman of the Board and CEO of Capital
Cities/ABC
RONALD L. OLSON,
Partner of the law firm of Munger, Tolles & Olson LLP
WALTER SCOTT, JR.,
Former Chairman of Level 3 Communications, a
successor to certain businesses of Peter Kiewit Sons' Inc.
which is engaged in telecommunications and computer
outsourcing.
MERYL B. WITMER,
Managing member of the General Partner of Eagle Capital
Partners L.P., an investment partnership.
OFFICERS
WARREN E. BUFFETT,
Chairman and CEO of Berkshire
WARREN E. BUFFETT, Chairman and CEO
CHARLES T. MUNGER, Vice Chairman
GREGORY E. ABEL, Vice Chairman – Non Insurance Operations
AJIT JAIN, Vice Chairman – Insurance Operations
MARC D. HAMBURG, Senior Vice President and CFO
DANIEL J. JAKSICH, Vice President, Controller
MARK D. MILLARD, Vice President
JO ELLEN RIECK, Vice President
KERBY S. HAM, Treasurer
REBECCA K. AMICK, Director of Internal Auditing
As new 2019 Berkshire report to shareholders linked here stated on that next to last page, Ronald L. Olson is a partner in the Munger, Tolles & Olson LLP (MTO) law firm. From the MTO website, the following is on their home page.
Also found on the MTO website are their practice areas of focus.
https://www.mto.com/practices-industries
Practices
Antitrust
Corporate
Employment
Environmental
Financial Restructuring
International
Litigation
Real Estate
Tax
From the MTO website's 'about us' page on this date is the following statement. Highlighting is added by MHProNews, and as regular readers know, for some years this platform often takes directly quoted text and turns it bold and brown to make it pop, but otherwise, it is as in the original.
"We are involved in some of the most high-profile legal cases in the country and count among our clients Bank of America, Transocean, Edison International, Verizon, Rambus, Oaktree Capital Management, KB Home, LG Display, Yucaipa Cos. and Berkshire Hathaway."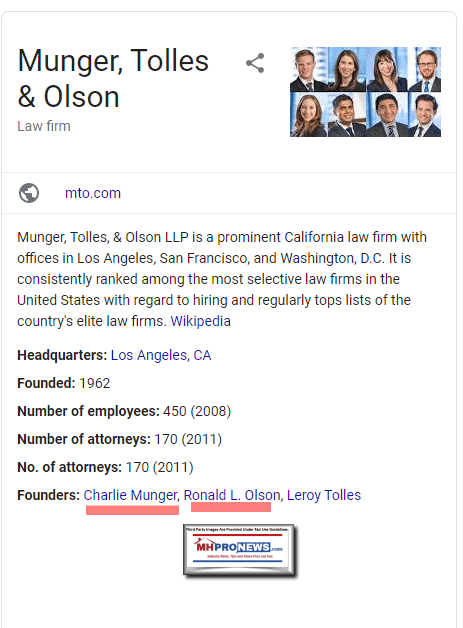 Additionally, there is this from the law firm's website bio on Olson.

Ronald L. Olson is a name partner of Munger, Tolles & Olson whose practice involves a combination of litigation and corporate counseling.
Mr. Olson counsels individual executives and boards of directors in a wide range of matters, including transactions, corporate governance and executive compensation. He has also been the lead partner in numerous high-profile litigation matters. Mr. Olson is ranked among Chambers USA's Senior Statesmen in California litigation.
Mr. Olson is a director of Berkshire Hathaway, Western Asset Trusts and Provivi. He was a director of Edison International (1995-2014), a director of City National Bank (2001-2014) and a director of The Washington Post Company (2003-2017). He serves as a director of several nonprofits, including the California Institute of Technology and ProPublica. He was chairman of the American Bar Association's Litigation Section (1981-1982), the American Bar Association's Standing Committee on Federal Judiciary (1991-1992), the American Bar Association's Alternative Dispute Resolution Committee (1976-1986) and Vice President of the Board of Governors of the State Bar of California (1986-1987). He was also chairman of the board of trustees of Claremont University Center and Graduate School (1984-1994), founding chairman of the board of trustees of Southern California Public Radio (1999-2004), a trustee of the Mayo Clinic (2004-2016), a trustee of the RAND Corporation (1994-2016 and formerly chair) and a director of the Council on Foreign Relations (2002-2010).
Memberships:
Mr. Olson has been actively involved in legal and public affairs including:
The Ron Olson Justice Center (headquarters of the Los Angeles Legal Aid Foundation)
American Academy of Arts & Sciences
Fellow, American College of Trial Lawyers
Fellow, American Law Institute
Fellow, The American Bar Foundation
Counsel for Governor Arnold Schwarzenegger
Past General Counsel to the California Democratic Party
Regarding the Legal Aid Foundation of Los Angeles (Ron Olson Justice Center), that organization's website says the following.
"The Legal Aid Foundation of Los Angeles (LAFLA) is the front line law firm for poor and low-income people in greater Los Angeles. LAFLA provides a comprehensive range of legal services and seeks to achieve equal justice for poor and low-income people through direct representation, systems change, and community education."
SuperLawyers profile on this date shows Olson as assisting "clients with Securities Litigation and Antitrust Litigation issues."
In terms of his politics and donations, the following is the first page of many from the Open Secrets website. Several 2020 Democratic presidential candidates are among those shown below, as are Hillary Clinton, Barack Obama and numbers of notable high-profile as well as other Democrats. A few Republicans made Olson's campaign donation list too.
Returning to Olson's bio page, per MTO, includes this item.
Fellowships
One more set of credentials from Olson's bio. Note that on the list below, Berkshire is listed at the top. First time readers should bear in mind our separating wheat from chaff standard, facts from fiction, and that providing images under fair use guidelines for media should not be construed as an endorsement.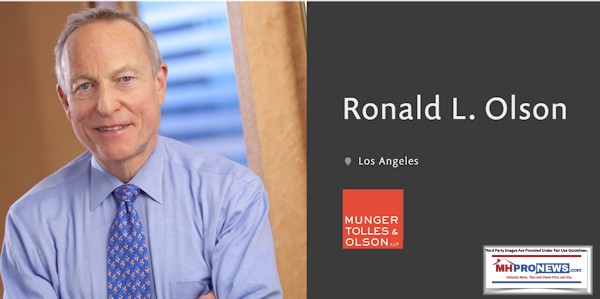 Key Representations:
Berkshire Hathaway in a wide range of matters including Board governance and advice, acquisition of BNSF and corporate litigation matters.
Intel Corporation in a broad range of matters including Board governance and advice, Mobileye acquisition and side-channel security litigation.
Mark Zuckerberg in a variety of matters, including Facebook's capital structure.
The Board of Directors of PepsiCo in connection with demands from activist Nelson Peltz.
Founders (Larry Page and Sergey Brin) of Google in connection with Google IPO and subsequent recapitalization and related litigation and subsidiary management.
NFL consultancies regarding concussion and antitrust cases.
Los Angeles Chargers football team in connection with its move from San Diego to Los Angeles, and other matters for the Denver Broncos and the Washington Redskins.
Tokyo Electric Power Company regarding claims from the Fukushima nuclear disaster.
Grupo Mexico in an appeal in connection with a $2.4 billion judgment.
Imperial Irrigation District regarding Colorado River water rights and restoration of the Salton Sea.
Steven Udvar-Házy and Air Lease Corporation in establishing a new, global airline leasing company.
Numerous Board investigations, including Sea World and the Getty Museum.
The Board of Directors of Yahoo! in connection with Microsoft's proposed takeover, the Google outsourcing contract and the proxy contests of 2008 and 2012.
General Reinsurance, Berkshire Hathaway's subsidiary, in being investigated by the United States SEC, United States Department of Justice and New York Attorney General for its involvement with AIG and various finite insurance transactions.
The Board of Trustees of the Getty Trust in connection with corporate governance and foreign government claims to its antiquities collection.
Shell Oil Company in various antitrust and environmental matters including in its 2006 U.S. Supreme Court antitrust victory (Dagher v. Shell Oil Company, et al.), its pipeline explosion and in the pending series of class actions claiming oil companies' liability for the Katrina hurricane damage and global warming.
The Tornante Company, the private equity firm of Michael Eisner, in its successful proxy fight for control of Topps and subsequent deals.
Brad Grey, Paramount's Chairman, in a wide array of matters, including executive compensation.
Edison International in the California electricity crisis.
Merrill Lynch in the Orange County bankruptcy.
Shell Oil Company industry lead counsel in CARB gas antitrust cases.
Universal Studios, as co-lead counsel, in a trial against Viacom/Paramount for the ownership of USA Network.
Salomon Inc. in connection with the Nasdaq antitrust litigation (United States Department of Justice and class actions) and the 1991-1992 criminal investigation and governmental claims arising from its conduct of treasury security auctions.
The Republic of the Philippines against the Marcos family.
Alyeska and its oil company owners in the criminal investigation and civil litigation arising from the Exxon Valdez oil spill."
That background above provides a reasonably complete snapshot of Berkshire board member Olson, who comes from a self-proclaimed progressive law firm whose founding partner including Warren Buffett's partner Charlie Munger. It also is a reminder of how the principle of interlocking directorates can play out in Buffett-world.  There are any number of possible touch points that may have been influenced by or from thinking in Omaha without Berkshire or Buffett's name being directly attached to it.
MHProNews Outreach to Berkshire Board member Olson
On the date and time shown, MHProNews sent the following message and inquiry to Olson, the firm's general contact email, to their media contact.
from:   L. A. Tony K [MHProNews]
to:       Ron.Olson@mto.com
cc:       JesseD@infiniteglobal.com,
mungertolles@mto.com
date:   Feb 28, 2020, 11:40 AM
Subject: Mr. Olson – Media outreach on antitrust, other issues relative to Berkshire Hathaway
Mr. Ronald L. Olson, J.D.,
It is my understanding from the latest Berkshire Hathaway annual letter to shareholders that you serve on that firm's board of directors.
With that in mind, we are the manufactured home industry's largest and most-read trade media. For the past few years, we have been probing Berkshire Hathaway's Clayton Homes and related lending. Kevin Clayton, Tim Williams at 21st Mortgage and others in that circle know us and our work well.
We are not attorneys, but we have done research and homework based upon input from those who know. That said, it is our view that a possible case for antitrust and other possible federal and/or state violations exist. We'd value your response to that concern, based upon your examination of some of the relevant reports that outline the allegations. Note that the first two links are purportedly prima facie evidence of improper behavior involving Berkshire Hathaway owned brands and/or their corporate leaders and association activities.
https://www.manufacturedhomelivingnews.com/bridging-gap-affordable-housing-solution-yields-higher-pay-more-wealth-but-corrupt-rigged-billionaires-moat-is-barrier/
https://www.manufacturedhomepronews.com/masthead/prima-facie-cases-against-manufactured-housing-institute-richard-a-dick-jennison-tim-williams-21st-mortgage-kevin-clayton-tom-hodges-clayton-homes-et-al/
Additionally, there are tactics that relate to the strategic 'castle and moat' concept that several mainstream media sources have said appear to be purported monopolization efforts. The one linked below is not mentioned in our other reports, but additional links to third-party reports about these allegations exist, as I suspect you know.
https://realinvestmentadvice.com/a-walking-contradiction-warren-buffett/
"…more than any other, best defines Buffett's investment preferences. He routinely speaks about the competitive "moat" that he likes for his companies to have. Understanding what he means by that is important. The following quote captures the essence:
"If you've got a good enough business, if you have a monopoly newspaper or if you have a network television station, your idiot nephew could run it."
Keyword: Monopoly. That is how a company retains pricing power. The empire of the perceived champion of American capitalism and free markets is built on monopolistic companies. Yes, I think we can add that to the list of contradictions…."
With that in mind, there is a growing array of issues that appear to fit 'the moat' and Mr. Warren Buffett's 'sharks in the water' maxim. These arguably harm both residents, smaller businesses. But by extension that would logically have ripple effects into federal or state budgets.
https://www.manufacturedhomelivingnews.com/manufactured-homeowners-interests-threatened-by-manufactured-housing-institute-deceptive-scheme-per-modular-home-builders-associations-tom-hardiman/
https://www.manufacturedhomelivingnews.com/hbos-john-oliver-on-last-week-tonight-mobile-homes-video-manufactured-home-communities-fact-check/
https://www.manufacturedhomepronews.com/masthead/energy-environment-institute-big-donors-conflicts-warren-buffett-mike-bloomberg-undermine-manufactured-housing-via-sierra-club-lawsuit/
https://www.manufacturedhomepronews.com/masthead/affordable-housing-needed-investors-seek-returns-powerful-pro-insights-including-warren-buffett-no-apologies-whatsoever-manufactured-housing-truth-outs/
https://www.manufacturedhomelivingnews.com/former-manufactured-housing-institute-president-manufactured-home-owners-urban-institute-and-you/
https://www.manufacturedhomelivingnews.com/coming-epic-affordable-housing-finance-clash-chair-maxine-waters-vs-warren-buffett-clayton-homes-historic-challenges-ahead/
https://www.manufacturedhomelivingnews.com/fhfa-gses-high-cost-to-minorities-all-americans-due-to-asserted-failures-to-follow-duty-to-serve-affordable-housing-existing-federal-laws/
Again, as we think you may be aware, there are several federal and state probes into these issues.
https://www.manufacturedhomepronews.com/complaints-to-state-and-federal-officials-agencies-about-corrupt-practices-in-manufactured-housing-industry-growing/
With that backdrop, here are my questions.
Knowing that Clayton Homes, 21st Mortgage, Vanderbilt Mortgage and Finance (VMF) and the Manufactured Housing Institute (MHI) have been asked several times to address these concerns, how would you address the legal concerns these reports raise?
If Clayton, 21st, VMF and MHI have nothing to hide, then why have they ducked the opportunity to discuss these issues publicly in a third-party moderated setting with media and industry members in attendance?
We plan to do a report tomorrow morning on that will include this message. Please provide your reply in advance of that report, say by 8 PM ET tonight. You can type your answer below each question and it can be of whatever length. PDF attachments to illustrate your points are welcomed.
Finally, we are bcc'ing a few interested parties to document this message and outreach, just FYI.
Thank you in advance for a timely response.
Regards,
Tony
L. A. "Tony" Kovach
Managing Member
LifeStyle Factory Homes, LLC
DBAs:
MHLivingNews.com | MHProNews.com | LATonyKovach.com |Office 863-213-4090 |
Connect on LinkedIn:
http://www.linkedin.com/in/latonykovach
##
As of this writing, neither Olson, their media contact, nor others associated with MTO have provided a known follow up. MHProNews can update that as needed in a future report.
MHProNews Analysis and Commentary
The purported prima facie case of antitrust violation evidence in the report linked above in the message to Olson is found in the report immediately below and has had several arguably market significant impacts and consequences.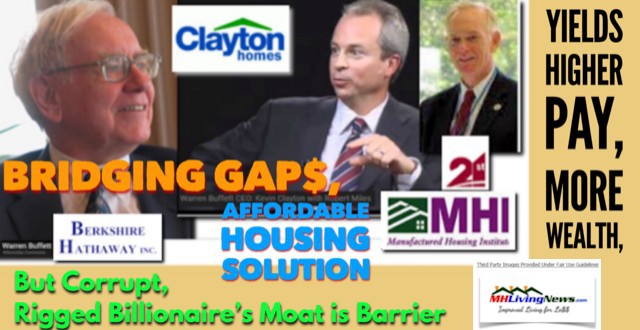 Among those impacts, in no specific order of importance, are the following bullets:
Some 10,000 (+/-) manufactured home retailers vanished and/or were absorbed by others in the aftermath of 21st Mortgage Corporation's letter below. Numbers of those retailers were successful for years, often for decades. A similar copy of the letter below and much more are found in the report linked above.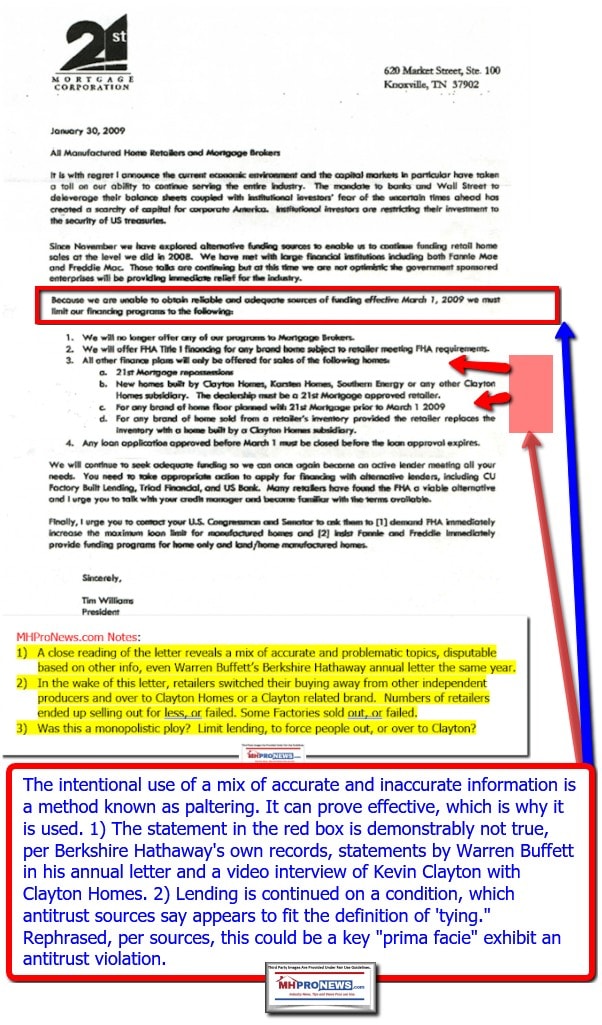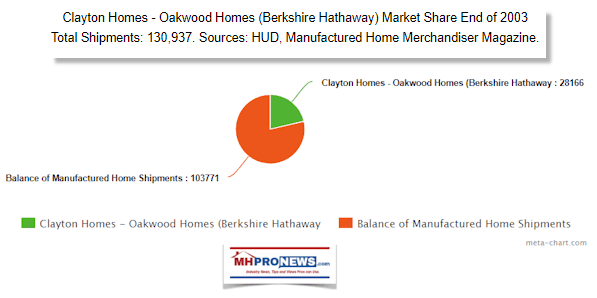 Because thousands of independent manufactured home communities (MHCs, a.k.a. and often errantly known as 'mobile home parks') had a business model that depended on independent retailers selling homes into their commercial land-lease properties, thousands of MHCs were slowly destabilized. That business model was successful until retailers suddenly fell into oblivion. While it would be too much to say that the Berkshire brands alleged market-rigging effort was alone in causing the bullets above, here and following, it would logically follow that a lack of new sales to fill vacancies would have a steady impact that would result in increased vacancies and other consequences. More on that further below.
The loss of new home sales to retailers resulted in a steady loss of independent producers of HUD Code manufactured homes. That in turn had impacts among suppliers to those producers.
Fewer sellers naturally resulted in lower loan volumes. The pressure on those that made such loans to exit the market would grow, as was exemplified by U.S. Bank's exit from the direct lending market. They specifically stated that regulatory pressures and low loan volumes were the contributing factors, even though they also said that their loan performance was good and their program was profitable. The push for what was called the Preserving Access to Manufactured Housing Act was fueled in part because many believed – based upon statements like the one that followed – that they too might fail if the controversial bill wasn't passed into law.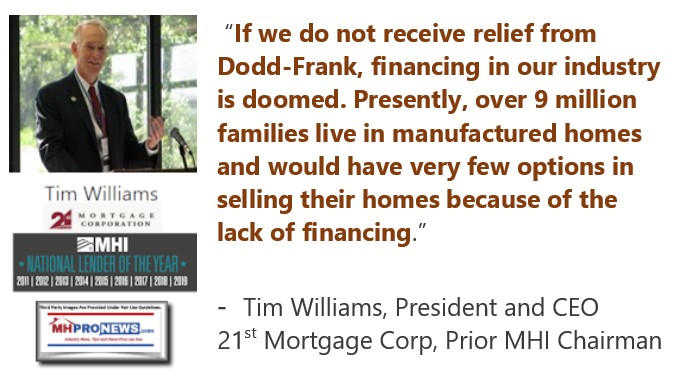 Put differently, there was a cascade or ripple effects from artificially constraining lending by 21st to those that did not sell Clayton Homes product and/or 21st Mortgage Corporation repossessions. Note, in fairness, Williams at 21st months later modified that first 2009 letter's stance. While that may have mitigated the impact on some, it clearly didn't change what had already occurred to others who had lost sales due to a loss of a specific type of lending that 21st For those outside of manufactured housing, because 21st 'buys deeper' – meaning more marginal credit – loans made by 21st were often not being made by other manufactured home lenders. That's why the impact on independents was arguably so serious.
Additional consequences also flowed from the events outlined above. Among them?
Logically, the loss of new inventory and residents into thousands of 'mom and pop' and other independently owned manufactured home land-lease communities meant that a slow but steady growth in vacancies was a consequence. When a community operator gets to a certain level of occupancy, paying for maintenance or improvements would become increasingly difficult.
As research reports from various jurisdictions increasingly reflect, state and local governments are learning just how valuable those once independently owned manufactured home communities were to affordable housing in their area. A typical manufactured home community was often more affordable than other options yet was provided by the free market. Little or no tax dollars were involved in thousands of communities, which in fact produced tax revenues to the locality. A recent report on that topic from the University of Texas law school is found below.
Endangered – University of Texas Study of Manufactured Home Communities
At some point, regulatory challenges, occupancy problems, lower revenue and other factors combine to cause an increasing number of independently manufactured home community owners to sell. The UMH Properties snapshot below reflects the significant to high levels of vacancies that resulted from the loss of independent retailers. Note that those distressed sellers of communities sold at a discount from the market value of the same property had that property been fully occupied.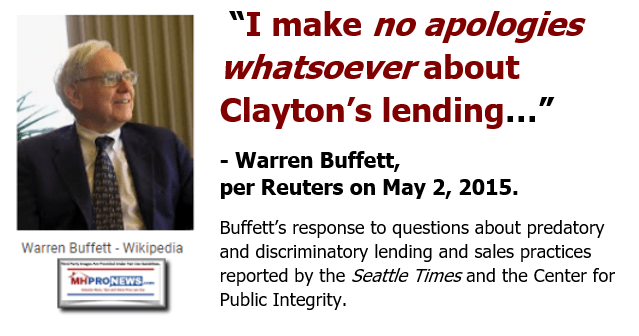 Rephrased, there are winners and losers from what the Berkshire brands are alleged – based upon a growing pile of evidence – to have sparked. Those with deeper pockets could buy properties, retailers, other producers, suppliers and so on at a discounted valuation. That just happens to fit the Buffett maxims quoted below.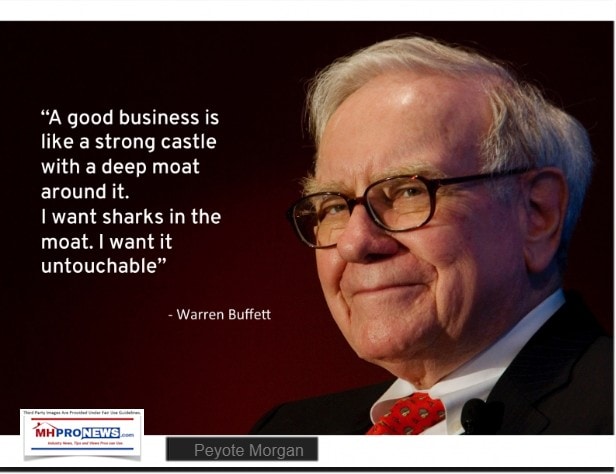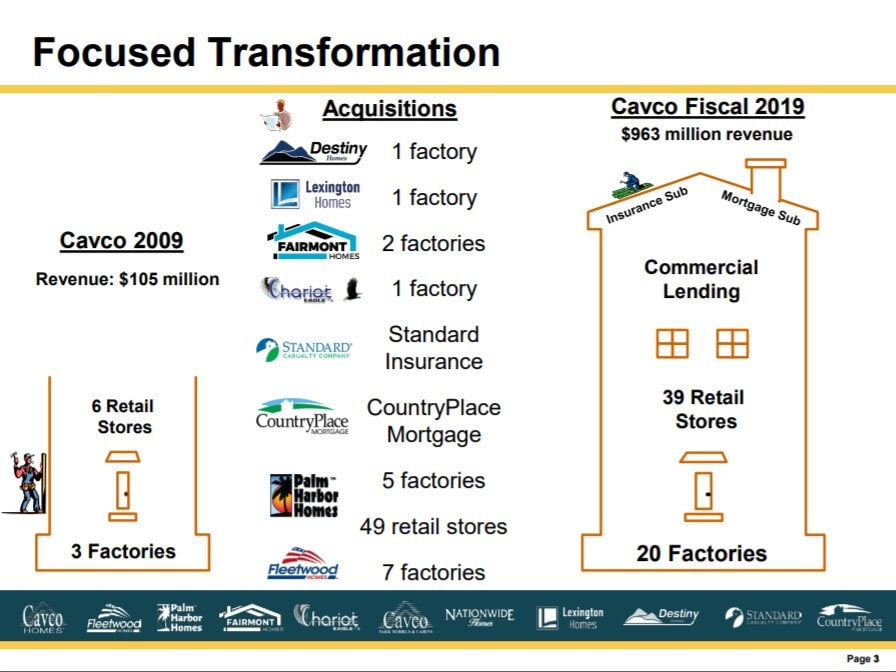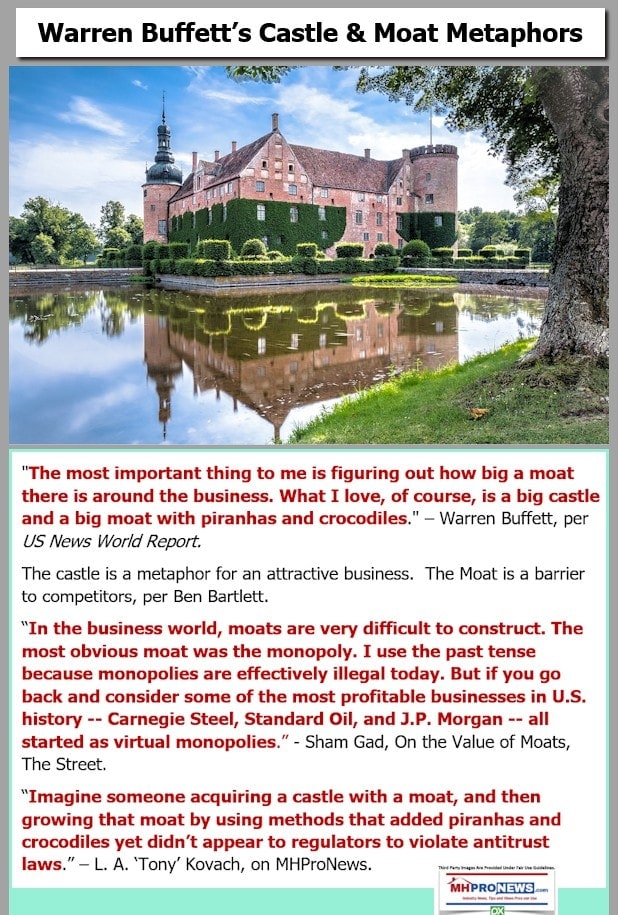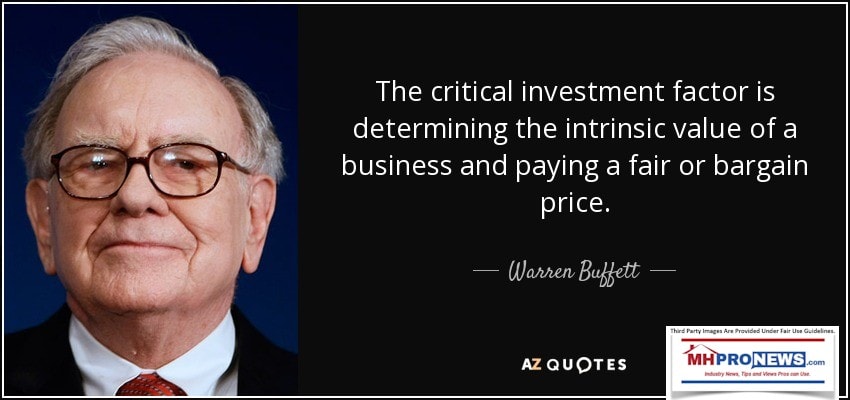 Which brings us back to the RIA Advisors' Lebowitz quote cited above.
Loebowitz is hardly alone in his view, as the quote below reflects.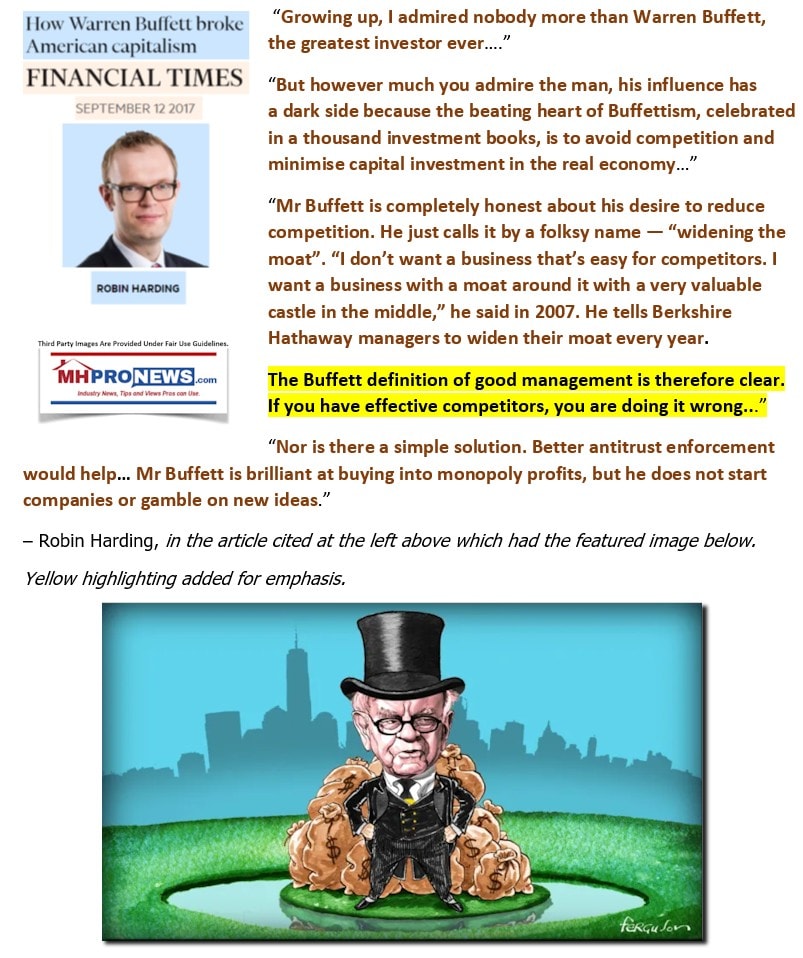 But this cascade of impacts outlined in this report, analysis and fact check purportedly harmed more than just retailers, communities, producers or other businesses and service providers. As the Havenpark Capital or other similar stories about commonly Manufactured Housing Institute (MHI) members reflects, when private equity sweeps in, they often raise the site-fees significantly and abruptly.
Rephrased, independent retailers and hundreds of thousands of community residents have been effected by the purported consequences of that letter from Tim Williams at 21st, a Berkshire Hathaway owned brand. Olson, as noted, sits on Berskshire's board.
There are a variety of legal, regulatory, ethical and image concerns that flow from this pattern of actions and outcomes. A well-known example that is approaching a year old is the Last Week Tonight with John Oliver viral video report errantly named "Mobile Homes." As the screen capture linked below reminds readers, Clayton Homes and Warren Buffett were prominently featured in that HBO video.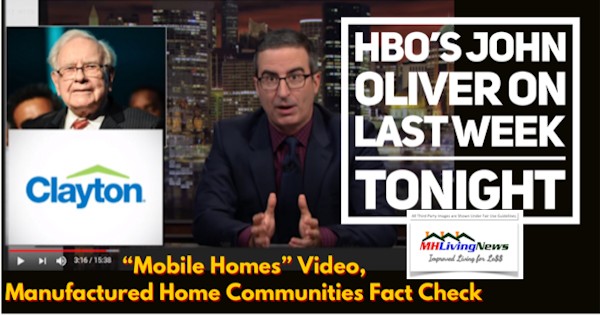 That in turn brings into focus the connections between Buffett, donations, and nonprofit groups that magically seem to do things that prove useful to Berkshire brands that want to continue to foster artificial headwinds for competitors. Aren't those examples of sharks and other predators in the waters of the Buffett moat?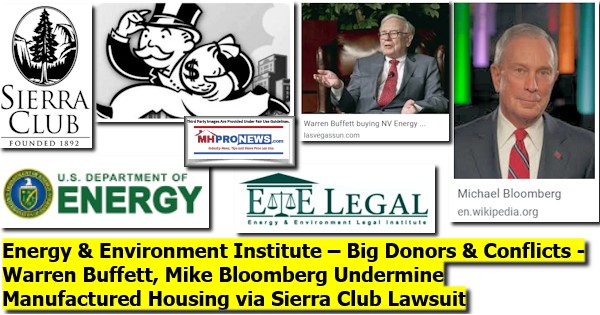 To shed light on that question, see the reports linked above and below.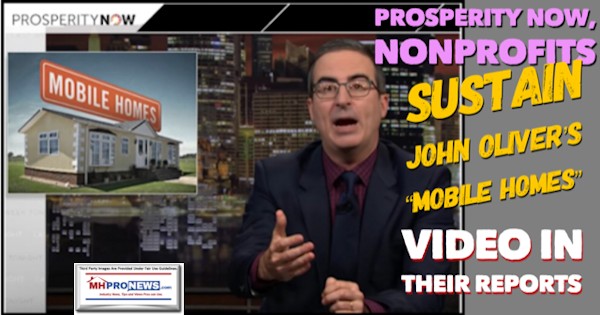 Which brings us to a point that was made by a tipster a few years ago. To grasp how this webs of Buffett activity is operating in the manufactured housing industry, one must think about the principle of interlocking directorates. It isn't always literally interlocking directorates at work, but the concept that is being stressed.
Rephrased, Buffett's brands – by accident or design – seem to benefit from both bad and good news, because they are better able to weather bad news. To understand how these issues intersect, read the reports linked herein and then invest the hour to view the Kevin Clayton video posted near the end of this linked report – because Clayton explains much in his own words. But in viewing and listening to what Kevin said, note what Lebowitz called "contradictions" – which MHProNews would argue is paltering.
Paltering, Manufactured Homes, CrossModTM Homes, Manufactured Housing Institute, Clayton Homes, Berkshire Hathaway Manufactured Home Lenders, DTS, and You
Paltering for a publicly traded firm could be legally significant.
Investor Alert – Manufactured Housing Institute Paltering Concerns, Fannie Mae's Duty to Serve, plus Manufactured Housing Investing, Stocks Updates
Bear in mind that public comments by corporate leaders are supposed to be accurate to the best of their knowledge and belief.
Are Big VW, Fiat Chrysler, BMW Automotive Lawsuits with SEC Signaling Woes for Publicly Traded Manufactured Housing Institute (MHI) Members?
It's a tangled web. But the web is there to see for those who are willing to invest the time to follow the facts, evidence, money and logic. That may explain why several lawmakers and other public officials are reportedly probing Berkshire and others involved in the Omaha-Knoxville-Arlington axis.
Even Clayton's hometown news channel has filed a report on these concerns, as the first video below reflects.  The second video below indicates how lawmakers and other advocates have been activated by the John Oliver report.  But what they may or may not realize that is every firm Oliver's video mentions has ties to Clayton and Berkshire dominated MHI.
Complaints to State and Federal Officials, Agencies About Corrupt Practices in Manufactured Housing Industry Growing
There is more to this, as what follows reveals. But the allegations and concerns could be summed up like this.
Berkshire Hathaway owned brands, in connection with corporate decisions, donations and other actions that trace back to Warren Buffett have manipulated the manufactured housing market in ways that created artificial restraints on trade.
Thousands of independent retailers were lost or sold for a discounted valuation.
Thousands of communities suffered and were sold for a discounted valuation, due to vacancies that flowed from the disruption of their long-successful business model.
Not only were retailers, communities, producers and others harmed, but so too were consumers and owners of HUD Code manufactured homes.
Nonprofit groups – including manufactured home associations – were weaponized, neutered and now often operate in ways that happen to foster consolidation. Trade associations have purportedly become 'Buffett's Buffet' – a place where big companies meet with smaller firms in a seemingly friendly manner that establishes relationship that end up with consolidations.
Rephrased, the victims of this slow-motion ploy may often not realize that they've been victimized and how that victimization occurred.
We periodically compare this to former billionaire Bernie Madoff – in a this narrow sense. It is an openly operating scheme that harms millions, but it takes expert insights to see how the ploy has functioned. Madoff was once hailed, now he's jailed. Madoff was once too big to fail or question, now he's seen as having cost millions billions and created massive indigestion.
To learn more about these and issues related to what we have called the Omaha-Knoxville-Arlington axis and their surrogates and allies, see the related reports below.
"Be Greedy When Others are Fearful" – Bill Gates, Warren Buffett and Follow the Money, plus Manufactured Home Investing, Stock Updates
MailChimp reports that our #4 most clicked link in our latest eblast was the sign up for our x2 weekly emailed headline news. Be in the know. From the mom and pop sized operations to the largest names in the manufactured home industry, you'll find our readers by the thousands. If you aren't already on it, you are missing out on the news that thousands of industry professionals, investors, state and federal officials and other pros find a useful way to keep up with the world of manufactured housing.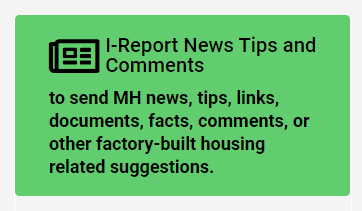 Its a leap-year, so this month February gets a 29th day. Voters will stream to the polls in South Carolina today. Many more will go and vote on rapidly approaching "Super Tuesday." Not only is there evidence of manufactured housing being undermined and weaponized from within, but there are reasons to ponder what President Donald J. Trump periodically says about "draining the swamp," which he stressed again at a campaign rally last night. Former Congressman John Delaney emailed to explain why he dropped out of the Democratic contest. Keep in mind Delaney's warnings to his fellow Democrats against embracing "fairy tale economics."
The issue outlined aren't a left-or-right, Democrat or Republican. There are lawmakers on both sides of the mainstream political aisle that have decried several of the practices outlined and linked from this report and others we've published like it.   That said, buying political access is also part of this challenge. Several of the 2020 Democrats have said in their own words that that corporations and billionaires are 'buying our democracy.' The photo collage and cartoons that follows should be understood in that light, and in the light of the donations and board members cited herein above.

Barriers to Entry, Persistence, and Exiting in Business, Affordable Housing, and Manufactured Homes
Berkshire's Buffett says certain things that could be construed as contradictory or paltering. Reports like this one or others linked herein lay out a systematic argument that affordable housing and the manufactured home industry's proper role in that struggle has been and continues to be weaponized and undermined in a fashion that builds the Berkshire moat and populates it with sharks and other dangerous creatures. There are voices on both sides of the political aisle that say that a battle underway for the future of our Republic.
To certain billionaires and their minions, manufactured housing is a relatively minor part of that struggle. That said, it is no small matter for the residents, 'white hat' independent businesses, investors and ethical nonprofits that strive to make affordable manufactured homes more available to millions.  To learn more, check out the related reports linked herein or below. That's a wrap on this Saturday installment of "News through the lens of manufactured homes and factory-built housing," © where "We Provide, You Decide." © (Affordable housing, manufactured homes, reports, fact-checks, analysis, and commentary. Third-party images or content are provided under fair use guidelines for media.)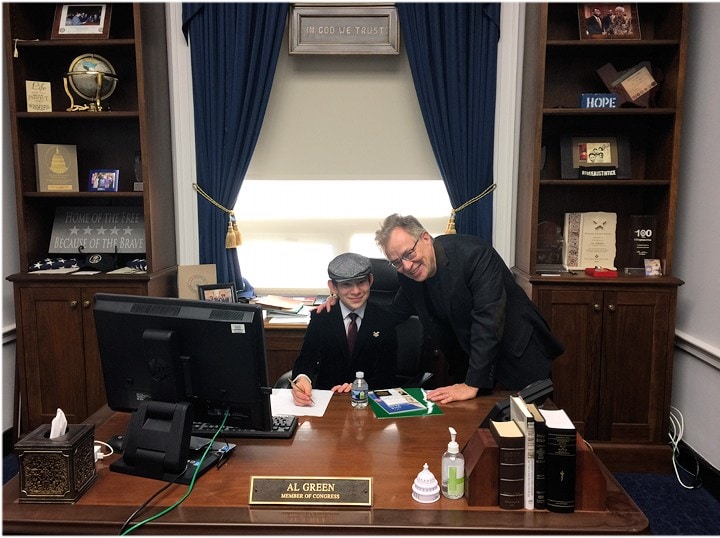 (See Related Reports, further below. Text/image boxes often are hot-linked to other reports that can be access by clicking on them.)
By L.A. "Tony" Kovach – for MHLivingNews.com.
Tony earned a journalism scholarship and earned numerous awards in history and in manufactured housing. For example, he earned the prestigious Lottinville Award in history from the University of Oklahoma, where he studied history and business management. He's a managing member and co-founder of LifeStyle Factory Homes, LLC, the parent company to MHProNews, and MHLivingNews.com. This article reflects the LLC's and/or the writer's position, and may or may not reflect the views of sponsors or supporters.
Connect on LinkedIn: http://www.linkedin.com/in/latonykovach
Related References:
The text/image boxes below are linked to other reports, which can be accessed by clicking on them.
Applying Democratic, Republican & Barak Orbach's Monopolization Logic to Affordable Housing Crisis Impacting Manufactured Home Industry
$500 Million Axne-Khanna Plan, Manufactured Housing Legislation Introduced, But Manufactured Housing Institute Fails to Tell Members?
Congresswoman Rips Frank Rolfe, Dave Reynolds, Havenpark for "Troubling," "Predatory," "Deceptive" Practices, Calls for Federal Investigations
Federal Official, Manufactured Housing Institute, Manufactured Housing Association for Regulatory Reform and Certain MHI Member Firms
Complaints to State and Federal Officials, Agencies About Corrupt Practices in Manufactured Housing Industry Growing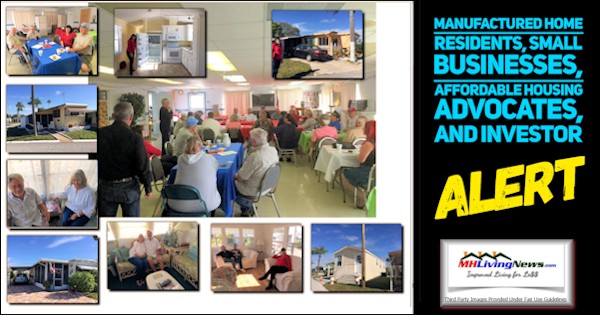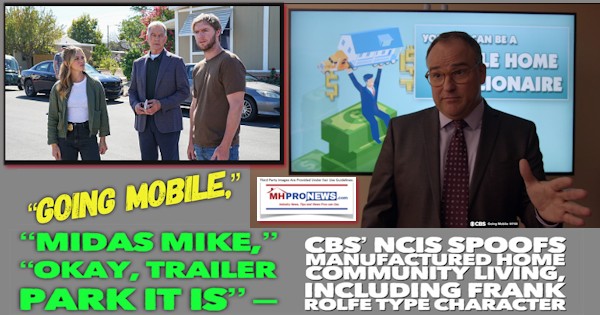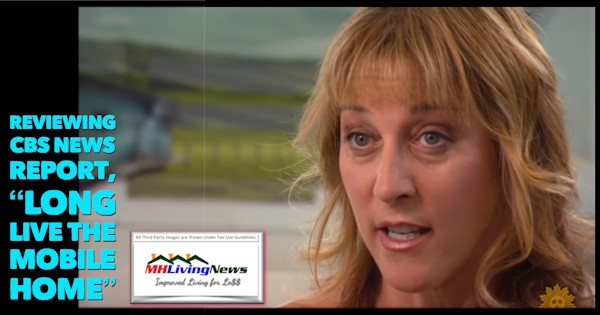 Saturday Satire and Executive Summaries for Manufactured Housing Professionals, Investors, Advocates, Researchers, Public Officials, and Investigators