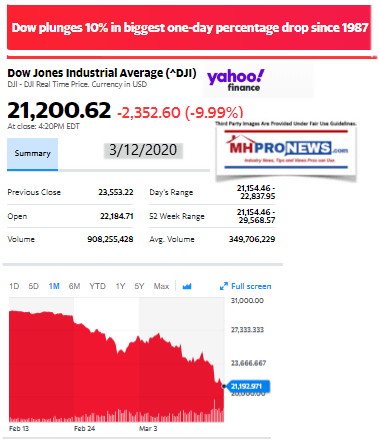 You could call it a weapon of mass distraction. Think about the hot topics from a month ago, or even 3 weeks ago. They are buried in the background.
You could call it a massive transfer of wealth in process, with the parties that are to benefit yet to be revealed.
The reaction to this coronavirus is quite different than that of prior coronaviruses, namely, SARs and MERs. The contagion rates are different, but based on what is now know, there are reasons to believe that a serious over-reaction is underway. That's not to underplay the problem. It is to say that market watchers should carefully, prayerfully, ponder just what is going on.
Because they can't have it both ways. Facts on COVID 19 and related are below, including piece of historic Warren Buffett lore as he speaks on camera about the timing of buying stocks during a flu.  Facts, figures, videos, graphics – a rich cross section of information that will be part of this evening's featured focus. As usual, you'll find the beyond our left-right headlines, and the standard fare that follows just below.
Programing note: this report was drafted at 7:45 PM ET and scheduled for after 11 PM ET.
Every evening our headlines that follow provide snapshots from two major media outlets on each side of the left-right news spectrum that reflect topics that influence or move investor sentiment. In moments on this business evening report, you can get 'insights-at-a-glance.'
This report also sets the broader context for manufactured housing markets, in keeping with our mantra, "News through the lens of manufactured homes and factory-built housing" ©.
We begin with headlines left-of-center CNN followed by right-of-center Fox Business. We share closing tickers and other related data courtesy of Yahoo Finance, and more. 5 to 10 minutes reading this MHProNews market report every business night could save you 30 minutes to an hour of similar reading or fact-gathering elsewhere.
Perhaps more important, you will get insights about the industry from experts that care, but also dare to challenge the routine narrative that arguably keeps manufactured housing underperforming during an affordable housing crisis.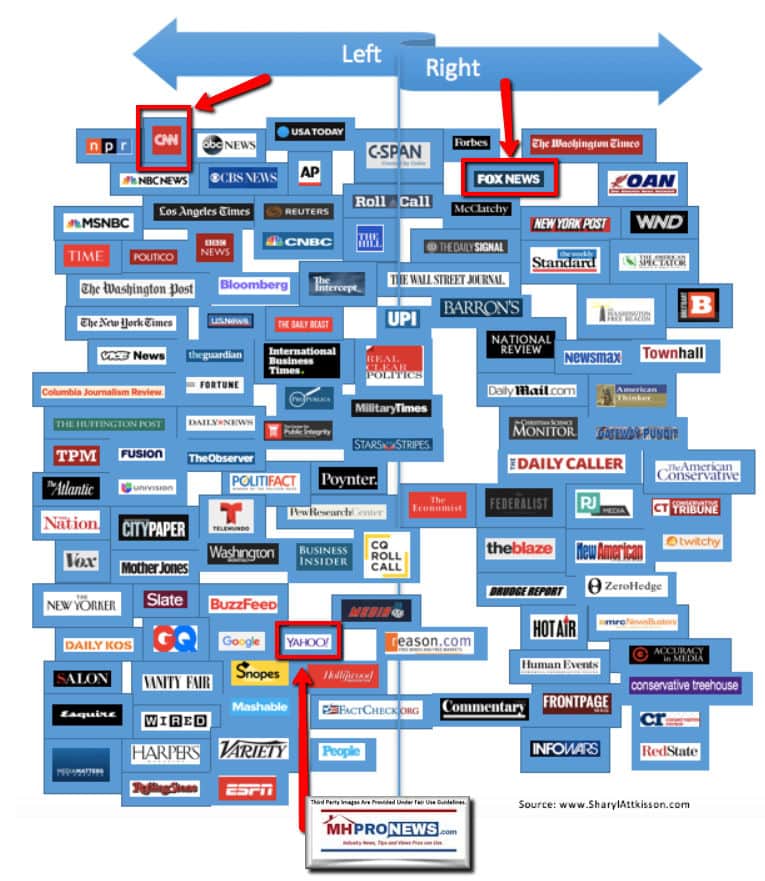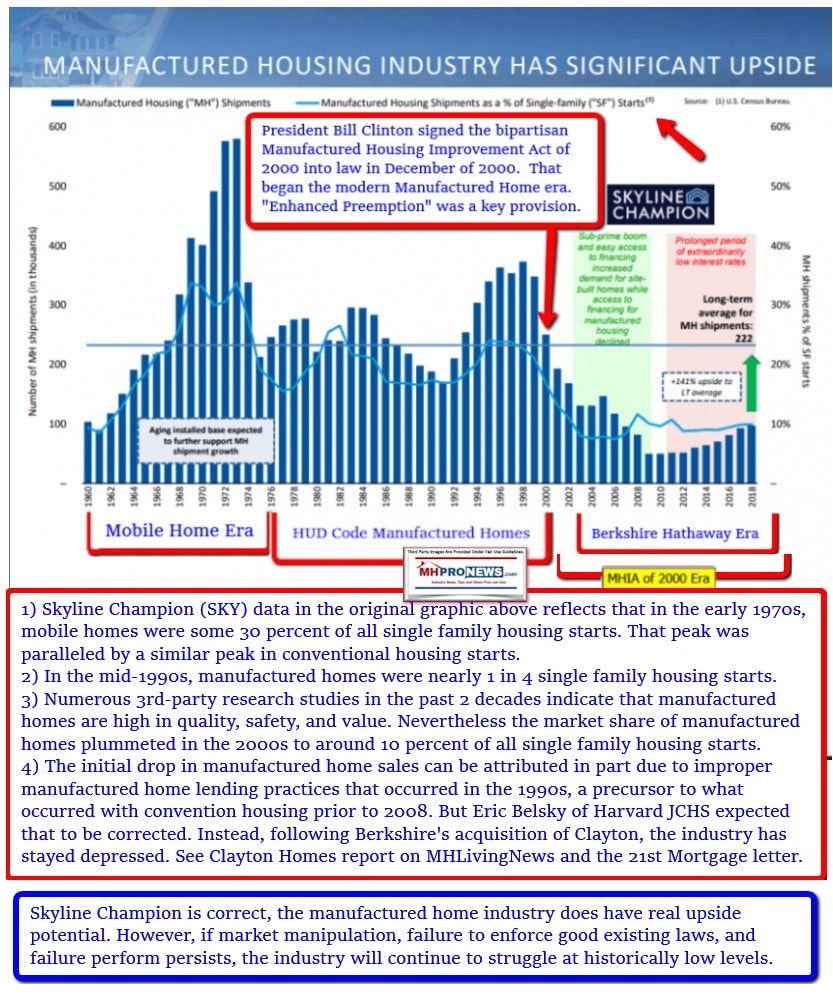 Newsy, Peeling Back Media Bias, Manufactured Housing Sales, Investing, Politics, and You
Headlines from left-of-center CNN Business
THE BULL MARKET IS DEAD
Michael Conlon, center, works with fellow traders on the floor of the New York Stock Exchange, Thursday, March 12, 2020. Stocks are sharply lower after resuming trading as traders fear that not enough is being done to contain the economic damage from the coronavirus pandemic.
Dow dives 2,352 points, posting its worst day since 1987
European stocks suffer worst day in history as coronavirus panic grows
A huge chunk of stock market gains under Trump are gone
Oil prices keep tumbling, with no sign of stopping
Princess and Viking halt all cruises as coronavirus spreads
Here's why you should worry about the turbulent stock market… and why you shouldn't
How Fox News misled viewers about the coronavirus
How to work from home without losing your sanity
Coronavirus could hurt Boeing more than the 737 Max crisis
Airline stocks crushed after Trump announces Europe travel ban
China boasts massive car and aviation markets. Both collapsed in February
Opinion: Want a coronavirus vaccine? Fund the research
Analysis: The day coronavirus became real for millions of Americans
This county's paychecks just jumped 18%
Disneyland closes due to coronavirus outbreak
NEW YORK, NY – AUGUST 01: A statue of George Washington is seen near the New York Stock Exchange building along Wall Street on August 1, 2018 in New York City. The Federal Reserve did not make a change in the interest rate as some experts had predicted. (Photo by Stephanie Keith/Getty Images)
NY Fed vows to pump in $1.5 trillion to fight Wall Street disruptions
One of your employees is diagnosed with coronavirus. What now?
Headlines from right-of-center Fox Business
DOW LIKE A SACK OF BRICKS
Dow craters 2,000, S&P, Nasdaq enter bear market in worst Wall Street bloodbath since 1987
The S&P 500 entered a bear market down about 8 percent while the Nasdaq did as well dropping nearly 8 percent. Trading in U.S. equity markets was halted briefly just minutes after the opening bell when the S&P fell by 7 percent.
Central Bank pumps liquidity into markets, calming virus-fueled slide
WATCH: Trump says, 'The markets are going to be just fine'
SHOTS FIRED: Chinese official accuses US Army of unleashing coronavirus outbreak
China dominates this critical industry during the coronavirus outbreak
Apple finally gets some good news on its Chinese supply chain
America's professional sports leagues throw in the towel on coronavirus fears
PGA bars spectators from championship
Eat up: Major buffet chains staying open
Virus fallout leads to layoffs in US
Despite coronavirus, Trump administration still delivering long-term economic wins
NCAA's March Madness coronavirus cancellation will cost organization big
Biden slams Trump's coronavirus response, outlines own plan
US Soccer sorry for arguments in equal pay case after Coca-Cola takes stand
Social distancing amid coronavirus: Best practices in public
Elon Musk: This is what college is for
New York Stock Exchange traders on the floor brace for unthinkable move
Items you must have for 14-day coronavirus quarantine
Popular cruise lines suspend operations for months after vicious outbreaks
How long coronavirus can survive on surfaces, according to new test
FAA grounds charter operator that ran flights for the rich and famous
These states just announced a breakthrough in coronavirus testing
WHAT SAVED SOUTH KOREA
Toxic masculinity could mean bad health, social life in old age: Study
NASCAR to continue but without fans
Starbucks mulls drastic response to coronavirus spread
Coronavirus-worried Costco shoppers go to wild extremes
'A Quiet Place 2' debut pushed back amid coronavirus fears
Coronavirus sees Norwegian Air 'reroute' passengers through London
Matthew Broderick's sister tests positive for coronavirus, isolated in ICU
Pepper-sprayed Louisiana prison inmates reach $177K settlement
Coronavirus costs cruise lines $48B in market value
Utah Jazz Donovan Mitchell tests positive for coronavirus
Judge rules woman defamed Vegas casino mogul with rape claim
Avenatti's lawyer begs for mercy amid virus outbreak, 'rat-infested' conditions
SXSW refusing to issue refunds after coronavirus cancellation
Uber threatening to suspend accounts of drivers, passengers
What it would take for Bernie Sanders to win Democratic nomination
Tom Hanks and his wife Rita Wilson have coronavirus
Are NBA players paid during coronavirus season suspension?
Why you can't find the cream and sugar at Starbucks
Airlines plunge after coronavirus spurs European travel ban
Coronavirus pushes Joel Osteen's Lakewood Church to cancel services
Sanders facing steep uphill battle as Biden makes dramatic comeback
WATCH: NY Stock Exchange president says market functioning as designed
Do's and don'ts of coronavirus stockpiling: 5 must-have items
YouTube reverses coronavirus ad ban
NBA suspends season as players test positive for virus
Trump offers coronavirus relief for small businesses with $50B in aid
Who is Priscilla Chan?
Who are Lori Loughlin's daughters?
Trudeau self-quarantines after wife exhibits flu-like symptoms
Part-time retirement jobs that pay $15 per hour or more
Amid coronavirus, China becomes face mask-making juggernaut
Who are Felicity Huffman's daughters?
10 Market Indicator Closing Summaries – Yahoo Finance Closing Tickers on MHProNews…
Featured Focus – Where Business, Politics and Investing Can Meet
First, let's step back and look at what happened on the single worst day in market history.
Black Monday: What happened and what we learned, Attorney Sandra Mayerson on the 30th anniversary of the event.
12,272 views – posted on Oct 18, 2017.
Note Mayerson said that fear driven by a lack of information was deemed to be a factor.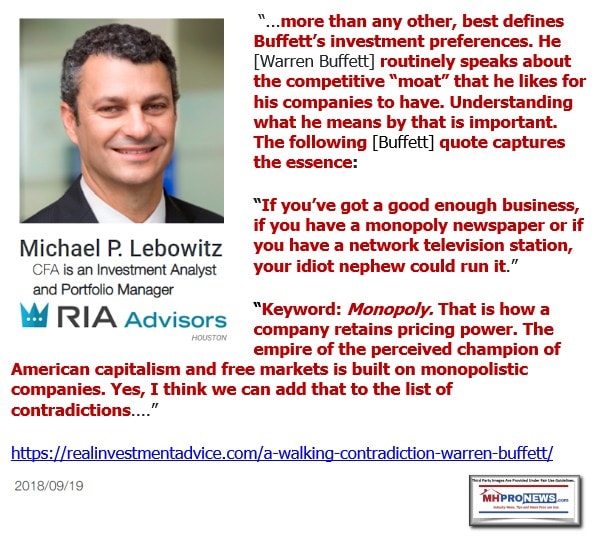 Second, with the quote above in mind, pay close attention to this Q&A with Warren Buffett. It is near the end that he makes some points that should perk up curious minds.
Warren Buffett: Should you wait for a market crash to buy stocks?
265,381 views – Nov 14, 2019.
Third, ICYMI, see this morning's report, which is very much contemporary coronavirus related.
Market Analyst Craig Kucera on UMH Properties, "Never Let a Good Crisis Go To Waste" – Industry, Investment, National Insights
Fourth, here are some bullets and video snapshots from CNBC. Keep in mind that there are voices on either side of some of these bullets.
The Fed announced a bold new initiative in an effort to calm market tumult amid the coronavirus meltdown.
In all, the new moves pump in up to $1.5 trillion into the financial system in an effort to combat potential freezes brought on by the coronavirus.
This was the second day in a row and the third time this week the Fed has stepped in.
Stocks staged a sharp turnaround from earlier losses, though some of those gains were pared.
CNBC's Jim Cramer and Others on What to Watch.
Per Business Insider, the following.
The coronavirus outbreak may seem reminiscent of past global epidemics like SARS, MERS, swine flu, and the Zika virus.
We looked at the data to see how those epidemics compare to the new coronavirus.
While some of those examples were deadlier than the coronavirus, they were far more limited in scope.
Per Business Insider, the financial hit on the Swine Flu which had a lower mortality rate but impacted millions of more people and had more total deaths to date, was relative small. A difference? A lack of a similar level of panic that is being witnessed today.
Rep Ackerman on Madoff Fraud Posted by Nancy Pelosi. 169,374 views, posted on Feb 4, 2009.
Pelosi's YouTube page said this.
"This morning, the House Financial Services Subcommittee on Capital Markets, Insurance, and Government Sponsored Enterprises is holding a hearing to assess the alleged $50 billion investment fraud engineered by Mr. Bernard L. Madoff. This is the second in a series of hearings that will help to guide the work of the Financial Services Committee and the Capital Markets Subcommittee in the 111th Congress in undertaking the most substantial rewrite of the laws governing the U.S. financial markets since the Great Depression. Rep. Gary Ackerman questioned witnesses from the Securities and Exchange Commission."
Flashback Friday – Enron, WorldCom and Bernie Madoff – Lessons, Implications for Manufactured Housing Regulators and Investors? Plus, Manufactured Home Investing, Stock Updates
For those who need a reminder of some of the stunning 21st century con jobs involving big businesses, see the report with various videos linked above.
This isn't a question of if the virus is real, or deadly. It exists and is lethal. The question is has this issue been weaponized, hyped up, in a fashion that has made this more political than a mere health or economic issue?
Just as it took some time to sort through what happened in the run up to the 2008 market crisis, that may happen this time too. That said, history ought to be informing federal and state officials who should be seeking to not only stem the fear but discern and then address the root causes of it. If there has been demonstrable wrongdoing, there should be prosecutions.
Ask the investigative questions, including cui bono? Who benefits?
Follow the money.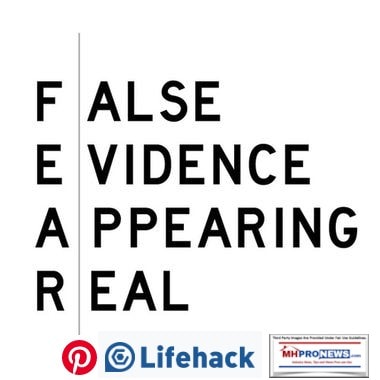 Lets be clear. MHProNews is not saying that certain people have necessarily done something unethical or illegal. But there are reasons for public officials to investigate exactly that, based on the insights noted. See the related reports below for more.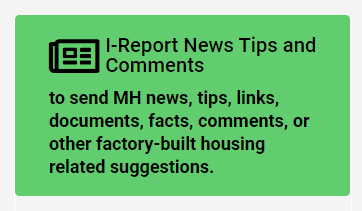 Related Reports:
"Be Greedy When Others are Fearful" – Bill Gates, Warren Buffett and Follow the Money, plus Manufactured Home Investing, Stock Updates
Sam Zell is Buying, plus Manufactured Home Investing, Stock Updates
Events Canceled Due to Coronavirus Fears, Manufactured Housing Institute Spring Meeting Update, Plus Sunday Week in Review 3.1 to 3.8.2020
Manufactured Housing Industry Investments Connected Closing Equities Tickers
Some of these firms invest in manufactured housing, or are otherwise connected, but may do other forms of investing or business activities too.
NOTE: The chart below includes the Canadian stock, ECN, which purchased Triad Financial Services, a manufactured home industry lender
NOTE: Drew changed its name and trading symbol at the end of 2016 to Lippert (LCII).
Winter 2020…
Berkshire Hathaway is the parent company to Clayton Homes, 21st Mortgage, Vanderbilt Mortgage and other factory built housing industry suppliers.
· LCI Industries, Patrick, UFPI, and LP each are suppliers to the manufactured housing industry, among others.
· AMG, CG, and TAVFX have investments in manufactured housing related businesses. For insights from third-parties and clients about our publisher, click here.
Enjoy these 'blast from the past' comments.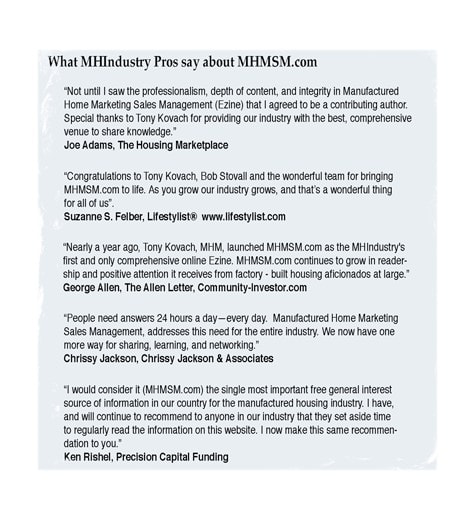 MHProNews. MHProNews – previously a.k.a. MHMSM.com – has now celebrated our tenth anniversary.
Learn more about our evolutionary journey as the industry's leading trade media, at the report linked below.
Celebrating 10 Years of Goal- and Solution-Oriented Manufactured Home Industry Innovation Information, and Inspiration for Industry Professionals
· For expert manufactured housing business development or other professional services, click here.
· To sign up in seconds for our industry leading emailed headline news updates, click here.
Disclosure. MHProNews holds no positions in the stocks in this report.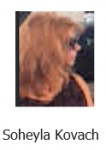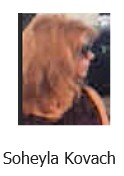 "We Provide, You Decide." © ## (News, analysis and commentary.)
(Image credits and information are as shown above, and when provided by third parties, are shared under fair use guidelines.)
Submitted by Soheyla Kovach, co-managing member of LifeStyle Factory Homes, LLC and co-founder for MHProNews.com, and MHLivingNews.com.

Connect with us on LinkedIn here and here.
2019 Year-End Totals Reveals Decline in New HUD Code Manufactured Home Production, Shipments vs. 2018