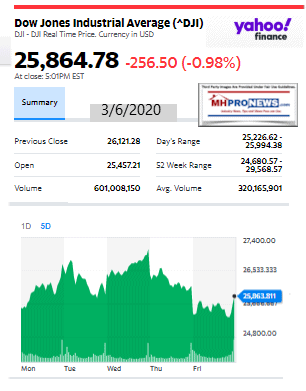 It goes without saying that the good guys don't always win, which implies that the bad guys often get away with it. If justice always prevailed – each and every time – then there would likely be very little crime, including so-called white-collar crimes.
Robbing someone at gun point or deal drugs at the street level can yield years of prison time. The good news is that there are times that white collar crimes are exposed, but sometimes only after spectacular episodes of epic fraud. There are historic examples of various fraudulent schemes that will be reviewed this evening, which will tee up the simple question. What lessons may be lurking in those non-manufactured housing crimes in the manufactured housing industry today? On a week when markets mildly rose after the big fall last week, that headline topic will be our featured focus tonight.
Every evening our headlines that follow provide snapshots from two major media outlets on each side of the left-right news spectrum that reflect topics that influence or move investor sentiment. In moments on this business evening report, you can get 'insights-at-a-glance.'
This report also sets the broader context for manufactured housing markets, in keeping with our mantra, "News through the lens of manufactured homes and factory-built housing" ©.
We begin with headlines left-of-center CNN followed by right-of-center Fox Business. We share closing tickers and other related data courtesy of Yahoo Finance, and more. 5 to 10 minutes reading this MHProNews market report every business night could save you 30 minutes to an hour of similar reading or fact-gathering elsewhere.
Perhaps more important, you will get insights about the industry from experts that care, but also dare to challenge the routine narrative that arguably keeps manufactured housing underperforming during an affordable housing crisis.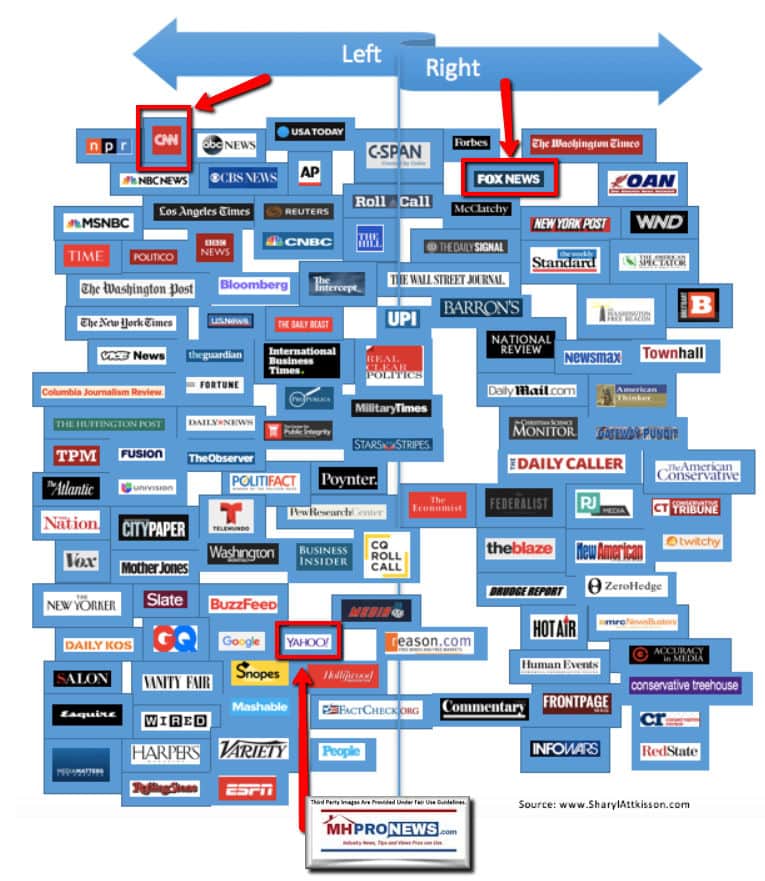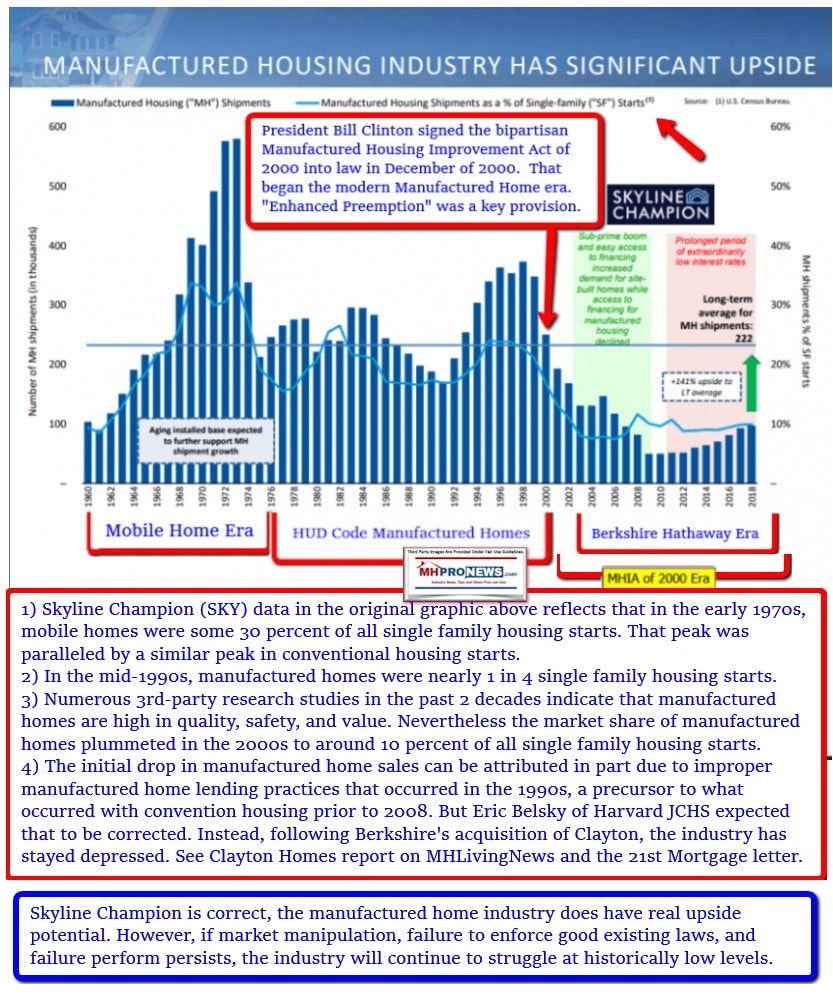 Newsy, Peeling Back Media Bias, Manufactured Housing Sales, Investing, Politics, and You
Headlines from left-of-center CNN Business
SXSW is canceled over coronavirus concerns
Oil prices crashed to close at an 11-year low
Coronavirus confusion: Stocks end whirlwind week higher
Federal help for battered US travel industry being weighed
Tens of thousands of airline jobs are at risk as travel plunges
Now you can get your food delivered without any human contact
How a plumber built a following as a LinkedIn influencer
'No Time to Die' was the first major film to delay its release due to coronavirus. It may not be the last
Bernie Madoff should die in prison, US government says
One of India's biggest banks has been rescued by the government
Here's how to pitch yourself for a job even if you're not 100% qualified
Hachette pulls Woody Allen autobiography after criticism from Ronan and Dylan Farrow
Washington Examiner's top editor orders staff not to write negative stories about Fox News
NEW YORK, NEW YORK – MARCH 03: A man walks by the New York Stock Exchange (NYSE) on March 03, 2020 in New York City. Following a strong market surge yesterday, stocks one again fell on Wall Street as global concerns over the financial impact from the Coronavirus drive investments down.
What should you do with your 401(k)? We asked top money managers
Federal Reserve Chair Jerome Powell speaks during a news conference, Tuesday, March 3, 2020, to discuss an announcement from the Federal Open Market Committee, in Washington. In a surprise move, the Federal Reserve cut its benchmark interest rate by a sizable half-percentage point in an effort to support the economy in the face of the spreading coronavirus. Chairman Jerome Powell noted that the coronavirus poses evolving risks to economic activity.
OPINION The Fed's emergency rate cut was a big mistake
A Ukrainian tourist walks in the arrival hall of the Internatioanal Boryspil airport outside Kiev after his plane landed from China on January 30, 2020. – The first out of four special flights will be held on January 30, 2020 in order to evacuate hundreds of Ukrainian tourists from China as a deadly coronavirus outbreak grows. With no regular flights between Ukraine and China, two Ukrainian airlines, SkyUp and Ukraine International Airlines, provide charter transportation for holidaymakers to the seaside resort of Sanya on the Hainan island, but they announced a suspension of transportation after the epidemic has killed more than 130 people and spread around the world.
Want to cancel your trip? Here is when you can — and can't — get your money back
EMPTY STORE SHELVES
People leave a Costco warehouse with rolls of toilet paper amongst their groceries in Melbourne on March 5, 2020. COVID-19 coronavirus fears have triggered runs on several products, including hand sanitizers and face masks, with images of shoppers stacking trolleys with toilet rolls spreading on social media.
Panic buying forces stores to limit purchases of toilet paper and masks
Costco says it's getting a lift from coronavirus
How China's only Costco stays safe amid virus fears
Warning: There could be hand sanitizer shortages
Americans are stocking up on hand sanitizer and face masks
STAYING HEALTHY AT WORK
Seattle, Washington, USA – Oct 14, 2019: The Amazon Spheres at Amazon Headquarters campus in Seattle.
Major tech companies ask Seattle employees to work from home
Instacart offers non-contact deliveries
SXSW will go on despite coronavirus concerns
A guide for restaurants navigating coronavirus
Working at home? Here's how to video conference for free
Headlines from right-of-center Fox Business
Tesla CEO Elon Musk: 'Coronavirus panic is dumb'
Tesla shares fell nearly 3 percent in trading Friday amid losses in the broader U.S. market.
NYSE testing coronavirus action plan if floor has to close
White House may pump cash into distressed parts of US economy
How artificial intelligence predicted coronavirus long before it spread
Divorces spike in coronavirus quarantines
Gun ammunition sales spike in US
Dow falls 250 points, oil sinks to 3-yr low in end to volatile week
Where to find hand sanitizers
Modell's prepares bankruptcy filing
How the ultra-wealthy are prepping for the coronavirus crisis
Sectors hiring the most right now
Coronavirus threat prompts cancellation of SXSW
US sending military police to two separate border crossings
The best cities to sell a house in this year
Daylight saving time 2020: What to know as it starts back
Real estate millionaire to sell prize from his personal stock
Joey Chestnut eats 32 Big Macs in one sitting, breaks world record
Sex crime suspect provided massages to University of Kansas women athletes
Residents in this state pay the highest in property taxes
Pizza vending machine maker raises $10M, targets April rollout
NCAA hoops game in Baltimore held in empty gym for COVID-19
Cardi B's detox tea Instagram posts prompt FTC warning
Woody Allen memoir has been dropped by publisher, Hachette
AU REVOIR, MEMOIR
Tony Robbins raises $18M for charity with 60th birthday bash
Sex crime suspect provided massages to University of Kansas women athletes
Nikola explains its move to go public, competing with Tesla
NASA finds 61 safety issues with Boeing's space-travel moonshot
Who is Wayne Newton?
University of Washington moves all classes online starting Monday
Women mourn Warren's campaign exit: 'The ascendancy of old white dudes is not over'
SEE PICS: Hockey legend lists waterfront home for $9 million
WATCH: Officials rappel onto cruise off California as passengers await virus test results
TikTok hires Air Force vet for top post amid growing security concerns
Elizabeth Warren calls out Sanders for supporters' 'really ugly' online attacks
Walmart combines grocery, regular mobile apps into one
WATCH: Hillary Clinton says she's 'last person' to comment on Trump's marriage
How much money Oprah has made for Weight Watchers
Oil price slides on concern over OPEC-Russia deal on output
How to stay relevant in a workplace constantly evolving with tech
NFL star arrested while trying to board plane with gun
Officials make startling discovery in jail where Jeffrey Epstein died
Taylor Swift makes massive donation to Tennessee after devastating tornadoes
Robert Durst turned on best friend before she could talk to cops: prosecutors
WATCH: Meghan Markle's rare speech during first UK visit since Megxit
How much money NFL players rake in
Chipotle founder Steve Ells steps down as board chairman
JPMorgan CEO Jamie Dimon recovering from emergency heart surgery
Boeing CEO David Calhoun rips Dennis Muilenburg's handling of 737 Max crisis
10 Market Indicator Closing Summaries – Yahoo Finance Closing Tickers on MHProNews…
Featured Focus – Where Business, Politics and Investing Can Meet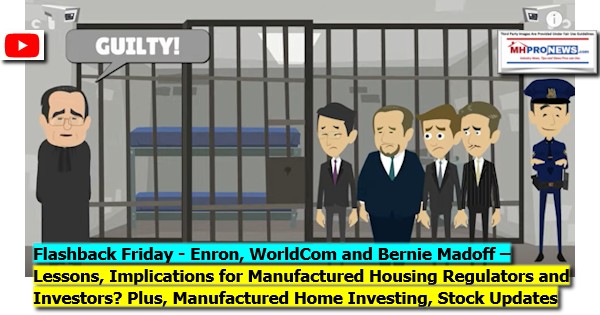 Two recent stories out of these three famous cases of 21st century fraud have been back in the news.
That's as good a reason as any for thoughtful investors, professionals, advocates and officials to step back and ask the headline question. If these other cases of spectacular frauds operated in plain sight for years, is it possible that something similar is occurring in the manufactured housing industry in recent years, including today?
To answer that timely question, let's review those three blockbuster cases of multiple billions of dollars of fraud. Each fraud was different, and the argument will be made that what is occurring in manufactured housing is only similar in this respect. That the evidence is hiding in plain sight, much like those prior frauds operated publicly for years without serious detection.
First, a video recap of classic examples of illegal, fraudulent behavior that cost investors and others' tens of billions of dollars.
Three Classic Examples of Massive 21st Century Frauds
One Minute Economics YouTube page says, "Enron represents perhaps the most popular example of how a corporation can go from hero to zero or in their case, from a stock price of $90.75 and a market capitalization which made it the 7th largest US corporation to bankruptcy."
The Enron Collapse
CNBC on Convicted WorldCom CEO Bernie Ebbers recent death
"It's a Fraud" – Wizard of Lies Movie Clip 2017
The Bernie Madoff Saga May Almost Be Over – Bloomberg
Chasing Madoff – Official Movie Trailer
Additional Historic Context
Beyond these cases noted above, MHProNews has made the point previously that manipulation of business and political systems has occurred numerous times in American history. These should not be viewed as a condemnation of honest businesses and ethically operated free enterprise.
Nor are these left or right, Democratic or Republican issues. They are simply a matter of discerning what is right and wrong, legal and illegal. There has been corruption in other businesses and industries. It should be no surprise that corruption can impact some politicians, though not all. It is also logical that some professionals will risk illicit and illegal behavior, perhaps thinking they are so clever or too important to get caught and prosecuted.
Which is another reason why these three cases are worthwhile to study. Once famous and celebrated company leaders, often hailed as 'philanthropists' and paragons of corporate virtue, were eventually brought to justice. It may have occurred belatedly, but it finally took place.
Thus, those examples above stand as a cautionary tale for why certain laws were passed in the U.S. years, decades or even a century or more ago.
The Robber Baron, Gilded Age was one such example.
U.S. Gilded Age – Politics, Monopolies, Corruption, Historic Insights, Lessons Learned?
The popular 1980s movie, Tucker reminds viewers that the automotive industry used politics and big business influence to subvert a promising start up.
Historic-Factory Built Homes, Revolutionary Tucker Automobile, Lessons Learned for Modern Manufactured Housing Professionals, Investors, and Advocates
But perhaps a classic near-contemporaneous example of illegal behavior that should have been obvious that offers lessons to manufactured housing is the tragically true story of Harry Markopolos' efforts to warn regulators of the multi-billion dollar scheme hiding in plain sight.
Markopolos said that he was first realized that something was wrong when he looked at a marketing statement by Madoff's organization. He realized that this didn't look logical. No financial performance track looks anything like Madoff claimed. That was the clue or the 'tell.'
Is there a similar 'tell' in manufactured housing?
That inquiry will be explored below.  But let's first sum up the above. The recap is less about the specifics of those cases, as important as they may be. It is more about the point that there were warning signs in each case.  Months or years before the various scams were exposed, the warning signs were present.
That should be a cautionary note for manufactured housing.
MHProNews Analysis and Commentary
We'd argue that there are several obvious clues that something is wrong, arguably criminally wrong, that is occurring in manufactured housing. So, yes, logically there are several tells or clear clues.
In no specific order of importance.
During an affordable housing crisis, manufactured housing is underperforming.
Other housing and big-ticket sales industries aren't suffering a similar downturn or struggle.
Manufactured Housing Comparisons – Data Sets Vs. Existing and New Single-Family Housing Sales, RVs, Auto Facts – Potent Insights for MH Professionals, Investors
By contrast to far more expensive conventional housing, manufactured homes have struggled and even lost ground in 2019 vs. 2018.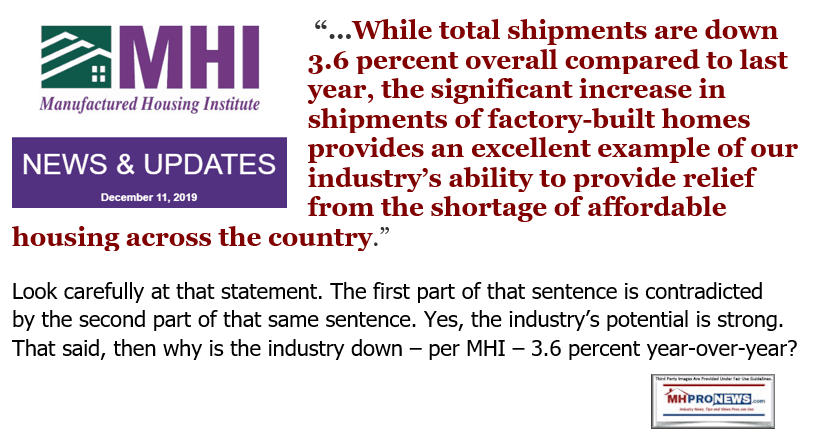 2019 Year-End Totals Reveals Decline in New HUD Code Manufactured Home Production, Shipments vs. 2018
Instead of promoting all manufactured homes equally, Clayton Homes and MHI have given years of special effort pushing CrossModTM homes.
Warren Buffett Lieutenant Kevin Clayton Shows Off HUD Secretary Carson, Touts "CrossMod" Manufactured Housing
But that CrossModTM program has proven to be a market failure, criticized by the modular industry as well as voices from inside manufactured housing too.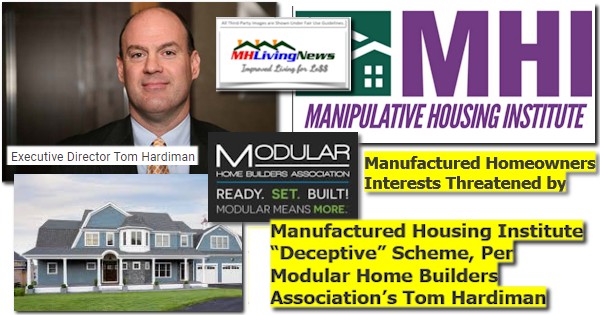 Manufactured housing has the benefit – on paper – of good laws. The first of those laws was the Manufactured Housing Improvement Act of 2000, which almost 20 years ago gave the federal government the ability to override the types of zoning and placement issues that are keeping untold millions from buying an affordable manufactured home.
The FHFA has failed to enforce the Duty to Serve provisions which were passed in 2008; why?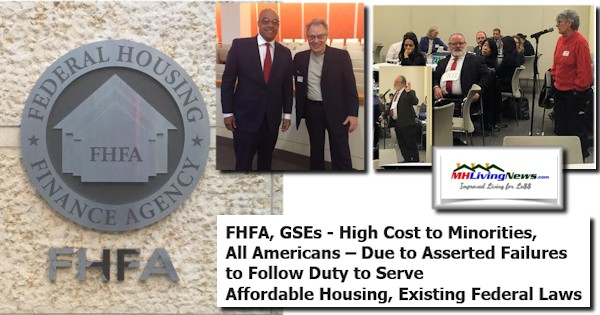 Revealing-FHFA Meeting on Duty to Serve Lending Called Manufactured Housing Institute, Manufactured Housing Association for Regulatory Reform, Others – Report, Analysis
But key federal officials, Berkshire Hathaway brands and MHI seem to have a nexus of behavior that results in consolidation of manufactured housing instead of industry growth.
Trump Administration Asked to Withdraw Brian D Montgomery Nomination Over Conflicts of Interest
Since Berkshire Hathaway has been directly involved in manufactured housing, the industry has been underperforming at a historically low level. That has resulted in consolidation that magically seems to parallel Buffett's mantra of having an environment where assets are selling below their normal true value.
Buffett's Board – Berkshire Hathaway, Interlocking Directorates, Ronald Olson – Manufactured Housing and Truth Hiding in Plain Sight
Using the very words of Warren Buffett, Kevin Clayton and Tim Williams, a prima facie case can be made of purported antitrust violations.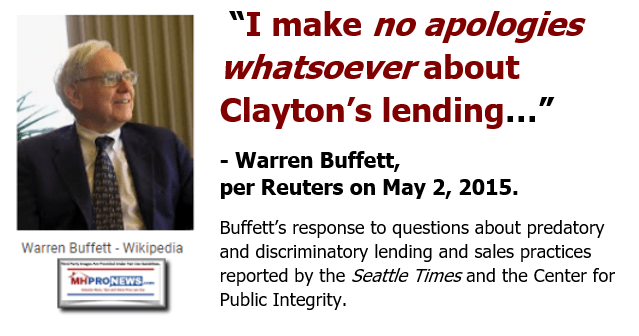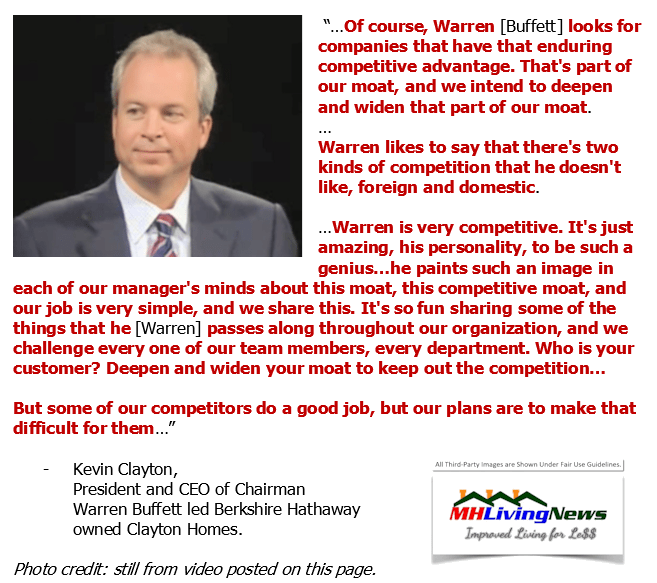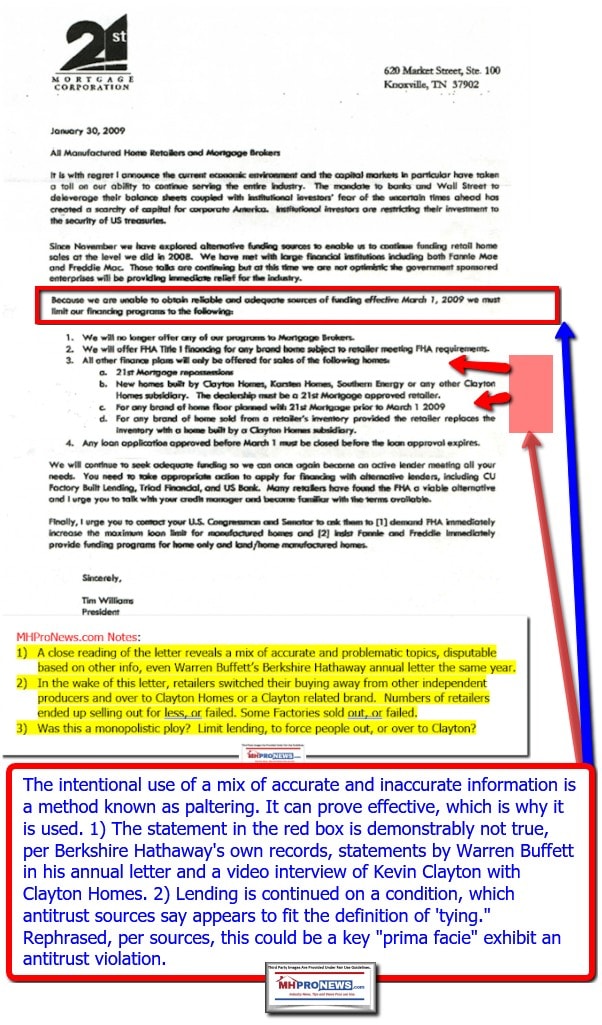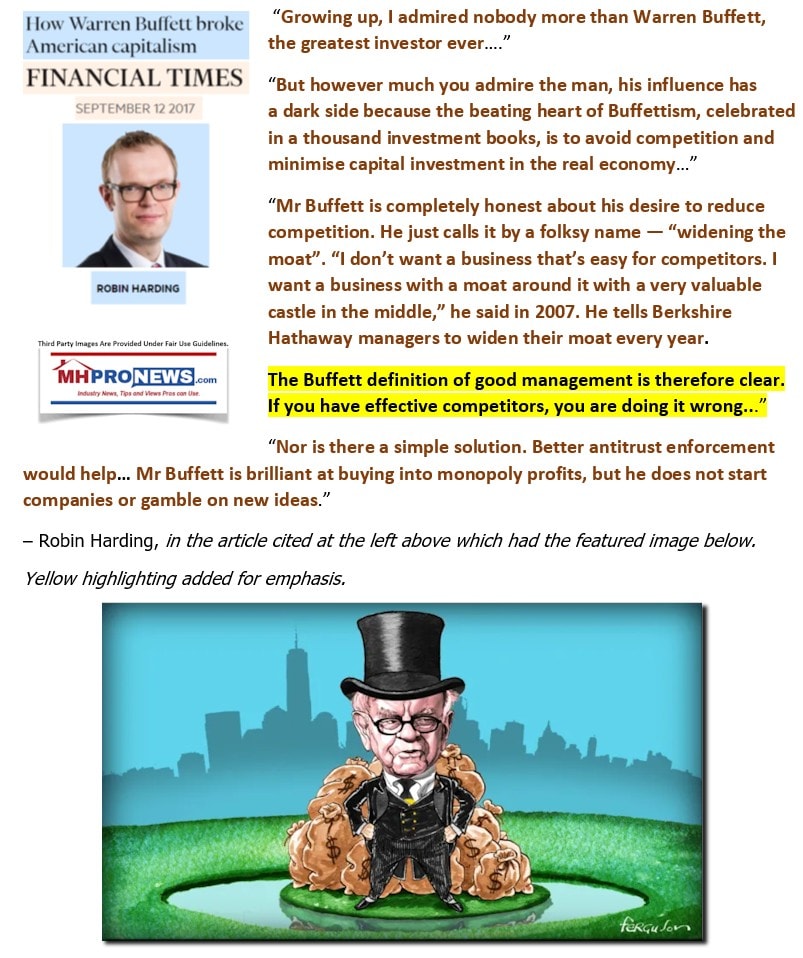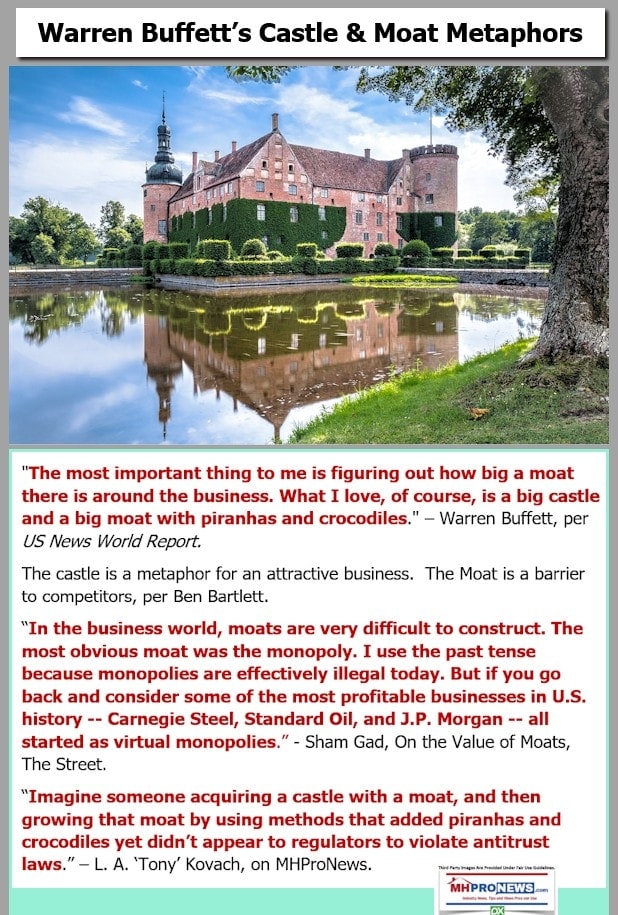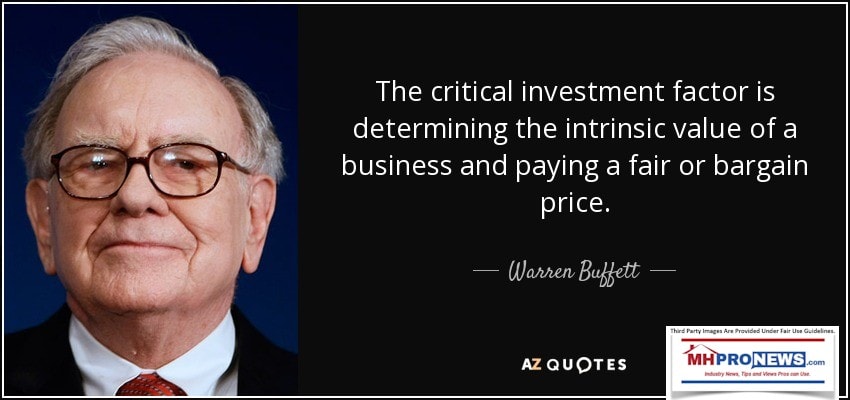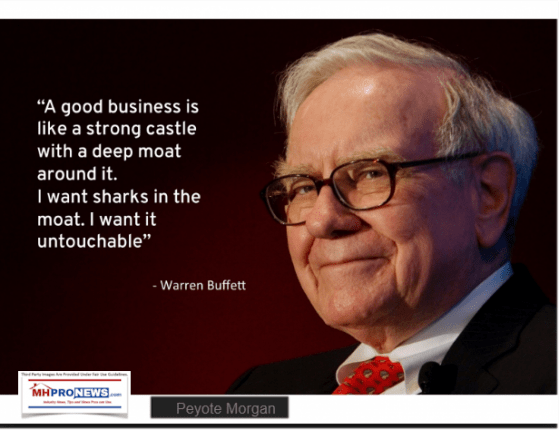 But there are other arguably illegal ploys that have bene used too, deceptive trade practices that have harmed the interests of millions of manufactured home owners, investors, professionals and taxpayers.
To learn more, see the related reports, below.
Shortchanging Homeowners, Small Businesses, Unsuspecting Investors, Association Members-plus Sunday Manufactured Home Headlines Review 2.9 to 2.16.2020
Related Reports:
"Aha!" Moment From New 2020 Manufactured Housing Data, plus Manufactured Home Investing, Stock Updates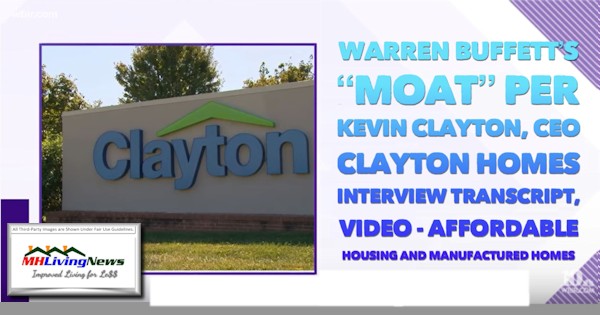 Anatomy of High-Tech, Scandalous Deception? National Trade Groups Agree on HR 4351 YIMBY Act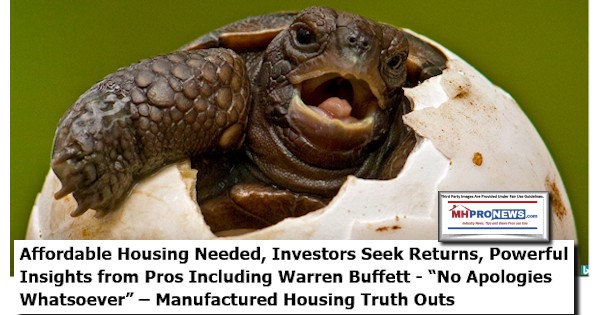 Fraud, RICO and Antitrust-Issues of Genius, Honesty, Legality, Competency-Berkshire Hathaway and Manufactured Housing Institute Leadership, Sunday Morning Headlines Review 2.23 to 3.1.2020
Weaponized Philanthropy, Castrated Associations and Manufactured Housing – Michael Bloomberg and Warren Buffett Connection
Applying Democratic, Republican & Barak Orbach's Monopolization Logic to Affordable Housing Crisis Impacting Manufactured Home Industry
Manufactured Housing Industry Investments Connected Closing Equities Tickers
Some of these firms invest in manufactured housing, or are otherwise connected, but may do other forms of investing or business activities too.
NOTE: The chart below includes the Canadian stock, ECN, which purchased Triad Financial Services, a manufactured home industry lender
NOTE: Drew changed its name and trading symbol at the end of 2016 to Lippert (LCII).
Winter 2020…
Berkshire Hathaway is the parent company to Clayton Homes, 21st Mortgage, Vanderbilt Mortgage and other factory built housing industry suppliers.
· LCI Industries, Patrick, UFPI, and LP each are suppliers to the manufactured housing industry, among others.
· AMG, CG, and TAVFX have investments in manufactured housing related businesses. For insights from third-parties and clients about our publisher, click here.
Enjoy these 'blast from the past' comments.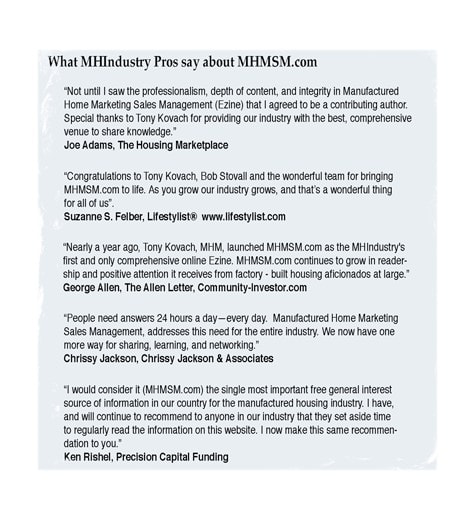 MHProNews. MHProNews – previously a.k.a. MHMSM.com – has now celebrated our tenth anniversary.
Learn more about our evolutionary journey as the industry's leading trade media, at the report linked below.
Celebrating 10 Years of Goal- and Solution-Oriented Manufactured Home Industry Innovation Information, and Inspiration for Industry Professionals
· For expert manufactured housing business development or other professional services, click here.
· To sign up in seconds for our industry leading emailed headline news updates, click here.
Disclosure. MHProNews holds no positions in the stocks in this report.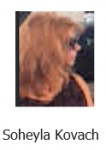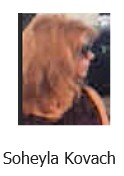 "We Provide, You Decide." © ## (News, analysis and commentary.)
(Image credits and information are as shown above, and when provided by third parties, are shared under fair use guidelines.)
Submitted by Soheyla Kovach, co-managing member of LifeStyle Factory Homes, LLC and co-founder for MHProNews.com, and MHLivingNews.com.

Connect with us on LinkedIn here and here.
2019 Year-End Totals Reveals Decline in New HUD Code Manufactured Home Production, Shipments vs. 2018