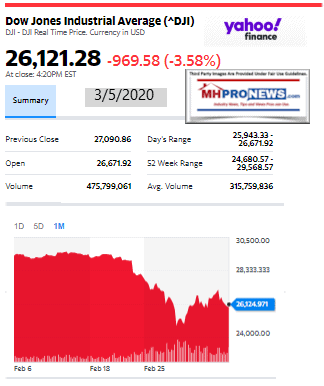 Equity LifeStyle Properties (ELS) and Equity Groups Investments Chairman Sam Zell said he sees stock prices that are 'ridiculously low' and that he is buying. But he is also deferring on some deals. Learn more in our featured focus segment further below our standard left-right headlines and other market snapshots graphic fare.

Periodic readers of this business-nightly feature should note there are new tweaks to some of the standard portions of our evening market/investing report. Read carefully as some changes of the 'standard text' that follows before our left-right headlines and also in other features near the end of tonight's reports.
Every evening our headlines that follow provide snapshots from two major media outlets on each side of the left-right news spectrum that reflect topics that influence or move investor sentiment. In moments on this business evening report, you can get 'insights-at-a-glance.'
This report also sets the broader context for manufactured housing markets, in keeping with our mantra, "News through the lens of manufactured homes and factory-built housing" ©.
We begin with headlines left-of-center CNN followed by right-of-center Fox Business. We share closing tickers and other related data courtesy of Yahoo Finance, and more. 5 to 10 minutes reading this MHProNews market report every business night could save you 30 minutes to an hour of similar reading or fact-gathering elsewhere.
Perhaps more important, you will get insights about the industry from experts that care, but also dare to challenge the routine narrative that arguably keeps manufactured housing underperforming during an affordable housing crisis.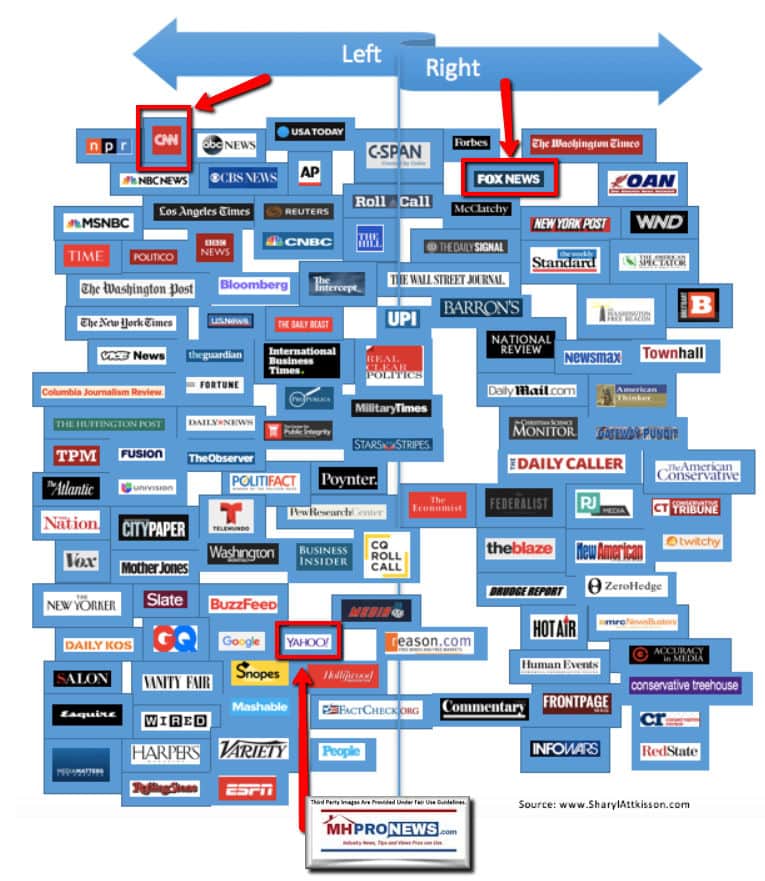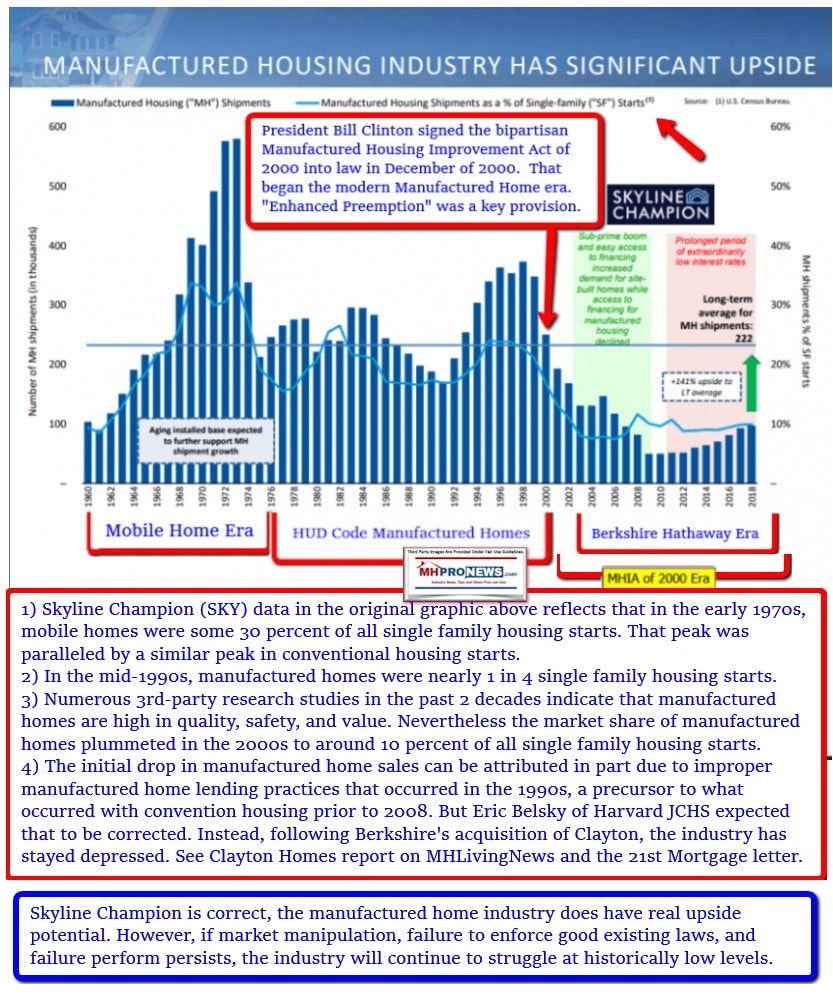 Newsy, Peeling Back Media Bias, Manufactured Housing Sales, Investing, Politics, and You
Headlines from left-of-center CNN Business
Stocks tumble again
Traders work on the floor of the New York Stock Exchange, Monday, March 2, 2020. U.S. stocks are coming off their worst weekly drop since the financial crisis of 2008.
Dow closes down nearly 800 points after the Fed's surprise rate cut
The Fed just hit the coronavirus panic button
Fed announces first emergency rate cut since financial crisis
Market mayhem exposes fears about oil companies
On the day the stock market gained $1.1 trillion, Robinhood went down for 17 hours
Opinion: The trade war put the economy on its heels. The coronavirus will be much worse
Coronavirus could mean you'll be working from home. Here's how to stay productive
Welcome to Walmart. The doctor will see you now
Former CNN anchor Bobbie Battista dead at 67
Microsoft scores a touchdown with new NFL deal
Bentley unveils $2 million roofless car
Talking about money improves marriage satisfaction. So why don't we do it?
Pedestrians walk past an illuminated American flag in the Times Square area of New York, U.S., on Friday, April 26, 2019. U.S. stocks edged higher on better-than-forecast earnings while Treasury yields fell after data signaled tepid inflation in the first quarter. Photographer: Michael Nagle/Bloomberg via Getty Images
The 10-year Treasury yield just dropped below 1% for the first time in history
TOKYO, JAPAN – JULY 24: A woman walks past the Olympic rings displayed in front of the New National Stadium, the main venue for the Tokyo 2020 Olympic and Paralympic Games, under construction on July 24, 2019 in Tokyo, Japan. (Photo by Tomohiro Ohsumi/Getty Images)
NBC is insured if the Olympics are canceled
NEW YORK, USA – MARCH 2: A person wears a face mask as a precaution against coronavirus in New York, United States on March 2, 2020. The U.S. state of New York confirmed its first case of the novel coronavirus late Sunday. In a statement, Gov. Andrew Cuomo said a woman in her 30s had contracted the coronavirus, officially known as COVID-19, while in Iran and she is now isolated in her home.
Americans are panic shopping for hand sanitizer, face masks and toilet paper
CORONAVIRUS CANCELLATIONS
Employees have lunch at the canteen at Facebook's new headquarters, designed by Canadian-born American architect Frank Gehry, at Rathbone Place in central London on December 4, 2017.
Social media titan Facebook opened a new office in London on December 4, 2017, that is set to be its biggest engineering hub outside America, the company has announced.
Facebook backs out of SXSW over coronavirus fears
Geneva car show canceled as coronavirus spreads
Big European companies ban business travel
The travel industry halts its largest trade show
F8 — Facebook's biggest conference — is canceled
LEADERS WE'VE LOST
Jack Welch, former chief executive officer of General Electric Co., stands for a photograph at the World Business Forum in New York, U.S., on Wednesday, Oct. 2, 2013. Intellectuals, political and business leaders gather at the annual World Business Forum, a global business summit, to debate and discuss the challenges of the world economy.
Former General Electric CEO Jack Welch is dead at 84
Hear Jack Welch's thoughts on leadership
Trader Joe's founder dies at age 89
Lego minifigure creator has died
CVS co-founder is dead at 86
Bentley unveils limited edition $2 million roofless car
LAS VEGAS, NEVADA – FEBRUARY 19: Chris Matthews of MSNBC waits to go on the air inside the spin room at Bally's Las Vegas Hotel.
Chris Matthews retires from MSNBC after controversies
This teen fooled Twitter and got a fake candidate verified
The 'retail apocalypse,' explained
What is a stock market correction?
Headlines from right-of-center Fox Business
Dow falls nearly 1,000 points as coronavirus whipsaws markets
Thursday's selling comes a day after the Dow Jones Industrial Average posted its second-biggest point gain on record.
Coronavirus causes turbulence for airlines
Acting CBP commissioner on coronavirus: Ready to do what CDC recommends
of Justice responds to Bernie Madoff's request for sentence reduction
Where does Ponzi king go from here?
Harvey Weinstein being moved to Rikers Island after undergoing heart surgery
How Biden's tax plan would hit wealthy Americans
Pence on coronavirus mask demand: '3M plays a vital role'
Congressman: Let's create a health care system that works for you, not companies
Lyft employee exposed to coronavirus, San Francisco workers sent home
Warning issued to people using vodka as coronavirus killer
NFL collective bargaining agreement vote deadline revealed
Panicked shoppers spark toilet paper shortage, retailers limiting purchases
Police reveal likely motive behind worker's deadly brewery rampage
New Taco Bell Cantinas revamp 'fast-social' with alcohol, tech and gaming
Airlines adding new luxury — but it could come at a cost
Basketball coach in hot water after risqué school gym video surfaces
Snoop invests in vegan 'pigless pork rinds' maker
Are there any trillionaires in the world?
Chuck E. Cheese sued after woman's hair is caught in ticket machine
Etsy pulls coronavirus-themed merchandise
It just got a lot better to work at Chipotle
Top reasons why people are denied mortgages
Red counties outpace blue counties in vital economic stat
Waters may refer ex-Wells Fargo CEO to DOJ for false statements
Joe Biden addresses why Obama hasn't endorsed him for president
Meghan Markle, Prince Harry back in UK for final royal appearances
Mick Jagger making career change
Kelly pleads not guilty to latest sex abuse accusations from new accuser
Buffalo Wild Wings offers restaurant sleepover during March Madness
Lick this! Man sentenced for tasting ice cream in market, returning to freezer
Obamacare Supreme Court defense joined by 17th state
Meet the first black woman to own and operate a billion-dollar company in the US
Wendell Goler, longtime Fox News White House correspondent, dead at 70
Tesla competitor Nikola CEO: Never been a better time to go public for zero-emission vehicle companies
Quest Diagnostics to launch coronavirus test service
Warriors Steph Curry set to return after 58-game injury
Tulsi Gabbard's $50 million Google suit is dismissed
SEE PICS: NFL legend's Palm Springs home sells for $6.5 million
How much a 'wealth tax' could cost you
Varney: Despite Bernie strong start, the left's bubble has officially burst
Former United Auto Workers president charged in embezzlement scheme
WATCH: Bloomberg adviser says Mike is not going away
Peep your feet: Crocs takes bite out of beloved Easter candy with colorful new designs
Engineer who left Google for Uber ordered to pay $179 million
Financial 'dominoes' that could still fall amid spiraling coronavirus crisis
Why coronavirus shock is causing Treasury yield to 'drop like a rock': El-Erian
Kroger reports higher sales as grocers prepare for coronavirus
Bill Gates, Jack Ma lead coronavirus charitable giving
Nik Wallenda walks highwire across volcanic 'Mouth of Hell'
Varney: Public rage becoming common among senior Democrats
Coronavirus prompts Trader Joe's to change food sample policy
10 Market Indicator Closing Summaries – Yahoo Finance Closing Tickers on MHProNews…
Featured Focus – Where Business, Politics and Investing Can Meet
Once you begin to grasp how some of the big boys of manufactured housing really think, a new world of understanding comes to light. Not necessarily a bright world, but a different one than many everyday people are used to engaging in.
We'll start with a snapshot from CNBC, but then tie it into prior reports.
From CNBC:
Sam Zell, who made his fortune scooping up distressed assets, told CNBC on Thursday that he's been taking advantage of the stock market volatility.
The billionaire investor said he put more in a couple of companies in which he already had significant ownership, including one in the battered energy industry.
In the current climate, Zell said he's buying energy stocks and debt as well as land, focusing on existing production rather than drilling.
Billionaire founder of Equity Group Investments said that "We've been buying some stuff that we thought was ridiculously low" in the recent coronavirus-driven sell-offs on Wall Street. "But not a lot," he added.
Zell said he's invested in companies he already had significant ownership, including the battered energy industry, which is one of the worst-performing S&P sectors.
Zell said he's spending a lot in energy, a sector he "always keeps track of" in hopes of finding opportunities. "We think the energy space is really cheap … and what helps is we were not in the energy space before."
"It started getting really dicey about six or eight months ago, when you saw stuff that would normally get sold very quickly [attract] no bids," Zell said. "We just won a bid on a bankrupt company where we were the stalking horse [or initial] bid and they had the auction and nobody came."
In the current climate, Zell said he's buying energy stocks and debt as well as land, focusing on existing production rather than drilling. Forbes estimates Zell's net worth at about $5.6 billion.
As a reminder, we said just days ago that the Buffett mantra was being put to work, perhaps by those who given their access to media and can plant thoughts that could drive investors to sell and push prices down.
"Be Greedy When Others are Fearful" – Bill Gates, Warren Buffett and Follow the Money, plus Manufactured Home Investing, Stock Updates
While there is no doubt that the coronavirus is real and sweeping many nations that could include those who have parts of the U.S. supply chain, the actual impact here in the U.S. itself is far from clear. While Iranian sources, for example, said that by March 20th, they expect an estimated 5 million cases of the coronavirus on Tehran alone, by contrast, medical professionals here in the U.S. estimated that the level would be more in the thousands – not millions.
Time will tell.
Speaking of time, for a quick political pivot, what a difference an endorsement can make, when it is House Minority Whip Jim Clyburn plugging former VP Joe Biden for the Democratic nomination before South Carolina. That and some purported arm twisting to clear several contestants out of the race set the stage for a Biden 'upset' on Super Tuesday. If Senator Bernie Sanders doesn't have a strong showing in Michigan, Politico says it could be over for him soon.
Either way, this might be the weakest Democratic nominee in years. That's not to say that one or the other couldn't win, but Biden has so many vulnerabilities from past baggage and present memory lapses. Bernie's statements of Cuba and Castro may have hurt him on Super Tuesday and could even more so in the days ahead.
Stay tuned.
Related Reports:
"Aha!" Moment From New 2020 Manufactured Housing Data, plus Manufactured Home Investing, Stock Updates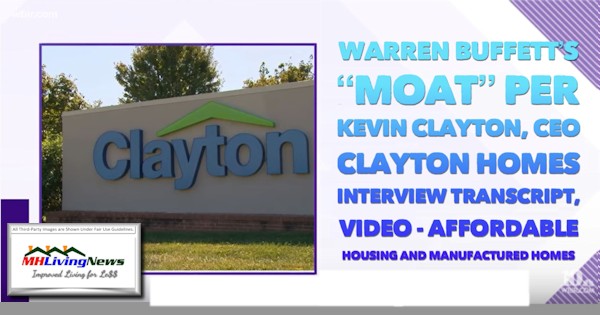 Anatomy of High-Tech, Scandalous Deception? National Trade Groups Agree on HR 4351 YIMBY Act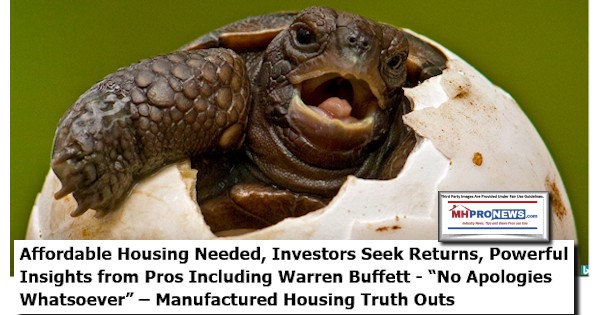 Fraud, RICO and Antitrust-Issues of Genius, Honesty, Legality, Competency-Berkshire Hathaway and Manufactured Housing Institute Leadership, Sunday Morning Headlines Review 2.23 to 3.1.2020
Weaponized Philanthropy, Castrated Associations and Manufactured Housing – Michael Bloomberg and Warren Buffett Connection
Manufactured Housing Industry Investments Connected Closing Equities Tickers
Some of these firms invest in manufactured housing, or are otherwise connected, but may do other forms of investing or business activities too.
NOTE: The chart below includes the Canadian stock, ECN, which purchased Triad Financial Services, a manufactured home industry lender
NOTE: Drew changed its name and trading symbol at the end of 2016 to Lippert (LCII).
Winter 2020…
Berkshire Hathaway is the parent company to Clayton Homes, 21st Mortgage, Vanderbilt Mortgage and other factory built housing industry suppliers.
· LCI Industries, Patrick, UFPI, and LP each are suppliers to the manufactured housing industry, among others.
· AMG, CG, and TAVFX have investments in manufactured housing related businesses. For insights from third-parties and clients about our publisher, click here.
Enjoy these 'blast from the past' comments.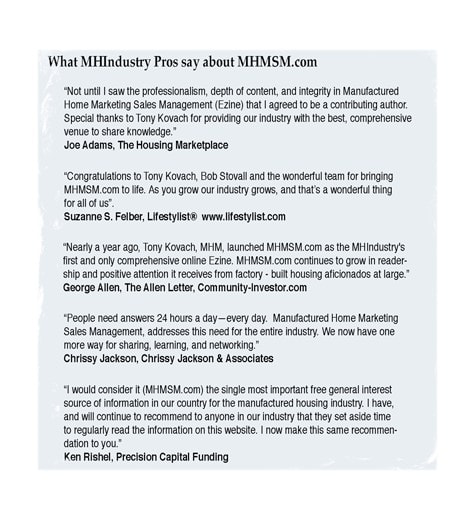 MHProNews. MHProNews – previously a.k.a. MHMSM.com – has now celebrated our tenth anniversary.
Learn more about our evolutionary journey as the industry's leading trade media, at the report linked below.
Celebrating 10 Years of Goal- and Solution-Oriented Manufactured Home Industry Innovation Information, and Inspiration for Industry Professionals
· For expert manufactured housing business development or other professional services, click here.
· To sign up in seconds for our industry leading emailed headline news updates, click here.
Disclosure. MHProNews holds no positions in the stocks in this report.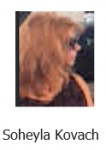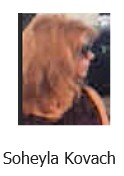 "We Provide, You Decide." © ## (News, analysis and commentary.)
(Image credits and information are as shown above, and when provided by third parties, are shared under fair use guidelines.)
Submitted by Soheyla Kovach, co-managing member of LifeStyle Factory Homes, LLC and co-founder for MHProNews.com, and MHLivingNews.com.

Connect with us on LinkedIn here and here.