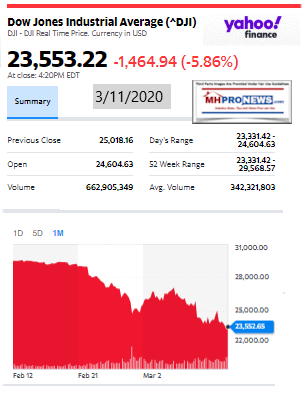 Tonight's market report features a formal statement from UMH Properties President and CEO Sam Landy, J.D., relating to the sharp drop experienced by his firm and others in the manufactured home sector. It is coupled with some pull quotes from award-winning investigative reporter Sharyl Attkisson.
Every evening our headlines that follow provide snapshots from two major media outlets on each side of the left-right news spectrum that reflect topics that influence or move investor sentiment. In moments on this business evening report, you can get 'insights-at-a-glance.'
This report also sets the broader context for manufactured housing markets, in keeping with our mantra, "News through the lens of manufactured homes and factory-built housing" ©.
We begin with headlines left-of-center CNN followed by right-of-center Fox Business. We share closing tickers and other related data courtesy of Yahoo Finance, and more. 5 to 10 minutes reading this MHProNews market report every business night could save you 30 minutes to an hour of similar reading or fact-gathering elsewhere.
Perhaps more important, you will get insights about the industry from experts that care, but also dare to challenge the routine narrative that arguably keeps manufactured housing underperforming during an affordable housing crisis.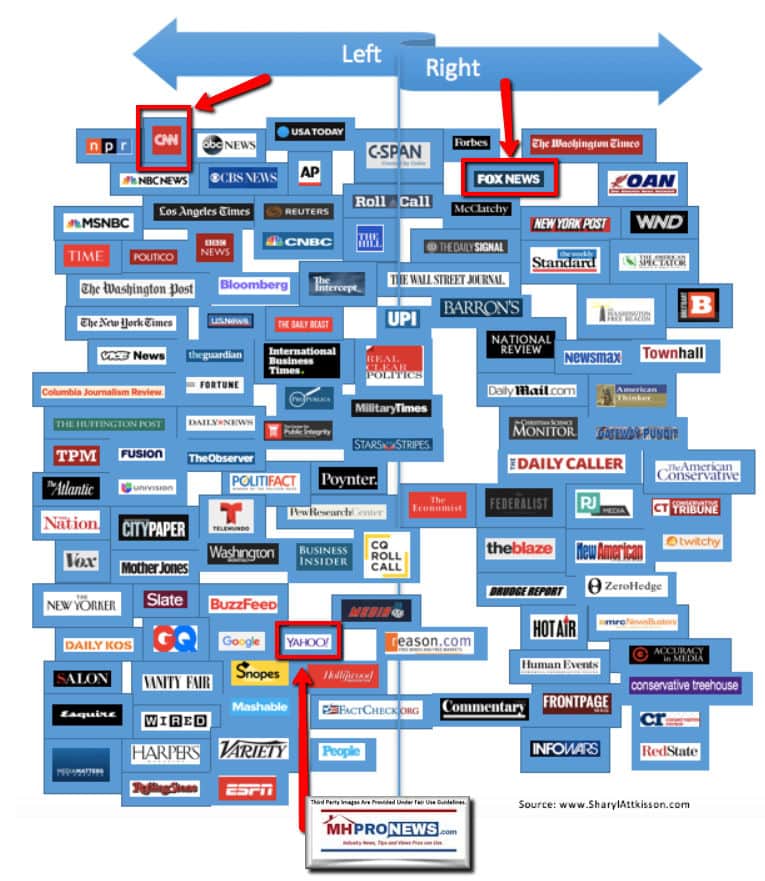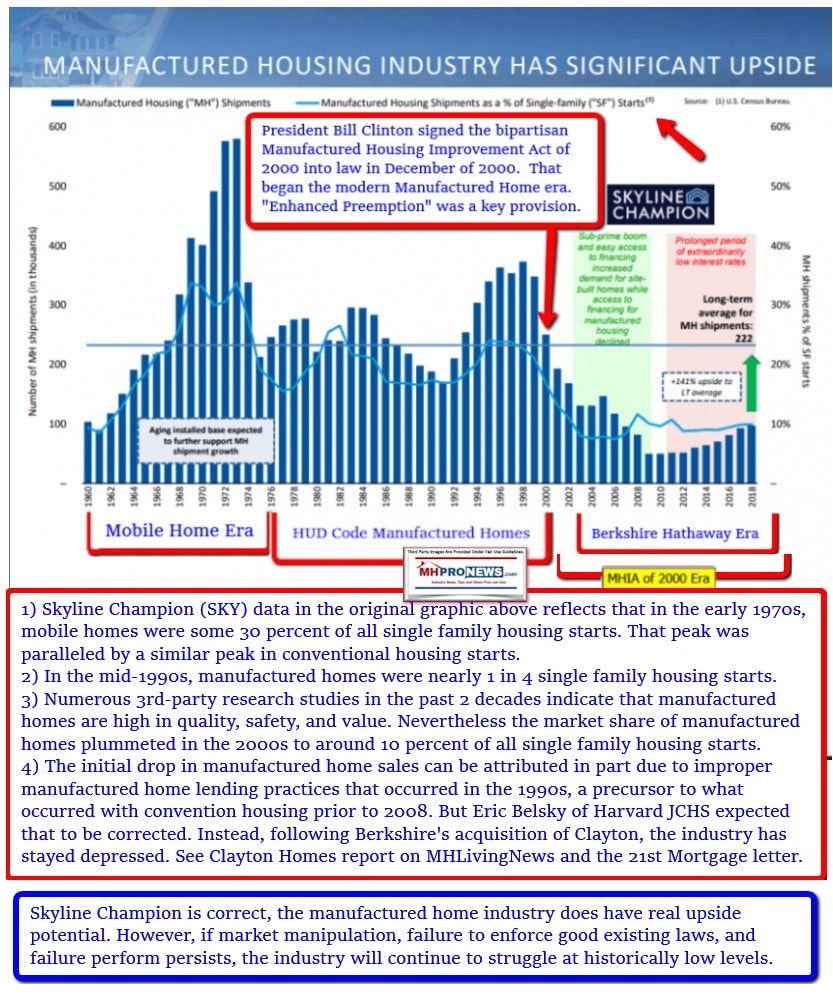 Newsy, Peeling Back Media Bias, Manufactured Housing Sales, Investing, Politics, and You
Headlines from left-of-center CNN Business
Dow lands in a bear market
The building of the New York Stock Exchange (NYSE) is pictured on January 9, 2019 in New York.
LIVE UPDATES Stocks sold off sharply, and the index closed 20% below its most recent high
US stocks are nearing a bear market. Here's what caused the last 12 bears
Here's why you should worry about the turbulent stock market… and why you shouldn't
The longest bull market … and longest expansion in history are in danger
Saudi Arabia doubles down on threat to flood the oil market
5 things to know about the payroll tax
The coronavirus economic 'disaster' scenario: Stagflation
America's biggest video game conference canceled because of coronavirus
Walmart confirms coronavirus case in one of its stores
Verizon launches Yahoo Mobile, a $40-per-month phone service
Computers still aren't fluent in human speech. IBM is changing that
The best ways to get yourself hired
Your city may be in the running to build Elon Musk's new Cybertruck
Opinion: It's time for us to go back to the moon — and stay there
People walk past the New York Stock Exchange building after the ringing of the opening bell to celebrate New York Stock Exchange's 225th Anniversary, at the NYSE in New York on May 17, 2017.
Trump's stock market gains have been cut in half by the coronavirus sell-off
Consumers snap up PhoneSoap to sanitize cell phones as coronavirus outbreak spreads
A customer walks out of a bagel shop after picking up coffee and a breakfast sandwich early Wednesday, March 11, 2020, in New Rochelle, N.Y. State officials are shuttering several schools and houses of worship for two weeks in the New York City suburb and sending in the National Guard to help with what appears to be the nation's biggest cluster of coronavirus cases.
Inside an American coronavirus containment zone, business anxiety is spreading
Chick-fil-A will start selling bottles of its signature sauce
McDonald's is selling a Big Mac with four patties
Dunkin' will give out free donuts this month
These McDonald's scented candles smell like food
Dunkin' has a plan for better coffee
BANKING
A pedestrian passes in front of a Fifth Third Bancorp automatic teller machine (ATM) location in Chicago, Illinois, U.S., on Thursday, July 13, 2017. Fifth Third Bancorp is scheduled to release earnings figures on July 21.
Fifth Third employees opened fake accounts to meet sales goals, US says
Could the coronavirus shut down Wall Street?
Wells Fargo chairwoman quits abruptly
One of India's biggest banks has been bailed out
Banks in Europe will delay mortgage payments for coronavirus victims
Headlines from right-of-center Fox Business
Dow closes in bear market amid volatile session
S. equity markets are lower amid skepticism over proposed stimulus.
Coronavirus outbreak a pandemic, World Health Organization declares
Oil crash poised to siphon bank profits
Coronavirus pushes New York Fed to increase liquidity
Virus creates another layer of woes for Boeing
Doctor makes frightening reveal about younger coronavirus patients
Coronavirus puts paid sick leave benefits under scrutiny
Oil tycoon Hamm: Russia, Saudi Arabia launching 'direct attack' on US producers
Trump mulls permanent 0% payroll tax rate
Pelosi to unveil coronavirus aid as Republicans signal possible support
Opinion: Virus threatens global economy, but US will contain outbreak and thrive
Dos and don'ts of stockpiling: 5 must-have items for quarantine
Sporting goods retailer Modell's files for bankruptcy after 131 years
Coronavirus forces NBA's Warriors to play home game without fans
April filing deadline likely to be delayed
Katherine Schwarzenegger Pratt's new book teaches forgivness
Sanders vows to stay in 2020 race as Biden closes in on nomination
Former Patriots star nearing WWE deal
Harvey Weinstein sentenced to decades in prison
Private jet service booms amid coronavirus fears
Coronavirus pushes Ben & Jerry's to postpone 'Free Cone Day' for first time in 41 years
Coronavirus raises concerns in jails and prisons
California AG drops challenge to T-Mobile-Sprint merger
Who is Harvey Weinstein's brother, Bob?
Los Angeles must provide homeless with beds, services: Lawsuit
Pepsi deal will make Rockstar 'powerhouse brand,' founder says
Mortgage size hurts your ability to save money, most Americans believe
Lori Loughlin's attorney in cheating scandal led Enron prosecution team
Critical system at Dept. of Health crashes as officials scramble to contain virus
Will coronavirus really cause a recession? What telltale signs to watch
Biden, Sanders to debate without live audience as coronavirus spreads
Bank of England slashes interest rates
Saudi Aramco boosts oil production capacity amid price war with Russia
Weinstein reportedly asked Bezos, Bloomberg for help as accusations mounted
The Democratic primary race just took a big turn
El-Erian: Central bank coronavirus response 'pushing on a string'
Sex harassment claims made about opera legend deemed 'credible'
Study makes frightening find about how vulnerable US is to cyberattacks
WATCH: Hedge fund founder on why virus could lead to 'slight' global recession
New York cancels major race amid coronavirus concerns
What are coronavirus-free states doing?
Coronavirus and the elderly: This is the age at which you're considered 'at risk'
Stock swoon has Mnuchin, Powell talking daily
Former Home Depot CEO: 50% of fracking companies will go bankrupt
Amazon, Apple, Google lead tech coronavirus White House meeting
Lawyers reveal whether Robert Durst will testify at trial
What a payroll tax cut could mean for your wallet
10 Market Indicator Closing Summaries – Yahoo Finance Closing Tickers on MHProNews…

Featured Focus – Where Business, Politics and Investing Can Meet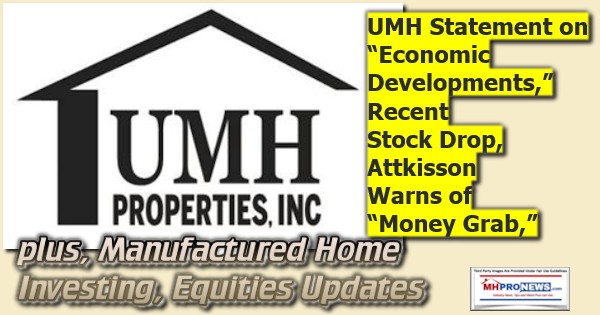 To set the stage for the report that follows, here are some headlines pulled from ubiquitous Drudge Report that are coronavirus related:
German officials that: '70% WILL BE INFECTED'
FED PUMPS $175 BILLION IN DAY
SEATTLE SCHOOLS CLOSE
TRUMP TO ADDRESS NATION
TOP DOC: Virus 10 TIMES more lethal than flu… [bottom line, 1 percent mortality rate versus .1]
Political Leaders at Risk…
FAUCI: Infections and deaths 'totally dependent upon how we respond'…
Most Americans Will Likely Be Exposed…
X-rays show terrifying damage in lungs of victims…
Clusters swell on both sides of USA…
White House told federal health agency to classify deliberations…
'Emergency meeting'…
Fight enters new phase as containment falters…
Response could test limits of govt powers…
Georgia to isolate patients at Hard Labor Creek State Park…
No Escape From Threat for 2 Million Crammed in Prisons…
GOODWIN: Trump needs to step up…
POLL: PRESIDENT'S APPROVAL HOLDS AT 40%…
Military Struggles to Respond…
New Italian lifestyle upends most basic routines and joys…
WHO Blasts 'Alarming' Inaction…
USA weighs limits on travelers from Europe…
JETBLUE CEO: Impact On Airline 'Probably Worse' Than 9/11…
Young capitalize on cheap flights: 'If I die, I die'…
Casino To Take Temperatures Of Guests, Employees…
AP PHOTOS OF OUTBREAK…
STOCK SELL-OFF ACCELERATES: DOW -1464…
BEAR MARKET…
11-Year Bull Run Ends…
TREASURIES TURN RISKY…
There are certainly plenty of voices that are pushing the panic button. There are numbers of headlines and reports that are fueling the market selloff.
What are others saying?
"But in the heat of the moment, difficult questions have been raised that will persist beyond the current crisis," said award-winning independent investigative reporter Sharyl Attkisson in an op-ed via The Hill.
From that same column, Attkisson said the following.
"How can taxpayers be protected from a money grab?"
During health emergencies such as this one, enormous sums of taxpayer money exit the public coffers at the speed of light. Nobody wants to be blamed for appearing to hold back on money needed to save lives. Politicians in both parties risk getting blamed if they ask too many questions about exactly how all those emergency billions will be spent and how much is really needed. Sometimes, accountability goes out the window.
Unless you believe that politicians and agencies are above a money grab, especially if it can be justified under the auspices of a public health emergency, then you should favor prudent, careful allocation of resources with accountability on the front end and follow-up after the fact."
Attkisson mentions politicians and agencies, but it must be stressed that money from agencies go to private businesses. Thus, logically any "money grab" involves more than just politicos and bureaucrats, it also involves special interests and their lobbyists."
As the red in the evening market summary further below reflects, essentially all manufactured home industry connected stocks have been driven down during what some describe as a panic with a resultant historically rapid drop.
Here is what UMH Properties said yesterday, in a media release. The graphic is based on Yahoo data, and was not provided by UMH.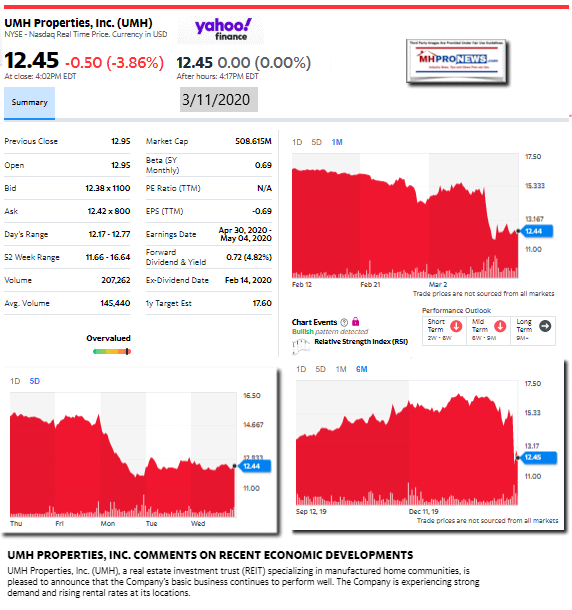 UMH PROPERTIES, INC. COMMENTS ON RECENT ECONOMIC DEVELOPMENTS
March 10, 2020 16:46 ET | Source: UMH Properties, Inc.
FREEHOLD, NJ, March 10, 2020 (GLOBE NEWSWIRE) — UMH Properties, Inc. (NYSE: UMH), a real estate investment trust (REIT) specializing in manufactured home communities, is pleased to announce that the Company's basic business continues to perform well. The Company is experiencing strong demand and rising rental rates at its locations.
Samuel A. Landy, President and Chief Executive Officer, commented, "We anticipate that occupancy and rents will not be impacted by the recent decline in oil and gas prices. Our view of the energy industry in Pennsylvania and Ohio was expressed in our 10-K and earnings release and continues to be our current position."
"Our manufactured home communities are situated on 6,600 acres of valuable land. This includes 3,400 acres in the energy-rich Marcellus and Utica Shale regions. As anticipated, the vast oil and natural gas reserves in these areas have become substantial economic catalysts that are creating significant prosperity and growth. We believe we are still in the early stages of this energy bonanza, and as a result, we look forward to very strong demand for decades to come. The American Petroleum Institute projects employment increases in Ohio and Pennsylvania of 138,000 jobs per year through 2035. If this is actually achieved, it will be a game changer for these states."
"The recent decline in UMH share price is not related to any fundamentals that we are aware of. Our cost of capital has gone down substantially and is a favorable recent development."
UMH Properties, Inc., which was organized in 1968, is a public equity REIT that owns and operates 122 manufactured home communities with approximately 23,100 developed homesites. These communities are located in New Jersey, New York, Ohio, Pennsylvania, Tennessee, Indiana, Maryland and Michigan. In addition, the Company owns a portfolio of REIT securities.
# # # #
MHProNews has an outreach to some researchers to see what, if anything, they may wish to add to this developing drop.
Is the panic warranted? There are voices on both sides of that question. History will have the final word if this was authentic or a "money grab" to borrow the expression used by Attkisson.
That said, a Washington, D.C. contact said in a email that "The SEC [Securities and Exchange Commission] building is basically closed (they had one confirmed case in the building) and everyone is working from home."
That same source added, "it's like a ghost town around here [Washington, D.C.]. Much lighter traffic this morning; hardly anybody at the place I normally get lunch (right around 12) which is usually pretty crowded; not many people out on the street…Its almost like it was during the government shutdown, but not quite as extreme."
"That's the only agency [SEC] shut-down for now, but wouldn't be surprised if there were others soon."
If the Chinese government is to be believed, they have said that the coronavirus spread has slowed. MHProNews will continue to monitor these events from an industry perspective.
See more in the related reports below.
Related Reports:
"Be Greedy When Others are Fearful" – Bill Gates, Warren Buffett and Follow the Money, plus Manufactured Home Investing, Stock Updates
Sam Zell is Buying, plus Manufactured Home Investing, Stock Updates
Events Canceled Due to Coronavirus Fears, Manufactured Housing Institute Spring Meeting Update, Plus Sunday Week in Review 3.1 to 3.8.2020
Manufactured Housing Industry Investments Connected Closing Equities Tickers
Some of these firms invest in manufactured housing, or are otherwise connected, but may do other forms of investing or business activities too.
NOTE: The chart below includes the Canadian stock, ECN, which purchased Triad Financial Services, a manufactured home industry lender
NOTE: Drew changed its name and trading symbol at the end of 2016 to Lippert (LCII).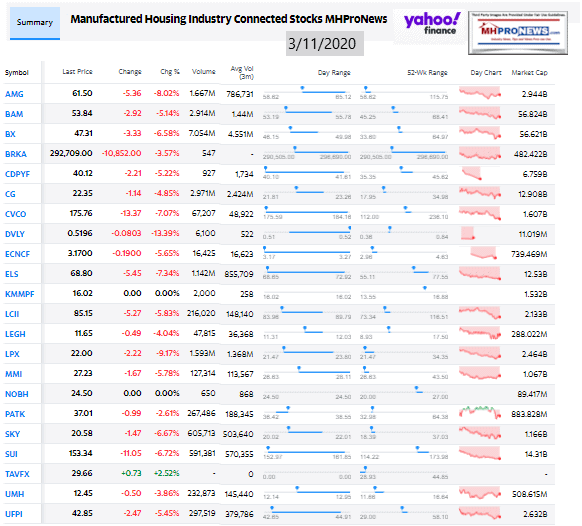 Winter 2020…
Berkshire Hathaway is the parent company to Clayton Homes, 21st Mortgage, Vanderbilt Mortgage and other factory built housing industry suppliers.
· LCI Industries, Patrick, UFPI, and LP each are suppliers to the manufactured housing industry, among others.
· AMG, CG, and TAVFX have investments in manufactured housing related businesses. For insights from third-parties and clients about our publisher, click here.
Enjoy these 'blast from the past' comments.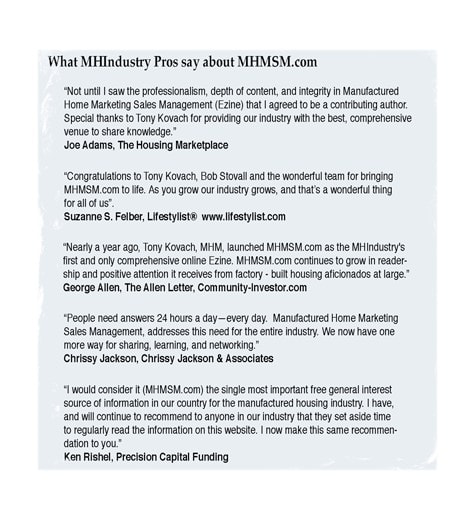 MHProNews. MHProNews – previously a.k.a. MHMSM.com – has now celebrated our tenth anniversary.
Learn more about our evolutionary journey as the industry's leading trade media, at the report linked below.
Celebrating 10 Years of Goal- and Solution-Oriented Manufactured Home Industry Innovation Information, and Inspiration for Industry Professionals
· For expert manufactured housing business development or other professional services, click here.
· To sign up in seconds for our industry leading emailed headline news updates, click here.
Disclosure. MHProNews holds no positions in the stocks in this report.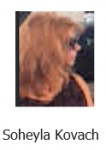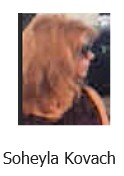 "We Provide, You Decide." © ## (News, analysis and commentary.)
(Image credits and information are as shown above, and when provided by third parties, are shared under fair use guidelines.)
Submitted by Soheyla Kovach, co-managing member of LifeStyle Factory Homes, LLC and co-founder for MHProNews.com, and MHLivingNews.com.

Connect with us on LinkedIn here and here.
2019 Year-End Totals Reveals Decline in New HUD Code Manufactured Home Production, Shipments vs. 2018