In a written invitation to MHProNews to see their latest responses to the Manufactured Housing Institute (MHI) "CrossModTM homes" controversy, the Modular Home Builders Association (MHBA) provided several updates.
As part of their grade group's broader "Advancing Modular Housing Initiative," the MHBA met with key Congressional leaders. Per their own statement, part of that discussion was to protest the use of the "CrossModTM homes" terminology and the "motivation behind" it.
Here is how the MHBA publicly stated it, noting it was their first item in the list of issues in their initiative.

"1) Creating a level playing field – First and foremost, no housing "product" should have a government-supported unfair advantage. This week, we met with eight Congressional representatives including the Chairman of the House Finance Committee and Chairman of the Senate Banking Committee. We discussed our concerns over the proposed new HUD regulations that would allow the manufactured housing industry to confuse the public and encroach into the modular home market share with its new "CrossMod" product. We will also be submitting comments on the regulations and encouraged Congressional leadership to question the motivation behind these proposed new regulations." – MHBA.
MHProNews Analysis – Warning to All Independent Manufacturers, Retailers & Others
Manufactured housing professionals, including MHI members, need to let that MHBA statement sink in deeply.
Rephrased, because MHI has not backed down from their controversial "CrossModTM homes" scheme, MHBA is now making the rounds in Congress in a fashion that aims to stop that terminology, but could also thwart the "enhanced preemption" that the HUD Code industry – at least on paper – enjoys.
Why is MHI risking that sort of conflict with the MHBA? Isn't it bad enough that they have push-back from within their own industry and ranks?
MHProNews and MHLivingNews have been virtually alone among the industry's trade publishers in sounding the alarm in recent years about the various ways that MHI has arguably been working to undermine its own industry in a manner harming consumers and fostering consolidation by creating or allowing headwinds for independents.
There is a case to be made that MHI, whose staff are effectively acting under the instructions of the MHI Board of Directors "Executive Committee," are either massively inept or totally corrupt.
Logically, who within the industry benefits from undermining the HUD Code? Answer – larger firms, consolidators, and those that are involved in conventional housing, not just manufactured homes.
Instead of dealing with the allegations raised against them head on, if they could do so in a logical and effective manner, what MHI does instead is trot out surrogates to 'defend' them. They also deploy the Razzle Dazzle, red herring or other diversionary methods.
1) Keep It Simple, Smarty (KISS)
The Omaha-Knoxville-Arlington axis and their allies are intelligent people. They are educated and often successful people. Are we to believe that intelligent and successful people are unable to increase the sales of HUD Code manufactured homes in a robust fashion during an affordable housing crisis?
When put that way, the absurdity of the industry's low level of performance becomes more obvious.
2) Added Details and Analysis
With no disrespect intended, it boils down to believing that the axis and MHI are made up a bunch of incompetents, which we editorially don't believe is the case. Or, one might believe that the MH Axis has intelligent, successful people that are behaving as they do because they have an agenda.
When the facts are carefully examined, when logic is used, a pattern emerges that supports a hidden agenda premise. Posture support for manufactured housing, while working to undermine it. It's happened to countries and armies, in that scenario that's called traitors. Why would anyone think it can't happen in an industry?  After all industrial espionage is just an different twist on the same concept.
Meanwhile, instead of dealing with the allegations against them, MHI and their 'big boy' companies continue to spin out their propaganda as if all is well.  That's not direct evidence, but it arguably can be indirect evidence.
They engage HUD Secretary Ben Carson, HUD's Brian Montgomery, FHFA Director Mark Calabria and anyone else in public office who will sit down with them for a photo or video opportunity that they can then splash on their home page and place in emails to members.
They push legislation that has little value if passed, while ignoring the robust promotion of legislation that already exists.
They've used DTS to benefit their larger community operators, Meanwhile, they've also effectively diverting lending away from the mass of HUD Code homes to a limited number of 'new class of homes' that they've recently dubbed "CrossModTM homes" which has sparked this entirely avoidable bruhaha with the MHBA. But as facts revealed during the FHFA listening session in St. Louis last November 2019 indicated, only 10 such homes had been financed in all of 2018 and to that point in 2019. Ten 'new class of homes' or "CrossModTM" Why are they doubling down so hard on a program that has almost no market traction? The MHI plan is absurd – unless one considers the hidden agenda hypothesis.
Buffett bucks, often using dark money channels, is used to fund nonprofits that in turn have created or fueled headwinds for manufactured housing. The most notable example is MHAction, which is paid by the Tides nonprofit, which in turn has as a major funder a nonprofit is run by family and whose sole donor is Warren Buffett.
Those bullets are the reasonable outline for what's gone wrong in manufactured housing since 2003.
Additional insights can round out the picture.
For example, MHI awards program and 'education' or other ploys will be unpacked another time. The short version for now is this. MHI and several of their affiliated state associations have become "Buffett's Buffet." Independents are attracted to meetings by a variety of means, where they interact socially with larger players. That in time can result in acquisitions and thus more consolidation, or, weaknesses can be spotted and those that don't sell out can arguably be undermined, as a prior news tip about 21st Mortgage floorplan lending explained.
CFPB and 21st, Second Shoe Drops? Flooring w/21st Mortgage Corp? Insider Tips
These are sophisticated ploys that utilize proven techniques of information gathering and manipulation.
Clayton Homes and 21st Mortgage's Manufactured Housing "Spies"
When the industry's underperformance during an affordable housing crisis is kept in mind, are the increasing pile of evidence that several methods of manipulation are being deployed merely coincidental?
Or are they intentionally used tools, aimed at fostering consolidation in a fashion that seeks to dodge regulatory detection, while being detrimental to numbers of manufactured homeowners, independent businesses of many types and investors?
In our recent interview with a former MHI vice president, the case is made using facts and evidence as to how the Duty to Serve provision of the Housing and Economic Recovery Act (HERA) of 2000 has been thwarted.
Former Manufactured Housing Institute Vice President Sounds Off on Manufactured Home Financing
Why Double Down on a Flawed and Failing Program?
The entire premise of the "CrossModTM homes" initiative is fundamentally flawed. Using MHI's own talking points, the fallacy and paltering can be made clear. But again, let's simplify. If you want to raise the profile of manufactured housing, then you do so by raising the profile of ALL manufactured homes, not just a small sliver of the HUD Code market.
MHBA's Tom Hardiman said as much when he rightly said "own it" and "Take pride" in manufactured homes. But instead, MHI has glommed onto another trade group's terminology, muddying the waters for both. How did that help the HUD Code?
So, while MHProNews is not defending all that MHBA is doing to stop MHI's initiative, it is understandable to the extent that they are trying to defend their own industry.
Only the Manufactured Housing Association for Regulatory Reform (MHARR) among the industry's trade associations has consistently and persistently fought for the full implementation of DTS and the Manufactured Housing Improvement Act of 2000, including "enhanced preemption" in a manner that is logical, realistic, ethical and consistent.
MHARR has called for a new post-production trade group that they could work with to advance manufactured housing, just as MHARR works to advance the interests of producers of HUD Code manufactured homes.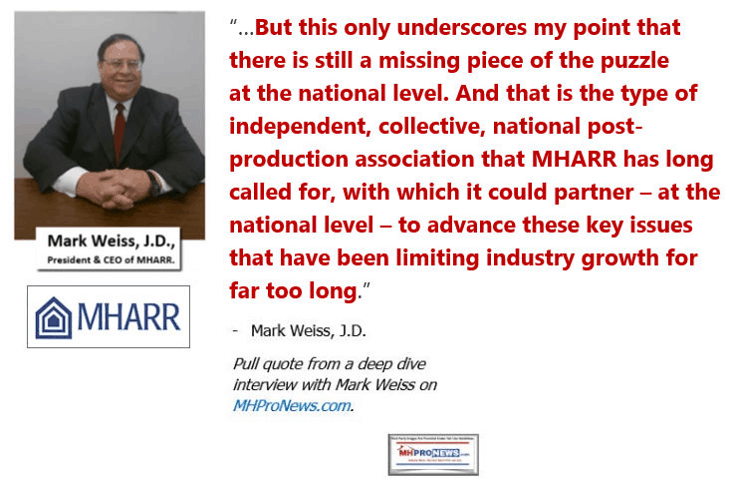 There is an old saying that if you toss a frog into pot of boiling water, it will jump out. But if you put the frog in the pot of water and slowly raise the temperature, that frog will complacently sit and finally get boiled to death. The time to act to stop MHI and their allies is now, before more independents get boiled out of existence.
The industry has the benefit of good laws, on paper.
MHIA's "enhanced preemption" – as well as numerous other aspects of the law – are good for consumers and the industry, but only to the extent that they are enforced.
Similarly, there are financing options – including DTS, but not limited to it – that if fully utilized could benefit consumers and create more manufactured home sales.
But the second bullet would undercut the profits of Berkshire Hathaway's lending units. For example, Berkshire owned 21st Mortgage Corp reportedly stopped making FHA Title I loans, while Berkshire owned Vanderbilt – exclusively available for Clayton owned retail stores – is said to continue to offer them.
Like it or not, MHI started a war with the MHBA. But MHI had previously started one with members of their own industry.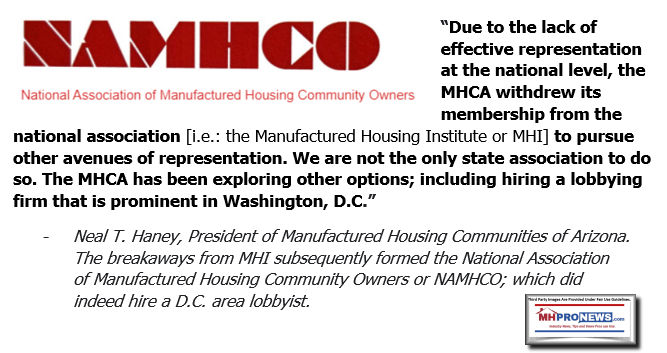 The fact that it takes a lot of pieces to fill in a puzzle doesn't diminish the picture in any way.
As investors and researchers looking into to manufactured housing have said on various occasions, no one else has an explanation for the industry's performance that makes as much sense as the one MHProNews and our sister site has laid out among the industry's trade publishers. But then, our readership reportedly dwarfs theirs. Is it any wonder?
See the related reports for more.
That's a wrap for this installment of manufactured housing "Industry News Tips and Views Pros Can Use" © – MHVille's runaway #1 news source, where "We Provide, You Decide." © (News, fact-checks, analysis, and commentary.) Notice: all third party images or content are provided under fair use guidelines for media.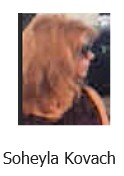 Submitted by Soheyla Kovach for MHProNews.com. Soheyla is a co-founder and managing member of LifeStyle Factory Homes, LLC, the parent company to MHProNews, and MHLivingNews.com. Connect with us on LinkedIn here and here.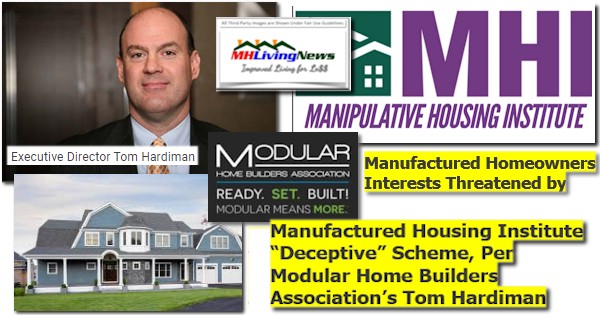 Shortchanging Homeowners, Small Businesses, Unsuspecting Investors, Association Members-plus Sunday Manufactured Home Headlines Review 2.9 to 2.16.2020
Buffett's Board – Berkshire Hathaway, Interlocking Directorates, Ronald Olson – Manufactured Housing and Truth Hiding in Plain Sight
Flashback Friday – Enron, WorldCom and Bernie Madoff – Lessons, Implications for Manufactured Housing Regulators and Investors? Plus, Manufactured Home Investing, Stock Updates
Trump Administration Asked to Withdraw Brian D Montgomery Nomination Over Conflicts of Interest
Rent Control Bill Advances, Manufactured Housing Institute Silent, plus Manufactured Home Investing, Stock Updates
"Illegal mergers are half the picture, and illegal monopolization is the other half." – 3.10.2020 Senate Anti-Trust Testimony, plus Manufactured Home Investing, Stock Updates
Fraud, RICO and Antitrust-Issues of Genius, Honesty, Legality, Competency-Berkshire Hathaway and Manufactured Housing Institute Leadership, Sunday Morning Headlines Review 2.23 to 3.1.2020
The Manufactured Housing Institute (MHI) failed to mention any of headline items in three of their recent 'news and updates' to their members. Ponder that point as you read what follows.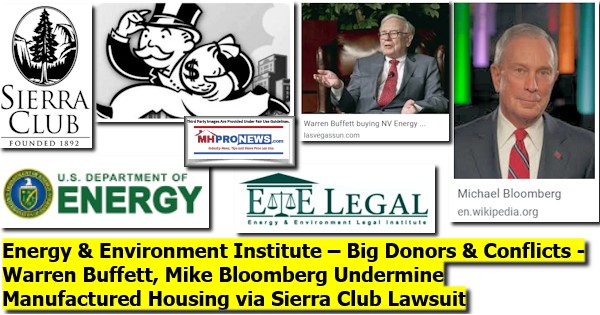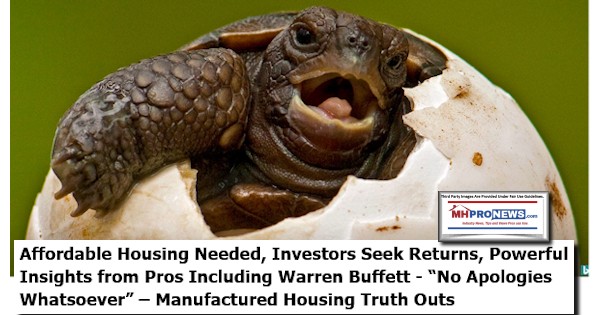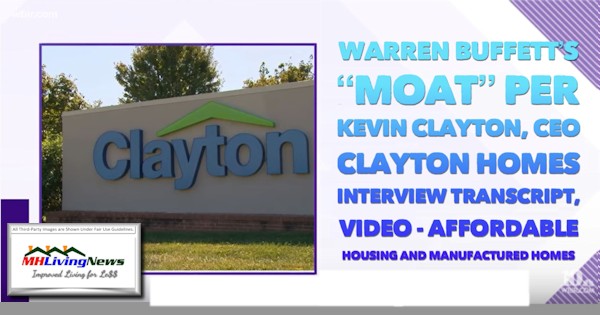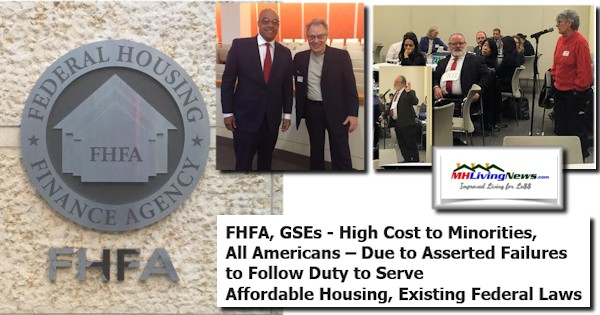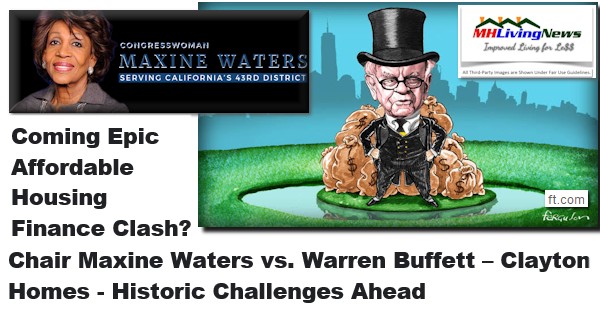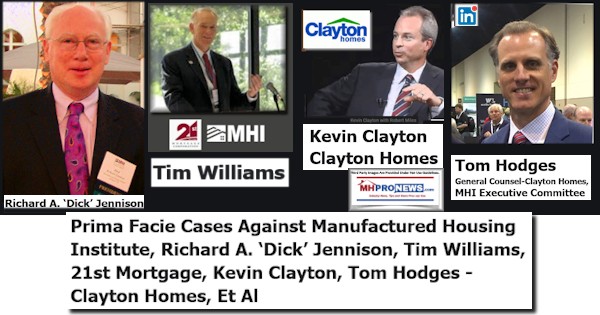 "Scorched Earth" Reply-Lesli Gooch, Tim Williams, and Manufactured Housing Institute (MHI) Claims
Tim Williams Calls Lesli Gooch "Superb," But Latest Tip Reveals Additional MHI CEO Gooch Controversy Connected Documents
Whistleblower's Documents on Lesli Gooch – Manufactured Housing Institute CEO – New Discoveries