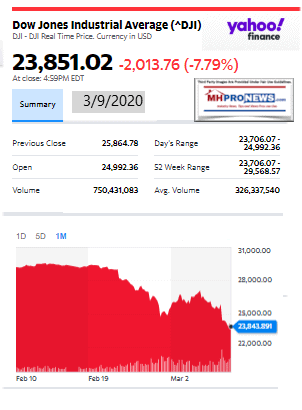 The Trump Administration has taken the stance that rent control has a negative impact on new housing creation. Pro-rent control voices say that predatory practices by certain manufactured home community operators leaves them with few choices to stop the bleeding that is or would otherwise cause residents to lose their homes. 
Collapsing oil and coronavirus fears led to the largest single day drop in U.S. markets, dragging manufactured home equities with them. All told, Fox News said today's drop was a $2.5 trillion dollars in losses as measured by market cap. Did President Trump's evening press conference help? Dow futures are up at this time, but what's ahead is unclear.
With that nod to the left-right headlines beyond our standard fare below, our focus tonight in our featured segment is a bill moving ahead on the rent control issue.
Every evening our headlines that follow provide snapshots from two major media outlets on each side of the left-right news spectrum that reflect topics that influence or move investor sentiment. In moments on this business evening report, you can get 'insights-at-a-glance.'
This report also sets the broader context for manufactured housing markets, in keeping with our mantra, "News through the lens of manufactured homes and factory-built housing" ©.
We begin with headlines left-of-center CNN followed by right-of-center Fox Business. We share closing tickers and other related data courtesy of Yahoo Finance, and more. 5 to 10 minutes reading this MHProNews market report every business night could save you 30 minutes to an hour of similar reading or fact-gathering elsewhere.
Perhaps more important, you will get insights about the industry from experts that care, but also dare to challenge the routine narrative that arguably keeps manufactured housing underperforming during an affordable housing crisis.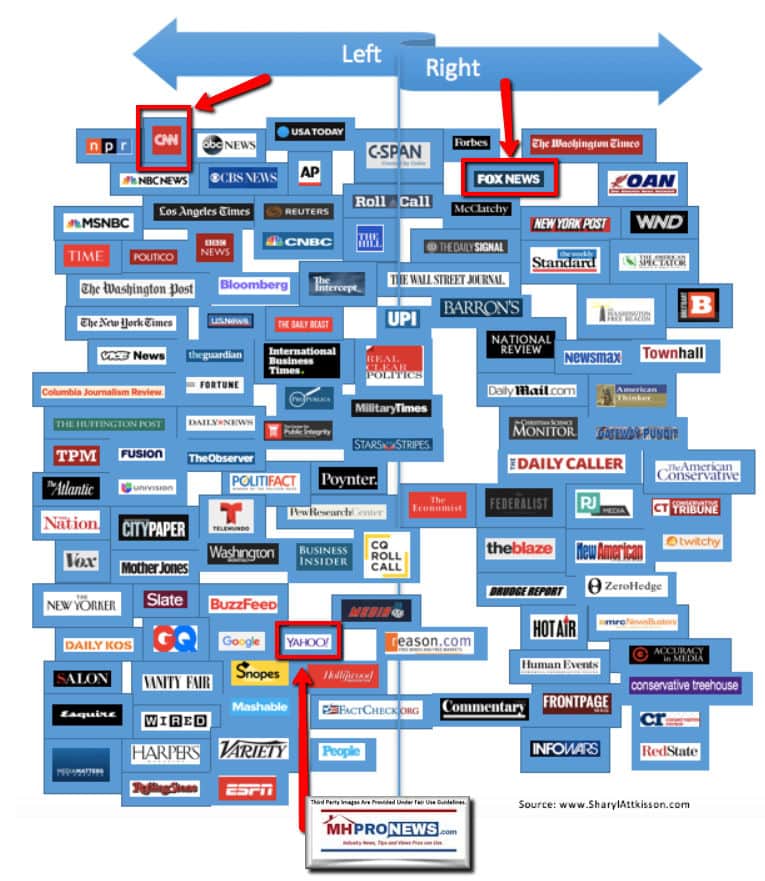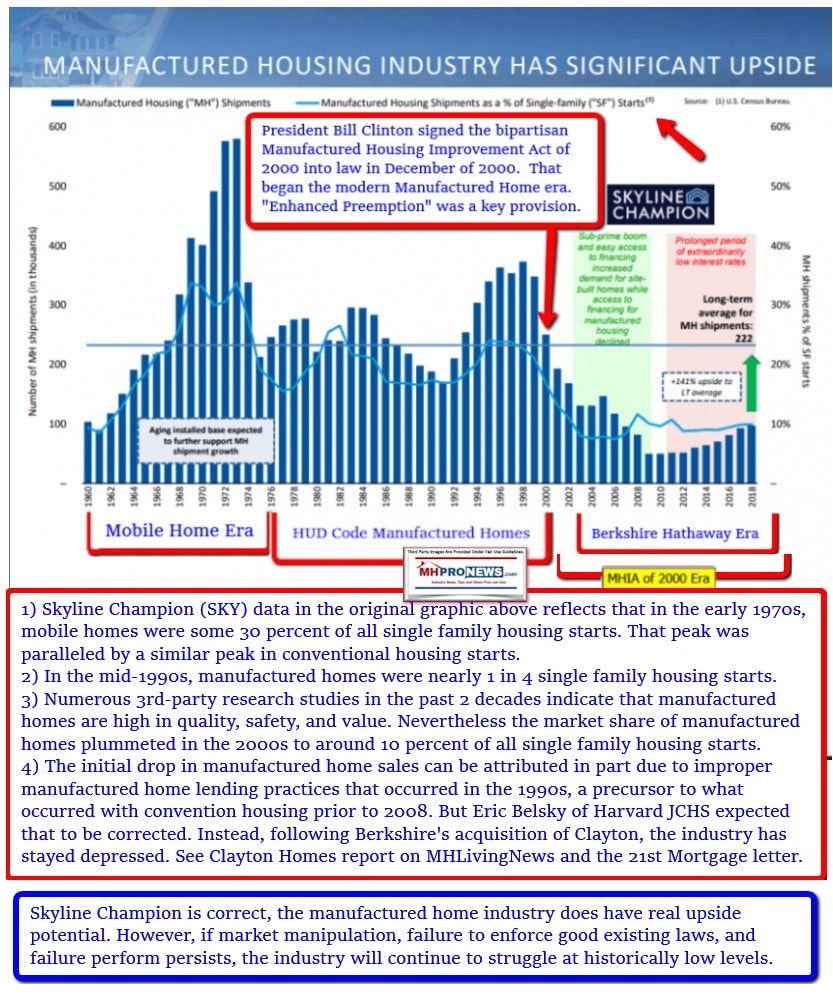 Newsy, Peeling Back Media Bias, Manufactured Housing Sales, Investing, Politics, and You
Headlines from left-of-center CNN Business
Gaining ground
NEW YORK, NEW YORK – MARCH 09: People walk by the New York Stock Exchange (NYSE) on March 09, 2020 in New York City. As global fears from the coronavirus continue to escalate, trading was halted for 15 minutes after the opening bell as stocks fell 7 percent.
Dow futures up after worst one-day point drop in history
LIVE DATA See how stock futures are trading now
Regulators to banks: Work with borrowers hurt by coronavirus
NY Fed pumps at least $50 billion more into the financial system to ease coronavirus stress
US stocks are nearing a bear market. Here's what caused the last 12 bears
The bull market is 11 years old. Will coronavirus stop its epic run?
Italy is under partial lockdown. Some big companies say it's 'business as usual'
Starbucks is testing a new cup. Here's what's different
Elon Musk: SpaceX has had 'zero' thoughts about an IPO for Starlink
PERSPECTIVES Trump can't tweet his way out of a bear market
In the days of coronavirus, an international auto show moves to cyberspace
RIYADH, SAUDI ARABIA OCTOBER 14, 2019: Russia's President Vladimir Putin (L) and Salman bin Abdulaziz Al Saud of Saudi Arabia, at a ceremony to sign joint documents following Russian-Saudi talks at the Al-Yamamah Royal Palace. Alexei Nikolsky/Russian Presidential Press and Information Office/TASS (Photo by Alexei Nikolsky\TASS via Getty Images)
Why oil prices are crashing and what it means
A completely empty San Marco Square is seen on March 9, 2020 in Venice, Italy. Prime Minister Giuseppe Conte announced a; due to the coronavirus outbreak and imposed quarantines on the Lombardy and Veneto regions, which contain roughly a quarter of the country's population. Italy has the highest number of cases and fatalities in Europe.
The movements in and out are allowed only for work reasons, health reasons proven by a medical certificate. The justifications for the movements needs to be certified with a self-declaration by filling in forms provided by the police forces in charge of the checks.
A 'short, sharp' global recession is starting to look inevitable
SAN RAFAEL, CA – APRIL 13: A car sits parked in front of a Wells Fargo bank office on April 13, 2018 in San Rafael, California. Wells Fargo reported better than expected first quarter earnings with a profit of $5.94 billion but may need to update the results as investigations into the bank's auto loans and mortgages that could cost $1 billion to resolve.
Wells Fargo chairwoman resigns abruptly
INVESTING
NEW YORK, NEW YORK – MARCH 03: A man walks by the New York Stock Exchange (NYSE) on March 03, 2020 in New York City. Following a strong market surge yesterday, stocks one again fell on Wall Street as global concerns over the financial impact from the Coronavirus drive investments down.
What should you do with your 401(k)? Don't panic
How to recession-proof your investments
The right way to invest in real estate
How to financially prepare for a layoff
The best ways to invest an extra $100,000
THE RISE OF 5G
Here's everything you need to know about 5G
The big differences between 4G and 5G
Opinion: Don't hold your breath for 5G
Apple needs a 5G iPhone now more than ever
If you're buying the Samsung S20 for 5G, you should wait
Headlines from right-of-center Fox Business
Stock futures rise as Trump signals intent to stop market mayhem
The Dow, S&P 500 and Nasdaq Composite rose after President Trump led an update with the coronavirus task force.
Trump to fight coronavirus economic impact with payroll tax cut, other programs
Dow plunges over 2,000 points, oil collapses amid price war and coronavirus
Oil crash causes gas prices to fall
Goldman CEO Blankfein talks stock selloff
US warns 7 companies over fraudulent coronavirus claims
Coronavirus exposure puts US Army Europe commander in self-quarantine
Wall Street CEOs amid stock selloff summoned to White House
Oil hits historic lows amidst massive selloff, fledgling price war and coronavirus fears
US shale on red alert after oil crash
What investors should be doing right now
WATCH: Quicken Loans CEO seeing $4B in new mortgage loan apps
Coronavirus-related items limited by Target, Kroger
Fifth Third opened fake accounts like Wells Fargo, government says
Colin Kaepernick, Eric Reid attorneys rip NFL labor deal
Sanders rips Biden for backing 'crooks on Wall Street' in 2008 bailout
CVS waives at-home prescription delivery fees
Who's really at risk in coronavirus outbreak?
Third Princess cruise ship kept at sea pending coronavirus tests
What are the most expensive drugs on the market?
Led Zeppelin wins latest battle of the bands in `Stairway to Heaven' fight
What is the Dixie Chicks' net worth?
Twitter debuts 'manipulated media' label on clip of Biden retweeted by Trump
Ethiopia report reveals cause of 737 Max crash that killed 157 people
Madonna cancels Paris shows over coronavirus fears
How much do NHL players earn?
New York rolls out state-made hand sanitizer produced by prison inmates
Despite coronavirus, MLB season to start on time: Report
Twitter, Elliott reach deal for Dorsey to stay CEO
Shanghai Disney Resort re-opens after coronavirus shutdown
As Biden rides momentum, Sanders faces uphill battle in Michigan
Chick-fil-A founder's daughter reveals company's 'unseen hero'
Businesses not planning for coronavirus contingencies are already behind: HR expert
Aon plans takeover of Willis Towers in $30B all-stock deal
Tom Brady, 'Avengers: Endgame' directors launch production company
Fake coronavirus treatments peddled by Jim Bakker Show denounced by FTC
First marijuana shop lights up in major East Coast city, big crowds expected
Amazon issues Whole Foods warning amid coronavirus crisis
Boeing shares plunge as FAA rejects proposal on Max wiring
Who is Elon Musk's girlfriend?
Diamondback cuts drilling activity as oil prices tumble
Worried about coronavirus? Dr. Oz reveals 'survival guide' for protecting yourself
WATCH: Maria Bartiromo says markets will come back
Sesame Street's Count von Count wants kids counted in 2020 census
Starbucks is testing new coffee cups
WATCH: Lou Dobbs says, 'This is something I don't believe we've seen before'
Members of Congress in quarantine after having contact with coronavirus patient
New York Fed raises repo limits to ensure ample supply of bank reserves
WATCH: CPAC chairman self 'self-quarantine' after interacting with coronavirus patient
Oil plunges at much as 30% as another virus-fueled trading week begins
Saudis flex oil muscle, ignite chaos
WATCH: NY Stock Exchange president says markets are here for the long term
10 Market Indicator Closing Summaries – Yahoo Finance Closing Tickers on MHProNews…

Featured Focus – Where Business, Politics and Investing Can Meet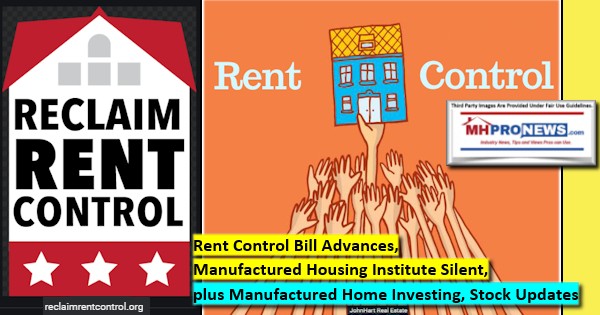 First, let's look at this mainstream media video that sparked the headline above. Keep in mind that this is part of a national pattern.
Next, here is the language of the bill, as a download.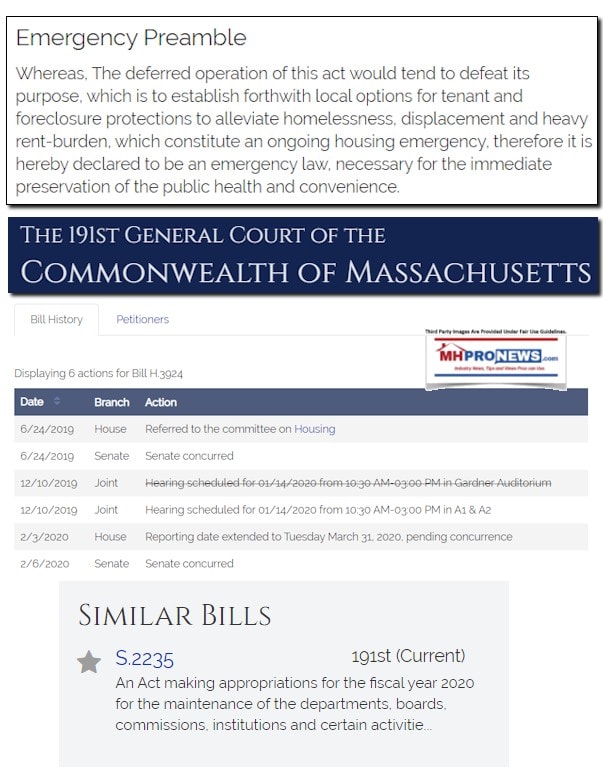 This is just one of several states working on rent control with manufactured housing in the mix. Keep in mind that rent control passed in New York state last year, with MHAction supporting the measure.
Will New State Rent Control Laws Conflict With Presidential Affordable Housing Initiatives? Who Has What Agenda?
When the company named in the video above and the Manufactured Housing Institute (MHI) where asked about this several hours ago, they have not yet commented. Note for those not familiar with such matters that communications professionals expect questions on such topics in the wake of news reports, so they should have been ready. Put differently, they have opted to be silent than to try to reply. Perhaps they knew that they wouldn't be able to BS MHProNews on this subject?
MHProNews Analysis and Commentary: Examining How this Deviously Crafty System Operates
Imagine a system that works like this. "Heads I win, tales you lose."
That 'heads I win, tales you lose' roughly sums up a tactic that has arguably been developed by certain brands that are operating in the manufactured housing industry that are often MHI members. Good news about their firm obviously helps them. But bad or negative news hurts their competitors as much or more than it hurts the ones causing the problematic reports news.
If that sounds absurd, one must dig into the notion of barriers and how regulations harms smaller firms more than bigger ones. It is also necessary to put on a mindset that most would simply not think up themselves.
Barriers to Entry, Persistence, and Exiting in Business, Affordable Housing, and Manufactured Homes
To illustrate Roth's point, consider this data point from the National Association of Manufacturers (NAM).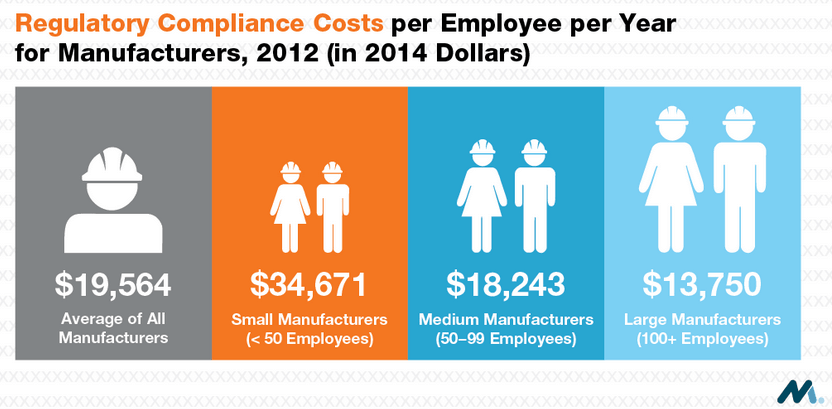 How is it possible in the real world that negative news could hurt competitors more than those who cause it? Just look at Clayton Homes as an example. We'll then examine community examples further below.
Keep in mind that for decades before 2003, the business model of thousands of land-lease communities depended on others to fill their homesite vacancies. So, when Clayton/21st/Berkshire Hathaway purportedly undermined thousands of manufactured home retailers, they thereby undercut the source of homes that kept thousands of independently owned manufactured home communities homesites occupied for decades.
There is thus a logical connection between Clayton's purportedly predatory and monopolistic behavior and the events that are occurring in the communities sector.
We'll list below controversies involving Clayton per Revolvy, but one they didn't mention is the John Oliver's viral video in 2019. Oliver's video tied Clayton and other Manufactured Housing Institute (MHI) member firms – such as Frank Rolfe and his partner Dave Reynolds – together.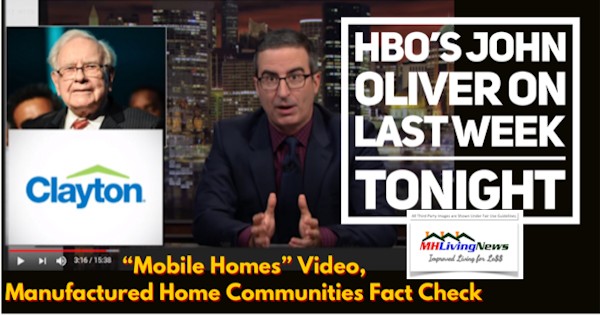 They just didn't say so directly.
Nor did Oliver identify that dark money from Warren Buffett has been documented to flow to sources like MHAction that has in turn stirred up reports that make the 'heads I win, tales you lose' point. How else does one explain the notion that Buffett would essentially pay to attack his own firms' interests?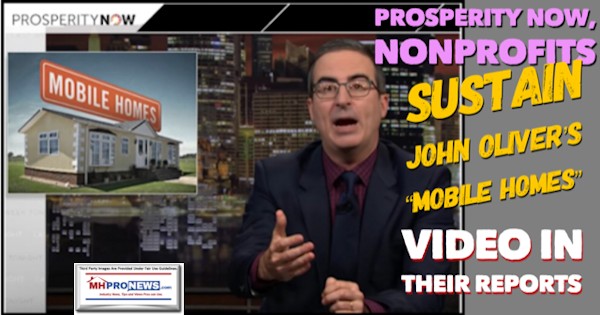 Bear in mind this third-party analysis of the Buffett method of being straight talk on some matters, but being self-contradictory – arguably deceptive – on others, per this researcher.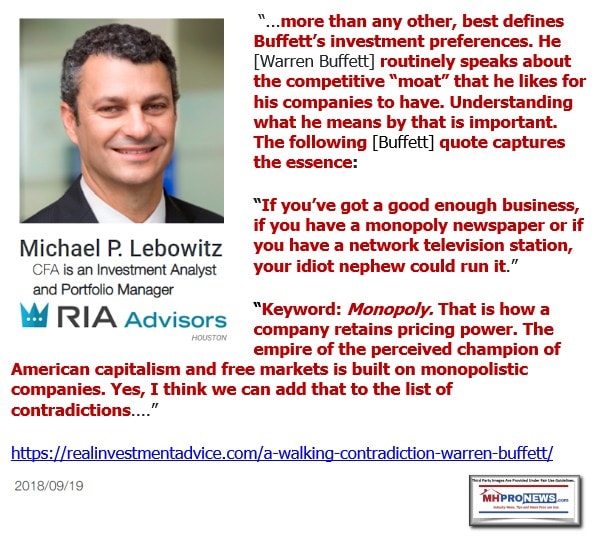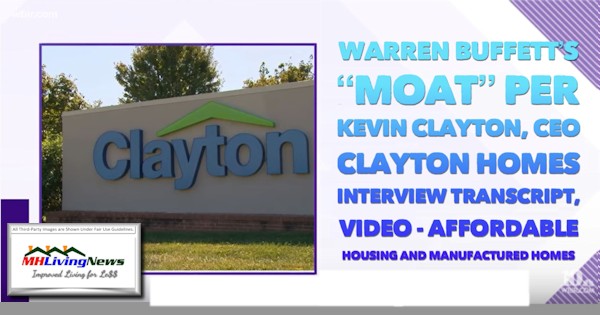 Kevin Clayton said if he was running Berkshire he would follow Warren Buffett's lead.
Here is how Clayton in his own words said that losing money even for a few years would be okay, as long as it deepens and widens the moat. Years of losses have not happened, Clayton has been quite profitable for Berkshire. But some locations lost money, did they do so to undermine other local businesses?
Here's how Kevin expressed it: "Warren is an absolutely the way it should be, very, very long-term horizon. You're able to make investments that are going to yield rewards. Even if they don't yield a reward for the first five years, it doesn't matter."
Then there is this, per Clayton in that same interview. "It's reputation, protect the company and the entities that we have, be as competitive as you possibly can be. Deepen and widen that moat every day…"
While they posture about protecting reputation, are they serious about it? Or is reputation a weapon – think Lebowitz's insight – that can harm smaller firms more than it harms Clayton?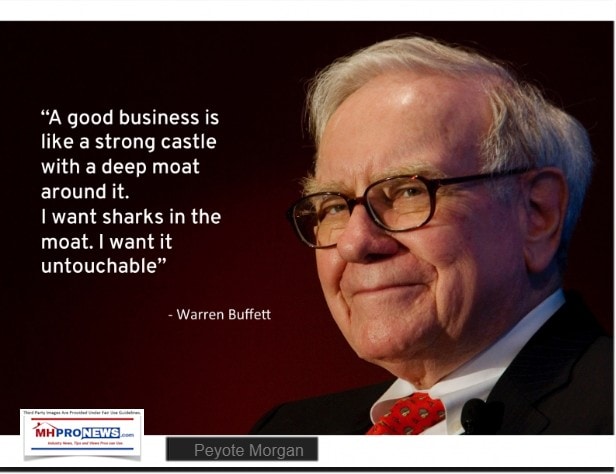 Looking beyond reports by us or our sister site. Per Revolvy, here is a partial list of Clayton Homes controversies.
Clayton Homes was involved in a lawsuit in 2011 with FEMA after providing trailers as part of Hurricane Katrina relief which were found to contain formaldehyde. Afterwards, one of 12 prefab shelters provided to Haiti through the Clinton Foundation after the 2010 earthquake was found to have a formaldehyde level of 250 ppb, "a very high level" according to a scientist specializing in indoor pollutants at Lawrence Berkeley National Laboratory.[53]
In 2015, a news story claimed that Clayton Homes unfairly targets and exploits minority home buyers.[54] Clayton Homes was further criticized for its alleged use of corrupt business practices. The company has denied discriminating against its customers or its workers.[5][55][56] Warren Buffett, the CEO of Berkshire Hathaway, defended Clayton against predatory lending claims in an interview saying: "We have 300,000 loans on the books and in the last 3 years I've not received one letter of complaint from anybody."[57][58]"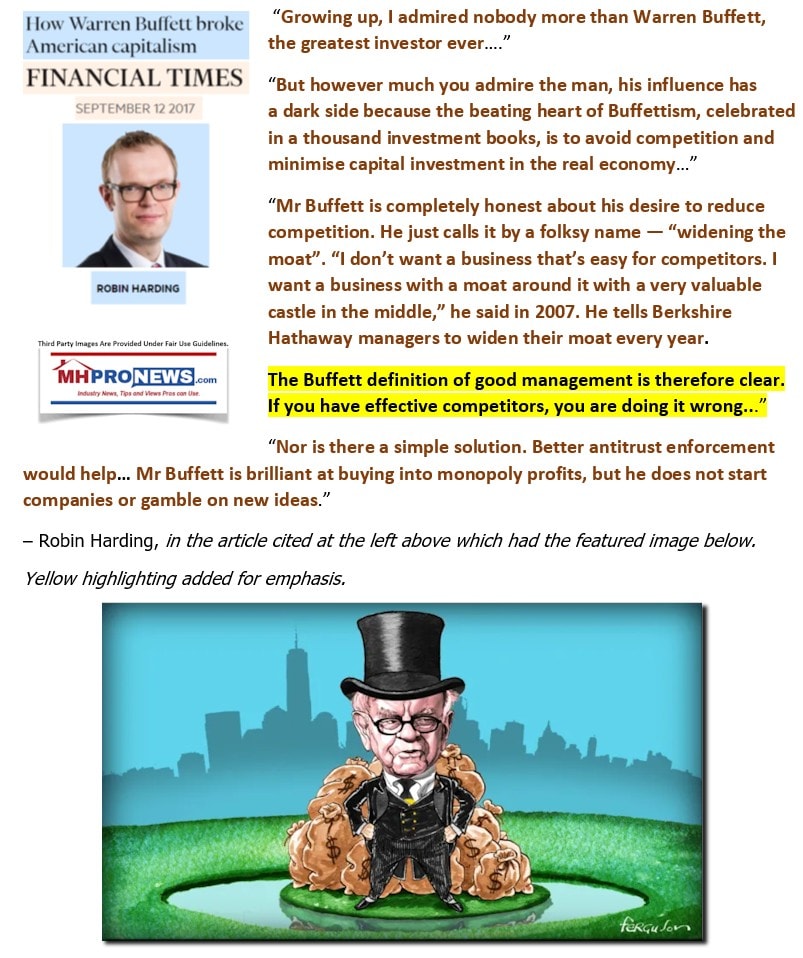 Rent control passed in New York, but giant RHP Properties promptly challenged it. While they backed off, those who know the history of these laws recognize that this is now an ongoing struggle. Rephrased, this will almost certainly generate problematic headlines for white hat brands for years to come.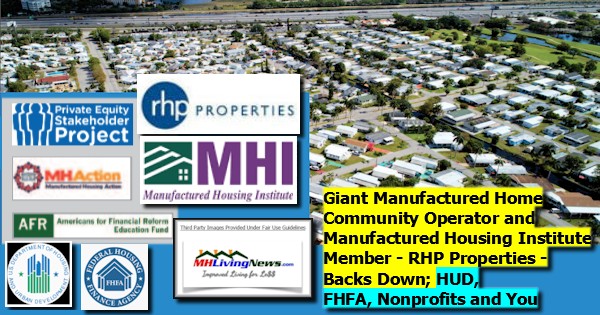 Frank and Dave have made it clear that want to see no new manufactured home communities developed. At the same time, they periodically stir up 'bad news' – what happened to MHI's code of ethical conduct? Or was that just more window dressing? Posturing?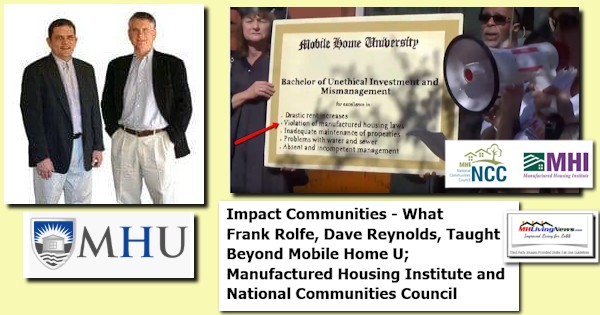 While MHI postures otherwise, holding development seminars and the like, what they demonstrably don't do is force the issue of enhanced preemption with HUD that could make more community development possible. Instead, they posture about a new bill that has no teeth and may never pass.
Anatomy of High-Tech, Scandalous Deception? National Trade Groups Agree on HR 4351 YIMBY Act
Put differently, it's arguably a slick con job with some of the largest brands in manufactured housing, foisted on white hat brands and untold thousands of unsuspecting residents. They say one thing, but do another.
Flashback Friday – Enron, WorldCom and Bernie Madoff – Lessons, Implications for Manufactured Housing Regulators and Investors? Plus, Manufactured Home Investing, Stock Updates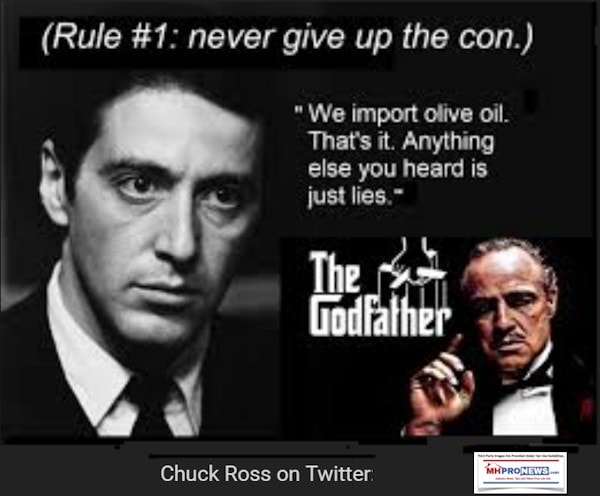 Again, when asked to defend or explain these practices, MTO partner and Berkshire board member Ron Olson and a raft of Clayton/21st and MHI connected leaders sit silent.
Buffett's Board – Berkshire Hathaway, Interlocking Directorates, Ronald Olson – Manufactured Housing and Truth Hiding in Plain Sight
Don't expect the stream of bad news impacting manufactured home owners, communities or other sectors of the industry to end anytime soon, unless motivated lawmakers or other public officials – think state or federal AGs, among others – start using subpoena powers to probe and prosecute as needed the pattern that is becoming ever more apparent.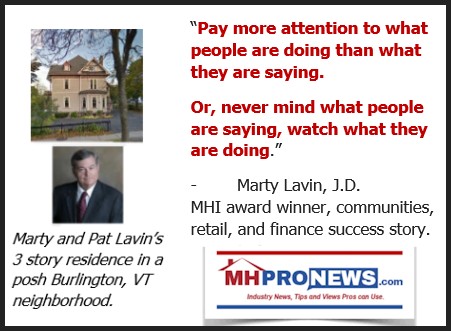 When they win, you lose. When you lose, they win. Slick – for those who lack ethics, isn't it? See the related reports for more.
Related Reports:
Fires, Eviction, Frustration, Fears – 3F's of I70, "Mobile Home Park" Living, Dark Lessons
Former Manufactured Housing Institute Vice President Sounds Off on Manufactured Home Financing
"Aha!" Moment From New 2020 Manufactured Housing Data, plus Manufactured Home Investing, Stock Updates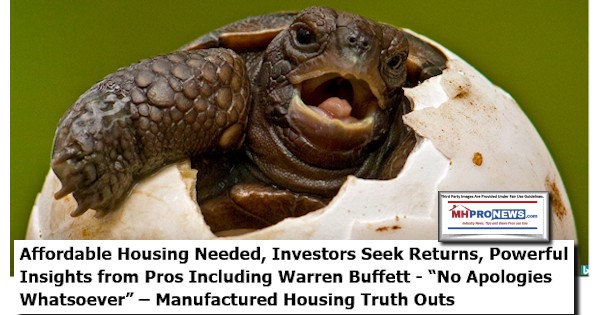 Fraud, RICO and Antitrust-Issues of Genius, Honesty, Legality, Competency-Berkshire Hathaway and Manufactured Housing Institute Leadership, Sunday Morning Headlines Review 2.23 to 3.1.2020
Weaponized Philanthropy, Castrated Associations and Manufactured Housing – Michael Bloomberg and Warren Buffett Connection
Applying Democratic, Republican & Barak Orbach's Monopolization Logic to Affordable Housing Crisis Impacting Manufactured Home Industry
Manufactured Housing Industry Investments Connected Closing Equities Tickers
Some of these firms invest in manufactured housing, or are otherwise connected, but may do other forms of investing or business activities too.
NOTE: The chart below includes the Canadian stock, ECN, which purchased Triad Financial Services, a manufactured home industry lender
NOTE: Drew changed its name and trading symbol at the end of 2016 to Lippert (LCII).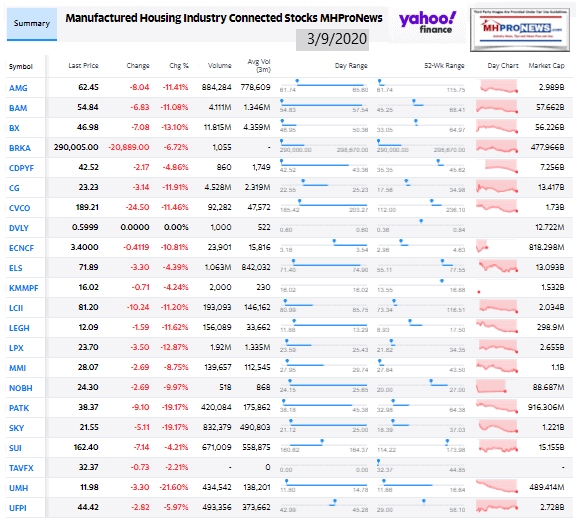 Winter 2020…
Berkshire Hathaway is the parent company to Clayton Homes, 21st Mortgage, Vanderbilt Mortgage and other factory built housing industry suppliers.
· LCI Industries, Patrick, UFPI, and LP each are suppliers to the manufactured housing industry, among others.
· AMG, CG, and TAVFX have investments in manufactured housing related businesses. For insights from third-parties and clients about our publisher, click here.
Enjoy these 'blast from the past' comments.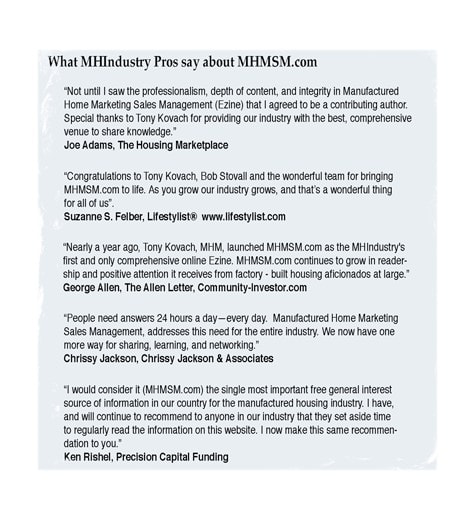 MHProNews. MHProNews – previously a.k.a. MHMSM.com – has now celebrated our tenth anniversary.
Learn more about our evolutionary journey as the industry's leading trade media, at the report linked below.
Celebrating 10 Years of Goal- and Solution-Oriented Manufactured Home Industry Innovation Information, and Inspiration for Industry Professionals
· For expert manufactured housing business development or other professional services, click here.
· To sign up in seconds for our industry leading emailed headline news updates, click here.
Disclosure. MHProNews holds no positions in the stocks in this report.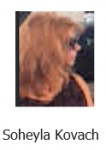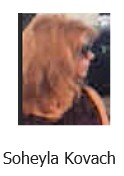 "We Provide, You Decide." © ## (News, analysis and commentary.)
(Image credits and information are as shown above, and when provided by third parties, are shared under fair use guidelines.)
Submitted by Soheyla Kovach, co-managing member of LifeStyle Factory Homes, LLC and co-founder for MHProNews.com, and MHLivingNews.com.

Connect with us on LinkedIn here and here.
2019 Year-End Totals Reveals Decline in New HUD Code Manufactured Home Production, Shipments vs. 2018