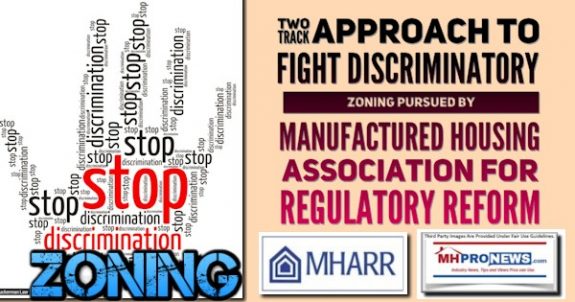 The Washington, D.C. based Manufactured Housing Association for Regulatory Reform (MHARR) has told MHProNews that they are following a two-track approach in the battle against discriminatory placement of HUD Code manufactured homes.
Advertise with MHProNews to be seen
One of those tracks is the full enforcement of the Manufactured Housing Improvement Act (MHIA) of 2000, specifically, its "enhanced preemption" provision.
The second track they are referring to is on a promising application for the "Affirmatively Furthering Fair Housing" (AFFH) standards. That is the subject of this release. Following their report is a brief MHProNews analysis and commentary.
FOR IMMEDIATE RELEASE                                                                  Contact: MHARR
                                                                                                                          (202) 783-4087
MHARR CONTINUES TO PRESS TWO-TRACK  
APPROACH TO FIGHT DISCRIMINATORY ZONING LAWS
Washington, D.C., March 17, 2020 – The Manufactured Housing Association for Regulatory Reform (MHARR), in comments filed on March 16, 2020 with the U.S. Department of Housing and Urban Development (HUD), has once again called on HUD to address — as part of the impending revision of its "Affirmatively Furthering Fair Housing" (AFFH) standards — discriminatory state and local zoning and placement mandates which either exclude or severely restrict access to affordable HUD-regulated manufactured housing in many jurisdictions across the United States. This effort now becomes part of the two-track approach initiated by MHARR to fully and properly implement the crucial enhanced federal preemption of the Manufactured Housing Improvement Act of 2000.
Referring to 2018 comments that it filed in the same matter, MHARR states that HUD should utilize its authority under AFFH and the Fair Housing Act to promote the elimination of state and local zoning ordinances that discriminatorily exclude or restrict the placement of federally-regulated manufactured homes that millions of lower and moderate-income Americans rely upon for affordable homeownership.
This effort, to promote the utilization of AFFH as a remedy to address the discriminatory exclusion of mainstream manufactured homes from a large and growing number of jurisdictions, would complement MHARR's existing two-track strategy – utilizing statutory authority that HUD already possesses – to address this matter, which has caused significant harm both to consumers and the industry.
Specifically, under the enhanced federal preemption authority enacted by Congress as part of the Manufactured Housing Improvement Act of 2000, MHARR has urged HUD's Office of Policy Development and Research (PD&R) – as "track one" — to conduct a thorough study of the negative impacts of discriminatory manufactured housing zoning and placement restrictions (which PD&R announced in February 2020 that it would do), while it has urged HUD, as "track two" to target one or more egregious local exclusionary or restrictive mandates for invalidation via litigation. The utilization of all of these remedies to combat discriminatory zoning and placement restrictions is wholly warranted by their undisputed and highly damaging impacts on the availability of affordable housing and homeownership for all Americans.
In Washington, D.C., MHARR President and CEO Mark Weiss stated: "MHARR's longstanding and consistent position has been that HUD, under the AFFH structure, has the authority, ability and urgent policy need to address and eliminate the discriminatory zoning and placement restrictions that exclude or severely and unfairly restrict the use of affordable, mainstream manufactured homes in far too many communities. Weiss continued, manufactured homes are – and always have been – as Secretary Carson has himself recognized, one of the primary resources for affordable housing and homeownership in the United States. The time is long past due for local limitations on its use, grounded in fantasy, fiction or baseless fear-mongering to be eliminated, and MHARR's two-track approach provides the Department with the perfect means to fully implement the enhanced preemption of the 2000 reform law to combat zoning discrimination against manufactured housing going forward."
The Manufactured Housing Association for Regulatory Reform is a Washington, D.C.-based national trade association representing the views and interests of independent producers of federally-regulated manufactured housing.
— 30 —
The MHARR comments letter on this issue is found linked here as a download.
MHProNews Analysis and Commentary
Advertise with MHProNews to be seen
In fairness, the Manufactured Housing Institute (MHI) filed comments, which are linked here. That noted, for all their self-proclaimed engagement on behalf of the industry, where is the evidence of their results? MHI are many times the size of MHARR in budget and staff. MHARR's mission is strictly speaking aimed at "representing the views and interests of independent producers of federally-regulated manufactured housing." 
By contrast, it is MHI that says they are the umbrella association that represents "all segments" of factory built or manufactured housing, depending on their specific statement. Rephrased, based on their respective mission statements it is MHI's job to battle zoning, not MHARR's.
MHI's messages to members and their readers often say quite similar things as MHARRs. But the difference comes in terms of actions, not mere words. For instance, while MHI says they want to see enhanced preemption full enforced, those words are not even mentioned on their website.
Instead of dealing with the issues that have been raised, MHI has postured instead of directly responded. While that is there right, it is an odd way for the self-proclaimed leaders to behave if they were as good at their jobs as surrogates claim. After all, zoning discrimination is real. It remains an issue. Instead of publicly pushing loudly and proudly for an enforcement of good existing laws, instead, they are pushing a new bill which MHARR – which doesn't oppose that legislation – nevertheless says is toothless?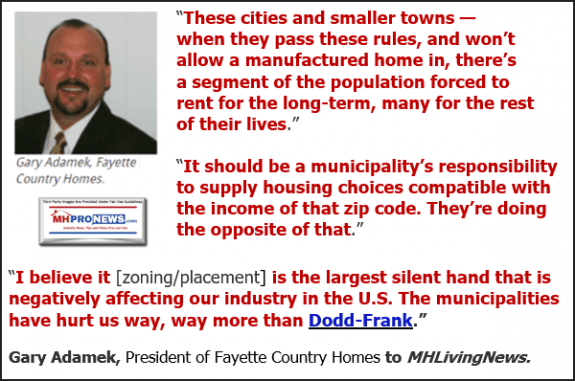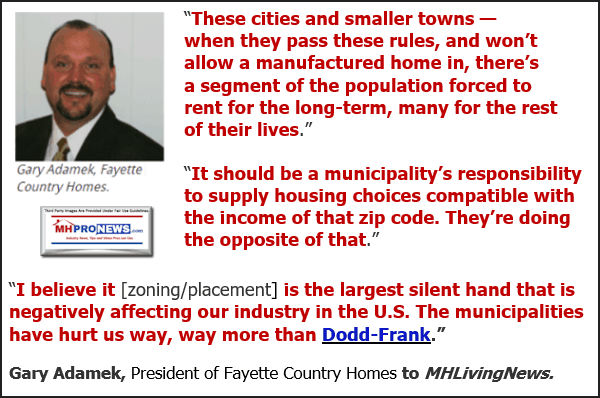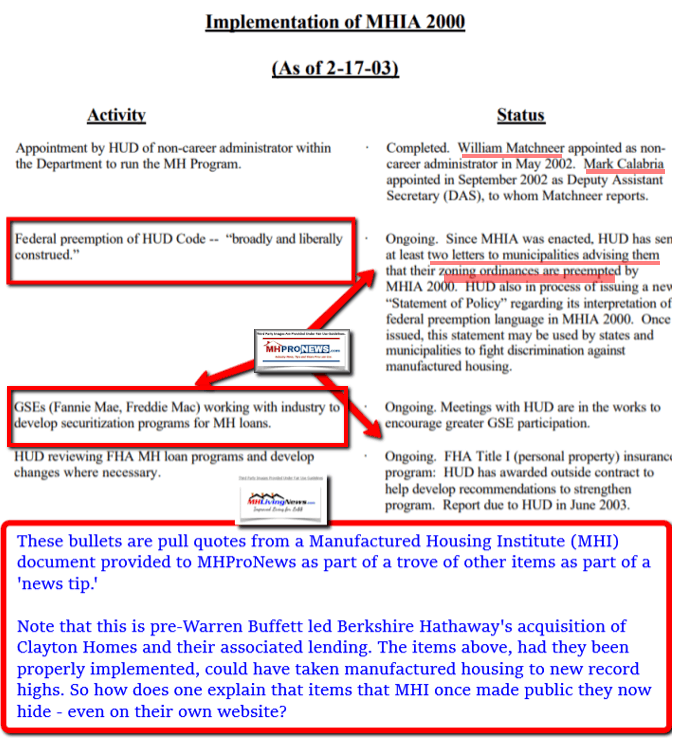 The coronavirus pandemic is going to force more people to stay at home and ponder things they may not have normally had as much time for just a few weeks ago. This is the time to dig deeper into the reports below to see the evidence for the allegations made against MHI and their big boy backers.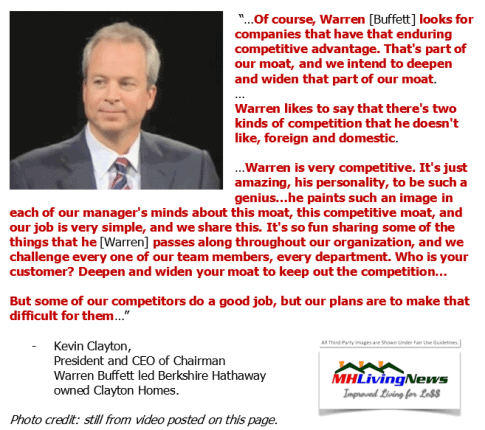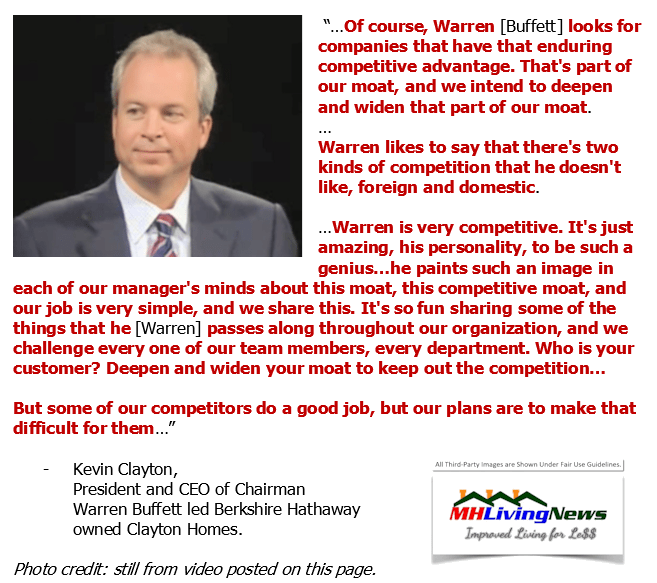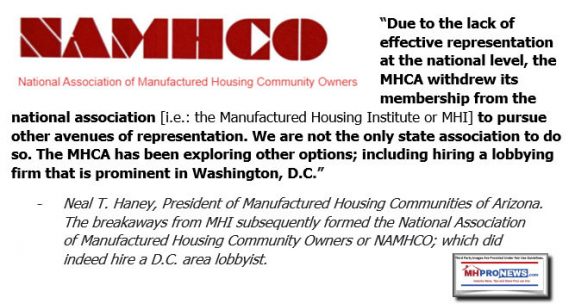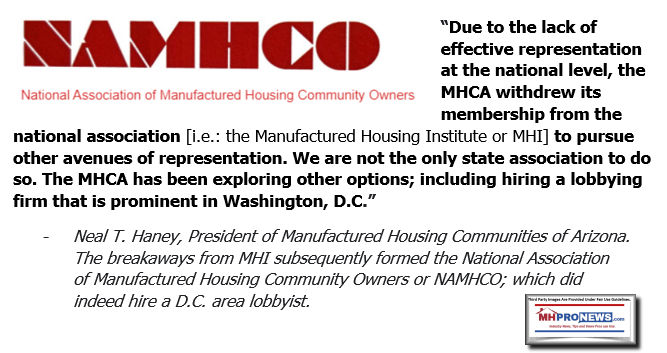 At a minimum, their best-case argument can be that they are great at photo ops but are ineffective at obtaining actual results. At worst, they are part of the problem, not part of the solution.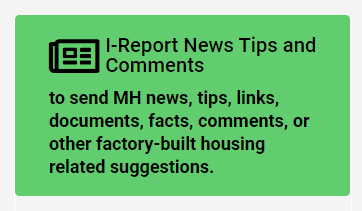 Honest trade media, like all media, should ask the tough questions and hold the powerful to account. Not to brag, but while others have been playing footsy with MHI, MHProNews and our MHLivingNews sister site have been essentially alone in presenting to the industry and its investors with the voices in MHVille that present a different picture than the prevailing narrative from the Omaha-Knoxville-Arlington axis and their allies.
To learn more, see the related reports below the byline for more insights and context on what the underlying issues have been in the pre-COVID19 status of the manufactured housing industry.   That's a wrap for this installment of manufactured housing "Industry News, Tips and Views Pros Can Use," © – MHVille's runaway #1 news source, where "We Provide, You Decide." © (News, fact-checks, analysis, and commentary.) Notice: all third party images or content are provided under fair use guidelines for media.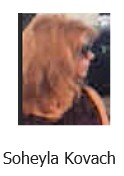 Submitted by Soheyla Kovach for MHProNews.com. Soheyla is a co-founder and managing member of LifeStyle Factory Homes, LLC, the parent company to MHProNews, and MHLivingNews.com. Connect with us on LinkedIn here and here.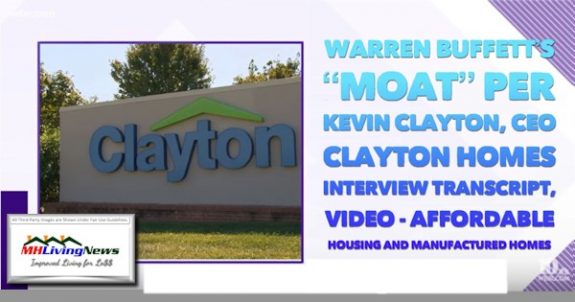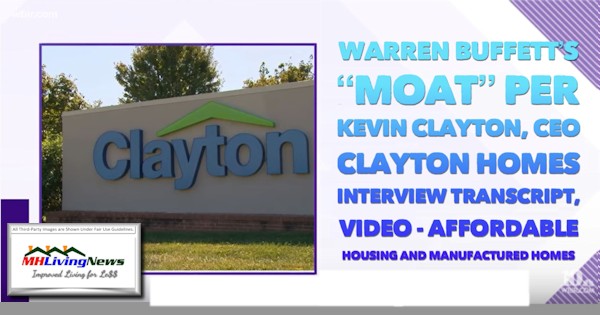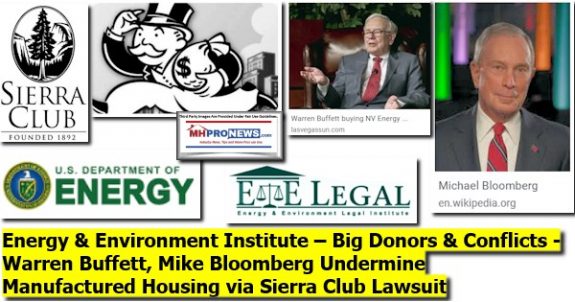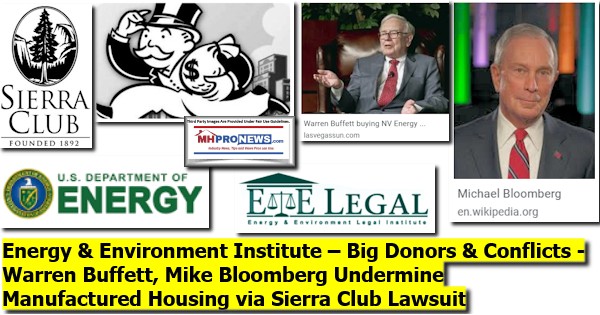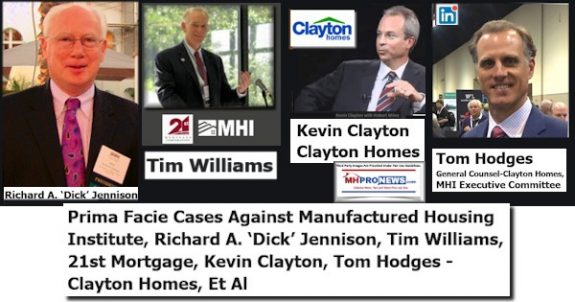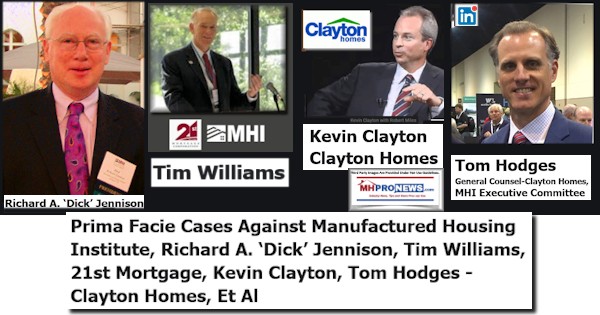 Tim Williams Calls Lesli Gooch "Superb," But Latest Tip Reveals Additional MHI CEO Gooch Controversy Connected Documents
Whistleblower's Documents on Lesli Gooch – Manufactured Housing Institute CEO – New Discoveries
David Dworkin, National Housing Conference, Compared and Contrasted with Lesli Gooch, Manufactured Housing Institute on Fannie Mae, Freddie Mac Proposed Modifications to FHFA on Duty to Serve Finance Plans
Former Manufactured Housing Institute Vice President Sounds Off on Manufactured Home Financing