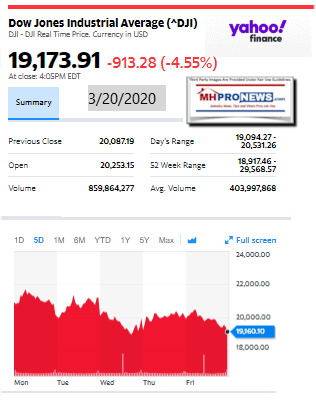 The ugliest week for the markets since the 2008 housing/financial crisis has closed. A Democratic and some Republican Senators are under scrutiny for purportedly selling stocks off based upon insider information, a claim they deny and Fox Businesses Charlie Gasparino says would be difficult to hit the technical legal standard for lawmakers. Either way, it's at a minimum a bad look. While party politics is still alive and well, there are some encouraging signs of bipartisanship, as MHProNews reported previously.
This evening's feature focus will be a report from the White House, some related information, coupled with a teaser regarding the Manufactured Housing Institute's latest – almost humorous were it not so troubling – antics. For our growing number of new readers, all that and more will be found below our daily charts, left-right headline summary and other standard business nightly fare.
Every evening our headlines that follow provide snapshots from two major media outlets on each side of the left-right news spectrum that reflect topics that influence or move investor sentiment. In moments on this business evening report, you can get 'insights-at-a-glance.'
This report also sets the broader context for manufactured housing markets, in keeping with our mantra, "News through the lens of manufactured homes and factory-built housing" ©.
We begin with headlines left-of-center CNN followed by right-of-center Fox Business. We share closing tickers and other related data courtesy of Yahoo Finance, and more. 5 to 10 minutes reading this MHProNews market report every business night could save you 30 minutes to an hour of similar reading or fact-gathering elsewhere.
Perhaps more important, you will get insights about the industry from experts that care, but also dare to challenge the routine narrative that arguably keeps manufactured housing underperforming during an affordable housing crisis.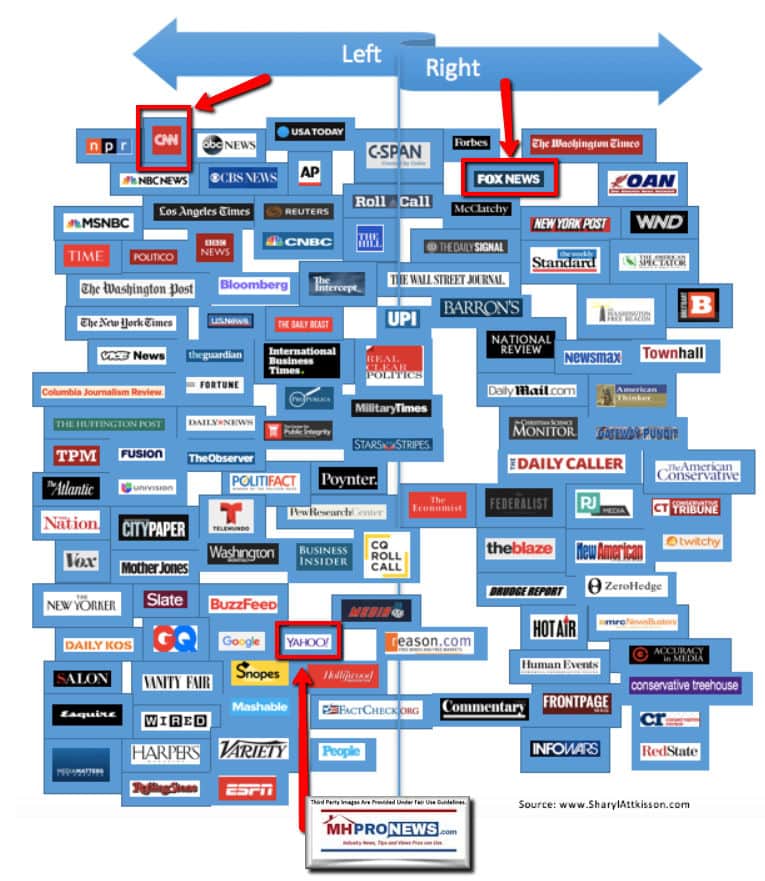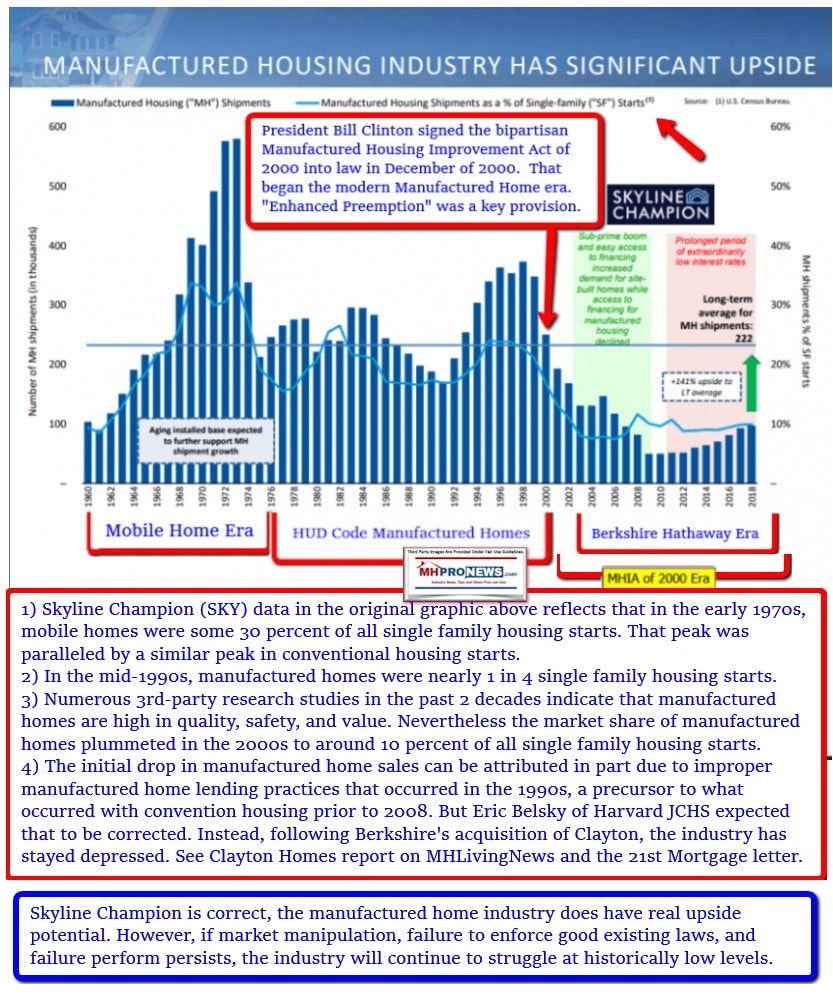 Newsy, Peeling Back Media Bias, Manufactured Housing Sales, Investing, Politics, and You
Headlines from left-of-center CNN Business
Patricia Sahuaqui, a warehouse associate, works the floor at Amazon's Fulfillment Center on March 19, 2019 in Thornton, Colorado. The facility which opened in July of 2018 is 855,000 square feet, and employees over 1500 people. The Thornton facility is a state-of-the-art facility that uses Amazon Robotics to move the merchandise around from one area to the next. Hundreds of workers perform a variety of jobs in the huge facility. Many workers stand at stations, picking items to ship from trays brought to them by robots that roam the massive warehouse floor. The robotic facility, near I-25 and 144th Avenue, distributes small- and medium-sized items and allows for quicker delivery of orders in the metro area.
Amazon warehouse workers fear catching coronavirus just to deliver your packages
The dollar is surging. Here's why that's troubling
Stocks post their worst week since the height of the financial crisis
Coming soon: At least $1.7 trillion in government stimulus to help sick economies
UK government will pay 80% of wages as it closes pubs to fight coronavirus
How America can fight back in the oil war with Russia and Saudi Arabia
GameStop says it's an essential business. Employees are outraged
United Airlines poised to slash payroll costs without quick bailout
Workers grapple with cancellations and closures: 'We need help'
Millions of Americans are working from home. That's a huge security risk
NBC News staffer dies after testing positive for coronavirus
Trump attacks NBC News reporter after being asked for message to Americans worried about coronavirus
Employees visit the Natural Gas Liquids (NGL) facility at Saudi Aramco's Shaybah oil field in the Rub' Al-Khali desert, also known as the 'Empty Quarter,' in Shaybah, Saudi Arabia, on Tuesday, Oct. 2, 2018. Saudi Arabia is seeking to transform its crude-dependent economy by developing new industries, and is pushing into petrochemicals as a way to earn more from its energy deposits.
Opinion: Saudi Arabia just won control of the oil market
MIAMI, FLORIDA – OCTOBER 23: A For Sale sign is seen in front of a home on October 23, 2019 in Miami, Florida. The National Association of Realtors reported that sales of previously-owned homes dropped 2.2% in September.
How to handle a real estate deal right now
For One Time Use On ATN Only
Hair salons, tattoo parlors and beauty shops closed indefinitely in four states
A worker restocks the meat section of a Stop & Shop supermarket during hours open daily only for seniors Thursday, March 19, 2020, in North Providence, R.I. This week grocery store chains and other retailers began offering special shopping hours for seniors and other groups considered the most vulnerable to the new coronavirus. The dedicated shopping times are designed to allow seniors, pregnant women and people with underlying health conditions to shop among smaller crowds and reduce their chances of acquiring the virus.
How grocery stores restock shelves in a pandemic
Coronavirus will change the grocery industry forever
The pandemic's newest shortage? Coconut water
These grocery store chains offer 'elderly hours'
US gun sales spike
ENTERTAINMENT
CINCINNATI, OH – OCTOBER 04: ESPN sideline reporter Paul Carcaterra holding a mic during a college football game between the University of Central Florida Knights (UCF) and Cincinnati Bearcats on October 4, 2019 at Nippert Stadium in Cincinnati, OH.
ESPN shares what it plans to air instead of sports
Disney+ launch in India delayed by the coronavirus
How coronavirus is shaking up Hollywood
Universal will stream movies currently in theaters
'SNL' suspends production because of coronavirus
WHAT TO WATCH
Coronavirus ruined this couple's wedding. And the whole industry
Small business owner on coronavirus: I'm losing $100k a month
Distillery's mission: Get hand sanitizer to those in need
Watch how Fox News has changed its tone on coronavirus
What it's like to drive an Uber during a pandemic
Headlines from right-of-center Fox Business
Boeing suspends dividend as coronavirus measure, CEO Dave Calhoun forgoes pay for 2020
Boeing takes coronavirus measures as CEO Dave Calhoun and Board Chairman Larry Kellner forgo all pay until the end of the year.
Illinois follows NY, CA, orders all residents to stay home
Dow falls over 900 points below 20K as coronavirus gives stocks worst week since '08
France makes 'massive' discovery that old medicines work against coronavirus
Coronavirus leads Starbucks to close US cafes, shift to drive-thru service only
Pence staffer tests positive for coronavirus
Why companies are hoarding cash
Coronavirus crisis: Where to buy toilet paper, wipes online
Cuban: Trump should call out 3M over masks, ventilators
Big companies looking to hire right now
Millennials fleeing big cities in droves in coronavirus exodus
Opinion: Why virus vindicates capitalism
Amid coronavirus, tax day delay may bring good news for retirement savers
Grand Ole Opry's music, weekly show continues in an empty theater
Coronavirus causes Las Vegas casinos to roll snake eyes
Senators' stock sales may look sleazy, but they're not insider trading
In the age of coronavirus, drive-in movies make a comeback
Why Democrats are slamming the GOP's coronavirus relief bill
'Most iconic stockbroker' says market drop not 'the end of the world'
Truckers reach out to Trump as coronavirus skyrockets demand
Delta Air expects quarterly revenue to fall by $10B
Tom Brady's Tampa Bay Buccaneers contract: What he'll pay in taxes
Matthew McConaughey does coronavirus PSA in Texas
Pixar's new movie 'Onward' debuts online tonight amid pandemic lockdown
Oil gives up gains after Trump pushes back against Saudi Arabia, Russia
Retirement savers may see unexpected boost from coronavirus tax shift
Pandemic is the pin that burst America' bubble: Analyst who predicted '08 crash
Chick-fil-A Operator: Why I'm keeping my restaurant open
How to party and meet people even under coronavirus quarantine
How will 5G impact US agriculture?
Tom Brady, Tampa Bay Buccaneers salary, contract details revealed
FBI explains what a new wave of coronavirus scammers want from unsuspecting Americans
Kraft Heinz talks with Amazon, Walmart daily to speed food deliveries
Netflix battles coronavirus layoffs in Hollywood with $100M relief fund
Coronavirus travel restrictions: What to know if you're flying home
S. airlines, warning of job losses, make last-minute push for government cash
Coronavirus may affect your student loans — what you need to know
Private coronavirus equipment suppliers will be paid 'premium' in New York, Gov. Cuomo says
Coronavirus pushes demand for doctors, nurses to new high
Apple, amid coronavirus, limits online iPhone sales
How coronavirus disruption could impact multifamily landlords, lenders
JPMorgan's Jamie Dimon recovering well from heart surgery
Meat Purveyors CEO: How restaurants can bounce back quickly from crisis
Global central banks act to ensure US dollar liquidity
Teva sending potential coronavirus treatment tablets to hospitals
Most American renters not eligible for eviction protections — what that means
WATCH: Drone takes dog for 'walk' during coronavirus lockdown
Coronavirus will divide trucking industry's strong and weak players, experts say
How to find remote work amid coronavirus unemployment
How to find remote work and pivot to virtual job roles.
High-profile CEO contracts coronavirus, takes leave
California governor issues statewide stay-at-home order
How long can coronavirus survive on cash?
Dianne Feinstein, 3 Senate colleagues sold off stocks before coronavirus crash: reports
WATCH: Defense Secretary Esper on military's role in fight against coronavirus
Virus cases could have been reduced by 95% had China done this: study
Netflix, director sued over Central Park 5 series
Fauci: Vaccine moving at 'rocket speed'
This big bank to offer mortgage relief
Walmart offering cash perk to employees — and will hire 150K more
Coronavirus rips through NBA teams
Netflix battles coronavirus layoffs in Hollywood with $100M relief fund
Senate Republicans' coronavirus relief bill to eliminate withdrawal penalty for $100,000 retirement accounts
Suzanne Somers hosting socially distant, virtual happy hours
10 Market Indicator Closing Summaries – Yahoo Finance Closing Tickers on MHProNews…
Featured Focus – Where Business, Politics and Investing Can Meet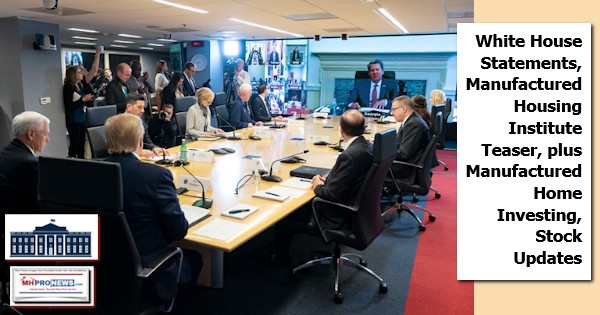 Tonight's featured focus will have several components. Following this preface will be the latest report from the White House juxtaposed from an element below from last night's market report focus.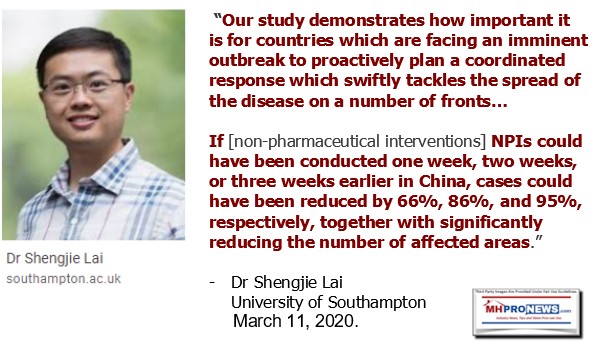 The short version of that quote from Lai above is that if China and/or WHO or other NGOs had stepped up promptly, the United States and most of the world would not be going through this crisis, at least not this severely.
White House press room statement will be followed by the promised teaser about the latest from the Manufactured Housing Institute (MHI) Then, related information on this pandemic and how it is roiling the nation and manufactured housing. That said, let's dive in.
Part I.
The latest from 1600 Pennsylvania Ave on the Coronavirus response
President Trump and the White House Coronavirus Task Force announced additional actions today as part of the ongoing, government-wide response to the global pandemic:
· To help American families and businesses, the Treasury Department announced that Tax Day will be moved from April 15 to July 15. No interest or penalties will be charged for filing during this extended window, but any American expecting refunds or credits may claim now to get their money sooner.
· To minimize impact on our nation's students, the Department of Education is temporarily waiving all interest on federally held student loans. Secretary Betsy DeVos has also directed federal lenders to allow borrowers to suspend their student loan payments without penalty for at least the next 60 days.
· Early, decisive travel restrictions helped slow the spread of Coronavirus to our country. Today, Secretary of State Mike Pompeo announced that the United States and Mexico have agreed to restrict non-essential travel across their border.
· More help is on the way. The Trump Administration worked with Congress last week on a bipartisan deal to deliver economic relief and support for American families, which the President signed into law on Wednesday. More legislative action is expected in the coming days.
President Trump announced new travel restrictions during a coronavirus task force press briefing at the White House. He also announced that interest payments on federal student loans will be suspended for 60 days.
Part II.
MHI has sent out a new message to their readers, which we will plan to unpack in the next few days, depending on how the news flow goes. The short version is that they've stuck to a familiar script from their purported playbook – posturing something that's hot air. The specifics will be demonstrated in our report and analysis. Watch for it, because it arguably underscores how they've been playing the game – yes, even during a national crisis.
Finally, there is an in-depth Masthead report – The Party is Over, so, What's Next?  – that is tied to Bill Gates, Warren Buffett and their billionaire allies. As a reminder to all, but a notice to new readers, editorially MHProNews celebrates free market success. It is crony, vulture or corrupt practices that purportedly goes beyond the lines of law and ethics that should be of concern. Don't miss this Masthead. It could well become a classic.
See that with the other ICYMI related reports.  The red ink for most manufactured home industry tracked stocks today is shown on the graphic further below.
Related Reports: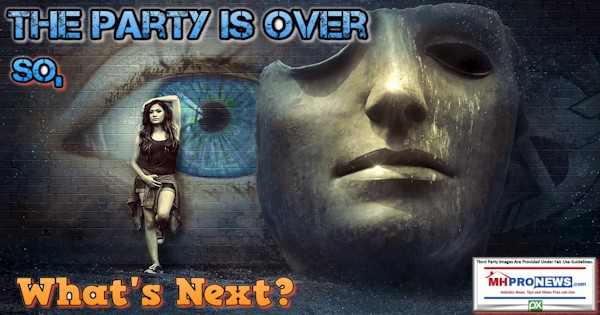 China Coverup Timeline – Axios, Southampton U – Delays Cost Countless Lives, U.S., World Trillion$; plus Manufactured Home Investing, Stock Updates
Facts from ER Doc on COVID19; plus, Nobility Homes Sales Data; Other Manufactured Housing Industry Producers – Obstacles and Opportunities
Zacks on Builders, Clayton Homes Announces COVID19 Reaction Plan, Emerging State Bridge Loans for Small Businesses, White House Updates, plus Manufactured Home Investing, Stock Updates
Employers, Employees Face Daunting Risks from COVID 19 – OSHA, Legal, CDC Guidance
Illusions, Collusions – "Heads I Win, Tails You Lose" – "Never Let a Serious Crisis Go To Waste" – Gates, Buffett Massive Money Grabs?
Trillion Dollar Worker-Small Business Coronavirus Relief Plan, Chapman University's Kotkin Calls for "Decoupling" from China, plus Manufactured Home Investing, Stock Updates
2020 Tunica Manufactured Home Show Cancelled, Manufactured Housing Institute Event Apprise, plus Manufactured Home Investing, Stock Updates
"Be Greedy When Others are Fearful" – Bill Gates, Warren Buffett and Follow the Money, plus Manufactured Home Investing, Stock Updates
Markets Plunge Again, Industry Equities Tank, $1Trillion Move by Fed, Can't Have it Both Ways; plus Manufactured Home Investing Stock, Updates
Market Analyst Craig Kucera on UMH Properties, "Never Let a Good Crisis Go To Waste" – Industry, Investment, National Insights
Sam Zell is Buying, plus Manufactured Home Investing, Stock Updates
Manufactured Housing Industry Investments Connected Closing Equities Tickers
Some of these firms invest in manufactured housing, or are otherwise connected, but may do other forms of investing or business activities too.
NOTE: The chart below includes the Canadian stock, ECN, which purchased Triad Financial Services, a manufactured home industry lender
NOTE: Drew changed its name and trading symbol at the end of 2016 to Lippert (LCII).
Spring 2020…
Berkshire Hathaway is the parent company to Clayton Homes, 21st Mortgage, Vanderbilt Mortgage and other factory built housing industry suppliers.
· LCI Industries, Patrick, UFPI, and LP each are suppliers to the manufactured housing industry, among others.
· AMG, CG, and TAVFX have investments in manufactured housing related businesses. For insights from third-parties and clients about our publisher, click here.
Enjoy these 'blast from the past' comments.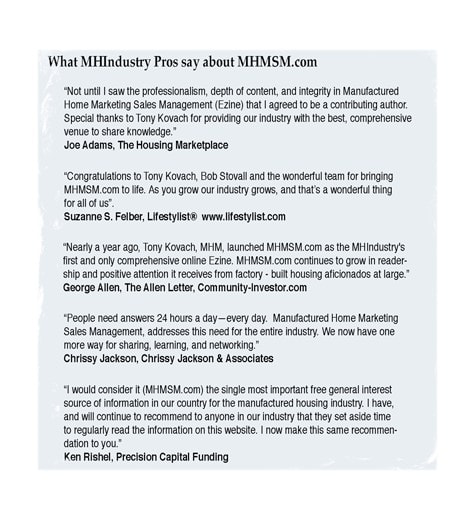 MHProNews. MHProNews – previously a.k.a. MHMSM.com – has now celebrated our tenth anniversary.
Learn more about our evolutionary journey as the industry's leading trade media, at the report linked below.
Celebrating 10 Years of Goal- and Solution-Oriented Manufactured Home Industry Innovation Information, and Inspiration for Industry Professionals
· For expert manufactured housing business development or other professional services, click here.
· To sign up in seconds for our industry leading emailed headline news updates, click here.
Disclosure. MHProNews holds no positions in the stocks in this report.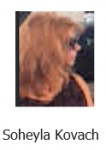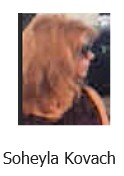 "We Provide, You Decide." © ## (News, analysis and commentary.)
(Image credits and information are as shown above, and when provided by third parties, are shared under fair use guidelines.)
Submitted by Soheyla Kovach, co-managing member of LifeStyle Factory Homes, LLC and co-founder for MHProNews.com, and MHLivingNews.com.

Connect with us on LinkedIn here and here.
2019 Year-End Totals Reveals Decline in New HUD Code Manufactured Home Production, Shipments vs. 2018