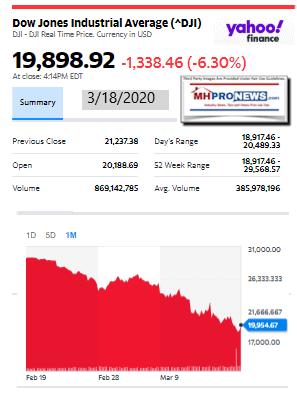 Florida, Louisiana, Maryland, and Pennsylvania are among the states that have announced or are working on loans for smaller businesses that are impacted by the COVID19/coronavirus outbreak.
MHProNews has heard from several producers of HUD Code manufactured homes. Thus far, while some are 'kicking around' the discussion of under what circumstances they might close, none have said that they plan to close at this time. Clayton Homes has provided their retailers with a detailed statement, which has been provided to MHProNews and will be part of our featured focus this evening.
There is word that the New York Stock Exchange (NYSE) could close next week, but it is possible that might change in the light of developments.
Every evening our headlines that follow provide snapshots from two major media outlets on each side of the left-right news spectrum that reflect topics that influence or move investor sentiment. In moments on this business evening report, you can get 'insights-at-a-glance.'
This report also sets the broader context for manufactured housing markets, in keeping with our mantra, "News through the lens of manufactured homes and factory-built housing" ©.
We begin with headlines left-of-center CNN followed by right-of-center Fox Business. We share closing tickers and other related data courtesy of Yahoo Finance, and more. 5 to 10 minutes reading this MHProNews market report every business night could save you 30 minutes to an hour of similar reading or fact-gathering elsewhere.
Perhaps more important, you will get insights about the industry from experts that care, but also dare to challenge the routine narrative that arguably keeps manufactured housing underperforming during an affordable housing crisis.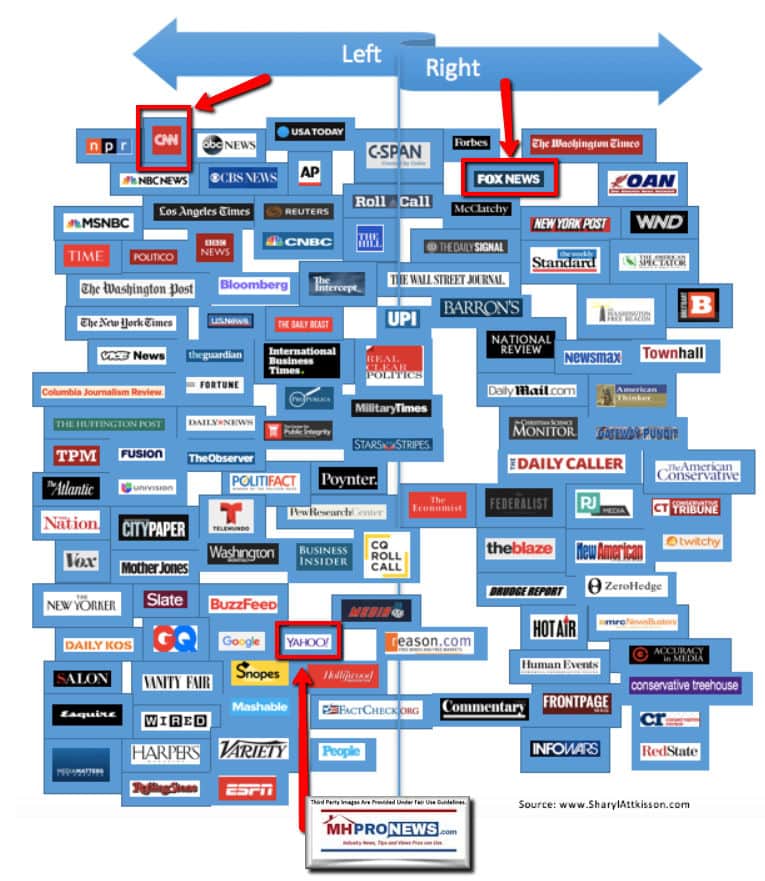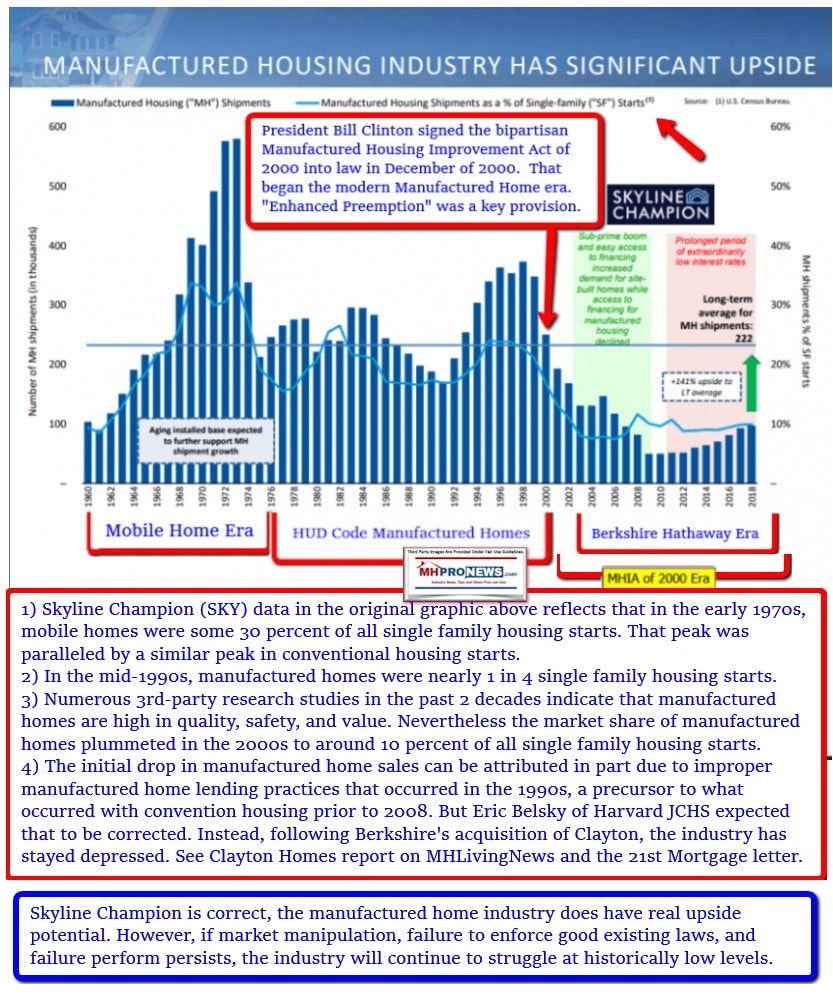 Newsy, Peeling Back Media Bias, Manufactured Housing Sales, Investing, Politics, and You
Headlines from left-of-center CNN Business
Dow closes below 20,000
A few people walk on Wall Street in front of the New York Stock Exchange, Wednesday, March 18, 2020 in New York. Global stock markets have sunk in a third day of wild price swings after President Donald Trump promised to prop up the U.S. economy through the coronavirus outbreak.
LIVE UPDATES The index fell 1,338 points today, losing most of the gains under Trump
What stocks to buy right now
LIVE DATA Track what stocks are being battered by coronavirus — and which are getting a boost
$1 trillion deficits and near-zero rates. The worst way to enter a recession
Businesses ask for hundreds of billions of dollars in federal help ….
… And Elizabeth Warren has a list of demands for companies that get bail outs
Delta says its sales will fall by $2 billion in March
Oil craters to 2002 levels. $20 crude could be next
Do NOT take a bunch of cash out of the bank because of coronavirus
OTHER TOP STORIES
Workers assemble cars at the newly renovated Ford's Assembly Plant in Chicago, June 24, 2019. – The plant was revamped to build the Ford Explorer, Police Interceptor Utility and Lincoln Aviator.
GM, Ford and other automakers to halt production in the US
The entire Trump stock rally is gone: Dow erases all its gains since Donald Trump took office
Opinion: The Fed's latest rate cut was useless and desperate
Panic buying is forcing supermarkets to ration food and other supplies
The pandemic's newest shortage? Coconut water
Toilet paper makers: 'What we are dealing with here is uncharted'
Nextdoor is both a lifeline and a hub of anxiety
Israel is using spy technology to track the coronavirus
China will expel New York Times, Wall Street Journal and Washington Post reporters
Apple unveils new products in the middle of a global pandemic
SMALL BUSINESS
Business owner on coronavirus: I'm losing $100k a month
How to help your favorite small businesses survive
This could be America's smallest restaurant
He's making a killing selling ugly Christmas sweaters
Small businesses drive China's economy. The coronavirus outbreak could be fatal for many
JOBS AT RISK
US Secretary of the Treasury Steven Mnuchin attends a hearing of the Senate Finance Committee on Capitol Hill, February 12, 2020, in Washington, DC.
Official: Lack of action on coronavirus could result in 20% unemployment rate
Restaurant shutdowns put millions of jobs at risk
Marriott is beginning to furlough employees
Hourly workers pay the price for sports shutdown
America could lose 1 million jobs in March, former Trump adviser warns
Headlines from right-of-center Fox Business
World's largest hedge fund: Coronavirus hit 'at the worst possible moment'
Bridgewater Associates LP, the world's largest hedge-fund firm, took a big hit to its funds as it got caught out by the market impact of the coronavirus.
Walmart, Clorox remain big market gainers
Bill Ackman to Trump: Shut down the country
Cuomo: Floating hospital being sent to NYC
Trump invokes Defense Production Act
Detroit automakers to idle 150,000 workers
Millennials overseas are 'seriously' sick
How the coronavirus task force is tackling a major economic threat: Chairman Tarbert
South Korea fears second virus wave
Massive earthquake rocks Salt Lake City
Why NBA players get coronavirus tests despite scarce supplies
Dow tanks below 20,000, wiping out all Trump-era gains
Oil prices could fall below zero: Analyst
Stocks selling off so fast it's tripping 'circuit breakers' at the exchange
This group of Americans is at the highest risk for coronavirus
Coronavirus forces Delta to scale back flights by 70%, park 600 jets
Coronavirus prompts restaurant mogul to donate salary to workers
How much cash each American could get under Dems' virus bailout plan
Bernie Sanders reportedly suspending Facebook ad campaigns
Volvo announces massive car recall
Coronavirus layoffs surge in US, with 1 in 5 households reporting lost work
Mnuchin: US unemployment rate could spike to 20% — unless this happens
Jeffrey Gundlach explains soaring yields after Fed rate cuts
Whole Foods, Target offer special hours for seniors, at-risk shoppers
Coronavirus outbreak increases demand for Meals on Wheels
Do's and don'ts of coronavirus social distancing
Vegas casinos close for first time since 1963
Oprah responds to reports of arrest, home raid linked to sex trafficking ring
Coronavirus pandemic: Meghan Markle, Prince Harry urge 'empathy and kindness'
Tom Hanks says he has the 'blahs,' but no fever, after coronavirus diagnosis
This state closes schools for rest of the year
SEE IT: Apple rolls out new Macs, iPad Pro and accessories
Coronavirus crisis straining US-China relationship
WATCH: NYSE president says 'closing market does not stop market anxiety'
New home construction dips again in February
Netflix, Google allowing streamers to host movie nights — and remain socially distant
Katy Perry just scored major victory
Policing amid coronavirus pandemic: How these big cities are responding
These workers are first and worst hurt by coronavirus disaster
Biden crushes Sanders in primary sweep of Florida, Illinois, Arizona
Real estate CEO reveals unexpected impact of coronavirus
Filing do's and don'ts as coronavirus sparks tax changes
Doctors: Don't booze to beat coronavirus boredom
Automakers agree on coronavirus measures to keep plants running
Halliburton forced to furlough thousands of workers
How to apply for unemployment benefits
Tyson boosts meat delivery as coronavirus panic clears grocery store shelves
Tesla factory cannot operate normally in coronavirus shutdown: Report
10 Market Indicator Closing Summaries – Yahoo Finance Closing Tickers on MHProNews…
Featured Focus – Where Business, Politics and Investing Can Meet
Tonight's report will start with some pull quotes from Zacks. That will be followed with messages from the White House. Additionally, there is the message from Clayton's building group to their outside retailers. That will be summed up by an MHProNews analysis and commentary on the emerging issues.
Per the analysts at Zacks:
The Zacks Building Products – Home Builders industry has now declined 43.3% so far this year along with the Zacks Construction sector and S&P 500 composite's 35.8% and 25.5% fall, respectively.
Although solid demand for housing and a lack of inventory creates market opportunities for single-family builders, the coronavirus pandemic is a pressing concern.
Additionally from the same source.
Coronavirus Pandemic Poses Threat to Economy
The torrid coronavirus outbreak continues to spread vigorously throughout the world. More than 100 people in United States have succumbed to COVID-19 since the first case that was reported in January. The virus has spread in every American state, the District of Columbia and most U.S. territories. Moreover, President Donald Trump has declared it a national emergency.
This pandemic has also led market pundits to anticipate a U.S. recession by the second quarter of 2020. In the wake of aggravating COVID-19 outbreak, the U.S. Federal Reserve or Fed took the most dramatic step since the 2008 financial crisis and announced that it would cut its target interest rate near zero. This would take the target range for the federal funds rate down from the 1-1.25% range to 0-0.25%. This reflects the urgency with which the Fed views the economic situation after seeing massive market volatility in the past week. Fed chairman Jerome Powell noted that the coronavirus was making a "profound" impact on the economy.
"While the fundamentals for new home sales remain strong — record low existing homes for sales and sturdy underlying demand for housing — the uncertainty and confidence hits from COVID-19 look to temporarily trump the fundamentals," BMO Capital Markets deputy chief economist Michael Gregory and economist Priscilla Thiagamoorthy wrote in a research note.
The White House has hinted that an important announcement will occur tomorrow. Speculation that it may relate to some perceived advancement about a vaccine for COVID 19. Whatever it is, there have been numerous efforts to both calm the public, markets and yet still stress the need for safety measures.
What is Social Distancing? Plus other White House PSAs.

From Clayton Homes…

To Our Valued Retail Partners –
In this time of growing concern and uncertainty around the Coronavirus (COVID-19), we want to assure you that Clayton is prepared with an emergency contingency plan that prioritizes the health and safety of all of our Team Members, Retail Partners and customers.
Our hearts and thoughts go out to the people who have been affected by this virus, and we appreciate the healthcare workers, local communities and governments who are on the front line working to contain it.
Please know that we are vigilantly monitoring the COVID-19 situation. As a company, it's important for us to continue to take proactive measures to protect our Team Members in accordance with our values while minimizing disruptions to our operations. As a valued partner, we want to share the actions and precautions we have in place as of now. Conditions are rapidly changing, and we will be flexible in our responses to the changes.
Home Sanitation
Each facility has increased its cleaning standard and developed a task force led by Environmental Health Service (EHS) or the General Manager to implement a detailed facility cleaning and disinfecting plan. This plan includes thoroughly cleaning and sanitizing each home before it leaves our facility.
Social Distancing
Social Distancing is being practiced at all levels of the company. This includes staggered lunch shifts and breaks, limiting in-person meetings, working from home when able and utilizing teleconferencing capabilities such as Zoom meetings.
Facility Operations
Each facility will remain open and operating during this time, and we are monitoring for any Team Members who are exhibiting symptoms, have been exposed to a known case of COVID-19 or have travelled to CDC Level 3 Areas . If a Team Member tests positive for Coronavirus, we will temporarily close the facility and utilize a professional cleaning service to disinfect it with a focus on the area where the Team Member was working. We will then evaluate the situation and when the time is right, we will reopen the facility and continue production.
We do anticipate that we will likely miss days of production, and we are taking this very seriously. We are taking a forward-thinking, proactive approach to try to alleviate potential disruptions.
Supply Chain
We are working closely with our suppliers and vendors to minimize disruptions to our supply chain and ensure we maintain inventory for the needed rate of production. We anticipate having disruptions.
Postponing Company-Sponsored Events
In an effort to support our local, state and federal government agencies' efforts to reduce the spread of the Coronavirus, we have postponed all company-sponsored events.
Non-Company Visitors
We are not allowing customer visits at this time and limiting all non-Team Members visits, such as vendors and contractors.
Viewing Our Homes
In order to provide you with information about our new, amazing products, we are exploring alternative ways for you to interact with and view our homes through digital experiences.
Travel
We are prohibiting non-essential travel for the next 30 days, including sales travel. We will lean on technology during this time to make sure we continue to provide personal communications that add value to your business.
Updates
We will continue to specifically communicate Coronavirus updates through our ClaytonBuiltNews@ClaytonHomes.com email address throughout the coming weeks, so please pay special attention to those emails when you see them.
Resources
I'd like to share a few resources that helped our teams understand this further: First, a Washington Post article explaining how viruses like this can spread. Secondly, an article from the Wall Street Journal on how to navigate the Coronavirus. Also, it's imperative to lean into trustworthy sources like the Center for Disease Control (CDC) and the World Health Organization (WHO).
We hope that by taking these short-term actions, we will help our communities limit the spread of the virus and bring this situation to a rapid and safe conclusion that will allow our country to return to a normal way of life.
Sincerely,
Keith O. Holdbrooks
Clayton Home Building Group President
##
MHProNews Analysis and Commentary
As our morning report noted, there are some contradictory reports from a variety of sources both foreign and domestic. Setting aside what appears to be pure propaganda that aims at blame-shifting from China to the U.S., there are nevertheless voices both foreign and domestic that are questioning the emergence of what the White House called today the Chinese coronavirus.
The New York Times reported today that China is sending healthcare professionals to Italy to aid them in their battle against COVID19. There are claims that the outbreak in China and their early steps has resulted in a recent decline in new cases. There are doubts by some about those claims.
The U.K. Independent said on 3.16.2020 that "Five million people left Wuhan, the Chinese city where Covid-19 was first identified, before the city went into lockdown in January."
"China: Expulsion of US journalists further stifles access to information amid COVID-19 crisis," said Amnesty International on 3.18.2020. The Head of Amnesty International's China team, Joshua Rosenzweig, said: "This shameful assault on freedom of expression targets journalists who have uncovered the reality of numerous human rights violations in China, from Xinjiang to Hong Kong. These publications have also been among those providing in-depth investigations into Wuhan's COVID-19 outbreak.
"This latest escalation of the tit-for-tat row between Beijing and Washington threatens to severely undercut the flow of accurate and independent information from China. At a time when the world needs to work together to combat the devastation wrought by the virus, the banishment of these journalists could potentially have grim public health consequences – globally and within China," said Rosenzweig for Amnesty International.
Additional bullets from the same source:
The Chinese government today demanded US journalists working at theNew York Times, the Wall Street Journal and the Washington Post whose press credentials expire by the end of 2020 to return their press cards within 10 days. It further announced they would be prohibited from working as journalists in mainland China, Hong Kong and Macau.
Authorities also ordered the three media outlets, along with Voice of America and Time magazine, to provide details about their operations in China.
Certainly, if there is nothing to hide, the question becomes what is China hiding?
While Washington was enmeshed in weeks of impeachment efforts – that could now backfire once this crisis passes – COVID19 was emerging as the purported global threat to health and economies that it has now become.  That said, there are those that MHProNews has been in contact with that are taking precautions, but are also looking at this as an opportunity once the crisis has passed.
What remains unchanged is this. Manufactured housing was underperforming going into this crisis. In a normal world, such an economic shockwave would tragically but nevertheless reliably be a boost to the industry as more people would seek affordable housing. But that was not the case in 2008 and after. It remains to be seen what occurs with this economic and health earthquake.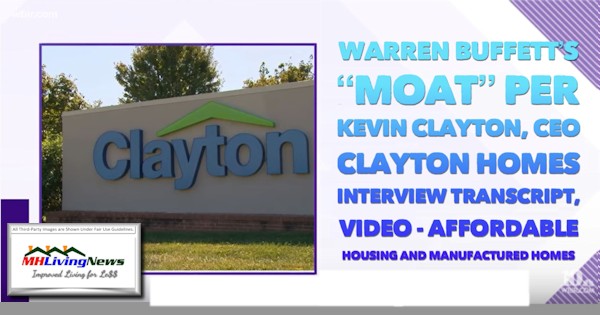 MHProNews will continue to monitor these issues, mindful that some of the facts won't emerge until after the dust settles. Once that occurs, there are good reasons for federal officials to investigate with subpoena powers the concerns that have been raised in reports linked below.
Related Reports:
Employers, Employees Face Daunting Risks from COVID 19 – OSHA, Legal, CDC Guidance
Illusions, Collusions – "Heads I Win, Tails You Lose" – "Never Let a Serious Crisis Go To Waste" – Gates, Buffett Massive Money Grabs?
2020 Tunica Manufactured Home Show Cancelled, Manufactured Housing Institute Event Apprise, plus Manufactured Home Investing, Stock Updates
"Be Greedy When Others are Fearful" – Bill Gates, Warren Buffett and Follow the Money, plus Manufactured Home Investing, Stock Updates
Markets Plunge Again, Industry Equities Tank, $1Trillion Move by Fed, Can't Have it Both Ways; plus Manufactured Home Investing Stock, Updates
Market Analyst Craig Kucera on UMH Properties, "Never Let a Good Crisis Go To Waste" – Industry, Investment, National Insights
Sam Zell is Buying, plus Manufactured Home Investing, Stock Updates
Manufactured Housing Industry Investments Connected Closing Equities Tickers
Some of these firms invest in manufactured housing, or are otherwise connected, but may do other forms of investing or business activities too.
NOTE: The chart below includes the Canadian stock, ECN, which purchased Triad Financial Services, a manufactured home industry lender
NOTE: Drew changed its name and trading symbol at the end of 2016 to Lippert (LCII).
Winter 2020…
Berkshire Hathaway is the parent company to Clayton Homes, 21st Mortgage, Vanderbilt Mortgage and other factory built housing industry suppliers.
· LCI Industries, Patrick, UFPI, and LP each are suppliers to the manufactured housing industry, among others.
· AMG, CG, and TAVFX have investments in manufactured housing related businesses. For insights from third-parties and clients about our publisher, click here.
Enjoy these 'blast from the past' comments.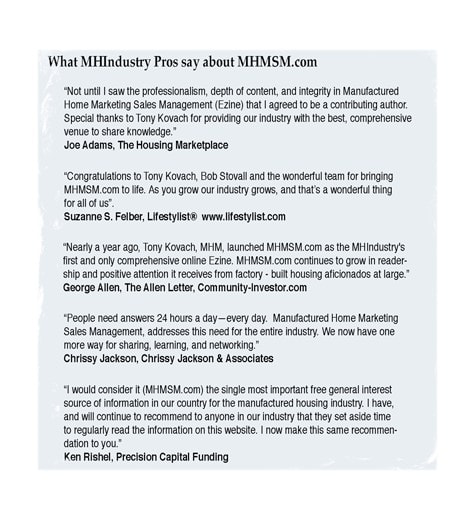 MHProNews. MHProNews – previously a.k.a. MHMSM.com – has now celebrated our tenth anniversary.
Learn more about our evolutionary journey as the industry's leading trade media, at the report linked below.
Celebrating 10 Years of Goal- and Solution-Oriented Manufactured Home Industry Innovation Information, and Inspiration for Industry Professionals
· For expert manufactured housing business development or other professional services, click here.
· To sign up in seconds for our industry leading emailed headline news updates, click here.
Disclosure. MHProNews holds no positions in the stocks in this report.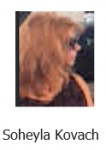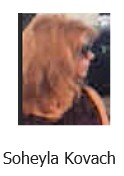 "We Provide, You Decide." © ## (News, analysis and commentary.)
(Image credits and information are as shown above, and when provided by third parties, are shared under fair use guidelines.)
Submitted by Soheyla Kovach, co-managing member of LifeStyle Factory Homes, LLC and co-founder for MHProNews.com, and MHLivingNews.com.

Connect with us on LinkedIn here and here.
2019 Year-End Totals Reveals Decline in New HUD Code Manufactured Home Production, Shipments vs. 2018