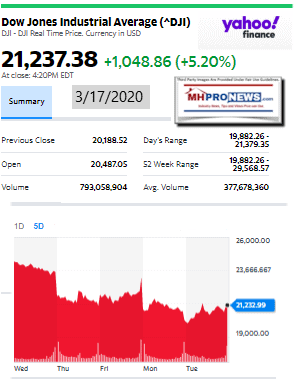 This evening's focus will be a 'sandwich' account. The featured segment will open and close with insights about and from the White House on their evolving plan. But in the middle of those elements will be a deeper dive into an issue aiming at the root cause for what's occurring in the U.S. and global economy and equities markets.
Regardless of what players may have been involved in the proximate cause of the COVID 19 outbreak, what is seemingly clear is that Chinese officials were slow telling the world precisely what was occurring and how severe it was. As a result, some public officials and policy wonks are saying that once this current coronavirus crisis passes and the costs are known, the U.S. government should go back to the Chinese and say, 'pay up for the damage to our economy.' Good luck with that notion, given that China is a nuclear nation that holds a chunk of U.S. debt, right?
But there are also voices that say that now is the time to re-assess the wisdom of doing business with a Chinese communist regime using the American and Western cash earned by producing medicine and an array of goods cheap to increase their power, influence, spy network and military prowess. On a day when the markets had a decent bounce after the worst Dow point drop on record, the thoughts of Chapman University's Joel Kotkin, plus some pull quotes from the White House press room, will be our featured focus tonight.
Every evening our headlines that follow provide snapshots from two major media outlets on each side of the left-right news spectrum that reflect topics that influence or move investor sentiment. In moments on this business evening report, you can get 'insights-at-a-glance.'
This report also sets the broader context for manufactured housing markets, in keeping with our mantra, "News through the lens of manufactured homes and factory-built housing" ©.
We begin with headlines left-of-center CNN followed by right-of-center Fox Business. We share closing tickers and other related data courtesy of Yahoo Finance, and more. 5 to 10 minutes reading this MHProNews market report every business night could save you 30 minutes to an hour of similar reading or fact-gathering elsewhere.
Perhaps more important, you will get insights about the industry from experts that care, but also dare to challenge the routine narrative that arguably keeps manufactured housing underperforming during an affordable housing crisis.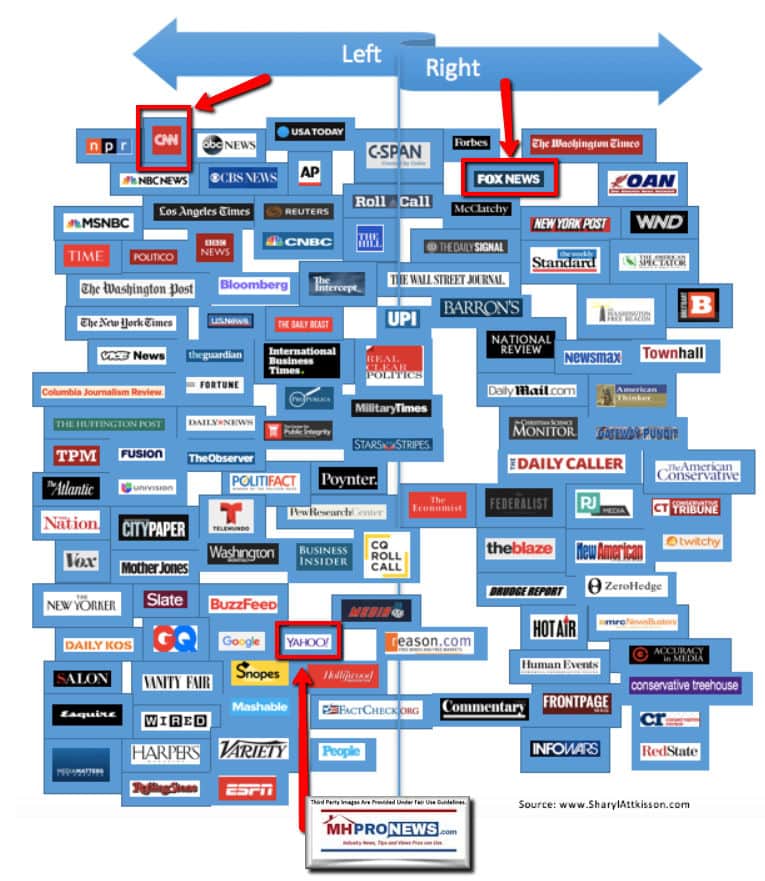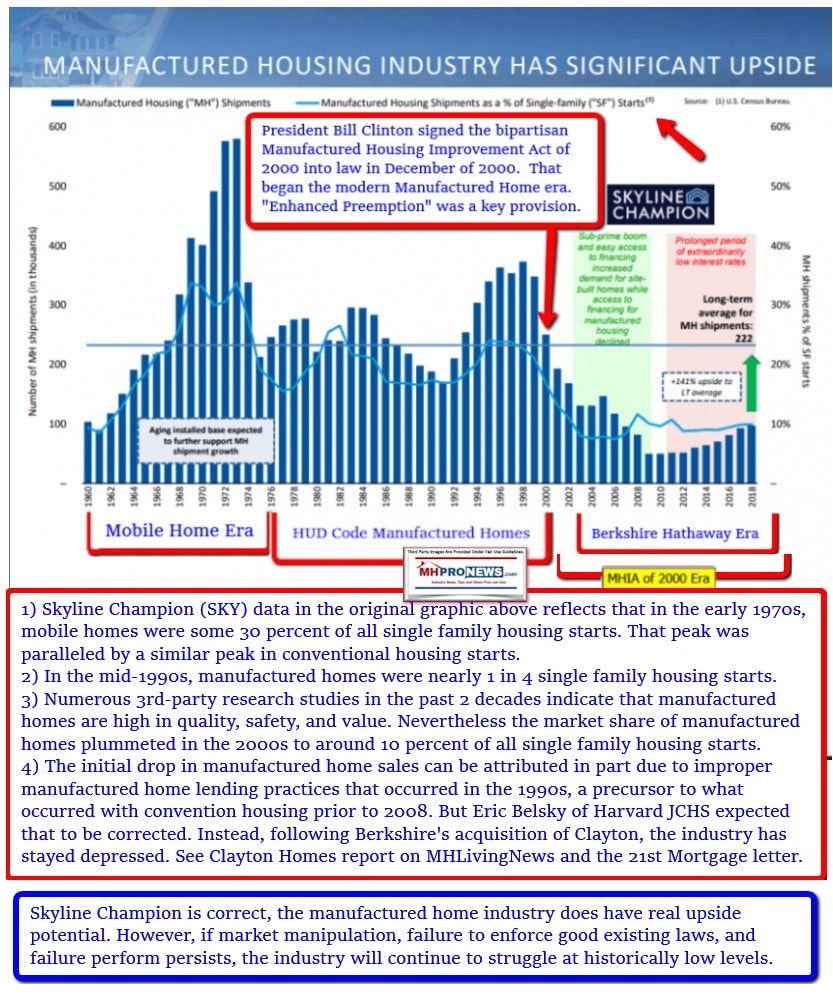 Newsy, Peeling Back Media Bias, Manufactured Housing Sales, Investing, Politics, and You
Headlines from left-of-center CNN Business
Stocks claw back losses
A statue of George Washington is pictured in front of the New York Stock Exchange (NYSE) on March 16, 2020 at Wall Street in New York City. – Trading on Wall Street was halted immediately after the opening bell Monday, as stocks posted steep losses following emergency moves by the Federal Reserve to try to avert a recession due to the coronavirus pandemic.Just after the opening bell, the S&P 500 was at 2,490.47, a drop of 8.1 percent and beyond the seven percent loss that automatically triggers a 15-minute trading halt.
LIVE UPDATES Markets recoup some losses after Wall Street's worst day since 1987
LIVE DATA Track what stocks are being battered by coronavirus — and which are getting a boost
Fed revives 2008-era program to unfreeze critical borrowing market
Get ready for the Fed to raise rates…in 2027?
Marriott is beginning to furlough employees
Amazon knows you're ordering toilet paper in bulk. It's trying to stock more essentials
France and Germany are going all-in to protect their economies and workers
The world's biggest carmaker is shutting down in Europe
President Trump says he supports a bailout for Boeing
He's losing $100,000 a month during this pandemic
What it's like working at Walmart during a pandemic
What will a 0% interest rate mean for mortgages?
Facebook is giving $1,000 to all of its 45,000 employees
Here's what you can watch on ESPN with sports on hold
China announces retaliatory measures on US media outlets
Toilet paper makers: 'What we are dealing with here is uncharted
Tips from a teacher: How to homeschool your kids while working
People are getting creative with their work-from-home setups
ENTERTAINMENT
Universal to stream movies currently in theaters starting this week
Microsoft reveals details about its new Xbox
At 22, he launched his own amateur esports company
Gaming's biggest names are ditching Twitch
How 'Doom' keeps winning fans after 26 years
TIPS FOR WORKING REMOTELY
How to work from home without losing your sanity
The rules of video conferencing at home
Here's how to stay productive working from home
Your coronavirus workplace questions answered
How managers can help employees with mental health issues
Headlines from right-of-center Fox Business
Dow claws back 1,049 points as Fed, Treasury move to restore investor confidence
The markets are responding positively to moves by the Fed and Treasury to stabilize volatility
Mnuchin: Virus response could include sending checks to Americans 'immediately'
WATCH: Mnuchin responds to whether markets will stay open
Coronavirus crisis 'worse than 9/11' for airline industry
NYC Mayor: Prepare for shelter-in-place decision within 48 hours
WATCH: Trump hits back at China claims American soldiers to blame
Queen Elizabeth leaving London
Trump touts telehealth in pandemic fight, here's 5 names to know
Fed moves to help businesses, households get short-term funding
BREAKTHROUGH? Biotech giant scaling up potential treatment 'as fast as we can'
What small business needs right now
'Iron Chef' star: Delivery restrictions 'won't help' restaurants stay in business
Trump authorizes deferral of $300B in tax payments, Mnuchin says
Coronavirus and taxes: Filing do's and don'ts
Coronavirus chokehold on US worsens oil industry's pain
Macy's closes all stores through March on coronavirus fears
US stock markets to remain open, Mnuchin says
Payroll tax holidays, zero interest rates good ammunition for US in virus battle
As coronavirus gains foothold, hourly workers face uncertain futures
Photos show how coronavirus is an economic disaster for NYC
Enroll in the Coronavirus vaccine study and make $1,100
Shoppers scramble to hoard groceries as virus quarantines sweep across US
Brothels taking added precautions as virus threatens to soften sex industry
Tom Brady likely to go to one of these 2 NFL teams after official Patriots exit
Gaga's papa fighting eviction from Grand Central over unpaid rent
America's bartenders affected by coronavirus aided by national fundraiser
Coronavirus travel ban prevents ultra-wealthy from leaving on private jets
Fake coronavirus products on Amazon: What to look for
Disney's next Marvel blockbuster foiled by coronavirus
Amazon CEO Jeff Bezos offers coronavirus help to White House
Coronavirus pushes Amazon to prioritize essential household, medical supplies
Coronavirus-themed malware is spreading. Here's how to avoid it
Coronavirus sends bidet sales soaring amid toilet paper shortages
Rolling Stones postpone tour as coronavirus spreads
4 ways small businesses can survive the coronavirus pandemic
Coronavirus-hit NYC sees online alcohol sales thrive
Trump administration pushes for $850B coronavirus relief package
US must be laser-focused on preventing 2008 repeat: El-Erian
Coronavirus test could produce results in 3 hours
New York City mayor 'strongly considering' shelter-in-place order
Coronavirus pandemic puts cash handouts on US lawmakers' radars
US falls to 17th on index measuring business, individual freedom
Distilleries making hand sanitizers with their own alcohol
Olympics in Tokyo set to continue as scheduled despite virus crisis
These 7 million Americans under shelter-in-place order
Tom Hanks, Rita Wilson get some good news after coronavirus diagnoses
Joe Biden picks up another primary victory, dealing huge blow to Bernie Sanders
Can grocery store supply chains handle coronavirus crisis?
Amazon, Whole Foods struggling to make deliveries
This post-disaster measure could help millions of Americans
WATCH: Lady Gaga's dad says he'll support restaurant employees during virus crisis
Cleveland Clinic CEO: Government should fight coronavirus in 3 ways
CVS exec on coronavirus: 'Pretty confident' we can meet demand for supplies
World Health Organization says at least 2 workers contract coronavirus
Coronavirus overwhelms New York's unemployment system
Coronavirus outbreak to cause sharp contraction in US economy: Goldman Sachs
Coronavirus shuts down Ferrari, Lamborghini plants
Coronavirus pushes Israel to tap anti-terror arsenal to contain disease
10 Market Indicator Closing Summaries – Yahoo Finance Closing Tickers on MHProNews…
Featured Focus – Where Business, Politics and Investing Can Meet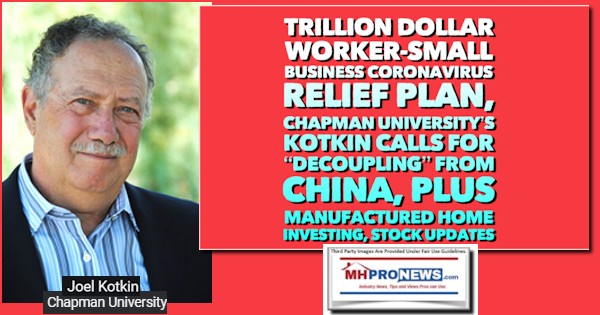 There will no doubt be some in our industry that have been, or soon will be, impacted by the COVID19 outbreak. The cancellation of the Tunica Show is but one example that has ripple effects on scores of businesses and their suppliers.
So, the Trump Administration plan being developed for smaller business and worker relief should be of keen interest.
Per CNBC:
The White House is seeking a stimulus package worth anywhere from $850 billion to over $1 trillion as the Trump administration looks to battle the economic impact from the coronavirus pandemic.
The developments came hours after Treasury Secretary Steven Mnuchin said that the Trump administration wants to get emergency funds in Americans' pockets "immediately."
"It's going to be big, it's going to be bold," Trump said of the potential stimulus package, without disclosing its size, Tuesday morning.
Next, for those not familiar with Urban Policy Expert Joel Kotkin, the following recent video interview is a useful frame of reference that touches on issues related to issues for affordable housing and manufactured home professionals. The Epoch Times recently interviewed Kotkin on the subject of "The Reasons Why So Many People Are Leaving California."
Part of what Californian Kotkin says in the video above is that much of the manufacturing disappeared in his state, and that most new jobs that have been created pay less than the median wage for the U.S. In a now high-cost state, that is a recipe for a growing wealth divide. A telling Kotkin pull quote, "It is not possible in most of California to live decently on $40,000 a year."
Kotkin describes himself as a moderate, pro-business Democrat "for most of my life." He speaks of oligarchs and the global elite, which he says that the Bay Area of California is a center for such people and their thinking.
He noted that home ownership for millennials in CA "is much below the national average."
The author said that with the same type of income, you pay about 3 times as much for a house in California as you would in Dallas or Houston. Regulatory issues and difficulty getting approvals are among the causes for that scenario. Kotkin says that the progressives that have created this system have made it difficult to build anything other than high-end housing. While he doesn't say so, that is in keeping with several of the White House Council or Eliminating Regulatory Barriers for Affordable Housing, see one of several prior reports on that topic linked below.
White House Council on Eliminating Regulatory Barriers to Affordable Housing — Request for Information
Kotkin says that the policies were caused by politicians who were "economically illiterate" and behave like an "amoeba" that can be pushed into a given direction. He asserts that unlike Texas, where Democrats and Republicans alike have business experience, in the California legislature, he asserts that most Democrats have little or no business experience.
He explained that when businesses are chased out of California by green or other policies, they will create a larger carbon footprint overseas. He says if a factory moves to China, they are powered by coal, while in California that same business may get its energy from natural gas or nuclear energy, the later of which are clearly cleaner energy sources. Rephrased, he points out the self-contradictory results of policies that may be well intended but have a practically poor outcome. California politics, he says, "is narcissism of the worst kind." People that want to feel good about themselves and how they look, even though the impacts are problematic or harmful.
He says there are more drug addicts than high school students in San Francisco, and more dogs than kids. The author asks, is that the role model for the rest of the country? "I don't think so," Kotkin answers his own question. He says that people don't understand that climate policies effect the housing costs, while tax, regulatory and other policies that impact businesses and thus what jobs are available.
Kotkin says he is "an old journalist" who started his career in 1975. He said, "I am horrified at the state of journalism in this country."
When someone writes a story, he rhetorically asks, did that reporter talk to someone with a different opinion? He compares media in California more like the media in the old Soviet Union, covering only those topics the writers or editors find interesting. Saying that "Most of us were liberal [in journalism], in his day, but he asserts that the norm was to "let the public hear both sides" of a given issue. At about the 20:29 time mark in the video, he said that journalism in his era wanted the public to "understand the subtleties." The author and educator said that the way he judges an article, "Did I learn something that I didn't know," before, whether he agrees with the writer or not. By contrast, he says that articles today are often just presenting "one side."
Kotkin recounts that his boss during his time at the Washington Post didn't have a high school degree, but praised him as a great working-class journalist. Now, reporting is all about being "credentialed." He mentions consolidation of media and the dropping pay for reporters among the problems that foster the currently low state of media in America. He said that most journalists enter the field with a social justice agenda instead of helping people to see things and understand issues that they may not have realized otherwise.
He said "Because the newsrooms are so imbalanced ideologically and are so young, there is no one to challenge their points of view."
As a Democrat, he says that in a "non-partisan" way that people "need to be more critical of the current regime." The Golden State needs to be more pro-business and middle-class oriented. While he expresses disdain for Republicans and President Trump, he also said that the GOP has an opportunity to reach many in his state based on the clear notion that what has been occurring under mainly Democratic rule isn't working. That noted, he doubts Republicans will tap into that opportunity.
Kotkin sarcastically said near the end of the video that with all that his state has to offer in terms of its natural appeal, "It takes policy genius of some diabolical sort to push people out of California." He is calling for a 'fight against feudalism' in California. The author/educator says that most politicos in his state from either party are narrow hacks that represent specific interest-groups and that "There is nobody who stands up for the interests of the vast majority of Californians."
From his bio on New Geography, where he is listed as an executive editor, comes the following.
"An internationally-recognized authority on global, economic, political and social trends, Joel Kotkin is the author of the widely praised new book, THE NEW CLASS CONFLICT (Telos Press), which describes the changing dynamics of class in America.
Mr. Kotkin is the Roger Hobbs Distinguished Fellow in Urban Studies at Chapman University in Orange, California and Executive Director of the Houston-based Center for Opportunity Urbanism (opportunityurbanism.org). 
He is Executive Editor of the widely read website Newgeography.com and writes the weekly "New Geographer" column for Forbes.com.  He serves on the editorial board of the Orange County Register and writes a weekly column for that paper, and is a regular contributor to the Daily Beast."
With those points of introduction, here is his op-ed in New Geography, provided under fair use guidelines for media.

OUTBREAK A WAKE-UP CALL ABOUT NEED TO DECOUPLE FROM CHINA
For the past half century, China has gone from successfully exploiting global markets to seeking to impose its own authoritarian system on the rest of the world. This winter is all about much of the rest of the world saying, "No thanks."
The poor handling of the coronavirus represents the third element in a hockey-like hat trick of remarkably embarrassing failures. The virus story tells of a litany of filthy market conditions, incompetent governance and bureaucratic languor. This simply amplifies the pattern seen in other awful actions such as the suppression of Uighurs, complete with concentration camps and forced labor, and the brutal suppression of Hong Kong's democracy protesters.
All these developments suggest that it is well past time to start what one analyst at the American Interest described as a "hard decoupling" by the West, and much of the world, from China.
Breaking up is hard to do
China has depended on foreign markets to boost its share of the world's economic output, according to the World Bank, from 4 percent in 1990 to a projected 21 percent in 2022. But, for America and much of the high-income world, this growth has come at the price of reliance on China for everything from manufactured goods to capital. Decades of dependency have weakened our own industrial base, while allowing many critical skills to decline here and in other parts of the West.
This is most painfully evident in the consumer electronics and tech sector, most notably Apple, which is almost completely dependent on production from China. Even our military sources key parts from the same nation whose prime strategic goal is to eject us from the Pacific Basin.
De-coupling from dependent relationships is never easy, and this won't be either. Yet since President Trump's election, there has been pressure to shift production to other, less threatening countries or, even better, bring it back here. The tariff regime, imposed with the usual mercurial touch that characterizes all things Trump, has been a blunt instrument, but it already has spurred moves by some companies to reduce our dependence on a China-centered supply chain.
The key thing now is whether the Democrats, as well as Wall Street's reliable GOP shills, have learned anything from 2016 and not try to block a "hard de-coupling." Under Sen. Bernie Sanders, resistance to China would be likely, but the globalists around Biden may prefer to go back to conditions that enrich the corporate suite but leave most Americans poorer.
Understanding China's regime
As someone who has visited China numerous times over nearly four decades, it is impossible not to marvel at the enormous accomplishments of the current regime. Streets once choked with bicycles and horse-drawn carts are now filled with cars and serviced by sleek trains. Yet the trappings of modernity have not made China adopt a more Western approach to governance, as was once widely predicted by the mainstream punditry.
Instead China is demonstrably more authoritarian and committed to thought control than just a decade ago.
Technology, rather than promote China's integration into the world, is now being deployed, with help from big tech firms like Apple, Google and IBM as part of a surveillance regime.
In the process China is creating an impressive and distinctly separate tech ecosystem. It allows for the prospects of social control more subtle, and perhaps even more inescapable, than anything Stalin or Mao could dream up.
This is not merely an attempt to be more economically competitive. It is now part of a national system of control, which the country's science fiction writers — one of the last bastions of self-reflection there — almost uniformly see as becoming ever more repressive.
The right response
Arguably those against de-coupling will be include interests who wish to keep tapping capital and products from China in part to secure their own oligopolies. Yet the middle and working classes around the world need to insist that Western-oriented countries remain true to their own values, place a higher value on national security and health than the profits of a few large institutions.
Sadly, some in academia and the media regard the ascendancy of China's "stronger government" as inevitable. But as the repressing of the Uighurs and Hong Kong make clear, Chinese leaders can no longer maintain power without resorting to brutal measures.
Other vulnerabilities such as a looming demographic decline, including a record low birthrate, massive corporate debt, a history of environmental disasters and serial pandemics do not suggest the presence of an unassailable super power.
As long-time democracy campaigner Jimmy Lai says, nothing can address China's malignant impact on the world other than "the collapse of the party." To achieve this over the long run, we don't need to engage militarily or talk loudly but simply stop supplying the rope for them to hang us with.
None of this suggests that a decoupling will be painless, particularly in states like California. But in the end, better to pay a few bucks more at the store and suffer a drop in stock values than see our national security and health standards threatened, productive jobs eradicated and our real estate markets distorted.
Rather than see the virus as simply a tragedy, China's growing isolation and loss of prestige could present an opportunity to stand up against an authoritarian nightmare far more frightening even than the current pandemic.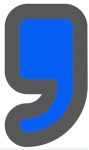 ##
Joel Kotkin is the Presidential Fellow in Urban Futures at Chapman University and Executive Director for the Center for Opportunity Urbanism. His last book was The Human City: Urbanism for the Rest of Us (Agate, 2017). His next book, The Coming of Neo-Feudalism: A Warning to the Global Middle Class, is now available to preorder.
From the White House Press Room Today…
Perhaps ironically, from the White House media room today to MHProNews was this snippet.
Amid Coronavirus Pandemic, a Model of Bipartisanship
"This week, one of President Trump's most outspoken critics, Gov. Gavin Newsom of California, said this about the president and his team's response to the cruise ship in Oakland: 'Every single thing [Trump] said, they followed through on. Every single thing. His administration—and it starts at the top, including the vice president—has been consistent,'" Reps. Roger Marshall (R-KS) and Brian Babin (R-TX) write.
"What a fantastic report and an example of true public service. Both conservatives and liberals should look at that situation objectively and realize that in an era of total polarization in politics, two opposing executives put their differences aside to solve a crisis and save lives."
See the related reports for more.
Related Reports:
HUD Secretary Ben Carson's Keynote Address USC Schwarzenegger Institute and USC Sol Price Center for Social Innovation, plus Manufactured Home Investing, Stock Updates
Illusions, Collusions – "Heads I Win, Tails You Lose" – "Never Let a Serious Crisis Go To Waste" – Gates, Buffett Massive Money Grabs?
2020 Tunica Manufactured Home Show Cancelled, Manufactured Housing Institute Event Apprise, plus Manufactured Home Investing, Stock Updates
"Be Greedy When Others are Fearful" – Bill Gates, Warren Buffett and Follow the Money, plus Manufactured Home Investing, Stock Updates
Markets Plunge Again, Industry Equities Tank, $1Trillion Move by Fed, Can't Have it Both Ways; plus Manufactured Home Investing Stock, Updates
Market Analyst Craig Kucera on UMH Properties, "Never Let a Good Crisis Go To Waste" – Industry, Investment, National Insights
Sam Zell is Buying, plus Manufactured Home Investing, Stock Updates
Manufactured Housing Industry Investments Connected Closing Equities Tickers
Some of these firms invest in manufactured housing, or are otherwise connected, but may do other forms of investing or business activities too.
Winter 2020…
Berkshire Hathaway is the parent company to Clayton Homes, 21st Mortgage, Vanderbilt Mortgage and other factory built housing industry suppliers.
· LCI Industries, Patrick, UFPI, and LP each are suppliers to the manufactured housing industry, among others.
· AMG, CG, and TAVFX have investments in manufactured housing related businesses. For insights from third-parties and clients about our publisher, click here.
Enjoy these 'blast from the past' comments.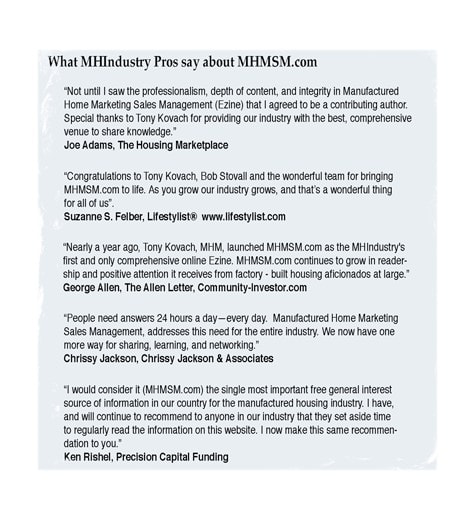 MHProNews. MHProNews – previously a.k.a. MHMSM.com – has now celebrated our tenth anniversary.
Learn more about our evolutionary journey as the industry's leading trade media, at the report linked below.
Celebrating 10 Years of Goal- and Solution-Oriented Manufactured Home Industry Innovation Information, and Inspiration for Industry Professionals
· For expert manufactured housing business development or other professional services, click here.
· To sign up in seconds for our industry leading emailed headline news updates, click here.
Disclosure. MHProNews holds no positions in the stocks in this report.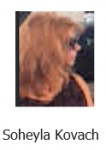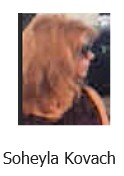 "We Provide, You Decide." © ## (News, analysis and commentary.)
(Image credits and information are as shown above, and when provided by third parties, are shared under fair use guidelines.)
Submitted by Soheyla Kovach, co-managing member of LifeStyle Factory Homes, LLC and co-founder for MHProNews.com, and MHLivingNews.com.

Connect with us on LinkedIn here and here.
2019 Year-End Totals Reveals Decline in New HUD Code Manufactured Home Production, Shipments vs. 2018