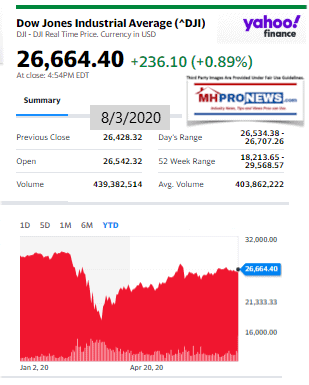 The Revolutionary Communist Party USA leader Bob Avakian's endorsement of presumptive Democratic presidential nominee, Joe Biden. Tonight's report will unpack several angles of this development which weave together insights from across the left-right divide.
As of the time that this report is being prepared, Joe Biden have not yet disavowed this endorsement.
In a Breitbart style quip, that right-of-center media outlet said this: "Joe Biden called for "revolutionary institutional changes…" which the left-of-center billionaire Jeff Bezos owned Washington Post reported Biden's words like this "We need some revolutionary institutional changes," on June 3, 2020.
Indeed, the Daily Motion in two screen captures shown in our quotes segment below reflects the pivot by Biden in the spring to saying that people don't want a revolution to later saying that a revolution is necessary. Hmmm, which is it?
To give a sense of Bob Avakian here is one of his videos.
The Obama-Administration era Vice President Biden appears to be trying a 'be all things to all people' approach by issuing a video that seems to include items taken straight from the pages of the Trump "America First" campaign.
The Avakian endorsement may in time be disavowed by Biden. But it does raise several interesting points that should be of interest to small businesses, ethically minded investors, and others. So, that will be our featured focus this evening.
The featured focus segment of this evening's market report is found beyond the left-right headline news bullets and 2 of our 3 market snapshots at the close today. The manufactured housing industry connected stocks are near the end of the report each evening, after the featured focus and the related/recent report links.
Quotes That Shed Light – American Social, Industry, National Issues…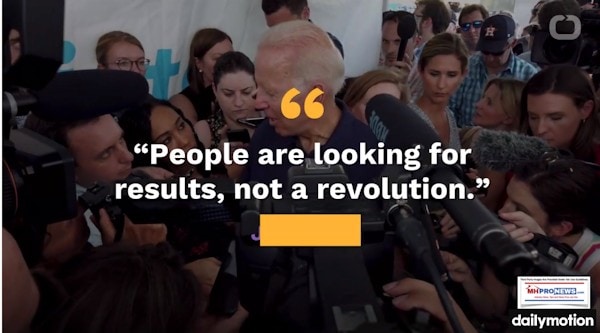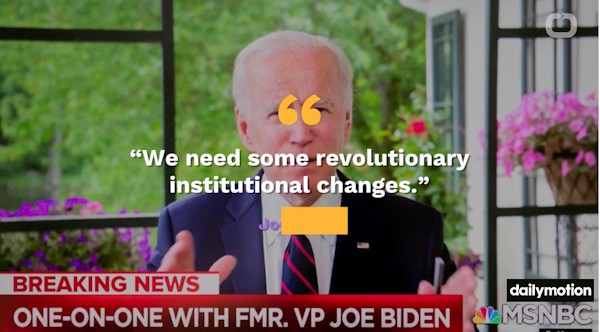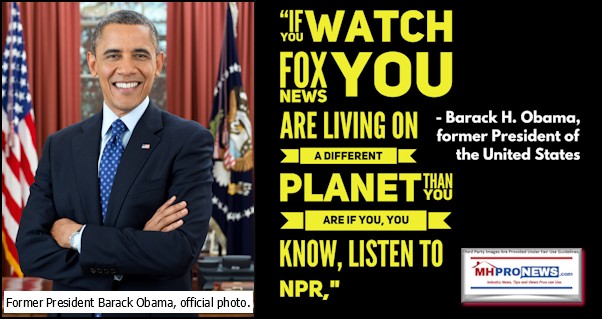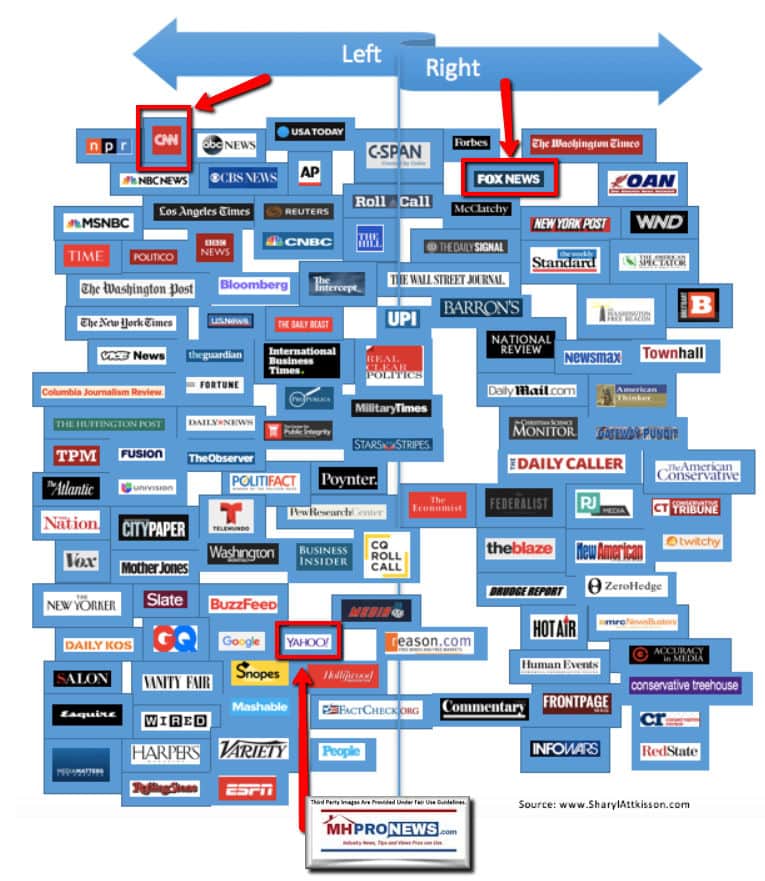 Headlines from left-of-center CNN Business
Making a deal
Signage for ByteDance Ltd.'s TikTok app is displayed on a smartphone in an arranged photograph taken in Arlington, Virginia, U.S., on Monday, Aug. 3, 2020. In a bid to salvage a deal for the U.S. operations of TikTok, Microsoft Corp. Chief Executive Officer Satya Nadella spoke with President Donald Trump by phone about how to secure the administrations blessing to buy the wildly popular, but besieged, music video app.
Trump says TikTok sale can go through but only if the US gets a cut
Why Microsoft wants to buy TikTok
Why investors should care about the fate of TikTok
Electric truck maker Lordstown Motors is going public
ADT stock soars 65% after $450 million investment from Google
Analysis: Kodak's 530% stock surge is dangerous speculation
NASA astronauts splash down after historic SpaceX mission
7-Eleven owner buys gas stations for $21 billion
These companies are working from home until 2021 — or forever
Clothing companies are missing their critical back-to-school sales bump
Men's Wearhouse owner files for bankruptcy as pandemic tanks suit sales
My company banned non-compete agreements. Others should, too
Hail Mary: 'The Rock' buys the XFL for $15 million
Chipotle's newest menu item is … clothing
Wawa is building a drive-thru only convenience store
FILE: An employee checks an Apple Inc. iPhone for a customer inside a Sprint Corp. store in San Francisco, California, U.S., on Thursday, May 5, 2016. T-Mobile US Inc. agreed to acquire Sprint Corp. for $26.5 billion in stock, a wager that the carriers can team up to build a next-generation wireless network and get a jump on industry leaders Verizon Communications Inc. and AT&T Inc. Our editors select the best archive images from the two companies.
One of America's most storied brands is no more
The sun's glint beams off a partly cloudy South Pacific as the International Space Station's orbital track took it halfway between Australia and South America on July 18, 2020.
The best views from the historic NASA-SpaceX mission
MARKETS
LIFE IN A PANDEMIC
Walmart store in Franklin, Tennessee
Walmart used to be a haven for RV parking, but more stores won't allow it
What it's like to cover the weirdest NBA season ever
Stores will still serve customers who won't wear masks
Beer sales are picking up again
Ice cream sales are up. Deodorant sales are down
COMMERCIAL BREAK
The 'Got Milk?' ads are back but they're not like the ones you remember
Watch the new 'Got Milk?' ads
Nike's new commercial is a viral hit
See the Nike ad people can't stop talking about
Brands are making 'social distancing' logos
Headlines from right-of-center Fox Business
SPORTS
Nike eyes massive layoffs at company's world headquarters
Vice president wrote that it 'will be permanently reducing its workforce by at least 500 employees'
Trump signs exec order barring federal agencies from replacing Americans with foreign workers
TECH
Trump sets deadline for popular app to be sold to US company, or face US ban
WATCH: Senator reveals how app is used as 'Trojan horse' to steal personal data
FBNTV
President Trump joins Lou Dobbs for exclusive interview Tuesday
PERSONAL FINANCE
This Social Security rule should have the rich jumping for joy in 2021
MONEY
Why this is the right age to take Social Security
PAIN IN THE AXE
LIFESTYLE
Stressed-out Americans are turning to target practice
PULLING THE TRIGGER
LIFESTYLE
This year's gun sales have already outpaced 2019's total, research shows
IN IT FOR THE LONG HAUL
LIFESTYLE
Several airlines are resuming international destinations
SUPERSONIC SPEEDS
TECHNOLOGY
Virgin Galactic releases earnings after unveiling new ship
FORGET THE FRIENDLY SKIES
TRAVEL
Fight breaks out on flight between drunk and maskless passengers
ALTER THE COURSE
TECHNOLOGY
Next big coronavirus treatment may be this
DON'T MISS OUT
PERSONAL FINANCE
3 ways you can lose your Social Security benefits
HITTING THE JACK-POT
MONEY
City launches 'guaranteed income' program with Twitter CEO's money
SENT PACKING
OPINION
Jeff Bezos' ex-wife is getting post-divorce revenge, and living her best life
'HEALTH HAZARD'
PRODUCT RECALLS
Ground beef distributed across several states recalled over 'high' safety risk
CARRIERS TO AVOID?
TRAVEL
These airlines have received the most complaints during coronavirus
SHIFTING GEAR
TECH
Apple makes unusual announcement about new iPhone
LIFESTYLE
Ex-McDonald's USA CEO says fast food giant would be 'wise' to remove ball pits from restaurants
PERSONAL FINANCE
As coronavirus accommodations end, government urges banks to help borrowers
LIFESTYLE
Chipotle launches sustainable product line featuring avocado-dyed apparel
CARS + TRUCKS
New Hampshire legalizes 'flying cars' for the road
LIFESTYLE
Here's Tesla's plan if the Cybertruck flops
MONEY
Anti-abortion centers given coronavirus bailout of at least $4M: Report
POLITICS
Veepstakes Heats Up: Guide to Biden's running mate options
ECONOMY
America's saw mills didn't see this building boom coming
ECONOMY
Bloomberg floats hiring laid-off oil workers to plug abandoned wells, says Biden supports it
RETAIL
Coronavirus forcing footwear brands to focus on these shoes, not heels
MEDIA
Familiar ads make return as pumped-up milk sales rise amid pandemic
TECHNOLOGY
TikTok confirms 'preliminary discussions' to sell US operations under White House pressure in internal memo
TECHNOLOGY
WATCH: White House adviser says controversial app's sale may not be 'prudent'
TECH
Apple hit with $1.4B lawsuit by Chinese AI firm over Siri technology
NEWS
Wawa to open entirely different type of store location in this state
REAL ESTATE
SEE PICS: 'Housewives' stars list resort-like home — and aren't shy about it
SPORTS
How much The Rock, investment firm paid to buy Xtreme Football League
NEWS
First-time gun owners speak out about rising crime, as weapon purchases spike
SPACE BUSINESS
Elon Musk after historic SpaceX splashdown: 'I prayed for this one'
EXCLUSIVE: Trump campaign relaunches ads with focus on these states
10 Market Indicator Closing Summaries – Yahoo Finance Closing Tickers on MHProNews…

Featured Focus –
Where Business, Politics and Investing Can Meet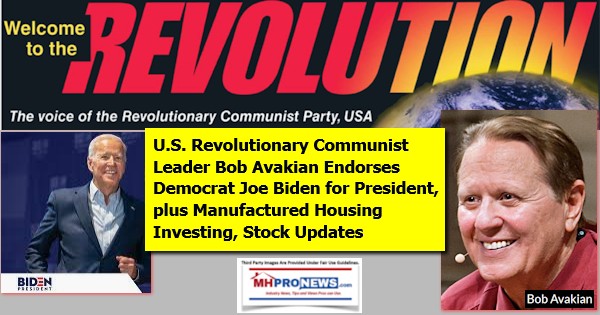 Create a or contribute to a problem, then position yourself or your organization as the solution to that same problem. It was a keen summary of a statement emailed to MHProNews from an industry source this weekend.
Investors and industry professionals must ponder what it would mean to your investments and property if this or that candidate wins.
Prior to providing the full statement of Bob Avakian's Revolutionary Communist Party USA endorsement, the following from Captain Joseph R. John writing for Combat Veterans for Congress, is the following.
"ANTIFA is an acronym for Antifascist.  In the 1930s, they were the German Communists who were fighting the NAZIs in Germany.  The logo on the ANTIFA flag was created by the German Communist Party.  ANTIFA demonstrators are violent Communist Terrorist "Foot Soldiers".  ANTIFA is an international Communist Terrorists organization that fought along side ISIS and murdered Christians in Syria (pictured with their flag in Syria in the attached photo).  President Donald Trump is a Capitalist who strongly supports The Free Enterprise System, yet the Democrat Party and ANTIFA call President Donald J. Trump Hitler and a Nazi.  ANTIFA's "Revolutionary Abolitionist Movement" (RAM) has been leading a coordinated national effort to deface and destroy over 350 US Historical Monuments."
"The first battleground is against the history of a nation." — Karl Marx
Capt. John asserts that Antifa has the following principles.
1)  Liberation will be won by any means necessary. 
2)  We will destroy the State, police, military, corporations and all those who run the "American plantation". 
3)  We will live with dignity in a world without prisons. 
4)  Systems of punishment will be abolished.  There will be no law to enforce, no money to protect. 
5)  Revolutionary justice will be determined by those who are oppressed. 
6)  There will be no government.  No person will have power over another.   
7)  Communities will make decisions about how they live and will make sure everyone has what they need to live a dignified life. 
8)  Land is not property, it is alive, communal and must be protected. 
9)  Alongside international comrades, we will destroy all borders for the free movement of people everywhere.
10) Militant networks will defend our revolutionary communities.  Liberation begins where America dies."
Capt. John further says that: "Since 2008, ANTIFA, Communists, Progressives, Socialists, and America's domestic enemies have been misrepresenting what the United States has always stood for by trying to prevent the younger generation from loving their country through lying about its 244 year US History and the great heritage of the American people.  The Obama administration distributed a new, misleading and inaccurate US History textbook funded by Nazi-Collaborator George Soros, and in order to received federal funds to education, forced every state to require use of those fake US History textbooks in public schools with the false and dishonest US History Common Core Curriculum."
The Tom Perez that John references is the current chairman of the Democratic Party, and the Democrats and Wikipedia websites both confirm his connection with Casa de Maryland.
According to John, "Tom Perez, the longtime leader of Casa de Maryland Communists, violated US Federal Law by helping register Illegal Aliens to vote.  For many years, he received $1 million annually from Hugo Chavez, the Venezuela Communist leader, to keep the southern border wide open.  Perez made the racist declaration that "white people should not be entitled to protection under the Voting Rights Act."  Tom Perez and Keith Ellison changed the once Patriotic Democrat Party into today's Socialist Democrat Party that has been employing ANTIFA Communist Domestic Terrorists as their street thugs for the last 4 years, and during the current violent riots in 184 cities, creating anarchy, while the left of center liberal media establishment continues to try to cover up their treachery, acting as ANTIFA's propaganda machine." Keith Ellison is a former Congressman from Minnesota and is now that state's attorney general.
Sonora News says that "Hugo Chavez, the former Communist President of Venezuela, and … Fidel Castro, sent $1 million to Perez's Casa de Maryland annually…"
"The Combat Veterans For Congress Political Action Committee is dedicated to supporting the election of fiscally conservative Combat Veterans," also per Sonora News.
"Combat Veterans for Congress has reported spending a total of $7,983 on independent campaigning through October 2010, with 100% benefiting Republican" candidates, said the left-of-center Washington Post.
"ANTIFA turned the peaceful demonstrations to protest the unjust death of George Floyd into violent riots and anarchy throughout the US.  For the last 4 weeks, ANTIFA Communist Domestic Terrorists, the Revolutionary Communist Party, the Communist Party USA, Nazi-Collaborator George Soros' Black Lives Matter Domestic Terrorists (infiltrated by ANTIFA violent thugs), Organization For Action, Domestic Socialists of America, The Sunrise Movement, The Progressives Unity Fund, The Muslim Brotherhood International Terrorists, Onward Together, Color of Change, CAIR, and other anarchists were recruited and transported to 184 cities to participate in violent riots, looting of businesses, executing the arson of buildings, burning of Police cruisers, and attacks on Police Officers led by Black Lives Matter.  The ANTIFA insurrection bears an interesting resemblance to the Palestinian "Intifada", and have been employing their tactics taken from their playbook," said John in a June 20, 2020 post for Combat Veterans For Congress.
The group has endorsed the following candidates in the 2020 cycle.
Congressman Trent Kelly, BGen-MSARNG (R – MS – 1)     http://www.kellyformississippi.com
Congressman Darrell Issa, Captain/USAR (EOD) (R – CA – 50)      https://www.darrellissa.com
Congressman Lee Zeldin, Maj-USAR (JAG) (R – NY – 1)    http://www.zeldinforcongress.com
Rear Admiral Ronny Jackson, USN (Ret) (MC) (R – TX – 13)            https://ronnyjacksonfortexas13.com
Congressman Steve Stivers, BGen-USANG (R – OH – 15)  http://www.stivers4congress.com
Congressman Paul Broun, Lcdr-USNR (MC) (R – GA – 9)   http://paulbroun.com/
Congressman John Bergman, Lt Gen/USMCR (Ret) (R – MI – 1)            https://bergmanforcongress.com
Sergeant Thomas Norton, USANG (R – MI – 3)    https://www.norton4congress.com
Congressman Mark Green, USMA '86, Maj-USA (MC) (Ranger Qualified) (R – TN – 7)            https://www.markgreen4tn.com
Congressman Donald Bacon, BGen-USAF (Ret) (R – NE – 2)            http://www.donbacon2016.com
Congressman Michael Garcia, USNA '98, Lcdr/USN (R – CA – 25)            https://www.electmikegarcia.com
SgtMaj Juan Hidalgo, Jr., USMC (Ret) (R – CA – 51)         http://hidalgoforcongress.com
Lt. Col. Robert "Buzz" Patterson, USAF (Ret) (R – CA – 7) https://www.buzz4congress.com
Congressman Scott G. Perry, Col/PA-ARNG (R – PA – 10) http://www.patriotsforperry.com
Congressman Adam D. Kinzinger, Lt Col-AFNG (R – IL – 16)         http://www.electadam.com
BGen Donald Bolduc, USA (Green Beret) (R – NH – Senate)         https://www.donbolduc.com
Col Robert Elliott, USMA '71, USA (Green Beret) (R – CA – 10)            https://bobelliottforcongress.com
Congressman Brian Mast, SSgt-USA (Ret) (EOD) (Wounded Warrior) (R – FL – 18)            http://www.mastforcongress.com
BGen Doug Slocum, USAF (Ret) (R – MI – 10)     https://www.slocumforcongress.com
Col William Schafer, USA (R – IA – 3)      https://schaferforcongress.com
TC Daniel Gade, USMA '97, USA (Ret) (Ranger) (WW) PhD (R – VA – Senate) https://www.gadeforvirginia.com
SPC Aleksander Skarlatos, USANG (R – OR – 4)   https://www.alekfororegon.com
Gunnery Sergeant Alan Hoover, USMCR (R – MI – 8)        https://www.alanthoover.com
Congressman Paul J. Cook, Col-USMC (Ret) (R – CA – 8)  http://www.joinpaulcook.com
Senator Thomas Cotton, Esq., Cpt-USA (R – AR – Senate) http://www.tomcotton.com/
Congressman Michael J. Gallagher, Cpt-USMCR, PhD (R – WI – 8)            http://www.mikeforwisconsin.com
Congressman Kerry Bentivolio, SFC-MI-ANG (R – MI – 11)            http://kerrybentivolio.com
Congressman James Banks, Lt-USNR (R – IN – 3) http://www.jimbanks.us/calledtoserve/
Congressman Daniel R. Crenshaw, Lcdr-USN (Ret) (SEAL) (Wounded Warrior) (R – TX – 2)            https://www.crenshawforcongress.com
Col Gregory Raths, USMC (Ret) (R – CA – 45)      http://www.gregraths.com
Congressman Michael G. Waltz, LTC-USAR (Green Beret) (R – FL – 6)            https://michaelwaltz.com
Congressman Brad Wenstrup, LTC-USAR (MC) (R – OH – 2)         http://www.usabrad.com
The scathing lashing of Combat Veterans for Congress at a glance could use some nuance or refinement of the allegations. That said, spot-checks as shown reflects that much of what they said has a basis in known facts.
That tees up the following contrast with Bob Avakian's August 1, 2020 endorsement of presumptive Democratic nominee, former Vice President Joe Biden.
Prior to sharing Avakian's statement, which MHProNews in no sense is supporting – just reporting – the following from the Revolutionary Communist's website helps confirm concerns raised by John above as well as clarifies Avakian's own positions.
"Points of Attention for the Revolution
The Revolution Club upholds, lives by and fights for the following principles:
We base ourselves on and strive to represent the highest interests of humanity: revolution and communism. We do not tolerate using the revolution for personal gain.
We fight for a world where ALL the chains are broken. Women, men, and differently gendered people are equals and comrades. We do not tolerate physically or verbally abusing women or treating them as sexual objects, nor do we tolerate insults or "jokes" about people's gender or sexual orientation.
We fight for a world without borders, and for equality among different peoples, cultures and languages. We do not tolerate insults, "jokes" or derogatory names about a person's race, nationality, or language.
We stand with the most oppressed and never lose sight of their potential to emancipate humanity—nor of our responsibility to lead them to do that. We work to win people of all backgrounds to take part in the revolution, and do not tolerate revenge among the people.
We search for and fight for the truth no matter how unpopular, even as we listen to and learn from the observations, insights and criticisms of others.
We are going for an actual overthrow of this system and a whole better way beyond the destructive, vicious conflicts of today between the people. Because we are serious, at this stage we do not initiate violence and we oppose all violence against the people and among the people."
With that introduction, here is their statement.
STATEMENT BY BOB AVAKIAN
August 1, 2020
ON THE IMMEDIATE CRITICAL SITUATION,
THE URGENT NEED TO DRIVE OUT THE FASCIST TRUMP/PENCE REGIME,
VOTING IN THIS ELECTION,
AND THE FUNDAMENTAL NEED FOR REVOLUTION
1The situation today holds truly unprecedented and momentous challenges, with profound implications not only for the people in this country but for all of humanity. Three years ago, I spoke to this reality—which has become even more pronounced, and even more dangerous, in the time since then:
We are confronted by—we are now being ruled by—a fascist regime: relentlessly assaulting civil rights and liberties and openly promoting bigotry and inequality; acting with callous disregard or cold-blooded malice toward those they consider inferior and a drain or stain on the country; on a mission to deny health care to millions who will suffer and many who will die without it; crudely degrading women, as objects of plunder, breeders of children without the right to abortion or birth control, subordinate to husbands and men in general; defying the science of climate change, attacking the science of evolution, and repudiating the scientific method overall; a regime brandishing an arsenal of mass destruction and threatening nuclear war; intensifying state terror against Muslims, immigrants, and people in the inner cities; unleashing and giving encouragement and support to brutal thugs spewing vile "America First," white supremacist, male supremacist, and anti-LGBT venom—a regime that boasts of all this and declares its intention to do even worse.
This is a regime headed by "a demented bully" with his finger on the nuclear button. It is a regime that, without exaggeration, threatens not just greatly heightened suffering for the masses of humanity but the very existence of humanity itself, through its intensified moves to further the plunder of the environment and its boasts of unequaled weapons of mass destruction and its blatant declaration of willingness to use those weapons, including its massive nuclear arsenal.
I have also emphasized that it is this system of capitalism-imperialism which, through its "normal workings," has brought forth this fascism, and that no fundamental change for the better can be brought about under this system, and instead this system must be overthrown and replaced by a radically different and far better system, in order to abolish and uproot all relations of exploitation and oppression, and the violent conflicts they give rise to—all of which is built into the foundations of this system and its ongoing functioning and requirements.
Right now, for everyone who is concerned with ending injustice and oppression, and with the question of whether humanity will have a future worth living—or will have a future at all—removing the Trump/Pence fascist regime from power is an immediate, urgent question and truly historic imperative.
And, for those who understand the need for revolution, for the overthrow of this system, as the fundamental solution to the continuing horrors this system causes for the masses of humanity (whether this system is ruled through an open fascist dictatorship, or the disguised "democratic" dictatorship, of the ruling capitalist class), the immediate struggle to oust the Trump/Pence regime from power must be approached not as a "diversion" from (or "substitute for") building the movement for the revolution that is needed, but precisely as part—a crucial part and urgent requirement—of the overall work of building for this revolution.
Our fundamental goal, and guiding star, remains: REVOLUTION—NOTHING LESS!
In everything we do, including in all the struggles we take part in that are themselves short of revolution, our consistent approach is, and must be, to make all this serve that fundamental goal of revolution and the emancipation of all humanity.
* * * * * * * * * * *
Normally, we revolutionary communists argue that people should not vote in bourgeois elections, which serve to reinforce the existing system of capitalism-imperialism and feed popular illusions that exploitation, oppression and injustices can somehow be "reformed away" short of getting rid of the system that gives rise to these horrors in the first place. But is this the right position to take in relation to this particular election?
To answer this, we need to look at the whole picture."
##
Their entire brochure with the roughly 4000 word missive is linked here.
Influence Watch says that "In July 2017, the Revolutionary Communist Party released a statement claiming responsibility for the creation of Refuse Fascism…"
"Refuse Fascism appeared on the national stage for the first time at President Trump's January inauguration, joining the "#J20" march after months of taking out advertisements in national news outlets like the Washington Post and generating media materials. [8] At that same Inauguration Day march, allegedly "unrelated" Antifa demonstrations smashed store windows and burned a limousine in Washington, D.C. [9] Refuse Fascism has since joined several left-wing protests, including the July 2017 Impeachment March; the August 2017 protests in Charlottesville, Virginia; and the September 2017 protests against the "Free Speech Week" at the University of California, Berkeley. [10]" said Influence Watch.
Right-of-center outlets Breitbart and the Washington Times were among the media outlets today that reported the August 1 endorsement. The Daily Dot said that "In Avakian's 4,000-plus word statement, he calls the Democratic candidate an "instrument" of the "exploitative, oppressive, and literally murderous system of capitalism-imperialism," and adds that Biden per Avakian is not "'better' than Trump, in any meaningful way—except that he is not Trump."
The self-avowed communist RevCom website referred to what is occurring in Portland and elsewhere in these terms. "Portland, Chicago, Los Angeles…Revolution Club and Revolution Tour in the Streets to Say NO to Federal Pigs and Bring the Message "Revolution—Nothing Less!" and "In Portland and Other Cities, the Beautiful Rising Continues Across the U.S."
The Sonoran News, which labels itself as a conservative Arizona news outlet, gave a lengthy list of ties from various left wing groups to these "Trump Resistance Movement" which includes the Tides Foundation, which Warren Buffett and George Soros both have contributed millions to over the years.
Sonoran News adds that "Naïve students seem to be unaware that Socialism has failed in the 37 countries where it once governed over the last 100 years.  Socialism had been responsible for the elimination of individual freedoms in those 37 countries, and the Socialist governments in those 37 countries murdered 100-200 millions free people during the 20th Century.  The failures of Socialist governments can easily be observed by brain washed high school and college students, if they would simply open their eyes, and observe what is happening to the citizens in North Korea, Venezuela, Cuba, China, Russia, and Iran today.  They should compare the lives of the people in those countries, to their lives in the US under the Free Enterprise System." It is worth noting that other sources put the death toll from socialism and communism in the 20th century in the 100 million dead range. That said, the broad point is the same.
They quoted the Bolshevik Russian coup leader like this. "Give me just one generation of youth and I'll transform the world." – Vladimir Lenin
That conservative AZ source also said that "The new Democrat Socialist Party is not the Democrat Party of your grandfather or father, it has become the enemy of the state.  It has been undermining the US Constitution and The Free Enterprise System and is openly promoting  Socialism for the nation's youth…" That was part of a January 17, 2020 column.
The Sonoran says that "Sonoran News was founded in 1995 as a community watchdog. The paper has remained true to its mission: It is dedicated to exposing corrupt and unethical local, county, state and national business and political practices."
"We are trained Marxists." – Black Lives Matter (BLM) co-founder Patrisse Cullors, "Deception and Misdirection" – Capital Research Center
Black Lives Matter – the Nonprofit, Black Lives Matter – the Slogan, Black Man Dies – the Costly and Deadly Reality 
Leaked Secret Democratic Memo On Black Lives Matter Emerges; "Haven't Seen Sh-t Like This Before"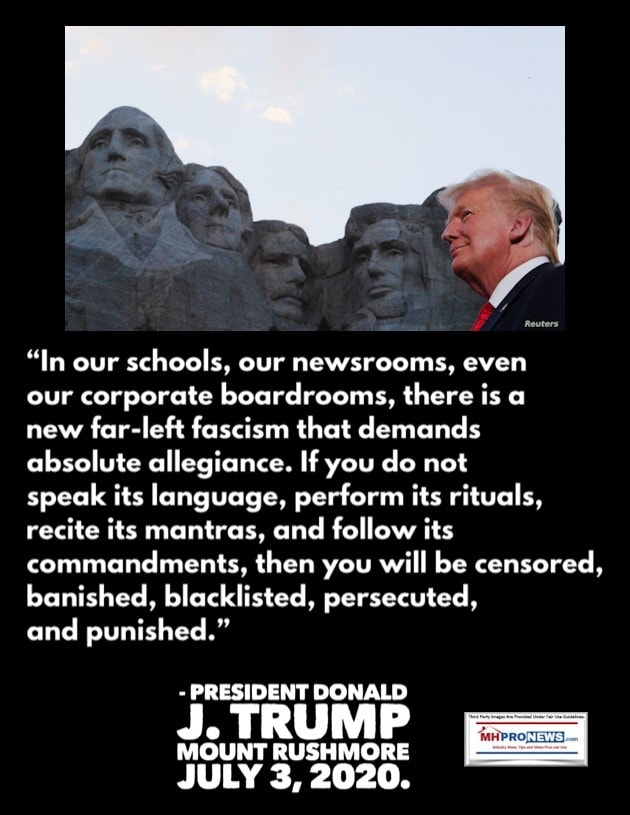 Related, Recent, and Read Hot Reports
Warren Buffett Declared "Class Warfare," Buffett Says Fellow Billionaires – "We're Winning"
"Madder Than Hell" – Meddling "in Business Deal" – plus Sunday Weekly Headlines Review
Warren Buffett, George Soros, Jeff Bezos, Strategic Ally Bill Gates Rails Against "Outrageous" Free Speech from Dissenting Views to Gates Foundation, Dr. Fauci
Oxfam Report – "Pandemic Profiteers Exposed" – Small Businesses Slide or Fail as Giants Grow, Everyday People Harmed – 'Usual Suspects' Oxfam Names Include Ties to Bill Gates, Warren Buffett, George Soros
"Dark Secrets" – Warren Buffett, Racism, Eugenics, Infidelity, Ghislaine Maxwell's Father Robert Maxwell, Bill Gates, Gates Foundation; plus, Manufactured Housing Stock, Investing Updates
Terror Tactics 1960s-1999 vs 21st Century Terrorist Attacks – Cops, Shops, Workers, Christians, Believers vs Wall Street, Silicon Valley, Marxists, Atheists, Terrorists, Leftist Billionaires – Sunday Weekly Headline Review
Grapes of Wrath – Massive Foreclosure, Evictions Wave Looms, Threatens Housing, Usual Suspects-Gates, Buffett, Soros Lurk in Rigged System – Aspen Institute, COVID19 Eviction Project Plot
'Portland Violence is a Myth' – Left and Right Claims Examined, plus Manufactured Home Investing, Stocks Updates
Acme Bricks – Yes, Bill Gates Investor in Warren Buffett's Berkshire Brand Acme Bricks – Allegedly Supplying Antifa, Black Lives Matter Rioters "Pallets of Bricks" Investigated
'Stop Trump!' Group Supported by Billionaires Soros, Buffett, Gates Vows to Defeat President Trump in 2020
Dark Money-Billionaires Buffett, Gates, Soros Funding Black Lives Matter, Antifa – Named by AG Barr in Riots, Looting – Hijacking Peaceful George Floyd Death Racial Justice Protests
The Party is Over, So What's Next? Corruption and Evil Boils Down to This. Plus, Sunday Weekly Headlines Review
Manufactured Housing Industry Investments Connected Closing Equities Tickers
Some of these firms invest in manufactured housing, or are otherwise connected, but may do other forms of investing or business activities too.
NOTE: The chart below includes the Canadian stock, ECN, which purchased Triad Financial Services, a manufactured home industry lender
NOTE: Drew changed its name and trading symbol at the end of 2016 to Lippert (LCII).
Summer 2020…
Berkshire Hathaway is the parent company to Clayton Homes, 21st Mortgage, Vanderbilt Mortgage and other factory built housing industry suppliers.
· LCI Industries, Patrick, UFPI, and LP each are suppliers to the manufactured housing industry, among others.
· AMG, CG, and TAVFX have investments in manufactured housing related businesses. For insights from third-parties and clients about our publisher, click here.
Enjoy these 'blast from the past' comments.
MHProNews. MHProNews – previously a.k.a. MHMSM.com – has celebrated our tenth anniversary and is in year 11 of publishing.
Learn more about our evolutionary journey as the industry's leading trade media, at the report linked below.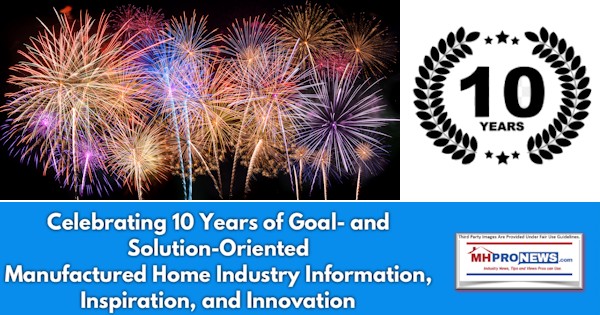 · For expert manufactured housing business development or other professional services, click here.
· To sign up in seconds for our industry leading emailed headline news updates, click here.

Disclosure. MHProNews holds no positions in the stocks in this report.
2019 Year-End Totals Reveals Decline in New HUD Code Manufactured Home Production, Shipments vs. 2018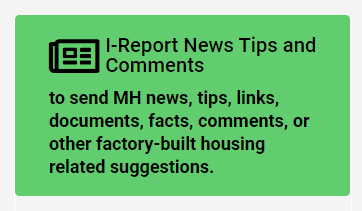 That's a wrap on this installment of "News Through the Lens of Manufactured Homes and Factory-Built Housing" © where "We Provide, You Decide." © (Affordable housing, manufactured homes, stock, investing, data, metrics, reports, fact-checks, analysis, and commentary. Third-party images or content are provided under fair use guidelines for media.) (See Related Reports, further below. Text/image boxes often are hot-linked to other reports that can be access by clicking on them.)
By L.A. "Tony" Kovach – for MHLivingNews.com.
Tony earned a journalism scholarship and earned numerous awards in history and in manufactured housing. For example, he earned the prestigious Lottinville Award in history from the University of Oklahoma, where he studied history and business management. He's a managing member and co-founder of LifeStyle Factory Homes, LLC, the parent company to MHProNews, and MHLivingNews.com. This article reflects the LLC's and/or the writer's position, and may or may not reflect the views of sponsors or supporters.