Berkshire Hathaway owned Acme Bricks has been caught up for over a month in allegations that seek to tie Bill Gates, who owns significant holdings in Berkshire (BRK) and sat on their board until March 2020, sometimes Warren Buffett, and other billionaires. The claim is that assaults on law enforcement are occurring by dropping pallets of bricks near sites that turned into violent riots. The left-of-center CBS News affiliate video below provides some context.
California based Canyon News prides itself on being unbiased. Their tag line or motto is "We print the truth, can you handle it?"
They are one of hundreds of media outlets across the left-right spectrum that reported on allegations that pallets of Acme Bricks were being delivered to sites near protests that were later used by agitators and rioters.
"Random deliveries of pallets of ACME Bricks have been reported in cities in California including, Los Angeles and Sherman Oaks," said Canyon News. The bullets are additional pull quotes.
According to reports, the bricks were not all delivered near construction sites. In some places, they just appeared. No witnesses reported seeing them delivered.
The shipments of bricks were delivered to various locations and would-be protest sites including Boston, Fayetteville, Dallas, and New York.
A Florida resident reported stacks of bricks in West Palm Beach under the I-95 overpass last week.
Yahoo News and Benzinga said almost two weeks after those quotes that the White House has since deleted the tweet shown below.
That same Yahoo report noted that Bill Gates said the allegation was "so stupid."  Gates has also denied several "conspiracy theories" related to the Wuhan Virus pandemic which he, Buffett, Soros, Mark Zuckerberg, and other largely left-wing supporting billionaires have been profiting from to the collective tune of over $500 billion dollars.
The image below summarizes some interesting facts relative to the pallets of Acme and other bricks concerns. Note that each of the statements are based upon evidence, not speculation.  The questions are logical ones that would flow from the known facts.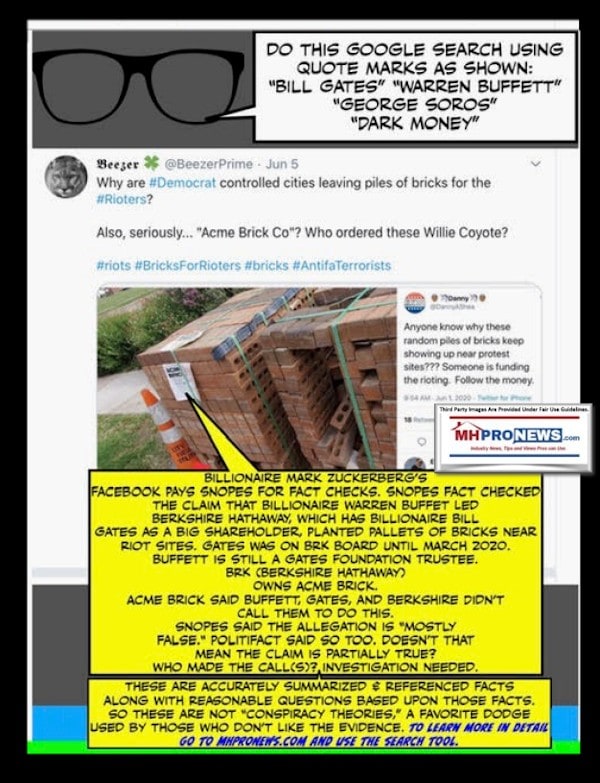 "Fargo Police say they are aware of pallets of bricks being placed in areas around the city and they are working on getting them removed," reported Valley News Live which added that "Earlier on Friday morning, Moorhead Police posted on their Facebook page saying several pallets of bricks that were considered "suspicious" were removed." It then contradicted that statement in the next line.
Most of the mainstream news sources are taking the slant that Gates, Buffett, Berkshire, and Acme Brick are the victims of a "conspiracy theory."  The same stance has been taken about allegations against Gates and his ties to the WHO and COVID19 related.
Gates has admitted to bad judgement with respect to allegations about his relationship with convicted sex offender Jeffrey Epstein, while denying actual wrongdoing with the now late federal prisoner. The report linked here examines that claim.
Of course, as with any American on any charge, he or she are considered innocent in the eyes of the law until proven guilty by plea deal or conviction.
What merits the raised eyebrow and further investigations are the concerns raised over a series of topics. Are they all merely coincidences?
Or is it déjà vu with former First Lady Hillary Clinton defending her husband Bill against a sex scandal that caused her to allege a "vast right wing conspiracy" – which the former president later lost his law license over? Initially denied, but essentially that's what happened.
One might ask, why does Buffett, Gates or other uber-wealthy individuals seem to skate by when lesser figures would be subjected to serious investigations or arrest? Is it because they wielded significant influence in media, business, lobbying, and with politicians and public officials?
Imagine if a mainstream media outlet pressed a similar investigation on topics unrelated to the seemingly never-ending charges President Donald Trump, and rather focused on billionaires such as Gates, Buffett, Soros and others whose dark money donations create clear connections to purportedly violent groups such as Antifa or Black Lives Matter. If a serious mainstream media investigation occurred, would Buffett have Berkshire-owned GEICO pull millions in ads? Would Gates' Microsoft Corporation do the same?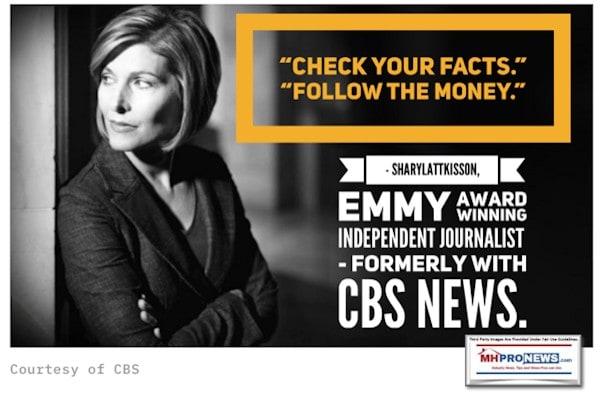 Dark Money-Billionaires Buffett, Gates, Soros Funding Black Lives Matter, Antifa – Named by AG Barr in Riots, Looting – Hijacking Peaceful George Floyd Death Racial Justice Protests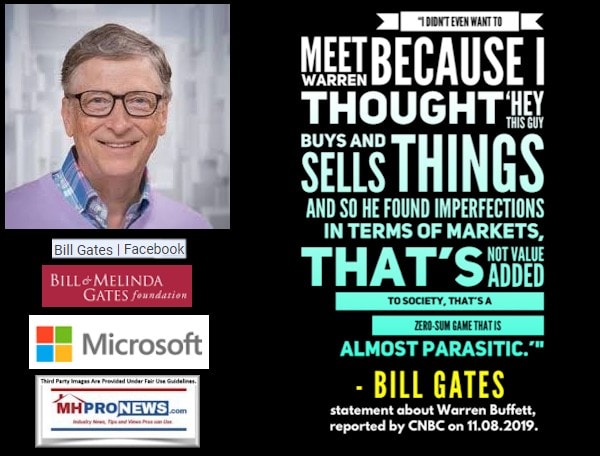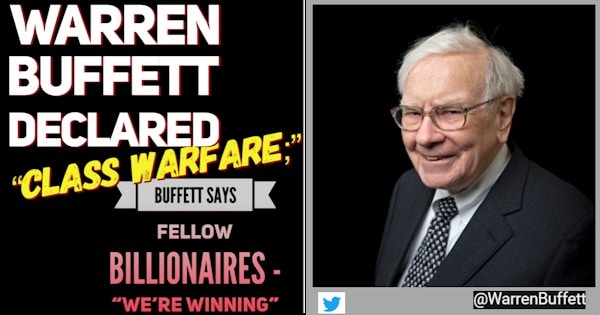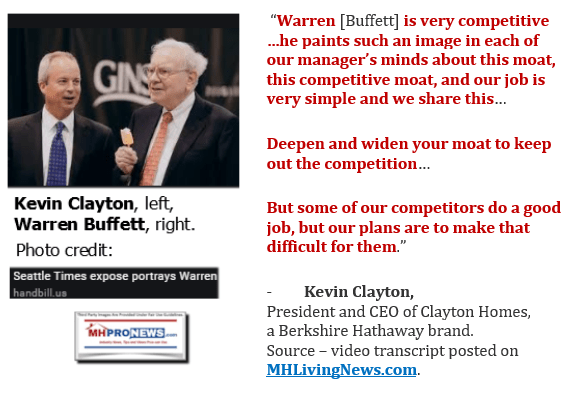 Which mainstream media outlets would risk that happening?
MHProNews Analysis and Commentary
If that sounds farfetched, don't forget that CBS ended up killing a story by Roberta Baskin about Nike and their purported use of Vietnamese sweat shops and child labor.  "For years, Baskin was an investigative journalist working for CBS. She eventually left after she encountered fierce resistance to re-air her story on Nike's labor practices in Vietnam," said left-of-center Democracy Now. But more to the point was the detailed tale told in the docudrama, Shadows of Liberty. The later said there was additional findings that CBS declined airing. Nike had cut a deal to be a major sponsor of the Winter Olympics that CBS was carrying. The troubling evidence of Nike abusing third world-workers magically vanished from CBS News schedule.
It should be noted that the quote above from Democracy Now predates Shadows of Liberty, but was connected to a discussion topic of "Can Freedom of the Press Survive Media Consolidation?"
Media consolidation has accelerated since that Shadows of Liberty docudrama was produced. More recently, the McClatchy newspaper chain of dozens of local media outlets declared bankruptcy. A source with that firm told MHProNews that their newspaper was down to a skeleton crew of reporters.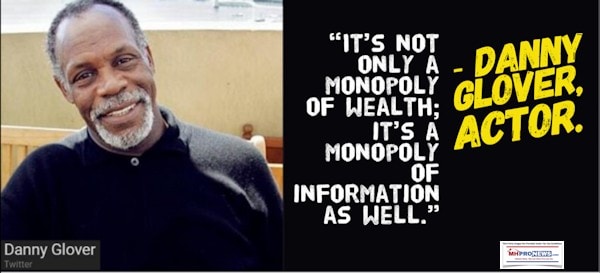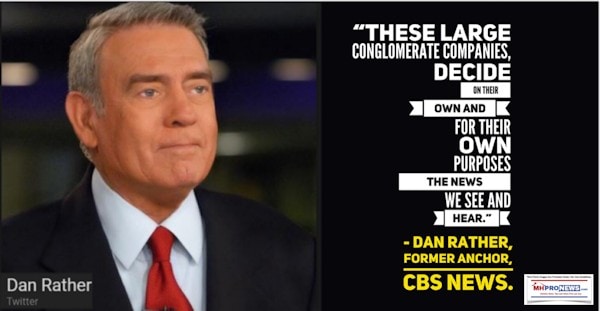 Pew Research reported on April 20, 2020 that "Newsroom employment at U.S. newspapers continues to plummet, falling by around half since 2008…" Media consolidation is a reality, not just imagined.  Not only does corporate media wield more control, but they have fewer voices to oppose their narratives.
By a seemingly continual process of consolidation, the 'news' industry is more and more limited in choices. The infographic linked here reveals the big six mainstream media titans.  Limited  option  has  resulted  in  a 'news  desert.'
Ironically, the quote from President Trump above – other than the by-name attack on America's Chief Executive – is largely in keeping with what some 150 progressive writers, journalists, and academics had to say about the similar topic.  The heart of the two sets of quotes is quite similar. Rephrased, they largely agree on the problem in education, news, and corporate-connected problems.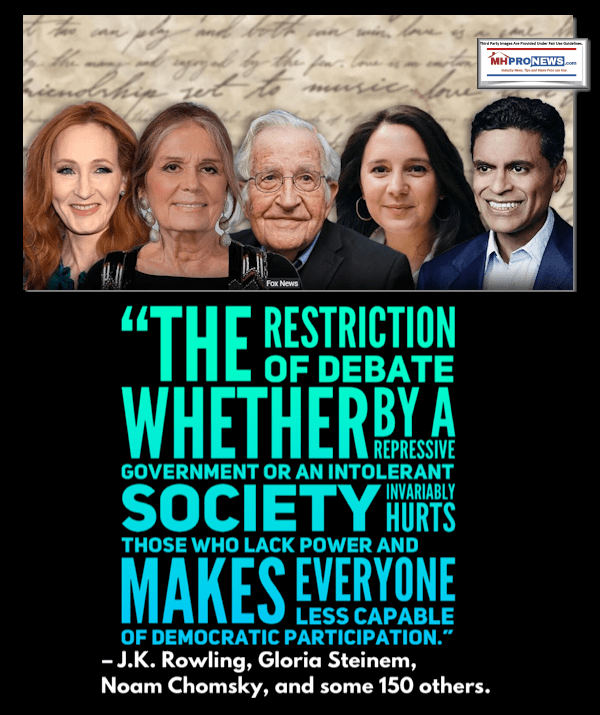 There are several ways to silence or smear someone. When the evidence is examined about Bill Gates, Jeffrey Epstein, and Ghislaine Maxwell it is a far more compelling case than the casual photo of then citizen Donald Trump with his future wife Melania taking a photo with someone at Mar-a-Lago, which Mr. Trump owned then and now.  But that photo on the right is far more commonly shown by media than the picture at the left, which shows Gates, one of his henchmen, and Epstein. Why is that so?
Arrest, Indictment of Ghislaine Maxwell, Jeffrey Epstein "Madam," Returns Bill Gates–Warren Buffett, Gates Foundation, Donald Trump, Bill Clinton, Others – to Sexual Predator's Spotlight
Evidence, common sense or reason, and follow the money trail are the traditional ways to determine where the truth may be when conflicting sources are at work.
"We are trained Marxists." – Black Lives Matter (BLM) co-founder Patrisse Cullors, "Deception and Misdirection" – Capital Research Center
Stop and think. After 5 years and tens of millions of dollars spent investigating Donald Trump, there are piles of allegations that didn't hold up to close scrutiny. Save perhaps two. Was Trump a womanizer? By all accounts, yes. But neither did he hide that fact from voters. That explains why the Access Hollywood tape release didn't end his campaign in 2016. The other is that Trump himself admits that he used the system for his own benefit. But knowing how 'the system,' he vowed to "drain the swamp."
Leaked Secret Democratic Memo On Black Lives Matter Emerges; "Haven't Seen Sh-t Like This Before"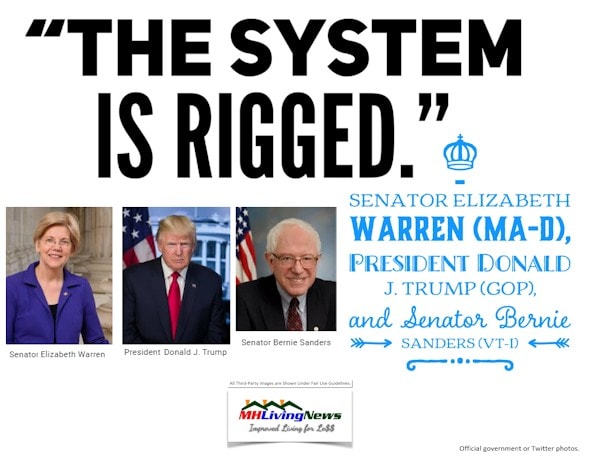 That job isn't complete. But he has made a start at each of the key campaign promises that he made.
To learn more, see the linked related reports. They can be accessed by clicking the headline or the hotlinked image.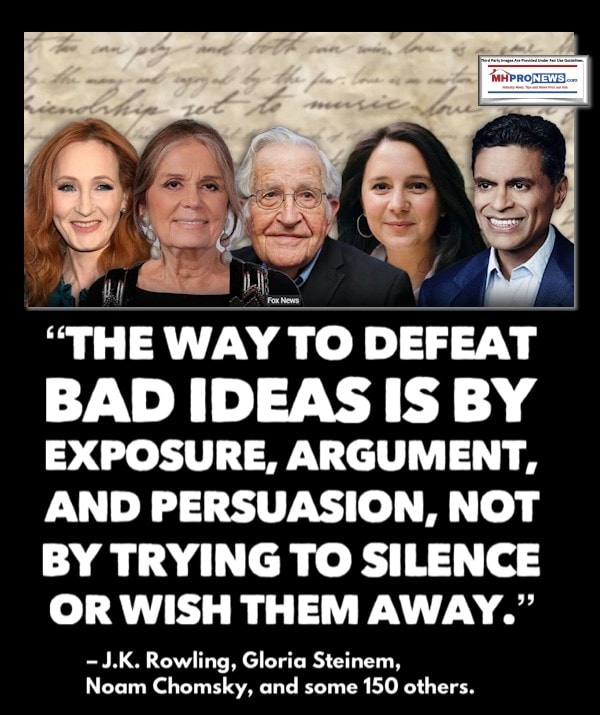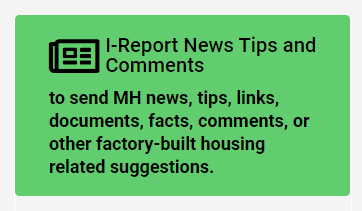 There is always more to come, so stay tuned with the runaway number one source for authentic "News through the lens of manufactured homes and factory-built housing" © where "We Provide, You Decide." © ## (Affordable housing, manufactured homes, reports, fact-checks, analysis, and commentary. Third-party images or content are provided under fair use guidelines for media.) (See Related Reports, further below. Text/image boxes often are hot-linked to other reports that can be access by clicking on them.)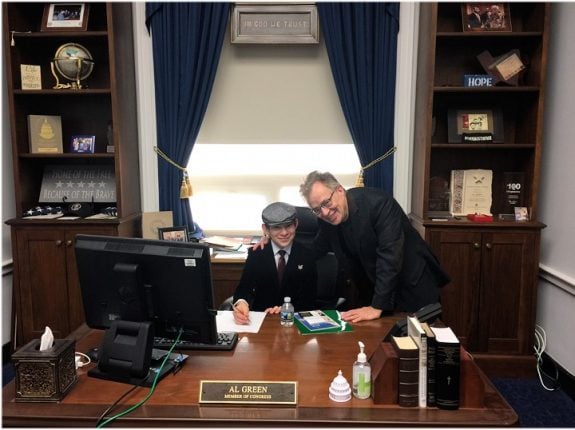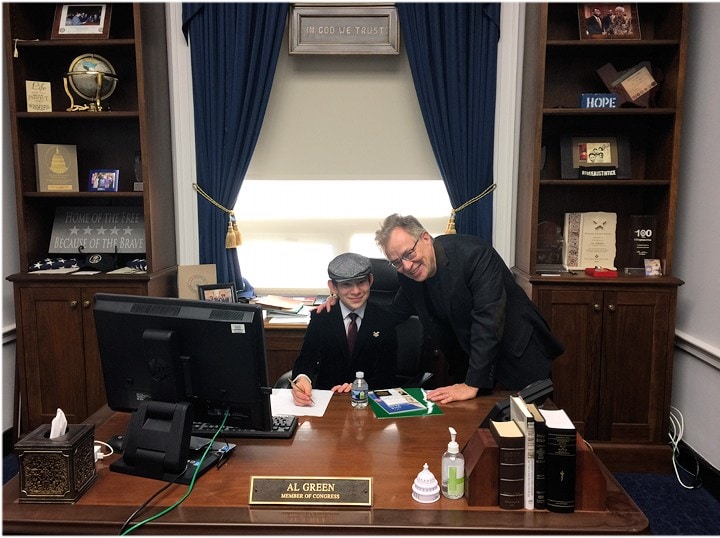 By L.A. "Tony" Kovach – for MHProNews.com.
Tony earned a journalism scholarship and earned numerous awards in history and in manufactured housing.
For example, he earned the prestigious Lottinville Award in history from the University of Oklahoma, where he studied history and business management. He's a managing member and co-founder of LifeStyle Factory Homes, LLC, the parent company to MHProNews, and MHLivingNews.com.
This article reflects the LLC's and/or the writer's position, and may or may not reflect the views of sponsors or supporters.
Connect on LinkedIn: http://www.linkedin.com/in/latonykovach
Related References:
The text/image boxes below are linked to other reports, which can be accessed by clicking on them.
'Fighting to Tear Down Oppression…in Housing, Education…Employment' – Rep Ilhan Omar Declares Marxist-Socialist War on American Economic System, Video
"The way to defeat bad ideas is by exposure, argument, and persuasion, not by trying to silence or wish them away." JK Rowling, Gloria Steinem, Noam Chomsky, 150 Others Decry Censorship in "Letter on Justice and Open Debate," Harpers
"Enough is Enough" – Democratic Mayor in Ranking MH State Pleas for End to Black-on-Black Violence, Murder – Crime Wave Spreads
History, Financial Ties-Black Lives Matter, Antifa, Billionaires Warren Buffett, Bill Gates & George Soros–Economic, Political Upheaval Spotlighted by Mary Walter, Tony Kovach on Brian Kilmeade Show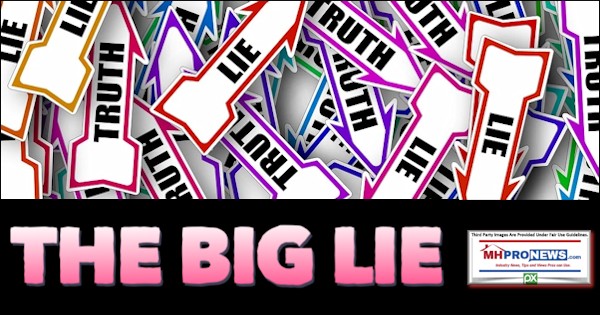 Saturday Satire and Executive Summaries for Manufactured Housing Professionals, Investors, Advocates, Researchers, Public Officials, and Investigators
"Never Let a Good Crisis Go To Waste" – COVID19 Pandemic – Problems and Solutions
Complaints to State and Federal Officials, Agencies About Corrupt Practices in Manufactured Housing Industry Growing
Buffett/Berkshire Bust! Stunning Charges – Frank Rolfe, Dave Reynolds, Impact Communities Lawsuit Against Residents; MHAction Connection Evidence