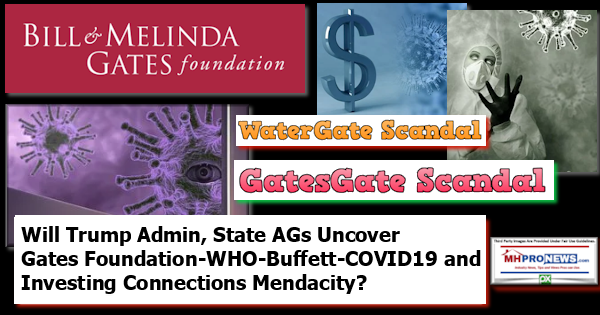 There have been clues since early in the COVID19 pandemic that continue to emerge pointing to what could be described as half-truths, lies, misdirection, hypes and head-fakes. That pattern of misinformation or mendacity arguably involves the Chinese Communist Party (CCP), which is why the anti-communist Epoch Times calls this contagion the CCP Virus.
There have been statements made by Secretary of State Mike Pompeo, various lawmakers including Senator Tom Cotton (AR-R), and President Donald J. Trump that make it clear that there is a balancing act underway in Washington, D.C. On the one hand, medical supplies and pharmaceuticals are currently needed from Red China to deal with immediate domestic demands. On the other hand, there are clear signals that a time of accountability for the regime in Beijing is approaching in the foreseeable future.
A suspension of U.S. support to the World Health Organization (WHO) while their role in this unfolding human and economic tragedy is being investigated. The WHO concerns have clearly been connected to China's influence, but more on the WHO later.
Thinkers, policy wonks, and analysts such as the American Enterprise Institute's (AEI) Housing Policy Director Edward Pinto, J.D., have looked at the role played by elements of the mainstream media in this politically weaponized contagion. Attorney Pinto shared his views in an analysis provided to MHProNews of how some media has distorted and contradicted facts.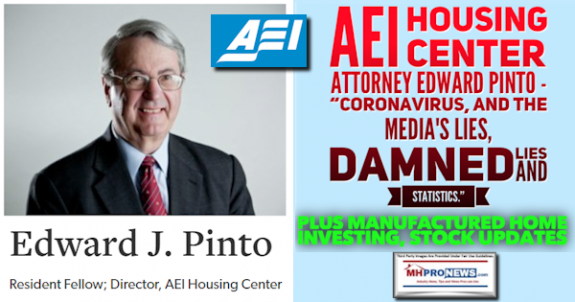 The above could be oversimplified by the common notions of misinformation used to gain tactical advantages over rivals.
Profilers, Oligarchs, Castles and Moats
The premise of the Federal Bureau of Investigation's (FBI) fabled criminal profiler unit is that trained experts learn to detect clues and provide insights to investigators that might otherwise be missed.
As the math.UCI.edu website says, "An FBI profiler is a person who analyzes criminal cases for the Federal Bureau of Investigation (FBI) in order to get a psychological, behavioral, and legal profile of a criminal. … The profiler takes into consideration any evidence left at the crime scenes, statements from eyewitnesses, and statistics from similar crimes." That investigative mindsight proves useful in several scenarios, including this topic.
For several years, MHProNews has researched and reported the methods deployed by Warren Buffett known as "the Moat" or "Castle and Moat" stratagems. A variety of methods have been identified, which include the use of nonprofits and foundations that advance the agenda of specific corporate interests. That agenda is both political and business/investment focused. To think in terms of separating the intersection of non-governmental organizations (NGOs), business/investing interests, politics and media is to miss the point.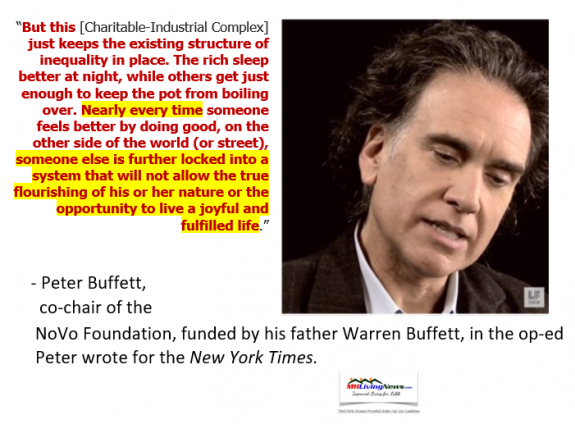 No less a person that Peter Buffett – Warren Buffett's son who heads up a foundation funded solely by Buffett's wealth – has made it clear that foundations are window dressing that routinely fails to accomplish their stated mission. While that arguably doesn't apply to all nonprofits, there are certainly examples that MHProNews, MHLivingNews and others have explored that create the "illusion of motion" when the stated aim is routinely not achieved. In manufactured housing, that process wears out smaller competitors who may finally sell out at a discounted valuation to a brand owned by Buffett-led Berkshire or one of a small group of larger firms and their allies that operate in our industry. The Manufactured Housing Institute (MHI) is the purported 'cover' for that process.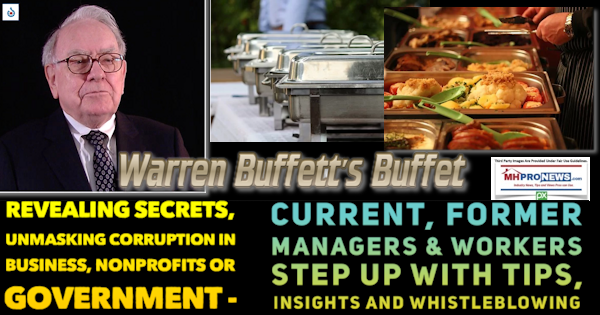 Understanding patterns of paltering – the mix of truth, half-truths and deception, all with clear aims by those who prevaricate – can clarify what is occurring.
Within that framework is the Bill and Melinda Gates Foundation, on which Warren Buffett serves and is a major donor to that nonprofit. Bill served on both the Microsoft and the Berkshire Hathaway board of directors until recently. On March 13, 2020 news sources such as MarketWatch or Business Insider reported that Bill stated his intention to focus on the Gates Foundation and its work.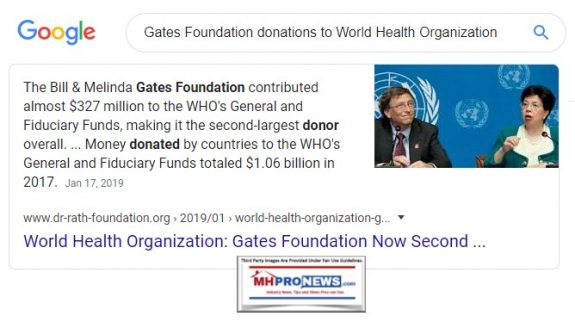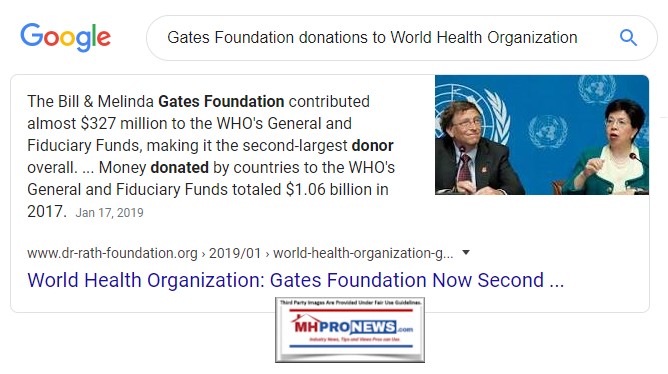 The Gates Foundation has been a major donor to the World Health Organization (WHO). Major donors get reporting, that is a standard condition of such financial support. The WHO in turn supported the BL4 level biolab in Wuhan, China that is increasingly being given attention by federal officials as a possible source of the contagion.
Without saying that the outbreak was deliberate, lawmakers, Trump Administration officials and sources in other countries have speculated that the Wuhan Virology Institute was understaffed and that the release of the virus could have been accidental. Either way, the cover-up by Chinese officials that is alleged is what made the difference between COVID19 being a merely localized event versus it becoming a global pandemic.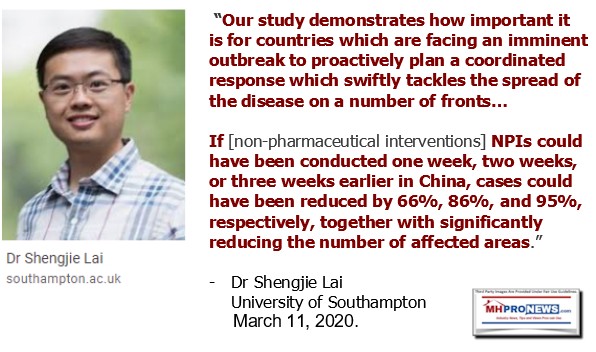 The CCP Virus has impacted the economies of dozens of nations, including China's. But with so many supply chains originating in China, they stand to profitably recover more rapidly than other nations. Military moves by China signal that they have more than economic, health, and financial power. The madness of leaders of both major parties trusting or allowing the Chinese regime to continue to grow has been made manifest.
Big firms are better positioned to weather the storm than smaller firms are. The Trump Administration and Congress have de facto acknowledged that with hundreds of billions of dollars being made available in Paycheck Protection Program (PPP) loans by the Small Business Administration (SBA) through the CARES Act. That and the Economic Injury Disaster Loan (EIDL) SBA program will help many businesses survive. But as yet untold number of other smaller firms clearly will fail, that may have been successful for years prior to this pandemic.
Multiple trillion-dollar lawsuits have been filed by attorneys in states like California, Texas and Florida seeking damages from China for the harm done. That won't be an easy process, but it signals the pressure that lawmakers, public officials and law enforcement in the various states and the federal government will feel to act when possible.
But is enough attention being focused on who else funds WHO? Did Gates and allies like Buffett weaponize the pandemic to profit and reduce competitors under the cover of this crisis?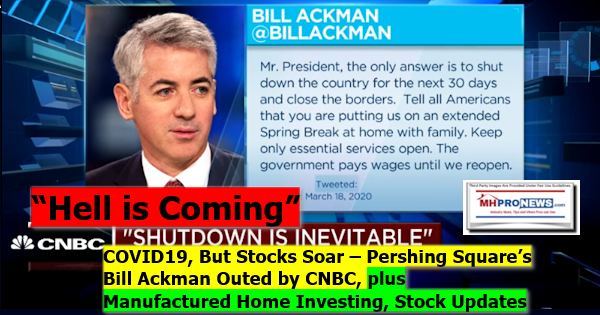 The evidence for that must be developed. But there are indications found in linked reports that it may be possible, perhaps even likely.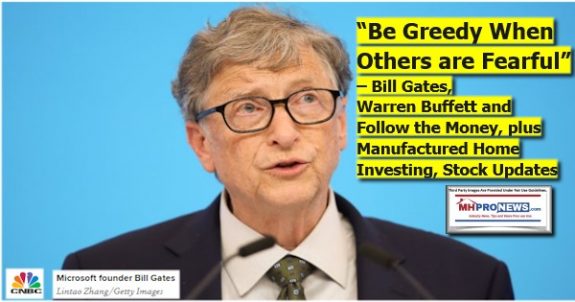 Certain federal and state officials have reportedly already launched probes into Buffett-style manipulation of the manufactured home industry. But for those who have not yet started Buffett, his foundations, Berkshire Hathaway business practices in and beyond our industry – along with allies like Gates – should be asking the investigators question. Cui bono? Who benefits?
Pre-COVID19, there was an estimated 1.5 to 2.5 trillion in cash or liquid assets available for acquisitions. Buffett-led Berkshire alone had some $128 billion available for bargain buys that might become available.

Investigators should also follow the money trail. Bill Ackman is a known example of an investor in Berkshire who has already cashed in during the pandemic. There are GOP and Democratic lawmakers or their family members who apparently took advantage of the pandemic. There is a partisan media that makes discerning facts from fiction more difficult, as AEI Housing Policy Director Pinto's op-ed makes clear.
There were those in MHVille that took shots privately and publicly for raising concerns about these issues very early on in this COVID19 outbreak. Some took cheap shots for minor concerns like the options for terminology – e.g.: China virus – as if virtue signaling is the most important issue of the day. Posturing shouldn't be the focus, understanding how companies and certain leaders behaved during this crisis are of central concern. Has the pandemic been an awaited opportunity for a giant discounted assets grab?
While it is possible that Gates, Buffett and others have clean hands in this matter, the case can be made that their hands are already dirty. If so, then to what degree are they soiled?
When multiple individuals of some stature in the U.S. and abroad have raised concerns that connect to the Gates Foundation-WHO-China axis, isn't that reason enough to investigate to what degree this pandemic could become Gates-Gate?
As a former U.S. ambassador has said, this could be the biggest crime in world history. MHProNews warned weeks before that this was a potential money-grab, the biggest transfer of wealth – and thus power – that has ever taken place.
More on those issues, allegations and concerns are found in the related reports linked above and below the byline.
Given the clear impacts on our profession and others, this is a time to use a crisis to unmask those who manipulate markets and politics through money, NGOs, paltering and more. Just as criminal organizations can buy a legitimate business as a front, that process can work in reverse. A legitimate business can be used to generate mendacity that facilitates the aims of oligarchs and plutocrats politically, economically, socially and more.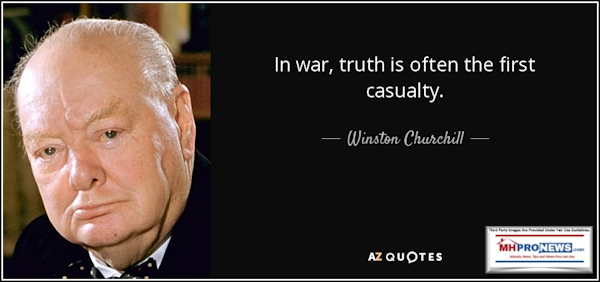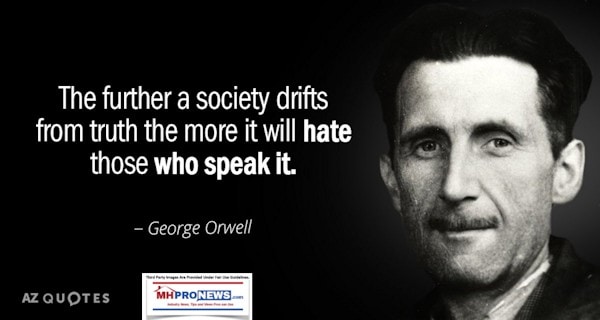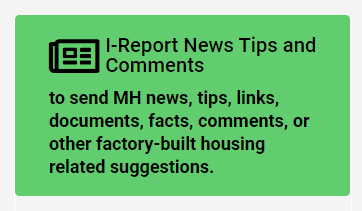 That's a wrap on this window into "News through the lens of manufactured homes and factory-built housing" © where – "We Provide, You Decide." © ## See Related Reports, further below. Note that text/image boxes often are hot-linked to other reports that can be access by clicking on them. Any third-party images and content are provided under fair use guidelines.)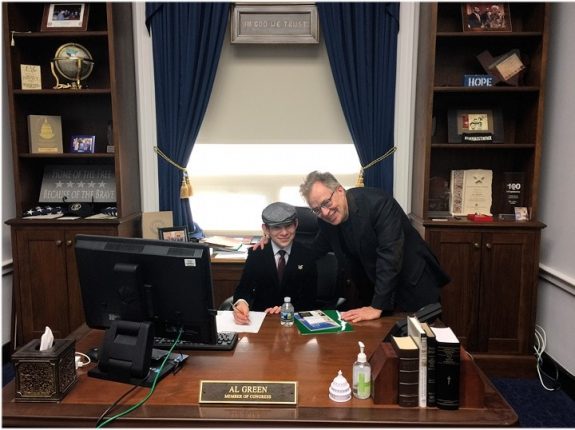 By L.A. "Tony" Kovach – for MHProNews.com.
Tony earned a journalism scholarship and was recognized with the prestigious Lottinville Award in history from the University of Oklahoma, where he also studied business management with a perfect 4.0 and made the Dean's List. Tony has earned multiple awards in manufactured housing and in history. He's a managing member of LifeStyle Factory Homes, LLC, the parent company to MHProNews, and MHLivingNews.com.
Office 863-213-4090 |Connect on LinkedIn: http://www.linkedin.com/in/latonykovach
Sign Up Today!
Click here to sign up in 5 seconds for the manufactured home industry's leading – and still growing – emailed headline news updates.
Related References:
The text/image boxes below are linked to other reports, which can be accessed by clicking on them.