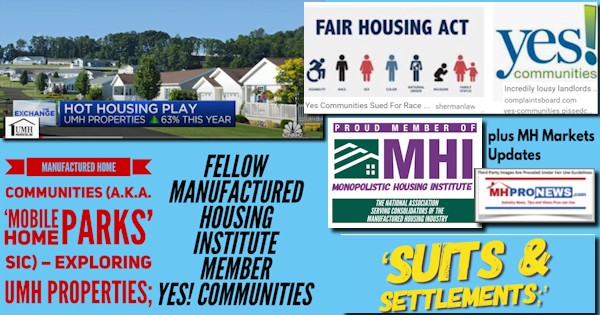 It is an open question if UMH Properties will continue down their relatively scandal free track that several of their other fellow Manufactured Housing Institute/National Communities Council (MHI-NCC) members have apparently travelled. This UMH Properties (NYSE:UMH) vs. Yes Communities comparison report should open the door to the discussion of what direction post-production organizations in manufactured housing – such as retailers, communities, installers, and transporters – should do for representation, because there are obvious differences between MHI members.  That will be briefly explored following a range of insights from various mainstream or financial media, lawsuits, and other reports in comparing 'UMH vs. Yes!'
In articles on Seeking Alpha, Zacks, or other similar equities focused platforms, UMH is often included due to their being part of the "red hot" interest in manufactured home REITs and manufactured home land-lease communities in general. Depending on the author/source, it rare if ever to see mentioned in such reports on manufactured housing land-lease properties that conventional residential housing in some parts of the U.S. are on land-lease too. Examples could be cited such as Hawaii or parts of the Chicago metro, the latter of which includes tracts of developments with million-dollar convention homes are on leased land. Commercial buildings are often constructed on leased land. Part of the troubling reality is that those non-manufactured housing examples could shed light on what ought to be preferred practices for our profession, but that is not the focus of this report.  It is mentioned just to raise awareness on often overlooked aspect of what could be simplified solutions to so-called complex issues, if only objectivity and long-term consumer, general public, and investor interests were kept top of mind.
While UMH has had its run-in with other community operators in New York (for example) on rent to own issues, and is periodically mentioned by MHAction, compared to other MHI members, an apparent anecdotal case can be made that UMH seems to have largely avoided the claims of predatory behavior. No doubt they have positioned themselves to benefit from the consolidation pattern that several MHI/NCC members have arguably exhibited. But the fact that they are exploring more greenfield developments and seek to lack the ongoing or more regular negative media that Flagship/SSK Communities, RHP Properties, Frank Rolfe and Dave Reynolds Impact Communities/RV Horizons history, and current uproars and legal issues involving other MHI members all ought to be compared when UMH is considered.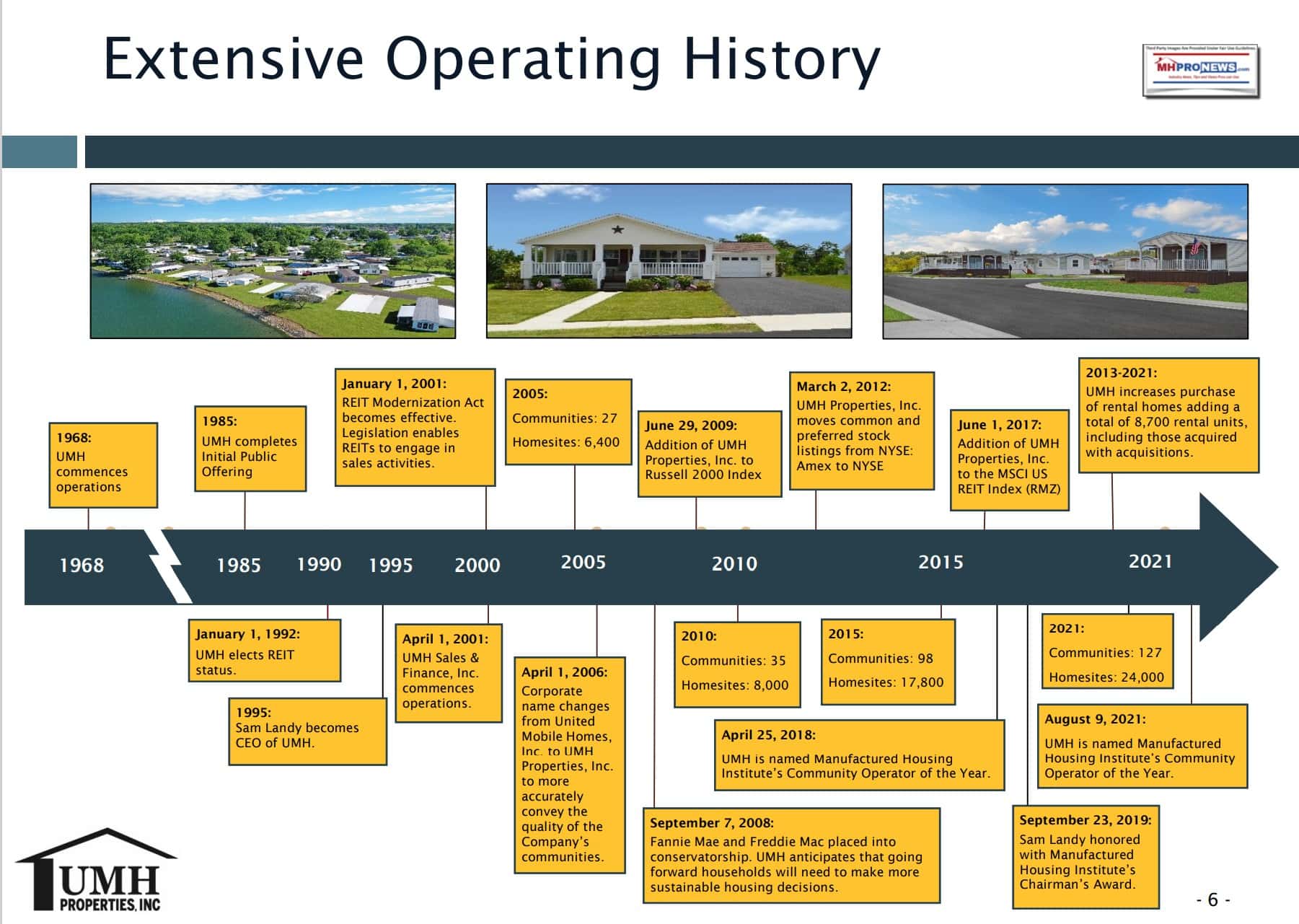 MHProNews and MHLivingNews has stressed that not every MHI member fits the claim of "predatory" behavior.
Also, some big MHI brands have had team members tipping MHProNews with insider insights that have served to demonstrate that not all of the 'black hat brands' necessarily have a bunch of dark hearted team members. There are fine people trying to navigate the troubling realities of their 'black hat' firm.
Meaning, facts should be driven on a company-by-company evaluation basis that avoids lumping in the innocent with the guilty.
However, that also means that the MHI 'awards' – which have all too often gone to firm's with an apparently problematic pattern of behavior that violates the MHI/NCC Code of professional/ethical conduct should not be considered as a measure of apparently pro-consumer behavior. To learn more, see the report linked below.
File Under "You Can't Make This Up" – Wacky Wednesday Explores Manufactured Housing Institute (MHI) Excellence Award-Winners and their Legal Challenges, plus MHMarkets Updates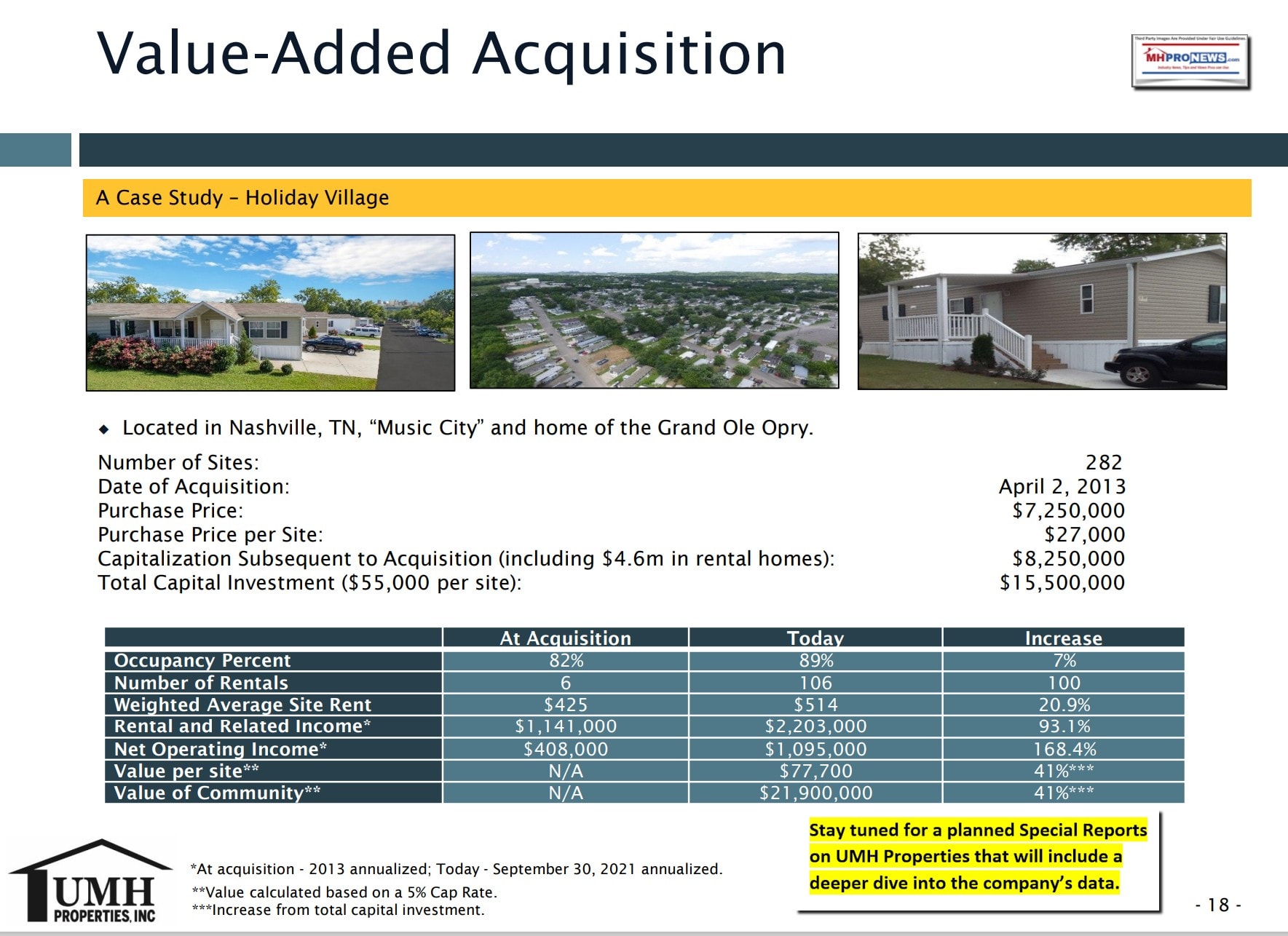 That backdrop should frame the following on UMH. It will proceed a partial list of recent suits and a settlement announced by a local news station between MHI award winner Yes! Communities and a troubling case of a longtime senior resident.
Lawsuit Charges Harm by Giant Mosaic, Yes Manufactured Home Community Operator/Developer, plus Manufactured Home Investing, Stock Updates
Before turning to a more recent report on UMH Properties, MHProNews will jump back to last December 9, 2021.  A press release that included UMH Properties included the following.
Per Globe Newswire on December 09, 2021 08:00 ET:  – "UMH Properties, Inc. (NYSE: UMH) today announced that it has entered into a joint venture with Nuveen Real Estate, a TIAA company. [MHProNews note: TIAA is: The Teachers Insurance and Annuity Association of America-College Retirement Equities Fund, is a Fortune 100 financial services organization that is the leading provider of financial services in the academic, research, medical, cultural and governmental fields, per Wikipedia.] The purpose of the joint venture is the greenfield development or acquisition of new manufactured housing communities with an initial capital commitment of up to $170 million. UMH will have a 40% stake in the Joint Venture and serve as the managing member and operating member of the joint venture. UMH will earn customary fees associated with property and asset management.
Samuel A. Landy, President and Chief Executive Officer, commented "UMH is excited to announce this partnership. We have long been advocates for the development of new communities and are pleased to have found a partner who understands and shares our vision. This joint venture gives us the financial capacity to develop and acquire new manufactured housing communities, creating long-term shareholder value while limiting the short-term impact on our FFO during construction and lease-up."
Mr. Landy continued "Nuveen has an in depth understanding of our company, our industry, and the real estate market. We are excited to work with them to continue our mission of providing the country with a much-needed supply of affordable housing. Our country needs at least 5.5 million new homes to keep pace with demand, with that number increasing to 6.8 million when considering obsolescence. Through this joint venture, UMH and Nuveen Real Estate intend to make significant investments in developing and acquiring new communities to help to ease the affordable housing crisis.
"UMH will also have the right to purchase these communities from the Joint Venture after a certain period of time which should lead to a high-quality acquisition pipeline."
UMH has entered into agreements to acquire three to-be-built communities that will contain 804 sites in Florida for a total purchase price of approximately $90 million. These three communities will all be considered for the Joint Venture. The first community contains 219 sites and has an approximate purchase price of $23 million. This acquisition is expected to close by January 2022. UMH is also looking at several other deals that fits the Joint Venture's investment criteria that will be considered as potential acquisition opportunities for the Joint Venture.
UMH Properties, Inc., which was organized in 1968, is a public equity REIT that owns and operates 127 manufactured home communities containing approximately 24,000 developed homesites. These communities are located in New Jersey, New York, Ohio, Pennsylvania, Tennessee, Indiana, Michigan, Maryland, Alabama and South Carolina." ##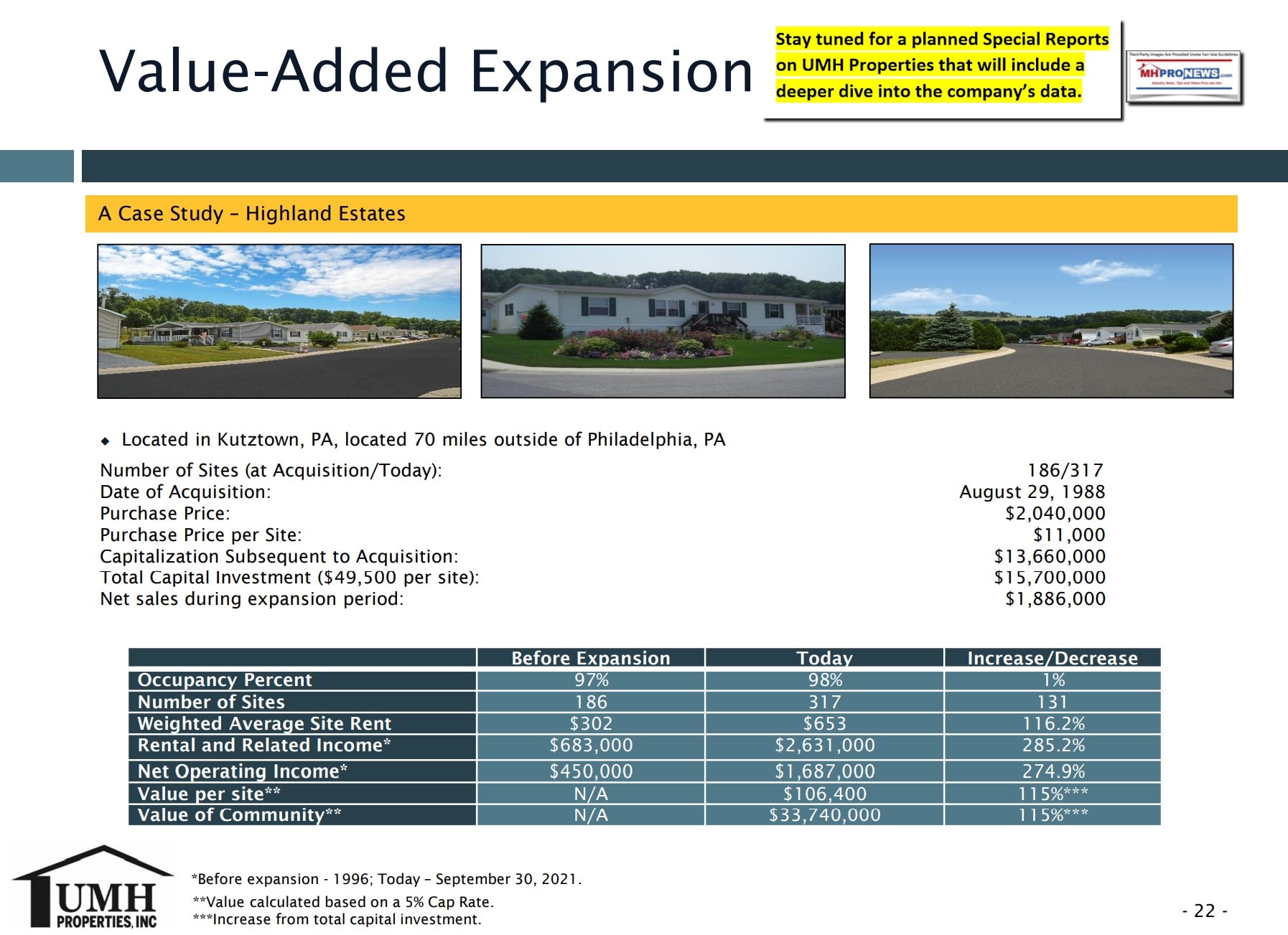 Paul Bergeron with GlobeSt made the following observations the day after that UMH press release, shown above.
UMH Properties, Nuveen Enter into Manufactured Housing JV
By Paul Bergeron | December 10, 2021 at 07:05 AM
UMH Properties and Nuveen Real Estate have entered into a joint venture agreement to pursue greenfield development or acquisitions of new manufactured housing communities. It is launching with an initial capital commitment of $170 million
UMH will have a 40% stake in the JV and serve as the managing member and operating member.
The REIT will also have the right to purchase these communities from the JV after a certain period of time, "which should lead to a high-quality acquisition pipeline," CEO Samuel A. Landy said in prepared remarks.
Manufactured Housing Valuations at All-Time High
Valuations for manufactured housing communities hit an all-time high in the second quarter, buoyed by a surge in activity by institutional investors flooding the space.
Early Q3 data shows that transaction volume has reached the highest trailing four-quarter level on record at $4.5 billion, and research from JLL suggests occupancy and rent will grow at a similar rate as demand for affordable housing continues apace.
Not surprisingly, institutional investors are flocking to manufactured housing assets as deal activity in the niche sector picks up speed.
UMH Invests in Florida Communities
UMH has entered into agreements to acquire three to-be-built communities that will contain 804 sites in Florida for a total purchase price of approximately $90 million. [MHProNews note: That would work out to be some $111,940.30 per home site ($90,000,000/804 = $111,940.30), but lacking more details there are several factors that could make the actual homesite development cost effectively lower, an item to watch).
…
UMH to Help US Meet Demand
Landy notes that the US needs at least 5.5 million new homes to keep pace with demand, with that number increasing to 6.8 million when considering obsolescence. …" Note that Landy cited a higher figure than Freddie Mac did, and more in line with data supplied by MHProNews in prior reports, such as the one linked here.
$48.61 Million in Sales Expected for UMH Properties, Inc. (NYSE:UMH) This Quarter
WEDNESDAY, FEBRUARY 9, 2022 | MARKETBEAT
Equities research analysts forecast that UMH Properties, Inc. (NYSE:UMH) will announce sales of $48.61 million for the current quarter, according to Zacks. Two analysts have provided estimates for UMH Properties' earnings, with the highest sales estimate coming in at $49.80 million and the lowest estimate coming in at $47.41 million. UMH Properties posted sales of $42.83 million during the same quarter last year, which suggests a positive year-over-year growth rate of 13.5%. The company is expected to issue its next earnings report after the market closes on Thursday, February 24th.
On average, analysts expect that UMH Properties will report full-year sales of $188.72 million for the current fiscal year, with estimates ranging from $187.53 million to $189.90 million. For the next fiscal year, analysts forecast that the company will post sales of $195.67 million, with estimates ranging from $191.10 million to $200.24 million. Zacks' sales averages are an average based on a survey of sell-side research analysts that cover UMH Properties.
UMH has been the subject of a number of recent research reports. Colliers Securities initiated coverage on shares of UMH Properties in a research note on Wednesday, January 19th. They issued a "neutral" rating and a $26.00 price target for the company. Zacks Investment Research downgraded shares of UMH Properties from a "hold" rating to a "sell" rating in a research note on Friday, January 7th. TheStreet downgraded shares of UMH Properties from a "b-" rating to a "c" rating in a research note on Monday, November 29th. Finally, Aegis lifted their price target on shares of UMH Properties from $27.00 to $30.00 and gave the stock a "buy" rating in a research note on Thursday, November 4th. One research analyst has rated the stock with a sell rating, one has assigned a hold rating and three have assigned a buy rating to the stock. According to MarketBeat, UMH Properties currently has an average rating of "Hold" and a consensus target price of $26.30.
In other UMH Properties news, Director Steven B. Wolgin sold 2,000 shares of the business's stock in a transaction on Monday, November 15th. The shares were sold at an average price of $22.92, for a total value of $45,840.00. The sale was disclosed in a legal filing with the SEC, which is available through this link. Insiders own 10.95% of the company's stock.
Hedge funds and other institutional investors have recently modified their holdings of the business. Advisory Services Network LLC purchased a new stake in shares of UMH Properties during the 2nd quarter worth $83,000. Signaturefd LLC boosted its position in shares of UMH Properties by 1,234.6% during the 3rd quarter. Signaturefd LLC now owns 6,486 shares of the real estate investment trust's stock worth $149,000 after purchasing an additional 6,000 shares in the last quarter. Zurcher Kantonalbank Zurich Cantonalbank boosted its position in shares of UMH Properties by 97.3% during the 4th quarter. Zurcher Kantonalbank Zurich Cantonalbank now owns 7,509 shares of the real estate investment trust's stock worth $205,000 after purchasing an additional 3,703 shares in the last quarter. Comerica Bank purchased a new stake in shares of UMH Properties during the 3rd quarter worth $208,000. Finally, National Asset Management Inc. purchased a new stake in shares of UMH Properties during the 3rd quarter worth $201,000. Institutional investors own 64.07% of the company's stock.
Shares of UMH opened at $23.11 on Wednesday. The firm has a 50-day simple moving average of $24.64 and a two-hundred day simple moving average of $23.96. The company has a debt-to-equity ratio of 2.45, a current ratio of 6.53 and a quick ratio of 6.53. UMH Properties has a 1-year low of $15.98 and a 1-year high of $27.50. The stock has a market cap of $1.13 billion, a PE ratio of 35.55, a P/E/G ratio of 4.78 and a beta of 1.13.
The company also recently disclosed a quarterly dividend, which will be paid on Tuesday, March 15th. Shareholders of record on Tuesday, February 15th will be paid a $0.20 dividend. This is a boost from UMH Properties's previous quarterly dividend of $0.19. This represents a $0.80 annualized dividend and a yield of 3.46%. The ex-dividend date is Monday, February 14th. UMH Properties's payout ratio is currently 116.92%.
UMH Properties Company Profile
UMH Properties, Inc operates as a real estate investment trust. It engages in the ownership and operation of manufactured home communities. The firm also leases manufactured home sites to private manufactured home owners. It designs accommodate detached, single-family manufactured homes which are produced off-site by manufacturers and installed on sites within the communities. ##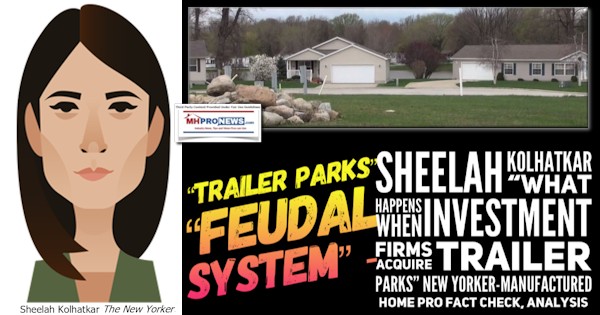 As noted, UMH Properties has apparently avoided several of the scandals that others involved with MHI and/or an MHI state affiliate have attracted. Samuel "Sam" Landy has previously stated to MHProNews that creating resident ire is not a good business model. While others have said as much, Landy-led UMH appears to have thus far seemingly lived up to that statement. Two mainstream videos featuring Sam Landy shedding added light are as follows.
For another take on what Landy said about HUD Secretary Fudge, which would shed a different light on that part of his statement, see the report linked below. Note that while the analysis in the report below is that of MHProNews, the source for the statements are Fudge herself via CSPAN video and the related transcript.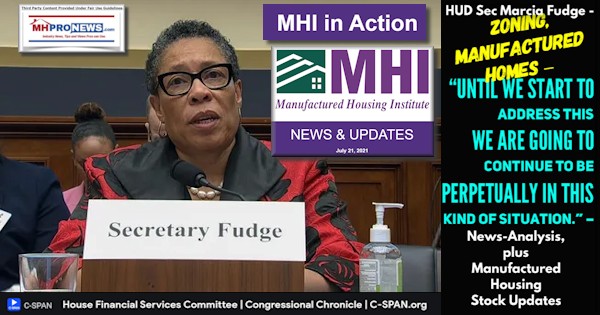 Comparting UMH to other brands in their stirring up resident, media, public official's ire – Starting with Yes! Communities, featured in a recent reports, shown below.
 Let's note the report by MHLivingNews, linked below.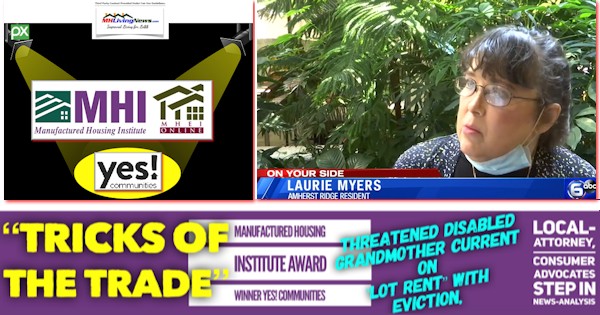 Then this from Knoxville metro based ABC 6/WATE News.
"Knoxville grandmother hopes her settlement helps others in mobile home park"
For one Knoxville grandmother, the new year began with a new lease on her home that has lifted her spirit. More than three months ago, she was about to be evicted from the community where she rents a lot for her trailer.
Now, an agreement has been hammered out between Amherst Ridge and Laurie Myers. The mutual agreement avoids a potential dispute between the two sides.
…
In mid-September, Myers was about to be evicted from her home in the mobile home park where she had lived for 18 years. In June of 2021, a notice was left on the windshield of her car warning her to complete several home repairs because she violated YES Communities Guidelines for Community Living.
Her grass was too high, her porch was cluttered, the roof to her home needed to be sealed plus, other cosmetic issues. She tried, but apparently, repairs were not completed fast enough. So, last August she was served a warrant to appear in court, she was being evicted." ##
That report linked a prior ABC 6 report, which included the following.
Disabled Knoxville grandmother wins eviction case | WATE 6 On Your Side
https://www.wate.com/investigations/disabled-knoxville-grandmother-wins-eviction-case/
Many East Tennesseans were eager to come to Myers' aid when we first reported her predicament with the mobile home park she's been at for 18 years. She's owned her trailer since 2003, never missed a payment, doesn't cause any trouble, but last month an eviction notice arrived. When the 60-year-old's health started failing, she couldn't keep up her place and ended up in violation of park rules.
Knoxville's Community Action Committee stepped in and provided an attorney to represent her in court." … ##
A quick check of legal actions against Yes! included the following.
Per Pacer Monitor
Lynch v. YES Management, LLC et al
A NOTICE of Settlement in Principal and Motion to Stay Case by Defendants YES Communities, LLC, YES Management, LLC (Rust, Laurie) occurred on January 19, 2021 per that source.
Sherman Law posted the following case of alleged discrimination against Yes! Communities on 10.26.2021.
Kansas City, Kansas (October 26, 2021)
Heather Miller, a single mother of a bi-racial boy, filed suit against Yes Communities in Kansas Federal Court for racial discrimination.  Ms. Miller's son was using the community pool as other neighborhood children were, was called a "colored boy" by the property manager and wrongfully expelled from the pool on June 15, 2021.  
Yes! Communities and Yes Management LLC operate mobile home communities across the United States. Yes Communities is owned by Stockbridge Capital Groupa real estate private investment firm based in San Francisco, California. In 2020, Stockbridge had over $16 billion in assets under management, and Yes Communities reported over $2 billion in sales in 2021.
In May 2019, Yes Communities was awarded the Manufactured Home Community Operator of the Year award by the Manufactured Housing Institute (the industry's primary trade group) for the tenth consecutive year.  Stockbridge promotes on its website ideals of social responsibility and concern for the priority of their residents, presumably to include Heather Miller's son.  However, no one from Yes Communities or Stockbridge has ever reached out to Heather Miller to discuss the treatment of her son, and the real life consequences of their actions.  The good deeds and awards touted on their websites is clearly not representative of what is really going on at ground level in Kansas.
Yes Communities appeals to single parents like Heather Miller because the community provides the feel of a real neighborhood without the costs of true home ownership.  Heather Miller and her 8 year old son currently live in Yes! Communities Santa Barbara Estates located in Olathe, Kansas.  Ms. Miller bought a mobile home in October 2020 through Yes and signed a one year lot lease.  She was excited to provide a home for her son where he could play outside and swim in a safe and family friendly environment.  This was their first home and she started work and improvements on the home right away.
On June 15, 2021, Ms. Miller's son was swimming in the community pool with other community neighbors.  He was taken to the pool by Ms. Miller's brother who was watching him while she worked.  The Yes property manager, Sharon Shyrock, came out to the pool area and demanded that her son leave the pool. It is alleged that the property manager referred to the young boy as "colored" and yelled, in the presence of everyone, that he wasn't supposed to be in the pool.  He was pointed out and told that he was banned from the pool.  The Yes manager claimed, within earshot of everyone present, that his mother was late on rent and that her pool privileges were suspended.  Ms. Miller was not late on her rent and in fact was overpaid by many months.
Ms. Miller's son ran home and reported the incident to his mother.   Ms. Miller was horrified to learn how her son was treated.  Ms. Miller's son has an emotional disorder, known as mood disruptive mood deregulation disorder (DMDD), that makes it difficult for him to process difficult emotions. He also has sensory processing disorder making him vulnerable to conflict, stress, and yelling. Ms. Miller describes her son as a wonderful boy, full of life, and love for everyone he meets.  Ms. Miller never expected such an event at the normally tranquil community pool and feels guilty for putting her son in an environment where he would be deliberately humiliated and disciplined for his color.  Her son doesn't have the coping skills at age 8 to process these emotions. A child without the issues of her son would likely have trouble processing these emotions.
Ms. Miller took her son in for a psychiatric evaluation following this event due to mood and behavior changes.  He received treatment and medication adjustments to assist him in processing his emotions.  Ms. Miller is deeply concerned for her son's mental wellbeing and is also concerned for his safety.  Yes Communities and the property managers, Sharon and Kevin Shyrock, deny that Ms. Miller's son was called a "colored boy" or was asked to leave the pool.  No one from Yes or Stockbridge has ever accepted any responsibility. The property managers still work for Yes Communities and it is unknown whether any disciplinary action was taken against them.
Ms. Miller brought this case against Yes Communities and the property managers under the Fair Housing Act, which is a federal law that prohibits companies and individuals from discriminating against anyone in housing based upon race or familial status.  Under the federal law, it is unlawful to discriminate against any person in the terms, conditions, or privileges of sale or rental of a dwelling, or in the provision of services or facilities in connection therewith, because of race, color, religion, sex, familial status, or national origin. 42 U.S.C. § 3604 (b).   This case falls under the Federal Housing Act because, as alleged, Yes Communities and the Shyrocks interfered with the Millers' rights to fair housing based on race, including use and access to the community pool that is included in their lease.  Ms. Miller's son was not expelled from the pool because his mother was behind on rent – that was a ruse to get the boy out of the pool. The Fair Housing Act expressly prohibits this type of unlawful conduct and provides an avenue for aggrieved persons such as the Millers to seek civil justice for such unlawful acts including actual and punitive damages, attorney's fees, and case costs.
For Ms. Miller, this is an important case for her son and other similarly situated families that are routinely targeted and humiliated but choose to be quiet for fear of retaliation. She hopes that Yes Communities and the Shyrocks will be held accountable and that the company will implement mandatory diversity training to prevent this type of conduct against minorities.  Yes! Communities is denying the manager's conduct and is instead blaming what happened on the minor child.  Other witnesses have come forward and submitted statements.
A complaint against Yes Communities and the Shyrocks was also filed with the U.S. Department of Housing and Urban Development (HUD) for investigation by the Justice Department.  The Justice Department will investigate discrimination in housing claims and may step into the litigation depending on the severity of the circumstances and/or whether there is a pattern and practice of discrimination by the housing community.  Ms. Miller has been very vocal about her son's experience in hopes to inspire others to come forward.
The Fair Housing Act is not a law that is widely known; but fortunately it has real consequences to punish similar bad acts which isolate, ridicule, and humiliate protected minorities. Since bringing this action, Ms. Miller has become aware of other similar incidents in the Yes Community, however, the residents are afraid to make a complaint for fear of retaliation.
Sherman Law investigates and prosecutes housing discrimination claims across the country.   Your consultation is private and confidential. There is no fee, unless there is a recovery. Take ACTION now before its too late.  Statute of limitations apply to your potential claim.  … ##
That case pleadings are linked here.
7 days ago, Pissed Consumer posted the following consumer complaint against Yes, which they say has a 1.4 star average rating out of a possible 5 stars at this time. Typos in the resident comments below are in the original.
1.4 39 rated reviews

One of those recent resident reviews begins as follows: "Bad management"
Jan 24, 2022
these people dont return your phone calls don't fix nothing and if they do its *** they seem to hire cheap labors who do a *** job on everything.. they hire these sorry people like the lawn care people who dont even mow half the yard. I wish i could rate 0 stars cuz that's what i think of yall!!!! I'm not even going to get into the hole they put in the floor over a week ago and havent bothered coming back to fix it but they sure want their rent on time User's recommendation: i would not recommend buying or renting nothing from yes communities …"
Two of the videos form residents with complaints about MHI award-winning Yes! Communities are as follows.
This is far from a complete set of concerns tied to MHI 'award winner' Yes! Communities, but begins to paint a picture. In fairness to Yes!, they tout their various feel-good sounding programs as well part of their image pitch that includes MHI awards.
MHProNews doesn't speak for Pissed Consumer. That said, it is our understanding that consumer complaints to that consumer resource firm can involve giving the firm complained against an opportunity to respond and/or resolve the problem. That said, a lack of response can be understood as problematic by consumers and/or white hat brands in manufactured housing that want to operate in an ethical fashion.
Routine MHI water-carrier MHInsider – which connects its dots to MHI corporate and staff leadership in their own publication – began under the leadership of Darren Krolewski, who has gone that onto becoming that publication's parent platform – MHVillage – is now MHVillage's co-president. Before their blog morphed into apparently fluffing and pro-MHI MHInsider, Krolewski made the plain statement to MHProNews that part of the problem limiting manufactured housing is far more common bad news reports about manufactured housing than good news.  That may be fair enough. But then note that another bad-news magnet and higher profile MHI/NCC member is Frank Rolfe. Rolfe ripped MHI more than once for not sticking up for manufactured housing by responding to bad news and proclaiming good news. Setting the source's own problematic business practices aside, that's fair enough too.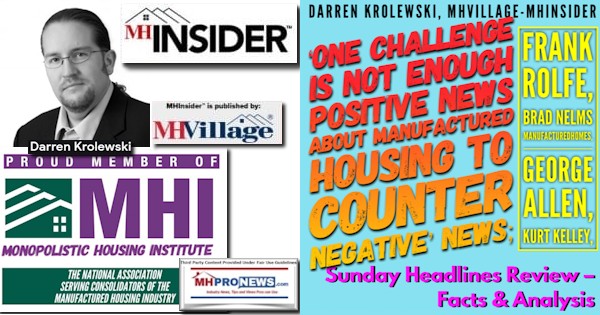 Former MHI chairman, and still MHI board member Tim Williams, President and CEO of Berkshire Hathaway owned 21st Mortgage, strongly indicated that MHI's planned hire (since executed) of a professional media relations professional would address precisely those concerns that voices like Rolfe, Krolewski, and others – inside and outside of MHI – have expressed.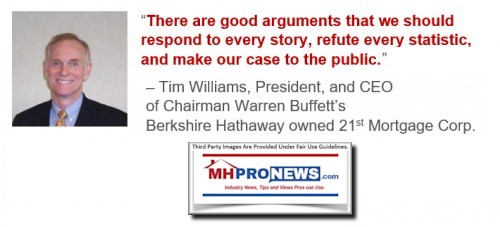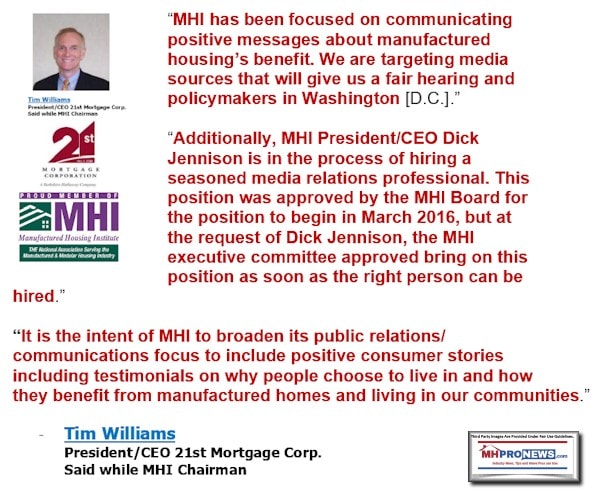 While it would be unfair to say that all problematic roads to bad behavior in manufactured housing lead back to MHI, it is apparently a reasonable place to start. See the related reports linked below to learn more.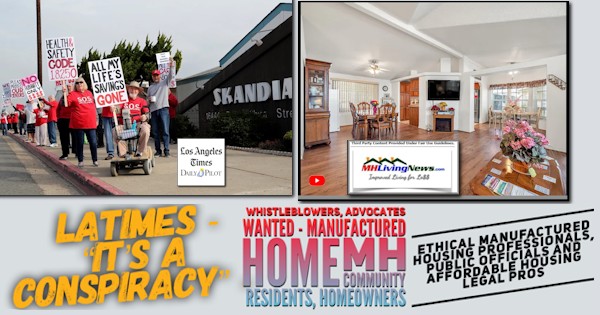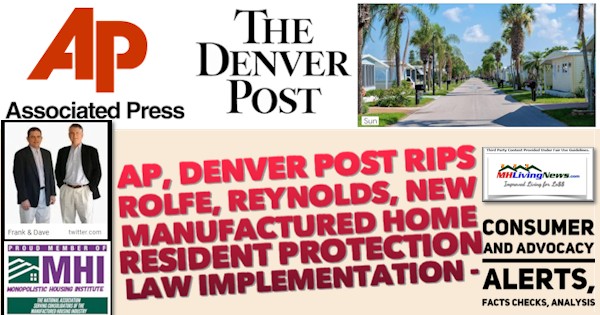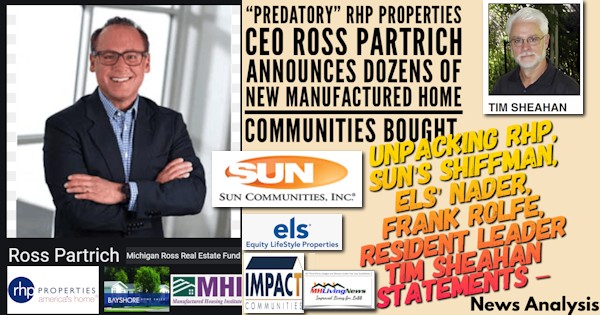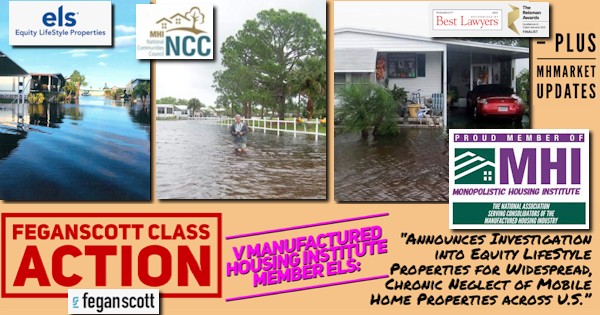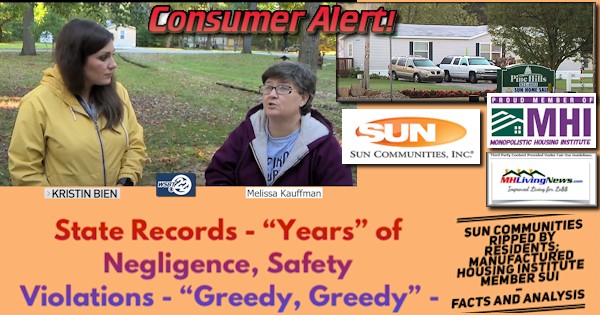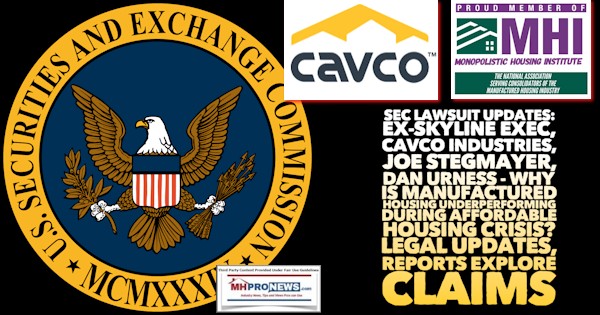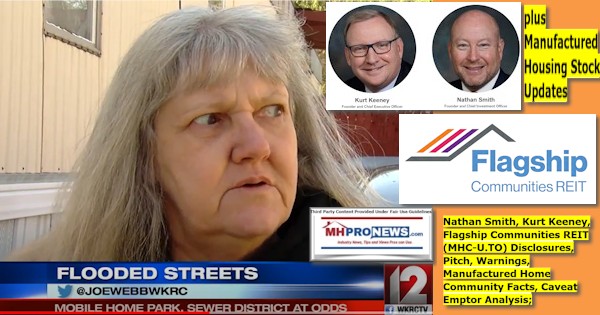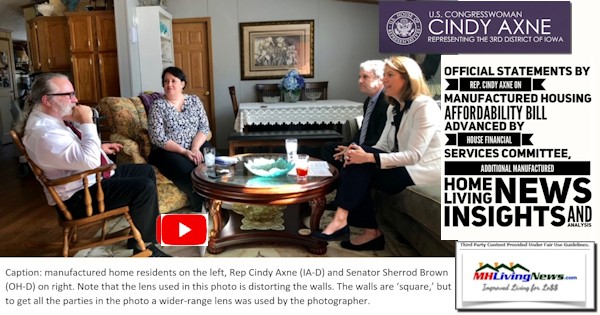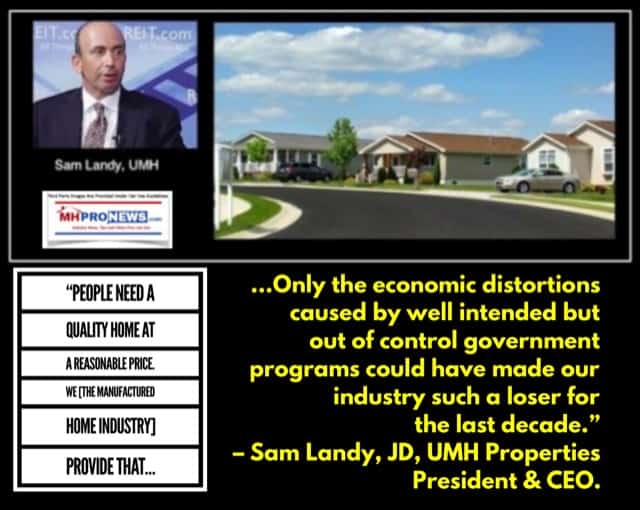 Next up is our daily business news recap of yesterday evening's market report, related left-right headlines, and manufactured housing connected equities.
The Business Daily Manufactured Home Industry Connected Stock Market Updates.  Plus, Market Moving Left (CNN) – Right (Newsmax) Headlines Snapshot. While the layout of this daily business report has been evolving over time, several elements of the basic concepts used previously are still the same. For instance. The headlines that follow below can be reviewed at a glance to save time while providing insights across the left-right media divide. Additionally, those headlines often provide clues as to possible 'market-moving' news items.
Market Indicator Closing Summaries – Yahoo Finance Closing Tickers on MHProNews…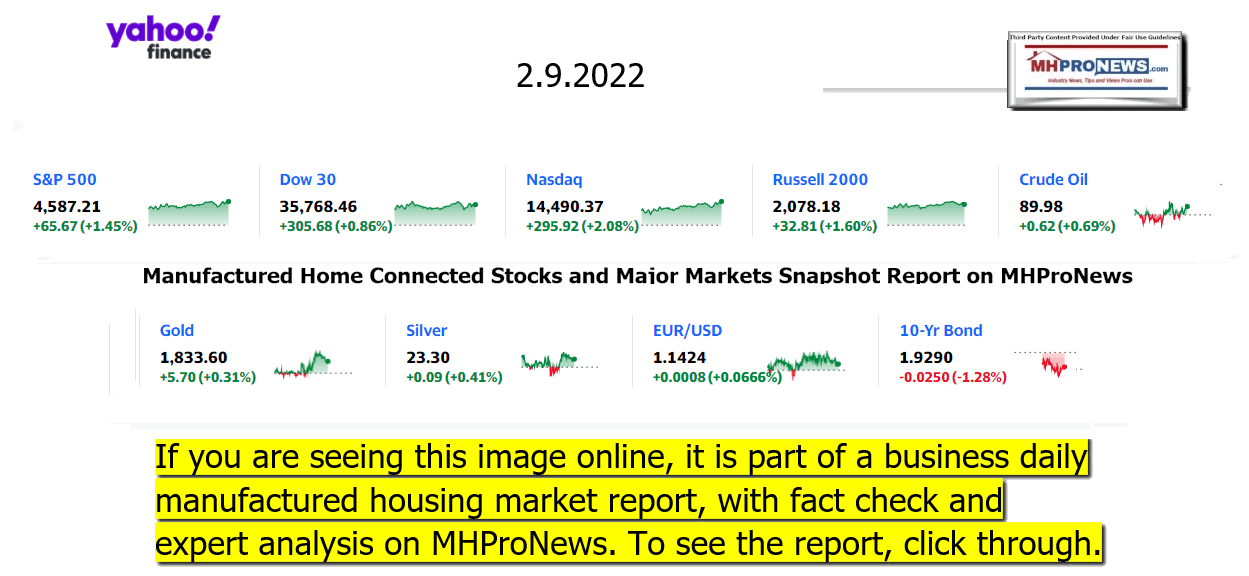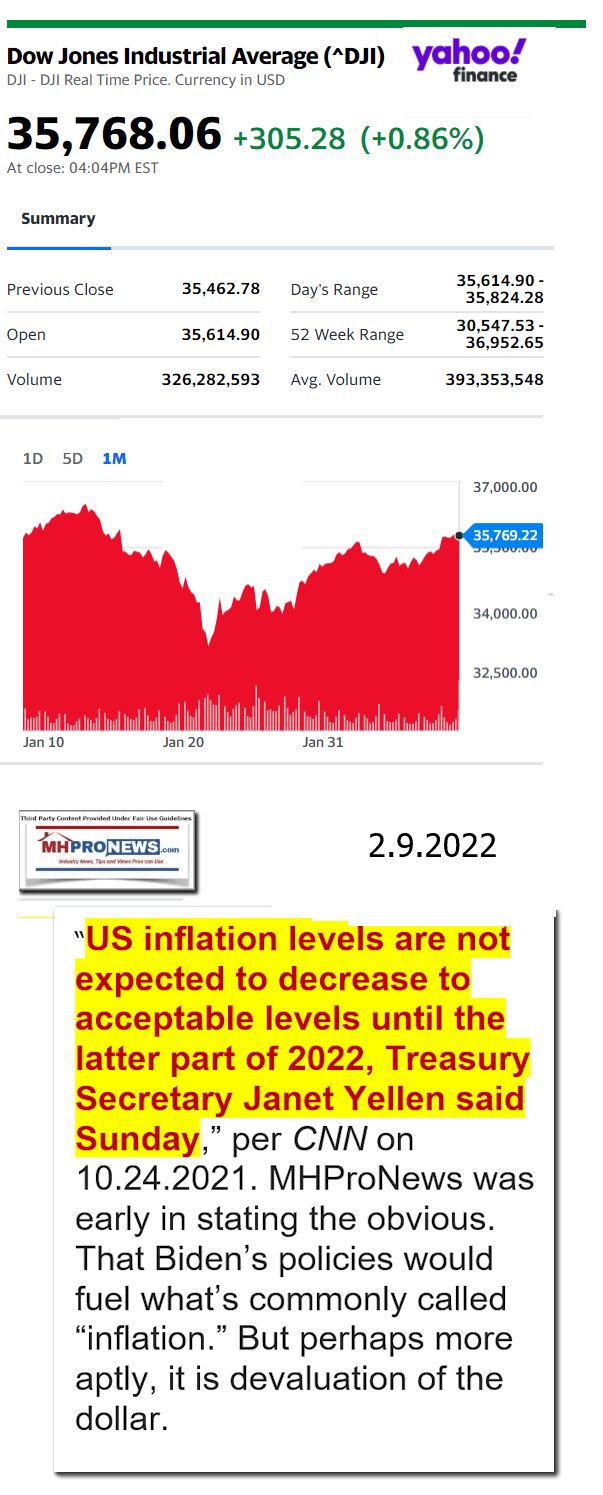 Headlines from left-of-center CNN Business – from the evening of 2.9.2022
What's the big secret?
People fill out job applications at the U.S. post office in Garden Grove, CA on Tuesday, January 4, 2022. The post office is holding job fairs as part of "Delivering for America", a 10-year plan started in 2020 by the USPS to improve operations, provide better service and improve delivery times. They are investing $40 billion over ten years in personnel and infrastructure.
Here's what happens when salary is actually included in job listings
Oil could 'easily' hit $120 if Russia-Ukraine crisis escalates, JPMorgan warns
Manufacturing CEO: 'Demand isn't our problem. Keeping up with it is'
Fast food prices are jumping. They could go even higher
Here's when McDonald's is bringing back the Shamrock Shake
Netflix got slammed by Wall Street. Is Disney next?
Peter Thiel is backing a new generation of Trump-aligned Republicans
Microsoft tries to win over regulators for its massive Activision Blizzard deal
Feds arrest a New York couple and seize $3.6 billion in stolen crypto
Web traffic to Spotify's cancellation page spikes
Goodbye Samsung Galaxy Note. Hello Galaxy S22 Ultra
SpaceX will lose up to 40 satellites it just launched due to a solar storm
Your Super Bowl party will be much more expensive this year
Content by The Ascent
A slam dunk if you need a balance transfer (21 months)
Aerial view of containers piled at the Port of Los Angeles on January 19, 2022 in San Pedro, California.
Maersk CEO sees more supply chain trouble ahead
Welcome to the crypto Super Bowl
Alfa Romeo's new SUV holds its hopes in the US
ELECTRIC VEHICLES
Why Elon Musk and Joe Biden both love EVs but can't stand each other
GM's robotaxis are only coming out after dark
Next up: Wireless charging for your car
Sony explores steering into EV market
Tesla got a subpoena from US government 10 days after Elon Musk's Twitter poll
TECH
Facebook CEO Mark Zuckerberg introduces the new Oculus Quest as he delivers the opening keynote at the Facebook F8 Conference at McEnery Convention Center in San Jose, California on April 30, 2019.
Facebook has overhauled its business before. This time will be harder
Peter Thiel to step down from Facebook's board
The biggest chip deal in history has fallen apart
Nintendo Switch tops lifetime sales of Wii console
Relativity is 3D printing rockets and raising billions. Will its technology work?
Headlines from right-of-center Newsmax – evening of 2.9.2022
Masks Should Still Be Worn in Schools, Despite State Rollbacks: WH
Students and teachers should continue to wear masks to prevent the spread of COVID-19 in schools, even as states lift mask mandates, White House press secretary Jen Psaki said Wednesday. The White House is under pressure to relax mandates. [Full Story]
Related Stories
Dem-Led States Ease COVID Rules, Forcing Biden to Rethink Mandates
New York Gov. Hochul Lifts Mask Mandate – Except for Schools
Canadian Provinces Lift COVID Restrictions, Protests Remain
CDC Stands by K-12 School Masking Guidance as States Relax Rules
Ukraine in Crisis
Russia Continues to Send Forces to Ukraine Border: Pentagon
Russia Calls Report of Ukrainian Missile System Request 'Provocation'
US Lawmakers Closer to Agreement on Russia Sanctions Bill: Schumer
Macron: Putin Told Me Russia Won't Escalate Ukraine Crisis
6 Russian Warships Heading to Black Sea for Drills
Kremlin Denies Putin Promised No Maneuvers Near Ukraine
Putin Says Ready for Compromise after Talks with Macron on Ukraine
More Ukraine in Crisis
Newsmax TV
Marshall: Pelosi's Investments 'Tip of the Iceberg"
South Dakota Gov. Noem to Newsmax: No White House Ambitions in 2024
Buck: 'Blue States Are Feeling Pressure' | video
Guthrie: Further Controls Needed to Stop Illicit Fentanyl | video
Oz to Newsmax: I'm Listening to Pennsylvanians
T. McFarland: Putin Doesn't Want War to Get What He Wants | video
Hartzler: Feds Should Investigate GoFundMe and Its Practices
More Newsmax TV
Newsfront
WH's Psaki: Crack Pipes Never Part of 'Safe Smoking Kits'
The Biden administration denied media reports saying the federal government was sending out "safe smoking kits" that included crack pipes…. [Full Story]
Masks Should Still be Worn in Schools, Despite State Changes: White House
Students and teachers should continue to wear masks to prevent the [Full Story]
Trump: McConnell 'Does Not Speak for the Republican Party'
Former President Donald Trump directed more vitriol at Mitch [Full Story]
McConnell Laughs Off Trump 'Old Crow' Nickname
McConnell Condemns Jan. 6 as 'Violent Insurrection' in Break With RNC
12 US Cities Broke Annual Homicide Records During Deadly 2021
Amid a nationwide uptick in violence, a dozen major U.S. cities [Full Story] | Platinum Article
Texas AG Paxton Launches Investigation Into GoFundMe's Practices
Texas Attorney General Ken Paxton on Wednesday launched an [Full Story]
Can US Defend Against Hypersonic Weapons of China, North Korea, Russia?
As the U.S. scrambles to keep up with adversaries who appear more [Full Story] | Platinum Article
WHO: Global COVID-19 Case Counts Decline 17% in Latest Week
The World Health Organization says coronavirus case counts fell 17% [Full Story]
Discovery of Omicron in Deer Raises Concern Over Possible New Variants
England Plans to End COVID Isolation Mandate by March: Johnson
Long COVID Possible Even After Mild Omicron Infection
Skeptical Views of COVID Vaccines Censored by Social Media: Study
Democrat-Led States Ease COVID Rules, Forcing Biden to Rethink Mandates
New York Gov. Hochul Lifts Mask Mandate – Except for Schools
Pelosi Caves, Backs Stock-Trading Ban
Speaker Nancy Pelosi, D-Calif., has done an about face and now is [Full Story]
Pentagon Press Corps Demands Access to US Troops in Eastern Europe
Members of the Pentagon press corps have written Defense Secretary [Full Story]
Discovery: No US Challenge to $43B WarnerMedia Deal
U.S. antitrust regulators have not challenged the $43 billion [Full Story]
FDA Chinese Study Concerns Could Derail Drugmakers' Plans
The Food and Drug Administration's reservations about the quality of [Full Story]
Spielberg, Jennifer Garner Join Star-Studded List of Senate Dems' Big Donors for 2022
Matthew McConaughey on Politics: 'Holding On' to 'Blue or Red Flag Pole' Isn't the Way 'Forward'
Matthew McConaughey may not be running for Governor of Texas but he [Full Story]
Musk's SpaceX Loses 40 Satellites After Solar Storm
Spacex's newest fleet of satellites is tumbling out of orbit after [Full Story]
Iran Unveils Long-Range Missile as Vienna Nuclear Talks Resume
Iran unveiled a new domestically-made missile with a range of 1,450 [Full Story]
Trainer: Officers in Floyd Killing Did Not Follow Policy
A Minneapolis police officer who oversaw medical training for two of [Full Story]
Canada, US Biz Groups Call for End to Trucker Blockade
U.S. and Canadian business groups on Tuesday demanded truckers [Full Story]
Canadian Trucker Spokesman: Liberals Hypocritical on Mandate Protest |video
Canadian Truckers Block Bridge to US in Protest of COVID Restrictions
RNC Chair McDaniel: Media Distorting Censure of Cheney, Kinzinger
Republican National Committee Chairwoman Ronna McDaniel blasted the [Full Story]
GOP Rep. Troy Nehls Says Capitol Police Illegally Entered His Office, Took Photos
Republican Texas Rep. Troy Nehls said Tuesday that Capitol Police [Full Story]
Consumers Face Years of High Energy Prices, Big Oil CEOs Warn
Consumers should brace for years of high energy prices, heads of top [Full Story]
Canada 'Freedom Convoy' Protests Block Bridges and Trade With U.S.
A second U.S.-Canada land crossing was disrupted by truckers with the [Full Story]
New York Gov. Hochul Lifts Mask Mandate – Except for Schools
New York Gov. Kathy Hochul announced Wednesday that the state will [Full Story]
Biden Lags Behind Democrat Governors Lifting Mask Mandates
The Biden administration refuses to join a growing number of Democrat [Full Story]
MLB, Players Stop Drug Testing During Lockout
Drug testing in Major League Baseball has stopped, a casualty of the [Full Story]
Tesla Recall: Heat Pump Won't Defrost Windshield Fast Enough
Tesla is recalling nearly 27,000 vehicles in the U.S. because the [Full Story]
Olympics: IOC Says 'Where Is Peng Shuai?' Answered, to Meet Her Again in Summer
The International Olympic Committee (IOC) has answered the question [Full Story]
K. Kellogg Foundation Program Funding $500 Monthly to Illegal Immigrants
The socially active W. K. Kellogg Foundation is supplying the funds [Full Story]
Report: Dems, GOP Work to File Stock-ban Bill as Pelosi Stays Silent
Elizabeth Warren, D-Mass., and Steve Daines, R-Mont., are [Full Story]
As Abrams Apologizes, Photos Appear to Contradict Her Mask Claims
Photos released on Tuesday by OutKick challenge a narrative put forth [Full Story]
Recall: 500,000 Hyundai and Kia Owners Told to Park Outside Due to Fire Risk
Hyundai and Kia are telling 500,000 owners to park away from [Full Story]
New York State to End Mask Mandate on Wednesday as Infections Decline
The state of New York will repeal itsindoor mask mandate Wednesday as [Full Story]
More Newsfront
Finance
Pelosi Caves, Backs Stock-Trading Ban
Speaker Nancy Pelosi, D-Calif., has done an about face and now is working with House Democrats to ban members of Congress and senior staff from trading stocks, Punchbowl News reported Wednesday.Pelosi previously said she did not support such a ban. A multimillionaire, she…… [Full Story]
US and Canada Warn of Economic Hit from Trucker Protest
'Bitcoin Bonnie' and 'Crypto Clyde'…Couple Behind Record $3.6B Bitcoin Haul
Feds Say No Taxpayer Money for Safer Drug-Smoking Pipes
Gold Guru See Price Rise in 2022
More Finance
Health
CDC Stands by K-12 School Masking Guidance as States Relax Rules
The U.S. Centers for Disease Control and Prevention stands by its mask-wearing guidance for public K-12 schools with COVID-19 cases still high nationwide, even as some states plan to relax masking rules, CDC Director Dr. Rochelle Walensky told Reuters on Tuesday.Officials…… [Full Story]
Researchers Developed 4-Minute COVID Test as Accurate as PCR Test
Discovery of Omicron in Deer Raises Concern Over Possible New Variants
Experimental Hormone-Free, Over-the-Counter, Contraceptive Targets Semen
England Plans to End COVID Isolation Mandate by March: Johnson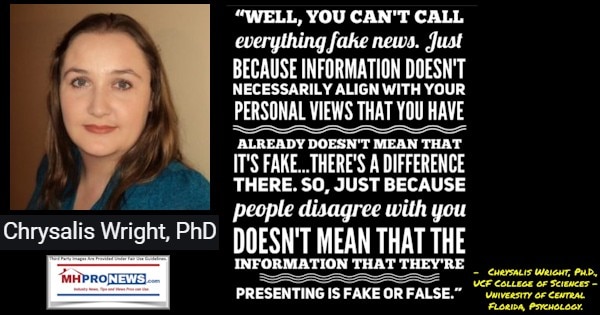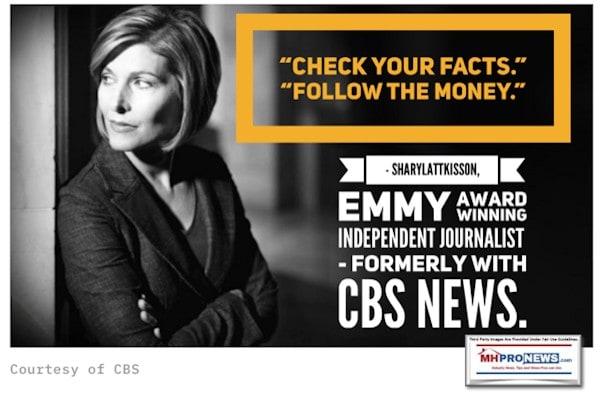 Manufactured Housing Industry Investments Connected Equities Closing Tickers
Some of these firms invest in manufactured housing, or are otherwise connected, but may do other forms of investing or business activities too.
NOTE: The chart below includes the Canadian stock, ECN, which purchased Triad Financial Services, a manufactured home industry lender
NOTE: Drew changed its name and trading symbol at the end of 2016 to Lippert (LCII).
NOTE: Deer Valley was largely taken private, say company insiders in a message to MHProNews on 12.15.2020, but there are still some outstanding shares of  the stock from the days when it was a publicly traded firm.  Thus, there is still periodic activity on DVLY.
Clayton-21st Storm Watch – Sinatra's Summer Wind Blows Early? – Manufactured Housing Moat Breach – Manufactured Home Values Increasing Faster than Site-Built – Case for Something New in 2022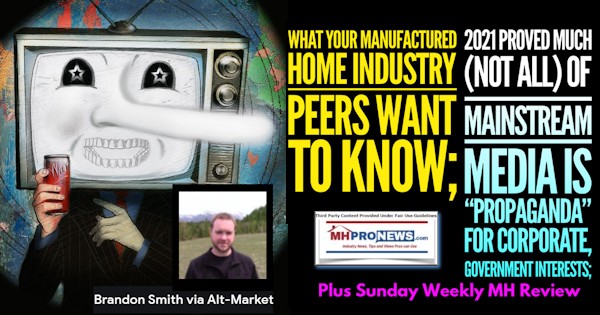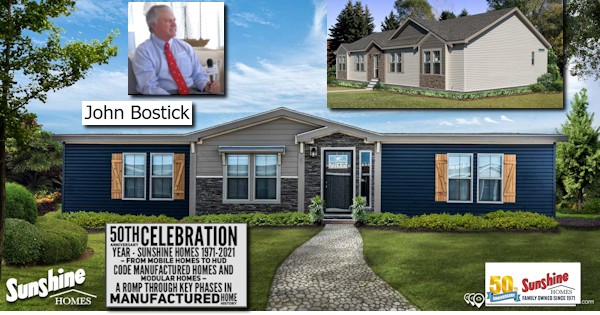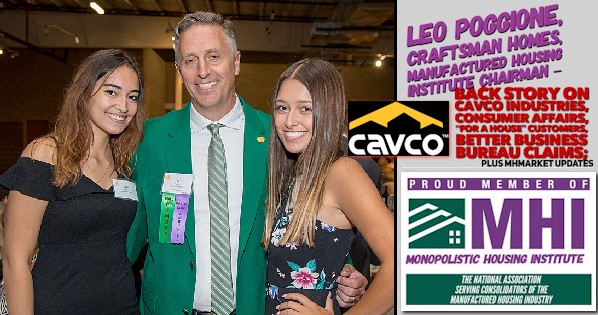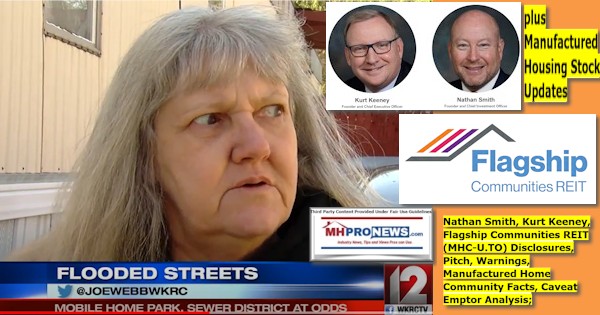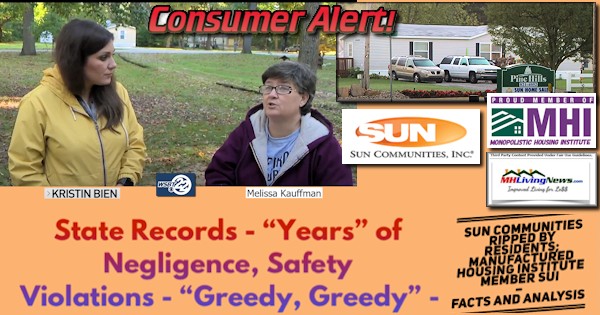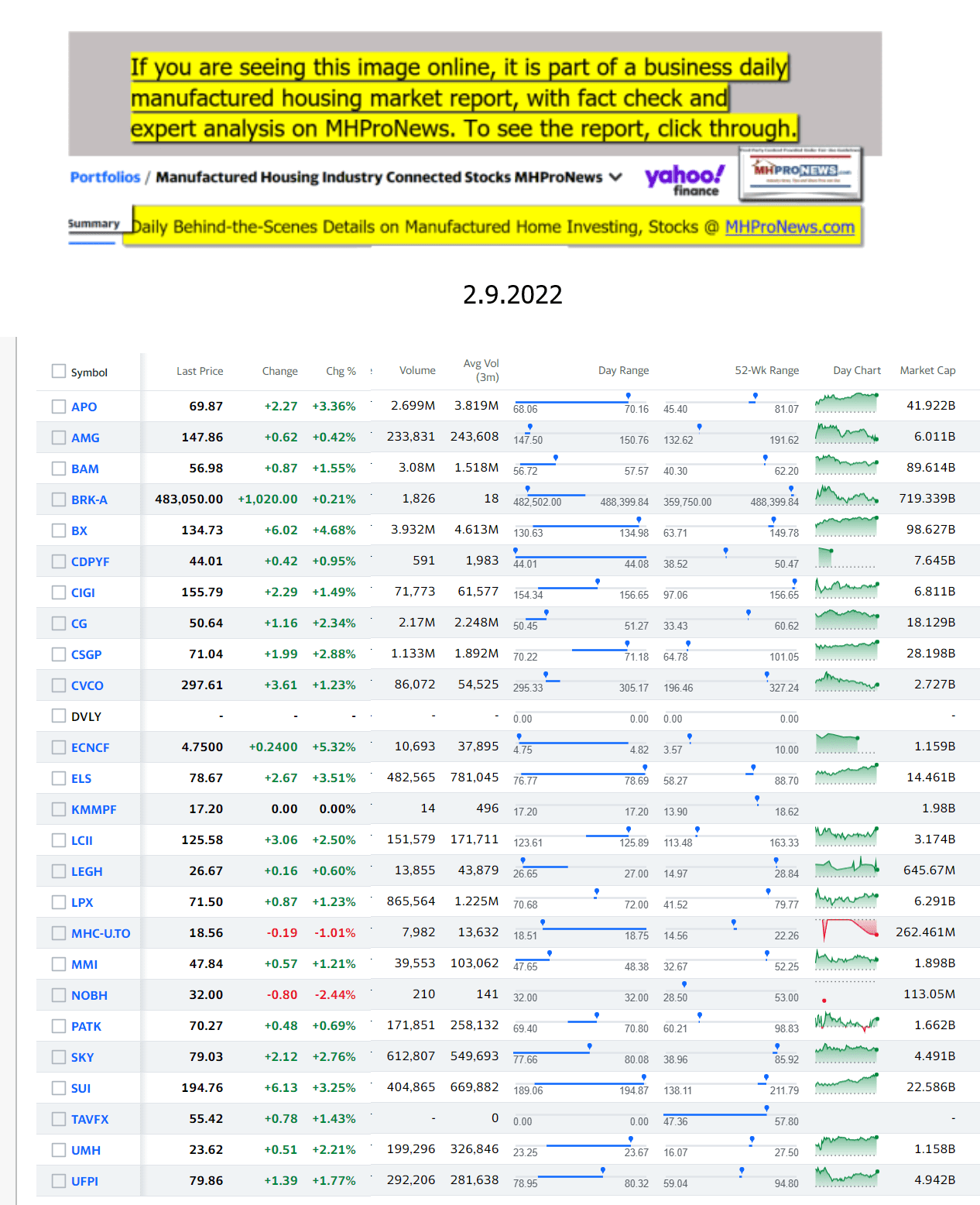 https://www.manufacturedhomepronews.com/steve-lawler-deer-valley-corporation-dvc-otcmkts-dvly-announces-merger-plus-manufactured-home-investing-stock-updates/

https://www.manufacturedhomepronews.com/nobility-homes-financial-position-very-strong-sales-strong-but-challenges-including-lending-and-others-examined-plus-manufactured-housing-stocks-update/

2022 dawns

…

Berkshire Hathaway is the parent company to Clayton Homes, 21st Mortgage, Vanderbilt Mortgage and other factory built housing industry suppliers.


·

LCI Industries, Patrick, UFPI, and LP each are suppliers to the manufactured housing industry, among others.




·

AMG, CG, and TAVFX have investments in manufactured housing related businesses.

For

insights from third-parties and clients about our publisher

, click here.


Enjoy these 'blast from the past' comments.

MHProNews. MHProNews – previously a.k.a. MHMSM.com – has celebrated our 11th year of publishing, and is starting our 12th year of serving the industry as the runaway most-read trade media.
Sample Kudos over the years…
It is now 11+ years and counting…
Learn more about our evolutionary journey as the industry's leading trade media, at the report linked below.
· For expert manufactured housing business development or other professional services, click here.
· To sign up in seconds for our industry leading emailed headline news updates, click here.

Disclosure. MHProNews holds no positions in the stocks in this report.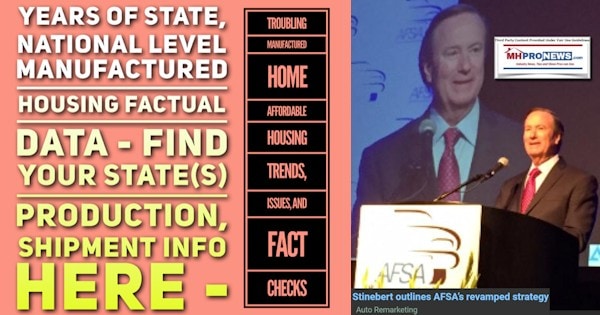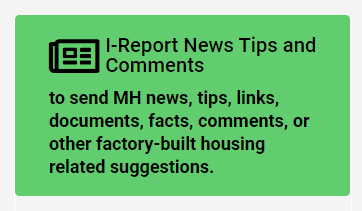 That's a wrap on this installment of "News Through the Lens of Manufactured Homes and Factory-Built Housing" © where "We Provide, You Decide." © (Affordable housing, manufactured homes, stock, investing, data, metrics, reports, fact-checks, analysis, and commentary. Third-party images or content are provided under fair use guidelines for media.) (See Related Reports, further below. Text/image boxes often are hot-linked to other reports that can be access by clicking on them.)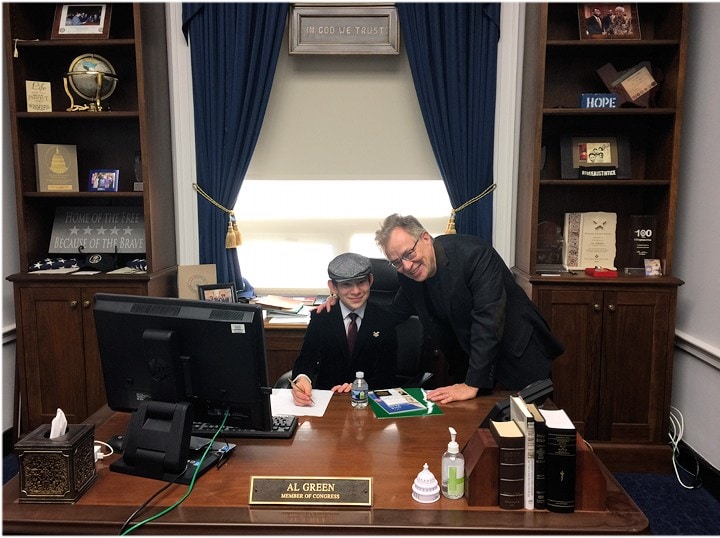 By L.A. "Tony" Kovach – for MHProNews.
Tony earned a journalism scholarship along with numerous awards in history. There have been several awards and honors and also recognition in manufactured housing. For example, he earned the prestigious Lottinville Award in history from the University of Oklahoma, where he studied history and business management. He's a managing member and co-founder of LifeStyle Factory Homes, LLC, the parent company to MHProNews, and MHLivingNews.com. This article reflects the LLC's and/or the writer's position and may or may not reflect the views of sponsors or supporters.