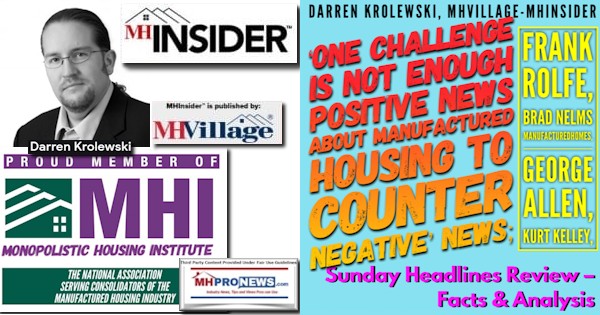 "We always hear about the tornadoes, flooding, fires, residents getting evicted from their homes so a shopping center can be built, unreasonable rent increases, how manufactured homes depreciate in value, etc." So said Darren Krolewski, then Executive Vice President MHVillage/Datacomp, and now MHVillage/MHInsider/Datacomp et al Co-President. Krolewski said that in response to blog post by manufactured home community sector maverick, Frank Rolfe. Krolewski went on to say that "I think one of the challenges we have as an industry is that there is not enough positive news about manufactured housing to counter the negative." Bingo or 'amen,' whichever you prefer. Per the controversial Rolfe, who has arguably made 'bad news' a magnet for he and partner Dave Reynolds various enterprises, he said this. "…MHI [Manufactured Housing Institute] – the industry lobby group…what's with the concept of silence is golden? Negative articles on the industry are met with "no comment". [sic] Positive news opportunities are met with "no comment". [sic] I've never seen anything like it."  

In response to that pull-quote came this message. "Tony, Great articles.  I enjoyed them both.  Both Frank Rolfe and Chris Parrish are good friends and good operators.  I'd invest in either. As for Frank, he takes heat for stating facts and truth publicly when others don't.  He's the Donald Trump of our industry.  There's nothing mean or villainous about stating the truth.  In fact, most appreciate it when you do," said Kurt Kelley at that time. Those insights and thoughts may matter more today than they did then when each first said what they did. Why? Because several years of added facts and new evidence has emerged. That new evidence, found in several of the reports linked herein below in our weekly headline review, can be examined in the light of those thoughts from Krolewski, Kelley, and Rolfe.
An MHI member recently reacted harshly to what flip-flopping – for MHI, against MHI, back to for MHI – blogger George F. Allen, retired Marine officer said recently. Allen apparently praised or elevated people such as Joseph "Joe" Stegmayer, former MHI Chairman, former Chairman and CEO of Cavco Industries – a significant "Big 3" producers MHI member firm. Stegmayer and Cavco face serious Securities and Exchange Commission (SEC) charges, as the most detailed coverage of the issue in the industry linked below reflects.
Why would Allen elevate Stegmayer and others?  An MHI member emailed MHProNews off-the-record to say he felt that it "makes me sick to see such an unscrupulous and dishonest individual complimented…" Per that same member, "It is nothing less than outrageous in my personal opinion," adding "I cannot believe that GFA would give someone who just [describing that pro's concerns] such a compliment."
That viewpoint is hardly alone, nor does it lack evidence. Who says? The SEC complaint and other reports in 2021 and previously illustrate that troubling reality. That emailed complaint also indicates that not everyone who is an MHI executive member likes what they see occurring in the industry. As another executive-level industry professional – per MHI's 2019 members list, also an MHI member – emailed in a longer message thread concluded by saying: "As always we appreciate everything you do for the industry!"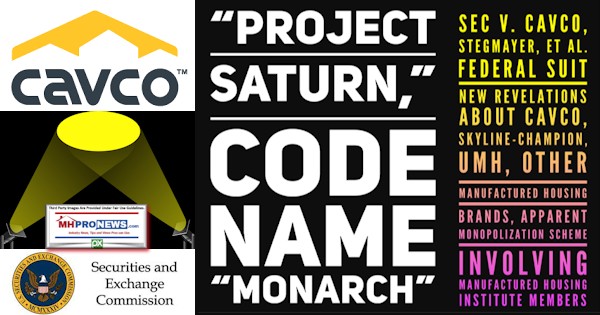 But the evidence-based reality is that Allen, apparently numerous times, has elevated those who some see as "unscrupulous." See more in the postscript below, but in fairness, Allen has at times been on the 'correct' side of some controversies.
For example. Allen has at times blasted Rolfe, only later to welcome him to a stage as an honored guest. In fairness and as a disclosure, this writer has publicly ripped Rolfe by name for problematic business practices, terminology and other matters. One of those MHLivingNews reports on Rolfe made the CFPB's White Paper on Manufactured Housing (see footnote 15, page 11).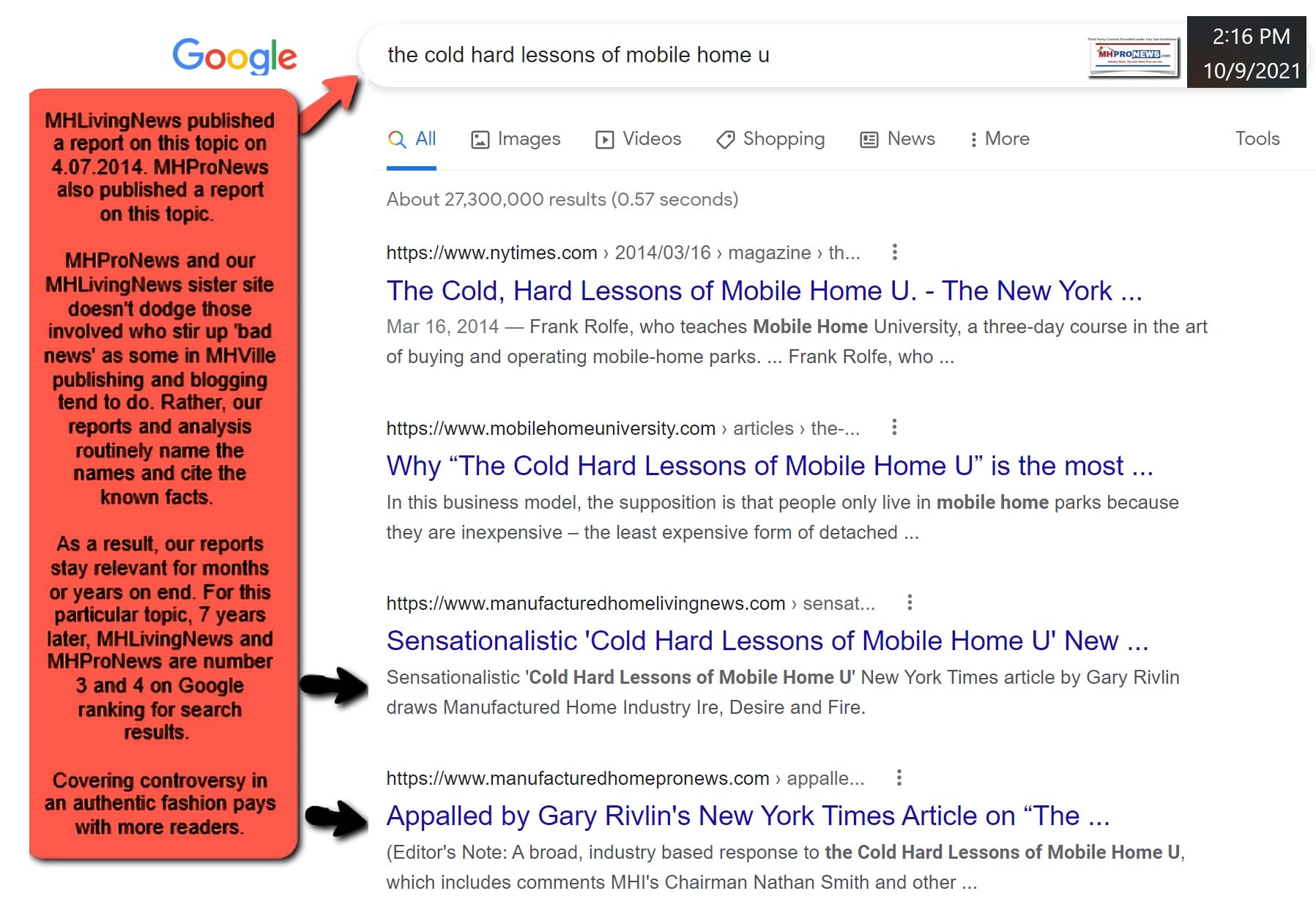 With that backdrop, Rolfe was invited to speak at Tunica – but Rolfe knew he had been held accountable by MHProNews and MHLivingNews before being invited. Restated, the two are apples and oranges. What this writer did is what we invite others to do too. Put MHI leaders on stage, and then provide an opportunity for a live exchange that discusses industry performance. We have walked the talk. Others have often postured without doing. That said, back to some historic insights that may mean more today than they did when they were first spoken or written.
"Probably the greatest enemy to the growth of the mobile home park [sic] industry into a mainstream form of real estate investment is … our industry itself," wrote Rolfe.
It is obvious to anyone of sound mind that no one can anticipate with absolute certainty what comes next. That said, with experience and good information, clarity is possible. As MHProNews and MHLivingNews began to 'decode' and piece together what various voices and evidence reflected from insight and outside of MHI, those were reflected in our writing and in our questions. In that interview that Kurt Kelley praised, several direct questions were poised to Rolfe, which right or wrong, he addressed each one. While it is doubtful that Rolfe and Reynolds would do so now, as Reynolds broke off a response to a series of Q&As with MHProNews, at least at times they have engaged. By contrast, since Jennison and company had their huddle and decided to go quiet with MHProNews, even MHI attorneys won't provide a reply. Among the questions that MHProNews posed – and Rolfe answered – was the charge that he was a "slumlord."
Here is one of several questions put to Rolfe by MHProNews, all based on feedback from industry professionals who were often now-fellow MHI members with Rolfe.
"I personally complained to MHI staff that Frank was a headliner twice at MHI sponsored events. In my opinion, Frank has managed to do more harm for the industry than good."
Q) Frank, and you say?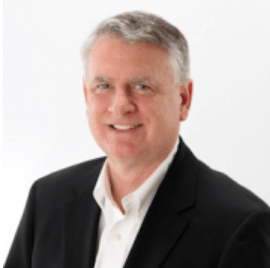 "Nathan Smith is the Chairman of the Board of Directors of MHI. His company is being sued in a huge class action lawsuit on several counts, as described in this link.
http://kycir.org/2014/10/20/former-residents-accuse-kentucky-mobile-home-park-operator-of-improper-evictions-seizures/
I believe this case was just ratified by a judge to go to trial. It's funny that no industry group or publication has ever even written to date about SSK's problems or the horrible damage it has done to the industry's reputation at many levels, but criticize me all the time for such ridiculous offenses as being truthful about the term "mobile home park". SSK's lawsuit puts all park owners in jeopardy.
Now what was that about me being bad for the industry and MHI? Hypocrisy anyone?
I might add that many, many people have said that I gave the most entertaining speech at both events, and I get constant emails from people wanting to know when I'll speak again.
It's also important to note that the only reason I was chosen to be a headliner at MHI and NCC is that I draw a large audience, which is good for ticket sales. The industry Lecture Series, that I produce monthly, draws around 1,000 listeners per speech – significantly more than MHI and NCC combined."
The rest of that Q&A style interview with Rolfe is linked here.
Agree or disagree, that's an authentic exchange. And for the record, Rolfe is clearly mistaken about SSK, as MHProNews and MHLivingNews have held Nathan Smith's various controversies up for public scrutiny numerous times. Two examples are shown below. But our platforms have also given Smith, MHI, and their outside attorneys the opportunity to weigh in. That's fairness.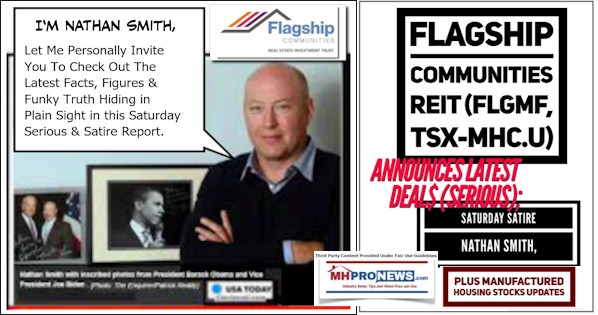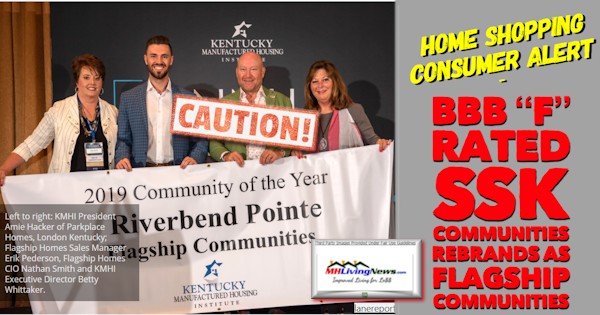 It is only in the light of authentic facts and evidence that our industry's current status quo can be properly understood. These individuals named to this point all happen to be in firms that are MHI members, mouthpieces, state affiliates, and supporters. Time and again, the "usual suspects" in our profession are connected to MHI. If that statement were not accurate, then MHI's attorneys would be saber rattling. But they are not. Given opportunities to respond and debunk – if they could – the evidence and facts, or respond as they wish, they time after time decline. Thus the evidence-based contentions stand on their own factual merits. That wave of bad news that Krolewski mentioned in the quote above quite often traces back to members of firms connected to MHI. Odd, troubling, but that is factually accurate.
"For years, we have wondered WHY there was so little pro-industry advocacy from MHI to government movements, proposals, rules, etc. that were [often] not in the best interest of this industry." So said then historic and record-setting Dick Moore Housing President Bob Crawford.
In hindsight:
the often pathetic deception and misdirection is startlingly brought to light by looking at previous MHProNews/MHLivingNews reports and then looking at more current ones.
Then, look at what MHI and/or their leaders said weeks, months or years ago, and then compare that to what MHI has said more recently.
What the headlines for the week that was which follow reveal is just how insightful Krolewski was: "I think one of the challenges we have as an industry is that there is not enough positive news about manufactured housing to counter the negative." But perhaps more aptly, one must look at the root causes of those "negative" news stories. That is something that none in the industry's trade media can honestly say has been done as MHProNews/MHLivingNews have done.
Beyond Allen's flip-flops, also in the postscript today will be a focused but powerful look at Brad Nelms led ManufacturedHomes. MHInsider, Rolfe's and Reynold's blogging, and Kurt Kelley's publication all deliver insights that may not be the ones that their respective publishers want them to reveal.
There is a debate to be had if Rolfe is a "Donald Trump" of manufactured housing, and this writer would disagree with that take.
That said, much of the balance of what Kelley said is worth considering: "There's nothing mean or villainous about stating the truth.  In fact, most appreciate it when you do."
In fact, while some do want to learn more about reality and solutions, not all want the truth.
Indeed, some quite apparently do not want the truth because the truth could land them in a state or federal prison. That's not hyperbole, as the days ahead may in time reveal. One elected official told MHProNews recently that Warren Buffett is facing a probe that could land him in prison: perhaps.  But so far, that's doubtful. But that doesn't mean that it is not possible. Indeed, if Buffett, Charlie Munger, Bill Gates, Kevin Clayton and others were formally charged, prosecuted, and were successfully convicted of various crimes they stand accused of by evidence-based voices, that would be something worth celebrating. The case can be made that those who fall into that bucket absolutely do not want the truth about them published.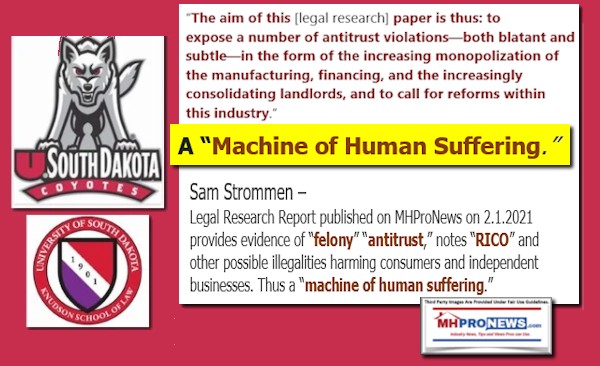 But to Kelley's point, those who believe that there are uncharged criminals who merit prison – they are among those who do value "stating the truth." Ironically, those who oppose criminal charges being brought against some of the leaders involved in manufactured housing are regular readers too. Why? It may be because they want to see what the evolving evidence and understand shows. They want to know what their own risk factors might be.
Our industry's problems are coming from inside and without. But many of those on the outside that limit manufactured housing could be handily dealt with – based on existing laws – so long as those in the industry were playing honestly and honorably. Buffett said it: bad guys have an advantage. He didn't say that about himself, but isn't that a fair takeaway from his "moat" with man-eating amphibians methodology?
As MHProNews approaches the end of our first 12 full years of publishing in mid-October 2021, we look back and look ahead with mixed emotions. From the outset, our goal was to help the manufactured home industry grow.  Of course, we frankly expected to be part of that growth. We launched what is now called MHProNews when the manufactured home industry was at a low ebb. In several respects, we attempted to do what Krolewski noted – to be a source that could create some 'good news' about manufactured homes. But we learned the hard way that the obstacles to that were largely internal. Many of them can be traced back to three letters from the obvious front-group that the apparent black hats prefer to use: M.H.I.
By reviewing the reports for the week that was, much of those truths will become apparent. It has been a painful process of discovery. But now that we have made it this far, we intend to see it through. When the articles for the week that was are examined, a vivid picture begins to emerge. Some of that picture is unpacked in the not-to-be-missed postscript.
With no further adieu, here are the headlines for 10.3 though 10.10.2021.
What's New from Washington, D.C. from MHARR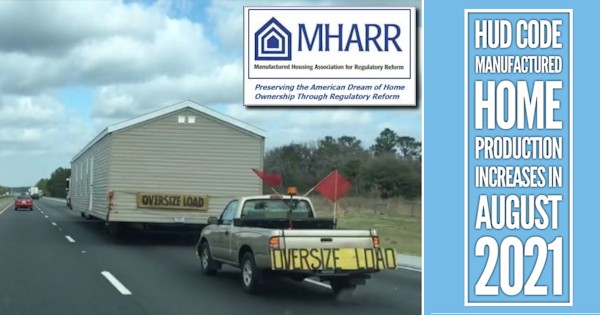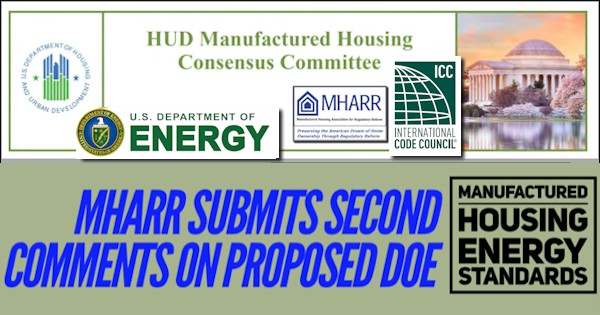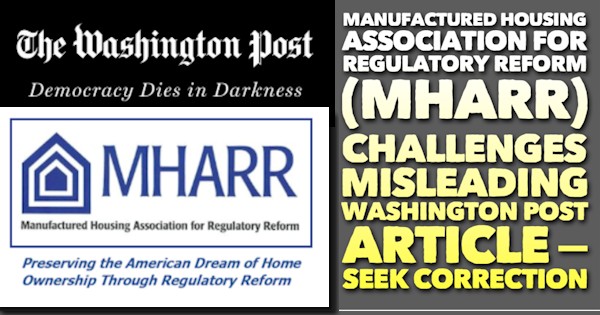 The Latest on MHLivingNews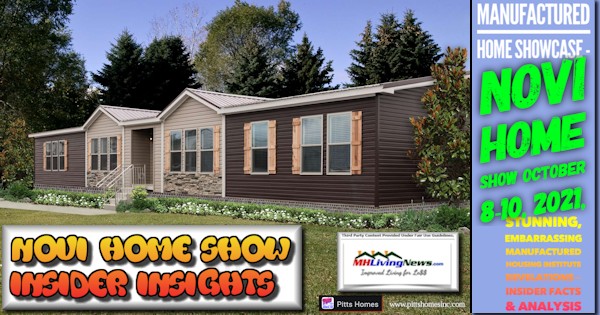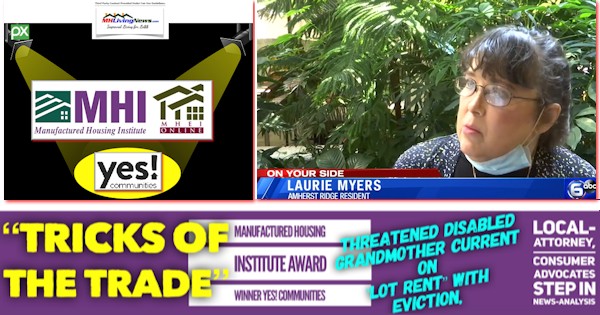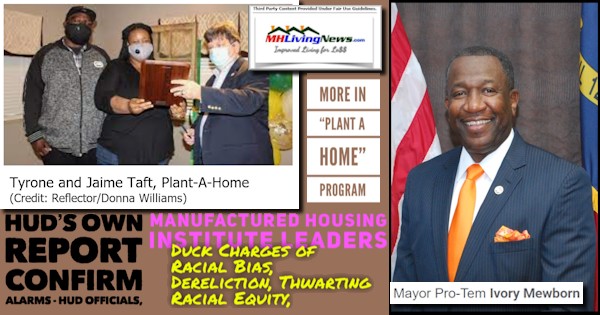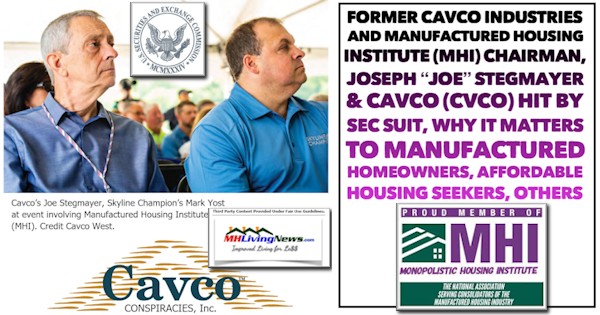 What's New from the Words of Wisdom from Bestselling Author, Tim Connor, CSP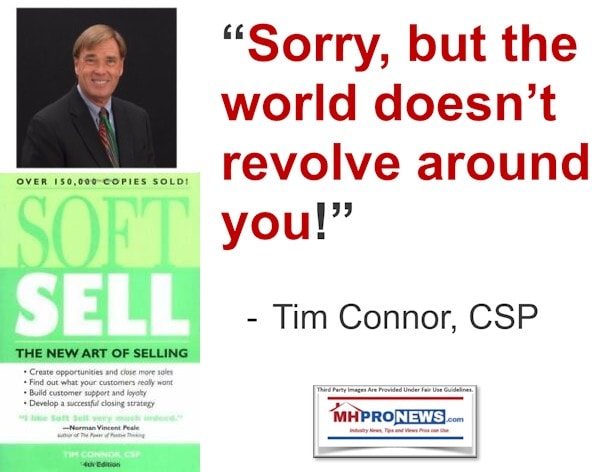 What's New and Recent on the Masthead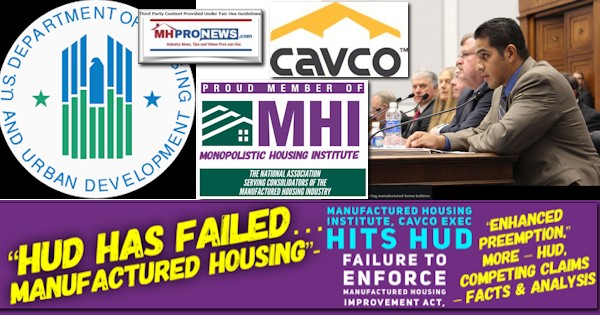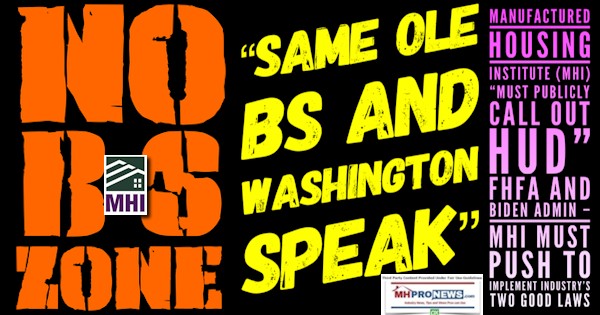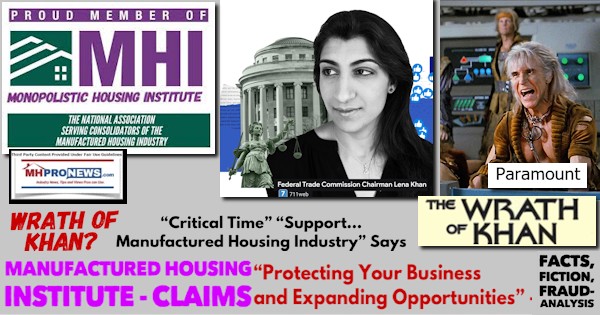 What's New on the Daily Business News on MHProNews
Saturday 10.9.2021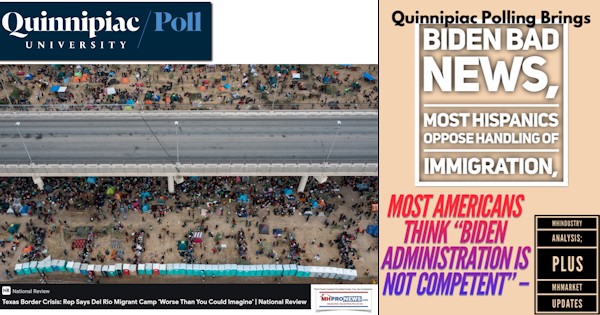 Friday 10.8.2021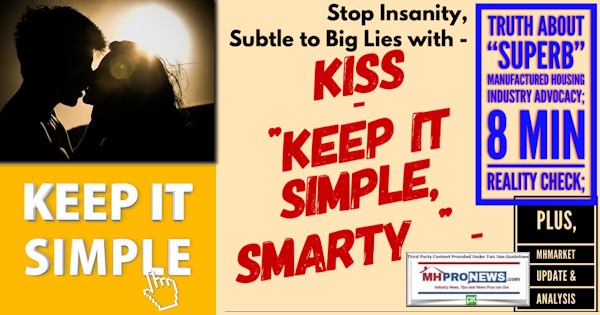 Thursday 10.7.2021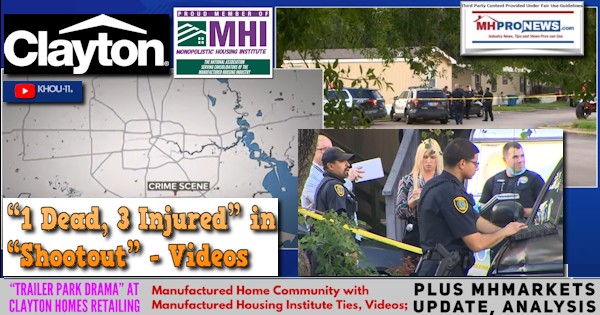 Wednesday 10.6.2021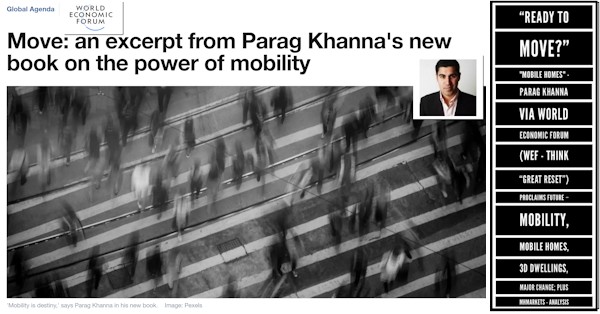 Tuesday 10.5.2021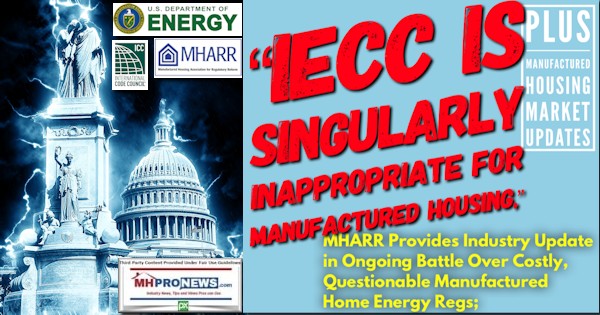 Monday 10.4.2021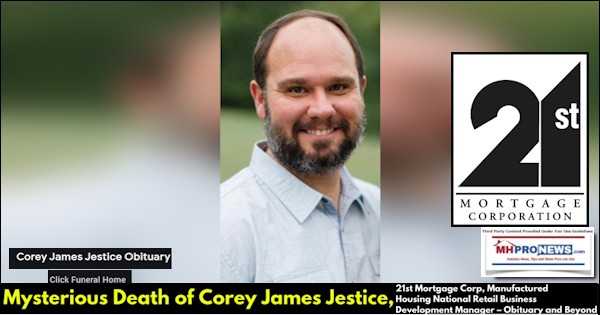 Sunday 10.3.2021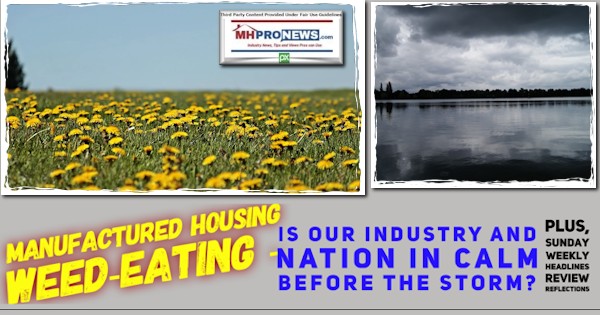 Bonus – from the Reflector…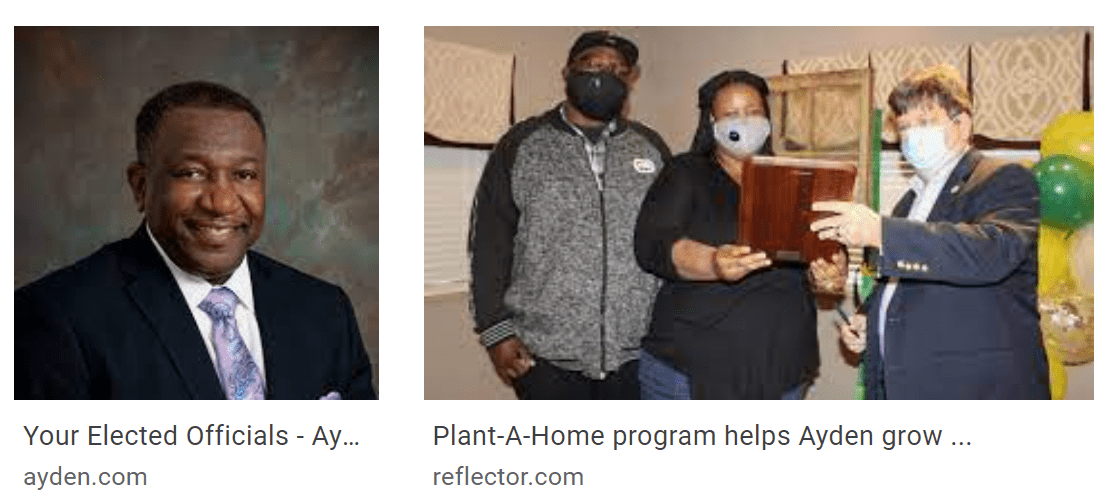 Deep Dive On the Cutting Edge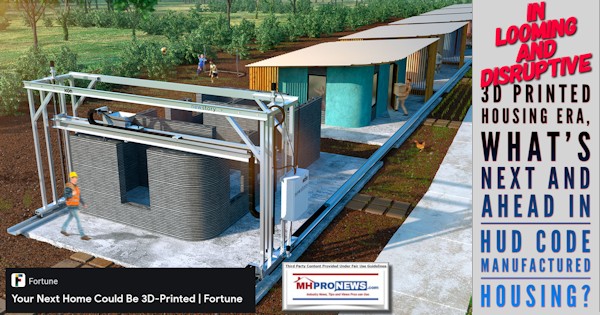 Postscript – Allen's Flip Flops and Brad Nelms led ManufacturedHomes
Before getting into the subheading topic, let's step back and look at 'news' and blogging from the vantagepoint of the content provider. If an operation is 'for profit,' then attracting advertisers or other paid sources for revenue is obviously necessary. There are untold numbers of 'hobby' sites, which may or may not be fine, but have no need for attracting money to sustain the platform.
Put differently, when you follow the money trail, money is obviously a motivator that must be considered in discerning 'the news.' That's true in mainstream media, and is quite obvious in manufactured housing media too. Who says that holds for mainstream media? News professionals and academics that have been part of the process, often for years, as is unmasked in such documentaries as "Shadows of Liberty."  You can see one version of that video at the link below, which has numerous quotes from people in the news industry and/or those who have studied the news industry.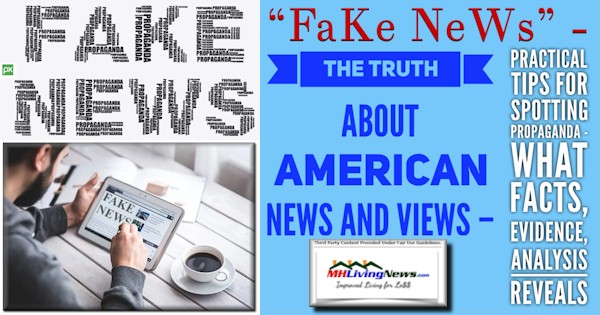 It is obvious that any platform wants to be able to keep their sponsors. That said, some platforms are quite obviously willing to spin or twist the news to suit their sponsors, while others are not so inclined.  MHProNews/MHLivingNews can frankly say that we had Clayton Homes, 21st Mortgage Corporation, the Manufactured Housing Institute (MHI) and other MHI members among our clients and advertisers.  That said, when MHProNews/MHLivingNews leadership began to discover problematic behavior with MHI and/or MHI member brands – as the Frank Rolfe interview and reports link above reflect – we demonstrably followed the evidence, and did so despite the risk of lost ad money.  Is there anyone else in MHVille trade publishing that can say the same thing without crossing their fingers behind their backs? 
That said, let's start the subheading in reverse order. Let's being by noting in fairness that Nelms, Allen, Krolewski, and Kelley are all intelligent  and talented (in various ways) individuals, and in various ways, they are 'successful.' They can each be charming. Among those, my personal favorite would be Kelley. He also happens to be the one who from time to time presents the MHARR perspective, although most of the time it is all in for MHI and his advertisers. So, as you can see, this part of the report is not about diminishing or trash talking a competitor. This is a reality check that matters to all involved. Frankly, if someone wanted a road map to get the kind of audience size and engagement that MHProNews has long enjoyed, this report could be a how to do it.
In no particular order of importance, here are some facts and analysis to know about those would-be rivals, with more linked information that follows.
A) MHInsider's masthead makes it clear that they are in the MHI camp, as does their MHI membership. Their sponsors are MHI members too.
B) Brad Nelm's ManufacturedHomes has touted MHInsider, touted MHI, has hired at least one former MHI VPs. They have also apparently been a paid sponsor for Fannie Mae and MH Advantage.® Is it any surprise that with sponsors that are MHI members, and they are MHI members, that the ManufacturedHomes, MHInsider, Kelley's MHReview, and Allen's blogs are sources that are apparently largely or totally unwilling to critique MHI, much less their dominating member brands? When, on occasion, they publish an article or post that is an ill reflection, they do so in as bland a fashion as possible. Furthermore, the evidence suggests that their readership is so low that it would not matter much either way if they tell the whole truth, or if they are busy spinning the MHI party line and that of their dominating brands.
C) To show just how ineffective all of these platforms are at generating results, besides a third-party analysis of results provided by Legacy Housing (that went all in our favor vs. all those compared competitors), there is also other indicators. Let's look at one that sheds light on a troubling notion: namely, that ManufacturedHomes and MHVillage are arguably more harmful to the industry, not helpful.
D) First, let's say again, these are nice looking websites. They are good at SEO.
E) But quite obviously, if ManufacturedHomes was good at 'selling' homes, then why has CrossMods and their Fannie Mae/MH Advantage® paid support failed to gain market traction? As MHProNews alone reported from FHFA sources, in 3 years, there have only been 19 total Fannie Mae sales for that program, and only 6 obtained DTS credit.
F) As or more important, the fresh data and trendlines linked here and below make it clear that MHI's promotions have fallen flat. But one must keep in mind, that ManufacturedHomes and MHVillage have also been part of this 'promotional' mix. Yet for 2.5 years, manufactured housing slipped, despite fancy videos, 3D tours, or pretty pictures, and good SEO.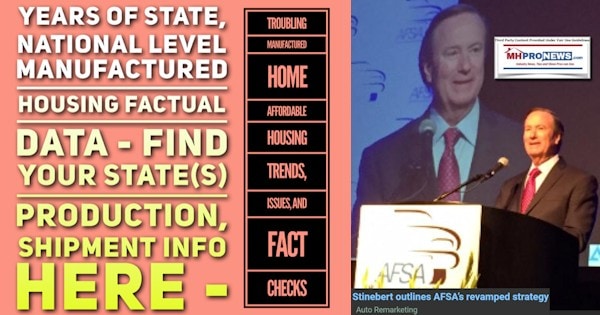 G) In many browsers, this final graphic will expand to a larger size. You may need to click on that image once or twice, and then use the back key to return to this page. That noted, what this infographic does is connect the dots between various bloggers and publishers, including MHInsider, ManufacturedHomes, and George Allen. Note that Allen has had his apparently moral/legal controversies, per reporting by a regional news paper. All three of these firms/individual have promoted problematic or "predatory" brands that routinely happen to be MHI members. Only MHProNews has consistently and persistently held industry professionals to account, based on evidence, facts, trends, and performance.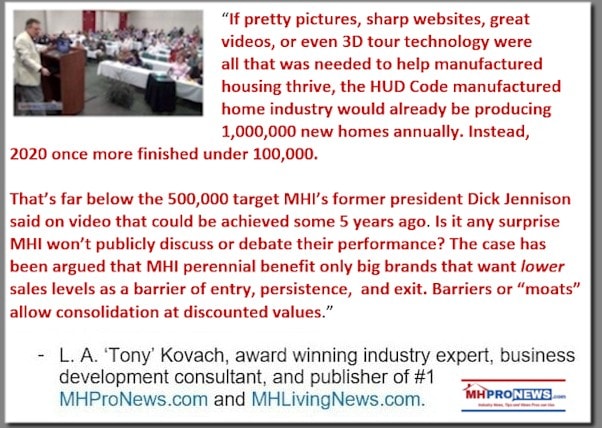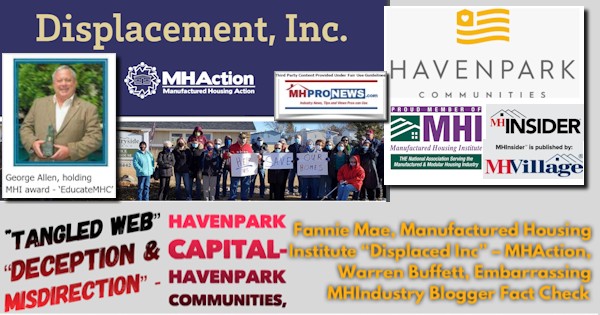 The evidence speaks loudly. Nothing is changed until it is challenged. MHProNews/MHLivingNews have been leading the charge in investigating the problems in our industry, and pointing the way to the cure. That cure is consistent exposure of the evidence followed by authentic legal action.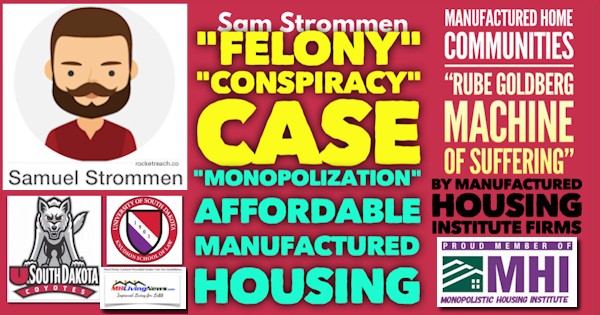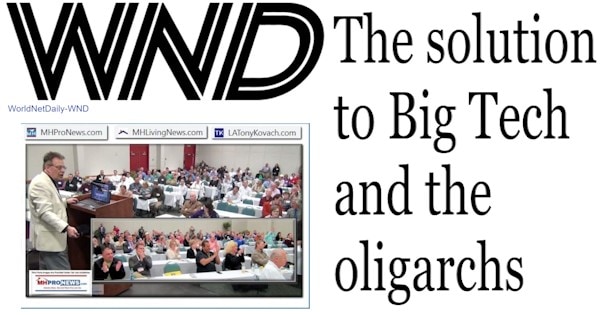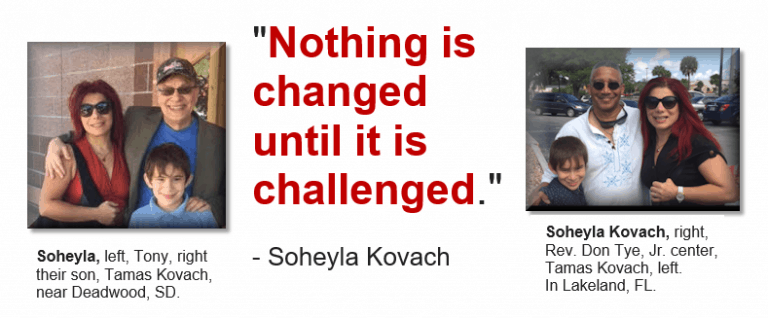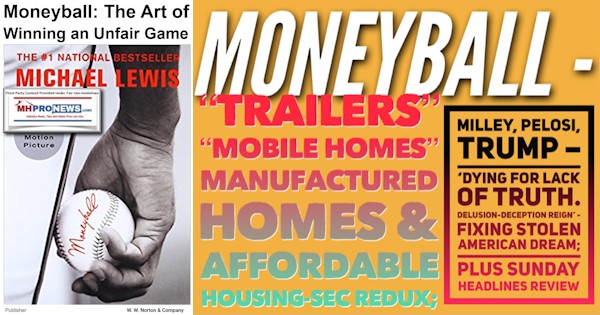 Don't just break up the monopolists. Break those colluding toward monopolization up, plus – where the law supports it – fine and/or imprison as possible. A few ten year sentences would do our industry and our nation a lot of good.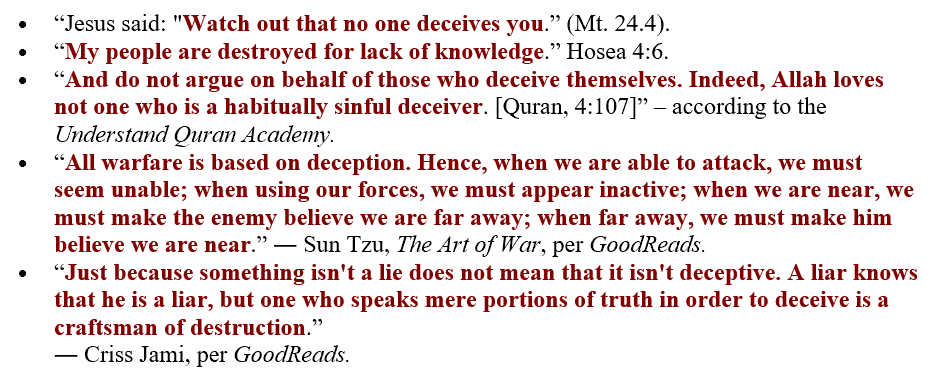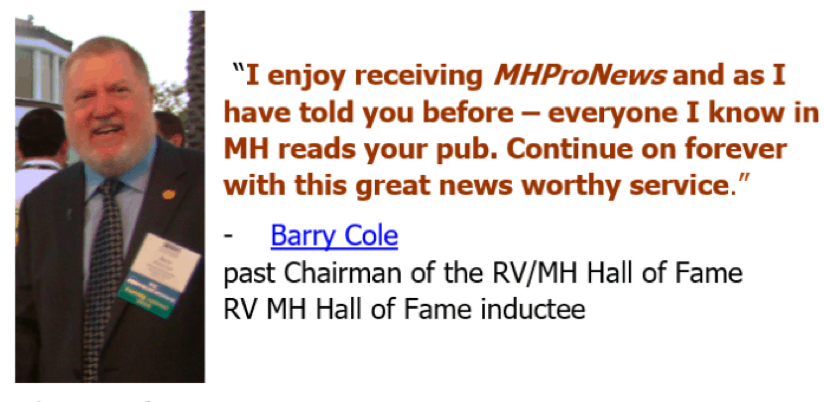 Joe Biden had a point in saying that capitalism without competition isn't capitalism. But as we've said then and since, that statement – however true it may be – can be mere window dressing. The sentiment for antitrust is growing in America. The time to break up the monopolization of the manufactured housing industry is now. Through tips, documents, insider insights, by using our services, or whatever means you can, join us in this fight to free "We the People" to give millions more opportunities to fulfill the American Dream.
##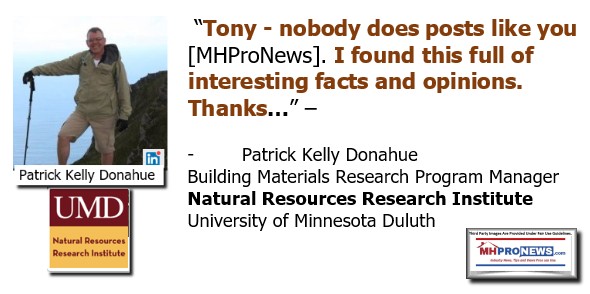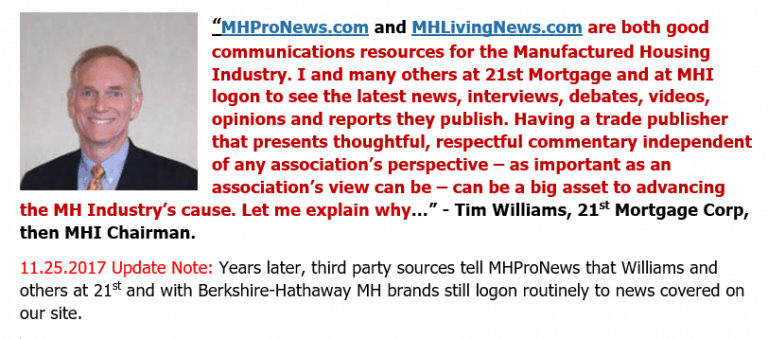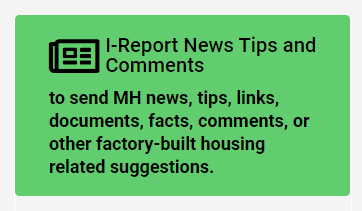 Our thanks to you, our sources, and sponsors for making and keeping us the runaway number one source for authentic "News through the lens of manufactured homes and factory-built housing" © where "We Provide, You Decide." © ## (Affordable housing, manufactured homes, reports, fact-checks, analysis, and commentary. Third-party images or content are provided under fair use guidelines for media.) (See Related Reports, further below. Text/image boxes often are hot-linked to other reports that can be access by clicking on them.)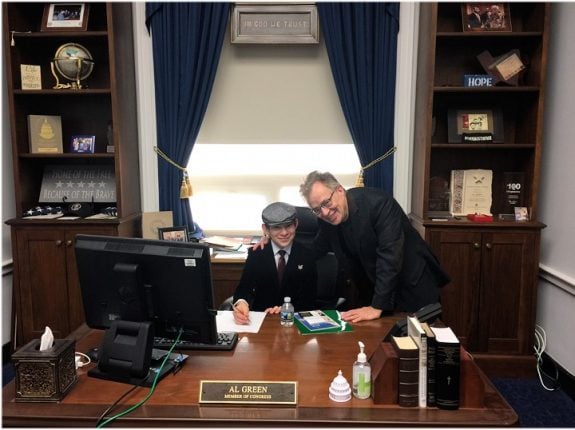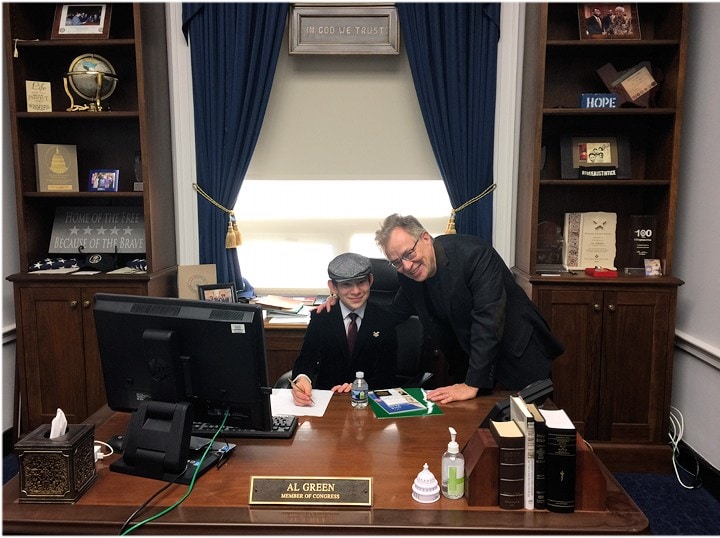 By L.A. "Tony" Kovach – for MHProNews.com.
Tony earned a journalism scholarship and earned numerous awards in history and in manufactured housing.
For example, he earned the prestigious Lottinville Award in history from the University of Oklahoma, where he studied history and business management. He's a managing member and co-founder of LifeStyle Factory Homes, LLC, the parent company to MHProNews, and MHLivingNews.com.
This article reflects the LLC's and/or the writer's position, and may or may not reflect the views of sponsors or supporters.
Connect on LinkedIn: http://www.linkedin.com/in/latonykovach
Related References:
The text/image boxes below are linked to other reports, which can be accessed by clicking on them.