by L. A. 'Tony' Kovach
One of the most controversial figures in the MHC world today is Frank Rolfe.
Frank has staunch supporters and adamant detractors among the ranks of MH Professionals. When the latest Frank Rolfe related article and video reports came out, MHProNews was contacted by a variety of industry professionals, and asked 'what could be done' about the matter.
Frank has exactly the same rights to free speech that you or I do. Last year, we provided him the opportunity to respond to questions in the wake of the Gary Rivlin/NYTimes article (that 2014 Q&A is linked here), as well as publishing industry comments in a separate public-focused article, linked below.
http://manufacturedhomelivingnews.com/sensationalistic-cold-hard-lessons-of-mobile-home-u-new-york-times-article-by-gary-rivlin-draws-manufactured-home-industry-ire-desire-and-fire/
As he has once more stirred up a hot topic, we naturally wanted to shine the light anew, and gave Frank Rolfe the opportunity to respond to concerns and comments put to us by MHProNews readers and MH Industry professionals.
We did the interview replies shown below via email, so there would be no question about getting accurate quotes. As a side note, I can't think of a single time when someone questioned the accuracy of our interviews or quotes.
Frank deserves credit; he agreed to the interview when others would have avoided these tough questions!
MHProNews followed up by sending Frank the explanatory comments in you see below in blue, plus the questions shown that reflect just some of the issues raised by MH professionals. Between the 2nd and 3rd dashed lines are the actual questions and Frank Rolfe's complete and unfiltered answers.
— Introduction sent to Frank Rolfe is in blue, to the questions and his replies that follow. —
Frank, These are actual questions and comments from readers, there are more, but these are polite and representative of the main or more common issues. Below each "Q) Frank, and you say?" please type in your response. There is no word limit. I'd also be open to before and after photos of MHCs that you cleaned up.
While you know how I feel about the nomenclature topic, I've not included questions on that aspect. But if you want to say as part of your response why you opt to do so, I'm fine with that too.
Thanks for participating…
— Start of MH Industry Pro's questions/comments in bold – followed by Frank Rolfe's reply —
 1) "This just makes me sick. How can we stop Frank Rolfe from getting this much attention?"
http://www.theguardian.com/lifeandstyle/2015/may/03/owning-trailer-parks-mobile-home-university-investment
 Q) Frank, and you say?
Media groups get article ideas from each other, and most of the attention that Dave and I receive stems from the New York Times article about us by Gary Rivlin in 2014 (http://www.nytimes.com/2014/03/16/magazine/the-cold-hard-lessons-of-mobile-home-u.html). The New York Times article came about because nobody else in the industry had the guts to talk to Gary – even though he called many operators – so we ended up the focus of the article by default.
We took a huge risk on that article by letting him live in one of our properties (one that he chose randomly from our portfolio, I might add) and were happy to see that he found 100% of our tenants happy with our community and our management – which benefited the entire industry.
Had we not allowed him to live in our property – or talked to him at all, like the other park owners did – the industry would have been slammed in his article, as that we his mission to begin with (the last book he wrote, before that article, was called "Broke USA" and was an expose on the payday lending and pawn shop industries).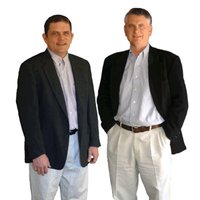 Dave Reynolds (l), Frank Rolfe (r), of

Mobile Home University, Mobile Home Park Store and RV Horizons.
If people want to see less of Dave and I – and we certainly have no problem with that – other operators are going to have to step up to the plate when reporters call, and stop hiding under their desks. Until other folks out there have the guts to let reporters into their businesses and see the benefits of our sector of affordable housing, then they shouldn't complain.
Personally, I think one of the REITs should have talked to Rivlin (he called them first, I believe) and my phone would have never rang. I'm pretty sure that hiding from the media is a bad idea for the industry, if the goal is to promote the fact that we have a great product at an affordable price. I think it's important to note that the last major media article on the industry prior to the New York Times piece was an extremely negative article on the REITs in the Wall Street Journal in 2012 http://www.wsj.com/articles/SB10001424127887323717004578159522855501566. So our article was the first positive piece on the industry in a major publication in two years!
2) "Frank and Dave have made big improvements in the communities in my areas that they own…I hold their operation in high regard."
Q) Frank, and you say?
We recently received a nice letter from the City of Arnold, Missouri, thanking us for everything that we have done to our property there, and being a good member of the community. That's the norm in the over 170 communities that we serve.
In fact, most everyone in the industry knows that we have perhaps the best performance of any operator our size in the business. Any negativity on Dave and I simply comes from us speaking our mind and pointing out the truth about things, such as our factual assertion that you have to use the description "mobile home park" and not "manufactured home community" based on search engine optimization.
I find it pretty funny that the recent Wall Street Journal article about the REITs strictly referred to what they do as "mobile home parks" and nobody said a word about it (http://www.wsj.com/articles/low-cost-housing-
demand-boosts-mobile-home-park-operators-1429637304) and yet people complained continuously when the New York Times article about us used that same "mobile home park" vernacular.
Personally, we are much more concerned about what our customers, lenders and investors think about us than our peers. And they all love us, no matter what we call our product.
3) "I am working on developing land into a nice manufactured home community. Frank Rolfe's treatment of his residents is going to make my zoning a big battle."
Q) Frank, and you say?
I'm assuming you're referring to the ridiculous articles concerning our property in Austin called North Lamar. We bought the property out from under a car dealer bidder who was going to demolish it, and then set about cleaning it up and putting it under professional management.
We removed 22 roll-off dumpster loads of trash and debris, and raised the rents from $390 to $450 per month, while at the same time making the tenants responsible for paying their own water and sewer. The market lot rent in Austin is around $650 per month, not including water/sewer.
One of our tenants went to the local city councilman – who is 25 years old and had been on the job for about two months – and told him that we had doubled the rents and violated the existing leases. Then, without bothering to fact check anything he was told, he called a press conference to declare war on us for trying to destroy these residents' lives.
When the facts finally came out, the whole thing blew over, and everyone involved in the story had egg on their faces. But there are bigger news stories these days, so don't hold your breath to see a retraction or correction notice.
For those reporters who joined the nonsense without fact checking, $390 x 2 = $780 and not $450. I think that math skills must not be a part of collegiate journalism curriculum, and therefore reporters should be given calculators before they are unleashed on the public. If you have some time to spare, here are the actual facts of this case, coupled with our commentary on the political motives involved.
I seriously doubt that a story about residents in a small park in Austin complaining about their rent increase would derail anyone's attempt to re-zone a property, however it might serve as a good excuse for the city council to deny what they were already going to deny. I'm sure that a compelling zoning case would certainly win the day, regardless of any trivial article somebody can pull from Google concerning a 60 year-old mobile home park in Austin. However, in case you haven't noticed, there has not been a major city approval of a mobile home park re-zoning case in about 20 years, so you're probably wasting your time to begin with.
4) "Unfortunately Rolfe is a slumlord, plain and simple, and slumlord stories always play well in the media. This just happens to impact Manufactured Housing."
Q) Frank, and you say?
We own a large portfolio, which ranges from an all-doublewide community in Bloomington, Illinois with detached garages, to a high-density, all single-wide property in Canyon City, Colorado – and everything in between. Some of our properties are as nice as any REIT's, and others are basic affordable housing.
What they all share is the concept of safe, affordable, quality housing, regardless of income levels.
People who would even associate Dave or my name with "slum-lording" obviously know nothing about us, which is sad. Gary Rivlin, from the New York Times, was so impressed with our negativity against such practices that he wrote that into a heading for one of the chapters of his article.
That being said, we are the first to admit that we are in the affordable housing business, and our residents seldom have the money to live in new homes or drive expensive cars. That ties back to the North Lamar story. One writer said to me "the houses in North Lamar are old and ugly – what are you going to do about that" and I told them "I don't own any of the houses, so I guess you'll have to ask the residents."
We own the common areas, but we don't own the homes. To that end, we are at the mercy of our tenants' incomes and lifestyles. If we mandated that every home and car be new, we'd have no tenants, and would not be true to the business we're in – that of affordable housing.
5) "I actually have been thinking about sex offender parks. Not a bad idea."
Q) Frank, and you say?
While we would never own one, it's a free country and some operators out there have adopted that business model. From what I've heard, they are doing well with it. But that's not our business model, and not one that we would recommend to the average investor out there. However, I'm not going to put down those folks who are providing housing for people that have nowhere else to go.
6) "I personally complained to MHI staff that Frank was a headliner twice at MHI sponsored events. In my opinion, Frank has managed to do more harm for the industry than good."
Q) Frank, and you say?
Nathan Smith is the Chairman of the Board of Directors of MHI. His company is being sued in a huge class action lawsuit on several counts, as described in this link.
http://kycir.org/2014/10/20/former-residents-accuse-kentucky-mobile-home-park-operator-of-improper-evictions-seizures/
I believe this case was just ratified by a judge to go to trial. It's funny that no industry group or publication has ever even written to date about SSK's problems or the horrible damage it has done to the industry's reputation at many levels, but criticize me all the time for such ridiculous offenses as being truthful about the term "mobile home park". SSK's lawsuit puts all park owners in jeopardy.
Now what was that about me being bad for the industry and MHI? Hypocrisy anyone?
I might add that many, many people have said that I gave the most entertaining speech at both events, and I get constant emails from people wanting to know when I'll speak again.
It's also important to note that the only reason I was chosen to be a headliner at MHI and NCC is that I draw a large audience, which is good for ticket sales. The industry Lecture Series, that I produce monthly, draws around 1,000 listeners per speech – significantly more than MHI and NCC combined.
7) "I don't believe that Frank was a member of MHI or the NCC when he addressed those groups. Is he a member now? If not, why not?"
Q) Frank, and you say?
I imagine that you can see, from the questions above, why we don't really feel wanted at MHI, and have never joined as a result. However, I know that there are changes coming to MHI, and I hope that our poor treatment will change in the future and we can be a productive member of both MHI and NCC.
As the 6th largest owner of mobile home parks in the U.S., I think we could bring a lot to the organization. Until that time, however, we will continue to not be a part of a group that does not want us.
When we do attend these events, which we do with regularity, we pay for our admission like anyone else. I would point out that we are members of the MHA in every state that we own in, so it's not that we are opposed to joining organizations – just ones that don't value our membership.
I might also add that the keynote speakers at NCC last year were some folks who work for the Ritz-Carlton hotel chain. Are they members? Does the hypocrisy ever end?
There are some huge positives to discuss out there – such as the CASH program from 21st Mortgage and Clayton — and I think that the petty commentary I see all around me is a terrible waste of time and energy.
If we're going to be taken seriously as the "other" multi-family, we need to cut out this childish behavior, and focus on topics that improve our communities and their income generation. Not that I don't enjoy a good debate, but I hung up my debate team blazer after high school – I've got more important things to do these days.
— End of Interview Q&A—
Editorially speaking, Frank's point about SEO and terminology is only half-right. We use the term "mobile home" for SEO purposes in our marketing on behalf of clients – and at times in articles – but we also routinely use it as a teaching opportunity to underscore the difference between a mobile home and a modern HUD Code manufactured home. Frank and I have had this discussion in private and public, and we've agreed to disagree. We see practical value to raising the image, in part by using the proper terminology.
But words or terminology alone are not enough – professional action must follow – as is exemplified in our interviews with dozens of other industry leaders.
That said, whatever one might say about Frank, for or against, there is no doubt that the operations that he, Dave Reynolds and Brandon Reynolds are involved in have advanced in ways that many would describe as successful. Their website states they are the 6th largest owner of mobile home parks in the U.S., with over 17,000 lots spread out over 17 states. Their "Mobile Home Park Store" website asserts they have some 20,000 page views daily, which would dwarf many industry association websites combined (noting that MHProNews is still substantially larger, by more a margin of more than double that tally, in daily page views).
As stories of success tend to draw people, the controversies in the wake of Frank Rolfe and his colleagues are therefor likely to continue for some time to come. At MHProNews, "We Provide, You Decide." ©
After reading the above Q&A…And You Say?? ##
{article Tony Kovach}{text}{/article}