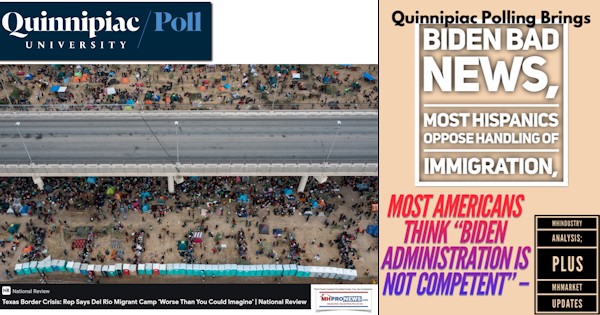 Since Joe Biden was sworn in, which perhaps half of the country disputes was a legitimate presidential election outcome, a string of decisions that have had problematic outcomes have caused a steady erosion in his polling in recent weeks. For manufactured home professionals, investors, and others, among the factors that are mentioned are lack of labor issues, supply chain problems, and rising fuel prices. Each of these are real threats to manufactured home producers and sellers. But that's particularly so for independents who do not have the deep pockets that some larger Manufactured Housing Institute (MHI) connected brands do. Then, despite MHI touting Biden's housing plan – which arguably supports industry competitors over manufactured home producers, as the Modular Home Builders Association (MHBA) Tom Hardiman noted weeks ago – when the glossy layers are peeled back, there is a demonstrable lack of good news for our profession, and thus our potential homeowners. Per Hardiman, the Biden plan turns the American Dream into the American Nightmare. Then, there is the border crisis, which in several ways is a "manufactured crisis" because the Trump Administration left Biden with a largely secure southern border with approaching 500 miles of border wall nearly complete. "The Wall" was halted by Biden. The remain in Mexico deal for migrants was undone. Catch and release has effectively been restored. With perhaps 2 million people from dozens of nations crossing the southern border expected by year's end, there are more people entering unvetted vs the roughly million legal immigrants a year who have to go through a process in order to be accepted to the U.S.
How do Hispanics and others look at these developments? Recent Quinnipiac polling sheds light. The illustration below was not part of the report that follows, but frames the issue with third-party evidence.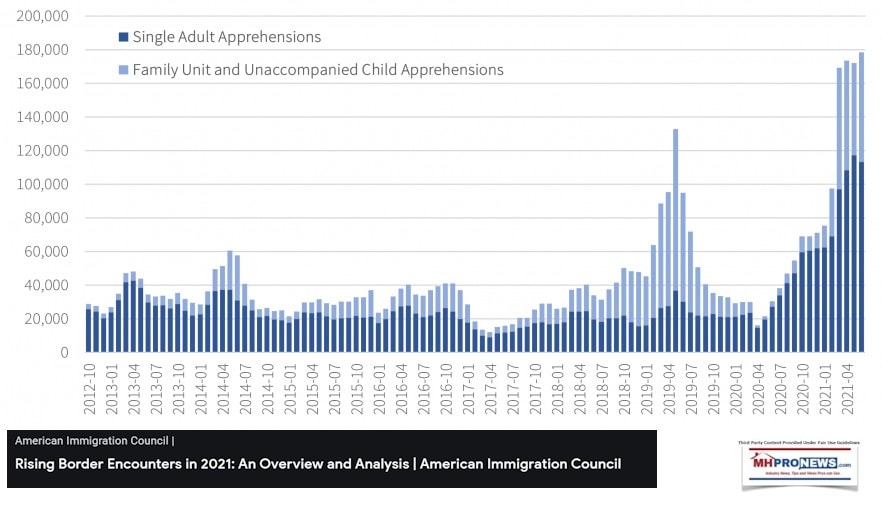 From the WND Newscenter, with their expressed permission to MHProNews, is the following.
69 percent of Hispanics disapprove of Biden's handling of immigration
Escalating border crisis turning off minority voters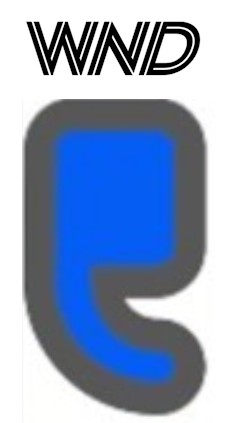 By WND News Services
Published October 7, 2021 at 5:08pm
(NATIONAL REVIEW) – Amid the border crisis, which escalated last week with the apprehension of over ten thousand Haitian migrants, President Biden has fallen out of favor with the majority of Hispanic Americans over his handling of immigration policy.
Sixty-nine percent of Hispanics disapprove of Biden's handling of immigration, while only 23 percent approve, according to a new Quinnipiac poll released Wednesday.
As for the Biden administration's handling of deportations of illegal aliens, 41 percent of Hispanic respondents say it is "not aggressive enough" while 20 percent say Biden has been "acting appropriately."
The balance of the National Review article provides additional, brief, cogent insights related to that Quinnipiac poll (Q-poll) research. But one takeaway from the above is that a key part of the Democratic coalition may be slipping more toward the Trump-Republican camp. In 2020, President Trump captured a higher percentage of Hispanics, and a few more points among blacks too.
Q-polling also released other information that reflects growing problems for Team-Biden-Harris and left-leaning Democrats. Per a 10.6.2021 Q-poll, "Americans Give President Biden Lowest Marks Across The Board, Quinnipiac University National Poll Finds; Majority Say The Biden Administration Is Not Competent." That polling result is shown below.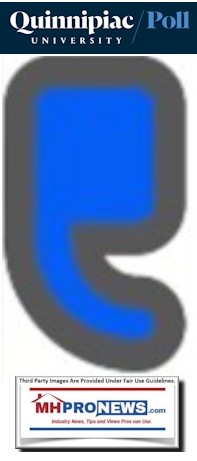 President Joe Biden receives a negative 38 – 53 percent job approval rating, the lowest score he's received from the American people on his job performance since taking office, according to a Quinnipiac (KWIN-uh-pea- ack) University national poll of adults released today. In Quinnipiac's last national poll released 3 weeks ago, he received a negative 42 – 50 percent job approval rating.
Today, Republicans (94 – 4 percent) and independents (60 – 32 percent) disapprove of the job Biden is doing, while Democrats approve 80 – 10 percent.
HANDLING OF ISSUES
Biden received negative scores in the double digits on all but one key issue when Americans were asked about his handling of …
the response to the coronavirus: 48 percent approve, while 50 percent disapprove;
the economy: 39 percent approve, while 55 percent disapprove;
his job as Commander in Chief of the U.S. military: 37 percent approve, while 58 percent disapprove;
taxes: 37 percent approve, while 54 percent disapprove;
foreign policy: 34 percent approve, while 58 percent disapprove;
immigration issues: 25 percent approve, while 67 percent disapprove;
the situation at the Mexican border: 23 percent approve, while 67 percent disapprove.
When it comes to Biden's personal traits, Americans were asked whether or not Biden …
cares about average Americans: 49 percent say yes, while 48 percent say no, compared to 58 – 37 percent yes in April;
is honest: 44 percent say yes, while 50 percent say no, compared to 51 – 42 percent yes in April;
has good leadership skills: 41 percent say yes, while 56 percent say no, compared to 52 – 44 percent yes in April.
More than half of Americans say 55 – 42 percent that the Biden administration is not competent in running the government.
"Battered on trust, doubted on leadership, and challenged on overall competency, President Biden is being hammered on all sides as his approval rating continues its downward slide to a number not seen since the tough scrutiny of the Trump administration,"said Quinnipiac University Polling Analyst Tim Malloy.
AFGHANISTAN
Roughly 3 in 10 Americans (28 percent) think the U.S. did the right thing by withdrawing all troops from Afghanistan, while 50 percent think the U.S. should have withdrawn some troops from Afghanistan but not all troops, and 15 percent think the U.S. should not have withdrawn any troops from Afghanistan.
"Though the troops are gone, America's longest war still gnaws at the country. Weary of the seemingly endless conflict but wary of what was left behind, the majority of people still see boots on the ground as the firewall between a country in the grip of Western hating factions and the rest of the world,"added Malloy.
SATISFACTION & THE ECONOMY
Roughly one-quarter of Americans (28 percent) say they are either very satisfied (5 percent) or somewhat satisfied (23 percent) with the way things are going in the nation today. Close to three-quarters (72 percent) of Americans say they are either somewhat dissatisfied (24 percent) or very dissatisfied (48 percent) with the way things are going in the nation today. Those levels are largely unchanged from September.
Roughly one-quarter of Americans (29 percent) describe the economy as excellent (2 percent) or good (27 percent), while 69 percent describe it as not so good (35 percent) or poor (34 percent).
This is a drop from May when 38 percent described the economy as excellent or good and 59 percent described it as not so good or poor.
COVID-19
Nearly three-quarters (74 percent) of Americans say they either have received a COVID-19 vaccine or plan to, while 20 percent say they don't plan to receive a COVID-19 vaccine. This is largely unchanged from a September survey.
A majority of Americans say 52 – 44 percent that once students of all ages are eligible for a COVID-19 vaccine, kindergarten through 12th grade students should not be required to receive a COVID-19 vaccine.
Nearly 7 in 10 (68 – 30 percent) of Americans with kids under the age of 18 say they do not think that students should be required to receive a COVID-19 vaccine once students of all ages are eligible for a COVID-19 vaccine.
Americans were asked whether or not a vaccine mandate would make them more or less likely to engage in particular activities. In all cases, a plurality of Americans say that a vaccine mandate would make no difference when deciding whether or not…
to travel on an airplane: 47 percent say no difference, 36 percent say more likely, 15 percent say less likely;
to go to a restaurant: 47 percent say no difference, 35 percent say more likely, 17 percent say less likely;
to go to a large sports or entertainment event: 48 percent say no difference, 34 percent say more likely, 17 percent say less likely.
Nearly 8 in 10 Americans (77 percent) think a return to in person work at this time is a good thing, while 15 percent think it's a bad thing.
More than one-third of Americans (37 percent) expect the number of COVID-19 cases to increase over the next few months, 28 percent expect the number to decrease, and 30 percent expect the number of cases to stay about the same.
1,326 U.S. adults nationwide were surveyed from October 1st – 4th with a margin of error of +/- 2.7 percentage points.' ##
Their media release says the following.
"The Quinnipiac University Poll, directed by Doug Schwartz, Ph.D. since 1994, conducts independent, non-partisan national and state polls on politics and issues. Surveys adhere to industry best practices and are based on random samples of adults using random digit dialing with live interviewers calling landlines and cell phones."
All polls have some margin of error, but the Q-poll claims they are the "gold standard," something others may dispute. That said, left-leaning Vox noted in 2016, weeks before that general election said "Jul 14, 2016 — On Wednesday, Quinnipiac University published a string of polls with terrible news for Hillary Clinton…" As history tells us, while other polls predicted a Clinton win that year, Donald Trump became the 45th President of the United States (POTUS).
Be someone a Biden or Trump voter, for those who sat out 2020, or perhaps voted for a third-party candidate, there is a demonstrable shift in support away from Biden.
Biden
There are voices on the left and right that believe that Biden is a mere figurehead, a PINO – President in Name Only. Speculation about who is actually calling the shots at the White House vary. But even Biden supporters must cringe at his periodic trouble even reading something from a teleprompter.
There is speculation that Biden's "VP Kamala Harris" trip was to prepare her for possibly taking over Biden's job in the foreseeable future. Time will tell.
But what is increasingly clear is that a series of foreign and domestic policy debacles are difficult to explain any other way than to think that like it or not, this is the Biden "Build Back Better" plan. MHProNews reported during and since the 2020 campaign that Biden was far more leftist than many in media painted him. Additionally, he has a track record of deception and often authentically (vs. ersatz or imputed) racist statements.
D.C. Democrats are working hard to get what Republicans call their election takeover bill and multitrillion dollar boondoggle through. Part of the reason is that Biden's sinking polling could translate into serious midterm losses. In the looming Virginia gubernatorial race, the Democratic candidate and prior governor Terry McAuliffe openly said that Biden is not popular in VA.
With some in manufactured housing predicting more of the same from the Biden regime, the question is will these moves erode support among the Democratic coalition? Just losing Hispanic voters may be enough to sink their 2022 or 2024 hopes. But many blacks are not on board with vaccine mandates.  Further, undermining American employees or potential job seekers by allowing in millions of undocumented who could work for lower pay only undercuts millions of Americans, perhaps most especially minorities.
For those who believe that serious election hijinks occurred in 2020, the Biden regime's increasingly unpopular moves are just more evidence that the man and his team are not to be trusted. Who says? Pollsters, several of whom are Democratic leaning.
##
Let us keep our faith pic.twitter.com/RwqD4SsY8T

— Jon Voight (@jonvoight) October 2, 2021
These reports set the broader context for the above as well as the manufactured home industry specific reality check.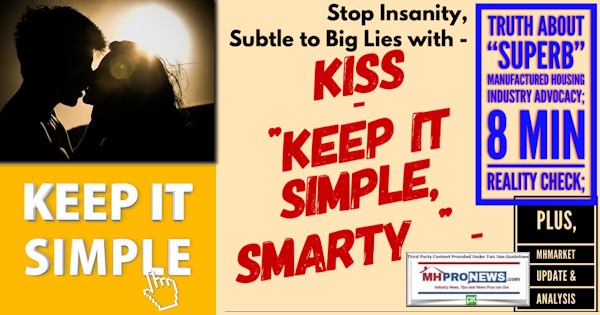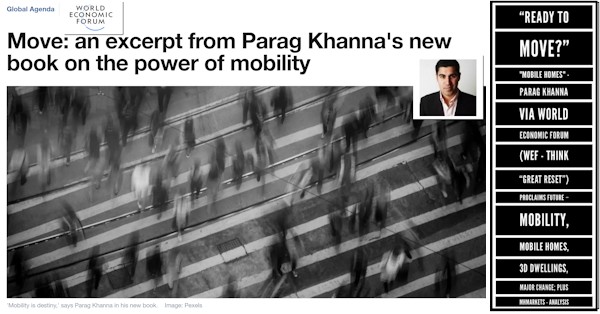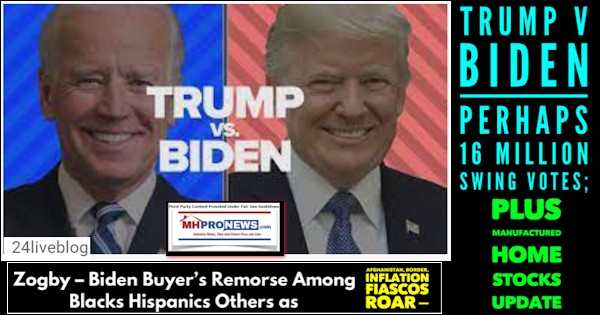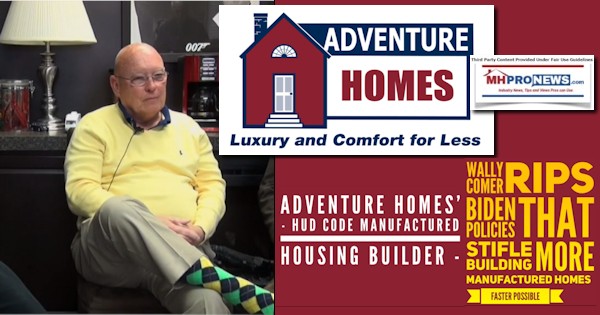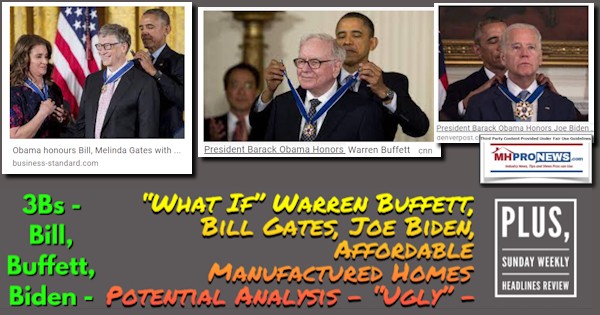 Next up is our business daily recap of yesterday evening's market report, related left-right headlines, and manufactured housing connected equities.
The Business Daily Manufactured Home Industry Connected Stock Market Updates.  Plus, Market Moving Left (CNN) – Right (Newsmax) Headlines Snapshot. While the layout of this daily business report has been evolving over time, several elements of the basic concepts used previously are still the same. For instance. The headlines that follow below can be reviewed at a glance to save time while providing insights across the left-right media divide. Additionally, those headlines often provide clues as to possible 'market-moving' news items.
Market Indicator Closing Summaries – Yahoo Finance Closing Tickers on MHProNews…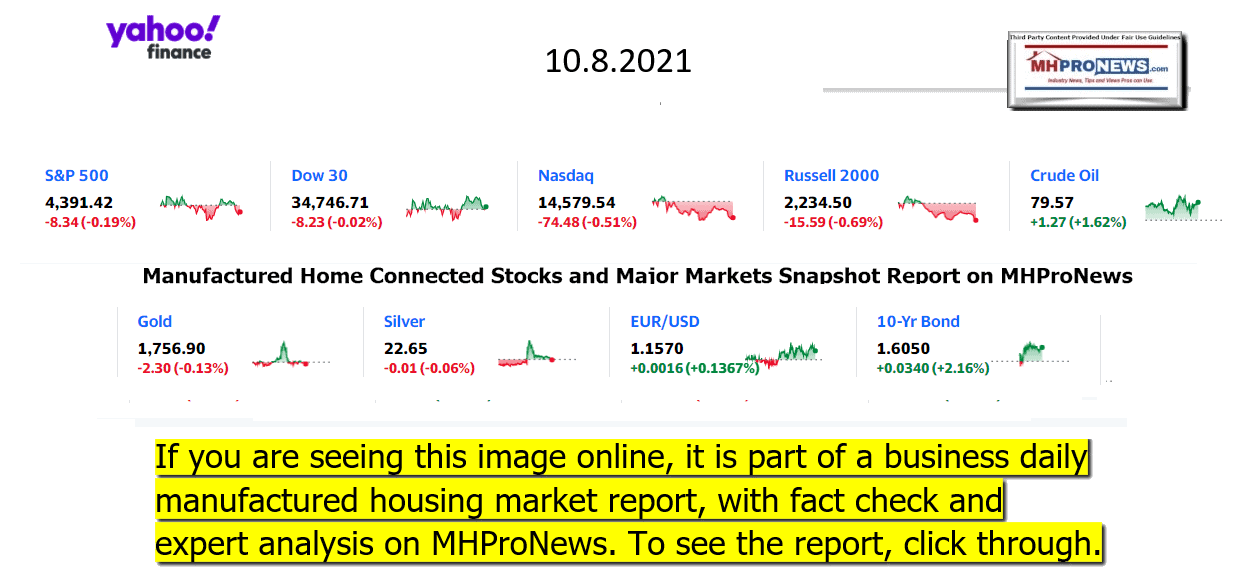 Headlines from left-of-center CNN Business – from the evening of 10.08.2021
Another black eye
Aerial view of the Amazon forest near Sao Gabriel da Cachoeira.
Facebook will now ban the sale of protected Amazon rainforest land on Marketplace
Another disappointment: US economy adds only 194,000 jobs in September
US dodges potential financial Armageddon for now
Jack Lew: The debt limit is still a ticking time bomb
Wall Street isn't sweating the mixed jobs report
A global energy crisis is coming. There's no quick fix
Want to go to space in a balloon? You could for $50,000
Tesla will move its headquarters to Texas, Elon Musk says
Nobel winner Dmitry Muratov's newspaper has been a thorn in Putin's side
136 countries agree to minimum corporate tax rate after Ireland drops its opposition
Mohamed El-Erian: The Fed needs to ease off the accelerator
Levi's says casual comfort is our new normal, and it's here to stay
TELL US Are you a parent concerned about the impact Instagram is having on your children? Share your family's story
'No Time to Die' is the most important film of the pandemic era
How a LinkedIn message paved the way for 'The Facebook Files'
Scott Banks retired earlier than expected and plans to travel the country in an RV with his wife.
These people quit their jobs during the pandemic. Here's what they're doing now
A view of a fuel pump at a petrol station as US oil prices hit their highest levels since 2014 due to the deepening energy crisis in global markets, in Washington, United States on October 7, 2021. US oil benchmark West Texas Intermediate jumped 3 per cent to more than $79 a barrel for the first time since 2014.
Gas prices are at 7-year highs, and President Biden can't do much about it
Is crypto the future or is it a fraud? CNN Business asked 15 experts
OIL AND GAS
The MV Epic St George LNG (liquid natural gas tanker) passes the Esso Oil refinery in Fawley, near Southampton, southern England on October 4, 2021.
A global energy crisis is coming. There's no quick fix
The screwed-up supply chain may have caused oil spill
Soldiers are delivering fuel in Britain as shortages persist
Big Oil is going all-out to fight Biden's climate rules
Millions of Europeans may not be able to heat homes
FACEBOOK IN TROUBLE
Facebook whistleblower, Frances Haugen appears before the Senate Commerce, Science, and Transportation Subcommittee at the Russell Senate Office Building on October 05, 2021 in Washington, DC. Haugen left Facebook in May and provided internal company documents about Facebook to journalists and others, alleging that Facebook consistently chooses profit over safety.
Why whistleblower Frances Haugen is Facebook's worst nightmare
Analysis: Zuckerberg tries to hit hard, but nothing lands
After a bad day, Facebook suffers major outage
Instagram promoted pages glorifying eating disorders
Facebook grilled by Senate over company's impact on kids
Headlines from right-of-center Newsmax – evening of 10.08.2021
Biden Losing Key Support From Independents as Approval Ratings Plunge
President Joe Biden arrives to speak on the North Lawn of the White House on Friday during an event announcing that his administration is restoring protections for two sprawling national monuments in Utah that have been at the center of a long-running public lands dispute, and a separate marine conservation area in New England that recently has been used for commercial fishing. (AP)
A Gallup Poll published Sept. 22, found that approval for Biden was only 37% among independents. Notably, Gallup found independent approval has cratered 24 points (from 61%) since Biden took office and 18 points since June (55%). [Full Story]
Newsmax TV
Steil: 'Bad Approach' For Senate to Extend Debt Ceiling
Steil: 'Bad Approach' For Senate to Extend Debt Ceiling | video
Greg Murphy: Vaccine Mandates Show Hatred for America | video
Mast: Biden's Afghan Exit Wasted 20 Years of 'Blood, Sweat, Tears' | video
Sessions: McConnell's Deal Doesn't Give Dems Money | video
Texas AG Paxton: We'll Stand by Parents Defending Children | video
Danny Danon: Abbas Unlikely to Negotiate With Israel | video
Cawthorn: 'Our Generation' Will Pay 'Establishment' Debts | video
More Newsmax TV
Newsfront
Hunter Biden Sells 5 Art Reproductions for $75K Each
At least five reproductions of Hunter Biden's artwork have garnered $75,000 each as lawyers vet people who plan to attend his spring gallery show in New York City. The Georges Berges Gallery sold the…… [Full Story]
Fox News Re-Hires Expert Who Called Arizona for Biden
Fox News Re-Hires Expert Who Called Arizona for Biden
The orchestrator of Fox News' early call of Arizona in the last [Full Story]
2 Parents Convicted in 1st Trial of College Bribery Scandal
Two wealthy parents were convicted Friday of buying their kids' way [Full Story]
CDC Advisers to Review Moderna, J&J COVID-19 Booster Shots This Month
Independent advisers to the U.S. Centers for Disease Control and [Full Story]
Related
NY Times Issues Correction After Kids' COVID Numbers Overreported
Pfizer COVID Vaccine Less Effective After 2 Months
Biden Is First President to Mark Indigenous Peoples' Day
President Joe Biden on Friday issued the first-ever presidential [Full Story]
Is Mitch McConnell Playing Chess or Just Getting Played With Debt Limit Deal?
Senate Minority Leader Mitch McConnell's last-minute debt limit deal [Full Story] | platinum
Related
Trump: McConnell 'Not the Guy' to Lead
Report: Biden Called Hospital to See Why Friend Turned Away
President Joe Biden on Friday said that he personally called a [Full Story]
Judge: Sentence in Capitol Riot Case Should Send Message
A federal judge said Friday he hopes a three-month sentence behind [Full Story]
Rick Scott Accuses Biden of 'Killing the Economy'
Rick Scott Friday said President Joe Biden is "killing this [Full Story]
Biden Blocks Trump Attempt to Withhold Jan. 6 Documents
The Biden administration on Friday rejected former President Donald [Full Story]
DeSantis: Biden Policies to Blame for Inflation's 'Significant Headwinds'
Florida Gov. Ron DeSantis warned that states are powerless to guard [Full Story]
Nearly 140 Countries Reach Deal on Corporate Minimum Tax
Nearly 140 countries have agreed on a tentative deal that would make [Full Story]
New York Public Schools to End Gifted and Talented Program
New York City will phase out its program for gifted and talented [Full Story] iden Signs Law Supporting Mystery 'Havana Syndrome' Victims
President Joe Biden on Friday signed a law providing financial [Full Story]
RNC Chief McDaniel Slams Biden Over Jobs Report 'Disaster'
Republican National Committee Chairwoman Ronna McDaniel, calling the [Full Story]
Related
US Job Growth Slows Sharply, Unemployment Rate Falls to 4.8%
Texas HS Shooting Suspect Released on Bail
The Texas student who allegedly shot three people at his high school [Full Story]
Damaged US Sub in Port After Mysterious South China Sea Collision
A U.S. Navy nuclear-powered submarine that was damaged in a collision [Full Story]
Police: 2 Dead, Suspect Held in Shooting at Senior Facility
Two people were fatally shot Friday at a Maryland senior living [Full Story]
Columnist: Rep. Schiff's New Book Alleges Mueller's Mental Decline
Adam Schiff, D-Calif., noting Robert Mueller's appearance before [Full Story]
California Bans Nonconsensual Condom Removal During Sex
California this week became the first state in the country to ban the [Full Story]
China Warns US About Military Helping Taiwan
China repeated calls for the U.S. to cut off military ties with [Full Story]
'Devil Wears Prada' Star Stanley Tucci Recounts 'Devastating' Cancer Battle
Stanley Tucci is detailing his "devastating" battle with oral cancer, [Full Story]
Senate Republicans Support US Military Presence in Taiwan
Senate Republicans expressed support for small units of U.S. troops [Full Story]
Nets Star Kyrie Irving to Miss First Game Over Vaccine Mandate
Brooklyn Nets star Kyrie Irving won't play in Friday's preseason game [Full Story]
Andy Biggs: 'We Don't Know' 2020 Election Winner in Arizona
GOP Rep. Andy Biggs told a Democrat colleague that "we don't know" [Full Story]
Journalists Who Took on Putin and Duterte Win 2021 Nobel Peace Prize
Two journalists whose work has angered the authorities in Russia and [Full Story]
Texas Abortion Provider Resumes Services After Judge Blocks Tough New Law
A day after a federal judge blocked Texas' near-total abortion ban, [Full Story]
Senate Approves Temporary Lift to Debt Ceiling, Averting Default
The Senate on Thursday approved legislation to temporarily raise the [Full Story]
Tesla Moving Headquarters to Texas From California
Tesla Chief Executive Elon Musk said on Thursday the electric [Full Story]
19 States Seek to Block Postal Service Cutbacks
The state attorneys general of 19 states and the District of Columbia [Full Story]
Republican Lawmakers Accuse White House of Pressuring Airlines on Vaccines
Two senior U.S. lawmakers on Thursday accused the White House of [Full Story]
More Newsfront
Finance
School Hiring Decline, Worker Shortages Curb US Job Growth
The U.S. economy created the fewest jobs in nine months in September amid a drop in hiring at schools and worker shortages, but ebbing COVID-19 cases and the end of generous unemployment benefits could boost employment gains in the months ahead. [Full Story]
Boosters, Employer Mandates Drive Increase in US Vaccines
AvidXchange Raises IPO Price Range — on a Near $5 Billion Valuation
Jobs Data Shows Biden's Economic Blunders Are Leading to Stagflation
NerdWallet IPO Filing Reveals 32% Jump in Revenue
More Finance
Health
Pfizer Asks FDA to Allow COVID Shots for Kids Ages 5 to 11
Pfizer asked the U.S. government Thursday to allow use of its COVID-19 vaccine in children ages 5 to 11 – and if regulators agree, shots could begin within a matter of weeks. Many parents and pediatricians are clamoring for protection for children younger than 12, today's… [Full Story]
What You Need to Know About Merck's New COVID-19 Pill
Roche Says Alzheimer's Therapy Gets US Breakthrough Designation
Study: Good Oral Health Lowers Risk for Severe COVID
Pfizer COVID Vaccine Less Effective After 2 Months
Manufactured Housing Industry Investments Connected Equities Closing Tickers
Some of these firms invest in manufactured housing, or are otherwise connected, but may do other forms of investing or business activities too.
NOTE: The chart below includes the Canadian stock, ECN, which purchased Triad Financial Services, a manufactured home industry lender
NOTE: Drew changed its name and trading symbol at the end of 2016 to Lippert (LCII).
NOTE: Deer Valley was largely taken private, say company insiders in a message to MHProNews on 12.15.2020, but there are still some outstanding shares of  the stock from the days when it was a publicly traded firm.  Thus, there is still periodic activity on DVLY.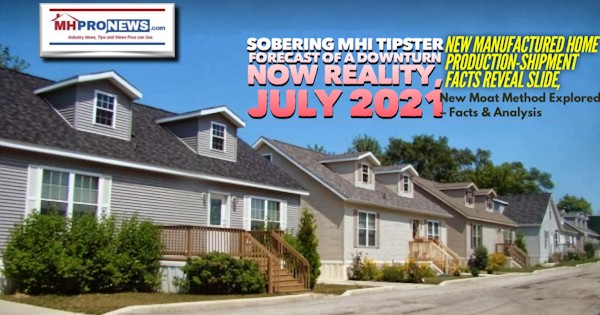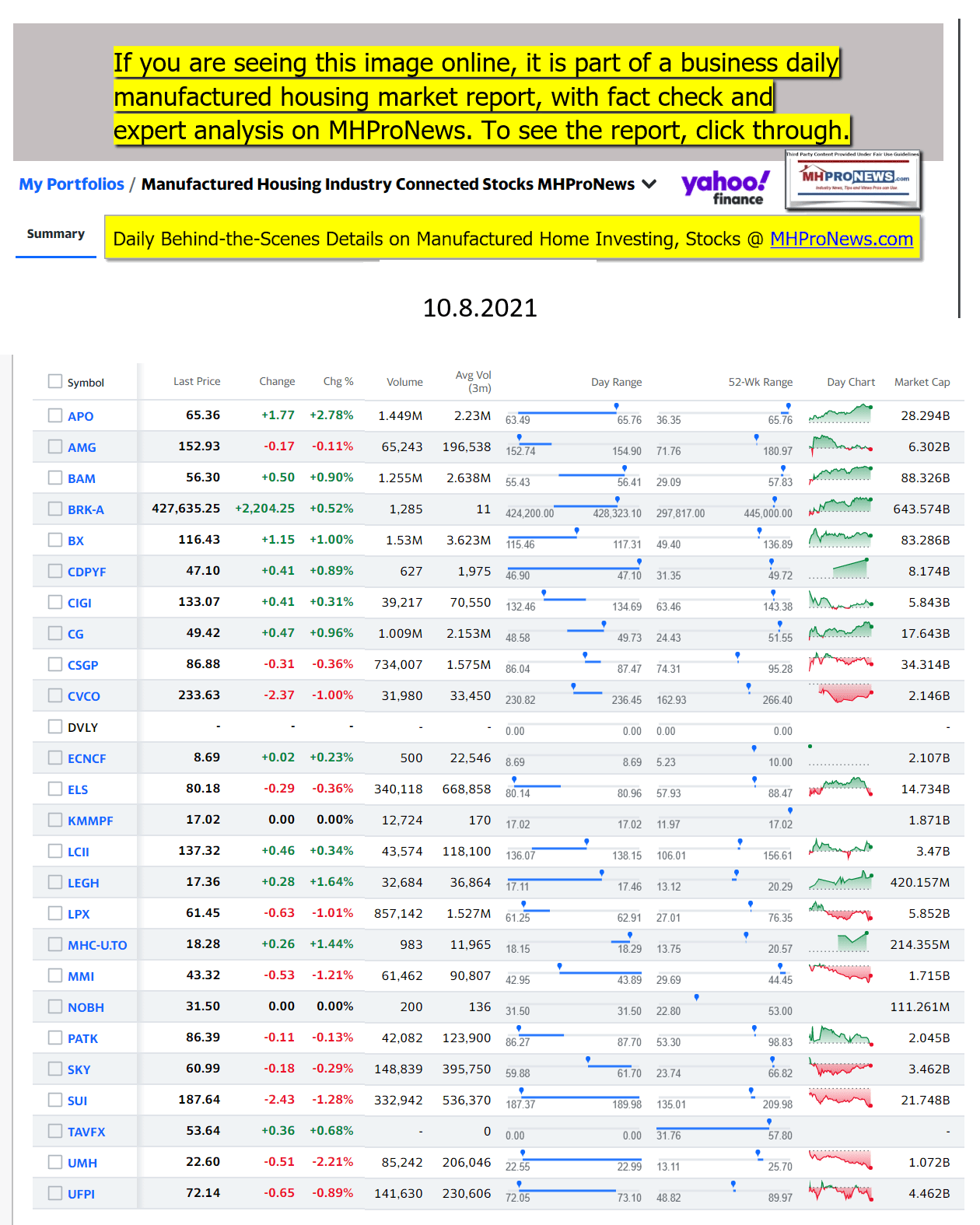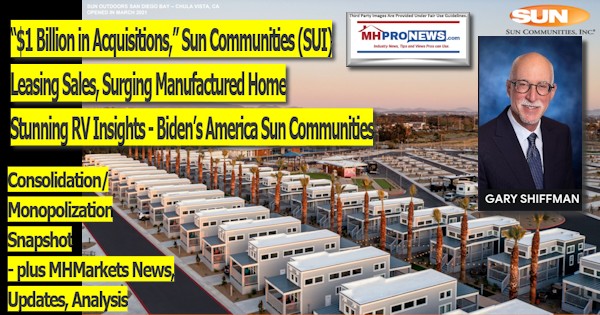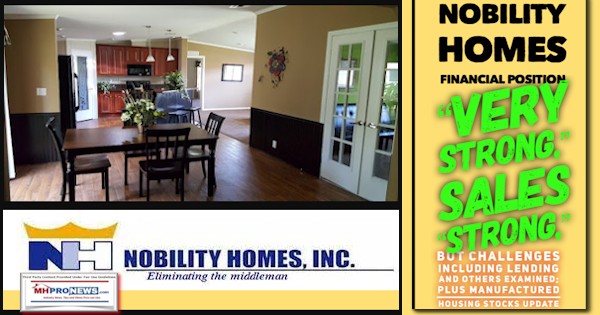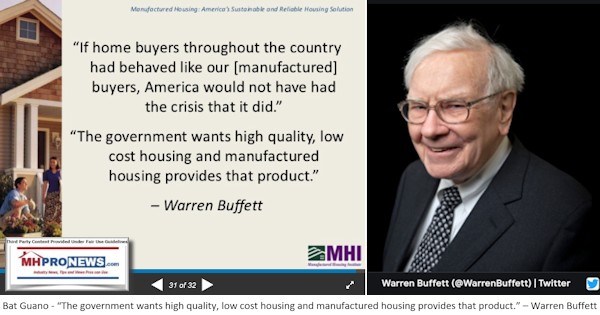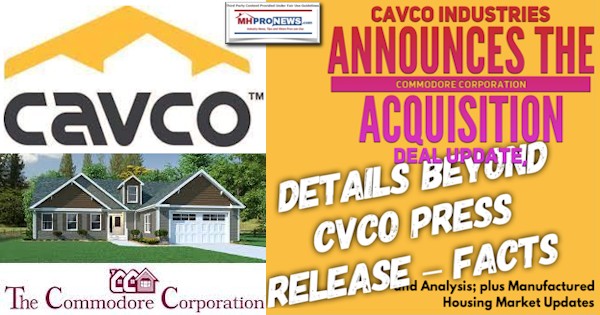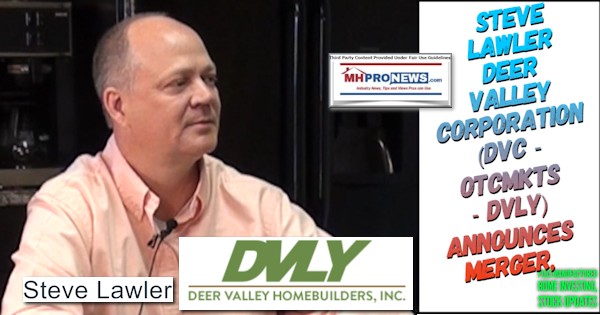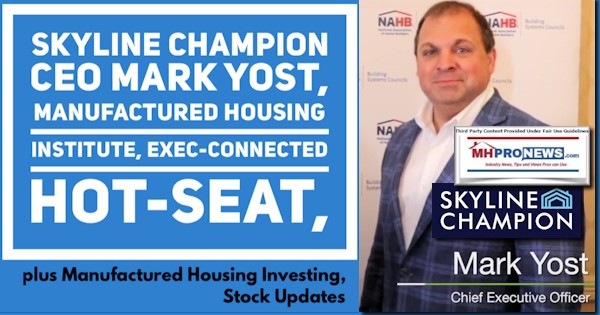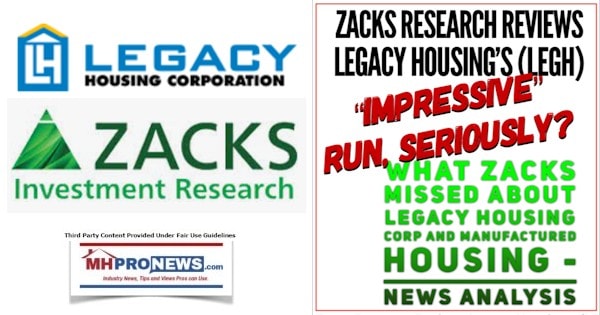 As the Summer of 2021 draws to a close…
Berkshire Hathaway is the parent company to Clayton Homes, 21st Mortgage, Vanderbilt Mortgage and other factory built housing industry suppliers.
· LCI Industries, Patrick, UFPI, and LP each are suppliers to the manufactured housing industry, among others.
· AMG, CG, and TAVFX have investments in manufactured housing related businesses. For insights from third-parties and clients about our publisher, click here.
Enjoy these 'blast from the past' comments.
MHProNews. MHProNews – previously a.k.a. MHMSM.com – has celebrated our 11th year of publishing, and is starting our 12th year of serving the industry as the runaway most-read trade media.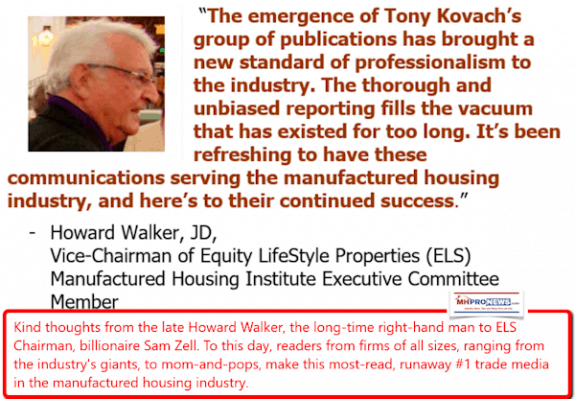 Sample Kudos over the years…
It is now 11+ years and counting…
Learn more about our evolutionary journey as the industry's leading trade media, at the report linked below.
· For expert manufactured housing business development or other professional services, click here.
· To sign up in seconds for our industry leading emailed headline news updates, click here.

Disclosure. MHProNews holds no positions in the stocks in this report.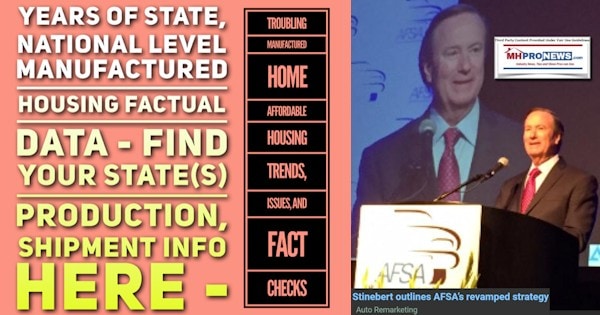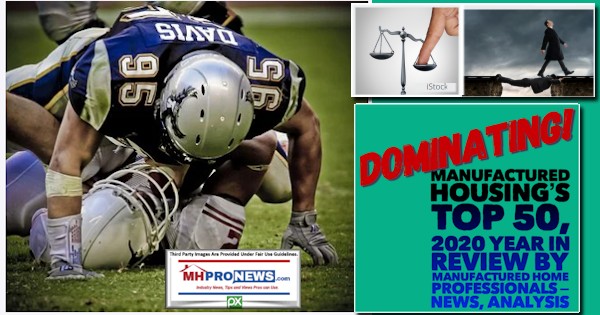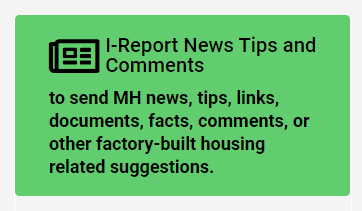 That's a wrap on this installment of "News Through the Lens of Manufactured Homes and Factory-Built Housing" © where "We Provide, You Decide." © (Affordable housing, manufactured homes, stock, investing, data, metrics, reports, fact-checks, analysis, and commentary. Third-party images or content are provided under fair use guidelines for media.) (See Related Reports, further below. Text/image boxes often are hot-linked to other reports that can be access by clicking on them.)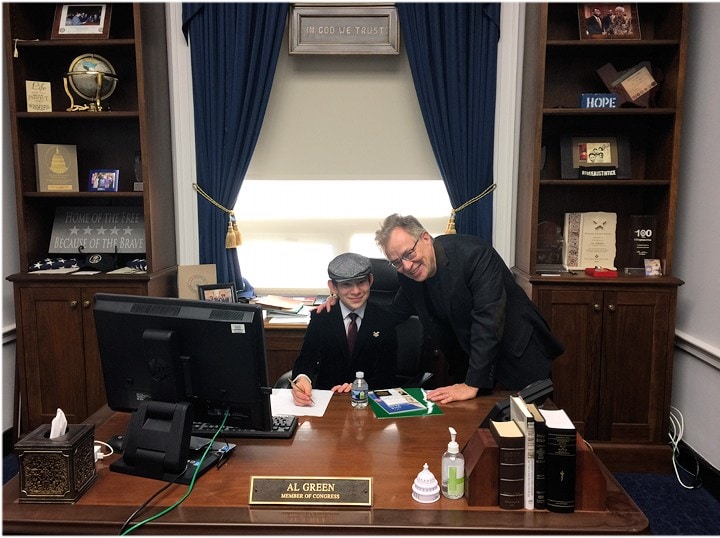 By L.A. "Tony" Kovach – for MHProNews.
Tony earned a journalism scholarship along with numerous awards in history. There have been several awards and honors and also recognition in manufactured housing. For example, he earned the prestigious Lottinville Award in history from the University of Oklahoma, where he studied history and business management. He's a managing member and co-founder of LifeStyle Factory Homes, LLC, the parent company to MHProNews, and MHLivingNews.com. This article reflects the LLC's and/or the writer's position, and may or may not reflect the views of sponsors or supporters.