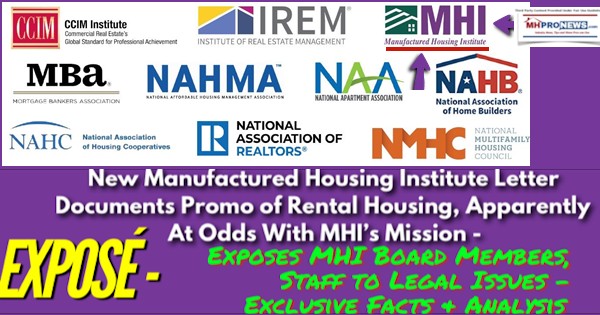 "Our focus as an industry and yours as leaders in Congress have always been to relieve the unprecedented strain from COVID-19 on renters and individual housing providers, and to support the continued viability of the rental housing industry." That was in a letter signed by the Manufactured Housing Institute (MHI) on September 13, 2021, MHI and their "coalition partners" said this in a letter to Congressional leaders. But it was just two weeks ago that MHI claimed to be working not on behalf of the rental housing industry, but rather on behalf of the affordable manufactured home industry in an emailed appeal for more members. "The Manufactured Housing Institute is at the forefront of protecting your business and expanding opportunities." That same email of August 30, 2021 said: "The Manufactured Housing Institute's grassroots campaigns focus on aggressively advancing the interests of the industry and its customers to policymakers. We promote manufactured housing as a resource of innovation and affordable housing, and work hard to improve the flow of capital to manufactured home lending and create a friendlier zoning and regulatory environment to showcase today's beautiful factory-built homes." Those two statements, both from MHI but each directed to a different audience, begs several questions. The first question is, which is it? Is MHI working for the rental housing industry, as they told Congressional leaders just days ago? Or is MHI working to "aggressively" promote the interests of more manufactured housing sales through more lending and "create a friendlier zoning and regulatory" environment?
In fairness, it is not necessarily an either or proposition. Sure, manufactured housing can be used for rental housing. But that said, MHI's self-described "coalition partners" are often the very powerful groups that are working to limit the use of modern HUD Code manufactured home placement in cities, towns, and other local jurisdictions across the country. Who says? Among other evidence for that comes from Minneapolis Federal Reserve researchers James A. "Jim" Schmitz Jr and his colleagues. Another, of course, are the other evidence based concerns from the Manufactured Housing Association for Regulatory Reform (MHARR), which has yet to be caught in the act of talking out of both sides of their mouth, as MHI has once again been exposed as doing.
If this was the one and only example of duplicity on the part of MHI, perhaps it might be easier to excuse. But as MHProNews and MHLivingNews have alone done in our profession's trade media with any degree of consistency in recent years, there are numerous examples of MHI saying one thing, when the facts and/or their own behavior and words provided clear examples of something entirely different.
For the balance of this report, fact-check and analysis, the entire MHI letter to Congressional leaders will be presented. Note that nowhere does it even mention the words manufactured home or manufactured housing, save in the full name of MHI – the Manufactured Housing Institute. Following the letter will be a brief recap of some of the recent and historical 21st century examples of Berkshire-era MHI making misleading or deliberately deceptive statements or actions. A brief segment of additional information, and closing commentary will follow. Disclosure, publishing this letter should not be construed as an endorsement of MHI. This letter and the letter header below are for fact check, reporting, and analysis purposes.

September 13, 2021
The Honorable Maxine Waters
Chairwoman
Committee on Financial Services
Washington, DC 20515
The Honorable Patrick McHenry Ranking Member
Committee on Financial Services
Washington, DC 20515
Dear Chairwoman Waters and Ranking Member McHenry:
On behalf of the undersigned organizations, thank you for your efforts to accelerate the distribution of federal Emergency Rental Assistance Program (ERAP) funds to renters and housing providers in need. It is a herculean task to mitigate the extensive damage from the COVID-19 housing crisis in a way that balances everyone's needs. You have maintained your resolve in the face of this challenge and continued to work with all sides of the debate to find workable solutions. Specifically, we appreciate the efforts made in the amendment in the nature of a substitute for the "Expediting Assistance to Renters and Landlords Act of 2021, H.R. 5196," to respond to the concerns of housing providers.
The revisions in H.R. 5196 do represent real progress towards addressing the challenges that get in the way of efficient and effective distribution of ERAP dollars. However, we strongly oppose the continued inclusion of a four-month eviction moratorium with no certainty of assistance from ERAP grantees. In fact, it has been programmatic barriers such as these that have deterred housing provider participation in some jurisdictions across the country and frustrated our shared efforts of protecting the stability of the rental housing sector. The state of California originally instituted well-meaning legislation that would reimburse landlords for 80% of an eligible tenant's unpaid rent if landlords waived 20% of the rent owed. The Governor and state legislature quickly realized that neither tenants nor landlords had applied for rental assistance in sufficient numbers and enhanced the law to pay 100% of back rent as well as future months.
Eviction moratoria have been a core concern of housing providers since the start of the pandemic. They remain of critical concern 18 months into the pandemic as housing providers continue to balance lost rent with continuing to house residents. As written, this mandate could leave housing providers without the rental income that they rely on to operate their business, pay their employees and importantly, maintain the structural integrity and quality of the housing for their resident communities.
We believe that further revisions would reduce the barriers to housing provider participation in ERAP-funded programs and increase positive outcomes for participating renters and housing providers alike. We encourage the Committee to work together in bipartisan fashion to remove barriers such as these from the ERAP program.
Our focus as an industry and yours as leaders in Congress have always been to relieve the unprecedented strain from COVID-19 on renters and individual housing providers, and to support the continued viability of the rental housing industry. Our hope is that the spirit of that shared commitment will allow us to work together as this bill continues through the legislative process to find consensus and develop solutions that achieve stability within rental housing in every community impacted by the pandemic.
As always, thank you for your consideration of our perspective.
Sincerely,
CCIM Institute
Institute of Real Estate Management
Manufactured Housing Institute
Mortgage Bankers Association
National Affordable Housing Management Association
National Apartment Association
National Association of Home Builders
National Association of Housing Cooperatives
National Association of REALTORS®
National Multifamily Housing Council
cc: U.S. House Committee on Financial Services
U.S. Senate Committee on Banking, Housing, and Urban Affairs
House and Senate Leadership
##
The highlighting of the MHI name above was added by MHProNews, but the text remains the same as their letter.
That noted, where is a similar letter by MHI and those same "coalition partners" that call on Congress to enforce the enhanced preemption clause of the Manufactured Housing Improvement Act of 2000? Or where is there a similar letter by MHI and those coalition partners calling on Congress to make the FHFA and Government Sponsored Enterprises (GSEs) of Fannie Mae and Freddie Mac enforce the Duty to Serve (DTS) manufactured housing mandated by the Housing and Economic Recovery Act of 2000?
If it such letters exists, MHProNews has not seen it. Given how MHI likes to proclaim everything they want the industry to 'know about' as an MHI "Housing Alert," the odds are quite good that no such support from "housing coalition" partners in support of manufactured housing exists. Furthermore, where is there any mention of manufactured homes in the above, other than MHI's own name?
That backdrop sets the context and apparent disconnect for MHI's recently made a pitch to prospective members that they are working for all. But those claims are at odds with what MHI has said in this letter. See that recent MHI claim and other related facts in the report linked below.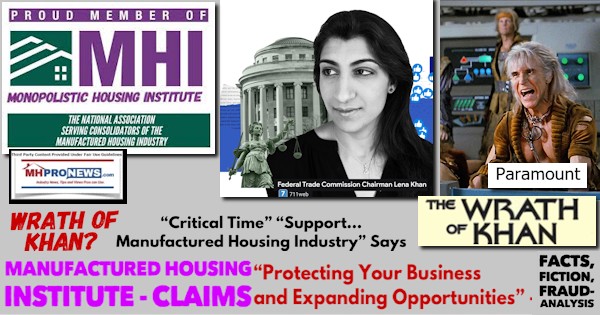 Let's be clear. The examples above are sufficient cause for MHI board members, if they are serious about their fiduciary responsibilities, to call a virtual or in person-meeting that is transparent in which MHI leaders are asked to explain the obvious disconnect of a manufactured housing trade group, which claims it is focused on the sale of more manufactured homes, to explain why they also claim to be working with rental and conventional housing trade groups that are among the direct competitors of our industry. 
There are several other issues that MHI board members are duty-bound to demand answers to, which will be explored in the report shown below.
One must keep in mind that a board of directors, as well as outside auditors, each play a legal role in the proper functioning a both for-profit corporations, but also nonprofit entities. Part of that role, by law, requires that they work for the good of all, not just for the benefit of a particular clique. That will be examined more below.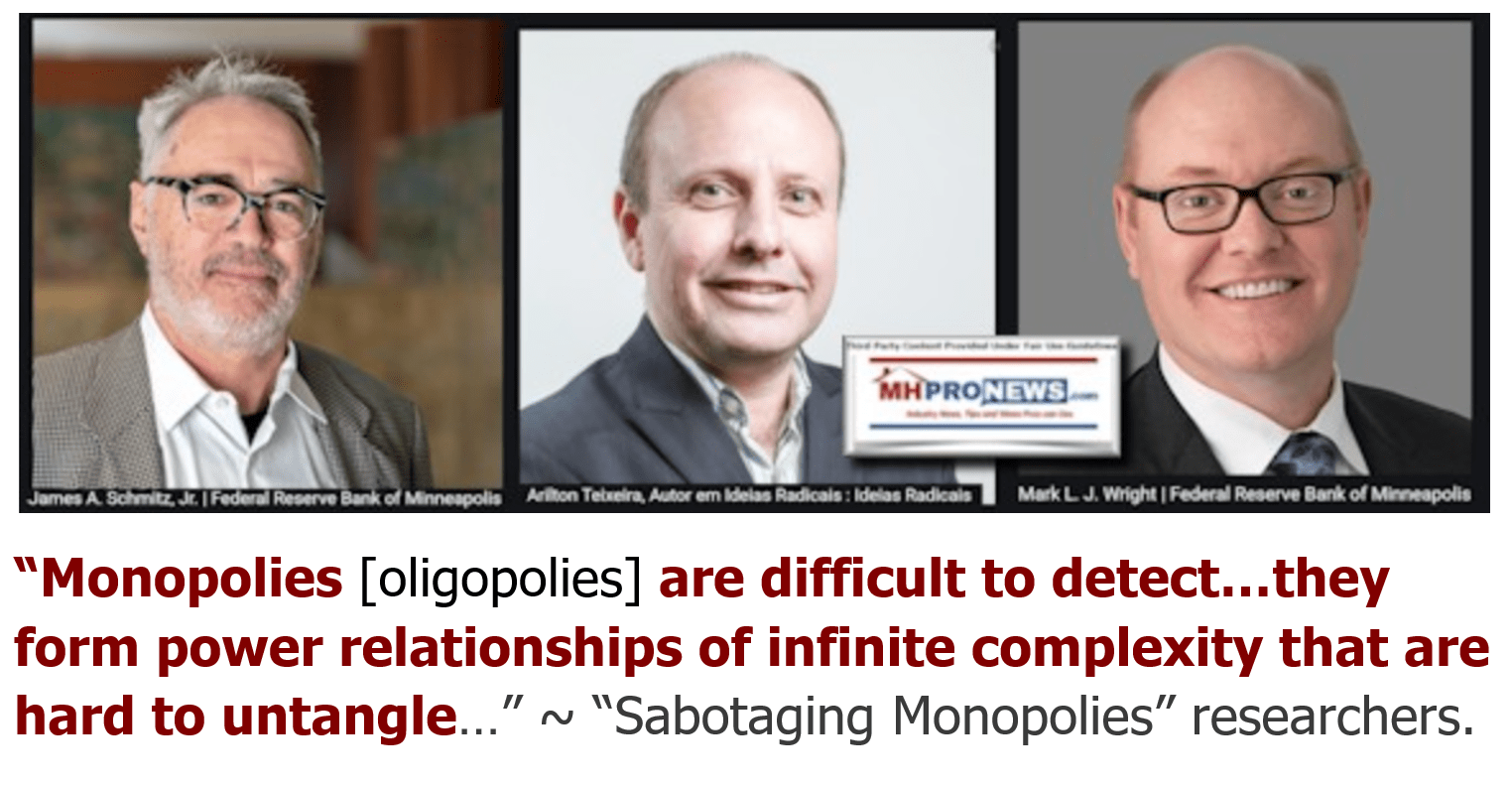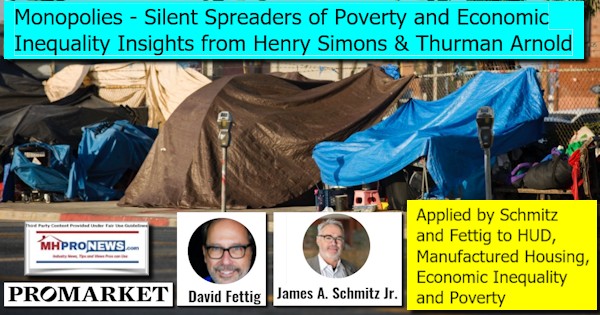 Additional Information, more MHProNews Analysis and Commentary
On 9.15 and 9.16 2021 AP, Yahoo News, the Seattle Times, Yahoo Finance, MarketBeat are among the some 523 media outlets that Bing reports on this date as having carried the story "Mobile home parks move from mom-and-pop to corporate." Google reports that same headline on this date yields some 793 results. That is a frank and widespread admission of a trend that MHI were themselves documenting in an annual report until their leadership apparently realized what they were doing. MHI then reportedly cut a deal with previously-disgraced by MHI "Community-Investor" George F. Allen, a retired Marine officer, blogger, longtime MHI and National Communities Council (NCC) member, and networking meeting organizer. An MHI member attorney told MHProNews that among Allen's offenses was his 'teaching' a method of lease-to-own or rent-to-own "sales" methods that he and his colleagues "teach" is arguably illegal. But that doesn't keep MHI from utilizing Allen as a surrogate. Apparently, so long as MHI key MHI members reward, Allen, his buddy Spencer Roane, et al, they are all fine with the previously improbable arrangement.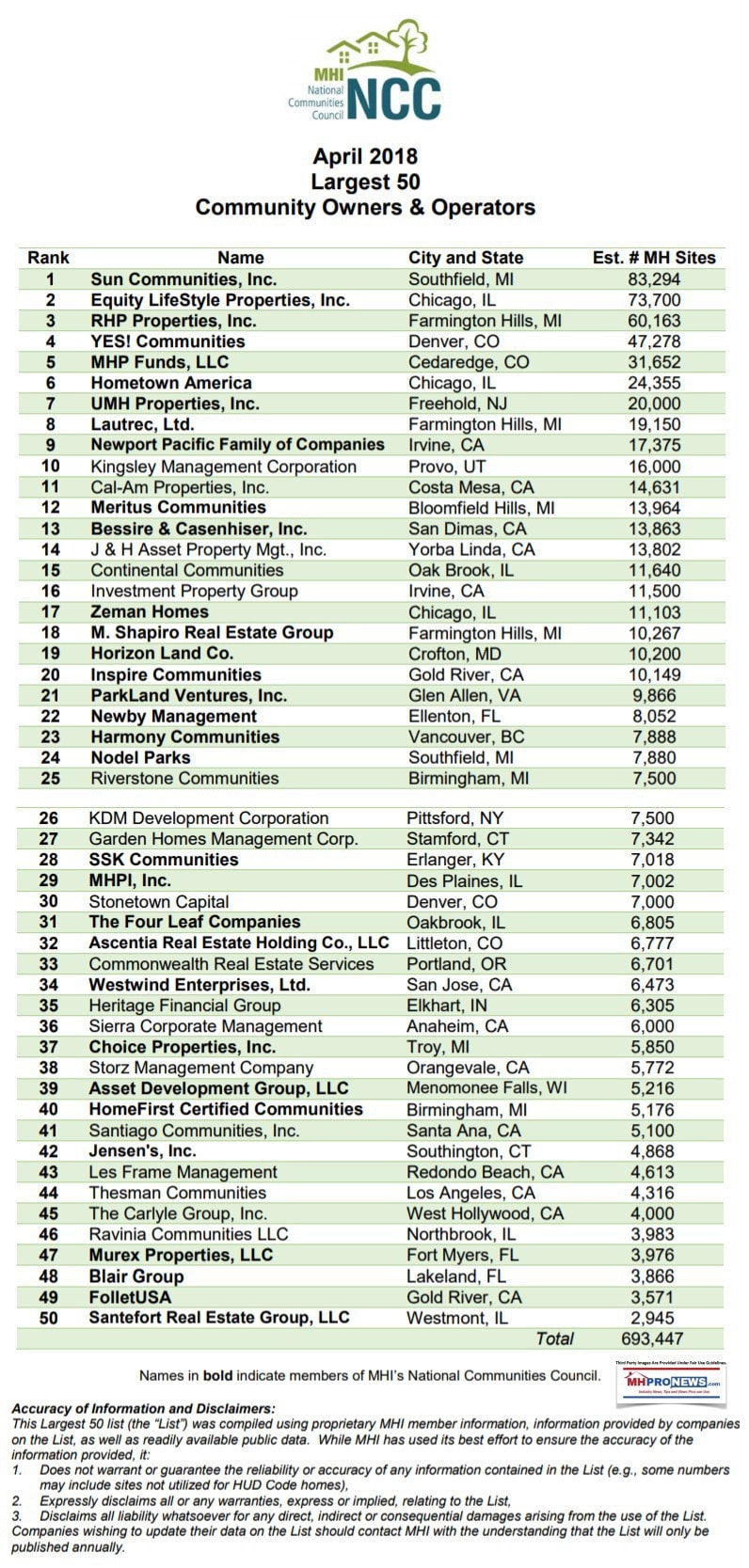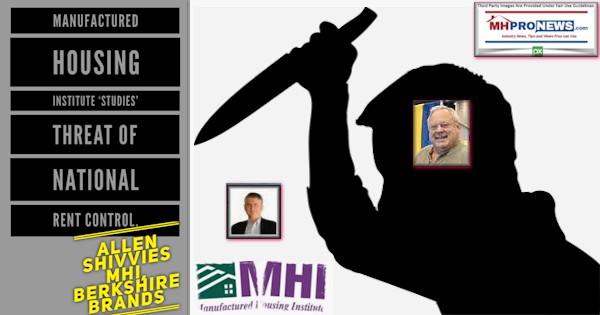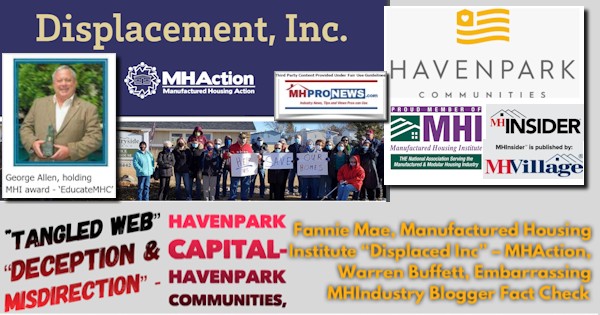 MHI suspended those reports of increasing industry consolidation circa 2018, Allen produces his own version of that data annually for a fee. So goes the Machiavellian "the enemy of my enemy is my friend" maneuvers in MHVille. This is one reason why MHI can be understood to by some to be known as the Machiavellian Housing Institute.
That is noted for several reasons.
In the post-Dodd-Frank era of manufactured housing, a growing number of firms in the land-lease manufactured home community business began to provide rental housing. Many of those same properties previously forbid rental housing for their resident-homeowners. Meaning, if someone living in a manufactured home community decided for whatever reason to move out and then rent out their mobile or manufactured home, their lease terms forbade that practice.  But post Dodd-Frank, when seller financing of manufactured homes became more difficult to do, the evolving laws and regulations, the realization that rental housing was an option to fill vacant sites began to take hold.
MHI members Sun Communities (SUI), Equity LifeStyle Properties (ELS), UMH Properties (UMH), Flagship Communities (FLGMF), and several other consolidators in manufactured housing, often MHI members and/or members of an MHI state affiliate, increasingly offered rentals vs manufactured homes for sale.
In classic "durable competitive advantage" fashion – Buffettesque moat-building methods – larger companies could buy manufactured home community properties that had significant vacancies. Those vacancies could then be filled with rental housing, which the evidence suggests is now far quicker to fill than the sale of a home might be. While some homes are sold, publicly made disclosures by MHI member brands such as SUI, ELS, or UMH routinely reveal that far more homes are rented that owned.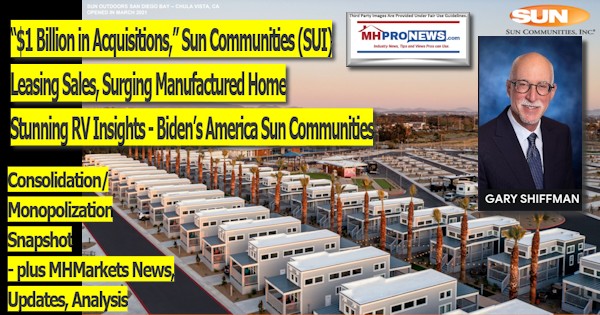 While there are doubtlessly some smaller firms that are doing some form of 'rent to own,' legally or not, as well as straight rentals, the "durable competitive advantage" in that arena belongs to those with the deeper pockets. Therefore, it is no surprise that MHI has been for a year or so a part of a "coalition" that is pitching to key members of Congress various policies and legislation that benefits rental housing.
To round out the picture for researchers and newcomers, some community owners for decades have always allowed and/or provided a rental option in their properties. But the bulk of the manufactured home professionals engaged in land-lease mobile home parks (MHPs) turned manufactured home communities (MHCs) had long backed an owner-occupied sites business model. It was owner occupation of sites that made land-lease communities in some ways superior to straight rental apartments and other forms of leased conventionally built multifamily housing complexes.
Some of that may seem to be a possible argument for MHI to be engaged with this rental housing coalition. But upon closer examination, some of those same companies have during quarterly investor calls made it clear that they rental housing portfolio has been overall performing quite well. Which once again begs the question. Why is MHI pushing this rental theme for so long, and by some measures, far more successfully than they have in getting results for implementing zoning and placement hurdles that limit new manufactured home sales? Or why is MHI more successful in getting rental housing support than they have been in obtaining Duty to Serve (DTS) lending to the bulk of the manufactured housing industry's new manufactured home products?
Those are among the questions that MHI board members must press for public answers by MHI in a transparent fashion, as was noted above.
But there is more to consider.
Warren Buffett-led Berkshire Hathaway entered into manufactured housing in 2002-2003 with acquisitions of the former Oakwood [Manufactured] Homes Corporation (2002) and then Clayton Homes (2003). With the exception of a brief uptick in production following Hurricane Katrina – which as a relevant aside magically produced negative headlines due to concerns over high levels of formaldehyde found in HUD Code homes produced for the Federal Emergency Management Agency (FEMA) along with other FEMA related scandals, manufactured housing as an industry today produces far fewer homes in 2021 than it did in 2002-2003. Fewer still manufactured homes are produced in relation to the last industry peak achieved in 1998. That 1998 peak was dwarfed by the one in the early 1970s. But for simplicities sake, let's focus on 1998 and since.
So, what has MHI done in the wake of what may be by years end a roughly 65 percent decline in 2021 vs. the peak of 1998?
After all, given their self-proclaimed "clout" and their also self-proclaimed "promotion" of manufactured housing where they claim to have 'reached' tens of millions of potential manufactured home customers. If so, those millions of claimed touches of potential consumers by MHI-connected pitches have failed to return the industry to anything like its glory days.
One must keep in mind that MHI largely represents companies. And per insiders, observers, and their own board's composition, those MHI member companies are dominated by the industry's giants who happen to routinely be in the business of consolidating the industry's remaining independents. Several of those brands have openly stated that they are in the "mergers and acquisitions" or "consolidation" business. Those corporate consolidators are often doing so despite statements that make it clear that they could be, for example, developing new home sites at times for less than the cost of buying an existing community in some markets.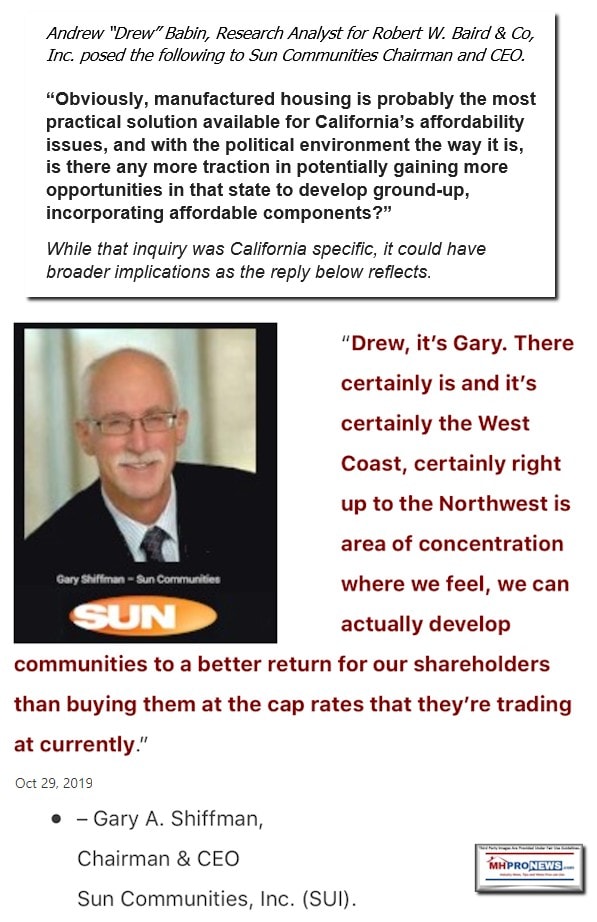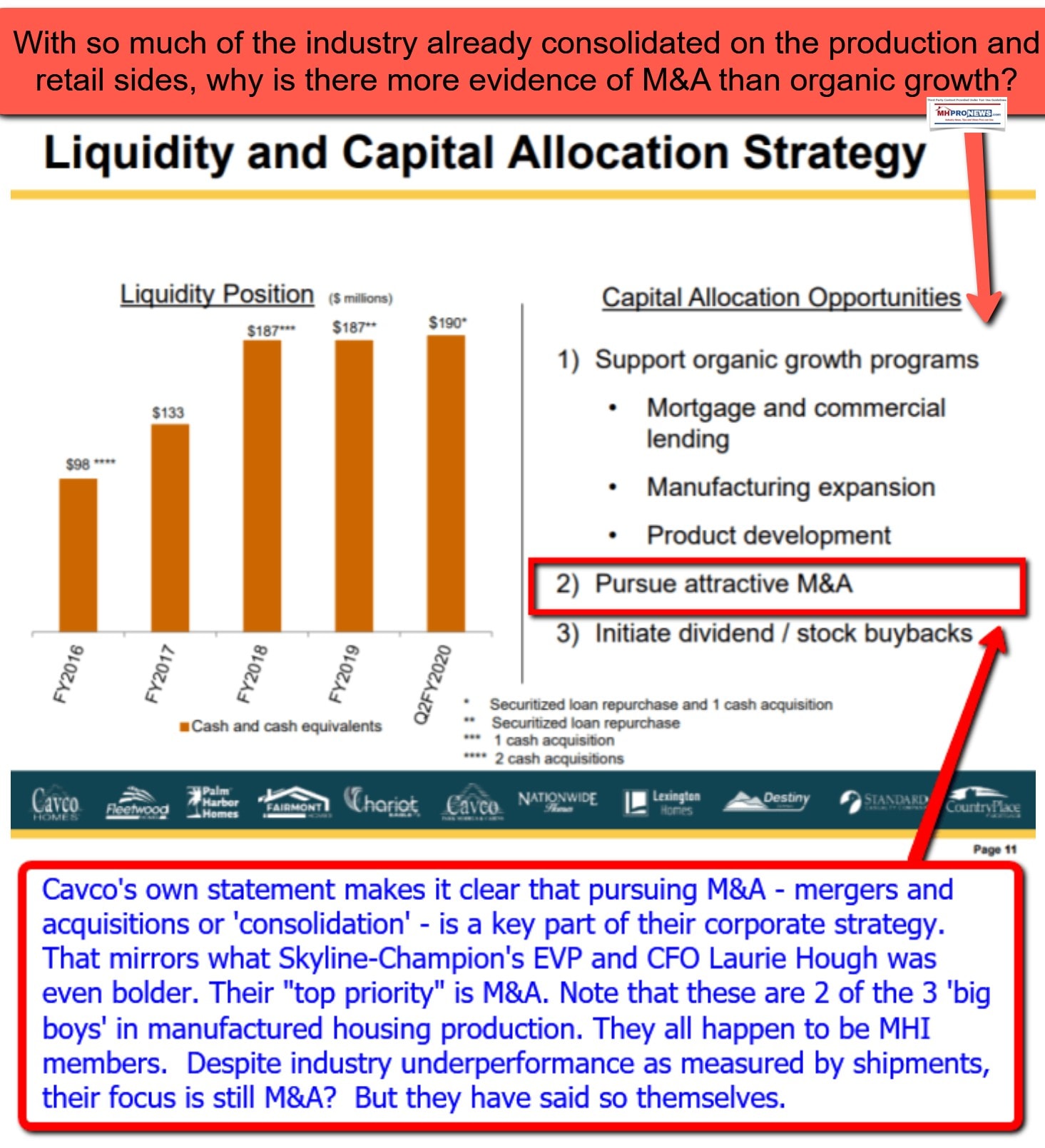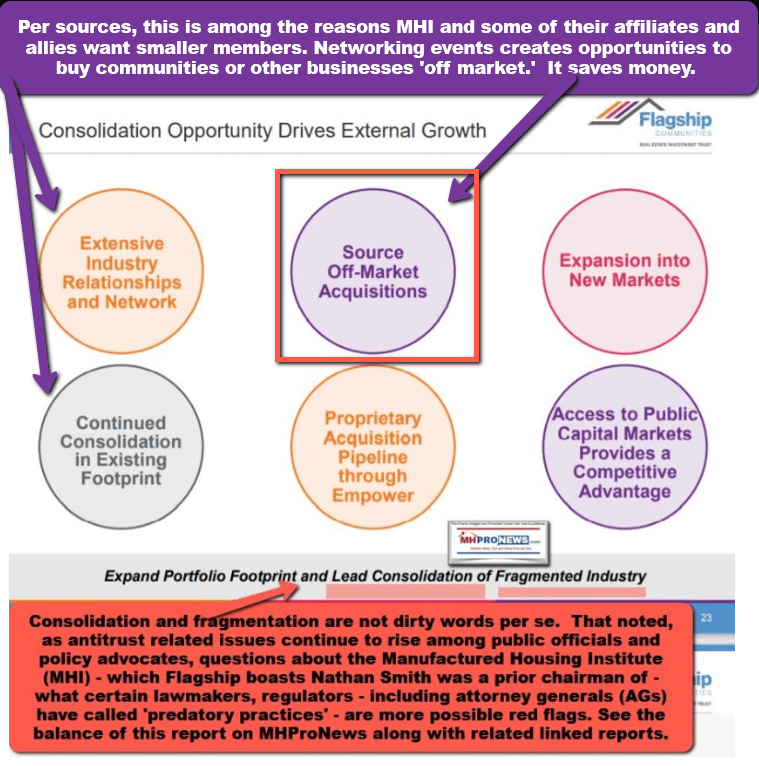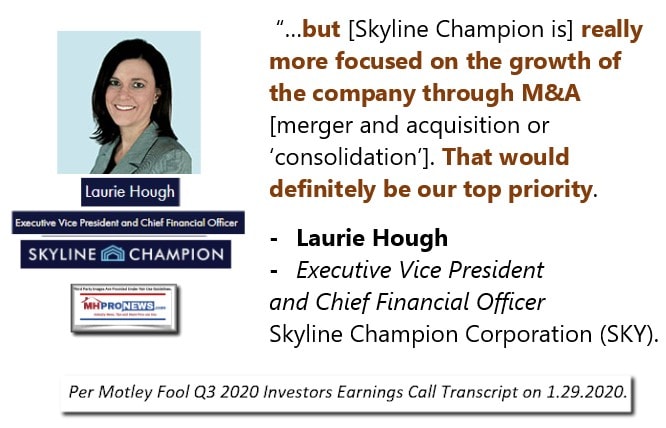 Those corporate consolidators are pushing consolidation even though the backlog on production is so long, that one of the historic reasons for buying a manufactured home – i.e. the notion that it was a 'fast' way to obtain a home – has all but vanished, per several public statements that MHI CEO Lesli Gooch recently publicly said too.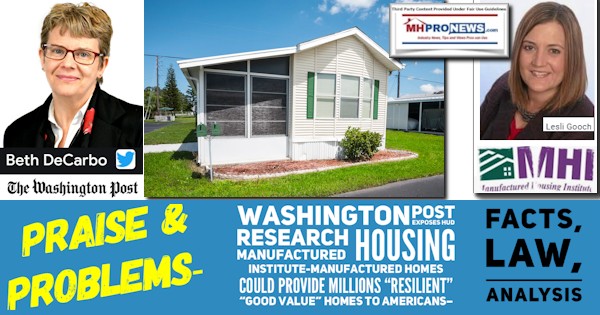 If 6-month backlogs are increasingly common, as Gooch told the Washington Post, per that September 9, 2021 report, is someone to believe that a company with deep pockets can't open or re-open production centers to curb that delay and thus increase sales and profits? That is a fair question to be put to MHI members such as Clayton Homes (BRK), Skyline-Champion (SKY), or Cavco Industries (CVCO) – the so-called "Big Three" or "Big 3" HUD Code manufactured home producers.
Indeed, new plants and some expansions are occurring with MHI's Big Three. But then, if they know they can be doing it, are doing it, why are they not doing more, since several of these firms have access to idle cash and could be tapping into lending if that were needed to expand?  The possible points and takeaways from the above are many. Among them, are these notions.
Key MHI member producers are deliberately keeping production lower than is reasonably attainable precisely as part of the moat-building methods of staving off possible newcomers into manufactured housing and existing players. Whether they achieve their goals or not, the fact that a modular builder that sells far more costly product is planning dozens of new factories in the next few years only highlights the point that MHI's dominating members are not doing the same.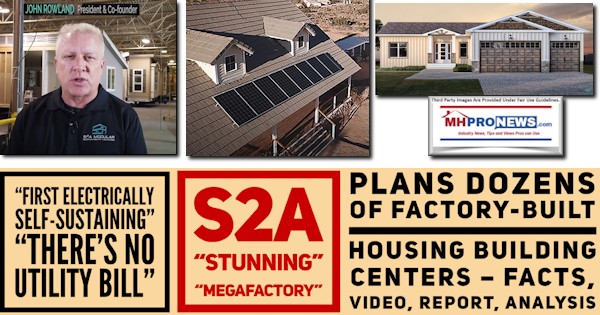 A legal argument can be framed for each one of those firms that appear to be working to keep manufactured housing at a low ebb as part of a "moat" building methodology that acts as a barrier to entry, sustainability, and exit. That is a 'case' that can be pursued, starting with apparent antitrust concerns previously reported about Clayton Homes and their associated lending.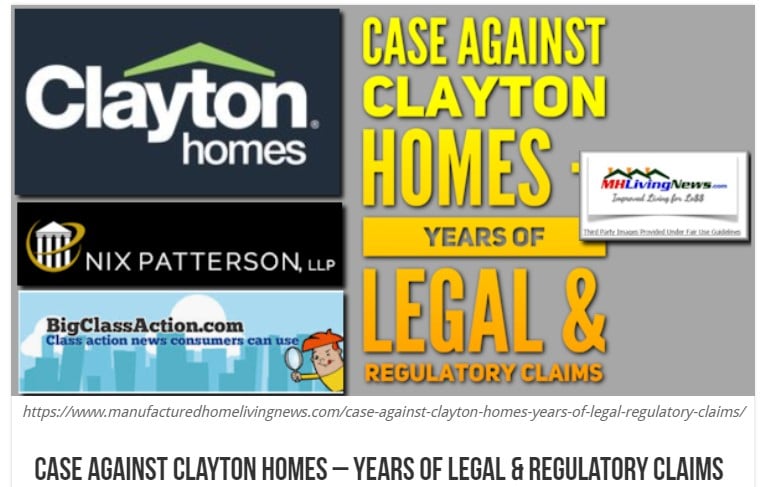 Something similar must be explored on the community and other sides of the industry too. Is it merely coincidence that slowing down delivery times will harm manufactured home retailing independents more than deep pocket corporations?
All of these noted items have ripple effects for consumers and taxpayers, not just smaller businesses.  How so?
When affordable housing is – or may appear to be – unavailable from the vantagepoint of most potential consumers, then it becomes apparent that more subsidized housing becomes 'needed.'  At the end of the day, a producer may not care too much if a home is being shipped to a community for rental housing or for sale to a resident-homeowner. But if so, that's short-term thinking. Affordable home ownership is the strong suit for manufactured housing. When manufactured home rental housing begins to approach the costs of conventionally build housing, over time, that will only undermine manufactured housing's credibility as a provider of affordable home ownership. More on that later.
But those predicates are enough to spark an array of questions that must be pushed by any authentic MHI board members, if they are genuinely care to fulfill their duty to "all segments" of the industry. As MHProNews has previously reported, failure to fulfill that duty creates potential liability. That risk to board and staff is no longer merely theoretical, as will be shown below.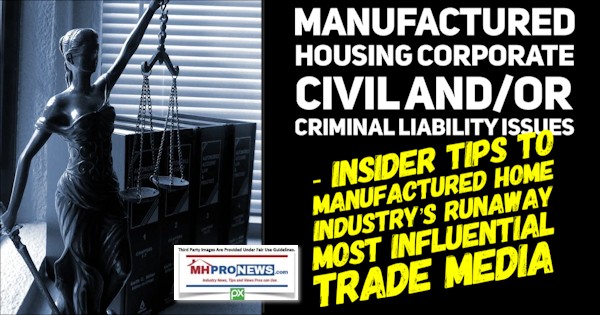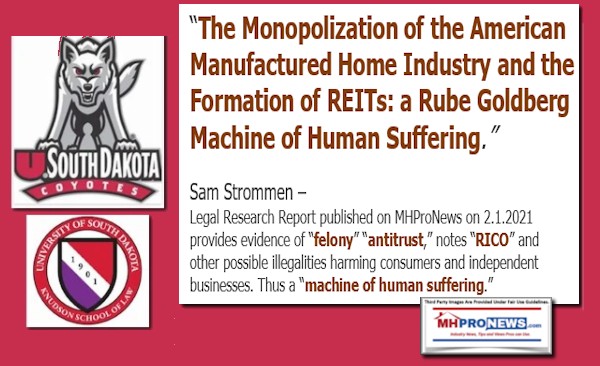 As was noted previously, there are legal responsibilities and liabilities that exist for MHI's staff leaders and board members. If staff are failing, as is arguably the case from the MHI letter and related shown herein, then each board member has a fiduciary responsibility to act on behalf of the interests of all, not just a favored few.
The purpose of a board, at least on paper, is precisely to act as a safeguard or a check against potential abuses of authority. Such abuses that attempted to short-circuit the board of directors are what Cavco Industries and some of their key members stand accused of by the Securities and Exchange Commission (SEC). That aspect of this has been reported in the articles linked below.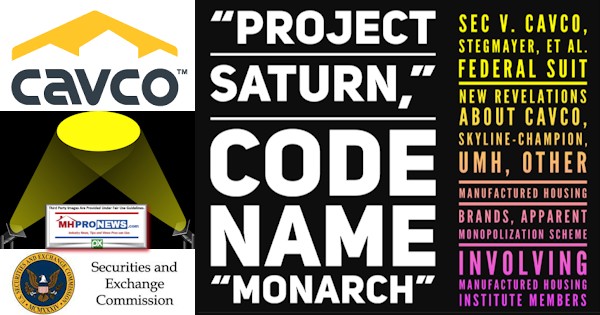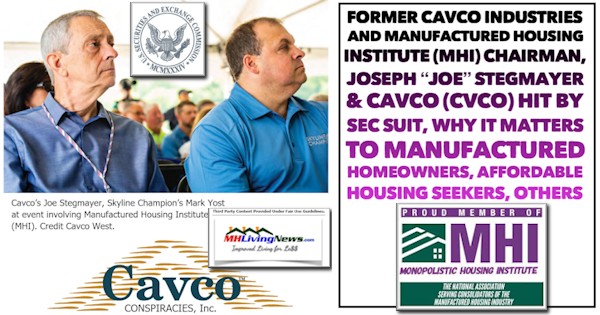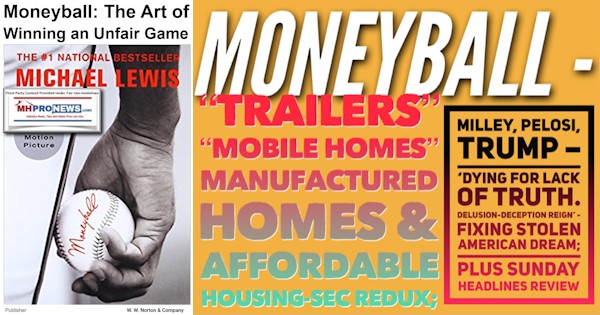 But that only serves to underscore the notion that a board of directors, auditors, and others in the mix play are each supposed to play a role that is not merely that of an observer.
With that backdrop, to aid those board members and others exploring what has gone wrong in manufactured housing during an affordable housing crisis, let's briefly recap some of the history of manufactured housing since that last high of 1998.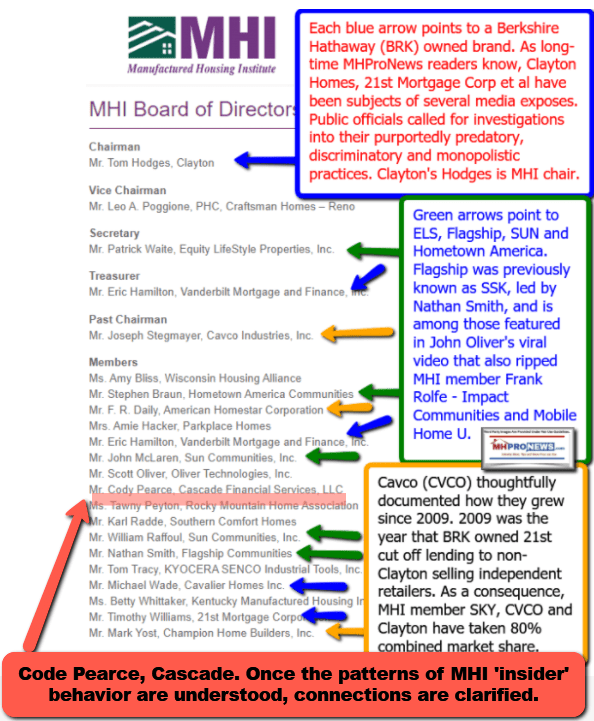 A Brief Recent History of Manufactured Housing – How It Sheds Light on Industry Underperformance, Consumer, Small Business, and Taxpayer Woes
The Manufactured Housing Improvement Act of 2000 (MHIA or 2000 Reform Law) was enacted by a widely bipartisan group of Congress and was signed into law by then President William J. "Bill" Clinton. But as MHI admits directly and by implication, the 2000 reform law, which aimed to create more affordable housing and more affordable home ownership, stand unfulfilled on some key provisions. Among those are the "enhanced preemption" over zoning and placement issues that manufactured housing is supposed to enjoy as a result of the 2000 Reform law. Note that the Manufactured Housing Association for Regulatory Reform (MHARR) had long supported such a bill, but a change in leadership at the Manufactured Housing Institute (MHI), in conjunction with the efforts of the late Will Earle at the Texas Manufactured Housing Association (TMHA) created the core of the authentic industry coalition that made enactment of the MHIA possible.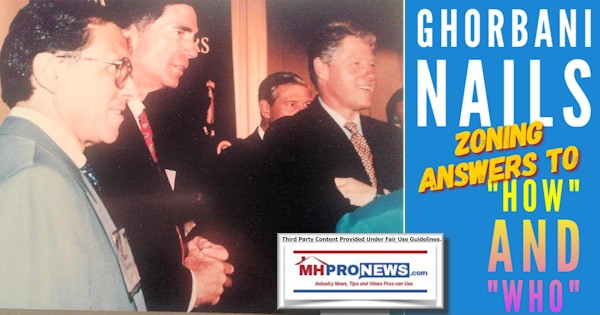 Buffett-led Berkshire Hathaway (BRK) exits most of their stake in mortgage giants Fannie Mae and Freddie Mac. Per the popular Motley Fool (Fool) financial news and views site, citing the annual Berkshire letter: "as he [Buffett] noted bluntly in his letter, "in 2000, we sold nearly all of our Freddie Mac and Fannie Mae shares.""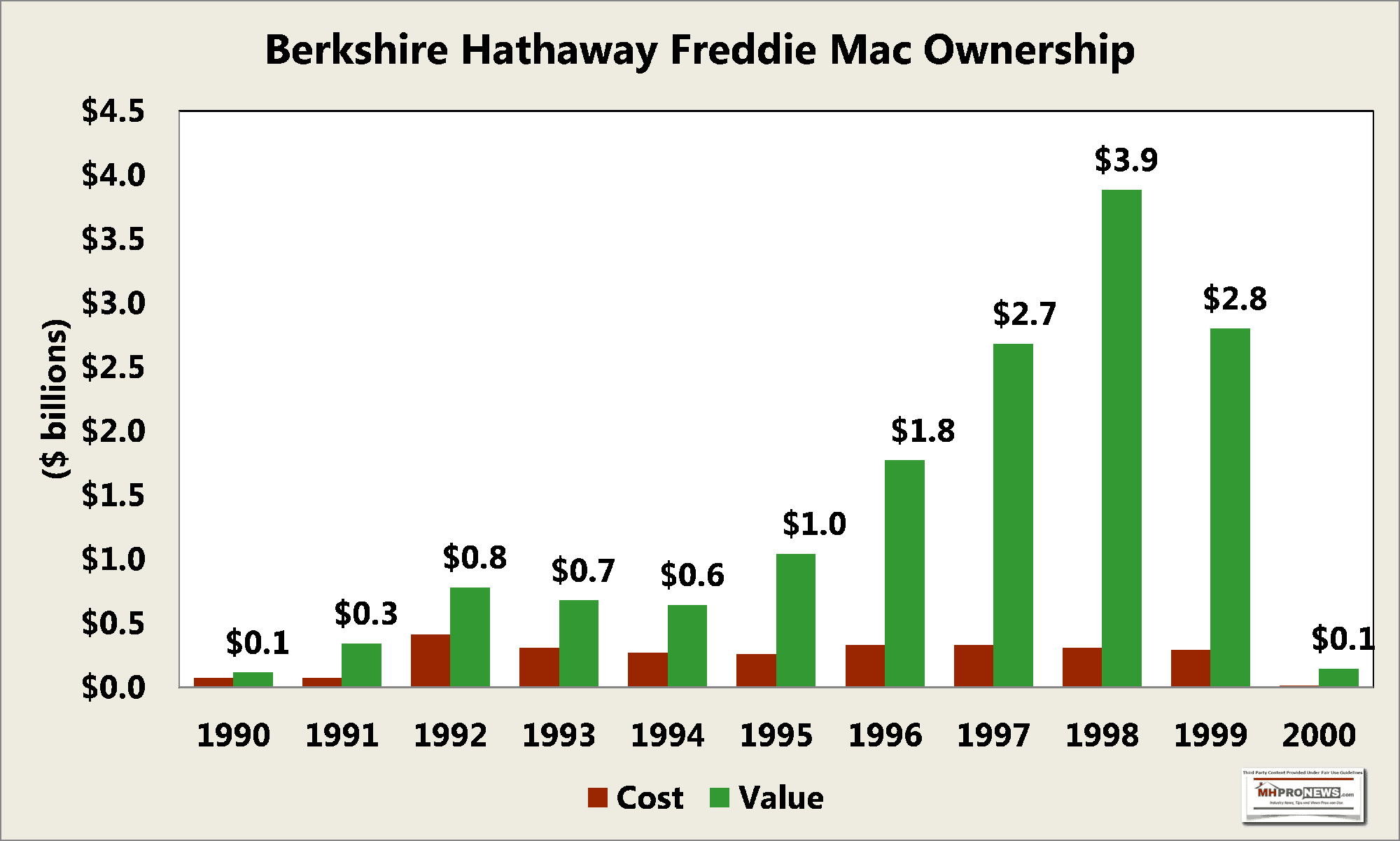 Harvard University fellow Eric Belsky, part of the prestigious Harvard Center for Joint Housing Studies predicted that manufactured housing, due to its improvements, would become the dominating force in the housing market before the end of that decade. Belsky made this prediction knowing about the downturn and loss of lending. These two Belsky quotes form key evidence for rationale lens through which all serious manufactured housing research in the 21st century should be examined.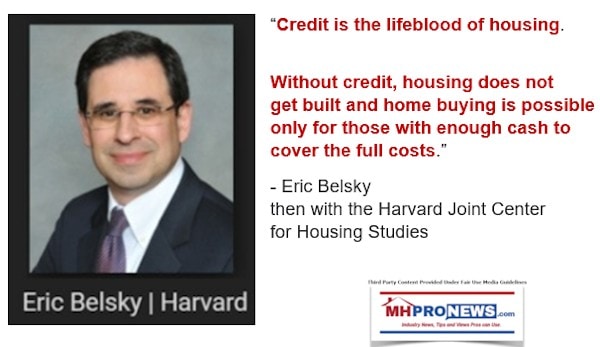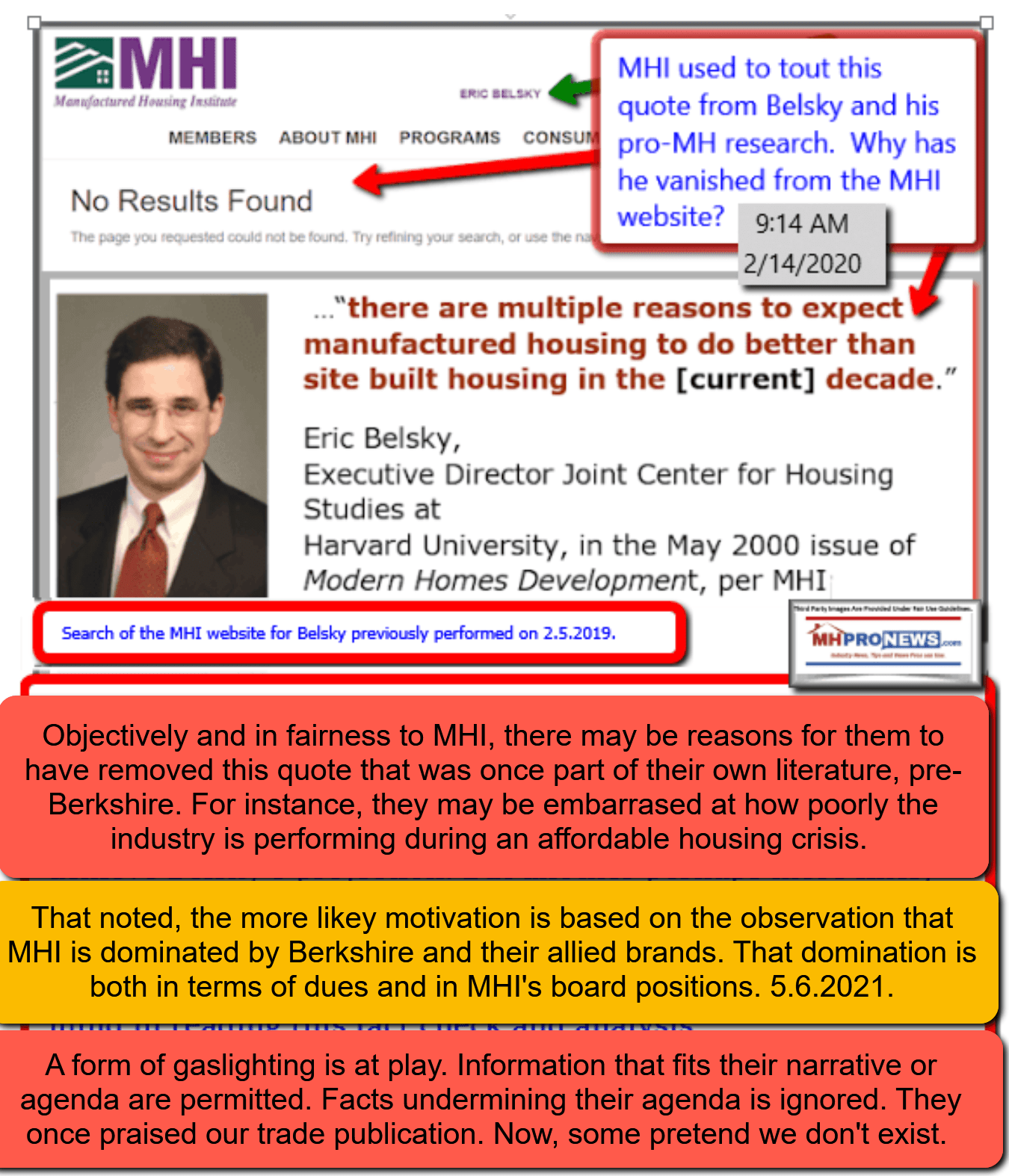 Per the RV MH Hall of Fame, "Since joining Cavco in 2000, Joe [Joseph Stegmayer] led the Cavco [Industries] team to grow from $95 million in annual sales to $600 million annually and expanded the firm from three factories in two states to 19 factories in 11 states." Also per that site, "Prior to joining Cavco, Joe held numerous high level executive positions with Champion Homes and Clayton Homes, Inc." Stegmayer told MHProNews about all that he learned from Clayton Homes while he was previously a division president there. In that interview, Stegmayer concurred with UMH Properties President and CEO Sam Landy, J.D., who said in a different MHProNews interview in 2013 that shipment levels of 300,000 to 400,000 new HUD Code manufactured homes were attainable. More on Stegmayer below.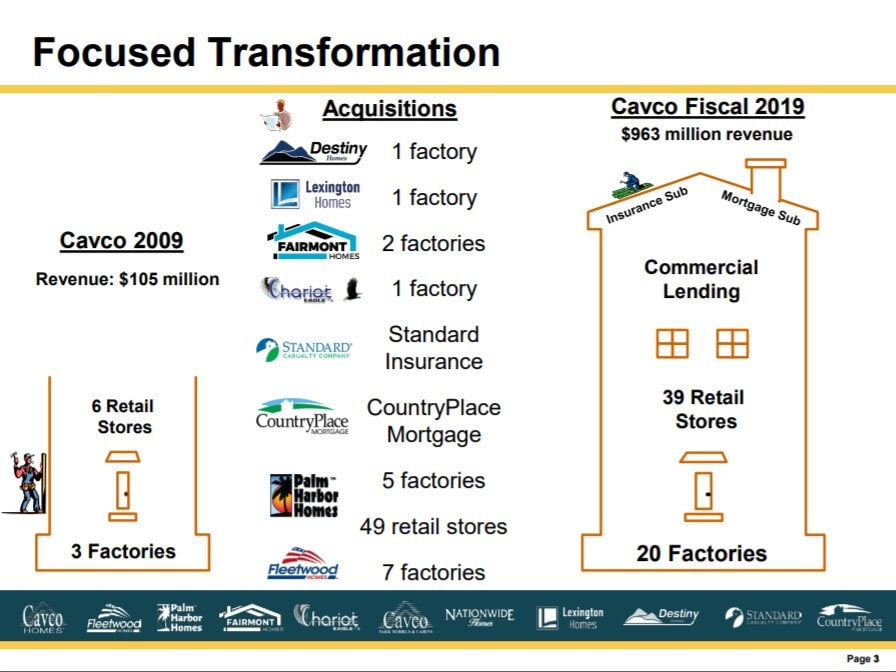 2002 – According to MarketWatch, "Buffett buys into Oakwood Homes" in an article published on Nov. 23, 2002. "Oakwood Homes OKWH said that Buffett's Berkshire Hathaway BRK.A, -0.65%, along with two other firms, have agreed to provide $215 million in debtor-in-possession financing to the troubled company, bringing its new liquidity facilities to a total of $415 million. Oakwood announced it would take the Chapter 11 route on Nov. 15, citing "the continued poor performance of loans we originated in 2000 and before, as well as the deteriorating terms in the manufactured housing asset-backed securitization market into which we sell our loans…Under terms of the deal, when and if the company crawls out of Chapter 11, Berkshire Hathaway will become its largest shareholder. Current investors, meanwhile, will "receive a nominal value, consisting solely of out-of-the-money warrants for approximately 10 percent of the post-restructuring common shares."
Per the Consumer Financial Protection Bureau (CFPB) white paper on manufactured housing, "Conseco, Inc., filed for bankruptcy in 2002, four years after merging with Green Tree Financial. As the largest manufactured-housing lender with 54 percent of originations in 2000, Conseco's bankruptcy reflected the industry-wide trend of deteriorating loan quality and drove losses in the secondary market."
Warren Buffett-led Berkshire Hathaway (BRK) bought the previously publicly-traded Clayton Homes. As Kevin Clayton himself admitted, this sparked an "ugly" legal battle, but ultimately Berkshire won their desired prize: Clayton. Other elements of manufactured housing lending connected with Clayton were included and followed later over time. Per the 21st Mortgage Corporation website: "21st Mortgage was purchased by Berkshire Hathaway in 2003. The financial strength of Berkshire Hathaway allowed 21st Mortgage to exit the 2008 economic down turn as the strongest lender in the manufactured housing industry." Note that 21st was focused on lending offered to manufactured housing independents, while the other Clayton sister lending brand, Vanderbilt Mortgage and Finance (VMF) is focused on lending offered to 'captive' Clayton Homes retail stores.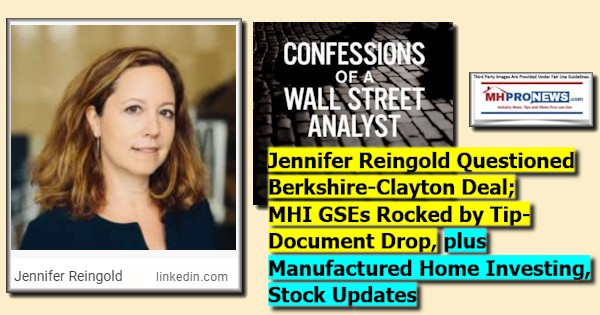 1998-2009, a steady decline in manufactured housing shipments occurred, due in part, initially to the loss of financing from Fannie and Freddie through lenders that securitized those loans through them. But later, that decline was fostered by a loss of other lending, as will be shown herein below and from the various linked reports. The industry's 'bottom' was a new historic low for HUD Code manufactured housing. That 'bottom' spanned 2009-2010. A slow recovery began in its wake. More on that herein.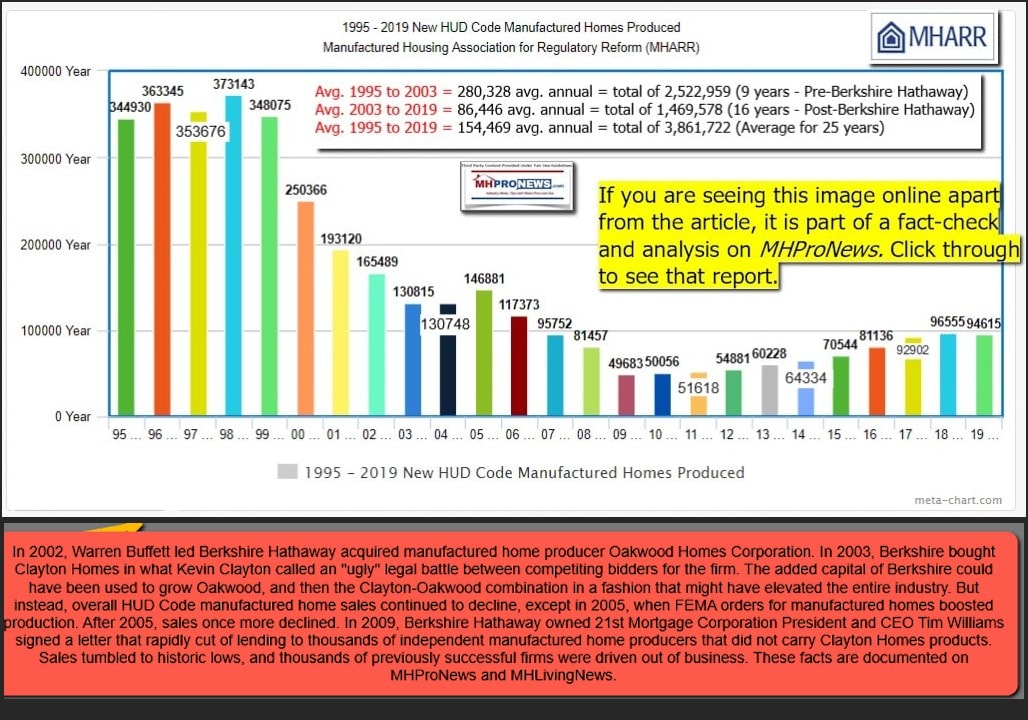 Samuel Strommen — in his fact- and evidence-rich third-party research report for Knudson Law accusing specific firms engaged at MHI to be guilty of apparent acts of fraud, antitrust violations, RICO and other laws — said the following about the industry landscape that year.  "In 2002, prior to Berkshire Hathaway's acquisition of Clayton Homes, there were 88 manufacturers scattered across the United States.38  Today, the number has fallen to less than half that.39 A

[2003]

report from the now-defunct Manufactured Home Merchandiser publication indicates that in 2003, Clayton was the third largest manufactured home fabricator40 in the United States, and at that time, the top twenty-five manufacturers accounted for 78% of all home production and sales.41  Today, Clayton, Skyline-Champion, and Cavco, the top three, account for some 80% market share combined.42 Clayton alone comprises about 51% of manufactured home production.43

A series of mergers and acquisitions has made this industry increasingly consolidated

."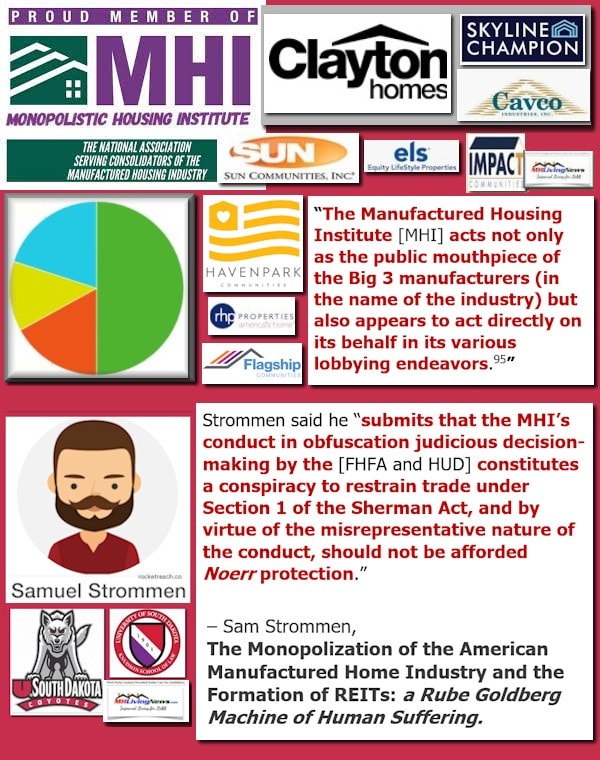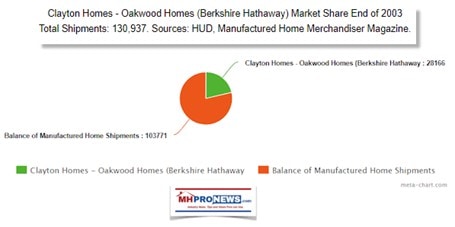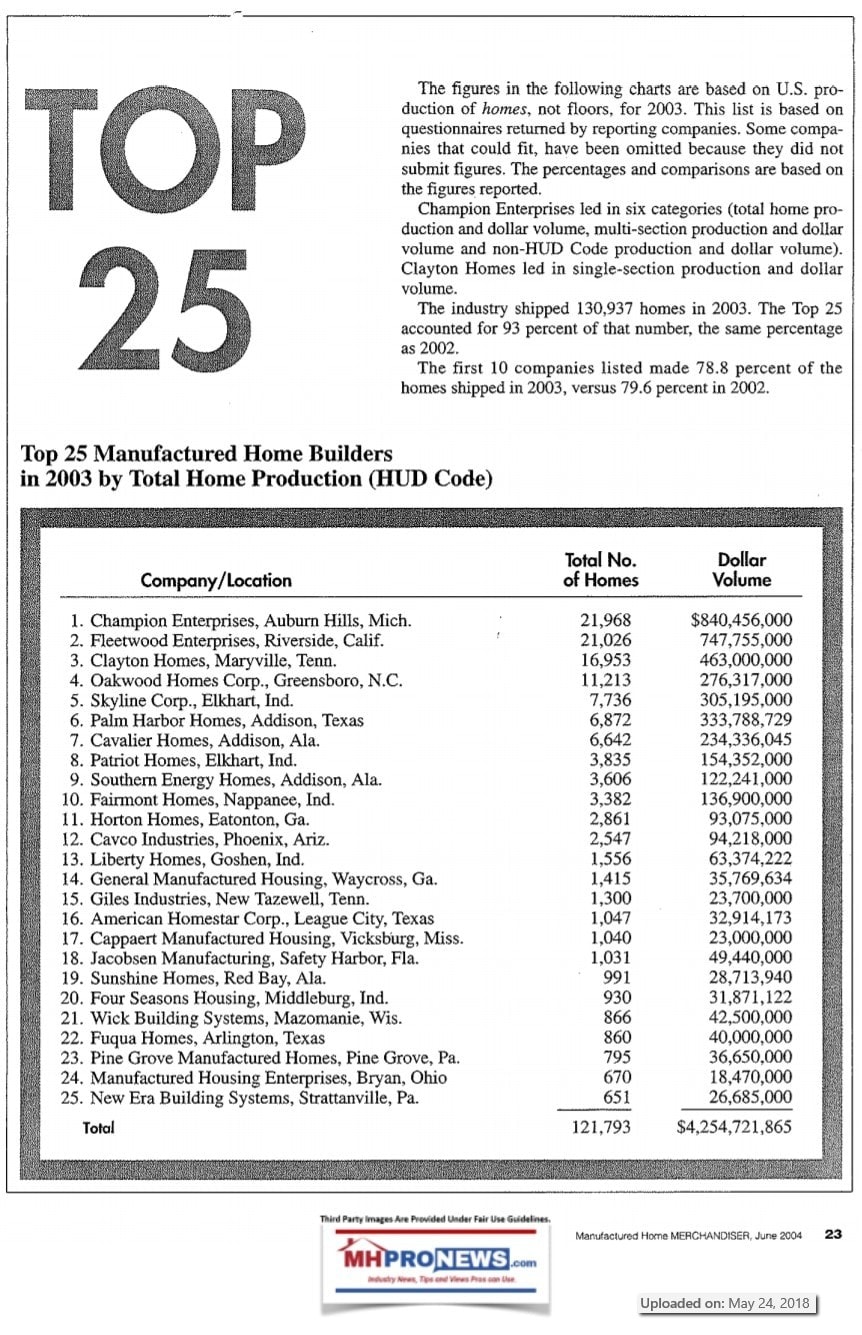 A brief uptick of manufactured home production occurred, due per MHI connected sources, to the surge in orders of emergency shelters of manufactured homes produced for FEMA. But oddly, as was noted, Clayton Homes became part of a media-connected scandal that involved claims of high amounts of formaldehyde in those homes they produced.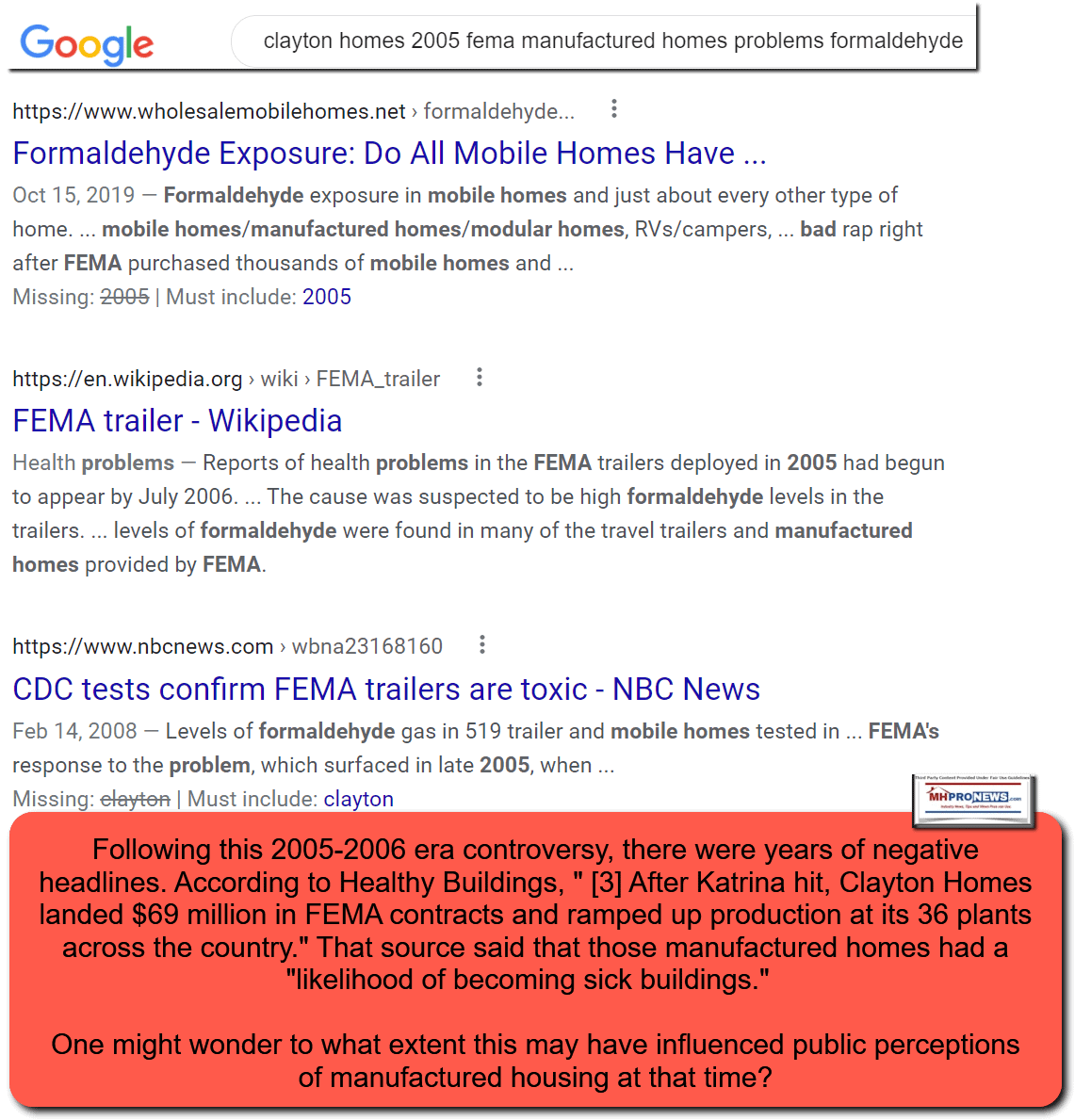 The Manufactured Housing Institute commissioned Roper Report was unveiled. More on that further below, but note for now that MHI has apparently purged any reference to this report from their own website, per this focused Google search shown in the screen capture below. Note that searches in quotes in Google or other search engines forces a more focused and precise result.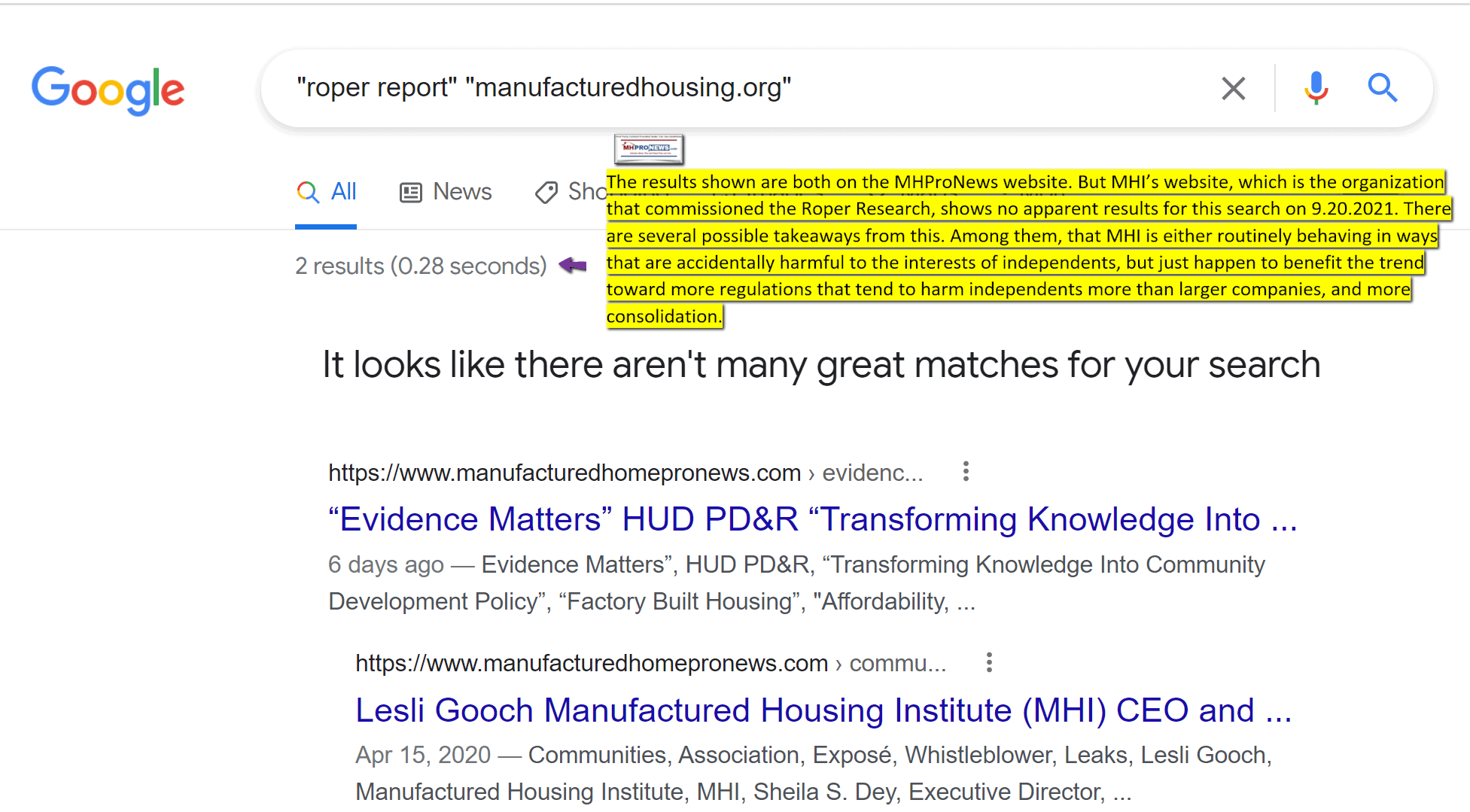 MHI member Marty Lavin, J.D., who served the association in several roles and won an MHI award, cited Roper and other troubling items in one of his newsletters, linked here. Lavin said in part that "The industry has been criticized in the past for being tone-deaf, failing or refusing to hear feedback from its consumers and regulators." Note that "

the industry

" are often code-words or verbal shorthand used by MHI members to describe MHI. But Lavin then became quite specific. Citing Art Havener, AARP, and the Ford Foundation, among others, Lavin said: "POINT #2 Havener continues to believe the Manufactured Housing Institute (MHI) reflects a relatively "ineffective platform", its segregated constituency restricting the trade association from making necessary changes to policies, business practices and procedures."
In November, 2006 Chris Stinebert departed MHI. He left did so with what some see as a polite slap in the face of the trade group he was leaving. He made these comments  apparently prior to a purported NDA kicked in.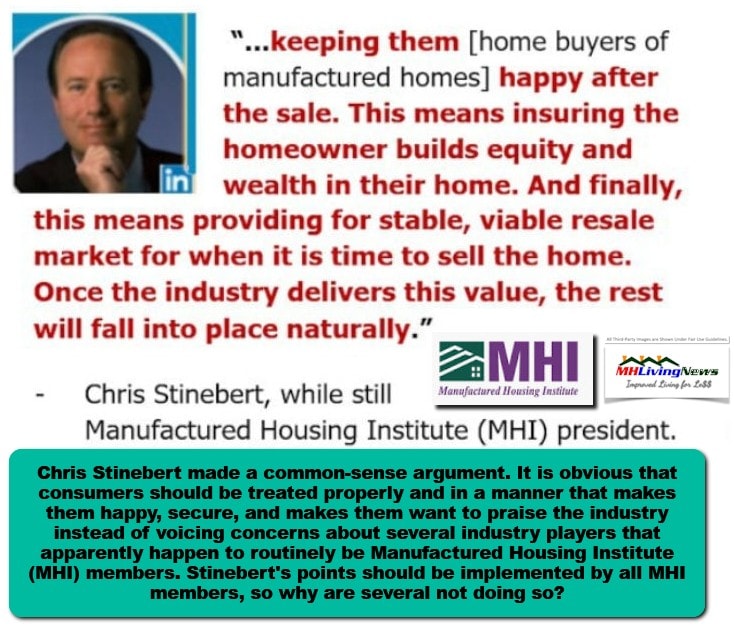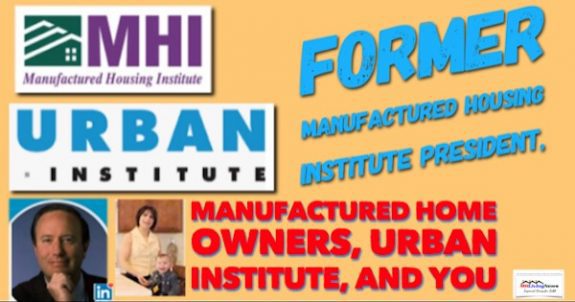 The Housing and Economic Recovery Act (HERA) of 2008 established a new Duty to Serve (DTS) Manufactured Housing, rural, and underserved markets. Note that this can be seen as a revival imposed on the GSEs of the previously existing Duty to Serve affordable housing that had led to sloppy and corrupt lending in the manufactured home industry.
The Notorious Letter from Tim Williams, President and CEO of Berkshire Owned 21st Mortgage Corporation. The Williams letter of January 2009 was cited by Samuel "Sam" Strommen at Knudson Law as a prima facia example of apparent tying, and antitrust violation. But that letter also stands in direct contradiction of what Kevin Clayton had to say about that timeframe. It is also contradicted by Warren Buffett, see the quotes and reports below.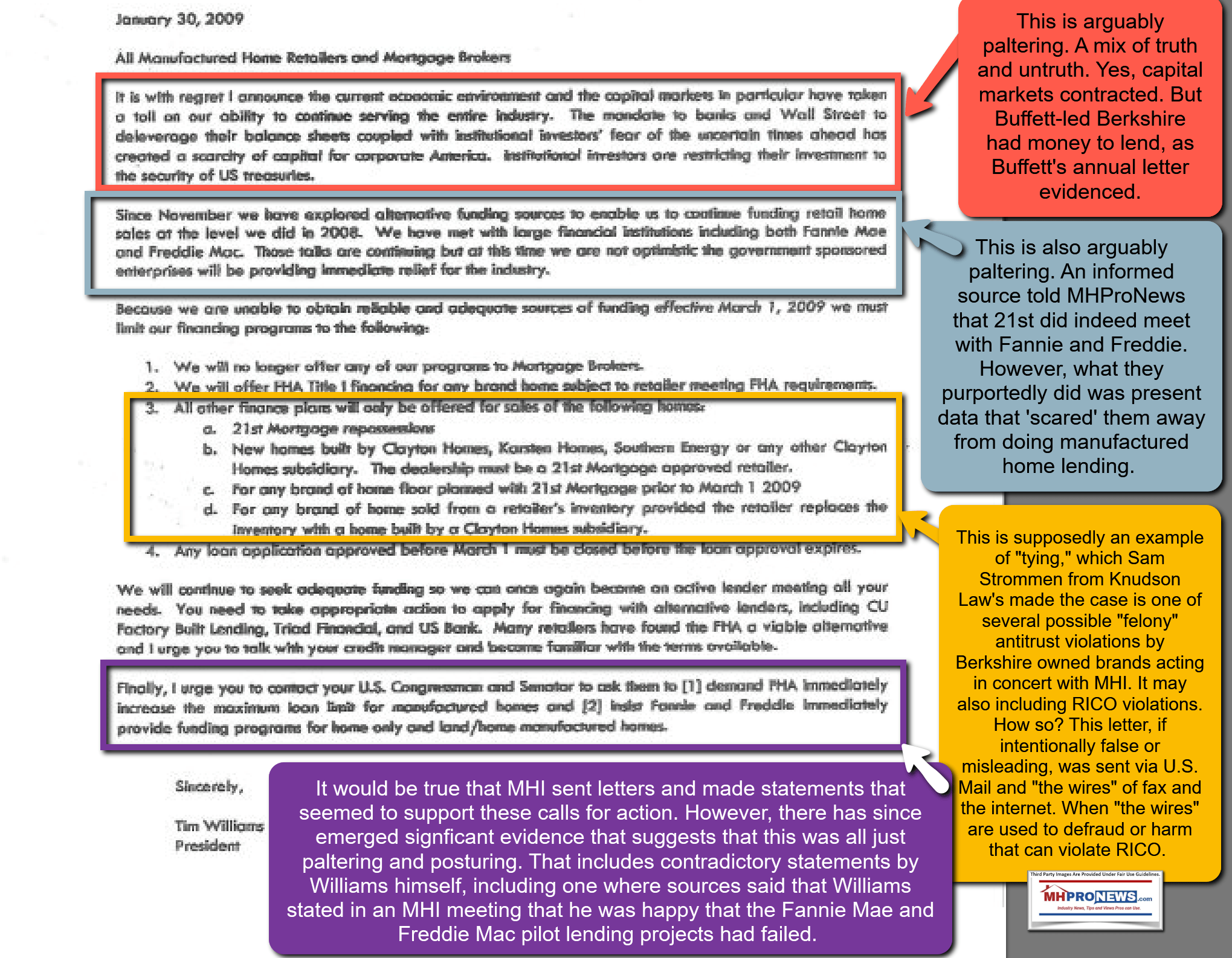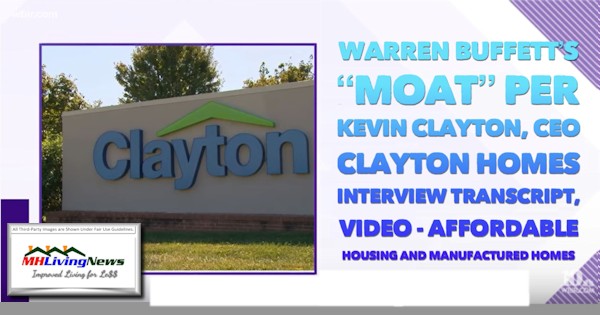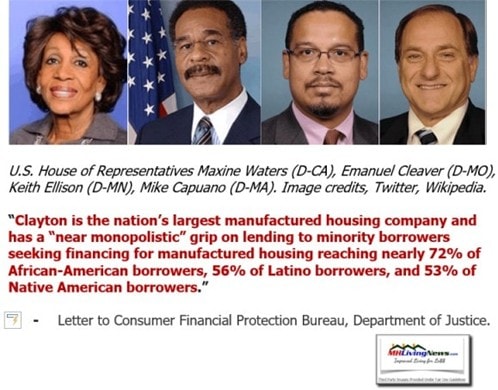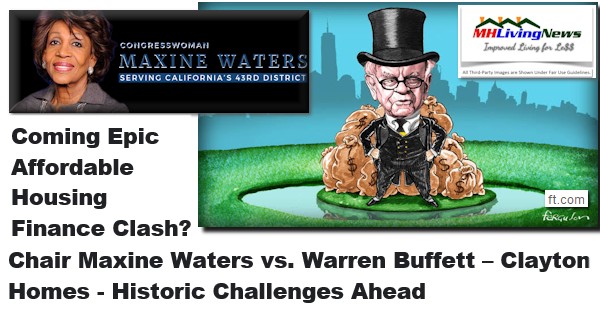 With respect to DTS and the GSEs, note that per informed sources to MHProNews, 21st did make a pitch to the GSEs to do lending, but they reportedly did so by showing loan portfolios that were not great performers. With the late 1990s experience as the rationale, that served to undermine a revival of more manufactured home lending, particularly chattel lending (home only, personal property) lending that historically made up the lion share of manufactured home lending. More on this later and linked from this report.
Manufactured home producers Fleetwood and Champion were once the top two brands in manufactured housing. No longer. Fleetwood and Champion both filed bankruptcy in the wake of the controversial Williams/21st letter above – which cut off a key source for financing, since the once Buffett-backed GSEs and others exited the manufactured home industry. "Fleetwood Enterprises Inc FLTW.OB has filed for bankruptcy," said Reuters on Mar 10, 2009. Champion only lasted a few months longer. "On November 15, 2009, Champion Enterprises filed for bankruptcy in the United States Bankruptcy Court for the District of Delaware," said legally focused Delaware Bankruptcy, and others in media.  Rephrasing that for clarity and emphasis, Strommen aptly noted that in 2003 Fleetwood and Champion were the two industry giants. By 2009, within weeks to months of the apparently destructive outcome of cutting off lending to non-Clayton retailers, the two giants were in bankruptcy.
"The Dodd–Frank Wall Street Reform and Consumer Protection Act (commonly referred to as Dodd–Frank) is a United States federal law that was enacted on July 21, 2010," per left-leaning Wikipedia.
Kevin Clayton does a softball interview with pro-Berkshire Robert Miles. While it was a softball interview, it is still revealing in hindsight. Clayton speaks repeatedly about the Buffett moat and how Clayton teaches this method to their team. Clayton effectively contradicted Tim Williams 2009 letter claim, by saying that Buffett told Kevin that there was plenty of money for whatever Clayton wanted. 21st is Clayton affiliated in Berkshire-world. Furthermore, Kevin said that the industry was ready then to do an industry image building campaign. Such a campaign, at least in a meaningful and positively measurable sense, has yet to occur. That and more are found in the report linked below. But that report, it must be understood, was years after that video was first published. Meaning, these and several other items mentioned herein are insights in hindsight, not at all clear to the bulk of the industry's members at that time. During much of this time, Clayton and their corporate allies backed MHI were posturing messages that stood at odds with what such nuanced insights later revealed to be so much apparent MHI duplicity.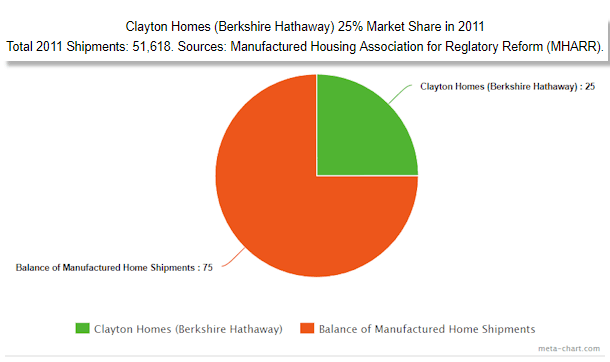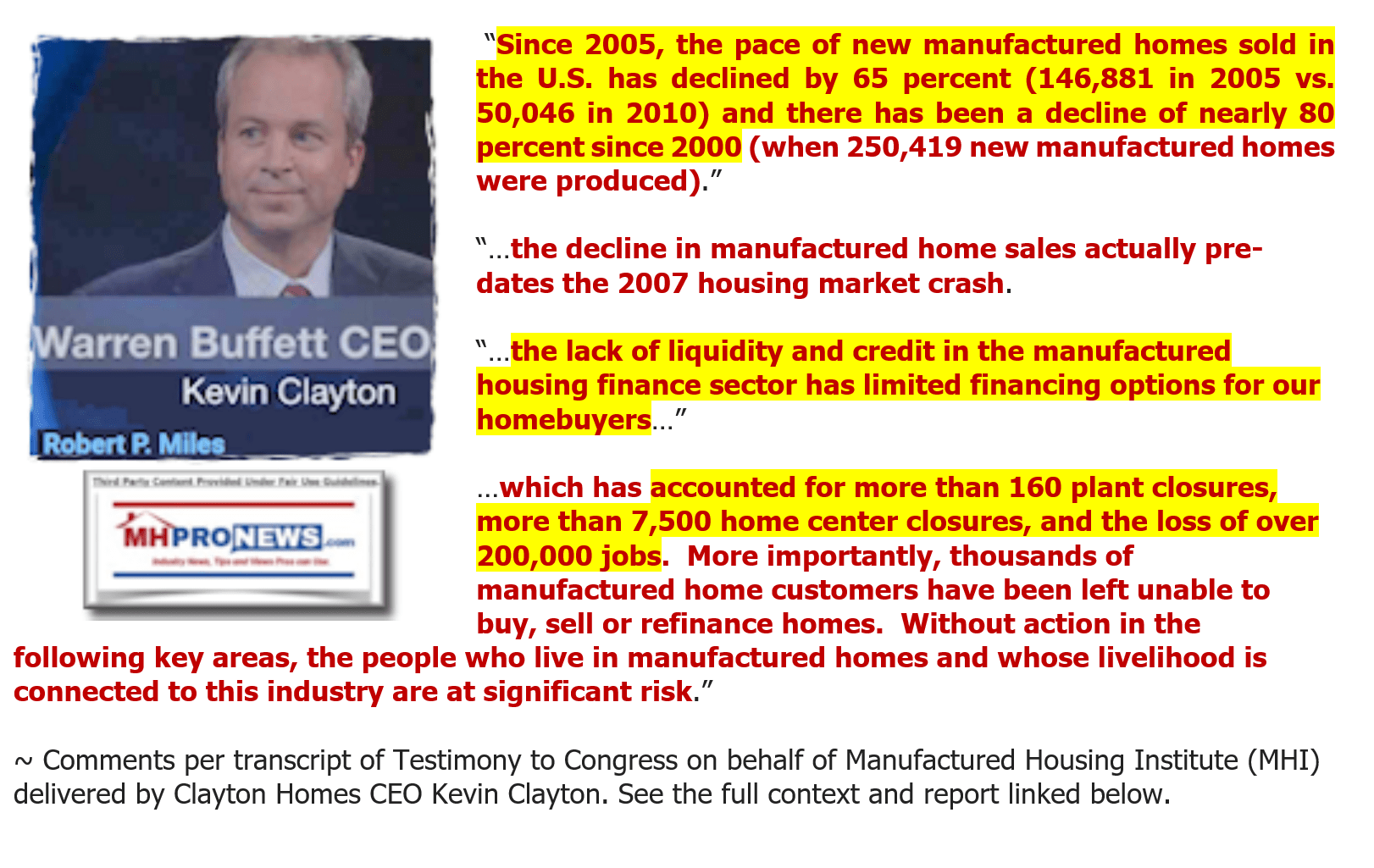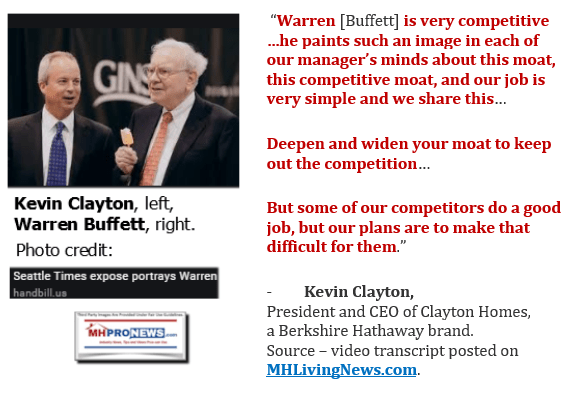 2012. H.R.3849 – Preserving Access to Manufactured Housing Act (Preserving Access) introduced in the 112th Congress (2011-2012) on 01/31/2012. This was touted as a bipartisan MHI backed bill that aimed to correct issues in law and regulations that limited lending in manufactured housing. Then MHI member MHProNews, among others, promoted the bill's passage. In hindsight, the bill aimed to address issues that were indeed 'needed' by the industry, but when carefully examined, the bill was doomed from the outset. Rephrased, it was a clever ruse. Yet, industry professionals were told that doom and gloom would occur if Preserving Access was not enacted.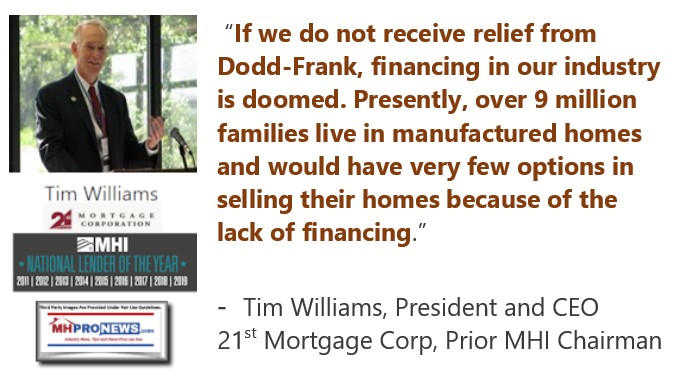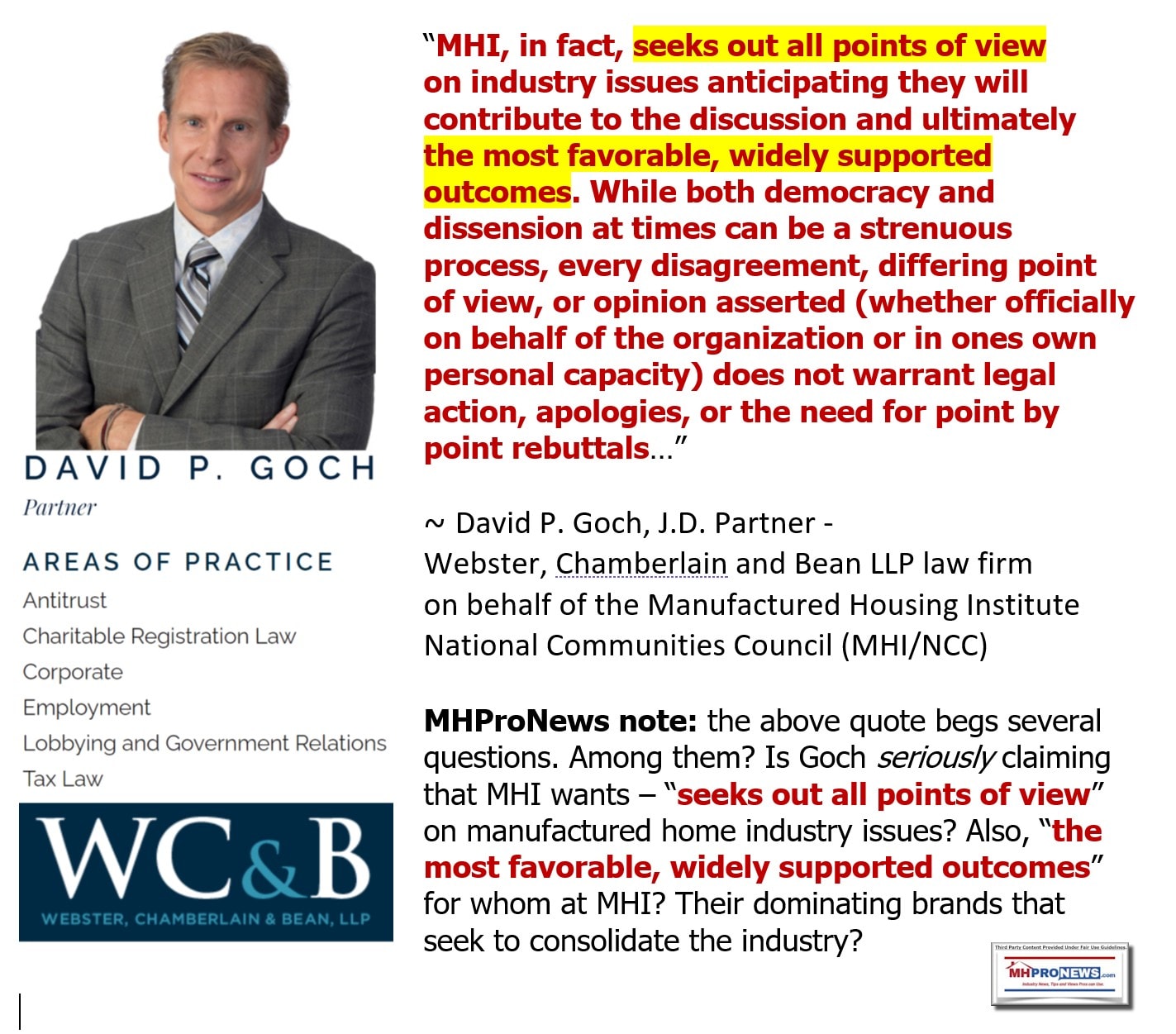 In hindsight, the Preserving Access bill is revealed as either mere theater that served to benefit consolidators and moat-builders in manufactured housing. How so? As MHI's own then Vice President of Government Relations, Jason Boehlert told MHProNews, once President Barack Obama and Vice President Joseph "Joe" Biden were reelected, the odds of passage fell dramatically. But that was not the party line being told by Tim Williams of 21st Mortgage, who was not yet at that time understood to having hoodwinked thousands of manufactured home sellers with that notorious letter of January 2009. More on that below and linked here. But per MHI's then VP in a statement to MHProNews, "Given Democratic gains in the House and Senate it is not widely anticipated that Obama will seek to strike a conciliatory mood with Republicans on fiscal issues, or on issues related to a softening of Dodd-Frank." Despite the now apparent contradiction, Boehlert said this in conclusion: "During the lame duck session, MHI will be working to pass legislation (H.R. 3849 and S. 3484) reforming portions of the Dodd-Frank and SAFE Acts. The session could potentially offer opportunities to attach portions of these bills to larger measures moving through each chamber. During this time, MHI members a strongly urged to continue contacting their members of Congress to request they co-sponsor either H.R. 3849 or S. 3484." But those apparently mind-numbingly failed and now clearly illogical efforts by MHI to pass Preserving Access continued on for years. The outcome of that effort reflects on the apparent actual, vs. stated, reasoning for this pattern of behavior.
2013: "Based on industry estimates, between 60 and 70 percent of manufactured homes loans are secured by personal property. In addition, since 1995 an average of 73 percent of all new manufactured home sales have been titled as personal property according to the U.S. Census Bureau's Manufactured Housing Survey," so said MHI in a regulatory comments letter to the FHFA and others. Noting the lack of other lenders, MHI made the argument that: Given the specialized nature of manufactured home lending and the practices that have been developed by those in the industry to adjust for the unique nature of manufactured housing, MHI would urge the Agencies to pay special consideration to comments submitted by:
21st Mortgage Corporation ("21st Mortgage") on September 9, 2013;
NADAGuides ("NADA") on August 9, 2013; and
Vanderbilt (as mentioned above).
Each of those three have been and/or are MHI member firms. Two of those firms are owned by Berkshire and are sister companies to Clayton Homes.
MHI President and CEO Richard "Dick" Jennison oddly said in a video recorded statement that the industry should grow slowly.
2014. Interview with then MHI chairman Nathan Smith, by MHProNews. Note again, that the terminology "the industry" is used to refer to MHI by Smith. Note too that several of these reports reveal the evolving nature of the revelations. For instance, this interview occurred prior to various news reports that the now former MHI chair was engaged in business practices that resulted in his own residents suing his firm and local media to periodically report on the problematic and controversial claims lodged against his brand.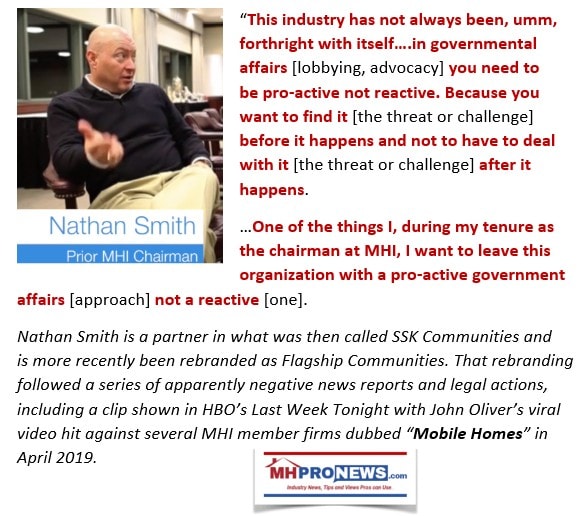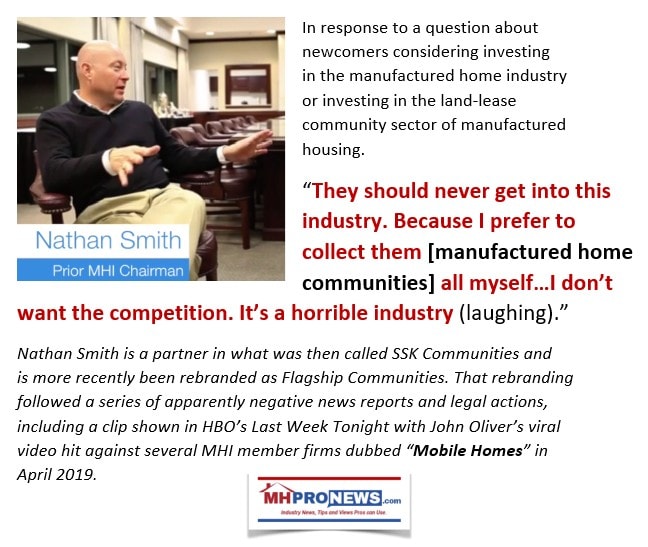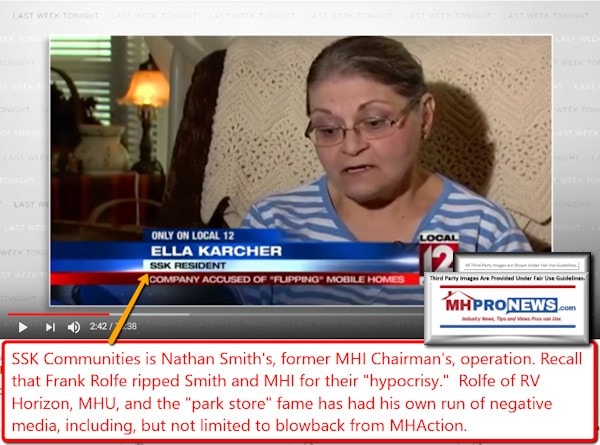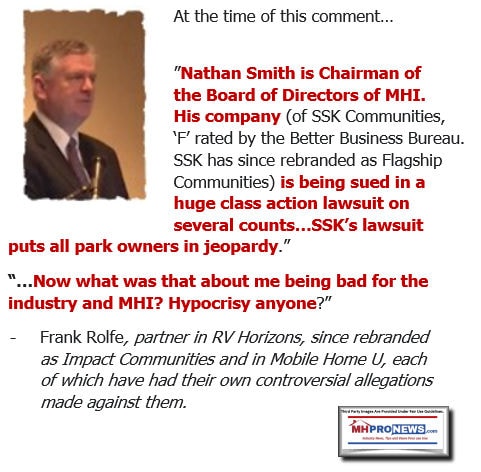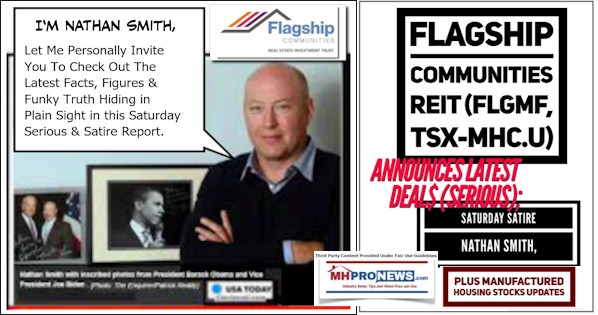 Those claims and promises by Smith made in that video interview, in hindsight, once more appear to be window dressing or mere happy talk. MHI under and since Smith continued the pattern of failing to take the pro-active steps necessary to return the industry to solid growth. Indeed, despite the obvious-in-hindsight statements by Boehlert that Preserving Access was going nowhere, Smith and the MHI leadership kept on pressing. It now appears to have been a rope-a-dope ploy to posture effort that effectively wore out several independents, some of whom gave up by selling out to…consolidators, of course.
Following an effort initiated by MHProNews to prompt a correction of Jennison by asking Tim Williams to make a public correction happen, Jennison reversed course publicly in another video-recorded statement. Then, Jennison made the pitch that the industry could grow beyond the 1998 high. But, Jennison said that it was important for the industry to enact Preserving Access to achieve that lofty, but obviously attainable, goal.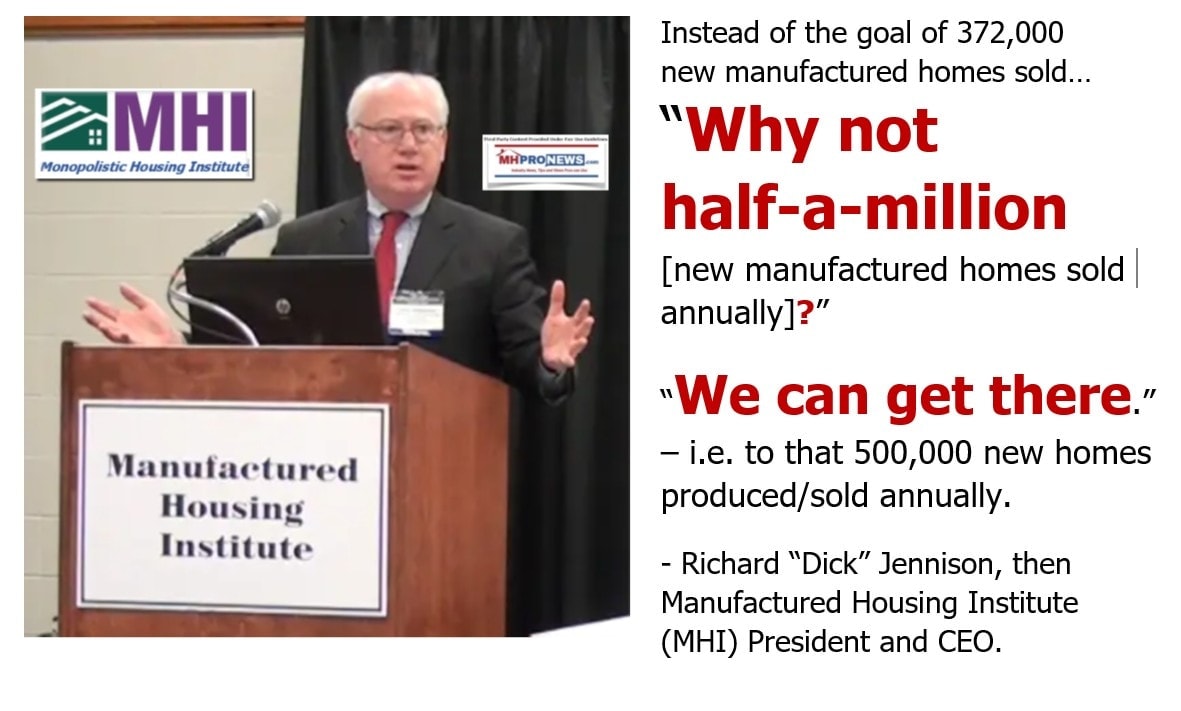 In a June 3, 2016 weekly review of articles on MHProNews, several items are found that reflect on decades of manufactured home industry underperformance, at least some of which can apparently be traced by to MHI and some of their dominating brands. While still pushing for passage of Preserving Access, that issue publicly called for the resignation or termination of MHI President and CEO Richard "Dick" Jennison and then MHI EVP Lesli Gooch. It also included a column by Titus Dare entitled "Duty To Serve by GSEs-Long-term Mortgages on Leased Land – It's Already Been Done!" That same issue linked an article by Lexi Holdbrook on behalf of Clayton Homes. Additional reports that week included a fact- and evidence-based report entitled:
Indeed, several MHI members were included in that issue, some of whom were then advertisers on MHProNews, others were providing guest letters, were in interviews, etc. Some of them were cheerleading for MHI and/or one of their brands. But Kenny Lipschutz is an example of an interview in which a clear, if politely veiled, swipe at MHI is revealed.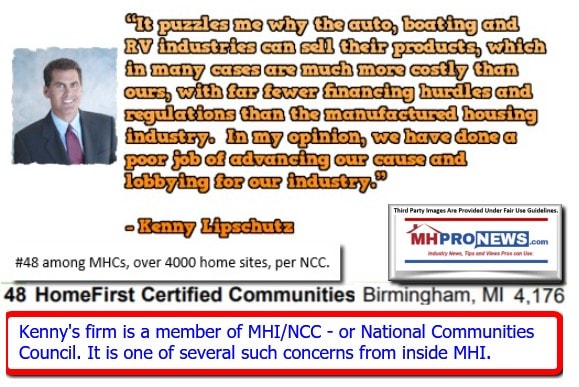 Ishbel Dickens, attorney for the National Manufactured Home Owners Association (NMHOA) in an email that copied Tim Sheahan and perhaps others, said that they had met with MHI leaders to achieve a compromise on HR 650, a later iteration of Preserving Access. MHI did not make that deal. Preserving Access never passed. What was later adopted in a different bill during the Trump Administration was essentially the same as what Dickens and Sheahan said they had offered MHI years before. This merits investigation on several levels. For instance.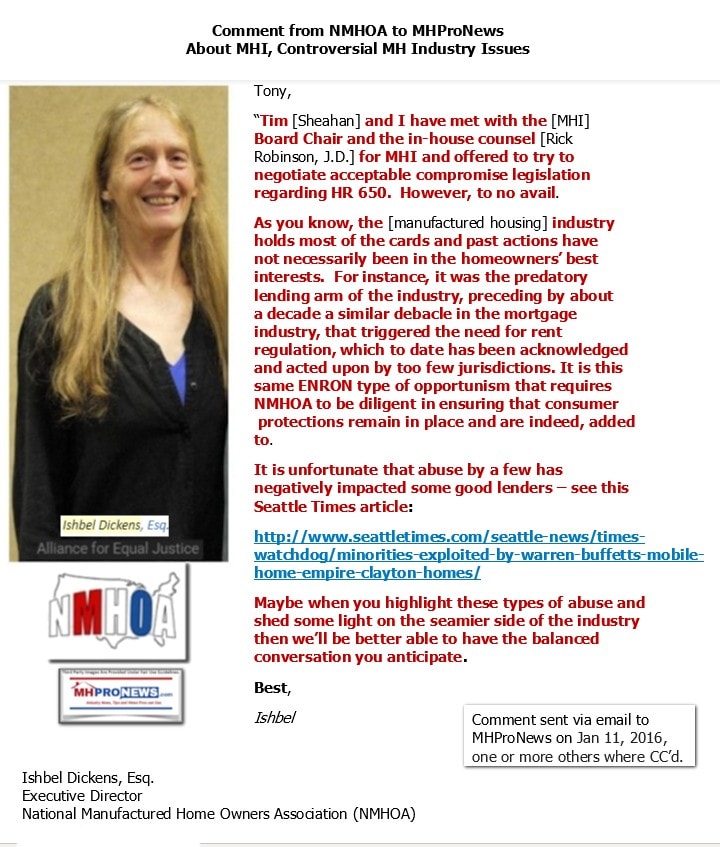 If MHI found what was eventually passed as acceptable, why did they not accept it previously when it could have been done through the CFPB via a compromise agreement between consumer groups and MHI?
Was a similar deal such as this available prior to 2016? If so, again, why did MHI and what MHI award winner Marty Lavin has called their "big boy" corporate backers fail to take a deal that might have occurred prior to that timeframe?
Dickens cited the Seattle Times series of reports, which was also cited by various members of Congress who opposed Preserving Access. A source has claimed to MHProNews that some of the research that the Seattle Times report was based on were accidentally or intentionally provided by 21st. If so, that opens the question if passing the bill was ever the actual object of the legislation.
Similarly, and with clear evidence, Williams told a meeting of MHI members about what he painted as the dark side of the "progressive agenda" in Washington, D.C. However, what no one at that time (this publication included) realized is that Williams statement stood in stark contrast to the fact that Berkshire Chair Buffett and Vice Chair Charlie Munger are painted as progressives. The Berkshire leader openly supported the election and reelection of Barack Obama and Joe Biden. Restated, in hindsight – while many were apparently taken in by what MHARR has since referred to as a shell game – the postured efforts to pass Preserving Access were from the outset doomed to fail. MHI's leaders should have known what MHI VP Boehlert himself said.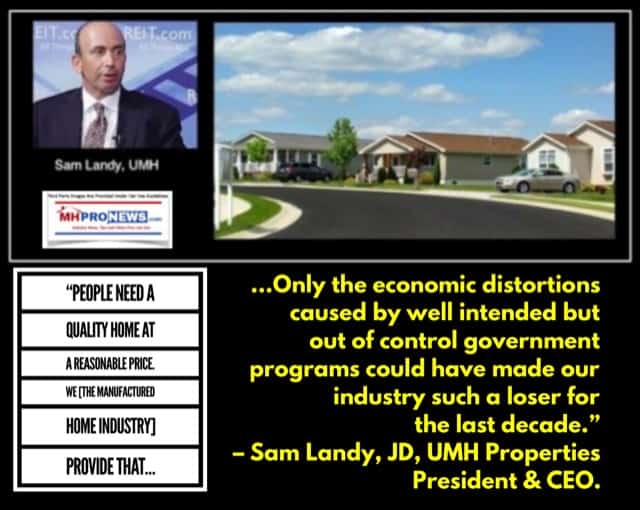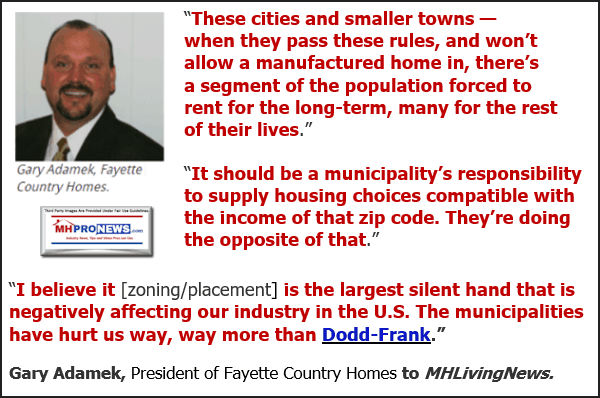 March 22, 2016, Bob Crawford and Frank Rolfe publicly took part in a discussion at the Tunica Manufactured Housing Show. In hindsight, several of those comments were revealing. Rolfe said that MHI were nice people, but that they failed to stand up for the industry or properly engage the media. It was not the only time Rolfe made such a claim.

Crawford said in front of a live audience of dozens of manufactured home professionals that MHI had for years failed to properly represent the industry.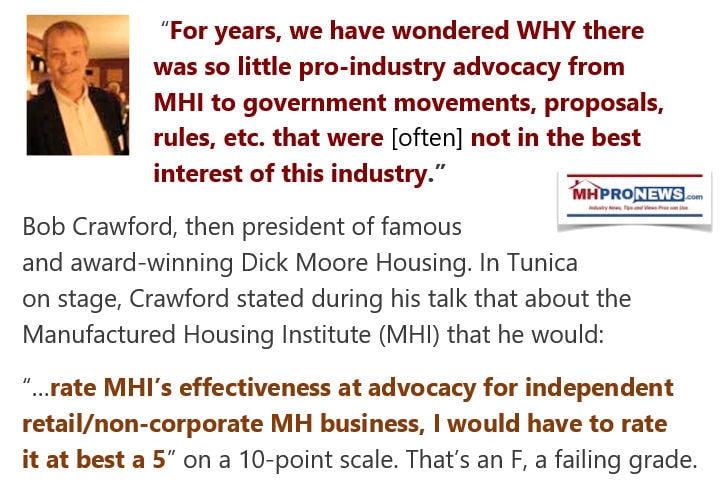 2017. MHARR issues a study that calls on the industry to create a post-production trade group to supplant what MHI claimed to be doing, what was in fact not doing properly.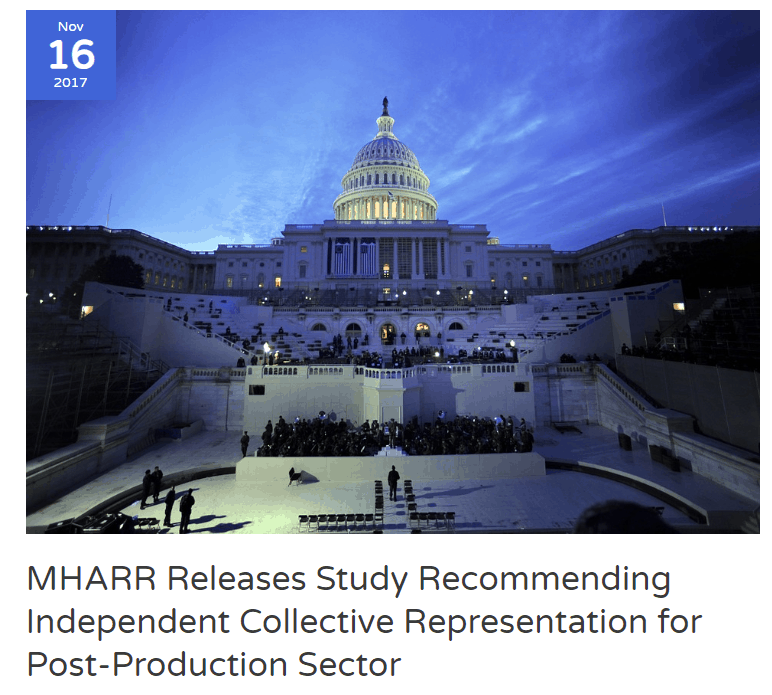 MHARR would later accuse MHI of what they termed in an op-ed the "Illusion of Motion," that postured efforts but in fact resulted in no robustly measurable results.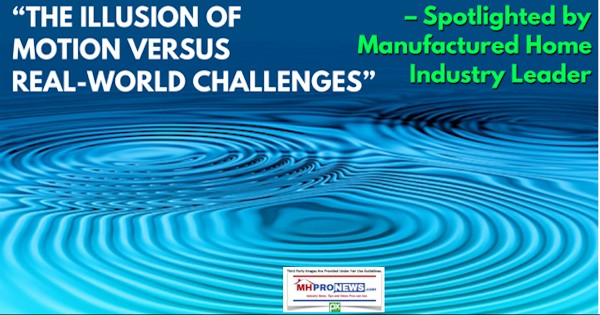 2017. It wasn't until December 15, 2017 that the first published clues as to what was occurring among certain MHI members to subvert the industry.  That was a report entitled: 21st Mortgage Doc-Berkshire Hathaway, Warren Buffett, & Manufactured Housing Industry's 'Smoking Gun?' Other reports and revelations since have since made it increasingly clear that MHI was at best publicly silent on these issues, or at worst was complicit. Given the intelligence and credentials involved, Strommen and others believe that MHI was an apparently important part of the plan to subvert manufactured housing from within in a fashion that benefited consolidators. The evidence for that – again, in hindsight – is extensive. To sum several of them up briefly, MHI would posture efforts that routinely failed to attain their own claimed objectives.
2017. R.E. "Bob" Crawford filed comments to the federal government in support of Trump Administration Executive Order 13777. Crawford was then the president of historic Dick Moore Housing, one of the oldest and most successful manufactured home independents, and one that has long boasted at A+ Better Business Bureau rating. Unlike several MHI efforts in recent years that routinely mentions their arguably failed CrossMods scheme, Crawford's call to action pushed for an inclusion of all HUD Code manufactured homes in the regulatory reform efforts.  Crawford said in that letter: "The main thing needed for HUD to more fully support the manufactured housing industry is for HUD to robustly implement and enforce all the requirements of the Act. A major part of that implementation concerns the program director, which, by law, should be a non-career appointee. The director currently in place [Pam Danner] has overseen the implementation of many regulatory burdens and costs in her 3-year tenure, all of which served mainly to increase costs of the manufacturing process while adding little to no real value to the house itself. It is my belief that many federal employees working in the department have honorable intentions, but it appears that some of the program's personnel and direction have consistently worked to promote the status quo (their jobs?), with very little done to properly represent HUD Code homes to the buying public. Sadly, that will never happen as long as the current staffing exists in the program. That would also apply to HUD's General Counsel, should that office not be able to enforce the enhanced preemptions, as Counsel was charged to do under the Act. That is what the president was referring to in the need to 'drain the swamp', in this instance at the HUD Code program administration level."
Restated, without naming either MHI or MHARR, Crawford took a position quite similar to that of MHARR.
2017. In an August 3, 2017 article on the Manufactured Housing Association for Regulatory Reform (MHARR) website entitled Actions and Abuses Of The Current HUD Manufactured Housing Program Administrator That Warrant Her Reassignment and Replacement.  That report lists several evidence-based complaints, several of which (on paper, at least) MHI has at various times concurred with without necessarily mentioning MHARR at all. Here is a list from that article by MHARR, noting the MHARR's President and CEO Mark Weiss, J.D., was – per reports – directly involved in the language of the 2000 reform law, or MHIA.
In addition to the foregoing, the Administrator has either violated or failed to fully and properly implement multiple program reforms mandated by the 2000 reform law, including but not limited to:
Failing to "facilitate the availability of affordable manufactured homes and to increase homeownership for all Americans;"
(B) Failing to "ensure that the public interest in, and need for, affordable housing is duly considered in all determinations relating to the federal standards and their enforcement;"
(C) Failing to limit the "monitoring" function in accordance with its statutory definition, e., "the periodic review of the primary inspection agencies, by the Secretary or by a state agency … for the purpose of ensuring that the primary inspection agencies are discharging their duties under this title;"
(D) Failing to "ensure that all directly and materially affected interests have the opportunity for fair and equitable participation" in the MHCC;
(E) Failing to bring to the MHCC for review and consensus recommendations "any statement of policies, practices, or procedures relating to construction and safety standards, regulations, inspections, monitoring or other enforcement activities that … implement, interpret, or prescribe law or policy…;"
(F) Failing to "consider the probable effect of any [any] standard on the cost of … manufactured home[s] to the public;"
(G) Failing to "facilitate[e] the acceptance of the quality, durability, safety and affordability of manufactured housing within … [HUD]; and
(H) Failing to provide the MHCC with "a written explanation of the reasons for the rejection" of recommendations concerning standards, regulations and/or proposed Interpretive Bulletins.
The Washington Post published on May 1, 2018 Juliet Elperin headline said: "Once obscure office at HUD [Manufactured Homes] is the subject of unusually intense lobbying effort." On the one side of that intense lobbying is MHARR, which pushed for Danner's removal. On the other side was MHI, with MHI's Gooch being quoted as asking not for Danner's removal, but instead for a broader reorganization. That merits a deep dive on several levels, one of them is linked here on the MHARR take on that episode. Some MHProNews reports on that are linked here, here, and here. The reason this matters is that it goes near the heart of the claim by MHI that they are representing all segments of the industry. If that were true, then why did they fail to engage with MHARR to have Danner removed more swiftly?  As MHProNews reported, Danner was widely decried as being harmful to the industry. Additionally, as was noted previously, Danner was per sources placed into that role with certain insider MHI support, even though officially MHI and MHARR both supported attorney and industry veteran Vic DeRose for the HUD OMHP Administrator spot.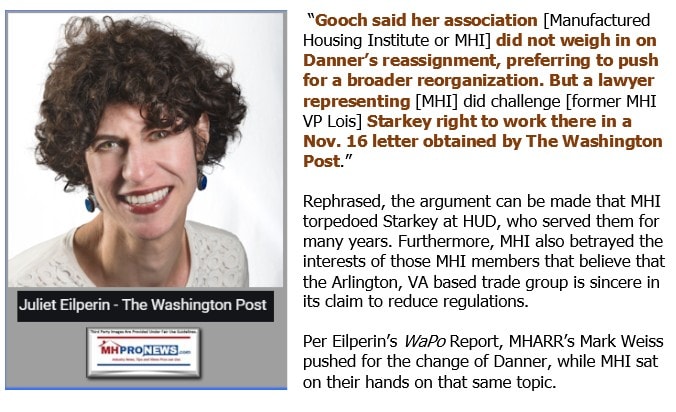 MHProNews began to put together some of the various pieces of the puzzle as to why manufactured housing was underperforming, based upon then known evidence. One must keep in mind that it wasn't until the late 2017 tip on the apparently deceptive Williams/21st letter that evidence was in hand that pointed to an apparently illegal act. It was that year that MHLivingNews and/or MHProNews began to gather known evidence, several elements of which later made it into the Strommen report that was published in early 2021.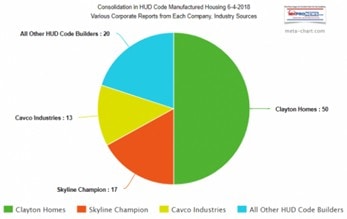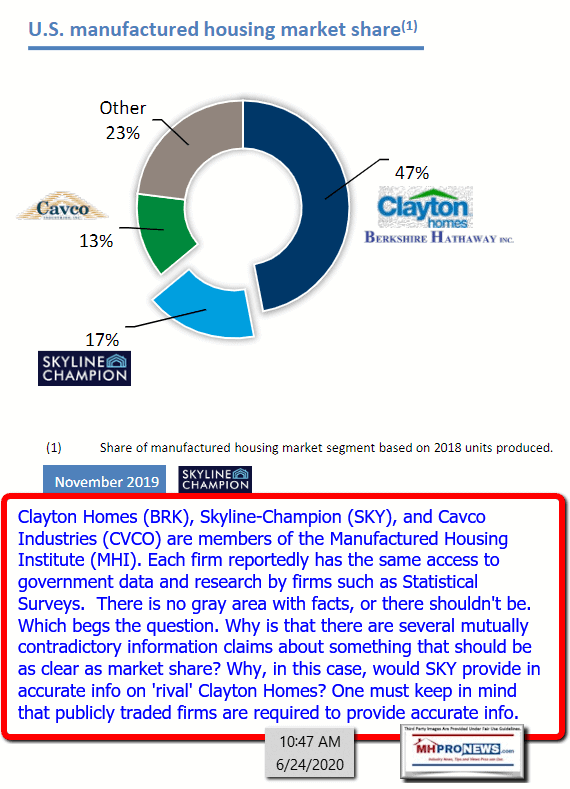 MHI claims momentum and rolls out "promotion" claims for the "new class of manufactured homes" that was later rebranded by MHI as CrossModTM homes.

Two state associations that were previously MHI state affiliates break ranks with MHI to say that MHI was ineffective, and that they would form their own national trade group, which became known as the National Association of Manufactured Housing Community Operators (NAMHCO).

An impromptu online debate occurs between pro-MHI member Andy Gedo and L. A. "Tony" Kovach, shown at the link below. Gedo took the side of MHI and their dominating brands. Kovach took the position that the industry was being foiled by MHI and their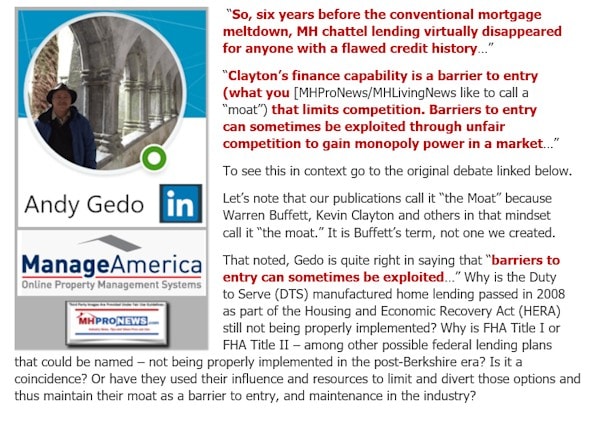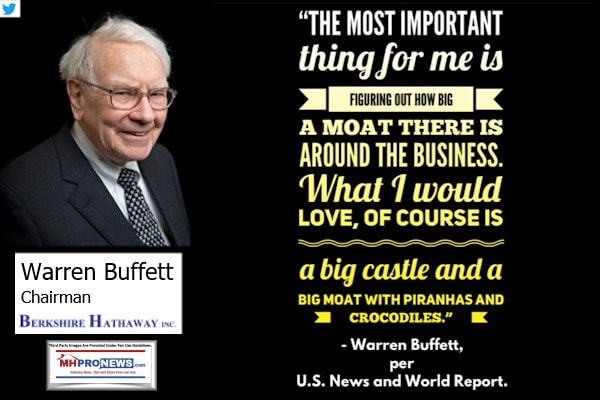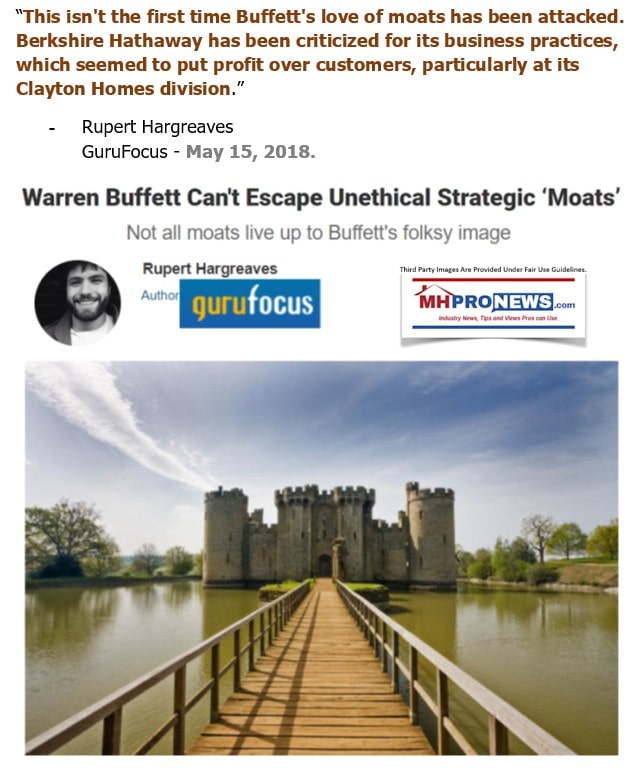 Robert "Bob" Van Cleef explains he and his wife's thrill over discovering manufactured housing, but their growing frustration and fears that predatory behavior – often connected to MHI member brands – was causing stress for them and others instead of joy in their golden years. Van Cleef recently passed away.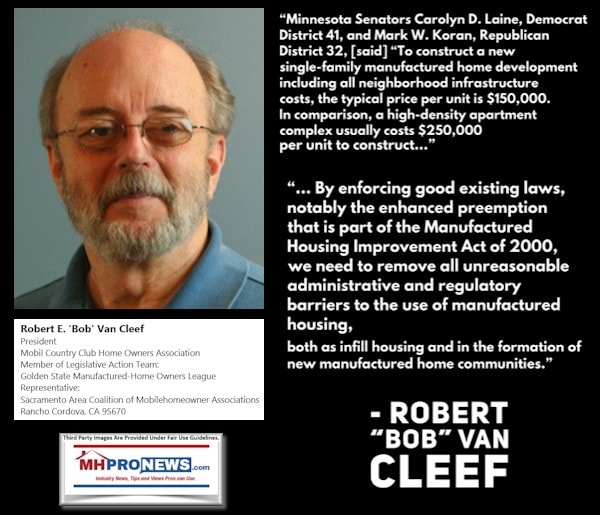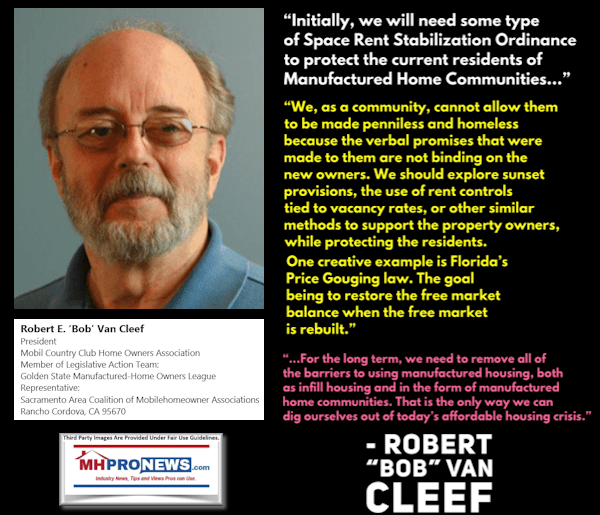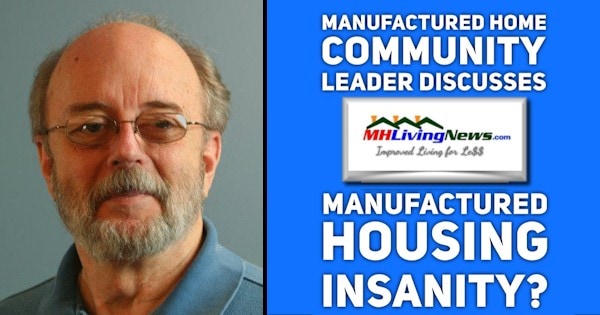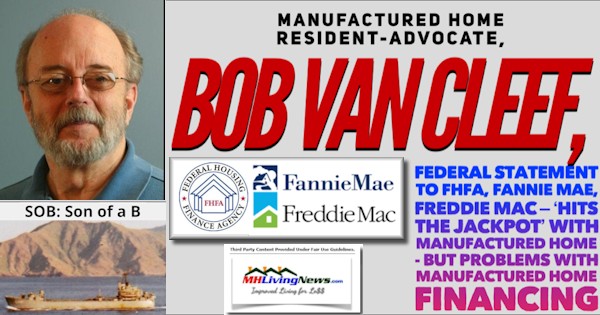 2019. Kovach statement to FHFA listening session in Washington, D.C.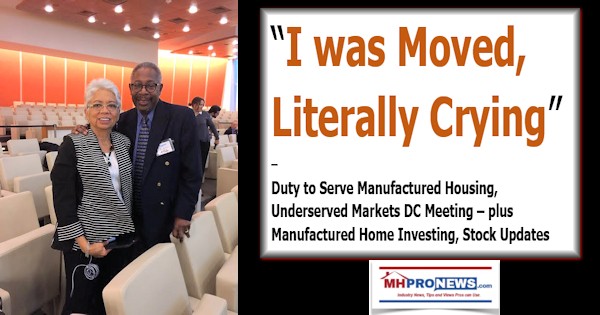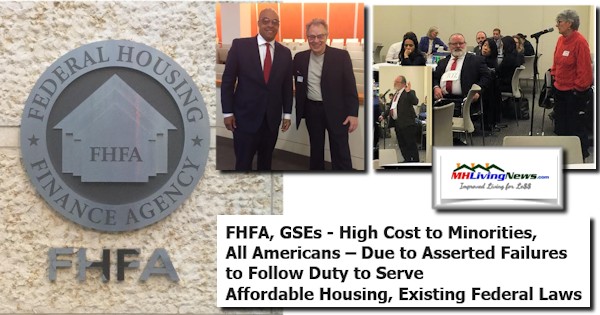 A Masthead later cited by Strommen outlines the Prima Facie 'case' of a felony by MHI leaders.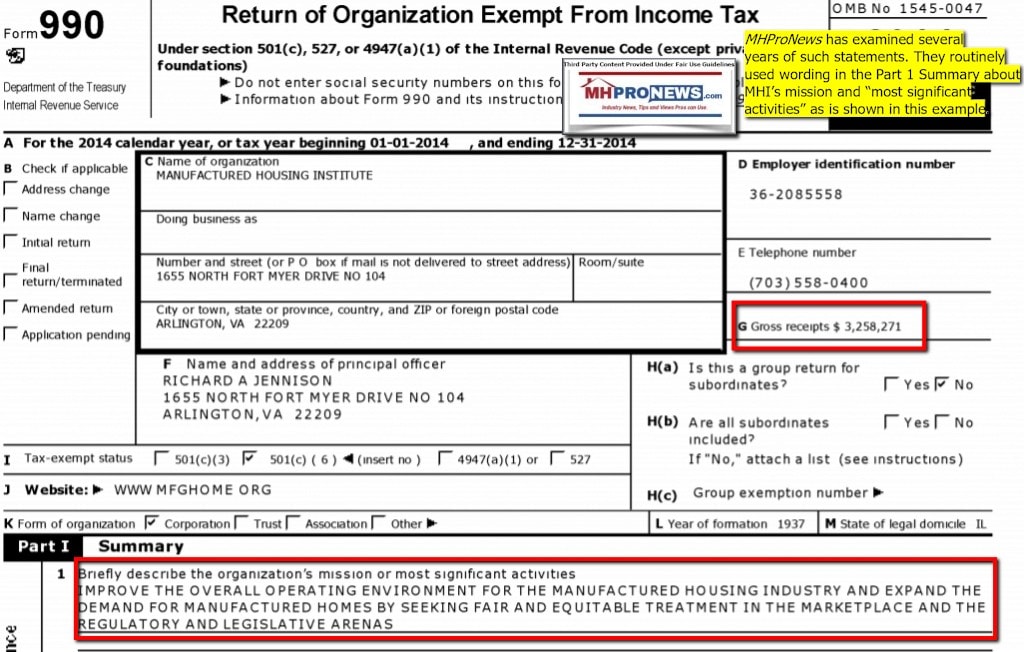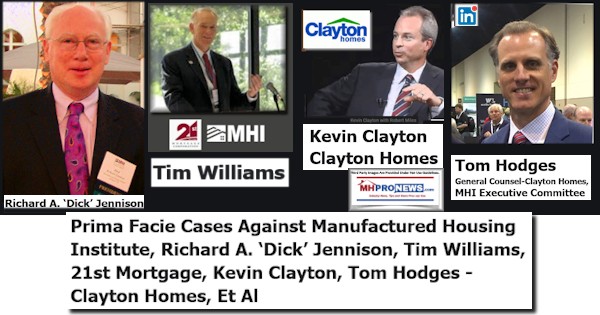 Documents leaked to MHProNews by a whistleblower reveal that MHI's EVP Gooch, now the CEO of what they call "MHI 2.0"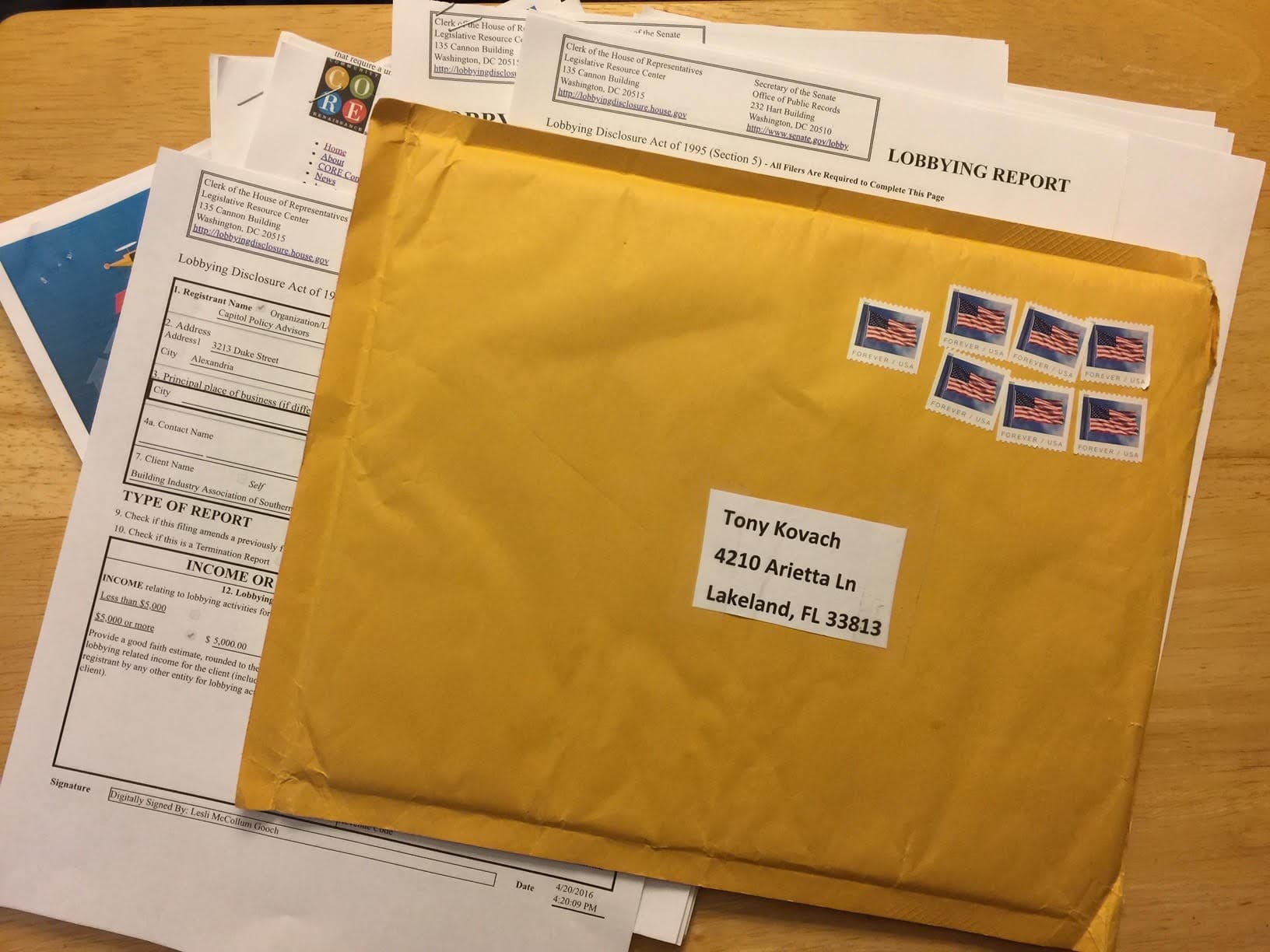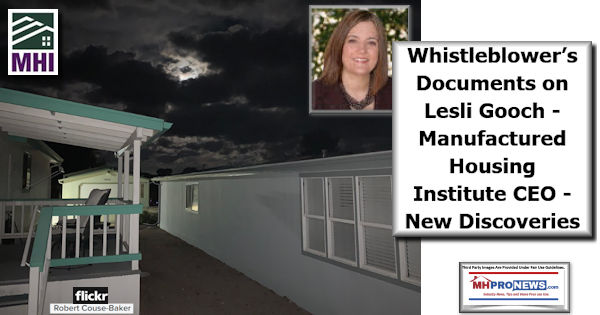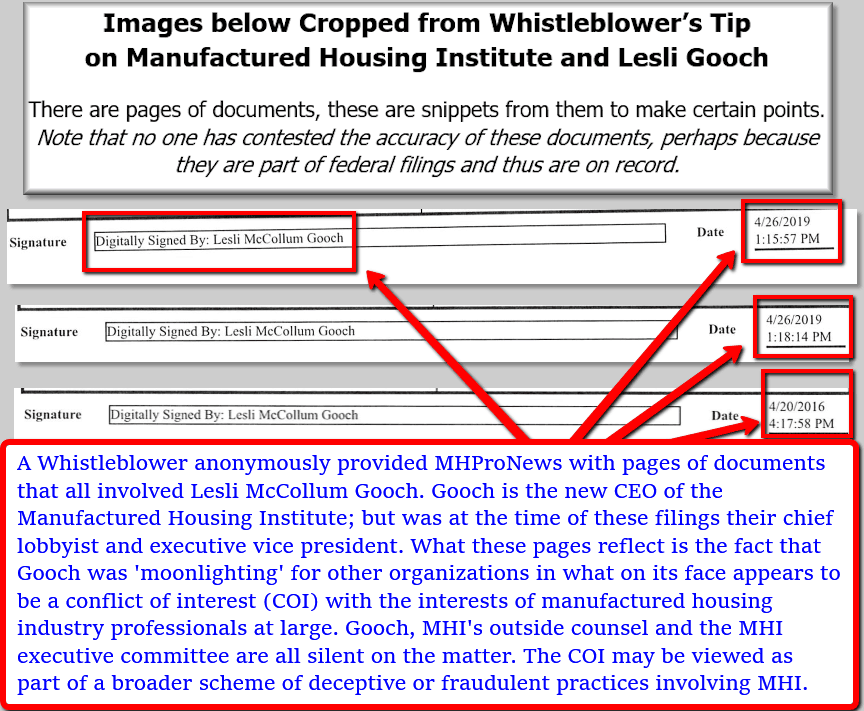 2020. MHI Affiliate and MHEC Executive Mary Gaiski says the problem of zoning and placement is getting worse. Gaiski's statement and others from industry executives in or out of MHI stand in stark contrast to MHI's claimed efforts.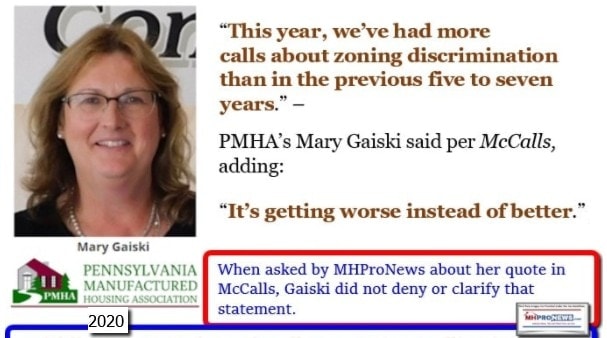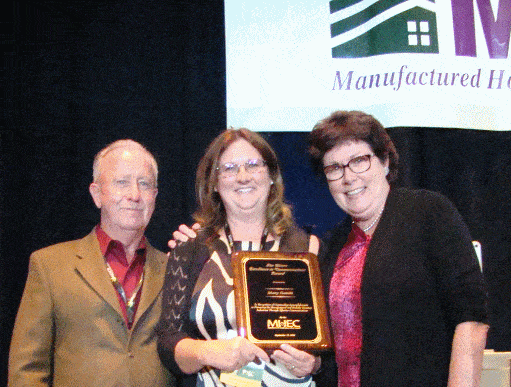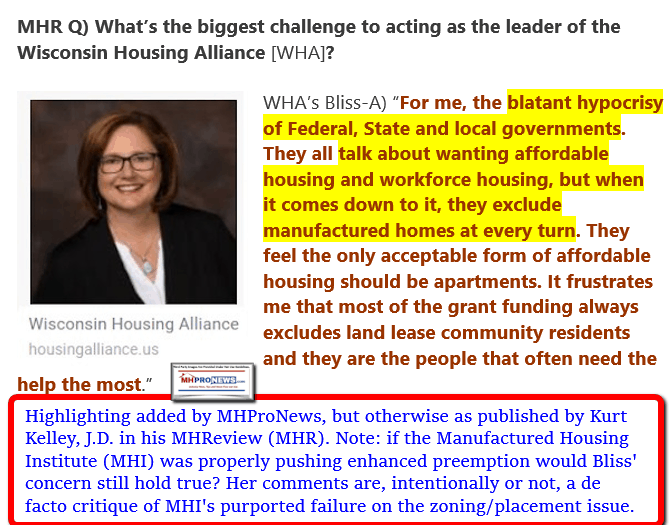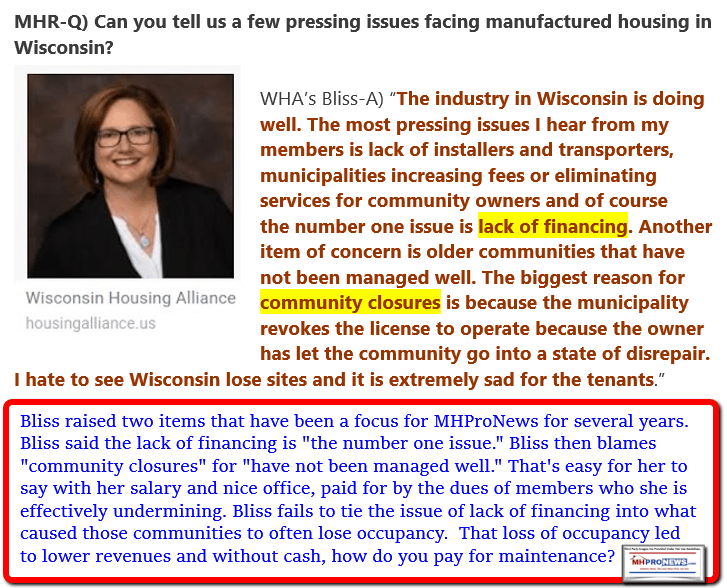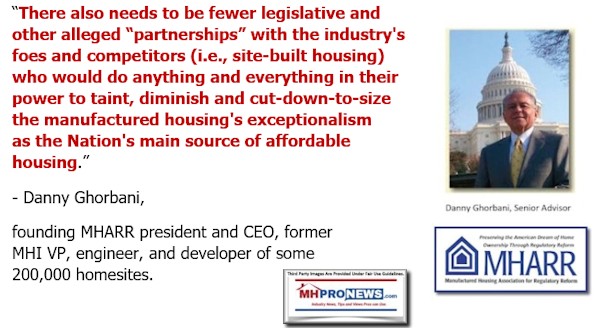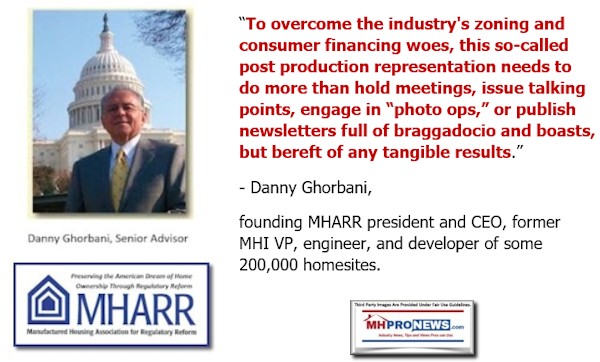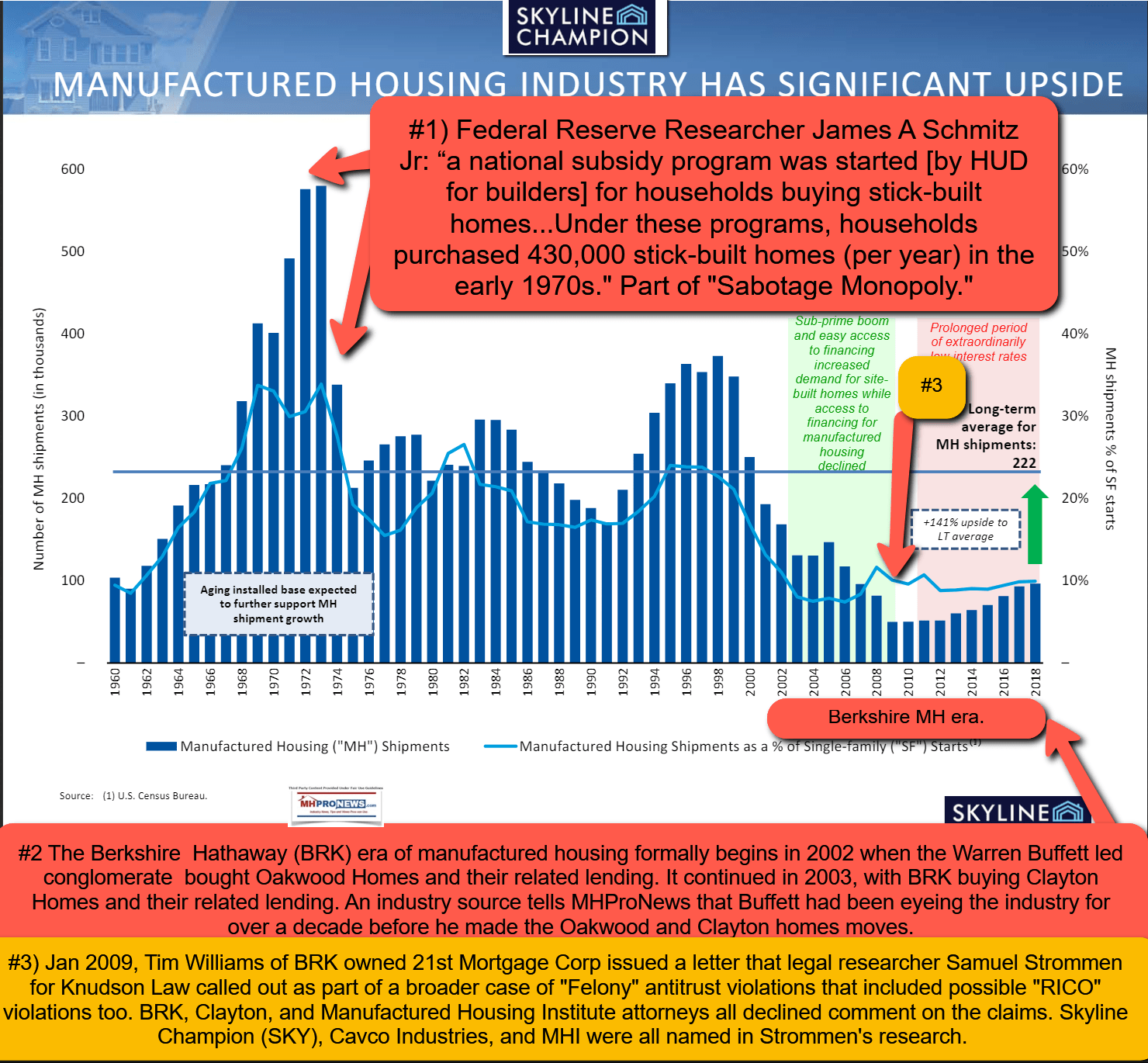 FHFA Listening Sessions comments. Among the listening sessions comments was one by former HUD and FHA team member Phil Schulte. Schulte provided several evidence-based arguments as to why the GSEs could safely and sustainably do manufactured home lending.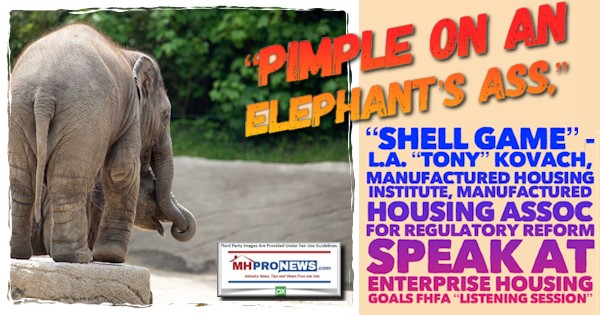 2021. Other statements are found at the links below. Each provides examples of concerns that reveal why either FHA, in their Title I "home only" lending program, or Fannie and Freddie could be providing access to more lending at lower costs that are not tied to Berkshire Hathaway owned lending. While MHI continues to posture for years on end that they want the same things, an Masthead on MHProNews carefully unpacked two relevant examples of why MHI's efforts were merely window dressing. One was a obtained through the aid of a Democratic staffer, that has Kevin Clayton making several fascinating statements and admissions on behalf of MHI.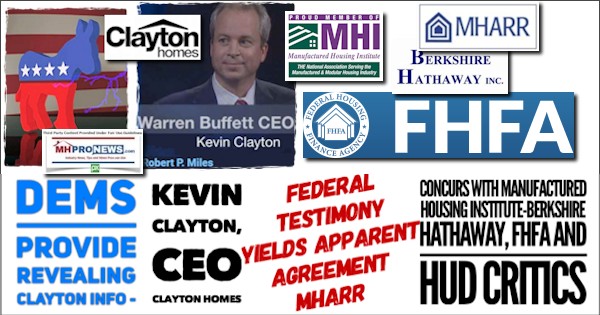 The other is a document that was obtained by MHProNews that put the history of Berkshire's involvement in manufactured housing lending into clear context.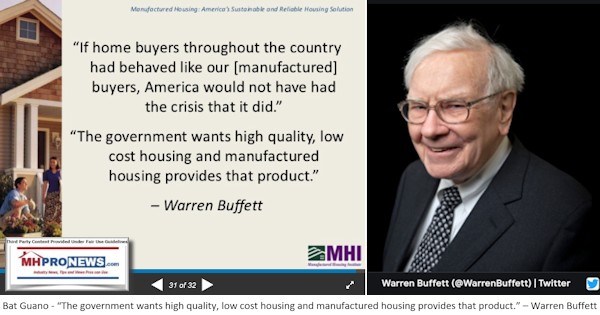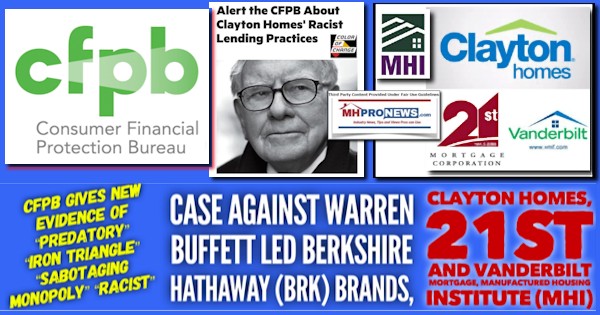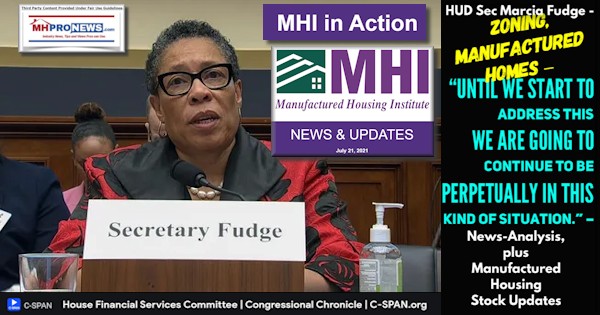 While those specific reports predated the Strommen report, they only serve to buttress what Strommen claimed.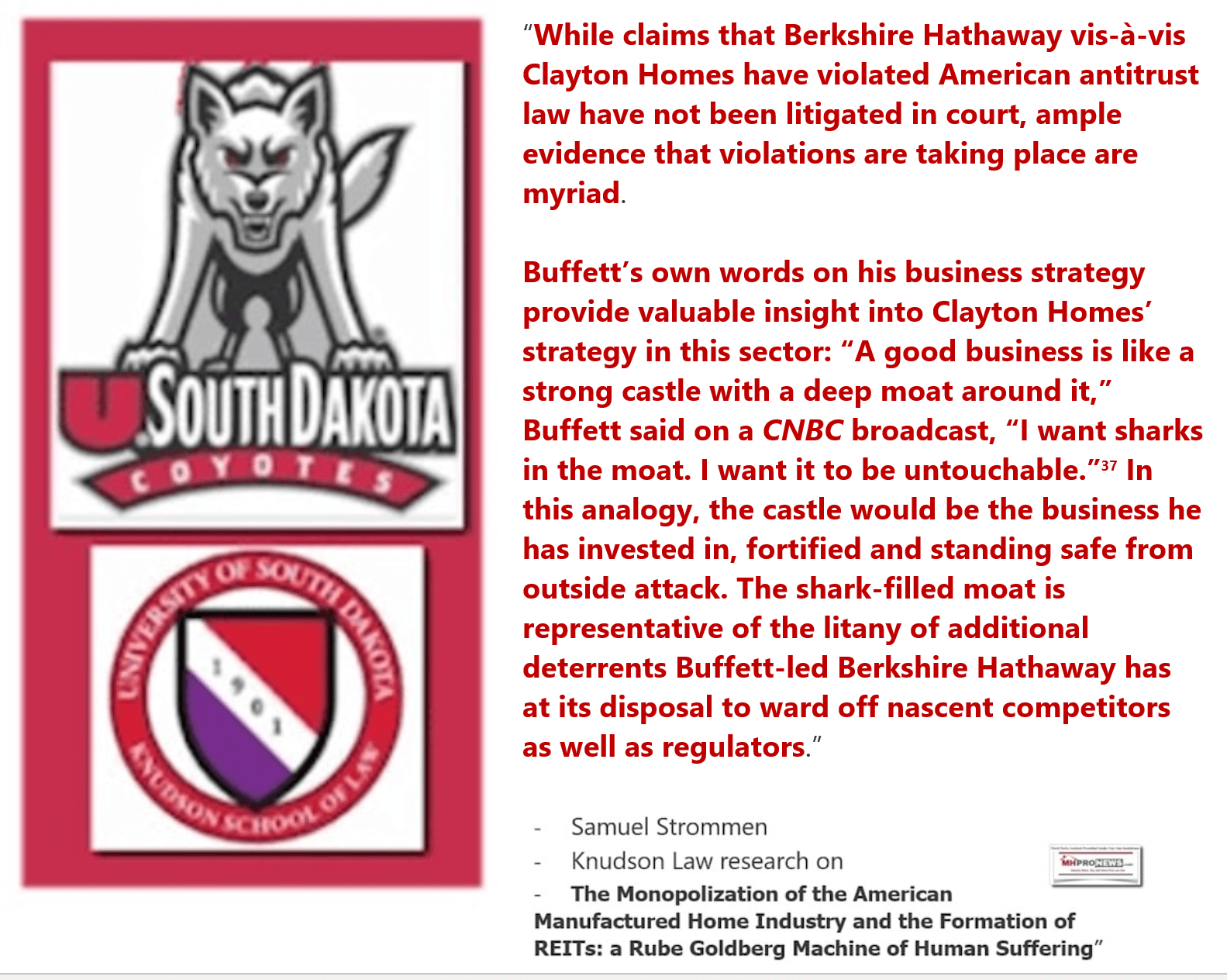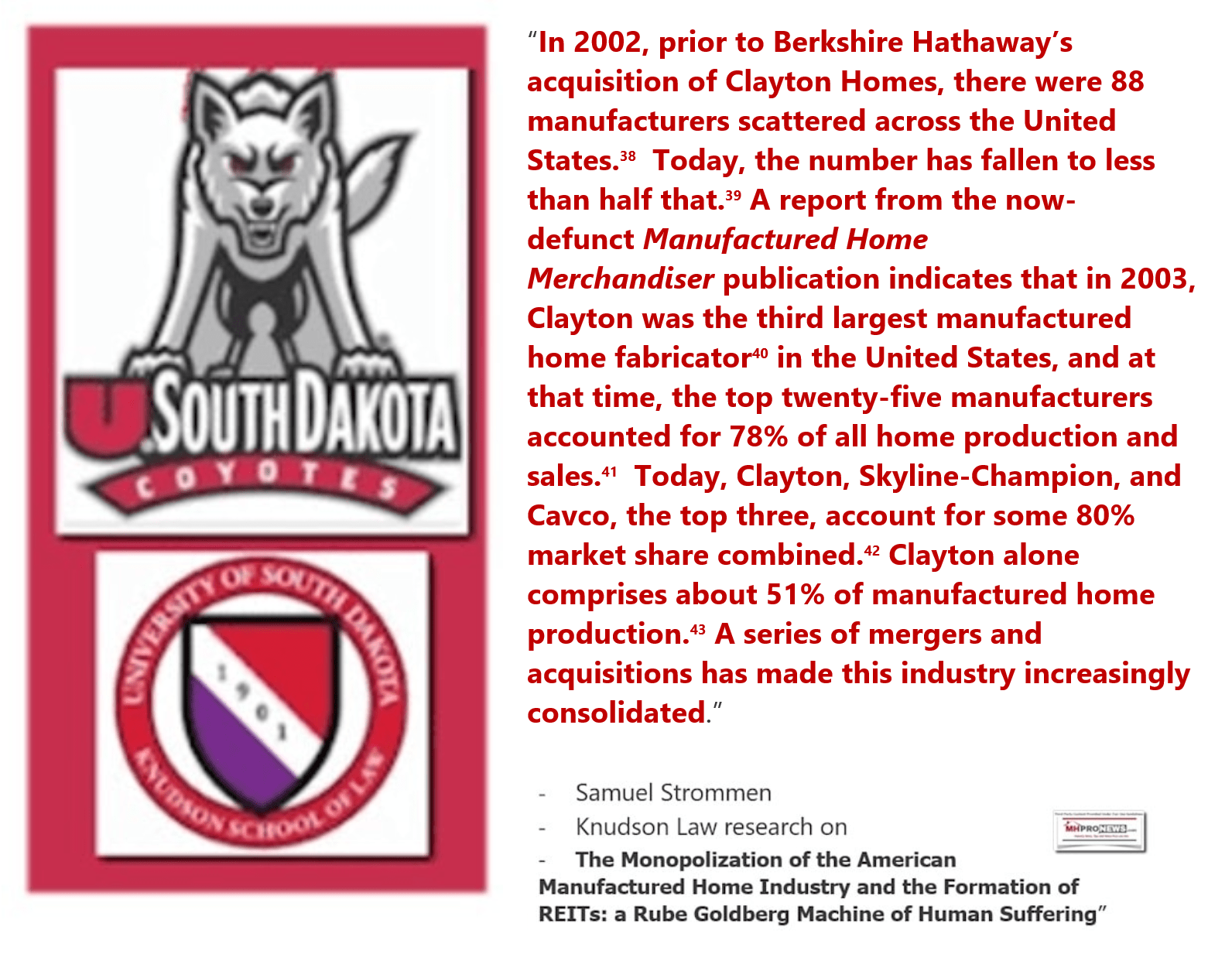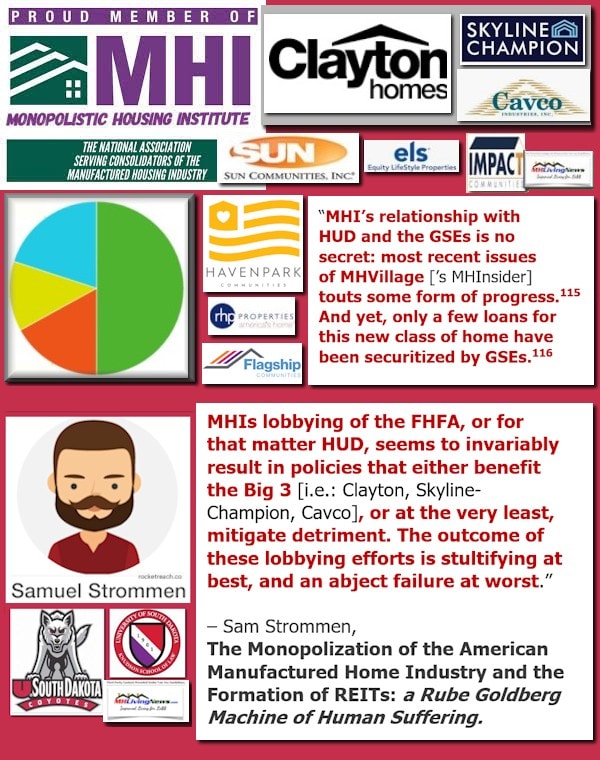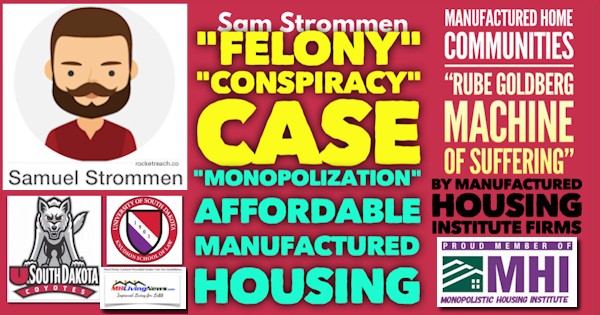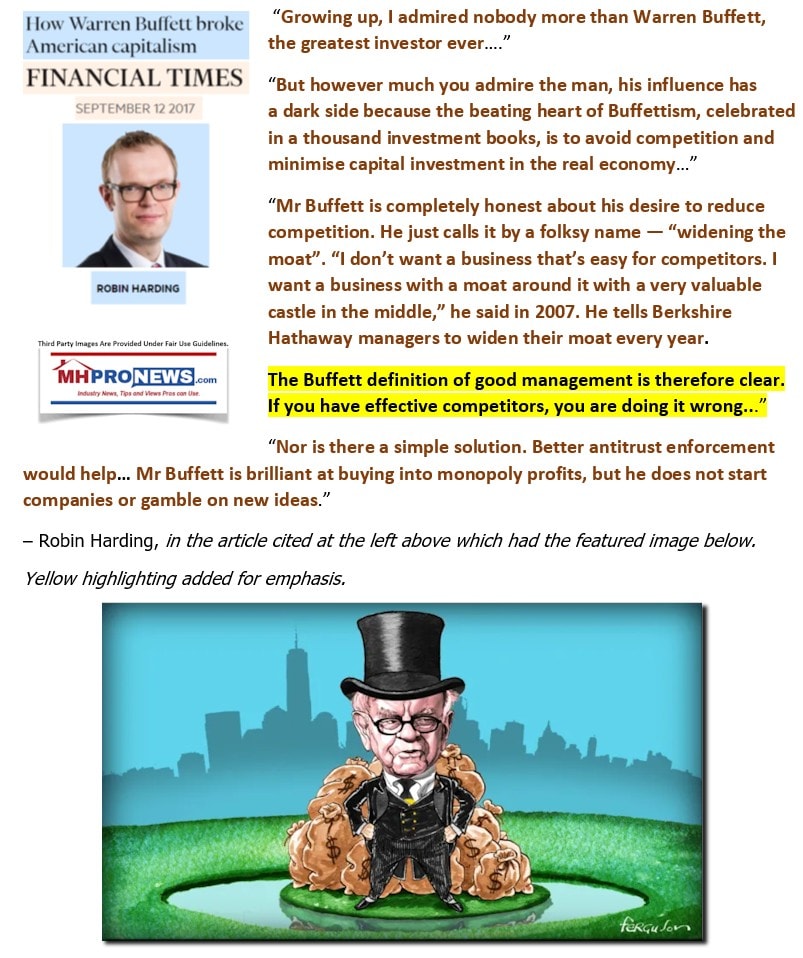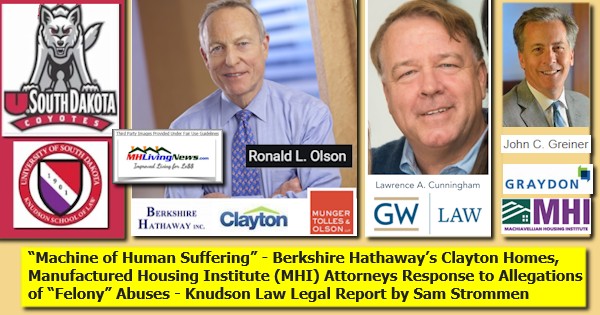 Additionally, the Minneapolis Federal Reserve reports on evidence of manufactured housing market manipulation that involve HUD, builders, and nonprofits were brought to MHProNews attention and round out a different, but complimentary bookend to what Strommen and a range of industry professionals cited and linked herein reveal.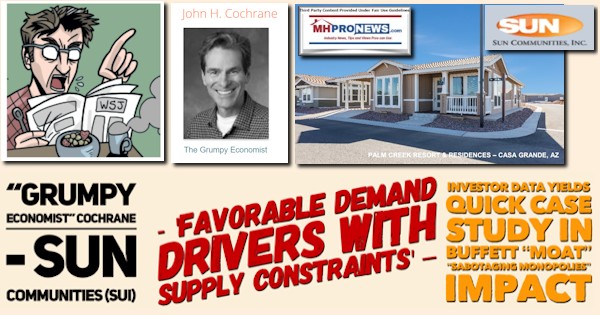 Pro-MHI member James "Jim" Ayotte attempts to defend and deflect from critique of their and MHI's efforts. Ayotte said that the industry's goals are not rocket science. Quite so. Ironically, as a careful look reveals, Ayotte's attempted deflection instead actually undermined MHI and his own posturing.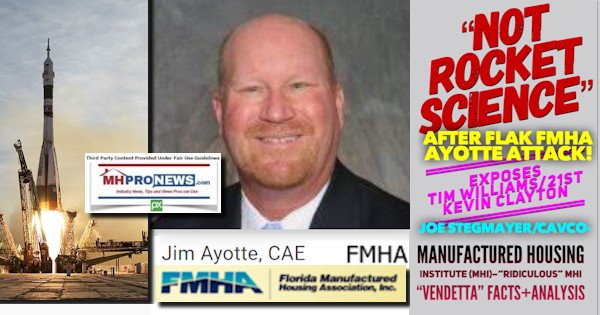 As that report and this report that includes Strommen and an array of pro-MHI defenders revealed, time and again, MHI claims turn to dust when carefully examined.
Other examples could be provided, and are planned for a more complete such timeline of late 20th century and 21st century manufactured housing industry connected occurrences. But the above could be summed up generically in this fashion.
At various points in time, MHI and MHARR worked together to enact the MHIA or so-called 2000 reform law.
Both trade groups – MHI and MHARR supported on paper DTS, both pre- and post HERA 2008.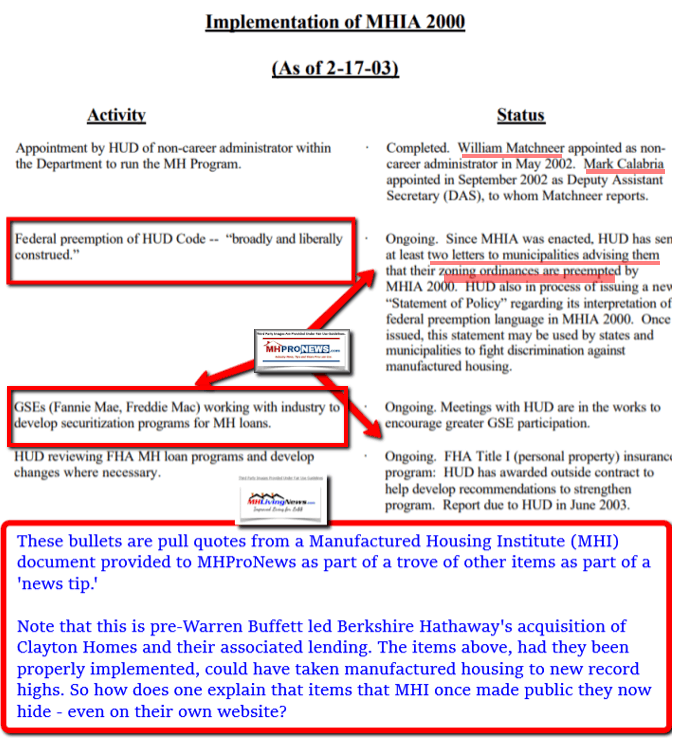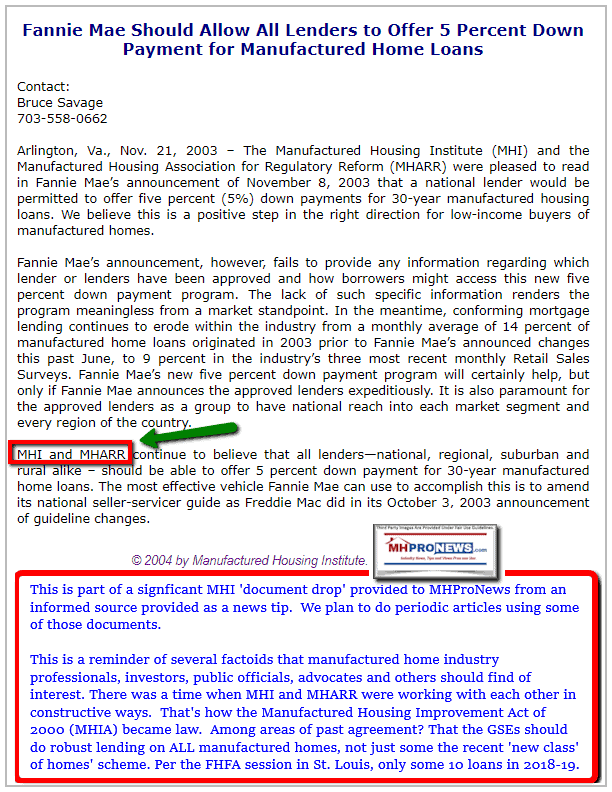 But as periodic MHI ally and foil Prosperity Now Doug Ryan has claimed, manufactured housing is being monopolized. That monopolization was occurring in no small part due to MHI's failure to obtain HERA 2008 mandated DTS support for all HUD Code manufactured homes.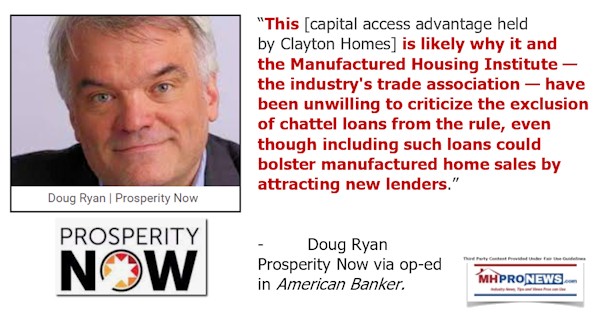 "Many of the housing problems we face today as a nation have occurred, not in spite of federal policies, but because of them." So said Tobias Peter in testimony to the Senate Committee on Banking Housing and Urban Affairs, on April 13, 2021. The top lines of Peter's comments made as the Director of Research for the AEI (American Enterprise Institute) Housing Center included this evidence-based statement. "How the federal government's policies have helped to make housing outcomes separate and unequal," and "how these policies continue to put low-income and minority borrowers needlessly in harm's way and have severely limited their opportunities to build generational wealth." Note the implications of Peter's statements, because rental housing does not build generational wealth. But affordable housing does. In a follow up to MHProNews, Peter's AEI Housing Center colleague Edward Pinto took a pro-manufactured housing stance as an important avenue for many to achieve their part of the American Dream of home ownership.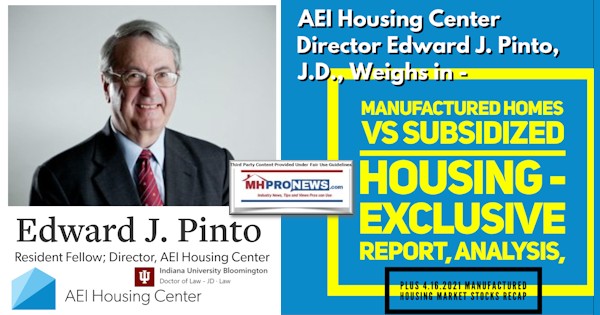 More recently, a report on MHLivingNews that reviewed decades of HUD and other third party research came to a similar conclusion. Using federal information, it becomes obvious that the concerns raised by Schmitz et al, Strommen, MHARR, Ryan, and others is supported by the evidence.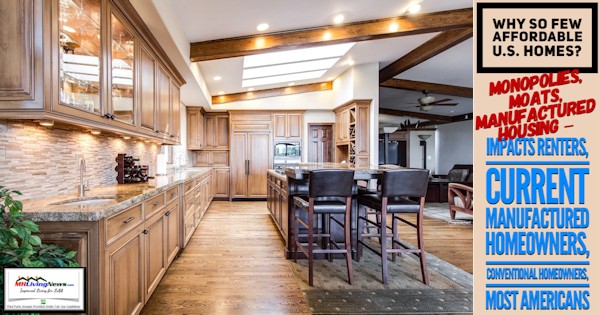 In September 2021, another HUD PD&R effectively confirmed the findings linked above.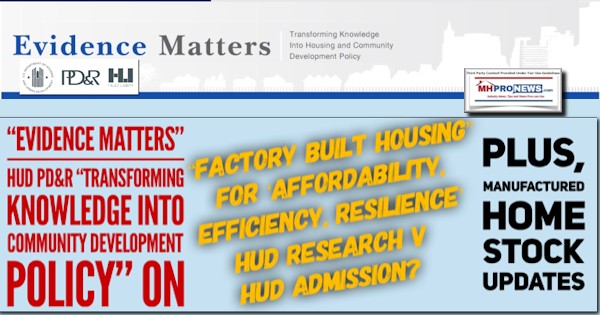 Additional Insights, Summing Up, Conclusions, and Next Steps
First, as a disclosure, this writer on behalf of our trade publications has admitted several times that some of the truth hiding in plain sight were missed at that time. In fairness to ourselves and others that have been fooled, there was a dizzying array of claims that were not easy to sift through at the time. The process of discovering the broader truth amid the numerous smaller truths was slow and marked by fits and starts.
That said, the above and more if carefully unpacked and viewed in hindsight will reveal this. MHProNews was for several years a loyal MHI member. We asked questions that received puzzling answers. We presented MHARR insights from their media releases in toto while presenting MHI emailed and other news items too.
Then, as reported on March 2, 2015, while MHProNews was still an MHI member – and one often praised by MHI leaders – was pointedly told by MHI to halt publishing MHI emailed or other news. This was despite the fact that MHI previously wanted MHProNews to publish those items, knowing we had the demonstrably largest audience in the industry. Years of such MHI reports are on the MHProNews website, as this link here reveals. Indeed, into 2016 and sometimes beyond, key MHI members and/or MHI itself was a sponsor of this website. As the outline above reflects, that sponsorship did not deter MHProNews from reporting what became known as it was being discovered.
In hindsight, several things have become clear. Among them, in no particular order of importance, are the following items.
MHI may have been a more authentic trade group that sought to grow the industry as in keeping with their years of IRS Form 990 claims under oath.
That noted, sometime after the apparent Berkshire entry into manufactured housing, the influence of Clayton, 21st and other Berkshire brands and their allies began to take hold at MHI.
Following the notorious 2009 letter from Tim Williams reference herein, the growth of Clayton and other brands consolidation manufactured housing accelerated.
While it has not generally been stated as such, an informed source has told MHProNews that Buffett has had his eye on manufactured housing since the late 1980s. That should be verified by a formal investigation, because Buffett is well known for long term strategic thinking.
Also, while it is not generally thought of in these terms, Buffett had an interest in manufactured housing through his Berkshire stake in the GSEs.
While lending following the circa 2008 housing/financial crisis in a reasonable timeframe began to return to conventional housing, it has never returned to manufactured housing in that same robust fashion. This is despite the clear legal mandates that MHI, MHARR, and others agree exist.
It wasn't until the notion of paltering and the moat were beginning to be examined by MHProNews and/or MHLivingNews with respect to how those may play a role in manufactured housing that something like a degree of clarity began to emerge on the methods arguably at work in our industry. While paltering is hardly new, to be fair, the BBC didn't do their highly ranked report on that topic of paltering until they published "The devious art of lying by telling the truth" on Nov 15, 2017. MHProNews issued a report on that notion with respect to CrossMods and other issues onNovember 12, 2019.
Paltering, Manufactured Homes, CrossModTM Homes, Manufactured Housing Institute, Clayton Homes, Berkshire Hathaway Manufactured Home Lenders, DTS, and You
Our first apparent reference to the Moat, still early in the awakening process, was December 26, 2017.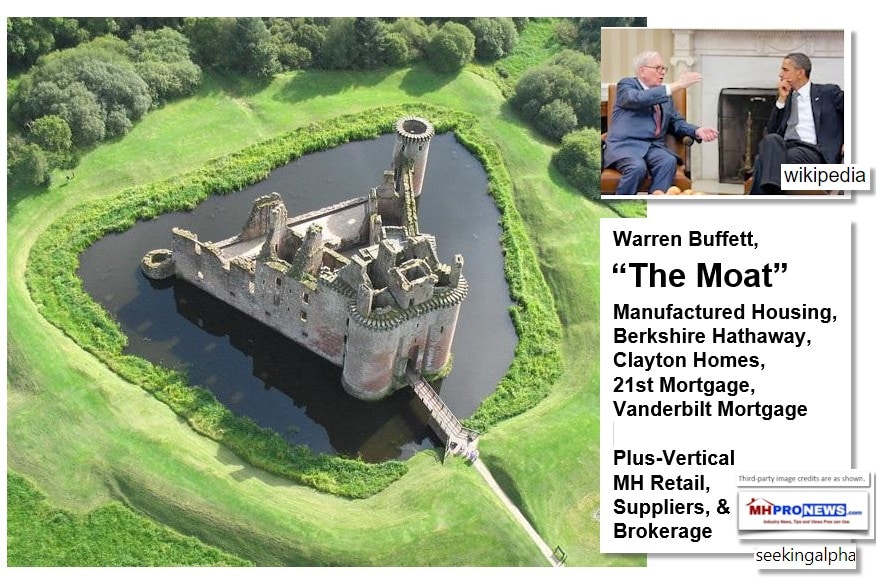 On December 27, 2017, we did the report linked above that was more specific.
As Tim Connors, CSP, and Barry Noffsinger, of Credit Human have explained, it takes time for a notion to move in stages from awareness, to understanding, integration and finally to mastery. It is a fair question to ask if mastery has yet been attained here on the various ways that the Castle and Moat operates. But again, in fairness to ourselves, the Nation, GuruFocus, the Financial Times and others have only seriously named that troubling method in connection with our profession in recent years too. If far larger platforms with far bigger budgets and more manpower have only in recent years shown that light on Berkshire, Clayton, 21st, and the Moat, it is hardly a surprise that it took MHProNews time to absorb those notions too.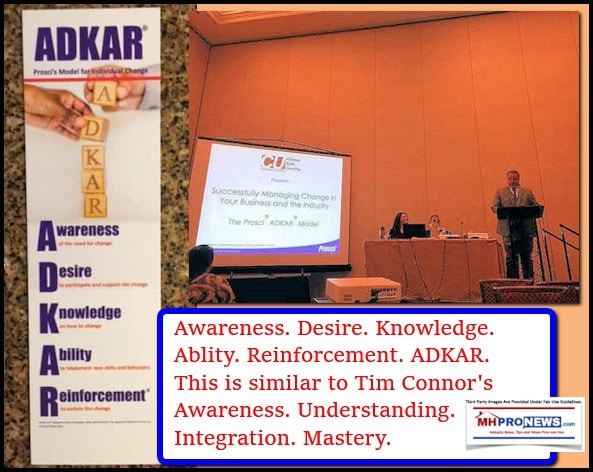 That said, what the survey, recent and past references reflect could be summed up like this.
Perhaps around 2005 with the Roper Report, evidence of MHI leaders falling under the sway of consolidators begins to emerge. Note for clarity that when MHI rebuilt their website a few years ago, several changes were made, not just looks or navigation. For instance, items once available to the public were hidden or removed.
Among the previously available items on the MHI website were those statements by Eric Belsky that MHI once touted. Now, Belsky is part of the MHI Orwellian memory hole.
MHI and MHARR working together on passing the MHIA is another example. The document below was once on the MHI website. It was obtained as one of several tips and document 'leaks' on what should not be a thought of by a normal or authentic trade group as a leak at all.
Note that while MHARR puts the vast majority of their content that is emailed on their website, MHI does not do the same. Why not? Other trade groups, such as the National Association of Realtors (NAR), the National Association of Home Builders (NAHB), the RVIA, NFIB, etc. put some version of what they email out on their websites for others to read. Not so MHI. That begs the question, what do they have to hide? The troubling answer increasingly appears to be evidence of MHI's own contradictory claims and behaviors. That may well explain why MHI first asked MHProNews to stopped providing our news release to the industry. Later, MHI stopped providing those so-called news releases to their readers, save for industry members. In the absence of an archive, it is easier to overlook or forget what was once plainly stated by MHI.
Despite a variety of written legal threats by MHI, MHProNews eventually began to publish MHI news without their permission, precisely to examine the claims.
Despite an outside MHI attorney saying that they wanted a range of all viewpoints and to build consensus, that remark also appears to be a clever bit of paltering; a mix of true and untrue. MHI indeed watches what others say about them. But when the industry is diminished or laws are ignored that could hurt the industry, despite their various written claims to the contrary, MHI will let bad news slide. What they do not want is for a bad reflection on themselves to occur. While at first MHI issued a variety of threats, it was only after repeated pushback by MHProNews that they finally stopped that practice directly. But that doesn't mean that MHI isn't working in other ways in an attempt to stop, divert attention away from, or otherwise deflect from our years of evidence-based reporting on these topics.
What does that all mean?
When MHI leaders are looking the other way at Gooch's apparent breach in documented conflicts of interest involving non-industry members she lobbied for while being paid by MHI;
When MHI leaders are apparently okay with MHI advocating far more successfully for rental housing than they do for manufactured housing growth and sales;
When there is an increasingly documented history of key MHI brands contradicting officials statements and claims by MHI that they are working for authentic growth;
The time has come for MHI's board to publicly and transparently probe MHI staff, all emails, all documents, and all records in the 21st
A similar, independent, and transparent probe by MHI's auditors should be done.
Not least, there should be parties outside of manufactured housing that formally probe these problematic concerns, noting that all of this is factual, evidence and trend based.
Not to be overlooked, MHI has repeatedly ducked public debate on these concerns.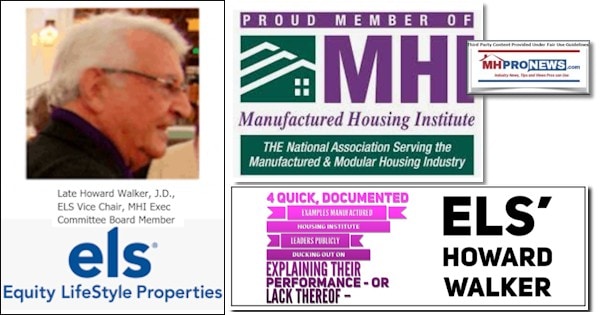 So too has Berkshire Hathaway brands, board member, inside and outside counsel. Ditto MHI's inside and outside attorneys.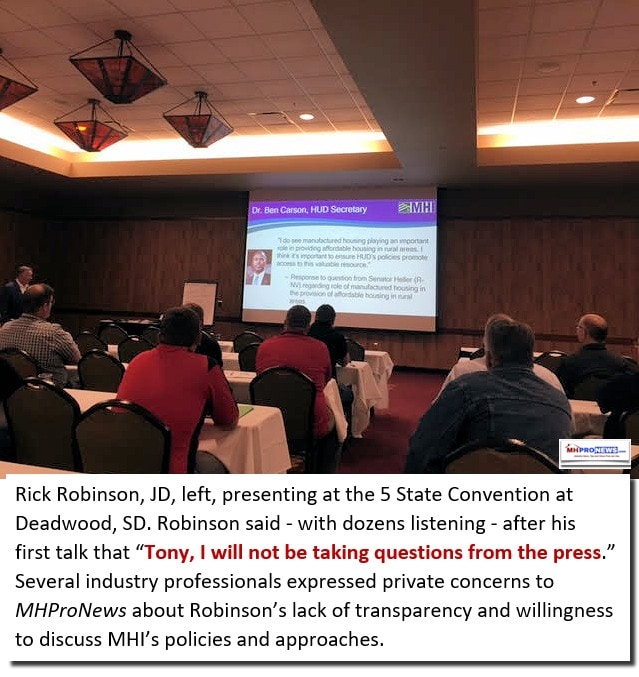 This MHI letter is but the latest piece of evidence in the puzzle that explains how it is possible that manufacutred housing is underperforming during an affordable housing crisis.
But perhaps more important is the evidence that emerged from the SEC investigation into Cavco.
With Cavco and Clayton in mind, one of the questions that should be pressed is this. How long ago did Clayton and Stegmayer begin to envision working with Buffett and a post-GSE loss of manufactured home lending?
While there are several corporate players named in this and the linked reports, there are good reasons to begin with MHI. MHI was saved from bankruptcy in the 21st century, an often overlooked fact. What was it saved to accomplish? Was it just such paltering moves to consolidated the industry and act as what Strommen calls the mouthpiece of the Big 3 and their dominating REITs?
Just as various law enforcement agencies often start lower on the totem poll to build a case against those higher up, probing MHI formally and examining all of their records could reveal much. It must not be forgotten that key MHI leaders held closed door meetings with the GSEs whose meeting minutes have yet to be disclosed.
The stench of corruption hangs over MHI like the headlines that cling to their brands in obvious defiance of their ridiculously posturing code of ethical conduct claims.
If MHI were as good as its defenders and they themselves claim, then as the above survey illustrated, the industry could be over 370,000 shipments. Who said? Dick Jennision, Sam Landy, Tim Williams and others. But instead, the industry may, just may, break 100,000 for the first time since 2008.  During an affordable housing crisis, that behavior is costly to millions.
The only thesis from industry publishers and bloggers that has consistently held together in recent years are those published by MHProNews.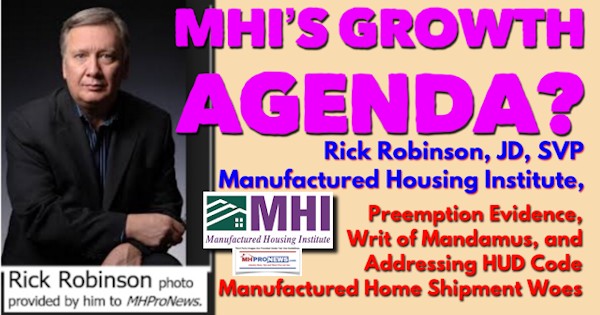 The only national association that has consistently held to its stated values without deviation is MHARR.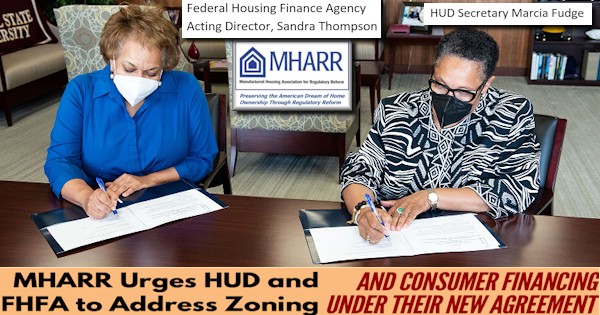 But MHI has been all over the map, sometimes contradicting themselves within hours or days of some prior remark.
MHI can't have it both ways. As the above illustrates, they can't be effective at representing the interests of rental housing providers and also be effective at promoting "all segments" of manufactured housing.
"Our focus as an industry and yours as leaders in Congress have always been to relieve the unprecedented strain from COVID-19 on renters and individual housing providers, and to support the continued viability of the rental housing industry."
"The Manufactured Housing Institute's grassroots campaigns focus on aggressively advancing the interests of the industry and its customers to policymakers. We promote manufactured housing as a resource of innovation and affordable housing, and work hard to improve the flow of capital to manufactured home lending and create a friendlier zoning and regulatory environment to showcase today's beautiful factory-built homes."
Those two claims are revealing in a problematic fashion for MHI. Perhaps that is why the MHI rental coalition housing letter document was provided to MHProNews in the first place?
It was Abraham Lincoln who aptly noted that no man has a memory good enough to be a liar over a long period of time. MHI may well be a fine contemporary example of that troubling bit of Lincoln's wisdom. After all, if MHI wanted to debunk the claims against them, they have been given numerous documented opportunities to do so.  The fact that they have allowed others to attempt that while they use the old razzle dazzle ploy tends to confirm the concerns raised in this and other reports. MHI's board member and others have a legal duty to investigate these matters in a transparent fashion. That process should begin promptly with a public call by one or more MHI board members for just such a probe. Anything else would tend to lead someone to the conclusion, right or wrong, that a given MHI board member is 'in on the fix' as opposed to being opposed to an apparently rigged system. ##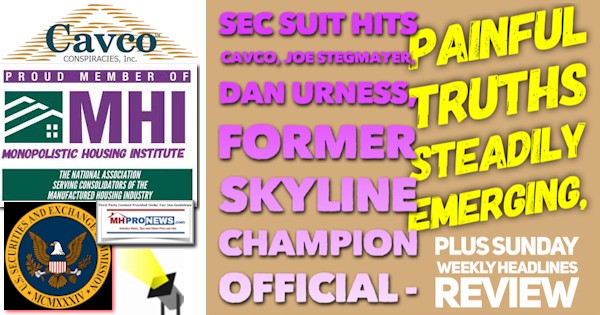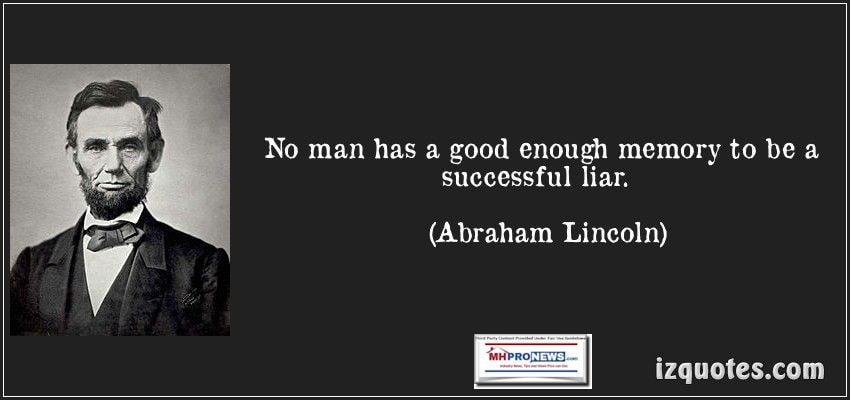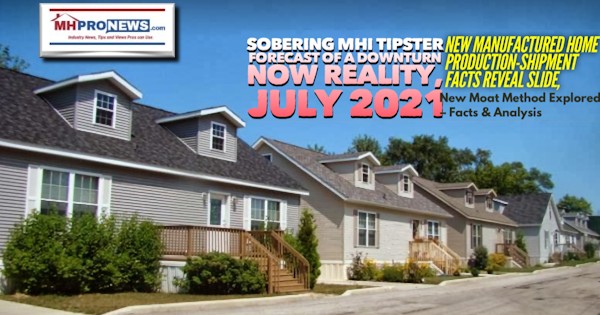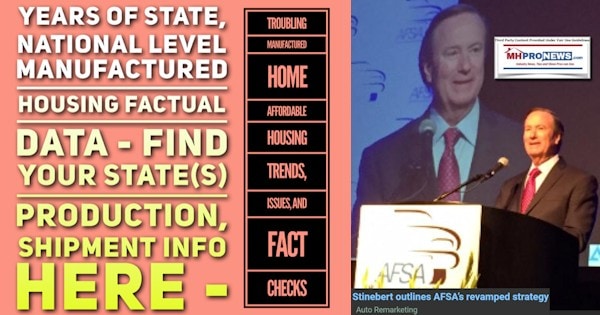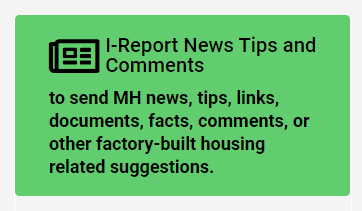 Our thanks to you, our sources, and sponsors for making and keeping us the runaway number one source for authentic "News through the lens of manufactured homes and factory-built housing" © where "We Provide, You Decide." © ## (Affordable housing, manufactured homes, reports, fact-checks, analysis, and commentary. Third-party images or content are provided under fair use guidelines for media.) (See Related Reports, further below. Text/image boxes often are hot-linked to other reports that can be access by clicking on them.)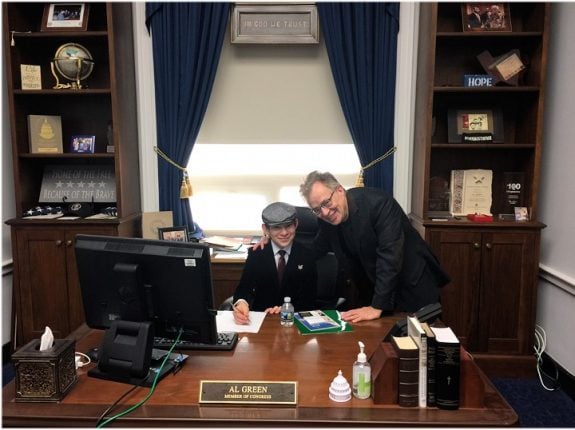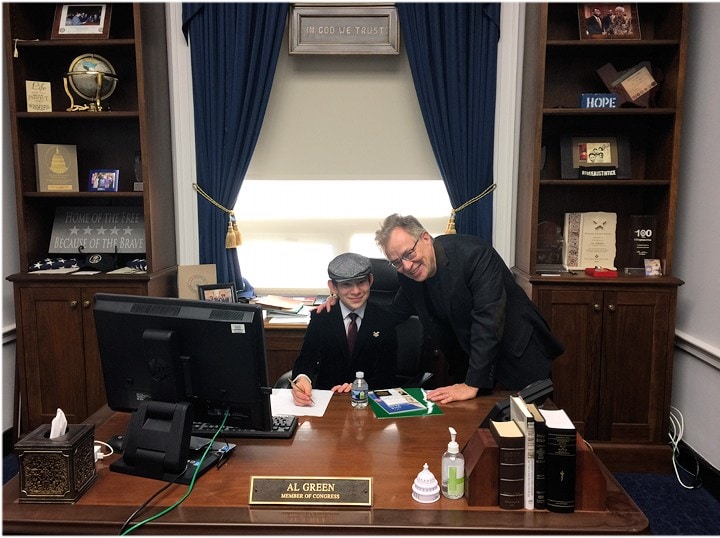 By L.A. "Tony" Kovach – for MHProNews.com.
Tony earned a journalism scholarship and earned numerous awards in history and in manufactured housing.
For example, he earned the prestigious Lottinville Award in history from the University of Oklahoma, where he studied history and business management. He's a managing member and co-founder of LifeStyle Factory Homes, LLC, the parent company to MHProNews, and MHLivingNews.com.
This article reflects the LLC's and/or the writer's position, and may or may not reflect the views of sponsors or supporters.
Connect on LinkedIn: http://www.linkedin.com/in/latonykovach
Related References:
The text/image boxes below are linked to other reports, which can be accessed by clicking on them.