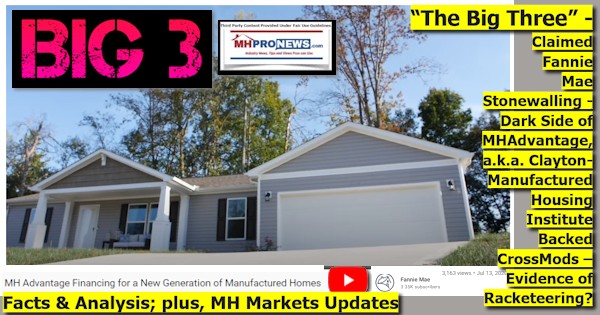 Fannie Mae stonewalling evidence will be examined after a brief look at the Big Three (3). There are several possible meanings to the Big Three in manufactured housing. For the purposes of this report the primary big three will be 1) Zoning/Placement issues, 2) apparently artificial Financing Limitations, and 3) the image issue which is at its core are a lack of proper education, sound information, authentic, and effective promotion provided to the general public. Those big three issues are near the heart of why manufactured housing is operating at about 30 percent of its last reported high in 1998, even though the affordable housing crisis has gained steam since 1998.  Those "big 3" issues of Zoning/Placement, artificially limited financing, and proper education/information/promotion are what every good umbrella trade group should do. Related to that big three are three words summed up in 3 letters: Protect, Educate, Promote (P.E.P.). That P.E.P. insight is one of several periodic insights from an umbrella state affiliate of the Manufactured Housing Institute (MHI). That P.E.P. and the Big Three issues that are limiting manufactured housing are useful methods of measuring national or state association performance for "umbrella" trade groups that claim to represent all segments of the industry. Other objective metrics include such obvious items as new HUD Code manufactured home production and shipments nationally and by states reporting. It should be mentioned in passing that another common big three in manufactured housing is a reference to Clayton Homes (BRK), Skyline-Champion (SKY), and Cavco Industries (CVCO). That is the sense of the Big Three used by Samuel Strommen in his epic, highly documented and third-party look for Knudson Law at the problems hobbling inherently affordable mainstream manufactured housing. Given that those problems Strommen documented involve a range of apparent legal violations, it is no surprise if parties involved are attempting to deflect for valid concerns. Ergo, several may be or have engaged in stonewalling.
There may be no state in the U.S. today that has as many manufactured home shipments as a given state had in 1998. But population has grown and the need for affordable housing is greater than ever. Additionally, in or since 2000, two new laws were enacted by Congress that had specific provisions that aimed to create higher levels of sales – and thus production and shipments – of HUD Code manufactured homes. That is the core fact that all Manufactured Housing Institute (MHI) claims must be measured against. When key MHI members say they are satisfied or even happy with MHI's efforts, such a statement must be measured against the sheer oddity of that claim. Because only those who want to limit manufactured housing or are otherwise blinded by habit or something else could look at MHI's stated claims vs. the industry's and thus the association's performance and walk away with anything other than sheer wonder that MHI has managed to elude authorities and public officials for so long.
Those two laws referenced above are the Manufactured Housing Improvement Act of 2000 (MHIA) and the provision in the Housing and Economic Recovery Act of 2008 (HERA) that mandated a Duty to Serve manufactured housing, underserved, and rural markets. Interestingly, manufactured homes fit into all three of those DTS mandated buckets that Congress wanted served.
It is against that backdrop that a recent email exchange with Fannie Mae occurred. MHProNews asked what ought to be a simple inquiry to Fannie Mae with respect to the MHAdvantageTM program, which is their version of the CrossModTM (the Clayton Homes backed Manufactured Housing Institute Duty to Serve program for a.k.a. "new class of manufactured housing").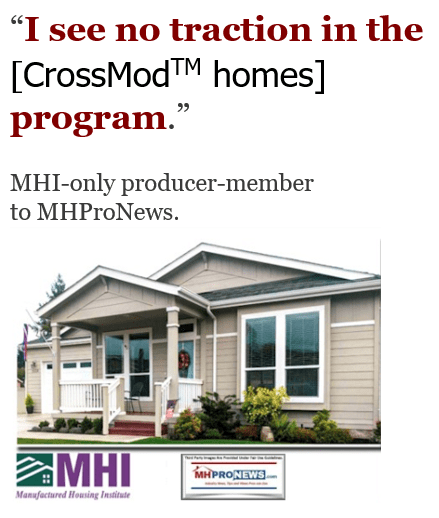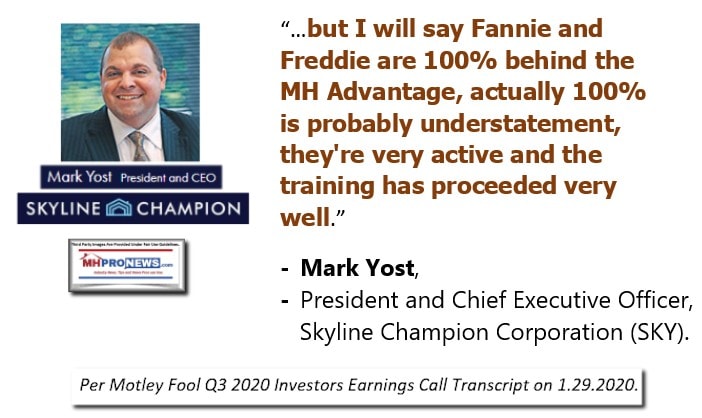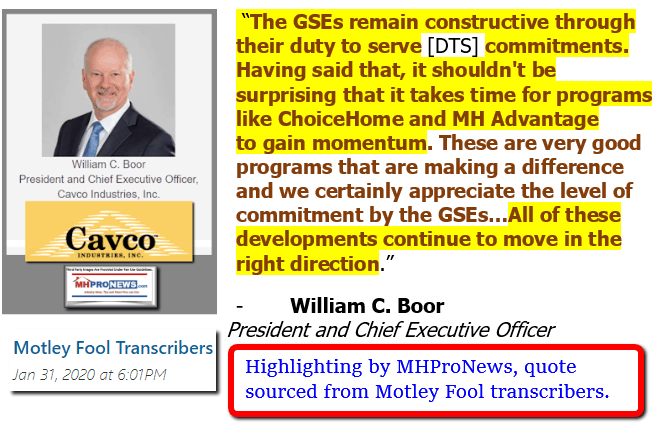 To set the context for what follows, Fannie has launched what appears to be a new (or revived) marketing effort to promote the clearly "no traction" program which after years of hype by the Manufactured Housing Institute (MHI) in conjunction with the big three MHI producing brands, despite results so poor that none of them want to discuss their respective or total numbers.  Despite years of clear evidence of "no traction," for whatever reasons, MHI continues to promote CrossMods (a.k.a. MHAdvantageTM for Fannie Mae, or CHOICEhomeTM with Freddie Mac) as the first item up on the MHI homepage.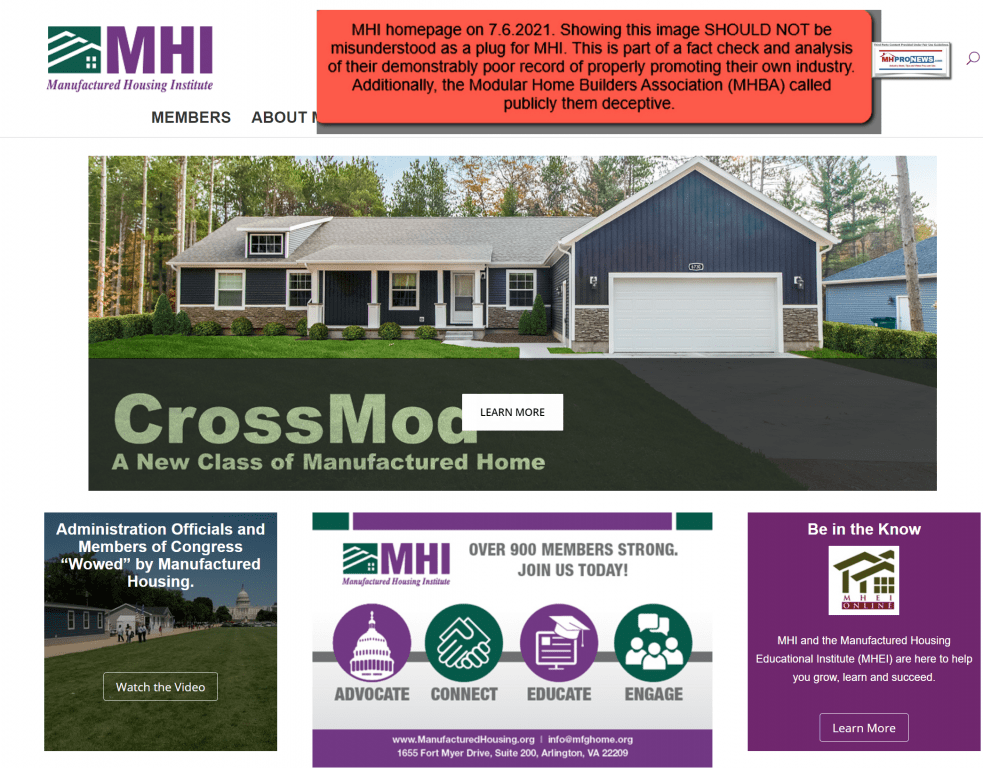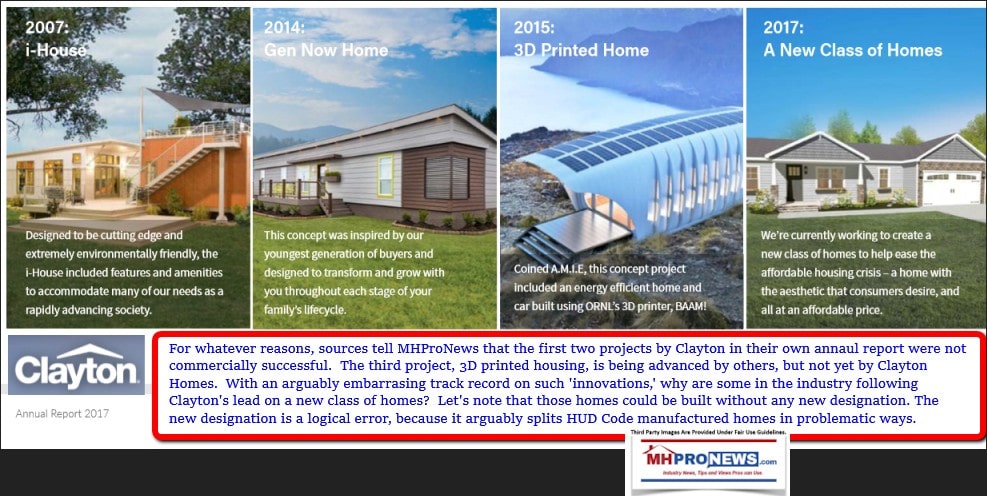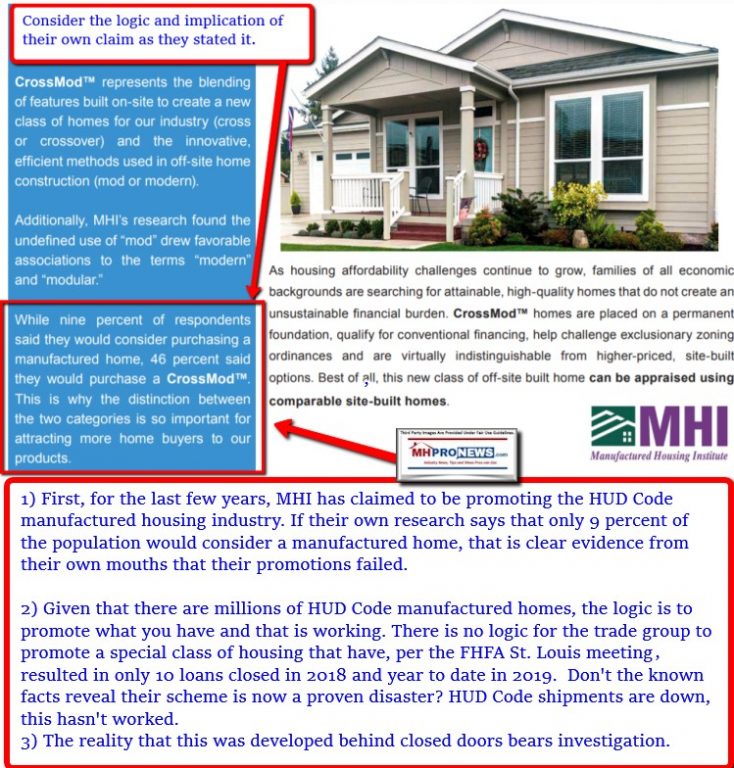 Note that the new marketing effort by Fannie for their version of MHI branded CrossModTM – i.e.: MHAdvantageTM – includes an MHI connected media platform. More on that another time. Suffice it to say for now that the evidence reflects that a similar effort was tried before with that same media platform, and the known facts make it clear that theresults were obviously missing.
With both GSEs announcing weeks ago that they would not pursue their so-called pilot programs to do personal property (home only or "chattel") manufactured home loans, it is odd that Fannie would spend any money on a program that has "no traction."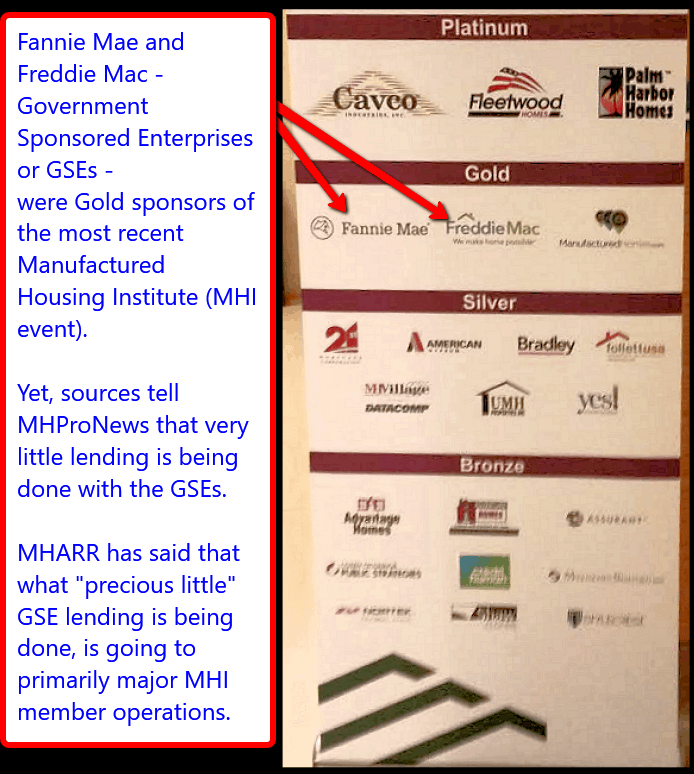 That said, a key part of the inquiry from MHProNews was simple. Disclose aggregate data. One must keep in mind that both Fannie and Freddie must disclose this data annually to the FHFA, which in turn then discloses it to the public.
In that context, what follows are the response by Fannie Mae's media relations department to MHProNews' inquiry about the MHAdvantageTM data.
| | |
| --- | --- |
| from: | Rozens, Aleksandrs <@fanniemae.com> |
| to: | "latonykovach" <MHProNews.com> |
| cc: | "Bakel, Pete" <@fanniemae.com> |
| date: | Sep 16, 2021, 6:04 PM |
| subject: | Inquiry about MH Advantage |
L. A. 'Tony' Kovach,
Thank you for your inquiry regarding MHAdvantage.
We will respectfully decline to comment for your story.
Aleks
Aleksandrs Rozens
Media and External Communications
Fannie Mae
From: L. A. Tony Kovach <MHProNews.com>
Sent: Friday, September 17, 2021 8:32 AM
To: Rozens, Aleksandrs <@fanniemae.com>
Cc: Bakel, Pete <@fanniemae.com>
Subject: [EXTERNAL] Re: Inquiry about MH Advantage
CAUTION: External email. Do not click links or open attachments unless you recognize the sender and know the content is safe. If you believe that this email is unsafe, please report it by using the Report Phish button or forward it to information_security@fanniemae.com.
Aleksandrs and Pete,
Thanks for the reply. Obviously, we'd prefer an actual answer, but I appreciate the acknowledgement of the inquiry. That said, let MHProNews ask you a pair of questions that you should answer in short order, because its information you periodically release to the FHFA.
Q1) How many MHAdvantage loans have been made nationally since the program was first announced? Total?
Q2) How many of those MHAdvantage loans qualified for DTS credits?
As before, no word limits. Attachments are welcome. If you do not mind, please reply today. I think we all know this is a few clicks by the right person on their keyboard. Again, thank you.
Tony
— End of message. —
Reply:
On Fri, Sep 17, 2021 at 1:05 PM Rozens, Aleksandrs <@fanniemae.com> wrote:
Tony,
On background, we do not publicly disclose details about MH Advantage loan volumes.
Separately, the following list of MH Advantage Participating Manufacturers may be useful for your story: https://singlefamily.fanniemae.com/originating-underwriting/mortgage-products/manufactured-housing-financing/participating-manufacturers
Aleks
…
From: L. A. Tony Kovach <MHProNews.com>
Date: Fri, Sep 17, 2021 at 1:15 PM
Subject: Re: Re: Inquiry about MH Advantage
To: Rozens, Aleksandrs <@fanniemae.com>
Cc: Bakel, Pete <@fanniemae.com>
Gents,
You disclose this information at least once a year to FHFA. How can it harm your interests to state a summary of that information? Doesn't it look bad that you are ignoring an opportunity to share accurate information with the most read trade source in manufactured housing?
Please advise, thank you.
Tony
— End of the emailed messages thread. —
Additional Information, more MHProNews Analysis and Commentary
Moneyball – "Trailers" "Mobile Homes" Manufactured Homes & Affordable Housing-SEC Redux; Milley, Pelosi, Trump – 'Dying for Lack of Truth. Delusion-Deception Reign' -Fixing Stolen American Dream; plus Sunday Headlines Review
There was no further reply from Fannie, and over 3 days have elapsed. There initial reply and follow up, by contrast, were reasonably prompt. Note that all involved were quite obviously polite.
Stonewalling, per left-leaning Wikipedia, "Stonewalling is a refusal to communicate or cooperate. Such behaviour occurs in situations such as marriage guidance counseling, diplomatic negotiations, politics and legal cases.[1] … People use deflection in a conversation in order to render a conversation pointless and insignificant. Tactics in stonewalling include giving sparse, vague responses, refusing to answer questions, or responding to questions with additional questions."
The exchange between MHProNews and Fannie Mae's media relations professionals thus fits the definition of stonewalling. Note that those who stonewall, per that definition, include cases when "People use deflection tactics…" The offer of information that was not requested and in some ways irrelevant to the subject also fits the definition of elements of behavior that characterize "stonewalling."
Which begs the question. Why did Fannie Mae stonewall on a seemingly innocuous request?
After all, it is broadly known that Fannie Mae have made perhaps a few dozen such loans total since the inception of the program. It is also known that some of those loans did not fit the DTS "credits," per the FHFA. More on that at the reports linked below.
It is worth noting that MHProNews has asked FHFA to provide that data for both Fannie and Freddie. It will be interesting to see if the claims by the Biden team for "transparency" will in fact produce a timely and transparent response, or the FHFA will deflect, delay, or otherwise "stonewall" too. Time will tell. MHProNews will report.
It is worth recapping some of the bluster that accompanied this obviously failed plan. New insights on each of these issues, including the broader lack of chattel lending for all other manufactured homes, are found in the reports linked below. As a note, while the CrossMod photo at the top looks more residential, other than the ground set (which has been done with HUD Code manufactured home sellers in several cases for decades), the roof pitch shown is hardly 'residential.' The more someone looks at the relies vs. the hype, the more obvious that something has been awry with this plan since it was announced.  That's carefully examined in the reports below.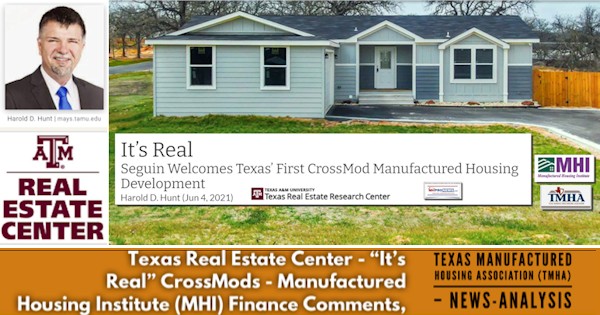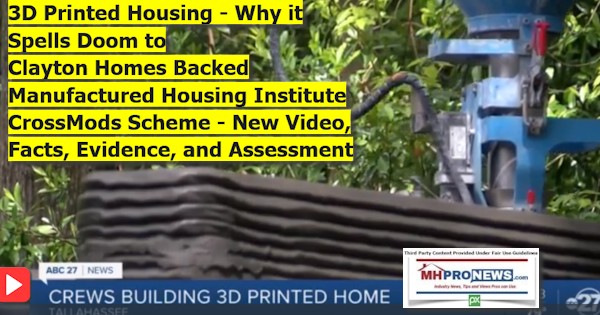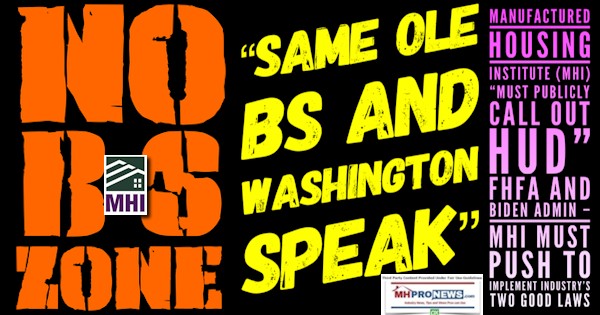 It must be stressed that Fannie and Freddie are on paper privately owned corporations, even though they operate under a government charter and laws which makes them subject to the Federal Housing Finance Agency (FHFA), since the Housing and Economic Recovery Act of 2008 was signed into law.
In the context of stonewalling, for several years, MHARR, as well as MHProNews and MHLivingNews, have each made the point that the meeting minutes from the closed-door session between the Government Sponsored Enterprises (GSEs, or Enterprises, i.e. Fannie and Freddie) and certain MHI leaders has not been publicly released.
In the wake of the SEC revelations in their case against Cavco Industries (CVCO), and former Cavco corporate leaders Joseph "Joe" Stegmayer, and Daniel "Dan" Urness, several facts emerged that appear to shed light on issues that could fall into the jurisdiction of other federal agencies. Meaning, there may be more proverbial legal "shoes" to drop. But the SEC pleadings claimed statements of fact also makes clear that back door deals are occurring between MHI members and others.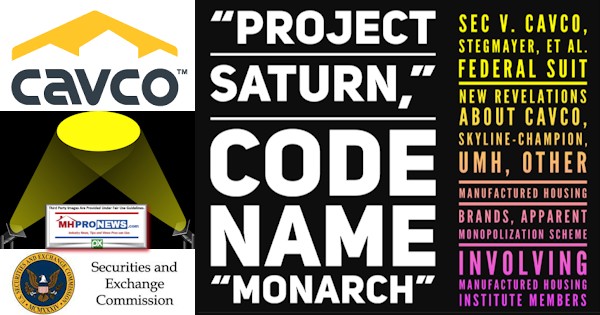 The most comprehensive look to date of how CrossMods, and the GSEs figure into the bigger picture of manufactured housing underperformance are found in the reports linked below. The MHI letter report includes a timeline and details that puts meat on the bones of a framework for seeing just how long some of the machinations apparently involving the GSEs, Warren Buffett led Berkshire Hathaway, and MHI are detailed.
Exposé – New Manufactured Housing Institute Letter Documents Rental Housing Promo Apparently At Odds with MHI's Claimed Mission – Exposes MHI Board Members, Staff to Legal Issues – Exclusive Facts & Analysis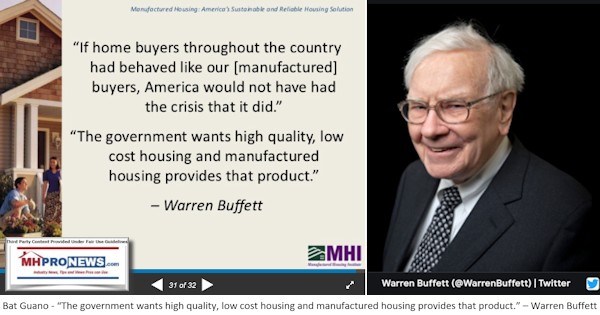 As a relevant disclosure, and to draw this to a conclusion, this writer in December of 2019 travelled to Washington, D.C. to make a public statement face to face with federal officials at the FHFA, the leaders of Fannie, Freddie, MHI, and others involved in the DTS listening session process. This writer told those present that this process has been a disgrace. The various facts and the harms done are found in the report and PowerPoint linked below.
More recently, this writer also addressed a virtual listening session. At first, there were efforts to keep this writer from speaking. That was successfully addressed. Then, during this speaker's comments, an FHFA official reportedly cut this speaker off. It was too many apparently hard truths. That noted, after a formal complaint, FHFA amended their listening session webpage and publicly posted the entire L. A. "Tony" Kovach written comments, including the various hotlinks. Those comments are provided below.
Enterprise Housing Goals FHFA Listening Session 3.25.2021
By L. A. "Tony' Kovach
That's how a Manufactured Housing Executives Council (MHEC) member described to MHProNews the comparative losses on manufactured homes to losses incurred in conventional housing during the 2008 housing-financial crisis. He compared those trillions in losses on houses to the far more modest losses experienced by lenders operating in HUD Code Manufactured Homes in the late 1990s into the early 2000s.
Despite that comparative pimple, Fannie Mae, Freddie Mac, and others periodically point back to that problematic so-called "GreenSeco era." That's 2 decades in the rearview mirror. How can that be an excuse for treating manufactured homes so differently than conventional housing in access to lending?
The FHFA website says that Enterprise Housing Goals are supposed to "FOSTER competitive, liquid, efficient, and resilient (CLEAR) national housing finance markets that support sustainable homeownership and affordable rental housing…"
Before and after passage of the Housing and Economic Recovery Act (HERA) of 2008 and the
Congressional mandate of Duty to Serve (or DTS) for manufactured housing by Fannie Mae, Freddie Mac – FHFA and other regulators have paid lip service to supporting manufactured homes.   That negatively impacts millions. Who says?
HUD Secretary Marcia Fudge spoke recently about the tragedy of increased homelessness in America.
HUD's sad report is fascinating because James Schmitz Jr. – a researcher for the Minneapolis Fed, and three colleagues – published reports accusing HUD and builders of collusion in deliberately undermining manufactured housing.
Schmitz and those researchers argued that collusion between HUD and builders is a case of "sabotage monopoly."
They said that sabotaging collusion between HUD and builders increased homelessness, harmed minorities, and cut off the lower income class of all backgrounds from the benefits of affordable manufactured home ownership.
Schmitz and his colleagues wrote positively about the manufactured home option.
Scholastica "Gay" Cororaton's research for the National Association of Realtors also praised modern manufactured homes.
What makes Schmitz and his colleagues' charge of HUD's role in "sabotage monopoly" more compelling are comments from Bill Matchneer. Attorney Matchneer is the former HUD administrator for the Office of Manufactured Housing Programs (OMHP).
Matchneer said HUD's Office of General Counsel consistently failed to enforce the enhanced preemption clause made law when the Manufactured Housing Improvement Act of 2000 (MHIA or 2000 Reform law) was enacted.
Jim Gray, formerly with the FHFA Duty to Serve program, said in his exit message that FHFA and GSEs – "[W]e have not made as much progress [toward meeting the Duty to Serve mandates] as many of us would have liked; so much remains to be done to reach these [DTS] markets."
In December 2019, I made two different listening session presentations on the DTS mandates; one virtual and another live in Washington, D.C.
In both presentations, I made the evidence-based case how disgraceful it was that the FHFA and GSEs have ignored the law to the harm of millions.
GSEs and FHFA failures arguably included key corporate members of the Manufactured Housing Institute or MHI.
Several scheduled to present today are aware of the issues I'm raising. Because some worked for HUD, FHFA, GSEs, or are otherwise connected to the manufactured housing industry.
For instance. Lesli Gooch, Ph.D., with the Manufactured Housing Institute (MHI) made statements in her filed EHG comments letter that sound supportive of manufactured homes.
But upon closer examination, Ms. Gooch focused on an unproven plan that Berkshire Hathaway (BRK) owned Clayton Homes – which supports MHI – in their push for their branded CrossModTM homes scheme.
Where was Gooch's similarly robust support for all other mainstream manufactured homes?
Fannie calls CrossModTM MH Advantage®.
Freddie calls their version of CrossModTM CHOICEHome®.
The known data reveals that these programs are market failures.
Supposedly there have been double-digit sales nationally of CrossModTM – under whatever name – in the last few years. That's in a market producing some 95,000 HUD Code manufactured homes annually.
Attorney and manufactured home finance veteran Marty Lavin – an MHI award winner – did consulting for Fannie Mae. Lavin told MHLivingNews that MHAdvantage ® was likely to be as successful as MH Select®. Lavin said MH Select® was also a virtual goose egg.
David Dworkin, CEO of the National Housing Conference in federal comments said that manufactured housing was necessary for affordable housing.
Dworkin was fully confident that the GSEs could successful do manufactured home loans.  Dworkin previously worked for a GSE as a Vice President.
Edward Golding worked for HUD and the FHA.
In 2018, Golding and 3 colleagues did a post for the Urban Institute. It was a entitled "Manufactured homes could ease the affordable housing crisis. So why are so few being made?"
Citing FHFA data, Golding and his co-authors in that Urban Institute report said manufactured homes appreciated in value. They said manufactured homes could appreciate even more given access to affordable sustainable GSE loans.
What that Urban Institute post didn't disclose on that specific page is that Berkshire chairman Warren Buffett is a lifetime trustee of the Urban Institute.
The applied logic of Golding, Dworkin, MHARR's Mark Weiss, and others should make it plain that the GSEs could and should be doing robust lending in manufactured housing.
Oxford Bank has made personal property loans on manufactured homes for some 2 decades. Oxford reportedly loans with credit scores that mirror those of Berkshire owned 21st Mortgage.  Oxford purportedly does so profitably and sustainably and at lower interest rates than 21st.
Given those facts and legal mandates, what possible excuse can FHFA and the GSEs give for not robustly making mainstream manufactured home loans for both personal property as well as mortgage lending?
How did the MHAdvantage ® CHOICEHome® and CrossModTM magically come to be so similar?
Why is it that MHI postures support, but has backed or tolerated plans that leave Berkshire owned 21st and Vanderbilt Mortgage and Finance as the 2 runaway largest lenders in manufactured housing?
I am consultant L.A. "Tony" Kovach. I've worked in the insurance, RV, trade show, and other professions. But all told, I have some 30 years' experience in manufactured housing retail, communities, with financial service firms, and builders of HUD Code manufactured homes.
Keep in mind that I was an MHI member for years. I was elected by my peers to sit on the MHI Suppliers Division board.
For a time, I was arguably fooled by the purported paltering and posturing of the MHI flim-flam that has undermined manufactured housing.
That paltering pattern harms millions of Americans while thousands of independent retailers, producers, and others went out of business or sold out at discount.
Applying the "Iron Triangle" notion and Schmitz's "Sabotage Monopoly" principles suggest that insiders rigged the market in ways that undermine the interests of various competitors.
The late Democratic Senator William Proxmire said that in Washington, two things shed light on what occurs.
There are no coincidences.
The other is follow the money.
I encourage all to Google each of these topics yourself!
For instance, Google "Sam Strommen from Knudson Law" on manufactured housing research.
Strommen's report called what is happening in manufactured housing a case of "Felony" antitrust violations with possible RICO aspects involved.
Strommen has no axe to grind in our profession.
Strommen concluded that manufactured housing was being subverted from within and mentioned Clayton, MHI, other MHI members, plus the Buffett "castle and moat" method too.
Given the degrees, evidence, and experiences of those involved, I have a hard time making the argument for incompetence causing the status quo.
The Rev. Martin Luther King Jr said:
"He who passively accepts evil is as much involved in it as he who helps to perpetrate it. He who accepts evil without protesting against it is really cooperating with it."
What comes next should include a full and proper implementation of federal laws that include the
Those good laws need to be fully and properly implemented to restore the free market and liberate millions who want affordable home ownership made possible by mainstream manufactured homes. Pax et bonum.
—- ## End of posted Kovach FHFA Listening Session Comments. ## —-
The video below is on the Fannie Mae website in support of the demonstrably market-failed MHAdvantage and CrossMods scheme. It was posted on July 13, 2020. The comments to this video are turned off, it might not be useful to the Fannie et al messaging.  On this date, there have been 3163 views as of 10:15 AM ET. The Fannie comments on this video say the following: "Learn from Clayton Homes and Guild Mortgage about how MH Advantage is providing more opportunities for lenders to help homebuyers get into a quality, customizable home with affordable financing." Got that? Clayton Homes.
Who in manufactured housing can afford to have a product fail while a 2.5 year downturn instead of growth occurs after the product launch? Clayton Homes.
Those comments make clear that this entire DTS process has been an apparent fraud. There is simply no way that intelligent people who have billions in available resources can't make manufactured home lending available for personal property loans, given that several other industry firms have been proven to do precisely that successfully. Who benefited from that lack of lending? Berkshire Hathaway, and their apparent consolidation focused allies at MHI. Put differently, this appears to bear all the marks of a scheme to hobble the market. In the wake of the SEC pleadings, that case became stronger. Given years of reports by MHProNews and MHLivingNews that continue to bear out to be accurate months or years later, it is foolish to overlook the increasingly obvious truth.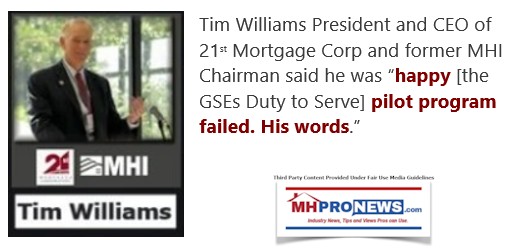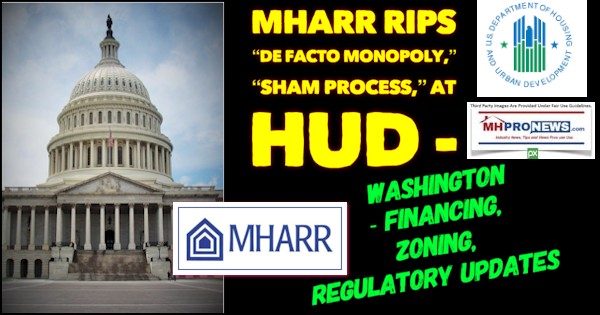 The fact that stonewalling is occurring at Fannie or any of the others involved in this apparent scheme is therefore no surprise. Those facts and evidence provided were not contradicted. The hidden benefit of protesting getting cut off by an FHFA official is that those comments are now available on the FHFA's own website.
At about the 146.44 time mark, after making the disclaimer that they were reading this writer's remarks, they read introductory statement, which is also linked here as a download. The content is so scintillating, and this topic is so intensely interesting to so much of the media and others that it has achieved 93 views since July 21, 2021. Rephrased, essentially next to no attention has been called to this by FHFA or the GSEs, much less others, before now. It is an example of hiding insights, facts, examples of fiction, and "deception and misdirection" claims from a range of sources – all hiding in plain sight. Kovach's remarks begin with the words, connecting the dots, with an FHFA team mate thoughtfully reading it.  The time allotted was a mere 7 minutes.
Per the Nolo legal site, RICO: "Passed in 1970, the Racketeer Influenced and Corrupt Organizations Act (RICO) is a federal law designed to combat organized crime in the United States. It allows prosecution and civil penalties for racketeering activity performed as part of an ongoing criminal enterprise."
Per Investopedia, "Racketeering is the act of acquiring a business through illegal activity, operating a business with illegally-derived income, or using a business to commit illegal acts. The U.S. government introduced the Racketeer Influenced and Corrupt Organizations Act in October 1970 to contain racketeering."
That source noted that "Racketeering can take many forms" noting that "Corporations may also engage in racketeering." It elaborated to note that individuals as well as groups, that may include organizations, are involved.
The GSEs are corporations.
MHI is a corporation.
The big three MHI HUD Code home producers are corporations.
Of course there may be stonewalling when the stakes are high. How high can they be? Again, per Investopedia: "To contain illegal collusion and profiteering through racketeering, the U.S. government introduced the Racketeer Influenced and Corrupt Organizations (RICO) Act in October 1970.3 The law permits enforcement agencies to charge individuals or groups involved in various acts of racketeering. Individuals guilty of committing RICO crimes may be prosecuted and, if found guilty, can face a 20-year prison sentence or more for serious crimes. Fines and other penalties may also apply.4"
Board members can be part of the network of individuals that may face fines and/or jail time for various forms of illegal behavior. Beyond RICO and racketeering, there are antitrust laws that are per Samuel Strommen and others apparently being violated. Note that Strommen also raised the concerns over RICO too. That said, per the Cornell University Legal Information Institute (LII), the following penalties may be incurred for illegal monopolization of a market, under the Sherman Act.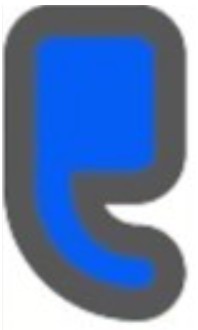 Every person who shall monopolize, or attempt to monopolize, or combine or conspire with any other person or persons, to monopolize any part of the trade or commerce among the several States, or with foreign nations, shall be deemed guilty of a felony, and, on conviction thereof, shall be punished by fine not exceeding $100,000,000 if a corporation, or, if any other person, $1,000,000, or by imprisonment not exceeding 10 years, or by both said punishments, in the discretion of the court.
(July 2, 1890, ch. 647, § 2, 26 Stat. 209; July 7, 1955, ch. 281, 69 Stat. 282; Pub. L. 93–528, § 3, Dec. 21, 1974, 88 Stat. 1708; Pub. L. 101–588, § 4(b), Nov. 16, 1990, 104 Stat. 2880; Pub. L. 108–237, title II, § 215(b), June 22, 2004, 118 Stat. 668.)
Stonewalling?
No surprise. Stay tuned to see what falls out of the tree next. You don't have to hold your breath, but do not be surprised if the SEC case against Cavco, Stegmayer, et al and the related revelations linked above over time result in charges and/or plea deals that are struck to avoid more serious criminal charges. ##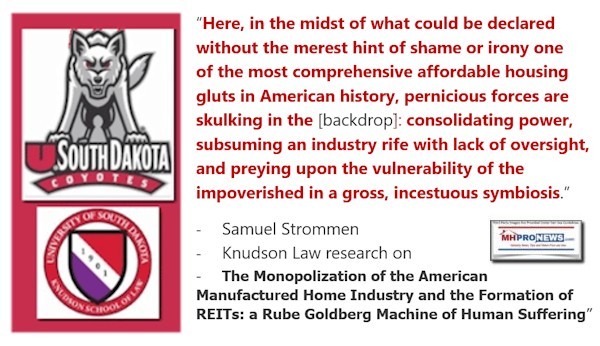 ###
Next up is our business daily recap of yesterday evening's market report, related left-right headlines, and manufactured housing connected equities.
The Business Daily Manufactured Home Industry Connected Stock Market Updates.  Plus, Market Moving Left (CNN) – Right (Newsmax) Headlines Snapshot. While the layout of this daily business report has been evolving over time, several elements of the basic concepts used previously are still the same. For instance. The headlines that follow below can be reviewed at a glance to save time while providing insights across the left-right media divide. Additionally, those headlines often provide clues as to possible 'market-moving' news items.
Market Indicator Closing Summaries – Yahoo Finance Closing Tickers on MHProNews…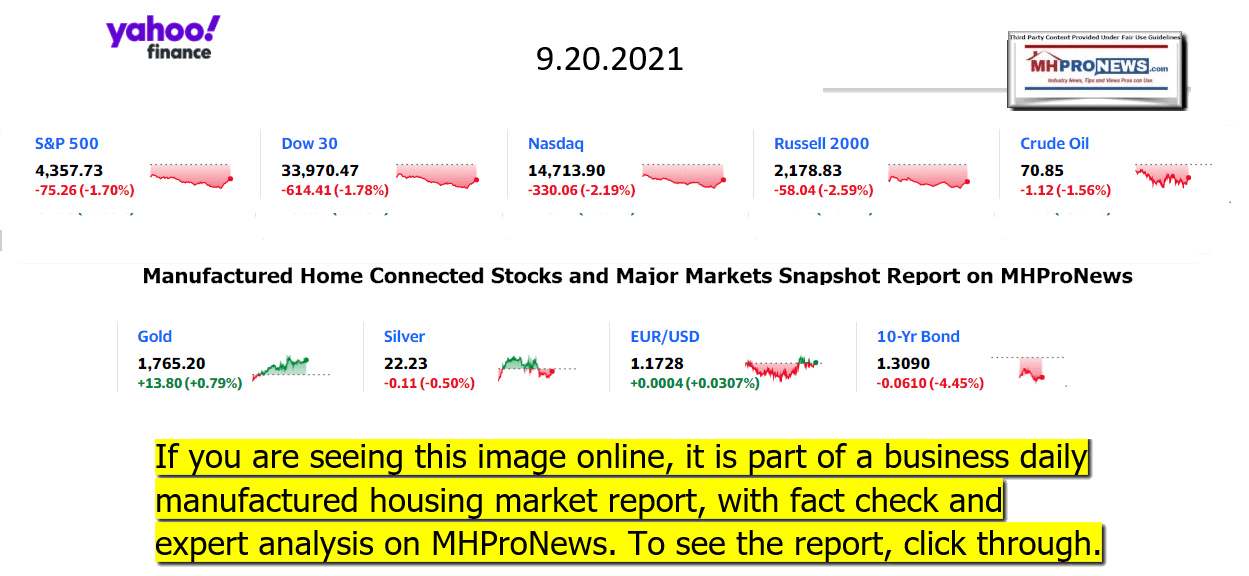 Headlines from left-of-center CNN Business – evening of 9.20.2021 
Boeing investigation
Boeing Co. signage is displayed outside a hangar at the Boeing Global Services and Support facility in San Antonio, Texas, on January 20, 2016.
Tequila bottles were found on one of the planes set to serve as the next Air Force One
The Delta variant is keeping the US economy from getting back to normal
Fears about China's Evergrande spread to global markets
Elon Musk takes shots at Joe Biden after SpaceX sends civilians to space
Evergrande's debt crisis is wreaking havoc on Hong Kong's stock market
French submarine dispute could torpedo EU-Australia trade talks
GM will begin repairs on fire-prone Chevy Bolts next month
How soaring gas prices are fueling the UK food shortage
A startup says its software can spot racial bias within companies. Will this surveillance scare employees?
Apple iOS 15 is now available for download
Toyota's Tundra is going hybrid
For restaurants, the economic recovery is 'moving in reverse'
Emmys rebound from record ratings low
Trader John Santiago, left, works on the floor of the New York Stock Exchange, Wednesday, Sept. 15, 2021. Stocks were modestly higher in morning trading Wednesday, helped by higher energy prices which in turn pushed energy companies higher.
The Dow fell as much as 900 points as a Chinese company's debt crisis rattled world markets
National Tree Company.
Christmas tree prices could increase by double digits this year. Here's why
Cheng Wei, chairman and chief executive officer of Beijing Xiaoju Keji Didi Dache Co., speaks during an interview on October 14, 2020 in Beijing, China.
He pushed Uber out of China. Then he got too big for Beijing
SOCIAL MEDIA PROBLEMS
In this photo illustration, a person looks at a smart phone with a Instagram logo displayed on the screen, on August 17, 2021, in Arlington, Virginia.
Instagram says it's working on body image issue after report on teen
Social media has loose misinformation policies
WSJ's Facebook Files prompts comparison to Big Tobacco
Instagram for kids is happening despite backlash
Black and LGBTQ Twitch streamers boycott platform
DIVERSITY
Jelena McWilliams, chair of the Federal Deposit Insurance Corporation (FDIC), during a Senate Banking, Housing, and Urban Affairs Committee hearing in Washington, D.C., U.S., on Tuesday, Aug. 3, 2021. The hearing is titled "Oversight of Regulators: Does our Financial System Work for Everyone?"
Discovery, Microsoft team up on $120 million minority-owned bank fund
Black Americans are being priced out of housing boom
Minority business leaders celebrate infrastructure bill
Big banks on how they can combat racial inequality
Black-owned restaurants find lifeline in food trucks
Headlines from right-of-center Newsmax – evening of 9.20.2021
GOP Governors Seek Biden Meeting on 'Emergent Crisis' at Border
S. Border Patrol agents on horseback look on as Haitian migrants sit on the riverbank near an encampment along the Rio Grande River near the Acuna Del Rio International Bridge in Del Rio, Texas, on Sunday. (PAUL RATJE/AFP via Getty Images)
Republican governors are calling on President Joe Biden to meet within 15 days to talk about his administration's "emergent crisis" at the southern border – most recently Del Rio, Texas. [Full Story]
Newsmax TV
Jha: More Data Needed on Pfizer COVID Shots for Kids
Cammack: Senate Dems May Even Try Firing Parliamentarian | video
Tenney: Blame For Afghan Failures Lies With Biden | video
Wittman: Drone Strike Reflects Loss of Intel | video
Rosendale: Unvetted Afghan Refugees Shouldn't Be Let In
Gohmert: Biden's Call to Tax the Rich Will Hurt Poor | video
Florida Democrat Joseph Abruzzo Hits Biden on Tax Plan | video
Louisiana AG Landry: Biden Mandate Divisive | video
More Newsmax TV
Newsfront
SCOTUS To Hear Mississippi Abortion Ban Case Dec. 1
The Supreme Court announced Monday it will hear a case Dec. 1 involving a restrictive Mississippi abortion law – marking a possible test of the justices' position on the 1973 landmark Roe v. Wade case that legalized abortion across the nation…. [Full Story]
Related Stories
Biden White House Endorses Bill Guaranteeing Abortion Access
Monmouth Poll: Majorities Oppose Key Pieces of Texas Abortion Law
COVID Has Killed Nearly as Many Americans as the 1918-19 Flu
COVID-19 has now killed about as many Americans as the 1918-19 [Full Story]
SD Gov. Noem Orders Delay to Changes in Social Studies Curriculum
Kristi Noem, R-S.D., on Monday directed South Dakota's [Full Story]
SF Mayor Berates 'Fun Police' After Getting Caught on Camera at Club Without Mask
San Francisco Mayor London Breed is defending herself — and berating [Full Story]
World Shares Tumble as China Evergrande Contagion Fears Spread
World stocks skidded on Monday and the dollar firmed as troubles at [Full Story]
Is Bioterror the Next 9/11?
As the nation continues to struggle fully subduing the coronavirus [Full Story] | platinum
ISIS Bomb Attacks on Taliban Raise Specter of Wider Conflict
The extremist Islamic State group has claimed responsibility for a [Full Story]
GOP Governors Seek Biden Meeting on 'Emergent Crisis' at Border
Republican governors are calling on President Joe Biden to meet [Full Story]
Supply Chain Disruptions Fuel Higher Prices, Longer Waits for Goods
The rising cost of items ranging from food to electronics – and the [Full Story] | platinum
US to Ease Travel Restrictions on Foreigners, Require Proof of Full Vaccination
President Joe Biden will ease foreign travel restrictions into the [Full Story]
Lawyer for Trump Org Finance Chief Says More Indictments Could Come
An attorney for the former chief financial officer to the Trump [Full Story]
Texas Sues Federal Agency Over LBGT Bathroom and Pronoun Guidance
Texas is suing a federal agency for misstating a law that protects [Full Story]
Police: 2 Wounded in Shooting at Virginia High School
Two people were wounded in a shooting at a Virginia high school [Full Story]
Cleveland Mayor's Grandson Killed in Shooting
Authorities were seeking a suspect in a shooting that claimed the [Full Story]
Pompeo: COVID Origin Might Be Traced to Summer 2019
Former Secretary of State Mike Pompeo said COVID-19 possibly emerged [Full Story]
Vatican to Require COVID-19 Pass for Residents, Visitors
A health certificate showing proof of immunity from COVID-19 will be [Full Story]
Trump Endorses 'Unapologetic Conservative' Harshbarger
A rising member of the 2021 House GOP freshman class, Rep. Diana [Full Story]
Almost 900 State Legislators Call on Supreme Court to Strike Down Mississippi Abortion Ban
A group of almost 900 state legislators from across the country have [Full Story]
Empty Tequila Bottles Found on Air Force One Planes Being Built by Boeing
Boeing is looking into how two empty mini tequila bottles were left [Full Story]
Book Claims Putin 'Upset' Biden Called Him 'Killer' During TV Interview
Vladimir Putin reportedly complained to President Joe Biden about his [Full Story]
US Stocks Fall on Fears of Contagion From China Real Estate
Stocks slumped in morning trading on Wall Street Monday in a broad [Full Story]
Biden Launches Mass Expulsion of Haitian Migrants With Trump Order
Biden Launches Mass Expulsion of Haitian Migrants With Trump Order
The U.S. is flying Haitians camped in a Texas border town back to [Full Story]
Twitter Seeks to Settle 2016 Class Action Lawsuit for $800M
Twitter Inc said on Monday it would pay $809.5 million to settle a [Full Story]
Trump Endorses GOP Rep. Waltz: 'Relentless Fighter' for Florida
Michael Waltz, R-Fla., one of the House Republicans determined [Full Story]
Monmouth Poll: Most Oppose Key Pieces of Texas Abortion Law
Seventy-percent of Americans oppose Texas' law that permits lawsuits [Full Story]
VP Harris Under Fire For Lack of Attention To Border Crisis
Vice President Kamala Harris is coming under fire for what critics [Full Story]
ACLU Urges Supreme Court to Allow Release of Secret Court Documents
The Supreme Court is potentially set to hear a case brought by the [Full Story]
Trump Insists 'Gross Incompetence' Caused Pandemic
Former President Donald Trump said in a recent interview with Sky [Full Story]
'Hotel Rwanda' Hero Guilty in Terrorism Case
A Rwandan court on Monday found Paul Rusesabagina, a one-time hotel [Full Story]
Republicans on Verge of Outnumbering Democrats in Florida for First Time
Republicans appear ready to claim more registered voters than [Full Story]
Bids Could Reach $20M for First-Edition Copy of US Constitution
A first-edition printed copy of the U.S. Constitution described by [Full Story]
More Newsfront
Finance
Wall St. Drops 2 Percent on Growth Worries; Focus Turns to Fed
Wall Street's main indexes tumbled on Monday, as concerns about the pace of a global recovery spurred a selloff across sectors at the start of a week in which the Federal Reserve will decide on potentially tapering its pandemic-era stimulus. [Full Story]
Another Weak U.S. Jobs Report May be Ahead, JPM Data Suggests
US Hurricane Damage to Cut Shell Oil Output Through Yearend
Oil Falls 2% on Risk Aversion, Dollar Strength
Former Treasury Secretary Mnuchin Raises $2.5 Billion for PE Fund
More Finance
Health
Pfizer Says COVID-19 Vaccine Works in Kids Ages 5 to 11
Pfizer said Monday its COVID-19 vaccine works for children ages 5 to 11 and that it will seek U.S. authorization for this age group soon – a key step toward beginning vaccinations for youngsters… [Full Story]
New Drug Combo Boosts Survival Against Aggressive Form of Breast Cancer
Study: Patients Satisfied with Telemedicine for Surgery Follow-Up
How to Have Your Best Sex Ever After 50
Study Spots People at High Risk for Severe Breakthrough COVID
Manufactured Housing Industry Investments Connected Equities Closing Tickers
Some of these firms invest in manufactured housing, or are otherwise connected, but may do other forms of investing or business activities too.
NOTE: The chart below includes the Canadian stock, ECN, which purchased Triad Financial Services, a manufactured home industry lender
NOTE: Drew changed its name and trading symbol at the end of 2016 to Lippert (LCII).
NOTE: Deer Valley was largely taken private, say company insiders in a message to MHProNews on 12.15.2020, but there are still some outstanding shares of  the stock from the days when it was a publicly traded firm.  Thus, there is still periodic activity on DVLY.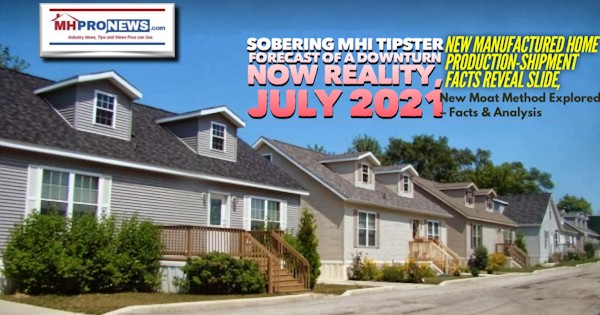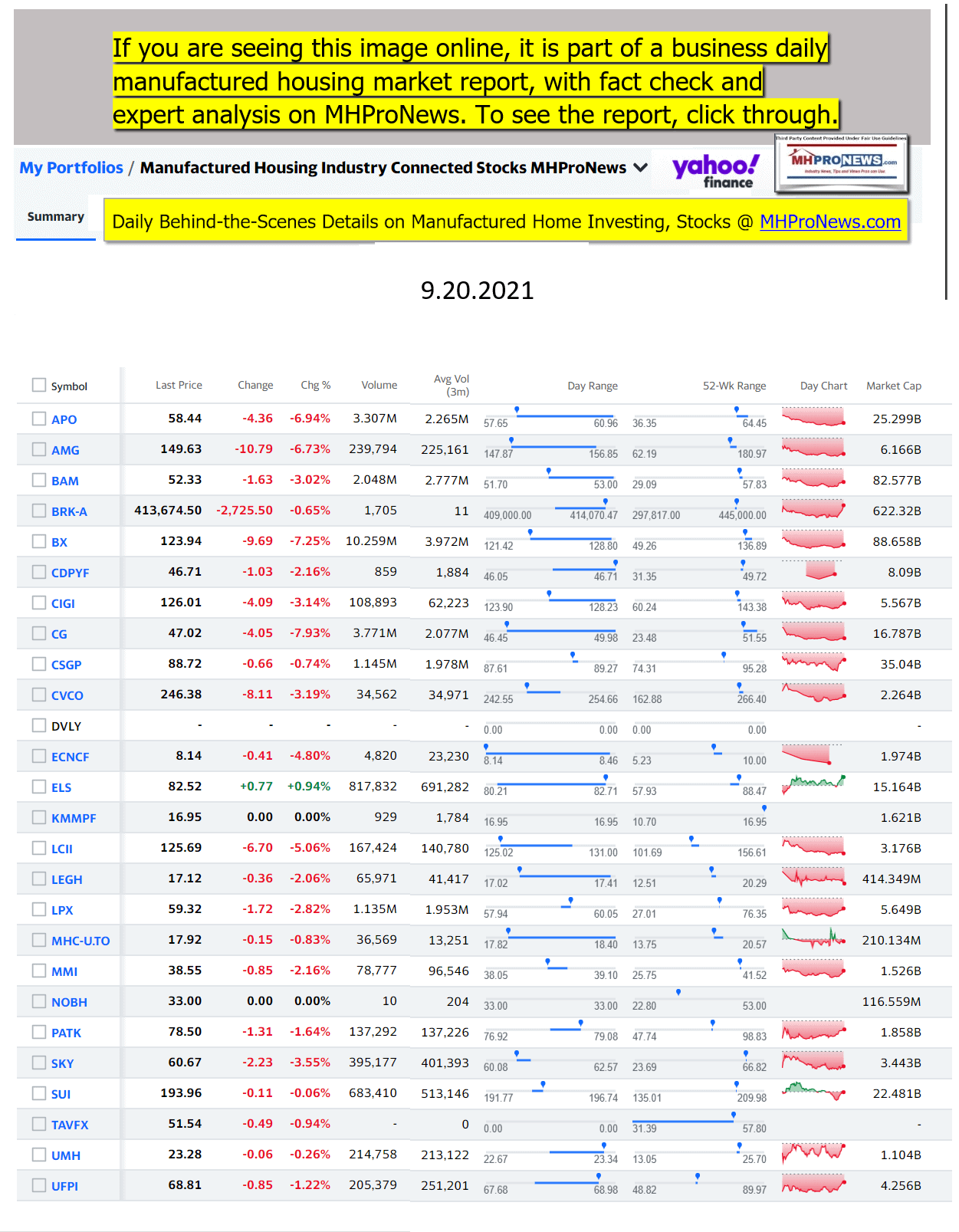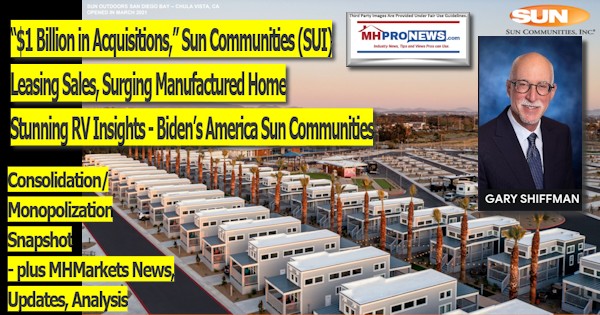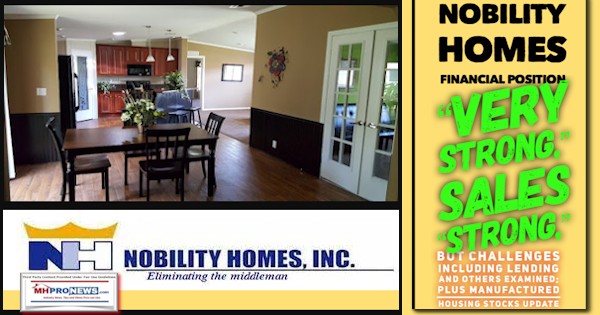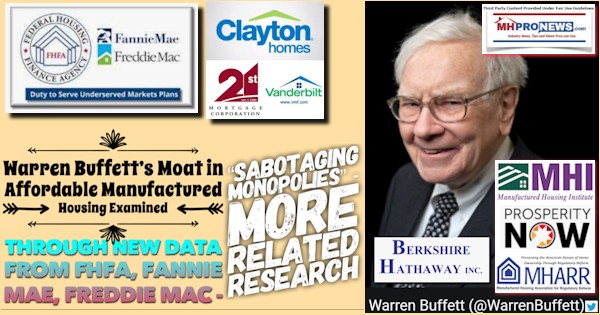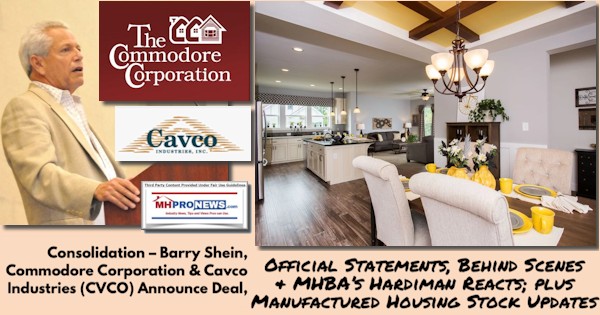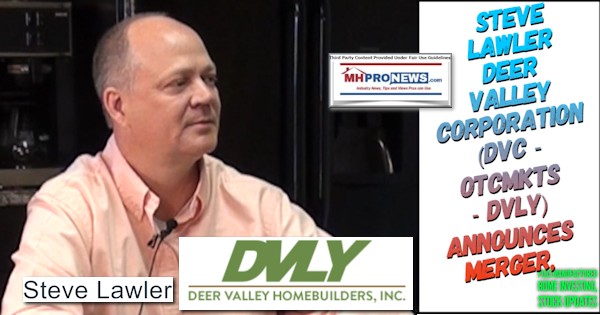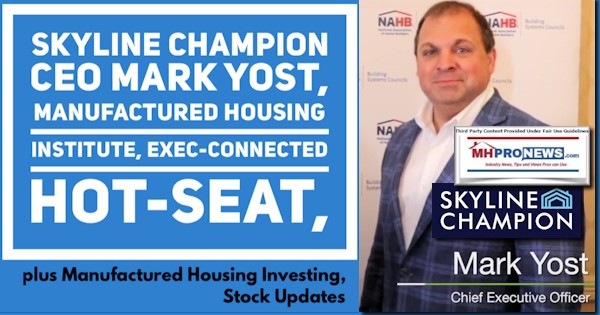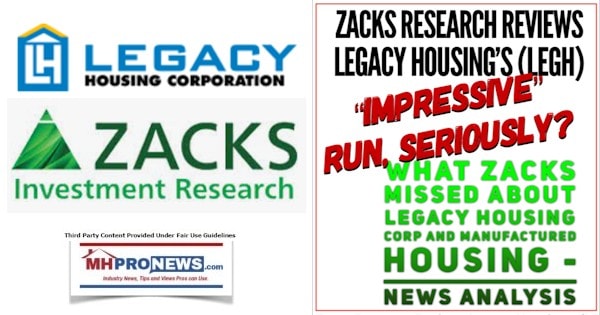 As the Summer of 2021 draws to a close…
Berkshire Hathaway is the parent company to Clayton Homes, 21st Mortgage, Vanderbilt Mortgage and other factory built housing industry suppliers.
· LCI Industries, Patrick, UFPI, and LP each are suppliers to the manufactured housing industry, among others.
· AMG, CG, and TAVFX have investments in manufactured housing related businesses. For insights from third-parties and clients about our publisher, click here.
Enjoy these 'blast from the past' comments.
MHProNews. MHProNews – previously a.k.a. MHMSM.com – has celebrated our 11th year of publishing, and is starting our 12th year of serving the industry as the runaway most-read trade media.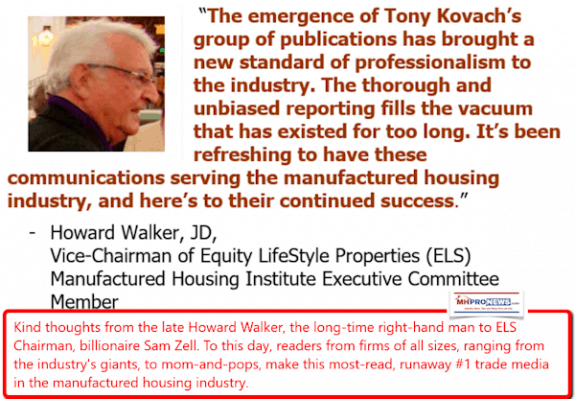 Sample Kudos over the years…
It is now 11+ years and counting…
Learn more about our evolutionary journey as the industry's leading trade media, at the report linked below.
· For expert manufactured housing business development or other professional services, click here.
· To sign up in seconds for our industry leading emailed headline news updates, click here.

Disclosure. MHProNews holds no positions in the stocks in this report.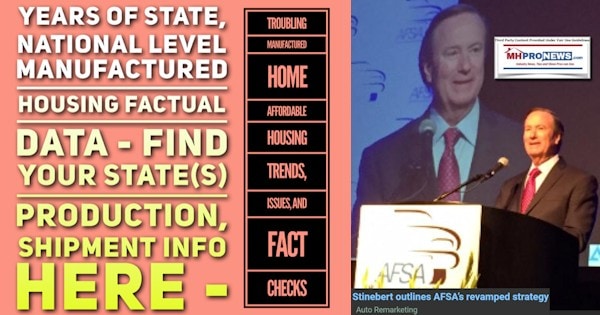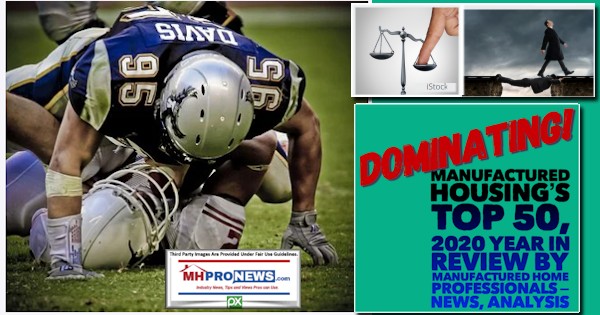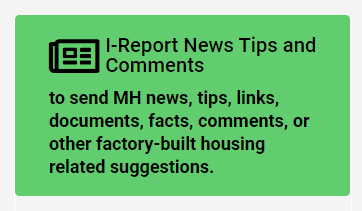 That's a wrap on this installment of "News Through the Lens of Manufactured Homes and Factory-Built Housing" © where "We Provide, You Decide." © (Affordable housing, manufactured homes, stock, investing, data, metrics, reports, fact-checks, analysis, and commentary. Third-party images or content are provided under fair use guidelines for media.) (See Related Reports, further below. Text/image boxes often are hot-linked to other reports that can be access by clicking on them.)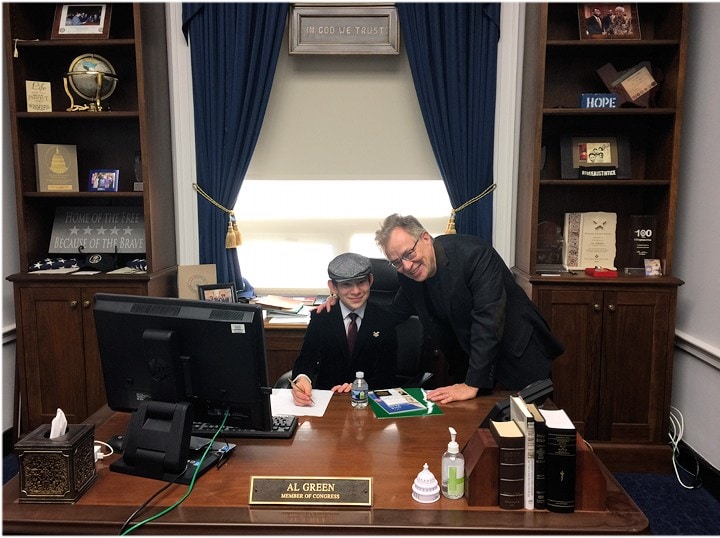 By L.A. "Tony" Kovach – for MHProNews.
Tony earned a journalism scholarship along with numerous awards in history. There have been several awards and honors and also recognition in manufactured housing. For example, he earned the prestigious Lottinville Award in history from the University of Oklahoma, where he studied history and business management. He's a managing member and co-founder of LifeStyle Factory Homes, LLC, the parent company to MHProNews, and MHLivingNews.com. This article reflects the LLC's and/or the writer's position, and may or may not reflect the views of sponsors or supporters.