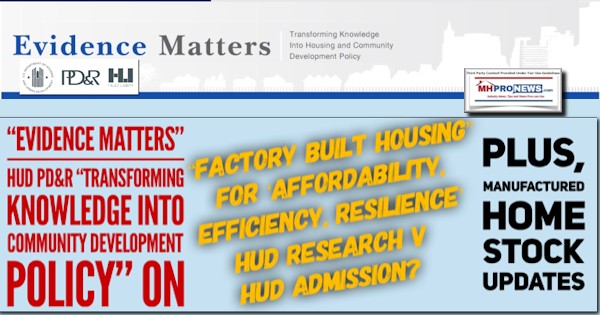 In a marvelous example of federal tax dollars, perhaps your tax dollars, at work are two separate reports by the U.S. Department of Housing and Urban Development (HUD). HUD has a division known as "The U.S. Department of Housing and Urban Development's (HUD's) Office of Policy Development and Research (PD&R) [which] supports the Department's efforts to help create cohesive, economically healthy communities." HUD's PD&R, all per their website, explains that "PD&R is responsible for maintaining current information on housing needs, market conditions, and existing programs, as well as conducting research on priority housing and community development issues. The Office provides reliable and objective data and analysis to help inform policy decisions. PD&R is committed to involving a greater diversity of perspectives, methods, and researchers in HUD research." That largely positive HUD report is so important that it is not found on the public side of the Manufactured Housing Institute (MHI), as is exemplified by the screen capture below performed on 9.13.2021 at about 10:05 AM ET.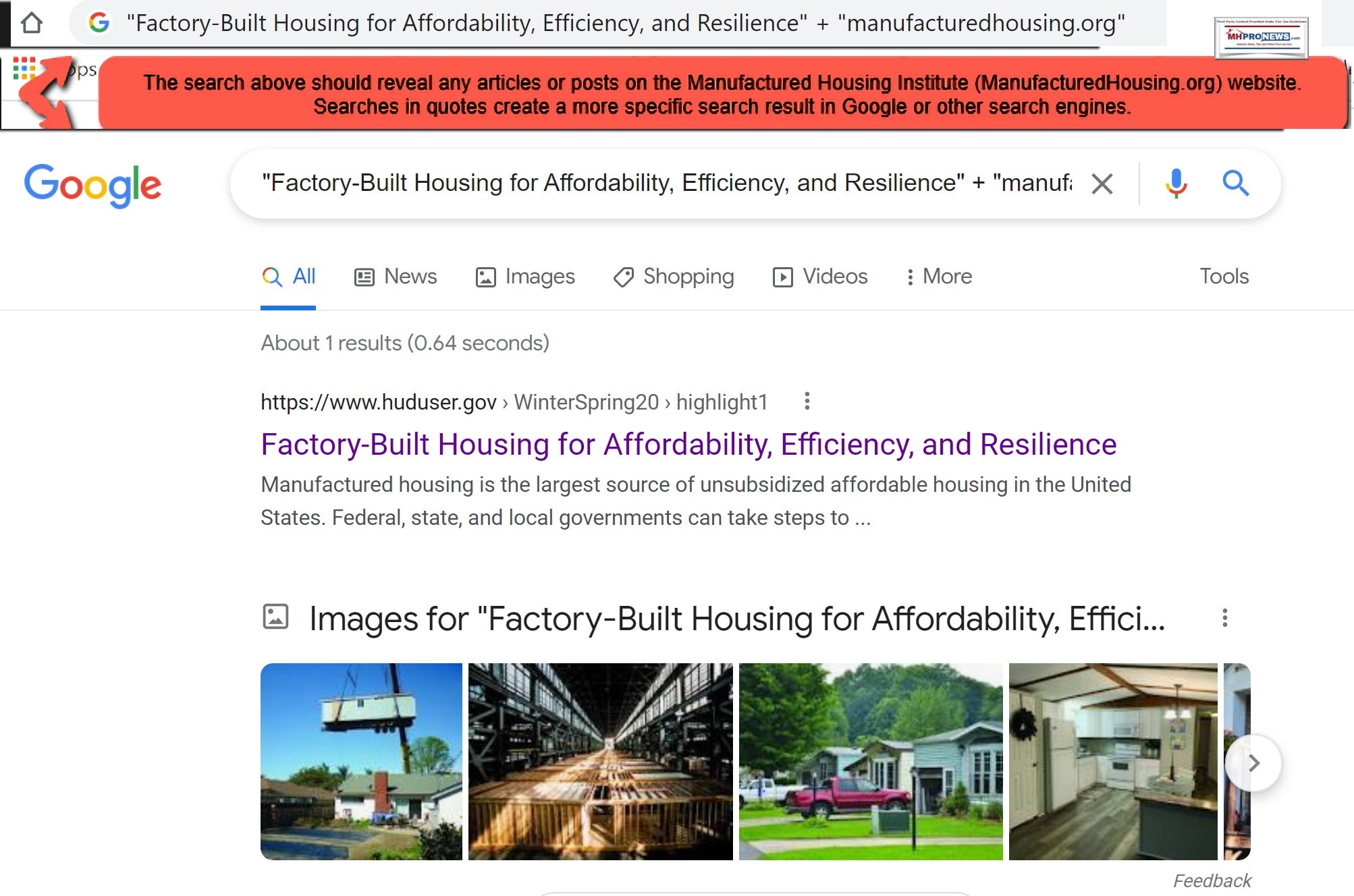 Perhaps that is no surprise for attentive MHProNews readers. In fairness, mainstream media also fails to mention that HUD report by name, per this Google search.

So, is it any wonder that in America has an affordable housing crisis? Why would it be otherwise when mainstream media, or even MHI, fail to mention that HUD somewhat useful report? While the report is imperfect, at least it has several favorable mentions of HUD Code manufactured homes and other forms of factory built homes that include modular housing.
But perhaps far more revealing is that a recent HUD PD&R apparently contradicts the very essence of what the PD&R department at HUD claims is there mission. Because if "Evidence Matters" – which logically, it does – and if HUD's PD&Rs are supposed to be "Transforming Knowledge into Housing and Community Development Policy," then why is this Winter-Spring 2020 report by HUD still largely unknown over a year later?  Indeed, it was only an oblique reminder via a link from the Washington Post's Beth DeCarbo that brought that research back into the view of MHProNews for the timely purposes of this fact-check, analysis, and commentary.
Praise+Problems-Washington Post Exposes HUD Research, Manufactured Housing Institute-Manufactured Homes Could Provide Millions "Resilient" "Good Value" Homes to Americans–Facts, Law, Analysis
A new HUD PD&R report effectively confirmed and amplified several findings in an August 2021 research report and analysis on MHLivingNews entitled "Why So Few Affordable U.S. Homes? Federal & Other Research – Monopolies, Moats, Manufactured Housing – Impacts Renters, Current Manufactured Homeowners, Conventional Homeowners, Most Americans." Per HUD PD&R co-authors Pamela "Pam" Blumenthal and Regina Gray on September 7, 2021 – "Federally sponsored commissions, task forces, and councils under both Democratic and Republican administrations have examined the effects of land use regulations on affordable housing for more than 50 years."
That's such a stunning admission by professionals at HUD, about HUD's effectiveness, that it merits an all-caps, flashing neon-light presentation. Because what those HUD PD&R co-authors said that the same issues exist today that have for 5 decades. So, to what extend does Evidence Matter when it comes to implementing the useful findings that are periodically presented? Because what Blumenthal and Gray said is that there is no effective change as a result of research like what follows.  To repeat HUD PD&R 2021 vs. HUD PD&R in 2020:
"Federally sponsored commissions, task forces, and councils under both Democratic and Republican administrations have examined the effects of land use regulations on affordable housing for more than 50 years." – Blumenthal and Gray for HUD PD&R.
One should also keep in mind what third-party to manufactured housing Minneapolis Federal Reserve researchers have accused HUD and certain private businesses and builder-representing non-profits of doing.
Despite decades of research that keeps covering the same ground, much of which if implemented could cause manufactured housing industry sales to soar. But instead, third-party researchers such as James A. "Jim" Schmitz, David Fettig and others, some of them involved with the Minneapolis Federal Reserve, have pointed the finger at HUD and their corporate allies. Schmitz and company have provided their evidence-based case that HUD and corporate interests have been actively undermining manufactured housing in a variety of ways for roughly that some 50 years that Blumenthal and Gray say such research has been conducted. Those Minneapolis Fed researchers dub what they have documented "sabotaging monopoly" tactics.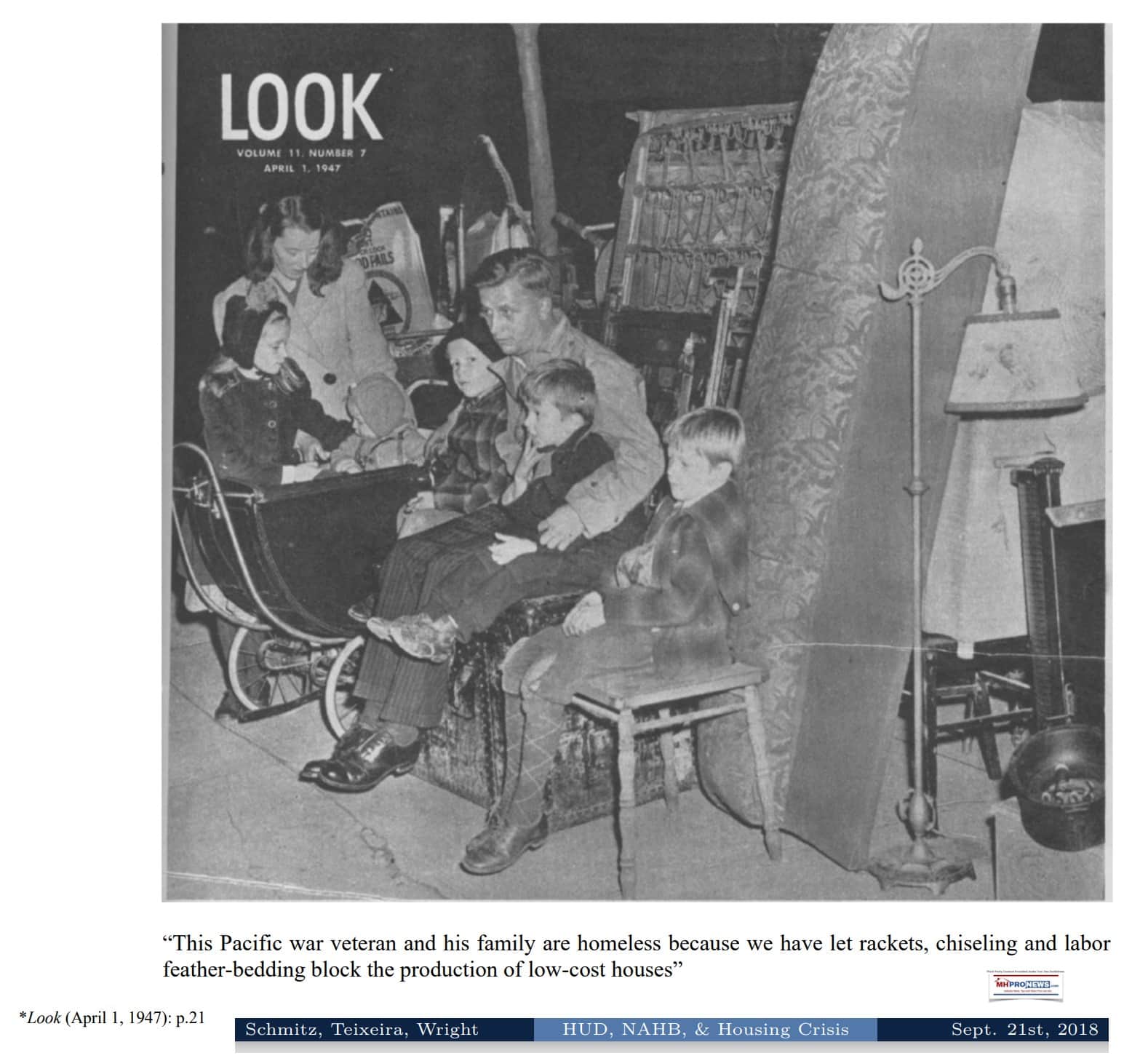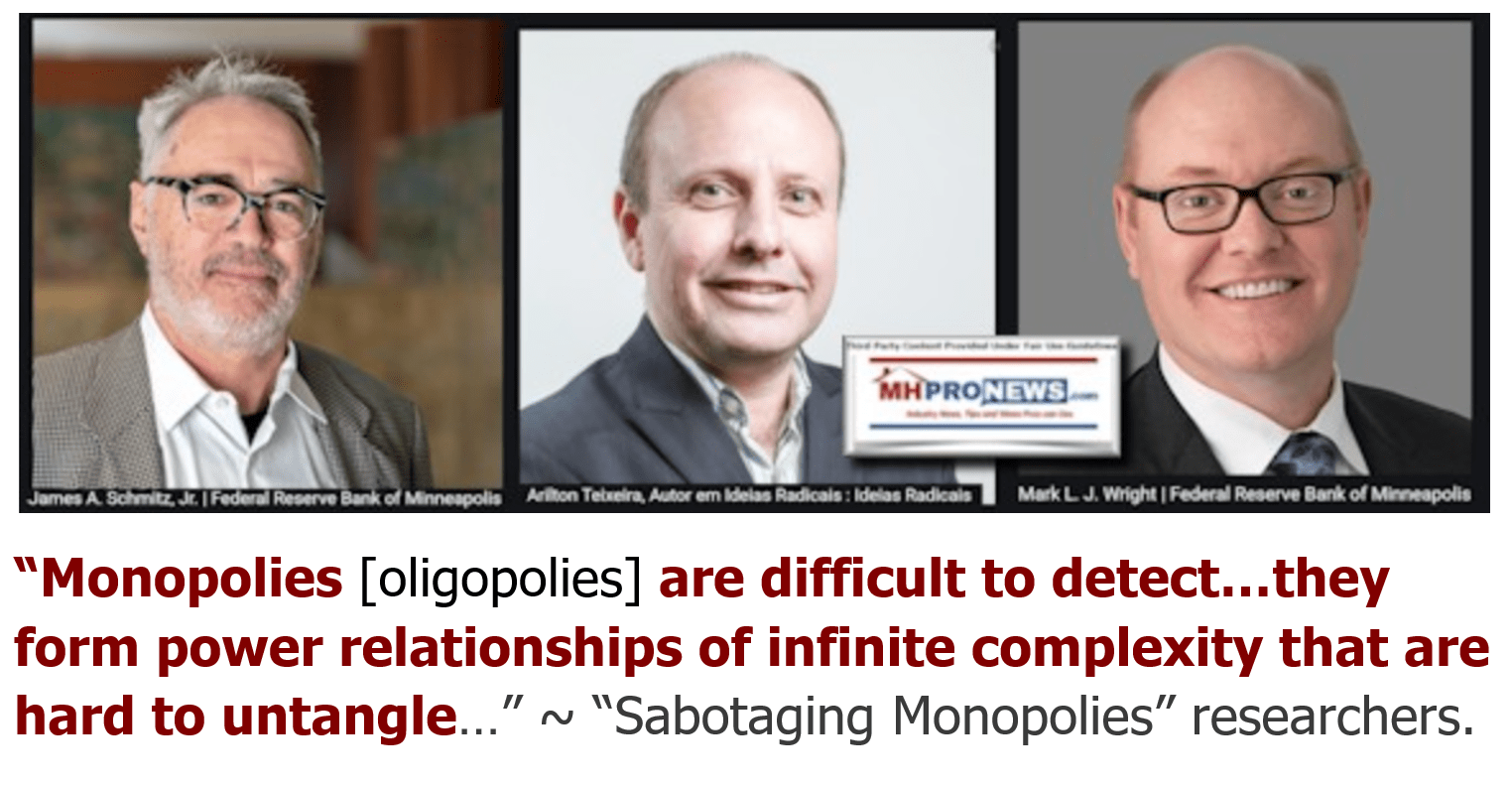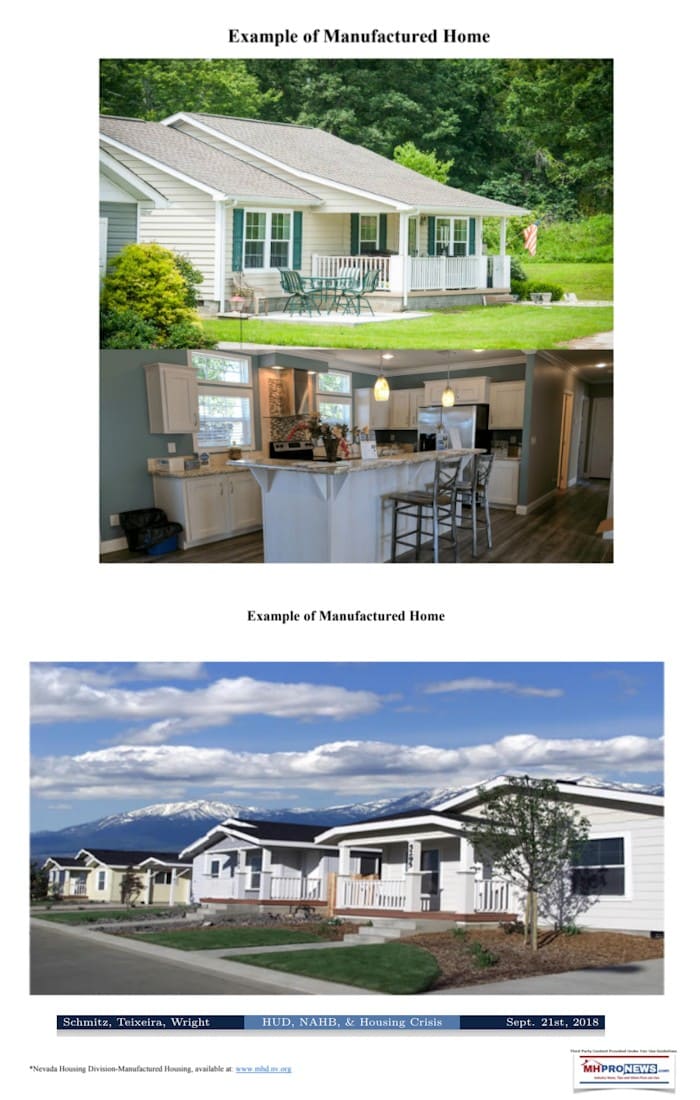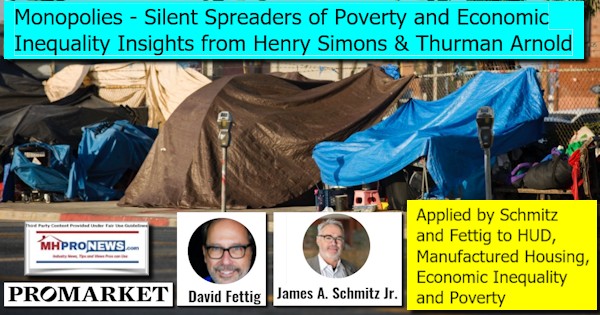 It is against that backdrop that this "Evidence Matters" report that is largely, but not exclusively about manufactured housing is presented. Note that what is missing in what follows is as revealing as what is published. That will be unpacked in the MHProNews fact check, analysis and commentary in brief that follows.
HUD PD&R: Evidence Matters

Factory-Built Housing for Affordability, Efficiency, and Resilience
Highlights
Increasing the supply of factory-built housing — including manufactured housing, modular housing, and accessory dwelling units — is one of several approaches to address ongoing challenges to housing affordability.
Manufactured housing is the largest source of unsubsidized affordable housing in the United States.
Federal, state, and local governments can take steps to mitigate the demand, regulatory, and financing barriers that have prevented wider adoption of factory-built housing.
The Joint Center for Housing Studies of Harvard University's The State of the Nation's Housing, 2019 report notes that a "continuing shortfall in supply" of housing "is keeping the pressure on house prices and rents, eroding affordability…."1 Increasing the supply of factory-built housing, one of several potential approaches to address this shortfall, may ease price and rent pressures and offer options for affordable and sustainable rental and ownership. One type of factory-built housing, manufactured housing, is already the largest source of unsubsidized affordable housing in the United States.2 A variety of demand, regulatory, zoning, and other barriers, however, have limited the reach of this promising affordability solution. The construction of new factory-built housing not only offers an affordable housing option but also presents the opportunity to add units with improved energy efficiency and resilience to weather and natural disasters. This article discusses the realized and potential benefits of factory-built housing, the barriers to its wider use, and ways to overcome those barriers.
Factory-Built Housing: An Overview
Unlike traditional site-built housing, in which building materials are shipped to and assembled onsite, factory-built housing is assembled in a factory setting and shipped either complete or in substantially complete parts that are installed at the site. Both single- and multifamily housing can be factory built, and new research illuminates the potential for this construction method, particularly for multifamily housing.3
Factory-built housing falls under four general types: manufactured, modular, panelized, and precut. Manufactured homes, also known as HUD Code homes, are built in a factory to the federal building code (HUD Code) and have a permanent chassis on which they can be transported. Manufactured homes, when sited, may be placed on a foundation that meets conventional lending requirements. Modular homes are also built in a factory and transported in sections to be installed on a fixed foundation. Unlike manufactured homes, however, modular homes are built to conform to local codes. Other categories of factory-built housing include panelized construction, in which factory-built wall panels are shipped to a site for assembly, and precut housing, in which materials are cut to size before being shipped to a site for assembly.4 This article focuses on manufactured and modular homes, which are substantially built and assembled in a factory setting. (For more information on panelized housing, please see the Spring 2017 issue of Evidence Matters.)
Manufactured housing has been subject to the HUD Code since 1976; it preempts local codes and facilitates production at scale to make the housing marketable across state lines.5 The HUD Code has evolved over time. The Manufactured Housing Improvement Act of 2000 mandated updates to the HUD Code and required HUD to develop Model Manufactured Home Installation Standards and create a federal installation oversight program while leaving states and local governments to oversee installations in their jurisdictions. After 2007, states could retain responsibility for installation oversight or defer to HUD standards. (Currently, 36 states retain this responsibility, and 14 have deferred to HUD standards.)6
In 2018, information reported to the U.S. Census Bureau included data for approximately 55,000 new manufactured (HUD Code) homes that were sold and placed in the United States. Of these, 37 percent were placed in manufactured housing communities (parks, courts, or subdivisions). Most (65%) were placed on piers (also known as blocks), and slightly less than a quarter (23%) were placed on foundations of masonry or concrete. These new manufactured homes were concentrated in the South, where 61 percent were sited; 16 percent were in the Midwest, 16 percent were in the West, and 7 percent in the Northeast. New manufactured homes in the South were typically placed on piers, and most new homes were placed outside of manufactured home communities. New homes in the Northeast and Midwest, on the other hand, were more likely to be placed in manufactured home communities.7 Durst and Sullivan stress the variation within manufactured housing in terms of location (rural or metropolitan) and tenure (owner occupied or rental).8 The average sales price of a new manufactured home in 2018 was $78,500 ($52,400 for a single-piece home and $99,500 for a two-piece home).9 The Manufactured Housing Institute (MHI) estimates that 22 million people with a median annual household income of $30,000 live in manufactured homes.10 Nearly one-quarter of residents of manufactured homes are between 8 and 29 years old, and 19 percent are older than 60. More than half (55%) earn less than $30,000 per year.11 Although an estimated 80 percent of manufactured home residents own their home, most rent the land on which it is sited.12
Modular homes account for a comparatively smaller share of the housing market than manufactured housing. In 2018, site-built homes accounted for 97 percent, and modular homes just 1 percent, of all privately owned, single-family construction exclusive of manufactured homes in the United States. Regional differences exist in the use of modular, panelized, and precut construction methods. Of the U.S. Census Bureau's four national subregions, the Northeast has the highest percentage of single-family homes constructed offsite exclusive of manufactured homes, with 7 percent of new homes being modular and 3 percent of homes built with panelized sections or precut materials in 2018. By contrast, in the West, 1 percent of new single-family homes were modular and an additional 1 percent were built with panelized sections or precut materials in 2018.13 Modular construction remains a very small part of the multifamily construction market as well; as of 2018, 99 percent of the nation's multifamily buildings were built onsite.14
Benefits of Factory-Built Housing
The potential benefits of factory construction have been a subject of longstanding interest. HUD's Operation BREAKTHROUGH, which began in 1969, was founded on the premise that shifting from onsite to factory construction could reduce housing costs. Although the program's impact on the industry was limited, a National Academies Press report credits Operation BREAKTHROUGH with achieving "marketplace acceptance that increased factory production of housing improves construction efficiency, quality, and affordability."15 Constructing housing in a factory setting and transporting it to the site offers numerous benefits, including reduced labor, materials, and financing costs; a compressed construction schedule; and conditions favorable for quality control. Factory construction methods can also incorporate advances in energy efficiency and disaster resilience. Centralizing production facilitates the standardization of construction processes, and the controlled factory environment protects materials from exposure to the elements and avoids construction delays because of adverse weather. Factory construction also reduces noise, traffic and parking disruption, and environmental and other impacts.16
Cost savings and affordability. The cost savings from factory construction promise increased affordability for homeowners and renters. These savings are not guaranteed, however, and building and equipping a factory and creating repeatable designs generates considerable upfront costs. Bertram et al. suggest that cost savings will be greatest when production achieves high scale and repeatability, and they should improve with technological advances and continued research. Under such conditions, they estimate that modular construction could achieve an overall savings of up to 20 percent over traditional construction.17 MHI reports that the average price per square foot of a manufactured home is $49 compared with $107 for a site-built home.18 Overall, Schlottmann and Boehm find that manufactured housing is "a low-cost housing alternative… [that] is observed to have higher average quality rankings across both the neighborhood and structural dimensions of housing services than rental units."19 "There is really no competition in terms of the cost to produce factory-built housing," says Esther Sullivan, assistant professor of sociology at the University of Colorado Denver.20
Several factors, including labor and materials, could potentially contribute to cost savings. Factories can break the construction process into repetitive tasks that require less skill and eliminate the need for subcontractors. Factory quality control procedures could reduce the need for (or time lost associated with) rework and more efficiently detect and remedy defects in materials. Work schedules can be managed more efficiently and predictably.21 Finally, factories can be located in areas with lower prevailing wages. In a 2001 study, Winter et al. report that the labor cost of a factory-built home ranges from 8 to 12 percent of the total construction cost compared with 40 to 60 percent of the total cost for a site-built home.22 Bertram et al. estimate that modular construction can achieve an overall labor savings of up to 25 percent on a project compared with traditional onsite construction.23
Factory construction can also reduce the cost of materials. Factories can buy materials in bulk, typically at a savings, and can buy a greater proportion of materials directly from suppliers rather than through intermediaries such as subcontractors.24 Factories with precision, computer, and laser tools can reduce mistakes and waste, and recycling or disposal of what waste remains is more efficient in a factory setting. A controlled environment not only protects materials from weather-related damage, loss, and the need for replacement but also protects the production schedule from weather-related delays.
Eliminating weather delays is just one way that factory construction can compress the construction schedule. Factory building also means that home construction and site preparation can happen concurrently. Bertram et al. estimate that modular production can reduce construction time by 20 to 50 percent.25 Shortening the construction timeline can offer substantial savings in various financing costs, such as interest paid on construction loans.
Increasing the use of prefabrication in multifamily housing may also promote affordability. Galante et al. examine offsite production of three- to four-story, wood-framed multifamily housing and find potential savings of up to 20 percent on the cost of construction compared with traditional building methods.26 The use of prefabrication with low-income housing tax credits (LIHTCs) is still relatively new, but the reduced construction times of prefabricated construction could be an advantage in using LIHTCs.27 HUD Code and modular homes can also function as accessory dwelling units (ADUs), which increase the affordable housing supply in tight markets.
Energy efficiency. In addition to its affordability benefits, factory-built housing can incorporate advances in energy efficiency, thereby using resources more responsibly and reducing residents' utility bills. Although energy costs for older manufactured housing tended to be high, new technologies are much more efficient, and research suggests that manufactured and modular housing can incorporate advanced building envelopes for energy efficiency without significantly affecting cost.28 Manufactured homes can qualify for ENERGY STAR® certification if they meet requirements to be "substantially more energy efficient than a comparable standard code home."29 There have also been efforts to exceed the energy efficiency standards set by the HUD Code. For example, the Bonneville Power Administration has collaborated with the manufactured housing industry since 1992 (beginning with the Manufactured Homes Acquisition Program) and with state energy offices since 1995 (under the branding of Super Good Cents) to establish a high standard for energy efficiency for electrically heated homes in the Pacific Northwest region. Now known as the Northwest Energy Efficient Manufactured Housing Program (NEEM), the initiative has expanded from its core requirements, which focused on the performance of the building shell, to include more efficient windows, lighting, and equipment. A 2008 evaluation estimated a potential savings of 50 percent.30 More recently, the program has developed the NEEM+ certification standard, which uses 30 percent less energy than the ENERGY STAR® standard.31
Disaster resilience. Attention to the materials and design of manufactured housing can improve not only energy efficiency but also disaster resilience. In the past, manufactured housing was highly susceptible to damage in natural disasters. The HUD Code has mandated changes that make modern manufactured homes significantly more resilient to fire and natural disasters than pre-HUD Code housing. Manufactured homes built after the HUD Code standards were implemented have a fire rate per 1,000 occupied units that is roughly one-third lower than pre-HUD Code homes and a death rate per 100 fires that is roughly one-half lower. Between 2007 and 2011, manufactured homes had a fire death rate per 100,000 that was similar to that of other single-family homes.32 The HUD Code adopted new wind load standards after Hurricane Andrew in 1994; manufactured homes built to the new standards held up better than those built before the standards were implemented, and homes built between the advent of the HUD Code and the new standards fared better than those built before the implementation of the HUD Code.33 Research shows that the performance of new factory-built housing is comparable to that of site-built housing. For example, in their review of factory-built housing in coastal areas, Fenner et al. state that "owners and construction companies have found that prefabricated construction allows the rebuilding of homes affordably, efficiently, and quickly. In addition, new prefabricated units can be as wind- or earthquake-resistant as site-built buildings, minimizing the effects of strong climate events."34 In some cases, natural disasters have catalyzed innovations and improvements in disaster resilience. Following Hurricane Sandy, the New York City Mayor's Office of Housing Recovery Operations and the Build It Back program used a portion of its Community Development Block Grant Disaster Recovery funds to construct approximately 100 single-family modular homes. Having successfully piloted modular construction, the city is now incorporating modular construction into its broader plans to produce affordable housing.35
Despite the considerable benefits of factory-built housing, traditional, site-built housing remains overwhelmingly dominant. Numerous barriers and challenges stand in the way of the wider use of manufactured and modular housing.
Barriers to Factory-Built Housing
Dawkins et al. write that market factors such as "regional location, population density, median family income, the existing inventory of manufactured housing units, and proximity to manufactured housing plants" interact with regulatory constraints and "local perceptions of manufactured housing to influence manufactured housing supply."36
Zoning. Although HUD Code housing is not subject to local building codes, local zoning ordinances pose a significant barrier to the placement of manufactured housing. Some local ordinances prohibit manufactured housing outright, whereas others limit permitted locations or impose additional design standards.37 Dawkins et al. report that "lack of by-right zoning, burdensome fees, permits, snow load standards, fire codes, zoning codes, subdivision regulations, architectural design standards, and environmental regulations" influence the placement of manufactured homes.38 Local zoning restrictions may also pose a barrier to ADUs, whether factory- or site-built, because many communities have outright bans on accessory structures. Opposition to ADUs may stem from concerns about new, possibly transient residents as well as higher-density development and associated stresses on traffic, parking, and infrastructure.39
Permitting and codes. Although the HUD Code preempts local codes for manufactured housing, non-HUD Code factory-built housing must meet local codes, which can add impediments that discourage the siting of factory-built homes. Factory builders may need to secure building permits before construction and then manage and coordinate both factory and onsite inspections during the building process, which may be burdensome. Most states require a third-party government agency for factory inspections of modular structures.40
Negative Perceptions. Because of negative stereotypes about the quality of manufactured housing and its association with low-income residents, local governments and community residents may consider it undesirable. Factory-built housing has had a reputation for being an "ugly, cheap, poor-quality option," but it is becoming increasingly indistinguishable in aesthetics and quality from site-built housing.41 Innovations such as increased roof pitches, the use of traditional roofing and siding materials, and two-story home models allow factory-built housing to blend into neighborhoods predominantly composed of site-built homes.42 Despite these improvements, negative perceptions and dated ordinances limit the supply of factory-built options.
Design. Although design is a critical element of any construction project, Abu-Khalaf notes that designs for factory-built housing must be even more efficient and precise than those of site-built housing. Factory building often relies on lower-skilled labor completing repeatable tasks and offers little room for adjustments and alterations once production has started. These limitations increase the importance of precise design. The nature of factory-built housing imposes unique design challenges, including that the home or its constituent parts must be designed for transport to the site.43
Delivery challenges. Transport itself can present a barrier to factory-built housing. Delivery to remote areas can be challenging or cost prohibitive. (Often, these are the same places to which the delivery of materials for site-built housing can be difficult.) Dense urban areas can be difficult for large delivery trucks to navigate. The cost of transport as well as the cost and logistics of using a crane, which is necessary for assembly in some cases, can offset some of the savings that factory building offers.44 Departments of transportation in some jurisdictions may also require special permits for transport and delivery.
Financing. Unfamiliarity with the unique aspects of factory-built housing presents obstacles to the financing of its construction and purchase. For construction loans, lenders may perceive factory-built housing as higher risk and therefore charge more than they would for comparable, but more familiar, site-built housing. A key difference between site-built and factory-built housing that might account for this perception is that factory-built housing requires lenders to supply a larger proportion of the total cost upfront rather than disbursing funds in installments as construction reaches benchmarks.45
Many owners of manufactured housing finance their purchase through a chattel or property loan. Purchasers may use a chattel or personal property loan to finance a manufactured home that will be sited on land they do not own, as in a manufactured home community.46 Chattel loans typically are more expensive than a real estate mortgage — an estimated 4.4 percentage points more per year, according to research by Goodman and Ganesh. Goodman and Ganesh also find that many borrowers who take out a chattel loan could have qualified for a mortgage. In most cases, a borrower financing a manufactured home as real property with a mortgage also must own the land on which it is sited. Goodman and Ganesh estimate that nationally, as many as 53 percent of new manufactured homeowners owned the land and might have been eligible for a mortgage but instead financed their home with a personal property loan. They note that although many borrowers may choose the more expensive chattel loan for the sake of convenience, some might not be aware of the alternative option with the lower rate.47
Addressing Challenges and Overcoming Barriers
There is a continued need for factory-built housing to become an even greater source of affordable housing. Nearly 3 million households live in manufactured housing communities where residents may own their homes but rent the land on which the home is sited.48 According to MHI, there were about 40,000 such land-lease communities in 2017, and most of these are "well-managed, well-maintained, and offer many benefits to residents."49 Land-lease communities can offer desirable amenities such as laundries, recreational facilities, and community space; services and maintenance such as landscaping and snow removal; and infrastructure such as utilities, roads, and parking.50 For those who are unable to qualify for a loan to purchase a lot, a land lease affords the opportunity to site their home, and if not financing the purchase of a lot, the savings in upfront charges could allow the buyer to purchase a more expensive unit.51
In some land-lease communities, however, rents may not be sufficient to cover infrastructure maintenance and investors may not keep up with infrastructure costs, eroding the quality of life in these communities and decreasing the value of their manufactured units.52 Tenants are also vulnerable to rent increases or the sale of the land on which their homes are sited. If they cannot afford the rent or if the property is repurposed by the new owners, they may face eviction. Theoretically, homeowners could transport their homes to a new site, but the cost of moving may be prohibitive, finding an alternative site may be difficult, and the structure may not be able to withstand a move. In these cases, homeowners may effectively be forced to abandon their homes.53
One way to address these challenges would be to create and preserve avenues for tenant purchase of land. As of 2014, 19 states had adopted legislation to facilitate resident ownership.54 Carolyn Carter, deputy director of the National Consumer Law Center, says that state laws that give residents advance notice of any sale of the property (not only in the case of a change of use) and allow residents to make an offer to purchase (in particular, laws that require an owner to accept the residents' offer if it matches that of a third-party bidder) are most effective. Laws that provide tax incentives to owners who sell to residents are helpful but less effective.55 Owners of manufactured communities have challenged laws granting residents right of first refusal or requiring owners to accept a matching offer from residents in court with mixed results. In 2000, the Washington State Supreme Court ruled in favor of the Manufactured Housing Communities of Washington, stating that an act giving tenants a right of first refusal was "an unconstitutional taking of private property for private use."56 The Massachusetts Supreme Judicial Court ruled in 1996 that a law giving tenants right of first refusal to purchase was not a "regulatory 'taking'" and that the law "substantially advances a legitimate State interest."57 Park owners have also opposed lengthening advance notice periods, arguing that the resale restrictions should not be changed after a park's purchase.58
ROC USA is a nonprofit working to promote resident ownership of manufactured home communities. Currently, 250 limited equity cooperatives are in ROC USA's network, in which residents own their homes and an equal share of the park property. Residents of these communities typically are able to keep their site fees below market rates, make health and safety improvements, engage with other community members, and enjoy other economic benefits such as being able to sell their homes more quickly and for higher prices.59 Establishing community land trusts through a nonprofit owner that can control land and leases under conditions that maintain affordability and stability is another strategy for protecting residents.60 Resident-owned communities and community land trusts, however, represent only a small portion of manufactured home communities. According to a report by Freddie Mac, only approximately 2.4 percent of manufactured housing communities are resident owned.61
To increase the volume of factory-built housing, federal, state, and local officials can identify and eliminate unnecessary regulations and restrictions. HUD recently reduced regulatory burdens for manufactured housing in the HUD Code. Effective March 2016, HUD issued a rule governing features that can be completed onsite so that manufacturers need not seek prior approval from HUD. HUD continues to evaluate the best way to regulate this construction to ensure consumer safety and minimize regulatory burdens.62 In addition, several rulemakings in process will, once final, eliminate regulatory burdens associated with producing certain structures, such as multistory homes and garage- and carport-ready homes, and certain features, such as accessible showers and tankless water heaters. MHI chief executive officer Lesli Gooch says that "there needs to be a uniform process for updating the HUD Code in a responsive and efficient manner" to keep up with industry innovations.63
State and local governments can expand the areas zoned to accept factory-built housing, including manufactured housing and ADUs (see "Factory-Built Accessory Dwelling Units for Affordable Housing Options").64 As of 2011, Dawkins et al. noted that "more than half of states require[d] localities to allow HUD-Code units somewhere within local jurisdictions."65 Localities could adjust codes to permit manufactured and other factory-built housing, which could possibly increase the affordable housing supply in these jurisdictions. Localities could also allow mixtures of housing types that include factory-built housing so that manufactured housing is not simply siloed into designated areas or parks but is more fully integrated into communities.66
The Federal Housing Finance Agency is helping to address financing challenges through the Duty to Serve (DTS) program. DTS requires Fannie Mae and Freddie Mac to facilitate a secondary market for mortgages on housing for very low-, low-, and moderate-income families in certain market sectors, including manufactured housing.67 To further expand financing opportunities for individual homeowners, Goodman and Ganesh suggest that policymakers examine ways to make it easier for buyers of manufactured homes to title their purchases as real property rather than chattel so they can obtain more affordable loans.68
The government-sponsored enterprises have also used their influence over the market to encourage borrowers to institute certain tenant protections. Freddie Mac, for example, is "seeking to increase protections for tenants in MHCs [manufactured home communities]" through regulations that create a minimum set of landlord requirements for a loan on an MHC to qualify for DTS credit, including a 30-day written notice of rent increases and a 5-day grace period for rent payments. These requirements could be enforced by state laws or adopted voluntarily in the lease agreement.69 Comments on these regulations from the manufactured housing industry indicated opposition and a preference for "a funding option unconstrained by pad lease requirements."70 Some states already have legislation that requires landlords to give adequate notice or relocation assistance if the park owner decides to sell.71 (See "Programs Support Energy-Efficient Modular and Manufactured Housing".) However, relocation may have negative consequences, such as transportation, siting fees, difficulty finding a new lot, and social dislocation.72 In some cases, owners of manufactured home communities have favored greater flexibility than what existing requirements allow. For example, the Florida Manufactured Housing Association supports legislation that would allow eviction notices to be sent by first-class mail and posted to front doors rather than sent by certified mail.73 The manufactured housing industry has also worked with Fannie Mae and Freddie Mac to develop conventional financing for manufactured homes with designated popular features through a financing vehicle called CrossModTM. Gooch says that this development is a "huge step" for manufactured housing because, "for the first time ever, HUD Code homes can qualify for conventional financing and be appraised alongside site-built homes."74
Finally, ongoing innovations in factory-built housing have made it more affordable and energy efficient as well as higher in quality, which can make it more attractive to consumers. Engineering advances that allow for two-story residences and building innovations such as hinged roofs have made factory-built housing more like site-built housing in some neighborhoods and expanded the number of styles available.75 Materials advances such as cost-optimized attic insulation that increases insulative value without prohibitive cost enhance the affordability of factory-built housing by lowering utility costs.76 New construction and logistics technologies may facilitate production in ways that boost affordability. Although not widely used, some builders have experimented with the use of recycled materials such as shipping containers, and some factory-built homes have been constructed using 3D printing technology. Factory-built construction is more easily adapted to automation than site-built housing, and advances in automation may impact the cost and efficiency of factory building.77 In terms of logistics, innovations in digital technologies can improve design, precision, and productivity in construction and facilitate processes.78
Realizing the Potential of Factory-Built Housing
Factory-built housing offers many benefits, including lower production costs, and holds tremendous promise for increasing the availability of affordable rental and owner-occupied housing in the United States. Incorporating modular construction into the development of multifamily rental housing can provide significant savings that can be passed on to renters, and, especially when residents own the land on which their homes are sited, manufactured homes offer a promising path to affordable and sustainable homeownership for low- and moderate-income buyers. Modern factory-built housing can be indistinguishable in appearance and quality from similar site-built housing and incorporates the latest innovations in energy efficiency and disaster resilience. To fully realize its benefits, however, policymakers need to understand and address the persistent barriers facing the industry, such as prohibitive regulations and zoning, community opposition, and financing challenges that restrict the construction and siting of factory-built housing.
Related Information:
HUD Standards for Manufactured Housing
Factory-Built Accessory Dwelling Units for Affordable Housing Options
Joint Center for Housing Studies of Harvard University. "The State of the Nation's Housing, 2019," 1.
Renia Ehrenfeucht. 2018. "Moving Beyond the Mobile Myth: Preserving Manufactured Housing Communities."
Carol Galante, Sara Draper-Zivetz, and Allie Stein. 2017. "Building Affordability by Building Affordably: Exploring the Benefits, Barriers, and Breakthroughs Needed to Scale Off-Site Multifamily Construction," Terner Center.
Steven Winter Associates. 2001. A Community Guide to Factory-Built Housing, Prepared for U.S. Department of Housing and Urban Development, Office of Policy Development and Research, 13–4, 40.
Richard Genz. 2001. "Why Advocates Need to Rethink Manufactured Housing," Housing Policy Debate 12:2.
Michael Hollar, Daniel Marcin, and Alastair McFarlane. 2019. "Report to Congress on the On-Site Completion of Construction for Manufactured Homes."
S. Census Bureau. 2019. "Selected Characteristics of New Manufactured Homes Sold and Placed for Residential Use by Size of Home and Region 2014–2018."
Noah J. Durst and Esther Sullivan. 2019. "The Contribution of Manufactured Housing to Affordable Housing in the United States: Assessing Variation Among Manufactured Housing Tenures and Community Types," Housing Policy Debate 29:6, 2.
S. Census Bureau. 2019. "Average Sales Price of New Manufactured Homes Placed by Size of Home by State 2014–2018."
Manufactured Housing Institute. 2018. "2018 Manufactured Housing Facts: Industry Overview."
S. Census Bureau. "2018 Characteristics of New Housing: Construction Method, Single-Family Housing."
S. Census Bureau. "2018 Characteristics of New Housing: Construction Method, Multifamily Buildings."
National Academies Press. 2008. Rebuilding the Research Capacity at HUD,  See also, Todd Richardson. 2018. "Operation Breakthrough," PD&R Edge.
Ahmad Abu-Khalaf. 2019. "New Reflections on Affordable Housing Design, Policy and Production: Overcoming Barriers to Bringing Off-Site Construction to Scale," 8.
Nick Bertram, Steffen Fuchs, Jan Mischke, Robert Palter, Gernot Strube, and Jonathan Woetzel. 2019. "Modular construction: From projects to products," McKinsey & Company, 12.
Manufactured Housing Institute.
Alan Schlottman and Thomas P. Boehm. 2004. "Is Manufactured Housing a Good Alternative for Low-Income Families? Evidence from the American Housing Survey," Prepared for U.S. Department of Housing and Urban Development, Office of Policy Development and Research, 1.
Interview with Esther Sullivan, 16 October 2019.
Bertram et al.
Steven Winter Associates, 16.
Bertram et al., 14.
Galante et al.
Teresa Garcia. 2017. "Could Modular Housing Be Affordable Answer to Rising Construction Costs?" Novogradac Journal of Tax Credits VIII:X.
Levy, M. Mullens, and P. Rath. 2014. "Advanced Envelope Research for Factory Built Housing, Phase 3—Whole-House Prototyping," U.S. Department of Energy.
"Designing ENERGY STAR Certified Manufactured Homes," Energy Star website (energystar.gov/partner_resources/residential_new/working/builders_developers/guidelines_plants/designing_manufactured_homes). Accessed 22 October 2019.
Tom Hewes and Brady Peeks. 2013. "Northwest Energy Efficient Manufactured Housing Program Specification Development," U.S. Department of Energy, Building Technologies Program.
"Welcome," Northwest Energy Efficient Manufactured Housing Program website (neemhomes.com). Accessed 22 October 2019.
John R. Hall. 2013. "Manufactured Home Fires," National Fire Protection Association.
Kevin M. Simmons and Daniel Sutter. 2008. "Manufactured home building regulations and the February 2, 2007 Florida tornadoes," Natural Hazards 
Andriel Evandro Fenner, Mohamad Ahmadzade Razkenari, Hamed Hakim, Charles J. Kibert. 2017. "A Review of Prefabrication Benefits for Sustainable and Resilient Coastal Areas," conference presentation, December 1–3.
NYC Housing Preservation & Development. "Modular Construction" (nyc.gov/site/hpd/developers/modular-construction.page). Accessed 23 October 2019; NYC Housing Recovery. "Welcome to Housing Recovery" (www1.nyc.gov/site/housingrecovery/index.page). Accessed 23 October 2019.
Casey J. Dawkins, Theodore Koebel, Marilyn Cavell, Steve Hullibarger, David B. Hattis, and Howard Weissman. 2011. "Regulatory Barriers to Manufactured Housing Placement in Urban Communities," Prepared for U.S. Department of Housing and Urban Development, Office of Policy Development and Research, xi–xii.
Vicki Been, Benjamin Gross, and John Infranca. 2014. "Responding to Changing Households: Regulatory Challenges for Micro-Units and Accessory Dwelling Units," New York University Furman Center.
Abu-Khalaf, 11, 16.
Steven Winter Associates, 9, 16, 19, 39, 58–9; Bertram et al.
Daniel R. Mandelker. 2016. "Zoning Barriers to Manufactured Housing," The Urban Lawyer 48:2, 239.
Abu-Khalaf, 14; Steven Winter Associates, 16, 39.
Steven Winter Associates, 19; U.S. Department of Housing and Urban Development. 2015. "Local Initiatives Promote Homeownership in Indian Country," Evidence Matters (Spring).
Abu-Khalaf, 12.
Manufactured Housing Institute. "Manufactured Home Financing" (manufacturedhousing.org/manufactured-homes-lender/). Accessed 15 October 2019.
Laurie Goodman and Bhargavi Ganesh. 2018. "Challenges to Obtaining Manufactured Home Financing," Urban Institute, 1, 4.
Ehrenfeucht, 1.
Manufactured Housing Institute 2018; Manufactured Housing Institute. "An Insider's Look at Manufactured Home Communities" (manufacturedhousing.org/communityinsider/). Accessed 5 May 2020.
Fred E. Foldvary. 2002. "Proprietary Communities and Community Associations," in The Voluntary City: Choice, Community, and Civil Society David T. Beito, Peter Gordon, and Alexander Tabarrok eds. (Ann Arbor: University of Michigan Press), 268; Manufactured Housing Institute. "2018 Land-Lease Community of the Year Award Winners" (manufacturedhousing.org/2018awards-landlease/). Accessed 5 May 2020.
Angela Colley. 2015. "Own the Home, but Not the Land? What You Need to Know About Land Lease Deals," National Association of Realtors.
Esther Sullivan. 2018. Manufactured Insecurity: Mobile Home Parks and Americans' Tenuous Right to Place, Oakland: University of California Press, 16.
Interview with Carolyn Carter, 23 October 2019.
Manufactured Housing Communities v State, 13 P.3d 183 (2000).
Greenfield Country Estates Tenants Assoc., Inc. v. Deep, 423 Mass. 81, 666 N.E.2d 988 (Mass. 1996).
Washington House Committee on Judiciary. 2017. "House Bill Report HB1514."
Paul Bradley, email correspondence, 22 October 2019.
Freddie Mac Multifamily. 2019. "Spotlight on Under-served Markets: Manufactured Housing Resident-Owned Communities."
Hollar et al.
Email correspondence with Lesli Gooch, 21 November 2019.
Dawkins et al., xii.
Interview with Esther Sullivan.
"Duty to Serve," Federal Housing Finance Agency website (fhfa.gov/PolicyProgramsResearch/Programs/Pages/Duty-to-Serve.aspx). Accessed 15 October 2019.
Goodman and Ganesh, 4.
Freddie Mac Multifamily. n.d. "Tenant Protections in Manufactured Housing Communities," Spotlight on Underserved Markets.
Federal Housing Finance Agency. 2016. "Enterprise Duty to Serve Underserved Markets," Federal Register 81:250, 96256.
Interview with Esther Sullivan; Sullivan 2018, 16.
Florida Realtors. 2020. "Laws Could Change for Owners of Mobile Homes."
Email correspondence with Lesli Gooch.
Ben Nelms. 2013. "Design Innovations in Manufactured Homes," May 15 blog post.
S. Department of Energy. 2014. "Cost-Optimized Attic Insulation Solution for Factory-Built Homes."
Joseph Neelamkavil. 2009. "Automation in the Prefaband Modular Construction Industry," Institute for Research in Construction; Falcon Structures. n.d. "Shipping Container Structured: An Eco-Friendly Business Choice"; Orbital Systems. 2019. "Get Ready to Deploy a 3D Printed House, Off the Grid."
Bertram et al., 25. ##
###
Additional Information, MHProNews Analysis and Commentary in Brief
In no particular order of importance. Consider the following results from the copy (text) from the Winter-Spring 2020 HUD PD&R.
Number of mentions of HUD Secretary Ben Carson. Zero.
Number of mentions of the Manufactured Housing Improvement Act of 2000 (MHIA). One.
Number of mentions of the term "preemption" – zero.
Number of mentions of the phrase "enhanced preemption" – zero.
Number of mentions of the Manufactured Housing Institute – two.
Number of mentions of the abbreviation – MHI – four (4).
Number of mentions of Lesli Gooch's last name – four (4).
Number of mentions of the Manufactured Housing Association for Regulatory Reform. Zero.
Number of mentions of MHProNews or MHLivingNews. Zero.
Mentions of Accessory Dwelling Unit – (two) 2. Mentions of that abbreviation (ADU) – 4.
Number of mentions of Danny Ghorbani or Mark Weiss, both instrumental in passage of the Manufactured Housing Improvement Act of 2000, in this issue of Evidence Matters. Zero.
Number of mentions of the name Matchneer, as in William "Bill" Matchneer, J.D., first administrator for the HUD Office of Manufactured Housing, zero.
Let's restate those search results.
The law that could be used to overcome local zoning and placement barriers is mentioned, namely the MHIA. But what is not mentioned the specific provision of the law that gives HUD the power to overcome that problem, namely the "enhanced" preemption provision made law as part of the MHIA 2000.
Those who might have raised that issue, Mark Weiss, Danny Ghorbani, or MHARR are conveniently not mentioned.
HUD Secretary Ben Carson, who often praised manufactured housing is not mentioned. But Lesli Gooch is mentioned 4 times? Note, there is no known evidence that suggests that Dr. Carson was aware of the "enhanced preemption" provision of the MHIA, even though MHI leaders met with Dr. Carson numerous times during his time at HUD.
Restated, the case can be made that this document from HUD is an example of clever paltering. The truth is often stated.  But items that might shed light on that truth in a more insightful fashion that would actually advance the stated purpose of Evidence Matters and HUD's PD&R are entirely lacking.
Put more bluntly, this was either a sloppy piece of posturing propaganda or it was a deliberately deceptive document that fails to get to the heart of the issues involved.
The Winter-Spring 2020 issue mentions both the MHIA and the Duty to Serve manufactured housing. But in neither instance are the key issues in those pieces of legislation that could be used to robustly grow manufactured housing sales are mentioned. That seems to difficult to believe, based on mere happenstance.
One must keep in mind what the first administrator of the Office of Manufactured Housing Programs (OMHP) had to say about these issues in two similar and interrelated on the record statements. Those on the record statements by Matchneer are quoted on MHLivingNews and/or MHProNews, but are not found in other manufactured housing trade media. Per Matchneer, while he personally became involved in enforcing "enhanced preemption" in several cases, Matchneer claims – with apparently good reason – that HUD's Office of General Counsel (OGC) failed to act on behalf of the obvious meaning of the MHIA law.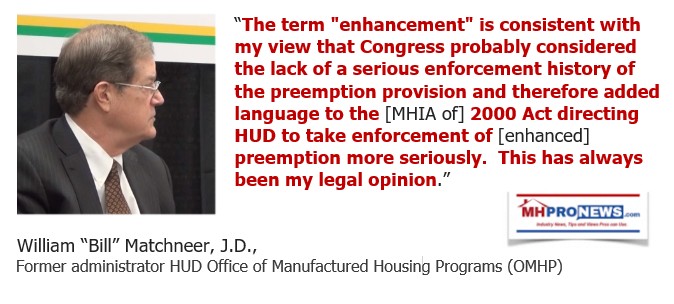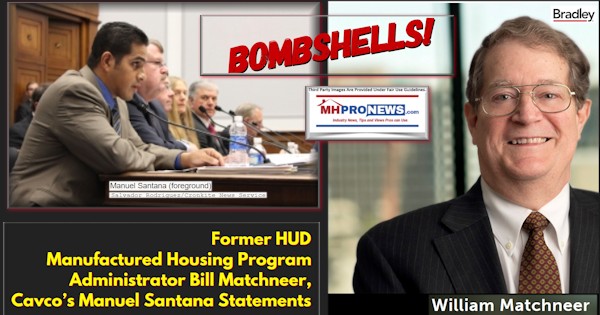 Based on their respective research, Schmitz, Fettig, and their colleagues in multiple reports, posts, and articles specifically accused HUD of "sabotaging" manufactured housing.
Then, Samuel "Sam" Strommen at Knudson Law also noted how HUD and the FHFA seemed to magically benefit certain MHI members, but fostering consolidation through their respective failures to properly and fully enforce the applicable laws that apply.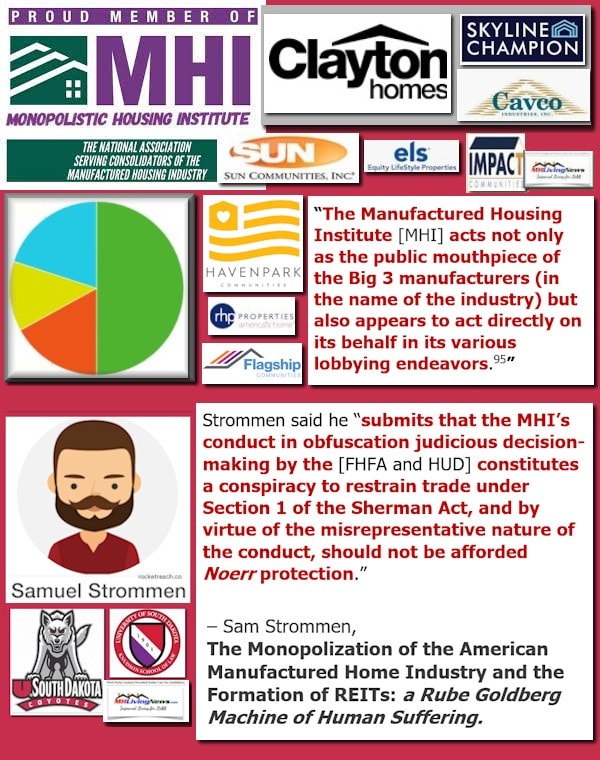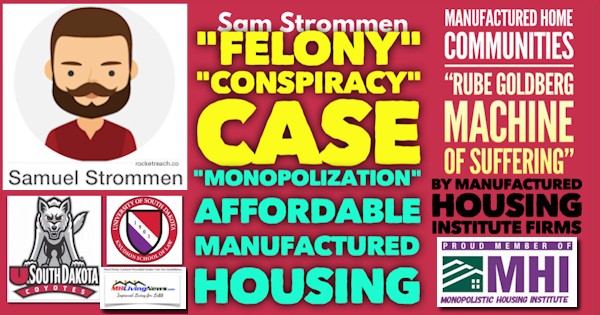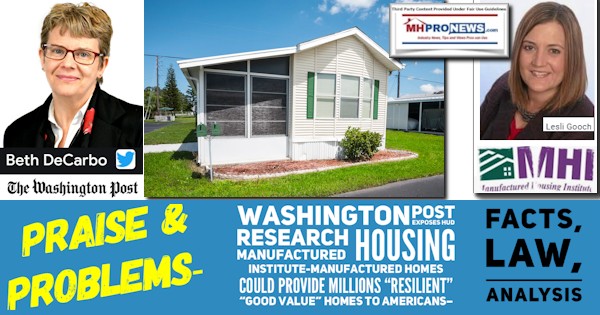 HUD Sec Marcia Fudge – Zoning, Manufactured Homes – "Until We Start to Address This We Are Going to Continue to be Perpetually in This Kind of Situation." – News-Analysis, plus Manufactured Housing Stock Updates
###
Next up is our business daily recap of yesterday evening's market report, related left-right headlines, and manufactured housing connected equities.
The Business Daily Manufactured Home Industry Connected Stock Market Updates.  Plus, Market Moving Left (CNN) – Right (Newsmax) Headlines Snapshot. While the layout of this daily business report has been evolving over time, several elements of the basic concepts used previously are still the same. For instance. The headlines that follow below can be reviewed at a glance to save time while providing insights across the left-right media divide. Additionally, those headlines often provide clues as to possible 'market-moving' news items.
Market Indicator Closing Summaries – Yahoo Finance Closing Tickers on MHProNews…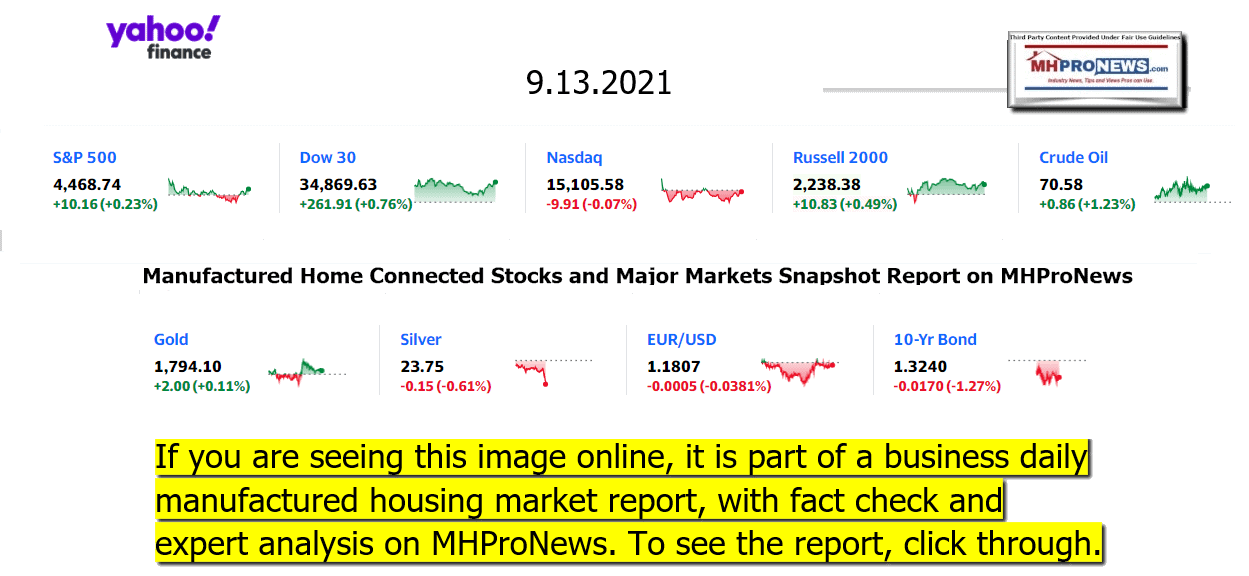 Headlines from left-of-center CNN Business – evening of 9.13.2021 
Pump and dump
Representation of Bitcoin, Ripple, Litecoin and Ethereum cryptocurrencies is seen in this illustration photo taken in Krakow, Poland on June 6, 2021.
How a fake Walmart press release sent one crypto surging 25%
Apple issues urgent iPhone software update to address critical spyware vulnerability
What to expect at Apple's iPhone 13 event
Whirlpool will pay workers $1,000 to get vaccinate
Group representing Coke, Kellogg and Campbell Soup have concerns about Biden's vaccine order
Ransomware attacks are about to get worse. Here's how to stop them
Wall Street's warning: Stocks could retreat this fall
Here's who is hiring for the holidays so far this year
ANALYSIS The hard reality of Brexit is hitting Britain. It's costing everyone but Boris Johnson
New York will no longer be 'anti-business,' mayoral candidate Eric Adams tells Wall Street
Andrew Neil resigns as chair of GB News three months after network's launch
These Trump supporters would rather go to 'Facebook jail' than stop sharing misinformation
TOPSHOT – Britain's Emma Raducanu celebrates with the trophy after winning the 2021 US Open Tennis tournament women's final match against Canada's Leylah Fernandez at the USTA Billie Jean King National Tennis Center in New York, on September 11, 2021.
Can Emma Raducanu become sports' first billion dollar woman?
Attendees listen to presentations on a screen during the launch of the Ola Electric Scooter at the Ola Campus in Bengaluru, India, on Sunday, Aug. 15, 2021. The high-profile Ola founder Bhavish Aggarwal hopes to make 10 million vehicles annually or 15% of the worlds e-scooters by the summer of 2022 before selling abroad as well
New electric scooter factory will be run exclusively by women
LAS VEGAS, NV – AUGUST 28: A TMZ logo is displayed during the launch party for IGT's TMZ Video Slots at the Hard Rock Hotel" Casino on August 28, 2016 in Las Vegas, Nevada.
TMZ sold to Fox Entertainment
ACROSS THE POND
Britain's Prime Minister Boris Johnson speaks during a press conference inside the Downing Street Briefing Room in central London on September 7, 2021. – Breaking an election pledge not to raise taxes, British Prime Minister Boris Johnson on Tuesday announced hefty new funding to fix a social care crisis and a pandemic surge in hospital waiting lists.
National insurance hike sets UK on path to record level of taxes
UK worker shortages could cancel Christmas
McDonald's has run out of milkshakes in the UK
Philip Morris wants cigarettes banned in the UK by 2030
Why would anyone trust Brexit Britain again?
GAMING
The Epic Games Fortnite: Battle Royale video game is displayed on an Apple Inc. iPhone in Washington, D.C., U.S., on Thursday, May 10, 2018.
Judge rules Apple can't force developers to use App Store payment
China bans kids from playing online games during week
Why there is skepticism surrounding video game 'addiction'
Fortnite lets users watch MLK's speech. Why?
Activision Blizzard CEO calls lawsuit response 'tone deaf'
Headlines from right-of-center Newsmax – evening of 9.13.2021
Blinken Tells Irate Congress US Was Ready on Afghanistan Pullout
Secretary of State Antony Blinken appears remotely on a TV monitor on Monday to answer questions from the House Foreign Affairs Committee about the U.S. withdrawal from Afghanistan. (AP)
Blinken Tells Irate Congress US Was Ready on Afghanistan Pullout
Secretary of State Antony Blinken on Monday insisted that the Biden administration had prepared for worst-case scenarios in Afghanistan as irate lawmakers accused the White House of presiding over a historic disaster. [Full Story]
Related Stories
RNC: Fire Blinken For Botched Afghan Withdrawal
Blackburn to Newsmax: Were 'Missteps' in Afghanistan 'Intentional?'
After Afghanistan, Blinken Tells State Department Officials to 'Try and See Around the Corner'
Newsmax TV
Pataki: 9/11 Mourners 'Angry,' Fearful After Biden's Actions
Blackburn to Newsmax: Were 'Missteps' in Afghanistan 'Intentional?' |
Comer: Al-Qaida Tape Reveals Lack of US Intelligence Capability |
LaMalfa: 'Off Base' Newsom Deserves Recall Election |
Dershowitz: Concern on COVID Mandate 'Beyond Individual Choice' |
Pete King: 9/11 Shows 'Real Americans Love the Cops,' Our Country |
Dershowitz: Courts Will Rule Against Biden on Mandate Penalties |
More Newsmax TV
Newsfront
Judge to Consider Challenge to Arizona School Masks Ban
A judge is set to hear arguments Monday in a case seeking to overturn several new Arizona laws that restrict the power of local governments and school districts to impose COVID-19 restrictions such as mask mandates.The coalition of educators, parents and children's advocacy…… [Full Story]
Crowds Gather to Protest Biden's Idaho Visit
More than 1,000 protesters gathered in Boise, Idaho, on Monday [Full Story]
Blinken Tells Irate Congress the US Was Ready on Afghanistan
Secretary of State Antony Blinken on Monday insisted that the Biden [Full Story]
Biden's 'Outrageous' Vaccine Mandate Veers Toward 'Authoritarianism'
The American president threatening U.S. governors who disagree with [Full Story] |
RNC: Fire Blinken For Botched Afghan Withdrawal
The Republican National Committee on Monday called for President Joe [Full Story]
Apple Patches 'Zero-Click' Vulnerability Attributed to Hacker-for-Hire Firm
Apple released an emergency software patch to fix a security [Full Story]
Could Netanyahu Retake Power – Soon – Due to Biden's Stubbornness?
President Joe Biden's unyielding commitment to reopen the U.S. [Full Story] |
Abortion Providers Urge Supreme Court to Uphold Roe v. Wade Landmark
Abortion rights advocates on Monday urged the U.S. Supreme Court not [Full Story]
Ex-Pentagon UFO Chief Signs Book Deal
The former chief of a secretive Pentagon UFO program has signed a [Full Story]
Trafalgar Poll: Biden Vaccine Mandate Unconstitutional, Majority Says
A large majority of likely U.S. voters say President Joe Biden does [Full Story]
Doctor Discovers Natural Solution for Macular Degeneration! (Watch)
Get VisiClear Now
Washington University in St. Louis Probes 9/11 Memorial Vandalism
Washington University in St. Louis is investigating a student [Full Story] |
New York to Ban Sale of Gas-Powered Vehicles by 2035
Kathy Hochul, D-N.Y., on Monday signed legislation banning the [Full Story]
The Big Bang Theory Cast Is Much Different In Real Life
UpbeatNews
LaMalfa to Newsmax: 'Off Base' Newsom Deserves Recall Election
California Gov. Gavin Newsom had "certainly had" Tuesday's [Full Story] |
Merck Sees Potential US Authorization for COVID-19 Antiviral Before Year-End
Drugmaker Merck & Co Inc said on Monday it sees potential U.S. [Full Story]
Chris Christie: Biden's COVID Mandate Will 'Harden Opposition' Against Unvaccinated
President Joe Biden's new COVID-19 vaccine mandate for federal [Full Story]
California Man Arrested Outside DNC With Machete: Police
A California man espousing white supremacist views and armed with a [Full Story]
Trump Slams Back at Bush Criticism of 'Violent Extremists at Home'
Former President Donald Trump on Monday pushed back on a 9/11 warning [Full Story]
DeSantis Vows to 'Fight Back Against' Biden's 'Attacks' on Florida
DeSantis Vows to 'Fight Back Against' Biden's 'Attacks' on Florida
The months-long back-and-forth between President Joe Biden and [Full Story]
Some GOP Voters in California Recall Say Computer Showed They'd Already Voted
Some early GOP voters who reportedly tried to cast their ballots in [Full Story]
Kamala Harris Claims 'Protecting the Vaccinated' Needed to Stop Pandemic
Vice President Kamala Harris was criticized after tweeting that [Full Story]
NYTimes: FEC Dismisses GOP Complaint That Twitter Suppressed Hunter Biden Story
The Federal Election Commission dismissed a complaint from [Full Story]
Trump: Democrats 'Disparaged' COVID Vaccine During His Term
Former President Donald Trump on Monday said that Democrats [Full Story]
Judge Orders 2 Florida Teens Detained for Planning Mass School Shooting
A judge has ordered two Florid middle school students to be held at a [Full Story]
Trump Leaves Door Open for 2024 Run
Former President Donald Trump on Monday told Fox News that there may [Full Story]
Biden Trolled After Photo With Pro-Trump Kids Goes Viral
President Joe Biden was trolled on social media after a photo showing [Full Story]
Democrats Finalize 'Biggest Tax Increase in History'
Democrats on the House Ways and Means Committee are trying to wrap up [Full Story]
Mel Gibson Rails Against Woke Catholic Bishops in Video
Actor/director Mel Gibson denounced Roman Catholic bishops in a [Full Story] |
Bin Laden's Fatal Mistake: Counting on Vietnam-Style Protests
Osama Bin Laden envisioned a strike on U.S. soil 15 years before it [Full Story]
NBC Host Begs Americans to Get Vaccinated in 'Poison' Parody Song
Amber Ruffin, host of the "Amber Ruffin Show," on Friday night [Full Story]
House Dems: Raise Corporate Taxes to 25.6 Percent
As a way to help pay for their $3.5 trillion spending plan, House [Full Story]
Murdered Trump Supporter's Estate Sues Portland, Mayor, DA
The family of Aaron "Jay" Danielson, a Trump supporter murdered last [Full Story]
More Newsfront
Finance
Apple Fanfare Over iPhones, Watch, AirPods
Apple will hold its annual iPhone launch event on Tuesday, according to reports. Analysts expect Apple will unveil new iPhones with 5G connectivity and a more squared-off look; a brand-new Apple Watch with 16I% more pixels and a blood-pressure sensor; and AirPods. [Full Story]
UPDATE 1-ViacomCBS Breaks up Paramount's Film and TV Units
S&P 500 Snaps Losing Streak as Tax Hikes, Inflation Data Loom
Capital One to Test 'buy Now, Pay Later' Product This Year, CEO Says
Stocks Edge Lower on Wall Street Following a Dismal Week
More Finance
Health
Stress Raises Blood Pressure Over Time: Study
If you often feel stressed out, your blood pressure may rise over time alongside higher odds for other heart concerns, a new study indicates. Researchers found adults with normal blood pressure but high levels of stress hormones were more likely to develop high blood… [Full Story]
This Summer Saw a Surprising Spike in These Beauty Medications
Perform These 5 Exercises to Live Longer and Stronger
Biden Health Team, CDC At Odds Over Booster Plan
Death From COVID 11 Times More Likely If You're Unvaccinated: Study
Manufactured Housing Industry Investments Connected Equities Closing Tickers
Some of these firms invest in manufactured housing, or are otherwise connected, but may do other forms of investing or business activities too.
NOTE: The chart below includes the Canadian stock, ECN, which purchased Triad Financial Services, a manufactured home industry lender
NOTE: Drew changed its name and trading symbol at the end of 2016 to Lippert (LCII).
NOTE: Deer Valley was largely taken private, say company insiders in a message to MHProNews on 12.15.2020, but there are still some outstanding shares of  the stock from the days when it was a publicly traded firm.  Thus, there is still periodic activity on DVLY.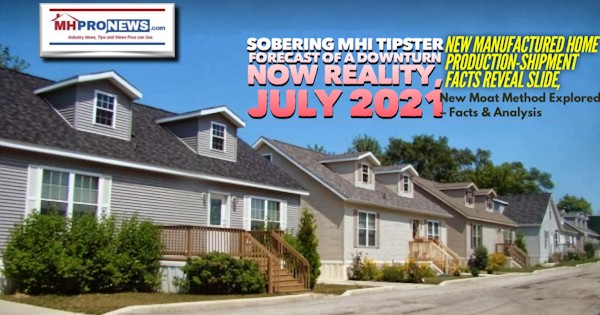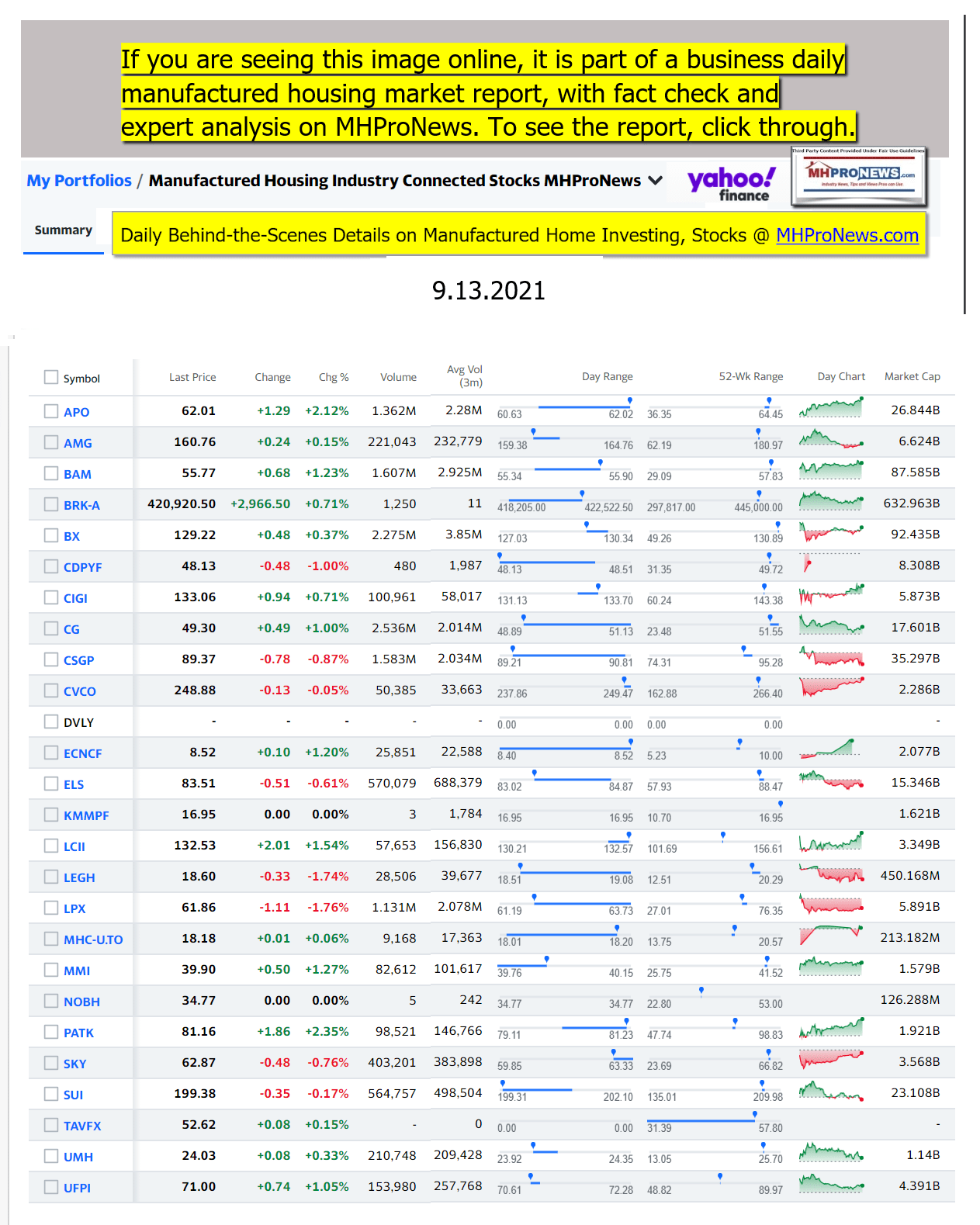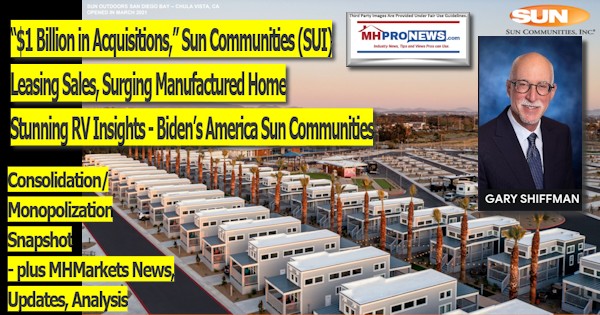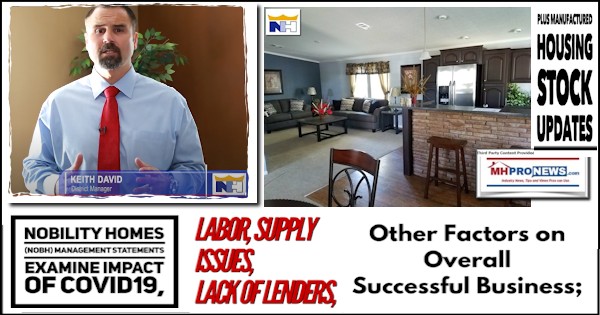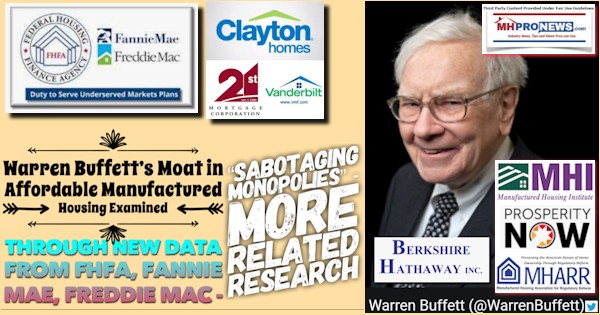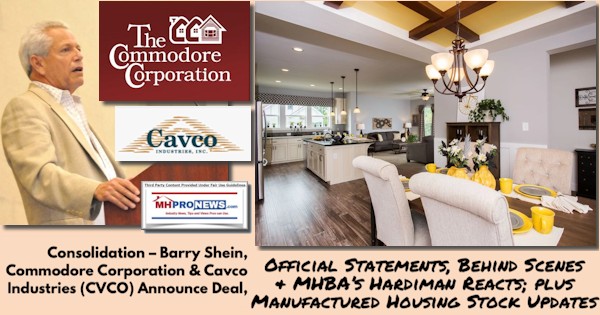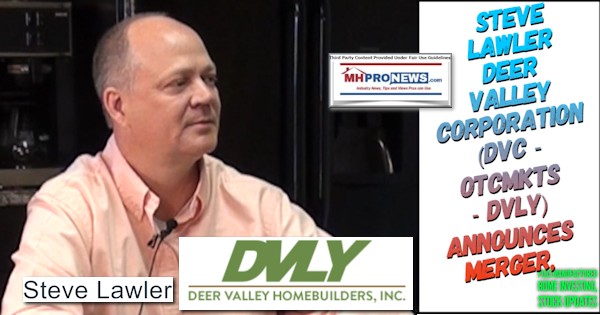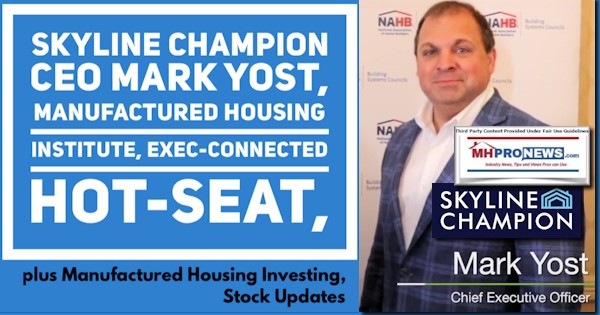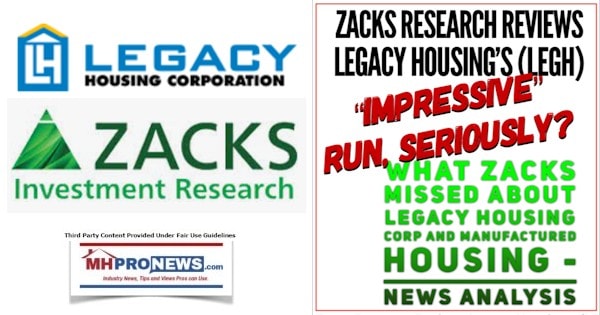 Summer 2021…
Berkshire Hathaway is the parent company to Clayton Homes, 21st Mortgage, Vanderbilt Mortgage and other factory built housing industry suppliers.
· LCI Industries, Patrick, UFPI, and LP each are suppliers to the manufactured housing industry, among others.
· AMG, CG, and TAVFX have investments in manufactured housing related businesses. For insights from third-parties and clients about our publisher, click here.
Enjoy these 'blast from the past' comments.
MHProNews. MHProNews – previously a.k.a. MHMSM.com – has celebrated our 11th year of publishing, and is starting our 12th year of serving the industry as the runaway most-read trade media.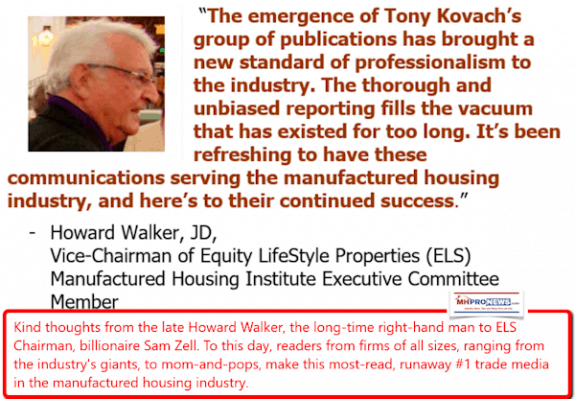 Sample Kudos over the years…
It is now 11+ years and counting…
Learn more about our evolutionary journey as the industry's leading trade media, at the report linked below.
· For expert manufactured housing business development or other professional services, click here.
· To sign up in seconds for our industry leading emailed headline news updates, click here.

Disclosure. MHProNews holds no positions in the stocks in this report.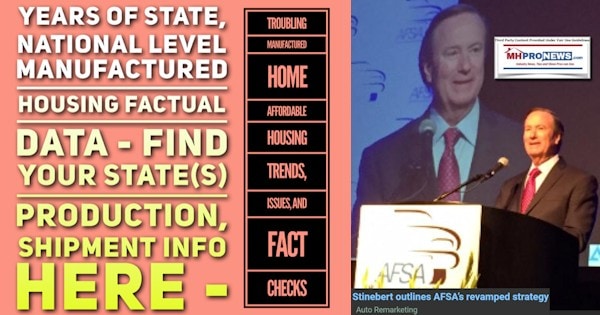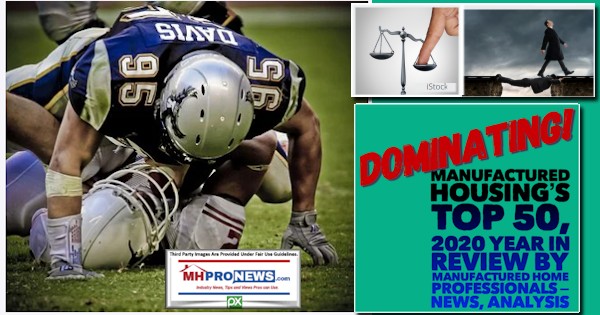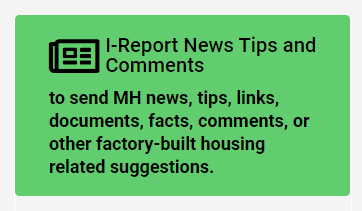 That's a wrap on this installment of "News Through the Lens of Manufactured Homes and Factory-Built Housing" © where "We Provide, You Decide." © (Affordable housing, manufactured homes, stock, investing, data, metrics, reports, fact-checks, analysis, and commentary. Third-party images or content are provided under fair use guidelines for media.) (See Related Reports, further below. Text/image boxes often are hot-linked to other reports that can be access by clicking on them.)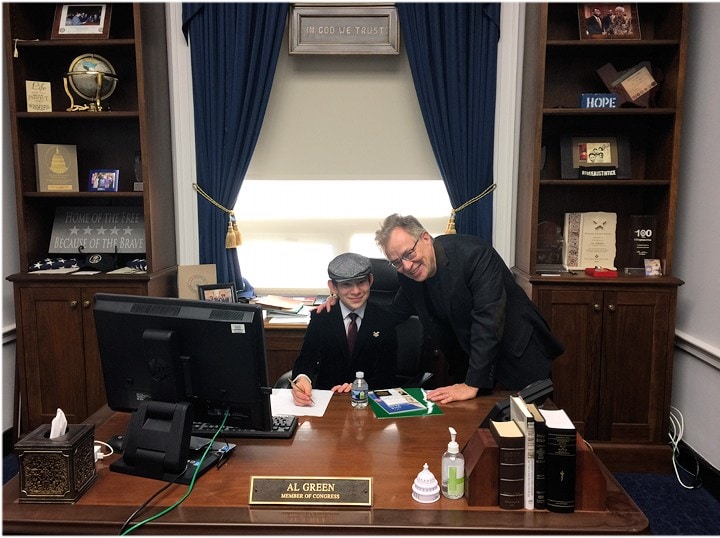 By L.A. "Tony" Kovach – for MHProNews.
Tony earned a journalism scholarship along with numerous awards in history. There have been several awards and honors and also recognition in manufactured housing. For example, he earned the prestigious Lottinville Award in history from the University of Oklahoma, where he studied history and business management. He's a managing member and co-founder of LifeStyle Factory Homes, LLC, the parent company to MHProNews, and MHLivingNews.com. This article reflects the LLC's and/or the writer's position, and may or may not reflect the views of sponsors or supporters.