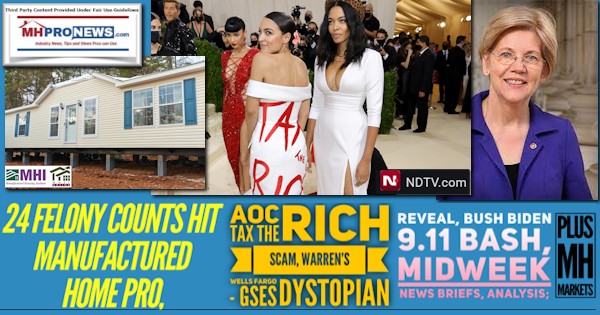 Some of what passes for news in the mainstream these days is upon close inspection thinly veiled propaganda. Sometimes that deception and misdirection is diabolically clever, sometimes that propaganda is brazen and discernable at-a-glance for those who set aside partisan talking points and then carefully consider the facts, evidence, and use their God-given common sense. After the news about a manager of a manufactured home business that faces dozens of felony charges, a series of news briefs will follow today. Several of those items in this test run of a midweek news briefs feature will illustrate the claim that much of the news attempts to obscure issues that ought to be the authentic headline.
Manufactured Home Retail Manager Charged
Christopher Holman, 35, of Altoona, WI was the "manager of a Rice Lake manufactured home business [A-1] that shut down in May 2020 while reportedly owing thousands of dollars in home deposits pleaded not guilty to 24 felony counts Sept. 3 in Barron County Circuit Court." Per Ashland Daily Press/APG Media of Wisconsin, "The Barron County Sheriff's Department had launched an investigation into A-1 Homes after several people reported that they had made down payments to the company to buy mobile or manufactured homes but had not received their money back after it closed without notice, the criminal complaint said."
Holman pleaded not guilty to all 24 felony counts. A jury trial is scheduled for Oct. 3, 2022. Holman's $25,000 signature bond continues. Per that same local media source "Previously, Holman pleaded guilty after two felonies related to the case were reduced to misdemeanors."
According to WQOW, the charges include "theft by contractor and filing false tax returns." Citing the "criminal complaint at least 17 people told sheriff's investigators they each gave Holman at least $5000 to $10,000 as down payments for mobile homes, but that A-1 Mobile Homes went out of business,  and they never got their homes, or their money back. Their losses total nearly a quarter-million dollars. Investigators say over two years, Holman spent more than $12,000 on adult entertainment services, $16,000 at restaurants, and nearly $4,000 on gambling websites."
Perhaps every word of that is true, but obviously Holman merits his defense and proverbial day in court.
But what that troubling tale begs is this question. Not to diminish any of what happened to those victims, why are others in our manufactured home profession who have arguably done far worse to far more people walking around in pressed shirts, pantsuits or skirts, suits, and sports coats? ##
AOC "Tax the Rich Met Gala" Soiree Dustup – What it Revealed
 According to several media outlets, including the right-of-center New York Post "Thomas Jones, founder of the American Accountability Foundation, wrote in an ethics complaint that he believes Ocasio-Cortez, who represents parts of the Bronx and Queens, broke House rules by accepting "an impermissible gift" of free tickets to attend the annual gala, which also was attended by fellow New York Democratic Rep. Carolyn Maloney.
"Although House rules allow members to accept free tickets to charity events directly from event organizers, Jones argues that the Met Gala doesn't count because the guest list is curated by a private company, media giant Condé Nast."
As left-leaning ABC News reported, "The New York congresswoman dominated talk about the gala on social media, with people calling her a hypocrite for wearing her economic justice message on the back of a fancy dress while attending a charity event attended by New York and Hollywood elites with tickets that cost $35,000 a pop."
Who wore what with whom are often the point of stories that involve the rich, glam, politically connected or positioned, famous and infamous. For AOC and her eye-catching and costly "tax the rich" gown several apparently hypocritical items comes into focus.  One, she and other attendees were unmasked. Meanwhile, the servants and others were routinely masked.
Also, how is it acceptable for a self-described 'socialist' to be parading around in high cost clothing, hob-knobbing with stars and elites? How's that for hypocrisy hiding in plain sight? As Zero Hedge recently observed, many on the left are just posturing support for the poor or lower income classes, while they brazenly support the interests of the politically connected wealthy and elites.
— Clown World Today (@cwt_news) September 14, 2021
It was a "stunning" design!

"AOC's 'Tax the Rich' Dress Does the Talking at New York's Met Gala"
https://t.co/K63gwgKqxr

— Gumby-Pokey Red-Green Alliance (@GumbyPokeyRGA) September 14, 2021
Bush 43, Biden Team Up to Trash Trump Supporters, Others
President George W. Bush (R) 43 and White House Resident Joseph "Joe" Biden (D) both spent some of 9.11 bashing Republicans and pro-Trump supporters who breached the U.S. Capitol on January 6, 2021. The left-of-center Washington Post said, "As President Biden and Vice President Harris also did in remarks for the 20th anniversary of the attacks, [former president] Bush…" also condemned "violent extremists at home." (disclosure: this writer is an independent). Bush and Biden drawing comparisons between 9-11 hijackers that killed thousands to those that unlawfully but mostly peacefully entered the U.S. Capitol Building on January 6, 2021 where a protester – an unarmed veteran named Ashli Babbitt – was killed by a cop, hardly seem like the same thing, right? Left-leaning NBC News said "Lt. Michael Byrd, who shot Ashli Babbitt, said he opened fire only as a "last resort"" but meanwhile, talk radio callers in law enforcement and in social media posts online often say that Byrd violated the basics of use of force, but still faces no charges.
9.11 memorial assaults by Bush and Biden were fine distractions away from Bush's role in manipulating Americans into Afghanistan and Iraq, where numbers of his corporate buddies made big bucks. Then Senator Biden supported that move into near east and central Asian wars. Similarly, Obama-Biden foreign policy 'blunders' such as Libya, Syria, Iran, Afghanistan, and the list goes on, have also benefited by distracting millions from chaos abroad and at home during their term too. What is similar in each case is that certain groups of well connected elites profit while millions of others are harmed. How many times does that pattern have to occur before it is called out as massive insider corruption?
Cartoonist Ben Garrison lampooned Bush and the 9-11 commission findings with this thought-provoking cartoon below. Garrison is among those who believe that the third building that collapsed near the Twin Towers is evidence that some in the government not only knew of the coming attack, but purportedly planted charges in the buildings to help bring them down, stir up American anger that was used to launch 2 decades of costly wars.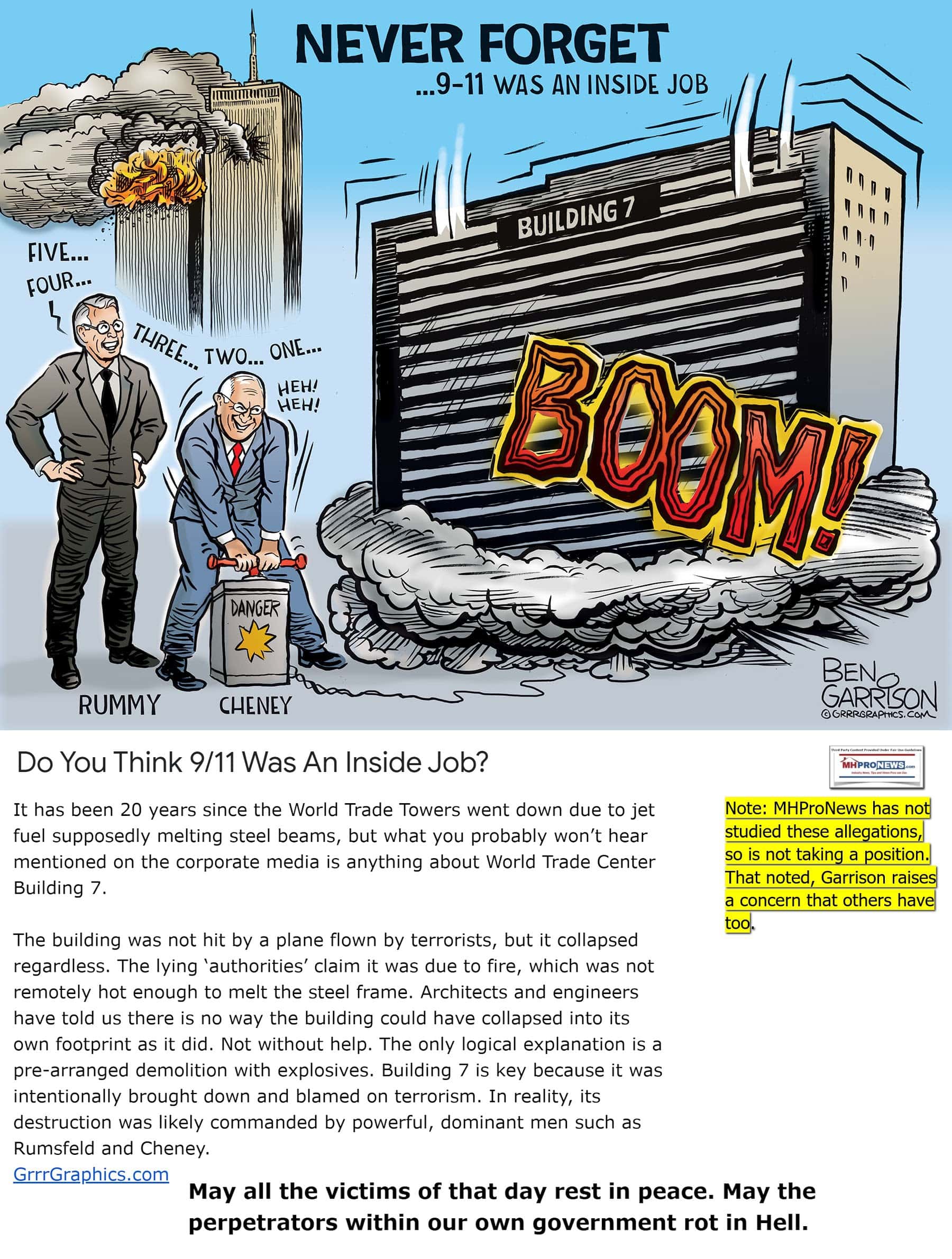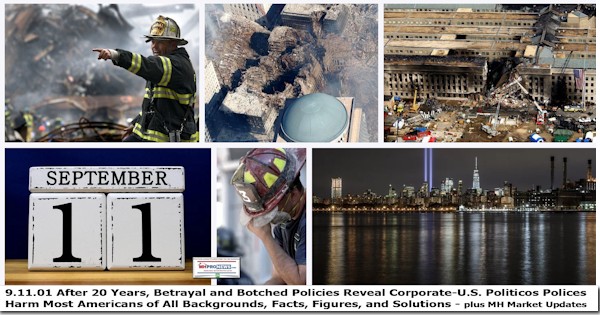 'Decertification' of 2020 Presidential Election Looming?
Various election probes by Republican lawmakers and public officials in states such as Arizona, Georgia, Pennsylvania, Michigan, and Wisconsin are still grinding ahead. While evidence is emerging, additional formal claims are still pending. That noted, 45th President Donald J. Trump has come out and said that once sufficient evidence has been provided, there will be a move to decertify the 2020 presidential election.
That public statement by the exiled commander in chief may be welcomed even by some Biden voters, as recent polling reflects "buyers remorse" in authentic votes cast for Biden.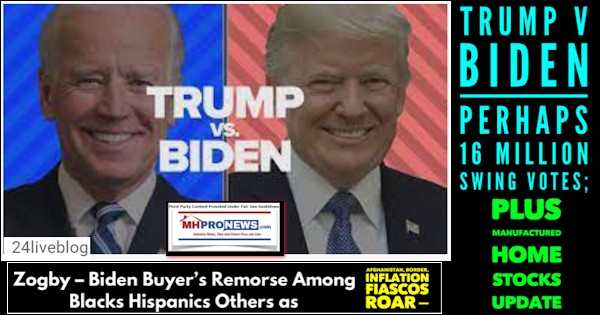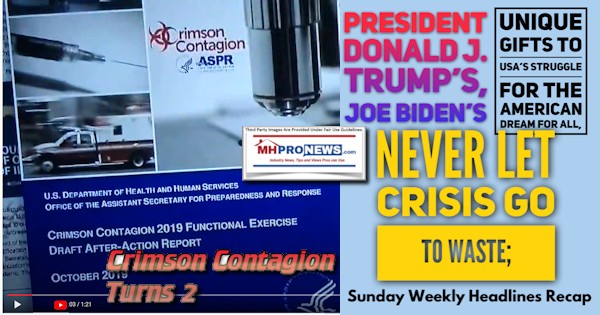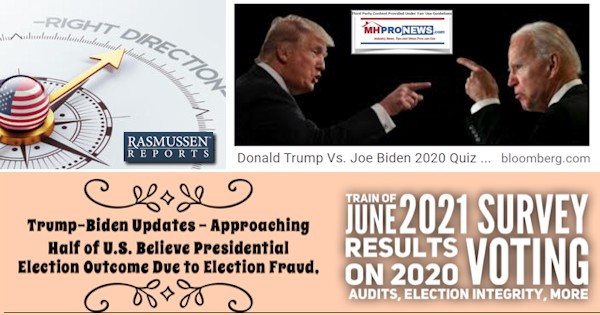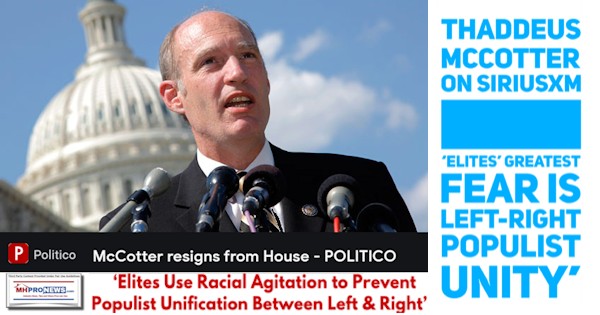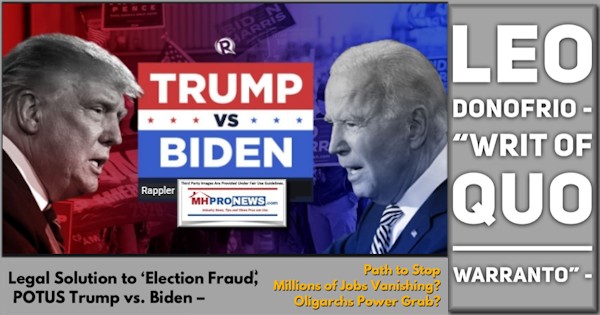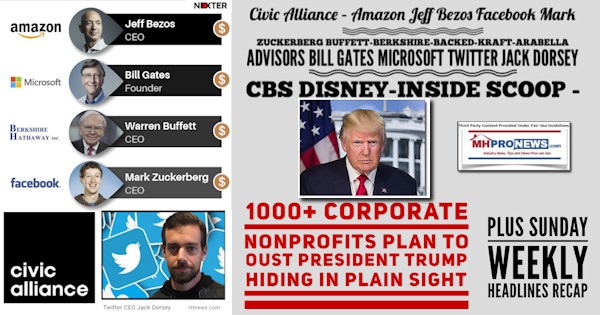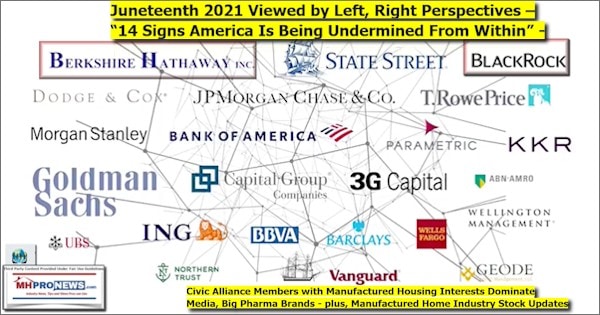 Sen. Elizabeth Warren urges the Fed to Break up Wells Fargo
According to left-of-center CNBC, "In a letter to Fed Chair Jerome Powell, the senator called on the central bank's board of governors to separate Wells Fargo's banking unit from its other businesses."
"In a letter to Fed Chair Jerome Powell, the Massachusetts Democrat called on the central bank's board of governors to use its authority to separate Wells Fargo's banking unit from its financial services businesses. She said the Fed could break up Wells Fargo by revoking its license to operate as a financial holding company." CNBC also said that "Last week, the Office of the Comptroller of the Currency hit Wells Fargo with a $250 million fine, saying it violated a 2018 consent order, a measure that requires financial institutions to address violations of regulatory standards."
That brief reveals much. Note that Senator Warren is not necessarily wrong. But consider the timing and other issues related to this announcement. Reuters reported on May 17, 2021 that "In a regulatory filing on Monday, Berkshire said it owned just $26.4 million of shares in the fourth-largest U.S. bank as of March 31, down from around $32 billion in January 2018. Berkshire began investing in San Francisco-based Wells Fargo in 1989, and spent at least $12.7 billion on its shares, building a 10% stake." When these issues began to emerge during the Obama-Biden Administration, Buffett defended the firm by saying that Wells was a great bank that made a terrible mistake. Similar remarks followed over time.
Buffett has a questionable record on ethics in several of the business units his Berkshire Hathaway owns outright or has a sizable stake in. Nevertheless, Buffett continues among some to enjoy a claim of caring about 'business ethics.'
One must recall that Buffett-led Berkshire once held positions in Fannie Mae and Freddie Mac.
Per the Motley Fool financial news and views site Buffett "in 2000, we sold nearly all of our Freddie Mac and Fannie Mae shares." So why did he do it? Freddie Mac became too focused on quarterly results, took on too much risk, and more. When he [Buffett] saw these things he noted, "I figure if you see just one cockroach, there's probably a lot." Value Walk noted that "Fortune Magazine conducted an interview with him [Buffett], where he praised the potential company growth. In 1989 the company was trading for around $6.83 per share. By 2000, Freddie Mac was trading between $41 and $64 per share. Then, Buffett changed his idea and decided that it was time to sell his shares."
Note that the financial collapse caused a massive transfer of wealth that reshaped much of the housing market, as deep pocket investors bought up foreclosed homes at a discount and turned them into rental property. In manufactured housing, the maneuvers detailed by Samuel Strommen at Knudson Law and others shed light on why the manufactured housing industry is so consolidated today. Another monopolistic practices researcher tells MHProNews that they are aware of the concerns that Strommen raised and could do a similar probe and report in the coming months.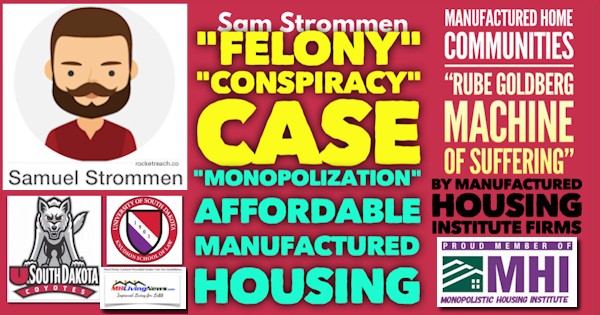 Buffett's sale of Fannie and Freddie shares sparked questions by federal officials. But in hindsight, if Buffett saw too much risk, why is it that federal regulators did not step in earlier?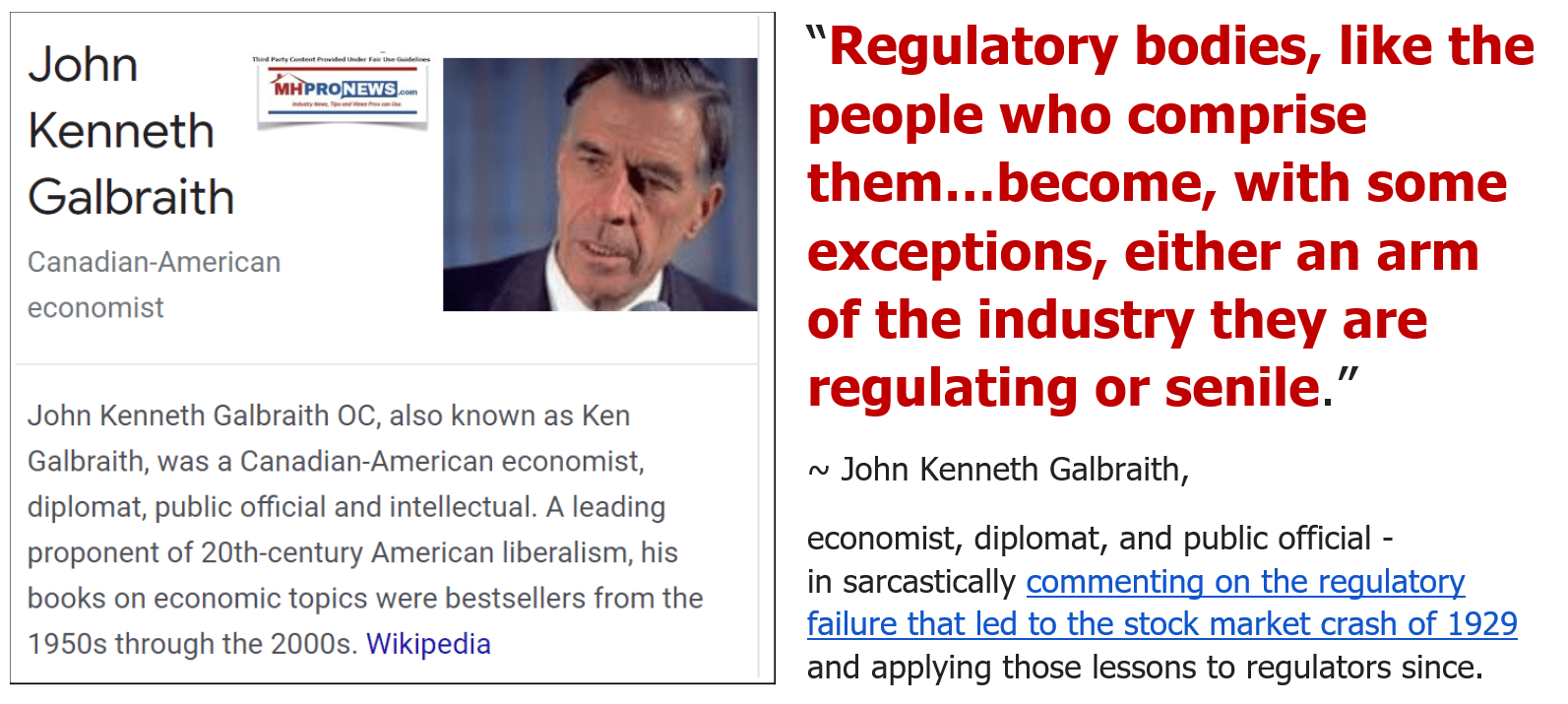 The answer is apparently politics and political donations. Because the warning signs were there. Buffett was not the only one to see it coming. Others did too. Several. Yet nothing happened to avert the calamity that shook the U.S. and much of the globe?
Buffett profited from his stake in those mortgage giants. Fast-forward to September 2021, and Warren and federal regulators are now pressing for moves on Wells Fargo a few months after Berkshire exited their stake in that firm?
Why didn't Senator Warren make this publicized call about Wells while Buffett's firm still held the stock?
Either Buffett and his ilk are just routinely lucky about dodging the possible fallout of federal moves, or Kevin Clayton's bragging in the video with transcript linked below about all of his contacts could have more to it that may first meet the eye.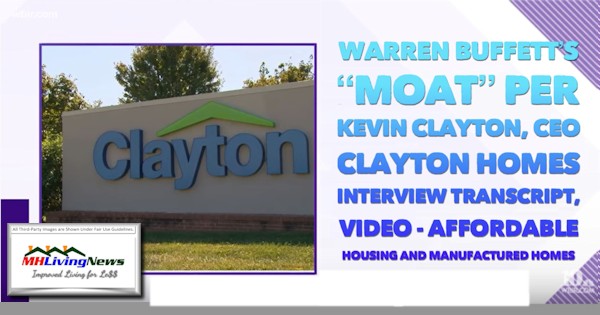 With past and more recent allegations and evidence pending, who in the federal government will press a serious probe into the steady oligopoly style of monopolization (consolidation into few hands) of manufactured housing to see who knew what, when, how and what laws they may have broken?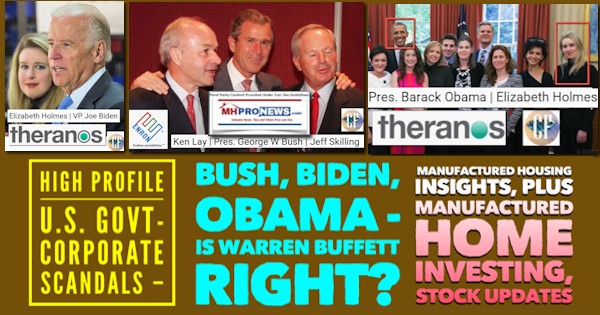 If a fellow in Wisconsin gets hit with 24 felony counts, how many counts might loom over the heads of various corporate and nonprofit leaders who were 'in on' the rigging of the manufactured housing market?
Summing Up the News Briefs Above – A Rigged, Corrupt System Hiding in Plain Sight
In order to hide something in plain sight various tactics can be deployed. Distraction, paltering, deception, and misdirection are among them.  But what those brief surveyed items reveal is that more common purported criminal activity can result in arrest and prosecution.  By contrast, big league corruption, fraud, and more often can roll on for years before it may – not necessarily will – be forced to halt.  That big league corruption occurs and may result in consequences are evidenced by the reports linked below.  Over a dozen major failures by numbers of mainstream media and public officials are illustrated.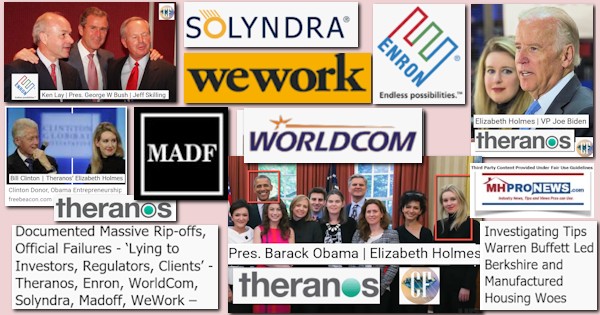 Yet despite that pattern, it is not well known. Perhaps more to the point, it is not widely reported by media. In affordable housing and manufactured housing, paltering, deception, and misdirection are evidenced too. To see examples of that, see the reports linked below.  The good news? There are times, as Madoff and other instances reflect, that big-time bad actors are prosecuted. But it may take numbers of voices protesting before that occurs.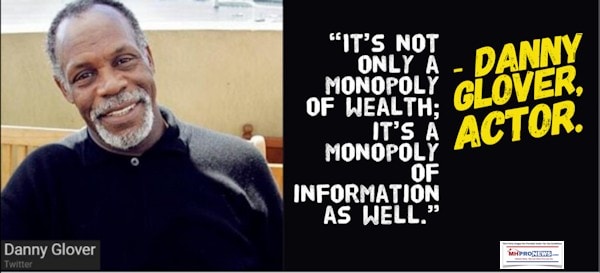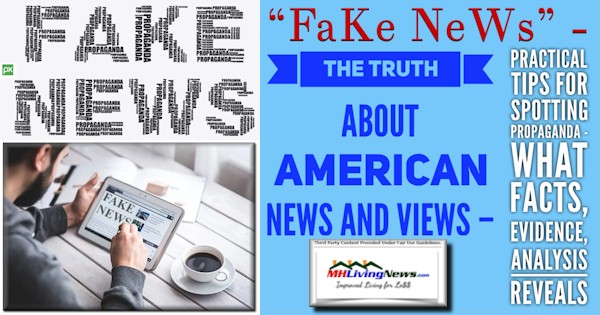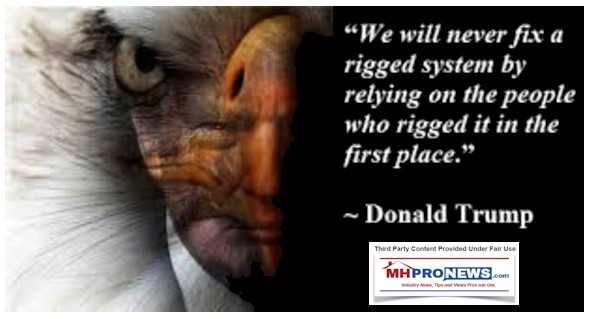 Yom Kippur, per NBC affiliate 9 News: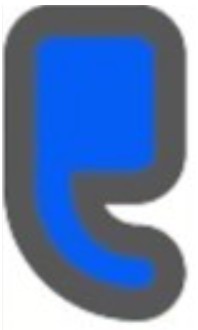 WASHINGTON — Yom Kippur is the holiest day on the Jewish calendar and also one of the most somber commemorations of the year.
It marks the end of the "Days of Awe," a 10-day period that begins on Rosh Hashanah, the other main High Holy Day which celebrates the Jewish New Year.
…Yom Kippur in English means "Day of Atonement" and focuses on repentance and asking forgiveness for wrongs that may have been committed over the past year. … Yom Kippur begins at Sunday Wednesday, Sept. 15, 2021. And ends at nightfall on Thursday, Sept. 16."
###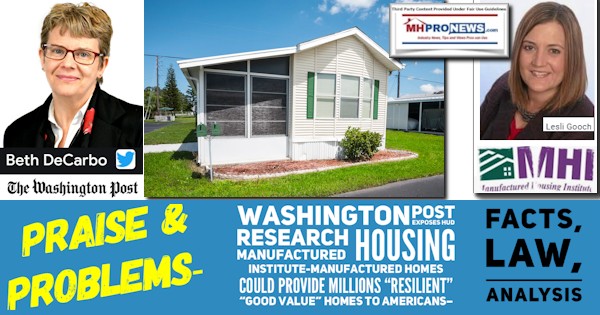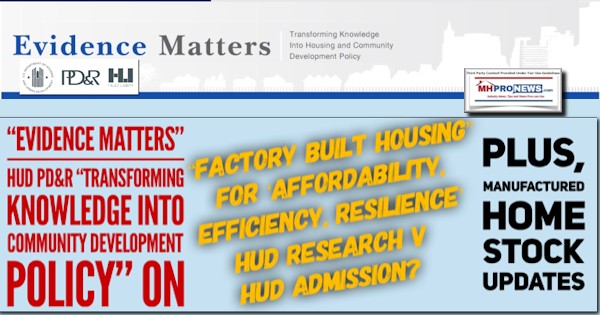 Next up is our business daily recap of yesterday evening's market report, related left-right headlines, and manufactured housing connected equities.
The Business Daily Manufactured Home Industry Connected Stock Market Updates.  Plus, Market Moving Left (CNN) – Right (Newsmax) Headlines Snapshot. While the layout of this daily business report has been evolving over time, several elements of the basic concepts used previously are still the same. For instance. The headlines that follow below can be reviewed at a glance to save time while providing insights across the left-right media divide. Additionally, those headlines often provide clues as to possible 'market-moving' news items.
Market Indicator Closing Summaries – Yahoo Finance Closing Tickers on MHProNews…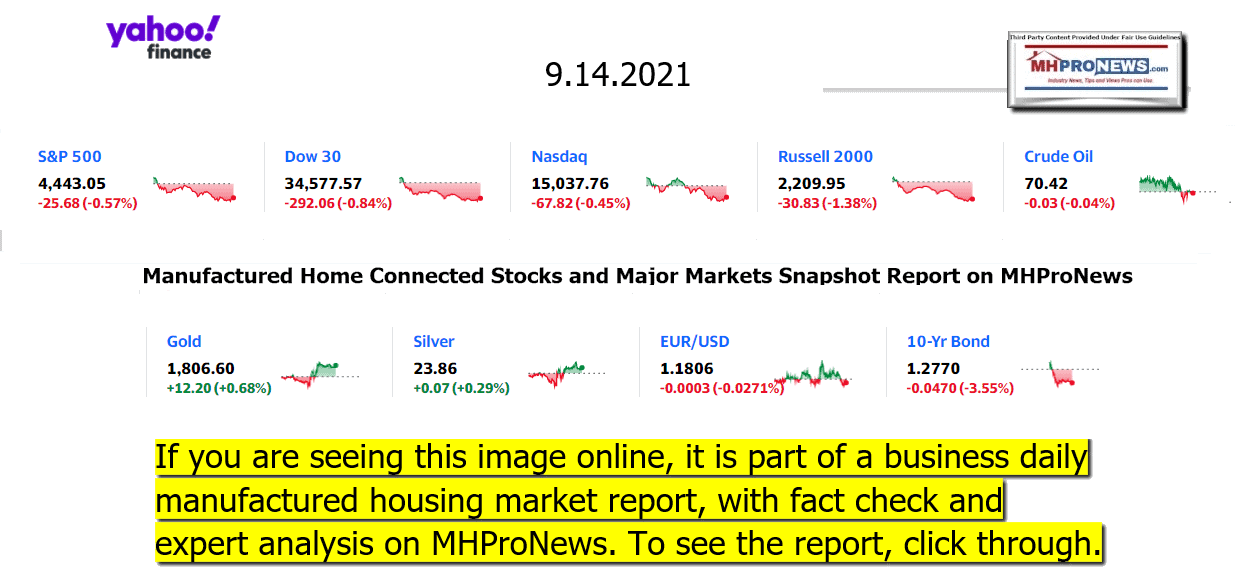 Headlines from left-of-center CNN Business – evening of 9.14.2021 
The right to repair
A new Biden executive order could make fixing your smartphone easier
LIVE UPDATES Economic warning light flashes red
Key measure of inflation posts biggest 12-month jump on record
Inflation is running hot: What comes next matters most
America's finance chiefs don't think inflation will go away anytime soon
Opinion: It's time to make these expanded tax credits permanent
Volkswagen wants its electric bus to drive huge sales growth in the US
Europe aims to kill gasoline and diesel cars by 2035
The pandemic walloped their businesses. Here's how they're doing now
Ransomware gang that hit meat supplier vanishes from the internet
Twitter's disappearing Snapchat clone… disappears
Facebook seeks FTC Chair Lina Khan's recusal from anti-monopoly case
Why companies are offering employees early access to their paychecks
Premium Joy is selling its last remaining unit of the Under The Sea foam floor puzzle for $28,000.
There's only one left of this popular toy. It's going for $28,000
A family enjoys dinner at a restaurant's outdoor patio on Wednesday, May 5, 2021 in Santa Monica, CA.
Inflation could force restaurants out of business without federal help
A commuter walks through Grand Central Terminal amid the coronavirus pandemic in New York City, October 19, 2020.
CEOs made 299 times more than their average workers last year. Here's who made the most
RED-HOT HOUSING MARKET
Residential homes in Lithonia, Georgia, U.S., on Tuesday, April 27, 2021.
Many homebuyers are dropping out of the market
Home buyers are paying $1 million over asking price
Disgusting 'house from hell' listed for $600,000
All-cash offers are king in this real estate market
People are snatching up vacation homes. And many are paying with cash
INVEST AHEAD
Meet the short seller who hopes stocks crash and burn
Here are the upcoming IPOs to put on your radar
Theme park stocks are on fire
Betting against meme stocks could get you burned
Berkshire Hathaway scraps pipeline purchase because of antitrust concerns
Headlines from right-of-center Newsmax – evening of 9.14.2021
20 States Support South Carolina in Abortion Lawsuit
Newsmax TV
Cloud: Texans Want Leaders Who Don't Run From a Fight
Nicole Malliotakis: Biden Should Apply Cuba Immigration Stance to Border |
Retired Admiral: Navy's Training Shifting Too Far From Warfare |
Buddy Carter: 'Radical Democrats' Ruined Baseball |
Texas Rep. James White: Disputed Bill Contains 'No Voter Restrictions' |
More Newsmax TV
Newsfront
House Select Committee Announces First Hearing to Probe Jan. 6 Attack
The special congressional panel investigating the Jan. 6 attack on the U.S. Capitol by supporters of former President Donald Trump said on Wednesday it would hold its first hearing on July 27.Members of the Democratic-led panel, known as the Select Committee to Investigate…… [Full Story]
Republicans Blast Dems' $3.5T Spending Plan as Biden Gives It His Stamp of Approval
President Joe Biden made the case for his sweeping, two-track [Full Story]
US Overdose Deaths Hit Record 93,000 in Pandemic Last Year
Overdose deaths soared to a record 93,000 last year in the midst of [Full Story]
Mike Pence: China Becoming 'Evil Empire'
Former US vice president Mike Pence warned Wednesday that China was [Full Story]
Tourism Is Rebounding From Pandemic, Fed's Beige Book Finds
The U.S. tourism industry is seeing a recovery during the crucial [Full Story]
Ken Cuccinelli: Biden, Dems Rely on 'Hysteria' for Voter Reform Push
Fair elections advocate and ex-Trump administration official Ken [Full Story] |
Haley Calls Blinken's Invite to UN Experts on Racism 'Insane'
Former U.N. Ambassador Nikki Haley harshly criticized the Biden [Full Story]
Kamala Harris Gaffe Shows Dems 'Out of Touch' With Rural Voters
Vice President Kamala Harris' odd assertion that citizens in rural [Full Story] |
Court Orders Shorter Sentence for 'Tiger King' Joe Exotic
A federal appeals court ruled Wednesday that "Tiger King" Joe Exotic [Full Story]
Yellen, Powell to Discuss Financial Risks of Hot Home Market
Treasury Secretary Janet Yellen and Federal Reserve Chair Jerome [Full Story]
Ex-NFL, Army Vet Jumps in Senate Race to Tackle 'Failing' DC Swamp
Jake Bequette is a patriot – in every sense of the word. He suited up [Full Story] |
Justice Dept. Watchdog: FBI Seriously Mishandled Nassar Case
The FBI made numerous serious errors in investigating allegations [Full Story]
Retired Admiral to Newsmax: Navy's Training Shifting Too Far From Warfare
The U.S. Navy is suffering from upper-level leaders who are [Full Story] |
In First for Gulf, UAE Opens Embassy in Israel, Hails Trade Ties
The United Arab Emirates on Wednesday become the first Gulf state to [Full Story]
GOP Sens Introduce Bill to End Travel Mask Mandates
A group of Republican senators believe it is time to unmask on public [Full Story]
County Won't Offer Up Voting Machines to Election Audit
One of three counties targeted by a Pennsylvania state lawmaker for [Full Story]
Gottlieb Casts Doubts on COVID 'Boosters Forever'
Former Food and Drug Administration head Dr. Scott Gottlieb said on [Full Story]
Amir-Abbas Fakhravar to Newsmax: Also Facing Threats From Iranian Regime
Amir-Abbas Fakhravar, the Senate Chairman of the National [Full Story] |
DeSantis Selling 'Don't Fauci My Florida' Merch
Florida Gov. Ron DeSantis has started offering branded merchandise [Full Story]
20 States Support South Carolina in Abortion Lawsuit
Twenty states are supporting South Carolina's defense of a new [Full Story]
Twitter Kills Off Ephemeral 'Fleets'
Twitter is disappearing its disappearing tweets, called fleets, after [Full Story]
Feds Charge 4 in Iran Plot to Kidnap US Writer, 4 Others
An Iranian intelligence officer and three alleged members of an [Full Story]
2 Wimbledon Matches Probed for 'Possible Irregular Betting Patterns'
The International Tennis Integrity Agency (ITIA) said it is [Full Story]
House Republicans Raise Record $20M in June Ahead of 2022 Race
The committee charged with helping Republicans wrest control of the [Full Story]
Britney Spears' Bid for Freedom Returns to Court
Three weeks after Britney Spears pleaded with a judge to get her life [Full Story]
Pope Francis Arrives at Vatican 10 Days After Surgery
Pope Francis was discharged from a Rome hospital and returned home to [Full Story]
Schumer Plans to Introduce Marijuana Bill
Senate Majority Leader Chuck Schumer, D-N.Y., along with Senate [Full Story]
Senate Dems Have $3.5T Budget Passable With 50 Votes
Senate Democrats announced Tuesday they have reached a budget [Full Story]
Cuba Confirms Man Killed in Protester Clash With Police
Cuban authorities confirmed Tuesday one person has died during [Full Story]
Stacey Abrams Gets Emmy Nomination
Stacey Abrams, the Democratic former candidate for Georgia governor, [Full Story]
More Newsfront
Finance
Fed's Powell Feels Heat on Inflation Front
Federal Reserve Chair Jerome Powell on Wednesday pledged "powerful support" to complete the U.S. economic recovery from the coronavirus pandemic, but faced sharp questions from Republican lawmakers concerned about recent spikes in inflation. [Full Story]
Powell: 'Substantial Further Progress' a Ways Off
Apple's Potential 'buy Now, Pay Later' Plan Sends Sector Shares Tumbling
How Inflation Spike May Go From Transitory to Long-Lasting
Capitalizing on Remote Work, Cities Draw in Tech Workers
More Finance
Health
Will You Need a COVID Booster Shot?
The big question on most American's minds is whether a booster shot will be needed to protect against the emerging COVID-19 variants, especially the aggressive Delta variant that is sweeping the nation. As new cases of COVID-19 rose almost 50% this week across the country,… [Full Story]
4 Fitness Tricks That Add Years to Your Life
US Overdose Deaths Hit Record 93,000 in Pandemic Last Year
Cancer Patients Not Protected After One Dose of COVID Vaccine
Alcohol Linked to 740,000 Cancer Cases Worldwide in 2020
Manufactured Housing Industry Investments Connected Equities Closing Tickers
Some of these firms invest in manufactured housing, or are otherwise connected, but may do other forms of investing or business activities too.
NOTE: The chart below includes the Canadian stock, ECN, which purchased Triad Financial Services, a manufactured home industry lender
NOTE: Drew changed its name and trading symbol at the end of 2016 to Lippert (LCII).
NOTE: Deer Valley was largely taken private, say company insiders in a message to MHProNews on 12.15.2020, but there are still some outstanding shares of  the stock from the days when it was a publicly traded firm.  Thus, there is still periodic activity on DVLY.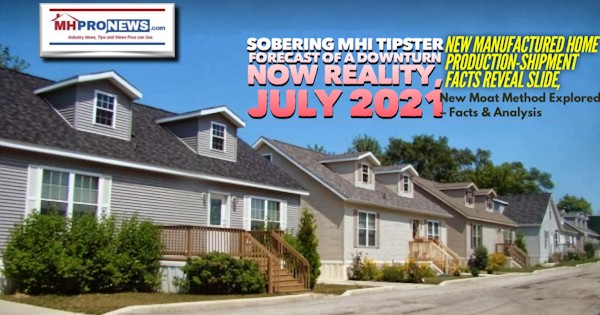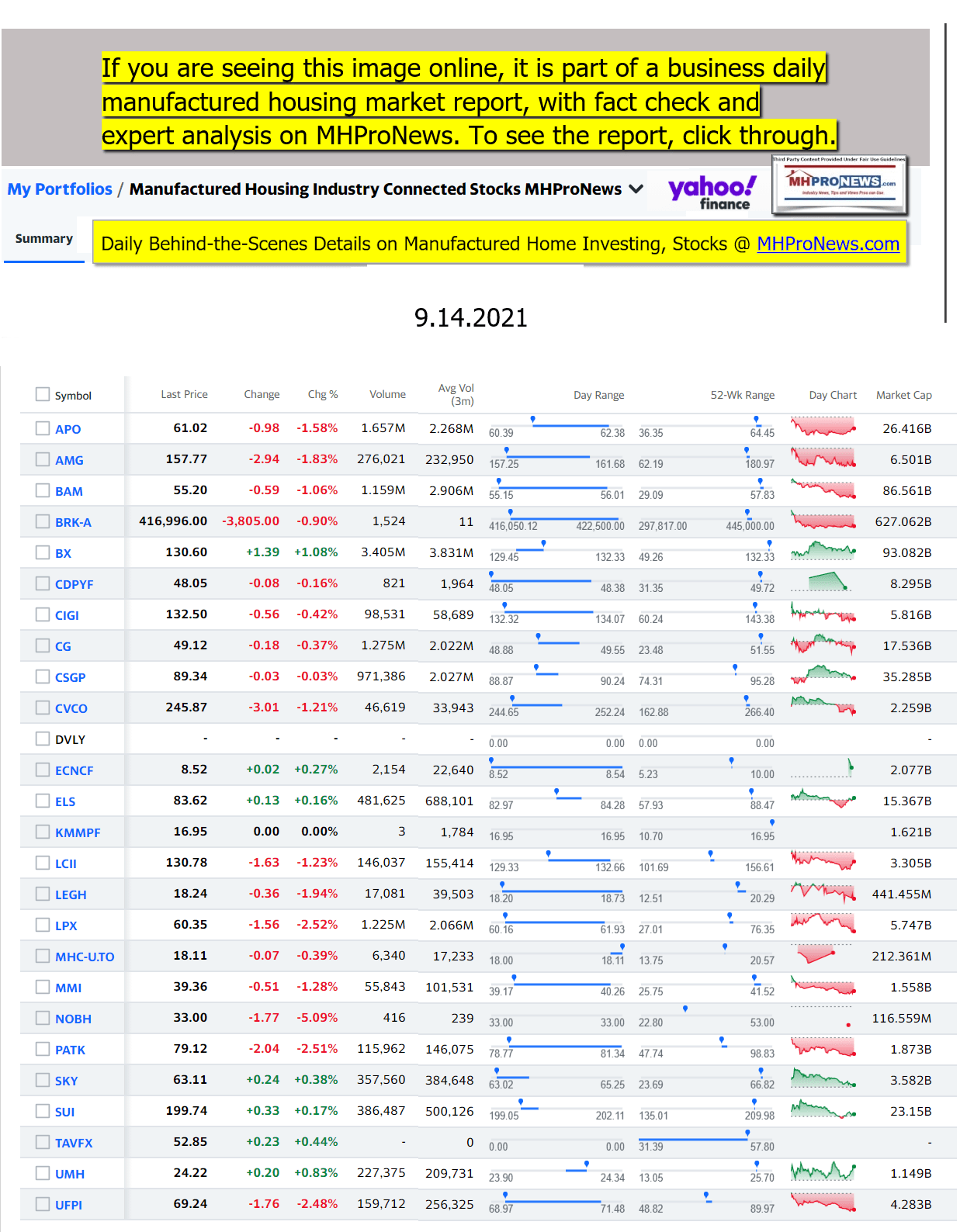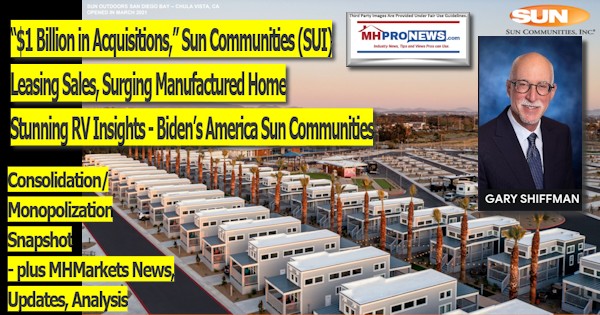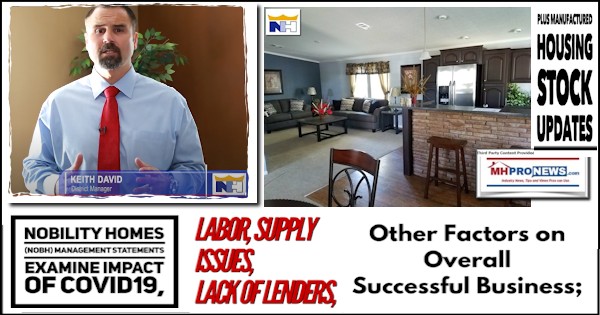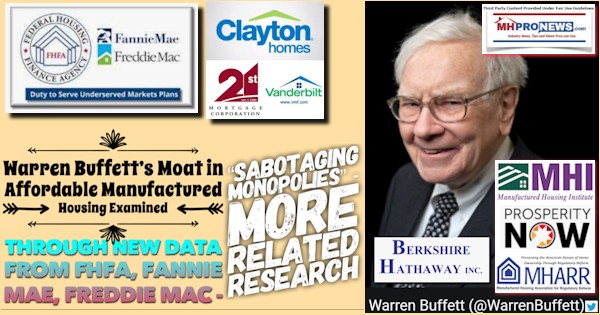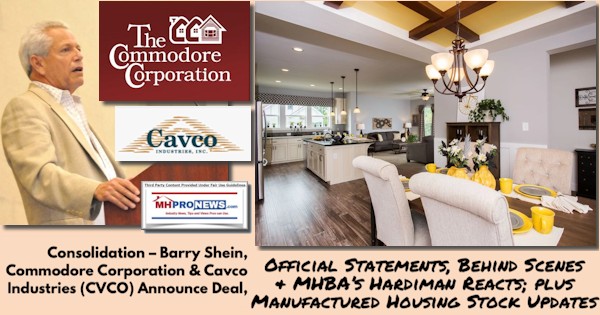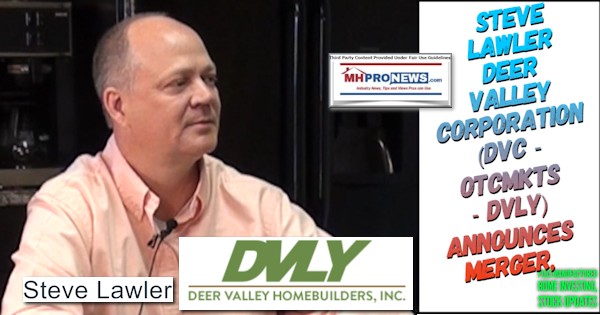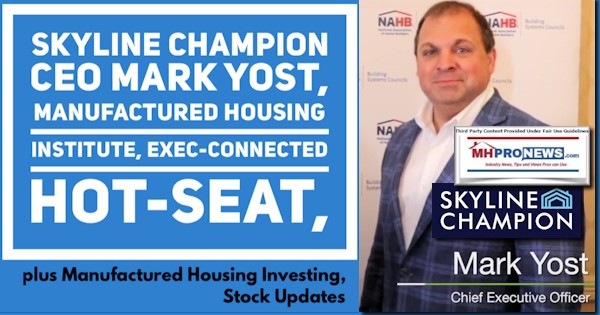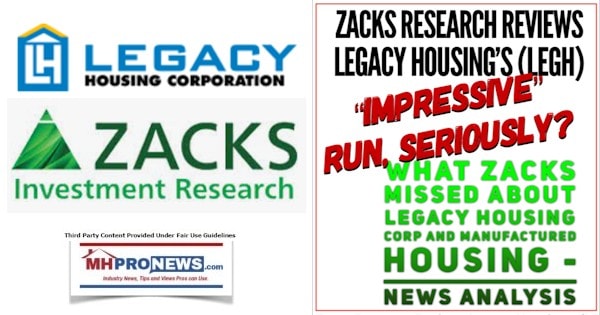 Summer 2021…
Berkshire Hathaway is the parent company to Clayton Homes, 21st Mortgage, Vanderbilt Mortgage and other factory built housing industry suppliers.
· LCI Industries, Patrick, UFPI, and LP each are suppliers to the manufactured housing industry, among others.
· AMG, CG, and TAVFX have investments in manufactured housing related businesses. For insights from third-parties and clients about our publisher, click here.
Enjoy these 'blast from the past' comments.
MHProNews. MHProNews – previously a.k.a. MHMSM.com – has celebrated our 11th year of publishing, and is starting our 12th year of serving the industry as the runaway most-read trade media.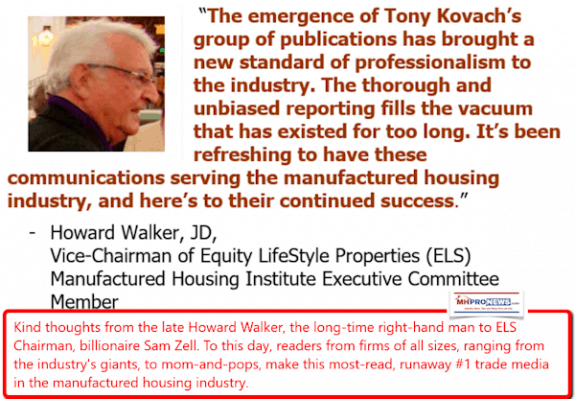 Sample Kudos over the years…
It is now 11+ years and counting…
Learn more about our evolutionary journey as the industry's leading trade media, at the report linked below.
· For expert manufactured housing business development or other professional services, click here.
· To sign up in seconds for our industry leading emailed headline news updates, click here.

Disclosure. MHProNews holds no positions in the stocks in this report.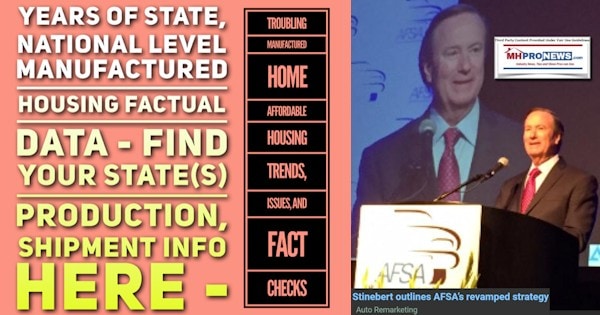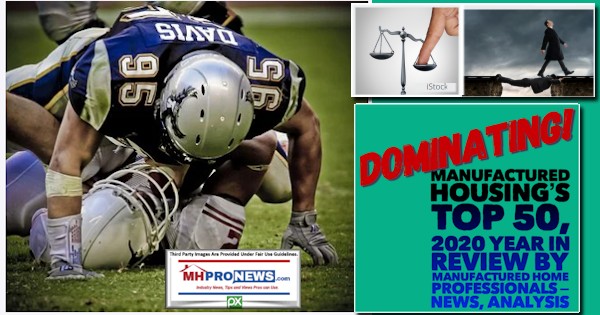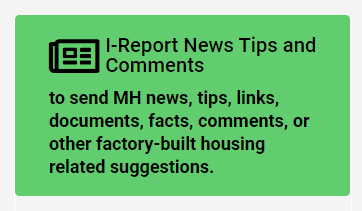 That's a wrap on this installment of "News Through the Lens of Manufactured Homes and Factory-Built Housing" © where "We Provide, You Decide." © (Affordable housing, manufactured homes, stock, investing, data, metrics, reports, fact-checks, analysis, and commentary. Third-party images or content are provided under fair use guidelines for media.) (See Related Reports, further below. Text/image boxes often are hot-linked to other reports that can be access by clicking on them.)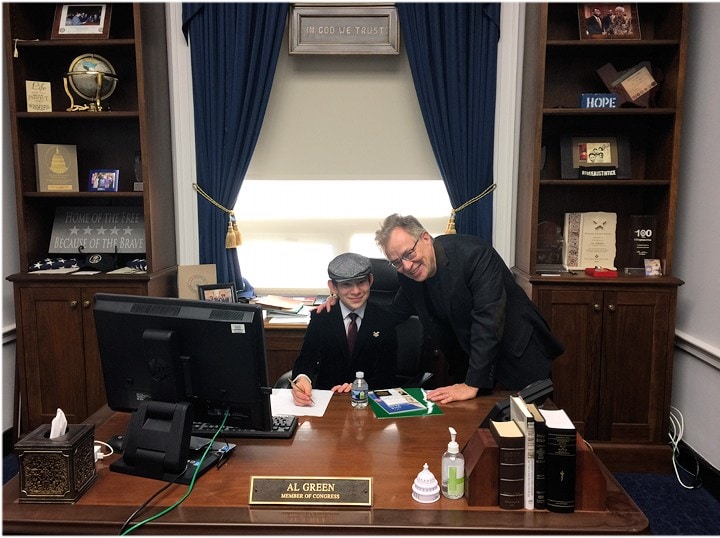 By L.A. "Tony" Kovach – for MHProNews.
Tony earned a journalism scholarship along with numerous awards in history. There have been several awards and honors and also recognition in manufactured housing. For example, he earned the prestigious Lottinville Award in history from the University of Oklahoma, where he studied history and business management. He's a managing member and co-founder of LifeStyle Factory Homes, LLC, the parent company to MHProNews, and MHLivingNews.com. This article reflects the LLC's and/or the writer's position, and may or may not reflect the views of sponsors or supporters.