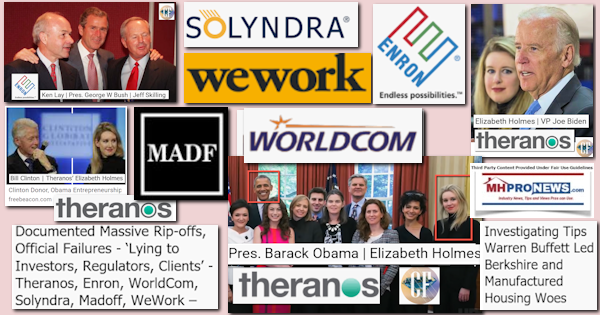 Theranos' "Elizabeth Holmes' trial [was] pushed to August following [a] surprise pregnancy announcement. Prosecutors said they were "frustrated" to learn recently that Holmes is due to give birth in July. A federal judge postponed her criminal fraud trial to Aug. … If convicted, Holmes could be sentenced to 20 years in prison." So reported CNBC on Mar 17, 2021.
In the Cold Fusion documentary below, starting at about the 21:15 mark are these pull quotes.
"…so, Elizabeth and Sonny both knew what they were doing. Lying to investors, their clients, the regulators, patients, and even their own board." Given that Holmes' has not been tried or pled guilty, much less been convicted, it might have been wise for them to have legally said 'alleged' lying. But their broader points in the second and third bullets below are supported by evidence and arguably apply.
"She seemed by all accounts a sociopath willing to stop at nothing to make her company a success not caring who or what got in her way. And who knows how far the lie could have gone she continued with all smiles and even after the truth came out."
"Elizabeth's actions could be a microcosm a case for a modern problem in society whether need to be successful or at least appear successful outweighs everything else."
The Cold Fusion narrator says that a weakness in "

the human condition

" is also "at play here" in the Theranos case. "It's the illusionary effect where if you repeat a lie enough times people start to believe it especially if you have credible names surrounding the product."
Then President Barack Obama is shown at about 17:02 in the video above with Holmes. There is ample evidence in several places in the video that the mainstream media bought into and fueled the hype for years, until the scandal became too big to conceal any more. Then, to borrow MHARR's Mark Weiss' observation in the report linked here, in Casablanca's character Inspector Renault fashion, the media and several public officials act "

Shocked, Shocked I say

…"
Then VP Joe Biden is shown in the video above at about 18:40. There are clips from the Clinton Foundation and that nonprofit's name sake with Theranos' Holmes.
There are obvious distinctions between each of the criminal cases shown in this report, as well as the WeWork and Berkshire Hathaway matters involving Clayton Homes and manufactured housing that will be cited. Setting WeWork and Berkshire aside for a few minutes, let's emphasize Cold Fusions apt point above once more. Because if there is a commonality to each of these issues, it might be summed up in this:
"It's the illusionary effect where if you repeat a lie enough times people start to believe it especially if you have credible names surrounding the product."
While Cold Fusion did not make the point, the Masthead will observe that in each of these cases, there were several layers of individuals benefiting directly or indirectly from the apparently fraudulent and otherwise allegedly illegal corporate behaviors. More on that later too.
Hold those two points in mind. the Big Lie backed by "credible" people surrounding a brand and layers of individuals and groups that benefit directly or indirectly from bad or illegal behavior.
Those themes run through those cases that have already been tried, those that are pending, and the case of Berkshire owned Clayton Homes which has arguably thus far largely escaped the proper level of scrutiny.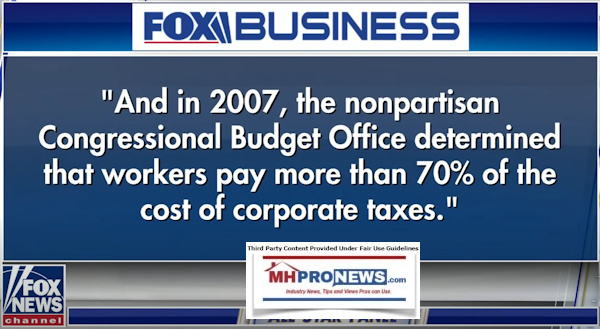 Evidence and Lessons of Solyndra, Enron, WorldCom, Madoff, Theranos, and WeWork
For those salivating over the Green New Deal, apparently the lessons of the massive failure of Solyndra are being overlooked or forgotten. A March 20, 2019 report on Fox News reminded readers that $535 million in federal loan guarantees were involved. Before the 2010 midterms, "Congressional investigators later uncovered information indicating that Solyndra was planning on laying off some of its employees ahead of the midterms, but waited due to pressure from the [Obama-Biden] White House." One week after the company announced it was filing bankruptcy, the once ballyhooed Solyndra offices were raided by the FBI.
Of course, by then, the damage had been done.
"In February 2011, the Department of Energy [DOE] had restructured its loan and included terms that guaranteed private investors would be repaid before the government in the event the company went under." Rephrased, taxpayers were given the shaft while private investors gained some added protection. But that also begs the question. How did the DOE miss all of the warning signs that later were found by the inspector general? "The IG admits that there were signs the government might have missed some obvious red flags, while critics have argued those red flags were more likely overlooked intentionally," said Fox.
"A 2015 Inspector General report found that Solyndra had over-inflated the value of some of its contracts, with some clients apparently receiving goods at a discount despite indications they would be paying full price. Some of the clients they had been counting on wound up bailing due to the availability of much cheaper technologies from China." This is one of many possible sobering lessons for those who put any faith in the latest promises of a Green New Deal that ignores market realities and past history.
The toxic mix of lies, lobbying, politics, political payoffs, deception, misdirection, and high profile names are clearly evident in the Solyndra fiasco. The first video below is a slick Solyndra pitch, that should be contrasted with the post-scandal report that follows it.
Yet that loan program kept getting funded by Congress, even after the big losses. "Even though President Trump has submitted very responsible budgets, including eliminating the loan program, Congress continues to fund it… even more generously," Tom Pyle, an energy industry expert, told Fox News.
 About half-way through this video is a panelist that asks the rhetorical question: "Does anyone remember Solyndra?" That is said in the context of even larger spending packages being passed and proposed by Biden-Harris that occurred during the Obama-Biden years.
"I think this [current infrastructure] bill is going to do anything but yield a lot of scandals…"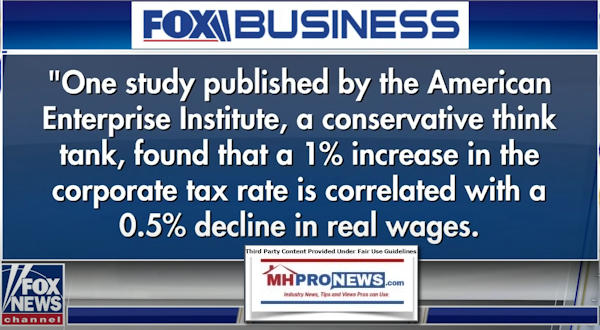 Part of the takeaway is this. It would be bad enough if Theranos and the Elizabeth Holmes stories, or that of Solyndra, were each a terrible but rare one off.
But the evidence proves otherwise.
There has been a string of high-profile cases in the 21st century alone that have included major crimes with convictions. These cases have cost Americans tens of billions of dollars in investments. In the case of Bernard "Bernie" Madoff, his operation was international, and the harm was significant in Europe and here in the U.S. too.
While some on the right want to say that these are just Democratic scandals, that would be inaccurate.
The video below is called "Enron – The Biggest Fraud in History." While the math should be done to see if Madoff was bigger than Enron, the broad point that massive fraud occurred stands.  Cold Fusion's YouTube page says "In this video we take a look at the Enron story. At over $60 billion being scammed away from the public, they were the biggest fraud in history. Yes, even bigger than Theranos."
Republican President George W. Bush has his fingerprints close to that Enron deal. More on that Bush-Cheney connection later below.
Taxpayers have in obviously been harmed when public money, not to mention legal costs, were involved.
What happened to the regulators?
Why were whistleblowers largely ignored by mainstream media and public officials until the dam in each of the cases shown in this report and analysis finally broke?
It is not in our headline, but a quick look at the Lehman Brothers scandal that was part of the 2008 housing-finance collapse are worth a few paragraphs.
"Lehman Brothers Holdings Inc. was a global financial services firm founded in 1847. Before filing for bankruptcy in 2008, Lehman was the fourth-largest investment bank in the United States, with about 25,000 employees worldwide," says Wikipedia.
Per the financial media platform, the Motley Fool – which cited Warren Buffett – noted that the evidence of the problems at Lehman were hiding in plain sight.
Lehman's problems were hidden in plain sight.
It's a common misconception that Warren Buffett's investing edge comes from insider knowledge unavailable to ordinary investors. What sort of due diligence did Warren Buffett do once Lehman approached him? He reached for a document available to all: Lehman Brothers' most recent annual 10-K report, which contained more than enough red flags to send a trained analyst fleeing from the shares. As Buffett recently told the Wall Street Journal [emphasis added]:
"[Holding a voluminous printout] This is a 10-K of Lehman Brothers. This goes back a little before the panic; Lehman was looking for money at that time and they approached Berkshire, I came down to the office at night and made these little notes on here of things that were red flags and you'll see a number of pages here [points to notes on the front page of the 10-K report he is holding]. You had to get to page 150 or 200, but there was clearly a lot of trouble there. By the time I got through 'em, we decided that we were not in a position to lend to Lehman."
Now, someone can argue that Buffett does have access to information that others do not have. Kevin Clayton has said as much in the video interview with transcript that is linked here.
But either way, a keen point in Buffett's explanation cited by the Fool above once more begs the question: where were the regulators? Or where were the investigative reporters?
The Business Explained WorldCom fraud video will speak for itself. It is one more example of tens of billions in fraud that involved company officials, auditors, missing regulators and reporters that picked up a story only after it broke.
"Today, we're going to be talking about what is probably one of the biggest accounting scandals and cover-ups to happen in this century. That's right, we're going to be talking about the WorldCom Fraud of 2002, where an internal audit unit discovered that the company had over a whopping 3.8 billion dollars worth of fraudulent balance sheet entries from the years 1999 to 2002," said Business Explained.
As Wikipedia put it, "Eventually, WorldCom was forced to admit that it had overstated its assets by over $11 billion. At the time, it was the largest accounting fraud in American history." All of the so-called institutional safeguards that are supposed to protect investors and the public, where were they?
WeWork is another scandal that is recent, and in some aspects, perhaps still developing. The Cold Fusion video below explains how tens of billions of 'valuation' vanished in a period of just 6 weeks.
Per their YouTube page: "From $47 Billion, to the verge of bankruptcy in just a matter of weeks. The WeWork disaster is a real roller coaster and it would seem that their erratic CEO Adam Neumann is mostly to blame."
Against that Backdrop, the Lessons from Harry Markopolos "Chasing Madoff" and Apparent "Tells" for Buffett, Berkshire and Clayton Homes
Once more, it must be stressed that each of these scandals mentioned has unique as well as apparently common features. For those who would defend Buffett, Berkshire, Clayton Homes, and their related lending, the case could be made that what they are doing is nothing like a Madoff-esque Ponzi Scheme. That would be true enough. But it dodges or misses the point that first got Harry Markopolos interested in the first place. There were obvious clues that should have been enough for regulators, media, or elected officials to have investigated and then acted. Similarly, there are obvious clues that the manufactured home markets is being manipulated. When the Cui Bono – who benefits? – question is asked and answered about the odd status quo in modern manufactured housing, that ought to cause objective truth seekers to investigate and then act according to the law.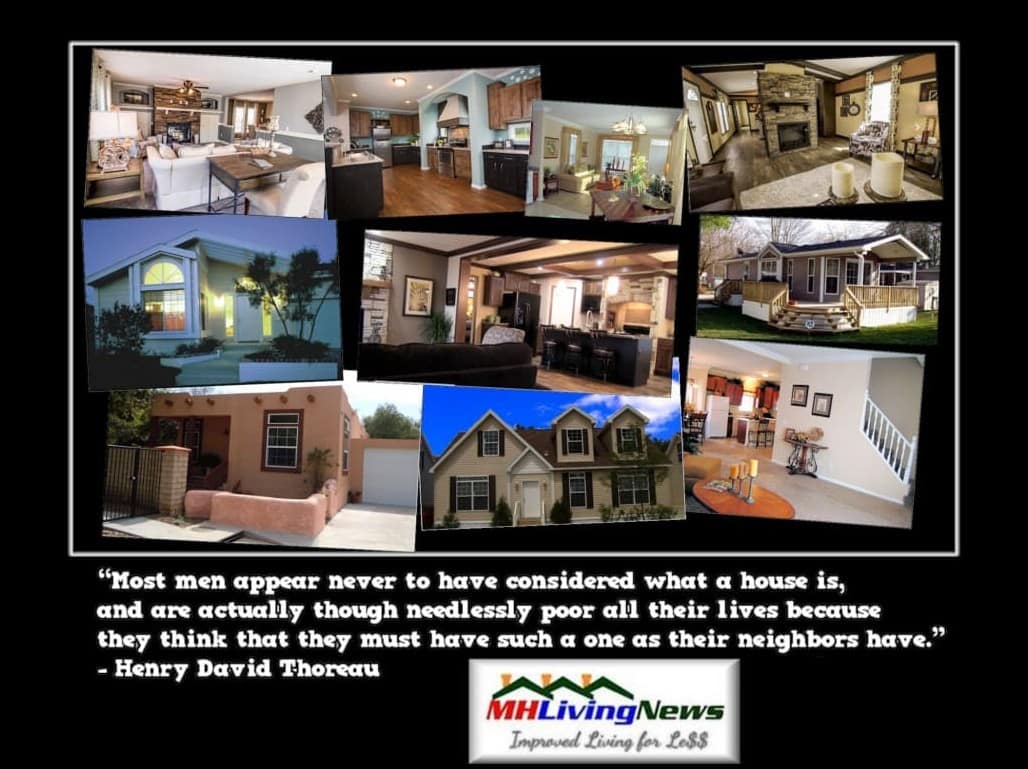 To illustrate the analogy being presented, Markopolos noticed that the Madoff marketing materials reflected a pattern that made no sense to anyone that understands the stock market.
From the Chasing Madoff video above, is this screen capture shown below. Once the clues that jumped out at Markopolos are understood, there are arguably analogous clues, "tells," or giveaways involving the purported, Buffett, Berkshire, Kevin Clayton, and Clayton Homes scam involving manufactured housing. The scams are arguably different. But they are analogous in the sense that credible personalities involved seemingly keep much (but not all) of mainstream media and regulators largely hands off. What media coverage of scandals in manufactured housing that have occurred, while useful for researchers and regulators, has not yet risen to the level that would motivate numerous officials into action. Further, once someone understands just how good the value proposition for a nation thirsting for affordable housing, then the oddity of such low levels of production in manufactured housing since Berkshire entered the industry should arise. Who has benefited from that pattern? Is it a surprise to say that low levels of sales and production have resulted in steady consolidation and discounted valuations by Buffett's brands and their corporate allies?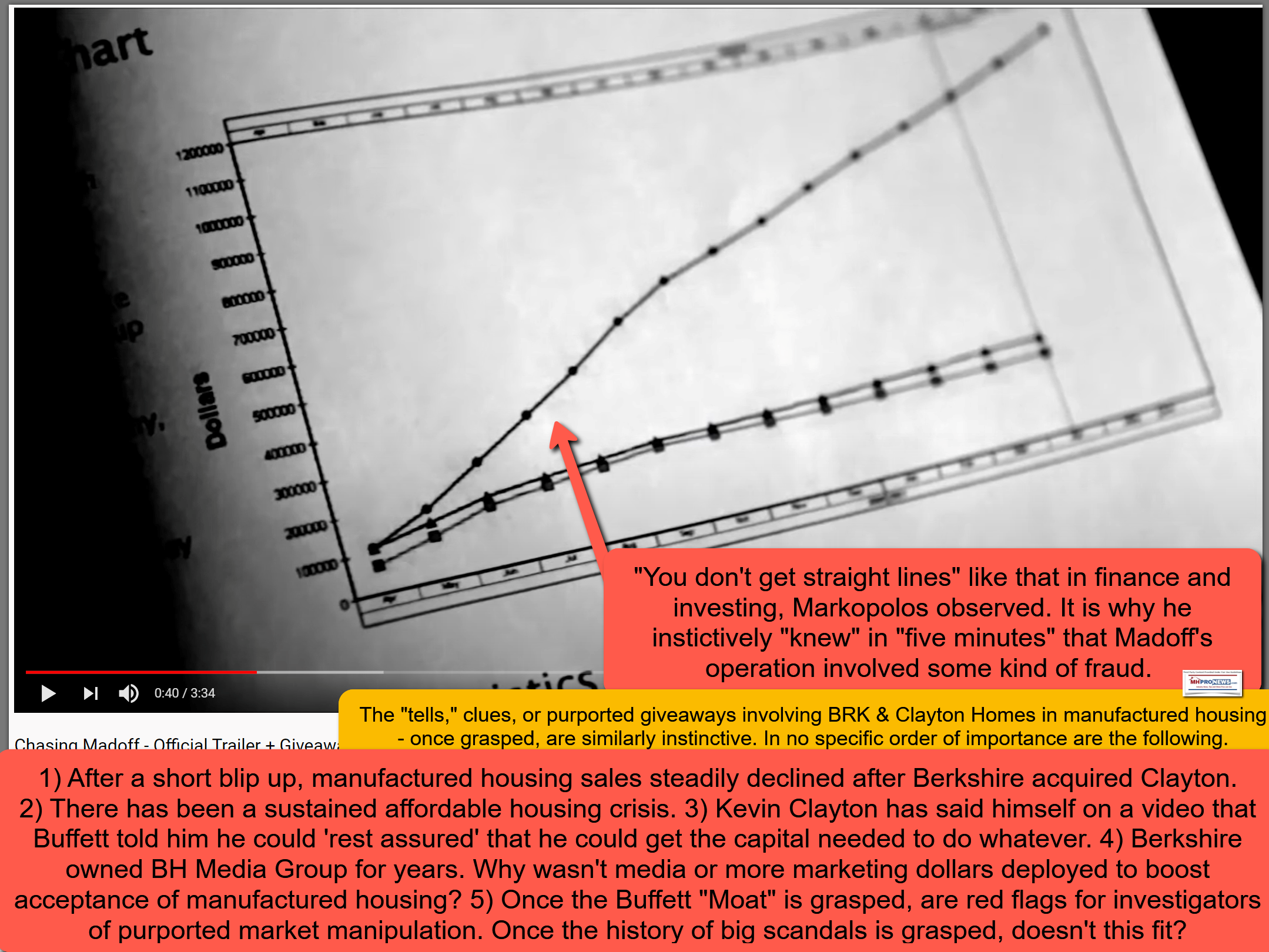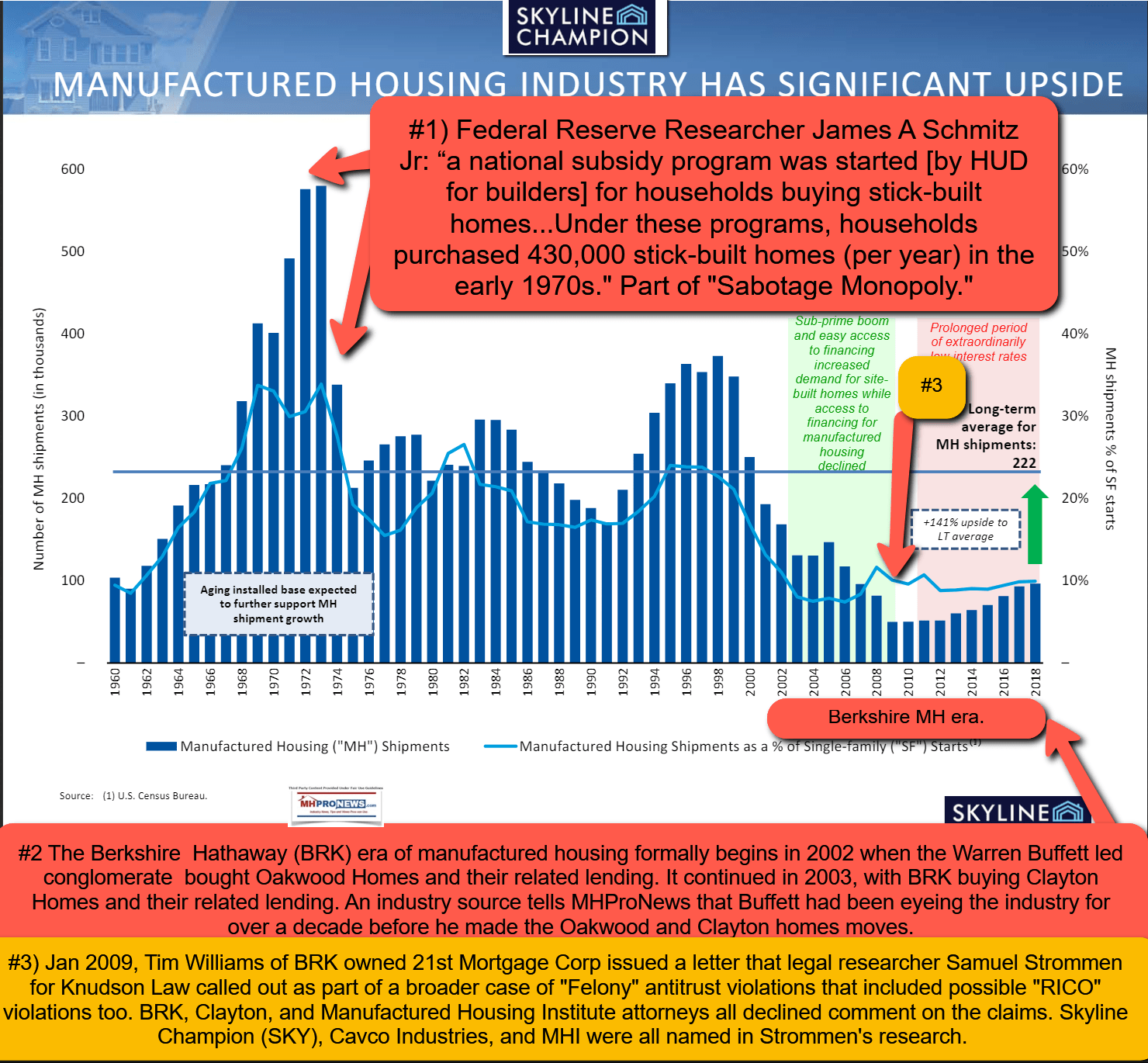 Once the clues are understood, public officials and others should spring into action. Why? Because this purported fraud is arguably far more impactful on American society that most if not all of the scams listed on this page.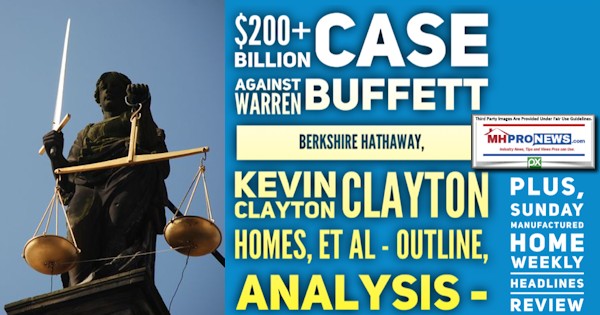 For details and evidence on various aspects of manufactured home industry specific concerns, see the linked reports herein.
Even based upon the insights already noted along with the screen captures/illustrations ought to be sufficient evidence to cause bipartisan official inquiries by lawmakers. They should also be joined by a range of public officials.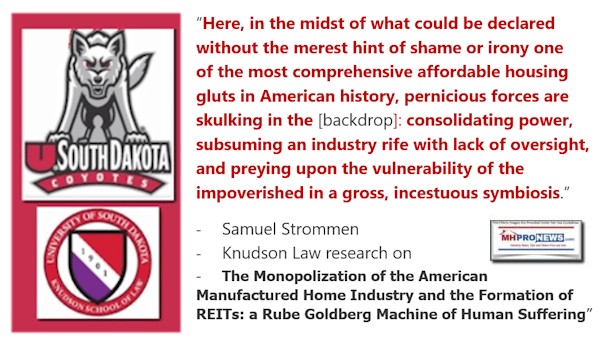 Markopolos spent years trying to convince people that he was right.
But as Markopolos himself observed, part of the evil genius of the now deceased Bernie Madoff was to create benefits for many in the mix. Even when there were reasons to think that Markopolos or other whistleblowers were correct about Madoff, the lobbying, the financial benefits (e.g.: campaign donations), and other 'perks' were apparently enough to get key people to look the other way.
In manufactured housing, literally millions of manufactured homeowners are being harmed as this article is being written. To unpack that with facts and evidence, see the report linked below.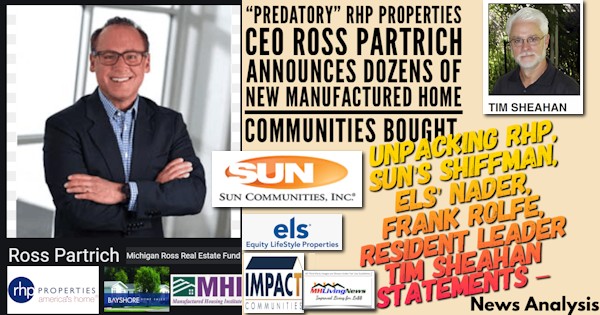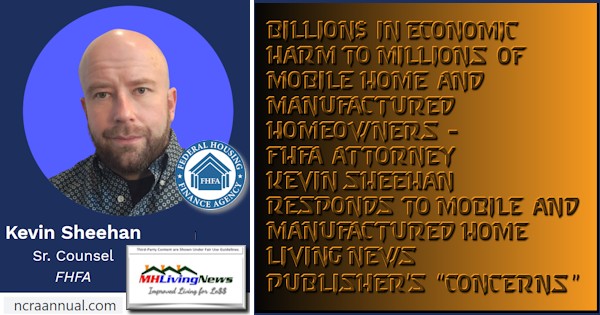 On the professional side, well over 10,000 independent manufactured home retailers and dozens of independent producers were driven out of business by the moat strategy that Kevin himself has bragged about on camera.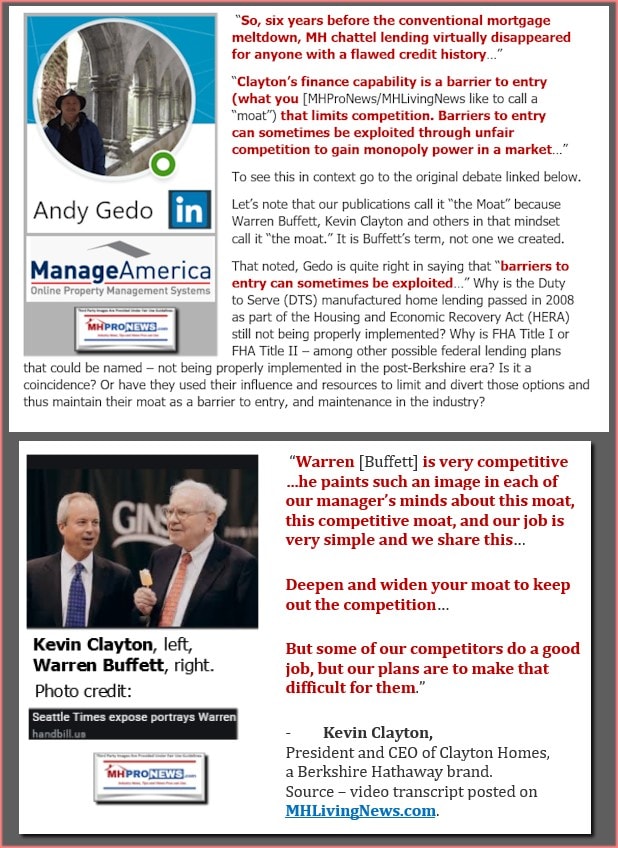 Warren Buffett has made his own statements relative to these issues.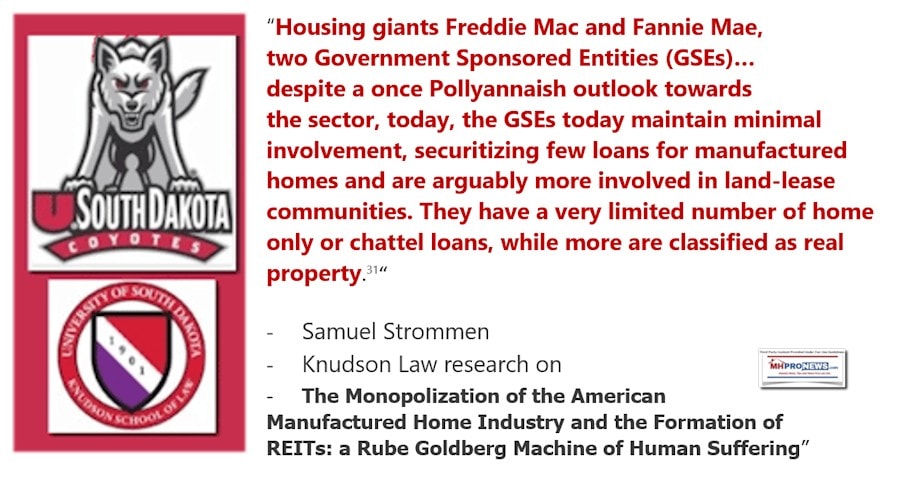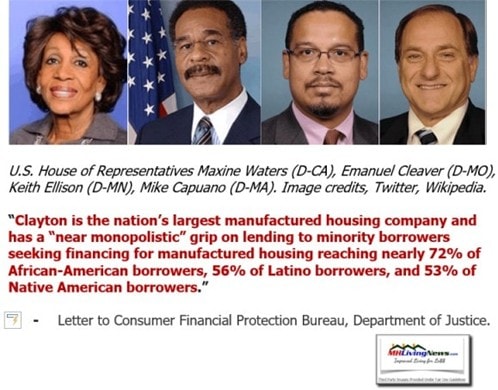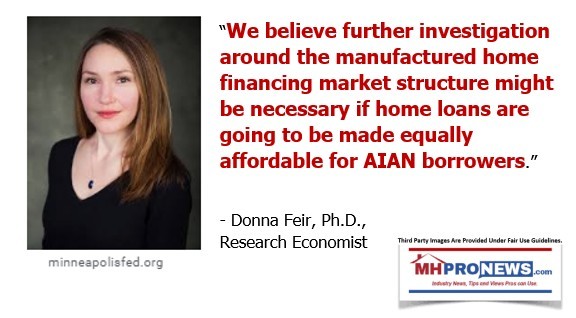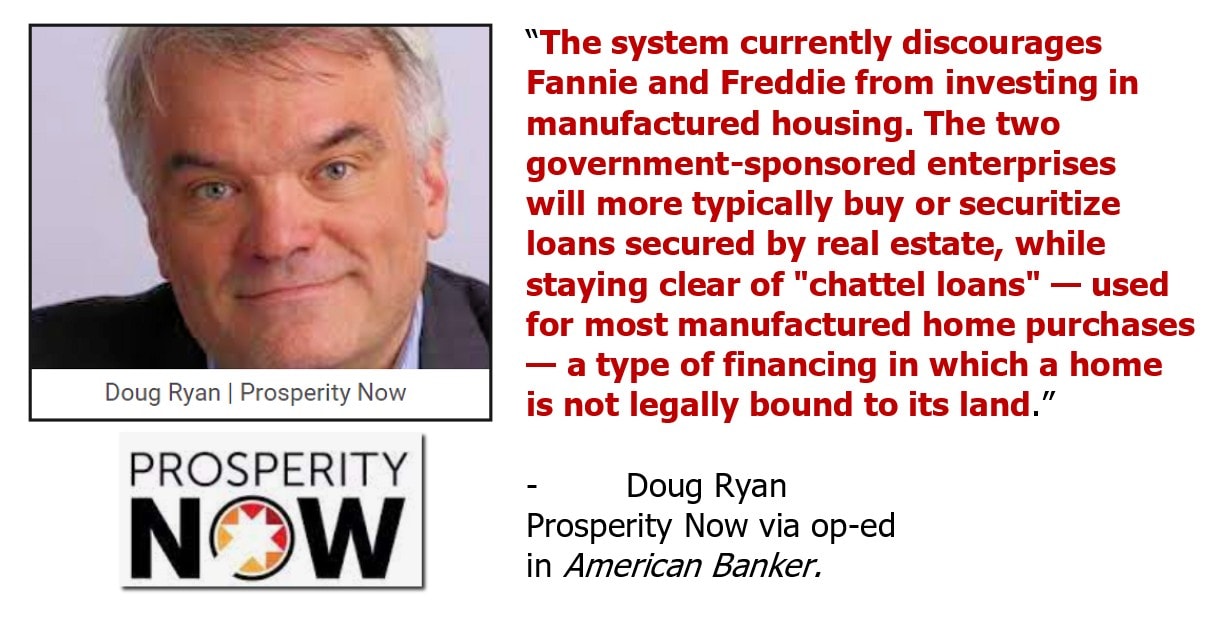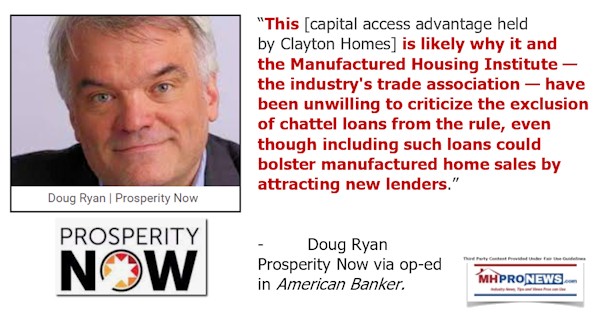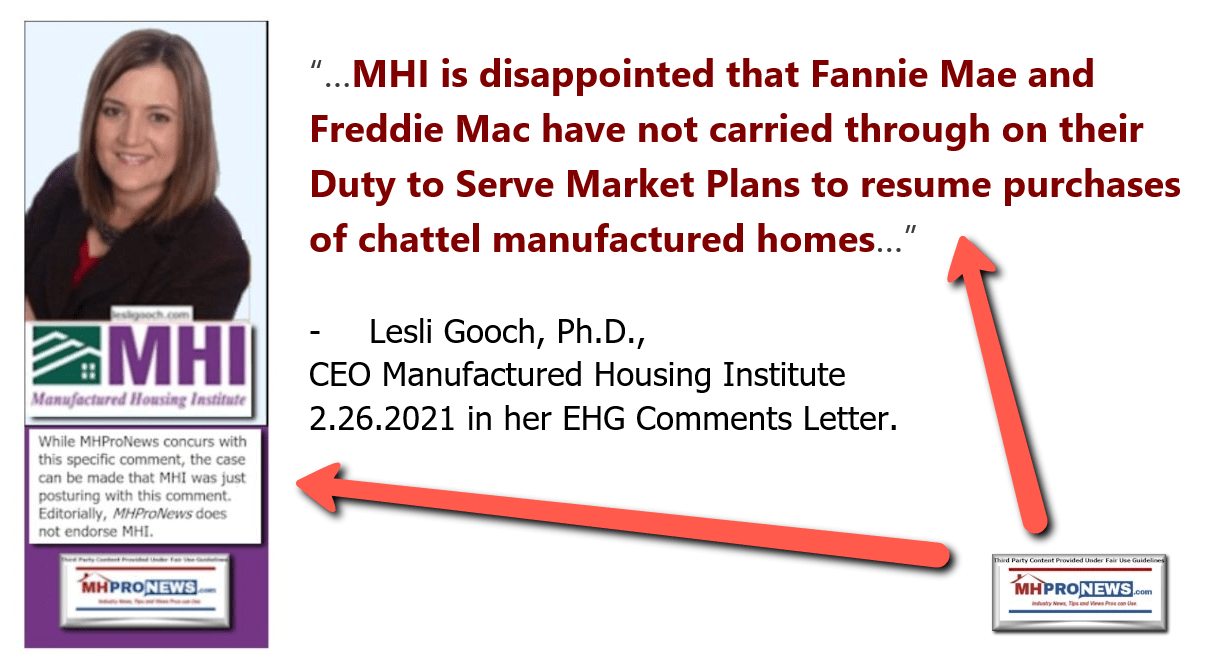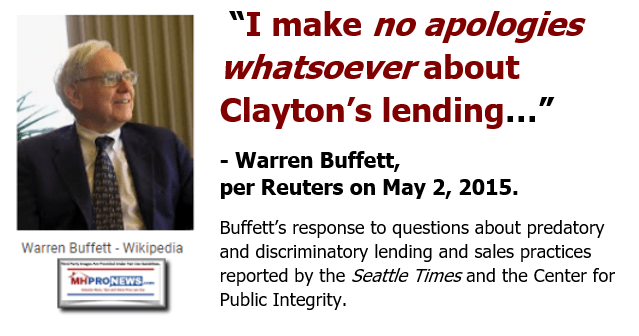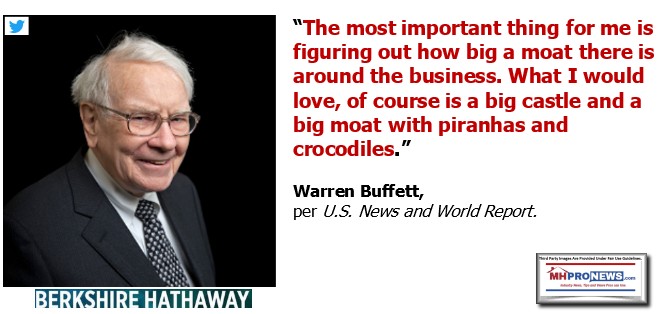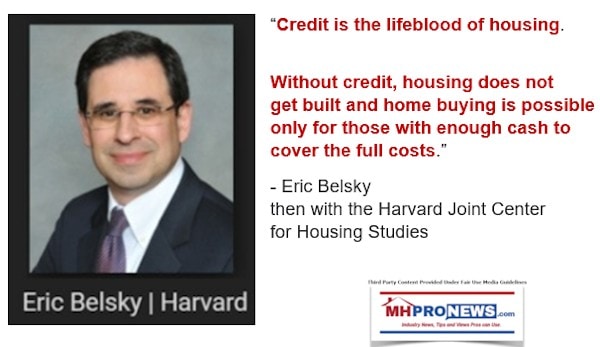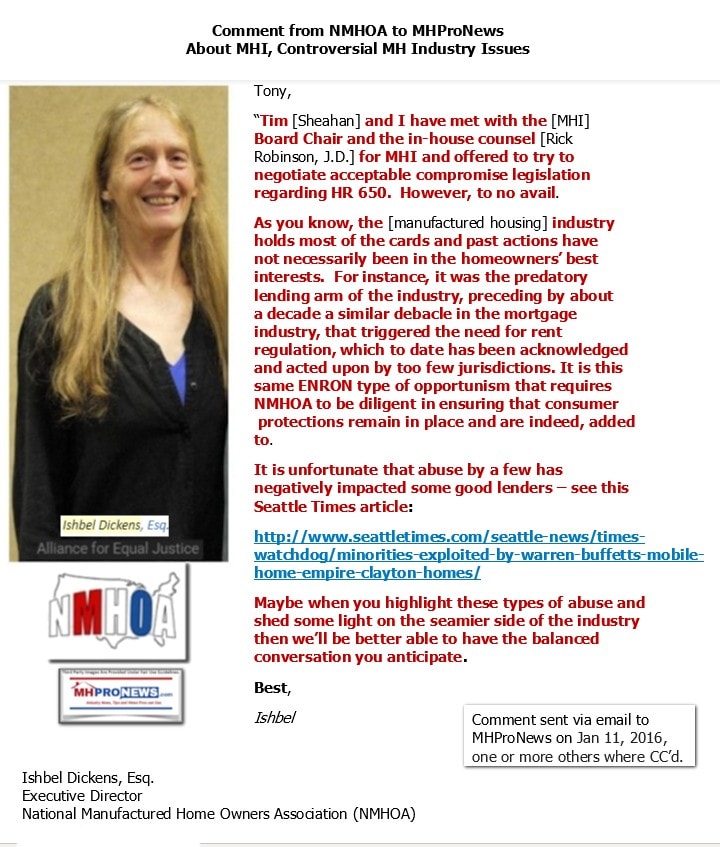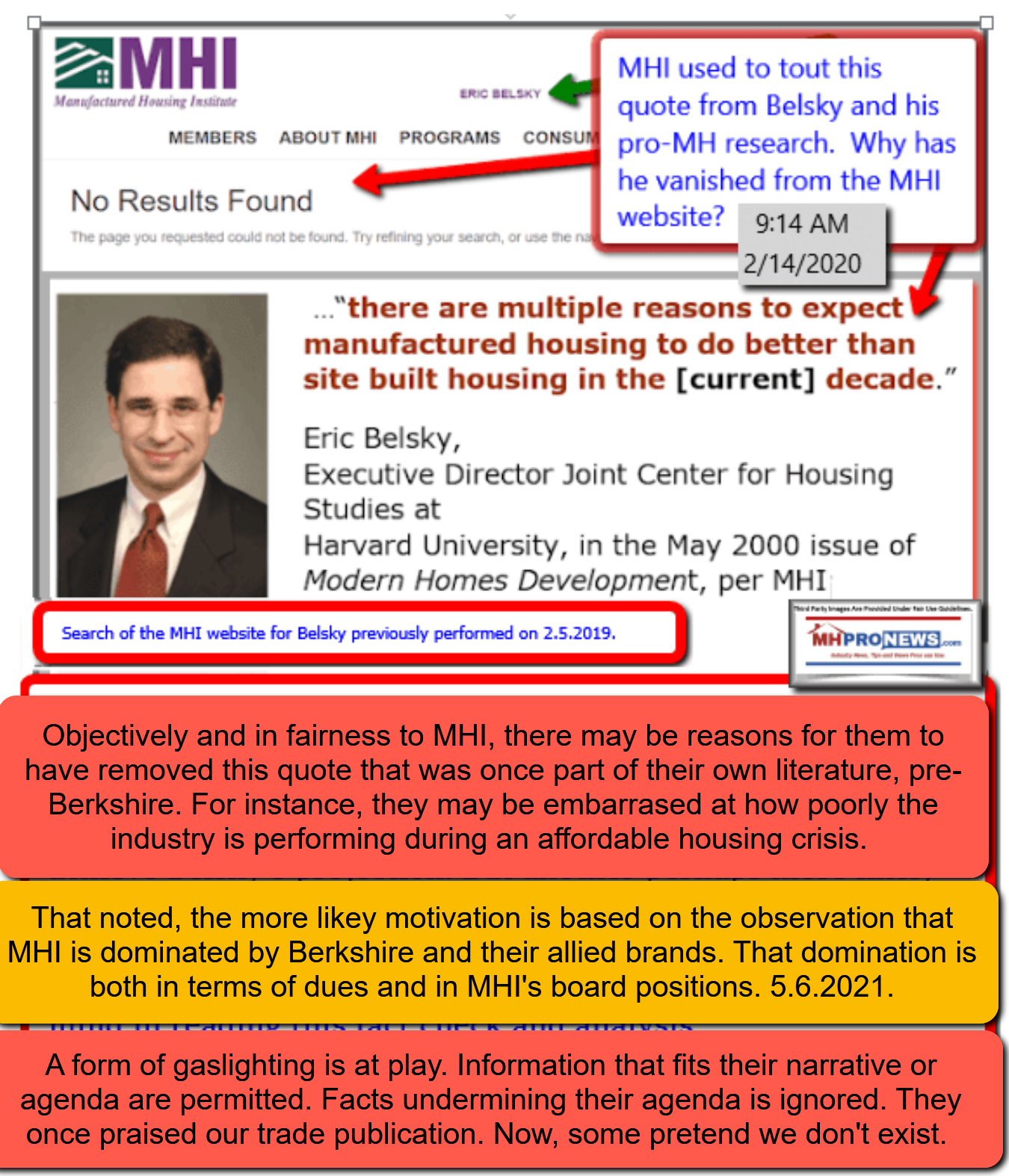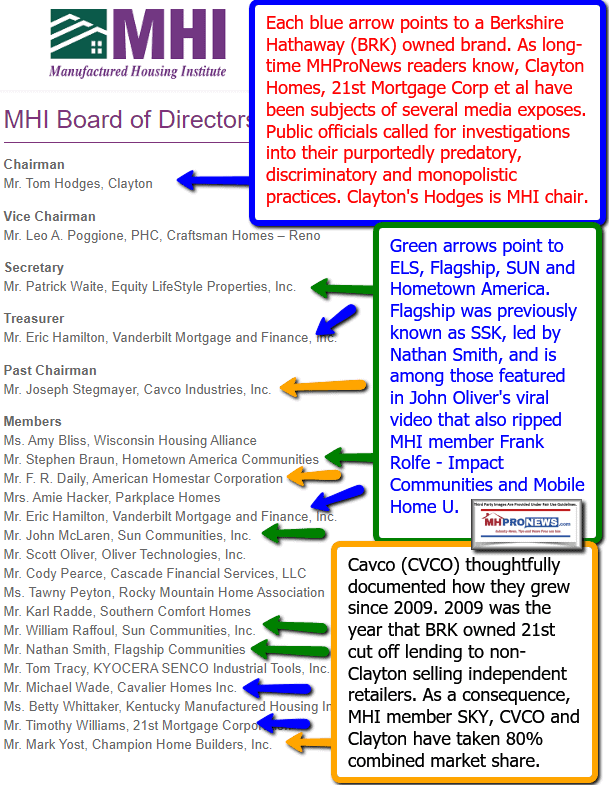 It is not only independents, manufactured homeowners, or renters seeking affordable home ownership that is harmed by this pattern. Serious academics doing third party research have made the point that the public at large is harmed by this process. Why? Because the lack of affordable housing is NBER researchers a two trillion dollar drag on the economy.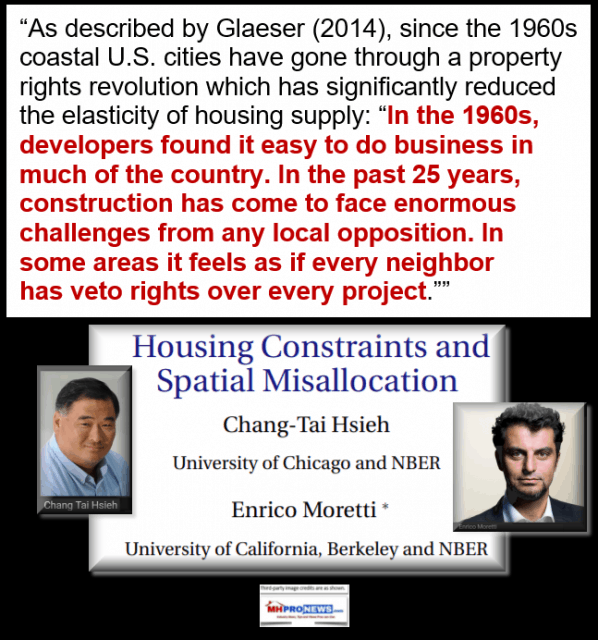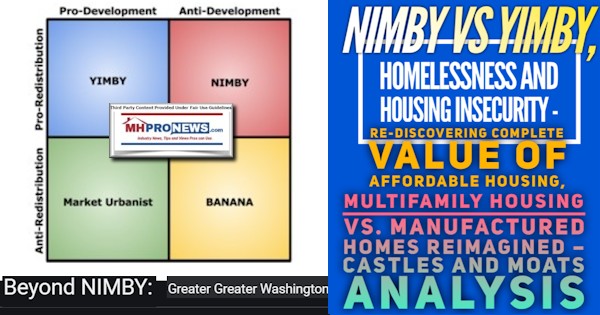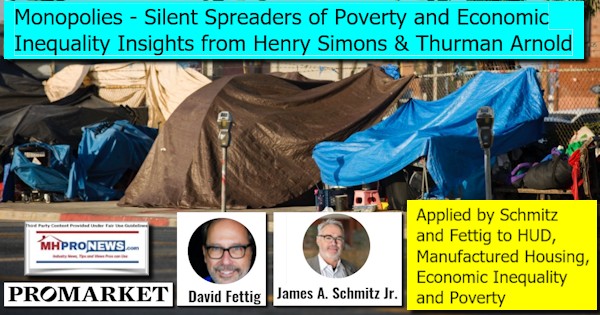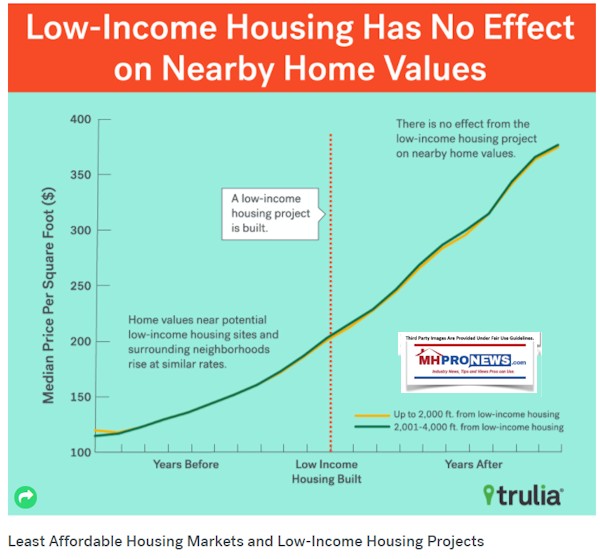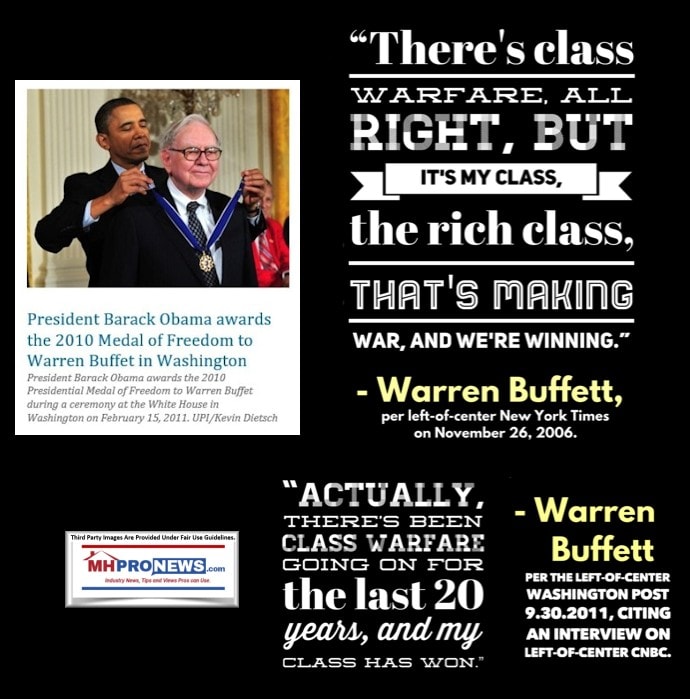 Each of these scandals ought to be reminders of the following lessons to be learned.
Human nature does not change when someone works for the government. There are people in and out of government that are honorable as well as dishonest.
There are decades of examples of scandals large and small that prove the point that regulators often only act against such 'titans' when they are compelled to act.
All of these scam artists cited above did similar window dressing. There was razzle dazzle. They hand out favors (campaign contributions, trips, honors, etc.) to those who played along. Such hype and distractions bought each of them a measure of good will. Additionally, favorable media coverage gave cover to titans that ought to have been critically investigated instead.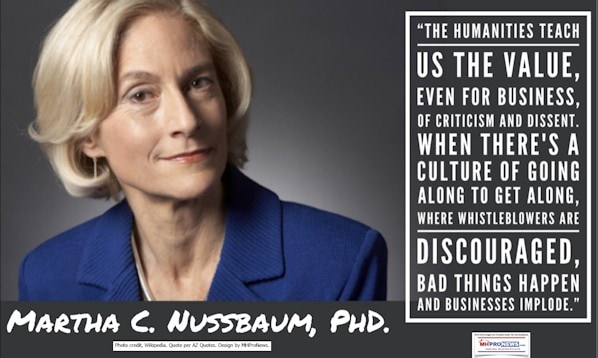 Berkshire, Clayton Homes, and their affiliated lending are real enterprises. But so too where several of these other scams.
As Cold Fusion put it, in the Theranos case. "It's the illusionary effect where if you repeat a lie enough times people start to believe it especially if you have credible names surrounding the product."
But the clues were often there to be seen. If history's lessons are to be learned, it is that once exalted 'pillars' of their profession at times turned out to be scam artists that broke a variety of laws. There are years of research and reports, such as the one by Samuel "Sam" Strommen at Knudson Law that should cause investigators to dig into Clayton Homes saga with the eagerness and motivation to expose and end the fraud that Harry Markopolos exhibited.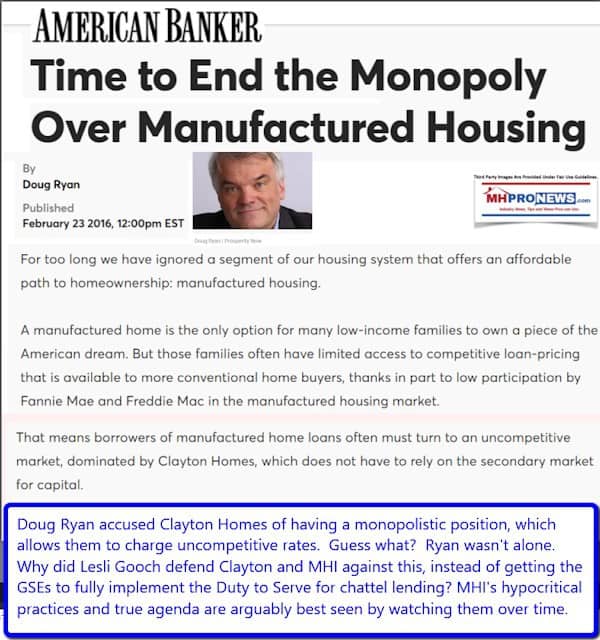 Data and Insights from Edelman, Kennedy, Proxmire, and Moynihan 
There are ample reasons to question just how precise public polling is. Some of the better known examples involve candidate and President Trump.  But other examples happen to involve candidates who supported Trump who – based upon public polling operations – were given low odds of winning, but instead won election or reelection handily. The takeaway for objective thinkers (disclaimer: this writer is a political independent) is this. When looking at the 'internals' of polls, as well as the actual outcomes vs. projections, some polls are quite accurate, others may be off by single or even double digits.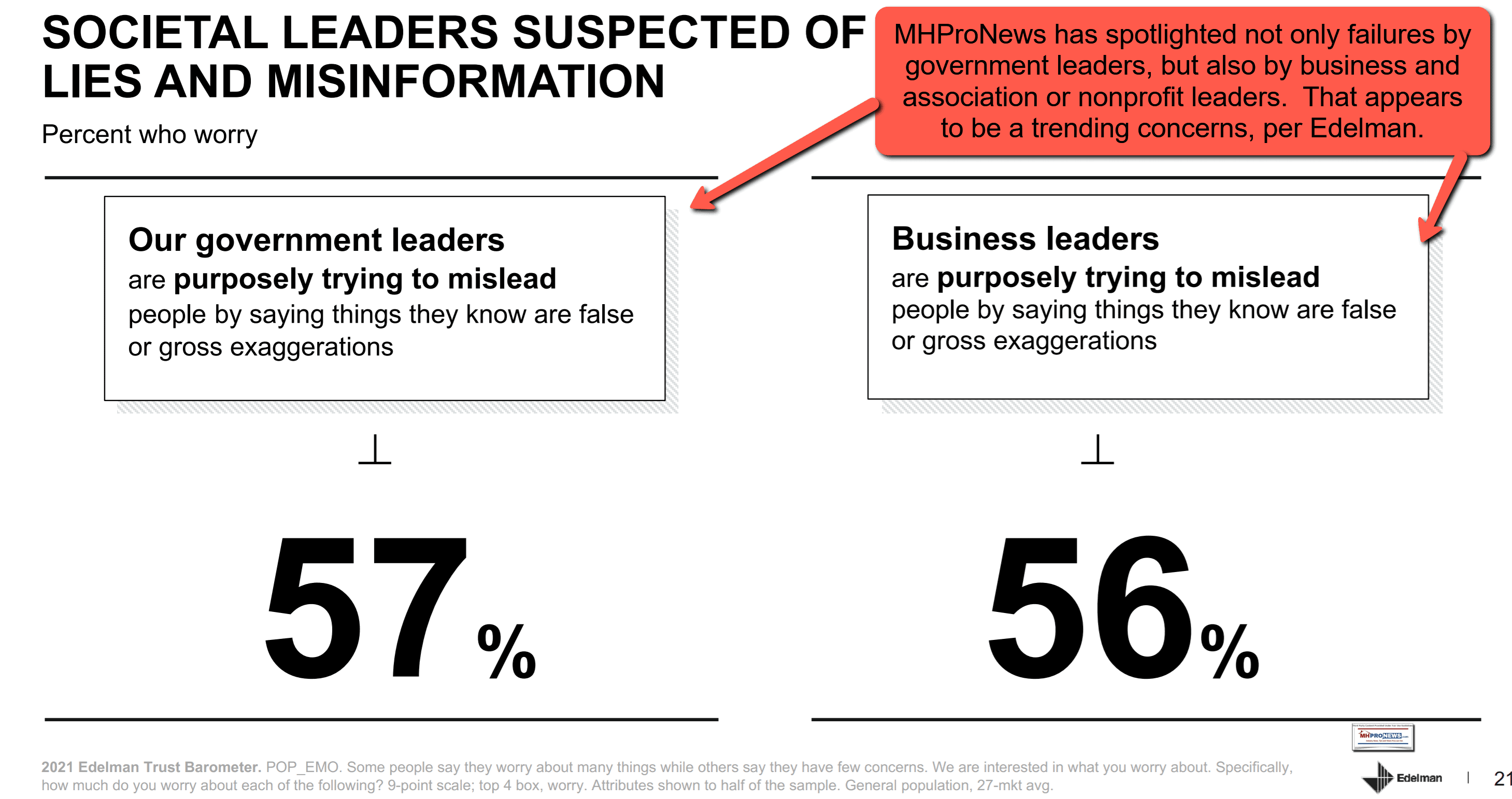 With that in mind, Edelman, which appears to lean-left and is part of the corporate and politically anti-Trump and left-leaning Civic Alliance, announced a recent survey that ought to shed light on the question of how much does the public trust public officials and business leaders?  They answer is that roughly half the country, per Edelman, does not trust either business or political leaders. There are other surveys, Gallup and Pew come to mind, that over the years has shown very low public confidence in Congress.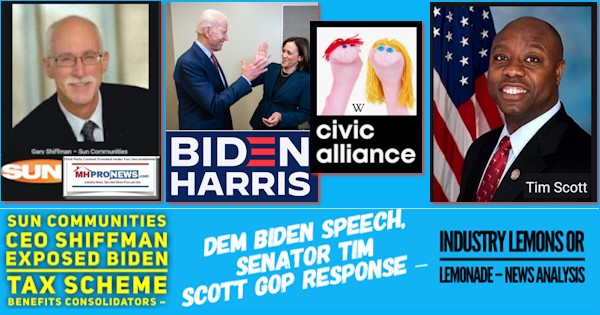 That tees up a related sub-topic that ought to shed light on official responses to concerns from a member of the public that are brought to the attention of public officials. It is the challenge of conspiracy theories and the role that they play in America. Given that the apparently low levels of confidence in government, business, and media, it is no surprise that skeptical musings by citizens are becoming more common. Because the evidence suggests that each of these 'institutions,' broadly construed, have exhibited sufficient reasons to question just how reliable they may be.
When public confidence in institutional leaders happens to be fairly low, that is fertile ground for conspiracy theories to take root among individuals or larger groups. But that is a two edged sword, as the following aims to illustrate.
Conspiracy Theories in the Modern Era
There are some conspiracy theories that are just that – theories which often have scant evidence. Sometimes those that peddle such theories have a benefit that they may appear to gain from pushing beliefs that have little credible support when viewed through the light of facts, evidence, and reason.
Additionally, just because a conspiracy theory happens to sound good or fits someone's personal belief system, that should not be sufficient reason to grab onto it as if it were true.
On the other hand, there are those so-called 'conspiracy theories' that may reflect significant levels of evidence from sources that many would think credible.
With that brief backdrop for the conspiracy theory topic, a brief look at Robert F. Kennedy Jr. (RFK Jr), J.D., is revealing. RFK Jr is a fascinating and accomplished individual. He happens to hold personal views that differ from those of this writer. That disclaimer noted, as proven attorney and nonprofit leader, when his work is examined, he routinely relies upon facts, evidence, and carefully cites his sources.
Those footnoted and linked references make examination of RFK Jr's claims as transparent as such claims should be for sober minds.
In examining Kennedy's thoughts on some rather controversial issues, this writer noticed that among Kennedy's stated beliefs is that he is not persuaded by the official Warren Commission report on the assassination of his uncle, the late President John F. "Jack" Kennedy. RFK Jr also doubts the official position on the assassination of his father, the late Senator Robert F. "Bobby" Kennedy.  Let's note that each of the Kennedy's are revered by large numbers of people, but they have their detractors too. What might politely be called womanizing is one of the common themes from Kennedy detractors.
That noted, as the former President Barack Hussein Obama has aptly said, people with checkered or even problematic personal histories have still been known to do some very good things.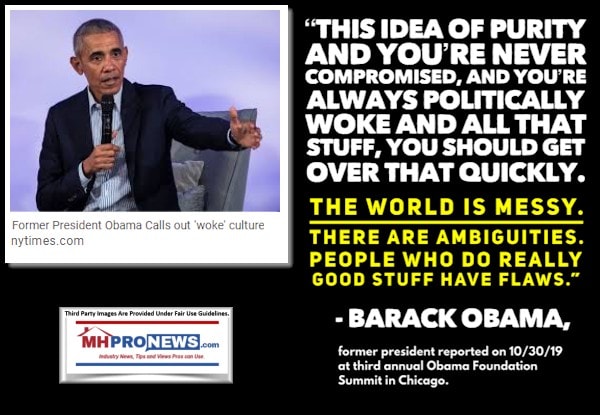 A reasonable example of that is the late Rev. Martin Luther King Jr. He held controversial views in his religious beliefs. The FBI is said to have evidence of his philandering and infidelity to his wife. That noted, is there any denying the significant role that Dr. King had in the civil rights movement that brought important improvements in voting right access for blacks and minorities?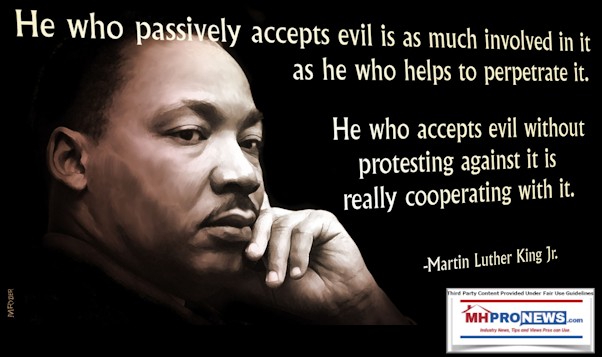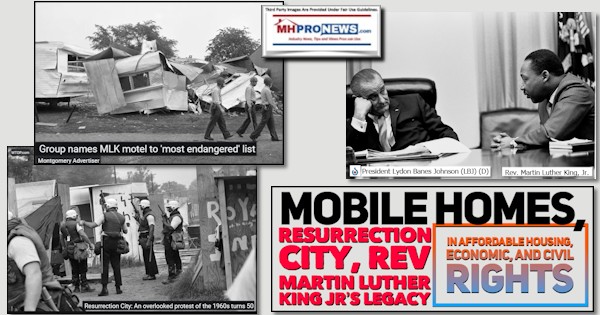 It is impossible to find a person since the time of Jesus Christ some two thousand years ago who can fit the definition of human perfection.
For religious believers, it is impossible to ignore the fact that great heroes of Christian, Jewish, Muslim, or other faiths were human beings who made mistakes.
Moses, for instance, as great as he was, vacillated and avoided God's early call. Moses later responded to that same Divine mission to free the people from injustice and oppression. But even after the wonders worked through Moses by God that freed the Jewish people from Egyptian slavery, Moses doubted the first time he struck the rock that 'gushed' forth with water in the desert (Exodus 17:1-5 and Numbers 20:11).
Other examples could be used from a range of religious or other belief systems. The point is that even after signs and wonders, people are prone to be imperfect. But imperfect people can be inspired to do good things, even in the face of long odds or difficult conditions.
There are numerous accounts of heroic deeds by people in the military, police, firefighters, other first responders, and members of the general public that we've all seen, heard, and read.
That said, given what must be his own sources beyond those that are available to the public, RFK Jr's doubts about the assassination of his father and uncle ought to be serious considered. Knowing that his credible and that of his nonprofit's is on the line, when he speaks on a topic, it merits consideration. When he is being censored by big tech on a given topic, that should cast at least as much doubt on big tech as it does on him.
RFK Jr's thinking on the President Kennedy assassination should call into question the notion of a de facto American coup. While hereby disclaiming any expertise on the topic, this writer has read and viewed the thinking of those who have purported to prove or disprove the notion that a conspiracy occurred in the assassination of President Kennedy. The Warren Commission said no. The President Lyndon Banes Johnson (LBJ) appointed Warren Commission concluded that it was a lone gunman – Lee Harvey Oswald who killed President Kennedy.
But Oswald himself was conveniently murdered long before any trial occurred. Period video and other evidence reflects that the murder of Oswald was perpetrated by Jack Ruby, who happened to be a known mobster. For more than half a century after President Kennedy was killed, millions of Americans question the official version set forth by the Johnson assembled Warren Commission of the video recorded assassination in Dealey Plaza in Dallas, TX.
Now, that may seem to have little to do with Theranos, Enron, WorldCom, Solyndra, Madoff, WeWork, Solyndra and the list goes on. But don't each of those and the Kennedy assassination involve the credibility of regulators, mainstream media, and law enforcement? That's the commonality. But there is more.
Let's assume, for discussion sake and because there is evidence to support the point, that the late President Kennedy was unfaithful to his wife, wanted to end the growing conflict in Vietnam, was involved in the overthrow of South Vietnam's leader, and was willing to overthrow Cuba's Fidel Castro. As President Dwight D. Eisenhour (R) warned in his farewell message, there was already "a military industrial complex."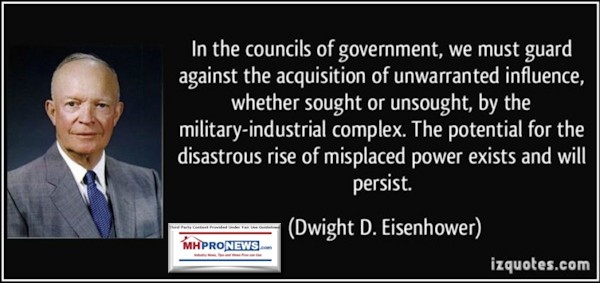 President Kennedy was understandably angry and frustrated with the Central Intelligence Agency (CIA), which grew out of the World War II era Office of Strategic Services (OSS). Propaganda, deception, and misdirection are a part of warfare. Those tools of propaganda and deception were not only used by Nazi Germany, but they were also used by Communist Russia (then more properly called the Union of Soviet Socialist Republics (USSR). Deception and misdirection were also part of the Allied war efforts too. Adolf Hitler's German military, for instance, was duped into believing that the Allies might invade Europe at Pas de Calais, rather than Normandy. An elaborate hoax was created to make the Germans and their spies believe that the Pas de Calais was the Allied invasion target. That helped make the already difficult and deadly actual invasion of France on Normandy's beaches possible and ultimately successful. That is but one of many examples of American and allied military services deceiving an enemy, and in a related fashion, their own public.
With even that brief backdrop, President Kennedy was understandably distrustful of even his own government's CIA. Now, if the president distrust them, why should the public blindly trust them?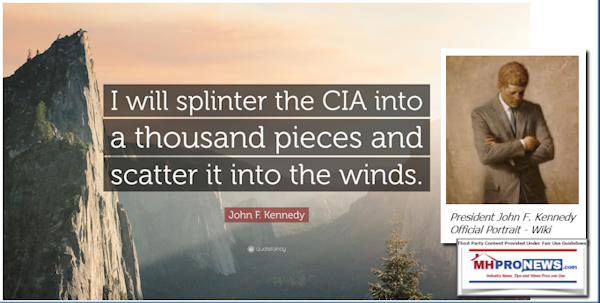 Intelligence operatives are in part paid liars. So why is it that some many ex-intelligence people have become 'trusted' commentators on various news channels?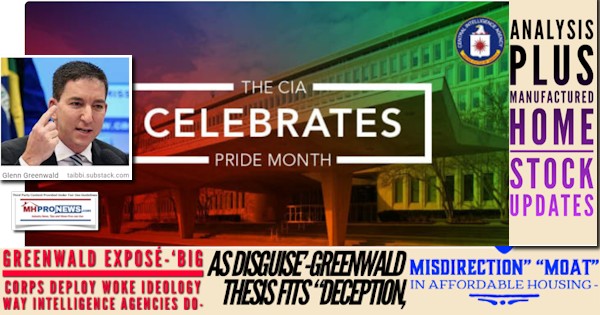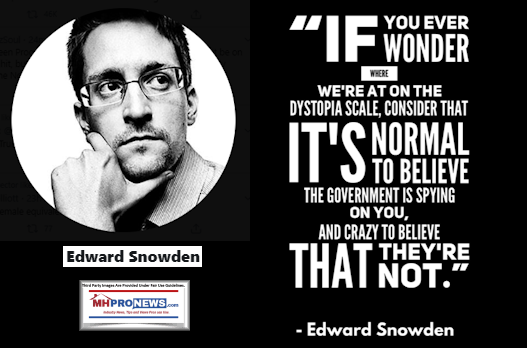 While every President Kennedy assassination investigator naturally generates a level of controversy, Amazon Prime is streaming one at present that is rather interesting.  Wim Dankbaar's "The Grassy Knoll" is fascinating in that it pieces together documents, witnesses, FBI agents, interviews and commentaries with and about mobsters, and speaks with evidence about the CIA and Kennedy's rocky relationship. Amazon's plug for the "The Grassy Knoll" says, that former "FBI Agents and experts re-examine the assassination of JFK and reach the conclusion that the President of the United States of America was murdered by James files in concert with the CIA and the Mafia."
One of those featured in the Wim Dankbaar "The Grassy Knoll" documentary
is this retired FBI agent below. It sums up some of the far more numerous
points that are evidenced in Dankbaar's documentary. It can be streamed
on Amazon Prime at this time.
As someone who has studied history more than most and has won several awards in history during my academic days, the story told by Dankbaar's documentary is compelling because it brings layers of evidence and credible witnesses that fits the known facts.
The American public as a whole is at best skeptical of political leaders, and rightly so. The public is doubting much of the mainstream media, and big business which includes big tech and big pharma, and rightly so. While most people already have and may well get one of the various COVID19 vaccines, the fact that perhaps 1/3rd of the population may never get a coronavirus vaccination speaks volumes about public distrust in institutional leaders.
Back to Wim Dankbaar's full length documentary entitled "The Grassy Knoll," one of the points hit several times during the course of the documentary is this. That Joseph Kennedy, the father of the President John F. Kennedy and his brother Robert F. "Bobby" Kennedy, was willing to cut deals that put his son over the top in the tight election between then Vice President Richard M. Nixon (R). That was accomplished by dark deals in Democratically dominated areas that involved unions and the mob. To put it more plainly, they suggest that the 1960 election was won by Kennedy over Nixon through election fraud. That is hardly a new claim. In the 2020 election cycle, the Heritage Foundation documented well over 1000 cases of voter fraud that resulted in convictions, guilty pleas, or criminal charges. While that may be small percentage wise, that is still significant in a tight race.
So, because President Kennedy was making moves contrary to the interests of the CIA and "military industrial complex" – think big business interests that line up with intelligence and military interests – Kennedy himself was murdered. That's the thesis of broad thesis Dankbaar's "The Grassy Knoll" presents. It is backed up by:
Acoustic evidence that suggests there were at least two weapons fired, not one.
Medical evidence, including altered medical records to make them fit the Warren Commission account.
Visual evidence of period video that shows some running toward the Grassy Knoll after the president was shot.
Ballistic evidence.
A range of testimony from people involved with Oswald, Lee Harvey Oswald, the FBI, the CIA, and the list goes on.
None of this is not written to discourage people from participating in elections, although some may read this and come to that sort of conclusion. Rather, it is said because these are credible pieces of evidence that the system is indeed rigged.
The entire motivation for the manipulators of American society to balkanize people into identity groups that pit individuals and groups against each other is precisely to 'divide and rule.' Those manipulators of society are not everyday Americans. Common sense, as well as the money trail and evidence, reveal that it is the elites in business and finance who help get people elected and may go to extraordinary lengths including assassinating political leaders and rigging elections to accomplish their goal.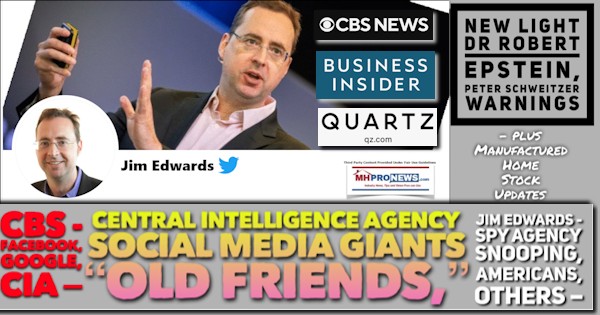 It is fair to say that the majority of elections in the U.S. are fair and honest. But the fact that so many election reform efforts are being challenged in swing states by big business and their largely Democratic political allies speaks volumes. Because controlling the government is powerful way to rig the system against business rivals.
None of this is new. It is simply that most writers do not lay the puzzle pieces out in this fashion.
With that backdrop, two Democratic lawmakers pithy insights out to be considered.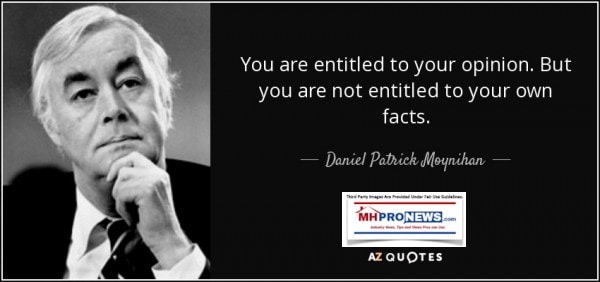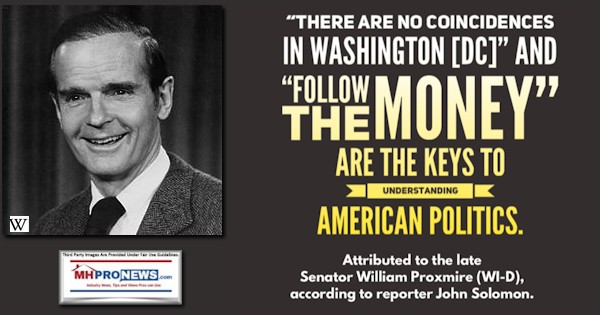 Let's lace in a few more points as we sum this all up.
From time to time readers will call or message and ask for executive summaries. The ultimate executive summary of what has gone wrong in our profession and so many other are set forth in these five sets of quotes. Note that Bill Gates began as Buffett skeptic because he found ways to manipulate markets. Later, the duo arguably worked together to manipulate even more markets. Note too that Robin Harding was a self-proclaimed Buffett believer who came to realize that Buffett manipulated markets in a deceptive, monopolistic manner. In the light of those quotes, the Andy Gedo-Kevin Clayton quotes further above are dot's of the proverbial i's and crossing of the proverbial t's.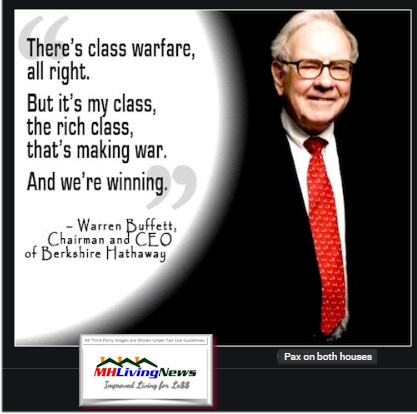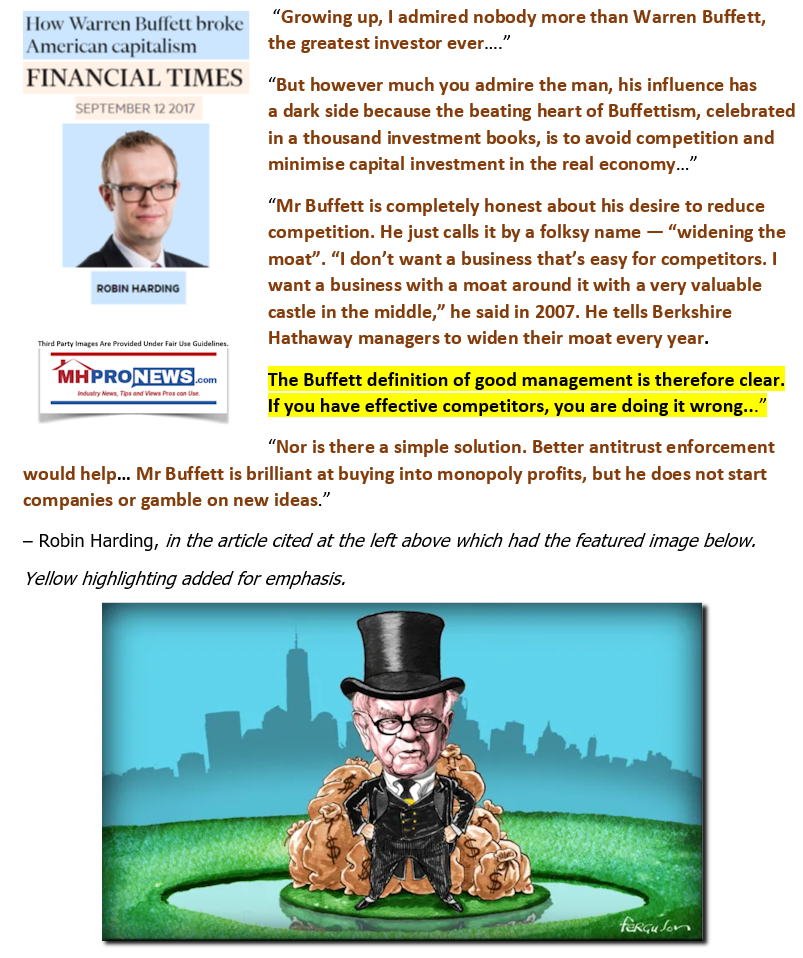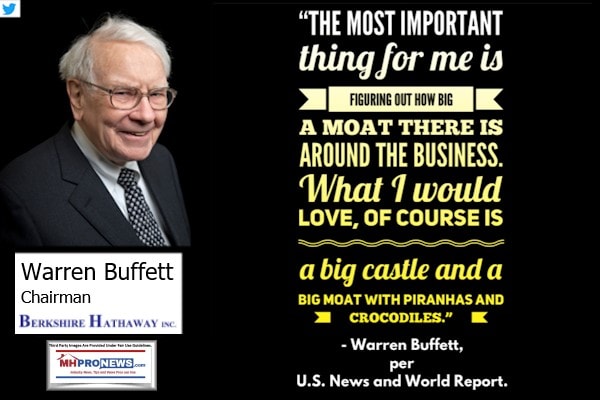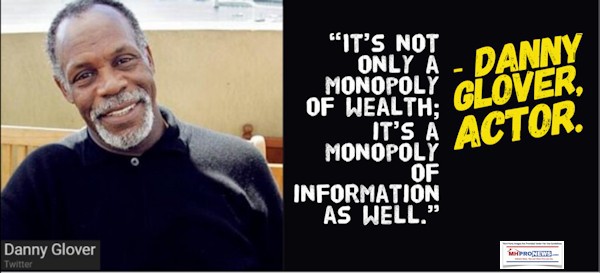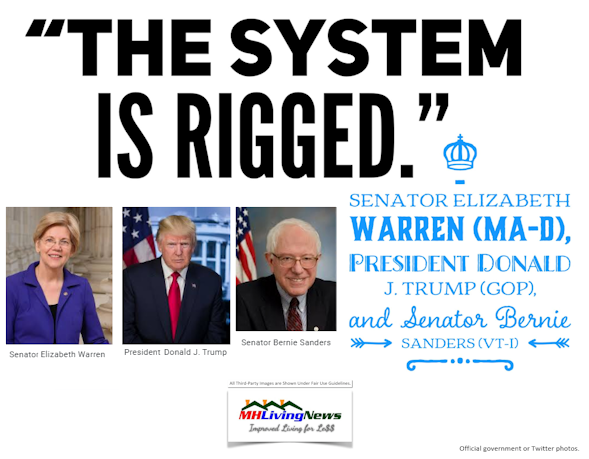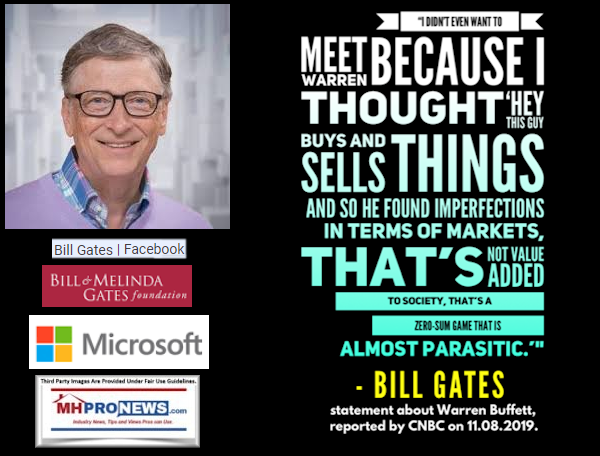 In those quotes, after years of research and investigation, someone has the snapshot of what has gone wrong in manufactured housing. Similar nuances occur in different ways in other professions too.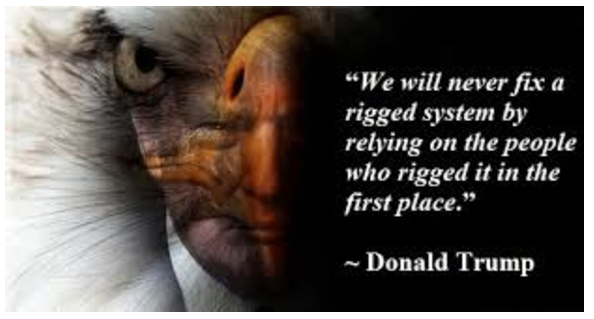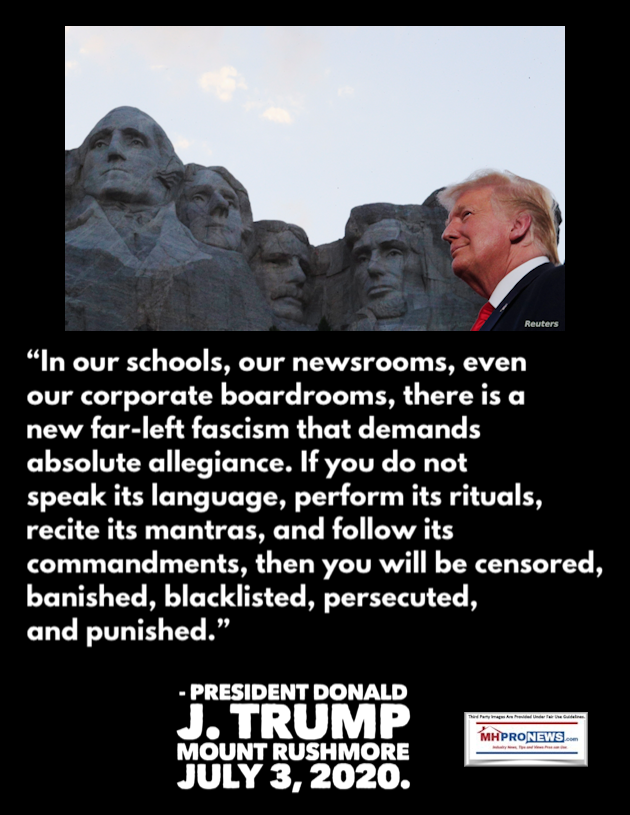 But absent details, pithy or insightful statements in an of themselves are unsatisfying. Because details are necessarily used to prove a case. You cannot walk into a court room, tell the judge that 'the system is rigged,' and then provide no specific evidence, and hope to get a conviction.
Thus, increasingly in recent years, MHProNews has laced together various accounts that are use facts, evidence, accurate quotes, and organize them in a way that can make sense to someone who will take 15-30 minutes and read a report with expert analysis.
It should be obvious that if de facto coup has occurred in the U.S., as RFK Jr and others are arguing, which just happens to benefit special interests, then rigging an industry is a far easier thing to do.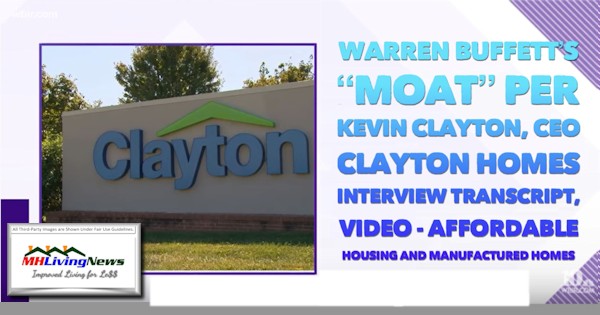 It should be obvious that if several massive frauds have occurred in American businesses that often endured for years, that it is no stretch of the imagination to say that a massive fraud could occur in manufactured housing too.
When the big clue or "tell" that Markopolos spotted with Madoff's pitch seems obvious in hindsight, a different but equally revealing clue is in evidenced in manufactured housing.
How is it that manufactured housing is smaller today than when Buffett led Berkshire bought Oakwood and then Clayton Homes?
Who has benefited from that underperformance?
Isn't it obvious that Buffett has influence in Washington, D.C.? Isn't it obvious that if Buffett wanted existing federal laws – that aim to increase the sales of manufactured homes if they were fully enforced – could make a few calls and see those laws act be enforced?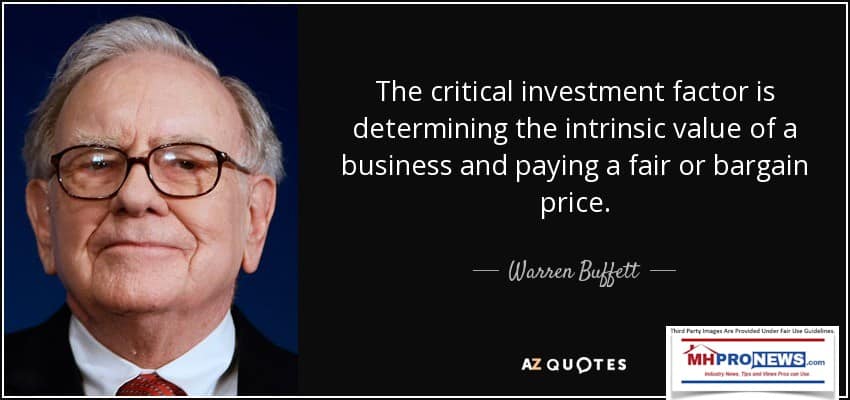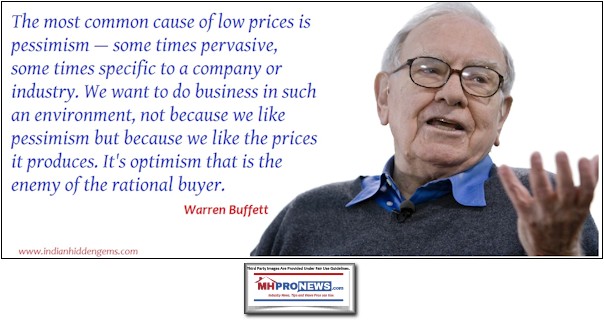 Whatever someone might think of President Trump, he has done the nation several favors.
He has caused millions of more people  to question the rigged system.
He has people questioning big tech, and big business.
Directly and indirectly, the evidence that 'his own administration's' bureaucracy dragged its feet and sabotaged several of his stated policies that he was elected to do reveal the reality of the so-called Deep State.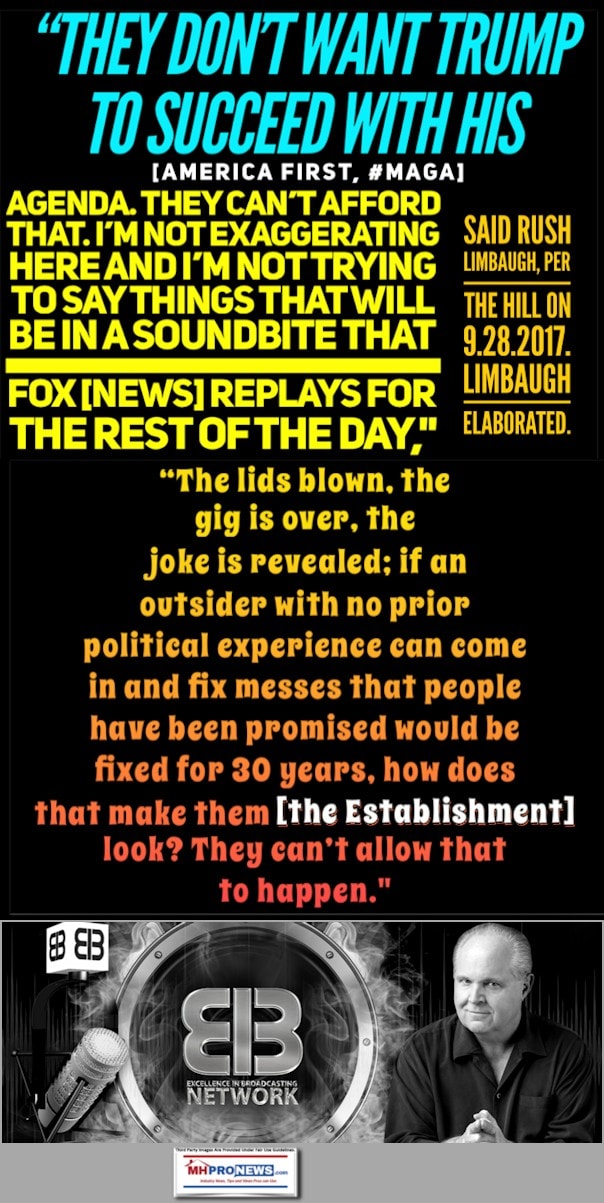 But what is that Deep State? Isn't it in some measure the Iron Triangle and sabotaging monopolistic forces at work? Note that these are academics, third party researchers, and other professionals who have made cogent observations about what has gone wrong in manufactured housing, based upon evidence.  They are not alone, because insiders have either complained or wondered aloud what is wrong with this once 4 to 6 times greater industry?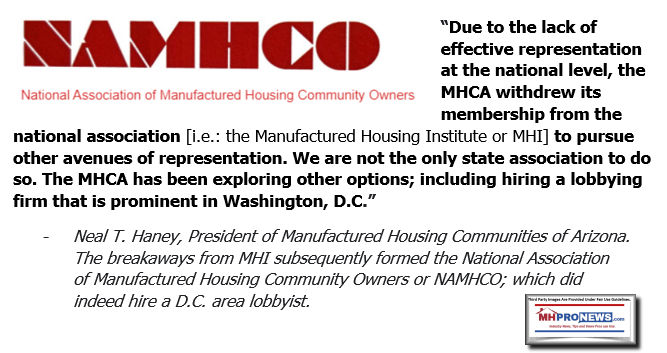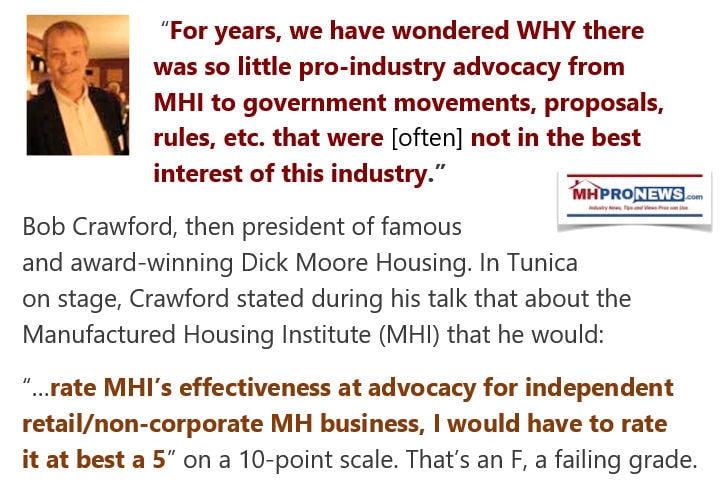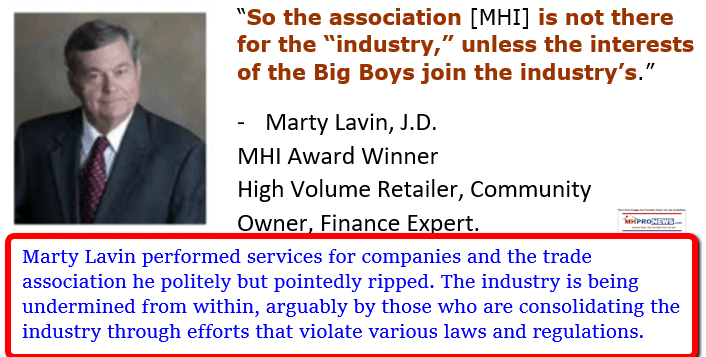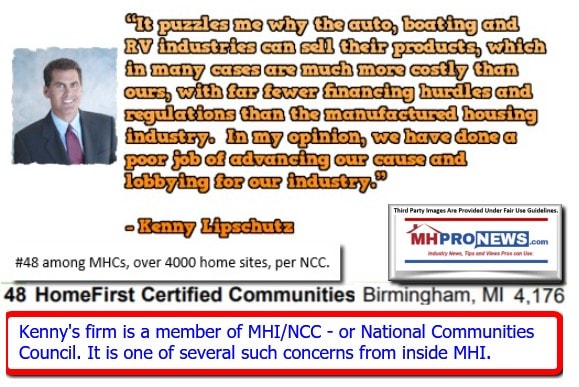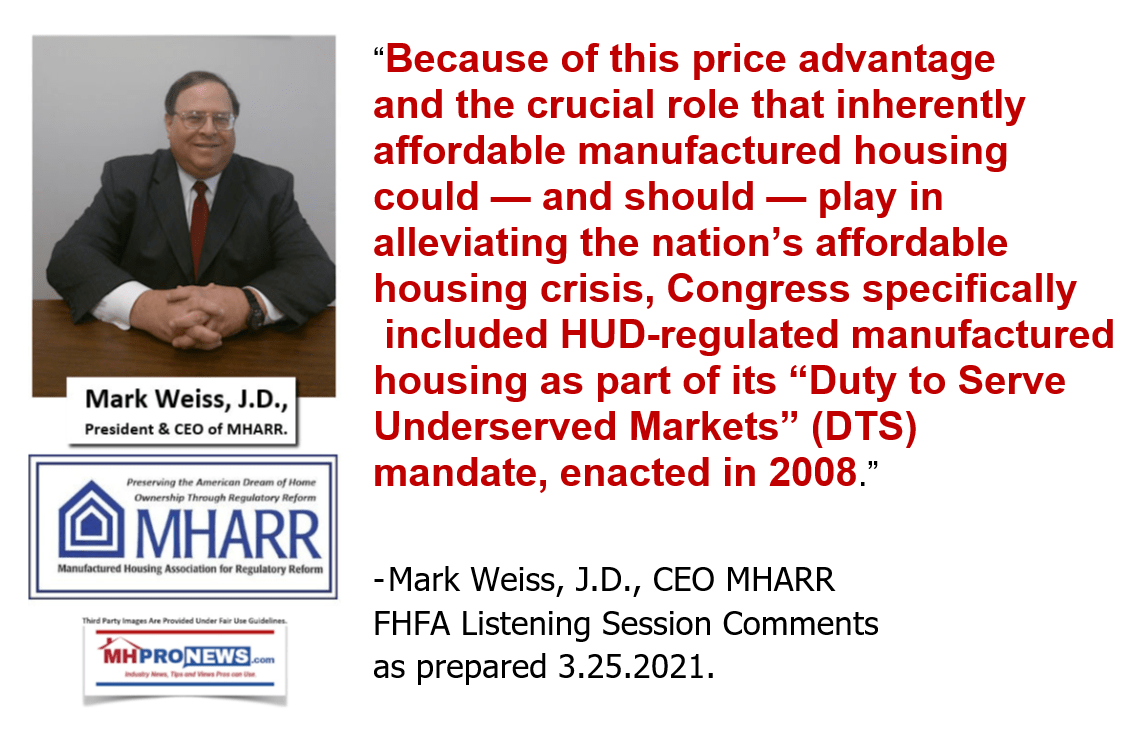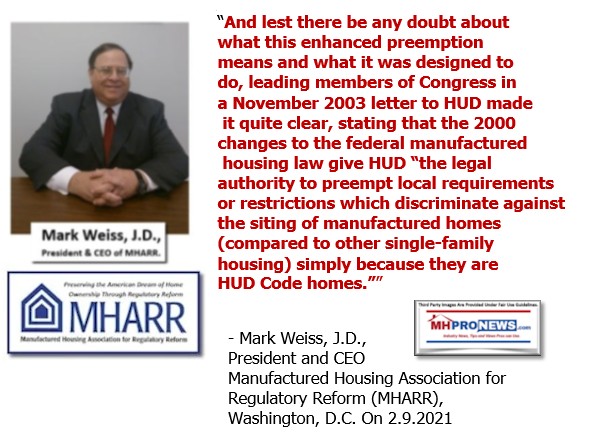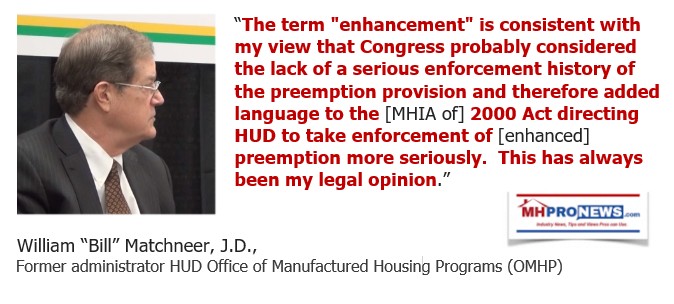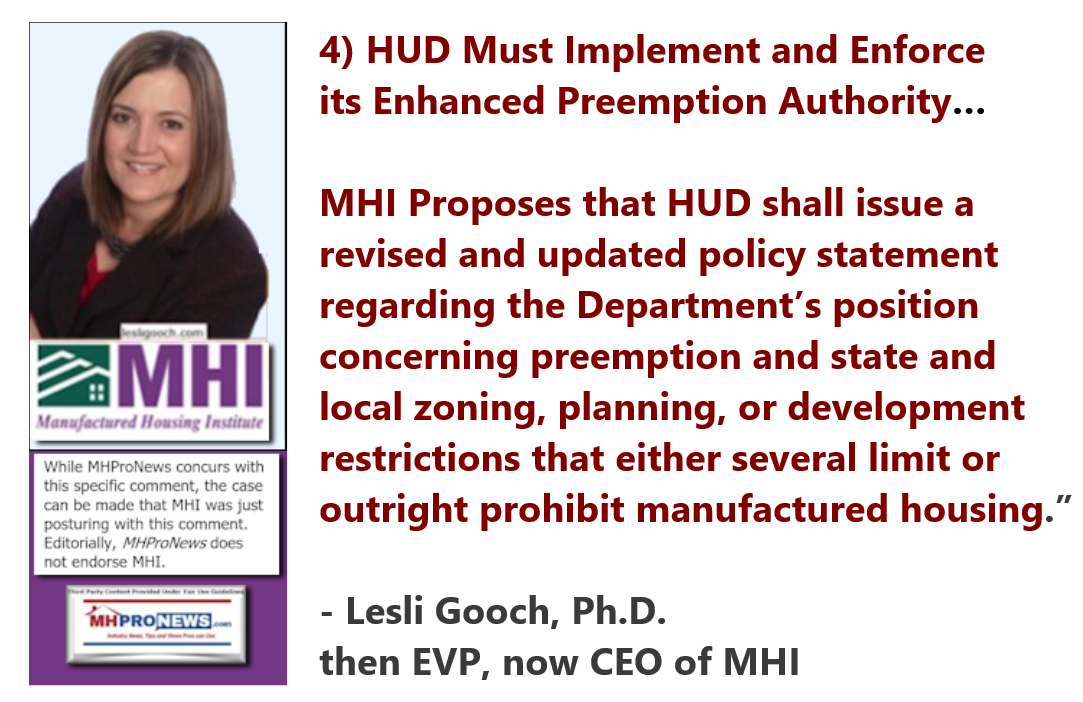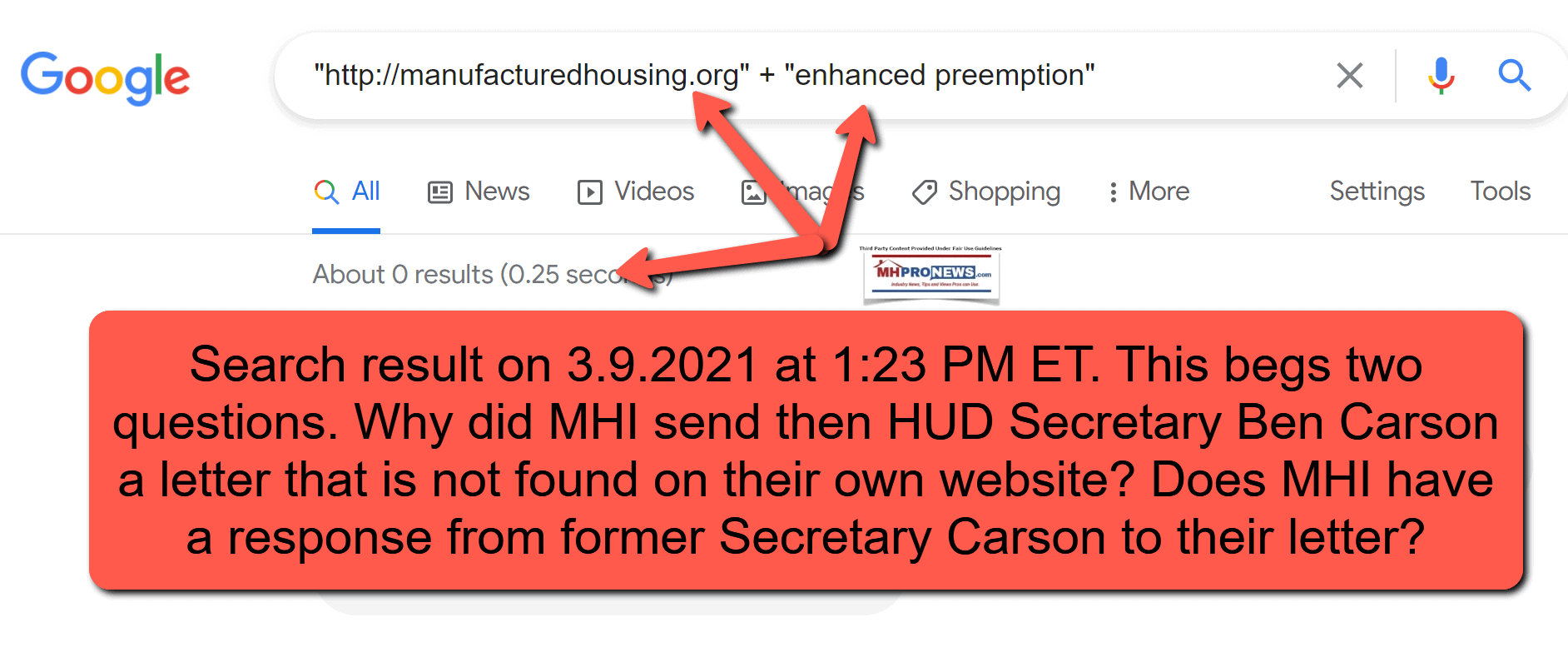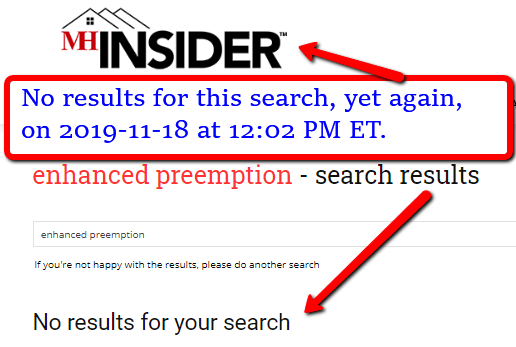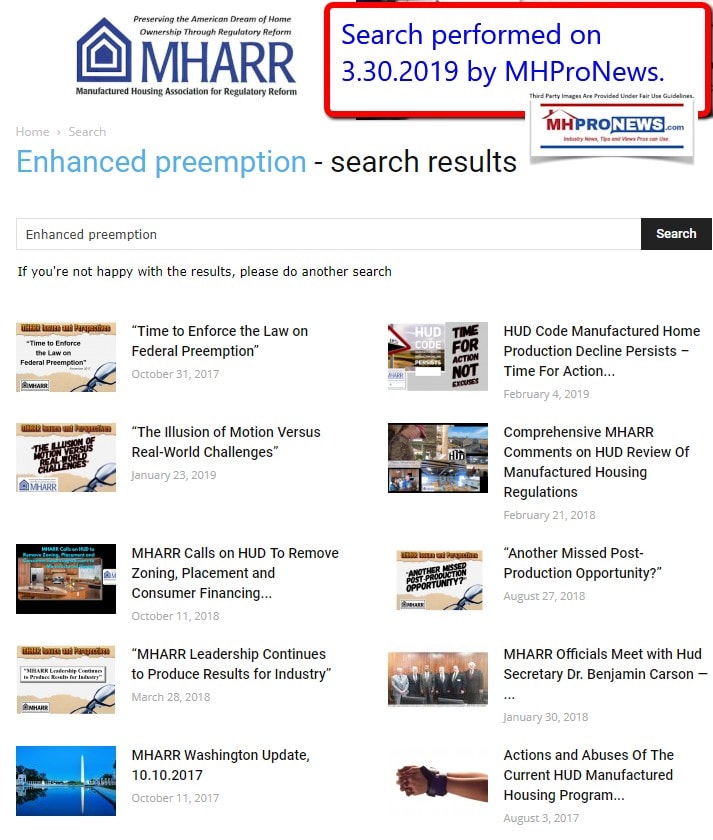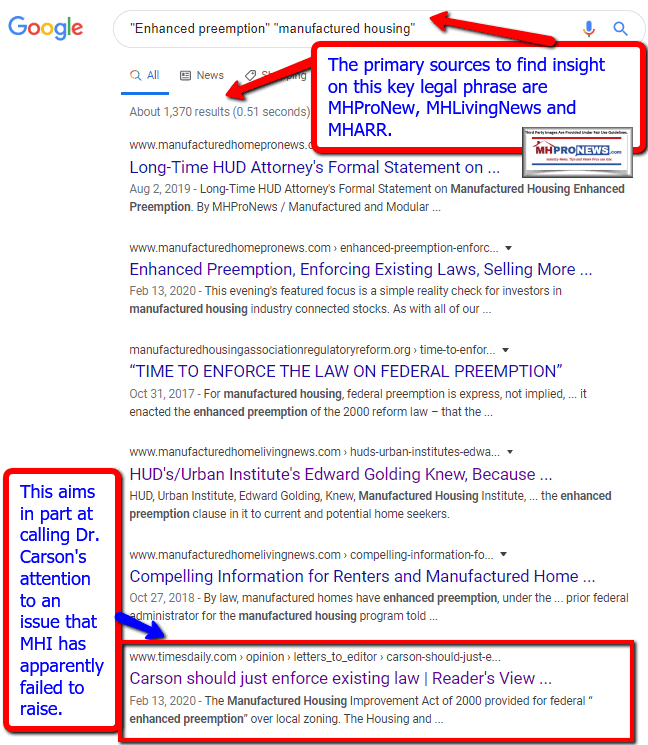 Years before President Trump declared for office, much less occupied the White House, a British miniseries aired called "Secret State." It too is streaming on Amazon Prime at this time. It tells the story of a powerful corporate interest that has a facility in England where a tragic accident occurs. It is a tale of corporate power and political intrigue. Spoiler alert. The fictional British Prime Minister (PM) in that story realizes near the end that while he thought he was achieving the peak of political power in his nation, he was only about 'half way up' the power chain. In one of the dramatic scenes in the movie, the maverick PM who is challenging the corporate and financial powers that be goes to Davos. That is where the World Economic Forum (WEF) has held its meetings for some years. Rephrased, Secret State is historical fiction. But that piece of historic fiction also makes the point that there is a 'deep state' in England, much as there is here in the U.S.
If you watch enough Australian television news (yes, I confess to watching some of their news media) you will see their version of 60 Minutes do reports that we don't see America's CBS News' 60 Minutes covering. Their Sky News is calling out the Aussie Deep State the way too few in American media call out the Deep State in the U.S.
If those examples evoke images of the epic scene in the dark 1976 comic-drama, Network where the great corporate lecture on the reality of money and power is in the world…well…? Actor Ned Beatty as fictional Arthur Jensen in his famous, the world is a corporation, speech.
"The world is a college of corporations, inexorably determined by the immutable bylaws of business. The world is a business, Mr. Beale. It has been since man crawled out of the slime." – Arthur Jensen, character in his 1976 classic Network.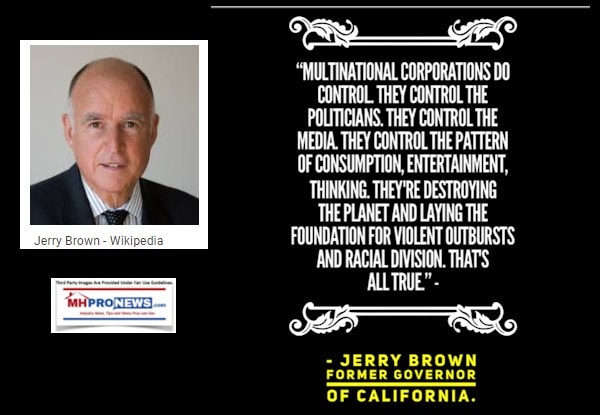 The Bing browser this morning featured this image and caption. Yes, it is interesting that a 20-ton rock somehow found its way atop those other massive boulders centuries before we had the kind of equipment that make such work easier in our time.  But even more impressive are the ancient pyramids of Egypt. The Roman Coliseum. Greek or Persian architecture. The Great Wall of China. Mayan pyramids.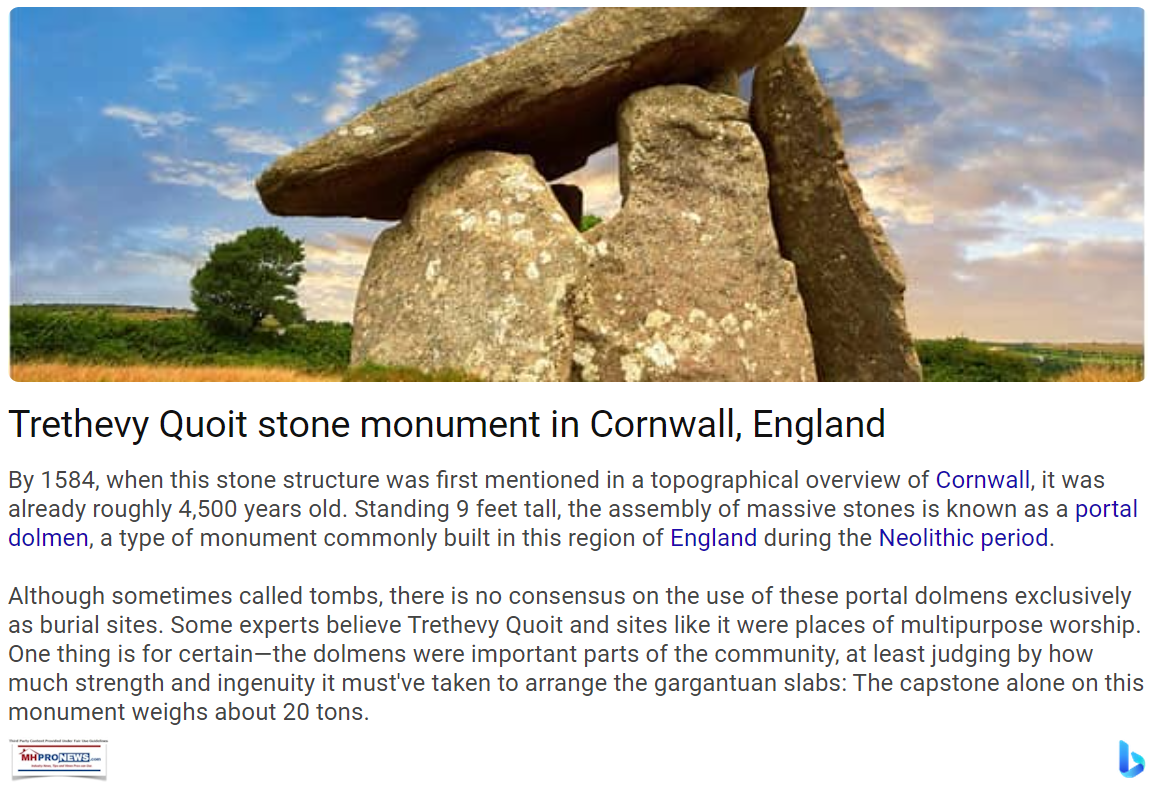 Individuals and groups in humanity are able to accomplish amazing things. But time and again, corruption, greed, and the lust for power are obstacles. The American Republic was never perfect, nor will it ever be perfect. Perfection does not happen with sinful humanity. But to grasp our potential, those ancient feats remind us that we can 'reach to the stars' – so long as we do not violate the laws of Creation and its Creator.
Our industry's woes can be corrected by enforcement of good existing laws.  Anyone that says that new laws are needed may have an interesting thought, but that thought would also be a delay of action that is possible NOW under EXISTING laws.
How many Mike Lindell's are there out there who would like to start an American business and only need a level playing field to make their dream come true?
How many Art Decio's are out there that could start a new manufactured housing business that may in time house hundreds of thousands of our fellow Americans with safety and energy regulated, quality, affordable, and appealing manufactured homes?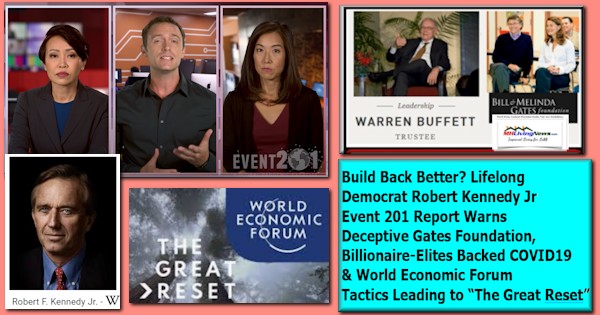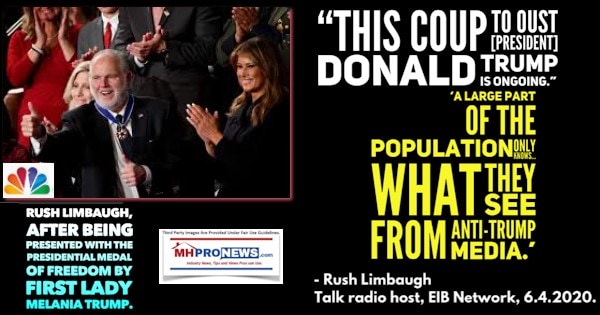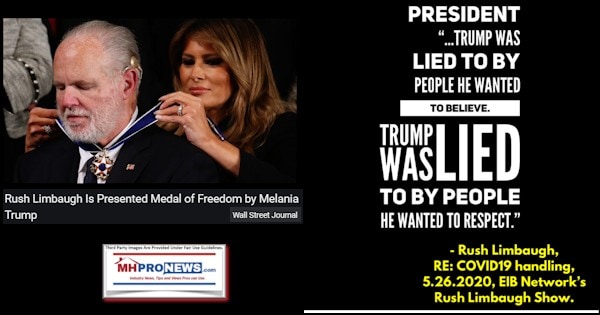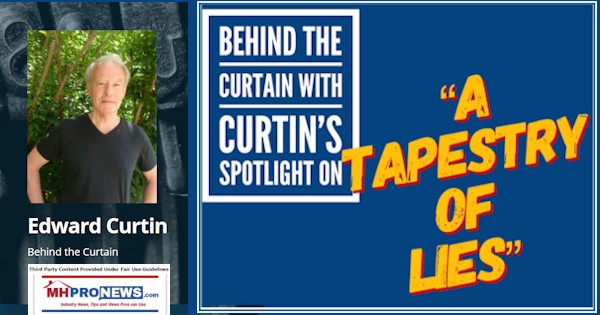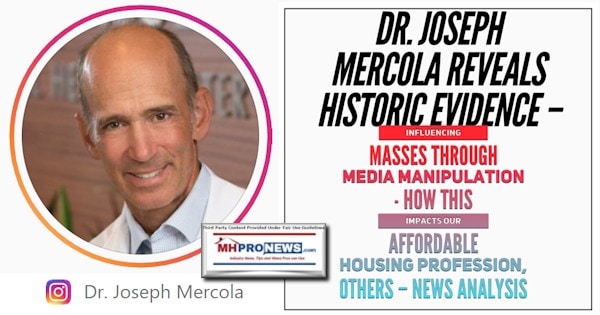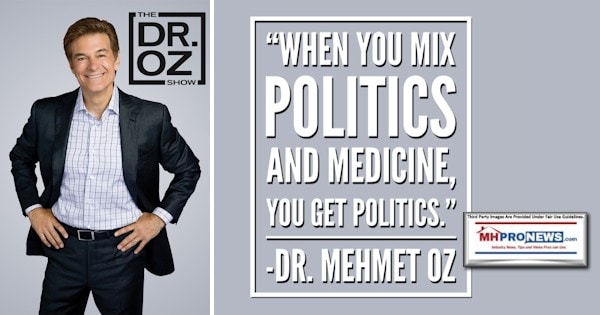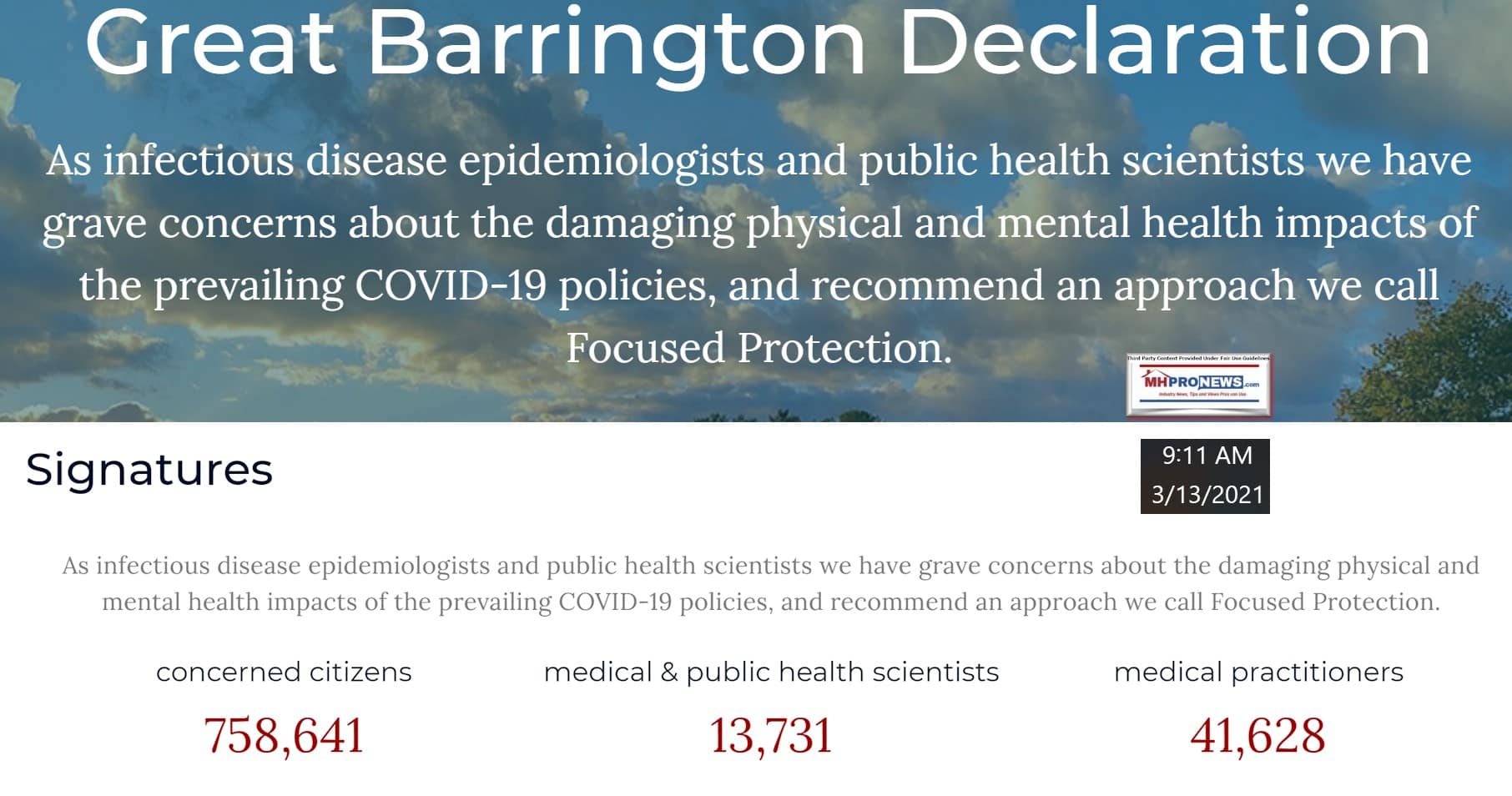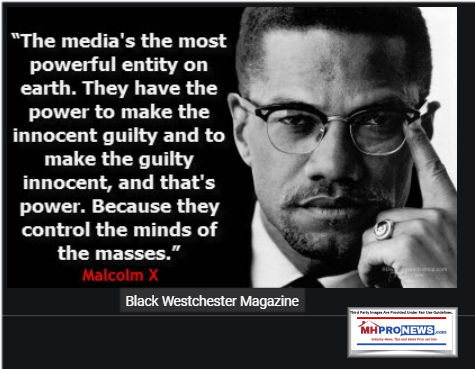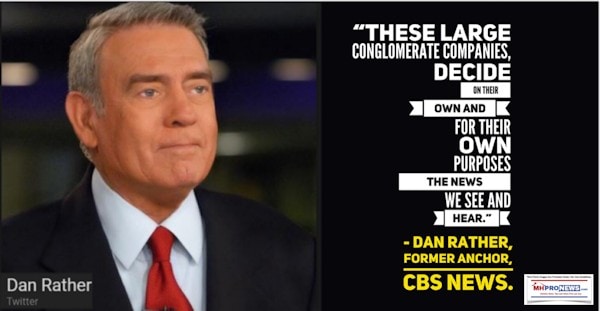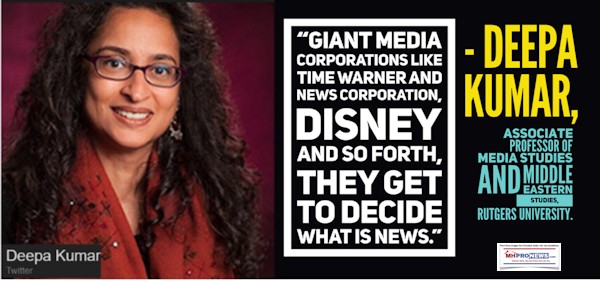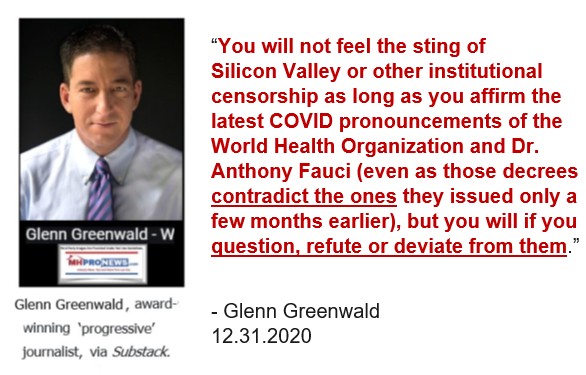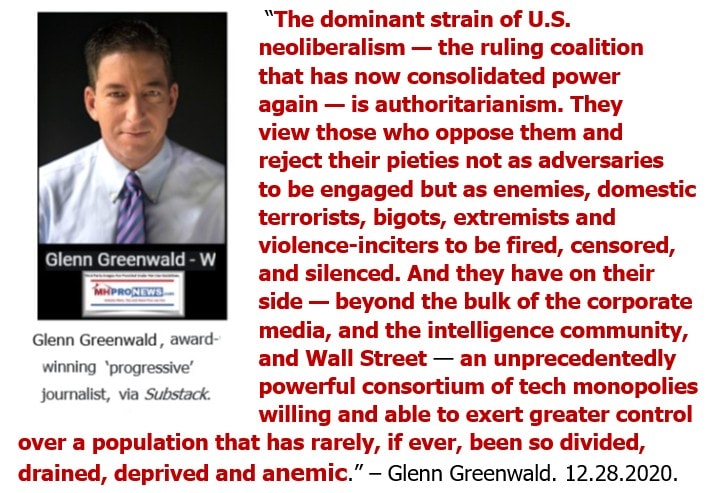 Because we have the largest trade media in our profession, it is no surprise that this writer gets calls and messages from individuals who have this or that improvement or innovative wrinkle in mind for manufactured homes. How many such enterprises could be creating the next generation of manufactured housing? But how many are thwarted by a system that is rigged to favor a powerful few at great cost and harm to the many?
After years of efforts carefully documenting our version of the Markopolos effort that in the end helped bring the convicted fraudster Madoff down, there is an element of empathy for what he went through.
RFK Jr is not a perfect man. But he has a point when he calls regulators sock puppets.
How did the airline industry's regulators allow the flaws in the Boeing 737 MAX computer and flight systems that caused apparently avoidable crashes?
How did regulators let the problems with the VW diesel escape them so long?
The Volkswagen (VW) emissions scandal, also known as Dieselgate or Emissionsgate, is just one more example of how flawed the very concept of regulatory bodies so often appears to be.
It is approaching a year when I spent a few minutes on the line with Mary Walters on the Brian Kilmeade radio show. I made the argument then that President Trump should pivot away from the term "fake news." It has served its purpose. Far more important now is to explain to people the nature of the Big Lie, I said. Walters kindly let me run with that for several minutes. It may be a total coincidence, but recently President Trump used the term the Big Lie. Time will tell if he uses that more.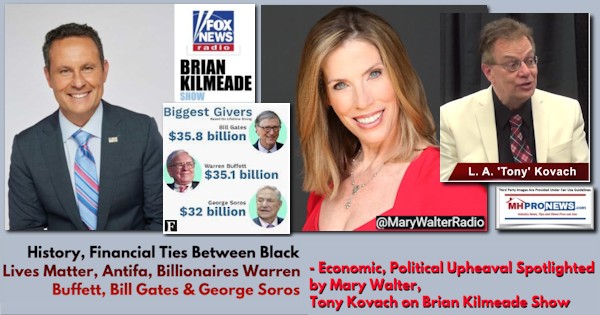 Edward Curtin, a colleague of RFK Jr, has called what is happening in America a "Tapestry of Lies." These lies in various fashions have been occurring for decades.
But it can all be boiled down to the nexus of big business, big media, big tech, and people in government agencies working with them.  President Eisenhower and assassinated President Kennedy were not the first to raise the alarms.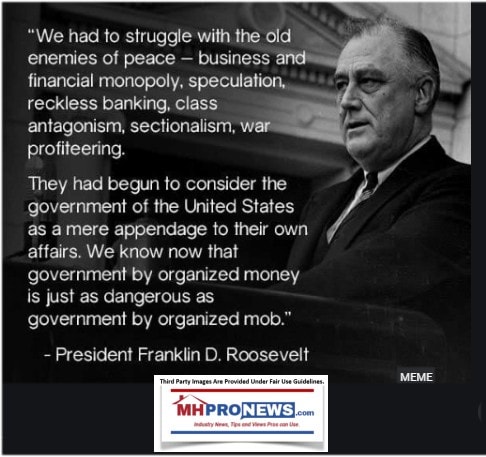 President Franklin Delano Roosevelt (FDR-D) made similar points.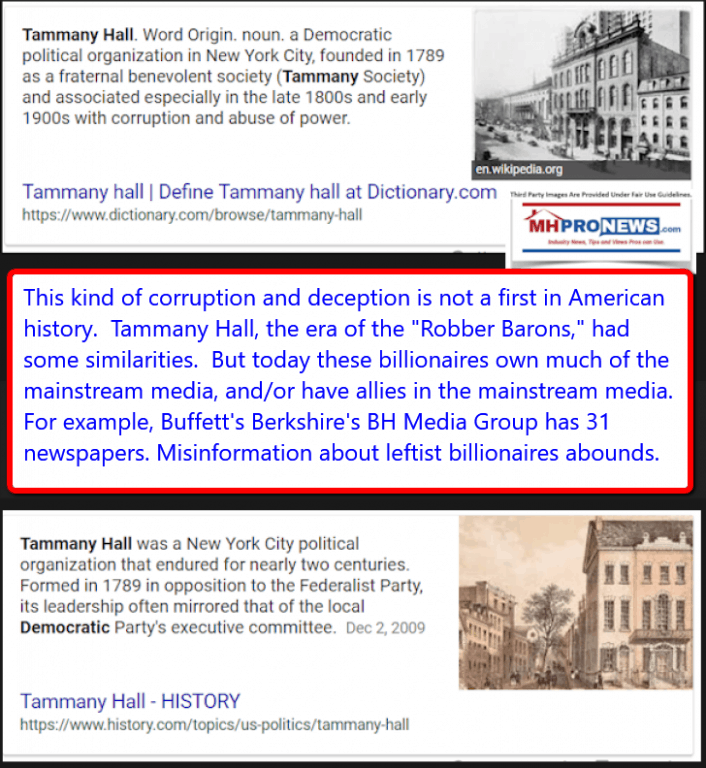 Mayor Daily's Chicago and New York's Tammany Hall are just two examples of places where the intersection of corrupt public officials, election rigging, business, and criminal behavior went on for years. It is only engagement motivated by ethical beliefs by citizens of all backgrounds that can press lawmakers and public officials to do what is right.
The alternative? Kennedy and Greenwald have made that plain.
It is what Nick Hanauer, himself a 'plutocrat and oligarch' said in an op-ed in Politico. Pitchforks are coming or a police state is coming. What we have seen in America is the rise of the police state, complete with outrageous lies and hyperventilation over what appears to be a series of psy-ops that helped seal President Trump's political fate.  The Nazis and their Reichstag fire could have been proud of those involved in America's de facto coup. Because like him and his pillows or not, Lindell has a point. If there is nothing to hide, why are they hiding it? Why is it that everyone that questions the official corporate-political narrative deemed a kook and conspiracy theorist?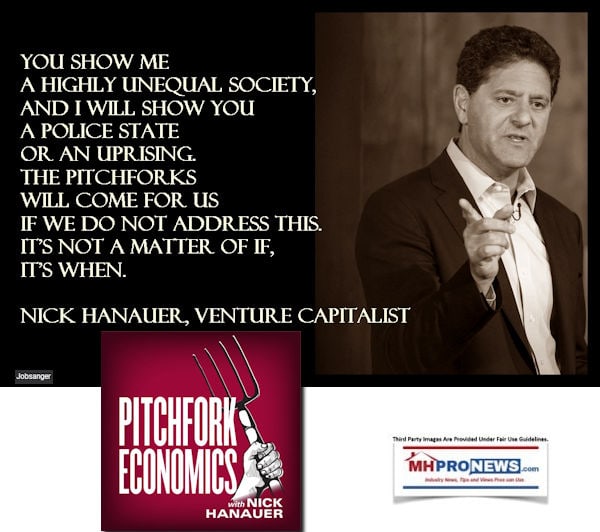 It take a lot of words to explain what is simple. When the facts so often go in one direction, what do those who have the evidence reflecting against them so badly do by demean those who question them?
This is why the current American malaise may be the dawn of a new era. Our history is not as picture perfect as some want to paint it. Nor is it as driven by identity politics as some would crave people believe. The truth is what it is. America has a checkered history. But the founders new that would be so. Some freed their slaves, others did not. Slavery was eventually abolished. But in its place, a new seemingly feudalistic system of debt and regulatory slavery has slowly risen. The powers that be have for too long taken advantage of the masses who trusted their elected officials and their bureaucratic appointees. Hillary Rodham, before she became a Clinton, wrote her mentor and Rules for Radicals author Saul Alinsky to the effect that it wasn't enough to merely challenge and disrupt the system. They must take over the system.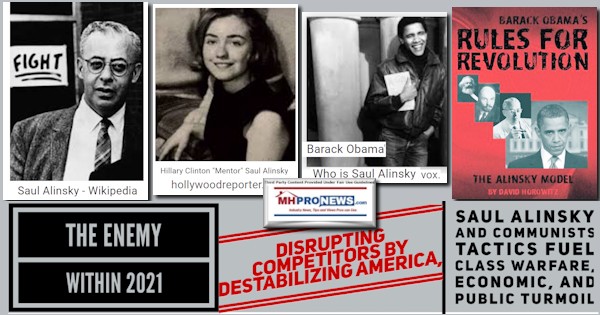 There are Ten Commandments. At the base of our society there should be profoundly eternal beliefs. The current darkness is a call for a purging of those who stand in favor of decades of corruption.
I teased early on about returning to Bush and Cheney. It is no surprise that Liz Cheney is opposed to President Trump's continued efforts in transforming the GOP. It is no surprise that former 43rd President Bush would be okay with supporting White House Resident Joe Biden. They are examples from Republican ranks of the kind of corruption that exists in Democratic ranks too.
For whatever his personal failings may be, President Trump seems to deeply love America and everyday people. Long before he ran for office, periodic stories would pop up of some random good deed that he had done for a stranger he encountered. His people in the Trump Organization often admired and respected him. He was as comfortable on a construction site as he was in the board room.
President Trump can be accused of falling into the COVID19 trap. His buddy Rush Limbaugh said as much.
But much of the narrative against President Trump was literally bought and paid for by the same people that fund the Civic Alliance. If the standard of the Democratic President Harry Truman quoted below means anything, it should tell us that Obama-Biden were corrupt tools in an already corrupt system.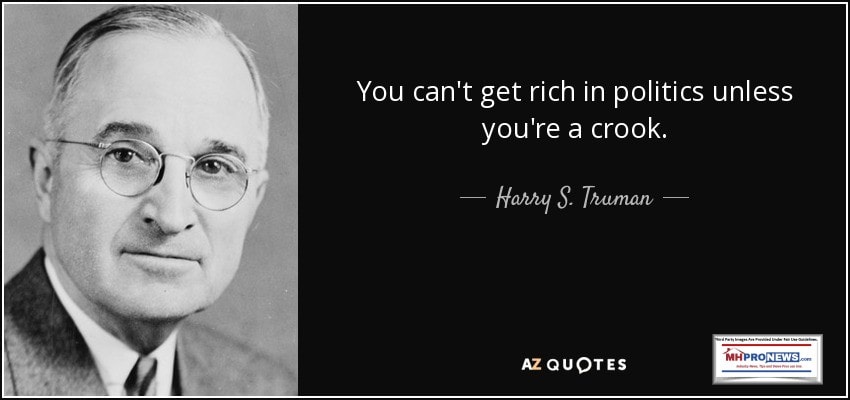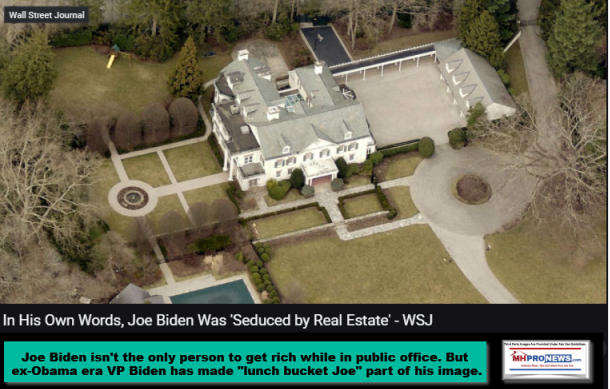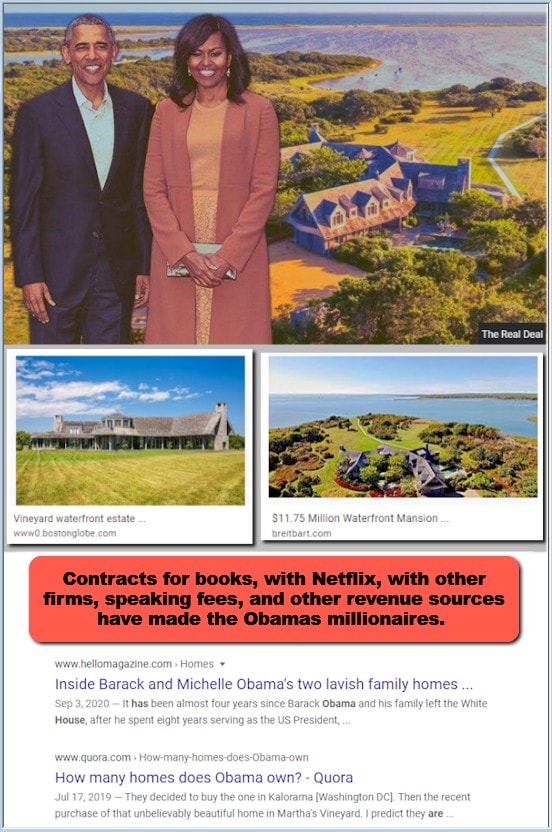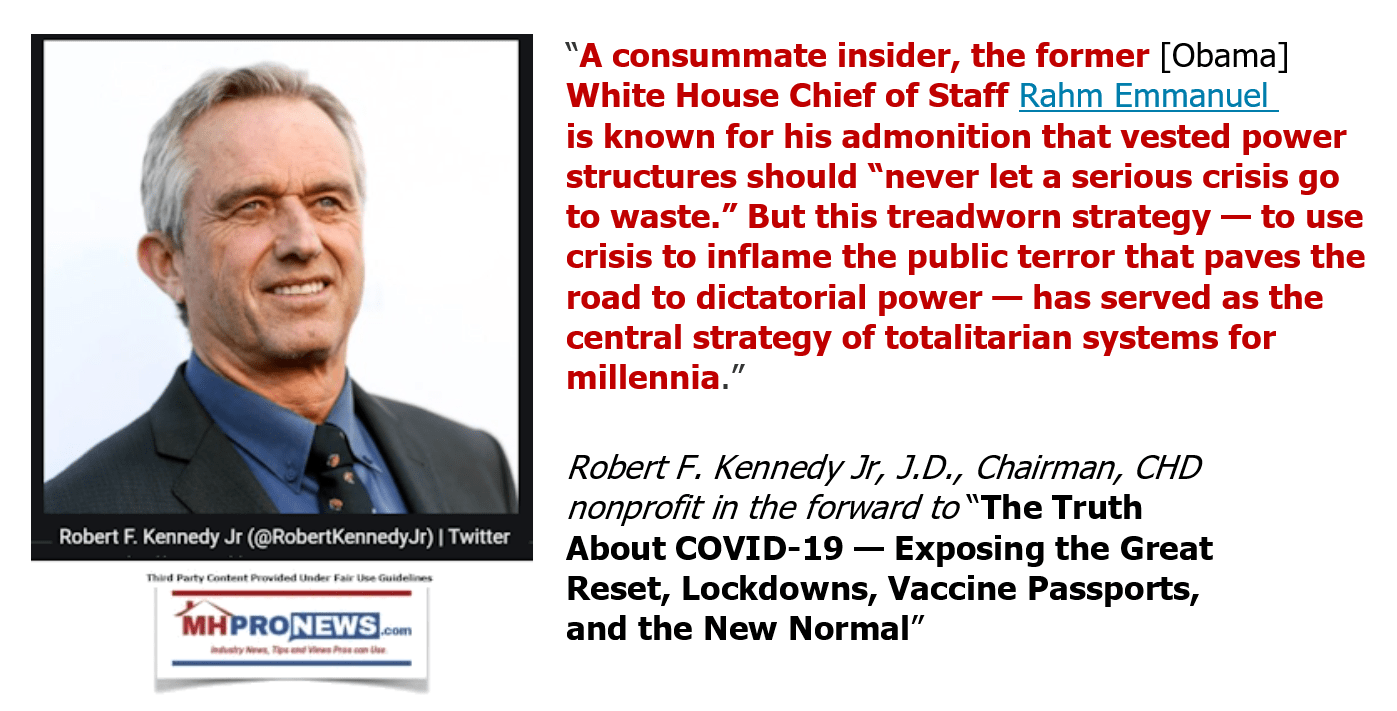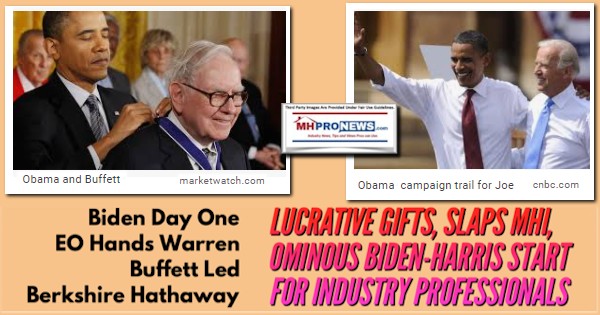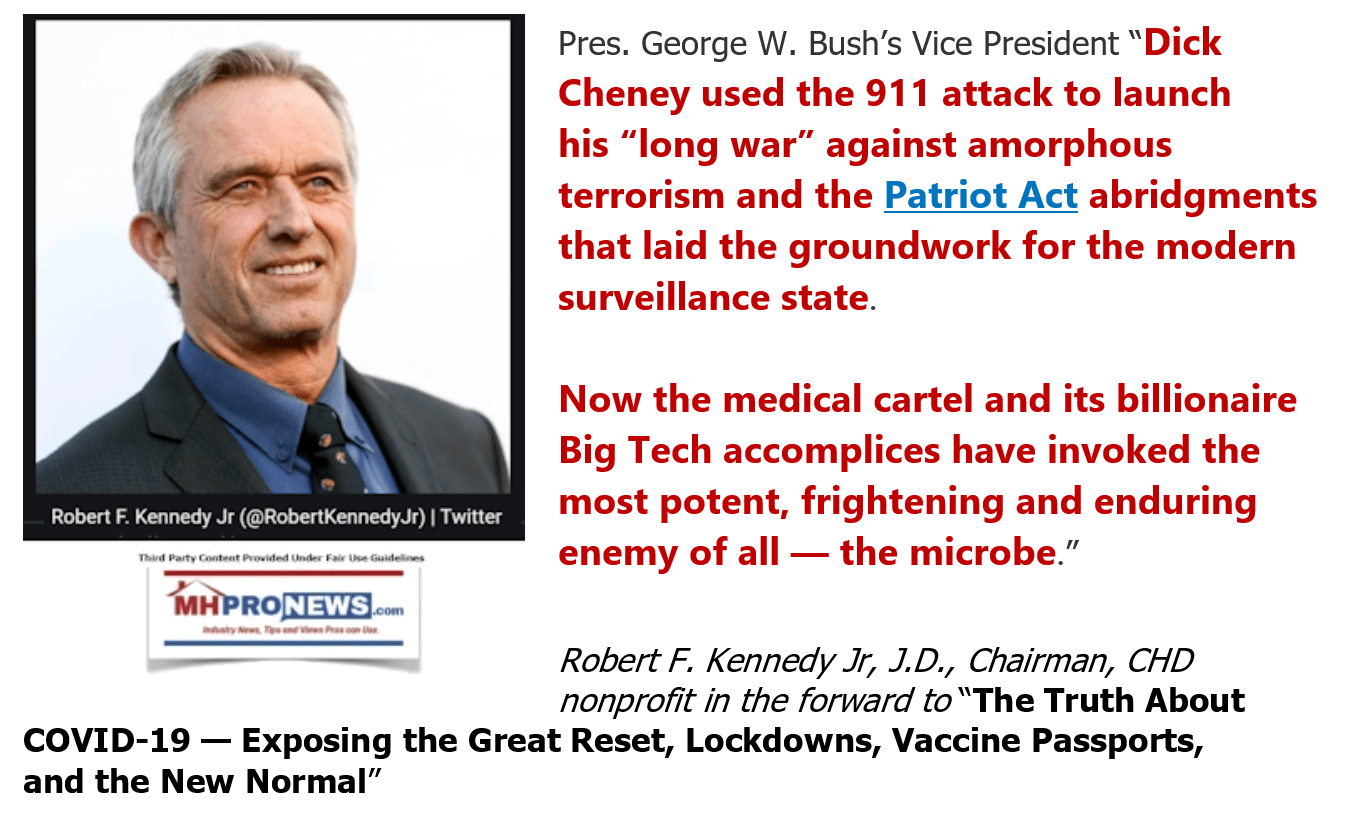 President Clinton claimed to be broke when he left the White House. If so, how did he and Hillary magically become millionaires? Isn't it rather easy to trace it back to the same cast of shady characters mixed up in the Civic Alliance?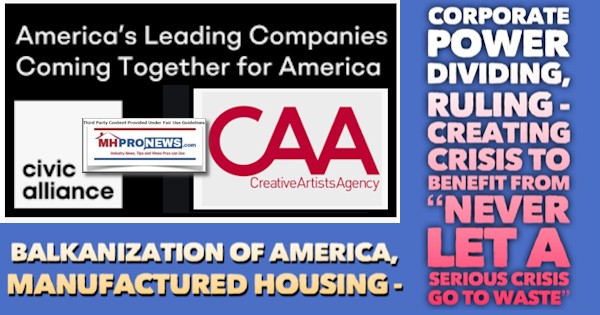 Clinton-Bush-Obama-Biden. Two different political parties. Seemingly different beliefs between the Republican Bush and his Democratic peers, but when the chips are down, he sides with Clinton-Obama-Biden.
America may or may not see a return of President Trump personally. If he does return, or if someone like Florida Governor Ron DeSantis or Senator Tim Scott picks up the mantle, there is appears to be a growing move on the Republican side in the Trump era to transform that party into a people's party.
Yes, there are those like Naomi Wolf, RFK Jr, and Greenwald on the left that want to see a purification of the Democratic party. But there appears to be more energy in that direction among Republicans. That said, there is hope that people like Senators Joe Manchin (WV-D) and Kyrsten Sinema (AZ-D) may make efforts for reform the excesses in their party's ranks.
The early moves by what journalist turned pundit Chris Plante has called "the Biden-Harris Junta" has postured talking points that sound good to their base, but has made moves that routinely benefit their oligarchs and plutocratic masters. It is without joy that this writer, among others, can say that the warnings before Biden took office are already coming to pass.
But Biden has made several statements that are benchmarks for accountability. Following the promises, and holding those up against the realities of the behavior is the order of the day.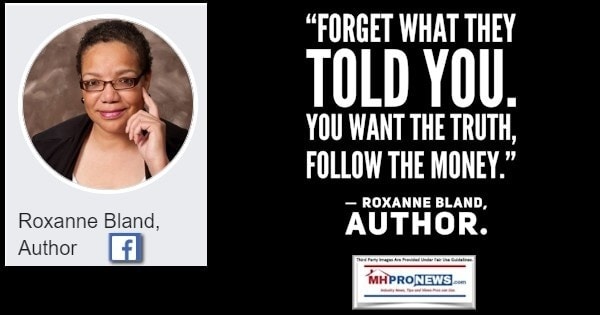 The voices from left and right have for decades told Americans parts of the sobering truth. To put the puzzle pieces together, someone must be objective enough to sift through the mountains of competing claims versus the actual behaviors.
If there is a Trump 2.0, under whatever candidates' name, such a leader should press for solutions that go to the root issues. Enforcing existing laws would go a long way. Bringing people like Warren Buffett, Bill Gates, and others like them to account for their various purported systemic and market manipulations would be a good start.
The narrator of the Cold Fusion video above made an apt point.
"

It's the illusionary effect where if you repeat a lie enough times people start to believe it especially if you have credible names surrounding the product

."
Not only are brands products, but so too are politicians and agencies. There has been a "tapestry of lies" as Curtin related. Greenwald called it a "blinding propaganda." Yes, the system is rigged. But to unrig the system, people of good will in whatever group they find themselves in must be willing to step up and do what is right. Applying the lessons of timeless faith/morality and the enforcement of existing laws to bring the corrupt to accountability would be good places to start.
To learn more, see the linked and related reports. Because Matthew Kelly has a point. "Superficiality is the curse of the modern world." The problems could all be boiled down to variations on the three letter word, "sin." The curses are to apply the virtues over vices. But to understand the how and the why, that requires details that executive summaries are not able to convincingly deliver. Evidence takes time and effort. This report is about 8700 words. That is about 3o minutes of 'average' reading. But it is years of distilled research and understanding. To break the problematic cycles illustrated herein simply demands an appropriate amount of time.  Reading it twice would be even better, and then digging into the linked related reports will make the light from a deeper understanding emerge. To avoid more of the decades of obviously failed and corrupt systemic practices illustrated above, even a few hours of time is a shrewd investment by comparison, don't you think?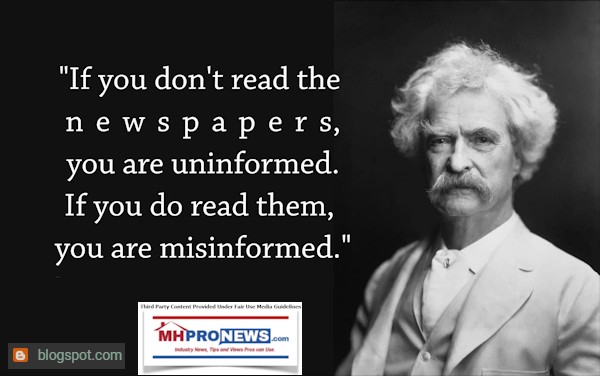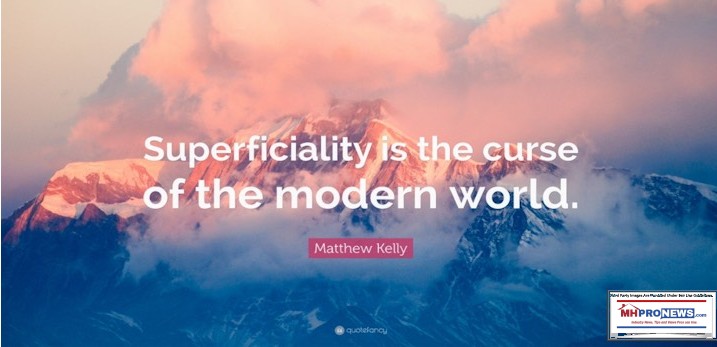 Instead of evenings of often mindless distractions, a week of evening reading and viewing of videos like the ones above would bring our Republic's dilemma into sharper focus.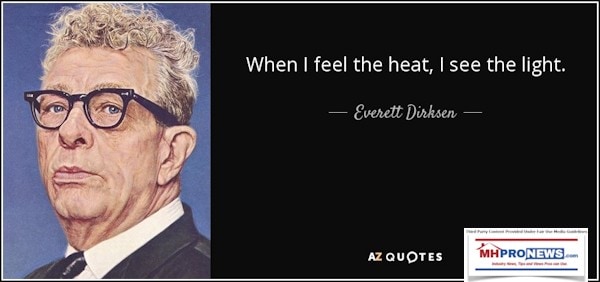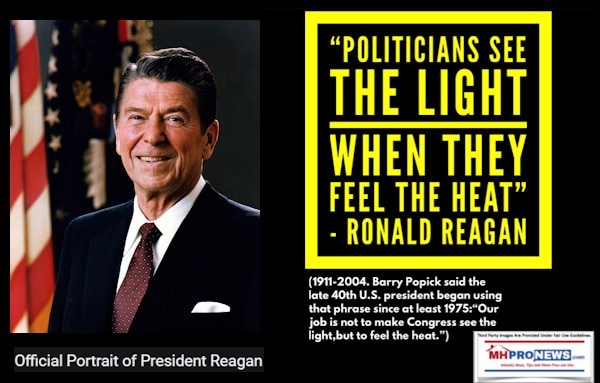 The deeper the understanding, the more the patterns and thus the solutions become obvious.  Good information, accountability, and enforcing sound morality based upon good existing laws.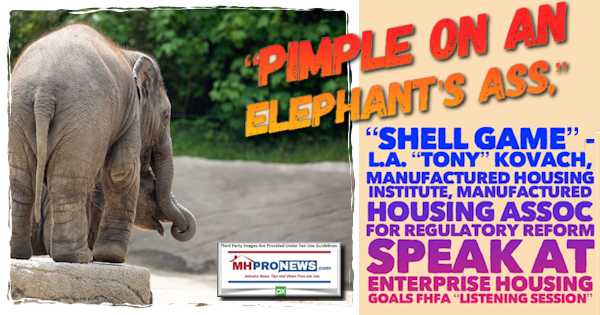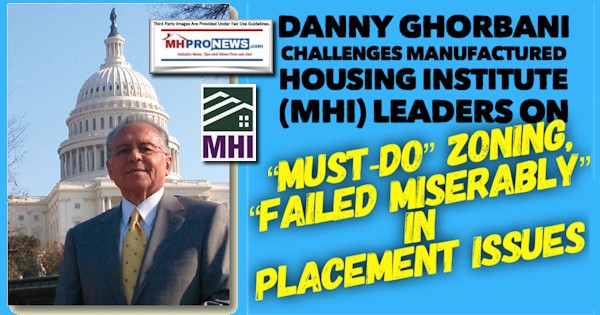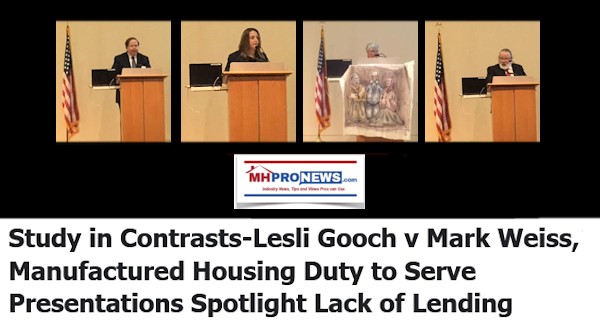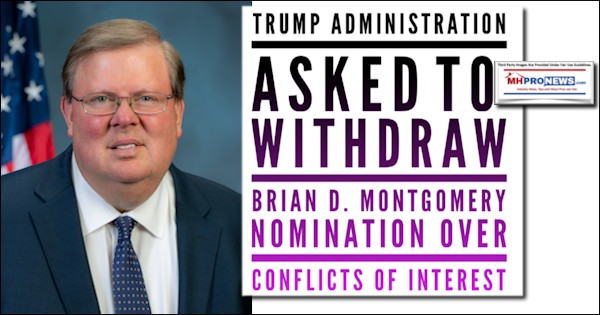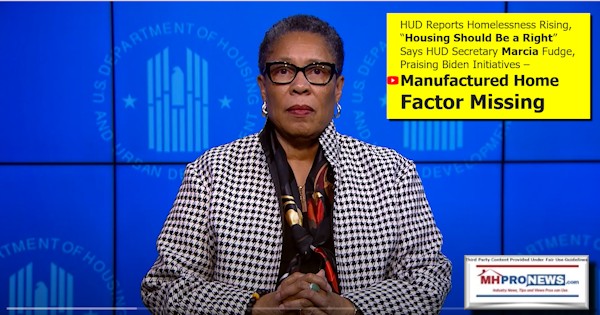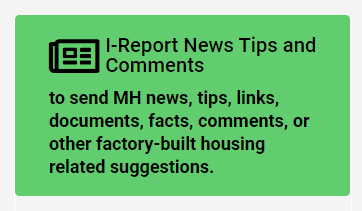 Stay tuned for more of what is 'behind the curtains' as well as what is obvious and in your face reports. It is all here, at the runaway largest and most-read source for authentic manufactured home "News through the lens of manufactured homes and factory-built housing" © where "We Provide, You Decide." © ## (Affordable housing, manufactured homes, reports, fact-checks, analysis, and commentary. Third-party images or content are provided under fair use guidelines for media.) (See Related Reports, further below. Text/image boxes often are hot-linked to other reports that can be access by clicking on them.)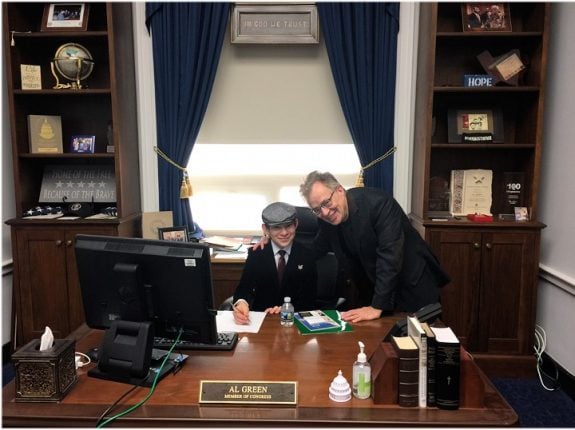 By L.A. "Tony" Kovach – for MHProNews.com.
Tony earned a journalism scholarship and earned numerous awards in history and in manufactured housing.
For example, he earned the prestigious Lottinville Award in history from the University of Oklahoma, where he studied history and business management. He's a managing member and co-founder of LifeStyle Factory Homes, LLC, the parent company to MHProNews, and MHLivingNews.com.
This article reflects the LLC's and/or the writer's position, and may or may not reflect the views of sponsors or supporters.
Connect on LinkedIn: http://www.linkedin.com/in/latonykovach
Related References:
The text/image boxes below are linked to other reports, which can be accessed by clicking on them.