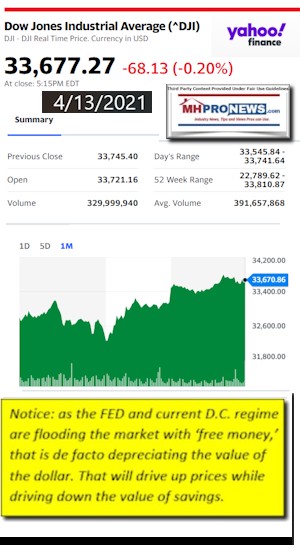 Liberal attorney-turned award-winning journalist Glenn Greenwald has been sounding the alarm for years about surveillance state intrusions into American life. Not because MHProNews agrees with every utterance of Greenwald have we featured his penetrating insights on several occasions. Nor is it because he is willing to take out the garbage that sometimes passes as reporting by mainstream media, or corrupt practices engaged in by this or that member of one of the two major U.S. parties. Rather, it because Greenwald has refined an evidence based blend of news analysis that routinely happens to apply to our profession that often sheds light that should make thoughtful individuals across the left-center-right divide to think and question the propaganda style party live of America's – and our profession's – would be oligarchic and feudalistic overlord masters.
While the emphasis and topics may be different, Greenwald and self-proclaimed lifelong Democrat Robert F. Kennedy Jr. arguably share more than divides them. Perhaps as important, thoughtful voices on the right have raised quite similar alarms in recent years too.
It is this spanning of the left-center-right that holds great promise for our otherwise seemingly conquered nation. By extension, it holds a similar level of hope for manufactured housing pros who can't bear what has become a heavy cross of oppression that is made palatable to numbers by a sly, coy propaganda exhibited in our segment of society. The monopolization of the American Dream that is occurring as plutocrats and oligarchs steadily carve up manufactured housing via a combination of schemes that Greenwald, RF Kennedy Jr., Subarian, Whitehead, Dr. Mercola, Archbishop Vigano, Capital Research Center, and others shed light on in the broader American and international picture.
These are big-business-big government Davos-style globalist minds arguably find the restraints of our Constitutional Republic irksome. Like the darkly insightful corporate parody classic 1976 movie Network, Greenwald delivers. His latest emailed insights are our featured focus for this evening. It will be supported by additional information, links, pull quotes, and analysis MHProNews.
Before pivoting toward tonight's featured focus segment – and for the benefit our growing numbers of new readers – a few quick evening/nightly market report insights.
Every business evening/night, MHProNews provides a bullet list of left-right news headlines from CNN Business and Newsmax. In a matter of moments, savvy professionals can see at a glance news headlines and views across the political spectrum.
This is a time saving and insightful way to quickly grab insights from across the left-right divide.  It is a useful at-a-glance opportunity for those who are hooked on this market-nightly feature.
Our featured focus follows the quotable quotes, periodic political cartoons, those left-right headlines, and two of our three market summary graphics as reported at the closing bell.
After the featured focus, are some recent/related report links and the third manufactured housing focused stock equities graphic. There are some additional items that include the free signup for the manufactured housing industry's x2 weekly emailed news to the most-read trade publication in our profession:
On a mixed day for manufactured home connected equities, let's advance toward our featured focus on the latest big-corporate, spy agency, big government nexus evidence as laid out by Glenn Greenwald, plus a related report and analysis.
Quotes That Shed Light – Industry, American, Social, National Issues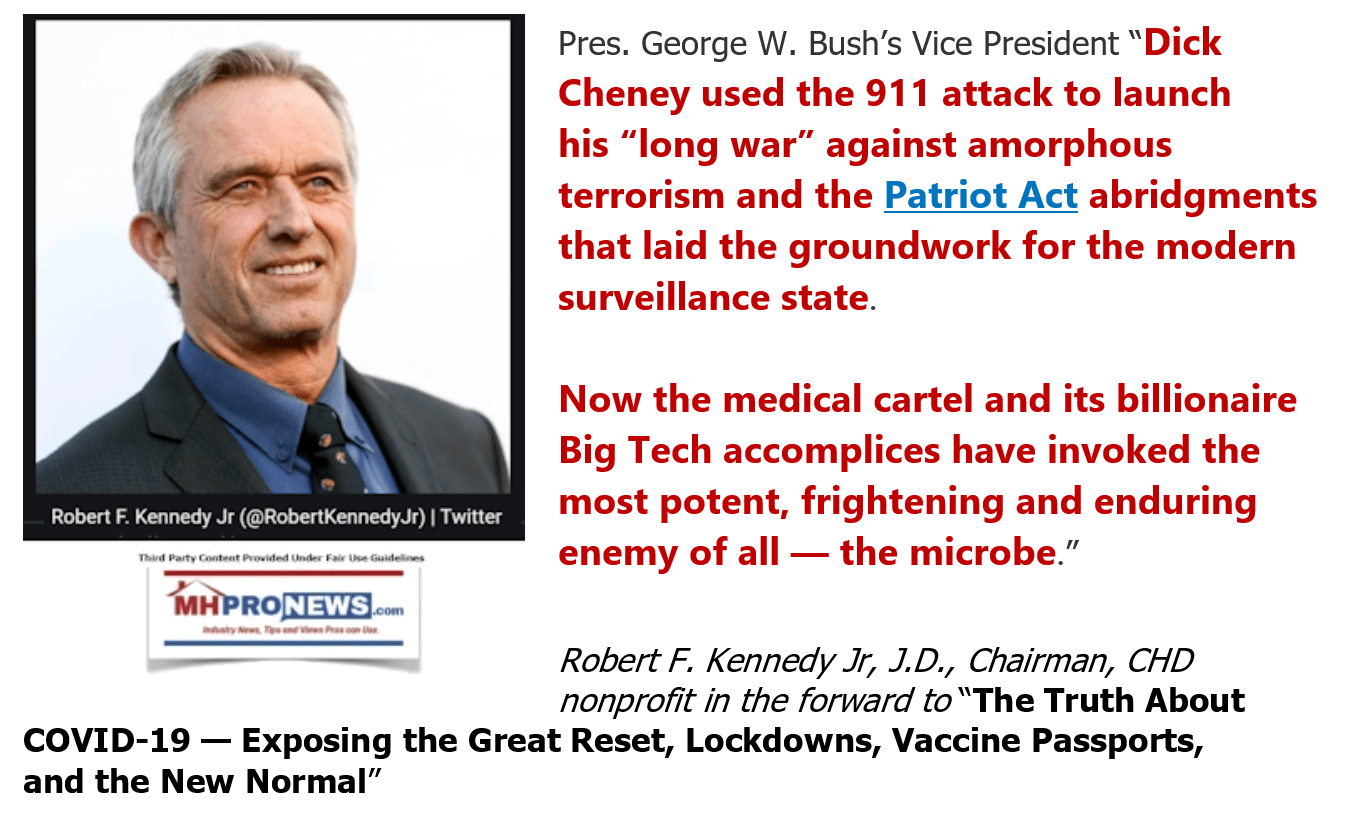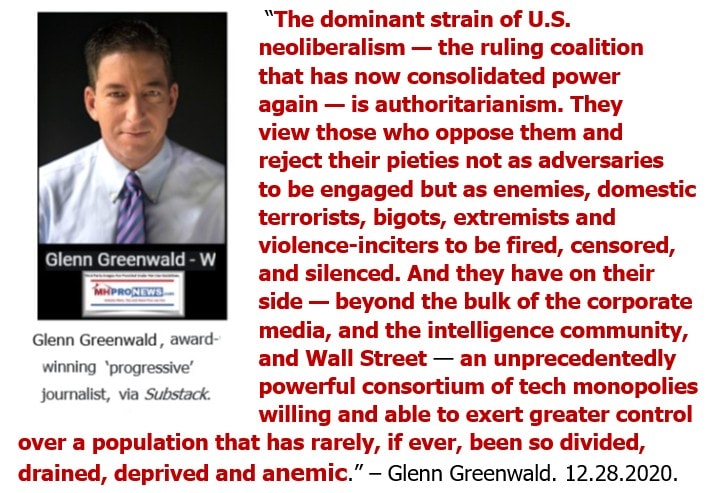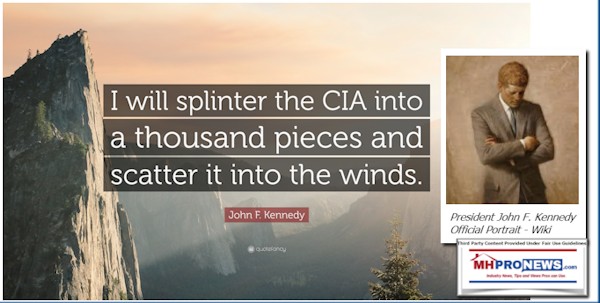 Headlines from left-of-center CNN Business
Save the date
Apple announces date of spring product launch
Practically everything is getting more expensive in America
Dow slips after US urges pause on Johnson & Johnson Covid-19 vaccine
Gupta: Johnson & Johnson vaccine pause will fuel hesitancy
Boeing's 2021 was starting off pretty well — until its latest 737 Max woes
Opinion: Without these travelers, airlines can't fully recover
Grab is going public in $40 billion SPAC deal, the biggest on record
IPO vs SPAC vs direct listing: Explaining Wall Street's hot trends
New Zealand wants its banks to go green
Analysis: 100 days later, Brexit isn't working and business wants it fixed
Vaccine passport apps are about to be everywhere. It could get complicated
Some workers can't wait to get back to the office
Tucker Carlson sneers at critics as he doubles down on 'replacement theory'
Tenants and Housing Activists gathered at Maria Hernandez Park for a rally and march in the streets of Bushwick on July 5, 2020 demanding the city administration to cancel rent immediately as the financial situation for many New Yorkers remains the same, strapped for cash and out of work.
$50 billion in rent relief is up for grabs. These tenants are getting help from an unlikely source: Their landlords
This photo shows Ford 2018 and 2019 F-150 trucks on the assembly line at the Ford Motor Company's Rouge Complex on September 27, 2018 in Dearborn, Michigan. Ford Motor Company's Rouge complex is the only one in American history to manufacture vehicles  including ships, tractors and cars non-stop for 100 years.
Car-making nightmare could soon get a fix, thanks to Intel
Domino's is launching a pizza delivery robot car
BUSINESS OF BOOZE
A worker pours a pint of Guinness for a customer's drinks order at the Half Moon pub in east London, as coronavirus restrictions are eased across the country following England's third national lockdown on April 12, 2021. – Britons on Monday toasted a significant easing of coronavirus restrictions, with early morning pints — and much-needed haircuts — as the country took a tentative step towards the resumption of normal life following the partial easing of lockdown restrictions in England.
English pubs can open again but 2,000 have already gone under
The boom of pandemic booze sales may be changing
Cameron Diaz wants to ship you her wine
Budweiser Select comes back as light beer sales surge
PepsiCo is launching a booze mixer
JUST DO IT
Nike wants to resell your (lightly) worn shoes in some stores
Lil Nas X Satan shoe buyers can get a full refund
Nike sues maker of Lil Nas X 'Satan Shoes'
Why Nikes are getting harder to find at stores
Nike made a hands-free shoe
Headlines from right-of-center Newsmax 
GOP Calls for Trimmed-Back Infrastructure Bill
Republican lawmakers are once again urging the White House to put forth legislation on the nation's infrastructure that focuses on traditional infrastructure elements like bridges and tunnels, without adding in funding for programs that greatly stretch the definition.
The Biden Presidency
Biden Raises Concerns With Putin About Ukraine Confrontation, Proposes Summit
Biden Never Brought Up Navalny With Putin, Notes Russian Exile Khodorkovsky
Defense Sec. Austin Reverses Trump Troop Cut Plans in Germany
WH to Reach 'White Conservatives' on COVID Via NASCAR, Country Music
CDC Director Warns Michigan 'to Close Things Down'
Cotton Bill Blocks US Funds to States Giving Cash to Illegals
State Dept. Speaks Out On Russia's Jailing of Navalny
Biden Nominee Wormuth Would Be First Woman to Lead Army
Cuellar Pushes Back on Biden Border Claim: Increase in Crossings 'Not Seasonal'
Newsfront
Officer, Chief in Fatal Minnesota Shooting Resign
Brooklyn Center, Minnesota, Police Officer Kim Potter, who fatally shot Black motorist Daunte Wright, 20, in a struggle after a traffic stop, has resigned along with the police chief…. [Full Story]
Related Stories
Minnesota Gov. Walz Tells Protesters: Exploit This Tragedy and You Will Be Arrested
40 Arrested in Violent Minnesota Protests
Police: Minnesota Officer Meant to Draw Taser, Not Handgun
Biden Raises Concerns With Putin About Ukraine Confrontation, Proposes Summit
resident Joe Biden urged Russian President Vladimir Putin on Tuesday
Biden, Lawmakers Pay Tribute to Slain Capitol Police Officer
Slain U.S. Capitol Police Officer William "Billy" Evans was lauded
US Calls for J&J COVID-19 Vaccine 'Pause' Over Clot Reports
The U.S. is recommending a "pause" in administration of the
Related
WH: J&J COVID-19 Vaccine Delay Won't Impact US Vaccination Plan
Johnson & Johnson Delays Vaccine Rollout in Europe
Trump Slams Biden for J&J Vaccine Pause: 'Terrible Disservice' to World
Reports: Biden to Withdraw US Troops From Afghanistan by September
President Joe Biden will reportedly withdraw all American troops from
Gun Control Bills Before Senate Are Wolves in Sheep's Clothing, Critics Say
With Congress back at work this week, much of the focus is likely to
Biden's Gun Control Push Creates Opening for GOP in Midterms
Republican candidates could gain from President Joe Biden's call for
Ken Starr to Newsmax TV: 'Culture Has Become Quite Hostile' to 'Religious Freedom'
Former U.S. Solicitor General Ken Starr told Newsmax TV on Tuesday
Prosecution Rests Case in George Floyd Murder Trial, Defense Begins
Prosecutors rested their case on Tuesday against Derek Chauvin, the
Facebook Users Can Appeal Harmful Content to Oversight Board
Facebook's quasi-independent Oversight Board said Tuesday that it
Jewish Population of Israel at Lowest Point Since Founding
The Jewish population of Israel has fallen to its lowest levels since
Iran to Enrich Uranium to 60 Percent, Highest Level Ever
Iran will begin enriching uranium to 60% purity, higher than the
GM and Ford CEOs Lead Michigan Group Opposing Voter Restrictions
The nation's fight over voter inclusion heated up in Michigan, with
US Consumer Prices Jump by Most in Nearly 9 Years
S. consumer prices climbed in March by the most in nearly nine
TIPP Poll: 68 Percent Want Special Counsel for Hunter Biden
Sixty-eight percent of Americans want Attorney General Merrick
GOP Senators Ask FBI to Probe Biden's Pentagon Nominee
A group of Republican senators reportedly have demanded the FBI
Poll: 15 Percent of Americans Worse Off a Year Into Pandemic
About 38 million Americans say they are worse off now than before the
Ted Cruz: Michael Vick Voting Ad 'Persuasive' if 'You Like Killing Puppies'
Ted Cruz, R-Texas, mockedformer NFL quarterback Michael Vick for
Favre Speaks Out on Woke Sports, Identity Politics, Trump Support
The hyperpartisan world has transformed sports into what used to
Trump Says New York Tax Law Doesn't Apply Because He's Not President
Donald Trump said a New York law enabling Congress to ask for his
Nikki Haley for President 2024: Not If Trump Runs
Nikki Haley, former South Carolina governor and United Nations
Recreational Marijuana Now Legal in New Mexico
New Mexico Democrat Gov. Michelle Lujan Grisham signed legislation
Gizzi: State Dept. Speaks Out On Russia's Jailing of Navalny
After a day of silence, the U.S. State Department made known its
Student Fires at Officers at Tennessee School, Is Killed
A student opened fire on officers responding to a report of a
Japan to Dump Treated Radioactive Fukushima Water Into Ocean
Japan will release more than a million cubic meters of treated
Intel: Iran Tried to Lure Israelis Via Instagram to Kidnap
Iranian intelligence has been attempting to lure Israelis out of the
Senator Tells Biden GOP Won't Back Tax Hike
President Joe Biden was told by a Republican senator at a White House
Iran, Israel to Deal With Purported Sabotage at Iranian Nuclear Site, Sans US
The Biden administration distanced itself from the attack on the
Biden Nominee Wormuth Would Be First Woman to Lead Army
President Joe Biden plans to nominate Christine Wormuth, a former
Newt Gingrich: Biden Put Harris in Charge of Border 'Because They Knew She Wouldn't Do Anything'
Former House Speaker Newt Gingrich told Fox News on Monday that
Finance
Poll: 15 Percent of Americans Worse Off a Year Into Pandemic
About 38 million Americans say they are worse off now than before the outbreak began in the U.S., according to a new poll.
GOP Calls for Trimmed-Back Infrastructure Bill
Stocks Hardly Overvalued: Big Rally Ahead
Microsoft to Buy AI Firm Nuance Communications for $16 Billion
Goldman Sachs Warns Biden's Tax Package Will Cut Earnings Growth
Health
Why COVID-19 Vaccines Could Cause Blood Clots
The U.S. government has recommended a pause on the distribution of the Johnson & Johnson COVID-19 vaccine after a potentially deadly side effect was noted in six women out of the 6.8 million people given the drug…
Midnight Snacking Affects Next Day's Performance, Study Says
Study: Widely Used Blood Pressure Meds May Raise Skin Cancer Risk
Exercising for 30 Minutes Daily Slashes Risk of Death by 40 Percent
Market Indicator Closing Summaries – Yahoo Finance Closing Tickers on MHProNews…
Featured Focus –
Where Business, Politics and Investing Can Meet
Following the Greenwald release below today to MHProNews, there will be additional information, MHProNews analysis, and commentary.
Big Corporations Now Deploying Woke Ideology the Way Intelligence Agencies Do: As a Disguise

By draping itself in the finery of political activism, the corporatist class consolidates political power, corrupts democracy and distracts from its real functions.
Glenn Greenwald
Apr 13, 2021
The British spy agency GCHQ is so aggressive, extreme and unconstrained by law or ethics that the NSA — not exactly world renowned for its restraint — often farms out spying activities too scandalous or illegal for the NSA to their eager British counterparts. There is, as the Snowden reporting demonstrated, virtually nothing too deceitful or invasive for the GCHQ. They spy on entire populations, deliberately disseminate fake news, exploit psychological research to control behavior and manipulate public perception, and destroy the reputations, including through the use of sex traps, of anyone deemed adversarial to the British government.

But they want you to know that they absolutely adore gay people. In fact, they love the cause of LGBT equality so very much that, beginning on May 17, 2015 — International Day against Homophobia, Transphobia and Biphobia — they started draping their creepy, UFO-style headquarters in the colors of the rainbow flag. The prior year, in 2014, they had merely raised the rainbow flag in front of their headquarters, but in 2015, they announced, "we wanted to make a bold statement to show the nation we serve how strongly we believe in this."
Who could possibly be opposed to an institution that offers such noble gestures and works behind such a pretty facade? How bad could the GCHQ really be if they are so deeply committed to the rights of gay men, lesbians, bisexuals and trans people? Sure, maybe they go a little overboard with the spying sometimes, and maybe some of their surveillance and disinformation programs are a bit questionable, and they do not necessarily have the highest regard for law, privacy and truth. But we know that, deep down, these are fundamentally good people working within a fundamentally benign institution. Just look at their flamboyant support for this virtuous cause of social justice.

Similar agencies of deceit, militarism and imperialism now robustly use this same branding tactic. The CIA — in between military coups, domestic disinformation campaigns, planting false stories with their journalist-partners, and drone-assassinating U.S. citizens without due process — joyously celebrates Women's Day, promotes what it calls The Agency Network of Gay, Lesbian, Bisexual, and Transgender Officers (ANGLE) and hosts activities for Pride Month, and organizes events to commemorate Black History Month. The FBI does the same.
Throughout the month of June, CIA hosted a series of events, panels, & activities celebrating the progress toward equality for members of the Lesbian, Gay, Bisexual, and Transgender community. #PrideMonthhttps://t.co/M2KYzNbvuk pic.twitter.com/IGiUIA7d7J

— CIA (@CIA) June 26, 2018
It's so sweet that one is tempted to forget about, or at least be more understanding of, all the bombing campaigns and all the dictatorships they install and prop up that repress and kill the very people that they purport to honor and cherish. Like the GCHQ, how menacing can an intelligence agency be when it is so deeply and sincerely supportive of the rights of the people they routinely spy on, repress and kill?

Again, this does not make the CIA perfect — sure, they make some mistakes and engage in some actions that are worthy of criticism — but to combat real evil, you do not go protest at Langley. They are engaged in important work combating homophobia, racism and misogyny. Thus, real warriors against evil look not to them but instead go searching online for the Boogaloo Boys and boomers on Facebook who post Q-Anon and other problematic memes. That is where your focus should remain if you want to root out the real threats.

Large corporations have obviously witnessed the success of this tactic — to prettify the face of militarism and imperialism with the costumes of social justice — and are now weaponizing it for themselves. As a result, they are becoming increasingly aggressive in their involvement in partisan and highly politicized debates, always on the side of the same causes of social justice which entities of imperialism and militarism have so effectively co-opted.

Corporations have always sought to control the legislative process and executive branch, usually with much success. They purchase politicians and their power aides by hiring them as lobbyists and consultants when they leave government, and those bought-and-paid-for influence-peddlers then proceed to exploit their connections in Washington or state capitals to ensure that laws are written and regulations enforced (or not enforced) to benefit the corporations' profit interests. These large corporations achieve the same goal by filling the campaign coffers of politicians from both parties. This is standard, age-old K Street sleaze that allows large corporations to control American democracy at the expense of those who cannot afford to buy this influence.

But they are now going far beyond clandestine corporatist control of the government for their own interests. They are now becoming increasingly powerful participants in highly polarizing and democratic debates. In the wake of the George Floyd killing last summer, it became virtually obligatory for every large corporation to proclaim support for the #BlackLivesMatter agenda even though many, if not most, had never previously evinced the slightest interest in questions of racial justice or policing.

One of the very few companies that refused to do so was the Silicon Valley-based cryptocurrency exchange platform called Coinbase — which announced that it would remain apolitical and not involve itself in partisan debates or causes of social justice unrelated to its core business mission. When announcing that policy of political neutrality, the company's co-founder Brian Armstrong explained that "the reason is that while I think these efforts are well intentioned, they have the potential to destroy a lot of value at most companies, both by being a distraction, and by creating internal division." That once-anodyne announcement — to stay out of politics as a corporate entity — produced instant backlash. And exactly two months after, the notoriously censorious and politicized "tech reporters" of The New York Times punished the company for its heresy of neutrality with a lengthy article depicting Coinbase as a bastion of racism and toxic bigotry (the company was also savaged by journalists because of its audacity to reveal and respond to the NYT's allegations in advance of the paper's decision to publish).
Ever since, large corporations are diving into numerous other political debates with great vigor and force — provided that their views are in alignment with affluent liberal culture and prevailing social justice pieties (though, like NBA officials and stars, they confine themselves to easy domestic causes and scripted liberal platitudes while they steadfastly avoid commenting on any injustices that may implicate their business interests, such as debates over repression in China or Amazon's abuse of its workers). The Wall Street Journal on Sunday reported that "dozens of chief executives and other senior leaders gathered on Zoom this weekend to plot what several said big businesses should do next about new voting laws under way in Texas and other states." The campaign against these laws includes not just corporate giants but also the nation's largest and richest corporate law firms.

Part of the motive may be self-serving strategy. With Democrats controlling both houses of Congress as well as the Executive Branch — all of the instruments that can legislate and regulate their businesses — they may be calculating that using their massive weight to serve the Democratic Party's political agenda is wise. Doing so could curry favor with powerful lawmakers and regulators and result in rewards or, conversely, allow them to avoid punishment and recrimination for the crime of refusing to engage in activism. That motive at least partially explains why they have been so generous with their donations to Democratic candidates. "Wall Street is putting its money behind Democrat Barack Obama for president," reported Reuters in 2008, while they did the same overwhelmingly in 2020 to support Biden over Trump (just as Democrats have increasingly become the party of affluent suburbanites, they are also increasingly supported by the wealthiest corporate and tech power centers).

The farcical nature of all of this is obvious. Just as it is laughable that the CIA and GCHQ care about social justice, feminism, and racial diversity as they bomb and subvert the rest of the world in ways that contradict all of those professed values, the idea that corporate giants who use sweatshops, slave labor, mass layoffs and abuse of their workforce care about any of these causes would make any rational person suffocate on the stench of their insincerity.
New York Times, Nov. 20, 2020
But whatever the motives, the dangers of growing corporate involvement in U.S. political debates are manifest. In its healthiest form, the way democracy would function is that citizens vote for the representatives they believe will best serve their interests, and those representatives then enact laws they believe their constituents favor. But when giant corporations use their unparalleled economic power to override that process — by forcing state and local governments to rescind or reject laws they would otherwise support due to fear of corporate punishment — then the system, by definition, far more resembles an oligarchy than a democracy. Rod Dreher, writing on Monday in The American Conservative, advanced arguments and concerns that were once the province of the left: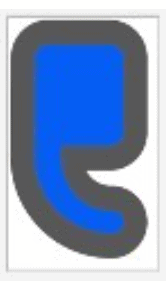 This is progressive oligarchy. Woke Capitalism is a threat to democracy. As I write about in Live Not By Lies, these same people are eventually going to eagerly collaborate with government to create the Social Credit System necessary to make this country controllable.

When is it going to occur to people on the Left that Big Business is doing all this because it knows that if it makes the right moves on cultural issues that matter to the Woke, it will be able to do whatever it wants to workers? It has never had to worry about Republicans. That may be changing soon, if we elect a crop of populists who know how to do more than tweet and make belligerent but empty speeches. I'd like to see Republicans like this get elected, and get active to remind Big Business of its proper place. . . .

Big Business is already quite powerful in our society. Do we really want a society in which Big Business reserves to itself the right to tell polities what their laws and policies are going to be, at the risk of punishing that polity economically if it resists? Does this sound like the kind of country you want to live in? If you are pro-choice, imagine that Big Business decided to threaten your state's legislature with economic consequences if it doesn't pass pro-life legislation. One expects the business lobby to engage itself on legislative questions pertaining to its own sphere, but beyond it? Big Business already has a lot of power over our lives — and now it wants more. The only force powerful enough to reign it in is the State. Whatever else you might say about the State, at least it is democratically accountable — unlike Big Business."

##

To see the article above with all of the illustrations and images used by Greenwald, click here.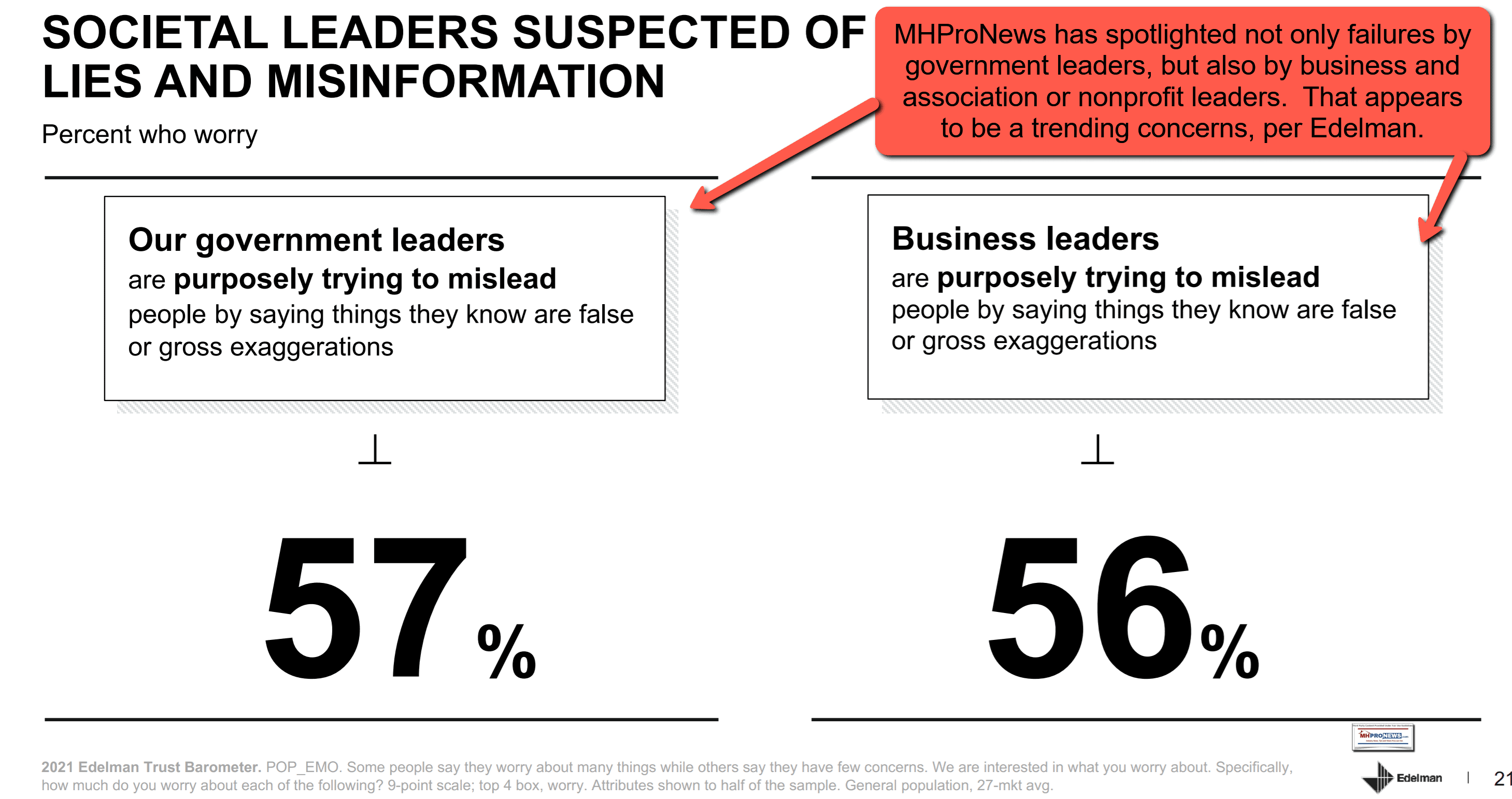 Additional Information, MHProNews Analysis and Commentary
If you like Communist China, and would love to move there and live in a social credit system surveillance police state, then you will love the rising feudalism being deceptively foisted on America by the nexus of billionaires, big corporate power, and big government.
Who says?
An array of voices across the left-center-right spectrum. Take another look at the quotable quotes for this evening, above.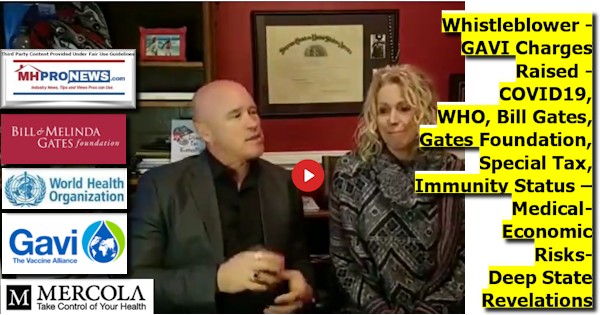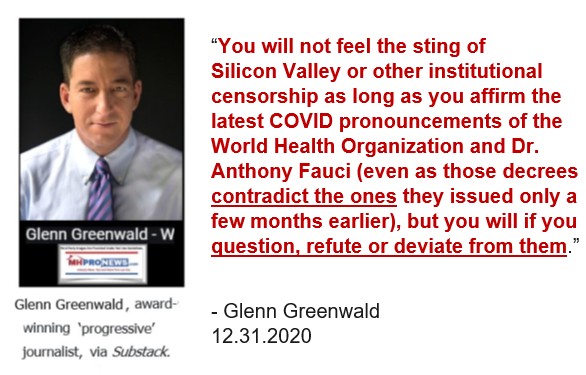 Greenwald is an openly gay man. Yet, certainly in this instance, Greenwald has not allowed that personal LGBTQ connection deployed by intelligence services or corporate interests who he says are pandering to sway others; perhaps including himself. Greenwald detaches himself from that manipulation to seek an understanding of the evidence and reality.
Would that more in manufactured housing apply a similar willingness to open their eyes and frankly question personal biases to peer into how each person is vulnerable to getting caught up in the throes of a manipulative, arguably deceptive, and rigged system.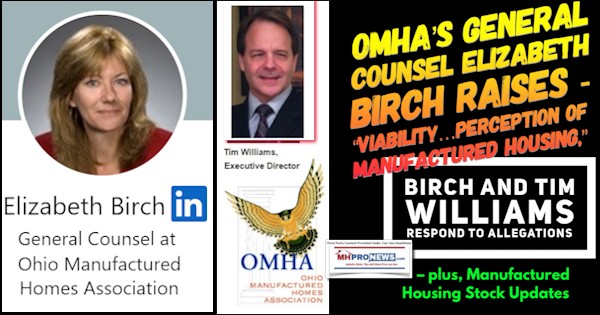 It has been almost a year since MHProNews published this exposé linked below on Bill Gates, Warren Buffett and its apparent dark money ties to Black Lives Matter (BLM). While the traffic has slowed, it is still one of the top 25 reports accessed so far this month out of some 20,000 plus reports on MHProNews. It is about the stealthy weaponization of a nonprofit. In an industry of perhaps 75,000 full time employees, says the Manufactured Housing Institute (MHI), to have an article hit 10k to 15k hits in a month is a healthy number of views, especially when compared to all others publishing in our space. That comparison noted, the article below has apparently dwarfed 2 million hits, which suggests viral sharing.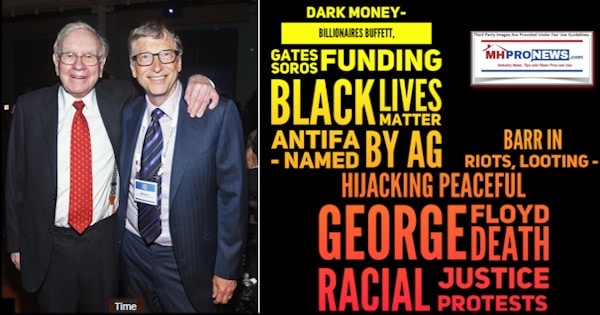 These other reports that follow all shed light on the macro-picture that informs the micro-picture of how affordable manufactured housing has been undermined, from inside and out.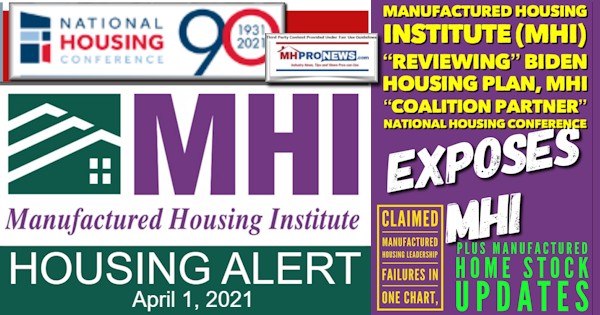 Stay tuned for some more housing and manufactured housing specific reports this week.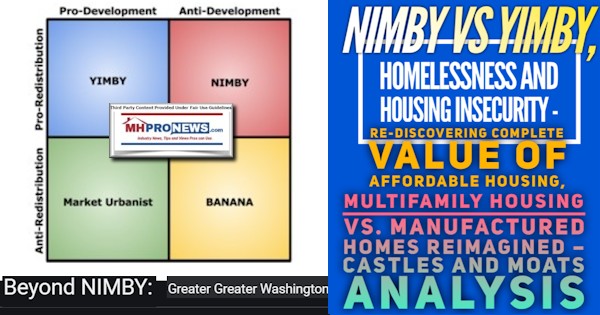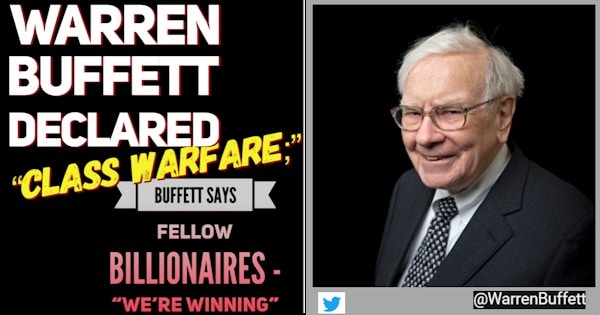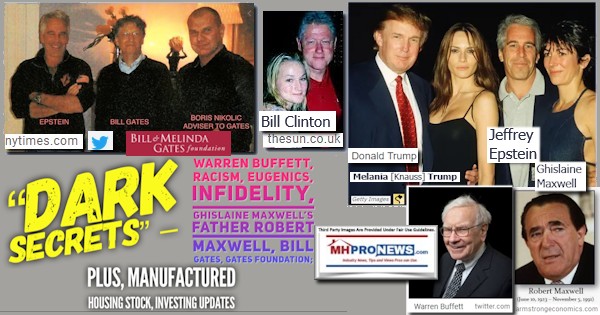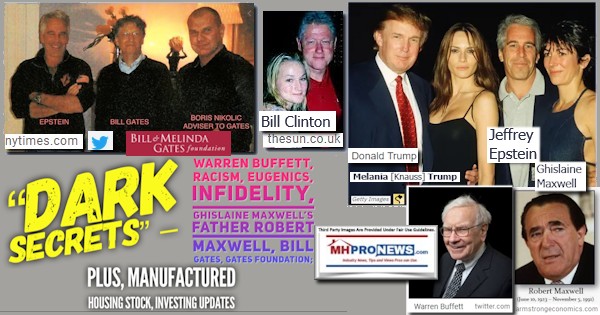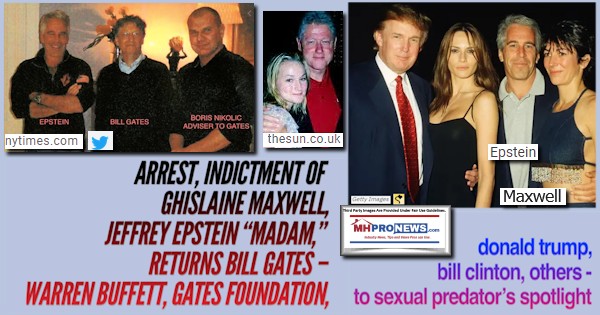 Related, Recent, and 'Read-Hot' Reports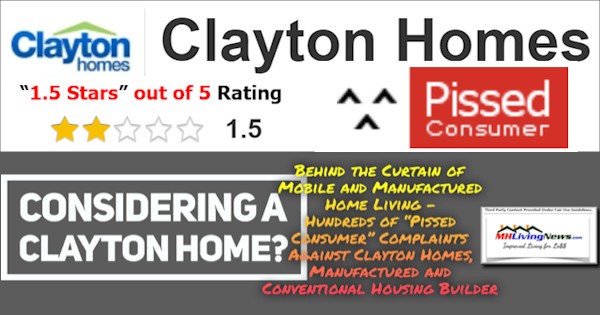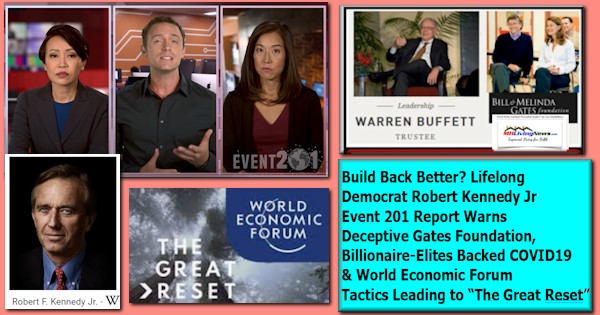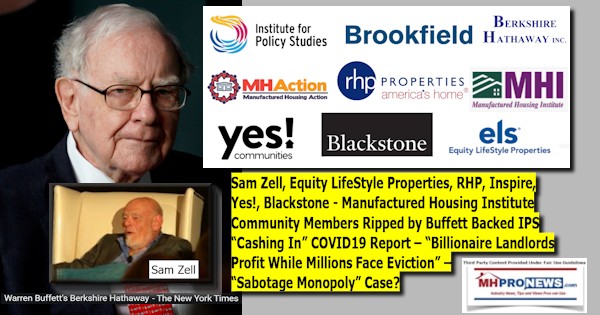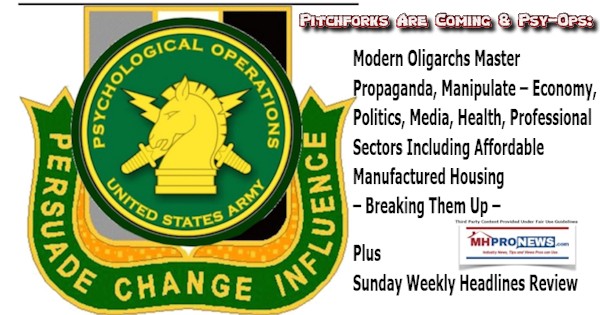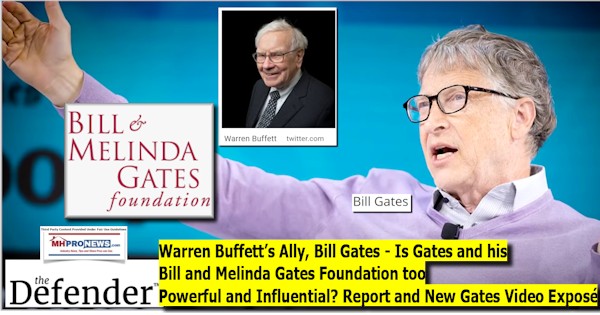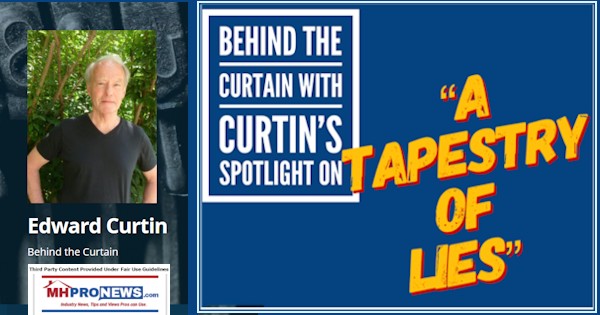 Manufactured Housing Industry Investments Connected Closing Equities Tickers
Some of these firms invest in manufactured housing, or are otherwise connected, but may do other forms of investing or business activities too.
NOTE: The chart below includes the Canadian stock, ECN, which purchased Triad Financial Services, a manufactured home industry lender
NOTE: Drew changed its name and trading symbol at the end of 2016 to Lippert (LCII).
NOTE: Deer Valley was largely taken private, say company insiders in a message to MHProNews on 12.15.2020, but there are still some outstanding shares of  the stock from the days when it was a publicly traded firm.  Thus, there is still periodic activity on DVLY.
Spring 2021…
Berkshire Hathaway is the parent company to Clayton Homes, 21st Mortgage, Vanderbilt Mortgage and other factory built housing industry suppliers.
· LCI Industries, Patrick, UFPI, and LP each are suppliers to the manufactured housing industry, among others.
· AMG, CG, and TAVFX have investments in manufactured housing related businesses. For insights from third-parties and clients about our publisher, click here.
Enjoy these 'blast from the past' comments.
MHProNews. MHProNews – previously a.k.a. MHMSM.com – has celebrated our 11th year of publishing, and is starting our 12the year of serving the industry as the runaway most-read trade media.

Sample Kudos over the years…
It is now 11+ years and counting…
Learn more about our evolutionary journey as the industry's leading trade media, at the report linked below.
· For expert manufactured housing business development or other professional services, click here.
· To sign up in seconds for our industry leading emailed headline news updates, click here.

Disclosure. MHProNews holds no positions in the stocks in this report.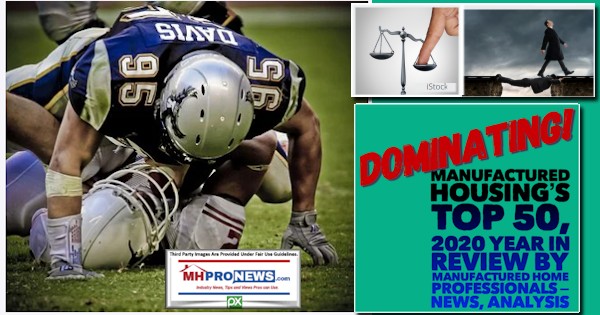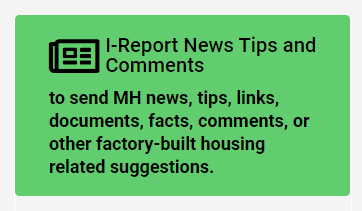 That's a wrap on this installment of "News Through the Lens of Manufactured Homes and Factory-Built Housing" © where "We Provide, You Decide." © (Affordable housing, manufactured homes, stock, investing, data, metrics, reports, fact-checks, analysis, and commentary. Third-party images or content are provided under fair use guidelines for media.) (See Related Reports, further below. Text/image boxes often are hot-linked to other reports that can be access by clicking on them.)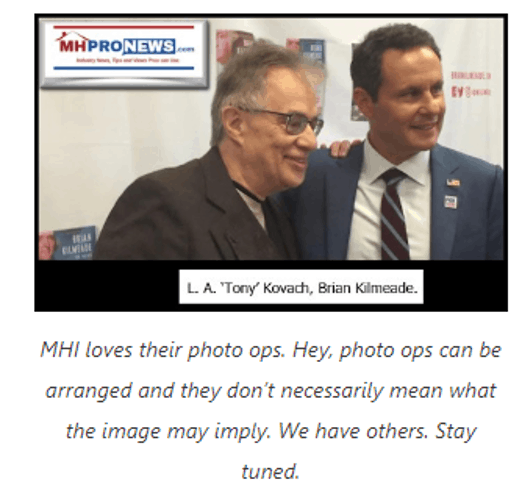 By L.A. "Tony" Kovach – for MHLivingNews.com.
Tony earned a journalism scholarship and earned numerous awards in history and in manufactured housing. For example, he earned the prestigious Lottinville Award in history from the University of Oklahoma, where he studied history and business management. He's a managing member and co-founder of LifeStyle Factory Homes, LLC, the parent company to MHProNews, and MHLivingNews.com. This article reflects the LLC's and/or the writer's position, and may or may not reflect the views of sponsors or supporters.