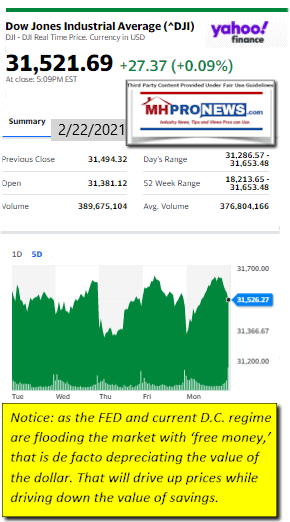 MyPillow CEO Mike Lindell was reached by the left-of-center Washington Post Monday morning. Lindell said he was "very happy to hear" that Dominion Voting Systems has sued him.
"Dominion Voting Systems hit MyPillow Chief Executive Officer Mike Lindell with a $1.3 billion defamation lawsuit Monday, claiming he defamed the company with false accusations that it had rigged the 2020 election for Joe Biden," said right-of-center Newsmax.
Dominion is one of the largest makers of voting machines in the U.S., accuses the prominent supporter of former President Donald Trump of repeatedly echoing the "big lie" about election fraud in an effort to boost his business, despite knowing that no such fraud had occurred.
The complaint was filed in U.S. District Court for the District of Columbia. It claims that Lindell "sells the lie to this day because the lie sells pillows." Among Dominion's assertions is that that Lindell increased MyPillow sales as much as 40% pitching promotional codes for his products like "FightForTrump," "45," and "QAnon."
"Now I can get to the evidence faster," Lindell told WaPo. "It's going to be amazing." He added that he plans to continue releasing "more movies, more documentaries" about alleged 2020 election fraud.
Lindell said the video Absolute Proof has reached over 30 million viewers. Lindell's video is posted on the report linked below.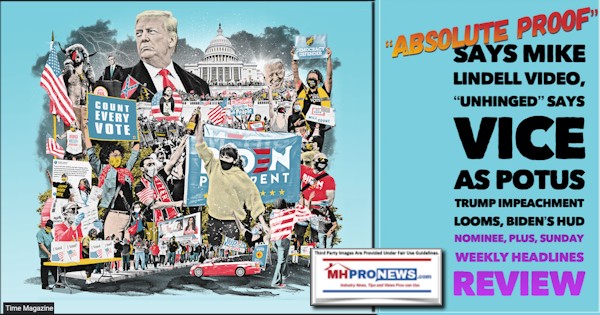 The Dominion suit is the latest in a series of multibillion-dollar court actions taken by voting machine companies against high-profile supporters of President Donald J. Trump, including Rudy Giuliani, Sidney Powell, and Fox News.
Newsmax admitted today to using numerous disclaimers in an attempt to avoid similar litigation that has hit Fox, those already named by Dominion, or that has been threatened against One America News Network (OAN or OANN).
"Despite repeated warnings and efforts to share the facts with him, Mr. Lindell has continued to maliciously spread false claims about Dominion, each time giving empty assurances that he would come forward with overwhelming proof," Dominion CEO John Poulos said in a statement. "These claims have caused irreparable harm to Dominion's good reputation and threatened the safety of our employees and customers."
Lindell has paid a significant price for his activism on behalf of Trump's election contest, with more than a twenty retailers announcing they were no longer offering MyPillow products for sale.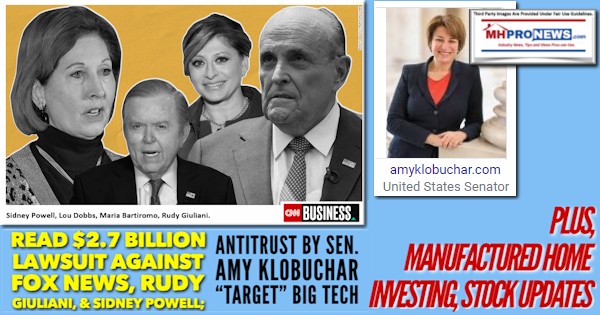 Additional information on this topic is found in the report linked above.
It is worth mentioning that Time's reporter Molly Ball recently made a claim that 'thousands" of Biden-Harris supporting companies and organizations were involved in the effort to keep President Trump from securing his 2nd term in office. Ball called it a secret conspiracy, but framed it as election integrity vs. election theft.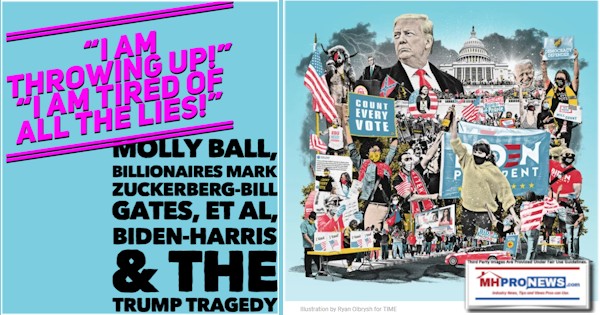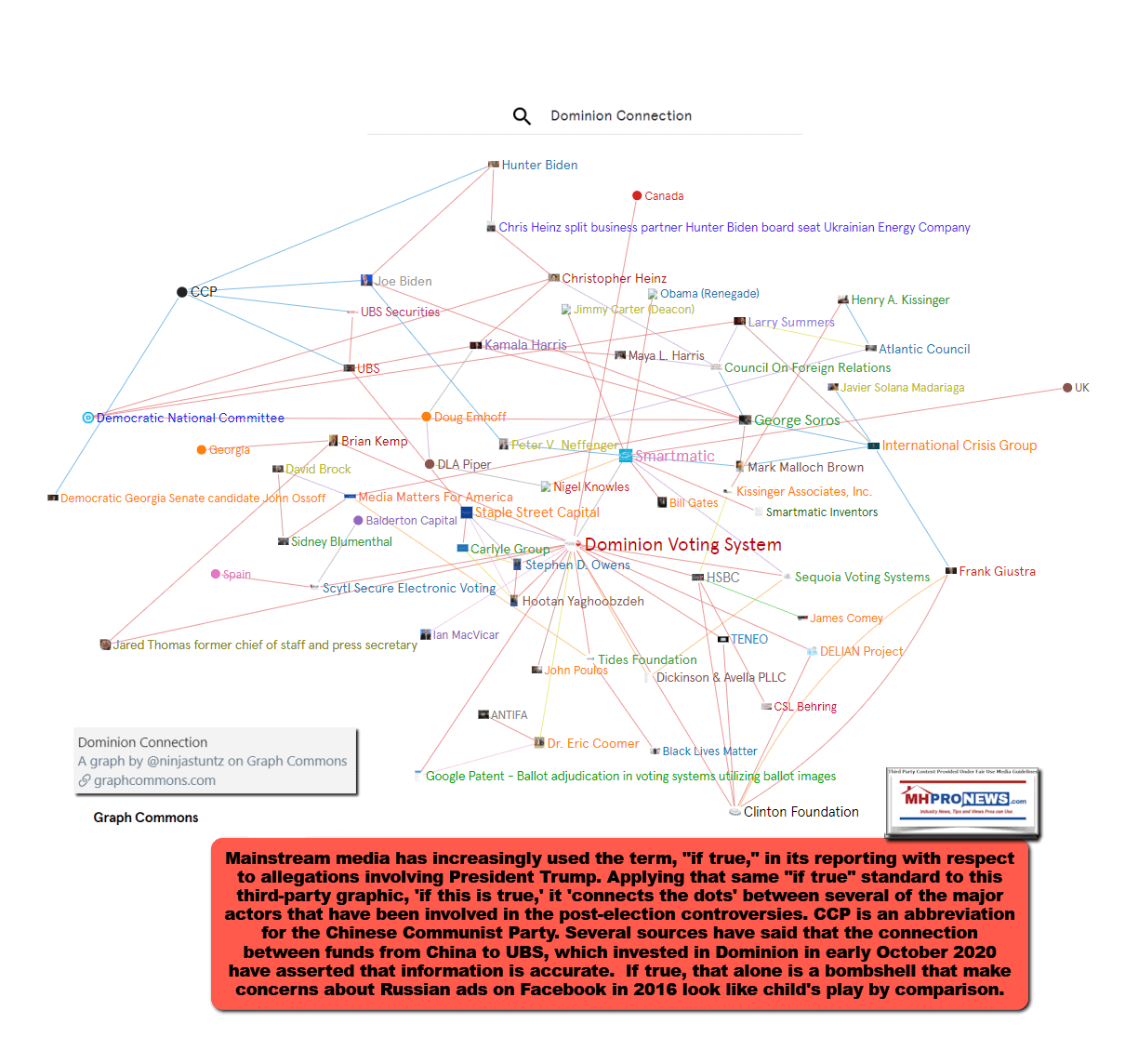 With serious allegations from the left and right that the Biden-Harris regime is working on behalf of big brands and billionaires in a fashion that has and/or will undermine smaller businesses and American rights, MHProNews plans to monitor and report on such concerns.
Having addressed the first part of tonight's headline topics, the second element of our topics for tonight will be our featured focus is found further below.
For our growing numbers of new readers, a few quick evening/nightly market report insights.
Every business evening, MHProNews provides a bullet list of left-right news headlines from CNN and in a matter of moments, savvy professionals can see at a glance news headlines and views across the political spectrum.
This is a time-saving and insightful way to quickly grab insights from across the left-right divide for those who are hooked on this market-nightly feature.
Our featured focus follows the quotable quotes, periodic political cartoons, those left-right headlines, and two of our three market summary graphics as reported at the closing bell.
After the featured focus, are some recent/related report links and the third manufactured housing focused stock equities graphic. There are some additional items that include the free signup for the manufactured housing industry's x2 weekly emailed news to the most-read trade publication in our profession:
On a day that saw mixed manufactured home connected equities today, with more that dropped than rose, let's press ahead toward our other business-nightly features and tonight's focus on the MHI's de facto admission on the issue of manufactured housing finance.
Quotes That Shed Light – Industry, American, Social, National Issues…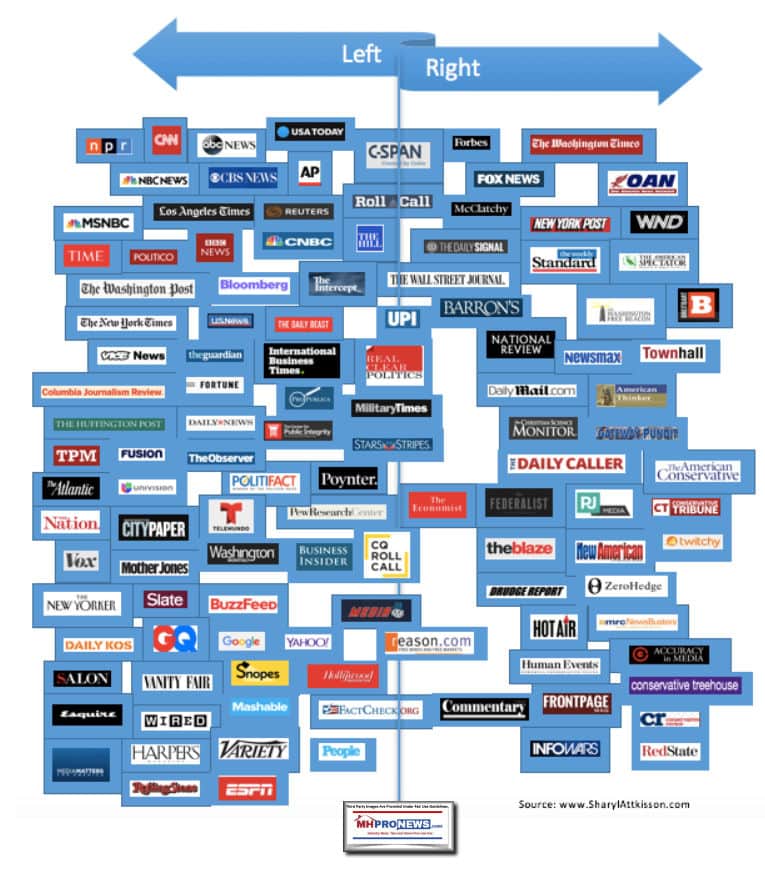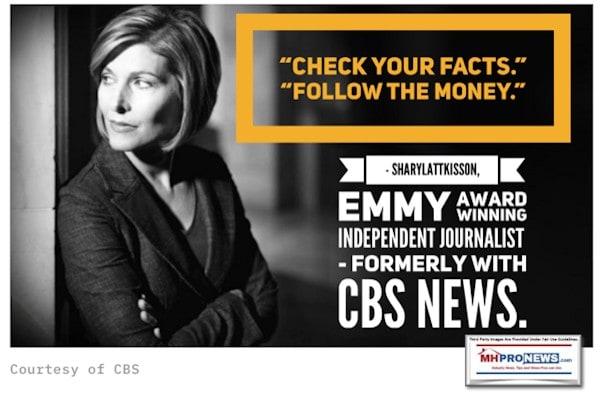 Headlines from left-of-center CNN

Retail on the ropes
A customer carries out a box while exiting from a Kohl's Corp. department store in Woodstock, Georgia, U.S., on Monday, Nov. 23, 2020. For the first time ever on Black Friday, more consumers intend to shop online than in stores, a switch driven by the coronavirus pandemic,, according to a survey by Deloitte.
Kohl's tried striking a deal with Amazon. It wasn't enough to fend off activist investors
After the GameStop fiasco, momentum builds for an $800 billion tax
The 737 Max is no longer Boeing's biggest problem, after yet another safety grounding
Dominion sues MyPillow and its CEO Mike Lindell for $1.3 billion
This bitcoin bank's stock has jumped nearly 1,300% in just over a year
Meet the 29-year-old cancer survivor set to make history in space
Nearly 30,000 Macs reportedly infected with mysterious malware
Peloton is releasing a cheaper treadmill. It's still $2,495
The iPhone just had a huge quarter
Jay-Z sells half of his Champagne brand to owner of Dom Pérignon
Taco Bell joins the chicken wars with a new taco
HOUSTON, TEXAS – FEBRUARY 21: A view of high voltage transmission towers on February 21, 2021 in Houston, Texas. Millions of Texans lost power when winter storm Uri hit the state and knocked out coal, natural gas and nuclear plants that were unprepared for the freezing temperatures brought on by the storm. Wind turbines that provide an estimated 24 percent of energy to the state became inoperable when they froze.
The Texas deep freeze could force this energy company out of business
The new 2021 Jeep® Grand Cherokee L Overland.
Chief of Cherokee Nation asks Jeep to stop using tribe's name
This 29-year-old cancer survivor is set to be the youngest American ever in space
FINANCIAL EMPOWERMENT
Everything you need to know about filing taxes this year
We answered your common tax questions
How to check the status of your tax return
Don't fall for these 4 money myths
How to start investing in stocks with little or no experience
FIGHT OVER MINIMUM WAGE
An employee gathers shopping carts at Walmart, July 22, 2020 in Burbank, California. – The country's most populous state reported a record 12,807 new coronavirus infections in the past 24 hours.
Walmart just boosted pay to $15. It's not what you think
Dole's US workers will soon make $15 an hour
Dole president: We're 'close' to $15 minimum wage
Opinion: Push for $15 minimum wage is a great start
Opinion: $15 minimum wage would hurt workers
Headlines from right-of-center Newsmax
Lindsey Graham Hits Garland for Not Calling Comey 'Terrible' FBI Chief
Lindsey Graham, R-S.C., on Monday snapped at attorney general nominee Merrick Garland for not calling James Comey "a terrible FBI director." At his confirmation hearing before the Senate Judiciary Committee Monday, Garland declined to say how he felt about Comey.
Related Stories
AG Nominee Garland: Politics Won't Influence Criminal Probes
Garland Vows Capitol Riot Will Be Top Priority
The Biden Presidency
WH Calls for Moment of Silence for Half Million COVID-19 Deaths
Collins to Vote Against OMB Nominee Neera Tanden
Biden Drops Trump Citizenship Test
Kinzinger: Biden Must Be 'Clear-Eyed' About China
Conservatives Group Labels HHS Nominee Becerra an 'Extremist'
US Waits to See If Iran Resumes Talks
WH Is Hopeful Biden Can Travel to Texas as Soon as This Week
Meghan McCain: Biden Should Fire Fauci
China Urges US to Lift Trade Restrictions, Stop Interference
WH to Give Small Firms Two-Week Exclusive PPP Access
Newsfront
Family of Americans Held in Iran Want Any Deal to Free Them
The family of an American-Iranian father and son detained for years in Iran appealed Monday to President Joe Biden to make freeing of Iranian-American detainees a condition of any deals or concessions with that country. "It is beyond outrageous for Iran to continue playing…
Nasdaq, S&P 500 End Lower as Yields Rise; Disney Lifts Dow
USA Today Poll: Newsmax Rising Fast Against Fox News
USA Today reports that a new poll by Suffolk University shows that
Nominee Garland Says Politics Won't Influence DOJ Criminal Probes
Trump Will Use New Office to Grow, Influence GOP
Pelosi Funnels $300K to Gerrymandering After Rebuking It
Biden Drops Trump Citizenship Test
Andy Biggs to Newsmax TV: 'Massive Increase' in Unaccompanied Child Migrants
Andy Biggs, R-Ariz.
New Jersey Governor Signs Bills With Legal Marijuana Framework
Report: Trump Will Claim Control of GOP in CPAC Speech
NBC Poll: Blue-Collar Workers Flocked to GOP Under Trump
Biden Boosts Pandemic Lending to Smallest Businesses
Dominion Voting Sues MyPillow's Mike Lindell for $1.3 Billion
Justice Thomas Blisters Court on Rejecting Election Cases
Marines Swap March Drills for Board Games to Create 'Smarter' Infantry
The Marine Corps is reportedly ditching some traditional marching
Supreme Court Could Rule on State Abortion Restrictions
The Supreme Court could take up several cases involving state laws
US Surpasses 500K COVID-19 Deaths
Related
Fauci: US Did 'Worse Than Most' in COVID Response |
Sanofi to Produce 12M Vaccines for Rival Company
Sanofi to Help Second Rival Produce COVID-19 Vaccines
Bill Gates Says Social-Media Bans Aren't Answer to Divisiveness
Ex-NSA Matthew Pottinger: Evidence Pandemic Caused By Chinese Military, Human Error
Scalise Says $60B Already Available to Reopen Schools
Scalise Says $60B Already Available to Reopen Schools
Finance
Boeing: 777s With Engine That Blew Apart Should Be Grounded
Boeing has recommended that airlines ground all of 777s with the type of engine that suffered a catastrophic failure over Denver this weekend, as U.S. regulators ordered United Airlines to step up inspections of those planes. Several airlines, including United, said they…
Bitcoin Falls Most in a Month on Worries Prices Are Excessive
Goodyear Acquires Cooper in All-American Tire Deal
LVMH's Moet Hennessy Buys In to Rap Star Jay-Z's Champagne Brand
White House Will Give Small Firms Two-Week Exclusive PPP Access
Health
Humidity From Wearing Masks May Prevent Severe COVID-19
Study: Drug Improves Survival for Kidney Cancer
New Drug Combo Effective Against Uterine Fibroids
Even Low Levels of Air Pollution Damage Heart, Lungs
New Treatments for Macular Degeneration
Market Indicator Closing Summaries – Yahoo Finance Closing Tickers on MHProNews…
Featured Focus –
Where Business, Politics and Investing Can Meet
The Chinese Communist military was apparently doing animal experiments in the BL4 Wuhan Institute of Virology lab which was the likely an outbreak of flu-like illness in the fall of 2019, Matthew Pottinger, a deputy national security adviser to former President Donald Trump, said Sunday.
It has been called a "bombshell revelation" on CBS News' "Face The Nation." Pottinger said "the ledger on the side of the explanation that said [the outbreak] resulted from some kind of human error far outweighs the side of the scale that says this was some natural outbreak." That noted, MHProNews reported months ago on evidence that the outbreak was in the fall, and not in December 2019, as many previously thought.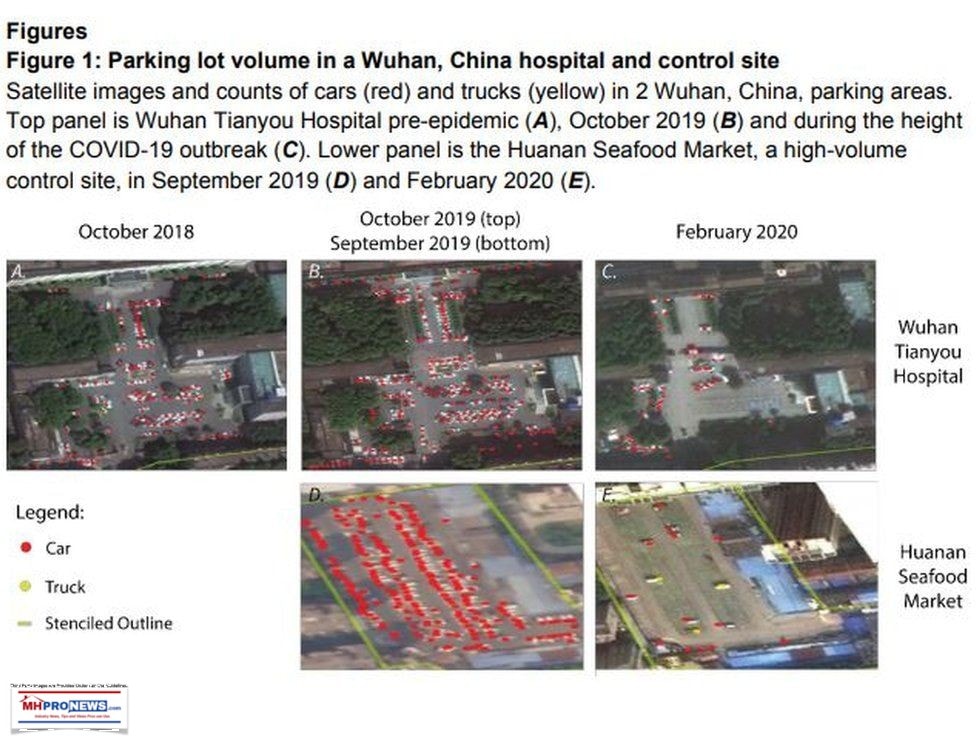 "We have very strong reason to believe that the Chinese military was doing secret, classified animal experiments in that same laboratory, going all the way back to at least 2017," Pottinger said.
"We have good reason to believe that there was an outbreak of flu-like illness among researchers working in the Wuhan Institute of Virology in the fall of 2019, immediately before the first documented cases came to light."
Pottinger said that the information declassified by the Department of State before President Trump left the White House was "very carefully" crafted — but unmistakable — that there was a COVID-like disease circulating in China in the autumn of 2019.
"The case it was making was for following up on these important leads," he said.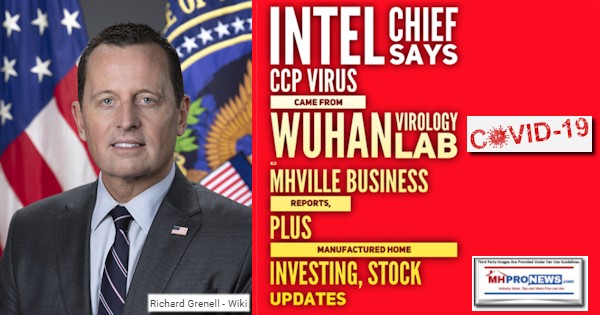 That too was something MHProNews reported weeks prior to this CBS News report. Furthermore, MHProNews informed readers that a Chinese national, Dr. Lin-Meng, was making similar allegations. She claimed documentary evidence for her claims. Much of the mainstream media ignored her.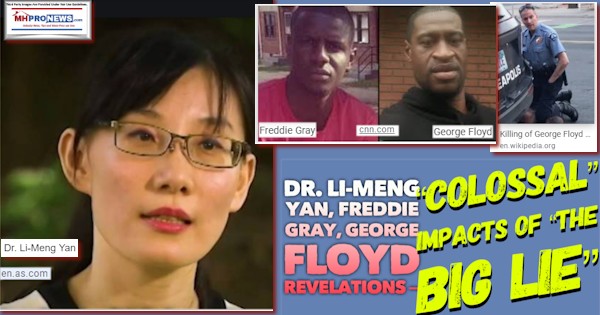 This matters for several reasons. Day by day, MHProNews sources information carefully across the left-right divide, as this business nightly report dramatizes with our left-right news bullets. But we also use various 'tests' to try to discern what is likely true or merely hype or propaganda. On the Wuhan China Virus issue, our track record has been excellent, compared to numerous mainstream news sources.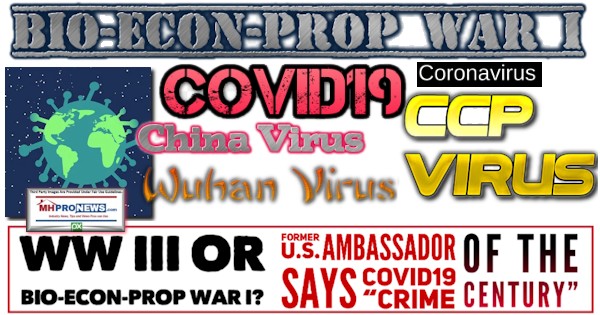 "We had about a dozen [Centers for Disease Control and Prevention] officers in China," Pottinger said, per a partial Newsmax transcript of his interview. "We had lots of CDC officers in the United States that deal with Chinese doctors. …They said this thing is not going to be like SARS. It is going to be like the 1918 flu pandemic because it is spreading silently."
He said that U.S. officials "were a little bit too credulous." But MHProNews took the issues seriously, while noting the various disconnects that were occurring since early on, and which arguably are still ongoing.
"We were waiting to be fed information when we were not going to get that information," he said. "They had a strong incentive to mislead their own public and the rest of the world about the nature of this virus." Pottinger noted that the Chinese Communist Party (CCP) didn't turn to its country's CDC to deal with the crisis — "they turned to their military."
"Our CDC did not have relations established with the Chinese military. So the director of the Chinese CDC, based on public reporting, didn't know either… that this thing was circulating until the last day of December," Pottinger said.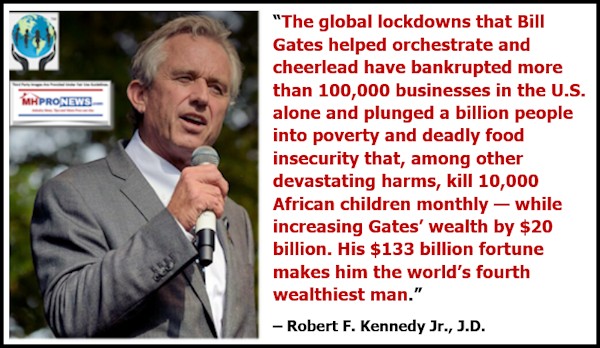 But he added there were early missteps in the United States as well — including the "misjudgment by public health officials in this country to not advocate for the widespread, generalized use of face coverings," he said.
"They feared shortages," he said. "We put all of our mask-making supplies into, guess where, China. And China was not making it easy for us to get access to additional supplies. … It then made the mistake of inflating that with a set of advice that masks don't work effectively for the general public. That was a big mistake."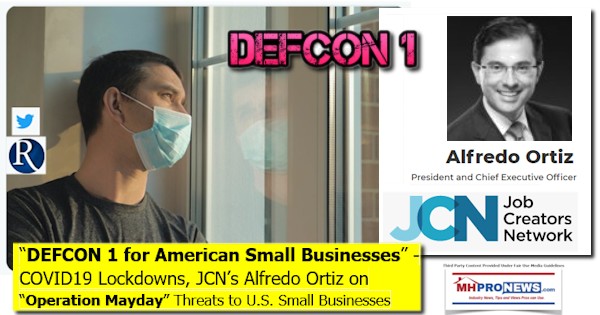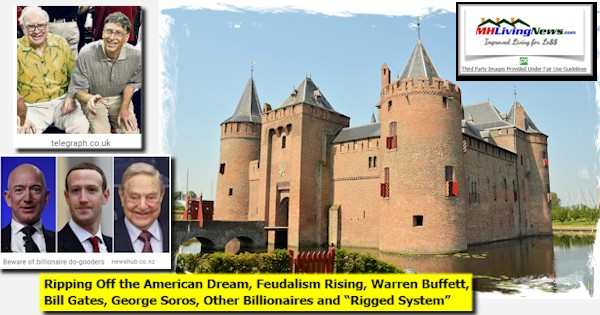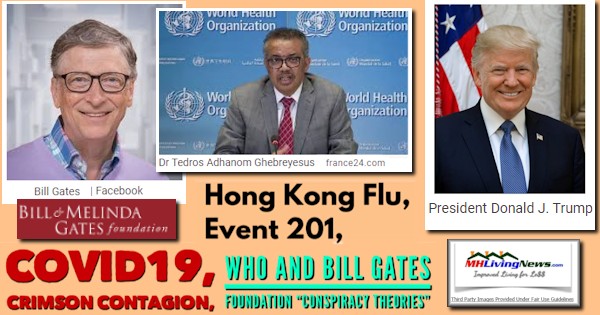 Additional information on this issue that obviously still impacts America and the world are found in the reports linked above and below.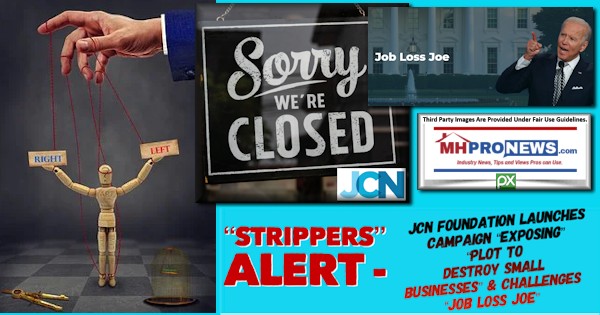 Related, Recent, and Read Hot Reports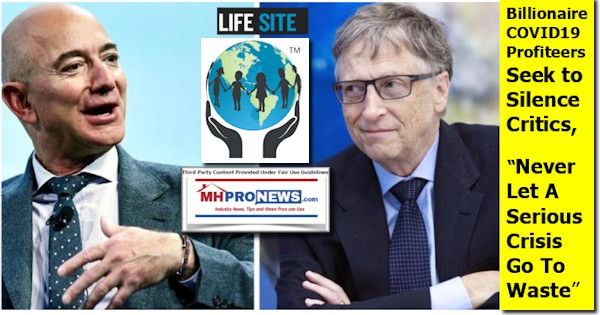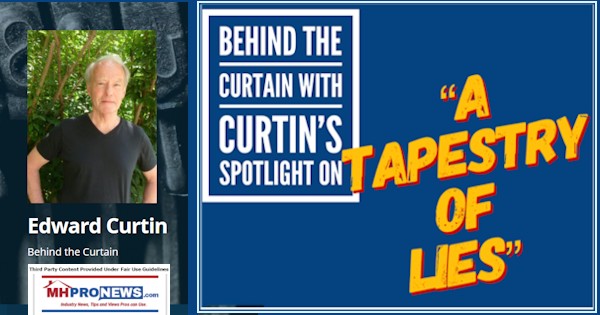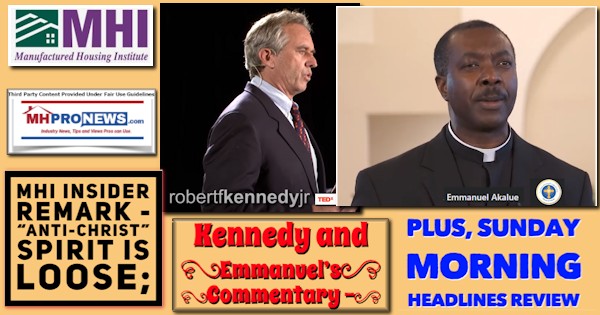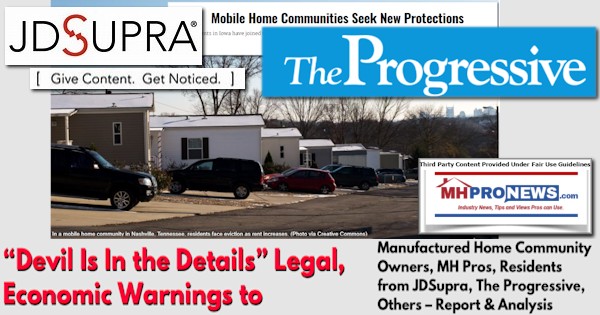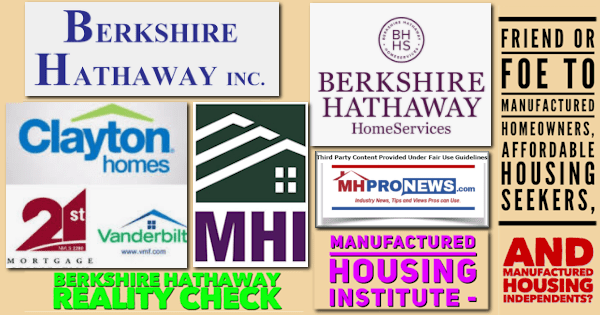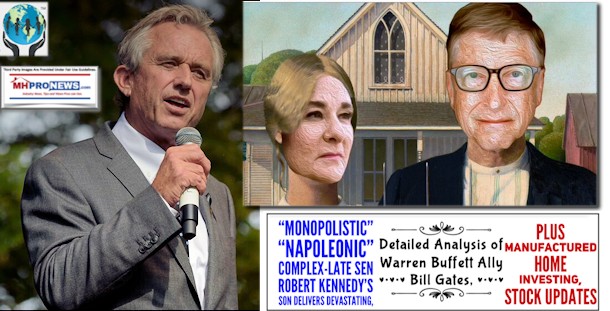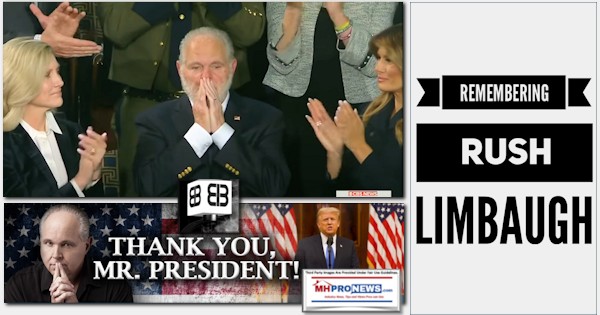 Manufactured Housing Industry Investments Connected Closing Equities Tickers
Some of these firms invest in manufactured housing, or are otherwise connected, but may do other forms of investing or business activities too.
NOTE: The chart below includes the Canadian stock, ECN, which purchased Triad Financial Services, a manufactured home industry lender
NOTE: Drew changed its name and trading symbol at the end of 2016 to Lippert (LCII).
NOTE: Deer Valley was largely taken private, say company insiders in a message to MHProNews on 12.15.2020, but there are still some outstanding shares of  the stock from the days when it was a publicly traded firm.  Thus, there is still periodic activity on DVLY.
Winter 2021…
Berkshire Hathaway is the parent company to Clayton Homes, 21st Mortgage, Vanderbilt Mortgage and other factory built housing industry suppliers.
· LCI Industries, Patrick, UFPI, and LP each are suppliers to the manufactured housing industry, among others.
· AMG, CG, and TAVFX have investments in manufactured housing related businesses. For insights from third-parties and clients about our publisher, click here.
Enjoy these 'blast from the past' comments.
MHProNews. MHProNews – previously a.k.a. MHMSM.com – has celebrated our 11th year of publishing, and is starting our 12the year of serving the industry as the runaway most-read trade media.
Sample Kudos over the years…
It is now 11+ years and counting…and Williams, who praised our accuracy and other services to manufactured housing for years, then said this.
Learn more about our evolutionary journey as the industry's leading trade media, at the report linked below.
· For expert manufactured housing business development or other professional services, click here.
· To sign up in seconds for our industry leading emailed headline news updates, click here.

Disclosure. MHProNews holds no positions in the stocks in this report.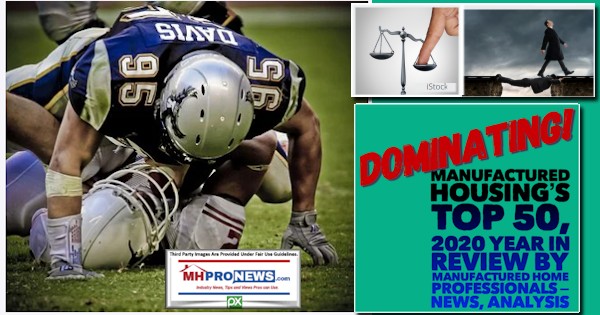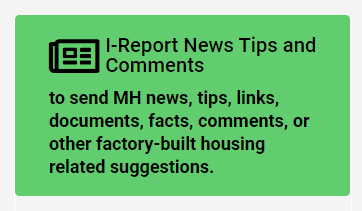 That's a wrap on this installment of "News Through the Lens of Manufactured Homes and Factory-Built Housing" © where "We Provide, You Decide." © (Affordable housing, manufactured homes, stock, investing, data, metrics, reports, fact-checks, analysis, and commentary. Third-party images or content are provided under fair use guidelines for media.) (See Related Reports, further below. Text/image boxes often are hot-linked to other reports that can be access by clicking on them.)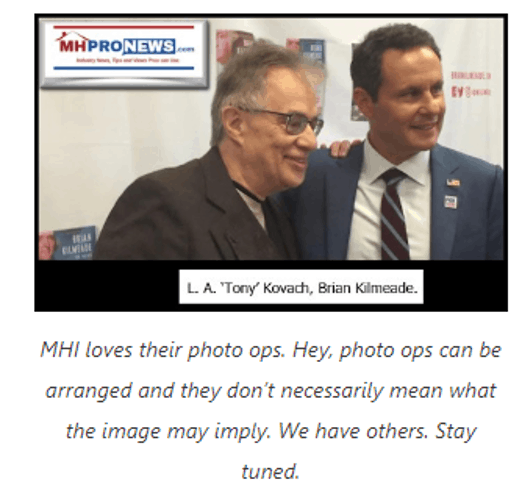 By L.A. "Tony" Kovach – for MHLivingNews.com.
Tony earned a journalism scholarship and earned numerous awards in history and in manufactured housing. For example, he earned the prestigious Lottinville Award in history from the University of Oklahoma, where he studied history and business management. He's a managing member and co-founder of LifeStyle Factory Homes, LLC, the parent company to MHProNews, and MHLivingNews.com. This article reflects the LLC's and/or the writer's position, and may or may not reflect the views of sponsors or supporters.