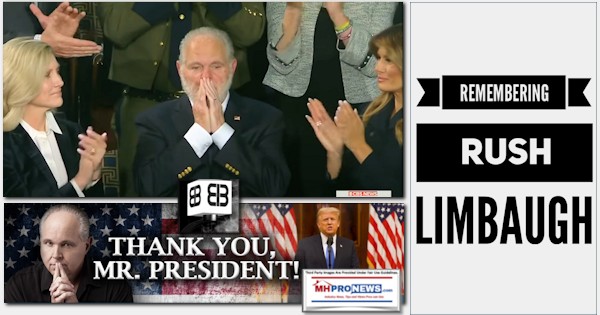 Update: Kathryn Limbaugh just announced on 2.17.2021 that Rush Limbaugh has passed away earlier this morning. On February 4, 2020 during President Donald J. Trump's State of the Union Address, First Lady Melania Trump placed the Presidential Medal of Freedom on Mr. Limbaugh, "in recognition of all that you have done."
"Here tonight is a special man, someone beloved by millions of Americans, who just received a stage 4 advanced cancer diagnosis. This is not good news, but what is good news is that he is the greatest fighter and winner that you will ever meet," President Donald J. Trump said on February 4, 2020.
"Rush Limbaugh, thank you for your decades of tireless devotion to our country. Rush, in recognition of all that you have done for our nation, the millions of people a day that you speak to and inspire, and all of the incredible work that you have done for charity, I am proud to announce tonight that you will be receiving our country's highest civilian honor, the Presidential Medal of Freedom." – transcript per The Hill.
"Our prayers are with Rush as he continues to fight the illness he [h]as been afflicted with. We are still praying for a remission … Thanks for all of your prayers, kind words and wishes for our Rush.  God Bless you." So said James Golden, a.k.a. "Bo Snerdley" via Twitter on 2.10.2021. Golden is a black GOP political activist, executive producer of the nationally syndicated Rush Limbaugh Radio Show since 1992, call screener, and more. Note that it was on February 3, 2020 that Rush announced on air that he had stage 4 lung cancer. One year has come and gone…
Remembering Rush Limbaugh
Rush Limbaugh is seriously ill with stage 4 lung cancer. But as of this writing, he is not yet dead. Once Mr. Limbaugh dies, there will be thousands of articles and untold millions of social media posts that will erupt for and against his life and work that will be posted about him. Because of the unspoken tradition of friends and fans to not speak ill of the dead, perhaps the better time to aptly remember Rush is now. Because his foes in this age of misinformed 'cancel culture' and scorn for conservatism and traditional religious values will gladly dance on his grave and heap scorn, the time to remember Rush and his legacy more honestly is now.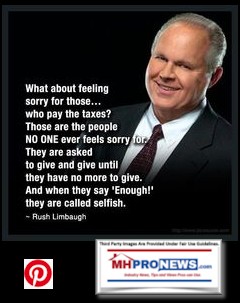 It is not too much to say that Rush led the way in establishing conservative talk radio.  By doing so, many believe he helped 'save' the AM radio stations when the FM radio band began to surpass its older rival. As Chris Salcedo, known for being on Newsmax TV and as a "Liberty Loving Latino" talk radio host said, "Rush Single-Handedly Saved AM Radio."
Two days ago, the left-leaning, Jeff Bezos owned Washington Post said similarly by noting that "Rush Limbaugh, the most successful talk-radio host in history, is ailing."
Clever content and a personal connection with his audience made Rush the 'king' of talk radio.
An understanding of human nature and a respect for his audience made that possible. He was far more respectful to his callers than many of his peers.
To tens of millions, "Rush" has been a one name icon as "The Big Voice on the Right," not unlike "Oprah" or "Madonna" became iconic brands in their fields of leftist entertainment.
Never forget that Rush is a business man, and is for free enterprise.  He lightens the mood going into a commercial by saying that it is time for another "obscene profit break."
While Rush did television and for a time his "Rush to Excellence" tour of live events to build his brand, his niche was always talk radio.
The video about an early
"Rush to Excellence"
event from
1989 starts shortly after a commercial
plug for a period product.
His "Limbaugh Letter" and websites where other ways of creating connections and monetizing his one-man-brand. His children's books are another aspect of his grasp for the need to reach and teach the upcoming generation – and what would often become future audience members.
That Limbaugh survived well over 3 decades of often tumultuous upheavals politically, socially, economically, and spiritually while staying at the top of his profession is evidence that he understood the American people.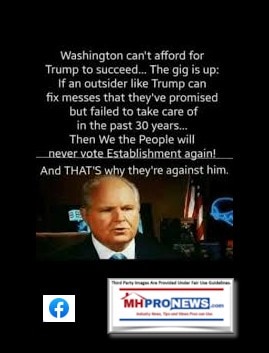 Less appreciated by many is that Rush was fired several times by former employers in broadcasting as he learned the ropes of his not yet fully revealed performance art form.
His enemies monitored his show with as much attention as his fans, but for obviously different reasons. Several efforts over the years were made to create a scandal that would knock Limbaugh off the air. They all failed.
Like any human, Rush had strengths and weaknesses. His loss of hearing led to his getting a cochlear implant. Put differently, he adapted to each adversity. An ex-smoker, he turned his former habit into a periodic refrain – "I have here in my formerly nicotine-stained fingers a very fascinating think piece…"- which itself reflected his understanding of the appeal to human nature of self-deprecating humor.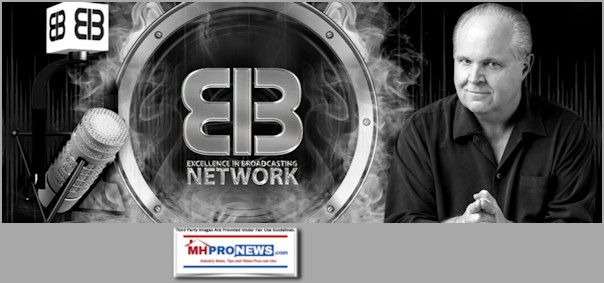 The bumper music rotation was another under-appreciated aspect of his success. "And greetings once again to you music lovers, thrill-seekers, conversationalists all across the fruited plain" Rush liked to say. It was one of several ways of broadening his reach. As people channel surf while driving, that music might catch an ear and thus cause him to pick up new listeners.
Similarly, Rush's willingness to periodically talk sports or tech instead of just politics was a way of shaking things up but also of attracting that new listener who was station surfing.
Most of what Rush did was based upon core principles that were pragmatic rather than mere political expediency. For instance, when 'fiscal conservatives' would pressure Limbaugh to go easier on pro-life or anti-abortion talk, he ignored that advice. As "the mayor of Realville" he intellectually understood that a necessary core constituency for the political right are the tens of millions of pro-lifers and believers.
Entertaining education about "Realville" and what can be done about the problems and how the good could be emphasized has long been part of his effort.
As a pragmatic personality, he knew the value of the principle of supporting the lesser of two evils.
He doubtlessly knew that the late U.S. Senator and Vietnam war veteran John McCain would not likely beat the charismatic "Senator Barack Hussein Obama." Thus his dropping of "the H Bomb" – Obama's Muslim middle name of Hussein – was one of the tactical strikes by Rush. He no doubt hoped that might deflect enough voters away from the man who pledged to "fundamentally transform America." Rush explained it was the 44th president's policies he wanted to see fail, because he hoped such failure would be a lesson to wake up more Americans.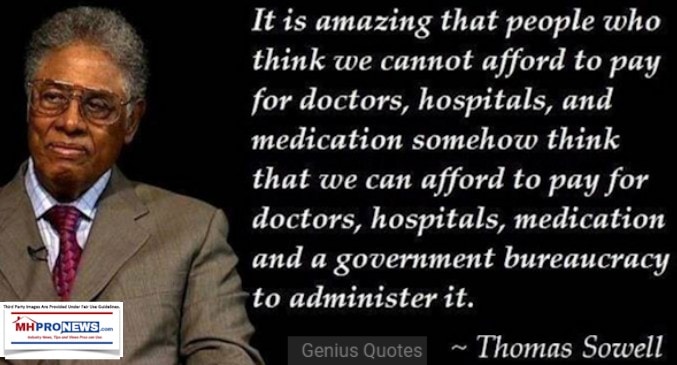 Rush was the original #Resistance eight years before President Trump came into the Oval Office. But Rush's #resistance was to the radical left. Once his humor and style are understood, several things come into focus. The color, religion, gender, or party did not matter to him. Rather, it was bad policies and problematic 'morality' that were always his rub.
For instance. Limbaugh's plain efforts to expose the weaknesses and purported corruption of the Obama-Biden years were not tied to some racist motivation about America's first black president. As was noted above, Rush's executive producer is a black conservative. Thus, he opposed the Obama-Biden Administration precisely because Obama's success would be disastrous to the American Republic.
There are arguably keen lessons NOW in that #Resistance for weak kneed Republican political conservative politicos.
Limbaugh has never been perfect. The principle of separating the wheat from the chaff apply to him or all others. After all, the last two souls that could claim that they were without sin lived some 2,000 years ago. Limbaugh has thus at time walked back or refined some things.
But to lighten that, he liked to quip that he is "documented to be right 99.6% of the time." The leftist Daily Kos said that Limbaugh was "lying" when he said that statement. Is there no humor among some on the left?
In fairness, in years gone by, this writer was not initially impressed by Limbaugh, though several told me how much they "loved" him. I frankly didn't get his humor at one point either, and his 'style' for a time did not appeal to me. But one day, channel surfing this writer stumbled back upon Limbaugh and gave him another good listen. Being fair-minded in listening was eye-opening.
The case can be made that Rush is more right than wrong. Exaggeration with humor has been used since the time of the ancient Greeks. Surely, Rush can use some hyperbole too, when others across the left-right spectrum routinely do so too?
If there is a weakness to Limbaugh's thesis, perhaps it has been that he could have spent more time on the need for strong antitrust and other legal efforts to break up big tech and other monopolists. After all, those have long been the true powers behind the Democratic and RINO thrones. It isn't that he never mentioned it, rather, he could have stressed it more. But in fairness, a radio, internet, TV or other personality has to try to figure out how to navigate economic realities while also getting out their narrative.
Now, it is apparent that big capital, big media, and big tech so obviously working together.  Even leftists like Molly Ball, Glenn Greenwald, and others have pointed that out, albeit with different takes. Rush Limbaugh has been warning his listeners for decades.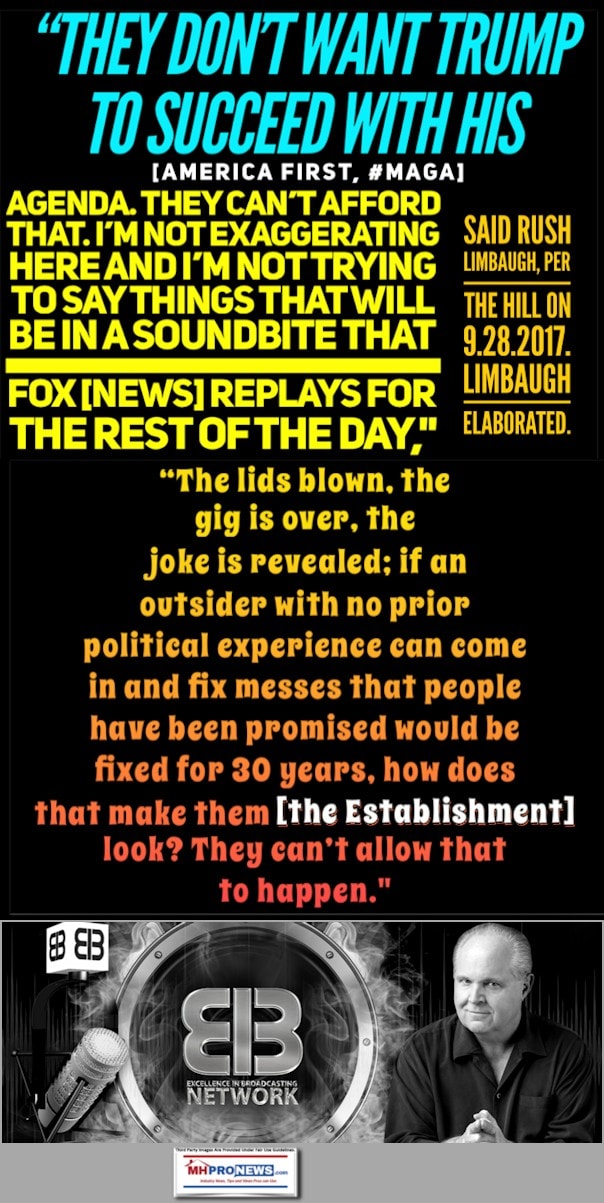 Recently, he cautioned that people must be leery of saying "one wrong word" as the Orwellian cancel culture and oligarchs have gone wild. Is that American? What about free speech? Yes, he hit those themes, and so many others.
Out of concern for where America finds itself during the dawn of the "Biden Regime," Rush has said of late that he feels like he himself has failed. But has he? Really?
In what may not seem related to that question, Rush would periodically muse about his deep respect for Catholicism. He would also opine on the problems he saw with the 'Socialist Pope Francis.'
What is occurring in America is arguably summed up well by this compelling sermon that laces together the death of the American Republic, concern by a priest about this current pope, and how the death and Resurrection of the Lord Jesus could presage a kind of spiritual death and resurrection for America.
Perhaps in that sense, and to Rush's muse, all of us have to 'fail.' All those aiming to do some greater good endure a kind of persecution, crucifixion, death — and hopefully — a resurrection.
"He Who Endures Until The End Shall Be Saved," is the title of Fr. Robert Altier's homily that is mostly a still with audio, but also has compelling and thoughtful discourse interlaced and illustrated by inspirational related images. Altier's title's quote is a reference to Matthew 24:12-13. It is the type of thing that Rush and his listeners' would grasp.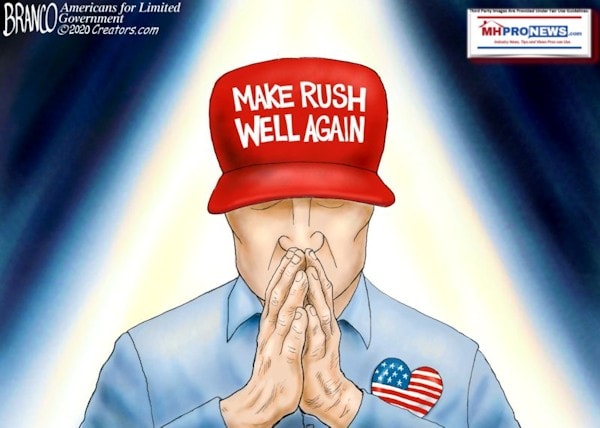 Limbaugh has been an intellectual and entertaining fighter for the American ideal while recognizing that there are dark forces that have long been pulling Americans apart. When his time on this earth has come to an end, his passing will likely be met with cheers and tears to celebrate his life and many accomplishments. There will also be jeers from his foes and those who think they oppose him, but many of whom simply did not understand the man or his mission.
Those jeers are as important as the cheers. Those sincere opponents he garnered over the years are the red badge of courage he earned every bit as much as that Presidential Medal of Freedom.  Facing the taunts and traps of his foes were part of Rush's valiant struggle to keep American liberty and make our God-given and constitutionally protected rights a light to the world.
Our prayers are with Rush as he continues to fight the illness he as been afflicted with. We are still praying for a remission. Today @KenMatthews will fill in for Rush. Thanks for all of your prayers, kind words and wishes for our Rush. God Bless you.

— Bo Snerdley (@BoSnerdley) February 10, 2021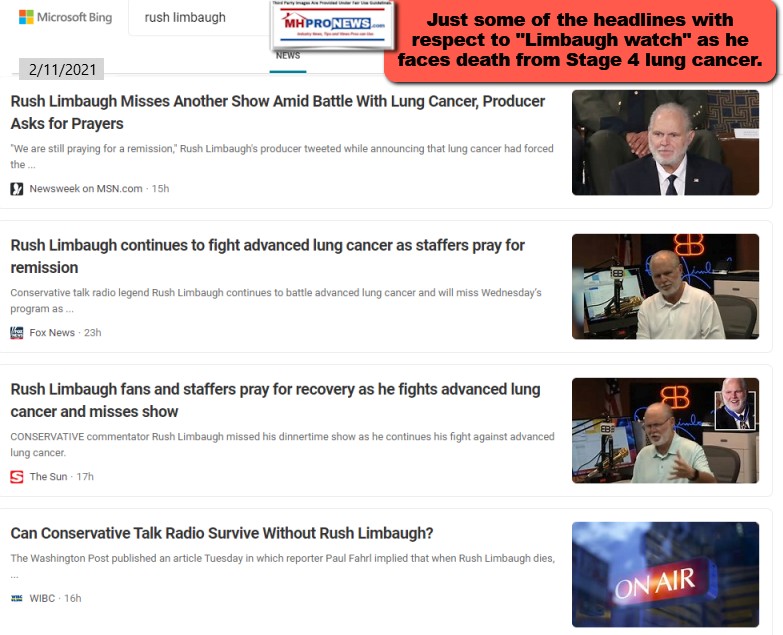 ##
Rush Postscript
No man is an island. Rush understood that very well. He would kiddingly or seriously thank his team from time to time on the air. He would make it clear to his listeners that they made his program possible and that he respected them and the country that made his show possible.  The good news is that at least two generations have had a chance to be influenced by Rush. Numerous voices on the right give some degree of credit to Rush and others like him.
All the world is a stage and the people are but players in it, quipped William Shakespeare.  "The Bard" understood that this life is like a morality play.  It is the battle between good and evil that is playing out in each soul. Once someone understands that core battle, much of the rest of the confusion can come into focus.
Rush can rest in the knowledge that he used his "talent on loan from God" well.
When your time comes, Rush, you fought the good fight. When that time comes, may you rest in peace. Others will carry on the good fight.
###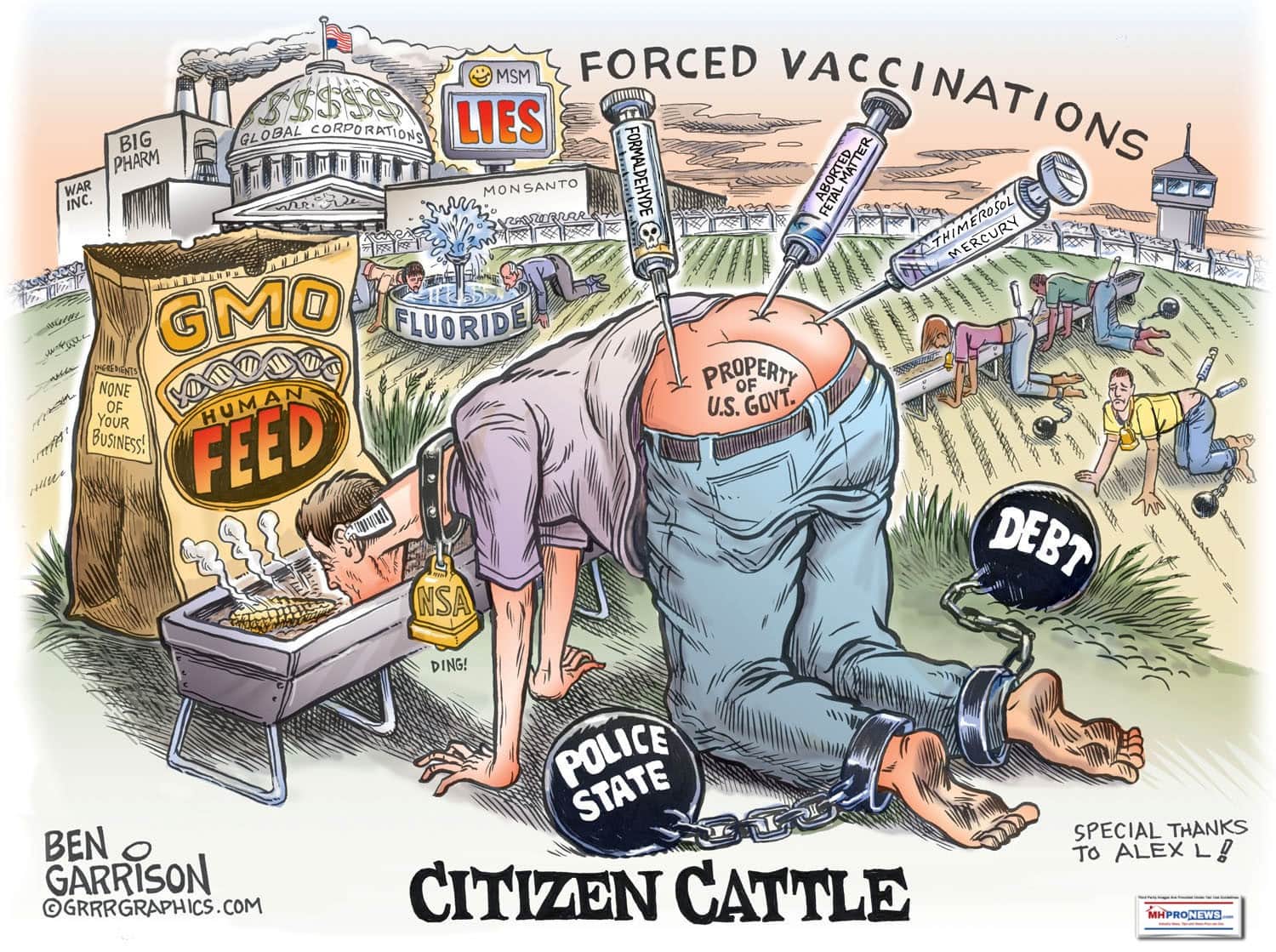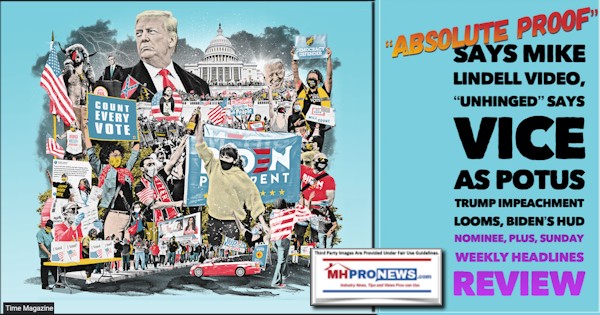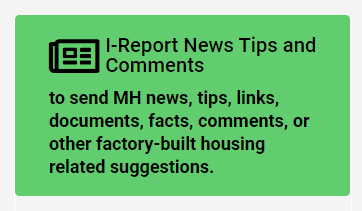 Stay tuned for more of what is 'behind the curtains' as well as what is obvious and in your face reports. It is all here, at the runaway largest and most-read source for authentic manufactured home "Industry News, Tips, and Views Pros Can Use" © where "We Provide, You Decide." © ## (Affordable housing, manufactured homes, reports, fact-checks, analysis, and commentary. Third-party images or content are provided under fair use guidelines for media.) (See Related Reports, further below. Text/image boxes often are hot-linked to other reports that can be access by clicking on them.)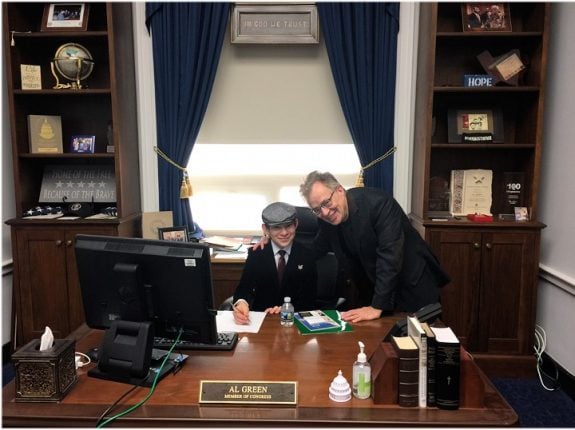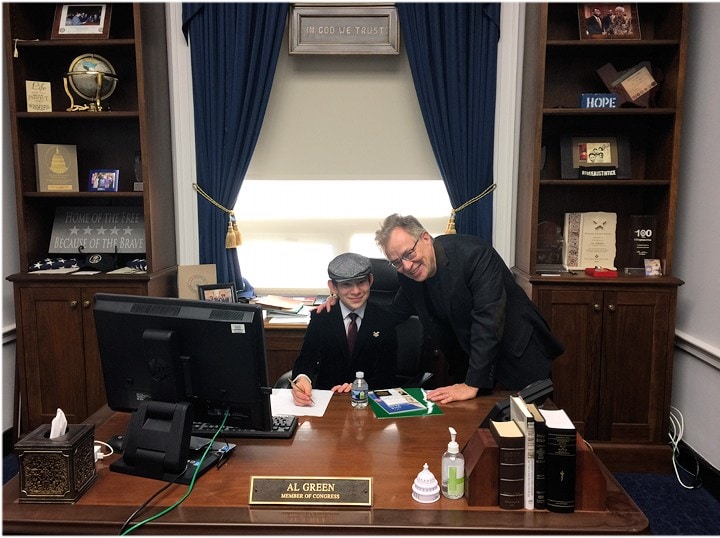 By L.A. "Tony" Kovach – for MHProNews.com.
Tony earned a journalism scholarship and earned numerous awards in history and in manufactured housing.
For example, he earned the prestigious Lottinville Award in history from the University of Oklahoma, where he studied history and business management. He's a managing member and co-founder of LifeStyle Factory Homes, LLC, the parent company to MHProNews, and MHLivingNews.com.
This article reflects the LLC's and/or the writer's position, and may or may not reflect the views of sponsors or supporters.
Connect on LinkedIn: http://www.linkedin.com/in/latonykovach
Related References:
The text/image boxes below are linked to other reports, which can be accessed by clicking on them.