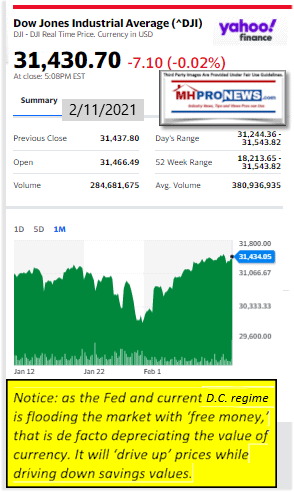 Warping reality has serious consequences. While not a word of what follows is about manufactured housing, that does not mean that our industry and scores of others aren't being impacted.
The same forces that are defining reality in the body politics are routinely 'defining' the public's perception about manufactured homes, and numerous other topics too.
For those who do not realize, Glenn Greenwald is not only an attorney turned journalist. But he is also openly homosexual. So, for those who are moved solely by identify politics, one might think it odd that Greenwald is exposing the story linked below, as well as others that follow.  But some in journalism do care about accuracy and 'the truth' about this or that event, as opposed to 'the narrative' – no matter how popular.
Here's the Mateen reporting. I assumed he had set out to murder LGBTs before I did reporting because the media said it over and over. I assumed Sicknick was murdered with a fire extinguisher. The media spreads falsehoods *constantly* to millionshttps://t.co/Uqje2pb9aQ

— Glenn Greenwald (@ggreenwald) February 11, 2021
I would rather be informed than be influenced. Thank you for trying to preserve that professional integrity.

— Randy W 🏳️‍🌈 (@JaxMan322) February 11, 2021
With the Trump "Impeachment" – or for some, 'sham-peachment' – Senate "trial" underway, events on January 6, 2021 are front and center. Greenwald called out mainstream media today for failing to do their job on investigating the issue below, as well as for inaccurately reporting about it.
How and why did the media spend an entire month definitively affirming what appears to be a completely false story about the only person said to have been killed by the Capitol mob: Officer Brian Sicknick?

Why do we not know how or even when he died? https://t.co/XLg2OR0EoA

— Glenn Greenwald (@ggreenwald) February 11, 2021
Once more for new readers and as a reminder to longtime ones. Greenwald is not a Trump supporter. He simply seems to have an affinity for what is demonstrable.
Look at how viral all of these went. Has a single media outlet issued corrections to their original broadcasts and stories? pic.twitter.com/xT8MmpcDe2

— Glenn Greenwald (@ggreenwald) February 11, 2021
Corporate media outlets (and their loyal employees with the "journalist" title) hate everything and everyone that they can't control with their shaming and pressure campaigns.

Clubhouse is immune to their demands and decrees. They know that. And they think it's unjust. https://t.co/x1ftcW9Alr

— Glenn Greenwald (@ggreenwald) February 11, 2021
Mocking "Russian Collusion" hoaxer Rep. Adam Schiff is just one of several items in his twitter feed today. Schiff is one of the House "impeachment managers."  He has also reportedly expressed an interest to become CA next state attorney general.
But he'll fight the Russian invasion of San Diego with a fierceness that will make history: https://t.co/6qWjSxo910

— Glenn Greenwald (@ggreenwald) February 11, 2021
For our growing numbers of new readers, a few quick evening/nightly market report insights.
Every business evening, MHProNews provides a bullet list of left-right news headlines from CNN and in a matter of moments, savvy professionals can see at a glance news headlines and views across the political spectrum.
This is a time saving and insightful way to quickly grab insights from across the left-right divide for those who are hooked on this market-nightly feature.
Our featured focus follows the quotable quotes, periodic political cartoons, those left-right headlines, and two of our three market summary graphics as reported at the closing bell.
After the featured focus, are some recent/related report links and the third manufactured housing focused stock equities graphic. There are some additional items that include the free signup for the manufactured housing industry's x2 weekly emailed news to the most-read trade publication in our profession:
On a day that saw mixed manufactured home connected equities today, let's press ahead toward those other business-nightly features.
Quotes That Shed Light – Industry, American, Social, National Issues…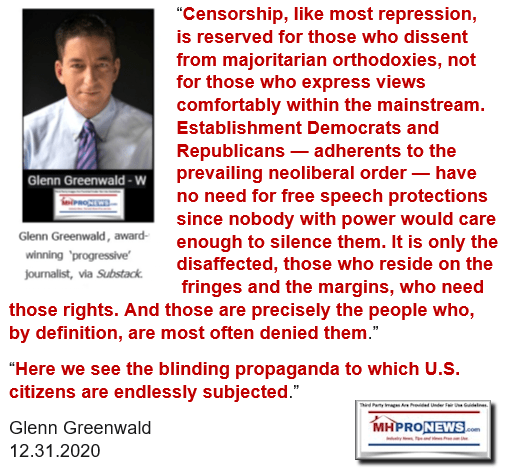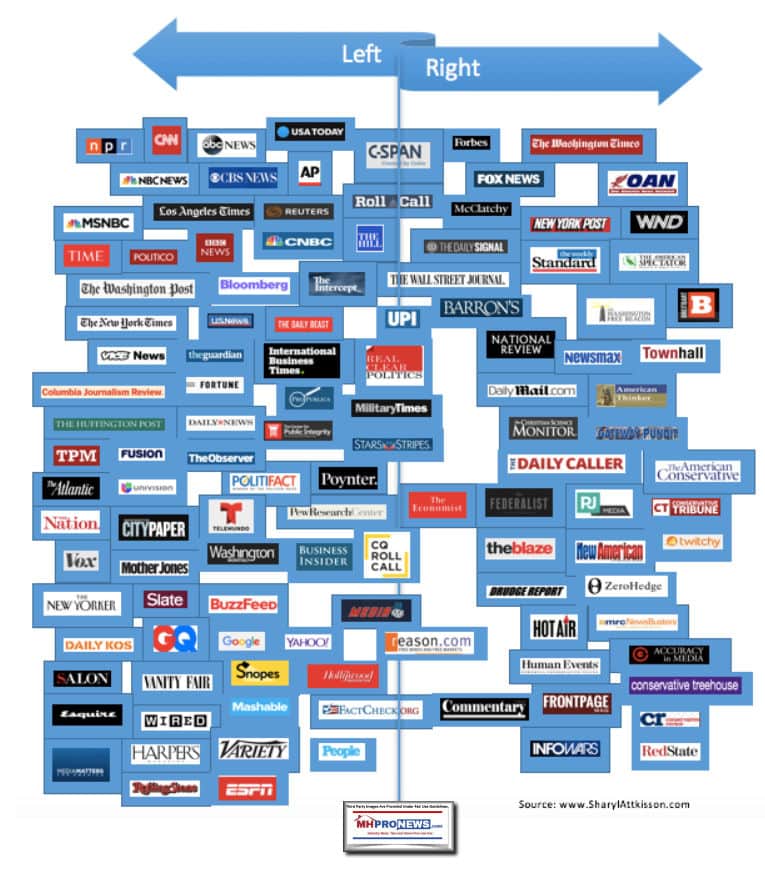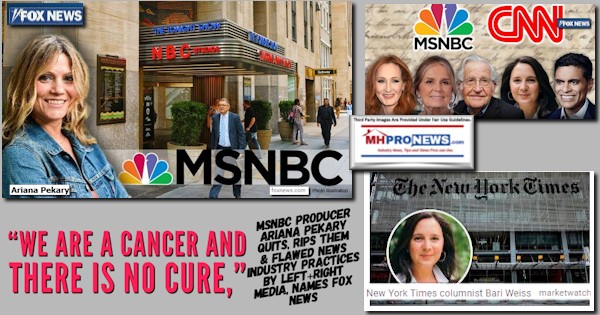 Headlines from left-of-center CNN Business
Elon Musk's big payday
SpaceX owner and Tesla CEO Elon Musk arrives on the red carpet for the Axel Springer Awards ceremony, in Berlin, on December 1, 2020.
The world's richest man is about to get a whole lot richer
… And Musk's SpaceX now owns about a third of all active satellites in the sky
Parents detail son's desperate attempts to contact Robinhood before he killed himself
Mastercard plans to let customers pay with some cryptocurrencies
How risky is it to buy a Tesla using bitcoin?
With Biden going big, Wall Street economists are growing bullish on the US economy
Shell says its oil production has peaked and will fall every year
Peanut joins the Skippy family in a $3.4 billion sale
Grape-Nuts will be back on shelves in March
Robert F. Kennedy Jr. has been banned from Instagram
Top editor at The New York Times walks back controversial comment on race amid criticism
BBC News banned in China in apparent retaliatory move
Single-family homes are seen in this aerial photograph taken over a Lennar Corp. development in San Diego, California, U.S., on Tuesday, Sept. 1, 2020. U.S. sales of previously owned homes surged by the most on record in July as lower mortgage rates continued to power a residential real estate market thats proving a key source of strength for the economic recovery.
Home prices are up all over the country
From 'dream daughter' to 'brainwashed student': She lost her parents to QAnon
Taylor Swift performs during the "City of Lover"; concert at L'Olympia on September 9, 2019 in Paris, France.
Why Taylor Swift is rerecording her songs
BITCOIN SOARS
WASHINGTON, DC – MAY 20: Newly redesigned $100 notes lay in stacks at the Bureau of Engraving and Printing on May 20, 2013 in Washington, DC. The one hundred dollar bills will be released this fall and has new security features, such as a duplicating portrait of Benjamin Franklin and microprinting added to make the bill more difficult to counterfeit.
The Bitcoin rally isn't enough to dethrone the mighty dollar
Tesla invests $1.5 billion in bitcoin
Bitcoin hits record highs after Tesla investment
Bitcoin is soaring. Musk isn't the only reason why
Opinion: Bitcoin has become a good long-term investment
EPIC VS APPLE
Tim Sweeney, chief executive and founder of the video game maker Epic Games, at the company's headquarters in Cary, N.C., on July 17, 2020. Sweeney has written that he is "fighting for open platforms and policy changes equally benefiting all developers."
The man behind Fortnite is making the riskiest bet of his career
Judge: Apple can keep blocking Fortnite from App Store
Apple's in a war for the future of the App Store
Judge in Apple 'Fortnite' case slams Epic's tactics
Fight between Fortnite's maker and Apple escalates
Headlines from right-of-center Newsmax
Rubio: Domestic Travel Ban Over Virus Would Be 'Unconstitutional'
If the White House orders a domestic travel ban because of the spread of COVID-19 variants in states like Florida and California, that would be "unconstitutional" and will be "challenged successfully," Sen. Marco Rubio said Thursday.
Impeachment
Dems Insist Rioters Acted on Trump's 'Orders'
Jim Jordan: Democrats Cut Line From Video Showing Trump Saying 'Peacefully'
Hillary Clinton: Trump Will Be Acquitted If Jury Includes Co-conspirators
Hawley: Trump Impeachment a 'Total Kangaroo Court'
DOJ: Paramilitary Group Leader 'Was Awaiting Direction From President Trump'
Tuberville: I Told Trump of Pence's Evacuation as Rioters Closed In
Biden Says Trump Trial Evidence Could Change Minds
Dems' Trial Manager Rep. Jaime Raskin Used 'Fight' Rhetoric Frequently
The Biden Presidency
Budget Office Expects $2.3T Deficit Before Biden Relief Plan
Biden Pledges to Fix Decrepit US Infrastructure in Bipartisan Push
Biden Kills Emergency Order Used to Build Trump's Border Wall
US Slaps Sanctions on Myanmar in Response to Military Coup
Biden Team Pledges Aggressive Steps to Address Chip Shortage
Pelosi Aims to Finish COVID-19 Relief by Month's End
WH Eyes Domestic Travel Restrictions Over Virus Variants
Newsfront
Comments Pour Into Facebook on Trump's Suspension Case
Facebook's oversight board has been inundated with around 9,000 comments about former President Donald Trump's suspension – almost a hundred times the submissions for its five prior cases combined, Politico reported. The oversight board, which was formed late last year and…
Cancel Culture Backfires on Disney, 'Mandalorian' Pedro Pascal
Fauci: 'Open Season' on Vaccines for All Likely Here by April
It should be "open season" by April for "virtually everybody and [Full Story]
Related
CDC to Issue New School Reopening Guidelines Friday
CDC: Fully Vaccinated Persons Do Not Need to Quarantine
CVS Looks to Simplify Vaccine Site for Federal Pharmacy Push
African Nations Still Encouraged to Use AstraZeneca Vaccine
CDC Endorses 'Double Masking'
Budget Office Expects $2.3T Deficit Before Biden Relief Plan
Rick Scott: WHO Still Acting as 'Puppet' for Communist China
The World Health Organization acts "as just a puppet"
Newsmax's 'Wake Up America' Adds Noted Journalist Rachel Rollar
Bill Gates: Climate Change, Bioterrorism Greatest Threats to World (MHProNews Editorial Note: Think Gates BS propaganda — link
Biden Kills Emergency Order Used to Build Trump's Border Wall
Biden, Democrats Gunning for Second Amendment
The Second Amendment is in grave danger from Democrats
Nunes to Newsmax TV: McConnell's Vote Is Critical
Matt Gaetz to Newsmax TV: Dems' Tears Not Enough to Sway American People
Don Jr. to Newsmax TV: DC Trying to 'Scare' Outsiders
Finance
Jobless Claims Dip to Still-High 793,000
The number of Americans filing new applications for unemployment benefits inched down last week, consistent with a recent stalling in the labor market recovery. Initial claims for state unemployment benefits totaled a seasonally adjusted 793,000 for the week ended
Twitter to Add More Labels Identifying World Leader and Government Accounts
US Long-Term Mortgage Rates Flat; 30-Year Stays at 2.73 Percent
Biden Team Pledges Aggressive Steps to Address Chip Shortage
Biden Hits 62% Approval, Higher First Rating Than Past 4 Presidents
Health
School COVID-19 Closures Hurting Teens' Mental Health
Experts are concerned that school closures caused by COVID-19 may affect the mental health of our children, especially teenagers and young adults. According to Axios, hospitals have experienced a sharp increase in mental health emergencies…
Experiment Reveals Intelligence of Pigs
Easy Way to Reduce Odds of Getting Colon Cancer
Inner-Ear Implant Can Help People With Balance Disorder
Study: New Weight-Loss Drug Twice as Effective as Current Medications
Market Indicator Closing Summaries – Yahoo Finance Closing Tickers on MHProNews…
Featured Focus –
Where Business, Politics and Investing Can Meet
Continuing from the theme above, Greenwald retweeted this.
New: Former FBI officials tapped for Amazon's growing security apparatus https://t.co/BaRJPUZD0g by @lhfang & me

— aída chávez (@aidachavez) February 11, 2021
If you don't see what these media outlets have become & how toxic and repressive they are, then it's very difficult to understand anything about the political climate.

These corrupted institutions affect everything because they're the primary conduits of information for millions https://t.co/dyd1CVTxbo

— Glenn Greenwald (@ggreenwald) February 11, 2021
This big story published by the NYT about Sicknick's death is simply false. The headline itself may be false, but the key events it purports to describe never happened. This caused virtually the media to spend a full month repeating this as fact.https://t.co/sydme7fE8b pic.twitter.com/81sdSOkEy4

— Glenn Greenwald (@ggreenwald) February 11, 2021
Greenwald also spotlighted that AP was 'finally' reporting on the purported corruption at the anti-Trump Lincoln Project.
Good @AP exposé proving what what was already obvious:

1) @ProjectLincoln lied when it denied knowing of complaints about John Weaver's sexual misconduct;

2) It was a massive financial scam to enrich its founders at the expense of gullible liberals.https://t.co/k6lFrgqzS4 pic.twitter.com/U6RRKIEPdO

— Glenn Greenwald (@ggreenwald) February 11, 2021
They also covered up rampant complaints of sexually predatory behavior in their organization and then, when they surfaced, outright lied to the public, claiming the knew nothing.

But as we'll see with Neera Tanden's confirmation, that stuff is just a partisan game that's played. pic.twitter.com/l7Wm1Vh4Ni

— Glenn Greenwald (@ggreenwald) February 11, 2021
This is where journalists who live in NYC and DC and who went to $50k/year prep schools and whose parents are wealthy and who went to private colleges should put their smug, snide hilarious mocking jokes about "economic anxiety": https://t.co/6Tv1Z6kCYH

— Glenn Greenwald (@ggreenwald) February 11, 2021
Harsh buthttps://t.co/iGXfrpUf6b

— Glenn Greenwald (@ggreenwald) February 11, 2021
Cue the smug, mocking jokes about "economic anxiety" by Vox, NBC and WashPost journalists in NYC & DC who went to $50k/year prep schools, Ivy League colleges, and who now spend their time in cable news green rooms with Nancy Pelosi and Chuck Schumer's staff: https://t.co/goUjlFyzSK

— Glenn Greenwald (@ggreenwald) February 10, 2021
If you tried to say about the 2020 election what soon-to-be OMB Director Neera Tanden said above about the 2016 election: that the results were fraudulent, you'd be banned — at the insistence of Democrats and corporate journalists — from every social media platform.

— Glenn Greenwald (@ggreenwald) February 10, 2021
That Russian hackers tampered with the results of the 2016 presidential election is a batshit conspiracy theory. It also proved to be toxic: it made 2/3 of Dems believe Hillary really won the election, but Russians changed the vote tallies.

Yet Neera spread it & it's fine.

— Glenn Greenwald (@ggreenwald) February 10, 2021
I hope people on the right, deeply and justifiably concerned with how media outlets casually fire people the minute they express a banished view, will look at what happened here & vehemently condemn it even if they disagree with the punished view.

The Guardian is utter shit: https://t.co/9f2LJ2mcGd

— Glenn Greenwald (@ggreenwald) February 10, 2021
Obama DOJ concluded it could not prosecute Assange without creating a major threat to press freedom.

The Biden Admin is doing the opposite: appealing the UK judge's refusal to extradite.

Most liberals & journalists are silent because their belief in press freedom is a fraud: https://t.co/yVZXus2udd

— Glenn Greenwald (@ggreenwald) February 10, 2021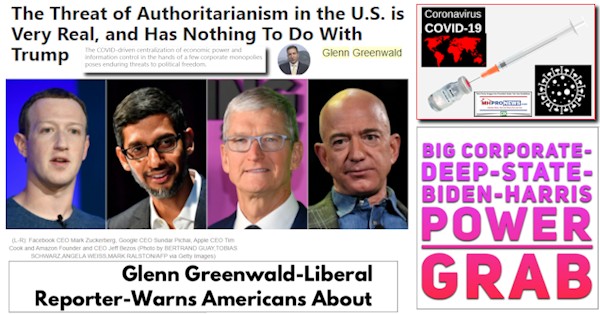 Follow the money.
It's a total abuse of power for @RepMaloney to use her position as House Chair to investigate Parler's finances because she perceives it as ideologically adverse.

Why isn't she doing this to FB? Because Sheryl Sandberg maxes out donations to Rep Maloney?https://t.co/5hfUgQUJOc

— Glenn Greenwald (@ggreenwald) February 10, 2021
Related, Recent, and Read Hot Reports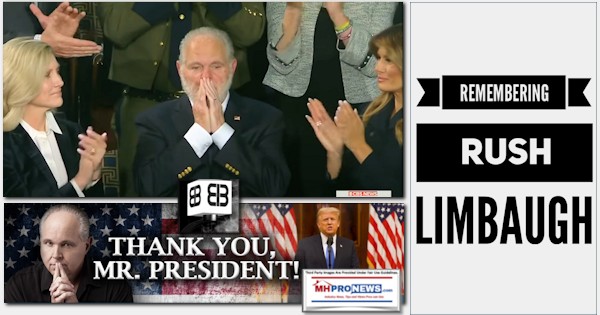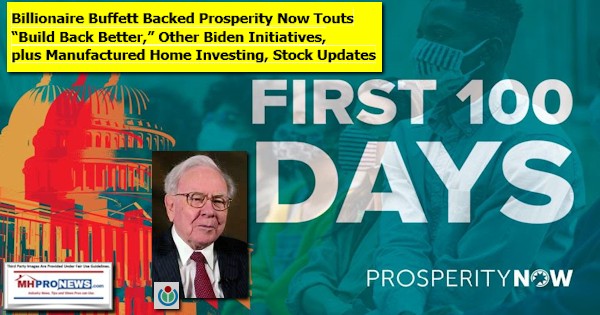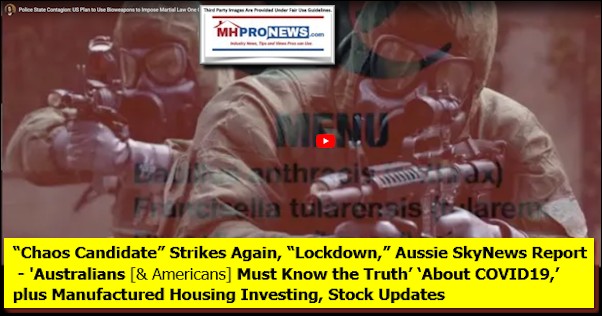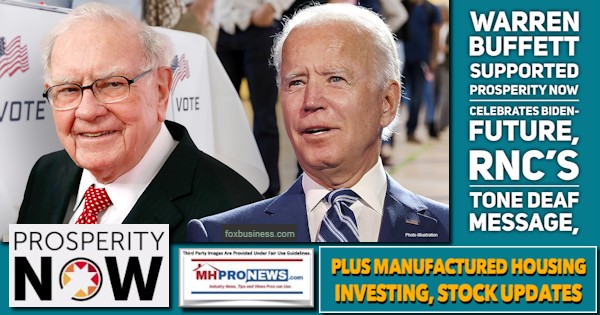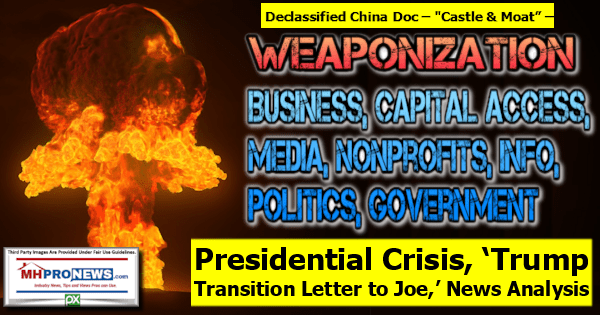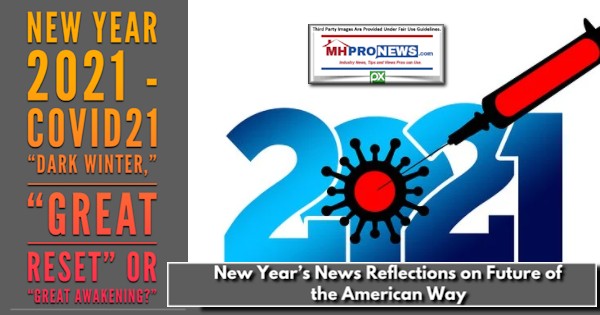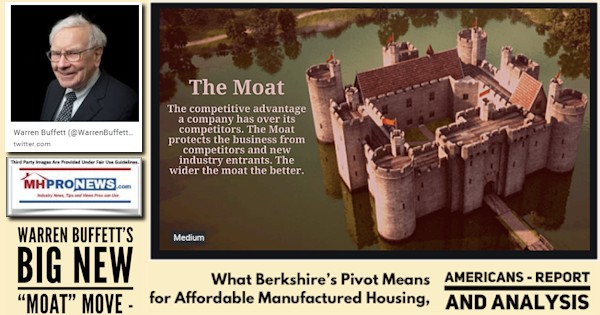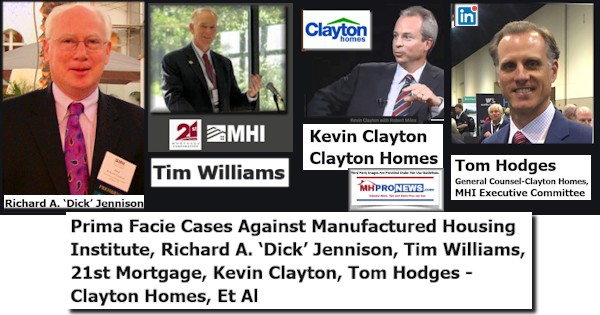 Manufactured Housing Industry Investments Connected Closing Equities Tickers
Some of these firms invest in manufactured housing, or are otherwise connected, but may do other forms of investing or business activities too.
NOTE: The chart below includes the Canadian stock, ECN, which purchased Triad Financial Services, a manufactured home industry lender
NOTE: Drew changed its name and trading symbol at the end of 2016 to Lippert (LCII).
NOTE: Deer Valley was largely taken private, say company insiders in a message to MHProNews on 12.15.2020, but there are still some outstanding shares of  the stock from the days when it was a publicly traded firm.  Thus, there is still periodic activity on DVLY.
Winter 2021...
Berkshire Hathaway is the parent company to Clayton Homes, 21st Mortgage, Vanderbilt Mortgage and other factory built housing industry suppliers.
· LCI Industries, Patrick, UFPI, and LP each are suppliers to the manufactured housing industry, among others.
· AMG, CG, and TAVFX have investments in manufactured housing related businesses. For insights from third-parties and clients about our publisher, click here.
Enjoy these 'blast from the past' comments.
MHProNews. MHProNews - previously a.k.a. MHMSM.com - has celebrated our 11th year of publishing, and is starting our 12the year of serving the industry as the runaway most-read trade media.
Sample Kudos over the years…
It is now 11+ years and counting...and Williams, who praised our accuracy and other services to manufactured housing for years, then said this.
Learn more about our evolutionary journey as the industry's leading trade media, at the report linked below.
· For expert manufactured housing business development or other professional services, click here.
· To sign up in seconds for our industry leading emailed headline news updates, click here.

Disclosure. MHProNews holds no positions in the stocks in this report.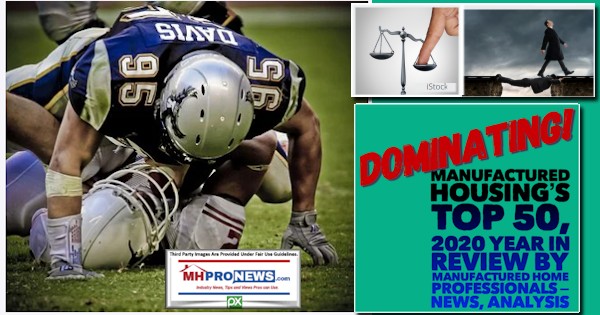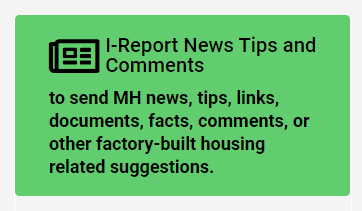 That's a wrap on this installment of "News Through the Lens of Manufactured Homes and Factory-Built Housing" © where "We Provide, You Decide." © (Affordable housing, manufactured homes, stock, investing, data, metrics, reports, fact-checks, analysis, and commentary. Third-party images or content are provided under fair use guidelines for media.) (See Related Reports, further below. Text/image boxes often are hot-linked to other reports that can be access by clicking on them.)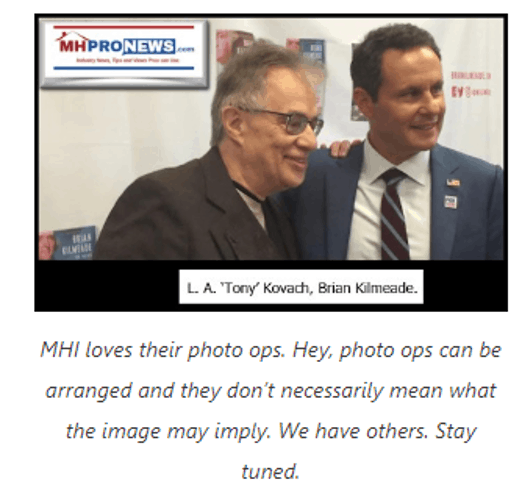 By L.A. "Tony" Kovach - for MHLivingNews.com.
Tony earned a journalism scholarship and earned numerous awards in history and in manufactured housing. For example, he earned the prestigious Lottinville Award in history from the University of Oklahoma, where he studied history and business management. He's a managing member and co-founder of LifeStyle Factory Homes, LLC, the parent company to MHProNews, and MHLivingNews.com. This article reflects the LLC's and/or the writer's position, and may or may not reflect the views of sponsors or supporters.