In 2016 presidential candidate Donald J. Trump was periodically referred to as the "chaos candidate." There were those in both major political parties that warned that if the real estate and media mogul became president, that chaos would follow.
Fast forward to 2021.
Joe Biden sits in the Oval Office. In a matter of days, so-called Executive Orders (EOs) signed by Biden have on the surface upended major parts of Trump agenda which pre-COVID19 set America on a path for the lowest unemployment rate and highest personal income in the past 50 years.  That is not to say that President Trump did everything perfectly. Obviously not. More on what some say are the 45th President's  misses are found further below.
That noted, as this report is being written, former VP Biden was speaking on television about his "Build Back Better" recovery plan. Much of what he is saying on the surface sounds good. For instance, former President Obama's VP Biden said it makes no sense for America to need supply chains from foreign countries (re: Communist China) during a pandemic.
That sounds fine, save for the fact that it was the Obama-Biden Administration in passing Obamacare that purportedly pushed much of the supply chain into China. Who says? Federal research previously reported by MHProNews and presented to Congress; that research document is linked here. Rephrased, even if Mr. Biden is sincere, he would only be fixing what the Obama-Biden Administration set in the wrong direction. Where it not for federal documents that demonstrate that point, it would sound like a conspiracy theory. But it is not.
Mr. Biden is talking about sourcing goods and services from the U.S.  That includes buying goods and services from minorities. Once more, that sounds good.
But wasn't that and more part of what President Trump pursued in the last 4 years? Didn't President Trump popularize Buy American and Hire American? It is absurd on its face to listen to Mr. Biden say things as if these were new or his idea.
Indeed, a Native American tribe has filed a complaint against the Biden regime because the Biden EO staying fracking so harms their tribal interests that they say they can not stay silent. It is one of untold thousands of entities that Biden EOs has harmed, including manufactured housing.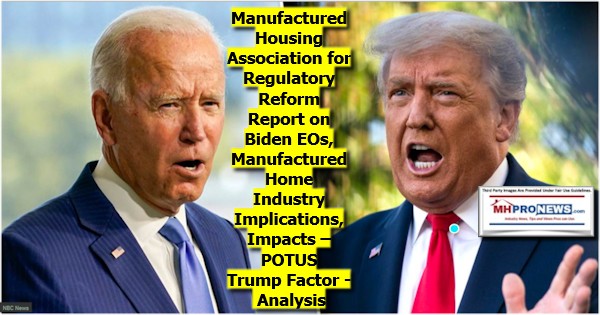 Thanks to the Biden EOs, some mainstream sources say that perhaps 1 million U.S. jobs connected to fracking, oil and gas, the Keystone XL pipeline, are already being cut, are at risk, and or will soon to be lost. Welcome to artificial and unforced chaos during a "pandemic."
The arguably illicit Biden Regime is demonstrating that there is more to the "Never let a good crisis go to waste" mantra made famous by former President Obama Chief of Staff Rahm Emanuel, who later became the mayor of Chicago. Investors, professionals, and advocates should never forget this point. If you are in that crowd that like a "good crisis" and do not already have a crisis, those with little or no moral standards and that have a position of influence and/or the resources, they can create a crisis. Having created a crisis, they can then claim to be solving it. Then, that crisis can also be blamed on some political opponent. Repeat that type of lie over and over, when you have a fawning media and supportive big tech giants and presto! The created crisis becomes the 'fault' of the opponent.
During the Obama-Biden Administration, the core of the video posted below was first published. That Vox News video – from 2014 – speaks about the use of a "Police State Contagion: US Plan to Use Bioweapons to Impose Martial Law One Quarantine at a Time." Investigative Journalist's HARRY VOX video is found on Australian former Victorian Department of Finance and Treasury expert, Sanjeev Sabhlok.
Sabhlok just quit his post in protest over concerns related to how Australia's government is handling the COVID19 pandemic there.  Here in the U.S., which includes some of the data that Sabhlok referred to, in South America, India, and several parts of Europe – to name just a few places globally, the pushback against how their respective governments are handling the Wuhan, China pandemic are being made clear.
Wild Conspiracy Theories?
These several of these matters on the surface might strike someone not familiar with the details of the background discussions as wild eye conspiracy theories. Which is why the video below makes for an interesting first one to view tonight. Keep in mind that what Harry Vox from Vox News was talking about almost 7 YEARS AGO sounds like it is something that might apply TODAY. Vox references a study by produced by a Rockefeller affiliated NGO. That Rockefeller document will follow the next video.
That backdrop set's the stage for "Police State Contagion: US Plan to Use Bioweapons to Impose Martial Law One Quarantine at a Time." For emphasis, this was published almost a year ago, weeks before the first U.S. lockdown. The core video from Vox is from 2014. Restated, it is nearly prophetic. How is that possible?
It was possible because it was planned, said Vox, years in advance. "Scenarios for the Future of Technology and International Development" is the document Vox referenced in the video above that is presented visually as a reference below. To be candid, the video above is compelling. The one below, dry and 'boring.' But the one below is what demonstrates that what Vox said in the video above was talking based on solid information and documented evidence.
All of this is brought to light by an economist in the Victorian Department of Finance and Treasury, Sanjeev Sabhlok.
On Wednesday, Sabhlok penned an article in the Australian Financial Review announcing his resignation from his Australian government position in protest against his country's handling of the pandemic. Note that their handling has several common points to how certain Democratic run jurisdictions in the U.S. have handled COVID19.
That will be tonight's featured focus.
What does this have to do with manufactured housing or the markets? That is a fair question. It is this. If the pandemic's handling is to some degree a charade, that impacts numerous aspects of the economy  and thus stocks.
MHProNews will hereby stress the Sky News video below and information from Sanjeev Sabhlok are NOT saying that the pandemic is a fake. Sabhlok and the Sky News anchor agree COVID19 is real and potentially deadly.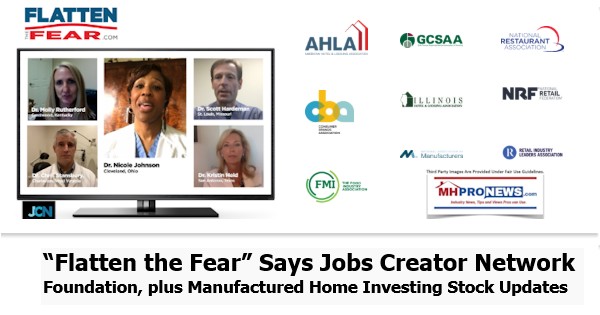 But they are among those who are saying that the risk is overblown and that the handling has been errant. MHProNews has reported on this numerous times, citing the U.S. and international medical and science experts from sources reported above and below.

All of this should make this point. For those who are reading reports like this one, and third-party site data reflects they are well read in our profession, this is just more confirmation that our concerns and reporting have been accurate. Some of our reports from almost a year ago are being confirmed now by reports like the ones in our featured focus below. Before we publish something, we consider the pros and cons, check other sources, and then cite the relevant references. Because MHProNews does not remove content and articles live on for years, we are mindful not to embarrass ourselves.
Rephrased, because these are issues that impact your customers, the economy, and how business is done (or not) in the U.S. and beyond, these topics matter. As our list of the top near the end of this report reflects, about half of our top reports for the years – based upon reader engagement – are on broader subjects such as this one that impact our industry, but others too.
For the growing numbers of new readers, a few quick insights.
Every business evening, MHProNews provides a bullet list of left-right news headlines from CNN and In a matter moment, savvy professionals can see at a glance news headlines and views across the political spectrum. It is a time saving and insightful for those who are hooked on this market-nightly feature.
Our featured focus follows the quotable quotes, periodic political cartoons, those left-right headlines, and two of our three market summary graphics as reported at the closing bell.
After the featured focus, are some recent/related report links and the third manufactured housing focused stock equities graphic. There are some additional items that include the free signup for the manufactured housing industry's x2 weekly emailed news to the most-read trade publication in our profession:
That said, let's press ahead to those features.
Quotes That Shed Light – Industry, American, Social, National Issues…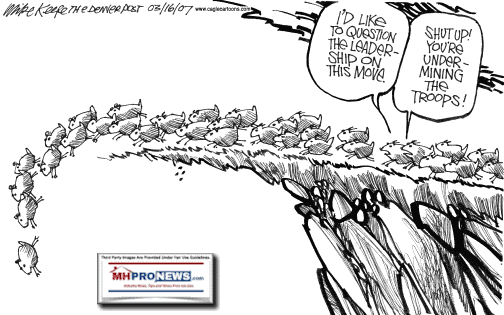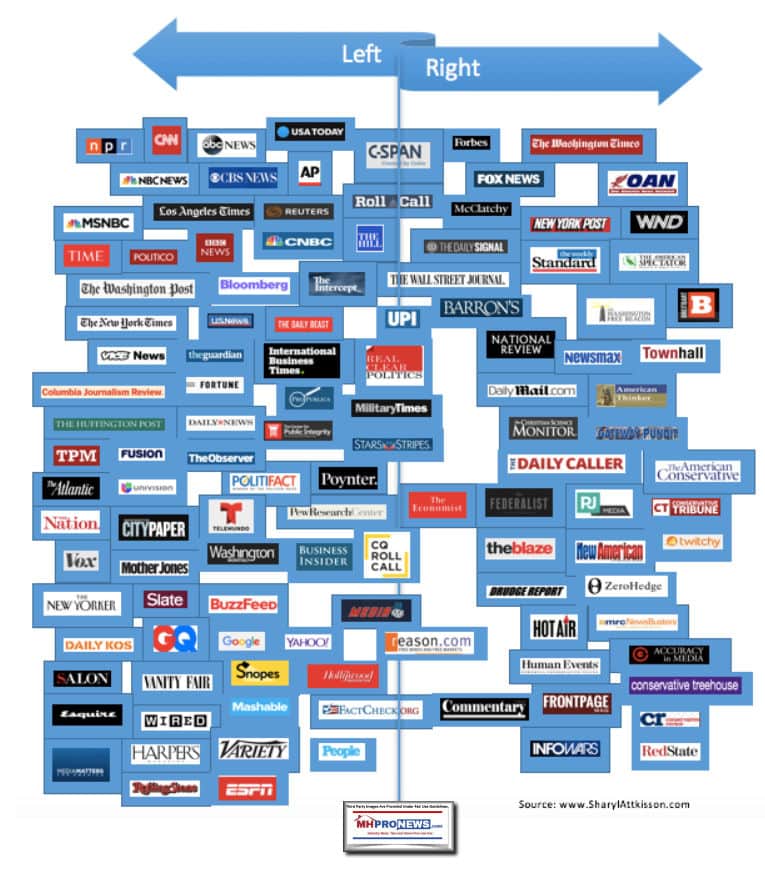 Headlines from left-of-center CNN Business
Volatility hits Wall Street
American flags outside the New York Stock Exchange (NYSE) on Wall Street
Daily life, New York, USA – 19 Jan 2021
Stocks tumbled sharply mid-morning, but the S&P 500 and Nasdaq finished at all-time highs
Apollo CEO Leon Black to step down following review of ties to Jeffrey Epstein
The strange but true reason why GameStop's stock keeps surging
Wall Street banks aren't ready to say that stocks are in a full-fledged bubble
China's President Xi Jinping pushes global cooperation, saying 'arrogant isolation will always fail'
Watch Trivago CEO's son crash live CNN interview
Foreign companies are giving up on the United States and betting big on China, report says
Members are quitting 'sad' Mar-a-Lago after Trump lost
AMC's CEO believes his movie theaters will survive through 2021
Twitter bets on crowdsourcing to help combat misinformation
Apple now lets you take a 'walk' with Shawn Mendes and Dolly Parton
How to figure out where all your money is going
Coke with Coffee is (finally) here
Drive more customers in your door with this appointment booking tool
Apple's 5G new iPhone 12 series are seen at an Apple Store in Tokyo, Japan.
Apple's iPhone 12 series go on sale in Japan, Tokyo, Japan – 23 Oct 2020
Apple issues new warning: Keep your iPhone six inches away from your pacemaker
SHENZHEN, CHINA – 2020/10/05: Budweiser beer cans displayed for sale in a supermarket.
Budweiser is skipping the Super Bowl for the first time in nearly four decades
Bloomberg Best of the Year 2020: Anthony Fauci, director of the National Institute of Allergy and Infectious Diseases, right, stands as U.S. President Donald Trump exits during a Coronavirus Task Force news conference at the White House in Washington, D.C., U.S., on Thursday, March 26, 2020.
Fauci and Birx tell interviewers about the 'nonsense' of the Trump years
REMEMBERING LARRY KING
The Simpsons Larry King
Larry King was a news industry icon, down to his signature suspenders
Broadcasting legend Larry King dies at age 87
Larry King was the everyman's interviewer
'Unlike anybody else': Anderson Cooper on Larry King
CNN founder Ted Turner remembers King's legacy
GETTING THE VACCINE
Trader Joe's bans use of customer bags and carts inside stores
Coronavirus outbreak, New York, USA – 22 Apr 2020
Aldi, Trader Joe's and others will pay workers to get a Covid vaccine
Dollar General will pay workers to get vaccine
Google Maps will soon display Covid-19 vaccination sites
Walmart expands vaccinations to more states
Vaccination megasites pop up in empty malls
Headlines from right-of-center Newsmax
Jim Jordan Rounds Up a Rapid-Response Squad for Trump's 2nd Impeachment Trial
People familiar with the plans said efforts to organize the squad are underway, with Jordan and several colleagues planning to look for opportunities during the trial to highlight what they see as a rushed impeachment and political overreach.
The Biden Presidency
Biden: 100-Day Vaccine Goal May Rise to 150M From 100M
Fauci Raking in $417.6K a Year, Highest Salary in US Govt
Biden Orders COVID-19 Travel Restrictions, Adds South Africa
Merkel and Biden Agree in Phone Call to Strengthen Transatlantic Cooperation on COVID, More
Biden Ends Transgender Troop Ban
Biden Replaces WH Doctor With Longtime Physician
ABC Poll: Biden Gets 69% Approval on COVID-19
Bipartisan Lawmakers Question WH on Relief Plan's Size
The Biden Presidency
Biden: 100-Day Vaccine Goal May Rise to 150M From 100M
Fauci Raking in $417.6K a Year, Highest Salary in US Govt
Biden Orders COVID-19 Travel Restrictions, Adds South Africa
Merkel and Biden Agree in Phone Call to Strengthen Transatlantic Cooperation on COVID, More
Biden Ends Transgender Troop Ban
Biden Replaces WH Doctor With Longtime Physician
ABC Poll: Biden Gets 69% Approval on COVID-19
Bipartisan Lawmakers Question WH on Relief Plan's Size
More The Biden Presidency
Newsfront
Montana GOP Advances Four Bills Limiting Abortion Access
The Montana House on Monday advanced four bills that would limit abortion access in the state, capitalizing on the election of a Republican governor for the first time in 16 years.Three of the bills are repeats of similar bills vetoed last session by former Gov. Steve…
Murdoch Slams Liberal Media's 'Awful Woke Orthodoxy'
Rupert Murdoch, the billionaire mogul behind Fox News,
MAGA Movement to Strengthen Even Without Trump at Helm
Donald Trump's "Make America Great Again" movement will strengthen
Twitter Launches 'Birdwatch' to Fight Misinformation
Twitter launched a pilot program Monday that has users flag tweets
Billionaires Thriving as Poor Suffer in Widening COVID-19 Divide: Oxfam
Billionaires including Amazon's Jeff Bezos and Tesla founder Elon
Comer to Newsmax TV: 'It's America Last' for Biden
President Joe Biden's administration is displaying an "America
National Guard May Keep 7,000 Members in DC Until March
National Guard officials are working on a plan to call for as many as
Xi Warns Against 'Outdated, Cold-War Mentality'
Chinese President Xi Jinping called on the world to abandon
Brady, Bucs Host Slight Favorite Chiefs in Super Bowl LV
The Kansas City Chiefs were installed as 3.5-point favorites to win
Health
Study: People With Severe COVID-19 Have Less Risk of Reinfection
People with severe cases of COVID-19 may produce more T cells to protect against reinfection, according to a new study. Researchers at La Jolla Institute for Immunology, The University of Liverpool, and the University… [Full Story]
Study Casts Doubt on Early Warning System for Kidney Patients
Hand Sanitizer Is Harming Kids' Eyes
Study: Nicotine Helps Breast Cancer Spread
The 5 Rules of Fitness for People of All Ages
Market Indicator Closing Summaries – Yahoo Finance Closing Tickers on MHProNews…
Featured Focus –
Where Business, Politics and Investing Can Meet
Australian SkyNews says "Australians must know the truth – this virus is not a pandemic" says anchor Alan Jones. That should NOT be misunderstood to mean that the coronavirus can be lethal or is not global, widespread, etc. Rather, Jones – citing at length the statements of the former Australian official, Sanjeev Sabhlok, who resigned in protest over this government's handling of COVID19.
Step-by-step, Jones reports how Sabhlok uses facts to reveal why their country and others are doing more harm than good with lockdowns and other problematic polices.
Sabhlok's tweet and retweets are fascinating.
#LockdownCrimesAgainstHumanity

An Act of God (covid) is no excuse for crimes against humanity (Act of Man). https://t.co/atprCitoe1

— 🙂Sanjeev Sabhlok, Pope @Church of Reason& Liberty (@sabhlok) January 24, 2021
1/ Peer-reviewed research in Nature

"Autumn Covid-19 surge dates in Europe correlated to latitudes, not to temperature-humidity, pointing to Vitamin D as contributing factor.. to Covid severity—combined w/prev studies, provides convincing set of evidence"https://t.co/jUTJtcuoxc

— Kulvinder Kaur MD (@dockaurG) January 24, 2021
The totalitarian Australian state has no time for niceties like freedom and integrity. https://t.co/R4JeNOWtBt

— 🙂Sanjeev Sabhlok, Pope @Church of Reason& Liberty (@sabhlok) January 23, 2021
Totalitarian China won't be happy until the USA is totally destroyed from within. https://t.co/WmYbC3jfuh

— 🙂Sanjeev Sabhlok, Pope @Church of Reason& Liberty (@sabhlok) January 23, 2021
#LockdownCrimesAgainstHumanity

This info has been widely shared across the world already but I won't comment on it because I keep getting banned by big tech for speaking the truth.

Make your own deductions and let the people wake up.https://t.co/guIdqiiOkR

— 🙂Sanjeev Sabhlok, Pope @Church of Reason& Liberty (@sabhlok) January 23, 2021
#LockdownCrimesAgainstHumanity

Here's Brazil's data. I've not had time to verify (and there are probably problems related to covid definition, etc. with this data) but prima facie – the same issue: hyteria without basis. https://t.co/PYQVaH0h0X

— 🙂Sanjeev Sabhlok, Pope @Church of Reason& Liberty (@sabhlok) January 23, 2021
And even in the first wave there was 20% spare capacity. https://t.co/MuVx3Bir2g

— 🙂Sanjeev Sabhlok, Pope @Church of Reason& Liberty (@sabhlok) January 22, 2021
#lockdownCrimesAgainstHumanity

Undoubtedly some voluntary social distancing was necessary during 2020. It was the coercion – which over-rode our understanding and choice – that was the crime. https://t.co/72n4nqDcXY

— 🙂Sanjeev Sabhlok, Pope @Church of Reason& Liberty (@sabhlok) January 22, 2021
We need to raise our voice not just to against the crooked politicians, scientists and media bought out by China but against the master-criminal organisation: the CCP itself which has caused so much devastation including the lockdown policies, in 2020. https://t.co/VhBgjFc1ig

— 🙂Sanjeev Sabhlok, Pope @Church of Reason& Liberty (@sabhlok) January 21, 2021
I've quit WhatsApp permanently and moved to Telegram and Signal.

Am incrementally transitioning from Facebook and other Big Tech as well.

— 🙂Sanjeev Sabhlok, Pope @Church of Reason& Liberty (@sabhlok) January 21, 2021
Jinping was mortally afraid of Trump administration. It explains everything in 2020 without the need to introduce other factors. https://t.co/1xn94LOPvW

— 🙂Sanjeev Sabhlok, Pope @Church of Reason& Liberty (@sabhlok) January 20, 2021
This was clearly and solely about removing Trump. That objective has now been served so science can return.

A criminal organisation, WHO, under Tedros. https://t.co/AAIicFl3HA

— 🙂Sanjeev Sabhlok, Pope @Church of Reason& Liberty (@sabhlok) January 20, 2021
Jinping is celebrating. https://t.co/3H7tSjkWKb

— 🙂Sanjeev Sabhlok, Pope @Church of Reason& Liberty (@sabhlok) January 20, 2021
#LockdownCrimesAgainstHumanity

Masking children and stopping the flow of oxygen to their growing brain has been one of the most heinous crimes against humanity. https://t.co/Df1feuDLtq

— 🙂Sanjeev Sabhlok, Pope @Church of Reason& Liberty (@sabhlok) January 20, 2021
#GreatCrime2020 https://t.co/X8PQOM87xJ

— 🙂Sanjeev Sabhlok, Pope @Church of Reason& Liberty (@sabhlok) January 18, 2021
My personal favourite because it is so right 👍 pic.twitter.com/AibHAamcwT

— Proud OLD Soldier (@GrumpyOLSoldier) January 25, 2021
Sabhlok's website says the following about "Lockstep."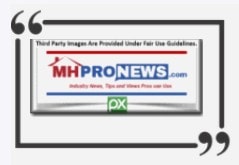 "Lockstep"
"The first video below was published to YouTube on January 29, 2020, almost exactly a year ago. If you first saw this today, on 1.25.2021, you might think that the Vox News man was a conspiracy theorist. But following the introduction, the interview with
the US military-industrial police state has never hesitated to sacrifice the lives of Americans in order to achieve its goal of locking down control of all movement – not just in & out of the country but within the country. Bioweapons, as the Rockefeller Foundation gleefully pointed out way back in 2010, are a fantastic way to convince an already-mentally-supine population to yield control of their physical forms to the state's machinations as well.
while the interview in this video was recorded in 2014 as an Ebola outbreak ravaged west Africa, Vox's observations are if anything even more applicable to 2020's coronavirus outbreak, which has set western powers salivating as China sets into motion its enviable (if you're a power-mad sociopath) state control machinery to quarantine some 50 million people behind a 'cordon sanitaire' that authorities admit has already allowed carriers of the virus to slip out ahead of its imposition – meaning this massive crackdown on free movement serves no purpose other than as a giant human experiment in what liberties a population will thoroughly trash for the fleeting illusion of security. spoiler alert: too many."
They say unite but they mean conform https://t.co/8alnbIjlZz

— Jack Posobiec 🇺🇸 (@JackPosobiec) January 25, 2021
Once more that video is below.  It is followed by an entirely different video in 2020 that covers some related ground after the 'plandemic' or 'scamdemic' became known.
Dr. David E. Martin PHD. on London on the plandemic.
As some of the tweets above reflect, COVID was useful to China and American anti-Trump forces. One American News' report on this expert identifing multiple agent provocateurs in Jan. 6 attack was published on January 24, 2021
Much of this lines up well with our report linked below that was published early into the Wuhan Virus. That report makes it clear that there is an argument that President Trump was sandbagged by some federal advisors.  That noted, shouldn't a president be able to count on the advice that federal officials are giving?  The convergence between the Deep State and several of the billionaires that we have reported on as impacting our profession and others can not be ignored.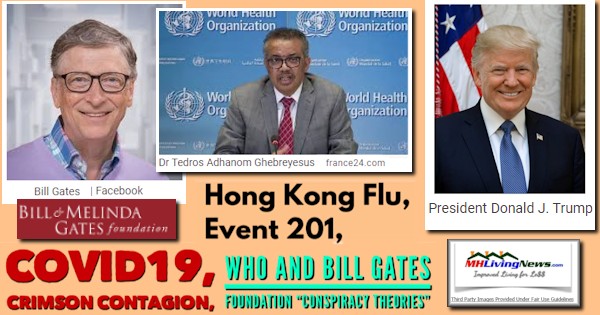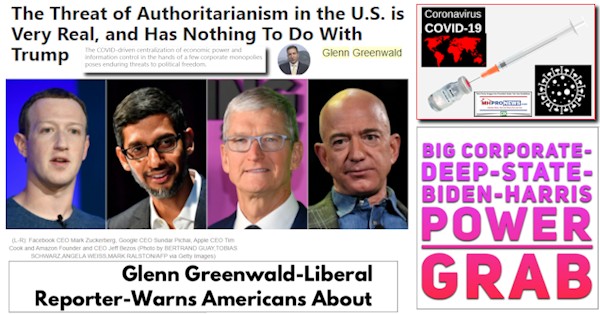 Related, Recent, and Read Hot Reports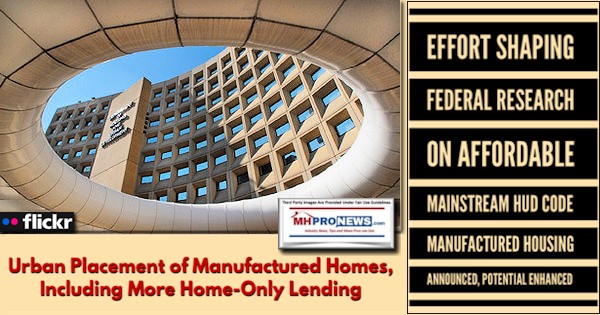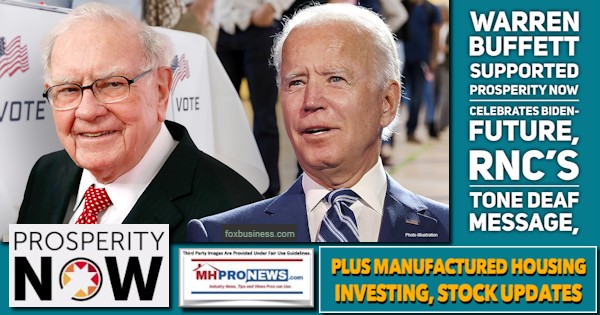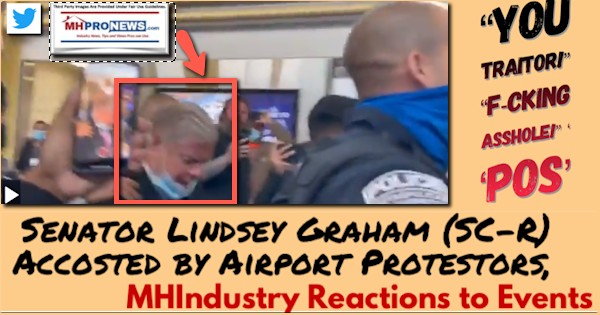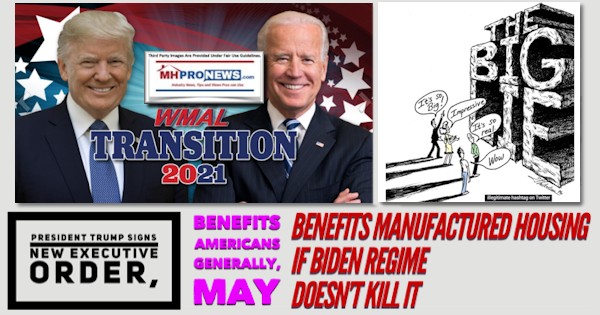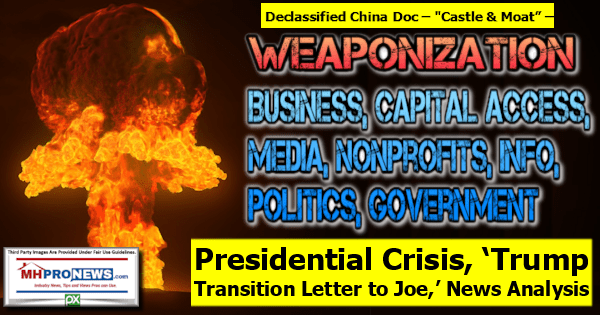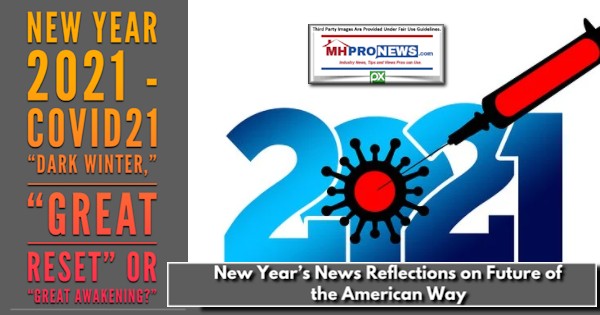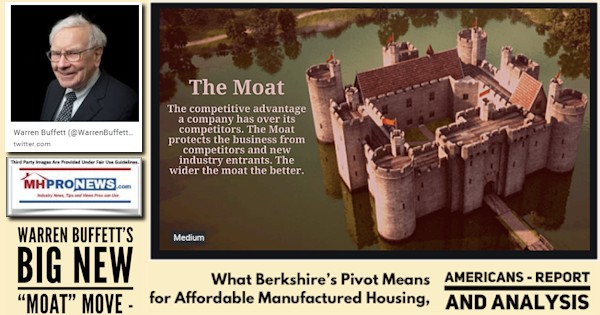 Manufactured Housing Industry Investments Connected Closing Equities Tickers
Some of these firms invest in manufactured housing, or are otherwise connected, but may do other forms of investing or business activities too.
NOTE: The chart below includes the Canadian stock, ECN, which purchased Triad Financial Services, a manufactured home industry lender
NOTE: Drew changed its name and trading symbol at the end of 2016 to Lippert (LCII).
NOTE: Deer Valley was largely taken private, say company insiders in a message to MHProNews on 12.15.2020, but there are still some outstanding shares of  the stock from the days when it was a publicly traded firm.  Thus, there is still periodic activity on DVLY.
Winter 2021…
Berkshire Hathaway is the parent company to Clayton Homes, 21st Mortgage, Vanderbilt Mortgage and other factory built housing industry suppliers.
· LCI Industries, Patrick, UFPI, and LP each are suppliers to the manufactured housing industry, among others.
· AMG, CG, and TAVFX have investments in manufactured housing related businesses. For insights from third-parties and clients about our publisher, click here.
Enjoy these 'blast from the past' comments.
MHProNews. MHProNews – previously a.k.a. MHMSM.com – has celebrated our 11th year of publishing, and is starting our 12the year of serving the industry as the runaway most-read trade media.
Sample Kudos over the years…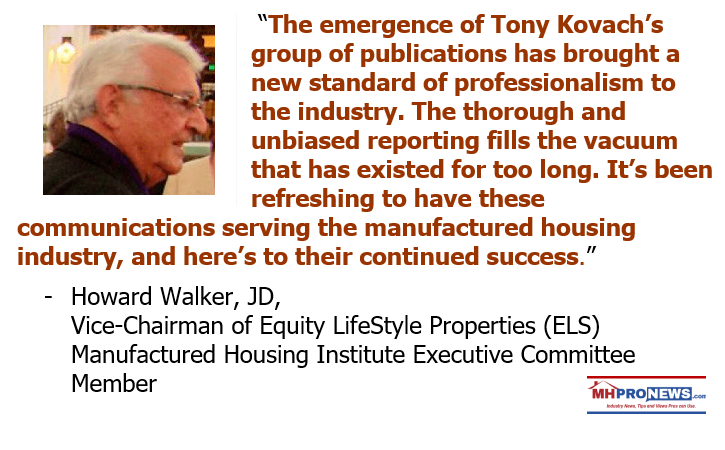 Learn more about our evolutionary journey as the industry's leading trade media, at the report linked below.
· For expert manufactured housing business development or other professional services, click here.
· To sign up in seconds for our industry leading emailed headline news updates, click here.

Disclosure. MHProNews holds no positions in the stocks in this report.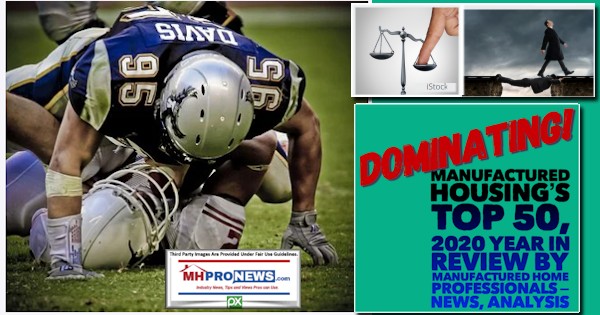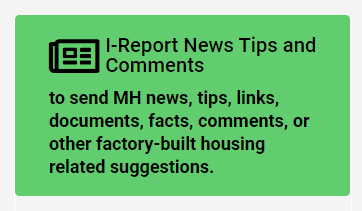 That's a wrap on this installment of "News Through the Lens of Manufactured Homes and Factory-Built Housing" © where "We Provide, You Decide." © (Affordable housing, manufactured homes, stock, investing, data, metrics, reports, fact-checks, analysis, and commentary. Third-party images or content are provided under fair use guidelines for media.) (See Related Reports, further below. Text/image boxes often are hot-linked to other reports that can be access by clicking on them.)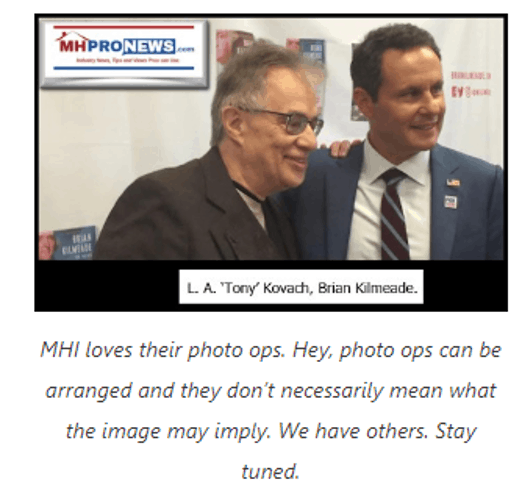 By L.A. "Tony" Kovach – for MHLivingNews.com.
Tony earned a journalism scholarship and earned numerous awards in history and in manufactured housing. For example, he earned the prestigious Lottinville Award in history from the University of Oklahoma, where he studied history and business management. He's a managing member and co-founder of LifeStyle Factory Homes, LLC, the parent company to MHProNews, and MHLivingNews.com. This article reflects the LLC's and/or the writer's position, and may or may not reflect the views of sponsors or supporters.