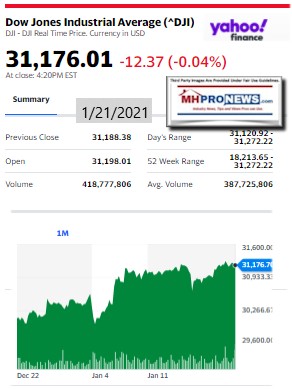 In a message forwarded to MHProNews was this from the Republican National Committee (RNC).
"In less than one day, Joe Biden has already undone many of President Trump's – and the Republican Party's – accomplishments that put AMERICA FIRST. Here are just a few of the many Executive Actions that he signed yesterday:
Construction at the Border Wall has STOPPED

.

Illegal Immigrants will be counted in the United States Census

.

The Keystone Pipeline has been CANCELED → thousands of jobs will be destroyed

.

Rejoined the World Health Organization that helped China cover up their terrible handling of the Coronavirus

.

Reversed the travel ban to keep radical terrorist groups out of the United States

.

And, so much more

…"
It is one of several such messages sent for MHProNews feedback and analysis. Of course, it includes a fund-raising pitch. Similar Democratic messages forwarded to MHProNews have their own messaging, in reverse, of course. New reader disclosure, MHProNews' management are political independents, not registered with any political party.
Related to report linked below, MHProNews reached out to the "Patriot Party."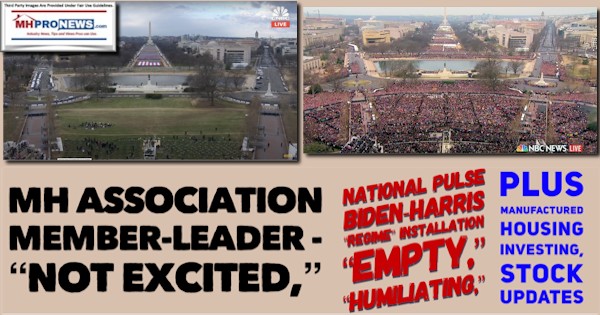 In response to our inquiry, the Patriot Party sent the following reply.
"We will be making announcements soon for a Patriot Party Virtual Convention as well as conferences in various states over the summer. Cannot comment on Trump team at this time." There was more, but that is perhaps the key points from a party spokesperson.
The Chris Salcedo Show on Newsmax this evening did a segment which included a pair of panelists. One panelist argued for not splitting the GOP by witnessing a serious Trump-connected Patriot Party creation. The other argued for the new party, pointing to the frustration with millions in the GOP base over the dozens in the House and Senate who threw away an opportunity on and before January 6, 2021 to #StopTheSteal.
MHProNews has over 20,000 articles online. The largest of our cPanel, each of which collects site data, reports the following as the most accessed reports month-to-date. The split between industry-laser focused articles vs. those that have a broader appeal is noticeable. Perhaps as or more important, these topics are witnessing a surge of traffic on MHProNews. The second one below was published months ago, and topped 1.5 million hits within the first few weeks of publication.
The point? Several. Professionals and others are increasingly seeing the importance of how politics impacts their business.
On our MHLivingNews sister site, among the top articles is this Clayton Homes expose linked below, which has apparently topped 1 million hits.
That noted, in the wake of political topics on MHLivingNews, again an even larger surge of traffic is occurring on our sister-site.
Tens of millions of Americans seem to feel that President-Select Joe Biden* is not a legitimate president at all.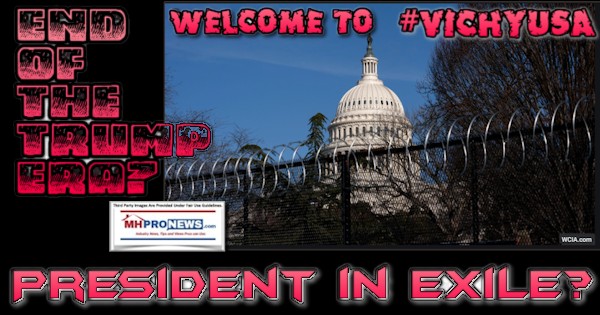 25,000 TROOPS: National Guard remains in the nation's Capitol https://t.co/Cilez9taLt pic.twitter.com/4UBCDMKdBV

— Newsmax (@newsmax) January 21, 2021
Perhaps because MHProNews provides meaty references, instead of mere word salads and verbal bomb tossing, we have been the industry's leading publisher for over a decade. While some may begrudge their prior plugs for our accuracy and objectivity, our methodology has only become more focused on facts and sound analysis, not less so.
Be it investors or industry professionals, the growing realization that the #SystemIsRigged is fueling interest here and on our sister site. Because we are not blind political partisans, but rather are facts, results, and policy focused, industry pros make us their source for news tips.
Most of the facts in the reports linked below were available to the RNC and those GOP lawmakers who did not stand up for President Trump on and in advance of the January 6, 2021 Congressional 'certification' of the Electoral College. When someone looks at the evidence, how could several GOP elected and party officials have failed to rally around President Trump?
Part One – The Immaculate Deception
The-Immaculate-Deception-12.15.20
Part Two – The Art of the Steal
The-Art-of-the-Steal-1.5.21-FINAL-1
Part Three – Yes, President Trump Won
The-Navarro-Report-Volume-III-Final-1.13.21-0001
— The White House 45 Archived (@WhiteHouse45) January 20, 2021
The apparent answer is quite simple. In both major parties, there are donors who are just fine with the status quo ante with respect to President Trump's efforts to #MAGA and #DrainTheSwamp.
Until dozens of GOP lawmakers and party officials figure out how to make amends with and reconnect with disgruntled-to-angry Trump voters, it is one more reason why the wishful thinking that the GOP 'retakes the House and Senate in 2022' is just that…wishful thinking.
As a related to the reports above, the links below include the recent report from the Director of National Intelligence, describing how the CCP interfered with our elections last November 3rd. It also essentially describes how the CIA – think Deep State – colluded with this effort.
DNI John Ratcliff Declassified Information on Election Interference
It has been an honor to serve as the U.S. Secretary of State. Today, as I step down from this role as our nation's top diplomat, I am proud of what we achieved — and I promise to never stop fighting for America #AmericaFirst 🇺🇸

— Mike Pompeo (@mikepompeo) January 20, 2021
Next, let us pivot to the first part of our headline report, which will be tonight's featured focus.
For the growing numbers of new readers, a few quick insights.
Every business evening, MHProNews provides a bullet list of left-right news headlines from CNN and In a matter moment, savvy professionals can see at a glance news headlines and views across the political spectrum. It is a time saving and insightful for those who are hooked on this market-nightly feature.
Our featured focus follows the quotable quotes, periodic political cartoons, those left-right headlines, and two of our three market summary graphics as reported at the closing bell.
After the featured focus, are some recent/related report links and the third manufactured housing focused stock equities graphic. There are some additional items that include the free signup for the manufactured housing industry's x2 weekly emailed news to the most-read trade publication in our profession:
That said, let's press ahead to those features. That White House list is one of several items that may well prove historic. It may also prove a thorn in the side of the Biden-Harris team and those billionaires, corporate, tech, media and other forces that are poised to place them in power. It was Biden who said this would be a dark winter.
Quotes That Shed Light – Industry, American, Social, National Issues…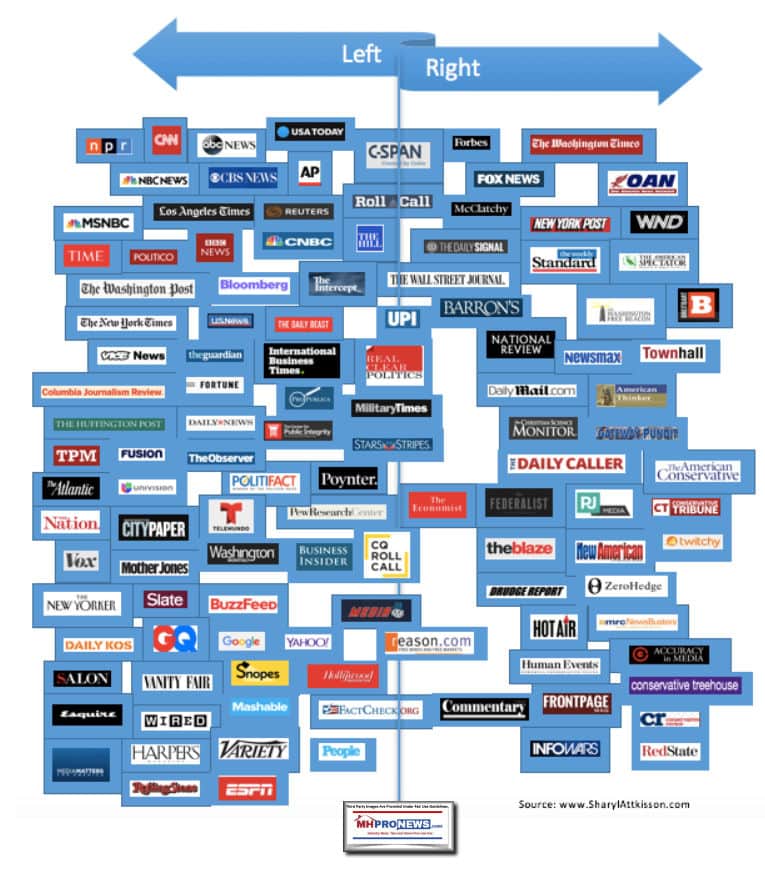 Headlines from left-of-center CNN Business
A surprising ally
White House senior adviser Kevin Hassett speaks with reporters at the White House, Friday, June 19, 2020, in Washington.
EXCLUSIVE
Trump economist Kevin Hassett backs Biden's $1.9 trillion rescue plan
Here's how much Trump's presidential pension is worth — if he keeps it
Covid is still creating winners and losers, like Netflix and United Airlines
Biden wants to avoid the Obama era's biggest economic mistake. If Congress lets him
The proposed $1,400 stimulus checks are a lousy way to fix the economy
The conflict with China is one thing Joe Biden won't be rushing to fix
He believed a secret plot would keep Trump in office. Now, he's lost
Newspapers around the world react to Biden's inauguration
Under pressure: Trump's business was crashing even before the Capitol riot made his brand toxic
Right-wing media holds Biden bash-fest, foreshadowing its next four years of coverage
Volkswagen CEO joins Twitter and immediately trolls Tesla and Elon Musk
Costco is (finally) testing out curbside pickup for groceries
Facebook's oversight board will decide whether Trump should be banned
WOODBRIDGE, NEW JERSEY – AUGUST 26: Clark resident Jen Valencia still works part time for Instacart at Wegman's market on August 26, 2020 in Woodbridge, New Jersey. The pandemic has prompted a major spike in on-demand grocery shopping and delivery, making Instacart profitable for the first time since its founding in 2012.
Instacart is cutting more than 1,800 jobs, including its only unionized workers
Here's how to buy bitcoin without all the risk of buying bitcoin
American Airlines has so much extra wine that it is starting a delivery service
WHAT TO WATCH
Biden fist-bumps members of the media during inaugural parade
Late-night hosts react to Biden's inauguration
SAN ANSELMO, CALIFORNIA – JANUARY 08: The suspended Twitter account of U.S. President Donald Trump appears on an iPhone screen on January 08, 2021 in San Anselmo, California. Citing the risk of further incitement of violence following an attempted insurrection on Wednesday, Twitter permanently suspended President Donald Trump's account.
What impact could deplatforming Donald Trump have?
Democratic presidential candidate and former US Vice President Joe Biden speaks on the state of the US economy on September 4, 2020, in Wilmington, Delaware.
Why Wall Street is hopeful about Biden despite economic challenges
Watch this rocket launch from the wing of a jumbo jet
The real self-driving revolution remains years away
Tenants' rights advocates demonstrate in front of the Edward W. Brooke Courthouse, Wednesday, Jan. 13, 2021, in Boston. The protest was part of a national day of action calling on the incoming Biden administration to extend the eviction moratorium initiated in response to the Covid-19 pandemic. (AP Photo/Michael Dwyer)
Biden seeks to extend bans on evictions and foreclosures
It's review season: Here's how to talk to your boss
Pedestrians walk in front of the New York Stock Exchange NYSE, in New York, United States, Jan. 8, 2021. U.S. employers slashed 140,000 jobs in December, the first monthly decline since April 2020, as the recent COVID-19 spikes disrupted labor market recovery, the Labor Department reported Friday.
The unemployment rate, which has been trending down over the past seven months, remained unchanged at 6.7 percent, according to the monthly employment report.
The stock market has been on a tear. Here's how you can safely invest
TECH
LOS ANGELES, CA – JANUARY 13: American Airlines Boeing 787-9 takes off from Los Angeles international Airport on January 13, 2021 in Los Angeles, California.
American Airlines has so much extra wine that it is starting a delivery service
WOODBRIDGE, NEW JERSEY – AUGUST 26: Clark resident Jen Valencia still works part time for Instacart at Wegman's market on August 26, 2020 in Woodbridge, New Jersey. The pandemic has prompted a major spike in on-demand grocery shopping and delivery, making Instacart profitable for the first time since its founding in 2012.
Instacart is cutting more than 1,800 jobs, including its only unionized workers
S. President Donald Trump speaks to members of the media before boarding Marine One on the South Lawn of the White House in Washington, D.C., U.S., on Wednesday, Jan. 20, 2021. Trump departs Washington with Americans more politically divided and more likely to be out of work than when he arrived, while awaiting trial for his second impeachment – an ignominious end to one of the most turbulent presidencies in American history.
Facebook's oversight board will decide whether Trump should be banned
NEW YORK, NEW YORK – OCTOBER 20: Google's offices stand in downtown Manhattan on October 20, 2020 in New York City. Accusing the company of using anticompetitive tactics to illegally monopolize the online search and search advertising markets, the Justice Department and 11 states Tuesday filed an antitrust case against Google.
Google agrees to pay French publishers for news
To save democracy, Joe Biden hopes to repair White House's relationship with the media
Headlines from right-of-center Newsmax
Judge: NY Lawsuit Seeking NRA's Dissolution Can Go Forward
The NRA has been incorporated in New York since 1871, though it is headquartered in Virginia and last week filed for bankruptcy protection in Texas in a bid to reincorporate in that state. The gun rights group, in announcing its bankruptcy filing last Friday, said that it wanted to break free of a "corrupt political and regulatory environment in New York," and that it saw Texas as friendlier to its interests.
The Biden Presidency
Biden Suspends New Oil and Gas Leases, Permits for 60 Days
Congress Poised for Quick Action on Biden's Pentagon Nominee
Blunt: Biden's COVID Relief Package 'Non-Starter'
Biden to Seek Five-Year Extension of Russian Arms Control Treaty
Kate Bedingfield: Biden May Deny 'Willfully Lying' Outlets Interviews
Biden Mask Mandate Might Not Boost Economy
Biden to Keep Wray as FBI Director
Newsfront
Parler Loses Bid to Have Service Restored by Amazon
Parler Loses Bid to Have Service Restored by Amazon
A federal judge on Thursday rejected Parler's demand that Amazon.com Inc restore web hosting services for the social media platform, which Amazon had cut off following the Jan. 6 storming of the U.S. Capitol.U.S. District Judge Barbara Rothstein in Seattle said Parler…
Related Stories
Dem Rep. Maloney Asks FBI to Probe Parler for Storming of Capitol
Former WH Adviser Navarro: 'Forget Unity' if Impeachment Trial
Democrats can "forget about unity" if they continue to push for an
Biden Launches Extensive Strategy to Fight COVID-19
President Joe Biden Thursday laid out an extensive strategy to
Related
Arnold Schwarzenegger Vaccinated at Dodger Stadium
Fauci Lays Out Biden's Support for WHO
CDC Director: Vaccine Won't Be in Every Pharmacy by Late February
Vaccine Shortage Puts Americans on the Road in Search of Shots
CDC: 15.7M Doses of COVID-19 Vaccines Administered in US
Trump Hires South Carolina Lawyer Bowers for Impeachment Defense
Former President Donald Trump has hired South Carolina-based lawyer
Related
Pelosi: Senate to Get Trump Impeachment for Trial Soon
Scalise: Biden Could Achieve Unity by Rejecting Impeachment
Gizzi: Ex-Presidents Crashed, Burned With Third Parties
Would a third party led by a former president with a fervent national
Related
Trump Reveals Business Wealth Cut in Half Amid Pandemic
Pelosi: Trump Could Be 'Accessory to Murder'
Trump Pardons 73 People, Including Steve Bannon, Lil Wayne, on Last Day
Conservatives Outraged Over Fox News' Wallace Praise for Biden
Fox News' Chris Wallace didn't hold back when it came to praising Joe
McConnell Fights for Some Power, Senate Filibuster
Senate Minority Leader Mitch McConnell, R-Ky., threatened Thursday
McCarthy Wants Probe of Lawmaker Involvement in Capitol Riot
House Minority Leader Kevin McCarthy, R-Calif., on Thursday doubled
Noem – Possible '24 Presidential Candidate – Defends Trump Legacy
South Dakota Gov. Kristi Noem on Wednesday defended Donald Trump's
Trump Extended Secret Service Protection to Family
Former President Donald Trump had directed the Secret Service to
Danny Danon to Newsmax TV: Israel Worried About Biden Policies, Not Twitter
Former Israeli ambassador Danny Danon told Newsmax TV
Facebook Refers Trump's Suspension to Independent 'Supreme Court'
Facebook announced on Thursday it is referring former President
China Sanctions Pompeo, 27 Other Trump-Era Officials
China has imposed sanctions against "lying and cheating" former
Related
White House: China Sanctions on Trump Officials 'Unproductive and Cynical'
IOC President: Tokyo Olympics to Be Held as Scheduled
IOC president Thomas Bach said on Thursday that the Tokyo Summer
Antifa Protests Biden, Vandalizes Buildings in Portland and Seattle
Anti-government and anti-fascist protesters in Portland and Seattle
Iran Ready to Move Forward on Nuclear Deal With Biden
Iran is ready to strike a nuclear deal with the Biden administration
Jim Jordan to Newsmax TV: Don't Split the GOP
Jim Jordan, R-Ohio, is not in favor of splitting the
Biden Sends Congress Immigration Overhaul Bill
President Joe Biden is sending Congress a bill Wednesday after his
Finance
US Jobless Claims Fell Slightly Last Week, Remain Elevated
Applications for U.S. state unemployment benefits fell only slightly last week and remained elevated, signaling heightened pandemic-related strain in the U.S. labor market just as Joe Biden begins his first days as president… [Full Story]
Amazon Offers to Assist Biden Administration in COVID Vaccine Rollout
Almost 3M Jobless May Have Stopped Getting Aid After Christmas
Biden Mask Mandate Might Not Boost Economy
Make No Mistake, Biden Will Rock Your Retirement Future
Market Indicator Closing Summaries – Yahoo Finance Closing Tickers on MHProNews…
Featured Focus –
Where Business, Politics and Investing Can Meet
This today from Prosperity Now to MHProNews. Keep in mind that Warren Buffett is one of the major funders for Prosperity Now.
Preparing for a Bright Year Ahead
| | |
| --- | --- |
| From the President and CEO | |
Dear Friends,

Happy new year! I hope you are all staying safe and well.

This year started off in a way that surprised and saddened me. As we all know, the Capitol came under siege on January 6 by a mob of insurrectionists bent on overturning our election. It was a dark day for our democracy. I also acknowledge the stark contrast in how the extremists at the Capitol were treated on January 6, and how peaceful demonstrators were treated this summer in the wake of George Floyd's murder. For many reasons, this is a painful and shameful time in our country.

As we consider the heinous events at the Capitol and the myriad implications of those events, we also need to consider what needs to happen to effectively address racial economic injustice in America. It is clear that we need new and innovative approaches to make real progress and lasting change.

I believe we need to consider new ways of framing issues of racial economic justice that focus on the unique strengths of BIPOC communities and the immeasurable positive impact they have had on our democracy. To that end, I recently published an article in Nonprofit Quarterly discussing the power of building identity from a strength-based framework, rather than through a deficit-focused lens. Though there are, indeed, systemic problems that must be addressed in seeking economic justice for BIPOC communities, I want to challenge our field to more frequently and more publicly acknowledge the power of their stories and strengths.

Another area we're keenly focused on in the new year is effective advocacy, which is essential for addressing the "wicked problems" of economic injustice. There are both immediate needs, such as pandemic relief, and long-term solutions, such as an expansion of low-income tax credits and other specific policies to address the racial wealth divide. And, when nearly all business is being done virtually, it's even more imperative that our community members have the tools they need to advocate effectively in this changed environment. Check out this blog authored by my colleagues Vanna Cure and Arohi Pathak outlining ways to effectively advocate virtually for policy change in 2021.

We look forward to continuing our efforts with you this year. Though the first weeks of 2021 have been dark, I am confident that our work together will lead to brighter days ahead.
In solidarity,

Gary L. Cunningham
President & CEO
For those who are new, the above and the money trail reveal how the game is played in Washington, D.C. but also in MHVille.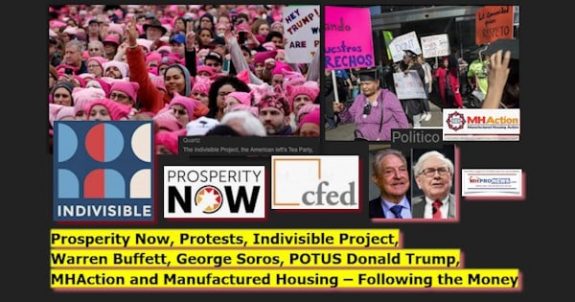 Related, Recent, and Read Hot Reports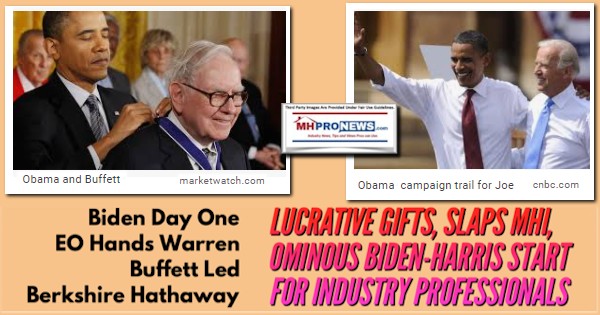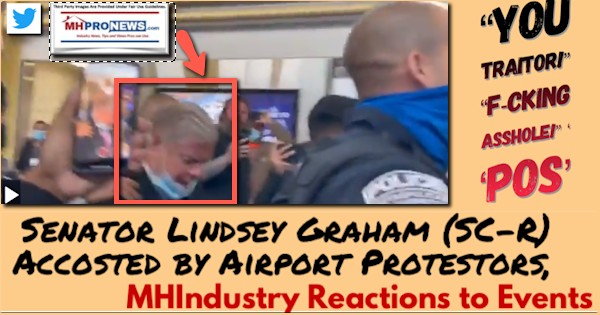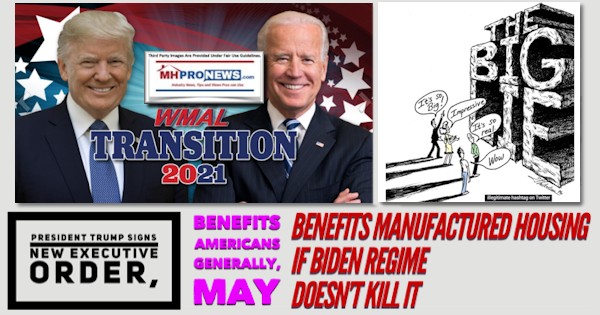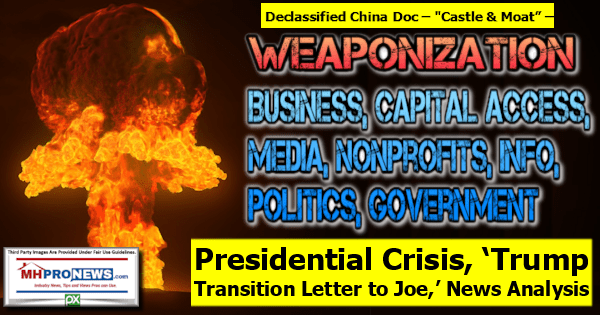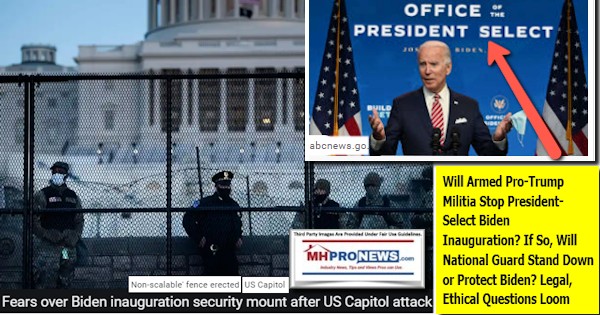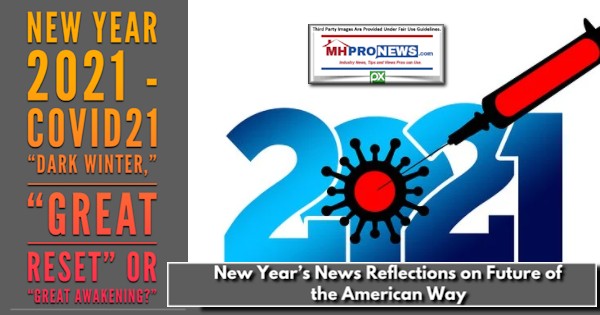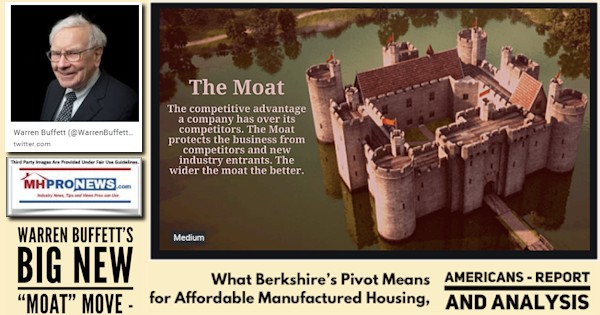 Manufactured Housing Industry Investments Connected Closing Equities Tickers
Some of these firms invest in manufactured housing, or are otherwise connected, but may do other forms of investing or business activities too.
NOTE: The chart below includes the Canadian stock, ECN, which purchased Triad Financial Services, a manufactured home industry lender
NOTE: Drew changed its name and trading symbol at the end of 2016 to Lippert (LCII).
NOTE: Deer Valley was largely taken private, say company insiders in a message to MHProNews on 12.15.2020, but there are still some outstanding shares of  the stock from the days when it was a publicly traded firm.  Thus, there is still periodic activity on DVLY.
Winter 2021…
Berkshire Hathaway is the parent company to Clayton Homes, 21st Mortgage, Vanderbilt Mortgage and other factory built housing industry suppliers.
· LCI Industries, Patrick, UFPI, and LP each are suppliers to the manufactured housing industry, among others.
· AMG, CG, and TAVFX have investments in manufactured housing related businesses. For insights from third-parties and clients about our publisher, click here.
Enjoy these 'blast from the past' comments.
MHProNews. MHProNews – previously a.k.a. MHMSM.com – has celebrated our 11th year of publishing, and is starting our 12the year of serving the industry as the runaway most-read trade media.
Sample Kudos over the years…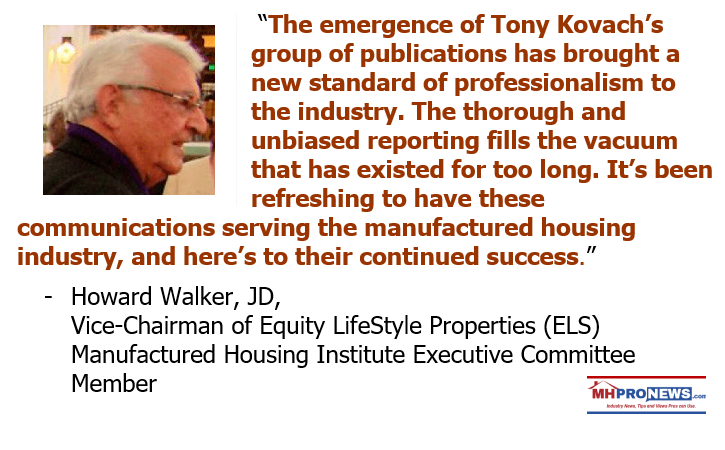 Learn more about our evolutionary journey as the industry's leading trade media, at the report linked below.
· For expert manufactured housing business development or other professional services, click here.
· To sign up in seconds for our industry leading emailed headline news updates, click here.

Disclosure. MHProNews holds no positions in the stocks in this report.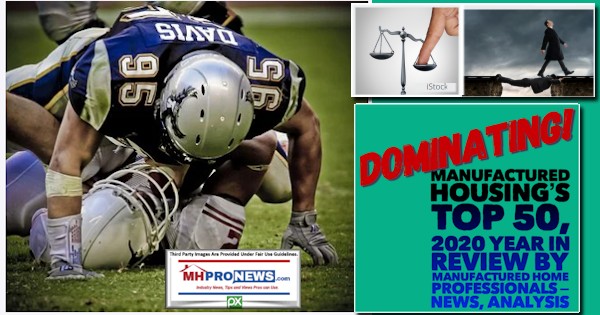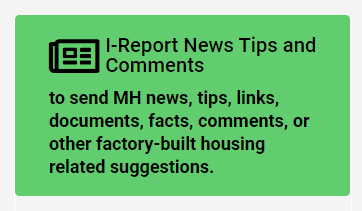 That's a wrap on this installment of "News Through the Lens of Manufactured Homes and Factory-Built Housing" © where "We Provide, You Decide." © (Affordable housing, manufactured homes, stock, investing, data, metrics, reports, fact-checks, analysis, and commentary. Third-party images or content are provided under fair use guidelines for media.) (See Related Reports, further below. Text/image boxes often are hot-linked to other reports that can be access by clicking on them.)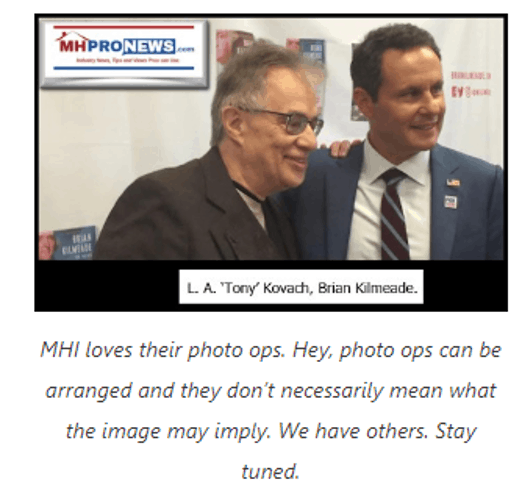 By L.A. "Tony" Kovach – for MHLivingNews.com.
Tony earned a journalism scholarship and earned numerous awards in history and in manufactured housing. For example, he earned the prestigious Lottinville Award in history from the University of Oklahoma, where he studied history and business management. He's a managing member and co-founder of LifeStyle Factory Homes, LLC, the parent company to MHProNews, and MHLivingNews.com. This article reflects the LLC's and/or the writer's position, and may or may not reflect the views of sponsors or supporters.