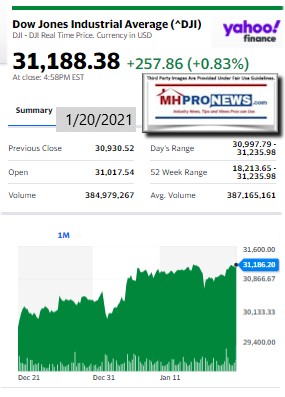 In an email to MHProNews, a multi-year association member, contrary to the view from the Arlington, VA based Manufactured Housing Institute (MHI), said about that professional's response to the Biden-Harris installation today in a masterpiece of brevity and understatement: "Not excited."
In a blow to MHI's vaunted "got clout?" is another embarrassment to the Arlington, VA based trade group from left-of-center CNN today.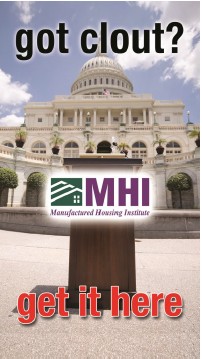 "Biden seeks to extend bans on evictions and foreclosures." That was not what MHI and their so-called nonprofit partnerships with mainstream housing associations have been pushing for; extending the evictions and foreclosure where part of the Trump Administration's COVID19 response policies.
Using a photo from left-leaning CNBC, and comparing it to another from left-of-center NBC News, the National Pulse described the installation of Biden-Harris today as follows. "Joseph Biden's "inauguration" is empty. It's that simple, and that humiliating."
In an exclusive, The National Pulse noted that "Biden Just Picked A CIA Director With a 7-Year-Long Relationship with Chinese Communist Party Fronts." For those in media who already decried the relationship between the Bidens' and Chinese Communist interests a problem that was a huge conflict of interest with American security interests, Biden supporters must think: ouch.
The National Pulse elaborated on their view and concerns regarding what occurred today.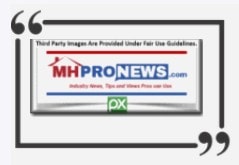 "At noon today the scenes on Capitol Hill were arguably no different to those we saw on January 6th: a desecration of the Republic. This time, by a humiliating scene of an empty National Mall, and a handful of people who stole an election in the dead of night.
Much is made of the phrase "peaceful transition of power," but this was no peaceful transition.
A stolen election doesn't equal a peaceful transition.
Another phony impeachment doesn't equal a peaceful transition.
And 30,000 troops doesn't equal a peaceful transition.
In reality, this was not an inauguration in the same way that there was never really an election. An election requires that certain rules are followed. They were not. An inauguration requires a valid result. There was none.
And it's a testament to the political establishment's loathing of the American public that over the past year they have sought to strike fear into people's hearts over a pandemic, and now they seek to divide the nation further by referring to one side as "domestic terrorists."
That's not how democratically elected administrations come to power in free republics.
That's how authoritarian regimes seize power and wield it over their naysayers in banana republics.
That's why The National Pulse will not be referring to Joe Biden's government as an administration. We will, from here on, refer to it as a regime.
And we suggest you do the same."
##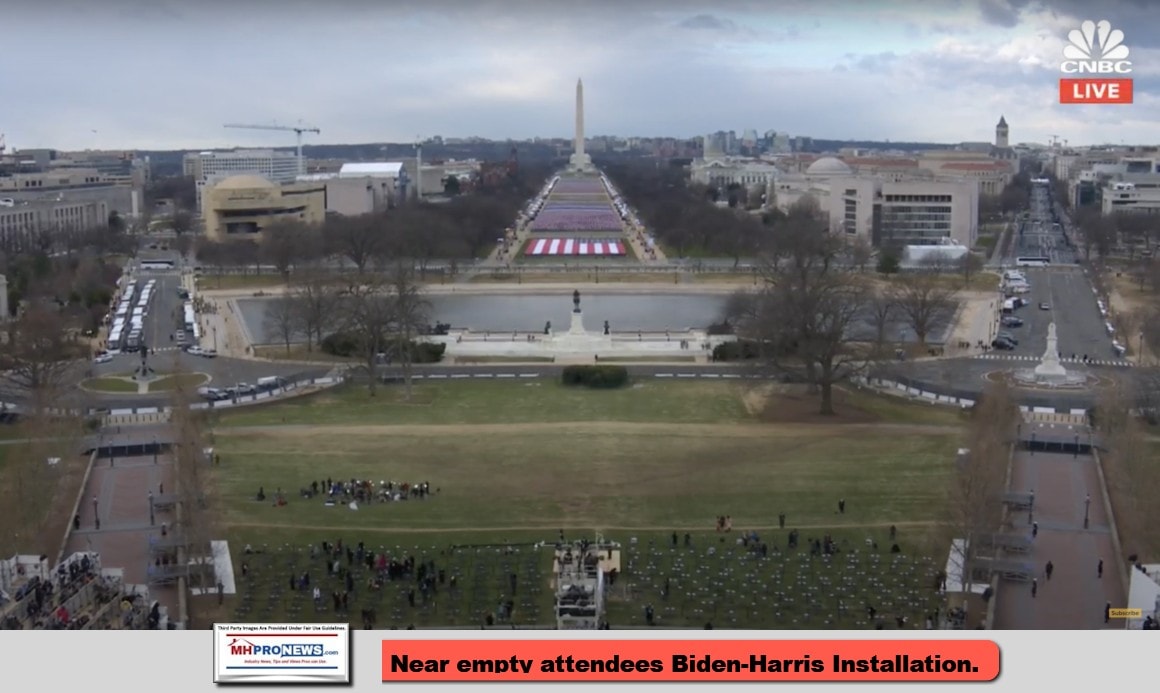 Oddly, given their enthusiastic support for Biden-Harris, CNN Business in a headline below said "Joe Biden's proposed $1,400 checks are a lousy way to fix the economy." Ouch. It follows on an underplayed, interior story on the New York Times which included the notion that Biden must find a way to get the economy moving as well as President Trump had it pre-pandemic.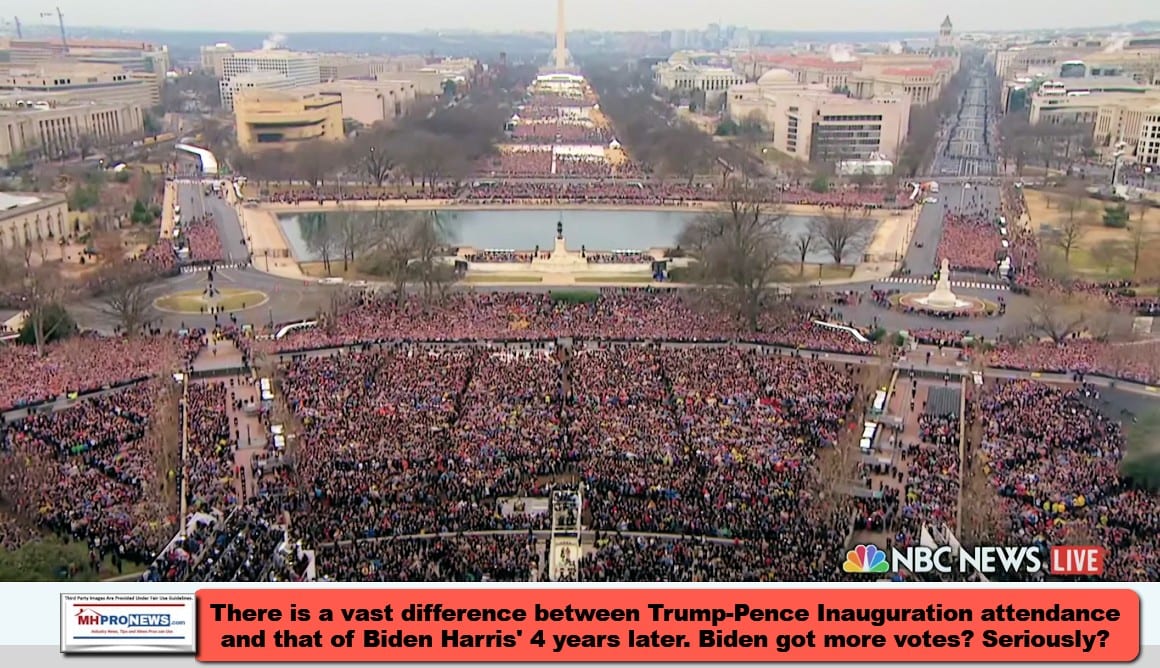 Those 2 photos above from The National Pulse mirror those of Grrr8Graphics rouge cartoonist Ben Garrison, who illustrated in a pre-installation message to his readers the following.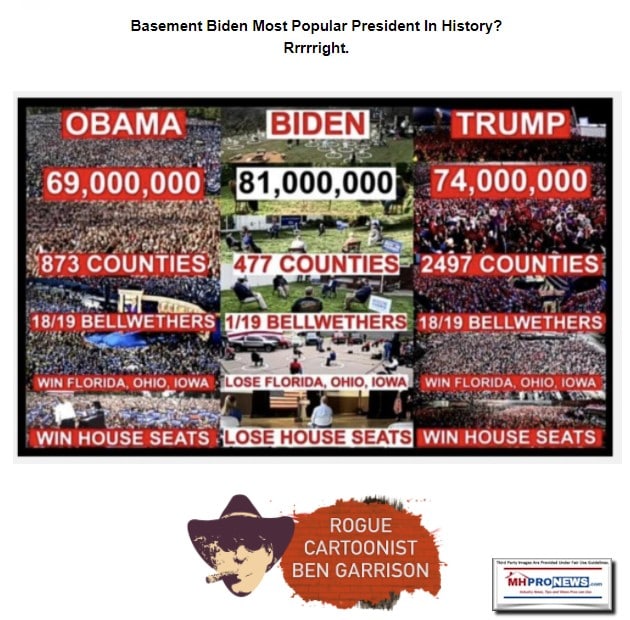 To give readers a sense of The National Pulse, their writer THOMAS J. FARNAN wrote on January 13, 2021 that "The legacy media has spent the last week repeating the nonsense that Trump supporters travelled to Washington D.C. last week in a coordinated attempt to overthrow the government. It's a lie."  To further illustrate what those 2 photos above and what Garrison shared, consider the evidence from videos from today.
Compare these two stark differences.
The report continues beyond these two illustrations. Both are from today's date, 1.20.2021.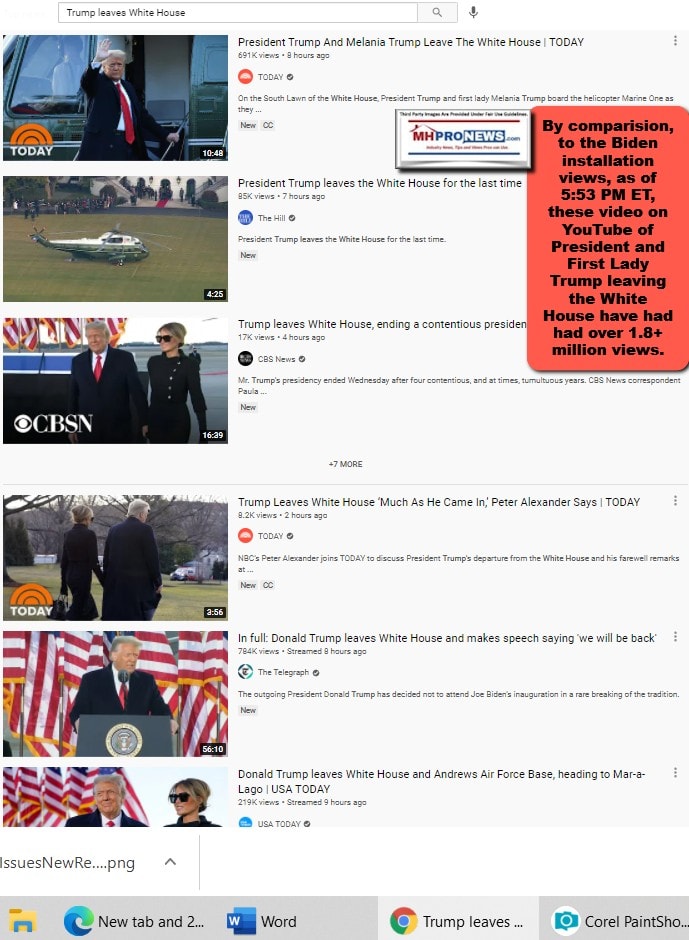 Libertarian Reason and progressive Glenn Greenwald are among those who muse with concern that a "Don't Let the Capitol Riot Reignite the War on Terror," meaning, "Government [power] grows in response to a [real or perceived] crisis."
MHProNews recalled in the report earlier today that this was an "installation" of President-Select Joe Biden*  and his VP-Select Kamala Harris.*
That noted, in fairness, our featured focus tonight will be the installation address as scripted for Biden.  It will be followed by additional information, MHProNews analysis, and a look ahead. That will also be part of our featured focus.
For growing numbers of new readers, a few quick insights.
Every business evening, MHProNews provides a bullet list of left-right news headlines from CNN and In a matter moment, savvy professionals can see at a glance news headlines and views across the political spectrum. It is a time saving and insightful for those who are hooked on this market-nightly feature.
Our featured focus follows the quotable quotes, periodic political cartoons, those left-right headlines, and two of our three market summary graphics as reported at the closing bell.
After the featured focus, are some recent/related report links and the third manufactured housing focused stock equities graphic. There are some additional items that include the free signup for the manufactured housing industry's x2 weekly emailed news to the most-read trade publication in our profession:
That said, let's press ahead to those features. That White House list is one of several items that may well prove historic. It may also prove a thorn in the side of the Biden-Harris team and those billionaires, corporate, tech, media and other forces that are poised to place them in power. It was Biden who said this would be a dark winter.
Quotes That Shed Light – Industry, American, Social, National Issues…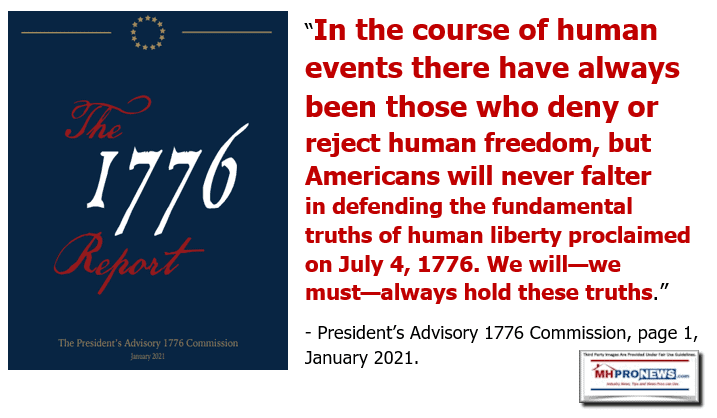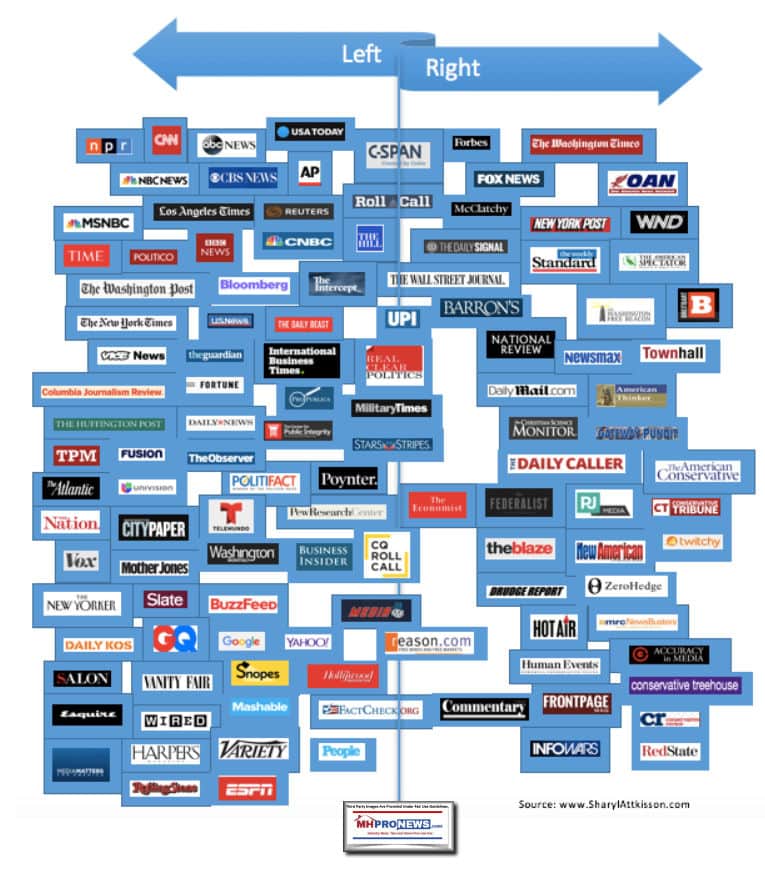 Headlines from left-of-center CNN Business
BIDEN TAKES THE HELM
OTHER TOP STORIES
President Donald Trump and first lady Melania Trump wave to supporters as they board Air Force One to head to Florida on January 20, 2021 in Joint Base Andrews, Maryland. Trump, the first president in more than 150 years to refuse to attend his successor's inauguration, is expected to spend the final minutes of his presidency at his Mar-a-Lago estate in Florida.
Jack Ma makes first public appearance in months in new video
How Parler is trying to get back online
What impact could deplatforming Donald Trump have?
Netflix crosses 200 million susbcribers milestone
Aldi, Trader Joe's and others will pay workers to get a vaccine
Samsung heir's prison sentence casts a shadow on South Korea's tech titan
He may hold the winning ticket in tech. Silicon Valley knows it
This 'snake robot' can fix pipelines on the ocean floor
The stock market has been on a tear. Here's how you can safely invest
Shep Smith breaks his silence about why he left Fox News
US President-elect Joe Biden delivers remarks on the public health and economic crises at The Queen theater in Wilmington, Delaware on January 14, 2021. – President-elect Joe Biden will propose injecting $1.9 trillion into the US economy when he takes office next week, as evidence mounts that the recovery from the sharp downturn caused by Covid-19 is flagging.
A massive infrastructure spending bill might finally be in the cards
Stimulus: Joe Biden's proposed $1,400 checks are a lousy way to fix the economy
Painful lesson: Joe Biden wants to avoid the Obama era's biggest economic mistake. If Congress lets him
LIVE UPDATES Anthony Scaramucci: Trump 'has to be prosecuted'
From Reagan to Trump: How stocks performed under each president
Wall Street: Trump leaves with a good — but not great — stocks record
Energy: From Keystone XL to Paris Agreement, Joe Biden signals a shift away from fossil fuels
Economic recovery: 4 ways Joe Biden plans to fix the economy
Executive actions: Biden seeks to extend bans on evictions and foreclosures
Voices: Biden speech draws high praise across media — even on Fox News
Misinfo war: We must 'defeat the lies,' Biden says
Trump supporters: Some think he's about to declare martial law — and they're excited
FACEBOOK ALTERNATIVES
This illustration picture shows the social media website from Parler displayed on a computer screen in Arlington, Virginia on July 2, 2020. – Amid rising turmoil in social media, recently formed social network Parler is gaining with prominent political conservatives who claim their voices are being silenced by Silicon Valley giants. Parler, founded in Nevada in 2018, bills itself as an alternative to "ideological suppression" at other social networks.
Amazon cut off Parler's service. How it's trying to get back online
Parler's website shows signs of life
Tim Cook: Why I kicked Parler off Apple's App Store
Everything you need to know about Gab
Why messaging app Signal is surging in popularity right now
NO DRIVER NEEDED
Microsoft joins a $2 billion investment in GM's self-driving cars
Self-driving pioneer dumps the term 'self-driving'
Uber sells off its self-driving car business
Self-driving robotaxis are taking off in China
Norway pioneered electric ferries. Now it's making them self-driving
MEDIA
Biden fist-bumps members of the media during inaugural parade
S. President Joe Biden delivers his speech after he was sworn in as the 46th President of the United States on the West Front of the U.S. Capitol in Washington, U.S., January 20, 2021.
Biden addresses nation's information crisis: We must 'defeat the lies'
President Joe Biden speaks during the 59th Presidential Inauguration at the U.S. Capitol in Washington, Wednesday, Jan. 20, 2021.
Biden speech draws high praise across media — even on Fox News
President-elect Joe Biden speaks at the Major Joseph R. "Beau" Biden III National Guard/Reserve Center, Tuesday, Jan. 19, 2021, in New Castle, Del. It's a Twitter user's worst nightmare: Wake up to find most of your followers gone. But that's exactly what will happen on Wednesday, Jan. 20, 2021, to the official presidential accounts on Twitter.
As Biden prepares to be inaugurated, a journalist hopes the war on truth is over
Headlines from right-of-center Newsmax
Biden Team Fears Virus Surge Imperils Pledge to Curb Pandemic
The risk of explosive new strains, including a U.K. variant known as B.1.1.7, threatens to upend all of the incoming administration's ambitious plans and promises, leaving Joe Biden at the end of his first 100 days with a pandemic that has worsened, instead of improved.
The Biden Presidency
Biden to Disband 1776 Commission
Biden's Push for More COVID Aid to Test 'Honeymoon' With Congress
Biden Sends Congress Immigration Overhaul Bill
Text of President Joe Biden's Inaugural Address
Adams Agrees to Step Down as Surgeon General
Press Sec. Psaki: Biden Leaving Trump's Impeachment Up to Senate
On Day One, Biden to Undo Trump Policies on Climate, Virus
Newsfront
Pompeo to Newsmax TV: Hope Biden Admin Will Stay Tough on China
The United States' declaration that the Chinese Communist Party has been committing genocide with its treatment of the Uighur Muslims and other religious groups came after careful consideration and is an "important determination" that hopefully will continue under President…
Related Stories
Pompeo to Newsmax TV: List of Trump Admin's Accomplishments Is Long
Pompeo to Newsmax TV: 'Time for Country to Move On' From Impeachment
Pompeo to Newsmax TV: Biden Should Take Middle East Challenge Seriously
Pompeo to Newsmax TV: Sheldon Adelson 'Truly a Great Man'
Cheney Faces '22 Primary Challenge After Vote to Impeach Trump
A Wyoming state senator on Wednesday confirmed his primary challenge
Biden Sends Congress Immigration Overhaul Bill
President Joe Biden is sending Congress a bill Wednesday after his
Vaccine Shortage Puts Americans on the Road in Search of Shots
People in the U.S. finally are traveling again, though not all these [Full Story]
Related
CDC: 15.7M Doses of COVID-19 Vaccines Administered in US
More Than Quarter of New Yorkers Don't Want Vaccine
Jerome Adams to Newsmax TV: Fastest Way to Reopen Is by Embracing COVID Safety |
Panel: China, WHO Acted Too Slow to Stop Pandemic
Supermarket Chain Aldi to Pay US Workers Who Get COVID-19 Vaccination
South Africa's New Virus Strain Is 50% More Infectious
Trump Departs With Airbase Send-Off Before Biden Inaugural
Donald Trump departed Washington for a final time as president [Full Story]
Related
Trump Pardons 73 People, Including Steve Bannon, Lil Wayne, on Last Day
Paul: Republicans Will 'Destroy the Party' By Convicting Trump
Trump Pardons Judge Jeanine's Ex-husband, Al
The White House says President Donald Trump has pardoned Al Pirro
Famed Political Strategist Doug Schoen Joins Newsmax Lineup
Doug Schoen, one of nation's most respected Democratic political
Related
CNN Pushes to Close Down Newsmax TV
Newsmax App Downloaded More Than 4 Million Times
From Tax Cuts to Immigration Restrictions, These Trump Triumphs Now in Danger
With the country's policies in the hands of a Democrat-controlled
Canada in Touch with Biden Admin About Keystone Oil Pipeline
Canadian Prime Minister Justin Trudeau said Tuesday that his
Blinken Says US Plans Full Review of Approach to North Korea
President-elect Joe Biden's nominee for secretary of state, Antony
In One of His Final Acts, Trump Declassifies Documents on FBI's Russia Probe
S. President Donald Trump, hours before leaving office, ordered the
GM's Barra Boosts Stock as Tech Story Gains Credibility
US Homebuilder Confidence Fell to a 4-Month Low in January
FCC Chief Says His Tenure Boosted Ability For Faster Networks
World's Biggest Offshore Wind Producer Moves Into Hydrogen
Health
2nd Generation COVID-19 Vaccines Are on Their Way
Barely a year after COVID-19 made its ominous global appearance we already have three widely approved vaccines to combat the virus. Two of the drugs manufactured by Pfizer and Moderna use a novel genetic technology…
Strict Low-Carb Diet Can Put Diabetes in Remission
Pot Use Increases Death Risk Among Bipolar Young Adults
Fewer Cancer Patients Are Dying From Suicide
Study Reveals Promising Step to Treat Blindness With Cell Transplant
Market Indicator Closing Summaries – Yahoo Finance Closing Tickers on MHProNews…
Featured Focus –
Where Business, Politics and Investing Can Meet
The following from the White House Press Room to MHProNews today are the prepared remarks by President-Alleged Joe Biden* for his installation ceremony. It will be followed by some additional information, MHProNews analysis and commentary.
Inaugural Address by President Joseph R. Biden, Jr.
JANUARY 20, 2021
The United States Capitol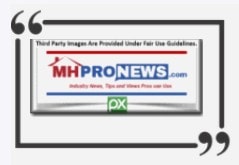 11:52 AM EST
THE PRESIDENT: Chief Justice Roberts, Vice President Harris, Speaker Pelosi, Leader Schumer, Leader McConnell, Vice President Pence, distinguished guests, and my fellow Americans.
This is America's day.
This is democracy's day.
A day of history and hope.
Of renewal and resolve.
Through a crucible for the ages America has been tested anew and America has risen to the challenge.
Today, we celebrate the triumph not of a candidate, but of a cause, the cause of democracy.
The will of the people has been heard and the will of the people has been heeded.
We have learned again that democracy is precious.
Democracy is fragile.
And at this hour, my friends, democracy has prevailed.
So now, on this hallowed ground where just days ago violence sought to shake this Capitol's very foundation, we come together as one nation, under God, indivisible, to carry out the peaceful transfer of power as we have for more than two centuries.
We look ahead in our uniquely American way – restless, bold, optimistic – and set our sights on the nation we know we can be and we must be.
I thank my predecessors of both parties for their presence here.
I thank them from the bottom of my heart.
You know the resilience of our Constitution and the strength of our nation.
As does President Carter, who I spoke to last night but who cannot be with us today, but whom we salute for his lifetime of service.
I have just taken the sacred oath each of these patriots took — an oath first sworn by George Washington.
But the American story depends not on any one of us, not on some of us, but on all of us.
On "We the People" who seek a more perfect Union.
This is a great nation and we are a good people.
Over the centuries through storm and strife, in peace and in war, we have come so far. But we still have far to go.
We will press forward with speed and urgency, for we have much to do in this winter of peril and possibility.
Much to repair.
Much to restore.
Much to heal.
Much to build.
And much to gain.
Few periods in our nation's history have been more challenging or difficult than the one we're in now.
A once-in-a-century virus silently stalks the country.
It's taken as many lives in one year as America lost in all of World War II.
Millions of jobs have been lost.
Hundreds of thousands of businesses closed.
A cry for racial justice some 400 years in the making moves us. The dream of justice for all will be deferred no longer.
A cry for survival comes from the planet itself. A cry that can't be any more desperate or any more clear.
And now, a rise in political extremism, white supremacy, domestic terrorism that we must confront and we will defeat.
To overcome these challenges – to restore the soul and to secure the future of America – requires more than words.
It requires that most elusive of things in a democracy:
Unity.
Unity.
In another January in Washington, on New Year's Day 1863, Abraham Lincoln signed the Emancipation Proclamation.
When he put pen to paper, the President said, "If my name ever goes down into history it will be for this act and my whole soul is in it."
My whole soul is in it.
Today, on this January day, my whole soul is in this:
Bringing America together.
Uniting our people.
And uniting our nation.
I ask every American to join me in this cause.
Uniting to fight the common foes we face:
Anger, resentment, hatred.
Extremism, lawlessness, violence.
Disease, joblessness, hopelessness.
With unity we can do great things. Important things.
We can right wrongs.
We can put people to work in good jobs.
We can teach our children in safe schools.
We can overcome this deadly virus.
We can reward work, rebuild the middle class, and make health care
secure for all.
We can deliver racial justice.
We can make America, once again, the leading force for good in the world.
I know speaking of unity can sound to some like a foolish fantasy.
I know the forces that divide us are deep and they are real.
But I also know they are not new.
Our history has been a constant struggle between the American ideal that we are all created equal and the harsh, ugly reality that racism, nativism, fear, and demonization have long torn us apart.
The battle is perennial.
Victory is never assured.
Through the Civil War, the Great Depression, World War, 9/11, through struggle, sacrifice, and setbacks, our "better angels" have always prevailed.
In each of these moments, enough of us came together to carry all of us forward.
And, we can do so now.
History, faith, and reason show the way, the way of unity.
We can see each other not as adversaries but as neighbors.
We can treat each other with dignity and respect.
We can join forces, stop the shouting, and lower the temperature.
For without unity, there is no peace, only bitterness and fury.
No progress, only exhausting outrage.
No nation, only a state of chaos.
This is our historic moment of crisis and challenge, and unity is the path forward.
And, we must meet this moment as the United States of America.
If we do that, I guarantee you, we will not fail.
We have never, ever, ever failed in America when we have acted together.
And so today, at this time and in this place, let us start afresh.
All of us.
Let us listen to one another.
Hear one another.
See one another.
Show respect to one another.
Politics need not be a raging fire destroying everything in its path.
Every disagreement doesn't have to be a cause for total war.
And, we must reject a culture in which facts themselves are manipulated and even manufactured.
My fellow Americans, we have to be different than this.
America has to be better than this.
And, I believe America is better than this.
Just look around.
Here we stand, in the shadow of a Capitol dome that was completed amid the Civil War, when the Union itself hung in the balance.
Yet we endured and we prevailed.
Here we stand looking out to the great Mall where Dr. King spoke of his dream.
Here we stand, where 108 years ago at another inaugural, thousands of protestors tried to block brave women from marching for the right to vote.
Today, we mark the swearing-in of the first woman in American history elected to national office – Vice President Kamala Harris.
Don't tell me things can't change.
Here we stand across the Potomac from Arlington National Cemetery, where heroes who gave the last full measure of devotion rest in eternal peace.
And here we stand, just days after a riotous mob thought they could use violence to silence the will of the people, to stop the work of our democracy, and to drive us from this sacred ground.
That did not happen.
It will never happen.
Not today.
Not tomorrow.
Not ever.
To all those who supported our campaign I am humbled by the faith you have placed in us.
To all those who did not support us, let me say this: Hear me out as we move forward. Take a measure of me and my heart.
And if you still disagree, so be it.
That's democracy. That's America. The right to dissent peaceably, within the guardrails of our Republic, is perhaps our nation's greatest strength.
Yet hear me clearly: Disagreement must not lead to disunion.
And I pledge this to you: I will be a President for all Americans.
I will fight as hard for those who did not support me as for those who did.
Many centuries ago, Saint Augustine, a saint of my church, wrote that a people was a multitude defined by the common objects of their love.
What are the common objects we love that define us as Americans?
I think I know.
Opportunity.
Security.
Liberty.
Dignity.
Respect.
Honor.
And, yes, the truth.
Recent weeks and months have taught us a painful lesson.
There is truth and there are lies.
Lies told for power and for profit.
And each of us has a duty and responsibility, as citizens, as Americans, and especially as leaders – leaders who have pledged to honor our Constitution and protect our nation — to defend the truth and to defeat the lies.
I understand that many Americans view the future with some fear and trepidation.
I understand they worry about their jobs, about taking care of their families, about what comes next.
I get it.
But the answer is not to turn inward, to retreat into competing factions, distrusting those who don't look like you do, or worship the way you do, or don't get their news from the same sources you do.
We must end this uncivil war that pits red against blue, rural versus urban, conservative versus liberal.
We can do this if we open our souls instead of hardening our hearts.
If we show a little tolerance and humility.
If we're willing to stand in the other person's shoes just for a moment.
Because here is the thing about life: There is no accounting for what fate will deal you.
There are some days when we need a hand.
There are other days when we're called on to lend one.
That is how we must be with one another.
And, if we are this way, our country will be stronger, more prosperous, more ready for the future.
My fellow Americans, in the work ahead of us, we will need each other.
We will need all our strength to persevere through this dark winter.
We are entering what may well be the toughest and deadliest period of the virus.
We must set aside the politics and finally face this pandemic as one nation.
I promise you this: as the Bible says weeping may endure for a night but joy cometh in the morning.
We will get through this, together
The world is watching today.
So here is my message to those beyond our borders: America has been tested and we have come out stronger for it.
We will repair our alliances and engage with the world once again.
Not to meet yesterday's challenges, but today's and tomorrow's.
We will lead not merely by the example of our power but by the power of our example.
We will be a strong and trusted partner for peace, progress, and security.
We have been through so much in this nation.
And, in my first act as President, I would like to ask you to join me in a moment of silent prayer to remember all those we lost this past year to the pandemic.
To those 400,000 fellow Americans – mothers and fathers, husbands and wives, sons and daughters, friends, neighbors, and co-workers.
We will honor them by becoming the people and nation we know we can and should be.
Let us say a silent prayer for those who lost their lives, for those they left behind, and for our country.
Amen.
This is a time of testing.
We face an attack on democracy and on truth.
A raging virus.
Growing inequity.
The sting of systemic racism.
A climate in crisis.
America's role in the world.
Any one of these would be enough to challenge us in profound ways.
But the fact is we face them all at once, presenting this nation with the gravest of responsibilities.
Now we must step up.
All of us.
It is a time for boldness, for there is so much to do.
And, this is certain.
We will be judged, you and I, for how we resolve the cascading crises of our era.
Will we rise to the occasion?
Will we master this rare and difficult hour?
Will we meet our obligations and pass along a new and better world for our children?
I believe we must and I believe we will.
And when we do, we will write the next chapter in the American story.
It's a story that might sound something like a song that means a lot to me.
It's called "American Anthem" and there is one verse stands out for me:
"The work and prayers
of centuries have brought us to this day
What shall be our legacy?
What will our children say?…
Let me know in my heart
When my days are through
America
America
I gave my best to you."
Let us add our own work and prayers to the unfolding story of our nation.
If we do this then when our days are through our children and our children's children will say of us they gave their best.
They did their duty.
They healed a broken land.
My fellow Americans, I close today where I began, with a sacred oath.
Before God and all of you I give you my word.
I will always level with you.
I will defend the Constitution.
I will defend our democracy.
I will defend America.
I will give my all in your service thinking not of power, but of possibilities.
Not of personal interest, but of the public good.
And together, we shall write an American story of hope, not fear.
Of unity, not division.
Of light, not darkness.
An American story of decency and dignity.
Of love and of healing.
Of greatness and of goodness.
May this be the story that guides us.
The story that inspires us.
The story that tells ages yet to come that we answered the call of history.
We met the moment.
That democracy and hope, truth and justice, did not die on our watch but thrived.
That our America secured liberty at home and stood once again as a beacon to the world.
That is what we owe our forebearers, one another, and generations to follow.
So, with purpose and resolve we turn to the tasks of our time.
Sustained by faith.
Driven by conviction.
And, devoted to one another and to this country we love with all our hearts.
May God bless America and may God protect our troops.
Thank you, America.
END
12:13 pm EST
##
##
Unlike some Trump Administration White House posts, this one did not include a link or the video of the Biden installation talk as delivered.
The Wall Street Journal, Newsmax and the National Pulse are among those who have reported on claims of discussions that "Trump Has Discussed Starting a New Political Party."
Per the National Pulse: "President Trump has talked in recent days with associates about forming a new political party, according to people familiar with the matter, an effort to exert continued influence after he leaves the White House.
Mr. Trump discussed the matter with several aides and other people close to him last week, the people said. The president said he would want to call the new party the "Patriot Party," the people said.
Mr. Trump has feuded in recent days with several Republican leaders including Senate Majority Leader Mitch McConnell (R., Ky.), who on Tuesday said Mr. Trump deserved blame for provoking the deadly Jan. 6 riot at the Capitol. Polls show Mr. Trump retains strong support among rank-and-file GOP voters."
A "Patriot Party National Committee" website says it wants to "restore constitutional conservative leadership" and is "a movement for conservatives that have been left in the cold by the establishment GOP."

Posted by KATV Channel 7 on Wednesday, January 20, 2021
A website is found at this URL or web address.
From that site is the following:
"The goal of the Patriot Party National Committee is to restore constitutional conservative leadership by raising up politicians who will represent We The People with renewed morals, ethics and core constitutional principles. This is a movement for conservatives that have been left in the cold by the establishment GOP. The unfortunate truth is this. We have to organize. The establishment GOP is rigging the game against us. For far too long, the establishment GOP has been playing games. They hand-select the elite and push out any conservative outsiders. This is why the party has moved so far to the left. RINOs like McCain, Romney, Flake and McSally are not there to push a conservative agenda. They are there to protect the establishment cabal.
This is why we formed The Patriot Party. It will give us a vehicle to serve the underserved conservative voices. If we have our own movement we can independently raise funds, campaign, develop policy, become activists and together with many voices we will finally be heard."
The Patriot Party has as three major planks:
Constitutional Conservatism
Representative Governance
Restore Morals & Ethics
"We are a coalition of Americans from a wide and diverse spectrum of social, economic and ethnic backgrounds.  We stand united in defense of our God-given right to personal freedom and individual liberty.  We are the Patriot Party.
The liberal aristocracy occupying positions of political influence and power have neglected to fulfill their duty to serve their constituency.  They have chosen instead to promote a legislative agenda that has eroded our rights and diminished our opportunity for prosperity, while enriching their own wealth and elite standing.
We seek to disrupt the current two-party political system by supporting candidates committed to preserving the jurisprudence of constitutional conservativism our nation was founded on."
The Patriot Party added more, that included:
Our elected officials have a duty to serve the American people, and we commit to only supporting candidates who will uphold their sacred oath to represent the interests of the American people. In addition, we will only promote candidates who favor a limited governance and low taxation approach to legislation.
We pledge our undying devotion to our creator, and unapologetically defend our God-given right to freedom and liberty.
Corruption and deceit have taken root in American politics and have eroded our moral character, degraded our cultural institutions and diminished our quality of life. We intend to restore honor and integrity to politics by supporting legislative term limits and promoting candidates who are committed to bringing morality and honor back to the legislative branches of government.
Time will tell if there is an formal announcement of a role, if any, that President Trump or other Trump family members may play in that nascent party.
There are those who say that the prudent path is for pro-Trump #MAGA to fight to rid the GOP of RINOs and anti-Trump leaders like "McCain, Romney, Flake and McSally" that the Patriot Party says is "They are there to protect the establishment cabal."
This video pre-dates recent events by several years.
President Trump faces the constitutional oddity of a post-administration impeachment.
On its face, an impeachment seems unconstitutional, since the goal of impeachment is to remove a sitting federal official – a president, VP, judge, et al – from office. Right or wrong, President Trump has already left the White House. Harvard Law professor Alan Dershowitz has said it is unconstitutional.
Beyond that, President Trump has departed in the last several days in what can arguably be called a remarkably congenial tone. That noted, there has been some 5-dimensional chess at play. One of the reasons that he may not have pardoned Edward Snowden and Julian Assange is because Mitch McConnel reportedly threatened President Trump if he did so with 'even more Republican votes to impeach' him, which is all about an effort to keep President Trump from running again in 2024.
It is always darkest before the dawn.
There are always silver linings to even the darkest clouds. Among them is the ever more evident depth of the Washington, D.C. swamp, and how that swamp intersects with media, big tech, corporate power and what the Patriot Party calls the "Corruption and deceit have taken root in American politics and have eroded our moral character, degraded our cultural institutions and diminished our quality of life" and their goal of ending reign of "The liberal aristocracy occupying positions of political influence and power have neglected to fulfill their duty to serve their constituency. 
"Joe Biden was not legally elected president of the United States. He is an illegitimate leader. None of his policy prescriptions are what the American people want. That is why Americans overwhelmingly voted for Donald J. Trump for a second term.
We are experiencing a coup, and the disenfranchisement of a majority of the American public." So said CD Media. Their full statement was linked below.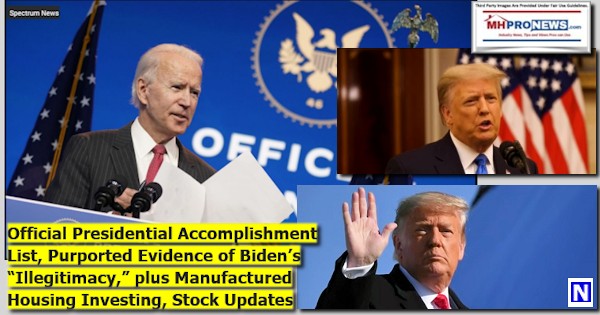 Additional Information, and more MHProNews Commentary
The first of the following downloads are on the CD Media website, but have previously been posted on MHProNews. So, the download loads will be from MHProNews, not CD. That disclaimer noted, returning to their thesis.
Part One – The Immaculate Deception
The-Immaculate-Deception-12.15.20
Part Two – The Art of the Steal
The-Art-of-the-Steal-1.5.21-FINAL-1
Part Three – Yes, President Trump Won
The-Navarro-Report-Volume-III-Final-1.13.21-0001
In addition, below is the recent report from the Director of National Intelligence, describing how the CCP interfered with our elections last November 3rd. It also describes how the CIA colluded with this effort.
DNI John Ratcliff Declassified Information on Election Interference
CD Media drew to a conclusion by making this sobering analysis.
"We have a small amount of time to act and correct this development politically before the Deep State cements complete power of American citizens. We estimate less than a year.
Get involved. Your children's future depends on it." While CD Media did not include it, MHProNews has previously provided the following reports related to China and purported election interference.
We will continue to monitor and shine a light on the newly installed Biden-Harris regime. We wish President Trump and First Lady Melania Trump all the best. We pray for Biden-Harris to work for the people instead of the powerful who put them in office, and for the correction of all that needs mending in our besieged Republic.
Related, Recent, and Read Hot Reports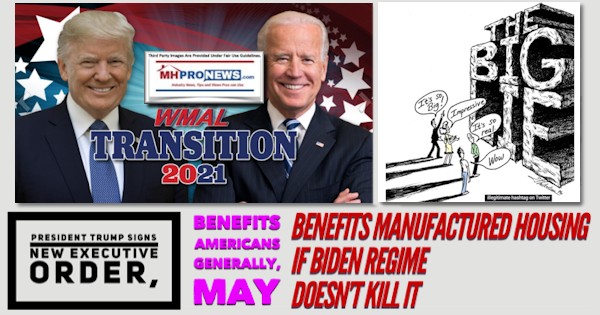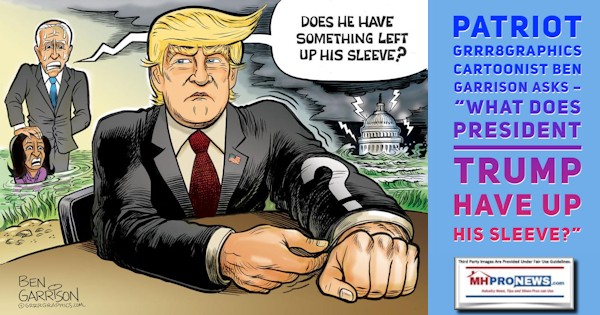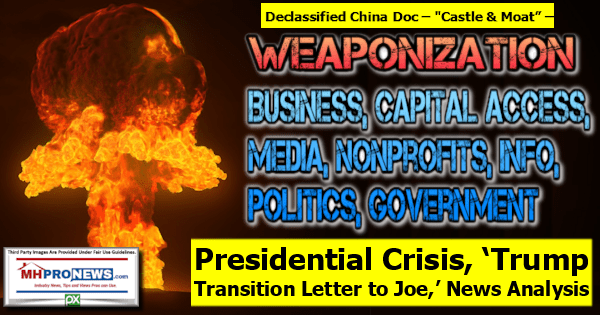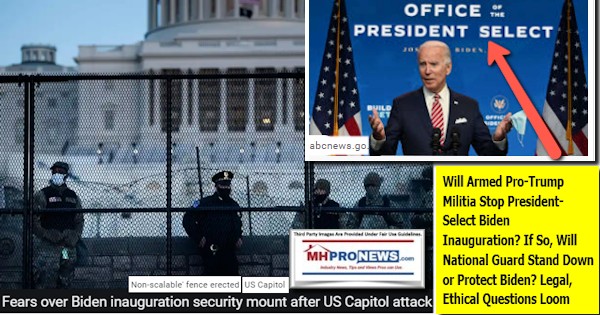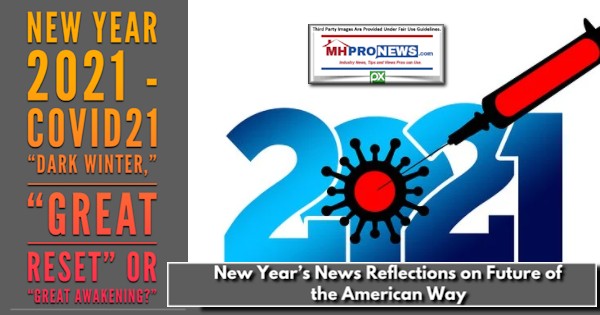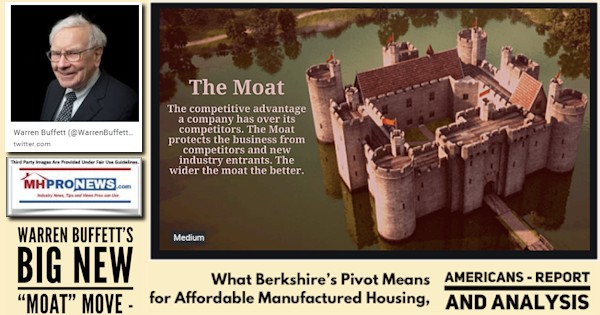 Manufactured Housing Industry Investments Connected Closing Equities Tickers
Some of these firms invest in manufactured housing, or are otherwise connected, but may do other forms of investing or business activities too.
NOTE: The chart below includes the Canadian stock, ECN, which purchased Triad Financial Services, a manufactured home industry lender
NOTE: Drew changed its name and trading symbol at the end of 2016 to Lippert (LCII).
NOTE: Deer Valley was largely taken private, say company insiders in a message to MHProNews on 12.15.2020, but there are still some outstanding shares of  the stock from the days when it was a publicly traded firm.  Thus, there is still periodic activity on DVLY.
Winter 2021…
Berkshire Hathaway is the parent company to Clayton Homes, 21st Mortgage, Vanderbilt Mortgage and other factory built housing industry suppliers.
· LCI Industries, Patrick, UFPI, and LP each are suppliers to the manufactured housing industry, among others.
· AMG, CG, and TAVFX have investments in manufactured housing related businesses. For insights from third-parties and clients about our publisher, click here.
Enjoy these 'blast from the past' comments.
MHProNews. MHProNews – previously a.k.a. MHMSM.com – has celebrated our 11th year of publishing, and is starting our 12the year of serving the industry as the runaway most-read trade media.
Sample Kudos over the years…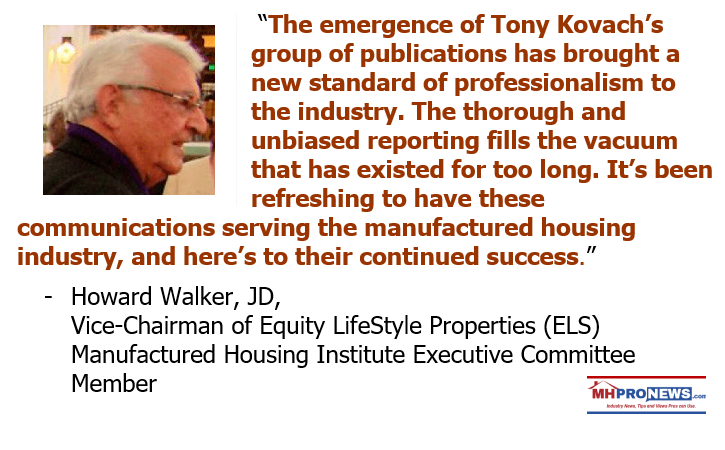 Learn more about our evolutionary journey as the industry's leading trade media, at the report linked below.
· For expert manufactured housing business development or other professional services, click here.
· To sign up in seconds for our industry leading emailed headline news updates, click here.

Disclosure. MHProNews holds no positions in the stocks in this report.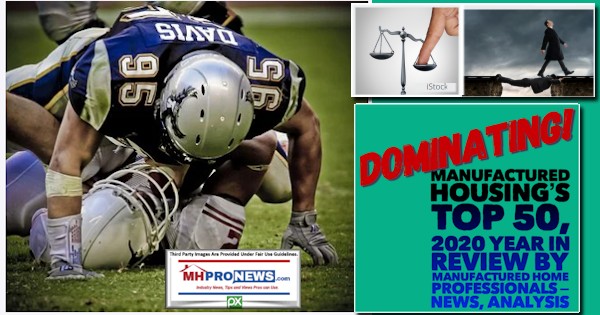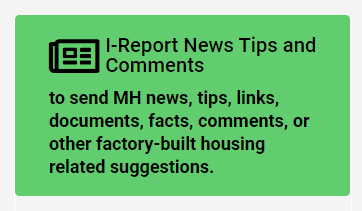 That's a wrap on this installment of "News Through the Lens of Manufactured Homes and Factory-Built Housing" © where "We Provide, You Decide." © (Affordable housing, manufactured homes, stock, investing, data, metrics, reports, fact-checks, analysis, and commentary. Third-party images or content are provided under fair use guidelines for media.) (See Related Reports, further below. Text/image boxes often are hot-linked to other reports that can be access by clicking on them.)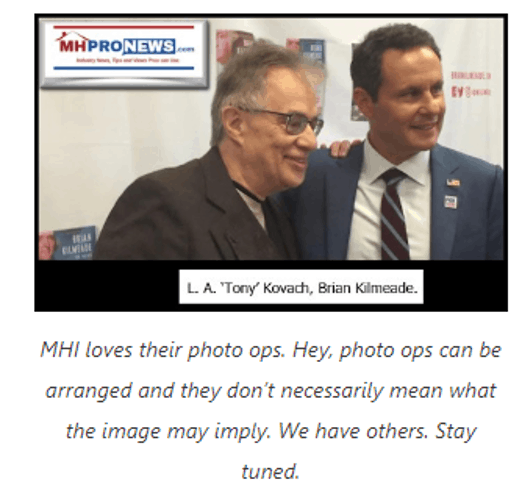 By L.A. "Tony" Kovach – for MHLivingNews.com.
Tony earned a journalism scholarship and earned numerous awards in history and in manufactured housing. For example, he earned the prestigious Lottinville Award in history from the University of Oklahoma, where he studied history and business management. He's a managing member and co-founder of LifeStyle Factory Homes, LLC, the parent company to MHProNews, and MHLivingNews.com. This article reflects the LLC's and/or the writer's position, and may or may not reflect the views of sponsors or supporters.