Vanderbilt Mortgage and Finance (VMF) is the "captive lender" of Clayton Homes. It is Clayton owned retailers and their affiliated vertically integrated/captive retailers which can use VMF financing. VMF and Clayton Homes are Berkshire Hathaway owned companies. Warren Buffett is the chairman of Berkshire, as numbers of manufactured home industry professionals know. This MHProNews report and analysis will begin with an official statement by that was issued by Clayton Homes' media relations professional, Caitlin Crosby name. This will report will include insights from other manufactured housing professionals. Additionally, ties to what have been described by investigators as "criminal" activities revealed in the Panama Papers, as well as in recent events. The questions put to Clayton and their sister companies' leadership will be provided. Additionally, more MHProNews analysis and commentary will be included including several related reports.
Here is the meat from the recent Clayton release, which appears to target consumers. It includes a video that via MultiView, but MHProNews substituted the same video from YouTube.
The subtle but significant relevance of this will be reviewed following the VMF/Clayton content.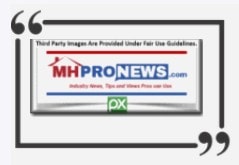 Vanderbilt Mortgage Continues to Deliver an Easy Loan Process Experience for Customers
New "Easy Score" Measures Effectiveness of New Customer Tools
MARYVILLE, Tenn. – PRNewswire — Vanderbilt Mortgage and Finance, Inc., a Berkshire Hathaway company, continues to work towards making the loan process easier for customers to understand and complete.
Experience the interactive Multichannel News Release here:
Most recently, Vanderbilt launched a new video promoting its easy loan process. Over the last two years, Vanderbilt has released an updated home loan guide, which includes dozens of tips within helpful articles designed to explain the loan process to customers and ensure they are prepared during each step of their home buying journey. Vanderbilt also enhanced its online application to simplify the process for customers.
In order to measure the effectiveness of these efforts, Vanderbilt launched an internal feedback system asking customers how easy the application and overall loan approval process was. This scoring system is based on a scale from 1 to 10 – 1 being the most difficult and 10 being the easiest. In 2020, Vanderbilt scored a 9.2 out of 10 with 1,267 customers surveyed. These results show the effectiveness of the new digital tools for customers and offers insight regarding where Vanderbilt can provide more assistance.
"Getting a home loan should not be an intimidating and difficult process, and we are continuously working to make the home financing journey – from application to closing – as easy as possible," said Eric Hamilton, President of Vanderbilt Mortgage and Finance. "A seamless home loan process greatly improves the customer experience, which is at the heart of our business."
Along with making the loan approval process easier for customers, Vanderbilt is continuing its program offering no payments for 60 days*. This program automatically extends most new customers' first mortgage payment due date for 60 days after their loan funds. This gives customers extra time to focus on paying the costs of moving in, without worrying about their first mortgage payment coming due immediately. Apply now to take advantage of this program.
To see more educational resources geared to helping first-time home buyers learn more about the home loan process visit www.vmf.com.
About Vanderbilt Mortgage and Finance, Inc.
Vanderbilt Mortgage and Finance, Inc. is a national housing lender that specializes in financing manufactured homes. In business for more than 40 years, the company currently services more than 200,000 home loans and works hard to tailor loans to each family's needs. For more information, visit www.vmf.com.
ALL LOANS SUBJECT TO CREDIT APPROVAL.
*No payments for 60 days (the "Program"):  Portfolio loans only, not available with FHA. Program available for applications submitted beginning July 1, 2020 for  loans to finance the purchase of new manufactured and modular homes from a Clayton Family of Brands retailer ("Seller").  All loans are subject to credit approval.   For eligible loans, the first payment due date will be extended with no additional interim interest to a minimum of 60 days after funding. For example, if the loan were to fund in June 2020, the first payment due date will be extended from August 2020 to September 2020. Funding occurs after the closing date when the new home is delivered, installed, the requirements of occupancy and all of Vanderbilt's requirements for the loan are completed. Closing means the signing of both the Seller's sales documents and Vanderbilt's loan documents necessary to finance the purchase of a new home.  Vanderbilt reserves the right to cancel this Program at any time.
Vanderbilt Mortgage and Finance, Inc., 500 Alcoa Trail, Maryville, TN 37804, 865-380-3000, NMLS #1561, (http://www.nmlsconsumeraccess.org/), AZ Lic. #BK-0902616, Loans made or arranged pursuant to a California Finance Lenders Law license, GA Residential Mortgage (Lic. #6911), Illinois Residential Mortgage Licensee, Licensed by the NH Banking Department, MT Lic. #1561, Licensed by PA Dept. of Banking.  Equal Housing Opportunity.
Media Contact:
Caitlyn Crosby [Clayton Homes]
##
Based on a number of manufactured home industry sources, several programs and tools available to Clayton Homes and their affiliated vertically integrated retailers that can use VMF lending ARE NOT available to independent retailers and selling communities.
Among those programs that have been mentioned by independents using 21st are the following.
No access to FHA Title I loans for some years with 21st, but they are reportedly available through VMF.
No down payment loans have been available from VMF but are not available through 21st.
No similar video promoting "easy lending" with 21st, but this promotional video is available from VMF.
With is available for both VMF and 21st are videos about angry consumers of Clayton, 21st, and VMF. Some examples are posted above and below.
See reports linked here and here related to the video above.
MHProNews addressed Caitlan, the designated contact, and others about this media release with these questions.  This message was confirmed, but not responded to. It was sent on Jan 4, 2021, 8:37 AM. Over a week later, no formal response.
Caitlyn Crosby,
You were listed as the contact in the recent Vanderbilt Mortgage Continues to Deliver an Easy Loan Process Experience for Customers (prnewswire.com) press release.
As a reminder, MHProNews is the largest and runaway most-read trade media serving manufactured housing (see below).
1) "No payments for 60 days (the "Program")" = that's a VMF finance product, and I'm not aware of a 21st equivalent. Please advise either way, thank you.
2) Also, we'd like to get some clarity on why VMF offers FHA Title 1 to Clayton Homes and affiliated retail centers, but 21st Mortgage reportedly suspended the use of that program for independent retailers?
I think you know the drill. But for clarity, please type your reply below each of those two questions, for our mutual accuracy in handling and reporting. Thank you.
Tony …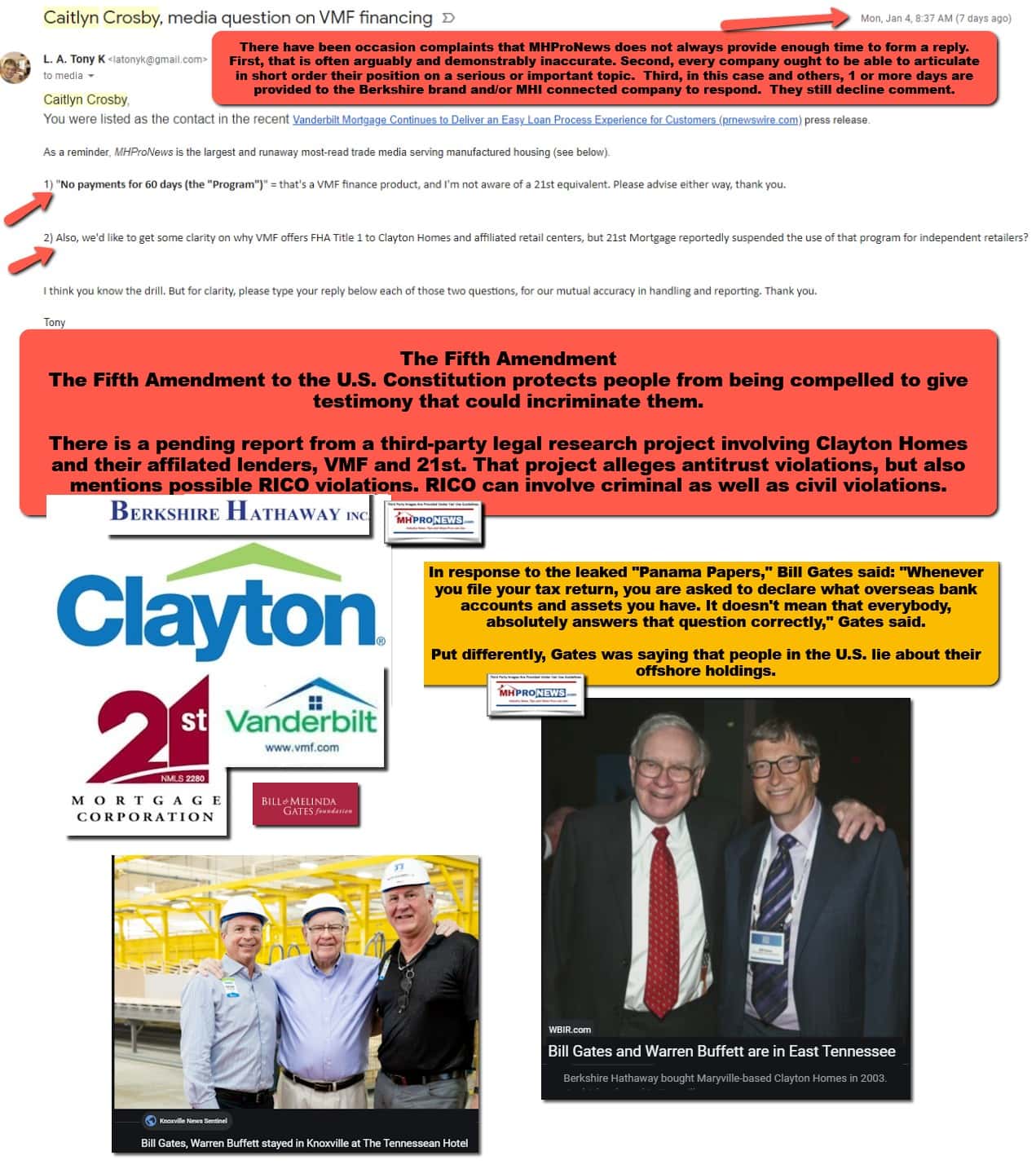 Additional Information, MHProNews Analysis and Commentary
There are several points that make this VMF vs. 21st comparison significant include these notions.
One, is that this is a vivid example of the Buffett "Castle and Moat" stratagem.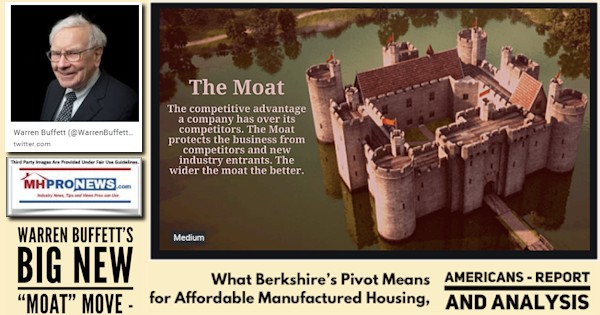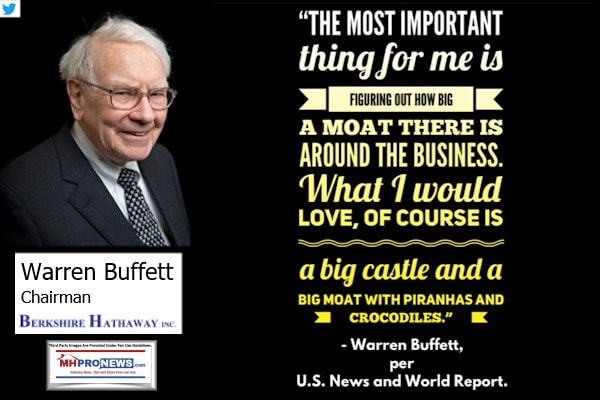 Second, as retailers or other sellers know, it is not unusual for someone to apply for financing at a Clayton retail or affiliated center, and also apply for lending at an independent. When a consumer has a choice between buying a home with a program that Clayton retail, et al, has but their rivals do not, isn't that an unfair advantage? Doesn't that tip the playing field towards Clayton and away from the independent? Kevin Clayton's statement below, from the interview linked here, sheds light on that topic.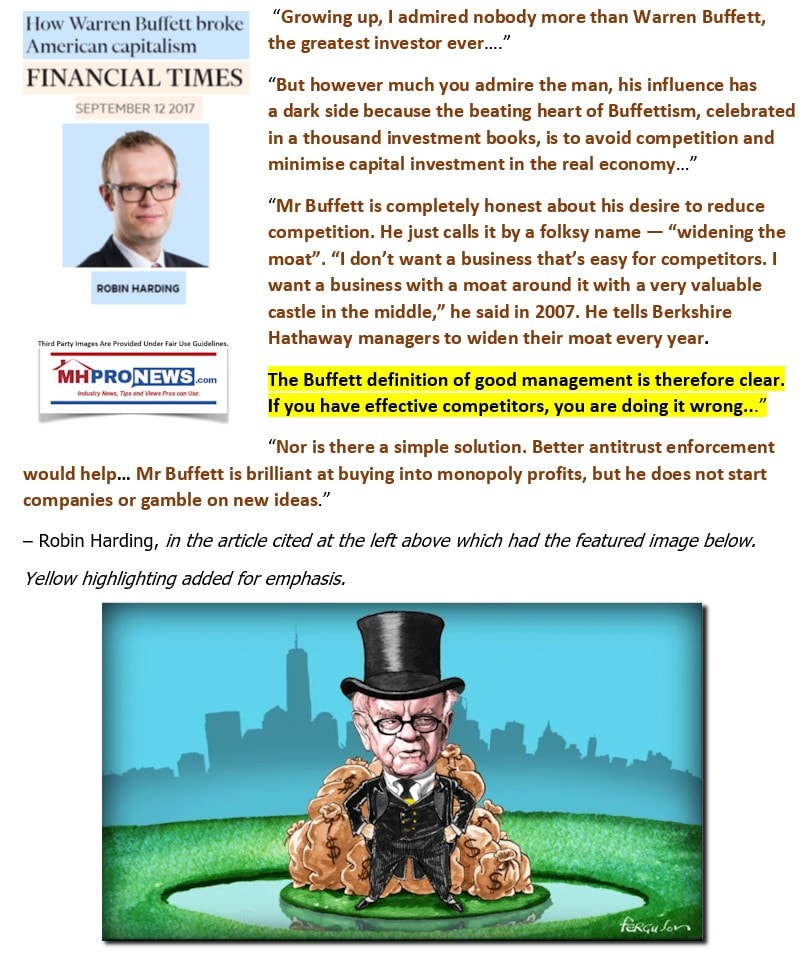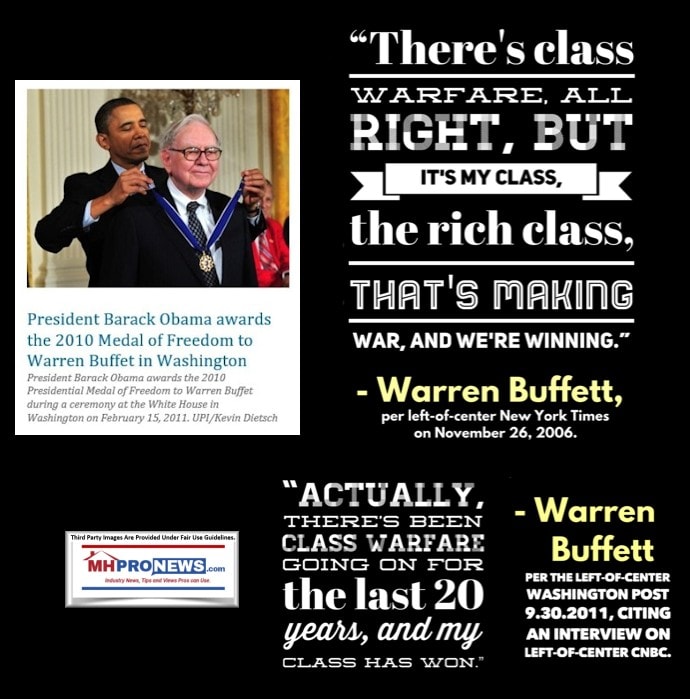 Third, an insider asserting knowledge told MHProNews that 21st Mortgage has helped 'tip' manufactured housing independents into insolvency by timing a slow payment when several loans were awaiting funding. Clayton and 21st both declined commenting on that report. Other issues of concern are linked below, which Clayton, Berkshire Hathaway's law firm and board members, Warren Buffett, and others connected with the firm have declined to answer.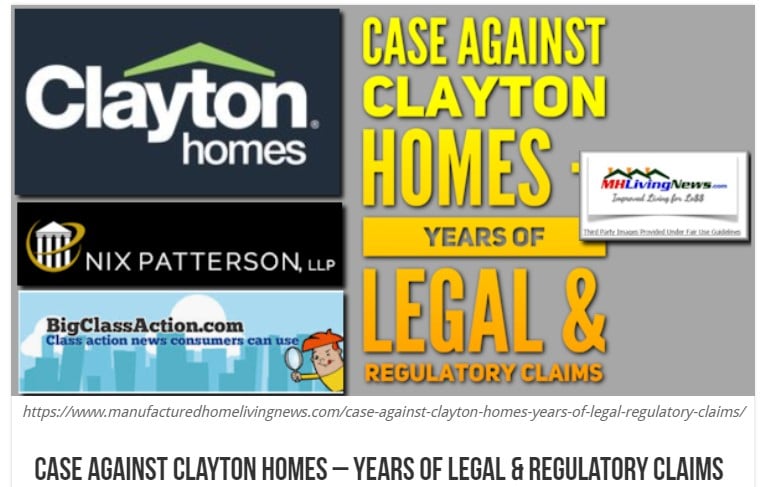 That noted, it is worth recalling Buffett's infamous quote below.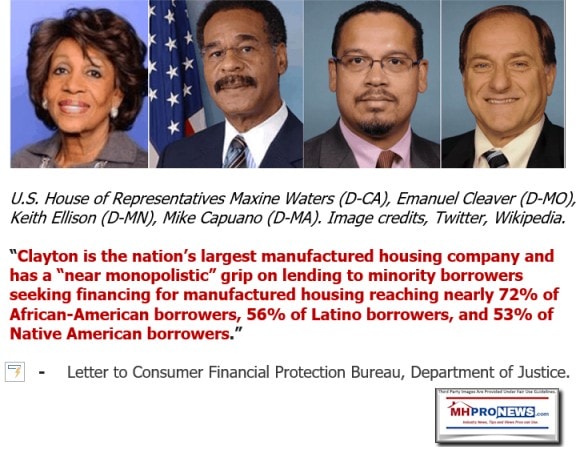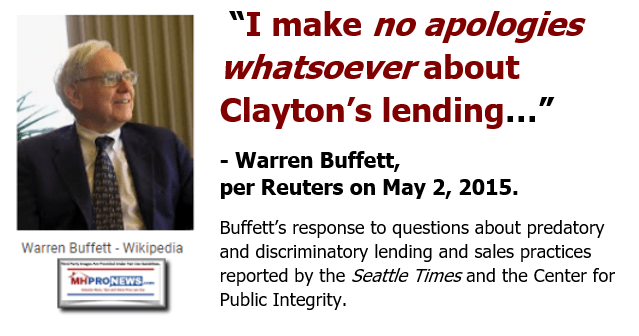 The role of Clayton Homes and their lending in the embarrassing to their firm and other Manufactured Housing Institute members report by John Oliver's video and report linked below is one of the reasons that the industry has such a problematic reputation during an ongoing affordable housing crisis.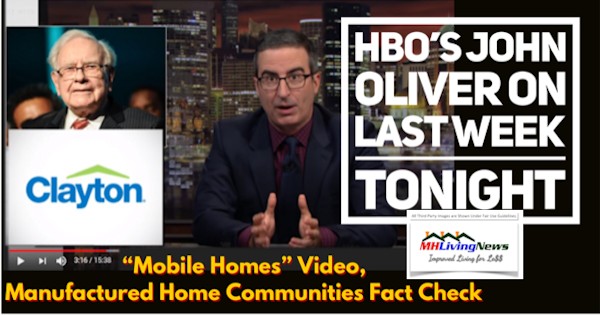 The Berkshire Board…
According to left-of-center Wikipedia on this date, "The current members of the board of directors of Berkshire Hathaway are Warren Buffett (Chairman), Charlie Munger (Vice Chairman), Walter Scott, Jr., Thomas S. Murphy, Howard Graham Buffett (Warren's son), Ronald Olson, Charlotte Guyman, David Gottesman, Kenneth Irvine Chenault, Steve Burke, Susan Decker, Meryl Witmer, Ajit Jain, and Greg Abel.[33]
On March 13, 2020, Gates announced that he is leaving the board of directors of both Microsoft and Berkshire Hathaway in order to focus more on his philanthropic efforts.[34]"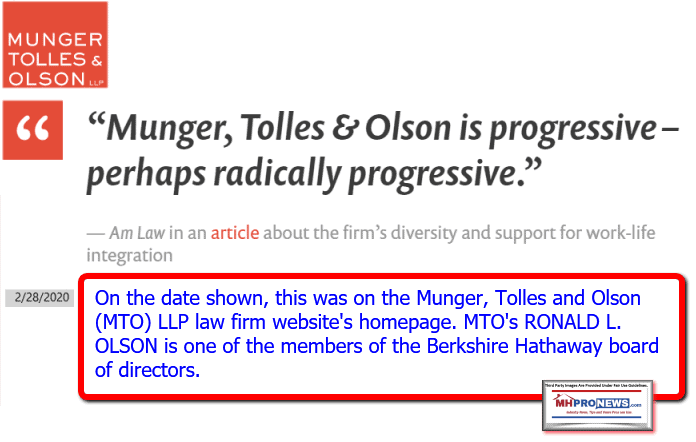 Bill and Melinda Gates, and Warren Buffett are the trustees of the Bill and Melinda Gates Foundation. While this is characterized as "philanthropic" by Wikipedia and others in pro-Buffett-Gates and other billionaires media, ponder anew what Peter Buffett had to say about that topic.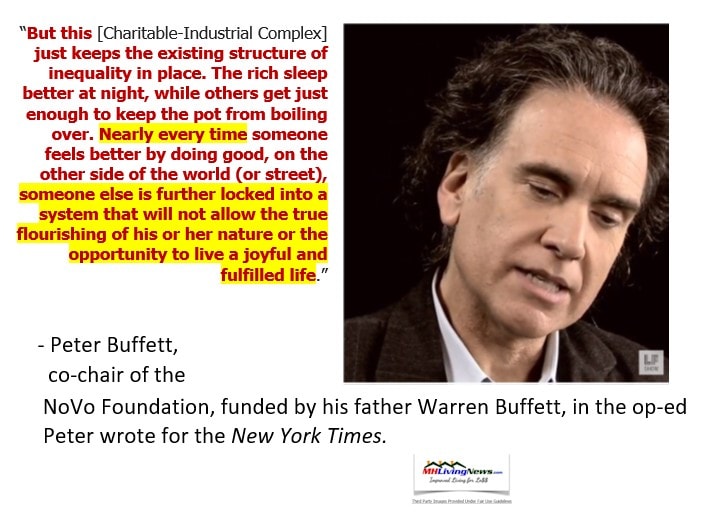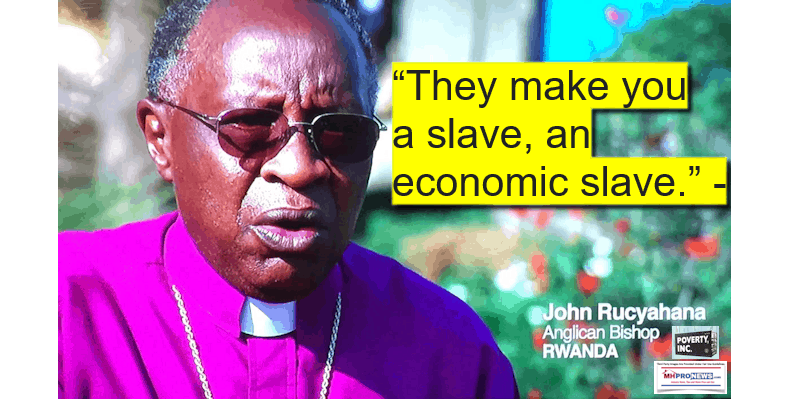 New Data Surfaces on Buffett Family, Foundation Funding Sources Which Attacked Manufactured Housing, plus Manufactured Home Stock, Investing Updates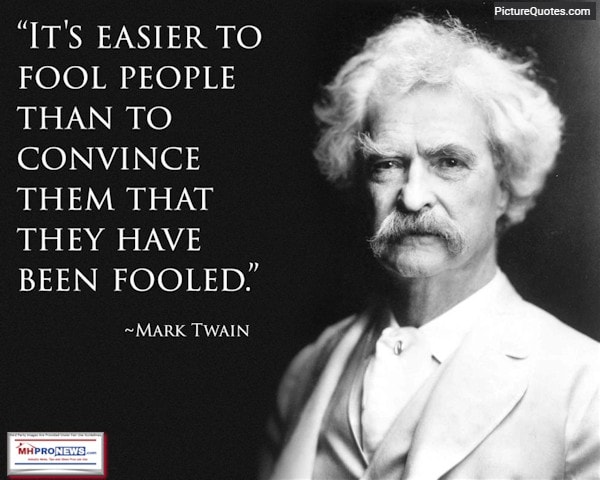 Note that several of these sources are from the political left-leaning media. They include the words of Buffett, his son Peter, and his buddy Bill Gates.
Monopolistic Oligopolies Flex Power to Silence Opposing Views
For new readers, it should be noted that MHProNews sources from the political left-of-center media sources typically 5 or more days weekly. But many rarely if ever view news through the lens of sources from the political right or from pro-Trump media sources, such as Breitbart News. Yet Breitbart and other right-leaning media are among the most read in online in the U.S. But after what was done to Parler from big tech and others acting in concert, what will happen to these balancing voices?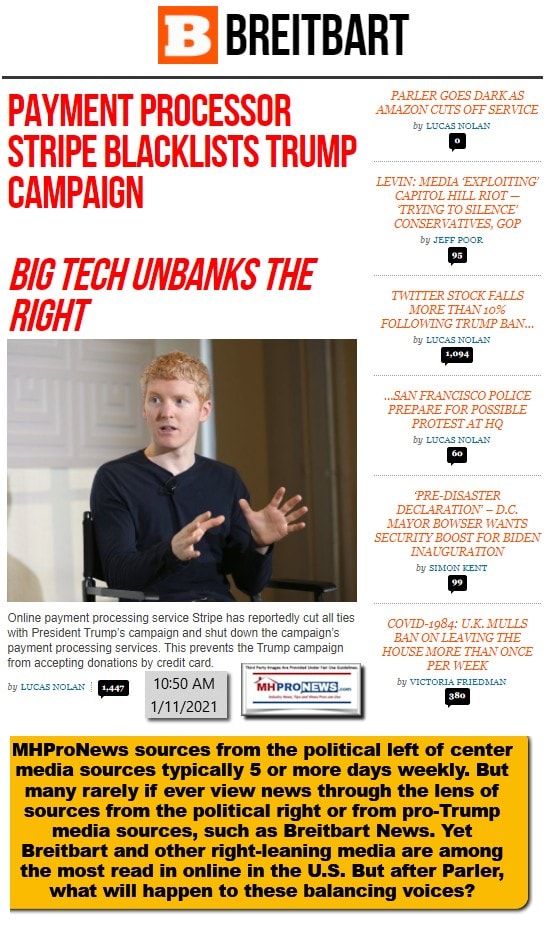 Rep. Devin Nunes, R-Calif., says Amazon, Apple and Google's suspension of Parler is 'clearly a violation' of antitrust, civil rights and the  Racketeer Influenced and Corrupt Organizations (RICO) Act, per an interview on Sunday Morning Futures with Maria Bartiromo.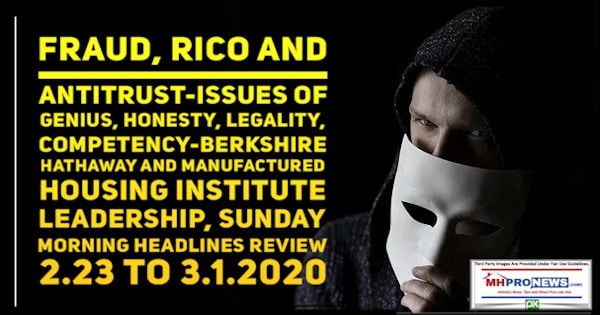 As a reminder for what follows below, it must be recalled that the criminal activities of Al Capone was 'brought down' by the Internal Revenue Service (IRS).  Violating tax laws can bring serious consequences.
The Panama Papers
Live Mint described the bombshell and massive 2016 document dump of the Panama Papers, saying: "The Panama Papers, the umbrella name of the damning story that broke all over the world earlier this week following an unprecedented leak from the database of the world's fourth biggest offshore law firm, Mossack Fonseca, show the myriad ways in which the rich exploit secretive offshore tax regimes."
Shefalee Vasudev reported on 08 Apr 2016 that the "Panama Papers: Rites of the rich," stating that "The Panama Papers indicate that a large section of the rich contribute not only to inequality of income and wealth but also to the inequality of ethicality, with the latter eventually drowning society in moral mayhem…"
Bill Gates said he was "surprised" by who is NOT in the so-called Panama Papers. The relative lack of U.S. citizens named in the Panama Papers has left Microsoft founder Gates a little incredulous. Perhaps that is because thousands of citizens from numerous countries were involved in the leaked information. But it must be noted that other such services as those described by researchers into Mossack Fonseca are available, as Gates and others know.
When the uber rich and others call for more taxes, reports like the Panama Papers must be kept in mind. It is arguably one more element of their respective Moats.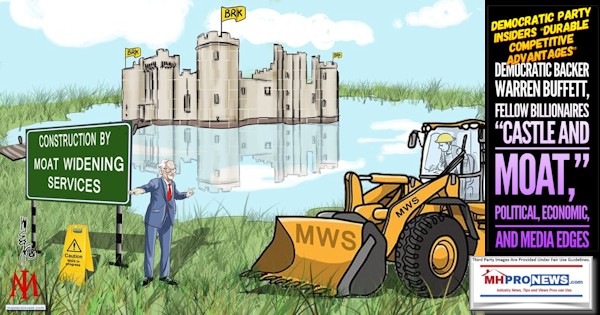 The massive anonymous data dump of 11.5 million encrypted internal documents from Mossack Fonseca, a Panamanian law firm, shed light on the hidden financial dealings of politicians and public officials around the globe.
"I was surprised there were so few Americans," Gates quipped to CNBC in an exclusive interview in Qatar.
"Whenever you file your tax return, you are asked to declare what overseas bank accounts and assets you have. It doesn't mean that everybody, absolutely answers that question correctly," Gates said.
Put differently, Gates was saying that people in the U.S. lie about their offshore holdings. Again, that is the type of thing that brought the criminal enterprise of mobster Al Capone down.
Yahoo Finance, quoting left of center CNBC, continues the narrative.
Preliminary reports indicate there are more than 200 people with U.S. addresses named in the Panama Papers, according to Forbes this week. However, the International Consortium of Investigative Journalists (ICIJ), one of the teams that has been analyzing the data, has said there are more than 214,000 offshore entities that appear in the leak, connected to people in more than 200 countries and territories. CNBC has not been able to independently verify the allegations.
Many reasons have been bandied around for the lack of Americans, with the most notable leaks so far focusing on associates of Russian President Vladimir Putin, U.K. Prime Minister David Cameron and the former Icelandic Prime Minister Sigmundur David Gunnlaugsson.
Some theories conclude that Mossack Fonseca wasn't a favorite law firm among Americans. While others suggest that the U.S. has its own flexible entity structures and corporate tax breaks. Many pundits also suggest that it is easy for U.S. citizens to create shell companies in certain states.
Meanwhile, in an exclusive interview with CNBC on Tuesday , UBS whistleblower Bradley Birkenfeld suggested the hacking of the Panama City-based firm could have been done by a U.S. intelligence agency. "The CIA I'm sure is behind this, in my opinion," Birkenfeld – a former UBS banker and one of the most significant financial whistleblowers of all time – said.
UBS has been in the news lately for ties to Communist China, Dominion Voting Systems, and possibly other persons and entities that figured prominently in the highly-contested 2020 U.S election.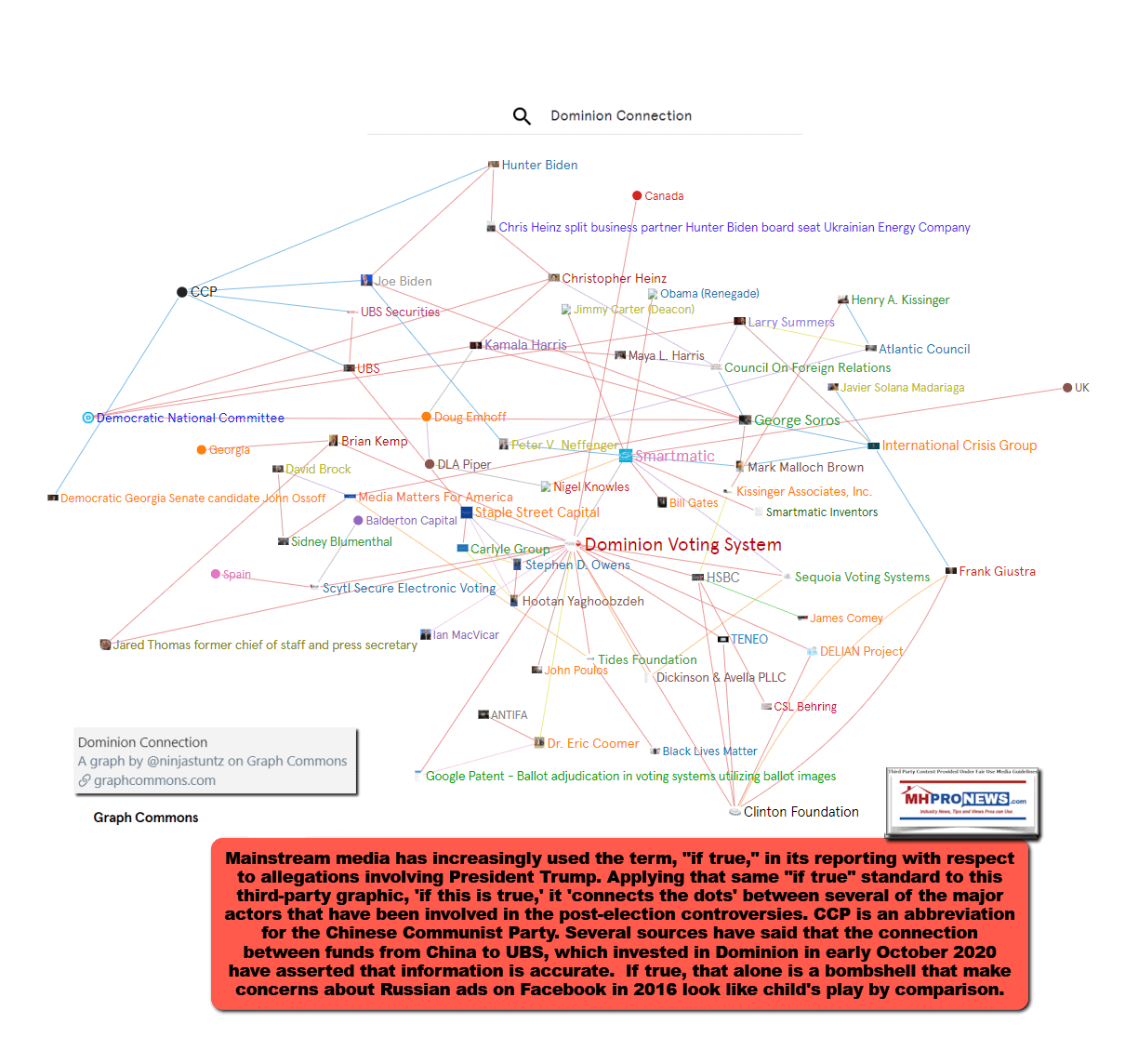 Rasmussen noted the following.
While You Slept: Ex-Capitol Police Chief Says Pelosi, McConnell's Sergeants-at-Arms Refused Security Measures While New Timeline Proves 'Trump Incitement' Claims Bogus. https://t.co/cHYU9sAg5z

— Rasmussen Reports (@Rasmussen_Poll) January 11, 2021
Rasmussen also made this observation.
Mitch McConnell: "But my colleagues nothing before us proves illegality anywhere near the massive scale, the massive scale, that would have tipped the entire election."

A remarkable misreading of multiple public opinion surveys now equaling or exceeding these levels. https://t.co/cfZV6MwASg pic.twitter.com/75oPlyLAwQ

— Rasmussen Reports (@Rasmussen_Poll) January 6, 2021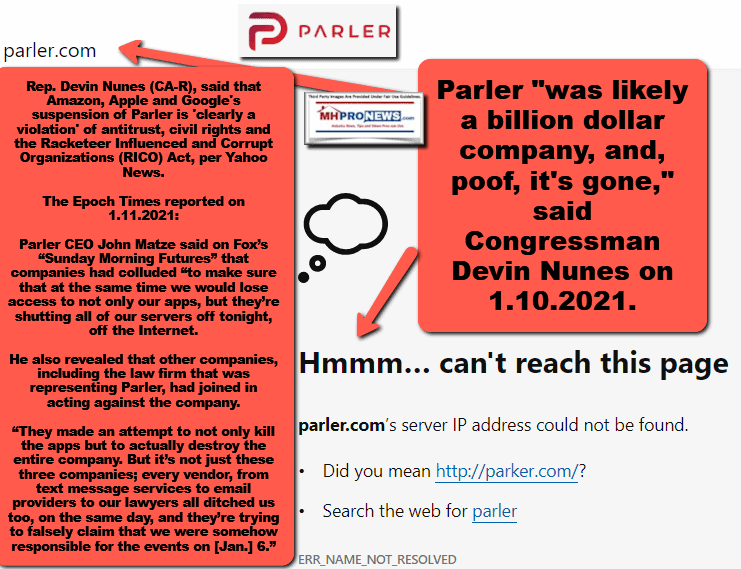 Jim Hoft, a very active pro-Trump blogger with The Gateway Pundit, said this.
Democrats Are Drafting Legislation to Criminalize Trump Rallies — Classify Them as "Domestic Terrorism" via @gatewaypundit https://t.co/zoYa9Gr5VL

— Jim Hoft (@gatewaypundit) January 11, 2021
Brandon Straka, who was also recently kicked off Twitter – and some 500,000 "walk away" testimonials there were lost – observed one of many examples of bias and hypocrisy with this observation.
The woman on left was never asked to be on the cover of Vogue. But this Humpty Dumpty hot fucking mess in converse sneakers over on the right is. What's more-we're going to have to listen to the left insist that she's strikingly beautiful. Everything is backwards w these freaks. pic.twitter.com/RD0C5nXvxt

— Brandon Straka (@BrandonStraka) January 11, 2021
On 1.11.2021 Michigan Representative Ryan Berman office sent MHProNews the following message.
"Thank you for your email about the election. I will pass your message on to Rep. Berman. He is committed to transparency and integrity and supports an audit of the 2020 election. He recently signed onto a letter, with almost 2-dozen other legislators, asking for a third-party, forensic audit. The report from Antrim County, released Dec. 14 shows this issue needs a closer look. On December 15, the Michigan House Oversight Committee subpoenaed documents and communication from Livonia and Detroit, which should be delivered to the state House by Jan. 12. Unfortunately, Rep. Berman does not serve on the oversight committee, but he continues to offer support to his colleagues on investigating the 2020 election.
Best,
Joel Meng
Legislative Aide/Constituent Services
State Representative Ryan Berman (MI-39)"
Other messages have come in, some more "form letter" reply style, but others – like this one above – more a focused and specific statement.
There is a troubling turn in the nexus between American Business Moguls using the levers of power to punish political but also business opponents. To the point mentioned by an industry reader the other day that was cited by MHProNews, part of the solution to what faces our Republic and business professionals must come from believers, he said Christian believers. Another person sounding off, a non-Christian echoed a similar sentiment to MHProNews. Prudent steps, calm in the midst of the storm, and God's help were necessary. With pastors and priests – like this one below by Fr. Jeffrey Kirby from South Carolina – indicate, numbers or preachers are calling out the "horrors of socialism" Marxism, and Communism that are being thrust upon our country.
There are concerns that if President Trump does not take swift action, that matters will get worse. While the pastor above – and scores of others from various faiths – are calling for peace, what will happen if the powers that be remain unchecked? When even the leftist ACLU says that this is a troubling set of developments, what should those on the right or who favor President Trump believe that this election was stolen?
Former NYPD Commissioner Bernard Kerik comments on the security measures that evidently failed as protesters stormed the federal facility. He has since said that he has seen videos, confirming reports that MHProNews has noted, that seem to indicate Capitol police in some – not all – cases seeming to lead people into the Capitol building. While MHLivingNews has highlighted cases where genuine Trump supporters were inside the building, the question remains. Where they lured or even invited in? Where they entrapped?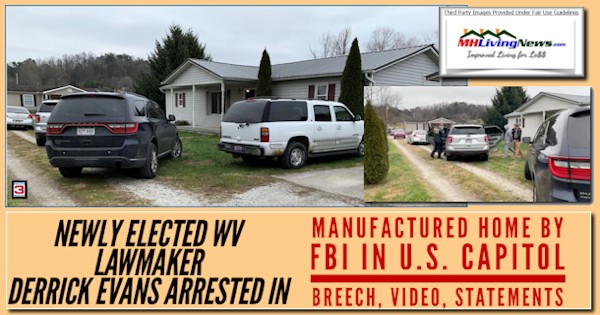 Had President-Select Joe Biden* wanted the nation to believe he was legitimately 'elected,' then why didn't he or other Democratic leaders desire a full accounting before or even on January 6? When did they vote down the 10 days several states asked for to examine the evidence?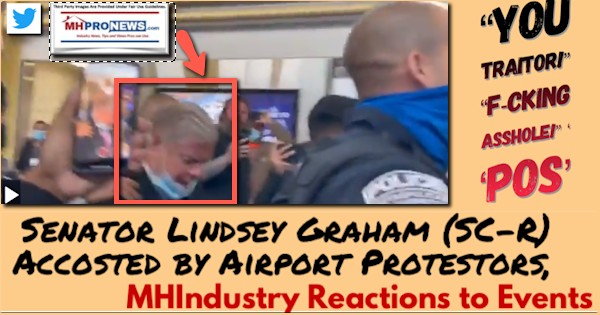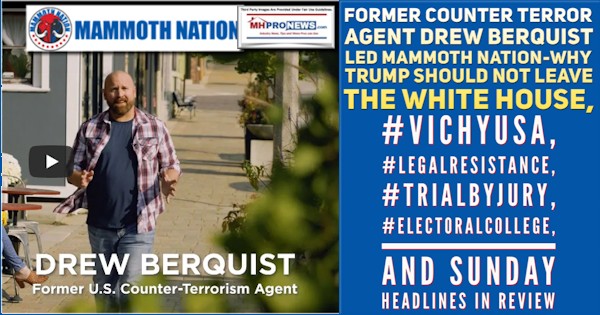 In an era when words are twisted to mean what is not being said, let us be clear. It is not an incitement to violence to note that a few – if feel they are not being heard and listened to – will respond with violence.  Here is how the late Dr. Martin Luther King Jr. explained it.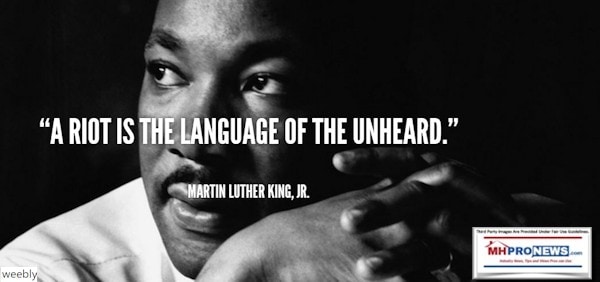 The manner that Lindsey Graham was accosted, and the defacing of the residences of House Speaker Nancy Pelosi or Senate Majority Leader Mitch McConnell illustrate, there is anger.  Rasmussen confirmed what MHProNews has estimated as roughly half the country that believes that this election was "stolen."
When big business flexes its muscles and fires a kill shot at a rival brand, as arguably occurred against Parler. These developments only confirm years of reports by MHProNews that warned that failure to do robust antitrust – and possible RICO action – would lead to problems for the millions of independently owned businesses, and the tens of millions working for those independent firms.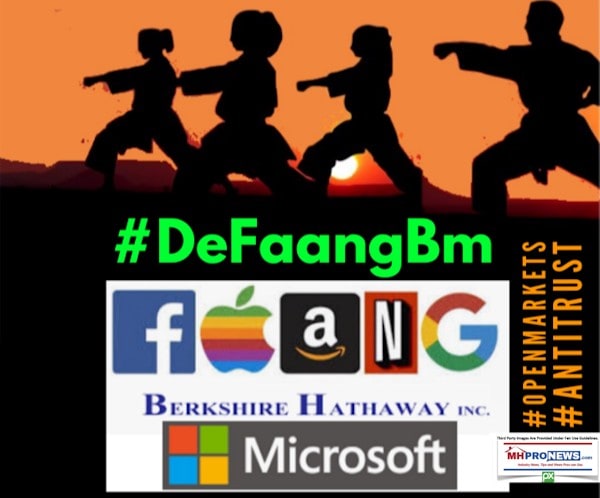 "It is impossible to tell a country founded on rebellion not to rebel." – So, said a caller to WMAL who said he used to work for MTV and for about a decade at CNN.  He complained about the loss of his 30,000 Parler followers and videos that had as many as 100,000 views.
As an industry pro said to MHProNews, "Give me liberty or give me death."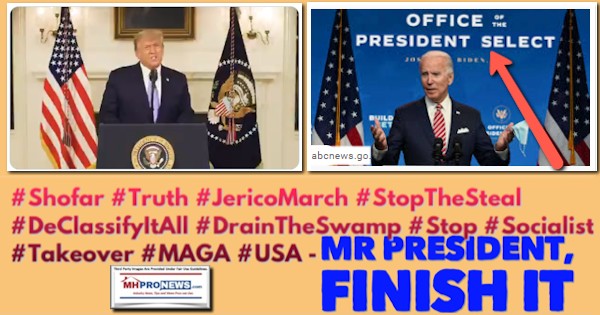 It is a troubling era.
One must hope, prudentially work, and pray for the best.
But failure to push back intelligently, regrettably, will historically only encourage more of this same type of over-the-top authoritarian behavior.  The lessons of history should not be ignored.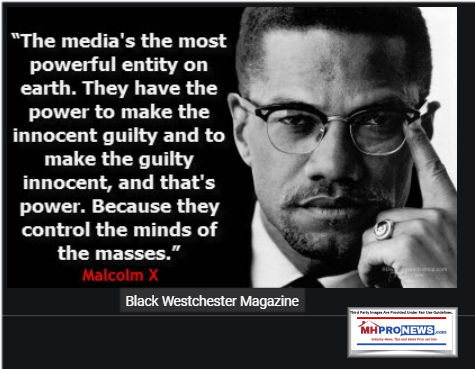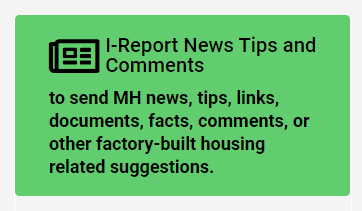 Despair or frustration are not solutions. Information, understanding and repair of the Republic and prayer are the 'weapons' that can prevail.
That's a wrap on this installment of the runaway number one source for authentic "News through the lens of manufactured homes and factory-built housing" © where "We Provide, You Decide." © ## (Affordable housing, manufactured homes, reports, fact-checks, analysis, and commentary. Third-party images or content are provided under fair use guidelines for media.) (See Related Reports, further below. Text/image boxes often are hot-linked to other reports that can be access by clicking on them.)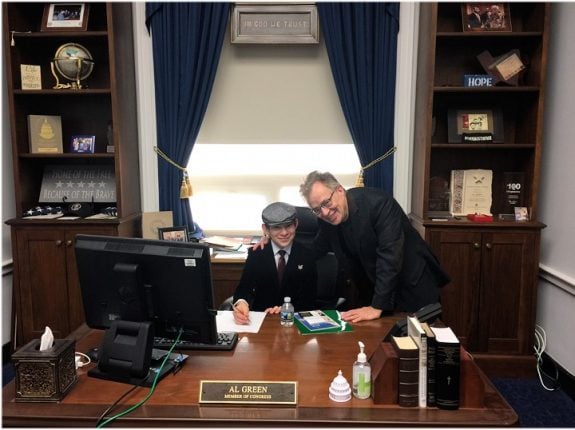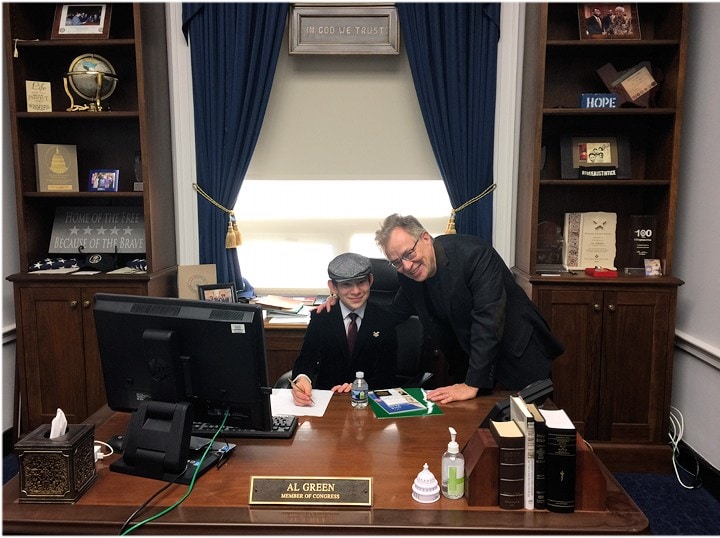 By L.A. "Tony" Kovach – for MHProNews.com.
Tony earned a journalism scholarship and earned numerous awards in history and in manufactured housing.
For example, he earned the prestigious Lottinville Award in history from the University of Oklahoma, where he studied history and business management. He's a managing member and co-founder of LifeStyle Factory Homes, LLC, the parent company to MHProNews, and MHLivingNews.com.
This article reflects the LLC's and/or the writer's position, and may or may not reflect the views of sponsors or supporters.
Connect on LinkedIn: http://www.linkedin.com/in/latonykovach
Related References:
The text/image boxes below are linked to other reports, which can be accessed by clicking on them.