Even before the publication of his book, "Am I Being to Subtle?" the Wall Street Journal (WSJ) noted that Sam Zell preached a contrarian and hungry for business mindsets. "He (Zell) talks about the importance of being hungry and contrarian. The most successful people go right when everyone else goes left," the WSJ stated on May 5, 2017. As manufactured home industry professionals know, Chairman Zell's Equity Lifestyle Properties (ELS) was focused on manufactured home community living long before others began seriously considering or moving into the field. The financial news focused Motley Fool financial states that "Equity LifeStyle Properties has achieved impressive growth since their first IPO in February of 1993, growing from 41 properties and 12,312" sites. The ELS website brags that they have over 400 properties in 33 states and British Columbia with more than 156,000 sites.
ELS says on this date that "after 50 years in business," they now have "premier manufactured home communities, RV resorts and campgrounds." An Zell interviews focused on manufactured Housing is linked here.
Now, besides publicly-traded ELS or Sun Communities (SUI), there is UMH Properties (UMH), new public REITs, as well as numbers of private investment firms that are all focused on the manufactured home land-lease communities sector.
ELS, Sun, UMH, and arguably tragically scandal-prone SSK Communities – which rebranded as Flagship Communities before going public in Canada – are all members of the Manufactured Housing Institute (MHI). MHI and REITs recently came under fire from a legal research document by Knudson Law's Sam Strommen that accused several MHI members of "felony" market manipulation.
But as the media release that will be fact checked below will inquire, and as notorious Frank Rolfe publicly asked before, is the manufactured home community sector overheating? 
If so, what are the risks to:
> lenders?
> Investors?
> Potentially hundreds of thousands if not millions of manufactured home community residents?
How does the Zell mantra – "When everyone is going left, look right" – actually apply in this current environment?
Before examining that question, the following media release – which SHOULD NOT be misconstrued as any kind of an endorsement- will be provided. Their press release happens to mix what seems like accurate and inaccurate information into its now increasingly all-too-common pitch to "accredited investors." That will be an exhibit in this fact-check, analysis, and commentary by MHProNews which will also reference what a financial publication frankly admitted to our publication.
NOTICEs: The graphic below was not in their press release (PR), but was part of the document linked below. The featured image at the top, sans the Zell and related logos and commentary, was a featured image in the PR below.  The last graphic and photo were likewise part of their presentation by link or in the actual PR.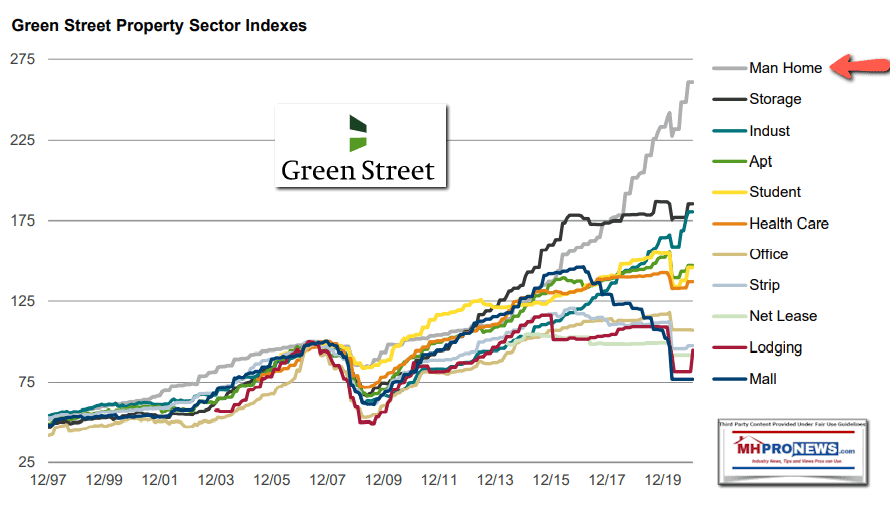 Why Mobile Home Park Investments Will Thrive in 2021
CHICAGO, IL / ACCESSWIRE / February 15, 2021 / Significant demand and media attention has been brought to mobile home parks recently and for good reason. Mobile home parks were the top-performing real estate class in 2020 as stated by Green Street Data. Mobile home parks had a 12% increase in commercial property value when a majority of other commercial real estate asset classes struggled in 2020.
A worker earning the average wage does not have many other housing choices, with the national mobile home park lot rent at $375-425 range per month in a majority of the country. In comparison, the average rent on a one-bedroom apartment was $892 a month in 2017. Families have even fewer choices. A two-bedroom apartment was $1,103, according to the Fair Market Rents kept by the U.S. Department of Housing and Urban Development according to Manufactured Housing Institute.
Important trends show a surge in the population aging into retirement increases the demand for affordable housing. The age 55-plus cohort in the U.S. will grow by nearly 1.7 million people in 2020, and through 2025, another 7.6 million will reach this milestone. As these residents retire, many will consider purchasing manufactured homes in age-restricted communities, boosting mobile home park demand even more.
Midwest Park Capital is a private real estate investment firm providing accredited investors with exclusive access to high-yield investments in the Mobile Home Park vertical. Our fundamental strategy is to assemble a diversified portfolio of low-risk, high cash-flow mobile home park assets with the goal of delivering capital preservation, consistent quarterly cash-on-cash income paired with equity growth. We achieve this objective by acquiring, then adding-value or repositioning under-valued, mismanaged, sub-performing, or improperly capitalized income-producing assets. Investing passively allows you to get the cash flow and tax benefits of owning real estate, without the headaches of being a landlord.
As middle and lower-class families continue to be pressured financially, growing demand for inexpensive housing makes mobile home parks the most attractive housing option for the average American earner which currently is around $33k per year. Mobile homes will continue to be the best option for those unable to pay the high costs of conventional homes and ever-increasing apartment rents. Mobile home parks are typically 1/3 the cost of a single-family house or 1/2 that of an equivalent apartment building in the same community.
Due to increasingly burdensome zoning regulations, few mobile home parks are being built with approximately only 10 new parks developed in the past 20 years. These government regulations artificially constrain the supply of mobile home parks. In addition, profit margins for mobile home park developers are often inferior to those in the apartment industry. Finally, many parks are redeveloped or torn down every year for bigger real estate projects that bring in higher tax revenue to the community.
Contact:
Midwest Park Capital
SOURCE: Midwest Park Capital
## End of Body of PR ##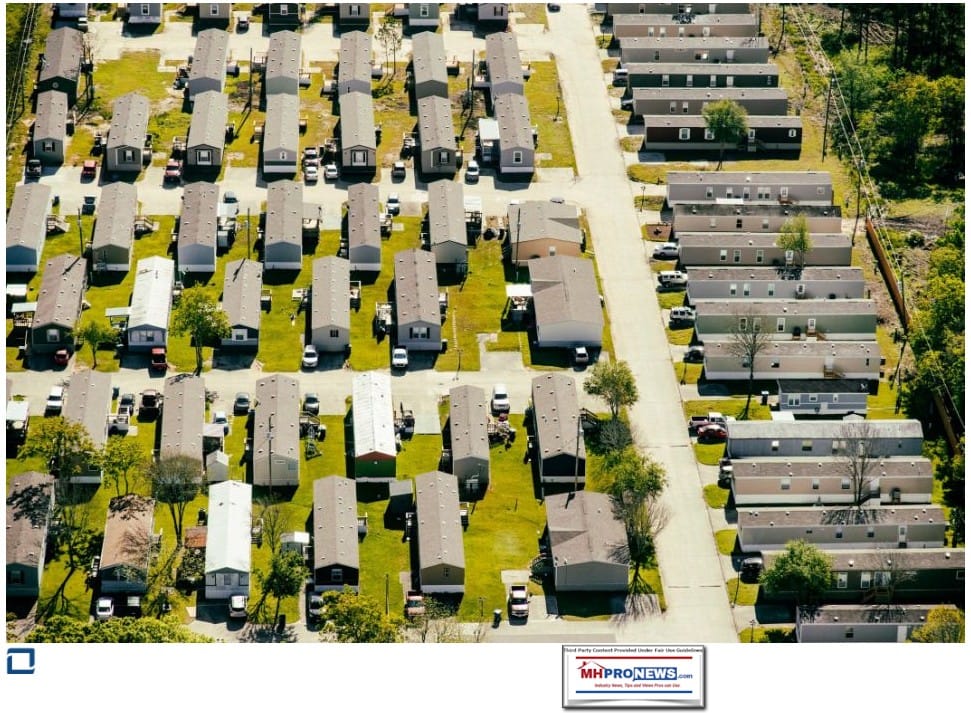 Additional Information, More MHProNews Analysis, and Commentary
Again, for emphasis, MHProNews is in no way endorsing either Midwest Park Capital or Jonathan Tuttle by publishing the above. Several arguably factual errors appears to exist in their claims, even though they cite the Manufactured Housing Institute (MHI) in making those claims.
For newcomers and long-term readers, it is a useful reminder that Knudson Law's Samuel Strommen interestingly noted that getting accurate information on this industry is "scarce" and "obfuscated." That is a point MHProNews has directly or obliquely tied to several MHI members and that association itself which has often given a mix of accurate, inaccurate, and self-contradictory "data" and claims.  Here is how Strommen phrased it in alleging that clouding information may be among the ploys used to monopolize the industry.
Strommen said his Knudson Law report was "to expose a number of antitrust violations—both blatant and subtle—in the form of the increasing monopolization of the manufacturing, financing, and the increasingly consolidating landlords, and to call for reforms within this industry.
Data on the manufactured home industry is scarce—very few studies that would pass any sort of academic muster have been published, and to make matters worse, much of the data appears to be obfuscated, both by the alleged bad actors as well as their critics."
While the case can be made that there is, in fact, more data than Strommen may have realized, part of the reason that it is not easy to find is nevertheless aptly pointed out by his claim that "much of the data appears to be obfuscated, both by the alleged bad actors as well as their critics."
Among the "bad actors" Strommen identified in his allegations was MHI. Among the obvious critics are groups like MHAction and the Private Equity Stakeholder Project (PESP), which have been identified as receiving money from Berkshire Hathaway chairman Warren Buffett.
A few weeks ago, MHProNews engaged with a publisher that purported to have had experts involved in manufactured housing. After several messages back and forth, one of the interesting admissions senior people there made was that they had never even considered the possibility that the land-lease communities' sector is overheating.
So much for their objectivity and expertise?  But in fairness, the point Strommen made about obscuring or "obfuscated" data and other insights should – to some degree – apply.
MHProNews has also heard from several in the communities sector, and in retail, who have exited the industry. Perhaps it is no surprise, but a common thread was selling out to someone else, instead of say, some relative or other person taking over what would typically be a family business.
As MHLivingNews noted in 2019, Berkshire Hathaway has their finger in that mix of profiting from such exits in several ways. One of them was considered in the report linked below.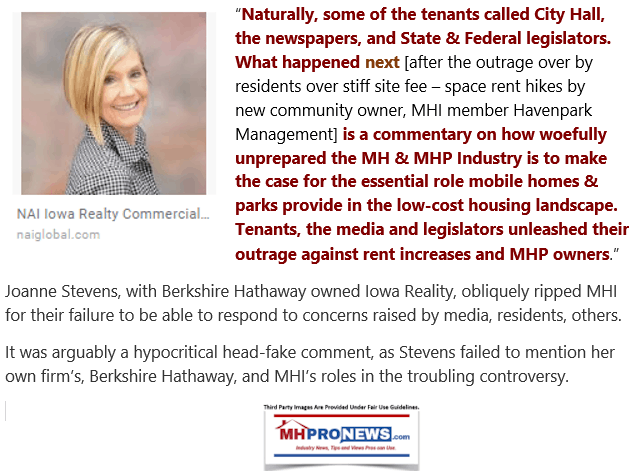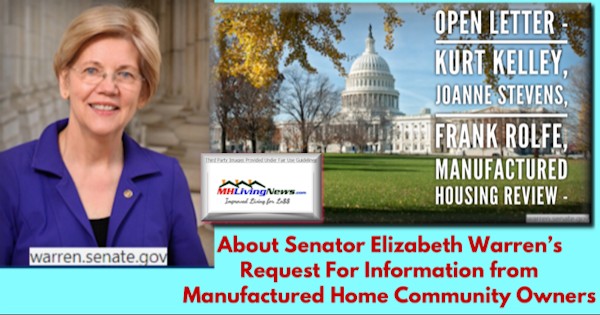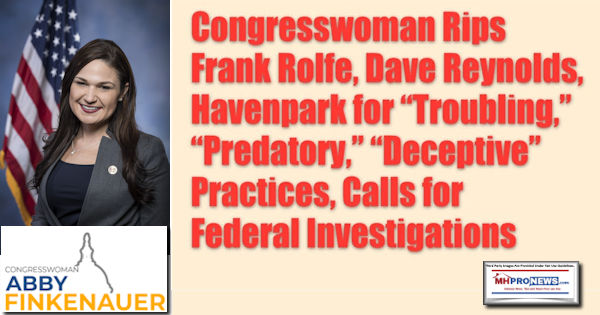 Ignoring their improper terminology, the phrasing of this quote from the Wall Street Journal is interesting. "Owners of mobile-home parks have trounced the broader market thanks to soaring house prices and nimbyism." MHI member Frank Rolfe has advocated that there should be no more "mobile home parks" developed. Why didn't MHI publicly question or rebuke that proposal?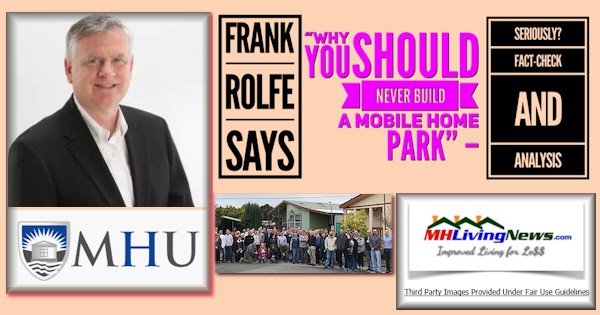 MHI postures advocacy for promoting the use of more manufactured homes and communities.  But the Arlington, VA based trade group has arguably failed in that despite existing federal laws MHI admits would mitigate this trend. Sam Strommen's Knudson Law report raises antitrust concerns that include MHI and their REITs, among others.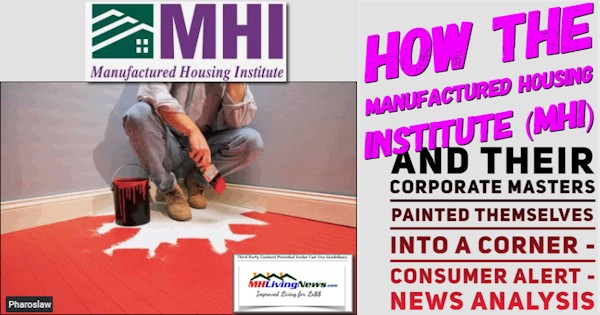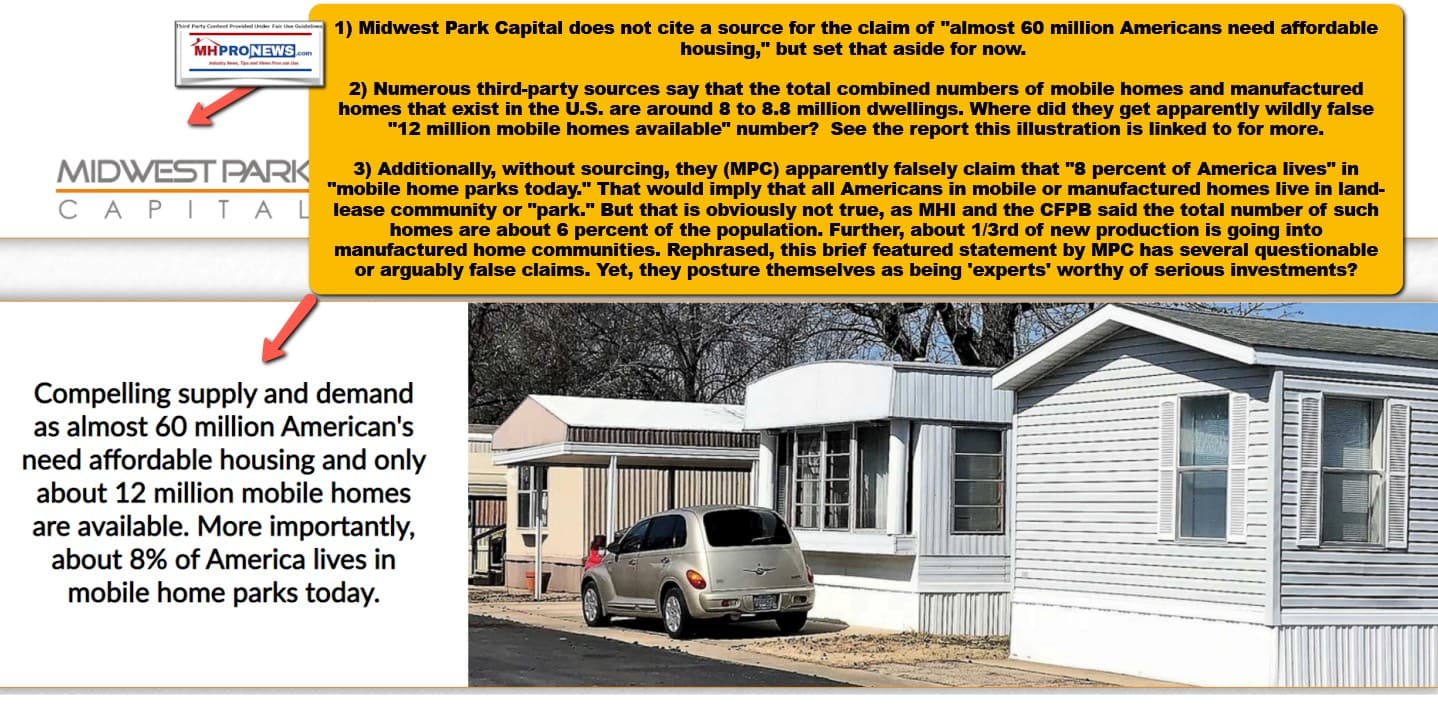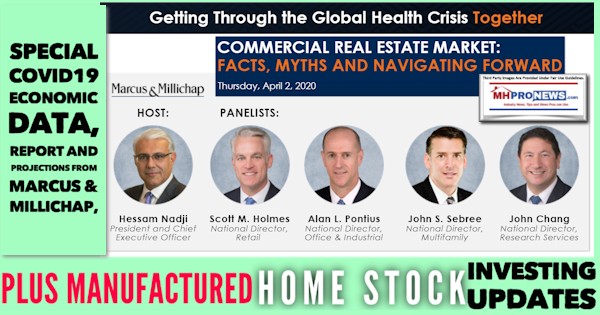 Note Midwest Park Capital's use of the Buffettesque terms "moat" and durable "competitive advantage." According to MHI member MHVillage, there are a few hundred, not 10, new manufactured home communities (MHC) developed in the last 20 years. But their claim arguably points to a looming 'overheating' of the MHC market.  This ironically underscores the claims made by the Knudson Law report by Sam Strommen of possible "felony" violations of the law.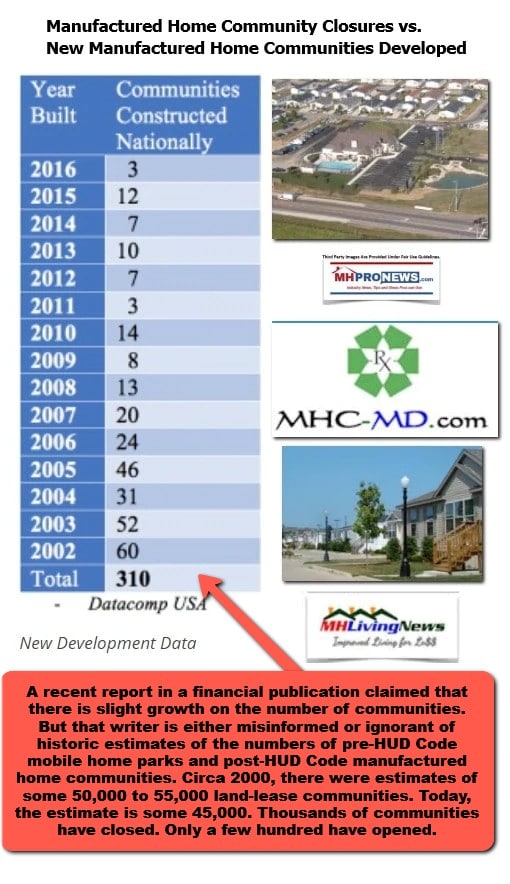 1) Midwest Park Capital (MPC) does not cite a source for the claim of "almost 60 million Americans need affordable housing" (see that graphic further above), but set that aside for now.
2) Numerous third-party sources say that the total combined numbers of mobile homes and manufactured homes that exist in the U.S. are around 8 to 8.8 million dwellings. Where did they get apparently wildly false "12 million mobile homes available" number?
See reports linked on this "Ultimate Third-Party" manufactured home research resource page where several reports published there, including from federal, non-manufactured home industry nonprofits, and university-level research proves otherwise.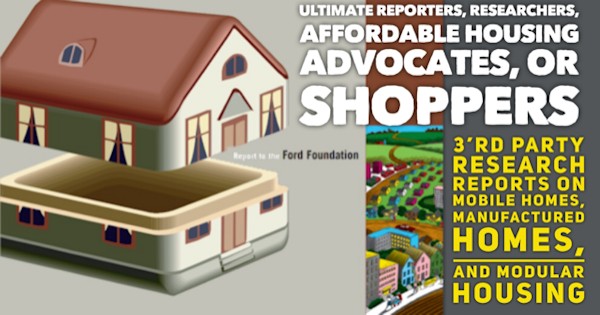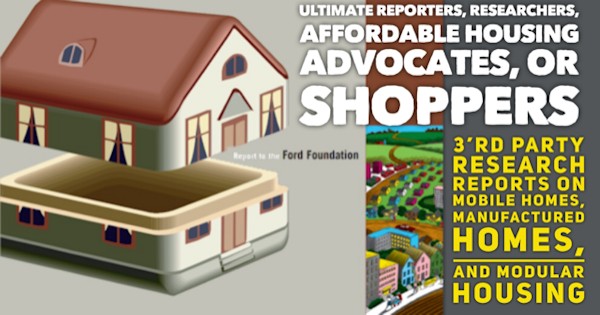 3) Additionally, without sourcing, they apparently falsely claim that "8 percent of America lives" in "mobile home parks today." That would imply that all Americans in mobile or manufactured homes live in land-lease community or "park." But that is obviously not true, as MHI and the CFPB said the total number of such homes are about 6 percent of the population. Further, about 1/3rd of new production is going into manufactured home communities. Rephrased, this brief featured statement by MPC has several questionable or arguably false claims. Yet, they posture themselves as being 'experts' worthy of serious investments?

Perhaps MPC's Jonathan Tuttle is one of the smartest individuals on the planet. Perhaps he is the greatest manufactured home community owners and investors of all time.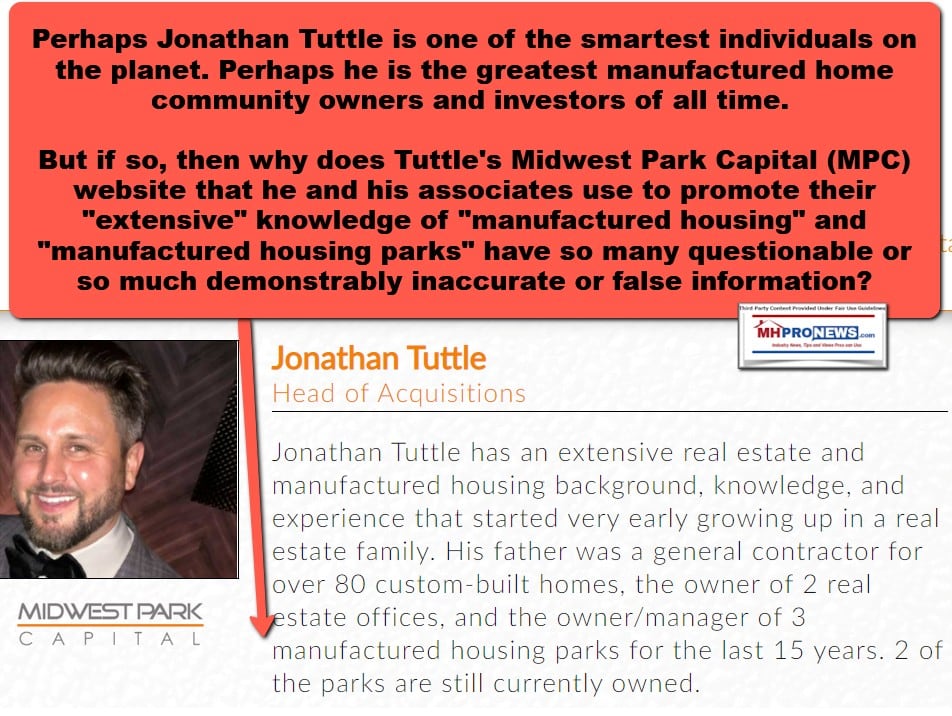 But if so, then why does Tuttle's Midwest Park Capital (MPC) website that he and his associates use to promote their "extensive" knowledge of "manufactured housing" and "manufactured housing parks" have so many questionable or so much demonstrably inaccurate or false information? In fairness to Tuttle and his firm, they are far from alone.
What should be done?
To respond to that question, the point that Tim Williams, former Manufactured Housing Institute (MHI) chairman and the president and CEO of Berkshire Hathaway owned 21st Mortgage Corporation made the argument that every piece of inaccurate information could be made. If so, then why has MHI – or the Berkshire brands and their allies – failed to do what Williams said was a solid way to deal with misinformation?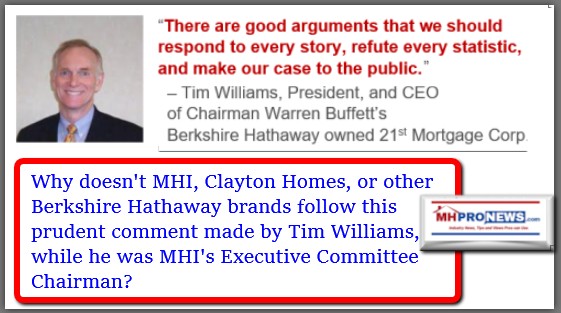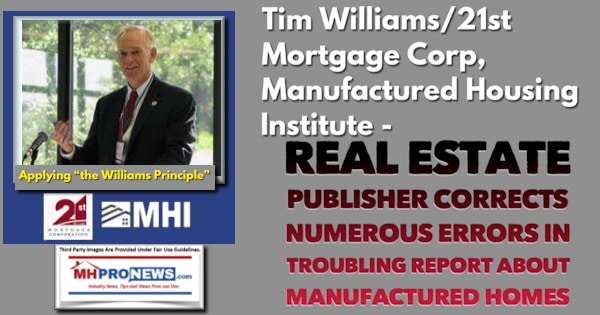 To the point that the financial and business media operation mentioned above had never pondered the notion that the manufactured home community sector may be overheating, several reflections are merited.
With so much misinformation and what Strommen said was "obfuscated" or obscured, that should be taken into account in fairness to them. It is one reason MHProNews is not embarrassing them by naming them.
By definition, when demand exceeds supply, that is a recipe for overheating a market. Says who? Left-of-center Wikipedia under overheating and economics, which says, in part, "The main reason behind overheating is insufficient supply allocation because of excess spending…" Spend Matters says similarly: "An economy [or market] c

an be said to be overheated when overall demand exceeds supply

."
MHProNews has previously made this point. What would happen to multifamily rental housing – various apartment complexes, et al – if new construction would suddenly grind to a near halt? If the population continues to grow and demand for such housing continued, that too would 'overheat.'
The National Association of Realtor (NAR) chief economist Lawrence Yun, Ph.D., made the commonsense argument that only more construction would mitigate the stiff increases in conventional housing prices. The economic principles Yun was applying – if considered in the manufactured home community sector – would mean there is a good case to be made the more communities need to be developed. Indeed, that is economics 101. That is also opportunity knocking for those who grasp the principles. There are certainly cases where older communities are commanding a cost per site that surpasses that of the cost for new development.  Beyond communities, the same principle applies for brining more non-land-lease sites for manufactured home use too.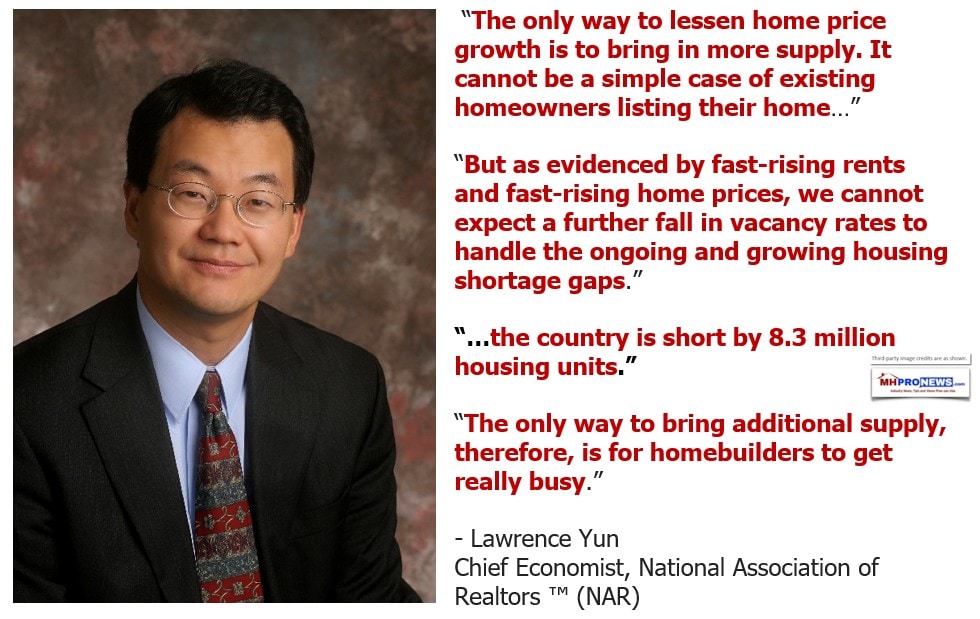 Indeed, Yun encouraged Scholastica "Gay" Cororaton, Certified Business Economist (CBE) to publish a research report on manufactured homes as an obvious solution to potentially rapidly close the gap. Cororaton was hardly the first, but perhaps the most significant recent third-party researcher that debunked numerous concerns about manufactured homes and manufactured home living.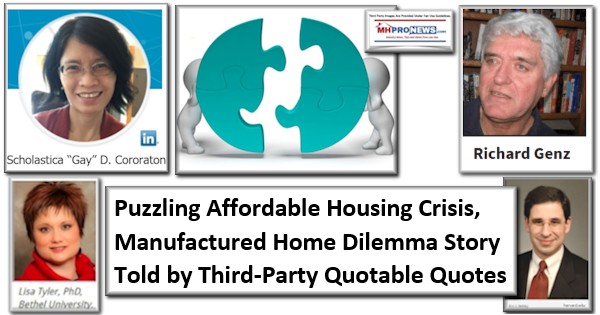 Yet oddly, MHI – which Strommen believes is part of the problem of market manipulation – fails to report on Cororaton at all. Even though MHI was contacted about Cororaton's research for Realtor University's Journal of Real Estate studies, MHI still fails to mention her research on their own website, now approaching three years after it was first published. What could possible explain that omission, other than the concerns raised by Strommen and the arguments made by people like Midwest Capital, Frank Rolfe, or others who are arguably working to spike the value of communities?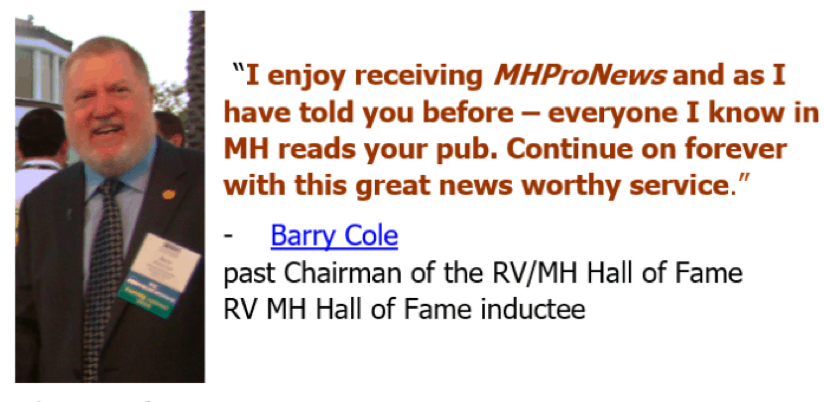 Applying the Zell Principle…
 "When Everyone is Going Left, Look Right" – Sam Zell.
Zell's thoughtful principle has two distinctive points. If the herd of investors are going one way, then the contrarian looking for superior returns and opportunities should look a different way.
That noted,
the above analysis does not mean that manufactured housing or manufactured home communities (MHC) should be ignored as an investment opportunity.
But that is what MWC, Rolfe, or others are failing to make to possible investors.
Instead, the contrarian case can be made – and indeed is implied by Yun's thinking – that the authentic opportunity is in developing more communities or other homesites for manufactured housing.
The favorable dynamics that NAR's Cororaton revealed point to the prudence of making a push in the obvious need for more affordable housing. That comes through more development and more citing opportunities.
#4 is not only the stated but also the implied principle of Curt Hodgson, co-founder and Chairman of Legacy Housing (LEGH)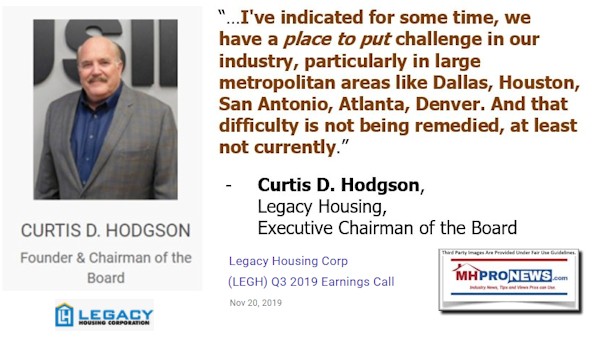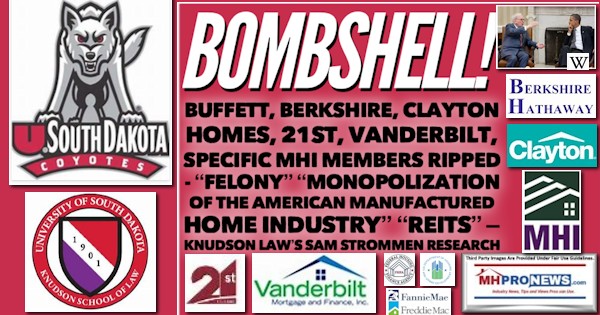 In order to do that properly, several logical points arise for objective and evidence-based thinkers.
A) Current manufactured home producers are logically being unduly penalized by what Hodgson, the Manufactured Housing Association for Regulatory Reform (MHARR) and others have argued is a "placed to put" or "

zoning and placement

" challenge.
B) Put differently, by unduly constricting the market, independents that are not one of the big three are having their valuations undermined. By whom? Strommen and others have argued it is by the big three, led by Berkshire Hathaway owned Clayton Homes. Again, Strommen pointed to MHI as being a de facto participant in what he cited was "felony" market manipulation. It is a case MHProNews has previously made too, see that linked here as one example.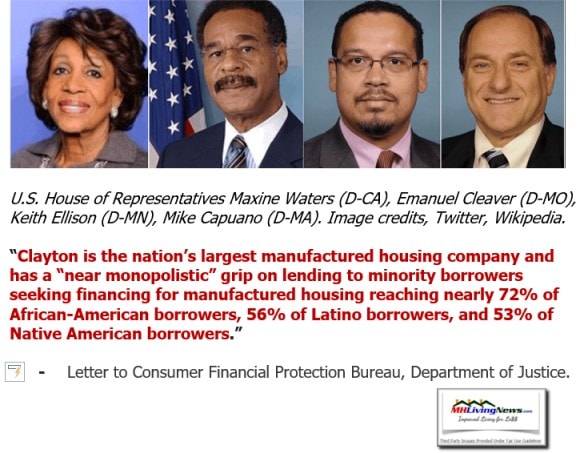 C) By de-facto constricting "place to put" "zoning and placement" and other COVID19 production related slowdowns are all arguably being used to harm manufactured home independent retailers. It is almost like a magical fulfillment of Kevin Clayton's pledge to make things difficult for independent competitors. Who concurred with that notion? Pro-MHI member Andy Gedo.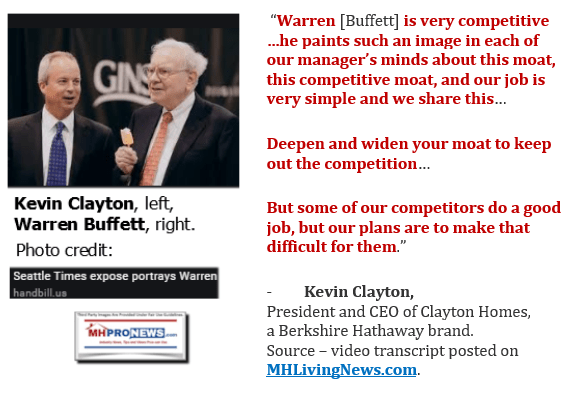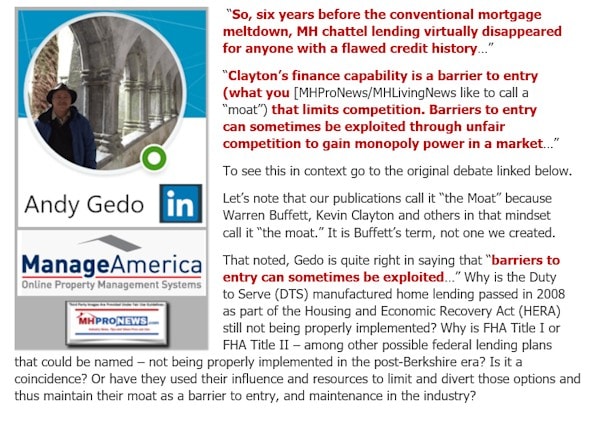 D) The point that the bi-partisan manufactured home working group made that it is less costly to develop with manufactured homes than even when compared to multifamily housing.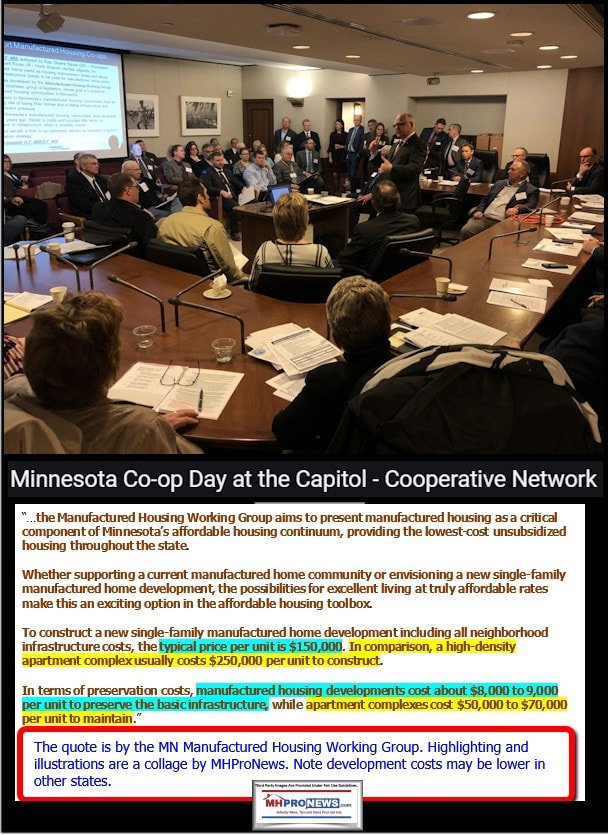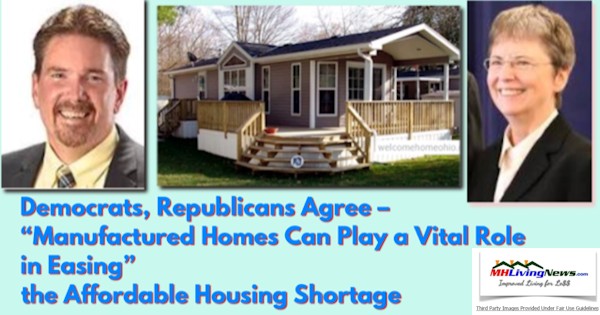 E) Applying the Zell Principle, the case can be made that logical play is to bring more communities, more placement options, and to unleash the potential for independent producers and retailers.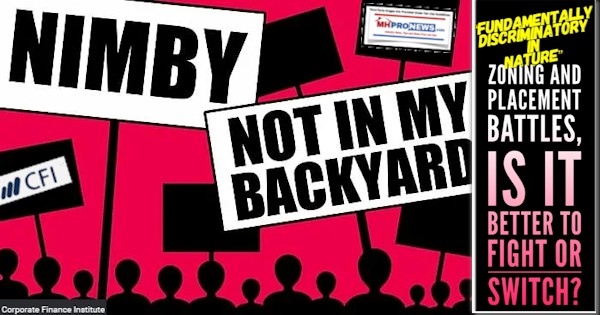 F) As part of that play, those who are thwarting that – i.e. MHI and their actual or de facto allies – should to the extent lawfully possible be exposed, de funded, investigated, sued and/or prosecuted as warranted.
G) The same case could be made that those who are manipulating the market should be sued and/or prosecuted. State laws make antitrust and RICO suits eligible for triple damages.
Scholastica Cororaton is the author of a highly insightful – and thus useful research report for NAR – that could be used to promote more manufactured housing. This check is on 2.22.2021, and it was periodically done since 2018.  MHI has an attorney that has stated in writing that they are paid to monitor MHProNews. That means MHI knows they could or should be promoting her research, but do not do so. Rephrased, they de facto support the Knudson Law research allegations made by Sam Strommen.
A few more points merit prudential attention.
Because many firms are too small to fight the battles that this and the linked research indicates are needed, independent producers that are not already part of the MHARR trade group should consider doing so. The case can be made that without MHARR, most if not all of the remaining independents would have failed some time ago, as dozens of others already have. To learn more see the MHARR website and more linked here, here, and here.
This publication, and other industry voices, have for years advocated for a new post-production trade group that should work in concert with MHARR.
For those with deep enough pockets, the opportunities in manufactured housing – for those not deterred by a subtle to sharp-elbows environment, there are few opportunities that could be better. The need for affordable housing is immense. Which is precisely why that opportunity points to the purported failure and market rigging by the big players that obviously dominate MHI. The infographic below sheds light on that claim.  The infographic also sheds light on evidence from industry insiders that support Strommen's contentions.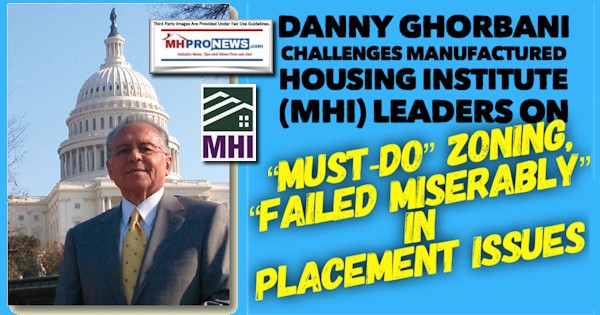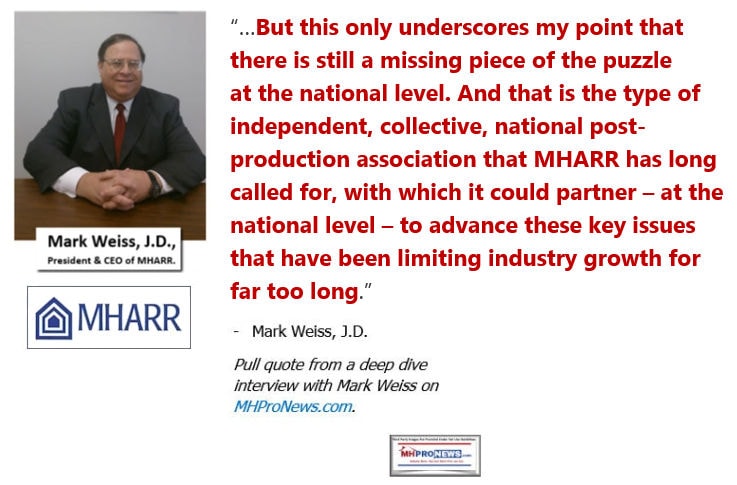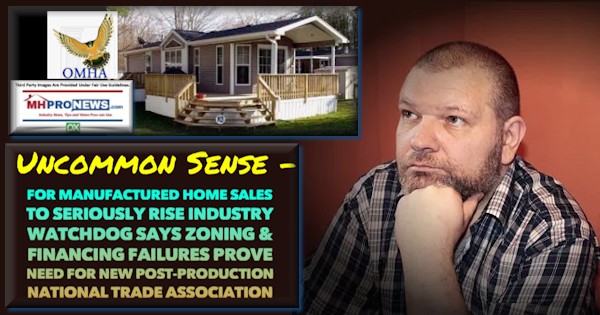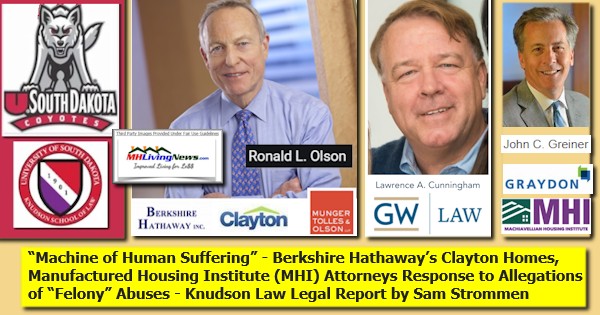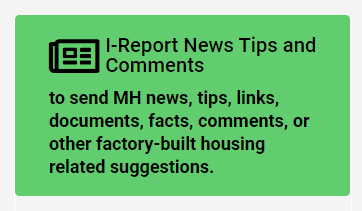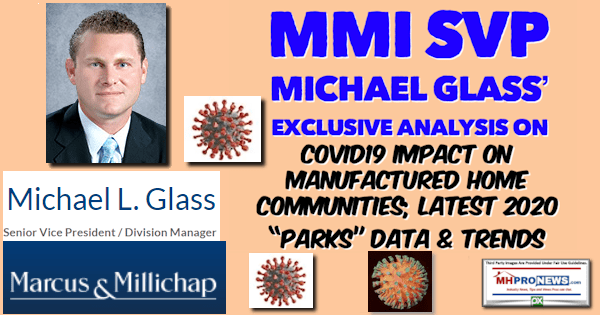 Stay tuned for more of what is 'behind the curtains' as well as what is obvious and in your face reports. It is all here, at the runaway largest and most-read source for authentic manufactured home "Industry News, Tips, and Views Pros Can Use" © where "We Provide, You Decide." © ## (Affordable housing, manufactured homes, reports, fact-checks, analysis, and commentary. Third-party images or content are provided under fair use guidelines for media.) (See Related Reports, further below. Text/image boxes often are hot-linked to other reports that can be access by clicking on them.)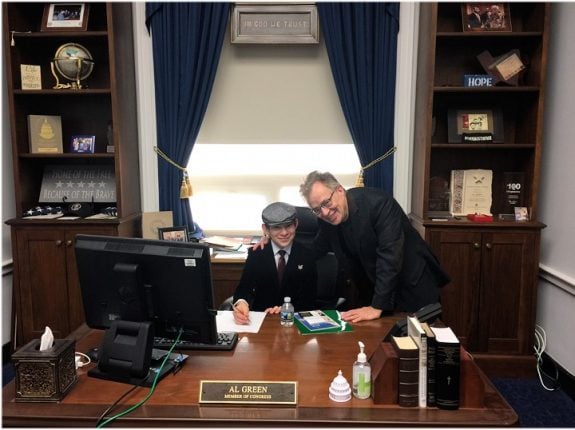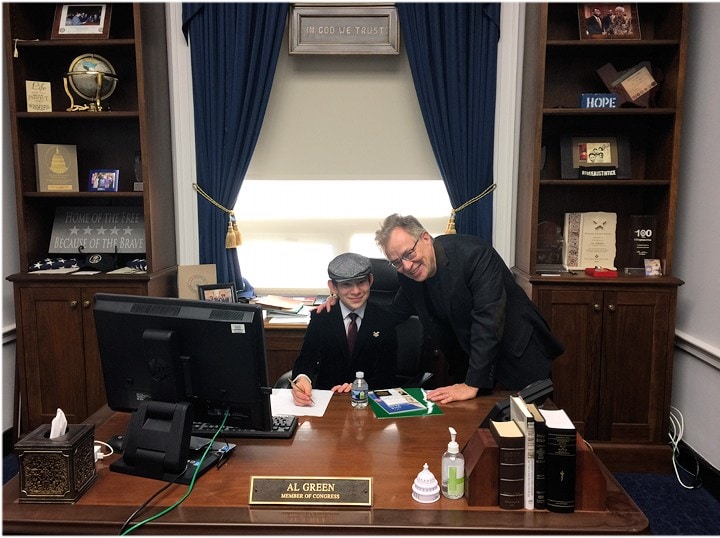 By L.A. "Tony" Kovach – for MHProNews.com.
Tony earned a journalism scholarship and earned numerous awards in history and in manufactured housing.
For example, he earned the prestigious Lottinville Award in history from the University of Oklahoma, where he studied history and business management. He's a managing member and co-founder of LifeStyle Factory Homes, LLC, the parent company to MHProNews, and MHLivingNews.com.
This article reflects the LLC's and/or the writer's position, and may or may not reflect the views of sponsors or supporters.
Connect on LinkedIn: http://www.linkedin.com/in/latonykovach
Related References:
The text/image boxes below are linked to other reports, which can be accessed by clicking on them.