"You've got to have confidence. Once we understood the business we had absolute confidence in its future." said Equity Lifestyle Properties (ELS) Chairman, Sam Zell to a packed room of industry professionals at the W Center in Chicago, IL.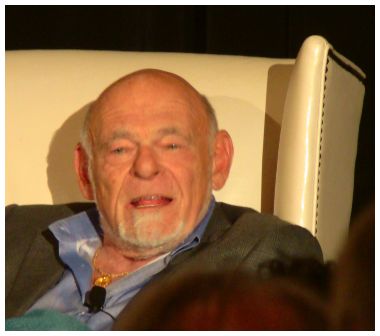 What made his quote even more compelling was its timing, coming on the heels of a question posed by attorney and MHC investor Rob Coldren, who began by saying "Your company is at the point of the spear protecting property rights. It has been a principled approach, but is it a profitable one?"
To set the context for the above, it is helpful to retrace the background for the "question and answer" session as well as elements from MHProNews' initial report on Sam Zell's "A Conversation with the Industry," entitled Our Way of Life is Very Much Threatened.
NCC's Executive Decision
The National Communities Council (NCC) division of the Manufactured Housing Institute (MHI) was executing its planning for their inaugural 2013 Fall Leadership Conference. As there is no bigger company in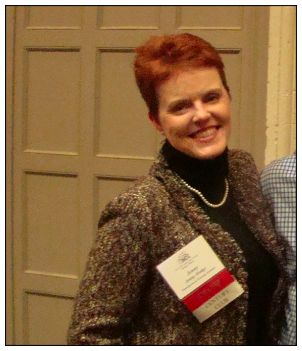 the sector than Equity Lifestyle Properties (ELS), NCC Vice President Jenny Hodge determined that having Samuel "Sam" Zell as the featured speaker would attract the biggest names in the industry.
Hodge proved to be correct, as attendees read like a Who's Who in manufactured housing. They included, alphabetically by last name;
Jim Clayton, founder of Clayton Homes and now chairman of Clayton Bank.

Kevin Clayton, CEO of Clayton Homes, the factory built home industry's largest builder.

Terry Decio, Skyline Corporation's leader of a venerable 6 decade industry success story.

Sam Landy, CEO of steadily rising UMH Properties (UMH).

Randy Rowe, Chairman of Green Courte Partners.

Steve Schuab, Yes! Communities.

Nathan Smith, MHI Chairman and CEO of SSK Communities.

Joe Stegmayer, Chairman of Cavco, the number 2 builder in factory built housing.

Along with scores of others representing independents, mid-sized and some of the largest firms in communities, lending, home building, association leaders and related industry services. An alphabetical list of attendees is downloadable here, and photos of many attendees are available here.
The Biggest Issue?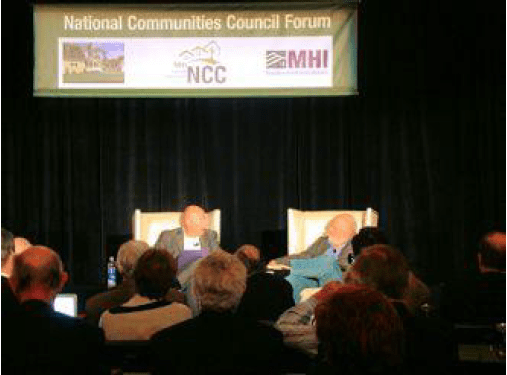 Nathan Smith, (l) and Sam Zell (right).
Nathan Smith, MHI Chairman and a principle at SSK Communities, lead the initial questions. Among Smith's questions was: "What the best thing for us as an industry to do to grow?" Sam Zell's immediate reply was "Create a credit base for the industry."
ELS Chairman Zell elaborated, "No competitive financing is a serious impediment to growing."
"There is no bigger issue than having an established credit base."
"We as an industry should have created that (credit base) a long time ago."
Needless to say, industry professionals of all types feel similarly. One expert in financing manufactured homes, Peter Scherer from HAS Capital LLC, asked a follow up on Mr. Zell's thoughts on credit and related. Scherer asked, "Your number one command was thou shall not sign. Is there a role for recourse in manufactured home communities or other credit support?"
Sam Zell stated, "There are many cases like that. It depends on each situation." ELS' Chairman then explained that to fill vacant sites, one could forgo ground rent, for even "…a couple of years. That is no different than a discount…" on the home. "An owner will support the credit to his advantage. Then he signs."
When Steve Schaub of Yes! Communities inquired about ELS view of renting homes in today's environment. Zell's reply included keen insights for those involved in this evolving trend in manufactured home communities.
"Manage it well."

"Keep it marginal."

"What I said before, we are sensitive to the percentage of renters in any park."
The thrust of Zell's points on the rental business in land lease communities was to limit its use in MHCs, as valuations were clearly superior on a MH Community that has owner occupied homes as opposed to those which have renter occupied homes/sites.
That Zell's thinking on this topic runs counter to the execution of some in recent years ought to provoke reflection and discussion in the community side of our industry.
Similarly, alternatives to achieving the financing needed is another key topic for owners, executives and professionals, particularly those involved in land-lease communities, where personal property lending is the norm.
Zell spoke about the stability of the senior MHCs. He acknowledged the need for communities of all ages, while stating the obvious point that the business model was easier in years gone by, because the collapse of values and resales in the conventional housing market impacted purchases of manufactured homes in senior communities.
He also noted that the creation of the best communities were during boom times. The economies of scale for a land lease community kick in around 200 sites and up, and that is a "hell of a painful thing" to achieve the needed occupancy on a new property, unless homes are selling more rapidly than has been the case in recent years.
Rent control
Ever the realist, Zell commented on the growing U.S. trend towards more rent control.
"We found out that we have a partner, and didn't know we had a partner."
"There are lots of landlord issues. Washington is on a wealth redistribution track vs. a growth track."
As a clear and immediate tie in to that comment, one of the founding partners for HK&C Law, Rob Coldren – who is himself a community owner/operator – asked Sam Zell:
"Your company has been the point of the spear protecting property rights. It has been a principled approach, but is it a profitable one?"
Zell replied, "In just one case, it took 5 years to get it to happen. Don't recall what it cost, we won, buy it was recently reversed."
"We are spending huge amounts of money, for the right to profit from our own investments."
"We could have swallowed hard, but we decided to protect the property line."
"Florida has done a much better job in that respect than California."
"We are motivated to challenge confiscatory laws."
The Graying of America Benefits Manufactured Housing
In a question from George Allen tied to ELS' substantial holdings in RV communities, Zell noted that manufactured housing ought to benefit from the graying of America. Zell also shared the a "pleasant discovery" ELS had that "rising gas prices didn't negatively impact occupancy at RV Parks," noting many RVers take fewer trips, but longer stays at those parks instead.
Allocation of Capital at time of Due Diligence
Jefferson Lilly, an MHC investor from Oklahoma, asked, "How do you decide to redeploy capital, to do, say a clubhouse in a community? How do you decide that. How and who makes those decisions?"
Zell began by jesting in reply, "Happy to tell you that I don't have a clue!"
The Maestro of MHCs elaborated, "I'm counting on Marguerite (Nader, ELS CEO) knowing."
"When we are underwriting a property, we do it with Maintenance and CapX in mind."
"So it is not a re-allocation of capital. It depends on if we think we can get a good rate of return," a decision made as part of the due diligence involved in acquiring a property.
Back to Politics and Economics…
Zell commented that the impact of the partial shut down in Washington would have "Something less than nil" impact on DC politically. That statement made in mid-October now looks prophetic, as the tribulations of the ObamaCare roll-out have pushed the shut-down drama off the front pages.
What was of far greater concern to the Real Estate Maven of Chicago are budget imbalances in DC, quoting: "How long can you spend more than you take in?" and, more famously,
"Our way of life is very much threatened." – with more on that topic at the link in MHProNews' initial report.
Biggest Life Lessons?
Brian Gallagher asked, "What are your three biggest life lessons?"
Without missing a beat, Zell replied,
"Thou shalt not sign.

Thou shalt not take oneself seriously.

Thou shalt not listen to conventional wisdom."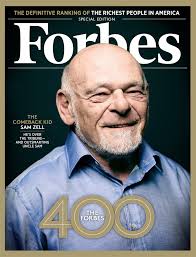 "The last one is the most important."
"We all suffer from a herd gene. The herd gene is stronger in some than others. But we can inhibit effectiveness through the herd gene."
"Look at the Forbes 400. Take those off the list who inherited. 90% of the rest, turned right when the rest turned left."
"It is lonely. If you are human. You think, 'Can I be right and everyone else be wrong?' More often than not, it is true."
"What was really going on, I was right, all others were in neutral while I gobbled up chunks of real estate."
Zell described part of his campaign to take the company public. He described a T-shirt he used, and said:
"Everyone calls them trailer parks."
"Pencil head, it's not a trailer park."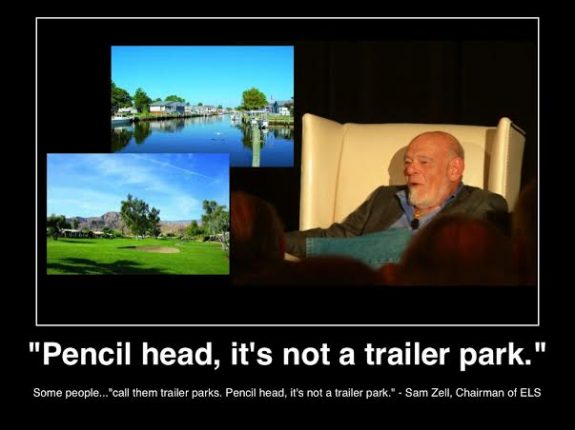 "I spent 80% of my time (before going public with ELS) and did the road show myself."
"You would not believe the questions." Zell explained how he presented the value of MHCs.
"86% of our houses (MHs) are debt free. That house that is subject to my ground, it is debt free. They could not believe it."
One unnamed man turned the MHC opportunity down. Zell sent him a football, with the message, "Maybe next time, you will be more accurate."
"You have got to have confidence. Once we understood the business we had absolute confidence in its future."
This last Sam Zell quote ought to be underscored and framed in bright, flashing neon lights.
Note that ELS has increased their holdings overall in recent years, even since the housing bubble burst in 2008. As noted in part one of our report, Zell has not sold "a single share" of his personal holdings in MHCs since he "…understood the business…"
Those words should draw the attention of investors and the public at large, as well as instill confidence to those in manufactured housing today. Zell favorably mentioned Carlyle as having "paid the highest" for 2 MHCs and their thus entering into the land lease community business.
Clearly, his actions and words demonstrate his belief that manufactured homes and communities are worthy of ongoing investment interest.
Zell's reply to a question from Peter Hunter, who was with portfolio operator HomeTown America, ties together the past, present and future of manufactured housing land lease communities in just a few phrases.
"You don't see a significant number of new parks being built. We won't see the volume previously seen."
But…
"This is a temporary vs. a permanent change in business." Zell said. ##
Related Stories:
A Cup of Coffee with Marguerite Nader (ELS CEO)

Sam Zell says, "Our Way of Life is Very Much Threatened."

A number of the attendees named above have been interviewed for their own 'A Cup of Coffee with" including Sam Landy, Randy Rowe, Joe Stegmayer, Terry Decio,and others linked here.
(Image Credits: MHProNews, Forbes Cover – Forbes Magazine.)
About the Author:
L. A. 'Tony' Kovach
ManufacturedHomeLivingNews.com | MHProNews.com |
Business and Public Marketing & Ads: B2B | B2C
Websites, Contract Marketing & Sales Training, Consulting, Speaking:
MHC-MD.com | LATonyKovach.com | Office 863-213-4090
Connect on LinkedIN:
http://www.linkedin.com/in/latonykovach