After direct engagement about a troubling report about manufactured housing, a real estate publisher that will be identified in an upcoming report deleted the following comment from their website on Friday 12.18.2020.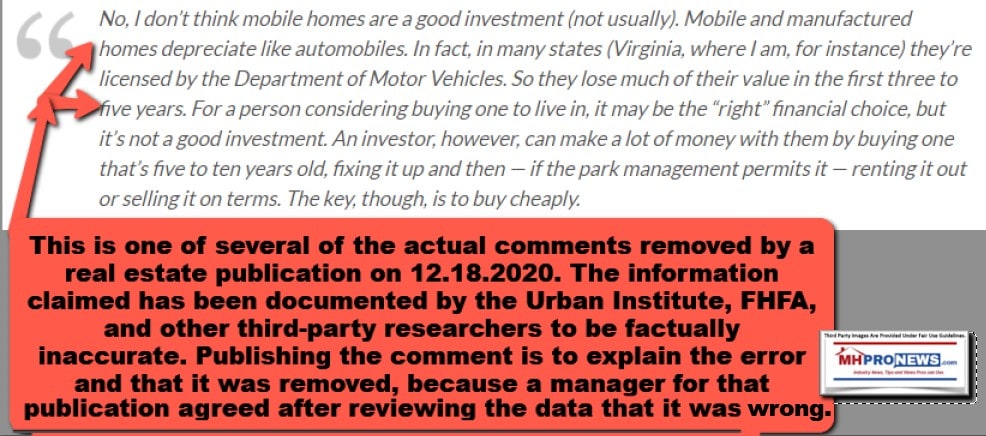 There are more corrections that same publisher made, some as bad or possibly worse, as will be shown further below.
To grasp the importance of the corrections made by that real estate publisher, it is useful to step to a comment made by 21st Mortgage Corporation President and CEO Tim Williams. William made a keen observation in an exclusive to MHProNews, and his argument will be cited verbatim further below. Paraphrasing, Williams said that there is a case to be made that the manufactured home industry should tackle every instance of misleading reporting and seek its correction. Editorially, MHProNews has long agreed, but we are far from alone.
Through direct engagement – using 'the Williams' principle' – the still evolving events of that real estate publisher involved conventional housing made numerous u-turns. Those examples are further below.
"I can't stand it when talking heads, pundits, and "scientists" dish out "fake news" as if it is fact," said Andrew P. McIndoe, a vice president at the Heritage Foundation in an email to MHProNews. He preceded that comment by saying, "I'm sure you have your own pet peeves. Lately, one of my growing pet peeves is "fake news,"" and McIndoe added, "And anyone who questions them—conservatives like you and me—is treated like a member of the flat earth society."
To be fair and accurate, that dynamic and those tactics described by McIndoe can also be employed by the political right. But to buttress McIndoe's point, there is an argument to be made that those tactics are more prevalent on the left. Historically, they are influenced by the community organizer, leftist icon, speaker, and author, Saul Alinsky. More on that another time.
As thousands of industry professionals grasp, when 'fake' or incorrect news appears about our profession, isn't just a "pet peeve." When in accurate information about manufactured housing is allowed to stand, it influences and/or reinforces the impressions of possible affordable housing seekers. If it is geared toward housing professionals, then problematic comments can negatively influence possible home seekers. As the above and below reflect, such were the case with the troubling quotes by 'experts' that were removed from a 'news article' yesterday.
Note that the specific comments removed are shown above with more below only as  screen captures. That is to reduce the possible SEO related harm that they were already doing won't be perpetuated here on MHProNews. Rather, they are shown as illustrations of corrections/deletions that occurred. There are lessons learned, which are also explored further in this report and analysis.
Here are additional comments which that same publisher removed. Note that each quote is from a different real estate, housing, or financial services professional.  While some had mildly nice comments, they were outweighed by inaccurate, problematic, or false statements that combined for an overall poor reflection on our industry.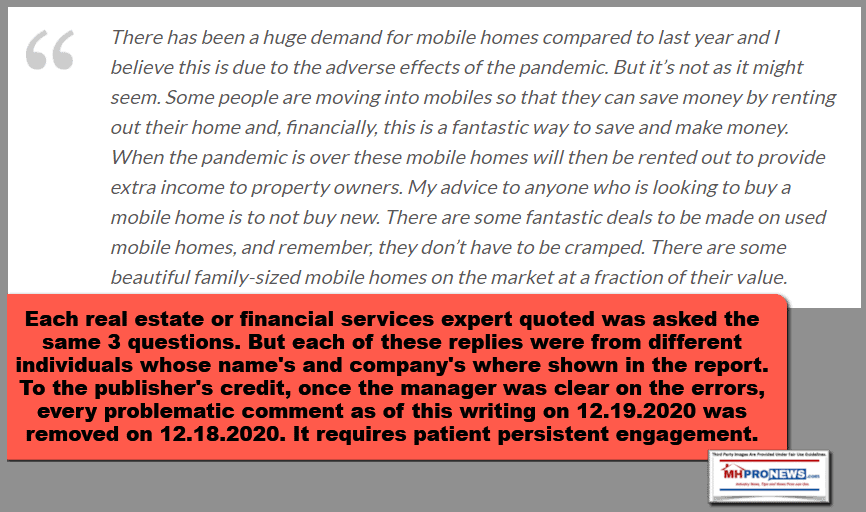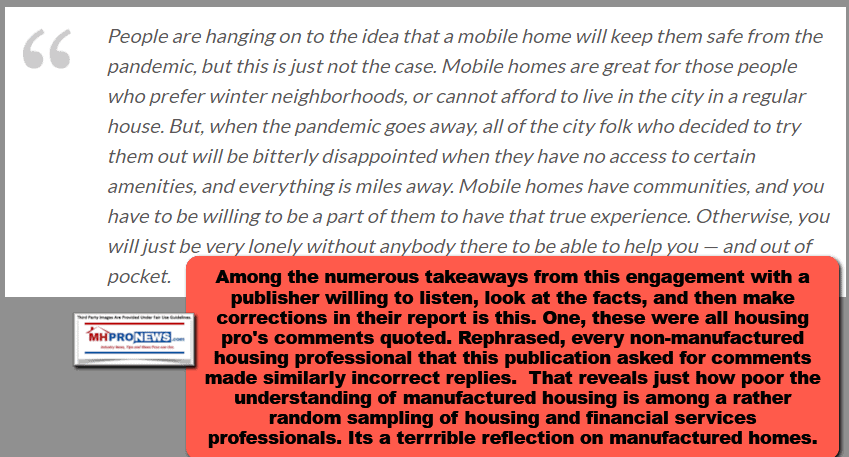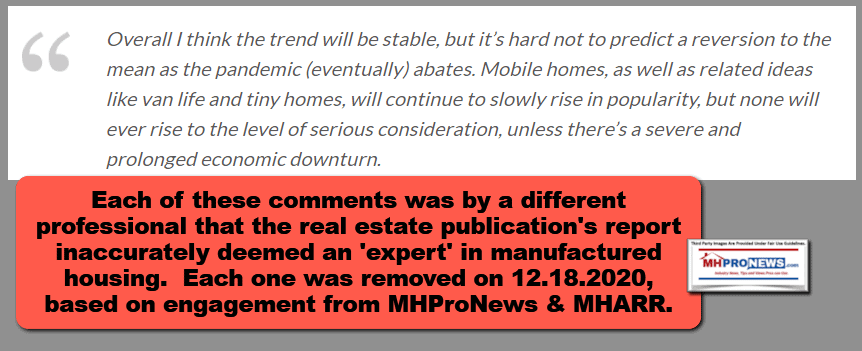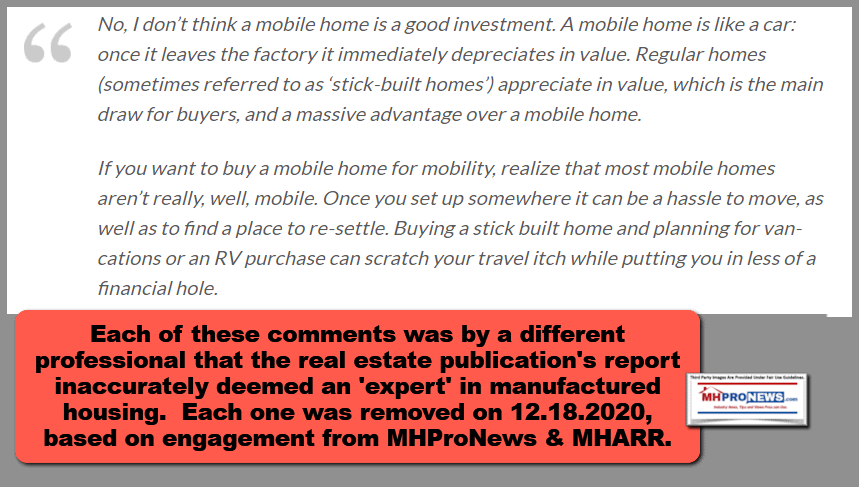 To McIndoe's and Williams' points, and as thousands of manufactured home professionals, and untold numbers among the millions of mobile and manufactured housing residents can attest, "fake" or inaccurate news are a serious issue that has plagued our industry for decades.
Here below is the precise quote by Williams to MHProNews referenced above.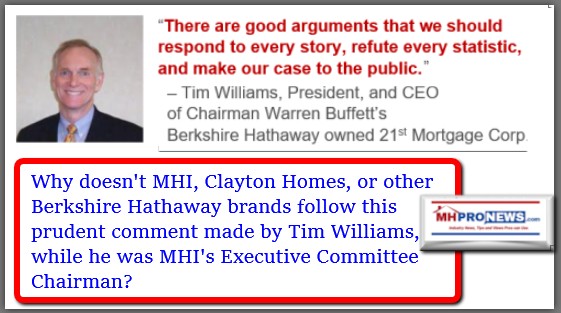 Let us note that an Manufactured Housing Institute (MHI) association affiliate was contacted about real estate publisher's report.
So too was a market service provider to that MHI affiliate.
Per our source at the real estate publisher, in an on the record comment that will be part of an upcoming follow up by MHProNews, neither the Manufactured Housing Institute (MHI) nor others in our industry bothered to contact them, even though the report came up in Google News.
What sparked the removal of that negative content? Direct engagement by MHProNews over a period of days, as well as a well-timed message from Mark Weiss, J.D., President and CEO of Manufactured Housing Association for Regulatory Reform (MHARR).
Note that mainstream media reporting like the above are routinely post-production issues. They therefor fall under the bailiwick of MHI, not MHARR.
Indeed, Tim Williams' informed MHProNews in writing prior to the association hiring the public relations (PR) person at MHI, that part of the goal of such a PR person would be to engage the media. So, why is it that several years of such spot checks by MHProNews have not revealed a single instance where MHI engaged in correcting fake, false, or misleading reporting? Why is it that even when MHI was directly or indirectly asked to get involved, that each time, they failed to pick up the ball and run with it? What explains their unwillingness to do precisely what "the Williams' Principle" and common sense says that they should be doing?

MHI has reportedly paid hundreds of thousands of dollars over the course of recent years for 'public relations.' Additionally, more was spent on their new class of homes project. How have those MHI initiatives advanced our industry cause in a bottom line measurement?  If measured by production and shipment levels, the answer for the past two years has been that the industry's performance is in its second year-over-year decline.
Additional Information, MHProNews Analysis and Commentary
Warren Buffet is quite right about the value of hindsight, or the "rearview mirror." Give Buffett credit where due. He studies history, reading hours daily, to learn lessons from the past.
In recent years, when Williams made that promise to have MHI hire a full time PR person to engage the media, did Berkshire Hathaway brands and other MHI insider already have it in mind to break that pledge before they even filled that role?
Kevin Clayton in an MHI meeting bragged about the increased traffic to their website that occurred following a post by an MHI public relations person. Be that as it may, why was that reportedly high spike in traffic not followed by an equally high level of conversions – actual purchases – by affordable housing seekers?
From time to time, reports are published by third parties that have some degree of positive news for manufactured housing. Those reports may be touted by MHI, an MHI affiliate, or others in the industry. But after years of experience, it should be obvious that there are far more negative news items surrounding manufactured housing than positive ones.
That is supposed to be what MHI's public relations person was supposed to help remedy. So why doesn't MHI have their own PR person do the job they were supposedly hired to perform?
On several occasions, MHProNews – by engaging with the writer(s) of a report or news source – were able to get corrections made. Sometimes with a supporting message from MHARR's Mark Weiss, problematic reports became positive ones. Perhaps the best example is the 2018 report by Scholastica "Gay" Cororaton, published by the Journal of Real Estate Studies. Problematic terminology and other inaccuracies were not only corrected, they were appreciated and Gay Cororaton thanked Weiss and this writer directly and then again in the first footnote of her revised report.
As 2020 winds to a close, industry professionals and investors who are serious about true robust growth must step back and ask candid questions, and seek objective answers.
Why is it that after MHI declared "momentum" in late 2018 that the industry began its 2 year new HUD Code manufactured home sales-production-shipment slide?
Why does MHI continue to push its apparently flawed "new class of manufactured homes" MHI rebranded as "CrossModTM homes," even after the project is clearly a market failure?
How much has MHI's failures – clearly accepted if not promoted by its 'big boy' members – cost manufactured housing independents in terms of lost sales, revenues, and profits?
If the Ohio Manufactured Home Association's Executive Director Tim Williams has the courage of his convictions in claiming that MHI CEO Lesli Gooch is the best he's ever seen, then why won't either Williams, Gooch, or other MHI leaders publicly attempt to explain or defend MHI's performance, as MHI member Andy Gedo bravely attempted to do?
The industry has been described as being under assault an in decline.
Factory built housing professionals outside of manufactured housing have chastised our profession, not for the quality of our products, but rather for not standing up for them publicly.
When MHProNews called out MHI for its problematic use of advertorials, a longtime factory built home pro blasted MHI's clearly questionable methods as follows.
But perhaps among the most damning statements have come from MHI insiders and MHI award winners.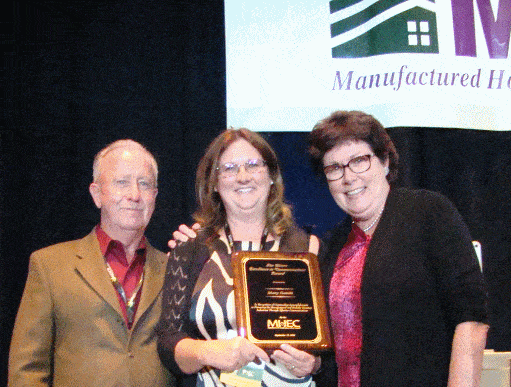 Not to be forgotten is the statement by a former MHI president and CEO, Chris Stinebert.
Back To Alinsky' Lessons
Alinsky's famous book, "Rules for Radicals" has been a staple on the left for decades. Alinsky, while making the distinction that it "one of three epigraphs on an introductory page" of Alinsky's book, Snopes reminded readers that Alinsky wrote the following.
"Lest we forget at least an over-the-shoulder acknowledgment to the very first radical: from all our legends, mythology, and history (and who is to know where mythology leaves off and history begins — or which is which), the first radical known to man who rebelled against the establishment and did it so effectively that he at least won his own kingdom — Lucifer."
— SAUL ALINSKY
Lucifer. Satan. The Devil. Or as Warren Buffett, Chairman of Berkshire Hathaway has observed, you can't make a good deal with a bad person. It is worth noting that Buffett is a self-professed atheist.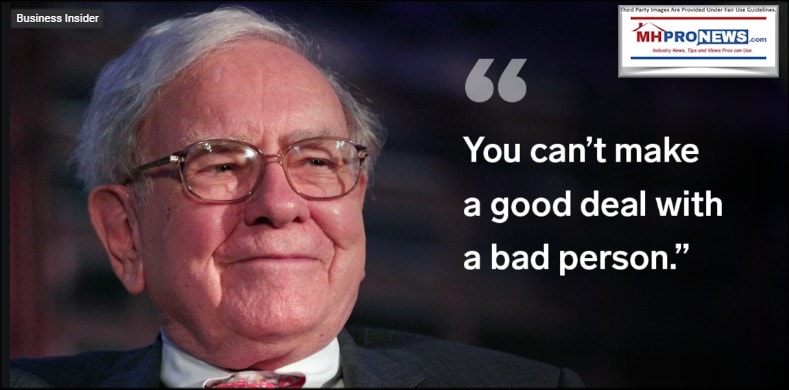 Words can be good or bad, helpful or harmful. So it is not the mere use pretty words or nice sounding promises that come out of some person's mouth or organizations' mouthpiece(s) that matter the most. Rather, bottom line performance the measurable history of that performance are what matters.
Many of manufactured housing's ills can be traced back to certain causes. Several, sadly, arguably trace back to MHI and their 'big boy' backers.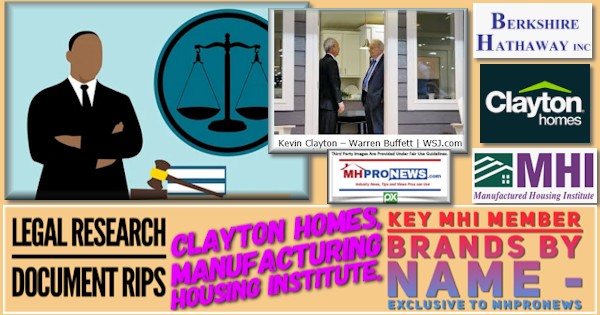 Postscript
For MHI's sake, perhaps it is a good thing that there have been so few face to face functions in 2020. How can MHI leaders look their members in the eyes when there is so much evidence of years of problematic, self-contradictory, and clearly failed behaviors? Hold that thought.
A follow up promised by that real estate publisher to MHProNews is supposed to occur sometime next week. Stay tuned. Once that is in hand, MHProNews plans to revisit this issue and reveal several of the names of those involved.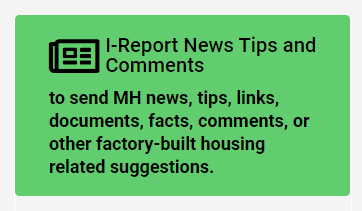 There is always more to read and more to come. Stay tuned with the runaway number one source for authentic "News through the lens of manufactured homes and factory-built housing" © where "We Provide, You Decide." © ## (Affordable housing, manufactured homes, reports, fact-checks, analysis, and commentary. Third-party images or content are provided under fair use guidelines for media.) (See Related Reports, further below. Text/image boxes often are hot-linked to other reports that can be access by clicking on them.)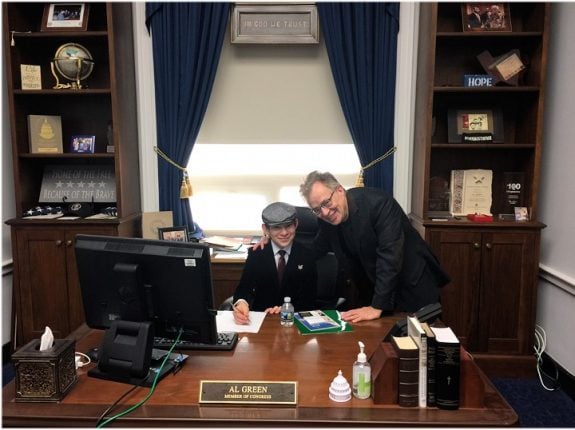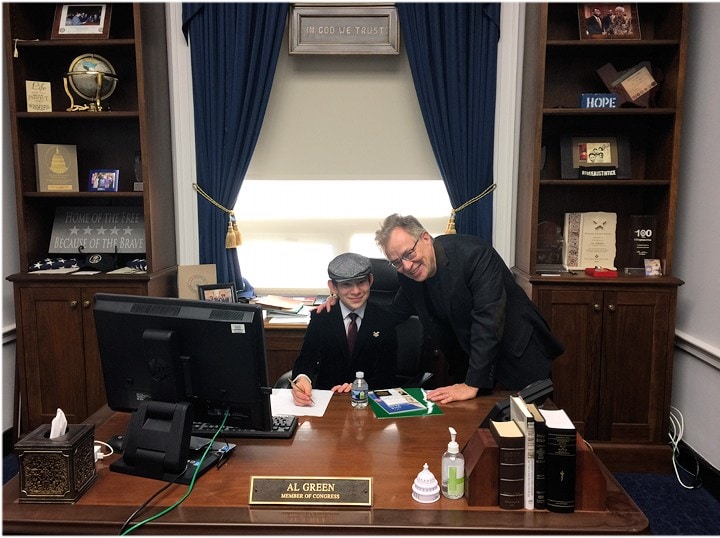 By L.A. "Tony" Kovach – for MHProNews.com.
Tony earned a journalism scholarship and earned numerous awards in history and in manufactured housing.
For example, he earned the prestigious Lottinville Award in history from the University of Oklahoma, where he studied history and business management. He's a managing member and co-founder of LifeStyle Factory Homes, LLC, the parent company to MHProNews, and MHLivingNews.com.
This article reflects the LLC's and/or the writer's position, and may or may not reflect the views of sponsors or supporters.
Connect on LinkedIn: http://www.linkedin.com/in/latonykovach
Related References:
The text/image boxes below are linked to other reports, which can be accessed by clicking on them.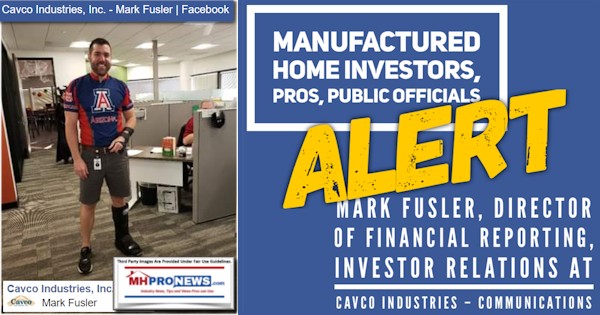 Tim Williams – CEO of Berkshire Owned 21st Mortgage Corp and Manufactured Housing Institute Board Member – Makes Stunning Admission
Is Wave of Acquisitions and Capital Chasing Manufactured Home Communities – a.k.a. "Mobile Home Parks" – Signaling a Marketing Overheating?
SEC Hits Cavco Industries (CVCO), Attorneys Sound off on 2020 Trump-Biden Election Fraud Allegation Controversies, plus, Manufactured Home Investing, Stock Updates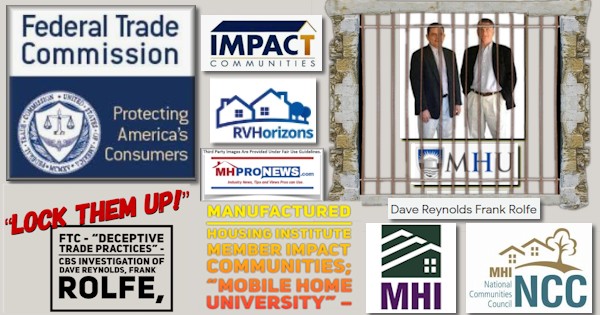 Skyline Champion's Mark Yost – "COVID Plant Shut Downs" Related – Statements, Data, and Manufactured Housing Corp and Industry Trends
National Housing Conference Statement Outs Manufactured Housing Institute, "Ephemeral Phantasm" – Blowing Whistle at Clayton Homes, Skyline Champion, Cavco – plus, Manufactured Home Investing, Stock Updates
Evidence-Based State of the Manufactured Housing Industry, Fall 2020 Report – plus, Sunday Weekly Manufactured Home Headlines Review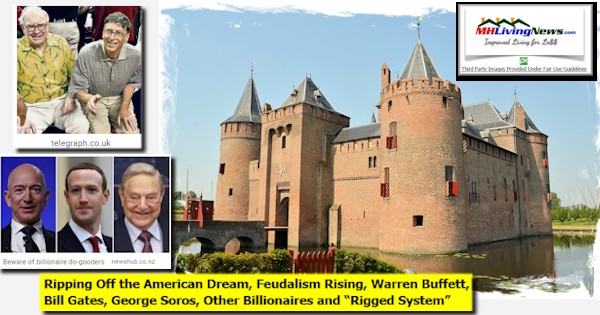 Can the Many Defeat Big Money, Big Media, and Major Tech Masters? Plus, Sunday Weekly Headlines in Review